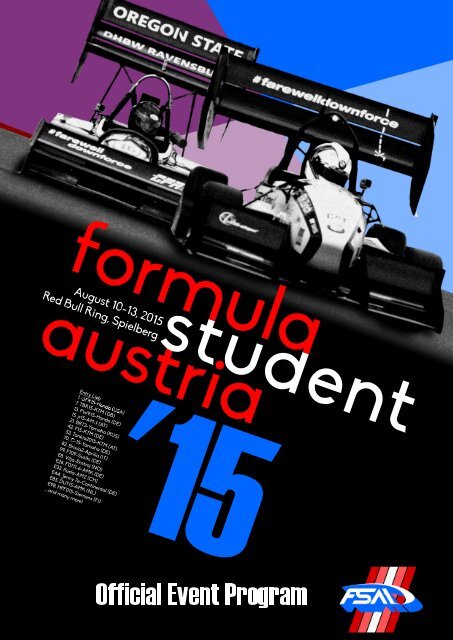 FS Austria Event Programme 2015
Official event programme containing information on the competition, site plan and competing teams.
Official event programme containing information on the competition, site plan and competing teams.
SHOW MORE
SHOW LESS
You also want an ePaper? Increase the reach of your titles
YUMPU automatically turns print PDFs into web optimized ePapers that Google loves.
formulaAugust 10-13, 2015Red Bull Ring, Spielbergstudentaustria'15Official Event Program
---
AVL RACING helped win 13 racing world championshipslast year. For some, the quest for speed can take plentyof twists and turns. We take the direct route.AVL RACING: TRANSPARENT SPEEDINNOVATIVE POWERTRAIN DEVELOPMENT · COMPLEX PRECISIONMANUFACTURING · YOUNG DRIVER SUPPORT PROGRAM · INTEGRATEDINSPECTION & TEST SYSTEMS · VEHICLE SIMULATION & DRIVEABILITY · MULTI-DIMENSIONAL SIMULATIONS · YOUNG DRIVER SUPPORT PROGRAMINNOVATIVE POWERTRAIN DEVELOPMENT · COMPLEX PRECISION MANUFACTwww.avl.com
---
There are also other tools used to characterize a patient's presenting symptom(s). Examples ofthese mnemonics include SCHOLAR, SOCRATES, OPQRST, and LOCQSMAT.SCHOLAR: Symptoms, Characteristics, History, Onset, Location, Aggravating & Remitting FactorsSOCRATES: Site, Onset, Character, Radiation, Associations, Time Course, Exacerbating &Relieving Factors, SeverityOPQRST: Onset, Provokes or Palliates, Quality, Radiates, Severity, TimeLOCQSMAT: Location, Onset, Chronology, Quality, Severity, Modifying Factors, AdditionalSymptoms, TreatmentPast Medical History (PMH)List medical conditions/problems (dates and duration)Hospitalizations, surgeries, accidents, injuries (if relevant)Recent specialist visits; other clinics/caregiversMedication History (see separate template)Family History (FH)Illnesses of first degree relatives (status of living and causes of death/age)Attention to heart disease, hypertension, hyperlipidemia, diabetes, cancer, osteoporosis,alcoholism, mental illnessFunctional History (if relevant- i.e. geriatrics, stroke patient, homeless, new immigrant, etc.)Ability to do Activities of Daily Living (ADL) and Instrumental Activities of Daily Living (IADL)Describe functional decline (onset, activity impacted); Supports?Social History (SH)Nutrition, exercise, education, occupation/work history, marital status, living conditions (whereand with whom?)Substance use (caffeine, alcohol, tobacco, illicit drugs): type, amount, pattern, duration,date/time last intake or history of useTobacco products: type [for a smoker: # ppd and/or pack-years (#ppd x # yrs smoked)]Sexual History (if relevant- i.e. functional, pregnancy, STIs)Review of Systems (ROS)Identify any further problems (i.e. medical problems, adverse effects); note presence/absence ofsymptomsHead to toe assessment (keep questions relevant and brief; not all systems need to bereviewed)Copyright © 2011, Faculty of Pharmacy & Pharmaceutical Sciences, University of Alberta, Updated August 2013, Version 1.34
---
Lukas Raschendorfer | Rules, International RelationsLukas RASCHEnDORFERAfter multiple years as "Sparkie" for both C&E FSAE cars,Lukas joined FSA and is now responsible for the rules,also taking FSA's chair in the FSAE world committee.An engineer by day, a designer by night he also createsmost of FSA's graphical designs.Benjamin Möller | Rules, Head ScrutineerWith several years of experience as C- and E-car teamcaptain as well as FSG & FSA scrutineer, Benjamin joinedthe FSA Steering Committe for the 2015 event. He is responsiblefor the interpretat ion of the more technical partsof the rulebook as well as the technical inspection at theevent.Benjamin MÖLLERA whole lot of Volunteers | Making FSA happenSix guys may be enough to organize the event, but to actuallyrun the event a much greater number of people isneeded. This is where all of our red-shirted volunteersstep in and take over all the tasks from scrutineering tofetching the cones that were ungently removed from theirpositions.Like the steering committee, they are all volunteers, dedicatingtheir free time and holidays to providing you a greatexperience.Spielberg 2015 | Formula Student Austria | 7
---
OUR PARTnERSACstyria functions as the hub of the Styrian automotive and aviationsupply chain industry and has, with 190 partner companies,gained major cross-regional and international importance.ACstyria connects partners from the fields of economy, researchand public bodies for the automotive and aviation industry's interests.Initiating cooperation between companies in order to openpotentials and find synergies and to support them at best lies atthe centre of the cluster's activities. Thus ACstyria successfullysupports its partners to improve their innovation potential andinternational competitiveness. Furthermore, for its partner companiesthe cluster facilitates a large number of activities to go international.KTM-Sportmotorcycle AG, with its headquarters in Mattighofen, isone of the world's leading manufacturers of motorsport vehicles.Our product portfolio ranges from race-ready offroad and streetmotorcycles to ATVs and the lightweight X-Bow sports car, as wellas PowerParts and PowerWear.Qualified and highly-motivated employees are our most importantsuccess factor. So if you share our passion andwould like to accomplish your own aims with KTM, visitwww.ktm.com.Mubea Carbo Tech's main focus is on complete consistency fromthe projection through to construction, strength design, modelbuilding, mold making and final testing. In this way the customerhas a partner for a cost-efficient total solution, whether it's themanufacture of a single prototype or a whole series. In order tomanufacture high-end composites, extensive hardware and softwaresolutions are required. That´s the reason why we are a "Tier1" supplier.8 | Formula Student Austria | Spielberg 2015
---
AVL is the world's largest privately owned company for development,simulation and testing technology of powertrains (hybrid,combustion engines, transmission, electric drive, batteries andsoftware) for passenger cars, trucks and large engines.Currently operating 6.200 employees in 45 locations worldwide,with a turnover of Eur 1.015 million, the proportion of company-financedresearch is approx. 12.5%.Every day AVL is developing cutting-edge solutions for our clients.We are pushing ahead to realize visions and set new standards.We are looking for people who have the drive for excellence andthe ambition to become part of an advanced team of professionals.For those who join us, the opportunities are endless.www.avl.com/careerPankl Racing Systems AG, based in Bruck/Mur, Austria, specialisesin developing and manufacturing engine- and drivetraincomponents for racing cars, high performance vehicles and theaerospace industry.Pankl scores with lightweight components made from high-gradeinnovative materials designed to withstand extreme mechanicalstress.Pankl is a global niche player with worldwide subsidiaries inAustria, UK, USA, Slovakia and Japan. Pankl employees around800 people and achieved a total turnover of EUR 109m in the fiscalyear 2010.Magna Powertrain is a premier supplier for the global automotiveindustry with full capabilities in powertrain design, development,testing and manufacturing. Offering complete system integrationsets us apart from our competitors.Our innovations make an important contribution to the overall performanceof the vehicle. They improve fuel economy, make thevehicle safer and lighter, ensure a pleasurable driving experienceand provide value to our customer.In line with increasing environmental pressure, many of MagnaPowertrain's innovations focus on electronically controlled technologies,supporting the quest for improved efficiency and reducedemissions.29 manufacturing and 27 engineering & sales sites with a total of13.500 employees are situated close to our global customer base,stretching throughout all regions of the world.Spielberg 2015 | Formula Student Austria | 9
---
Riedel Communications was founded in 1987 and today employs over350 people spread over 12 locations in Europe, Australia, Asia and theAmericas. The company operates in three business fields:Manufacturing: Riedel designs, manufactures and distributes the mostsophisticated intercom, fiber, audio and radio technology for customersworldwide in the broadcast, pro-audio, event, sports and theatreindustries.Rental Service: The rental service provides wired and wireless intercomsolutions, IT infrastructure for events, accreditation & ticketingsystems as well as radio and fibre-based audio and video transmissionsystems. Riedel offers extensive services including project planning,logistics, set-up and operation.Radio Distribution: Riedel is one of the biggest authorized Motorolabusiness partners in Europe and operates one of the biggest radiorental businesses worldwide.Die GMC-Instruments Austria GmbH ist der Spezialist für tragbareMesstechnik und industrielle Messtechnikkomponenten. Als Herstellervon bewährten als auch innovativen Produkten und Lösungen,unter den Marken GOSSEn METRAWATT und CAMILLE BAUER, bietenwir "Sicherheit durch Kompetenz" im Bereich der Messtechnik.• Vorschriften-Prüftechnik GOSSEN METRAWATT• Medizinprüftechnik SECULIFE• Netzqualitätsmesstechnik MAVOWATT• Kalibratoren / Multifunktionskalibratoren• Milliohm- / Isolationsmessgeräte• Prozessmesstechnik SINEAX: Signalkonverter, Trennverstärker• Drehwinkelmesstechnik KINAX• Starkstrommesstechnik: multifunktionale Messgeräte APLUS, Messumformer,PQ/Energiemesssysteme•u.v.m.10 | Formula Student Austria | Spielberg 2015
---
FORMULA STUDEnTScope and Martin History MATZER"The Formula SAE ® Series competitions challengeteams of university undergraduate and graduate studentsto conceive, design, fabricate, develop and competewith small, formula style, vehicles."Formula SAE Rule A1.1: Competition ObjectiveThe roots of formula student lie in 1970s Texas, as avariant to the already existing Mini Baja (competitionfor lawnmower-powered offroad vehicles). The idearesonated well and after a few establishing years, FormulaSAE was introduced as a design competition with a veryopen ruleset and also much more "race" appeal since thecars were allowed to have engines with siginficant powercomapred to the spec'd single cylinders in Baja.The event quickly picked up momentum, and in 1998 itmade the jump over the big pond when Formula StudentUK was the first non-US competition to be held. Soon otherfollowed and today there are eight official competitions allover the World:• Formula SAE Michigan• Formula SAE Lincoln• Formula SAE Australasia• Formula Student Austria• Formula SAE Brazil• Formula Student Germany• Formula SAE Italy• Formula Student (UK)Formula Student Austria was founded in 2009 by alumniof both UAS and TU Graz. The European Formula StudentScene has been growing rapidly since around 2007 andthere was not only room but need for another competitionbesides UK, Germany and Italy. The reception of the eventwas quite good, so over the years it grew to its presentsize of 42 participants, also necessitating the move fromthe Wachauring in Melk to the Red Bull Ring in Spielberg.Also, it was one of the first events to allow the 2010-introducedFormula student vehicles to compete, for someyears even against each other. Starting 2015, however,this was dropped and replaced by a split scoring with twoclasses (Combustion/Electric) due to the big developmentadvances seen in electric vehicles, making them all butimpossible to beat in some aspects.So what is it all about? Formula Student is an engineeringDesign competition that should teach engineeringstudents some real-world skills relevant to the automotiveand other industries. To sucessfully compete, a teamhas to delve into research, design, manufacturing, testing,developing, marketing, management and finances - thisfavors or even requires the formation of multi-disciplinaryteams. This and the fact that Formula Student is as mucha project management exercise as it is an engineeringchallenge, it teaches the competitors a valuable and industry-appreciatedcombination of soft- and hard skills.The vehicle itself is governed by a set of internationallyagreed upon rules. The rules have grown pretty complexover the years (the rule book is now larger than the one forF1), so here are the defining characteristics:Vehicle:• Open-Wheel, Open-Monocoque, Formula-stylebody• four wheels• aerodynamic devices are limited in sizeC - Powertrain:• max. 610 cc four-stroke piston engine• 20mm Air restrictor (19mm for E85)• turbo/supercharging is allowedE-Powertrain:• any number of motors and driven wheels• 80kw peak system powerSpielberg 2015 | Formula Student Austria | 11
---
DisciplinesThe first of the so-called Dynamic Disciplines is the Acceleration.The car has to accelerate from a standstill and covera distance of 75 meters a quickly as possible. Due to a highpower to weight ratio, FSAE cars can do this in well belowfour seconds with terminal speeds of well over 100 kph, outrunningalmost all road-going sportscars. Each team canhave two drivers, each of them doing two runs.Maximum Score: 752014 Winner C: CAT Racing (UAS Coburg)2014 Winner E: AMZ Racing (ETH Zürich)In the Skid Pad event the lateral ability of the car is tested ona figure-eight course. After entering the course, the driverhe has to go round the right circle (right turn) two times, thenround the left circle (left turn) two times - the time for the secondlap of each circle is used to determine the score. Again,each team has 4 runs split among two drivers.Maximum Score: 752014 Winner C: Global Formula Racing (Oregon/Ravensburg)2014 Winner E: AMZ Racing (ETH Zürich)The Autcross track is a handling course consisting of turns,hairpins, straights and slaloms and is roughly 1000 meterslong. Each car enters the track on its own and will do a single"hot lap" of the course.The track is marked using small traffic cones which will,when hit, result in a two-second penalty.Each team has two runs for each of their two drivers.Maximum score: 1002014 Winner C: Global Formula Racing (Oregon/Ravensburg)2014 Winner E: GreenTeam Uni StuttgartThe Endurance race takes part on a closed autocross courseover a distance of 22km. At half-time a driver change is performedand the car has to perform a hot restart. This eventis driven with multiple cars on the course but overtakes areperformed in special two-lane overtaking zones.The fuel/energy consumption as well as the laptimes duringthe Endurance are used to calculate the Efficiency score.Maximum Score: 325 (Endurance) / 100 (Efficiency)2014 Winner C: GFR / FaSTTUBe (TU Berlin)2014 Winner E: AMZ Racing / Racetech (TU Freiberg)12 | Formula Student Austria | Spielberg 2015
---
The most important one of the Statics is the EngineeringDesign Event. During the judging the team has to presenttheir car to a group of automotive and racing experts. Thesejudges will check if the design goals have been met, if theteam members understand their design and if it has beenexecuted well.Maximum Score: 1502014 Winner C: Global Formula Racing (Oregon/Ravensburg)2014 Winner E: AMZ Racing (ETH Zürich)For the Cost Event, the teams have to submit a detailed Bill ofmaterials up front. At the event, their correctness and completenessischecked an the team is presented with an additionalcost-related task.During the Presentation Event, the teams have to present abusiness plan for selling their design to fictional investors.Maximum Score: 100 (Cost) / 75 (Business)2014 Cost Winner C: High Octane (TU Erlangen)2014 Presentation Winner C: Global Formula Racing2014 Cost Winner E: Racetech (TU Freiberg)2014 Presentation Winner E: GreenTeam Uni StuttgartWhen all the events are over, the scores are added up andthe Winner Over All is determined. Additionally, prices aregiven to the best teams in each discipline. From 2014 on, thescoring was split between cars with electric and combustionpowertrain.Maximum Score: 10002014 Winners C: 2014 Winners E:1. Global Formula Racing 1. AMZ Racing2. CAT Racing (UAS Coburg) 2. DUT Racing (TU Delft)3. High Octane (Erlangen) 3. Global Formula RacingSpielberg 2015 | Formula Student Austria | 13
---
DInGEnS EVEnT SCHEDULEMartin MATZERDaily operations12:00 – 13:00 Lunch Break (no engine running anywhere)18:00 – 08:00 no engine running anywhere20:00 Closing time - everybody has to be off site-Preliminary-Sunday, 9th of August 201515:00 Camping badges @ RBR ticket counter16:00 Campsite officially open20:00 - 24:00 Registration open @ Red Bull Ring ticket counterMonday, 10th of August 201509:30 Site opens09:30 – 17:00 Registration open09:30 – 17:00 Event control open10:30 – 18:00 Tech inspection (in the scrutineering pits)13:00 – 18:00 Tilt, noise and brake open18:15 Team photo18:45 Team welcome (at the pits)Afterwards Team captain and faculty advisor meetingTuesday, 11th of August 201507:00 Site opens07:30 – 08:00 Driver's briefing08:00 – 18:00 Event control open08:00 – 18:00 Tech inspection08:00 – 18:00 Fuel station open08:30 – 20:00 Cost event08:30 – 20:00 Engineering design08:30 – 20:00 Business üresentation09:00 – 18:00 Tilt test09:00 – 18:00 Noise test09:00 – 18:00 Brake test12:00 – 13:00 Lunch break (no engine running)13:00 – 18:00 Practice area openWednesday, 12th of August 201507:00 Site opens07:30 – 08:00 Driver's briefing08:00 – 18:00 Event control open08:00 – 18:00 Fuel Station open08:30 – 17:30 Practice area open08:30 – 12:00 Skid pad08:30 – 12:00 Acceleration12:00 – 13:00 Lunch break (no engine running)12:30 – 13:30 Engineering design finals14:00 Driver's Course Walk Autocross15:00 – 18:00 Autocross18:00 Team photo (alternate date)19:00 – 19:50 Business presentation final20:00 – 21:00 Award ceremony part 1 (statics)Tech / brake / tilt / noise on appointment until 12:00Thursday, 13th of August 201507:00 Site opens07:30 – 08:00 Driver's briefing08:00 – 16:00 Event control open08:00 – 15:00 Fuel station open08:00 – 08:30 Driver´s course walk endurance08:30 – 14:00 Practice area open09:30 – 15:00 Endurance12:00 – 13:00 Lunch break (no engine running)17:30 Pits closing19:00 Award ceremony part 2– 22:00 Beer and music @ campsiteFriday, 14th of August 201514:00 Closing of Camping Site14 | Formula Student Austria | Spielberg 2015
---
COMPETInG TEAMSCar # Country University Team Name1 United States Oregon State University Global Formula RacingE3 Germany DHBW Ravensburg Global-Formula-Racing7 United Kingdom Bath Team Bath RacingE8 Norway Norwegian University of Science and Technology Revolve NTNU8 Sweden Lund University Lund University Formula Student Engineering11 Austria FH Campus Wien OS.Car Racing TeamE12 Germany University of Bayreuth Elefant Racing e.V.E13 Germany UAS Munich municHMotorsport13 Germany UAS Munich municHMotorsport15 Austria FH JOANNEUM joanneum racing graz21 Russian Federation Bauman Moscow State Technical University Bauman Racing TeamE26 Germany University of Stuttgart GreenTeam29 Germany University of Stuttgart Rennteam Uni StuttgartE31 Germany TU München TUfast Racing Team e-Technology31 Germany Technische Universität München TUfast Racing Team CombustionE33 Switzerland ETH Zürich AMZ Racing39 Germany Hochschule Heilbronn HHN Racing e.V.E40 Netherlands Eindhoven University of Technology University Racing EindhovenE41 Austria TU Wien TUW Racing42 Germany Hochschule Darmstadt FaSTDa Racing43 Germany UAS Konstanz Bodensee Racing Team - KonstanzE44 Germany Deggendorf Institute of Technology Fast ForestE45 Germany Bonn-Rhein-Sieg BRS MotorsportE46 Italy Politecnico di Torino SquadraCorse49 Germany Friedrich-Alexander Universität Erlangen-Nürnberg High-Octane Motorsports53 Austria TU Graz TU Graz Racing TeamE53 Germany University of Siegen Speeding Scientists Siegen e.V.E60 Germany TH Nuernberg Strohm + Söhne e.V.E67 Czech Republic Czech Technical University eForce FEE Prague FormulaE69 Germany Hochschule Augsburg Starkstrom Augsburg e.V.69 Germany Private Hochschule für Wirtschaft und Technik Deefholt Dynamics e.V.70 Germany Coburg CAT-Racing71 United States University of Pittsburgh Panther RacingE77 Canada Université Laval ULaval Racing79 Germany Hochschule Pforzheim Rennschmiede Pforzheim82 Italy Università degli Studi di Brescia UniBS MotorsportE85 Netherlands Delft University of Technology Formula Student Team DelftE94 Germany Hochschule Esslingen E.Stall Esslingen94 Germany Hochschule Esslingen Rennstall EsslingenE98 Finland Helsinki Metropolia University of Applied Sciences Metropolia MotorsportE99 Germany RWTH Aachen Ecurie Aix99 Germany Hochschule Karlsruhe Technik und Wirtschaft High Speed KarlsruheSpielberg 2015 | Formula Student Austria | 15
---
Oregon State UniversityGlobal Formula Racing1Global Formula Racing is the first only international collaboration in Formula Student. In 2010 the former USbased Beaver Racing Team from Oregon State University (OSU) and EU based BA Racing Team from DualeHochschule Baden-Wurttemburg-Ravensburg (DHBW) Germany joined forces to create one Team.Both schools share physical and intellectual resources to create highly competitive racecars worthy ofinternational recognition. Design, manufacturing, and testing occurs at both schools simultaneouslythroughout the year, over nine time zones and more than 8600 kilometers away.16 | Formula Student Austria | Spielberg 2015
---
DHBW RavensburgGlobal Formula RacingE3Global Formula Racing is the first innovative globalcollaboration of its kind in the history of both the USbasedFormula SAE and EU-based Formula Studentprograms. The former BA Racing Team from the DualeHochschule Baden-Württemberg-Ravensburg (DHBW-R), Germany, and the Beaver Team from OregonState University (OSU) have combined forces in 2010to compete as a single entity. Every year two vehiclesare built, one combustion and one electric.Both universities share technical and intellectual resources to create highly competitive vehicles. Design,manufacturing and testing occur at both schools simultaneously – over nine time zones and more than 8600km distance.GFR15e Highlights# New monocoque# Direct Acting# Acceleration from 0-100km/h: 2.6s# Torque vectoringSpielberg 2015 | Formula Student Austria | 17
---
University of BathTeam Bath Racing7TBR152015 sees the 15th entry into the Formula Student competition for Team Bath Racing, with our new car - TBR15. Designedand manufactured by a team of 28 undergraduate engineers from the University of Bath, the car is the culmination of ayear of extremely hard work, featuring a huge level of innovation and advancement from the 2014 car.The car is powered by a completely new powertrain system, with a turbocharged single cylinder engine and E85 fuel. Aswell as this, the 2015 car featuresthe first ever full aerodynamics package for Team Bath Racing and more carbon fibrecomponents than any other TBR car.TBR15 is also the first Team Bath Racing car to encorporate 3D printed metallic components, used in both the suspensionand wheel assemblies, helping to reduce the unsprung mass of the car by more than 40%.ChassisFrame: Carbon Fibre Monocoque + Rear Steel SpaceframeSuspension: Pull-Rod Front + Push-Rod RearWheels: 5 Spoke Carbon FibreTyres: 10" Hoosier SlickAerodynamics: Front Wing, Rear Wing, Floor + DiffuserPowertrainEngine: 2016 KTM 500 EXCTurbocharger: Garrett MGT1238ZDifferential: Drexler LSDFuel: E85Technical SpecificationWeight: 169kg Without DriverPeak Power: 64hp @ 8,000rpmPeak Torque: 49Nm @ 6,000rpmDownforce: 850N @ 80kphTrack: 1130mmWheelbase: 1540mmwww.facebook.com/teambathrWant to see how TBR15is assembled?18 | Formula Student Austria | Spielberg 2015
---
Documentation:Peters Institute for Pharmaceutical Care. College of Pharmacy, University of Minnesota.http://www.pharmacy.umn.edu/centers/peters/practice/home.html (accessed March 10, 2011)Impact Team Website. http://www.impactteam.info/impactHome.php (accessed March 10, 2011)Kennie N, Farrell B, Dolovich L. Demonstrating value, documenting care: Lessons learned about writingcomprehensive patient medication assessments in the IMPACT project. Part I Getting started withdocumenting medication assessments. Can Pharm J 2008;141(2):114-119.Farrell B, Kennie N, Dolovich L. Demonstrating value, documenting care: Lessons learned about writingcomprehensive patient medication assessments in the IMPACT project. Part II Practical suggestions fordocumentation that makes and impact. Can Pharm J 2008;141(3):182-188.CSHP. Pharmaceutical Care: Information paper on the documentation of pharmaceutical care in thepatient's health record, 1996. http://www.cshp.ca/dms/dmsView/1_IP_Info_Documentation_1996.pdf(accessed March 10, 2011)NAPRA. Documentation Resources.http://www.napra.org/pages/Practice_Resources/pharmacy_care_plans.aspx?id=2165(accessed March 10, 2011)Zierler-Brown S, Brown TR, Chen D, Blackburn RW. Clinical documentation for patient care: models,concepts, and liability considerations for pharmacists. Am J Health-System Pharm 2007;64(17):1851-58.Copyright © 2011, Faculty of Pharmacy & Pharmaceutical Sciences, University of Alberta, Updated August 2013, Version 1.317
---
E8Norwegian University of Science and TechnologyRevolve NTNURevolve NTNU represents the Norwegian University of Science and Technology andparticipated in Formula Student for the first time in 2012. The team consist of 50 students fromall five years of study and more than ten different engineering disciplines. Last year we built ourfirst electric car, and this year almost all parts on the car have been redesigned to reduceweight and improve performance.Our 2015-car, Vilje, is based on a CFRP monocoque and the Emrax 228 electric motor. The accumulator powers themotor through an in-house designed inverter. The power is distributed through a two-stage straight cut spur gearboxand a Drexler limited slip differential. Compared to last year the gear ratio was increased to 3.94:1 based on log datafrom the competitions. The suspension consist of double unequal length A-arm systemwith pull rod actuated spring and dampers with anti-roll bars in front and rear.The wheel assembly features three piece 10x7'' rims with CFRP shells andan aluminum alloy center, large diameter super precision ceramic bearings,hollow aluminum hubs and hollow 3D-printed titanium uprights. Vilje'saerodynamic package consisting of wings in the front and rear, reardiffuser and side pods with an integrated diffuser andtray, giving a theoretical downforce of 440 Nin 60 kph.Technical dataFrame CFRP monocoque Motor Enstroj Emrax 228Dimensions 2979 x 1353 x 1190 mm Drive type Two-stage straight cut spur gearboxWheelbase 1600 mm Power 100 kW (80 kW restricted)Track (front/rear) 1200 mm / 1170 mm Torque 945 NmWeight 175 kg Accumulator 144S2P LiCoO2, 7.46 kWhSuspensionDouble unequal length A-arm andpull rod actuated dampersDownforce (80kph)700 N20 | Formula Student Austria | Spielberg 2015
---
FH Campus WienOS.Car Racing Team11We proudly present our second car the CR-115alias MAKO. Learning from the experience wegained in our first car's production we optimizedelectronics, minimized weight and reworkedthe suspension package. Exessive masswas dropped by a completely new, lightweighttubular space frame with optimized geometry.Due to the new frame design we decidedto also adapt the suspension andthe body work design out of carbon fibre.After problems in the last season wemade shure that the onboard electronicsare waterproof now. Additionally we updatedour ECU to an all-in-one solutionwith an electro-pneumatic shifting system,launch control and traction control system.We are especially proud of our 3D printedairbox which lost about 4⁄5th of itsweight during the development process andof our self developed exhaust manifold.Technical DataIn the course of this season the OS.Car racingteam lived through some changes.Due to personal reasons last seasonsteam captain Michael Sippl was succeededby Harald Frey who alreadyproved himself to the team byquickly adapting to his new role.Furthermore we are very proudthat our former men-dominatedteam was joinedby the first female teammember, Corinna Epple,who supports theteam with her vastknowledge andskillset as a welder.Withouther MAKOwouldn´t nearlystand ascomplete asit does today.www.facebook.com/os.car.racing www.campus-racing.at www.twitter.com/CampusRacingSpielberg 2015 | Formula Student Austria | 21
---
E12Universität BayreuthElefant Racing e.V.In spring 2004, racing enthusiastic students at the University ofBayreuth founded "Elefant Racing e.V.". The name is derived fromthe Faculty of Applied Sciences, abbreviation FAN, which shares itsletter string with the clever and powerful animal. Starting intoseason 2010/11 we decided to break with our tradition of buildingcombustion cars and developed our first electrically poweredvehicle. Participating for the 10th time this year, we are very proudto present you our latest race car, the "FR15 Valkyrie". Our particularfocus was on weight reduction of the chassis. Therefore weswitched from a steel space frame to our first CFRP-monocoquesince our last combustion car. Furthermore, our carfeatures a self-developed battery management system.For further information, you are very welcome to visitour pit and form your own impression of the "FR15Valkyrie"!GeneralMaximum Speed:Empty Weight:Acceleration:SuspensionWheelbase:Track:130 km/h187 kg3,5 s (0 - 100 km/h)1530 mm1200 mmChassisType:Weight:PowertrainMotor Type:Max. Motor Power:Transmission:BatteryCell Type:Combined Capacity:Control & Driver InformationInverter:Driver Interface:CFRP-Monocoque23 kg + 2 x 4,5 kg1 x Enstroj Emrax80 kWBelt DriveLiPo5,8 kWhUnitek Bamocar D3Alphanumeric Displaywww.elefantracing.de22 | Formula Student Austria | Spielberg 2015
---
Fachhochschule MünchenmunicHMotorsport13ABOUT USPassionWorks - not only the name of our carsbut also our guiding principle!Last season - our most successful one - wetook a big step forward in terms of drivingperformance and reliability of the car. Thisyear, we're happy to announce that we­designed­ a­ car­ that­ signifies­ a­ evolutionarystep.­New­ solutions­ make­ us­ more­ efficient,­lighter and faster. Combined with manytesting kilometers and a strong team, wewant to improve upon last year's results.ABOUT THE CARKEY FACTS PW9.15• Weight: approx. 180 kg• Performance: approx. 75 kW• Honda CBR 600 RR PC 40• Lubrication: Dry sump• Compression ratio: 13,4:1• Chassis Front: CFRP monocoque,Chassis Rear: Tubular frame (steel)• Wheel: Hoosier 10'' SlickSpielberg 2015 | Formula Student Austria | 23
---
E13Fachhochschule MünchenmunicHMotorsport24 | Formula Student Austria | Spielberg 2015
---
Fachhochschule Joanneum Grazjoanneum racing graz15The Austrian team known as "The Weasels"has its nest at the University of Applied SciencesJOANNEUM in Graz, Styria. This species ofthe small, fast and nocturnal animal was discoveredin 2003 and is known for appearing ininnovative FS race cars with charged enginesever since.The team changes all of its members everyyear so the cars are always built by a newgroup of Automotive Engineering students. Theexperience of the past years isn't lost though,as the introduction of new members to the projectbegins earlier and the connection to thealumni remains close. Combining fresh ideaswith many years of experience guarantees theevolution of the cars, as it can also be seen onthis season's car, the jr15.It has a hybrid chassis with a CFRP monocoqueand a tubular rear spaceframe holding theengine. It is already the third year of furtherdevelopment of the self-made, turbocharged2-cylinder engine with direct injection and electropneumaticshift actuation. The suspensionwas exclusively developed for racing with Continentaltires that are fitted on hand-laminatedthree-spoke 13 inch CFRP rims. A CFD-simulatedaerodynamic package contributes to theperfect handling and guarantees not only amind-blowing appearance but also amazingcornering speeds.Like the high-end parts of the car are functioningtogether with perfection, so is the team ofjoanneum racing graz working as one to reachtheir goals and prove their right to be one of thebest FS teams in the world.Some facts:Engine:Power:Torque:Shifting time:CFRP tubes in suspension:Connector pins:Steering wheel control:Throttle valve parts:Cable ties:Entertainment electronics:student-designed59329.32 kcal/h12.746 kpm1.666x10 -5 h0.008 kmca. 8002500 lines of code34too muchSnake game on steering wheelSpielberg 2015 | Formula Student Austria | 25
---
21Bauman Moscow State Technical UniversityBauman Racing Teambauman racing team26 | Formula Student Austria | Spielberg 2015
---
HeaderUniversität StuttgartE0711-6, Germany, University GreenTeam of Stutgart,GreenTeam Uni StuttgartE26Why would almost 50 students voluntarily sacrifice their free time and spend their nights and weekendsworking instead? Right – because they got infected with the GreenTeam virus. TheGreenTeam was founded in 2009 and since then, the team grew steadily and did not only increaseits professional knowledge but also its consumption of energy drinks. So, after using up the Germanenergy drink stocks, it's only natural to switch to Austria, right?. The major objective for theE0711-6 was to build a car that is green and sexy, but besides this fact the car does also havesome nice trivialities such as laser sintered wheel carriers, hybrid rims, an own telemetry system,4-wheel drive with a total moment of 1200 Nm, recuperation and an adjustable aerodynamic package.If you've become curious now, come by at our pit – we are looking forward to meet you!Highlights:Underbody accumulator with 6,8 kWh // Adjustable aerodynamic package // Recuperation //Torque-Vectoring // Self-developed battery-management-system // Own data logger // Hybrid rims// Motor flange with integrated planetary carriers // Push-Rod-ConceptFooterSpielberg 2015 | Formula Student Austria | 27
---
29HeaderUniversität StuttgartRennteam Uni StuttgartCar # 29, Germany, University ofStuttgartRennteam Uni Stuttgart e.V.Complete – Finish – Win! This is our motto since 2005Ten years after establishing Rennteam Uni Stuttgart e.V. andstarting to be a part of the awesome Formula Student World weare proud to compete in Spielberg, Austria in August of 2015 –the 38 th FS-competition in the teams' history.Competing means for us to challenge other event's top teamson and off the track. We gave our best to design and producethe F0711-10 – the 10 th racecar our team has ever built. Theexperience we handed on over the years, made it possible tocreate a fast, powerful car with a full aerodynamic-package andour first and heave-spring-system.Our optimized Yamaha-engine is even lighter than the years before and has a higher output of power forbetter longitudinal acceleration. The frame is assembled of a CFRP-monocoque with a revised outergeometry & a whole new layup as well as a tubular rearframe for best stiffness & serviceability.The spring-&damper-system, as mentioned before, makes the car more stable in low- and highspeed corners and gives itmore traction under all possible conditions.But what racecar is built without a team behind it?- None.Thank you to all the guys and girls on the team forbeing awesome!Technical DataEngineFuelDifferentialSuspensionFrameYamaha R6 / 4cyl. / 600ci / >85hpE60 – E85 (depends on racetrack)DrexlerRennteam-developed heave-spring-system,CFRP-Aluminum rimsCFRP-monocoque/ tubular rear frameAerodynamics Full aerodynamic package includingwings & undertrayWeight /w driver:
---
Technische Universität MünchenTUfast Racing Team Combustion31Aerodynamics, lightweight design and reliability- these were the key goals when westarted working on nb015. The most importantchange to achieve these targets is thefull-body aerodynamically optimizedmonocoque, that now has the Sachs FormulaF3 Dampers mounted on its inside. Thiscombined with the new aerodynamics consistingof adjustable front and rear wingsidepods and a single-piece undertrayallowed us to achieve over 800N of downforceat 60km/h. Improved reliability isguaranteed through an earlier rollout andtherefore more time to test, as well as the useof the same engine concept as last year.We want to thank all our sponsors for makingnb015 possible and invite everyone to visitus in our pit or at the campsite!- KTM 510ccm single-cylinder engine: 65hp, 55Nm, 31kg with fluids- Sachs Formula F3 Dampers with custom performace insidethe Monocoque- Carbon fiber rods with bonded aluminum inserts- Drexler limited-slip differential- Full-body CFRP Aero-Monocoque- Carbon fiber steering wheel, individualCFRP seat- Aerodynmics: Adjustable front and rear wing,single-piece undertray, sidepodsSpielberg 2015 | Formula Student Austria | 29
---
DInGEnS SITE PLAn OVERVIEW –Martin MATZERRed11121068943572130 | Formula Student Austria | Spielberg 2015
---
Event AreaBull Ring, Spielberg (AUT)August, 17 th – 20 th 2014N1 Registration2 Fuel Station3 Event Control, FS-Lounge, Business 1 & 24 Pits, Charging Area & AVL (Simulator)5 Scrutineering, Design and Cost Event6 Team Truck Parking7 Tilt, Noise, Rain and Weighing8 Practice Area9 Brake Test10 Visitor Area / Business 311 Dynamic Area – Skidpad, Acceleration, Autocross & Endurance12 Additional Parking13 Scrutineering Area (Dynamic Passes required)14 Tilt/Weighing15 Scrutineering16 Design & Cost (Mon) / Charging Area (Tue & Wed)17 AVL Stand & Simulator18 Charging Area19 Track Access – Keep clear at all times!Spielberg 2015 | Formula Student Austria | 31
---
E31Technische Universität MünchenTUfast Racing Team e-TechnologyAgility and ligthweight design -These were the key goals when we startedworking on eb015. Compared to the predecessorwe were able to save more than30kg of weight, even though we equippedthe car with a rear axle steering system. Partof the weight saving was achieved byequipping the car with carbon fiber gearboxhousings, SMC shells for the wheels andlighter aerodynamics. The improved agility isachieved by a reworked steering system,better torque vectoring and slip control aswell as better aerodynamics.We want to thank all our sponsors for makingeb015 possible and invite everyone to visitus in our pit or at the campsite.- Full-body CFRP monocoque- 4x AMK DT5: 31kW and 28 Nm- 7,6 kWh accumulator capacity- Electrically actuated rear axle steeringsystem- Self-developed motor-controller and BMS- Slip control and torque vectoring- Aerodynamics: Adjustable front and rearwing, single-piece undertray, sidepods32 | Formula Student Austria | Spielberg 2015
---
ETH ZürichAMZ RacingE33The AMZ Racing Team was founded in 2006 by students fromETH Zurich.The team is organised in active members and passive members.The active members are designing, building and testing the carfor the current formula student season. The passive membersare mostly so-called "veterans", former active team members,which assist the core team with their knowhow and experiencewhile maintaining the retired Formula Student cars.After competing with combustion cars for three years, the teamstarted designing electric cars in 2010. Since then, every carfeatured innovative solutions: 2011 the first self-develo-ped motor, 2012 10"-wheels and the first aerodynamicpackage, 2013 4WD and wheel-hub motors,2014 adaptive dampers and DRS, 2015 rearwheel steering and integrated suspension attachmentpoints.All cars are named after Swiss alpine passes(albula, maloja, simplon, furka, novena, umbrail,julier, grimsel). The newest car is called flüela. Itfeatures a one-piece CFRP monocoque with integratedsuspension points, self-developed AMZM5 motors, one-piece CFRP rims, triple-foil aerodynamics,including drag reduction system, rearwheel steering and an adaptive damping system.Name flüelaNickname(s) The TankPlace of birth Technopark, ZurichHair color Carbon-blackHair style UD-Twill 45Size 1.13 m highWeight 171.5 kgFavourite color TSAL-redFavourite food Testing kilometresFavourite sound Cantina BandFavourite movie HerbieI like ...freshly anti-seized wheelhubsI hate ... bumpy tracksI want to become ... reliableSpielberg 2015 | Formula Student Austria | 33
---
HeaderHochschule HeilbronnCar#, Country,HHN RacingUniversity,e.V.Teamname39HHN Racing is the redesigned Formula Student team of the UAS Heilbronn. In 2014 we finished the team reorganization withrenaming the team from "KüHN Racing" to "HHN Racing". Under the statement "Reliability first" we improved weight, agility andspeed. Despite the lack of experience and many rule changes in the aero area we still risked to develop our first aero concept.Frame Construction tubular steel space frame Engine 2008 Husqvarna 510 SMRMaterial E355 Bore 100Overall L (mm) 3035 Stroke 67,8Overall W (mm) 1478 Cylinders 1Overall H (mm) 1303 Displacement 534Wheelbase (mm) 1550 Compression Ratio 13,5Track (Fr) (mm) 1280 Fuel System Bosch MS4 ECU, manifold fuel injection, Bosch InjectorsTrack (Rr) (mm) 1234 Fuel E85Weight with 68kg driver (Fr) 130 Max Power Design (rpm) 9500Weight with 68kg driver (Rr) 158 Max Torque Design (rpm) 5000SuspensionDouble unequal length A-Arm. Push rod actuated, Drive Typechain drive 520 motorcycle chainadj. in compression and in rebound range.Tyres (Fr / Rr) 20.5x6.0 - 13 R25B Hoosier Differential Drexler FS limited slip differentialWheels (Fr / Rr) Braid Formrace 16 13"x6"Et+18 4x100 ⌀50 Cooling side mounted radiator with fanBrake Systemfloating 220mm wave brake disks,AP Racing brake calipers, adjustable brake balanceElectronicsself-developed Power Control Unit,multifunctional steering wheel,electropneumatic Shifting System34 | Formula Student Austria | Spielberg 2015Footer
---
Technische Universiteit EindhovenUniversity Racing EindhovenE40Photographer: Bart van Overbeeke PhotographyUniversity Racing Eindhoven (URE) was founded in 2003 and competed for the firsttime in a Formula Student event in 2005. Since then, we have built five combustioncars before making the switch to electric vehicles in the 2009/2010 season. Now, in2015, we have built our first four-wheel driven car; the URE10.The URE10 adventure started early 2014 with the concept prepration to enter FSUK'sClass 2 competion for vehicle concepts, obtaining both design event and overall Class2 victories. After another eight months of designing and four months of building, the carwas given birth, weighing 195 kg.The chassis consists of a full carbon fiber monocoque with aluminium honeycomb coreand a carbon fiber front impact attenuator. The car has a fully floating front and rearwing, with a drag reduction system on the rear wing.The complete powertrain (battery, inverters and motors) is self-developed resulting in amaximum power output of 140 kW and a 0-100 km/h time of 2.3 seconds. This power istransferred to the road by a 12:1 planetary gearset that drives 10" wheels dressed inself-developed Apollo slicks or rain tires.Optimal racing performance is ensured by traction control and torque vectoringsoftware, as well as a state of charge estimation and a lap detectionalgorithm to make sure every last electron is pulled from the107.0 kWh accumulator pack in the endurance event.Spielberg 2015 | Formula Student Austria | 35
---
E41Technische Universität WienTUW RacingTUW Racing participates in Formula Studentsince 2008. In 2014 we switched from combustionto electric drive. The edge7 is our second electric carand is an evolution of the edge6.We use our self-developed electric motors in thesecond generation. The edge7 has a lot of carbonfiber parts, e.g. A-Arms, monocoque, bodywork,aeropackage, rims. We would like to thank all oursponsors who help us to realise this project.Technical DataEngineECUWheelsElectronic GadgetsSuspensionFuelWingsDifferentialMax. powerDimensionsWeightFrame typeDriver2 x TUWR-E2 self-developedTTTech7.0x10, 25mm offset, one pieceCFRP rimTraction ControlDouble unequal length A-Arm,Pull rod actuated horizontallyoriented spring and damperNone, battery packFrontwing, rearwingElectric differential80kW1575 WB/ 1200 Track Fr163kg without driverOne piece CFRP monocoqueDaniel Grimmwww.facebook.com/tuwracing36 | Formula Student Austria | Spielberg 2015
---
Hochschule DarmstadtFaSTDa Racing42Spielberg 2015 | Formula Student Austria | 37
---
43UAS KonstanzBodensee Racing Team - KonstanzAfter a one year break from FSA we areback with our 10th anniversary car andenter Formula Student season with theIltis15, a completely revised car with itsorigin in one of Germany's most beautifulareas, the Lake of Constance.Just finished the most successful season in team history we are highly motivated to give our best to goahead of the last year's results. The happier we are we got one of the last starting positions of FSA andthe chance to participate in as many as four world ranking events this summer.The focus has been on a reliable and well tested car with a low center of gravity.We designed a completely new tubular space frame to integrate aerodynamic devices perfectly, to guaranteeaccessibility and enable an optimal packaging to tilt the engine.A modified 600cc 90hp Suzuki GSX-R engine cater for sufficient power and excellent drivability.With a completely new designed aerodynamic package we demonstrate unprecedentedideas in FS and deliver maximum downforce on track.10 years of Bodensee Racing Team would not have been possible withoutour sponsors and friends.Thank you so much for your trust and ongoing support.38 | Formula Student Austria | Spielberg 2015
---
University of Applied Sciences DeggendorfFast ForestE44#SauGuad#ReadyForAustriaWe are the Formula Student Team of Deggendorf IT. This year, our young and motivated teamis looking forward to join the event in Spielberg at the Red Bull Ring for the third time afterparticipating in 2010 and 2014. Of course, always with us is our very fast and well-designed racecar,Jenny 7e. Our aim is to improve the performance of the last years.The team:Our team currently consists of about 70 active members,which are all addicted to Jenny and the project. All of themare experts in specifi c areas from the different faculties ofour university.Jenny 7e:Be curious about Jenny!The big three goals for this season are:• reliability• VCU• aerodynamicsTechnical DataFrameCFRP monocoqueMotors2x Continental BAS+Weight240 kgPower80 kWAerodynamicFront and rear wing, Undertray, side podsPower electronicsContinental REX,SuspensionDouble wishbone with directly actuatedself-developed controller softwaredamping systemMax. system voltage353 VDampersZF Sachs Formula StudentBattery cellsLiPoWheels / Tires7x13 with 205/510 R13 Conti tiresMax battery capacity8,7 kWhDimensions WB: 1575 / TW f/r: 1207,5/1212,3MiscellaneousTorque-Vectoring, live-telemetry systemSpielberg 2015 | Formula Student Austria | 39
---
E45Hochschule Bonn-Rhein-SiegBRS Motorsport>> Motivation is the fuel, necessaryto keep the human engine running.
---
Politecnico di TorinoSquadraCorseE46SquadraCorse is a student team fromPolitecnico di Torino, born in 2004 thanks tothe effort and passion of a group of youngengineers for motorsport. Every year a brandnew race car is designed, realized andassembled by a team of designers andand engineers of different nationalities. The mix of Italian and international studentscontributes to the introduction of new features and technologies in our prototypes, in orderto run and conquer the Formula SAE. Thanks to the successes achieved since its birth,nowadays SquadraCorse is the first team in Italy!In 2010 our hybrid vehicle SC08h saw the United States' circuits,thcollecting another important landmark in the story of the team.Today more than 75 students work at the 10th prototype: the SCXV.As a company, our team is structured in divisions that respectivelyare responsible for: Chassis, Powertrain, Aerodynamics and Electric Anniversary& Electronics, all supported by the administration of the Sportingdivision.During the 10 years of activity weexperimented the combustion, hybrid andelectric technology, we turned the steel tubeframe into monocoque and today weintroduce the all-wheel drive powertrain andan innovative aerodynamics.LengthHeightWidthWheelbaseEngine2970 mm1250 mm1400 mm1580 mm4 motors, 35 KW peakpower and 20'000 RPMTyres Pirelli 180/530-13Weight230 kgPlanetary Gearbox Gear ratio 1:16Battery Pack 6,7 KWh, 144 cellsChassisOne piece compositemonocoqueSpielberg 2015 | Formula Student Austria | 41
---
HeaderFriedrich-Alexander Universität Erlangen-NürnbergCar#, Country, High-Octane University, Motorsports Teamname49Another speciality of our car is the aerodynamicpackage. Our front wing consists of four elementsand our rear wing consists of even five on first + threeon second level together with unique endplate designto increase wing efficiency. Furthermore, wedeveloped our first undertray since 2012.To improve our performance and stay innovative wedesigned a new damper, anti-roll bar concept. Thisbroadens the variety of setup adjustments.This year we compete in Hockenheim, Spielberg andGyör.High-Octane Motorsports is the FSC Team of the University ofErlangen-Nuremberg. We will be competing with our eighth car, theFAUmax theta, in 2015.The most outstanding technical feature of our car is the powertrain.The modified Aprilia V2 engine is mounted longitudinally andtransmits its power to the rear wheels through a bevel gear.Technical DataEngine Aprilia SXV 550 ECU DTAfast S80 ProElectronic Gadegts Two way Live Telemtry Frame MonocoqueFuel E85 Dimensions Length: 2875mm;Width: 1415mm;Height: 1195mm;42 | Formula Student Austria | Spielberg 2015Footer
---
HeaderTechnische Universität GrazTU Graz Racing Team53Car#, Country, University, TeamnameTU Graz has been around the Formula Student for quite a long time andour newest car is the 12th iteration of the TANKIA family. Although webuilt some great cars in the past there still was some room forimprovements for this year's model, the TANKIA 2015 or 'Katy',as we decided to name her. Katy was designed to be faster,lighter and more reliable. For more detailed informationregarding the car's technical specifications please refer to thetable below.With that in mind, we are highly anticipating the season and arepoised to achieve great results at our home race in Spielberg,just about 85 km away from our workshop. Until now it's one ofthe few race tracks in Europe where we haven't managed totake the top spot so far. The team behind the TANKIA 2015consists of around 40 students. Although most of them are engineers there are also members from differentfacilities helping the team with their experience and expertise, creating a great mixture unified by chasingafter one common goal: getting the best results for Katy during the 2015 season.Technical DataChassis typeone-piece carbon fibermonocoqueSuspension front/rear pull rod/push rodEngine KTM 500 EXC Tires Hoosier 10" LC0Fuel RON 100 Wheelbase 1550mmMax. Power 65hp@9500rpm Track front/rear 1180/1150Max. Torque 53nm@7200rpm Weight front/rear 51%/49%FooterSpielberg 2015 | Formula Student Austria | 43
---
E53Universität SiegenSpeeding Scientists Siegen e.V.Technical DataEngineWheelsElectronic GadgetsSuspensionAccumulatorWingsDifferentialMax. powerDimensionsweightFrame typeBest Feature2x Vues AFW505CA18x6 R10Active Slip Control, Digital FusesDouble Wishbone144s2p, 7.4 kW/hRear, Front and UndertrayElectronic40 kW per Motor1563 WB/1200 Track195 kgFull Composite MonocoqueDonut MachineThe Speeding Scientists Siegen e.V. was established in 2008.Finishing the first season as "best newcomer 2009", theteam had a quickstart into Formula Student. The first twoyears, the s3racing-team competed with combustion cars.In 2011 we changed to electric engine. For the season2014 we developed our first monocoque and continuedour way to a lightweight racecar in 2015 by cutting theweight to 195 kg and producing the lightest car in ourteam history. We went not for revolution but evolutionand refined some production skills and details like theengine which we built not by using a complete engine butonly rotor, stator and resolver.Our approx. 30 members of the active team always cancount on some good advice by our alumni and on strongsupport by local companies. Our team consists of differentdegree courses and works best in interdisciplinarychallenges. For our first participation at the formulastudent Austria event we wish to enjoy a very special andintense atmosphere, the other teams' company and to bespeeding, of course.www.fb.com/s3racingwww.s3racing.de44 | Formula Student Austria | Spielberg 2015
---
HeaderTH NürnbergCar#, Country, Strohm University, + Söhne e.V. TeamnameE60Founded in 2011 our teamStrohm + Söhne e.V. from theNuremberg Institute of Technology isone of the younger participants ofFormula Student. This year our aboutfifty members built our overall thirdracecar, with the ambition to makeanother step forward in order to closethe gap to more experienced teams. Inthe registration quiz we did cut quite afigure and now we hope we can do soalso on the racetrack.Anyways, we are absolutely psyched tomeet all you guys and hope we all havea great time together. :-)NORA 3MOTOR single real-wheel drive / IDAM 80 kWFRAME steel tube trellis framePSU 6.4 kWh LiPo / 400 V nominal voltageWEIGHT 250 kgEXTRAS dynamic differential lock, fast adjustablesuspensionstrohmundsoehne.de facebook.com/strohmsoehne twitter.com/strohmundsoehneFooterSpielberg 2015 | Formula Student Austria | 45
---
HeaderCzech Technical UniversityCar#, Country, eForce University, Prague FormulaTeamnameE67Are you looking for the only Formula Student Electric team from theCzech Republic? Then remember number E67! Our team fromCzech Technical University in Prague is coming with the 4th car,featuring 4WD powertrain - FSE.04X.Our philosophy is to develop as many components as possible by ourselves. For example all PCBs aredesigned and assembled by us. Having self-developed the control systems, we can adjust the vehicle'sdriving dynamics according to current conditions. The on-board system comprises 8 ECUs, communicatingvia CANbus. Each ECU has a task of its own, for example the Motor Controller takes care of both motors onone axle. The front motors are placed inside the wheels, boasting a power output of 8kW each. The rearmotors, mounted inside the frame, are ready to tear the tarmac with ferocious 25kW each. As we don'texpect the Great Flood any time soon, our car isn't built around a carbon-fibre kayak and relies on a steeltubular frame instead. If you want to meet us, look for the Czech flag and barrels of beer in the campsite.Looking forward to seeing you! Technical DataMotors 4 independent motorsMotor inverter MiRy XBoss (custom design)Wheels AVON, 7.0/16.0 - 10Electronic Gadgets own designSuspension Double wishbone, pushrodFuel electricity from renewablesources only Wings Yes with DRSDifferential electronic, torque vectoringMax. power 66 kWDimensions 1540 WB, 1250/1200 Trackweight 220 kg without driverFrame type CrMo steel, TIG weldedDrivers The best!Best Feature Racing46 | Formula Student Austria | Spielberg 2015Footer
---
HeaderFH DiepholzCar#, Country, Deefholt University, Dynamics e.V. Teamname69The racing team "Deefholt Dynamics"consists only of students doing anintegrated degree program. That makes usdifferent and special compared to manyother teams. Our challenge is to design andbuild the car within half a year. So in 2015we began in January. Our team iscompletely substituted annually.Deefholt Dynamics started to participate in Formula Student in 2006. After two years of designing acombustion race car the team switched to the electric event. This years special challenge is to switch tocombustion again even if there is no possibility to get know-how from the previous years. With a number of26 mechanical and industrial engineers weachieved success and managed to build a drivingcar.2015 is our first participation at FS Austria inSpielberg. We also took part in the FSG event inHockenheim and the ZF Racecamp inFriedrichshafen.Technical DataEngine Yamaha YZF R6 RJ05ECU Silent HektikSuspension Double wishbone withpushrodsDifferential DrexlerWeight 230 kgDimensions 2750x1500x1250 (LxWxH)Frame type Tubular steel space frameFooterSpielberg 2015 | Formula Student Austria | 47
---
Header Hochschule AugsburgCar#, Country, Starkstrom University, Augsburg Teamname e.V. E69Starkstrom Augsburg participates this year withits fourth race car since foundation in 2011. TheCar is named "Cedur", after a character of the"Augsburger Puppenkiste". This season the maintarget was to get a highly reliable and well testedcar. Because we are producing a significantamount of parts ourselves, we improved ourconstruction and manufacturing process. Themost remarkable novelties of "Cedur" are theDRS, the own developed AMS and the new powertrain.Furthermore we strengthened the design focus onligthweight solutions to stay competitive. Thisleads to faster lap times and lower energyconsumption. Elaborated electronic driverassistance systems such as torque vectoring andtraction control enhance the driving performance,while the implemented recuperation algorithmenables to feed back energy to the accumulatorwhilst braking, which increases themaximum range.Technical data Dimensions Weight Frame type Wings Safety Suspension Wheels Engine Max. Power Accumulator ECU Driver Assistance Systems Electronic Gadg-­etsBest Features 1550 WB,1250 Track front/1200 rear242 kgOne piece compositemonocoque withanti rollbar structuresFront wing, rear wing,beam wing, undertray withventuri-tunnelsAluminium front hoop, Aluminiumhoneycombcrash structureDouble unequal length A-Arms, Pull rod actuatedhorizontally orientedspring and damper205 / 510 R13 34 M,Continental1550 WB, 1250 Trackfront/ 1200 rear2x 40 kWLiPo, Capacity 6.66 kWhdSPACE MicroAutoboxTorque vectoring, tractioncontrol, recuperationE-Ink display, own developedlive telemetryLow COG of dampers andsprings, fast changing LV-Accumulator, Physical appearance48 | Formula Student Austria | Spielberg 2015Footer
---
Fachhochschule CoburgCAT-Racing70Spielberg 2015 | Formula Student Austria | 49
---
71University of PittsburghPanther RacingPanther Racing is proud to present its new FSAE vehicle prototype, PR‐027.Weighing in at 435lbs without aerodynamics, PR‐027 boasts a 29lb weight loss compared to itspredecessor. This is the 27th car in Pitt FSAE history which features a steel tube space framechassis, Honda CBR600RR engine, 13" wheels, and a full aerodynamics package. A completerevamp of the team's structure and established design and manufacturing deadlines has enabledPitt FSAE to produce the most advanced vehicle and team to date.This competition season, PantherRacing plans to attend FSAEMichigan, Formula StudentGermany, and Formula StudentAustria. Thank you to all of oursponsors and Hail to Pitt!(ed: reformatted & pictures added by the FSA editorial Staff – pictures © Panther Racing Facebook page)50 | Formula Student Austria | Spielberg 2015
---
HeaderUniversite ´ LavalCar#, Country, University, ULaval Racing TeamnameE77Engineering Design Priorities (ordered bypriority):#1: Drivability#2: Performance#3: Reliability#4: Manufacturability#5:ServiceabilityThe ULaval Racing team is proud to present its first everelectric prototype for its first participation at FSA! Built anddesigned from the ground up with our 5 guiding principles inmind, we present you a 4WD, steel space frame, 185kgracecar. Simulations tools were used from the beginning toguide our design choices in order to achieve the highest scorepossible.This car is simple, easy to drive and requires verylow maintenance. Yet, it'll definitely give the driver a shot ofadrenaline!Technical DataEngines 4, Self developedECU Self developedWheels Hossicier 6.0/18.0-10 LC0Electronic Gadgets Seriously RidiculousSuspension Fully constraintFuel 1.48x10 26 eVWings So PerfectDifferential On dash controlMax. power 17kW / 25kWDimensions 1530 WB/ 1200 Trackweight 250 kg /w driverFrame type Canadian steel space frameDriver Max GBest Feature Leather seat & driving wheel*FooterSpielberg 2015 | Formula Student Austria | 51
---
HeaderHochschule PforzheimCar#, Country, Rennschmiede University, Pforzheim Teamname79The UAS Pforzheim with its Formula Student Team "RennschmiedePforzheim" is located right next to the beautiful black forrest. We areone of the hightest ranked Universities in Germany and referring thisaspect, we focus on quality!The "Rennschmiede Pforzheim" is now in its fourth season and we arehappy to competete again with racing teams all around the world.With our 25 active team members we were able to reengineer andimprove every aspect and detail of our new race car. The new hearth of our car, theengine is only one of several improvements. With less cubic capacity but samepower it has a even better power to weight ratio. Moreover, our improved andstreamlined Airbox will now support the engine even more. Additionaly, due to a onepieceunderbody, optimized suspension and bodywork, more aluminium parts andmore carbon fiber we were able to reducethe overall weight enormously. All of ourinnovations result in a way lower center ofgravity compared to our last year's car.The outcome is a fast, agile but also robustrace car which has the potential towithstand every single dynamic disciplineand race amoung the best!Technical DataEngine KTM SX-F 450 SingleCylinderECU Bosch MS4Wheels HoosierElectronic Gadgets Live TelemetrieSuspension Double unequal length A-ArmFuel gasolineWings N/ADifferential Drexler limited slip differentialMax. power 37 kWDimensions 1530 WB/ 1220 Trackweight 170 kgFrame type Tubular space frameDriver DesignatedBest DrivesFeature52 | Formula Student Austria | Spielberg 2015Footer
---
HeaderUniversity of BresciaCar#, Country,UniBSUniversity,MotorsportTeamname82UniBS Motorsport is a preatty young team since it was born in 2014 andBrixia2 is the second car ever built at Università di degli Studi di Brescia.We just partecepated in FS Italy in 2014 and we had a blast with FormulaStudent event and ist environment so, this year, we plan to partecipated intwo events: FSA and FS Italy. Passion, commitment and enthusiasm drive our Racing Dream!The car's name –Brixia- is the name of our city in latin language and 82 is the fundation year of ourUniversity. We do love combustion engine so we put a small, loud and wicked two-cilinder Aprilia 550ccengine in our back. We paid a lot of attention in vehicle dinamics and driver egonomics and our teamhas been working hard to this project since we came back from last event in 2014.Main Brixia2 technical features:Chassis: tubular 25CrMo4 spaceframeSuspension system: front and rear double wishbone, carbon fibre arms glued with aluminium rod-ends. Pushrodsdesigned on truly expensive Ohlins TTX dampers. Very cool front and rear anti-roll baldes.Engine and transmission: nice and light Aprilia 550cc. Drexler LSD. Chain transmission and titanium axels.Electronics and controls: Magneti Marelli ECU, Gear Actuator, Acquisition system and dashboard. Italian heritage.Aerodynamics: undertray with diffuser may give us a bit of downforce. Wings? Maybe next year.Brakes: 4 pistons front and 2 pistons rear Brembo Calipers, working on students designed discs, can stop our car.Tyres: 13" Pirelli. Colored in black. Not the ones Bernie uses for his TV show. No artificial degradation.Don't forget to stop by our box to say hello and eat some fine italian food.FooterSpielberg 2015 | Formula Student Austria | 53
---
HeaderDelft University of TechnologyCar#, Country, Formula University, Student Team TeamnameDelftE85Formula Student Team Delft is a team of over 60 eager engineering studentsfrom over 6 different faculties of the TU Delft. The team is divided into sixtechnical departments and a management team of four people.The DUT15 is the product of a year's hard work, and the car of anniversaries:the teams 15th car, 5th electric car and 4th 4WD car. Delft is known forengineering extremely light weight and agile cars and the DUT15 continuesthis trend. The team saw huge potential in last year's car and for the 2015season, the team decided to give the innovative centerless innerwheel concept a second iteration.One of the big innovations of last year were the self-developed 14.5" tyres. This year, the team aims toimprove the tyres, both in compound and in structure. Moreover, the drivetrain has been trimmed in weight,slimmed down and half of the brake caliper is integrated in the upright. Other firsts this year are the team'sone-piece monocoque, the side wings and the unsprung front and rear wing.Technical DataEngine 4x AMK DT5-14-XXX-POW Differential E-differentialECU Self-designedMax. power 4x 32kWWheels 225-368-R10 ApolloDimensions 1530mm WB/ 1200mm TrackElectronic Gadgets DRS, telemetryWeight 165 kgSuspension Double unequal length A-arms,pullrod front pushrod rearFrame type CFRP single piece monocoqueWings 1175N@80kph, unsprung Best Feature Spokeless 14.5" wheelsfront wing and rear wing54 | Formula Student Austria | Spielberg 2015Footer
---
Hochschule EsslingenRennstall Esslingen94Spielberg 2015 | Formula Student Austria | 55
---
HeaderHochschule EsslingenCar#, Country, E.Stall Esslingen University, TeamnameE94The E.Stall Esslingen was founded in 2012 and is he electric team of theAUS Esslingen with the Rennstall Esslingen as its sister team. We are asmall team of about 15 students located in Göppingen with a greatpassion for racecars an especially electric ones. Our new car – EVE '15was presented to the public May 11 on a great double rollout togetherwith the combustion racecar Stallardo '15.EVE '15 is the result of our modular conceptgoing even further. Two different monococues– for the combustion and the electric car – outof the same tooling.In addition, the new car features a unique newspring and damper system never seen informula student before.Feel free to visit us at our pit!Wheelbase:Track front:Track rear:1600 mm1200 mm1150 mmEngine: 2x Enstroy Emrax 207Max Power: 150kW / 80kWGearbox: Student built epicyclic gearingTS Voltage: 470 VBattery Type LiCoO2Capacity 7,7 kWhWheels: Hoosier R25B 7,5x10Suspension: SLA with pushrod actuated threedamper systemElectronics: self-developed ECU and 12 otherself-developed control units56 | Formula Student Austria | Spielberg 2015Footer
---
Helsinki Metropolia University of Applied SciencesE98, Finland, Helsinki UAS,Metropolia MotorsportMetropolia MotorsportE98Our basic concept this year is getting out of the iron age, some partsare just not meant to be made from steel. That is even if the God ofsteel, Vulcan, told us to use it!Our frame has been made out in the cold. Lucky for us the weldingflame keeps us warm and high strength steels even tend to shimmer so bright that it scares the wolves away. EvenNjorse, the god of wind, keeps the protective gas around the weld. The side panels are made out of carbon fibre whichhas been a good way to bring down the total weight of the car.The steering and suspension is made out of steel and aluminium. You read correctly, aluminium. We have heard it'slighter than steel if used properly. The steering weighs about 1,4 kg, most of that is just the steering wheel. Suspensionarms have been downgraded to steel, we did not want to gather carbon fibre parts from the track. Even the weight isO.K. when the suspension is optimized.The powertrain should actually work this year! We use ABB inverters,which allow us to use proper vector control which should be needed ifwe are going to be successful in the competition. Industrial parts arenot even that heavy if modified enough. We use Siemens rotors andstators and the rest of the powertrain has been built around them.The accumulator container has been made out of aluminium. It is notthe lightest contruction but the Gods of carbon fibre (we are still tryingto figure out who we should pray for) has not been in our favor. TheBMS has been partly self made. We designed the voltage andtemperature measuring boards ourselves, the main BMS controller is bought. We try to make more and moreelectronics by ourself in the incoming seasons. It is cheaper and we get to learn a lot of the systems which you do notdo with bought parts!We were lucky to have some Swedish vikings trying to rob us. Their copper age axes are amagnificient raw material for the wiring harness. We have not been able to make the mosthigh end electronics for the car, but we believe in a highly reliable car with all the basicfunctions working together with very few problems.The overall design is made as simple and reliable as possible. We strongly believe that thiswill be the key for the whole season and a a successful design. Even though beliefs shouldbe kept in churches the Gods of engineering should now and then be consulted.Technical DataMotors 2 x Siemens 1FE1082 Weight Depends of the driverECU Electrobit EB 6120 Max. power Not enoughWheels Hoosier LC0 6.0/18.0-10 Dimensions 1525 WB/ 1200 / 1160 TrackSuspension Five wheels including steering wheel Frame type Some tubes plus some compositesFuel 588 little men named Volt Driver Too slowWings Two pieces plus one aeromysticaldevice under the carBest Feature Hasn't hit the wall (yet)Spielberg 2015 | Formula Student Austria | 57
---
99Hochschule Karlsruhe - Technik und WirtschaftHigh Speed Karlsruhewww.highspeed-karlsruhe.deThis year, High Speed Karlsruhe built its 10th car and is facing one of the greatestchallenges the team ever had. For the F-109, a complete new concept was madeup. The main goal was to reduce weight - and make it faster. Out of question, wemade an outstanding racecar in contrast to the previous ones and a promisingcandidate for the competition.QUESTIONS & ANSWERSWhich engine powers the F-109?We use the engine from a Suzuki RM-Z 450with 60PS.Which ECU is used?The EFI Euro4. Yep.What colour is the car?Well, traditionally our cars are red.How much does it weigh?Not very much of course. Our strong teammember K.P. can lift it.Which frame type is used?The F-109 has a full monocoque made of CFRP.No frame is better than one frame.(also two are better than one)How about the dimensions of the car?Overall length : 2947mmOverall width : 1358mmOverall height : 1200mmWheelbase : 1570mmWhat are these fancy wings for?They generate a total downforce of 1097N at 80 km/h.Who will drive it?Of course the Stig asked us after Top gear was takendown. But we denied because we already haveRodolphe "Racing Rudy" Pineau,Lukas "Der Grobmotoriker" Müller,Marco "CMG" Giuliano,Marcel "New guy we set a lot of hope in" Schaaf"This season, I finally felt I was working with professionals."- Oliver Stumpf, Faculty Advisor58 | Formula Student Austria | Spielberg 2015
---
HeaderRWTH AachenEcurie AixE99Car#, Country, University, TeamnameFooterSpielberg 2015 | Formula Student Austria | 59
---
FSA on the intertubes fsaustria.atyoutube.com/user/fsaustriaflic.kr/photos/fsaustriafb.com/FormulaStudentAustria@fsaustriaFORMULA STUDENT AUSTRIAImpressumHerausgeber:FSA BewerbsorganisationPlüddemanngasse 398010 GrazGestaltung;Lukas RaschendorferJulia Feirer© 2015 Formula Student Austria