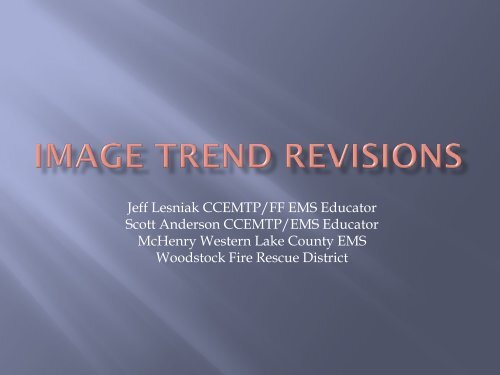 New! Image Trend Software
New! Image Trend Software
New! Image Trend Software
SHOW MORE
SHOW LESS
Create successful ePaper yourself
Turn your PDF publications into a flip-book with our unique Google optimized e-Paper software.
Jeff Lesniak CCEMTP/FF EMS EducatorScott Anderson CCEMTP/EMS EducatorMcHenry Western Lake County EMSWoodstock Fire Rescue District
---
• IDPH maintainselectronic database.• "Old" Image trend wasnot properly reportingdata to the database.• "New" Image trend will.Also will allow forpossible future changes.
---
Go to "Add Run" as usual.
---
This will be the screen you will begin with
---
Click on "response times" on the far right of screen or the DispatchTimes and Info tab to enter times.
---
Anything in the report that is colored RED, must be completed for therun to meet the 100% validity.
---
Call number, crew information, vehicle information, etc.Each item in the blue rows will expand or contract when you click.Anything red, must be completed.
---
The personnel field, expanded.
---
Patient demographics, incident address, etc.Still has the "repeat patient" function.
---
There is a lot of extra information in the blue rows if you choose tocomplete it.
---
The SAMPLE tab is self explanatory. Lots of required informationhere.
---
Some of the blue rows in the SAMPLE tab.Allergies and Medications are required fields
---
Impressions have been moved here (used to be on narrative tab)Click on medical, injury, burn as necessary.
---
No change in this.
---
Same information as before."Quick Buttons" will change based on whether it is ALS/BLS call.The majority of skills are still under "procedures."
---
Vitals Button
---
Example of IV page
---
Scrolling down the activities tab, you have more optional "blue rows."Please review the information that can be entered in the PA and Proc tabs
---
Your destination, lights, and sirens, etc are in this tab.Note the multiple blue rows.
---
Majority of this will carry over from previous fields.Double check to make sure you have no red fields.This is meant primarily for tablet computers.
---
Blue rows here include valuables, your narrative field.
---
Narrative field. Still has spell check option.Turn around delay is also in the bottom of this field
---
If your Validityis not 100%, clickthis tab to findout what ismissing
---
Still need "100%" Validity. By clicking this button, under the times, itwill show you what you are missing.Click "Go" and will immediately pull it up.
---
Exactly the same as before. Region 9 PCR.
---
Face sheet? EKG? Med List? Completely optional at this time, but anice feature. Same as before.
---
If you want to add an attachment, you will get a box similar to this.You will click on "add attachment" and import from a saved location.
---
If you need to add anything to your narrative or change the report in any way after ithas been completed. You need to go into "Add Addendum".You may not alter your original chart!
---
Click on the "Add Addendum" tab and enter any changes
---
NOTE….If you do not want to lock the chart, do not hit the"Mark Run As Completed" tab. The report will stay open 4 days as it did withthe last program and then automatically lock.