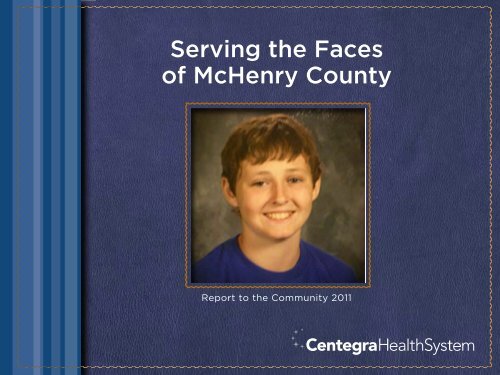 Recovery
01 Cover v4 - Centegra Health System
01 Cover v4 - Centegra Health System
SHOW MORE
SHOW LESS
You also want an ePaper? Increase the reach of your titles
YUMPU automatically turns print PDFs into web optimized ePapers that Google loves.
Coun ty's Firs t Robotic Surgery
---
AdvancedTechnologyCentegra Brings Robotic Surgery to McHenry CountyA team of highly skilled physicians and Centegra Associates performedMcHenry County's first robotic surgery July 6, 2011. The team usedthe newest daVinci Si HD Surgical System to perform a prostatectomy(removal of the prostate) on a 56-year-old patient. The purchase ofthe $2 million robot was just one way Centegra fulfills its mission tobring the latest technology to the people of the region. Robotic surgeryappeals to physicians and to patients who want the latest surgicalinnovations to treat their conditions.Robotic surgery helps physicians perform minimally invasive surgery so theirpatients have fewer complications, experience less blood loss and get out of thehospital more quickly. Patients enjoy more mobility immediately after surgerybecause procedures are performed through four to five incisions, each which isless than a centimeter in length.Although urology was the first specialty to utilize Centegra Health System'srobotic surgery capabilities, other specialties are now exploring the ways roboticsurgery can advance the care they provide to patients in greater McHenryCounty. Centegra continues to work with physicians and Associates to bring themost advanced technology to the people who live in the communities we serve.
---
Debbie Bielinski's Pearls for Wellness"How cool is it toget a cultured pearlafter working out?"-Debbie Bielinski,Pearls for Wellness program participant
---
ProactiveHealthPatient Collects Pearls on Road to Healthy LivingSince Centegra began its Pearls for Wellness program March 1, 2011,Debbie Bielinski has collected more than 44 pearls for her efforts tobecome healthier. She is one of thousands of greater McHenry Countywomen who have received pearls through Centegra's Pearls forWellness program. More than 20,000 pearls have been distributedthroughout the county to promote women's health.The program encourages women to make wellness and disease prevention apriority. Centegra celebrates women's commitment to good health by offeringa pearl for taking part in a program offered at Centegra. These programsinclude an annual physical and annual pap smear with Centegra PhysicianCare, classes at Centegra Health Bridge Fitness Center, select physicianlectures and more."When I heard about the pearl program I was excited about it," Debbie said."I thought it was fantastic. Every pearl is going to represent an hour ofworking out and an hour of getting closer to my goal. My plan is to continuecollecting the pearls for a necklace, a bracelet and an ankle bracelet."
---
Jared Zientz's Teen Heart Screening"I'm so glad that wedid this test. I wisheverybody would do it."-Diane Zientz,Woodstock
---
EducationalScreeningsHeart Screenings Provided to Local TeensDiane Zientz was aware of the recent cases of heart trouble inteenagers. When she heard that Centegra Health System was offeringheart screenings, she decided to get her 13-year-old son and athlete,Jared, screened. According to the American Heart Association, one outof every 9,000 teenagers dies each year from an undetected heartproblem. After follow-up tests, Jared Zientz's heart defect was revealedas rheumatic carditis.Diane said that while the result of a sporting event seems important in anathlete's mind, it doesn't outweigh the potential risk to his or her health. Shesaid knowing Centegra offers this screening makes her more comfortable withJared out there playing."I'm so glad that we did this test. I wish everybody would do it," Diane said.Centegra Health System in the only health system in the county that offersechocardiogram (ECHO) heart screenings designed for teens 13 to 18. An ECHOheart screening is an ultrasound of the heart and can help detect heart defectsand abnormalities, even when no symptoms are present.
---
Employer's Worksite Wellness Success
---
WorksiteWellnessIllnesses Detected, Lives SavedAmerican Community Bank Chief Executive Officer Charie Zanckis proud of the wellness efforts put forth by her employees whoserve in four different locations throughout McHenry County.More than 70 percent of those bankers have participated inCentegra's Worksite Wellness Program, and that's a number thathas steadily increased each of the last three years.Zanck said through the program's health risk assessments, wellnessscreenings and lunch and learn educational events, cancer and otherillnesses have been detected and lives have been saved. Important bloodpressure, cholesterol and blood glucose levels have also been lowered.Because Centegra Health System and American Community Bank arecommitted to the wellness of our community, these bankers havelearned to live healthy lifestyles through nutrition, portion control,exercise, aerobics and much more.
---
Full Continuumof CareCentegra Health System's Integrated Delivery Modelfeatures an interdisciplinary approach to healthcarethat promotes collaboration between physicians, Centegra Associates,patients and their families. Our healthcare providers work as a teamto develop an individualized treatment plan for each patient.We responsibly plan and implement community-based care fromprevention and wellness to recovery and rehabilitation programs. Inthe past year, Centegra has continued to improve the way we providecare to the community.Examples include:• Centegra's employed physician group expanded to meet the community'sneeds to include chiropractic, endocrinology, geriatric, hospitalist,immediate care, wound care and other specialty services.• Centegra announced the expansion of our Sleep Services Department toinclude six new beds at Centegra Sleep Disorders Clinic-Algonquin. Theexpansion comes as a partnership with the former Alternative SleepDisorders Center-Ltd.• Centegra also expanded its services by partnering with the Center forNeurology, located in Crystal Lake. The Center for Neurology is now part ofCentegra Physician Care.
---
Foundation's Enrichment of Quality Healthcare
---
CivicStewardshipCompassionate donors are critical in supportingtoday's health programs and services that maynot be funded in any other way. Centegra Health System'scommitment to caring for the health and wellness of all themembers of our community is clearly evident in the millionsof dollars of care provided regardless of an individual'sability to pay.What's more, Centegra invests millions of dollars in capital improvementsto facilities, equipment and technology upgrades to keep the level ofprograms and services equal to academic medical centers and large cityhospitals. A portion of the funding for those improvements comes fromgenerous donors to Centegra Health System Foundation.Centegra Health System Foundation raises funds to support the goals ofclinical excellence, superior service and promoting wellness for thegreater McHenry County area. Through fundraising, special events andstewardship and by embracing donor passion for superior health care,the foundation works to provide the health system with the essentialfinancial resources needed to support its strategic goals .
---
FoundationDonorsDiamond - ($100,000.00+)Auxiliary to Centegra Hospital - McHenryCentegra Hospital - Woodstock AuxiliaryGavers Community Cancer Foundation†Marjorie Kamin†Willard E. PearsonEmerald - ($50,000.00+)†George and †Ruth FrejdDonald E. LewisVirgil R. and Jean SmithRuby - ($25,000.00+)First Midwest BankSapphire - ($10,000.00+)Marietta J. Abraham, M.D.*James and Linda AdamsonA-TEC Ambulance, Inc.Dr. Pasquale and Marianna Bernardi M.D.Carey Electric Contracting, Inc.*Thomas and Julie CareyCurran Group, Inc.*Mike and Kara CurranTimothy Curran*Michael and Donna FordHealth Bridge Fitness CenterNancy E. Henn - Living TrustCharles and Mary Liebman*Neil and Linda Murphy*Kumar Nathan, M.D.Chris and Kristine Newkirk*Lisa and Christopher O'NeilPFS GroupPower Construction Company, LLCSage Products, Inc.Sodexo, Inc.Stan's Office Technologies*David and Nicole Tomlinson*Matthew and Kelly Towler*Chris and Christine Westerkamp*Kathleen M. YoungBy Donation CategoryPearl - ($5,000.00+)Alliance Contractors, Inc.Anonymous*Charles and Mary BudreckCentegra Hospital Medical-Dental Staff - McHenryCNK Investments, Inc.Crystal Lake Orthopaedic SurgeryDellGilcor Construction Corporation*Frances and Dean GlossonInternational DecoratorsAnoop Karna, M.D.Michael and Judy LuechtMartySmith FinancialMcHenry Radiology & Imaging Associates† = Deceased * Current Pledge of $10,000+
---
FoundationDonorsGail I. Moreschi, M.D.NEBO Systems, Inc.Northwest HeraldRescue Eight Paramedic Service, Inc.Chuck and Helen RuthScottsdale Properties, LLC*Rachel and Steve SebastianMartin Smith and Betty HamiltonStuckey Construction Co., Inc.Total Home Health, LLCWalla-Pa-LoozaWildman, Harrold, Allen & Dixon LLPWoodstock High SchoolCrystal - ($2,500.00+)Althoff Industries, Inc.AnonymousAON Risk SolutionsAspen Lawn & Landscaping, Inc.CC's Salon, Inc.*Michael and Denise EesleyFire Guard of Illinois, Inc.Tim FrielFull Circle FoundationGehrke Technology GroupCarl N. Graf, M.D.Hammes CompanyLuba HarbuziukHome State BankBy Donation CategoryHome State Investment CenterIKON Office SolutionsIllinois Spine InstituteJPMorgan CHASE & CompanyKleen Air Service CorporationFred and Veronica KlewitzMad Hatter's CommitteeMcKinney Prosthetics, LLCMedela, Inc.Milwaukee Regional Medical Center, Inc. - Flight for LifeDr. Joseph R. Misulonas and Mrs. Connee MeschiniProteus Group LLC*Jason and Amy SciarroShaw Suburban Media Grp, IncSpengel FinancialThe Rabine Group FoundationUngaretti & HarrisPlatinum - ($1,000.00+)Linda L. Alic, M.D.*Cindy and Buster Amore*Judy AndronowitzAnonymous*Karen and Richard Battaglia*Bob and Rosemary BlazierCarol M. Block*Gregg and Linda Braun*Dr. Dudley and Jill Brown*Mike and Rosie Budreck† = Deceased * Current Pledge of $10,000+
---
FoundationDonorsBusiness Graphics, Inc.*Ron and Linda Bykowski*John and Patricia Colomer*Dana ConwayDennis and Janet ConwayCovalt Family Foundation*Dr. William and Jan Cox*Colleen and David Delahunty*Jane M. DevereauxCharles R. and Joan Dolan*Mia Y. DonoghueEmployee Resource SystemsAlissa Erogbogbo, M. D.Fidelity Charitable Gift FundFox Lake Fire Protection District*Megan M. Francois*Scott and Barbara GillelandGnaster & Gnaster, Inc.*Rita and Mark GoodeJeff GorskiCarl and Cathy Gustafson*John and Janet Heinrich*Denise R. Heisner*Ann and Earl HughesITW Foundation 3 for 1 Matching ProgramJ.A. FRATE, Inc.*Barbara and Maurice Johnson*Luke and Judy Johnsos*Michael and Cindee KivlandBy Donation CategoryValerie KlapperichMichael A. KopernikKPMG, LLPKRW Insurance Agency, Inc.Dr. and Mrs. Babak LamiDiane L. Logsdon*Dr. Zbigniew and Connie LorencHeather A. Luebke*James and Kathleen MarinangelMary E Liebman TTEEMcHenry Baseball Association-McHenry Wood Bat Classic*Bill and Sue McMullenMerck, Sharp, & Dohme Corp*Susan and Mark Milford*Darrick and Lara Minzey*Amy and Bill Moerschbaecher*Paul and Renee Morck*Patrick and † Mary MoreheadMortenson Construction*Parmod Narang, M.D. and Kamayani Narang, M.D.Northwest News GroupAnthony and Maureen PintozziCeline and Richard Pope*John and Sharon PorterKatherine H. Powell*Robin RauschRichmond Township Fire Protection District*Robert and Lynn Rosenberger† = Deceased * Current Pledge of $10,000+
---
FoundationDonorsBy Donation CategoryCynthia GordonShira R. GreenfieldAimee GutekKathleen R. HahnHanger Orthopedic GroupLinda K. HaswellGina M. HeinzMike and Mary HeratyLeonard G. Hering, M.D.Mr. and Mrs. Eric HobergJames & Martha Hogan - Rev Living TrustJames and Susan HookerJaneen JackewiczJudith K. JefkoRobert and Julia JessupKahler SlaterDr. Joseph B and Cailan KeenanRobert and Lisa LauerLegat ArchitectsMelodie LewkeM K Industries, IncRichard and Darcy MensikNIA LTDBarbara NurnbergPrudential Huntoon PaigeRichmond Spring Grove Chamber ofCommerce Women's NetworkRight at HomeBeth RiveraDoris RongeRotary Club of Crystal Lake DawnbreakersCharity FundBonnie S. SabanDr. Mark and Isabel SchifferDaniel M. SchmittJoseph ScholppNeil Schwingbeck, Jr.Sherman HealthMichele A. SmithDr. Scott SpengelState Farm InsuranceTraci L. StevensHadley StrengStudio 2015 JewelryJudith M. SzilakNancy TurngrenJohn and Kelly Van FleetThomas G. and Nancy A. WadeTom WoodsYvonne Yao, M. D.Zanck, Coen & Wright, P.C.†Joseph and Virginia Zymonas† = Deceased * Current Pledge of $10,000+
---
FoundationDonors25+Dennis and Janet ConwayDaniel M. Schmitt20+Cindy and Buster AmoreErin J. AndersonJudy A. AndersonKathleen M. BarberSusan BartoszewskiDonna L. BlockerCarol BrewerCharles and Mary BudreckPatricia A. CastleCarol A. DawdyFirst Midwest BankFrances and Dean GlossonMargaret GramsLinda K. HaswellAngeline JanikJudith K. JefkoLuke and Judy JohnsosPatricia A. KoltonAmy and Bill MoerschbaecherSandra NeeseJean E. SamenStan's Office TechnologiesSusan SwansonJudith M. SzilakConsecutive Years of Giving15+Carol M. BlockRichard BuechlerCarey Electric Contracting, Inc.Thomas and Julie CareyRonna CrowleyKathleen J. FischerAnne C. HaslingerSue KoeserLegat ArchitectsMichelle J. MunieMary M. NeisChris and Kristine NewkirkNorthwest HeraldPenni SchimkeAlanna Talles10+Judy AndronowitzAnonymousAuxiliary to Centegra Hospital - McHenryEllen BensonBjorkman's Ace Hardware, Inc.Charles W. BlackBob and Rosemary BlazierJacleen M. BowlesKathleen L BrandtDebra BrasierGregg and Linda Braun
---
FoundationDonorsCharlene ChokladMike and Kara CurranDale M. DerksKathleen DeRocheRyan C. DobberphulKristin C. DulDenise Dumont-MeyerMichael and Denise EesleyFire Guard of Illinois, Inc.Russell and Sara FoszczFull Circle FoundationGavers Community Cancer FoundationGehrke Technology GroupKristine GermainJulie GlombickiShira R. GreenfieldKathleen R. HahnBarbara C. HoffmanGrace HsuAnn and Earl HughesKathleen HuntLois and Larry KuhnJeffery A. LichtePatti and Robert LofquistDr. Zbigniew and Connie LorencHeather A. LuebkeAlan MaderThomas J. McAndrewsSue and Bill McMullenConsecutive Years of GivingJoy F. MonekPatrick and † Mary MoreheadSuzanne MorrisseyLynette ParadisoAnthony and Maureen PintozziKathy M. PohleLinda S. PotterJacqueline L. RaganoBonnie S. SabanSuzanne L. Schwartz, R.N.Aaron and Regan ShepleyDr. James and Janet SkopecWilliam StepaniukDr. Robert and Nancy TurngrenStephanie L. Van HerzeeleDiane Wittkamp5 +Beverly S. AuerbachLinda L. Alic, M.D.Scott A. AndersonKathleen AndreoniAngeleta Angelo-LevittAnnonymousSuellen Doman Aus-Der-AuBecky BacksKaren J. BallardLiliana Barna-SusmaEllen Barnes
---
FoundationDonorsKaren and Richard BattagliaPat BaurCaryn BeckVictoria A. BeetschenJill BenedeckDina BernadzikowskiNancy BirrSarah BorchardtKelly BrasseurKathleen BrittonLinda K. BrockieLaura BrokawDr. Dudley and Jill BrownLeslie BuckDan ByarsRamona CarlsonRonald ChandlerSusan CichantekJoyce M. CommoJulie P. CondonVictoria CorbinDr. William and Jan CoxCarol CullisonCynthia A. CzechDenise Brausen-DaleoJudy A. DallDylan DeGrawMaija DeRueJane M. DevereauxConsecutive Years of GivingDebra S. DiedrickBetty DoakDiane Doty-BrownDennis DrumlKent DuncanVilma DuncanMary L. DunlopLanna EinspahrNancy EkstromLalin ElkinsJoseph Emmons, M.D.Elli Emmons, D.D.S.Jan EndlerKim ErblandPat J. EspositoJulia FarverShirley Francis-SmithMegan M. FrancoisLaura FriedelAnnaMarie GepperthGilcor Construction CorporationScott and Barbara GillelandKathleen GokanRita and Mark GoodeKim GoressRaeAnn GranlundMichael B. Gronberg, M. D.Carl and Cathy GustafsonJoanne Gustafson
---
FoundationDonorsRonald R. HahnErik HaslingerCindy HastyJohn and Janet HeinrichGina M. HeinzMichael P. and Mary P. HeratyChris HershfeltLinda C. HerzogRobert HimberSarah A. HoelterhoffJan HowardElizabeth HumphreyMargaret JaniszewskiMargarita M. JaramilloArt JensenEloyce JensenRosa I JeschkeBarbara and Maurice JohnsonMatthew JohnsonDana KaminskiDonna J. KasperDebbie KeenanMary KellyKaren A. KempfVanessa KerstenGloria KesslerChristine KillianLaura KirkelieSue Ellyn KittelConsecutive Years of GivingLinda KnaackJoanne Knapik, M. D.Michael A. KopernikSherri KotiwValerie J. KundeMaribel LaraBarbara LawrenceCarolyn LawsonMichael R. LenziRay LenziSandra LewandowskiGeorge LewerenzJohn LeweyElizabeth A. LittleEvanne C. LiyanarachchiJessica L. LoBueNorma LockwoodRobert and Patti LofquistDiane L. LogsdonPeter LopatinAnne MacArthurMargaret MacGregorCarol MadsenBill MayerCheri D. MayLaura MenschingFrieda MesselChristine L. MeyerSusan and Mark Milford
---
FoundationDonorsNancy MillerRebecca L. MillerDarrick and Lara MinzeyMarcia MiskellPaul and Renee MorckGail I. Moreschi, M. D.Robin MountHeather MurgatroydBarbara NalleyDeneen OchabLisa and Christopher O'NeilDiane K. OrangerScott L. PadjenMaureen ParlbergRichard ParsonsNancy E. PershaBonnie PetersonDaniel PolewskiDr. Robin and Joan PurdyBeth RasmussenRobin RauschMelissa J. RangelLaurie RevakJayne L. RichterLoridale RickerKathy RiordanJane A. RobertsonRebecca RockwoodDoris RongeConsecutive Years of GivingRobert and Lynn RosenbergerRosalina RostkowskiDr. Santo and Mary RuggeroRaymond and Billie Jeanne RundleLeslie D. RyanDanette A. SantanaJames and Kathleen SchaidSue SchmiedingRonald SchuetteJason and Amy SciarroPat SechanSheila SennDr. David and Rose ShinherrKatherine SieckElizabeth SienkowskiNancy C. SilvermanJudith SolaresKeith and Trish SpengelSpengel FinancialTraci L. StevensRobin L. StoenHadley StrengJenna and Sidney StrombachJackie SundBerni SzczepanskiJulia SzotMartin TeufelJohn and Sandra TheriaultRuth Timmer
---
FoundationDonorsConsecutive Years of GivingDavid and Nicole TomlinsonLoren TonyanVicki L. UseltonKaren Van BurenKelly and John Van FleetJeannette VanderstappenKim WalkupLaurie L. Louthain-Walrod, M.D.Barbara WasilkDiana WebsterRowena WermesVicki WheatonWildman, Harrold, Allen & Dixon LLPLaura WilliamsKay WixomSandra YunkerRonald S. ZeisFrank and Katherine ZembalMary ZiebelEric and Amy Zornow
---
ActiveLeadershipExecutive OfficersMichael S. EesleyChief Executive OfficerJason SciarroPresident & Chief Operating OfficerRobert RosenbergerSenior Vice PresidentChief Financial OfficerAaron ShepleySenior Vice PresidentAdministrative ServicesGeneral CounselBarbara Jo JohnsonSenior Vice PresidentHuman Resources DevelopmentSusan MilfordSenior Vice PresidentStrategic Marketing, Planning and WellnessNeil MurphySenior Vice PresidentChief Nursing OfficerPasquale BernardiVice PresidentCentegra Physician CareMichael FordVice PresidentCentegra Physician CareZ. Ted Lorenc, MDVice PresidentMedical AffairsGail D. RudolphVice PresidentCentegra FoundationRachel SebastianVice PresidentService Line OperationsDavid TomlinsonVice PresidentOperationsMatthew TowlerVice PresidentSupport Services
---
ActiveLeadership2011 CentegraBoard of GovernorsOfficersCharie A. Zanck, ChairmanMichael Curran, Vice ChairmanWilliam Cox, MD, SecretaryPat Morehead, TreasurerBoard MembersTerrence Bugno, MDTom CareyMichael S. EesleyPaul HillsLuke JohnsosAngela McAuleyParmod Narang, MDChristian R. NewkirkJack PorterKathy PowellCharles RuthEx-officiosRobert Nixon, MDArun Narang, MDCentegra FoundationBoard of DirectorsOfficersTom Carey, ChairmanDaniel Lemanski, Vice ChairmanStacia Hahn, Secretary/TreasurerBoard MembersElissa Brebach, MDMegan FrancoisNick KachiroubasPeter MichlingAnthony Pintozzi, Sr.Steve RankinsEric RuthMichael SplittJames Schaid
---
ActiveLeadershipAuxiliary to Centegra Hospital-McHenryOfficersVicki Nielsen, PresidentGail Anderson, Vice PresidentTrista Iodice, TreasurerSandi Heffelfinger, Recording SecretaryJudy White, Corresponding SecretaryBoard MembersGene Marie AbelCarmen BoyerJanet ByrnesPat ColomerAastrid CunatAndrea FranzenKathleen MoehlingNeida RechiskyPam RichardLinda SantelerHelen SpencerJoan TeichmillerTi WeichleCentegra Hospital-Woodstock AuxiliaryOfficersLaura Witlox, PresidentRhienna Kujawa, Vice PresidentTerri Deuerling, TreasurerMarian Anderson, Recording SecretaryGloria Timmins, Corresponding SecretaryBoard MembersTherese DuffyJane GoebelJoAnn GriffinMeaghan HaakDee HartliebPat SechanNancy Storms-PopeEsther Vadnais
---
Centegra's Promo tion of Wellness
---
CommunityInvolvementAs part of our mission to promote wellness for thegreater McHenry County area, Centegra HealthSystem planned, supported or participated in morethan 313 events throughout the community in fiscal year 2011.Here are just a few examples:• Free blood pressure and diabetes screenings-Once every month during food distributions• Centegra Diabetes Fair-November 2010• Holiday Giving Caravan-December 2010• Hope for the Future Event-December 2010• 8 Community Expos-January through March 2011• Centegra Health Strong Woman Event-February 2011• Road to Healthy Skin Tour-June 2011• 3 Relays for Life-June and July 2011• Speed Dating for Seniors to meet Doctors-June 2011• Centegra Family Health Fest-July 2011• Hearthstone-Centegra Senior Health Fair-August 2011• American Heart Association Walk-September 2011• Taste of Home Cooking Show-September 2011• Alzheimer's Memory Walk-September 2011• Care 4 Breast Cancer Walk-October 2011
---
Cen tegra's Commitment to Service
---
ResponsibleResourcesAs a community-based healthcare system, Centegrais committed to providing a complete and comprehensivearray of high-tech services that meet the needs of the residents ofthe community we serve. Centegra Health System has consistentlymaintained responsible stewardship of our financial resources as weprovide the highest quality care to the community.As we moved through the past year we measured our growth andperformance and ensured that we maintain alignment with ourcorporate strategies. We are pleased to present our financial statisticsto you in this report, including our total charity care and communitybenefits of more than $71 million, which is an increase of more than$18 million over 2010.We look forward to bringing even more services and technologicaladvances to the area as we continue to plan for the healthy future ofour community.Robert RosenbergerSenior Vice President, Chief Financial Officer
---
FY11 FY10Associates 3,750 3,695Babies Born 1,749 1,919Behavioral Health Outpatient Sessions 6,407 6,066Calls to 1-877-CENTEGRA 12,396 15,193Cardiac Cath Procedures 3,259 2,924Centegra Health Bridge Fitness Center Members 14,748 14,946Centegra Primary Care (CPC) Physicians 62 61CPC Hours Volunteered at FHPC 563 504Companies Served by Occupational Medicine 792 735Emergency Department Visits 66,191 67,706Flight for Life Flights 413 410Home Health Visits 33,884 33,146Hospital Beds 343 363Immediate Care Center Visits 26,727 23,067Open Heart Surgeries 154 153Outpatient Imaging Procedures 132,344 138,789Outpatient Laboratory Procedures 453,556 443,630Patients Admitted to Hospitals 18,661 19,315Physicians on Staff 484 475Sleep Lab Procedures 1,192 1,215Surgeries 13,539 13,778Volunteer Hours (to Centegra) 51,786 53,833Wellness Program Attendees 19,405 21,302
---
CommunityBenefitsFiscal Year 2011:Unpaid Medicare Costs $23,839,000Unpaid Medicaid Costs $14,779,000Charity Care (Charges) $28,918,000Educational Programs $1,103,000Other Community Benefits $3,033,000Total Community Benefits $71,672,000
---
Centegra Corporate Office& Foundation385 Millennium DriveCrystal Lake, IL 60012McHenryCountySpringGroveMcHenryWoodstockCrystalLakeHuntleyAlgonquin
---
ConvenientAccessCentegra Health System is committed to meeting the healthcareneeds of the residents of greater McHenry County and tomaking services available inmultiple and convenientlocations, including hospitalsin McHenry and Woodstock,Immediate and PhysicianCare Centers, CentegraSage Cancer Center,Health Bridge FitnessCenters and more.Centegra Corporate Office -Crystal Lake
---
Centegra's Integrated Approach to the Future
---
Thank YouWe hope you have enjoyed this multi-media presentationthat features the many high-tech services that Centegraprovides. Through an integrated approach to deliveringservices we stand as one of the most highly reputablehealthcare organizations in northern Illinois.The advances we've made in the way healthcare is provided,coordinated, and planned emphasizes our approach to consistentlyexceed the needs and expectations of our community. They especiallyreflect the efforts of our Board of Governors, Associates and Physicianswho support this award-winning care every day.All of McHenry County should be proud that such high quality care isbeing provided right here in our own backyard.Thank you for your continued support of Centegra Health System.Jason SciarroPresident & Chief Operating Officer