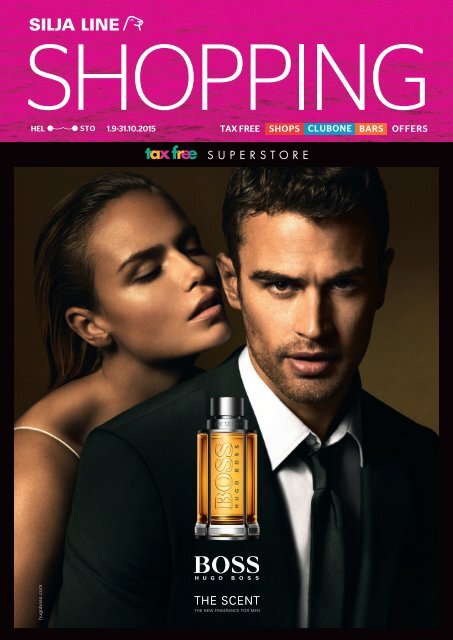 Tallink Silja Shopping catalogue | Helsinki - Stockholm, Sept-Oct 2015 | Onboard and Club One offers, light
Tallink Silja Shopping catalogue | Helsinki - Stockholm, Sept-Oct 2015 | Onboard and Club One offers, light
Tallink Silja Shopping catalogue | Helsinki - Stockholm, Sept-Oct 2015 | Onboard and Club One offers, light
SHOW MORE
SHOW LESS
Create successful ePaper yourself
Turn your PDF publications into a flip-book with our unique Google optimized e-Paper software.
Sail into the autumn watersof Fashion withTall ink and Silja Line! Silk tie - 5 EUR Guess watch - 159 EUR Buckley London necklace - 52 EUR SNÖ earrings - 27,90 - 33 EUR Buckley London bracelet - 5 EUR Buckley London necklace - 28 EUR*All images are illustrative and product selection varies by route.
---
Gustav knitwear - 142,90 EUR Gustav trousers - 110,90 EUR Scott jacket - 49,90 EUR Prestige glasses - 13,90 EUR Rains rain jacket - 75 EUR Rains rain jacket - 65 EUR Rains bag - 63,90 EUR Superdry scarf - 63,90 EUR Superdry hat - 35,90 EUR Esprit scarf - 23,90 EUR Desigual handbag - 75,90 EUR Esprit knitwear - 55,90 EUR Daniel Wellington watch - 119 EUR Guess handbag - 79,90 EUR Daniel Wellington watch - 119 EUR Tommy Hilfiger bag - 86,90 EUR
---
Olutvallankumous!Ölrevolution!Olutkulttuurin (nimenomaan -kulttuurin, ei -kaupan)airueita ovat epäilemättä pienet käsityöolutpanimot, joitanousee koko maailmassa kuin sieniä sateella. Hyvän oluenjuominen on suosittua, sen tietää jokainen hipsteri, muttaei siinä kaikki! Olen huomannut ravintolassani, että olut onerittäin monille asiakkaille aivan kuin "uusi viini".Perustaessamme ravintolamme neljä vuotta sitten, aloitimmemyös oluen ja ruokien yhdistämisen. Todella suosituksise muodostui ensimmäisten käsityöoluiden tullessamyyntiin. Nykyään on aivan tavallista, että asiakas, jokaolisi tilannut muutama vuosi sitten pullon hyvää Brunelloa,tilaa sen sijaan esimerkiksi Vormsin tummaa erikoisolutta.Mitä on tapahtunut?Olut on ollut makujen suhteen pitkään lapsen kengissä.Vielä kymmenen vuotta sitten arvioitiin oluen laatua senperusteella, mitä vähemmän se maistui oluelle. Nykyäänonneksi mennään kovaa vauhtia runsasmakuisuuden suuntaan.Olutmarkkinat ovat täynnä intohimoisia mestareita,jotka valmistavat olutta markkinointiosaston tutkimustyönsijaan oman makunsa pohjalta. Koska panimotovat suurtuottajiin verrattuna pieniä, ei myöskään myyntituota ongelmia. Pienien oluenvalmistajien kimmokkeenaon pikemmin jännittävä retki makujen maailmaan kuinmyydyt litramäärät ja se on tuonut mukanaan maailmanlaajuisenolutrenessanssin. Esimerkkinä voidaan pitää paikallisiamarkkinoitamme, jossa panimomestareiksi ovatryhtyneet sekä entiset kokit että Skypen perustajat. Virossaon aloittanut toimintansa viimeisen kahden vuoden aikanayli kymmenen pientuottajaa ja pian on tulossa myös uusia.Lisäksi on kymmeniä "mustalaisoluenpanijoita", jotkakäyvät valmistamassa olutta muissa pienissä panimoissa,joihin myös me Hopster-oluemme kanssa kuulumme.Olut on taidetta! Olut on jännittävää! Tutustumisen iloaoluiden maailmaan!I dagens värld är föregångarna i ölkulturen (uttryckligenkulturen, inte handeln) otvivelaktigt de småbryggeriermed handbryggt öl som överallt i världen växer upp somsvampar efter regn. Det är pop att dricka gott öl, det vetvarje hipster, men inte endast. I min egen restaurang harjag observerat att öl för väldigt många gäster är precissom "nytt vin".Vi började kombinera öl och mat i vår restaurang när viskapade den för 4 år sedan. Men verkligt populärt blevdetta först då, när de första lokala handbryggda ölen uppenbaradesig. Nu är det helt vanligt att en gäst, som förnågra år sedan hade beställt en flaska gott Brunello nutar exempelvis en Vormsi Tumeda Eripruuli.Vad har hänt?Ölet har i smakhänseende länge spelat askungensroll. Ännu för tio år sedan bedömdes ölets kvalitet enligthur litet man kunde känna ölsmaken i det. I dag ärman till all lycka med stor fart på väg mot en rikedompå smaker. Ölmarknaden är full av passionerade mästare,som brygger öl utgående från sin egen smak ochinte marknadsföringsavdelningens forskningsarbete.Eftersom bryggerierna är små i jämförelse med stortillverkarna,är försäljningen inte heller något problem.De små ölproducenterna styrs snarast av en spännandetripp för smakernas skull än antalet liter som säljs ochdet har medfört en ölrenässans i hela världen. Vi kanbara tänka på vår egen lokala marknad, där såväl tidigarekockar som Skype-grundare har blivit ölmästare. IEstland har det under de senaste två åren uppstått övertio småbryggerier och man kan strax också se nya somansluter sig. Dessutom tiotals "zigenarbryggare", somgår och brygger sitt eget öl på andra små ställen och tillvilken fantastiska familj också vi har den stora glädjenatt höra med Hopster-ölet.Öl är konst! Öl är spännande! Stor upptäckarglädje!- Kristjan Peäske -Sommelier*Valikoima käsityöläisoluita vaihtelee eri reiteillä.*Sortimentet av craft beer varierar på olika rutter.Alkoholi on haitallista terveydellesi. / Alkohol kan skada din hälsa.
---
Kanta-asiakasedut • Stamgäst prislistahere's to peanut butter'sperfect partner