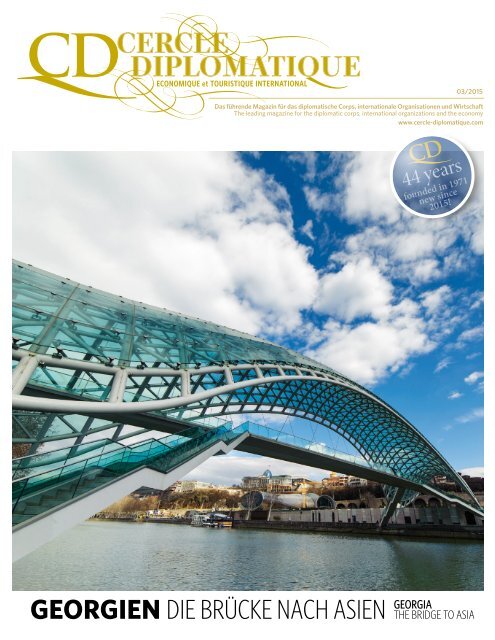 CERCLE DIPLOMATIQUE - issue 03/2015
CD is an independent and impartial magazine and is the medium of communication between foreign representatives of international and UN-organisations based in Vienna and the Austrian political classes, business, culture and tourism. CD features up-to-date information about and for the diplomatic corps, international organisations, society, politics, business, tourism, fashion and culture. Furthermore CD introduces the new ambassadors in Austria and informs about designations, awards and top-events. Interviews with leading personalities, country reports from all over the world and the presentation of Austria as a host country complement the wide range oft he magazine.
CD is an independent and impartial magazine and is the medium of communication between foreign representatives of international and UN-organisations based in Vienna and the Austrian political classes, business, culture and tourism. CD features up-to-date information about and for the diplomatic corps, international organisations, society, politics, business, tourism, fashion and culture. Furthermore CD introduces the new ambassadors in Austria and informs about designations, awards and top-events. Interviews with leading personalities, country reports from all over the world and the presentation of Austria as a host country complement the wide range oft he magazine.

SHOW MORE
SHOW LESS
You also want an ePaper? Increase the reach of your titles
YUMPU automatically turns print PDFs into web optimized ePapers that Google loves.
03/2015

Das führende Magazin für das diplomatische Corps, internationale Organisationen und Wirtschaft

The leading magazine for the diplomatic corps, international organizations and the economy

www.cercle-diplomatique.com

44 years

founded in 1971

new since

2015!

GEORGIEN DIE BRÜCKE NACH ASIEN GEORGIA

THE BRIDGE TO ASIA
---
EDITORIAL

Ich steh

auf Österreich.

Ich sitz auf ADA.

PHOTO: HARALD KLEMM

Liebe Leserinnen, liebe Leser! | Dear Readers,

Georgien, das Land zwischen dem Großen

und Kleinen Kaukasus und dem Schwarzen

Meer, ist eines der ältesten Siedlungsgebiete

der Menschheit. Gleichzeitig ist es eines der

ältesten christlichen Länder der Welt. Wir hatten

die Ehre und Möglichkeit, auf Einladung des österreichischen

Bundespräsidenten Dr. Heinz Fischer,

dieses faszinierende Land gemeinsam mit ihm und

seiner Gattin Margit sowie einer Wirtschaftsdelegation

Mitte Mai zu besuchen. Finden Sie dazu unsere

Eindrücke als Cover-Story ab Seite 32.

Österreichs Hauptstadt Wien ist laut einer aktuellen

Mercer-Studie nicht nur die Stadt mit der

höchsten Lebensqualität weltweit, sie bietet internationalen

Organisationen und Unternehmen, die

für unsere Stadt enorm wichtig sind, auch ein attraktives

Umfeld. In dieser Ausgabe wollen wir

wiederum verstärkt einige dieser internationalen

Organisationen vor den Vorhang holen. Die Organisation

des Vertrags über das umfassende Verbot

von Nuklearversuchen (CTBTO) ist eine von

ihnen. 1996 gegründet, lebt sie mit ihrem Leiter

Dr. Lassina Zerbo aus Burkina Faso (im Interview

ab Seite 48) und einem Stab von über 270 Mitarbeitern

aus rund 70 Nationen das Prinzip der Vielfalt

und Internationalität.

Bei der OPEC, der Organisation der Erdöl exportierenden

Länder, gibt es heuer einen Grund

zum Feiern: Sie hat bereits seit dem Jahr 1965, also

seit 50 Jahren, ihren Sitz in Wien. Eine weitere Ehre

wurde uns in diesem Zusammenhang zuteil: Persönliche

Interviews mit dem Generalsekretär

S.E. Abdalla Salem El-Badri sind beinahe so selten

wie ein Lotto-Sechser. Unserem Autor Rainer

Himmelfreundpointner stand er gerne Rede und

Antwort über Aufgaben, Vergangenheit und Zukunft

der OPEC, zu lesen ab Seite 66.

Mit der neuen CD-Homepage haben auch wir

einen Schritt in eine erfolgreiche Zukunft getan.

Seit ihrem Start im heurigen Jänner konnten wir

bereits rund 100.000 Besucher verzeichnen. Dafür

sind wir dankbar und freuen uns mit Ihnen auf weitere

erfolgreiche Jahre mit spannenden Inhalten.

Wir wünschen Ihnen angenehme Lektüre und

einen schönen Herbst!

Georgia, the country between the Greater and

Lesser Caucasus and the Black Sea, is one of

the oldest settlements of mankind. It is also

one of the oldest Christian countries in the world. By

special invitation of Austrian Federal President Heinz

Fischer, we had the honour and opportunity to visit this

fascinating country with his wife Margit and a delegation

in mid-May. Our impressions can be found in the

cover story starting on page 32.

According to a recent Mercer study, Austria's capital

Vienna is not only the city with the highest

quality of life worldwide, but also offers an attractive

environment for international organisations and

companies, which are enormously important for

our city. In this issue, we want to shine the spotlight

on some of these international organisations. The

Comprehensive Nuclear-Test-Ban Treaty Organization

(CTBTO) is one of them. Founded in 1996,

it exemplifies the principle of diversity and internationality

with manager Dr Lassina Zerbo from Burkina

Faso (interview on page 48) and its staff of

over 270 employees from around 70 countries.

OPEC, the Organization of the Petroleum Exporting

Countries, has a reason to celebrate this

year: it has already been based in Vienna since 1965

– for 50 years. Another honour was bestowed on us

in this context: a personal interview with the Secretary

General HE Abdalla Salem El-Badri is almost

as rare as a lottery win. Our writer Rainer Himmelfreundpointner

asked him about his mission as well

as the past and the future of OPEC. Read about it

on page 66.

We have also taken a step into a successful future

with the new CD website. Since its launch in

January this year, we have already had over 100.000

visitors! We are grateful for the support and look

forward to many more successful years with exciting

content and you, our readers.

We wish you pleasant reading and a lovely autumn!

Herzlichst | Yours,

Andrea Fürnweger

Herausgeber | Editor

www.ada.at

facebook.com/ADA.Moebel

Graz · Kasematten

Mag. Alexander Bursky

Herausgeber | Editor
---
CERCLE DIPLOMATIQUE –

ECONOMIQUE et TOURISTIQUE

Nr. 304

Ausgabe | Issue 03/2015

CONTENTS

Coverstory

GEORGIA

Seite | page 32

Die frühere Republik der

Sowjetunion erfindet

sich neu und zeigt sich

als wichtiges Transit-

Land zwischen Orient

und Okzident.

The former republic of the

Soviet Union is reinventing

itself and emerges as a

major transit country

between Orient and

Occident.

8

10

32

40

42

46

48

50

54

64

66

72

74

76

LE BULLETIN

Die neuen Botschafter | The new Ambassadors

Akkreditierungen durch Bundespräsident Fischer. Accreditations by Federal President Fischer.

Offizielle Empfänge | Official Receptions

Die großen Empfänge der letzten Monate. The great receptions of the past months.

LE MONDE

Coverstory Georgien | Cover story Georgia

Die Brücke nach Asien. The Bridge to Asia.

Philippinen | Philippines

Interview mit der neuen Botschafterin. Interview with the new Ambassador.

Singapur | Singapore

50 Jahre Staatsgründung. 50th anniversary of the state´s foundation.

Essay

Diversität im Donauraum. Diversity in the Danube Region.

CTBTO

Executive Secretary Lassina Zerbo im Fokus. Executive Secretary Lassina Zerbo in focus.

Neuigkeiten | News

Neues aus der ganzen Welt. Latest update from around the globe.

L'AUTRICHE

Innovationsland Österreich | Innovation Leader Austria

Sieben Firmen zeigen Innovationen. Seven companies show the way ahead.

EU | European Union

Der neue Botschafter im Interview. Interview with the new EU Ambassador.

Internationale Organisationen | International Organisations

50 Jahre OPEC in Wien. 50 years of OPEC in Vienna.

Industriellenvereinigung| Federation of Austrian Industries

Der Salzburger Sommerempfang. Summer reception in Salzburg.

Zukunftslabor | Future Lab

Claus J. Raidl über österreichische Wirtschaft. Claus J. Raidl on Austrian economy.

Neuigkeiten | News

Neues aus der Business-Welt. The latest from the business world.

102

104

106

110

112

118

120

124

130

134

136

140

142

146

158

Suite Dreams

Die Präsidenten Suite im Park Hyatt Vienna. The Presidential Suite at Park Hyatt Vienna.

Check in

Die Vorzüge des Sofitel Vienna Stephansdom. The amenities of Sofitel Vienna Stephansdom.

Imperial

Kaiserlich in der Schloss Schönbrunn Suite. Feeling imperial at the Schloss Schönbrunn Suite.

Hideaways

Vier Zufluchtsorte für Ihre Herbst-Auszeit. Hideaways for your timeout in autumn.

Festliches | Festivities

Die Weihnachtsfeiertage in Wien feiern. Celebrating Christmas in Vienna.

Motor

Viermal Modellpflege. Four premium facelifts.

Lifestyle

Die Trends für den kommenden Herbst. The trends for the autumn season.

Kunstherbst Wien | Autumn of art

Zeit für Kunst und Design. Time for art and design.

Kunst | Arts

Kulturelle Highlights in Wien und Umgebung. Cultural highlights in and around Vienna.

Upcoming

Wo es uns gefällt. Where we love to be.

Reise | Travel

Top-Hotels und -Restaurants aus aller Welt. Top hotels and restaurants around the world.

Buchempfehlungen | Must read

Buchtipps über Österreich. Book tips about Austria.

Mein Wien | My Vienna

Jordaniens Botschafter Hussam Al Husseini. Jordan's Ambassador Hussam Al Husseini.

LE RENDEZVOUS

Veranstaltungen | Events

Exklusive Veranstaltungen im Fokus. Exclusive events in focus.

LE GUIDE

Adressen | Addresses

Nützliche Adressen für die internationale Gesellschaft.

Useful addresses for the international community.

80

84

86

90

96

98

SAVOIR VIVRE

Wiener Bars | Vienna Bars

Kenner lieben es unverfälscht. Aficionados love it straight.

Connaisseur | Connoisseur

Essen und trinken mit Stil. Wine and dine with style.

Weekender

Zu Besuch in Pressburg. Visiting Bratislava.

Schönheit & Medizin | Beauty & Medical

Strahlend aussehen. A fresh and radiant look.

Museum Visit

Zu Besuch im Naturhistorischen Museum. Visiting the Natural History Museum.

Serviced City Apartments | Stadt-Apartments mit Service

Der neue Trend. The new trend.

3

4

161

Editorial

Inhalt | Contents

Impressum | Imprint

COVERPHOTO: FOTOLIA/ CHIRVA ; PHOTO: FOTOLIA/ POSZTÓS JÁNOS
---
HUGO BOSS AG Phone +49 7123 940 www.hugoboss.com

LE

BULLETIN

IN LE BULLETIN ERFAHREN

SIE, WER DIE NEU

AKKREDITIERTEN

BOTSCHAFTER IN

ÖSTERREICH SIND UND

WELCHE OFFIZIELLEN

EMPFÄNGE UND EVENTS IN

DEN VERGANGENEN DREI

MONATEN STATTGEFUN-

DEN HABEN.

LE BULLETIN TELLS YOU WHO

THE NEWLY ACCREDITED

AMBASSADORS TO AUSTRIA

ARE AND WHICH OFFICIAL

RECEPTIONS AND EVENTS

TOOK PLACE IN THE PAST

FEW MONTHS.

Wien Kärntner Strasse 20
---
LE BULLETIN CREDENTIALS

Eine Marke der Daimler AG

Neu akkredidierte Botschafter bei Bundespräsident Dr. Heinz Fischer

Newly accredited Ambassadors met Federal President Dr. Heinz Fischer

H. E.

Dato' Adnan

Bin Othman

Ambassador of Malaysia Ambassador of Montenegro Ambassador of the Philippines

Credentials: June 2015 Credentials: June 2015 Credentials: June 2015

H. E.

Ivan Milic

H. E.

Maria Zeneida

Angara Collinson

Born on 19th January 1958 in Pulau Pinang, Malaysia,

married, four children

Education

B.Sc (Hons) University of Malaya

Diploma in Public Management National Institute of Public

Administration

Professional Career (excerpt)

Ambassador of Malaysia to Kuwait (2011)

Undersecretary (Africa), Ministry of Foreign Affairs, Malaysia

(2010)

Undersecretary (National Authority for Chemical Weapon

Convention), Ministry of Foreign Affairs, Malaysia (2010)

Undersecretary (South East Asia), Ministry of Foreign Affairs,

Malaysia (2008)

Ambassador of Malaysia to Cambodia (2005)

Deputy Head of Mission, Embassy of Malaysia, Jakarta,

Indonesia (2004)

Undersecretary (Special Tasks), Ministry of Foreign Affairs,

Malaysia (2003)

Principal Assistant Secretary (External Relation), Ministry of

Foreign Affairs, Malaysia (2001)

Counsellor, Embassy of Malaysia, Stockholm, Sweden (1998)

Special Officer, Secretary General, Ministry of Foreign Affairs,

Malaysia (1996)

First Secretary, Embassy of Malaysia, Beijing, People's

Republic of China (1994)

Assistant Secretary (International Organization), Ministry of

Foreign Affairs, Malaysia (1991)

Second Secretary, Permanent Mission of Malaysia to the

United Nations, New York, United States of America (1988)

Born on 6th March 1977

Education

Faculty of Law, Podgorica

Project Cycle Management course, Management Training

Brussels (2004)

International visitors program of the State Department

"Young Leaders" (2004)

Japanese Government study tour program, Tokyo, Kyoto,

Osaka (2006)

Professional Career

Ambassador of Montenegro to Slovenia (2012-2015)

Director General for Consular Affairs and Diaspora, MFA

(2010-2012)

Advisor of the Minister of Interior (2004-2010)

Chief of Cabinet of the Mayor, City of Podgorica

(2002-2004)

International secretary, Democratic Party of Socialists of

Montenegro (2001-2002)

Trainee in the Ministry of Foreign Affairs of Montenegro

(2000-2001)

Born in Metro Manila, Philippines, married, one child

Education

Master of Arts in Economics at Hitotsubashi University,

(1977-1979; Tokyo, Japan)

B.A. Japanology (Mombusho Scholar) at Tokyo University

of Foreign Studies, (1973-1977; Tokyo, Japan)

Grade School Valedictorian High School Salutatorian, St.

Paul College (1959-1970; Metro Manila)

Professional Career (excerpt)

Assistant Secretary, Office of European Affairs

(Department of Foreign Affairs, 2013 – 2015)

Ambassador Extraordinary and Plenipotentiary (AEP) to

the Kingdom of Sweden, the Republic of Estonia, the

Republic of Latvia and the Republic of Lithuania

(2007-2012) and to Finland (2007–2010)

Assistant Secretary Office of European Affairs

(Department of Foreign Affairs, 2006-2007)

Consul General Philippine Consulate General in Sydney,

Australia (2002-2004)

Consul General Philippine Consulate General in Hong Kong

SAR (1999-2002)

Second Secretary and Consul, then First Secretary and

Consul General, then Minister-Counselor handling in

turn, economic/consular/political affairs (Philippine

Embassy, Tokyo, 1986-1994)

Director, Division V Office of ASEAN Affairs (Department

of Foreign Affairs, 1985-1986)

Philippine Representative to the Executive Board of the

ASEAN Promotion Center on Trade, Investments and

Tourism (Tokyo, Japan, 1983-1984)

PHOTOS: CARINA KARLOVITS/HBF, HARALD MINICH/HBF

Kraftstoffverbrauch (NEFZ) 5,0–6,5 l/100 km, CO 2

-Emission 129–152 g/km

Der neue GLC.

Auf jedem Gelände in seinem Element.

Ab 11. September bei Ihrem Mercedes-Benz Partner. Ab Euro 49.480,–.*

www.mercedes-benz.at/glc

* Listenpreis inkl. NoVA und MwSt.

8

Cercle Diplomatique 3/2015
---
LE BULLETIN REVIEW

Official receptions

Find more

photos online

cercle-diplomatique.com

June 2015

Presentation of "Cercle Diplomatique" 02/2015 at The Ritz-Carlton, Vienna

Many Ambassadors, officials and company representatives gave the editors, Andrea Fürnweger and Alexander Bursky, the honour to

welcome the summer issue with an Ambassadors Cocktail in the Presidential Suite at The Ritz-Carlton, Vienna.

The Ambassador

of Qatar, H.E. Ali

Khalfan Al-Mansouri

(middle) was the

special guest of

honour and represented

in the cover

story on Qatar.

CERCLE

DIPLOMATIOUE

ECONOMIQUE et TOURISTIQUE INTERNATIONAL

ANDREA FÜRNWEGER

MAG. ALEXANDER BURSKY

Publisher of

CERCLE DIPLOMATIQUE - ECONOMIQUE et TOURISTIQUE INTERNATIONAL

&

JEAN-PAUL DANTIL & PAULINE BERGÉ

GENERAL MANAGER THE RITZ-CARLTON, VIENNA &

DIRECTOR OF SALES & MARKETING

cordially invite on the occasion of the 2015 accredited Ambassadors as well

as the presentation of the summer-issue of CERCLE DIPLOMATIQUE 02/2015

with the coverstory on QATAR

to an

Ambassadors Cocktail

Monday, June, 15th 2015 from 5 p.m. to 7 p.m.

at The Ritz-Carlton, Vienna

Schubertring 5 - 7

1010 Wien

www.ritzcarlton.com

The invitation is not transferable.

Kindly anwser by email latest June, 11th 2015

to office@firstclassmedia.at

PHOTOS: CERCLE DIPLOMATIQUE/ HARALD KLEMM,

10 Cercle Diplomatique 3/2015

Cercle Diplomatique 3/2015

11
---
LE BULLETIN REVIEW

May 2015

Nigeria

On the occasion of the Africa Day Celebration, Nigeria inivited to expert lectures under the topic "The United Development

Programmes in Africa" in the VIC, followed by a reception at the residence.

May 2015

Georgia

On the occasion of a State Visit, Austrian Federal President Heinz

Fischer visited Georgia.

H.E. Adelakun Abel

Ayoko

Federal President

Heinz Fischer and

Georgia´s President,

Giorgi Margvelashvili

May 2015

Kazakhstan

The Embassy organised the event "Discovering Business Opportunities in Kazakhstan" at The Ritz-Carlton, Vienna.

PHOTOS: HARALD KLEMM, PETER LECHNER/HBF, CD

The Business Day

ended with a cocktail

reception and a

concert of the series

"Kazakh Pearls".

12 Cercle Diplomatique 3/2015

Cercle Diplomatique 3/2015

13
---
LE BULLETIN REVIEW

May 2015

Jordan

On occasion of Independence Day, the Hashemite Kingdom of Jordan invited to the Hilton Hotel Vienna.

June 2015

Portugal

To commemorate National Day, Portugal invited to

a reception.

H.E. Hussam Al

Husseini

H.E. Pedro Moitinho

de Almeida and Mrs

Natividade Moitinho

de Almeida

June 2015

Mozambique

Independence Day was celebrated with a Summer Night Reception at the KAPO Flagshipstore, Vienna.

From left: H.E. Prof.

Kwami Christophe

Dikenou (Togo), Karl-Hans

Polzhofer (Hon. Consul

Mozambique), H.E. Pedro

Moitinho de Almeida

(Portugal)

PHOTOS: CERCLE DIPLOMATIQUE/ HARALD KLEMM, CD, BEIGESTELLT

14 Cercle Diplomatique 3/2015
---
LE BULLETIN REVIEW

June 2015

Italy

To celebrate National Day, Italy invited to a reception at Metternich Palace.

June 2015

Philippines

National Day was celebrated with a reception at the Vienna Marriott Hotel.

H.E. Maria Zeneida

Angara Collins

(middle) with husband

and Honorary Consul

Philippines and CD

Co-Editor Waltraud

Steinböck

H.E. Giorgio

Marrapodi (2nd.

left) with family

and H.E. Rocco di

Torrepadula (2nd

r.) with wife

June 2015

Apostolic Nunciature

To commemorate the second anniversary of the election of Pope Francis, the Apostolic Nuncio, Archbishop Peter Stephan

Zurbriggen, invited to a reception.

PHOTOS: CERCLE DIPLOMATIQUE/ HARALD KLEMM

Archbishop Peter

Zurbriggen (l.) with

Cardinal Dr. Christoph

Schönborn

(2nd l.)

16 Cercle Diplomatique 3/2015

Cercle Diplomatique 3/2015

17
---
LE BULLETIN REVIEW

June 2015

Luxembourg

To commemorate National Day, Luxembourg, which started its 12th EU Council Presidency 1 July, invited to a reception at the

Embassy.

June 2015

Croatia

On occasion of National Day, the Ambassador of Croatia hosted a reception with a concert of pop singer Marko Tolja and jazz

guitarist Zoran Majstorovic at Kursalon Hübner.

H.E. Hubert

Wurth with his

wife Francisca

H.E. Gordan Bakota

June 2015

Sovereign Order of Malta

On occasion of the Celebration Day of the Sovereign Order of Malta a reception was held at the St. Johanns Club.

June 2015

Slovenia

On occasion of National Day, Slovenia invited to a reception at the Haus der Ingenieure.

Ambassador of the

Sovereign Order of

Malta, Dr. Christoph

Maria Fritzen (right)

PHOTOS: CERCLE DIPLOMATIQUE/ HARALD KLEMM, MARKO KOVIC

H.E. Dr. Andrej

Rahten (left) and

wife Polona Rahten

Stekar (2nd left)

18 Cercle Diplomatique 3/2015

Cercle Diplomatique 3/2015

19
---
LE BULLETIN REVIEW

June 2015

USA

A garden reception was held already at the end of June on the occasion of the American Independence Day.

June 2015

Russian Federation

National Day was celebrated at the Embassy.

H.E. Sergey Nechaev

(left) with his wife

Nina (2nd left)

H.E. Alexa L.

Wesner (middle)

Premium

Appartements

rent sale

huebl-partner.com

Tel +43 1 277 88 0

PHOTOS: CERCLE DIPLOMATIQUE/ HARALD KLEMM

20 Cercle Diplomatique 3/2015
---
LE BULLETIN REVIEW

June 2015

Great Britain

The birthday of Her Majesty Queen Elizabeth II was celebrated with a

reception at noon and and a garden party in the evening.

July 2015

Belarus

Independence Day of the Republic of Belarus was celebrated at the Embassy.

Elegant ambience at

the Embassy.

H.E. Susan le Jeune

d´Allegeershecque

July 2015

Kazakhstan

The Day of the Diplomatic Service was held at the Embassy, followed by a reception.

PHOTOS: CERCLE DIPLOMATQUE/ HARALD KLEMM

PHOTOS: BOTSCHAFT DER REPUBLIK BELARUS

H.E. Kairat Sarybay

22 Cercle Diplomatique 3/2015

Cercle Diplomatique 3/2015

23
---
LE BULLETIN REVIEW

July 2015

Cape Verde

The National Day was celebrated with a summer cocktail party.

July 2015

Canada

On occasion of Canada Day a colourful garden party was held at the residence.

Ihr erfahrener

Partner für

Bauen, Wohnen

und Investitionen!

/ / / / / / / / / / / / / / / / / / / / / / /

Honorary Consul

Wolfgang Meixner

(middle)

H.E. Mark E. Bailey

(2nd from left) and

his wife, Raja Bailey

(2nd from right)

Hart & Hart baut

auf höchstem N i v e a u.

July 2015

Mongolia

On occasion of National Day Mongolia invited to a reception at the Diplomatic Academy of Vienna.

Piazza Cagrana |

Kagraner Platz 31 | 1220 Wien

H.E. Gunaajav

Baljargal (middle)

PHOTOS: CERCLE DIPLOMATQUE/ HARALD KLEMM

Langobardissimo |

Langobardenstraße 1 | 1220 Wien

Super Dry |

D r y g a l s k i w e g 11 | 1210 Wien

24 Cercle Diplomatique 3/2015

Hart & Hart Bauträger GmbH

Erzherzog - Karl - Straße 5a

1220 Wien

M +43 664 88465484

w wCercle w. hDiplomatique a r t - h a3/2015

r t . a25t
---
LE BULLETIN REVIEW

July 2015

France

National Day was celebrated with French style at the Palais Clam-Gallas.

July 2015

Columbia

Independence Day was celebrated with a recital by the Columbian singer Betty Garcés Bedoya and the Italian pianist Antonia

Valente.

H.E. Pascal

Teixeira da

Silva

H.E. Jaime Alberto Cabal

Sanclemente (middle)

PHOTOS: CERCLE DIPLOMATQUE/ HARALD KLEMM, BOTSCHAFT DER BRD IN WIEN

July 2015

Germany

The Ambassador said Goodbye to Vienna with a big party.

H.E. Detlev Rünger

(middle) and his wife Iris

26 Cercle Diplomatique 3/2015

Cercle Diplomatique 3/2015

27
---
LE BULLETIN REVIEW

July 2015

Switzerland

Switzerland celebrated the re-opening of the Embassy.

July 2015

Russian Federation

The Ambassador celebrated a Farewell Party at the Embassy.

H.E. Christoph Bubb

and his wife Regula

H.E. Sergey Nachaev

and his wife Nina

July 2015

Morocco

On occasion of the Feast of the Throne a reception was held at the residence.

H.E. Ali El Mhamdi

and wife (middle)

PHOTOS: CD, CERCLE DIPLOMATQUE/ HARALD KLEMM & CHRISTIAN LEITNER

August 2015

Panama

The Ambassador said Goodbye with the concert "From Panama to the World."

H.E. Gloria Young

(2nd left)

28 Cercle Diplomatique 3/2015

Cercle Diplomatique 3/2015

29
---
LE

MONDE

Die köstlichste

Business Class

der Welt

HOCHGENUSS

Wir freuen uns über den 1. Platz in der Kategorie

"Best Business Class Onboard Catering 2015".

the charming way to fly

HIER FINDEN SIE EINE REIHE

HOCHINTERESSANTER

BERICHTE ÜBER DIE

LÄNDER DIESER WELT UND

IHRE VERTRETUNGEN IN

ÖSTERREICH, GESPICKT MIT

INTERVIEWS UND

STELLUNGNAHMEN VON

EXPERTEN AUS DEM IN-

UND AUSLAND.

HERE YOU WILL FIND A

NUMBER OF HIGHLY

INTERESTING REPORTS ON

THE COUNTRIES OF THE

WORLD AND THEIR

REPRESENTATIONS IN

AUSTRIA, PEPPERED WITH

INTERVIEWS AND EXPERTS'

OPINIONS FROM AUSTRIA

AND ABROAD.
---
LE MONDE QUATAR GEORGIA

The Bridge of Peace. A symbolic

construction in the heart of the

Georgian capital Tbilisi.

GEORGIA

A BRIDGE TO ASIA

FOTOS: XYXXYXYXY

FOTOS: XYXXYXYXY

PHOTO: FOTOLIA

The former republic of the Soviet Union is reinventing itself

and emerging as a major transit country in the Caucasus

region between Orient and Occident. If successful, Georgia

more and more will be on our mind.

Text: Rainer Himmelfreundpointner

32 Cercle Diplomatique 3/2015

Cercle Diplomatique 3/2015

33
---
LE MONDE GEORGIA

The TV-Tower

in Tbilisi.

The Vardzia cave

monastery.

Orthodox churches

all over the land.

FACTS &

FIGURES

The Holy Trinity Cathedral of

Tbilisi, one of the most

admired temples in Georgia.

A Panoramic view of Tbilisi.

The Palace of Justice in Tbilisi.

FOTOS: XYXXYXYXY

PHOTOS: FOTOLIA, BARDI VADACHKORIA (MFA OF GEORGIA)

Legend has it that in the ancient kingdom of

Colchis, in modern-day western Georgia, the

rivers, which watered the fertile land in the

Caucasus, were so full of gold that the people were

practically blinded when they looked at the glittering

water but they also became immensely rich. "The inhabitants,"

Appian of Alexandria, a Roman historian,

observed much later, "put sheepskins with shaggy

fleece into the stream and thus collect the floating

particles."

The most noble of these animals, whose fleece

was washed with the gold from the rivers, was the

winged ram Chrysomallos who had been bestowed

at birth by the gods with this attire – the Golden

Fleece. According to legend, Chrysomallos was sacrificed

by the Colchisians to Zeus and its precious

fleece was then guarded in the holy grove of the god

Ares by a powerful dragon who never slept.

But Jason, the wise and ruthless leader of the Argonauts,

managed to steal the Golden Fleece with the

help of the Colchian king's daughter Medea and to

take it from the Black Sea, where Georgia's shores lie,

to Greece.

Soon, the Romans conquered the land, then the

Arabs came after them. In the Middle Ages during

the reigns of King David IV and his granddaughter

Queen Tamar in the twelfth century the "Kingdom

of Georgia" experienced a renaissance of the Golden

Age but after the onslaught of the Mongolians it disintegrated

again into small vassalages.

And after numerous invasions it became easy

prey first for the Ottomans and then for the Russian

Empire. The turmoil during the revolution enabled

Georgia, the native country of the later dictator Joseph

Stalin, to enjoy three brief years of in-dependence

from 1918 to 1921. But then it was annexed

again for 60 years to the Soviet Union as a constituent

republic until it finally gained its independence

in 1991.

But even today, the Georgians regard the legend

of the Golden Fleece as a national mantra that builds

a bridge between an abundant past and a prosperous

future.

Today's Georgia clearly sees this future in Europe.

As early as 1999 the country, scarred by heavy internal

conflicts, signed a partnership and cooperation

agreement with the European Union. From 2006 onwards

a number of action plans followed, which the

EU slowly intensified as part of their "Eastern Partnership"

and eventually an Association and Free

Trade Agreement was signed between Georgia and

the EU in 2014.

"This agreement is not Georgia's ultimate goal,"

Konstantin Zaldastanishvili, the ambassador of the

country, emphasised in conversation with Cercle

Diplomatique. "We are striving for EU membership"

(see also interview on page 37).

In May 2015, the Federal President Heinz Fischer

was the first Austrian head of state to pay an official

visit to the former Soviet republic, and together with

the Georgian Prime Minister Irakli Garibaschwili

opened a bilateral economic forum there. He emphasised

particularly the "remarkable efforts" of

Georgia on its road to Europe and its need to continue

on it. "Georgia is a country whose stability and

positive development is in all of our interests,"

Heinz Fischer maintained and hinted that the

Austrian National Assembly would be ratifying the

Association and Free Trade Agreement with the EU

today. "But it is also a fact," Fischer said, "that the list

of unsolved problems on the international agenda is

quite long. And the more the West – i.e. Europe and

the USA – clashes with Russia, the more difficult it

will be to solve these problems with Russia's involvement."

That was an unmistakable allusion to the

extremely fragile relations, to put it mildly, between

Georgia and Russia. As the small Caucasian country

with 4.5 million inhabitants had already started to

steer on a Western course in the 1990s, it experienced

a number of serious confrontations with its

more powerful neighbour in the north. This escalated

into a five-day war with Russia in August 2008

around the separatist Georgian regions of Abkhazia

and South Ossetia. Both areas were occupied by Russian

troops, diplomatic relations were broken off and

the "Geneva Discussions" to settle the conflict have

not led to any noteworthy results to date.

Against this background, Georgia now has to perform

a balancing act between nurturing its delicate

relationship with Russia and positioning itself "as a

hub between Europe and Asia with great potential,"

according to Prime Minister Garibaschwili. In fact,

Georgia has been able to recover more or less from

the massive economic collapse, which the war with

Russia and the economic and financial crisis that ex-

Georgia

Official Name:

Georgia

Region: Eurasia, Caucasus,

bounded to the west by

the Black Sea, to the north

by Russia, to the south by

Turkey and Armenia, and to

the southeast by

Azerbaijan.

Area: 69,420 km2

Population: 3,729,635

(2014 census)

Language: Georgian

Religion: Orthodox

Christianity (84%), Islam

(9,9%) Armenian

Chrisitanity (3,9%)

Capital: Tbilisi

Currency: Lari

GDP per capita: 4,433 $

(2014 estimate, nominal)

Climate: Diverse,

subtropical influences from

the west, continental

influences from the east,

temperatures range from 2

°C to 24 °C in average.

The joyful Georgian way

of life is famous all over

Eurasia. It should attract a

lot of tourists to the

country in the near future.

Georgia is a country deeply rooted in its

Orthodox Christian tradition with a wide range

of churches and monestaries. It is also

transisting into a modern state that aims to be

part of the western economic community.

The Concert hall, a landmark of

modern architecture in Tbilisi.

Orthodox monestary church,

seen at sunset light.

Vakhtang Gorgasali

monument.

34 Cercle Diplomatique 3/2015

Cercle Diplomatique 3/2015

35
---
LE MONDE GEORGIA

LE MONDE GEORGIA

H.E. Konstantine Zaldastanishvili

"We are reforming and modernising our country each day."

Georgia – country

of wine culture

Georgia takes enormous

pride in more than 8,000

years old history of being

one of the world's oldest

and most cultivated wine

regions. The ancient

winemaking method using

so called "Kvervi" clay jars,

has been added by

UNESCO to its intangible

Cultural Heritage List. Even

today kvervis are still in

use to ferment and to store

up wine. Some of them are

even exported to Austria

where a brewer of

Salzburg's beer company

Typical Georgian wine kvervis

in the Alazani Valley.

"Stiegl" is trying to mix a

new brand of beer using

kvervis from Georgia. Wine

production in Georgia

which takes place in five

main regions – Kakheti,

Kartli, Imereti, Racha-

Lechkhumi & Kvemo

Svaneti and Ajara – today

accounts for more than 15

million bottles a year that

to a good deal go to 45

countries, thanks to their

variety of grapes and wine

styles. They can be

checked out in the first

online Catalogue of

Georgian Wine which has

been launched in 2014.

Federal President Heinz

Fischer during his recent

visit to Georgia in May 2015

with Giorgi Margvelashvili,

President of Georgia.

ploded shortly after had triggered, in particular

thanks to western aid amounting to approximately $

4.5 billion.

According to forecasts from the IMF, the International

Monetary Fund, Georgia's GDP, which had

grown in 2014 by 4.8 per cent to $ 16.5 billion due to

an increase in exports of nearly $ 3 billion, should

increase by about 2 per cent this year. However, the

official unemployment rate of 15 per cent has not

changed.

Maybe the most astonishing sign for the success

of the numerous reform measures towards market

liberalisation, bureaucracy reduction and in particular

the fight against corruption, which Georgia has

undertaken in the last ten years, is probably its steady

rise in the World Bank's "Ease of Doing Business"

ranking to 15th place in 2014.

Some Austrian companies have got wind of this

development and have invested about € 80-90 million

to date.

According to a report by the Austrian Economic

Chambers (Wirtschaftskammer Österreich, WKO)

so far primarily the energy (the utilities expert ILAG

engaged in the construction of hydroelectric plants

and technology giant Siemens delivers power lines

and switchgears), food (again ILAG equipped a

cheese factory) and logistics (the transport company

Gebrüder Weiss welcomes visitors with a logistics

centre just a the airport in Tbilisi and machinery

producer Hödlmayr has opened a new branch) sectors

have been investment targets. Andritz Hydro, in

turn, has an office in Tbilisi, Doppelmayr (ski lifts) is

contributing to the development of the tourism infrastructure

and a domestic insurance company has

financed the construction of ten small hospitals.

"Nevertheless, the trading volume of 60 to 80 million

a year between Georgia and Austria is still quite

modest", Konstantin Bekos states, the commercial

counsellor at "advantageaustria", the Austrian Economic

Chambers' external trade organisation. "But

many domestic companies are lead partners in a

number of 'twinning projects' and thanks to

Georgia's strategically ideal location as a transit

country, especially with its key role in China's New

Silk Road project, Georgia has great growth potential

for Austria's exporting industry" (see also "Experts

View" on page 39).

In fact, their role as a "south corridor" – that is the

route of the oil and gas pipelines transporting the

raw material from the Caspian Sea to the Black Sea

and further on to Europe to bypass Russia and Iran

– is this small country's most important trump card,

which is bound to get stronger when the new TA-

NAP gas pipeline running from Azerbaijan via

Georgia to Turkey has been built.

The big question in this geostrategic game still remains

unanswered: whether Russia will grant Georgia

its grand ambitions and allow the country to be

what it wants to become again – a golden bridge between

Europe and Asia.

PHOTOS: PETER LECHNER

FOTOS: PHOTO: XYXXYXYXY

RALPH MANFREDA

Georgia's Ambassador to the Republic of Austria, Permanent Representative of

Georgia to the OSCE and other International Organisations in Vienna, about the

progress of his Caucasian home country on its path towards the EU, its delicate

relationship with Russia and the potential of Georgia as a transit country.

Interview: Rainer Himmelfreundpointner

CD: Ambassador Zaldastanishvili, did the state visit of the

Austrian Federal President Heinz Fischer in May 2015 bring

Georgia closer to the EU?

Zaldastanishvili: First of all, the bilateral relations

with Austria, which have become closer in recent

years, are extremely important to us. We are

very grateful that Austria supports us in our European

aspirations – the state visit of the Federal President,

which took place shortly before the Riga summit

of the Eastern Partnership, was an example of

this support. Unfortunately, Georgia did not succeed

in obtaining the desired visa liberalisation

in Riga. But we strongly hope that – based on

the report of the European Commission,

which will be submitted at the end of 2015

– Georgia will receive the visa-free regime

from the European Union. After all, we

have already implemented large numbers

of legislative and institutional reforms in

this direction.

Since about a year, an Association Agreement,

essential part of which is the Deep and Comprehensive

Free Trade Area (DCFTA) between the EU

and Georgia has been in place. What are the

results so far?

AD PERSONAM

It is still a very new process and it will take some

time to get visible results and benefits. It will not happen

overnight. The main result, however, is that we

are reforming and modernising our country each

day. Through the implementation of the Association

Agreement, we will create the same rules and standards

as those in the EU. This will not only promote

trade with the EU, but also attract direct investments

from the European companies. However, I would like

to stress that the Association Agreement

is not the final goal of Georgia.

We strive to join the EU.

In the "Ease of Doing Business"

World Bank ranking, Georgia is

now almost on a par with

Norway when it comes to simple

and unbureaucratic ways of

doing business. How come?

We attach great importance

to the fact that investors,

both foreign and local,

are well taken care of

in Georgia. Georgian

Government is doing its utmost

to constantly improve

INFO: http://cat.hvino.com

KONSTANTINE ZALDASTANISHVILI, since 2013 serves

as Ambassador Extraordinary and Plenipotentiary of

Georgia to the Republic of Austria and Permanent

Representative to the OSCE and other International

Organisations in Vienna.

36 Cercle Diplomatique 3/2015

Cercle Diplomatique 3/2015

37
---
LE MONDE GEORGIA

LE MONDE GEORGIA ECONOMY

"The Association Agreement with

the EU is not our final aim. We

strive to join the European Union."

Konstantin Bekos

Head of Advantage Austria in Ankara and Commercial Counsellor for Turkey and Georgia

Ambassador Konstantine

Zaldastanishvili in a talk with

"Cercle Diplomatique" author

Rainer Himmelfreundpointner.

the business environment in the country. In 2006,due

to the political motivation, Russian Federation suddenly

banned the import of Georgian products. Although

this brought many problems, it was also a

push to improve the quality of our products, find

new markets and to optimise the conditions for

businesses. This made it possible to diversify export

markets for our main agricultural products – such

as wine, hazelnuts, mineral water, fruits and vegetables.

How much is this development of Georgia influenced by the

Russian occupation of the Abkhazia and South Ossetia

regions of Georgia?

The withdrawal of Russian troops and the deoccupation

of 20 percent of Georgia's territory is

undoubtedly the major challenge for Georgia. This is

not an easy task for my country, but we must remain

optimistic. We also need the support of the international

community in this regard. Our aim is to develop

Georgia economically and democratically and

make it more attractive as a country and economic

partner – especially as a transit country for oil and

gas supplies to Europe. This is one of the most important

functions of Georgia. But Russia has no

interest in a competing energy transit route and

hence, is trying to prevent this by all means.

How do you assess the nuclear agreement recently signed in

Vienna between the West and Iran?

It is very important that such an historic agreement

was concluded in Vienna. Georgia attaches

great importance to regional cooperation. Together

with other countries in the region, Georgia is a part

of the revival of the "Silk Road" – as a main trade

route between Asia and Europe. In a few months'

time, a major international conference on the new

"Silk Road" will take place in Georgia, and as a transit

country, we feel responsible that this route works.

Therefore, it would be very good to have a world without

aggression and without sanctions to enable

free trade also for Georgia, of course. Georgia has

always been against aggression. It is better to reform

and develop economically rather than to send tanks

to other countries. At the same time, everyone has to

understand that aggression has its costs, and such

costs could be the sanctions. I understand that the

sanctions against Russia and its countermeasures

for Austria, which is unfortunately

particularly affected, is a big issue.

But there is a great need

for everyone to understand

that the security

of Europe is an

even bigger one.

FOTOS:

PHOTO:

XYXXYXYXY

RALPH MANFREDA

With its ambition to become a full member of the European

Union and its enormous natural resources, Georgia could

emerge as an economic bridge to Asia for Austrian companies.

Georgia is a very secure, democratic country

in the South Caucasus region with enormous

natural resources. Last year it signed

an association agreement with the European Union

which is still not ratified by all European member

countries. Georgia is eager to become a full member

of EU and NATO and fought successfully against

corruption. It has hundreds of microclimates which

offer hundreds of sorts of grapes, tea and fruits.

Therefore Georgia is also named the "cradle of wine".

Since preanciant times it has been a powerful culture.

With its 2,600 water bodies it is so gifted that

the energy production costs are still lower than in

the energy hungry neighboring countries. What makes

life in Georgia more difficult is no modern infrastructure

and no capital plundered or missed by former

regimes. Therefore it is necessary for the project

to organise also the financing. But it is relatively easy

building up a production for sustainable projects.

For creating new jobs in Georgia you can get support

from IFIs or private investment firms as by instance

Schulze Global Investments and the Austrian Development

Bank are eager to basic funding.

Georgia has geostrategically a very important position

at the bottom of the high rising Caucasus

mountains and at the shores of the Black Sea. Transports

to and from Asia are also going through this

country like the silkroad as well as the energy corridors

between Middle East, Central Asia and Europe.

It is surrounded by huge or oilrich markets like Russia,

Turkey, Iran and Azerbaijan. Because of its absence

of so many needed local productions, knowhow

from abroad would be most welcome. For

promising activities the legal framework sometimes

is still missing - like in forestry. Wood and furniture

production could prosper easily in such a densely

forested surrounding. Tourism, service industry,

wine and energy production prevail but offer still

good chances like construction material, foodstuff

and consumer goods. Austria has since centuries

good business, trade and cultural contacts and has

become a reliable partner in the reconstruction process

with nearly two thirds of all the Twinning projects.

In bilateral trade we reached a still modest volume

of € 60 to € 80 m. Austrian industries invested

80 to € 90 m. in logistics, energy and food stuff production,

tourism infrastructure, insurance and agriculture.

An Austrian insurance company built 10

small regional hospitals to provide Georgians high

standard medical care. Austrian consumer goods,

education and food products as well as Austrian

technology in water production and environmental

protection are highly appreciated. The Austrian business

interests in Georgia will be supported by a small

advantageaustria office in Tbilisi in collaboration

with the Austrian Development Agency and by the

Foreign Economic Center at the Austrian Embassy

in Ankara. Before entering the Georgian market, it is

strongly recommended to contact the Foreign Economic

Center in Ankara to discuss further activities

in this country.

Tourism & Food.

Georgia offers a

large variety of

natural

treasures and

business

opportunities.

PHOTOS: FRANK HELMRICH, BEIGESTELLT (2), BARDI VADACHKORIA (MFA OF GEORGIA)

AD PERSONAM

Konstantin Bekos

serves as Commercial

Counsellor at the

Austrian Embassy in

Ankara for Turkey and

Georgia. He is also head

of Advantage Austria in

Ankara which is in

charge of supporting

Austrian companies

doing business in

Georgia.

"Georgia is eager to become a full member of EU and NATO and

fought successfully against corruption."

38 Cercle Diplomatique 3/2015

Cercle Diplomatique 3/2015

39
---
LE MONDE PHILIPPINES

H.E. Maria Zeneida Angara Collinson

"We really could create a win-win-win-situation."

A talk with the new Ambassador of the Philippines to Austria.

welcoming of other peoples. In short, it is

the perfect time and place to invest in the

Philippines.

"Our culture of tender

loving care can not be

easily duplicated."

Interview: Rainer Himmelfreundpointner

CD: Your Excellency, you have started your ambassadorship

to Austria just a couple of months ago,

in May 2015. What were your previous professional

and personal ties to our country?

Collinson: Before coming here, I was

Assistant Secretary (Director General) for

European Affairs in the Department of Foreign

Affairs in the Philippines. So I had travelled

to Europe many times for various

meetings, including to Vienna. But my very

first visit to Austria was in the 70's, as a student.

I toured Vienna and Salzburg for six

days and was impressed by the beauty of

this country. I never thought that I would

be posted here one day, so it came as a very

pleasant surprise when I received news of

my nomination for this position. Prior to

here, I was Ambassador to Sweden, with

concurrent accreditation to Finland and the

Baltic states of Estonia, Latvia and Lithuania.

Can you give us a glance at the historic development

of relations between the Philippines and

Austria?

Our bilateral relationship dates back several

centuries. In 1521, Magellan, the first

circumnavigator of the world, discovered

the Philippines. He sailed under the flag of

Spain and the Spanish monarch then was a

Habsburg. In 1565, Miguel Lopez de Legazpi

named our country after Philip II of

Spain, a Habsburg. The initial historic link

was, therefore, via Spain which colonized

the Philippines for some 300 years. In the

19th century, there were several scientific

expeditions from Austria to the Philippines.

In 1871, the Austro-Hungarian Empire

established a consulate in Manila

which continued until we declared our independence

from Spain in 1898. In doing

so, the Philippines became the first democracy

in Asia and became a model and inspiration

for other colonised countries in

Asia to try to achieve their own independence.

What about the current relationship between the

Philippines and Austria?

Actually we will be celebrating the 70th

anniversary of the establishment of diplomatic

ties in 2016. The great strength of

our bilateral relationship lies in our shared

religion, Catholicism, and our common

adherence to democracy and human rights.

Our bilateral relationship is one of deep

friendship. There are no significant political

issues between the Philippines and Austria.

But we need to work hard on the economic

side of our relationship because

right now, trade between our countries is

very low – some 190,5 million Euros in

2014. We have to increase bilateral trade.

Naturally, this figure might be misleading

as goods normally enter Austria through

other established ports in Europe and are

entered into the statistical records of those

countries. I think the low figures do not do

justice to the economic potential of our

countries. The Philippine economy has

been growing at an average rate of some 6,5

per cent over the last five years. It is a huge

market of about 100 million people with a

per capita purchasing power of around US-

Dollar 4,000. As a founding member of

ASEAN (Association of Southeast Asian

Nations), we also look forward to the commencement

of the ASEAN Economic

Community that will translate to a common

free trade area and a common market

of some 600 million people.

Some leading Austrian companies like Andritz,

Frequentis, Vamed or Biomin are very active in the

Philippines already. What would be the

advantages for other businesses to go there as

well?

Apart from having the second highest

GDP growth rate in Asia in recent years,

the Philippines is also entering what I

would call a demographic sweet spot. That

means that the greater part of the population

will be of productive age, with increasing

incomes and improving productivity.

We have had upgrades from all three major

rating agencies which puts the Philippines

in an investment grade category. The business

environment is investor-friendly with

attractive incentive packages, stable laws

and regulations, loyal and English-speaking

work force and a hospitable culture

What would be some major projects in the

Philippines for Austrian companies to engage in?

There are many opportunities in infrastructure

development and enhancement

– airports, rail systems, bridges, roads, hospitals,

ports. We are promoting Public Private

Partnerships also in the areas of energy,

ICT (Information Technology and

Communication), tourism, health and

other services. Furthermore, we have over

200 economic zones with very generous tax

incentive packages strewn across the archipelago

for export-oriented enterprises.

What would be your plans to encourage more

economic activity between the Philippines and

Austria?

The level of ambition is high but I would

also wish to be realistic as to what activities

can and should be undertaken. I have had

initial talks with the Austrian Chamber of

Commerce. One idea is to form an Austrian-Philippine

Business Council that would

serve as a platform for confidence building

and cross-fertilization of ideas, as well as

assist in the promotion of trade, investment

and tourism. In October this year we

will have a business delegation from Tyrol

going to the Philippines and we will sign an

agreement on Tourism Cooperation. Likewise,

we are also thinking of inviting a Philippine

business mission to Austria in 2016

to meet potential business partners. Austrian

companies are very strong in research &

development and in technology parts that

go into lead products like cars or airplanes.

Business matching activities could open a

very wide window of opportunity. Austria

is also very good in medical equipment or

hospital administration. On the other

hand, the Philippines has very good and

qualified nurses. Our culture of tender loving

care cannot be easily duplicated and

takes several generations to develop. So a

partnership between Austria and the Philippines

to provide complete health services

to other countries could really be a winwin-win-situation.

PHOTOS: RALPH MANFREDA

AD PERSONAM

Maria Zeneida Angara Collinson is since May 2015

Ambassador Extraordinary and Plenipotentiary of the

Philippines to the Republic of Austria, with concurrent

jurisdiction over the Republic of Croatia, Republic of

Slovenia and the Slovak Republic.

40 Cercle Diplomatique 3/2015

Cercle Diplomatique 3/2015

41
---
LE MONDE SINGAPORE

Celebrating the City of the Future

The "Merlion"

sculpture in

the heart of

Singapore.

FACTS &

FIGURES

2015 marks the 50th anniversary of the foundation of modern

Singapore, South-East Asia's miracle city-state. Time for congrats.

Text: Rainer Himmelfreundpointner

Singapore skyline by night.

Marina Bay Sands, the

three-towered luxury hotel,

casino and convention center,

is one of the most futuristic

landmark temples in a

metropolis which serves as a

perfect gateway to Asia.

PHOTOS: SINGAPORE TOURISM BOARD, ERIC AU

Imagine now you are treating yourself with a

sweet moment of relaxation in paradise on earth

– which is located at the "Infinity Pool" on the

roof of the Marina Bay Sands, the futuristic threetowered

landmark-hotel in Singapore. You sip a Singapore

Slim and let your eyes walk over a forest of

skyscrapers glinting in the evening sunlight, each of

them a temple of globalisation bearing the name of

some of its mightiest prophets – HBSC, Allianz,

UBS, Citi Bank. Underneath the city traffic flows

smoothly through busy streets, many of them neighbored

by vast parks or overgrown with tropical vegetation,

supporting the government's vision of turning

the 5.4-million-city "into a garden". Looking

out to the sea you may watch tankers, ferries and

container ships in the west, heading for one of Asia's

biggest ports, or airplanes descending to perhaps the

world's most efficient airport, Changi, in the east –

both of them major business gateways to the huge

ASEAN market with some 600 million people.

This summer Singapore celebrated its 50th anniversary

as an independent country. If, according to

George Orwell, everyone at a certain age has the face

he deserves, Singapore indeed can be proud of its

youthful vigour. In not more than these five decades

the world's only fully flourishing city-state has established

itself, to use a word its leaders favour, as a truly

"exceptional" place: a global hub for commerce,

finance, shipping and travel, one of the world's richest

country with a GDP of some 310 billion USdollars

or an economic output per person of more

than 56.300 US-dollars. And, simply put, "the easiest

place to do business", as the Austrian entrepreneur

Erich Erber, founder of animal food additives producer

"Biomin" sums it up.

It is an irony of history that Singapore's success

story actually started in tears. After a bitter confrontation

with Malaysia, which left 36 dead and 560

wounded, the then 42 years old political leader of

Singapore, Lee Kuan Yew, broke out weeping when

he was announcing Singapore's expulsion of Malaysia

and its formation as a new state on August 9th,

1965. "For me this is a moment of grief ", Lee said.

"All of my life I have been believing in the unity of

our two territories." Tears of endless rows of mourners,

who queued in tens of thousands for hours in

sultry heat or pouring rain, had been flowing as well

when Lee died in March 2015, leaving behind him a

legacy bigger than life.

Panoramic view of Singapore's

Marina Bay centre.

Singapore

Official name:

Republic of Singapore

Capital: Singapore

Official languages: English,

Malay, Mandarin, Tamil

Official scripts:

Roman (Latin) script,

Simplified Chinese, Tamil

Ethnic groups:

Chinese (74%), Malays

(13%), Indians (9%)

Religion: Buddhist (33%),

Christian (18%), Muslim

(15%), Other (Taoist, Hindu)

Demonym: Singaporean

Government:

Unitary parliamentary

constitutional republic

- President: Tony Tan

- Prime Minister:

Lee Hsien Loong

Legislature: Parliament

First formation: 1299

British colonisation:

- 6 February 1819

Independence from Britain:

- 31 August 1963

Expulsion from Malaysia:

- 9 August 1965

Area:

- Total: 718 km 2 (190th)

Population:

- 2014 estimate: 5,470,000

GDP per capita:

- 56,300 US-Dollar

BOOK TIPP

Lee Kuan Yew

"The Singapore

Story: Memoirs

of Lee Kuan Yew"

(Strait Times

Press 2011)

42 Cercle Diplomatique 3/2015
---
LE MONDE SINGAPORE

Chinatown by night:

Singaporeans take

pride in their historic

city centre.

Future meets tradition:

The Gardens by the Bay

(top) with their huge

metallic tree skeletons

contrast with the historic

luxury of the Raffles Hotel.

Under his strong and paternal hand – until today

the city has never changed its ruling People's Action

Party (PAP) – Singapore has acquired a strong national

identity. Once a state that was never meant to be,

made up of racially diverse immigrants – a Chinese

majority of about 74 per cent with substantial minorities

of Malays (13 per cent) and Indians (9 per cent)

– is now fulfilling its people with pride and patriotism.

Until his resignation as prime minister in 1990,

Lee was ruling the city fate almost as a (mostly) benevolent

dictator forming its expansion with ruthless

pragmatism. "Poetry is a luxury we cannot afford"

was one of his maximes. Another one was a

message to all Singaporeans: "Explore the world and

come back with at least two practical ideas."

And so they did, turning their home step by step

into one of the most advanced cities in Asia, not only

in terms of its economic success but also as a forerunner

in technology, scientific research and environmental

urban development into a "Smart Green

City". Because of this combination, Singapore in the

meanwhile has attracted some 10,000 companies

from Europe, for example Rolls Royce, Novartis or

Siemens, to set up their Asian headquarters and manufacturing

outlets here, including 86 Austrian companies

like RHI, Rosenbauer, Palfinger oder Semperit

as well. More than 500 Austrian additional

businesses are engaged in trade relationships with

Singapore, contributing to total exports from Austria

of some 413 million Euros last year.

Volker Ammann, the Austrian commercial representative

in Singapore, insists that this trade volume

needs to be extended intensively: "There is no way

for our companies to come by this business location,

either they like it or not", he says. "For a long time

going to Singapore was an opportunity. Today it is a

must." Ammann comes up with a simple but convincing

demographic argument for this "Go-Far-East"

strategy: Around the year 2030 at the latest a third of

all of the world's middle class consumers will be living

in South East Asia, China, India or Japan, spending

their money in these regions. As a matter of this

market shares of the United States and Europe in

consumer spendings will slump, making it more difficult

for companies there to earn profits in these "old

markets". Unless they turn to Asia, especially to Singapore,

as their operation base.

According to Ammann the time to do so is high

since it is getting harder everyday for foreign companies

to put themselves on the Singapore map: "20

years ago an European businessman could drop by

here, present his product, negotiate a bit and most of

the time he went home with a contract in his pocket.

These times are over and gone. Today you really have

to exert yourself and work 24/7 to be successful."

But the actual ease of doing business is uncomparable,

he says. Establishing a company only takes

about five days at the cost of some 3,000 Singapore

dollars maximum, including legal fees. Company taxes

are limited at 17 per cent and there are myriad

possibilities of deduction and tax incentives as long

as the business adds to the overall benefit of Singapore

– a policy known as "PID" or "Productivity and

Innovation Credit". For example, the pharmaceutical

giant Baxter, since 2009 is running a big factory for

the production of haemophilia drugs in Singapore

and did not pay a single tax dollar until 2015. Private

income is taxed with 22 per cent at the max and VAT

amounts for only 7 per cent.

One of the Austrians who has made it here is Erich

Erber. He became a Singapore resident more than

eight years ago and has been chosen for the prestigious

"Expat of the Year" 2015, an export award by

the Austrian Economic Chambers. Another one is

Erich Sollbeck, who is running the only "Wiener

Würstelstand" in Chinatown, offering "Käsekrainer"

and "Leberkäs". "To me", Sollbeck says, "Singapore is

like an advancement, a further stage of Austria."

PHOTOS: SINGAPORE TOURISM BOARD, DERRICK SEE

44 Cercle Diplomatique 3/2015
---
LE MONDE ESSAY

Diversity in the Danube Region

– a lot to be done

Economic growth is possible for all of Europe, and especially for the Danube

Region. A special fascination is the fact that 14 countries are a part of it.

can also be found in these exclusive hotels:

Interalpen-Hotel Tyrol

Fine hotels

selected by

CERCLE

DIPLOMATIQUE

ECONOMIQUE et TOURISTIQUE INTERNATIONAL

Dr. Erhard Busek

Chairman of the Institute

for the Danube Region and

Central Europe (IDM)

The cultural diversity of Europe should be recognised

as a matter of course, especially

since many European countries are already

culturally diverse in themselves. Even though the public

acceptance of this fact is there, it has in reality

not managed to become a general principle in Europe.

In individual nation states with minorities of all

kinds, there are struggles. The democratic developmental

state in a west-east divide plays a very crucial

role. Western central states, however, see cultural

independence with skepticism, fearing a weakening

of central power in an era of disintegration. Who

would have thought that Scotland and Catalonia

would create movements towards independence?

Is there a Europe of regions?

The Maastricht Treaty attempted to take the development

of regionalism into account. Political formation

was essentially weak, while the temptation

remains to refer culture to the realm of folklore and

failing to acknowledge that the constituent element

of Europe is exactly that same culture. Today, when

we speak of the finalité d'Europe, then it refers not

only to the geopolitical concept of the continent, but

also to those values that constitute Europe. Therefore,

we are looking for the 'narrative Europe' and want

to "give Europe a soul" (Jacques Delors).

The special fascination regarding the Danube Region

lies alone in the fact that 14 countries are a part

of it. No other river in the world has such a variety at

its banks. It doesn't just manifest in the language, but

especially in the culture, where you will not only find

diversity but also commonalities. Also therein lies

the fascination of the Danube Region – due to overlaps

which are reflected in music, literature, architecture

and even in the design of the space itself. Central

Europe was at times synonymous for this, but it

can't be denied that many conflicts have arisen from

the interaction. The Danube Region has learnt from

this, which can be seen in its rich history. The Danube

Region initiative (European Union Strategy for

the Danube Region – EUSDR) is now trying to bring

people along the Danube together through culture,

although recognising diversity is one of the basic requirements.

Those trends that are trying to exaggerate

the differences – to maintain somehow that one

is better than the other – have no place in 21st century

Europe.

The prerequisite for continued existence and development

of cultural diversity makes knowledge

very necessary. The real danger lies in the development

of technical civilization that is expressed in the

satellite world, and also in the utensils of daily life.

The answer can not be that the "Fortress Europe"

should expand culturally, but to be aware of the

openness and transgression of the European spirit.

This requires history and stories – the great narratives

and myths – as well as the different languages of

culture, of which music already has no boundaries,

because it needs no translation.

EU STRATEGY FOR THE DANUBE REGION

(EUSDR):

The EU Strategy for the Danube Region was developed

based on an intensive consultation process

in 2010. It has a total of eleven priority areas which

can be summarised into four topics:

• Connecting the Danube Region

• Improving mobility and multimodality

• Promotion and utilisation of sustainable energy

• Promotion of culture and tourism, contact

between people

• Environmental protection in the Danube Region

• Restoring and protecting the quality of water

• Management of environmental risks

• Conservation of biodiversity, landscapes and the

quality of air and soil

• Establishing prosperity in the Danube Region

• Developing a knowledge-based society through

research, education and information technologies

• Promoting competitiveness of enterprises,

including clustering

• Investing in people and skills

• Strengthening the Danube Region

PHOTO: MANCA JUVAN

• Enhancing institutional capacity and cooperation

• Cooperation to promote security and to combat

serious and organised crime

What are the problems?

The chance to make the Danube a European river

has not yet been implemented. A word has to be said

about the current crisis: an opportunity to revive the

economy is to invest in infrastructure. A few examples

should be mentioned: the Danube is only intermittently

navigable because there are bottlenecks and

a shortage of water depth. This, however, must also

be seen in a multimodal way, meaning the connection

to the road and rail network along the Danube.

Let us not forget that the Danube is a link, across

the Rhine-Main-Danube canal and to the north and

north-west, and so we should also think of this connection.

Scientific cooperation is possible. There is a

conference with rectors and heads of Danube universities

with good results.

Economic growth is possible for all of Europe, and

especially for the Danube Region. We have depopulated

areas such as around the area of the Iron Gate,

where business investment is urgently needed, but

again, it needs the necessary infrastructure. Tourism

is essential in order to build it and to create jobs. There

are exciting areas of natural beauty and cultural

institutions along the Danube. An incentive for the

expansion of these activities is the fact that the number

of tourist ships that cruise the Danube has increased

dramatically. The German Society for International

Cooperation (GIZ) has several times lead a ship

along the Danube with officials to draw attention to

the river. The same category includes water projects

which not only enhance the quality of the Danube,

but also contribute to the health of the region.

Finally, the mythology of the Danube deserves a

mention. Claudio Magris, born in Trieste, wrote a

famous book about the Danube. Trieste does not lie

on the Danube. Peter Esterhazy wrote a novel about

the Danube and Dragan Velikic writes constantly

about the Danube Region in his novels. There is a

rich background setting. The Danube has a positive

mythology. It will be our challenge to create a real

background for this positive mythology.

General Manager

Karl Brüggemann

Interalpen-Hotel Tyrol

Dr.-Hans-Liebherr-Alpenstrasse 1,

A-6410 Telfs-Buchen

Tel: + 43 (0)50 809-30

interalpen.com

These select hotels offer

CERCLE DIPLOMATIQUE - ECONOMIQUE et TOURISTIQUE INTERNATIONAL

as a special service:

Hotel Altstadt Radisson Blu ● Hotel Astoria ● Astoria Relax & Spa-Hotel ● Hotel Bristol A Luxury

Collection Hotel Vienna ● Austria Trend Hotel Europa ● Fleming's Deluxe Hotel ● Hotel Goldener Hirsch

● A Luxury Collection Hotel Salzburg ● Gradonna****s Mountain Resort ● Grand Hotel Wien ● Hotel

Imperial A Luxury Collection ● Hotel Steigenberger Herrenhof ● Hotel Vienna ● Interalpen-Hotel Tyrol ●

Kitzbühel Country Club ● Hotel Kitzhof Mountain Design Resort ● Hotel Lamée ● Loisium Langenlois ●

Loisium Südsteiermark ● Meliá Vienna ● Park Hyatt Vienna ● Palais Coburg ● Palais Hansen Kempinski

Vienna ● Austria Trend Hotel Park Royal Palace Vienna ● Austria Trend Parkotel Schönbrunn ● The Ritz-

Carlton Vienna ● Sacher Salzburg ● Sacher Wien ● Sans Souci Vienna ● Austria Trend Hotel Savoyen

Vienna ● Schloss Fuschl A Luxury Collection Resort & Spa ● Austria Trend Hotel Schloss Lebenberg ●

Sofitel Luxury Hotels Vienna Stephansdom ● Stanglwirt ● Vienna Marriott Hotel ● Vila Vita Pannonia

Would you like to belong to these exclusive hotels?

If so, please contact us!

office@firstclassmedia.at

ECONOMIQUE et TOURISTIQUE INTERNATIONAL

46 Cercle Diplomatique 3/2015
---
LE MONDE CTBTO

Lassina Zerbo

"There is no point in nuclear testing again. I don't lose hope for this."

FACTS &

FIGURES

"Let's make sure,

Hiroshima and Nagasaki

never happen again!."

How the CTBTO Executive Secretary wants to make the Nuclear Test-Ban Treaty come true.

Interview: Rainer Himmelfreundpointner

CD: Mr. Zerbo, you have just come back from

Japan, commemorating the 70th anniversaries of

the bombing of Hiroshima and Nagasaki….

Zerbo: ...and there are very few people

who see with their eyes and feel from the

heart the feelings of the survivors of the Hiroshima

and Nagasaki bombings. I had the

chance to talk to some of them and this is

always moving. For me, this was the highlight

of the commemoration. Those survivors

have been calling on the international

community for 70 years now to say: 'Let's

make sure, Hiroshima and Nagasaki never

happen again!' The commemoration was a

reminder to the international community

that we haven't achieved this yet.

Although the CTBT, the Comprehensive Nuclear

Test-Ban Treaty, was opened for signature 1996?

No, the CTBT is not yet in force. We have

the consent of 183 countries which have

signed the CTBT to say "No" to nuclear testing.

And 164 countries have ratified the

Treaty to say never will they undertake nuclear

testing. This is the hardest fought Treaty

in the history of multilateralism. Why?

Because 44 countries were deemed to have

the potential to develop nuclear weapons

and the ratification of those 44 countries is

needed for the Treaty to enter into force.

Among those 44 we have managed to get

the ratification of 36 countries, so there are

eight remaining still. These are India, Pakistan,

Israel, Egypt, Iran, the Democratic

Peoples' Republic of Korea (North Korea),

China and the USA. Three of them – India,

Pakistan and North Korea – have not yet

signed. We are working with them to sign

and ratify to make the Treaty universal.

Since World War II until 1996 more than 2000

nuclear tests have been recorded. How many

happened after that and by which country?

Since the Treaty was opened for signature

in 1996 no country that has signed it has

tested. You had the tests of India and Pakistan

in 1998, but they didn't sign the Treaty.

Since 2000 only North Korea has undertaken

nuclear tests. Although the CTBT is

not in force, it is already playing its role as

a deterrent for people not to test because

they know that our international monitoring

system will detect it anyway. We have

to engage with North Korea, explain to

them that we are living in a world where

there is no point in testing again. I don't

lose hope for this.

The CTBTO, the preparatory Organisation for the

implementation of the Nuclear Test-Ban Treaty,

has invested over a billion Euros in its international

monitoring system. How does it work?

This system has been called one of the

great achievements of the modern world by

US Secretary of State John Kerry and we

want to make it useful for the international

community. We have a worldwide network

of over 300 stations under ground, in the

air and under water. There are seismic stations

that basically detect any movement

underground, for example generated by

earthquakes. We have infrasound stations

that detect everything which is not audible

to the human ear. We have hydroacoustic

stations that detect explosions under water.

Hydroacoustic and infrasound together are

so sensitive that we even can follow movements

of whales under water. For example:

the airplane crash between Burkina Faso

and Mali in 2014 was detected by our infrasound

station in Cote d'Ivoire. Now we are

seeing if we are able to detect the Malaysian

airplane that disappeared in the Indian

Ocean. We had one signal but we were not

sure if we could relate it directly to this airplane

and we are still trying to contribute

to solve this enigma. So all this information

is collected in our data centre here in Vienna,

where we have nearly 400 people working,

staff and consultants. If you take all

the operating people in the countries where

the monitoring systems are located, we

have nearly 1,000 altogether.

So this monitoring system is not only for

detecting nuclear tests but it also supports civil

research in terms of earthquake or tsunami

detection?

Absolutely. If you, for example, take the Fukushima

accident in Japan: our seismic stations

were able to detect the earthquake

that generated the tsunami. Together with

our hydroacoustic sensors this helped us to

give data in near real time to international

organisations for tsunami warning, especially

in Japan. When the nuclear power

plant itself exploded – which nobody knew

because it was within the area of destruction,

you only saw the building falling –

our infrasound technology was the only

system to detect the explosion of the nuclear

power plant itself. So the data of our

international monitoring system are the

most reliable and the fastest for this kind of

alerts. This is our contribution to tsunami

and earthquake warning. Finally, our radionuclide

stations were able to track the

cloud of radioactivity following the accident

and provide this information to emergency

services.

Former US Secretary of Defense William Perry

said at the recent Science and Technology

Conference that we are verging on another

nuclear arms race. Is this so?

Until we have a legally binding framework

and the CTBT in force, we are dealing with

political leadership, goodwill, confidence

building and trust. We have tensions in the

Middle East and in Asia. We need to reach

a point where people understand there is

no point in looking at nuclear weapons as a

deterrent or as a safety net. Until we reach

that point, there will always be those who

feel they need to develop nuclear weapons.

PHOTOS: RALPH MANFREDA

CTBTO explained

The Comprehensive Nuclear

Test-Ban Treaty (CTBT) bans

nuclear explosions by

everyone, everywhere: on

the Earth's surface, in the

atmosphere, underwater and

underground. The Treaty

makes it very difficult for

countries to develop nuclear

bombs for the first time, or

for countries that already

have them, to make more

powerful bombs. It also

prevents the huge damage

caused by radioactivity from

nuclear explosions to

humans, animals and plants.

The CTBTO has established

a verification regime capable

of detecting nuclear

explosions anywhere on the

planet. It detected the North

Korean nuclear tests in

2006, 2009 and 2013

swiftly and precisely.

Web: ctbto.org

For Followers on Facebook

and Twitter: @ctbto_alerts

and @SinaZerbo

AD PERSONAM

Lassina Zerbo is a national of Burkina Faso and has

assumed his position as Executive Secretary of the

CTBTO in August 2013. Previously he served as Director

of the organisation's International Data Centre (IDC).

Zerbo holds a PhD in Geophysics from the Université de

Paris.

48 Cercle Diplomatique 3/2015

Cercle Diplomatique 3/2015

49
---
LE MONDE NEWS

Update from around the globe

Second Semester

Luxembourg: Presidency of the

Council of the European Union

Since 1 July, the Grand Duchy of Luxembourg is

occupying the rotating Presidency of the Council of

the European Union for the twelfth time in the second

semester of 2015. The Luxembourg Presidency has

outlined an open approach: listen to citizens, support

businesses, collaborate with partners and institutions

in order to act in the interests of Europe. The

programme of the Luxembourg Presidency is placed in

the context of the implementation of the Strategic

Agenda for the Union in Times of Change adopted by

the European Council of 26 and 27 June 2014 and

which outlines the key priorities for the European

Union over the next five years. The programme takes

also account of the policy orientations of the

President of the Commission, the annual work

programme of the Commission and the work of the

'Trio' made up of Italy, Latvia and Luxembourg.

gouvernement.lu

Relations

UNIDO and Volvo

Group to collaborate

The United Nations Industrial

Development Organization

(UNIDO) and the Volvo Group

will collaborate on expanding

the access of youth in

developing countries to

job-oriented and demanddriven

skills through focusing

on industrial skills

development. A memorandum

of understanding on this

collaboration was signed in

the Ethiopian capital Addis

Ababa in July by Philippe

Scholtes, Managing Director

of UNIDO, and Malin Ripa,

Senior Vice President,

Corporate Social Responsibility

Management, the Volvo

Group. The parties of the

memorandum have currently

joint projects in Ethiopia,

Morocco and Zambia.

unido.org

volvogroup.com

When the European Commission meets

a large part of Luxembourg´s

Government: Handshake of Jean-Claude

Juncker (President of the European

Commission) and Xavier Bettel (Prime

Minister, r.)

Information

With a little help to

success

The new print guide of

Foreign Trade Austria, a

department of the Federal

Chamber of Commerce

Austria, contains all names of

the Commercial Counsellors,

their office addresses and

contact information of all

Foreign Trade Centers around

the world as well as the

Austrian experts and the staff

department "Coordination in

the European Union". The

WISSEN.

PLATTFORMEN.

PARTNER.

guide can be ordered for free

at Tel.: +43 (0)5 90

900-4212, 4317.

wko.at

Support

OFID: Fresh

funding for partner

countries

Over 30 partner countries

stand to benefit from the

latest round of financing

approved at the 151st Session

of the Governing Board of the

OPEC Fund for International

Development (OFID) in

Vienna. Among the funds

three financing facilities

totalling US$40m were

approved under OFID's

private sector business

activities. One will support a

financial institution in Cambodia,

while another will go

towards infrastructure

investment in Kenya in the

energy sector. The third is

OFID's first private sector

project in the education

sector, aimed at supporting

financial institutions in Africa

to provide funds to schools in

the continent, in addition to

students via microfinance

intermediaries.

ofid.org

GUIDE

Text: Daniela Pötzl

PHOTO: EU2015LU.EU / LUC DEFLORENNE, WKO

"DURCH DEN

EU-BEITRITT HABEN

SICH DIE KULTURARBEIT

UND DER KULTURELLE

AUSTAUSCH SEHR

ERLEICHTERT."

Martin Hochleitner

Museums-Direktor

Bezahlte Anzeige / BMEIA

50 Cercle Diplomatique 3/2015
---
W I E N E R P R I V A T K L I N I K

First clAss PriVAte heAlthcAre

L'AUTRICHE

DER NAME IST

PROGRAMM. IN

L'AUTRICHE DREHT SICH

ALLES UM DEN STANDORT

ÖSTERREICH, SEINE

WIRTSCHAFT UND SEINE

BEDEUTUNG AUF DEM

INTERNATIONALEN

PARKETT.

THE NAME SAYS IT ALL.

IN L'AUTRICHE THE FOCUS IS

ON AUSTRIA, ITS ECONOMY

AND ITS ROLE ON THE

INTERNATIONAL STAGE.

recommended By leAding doctors

stAte oF the Art medicine, elegAnce And luxury – in the heArt oF ViennA

A-1090 Wien/Vienna · Pelikangasse 15 · Phone +43 1 40 180-0 · Fax +43 1 40 180-7050 · office@wpk.at
---
L'AUTRICHE INNOVATIONLEADER AUSTRIA

Spitzentechnologie: die erfinderischen Sieben

High-Technology: the ingenious seven

Österreich dringt immer mehr zur

absoluten Spitze der Innovation Leaders

vor. Sieben Firmen zeigen, wie es geht.

Austria is more and more advancing

into the elite of innovation leaders.

Seven companies show the way ahead.

Text: Rainer Himmelfreundpointner

Hightech-Land Österreich.

2015 wird die Forschungsund

Entwicklungsquote

erstmals über 3 % liegen.

Hightech nation Austria.

2015 Austria will achieve a

R&D quota of more than 3 %

for the first time.

PHOTO: FOTOLIA

Haben Sie gewusst, dass Babys, die vor dem

Einschlafen am Schnuller nuckeln, durch

plötzlichen Kindstod weniger gefährdet

sind? Dass Daumenlutschen der Zahnentwicklung

der neuen Erdenbürger schadet, Saugen am Schnuller

hingegen die Ausformung des Gebisses unterstützt?

Dass in Europa grüne und gelbe Schnuller

bevorzugt werden, in den USA und Südamerika aber

blaue und rosafarbene? Das ist kein Müttertratsch,

sondern das Ergebnis intensiver Forschungen des

Wiener Familienunternehmens "MAM Babyartikel".

Dank seiner Anstrengungen im Bereich Forschung

und Entwickung (F&E) hat MAM über 300 Patente

entwickelt und verkauft täglich knapp 100.000

Schnuller in 56 Ländern auf fünf Kontinenten.

Oder wussten Sie, dass weltweit über 200.000

Menschen ein weiteres österreichisches Hightech-

Produkt in ihren Ohren tragen? Dabei handelt es sich

um ein Cochlea-Multikanal-Hörimplantat der Tiroler

MED-EL, das akustische Signale in elektrische

Impulse umwandelt, diese ans Gehirn schickt und so

selbst vollkommen Gehörlose wieder in die Welt des

klaren Klangs zurückholt. Oder war Ihnen bekannt,

dass ohne die Mikrochips des Villacher Konzerns

Infineon moderne Autos keinen Meter fahren würden,

ohne die Mess- und Analysegeräte aus dem

Hause Anton Paar aus Graz viele industrielle Herstellungsprozesse

stillstehen müssten oder ohne die Kontrollsysteme

der oberösterreichischen Bernecker &

Rainer Industrie-Elektronik Hochseeschiffe jeglicher

Art gar vom Untergang bedroht wären?

Diese Liste lässt sich fast beliebig lange fortsetzen.

Österreichische Industrie- und Technologieunternehmen

zählen zu den forschungsintensivsten auf

der Welt und spielen in ihren jeweiligen Märkten

und Spezialgebieten in der globalen Oberliga ganz

vorne mit. Alleine seit der Jahrtausendwende haben

sie weit über 30.000 Patente angemeldet, davon etwa

54 Cercle Diplomatique 3/2015

Cercle Diplomatique 3/2015

55
---
L'AUTRICHE INNOVATIONLEADER AUSTRIA

ein Viertel in modernen Schlüsseltechnologien. Ihre

Produkte finden sich in Autos, Flugzeugen, Schiffen,

Handys, Satelliten oder Nahrungsmitteln, deren

Herstellung eine Vielzahl von Branchen, Industrien

und Abermillionen von Beschäftigten im Brot hält.

Und ihre ständige Weiterentwicklung sowie hohe

technische Qualität prägen den hervorragenden Ruf

Österreichs als führendes Innovationsland Europas.

Um die Bandbreite dieses Leistungsspektrums zu

illustrieren, hat sich Cercle Diplomatique sieben

dieser erfinderischen Betriebe genauer angesehen.

Sie alle tragen mit ihren Innovationen zur überdurchschnittlichen

F&E-Quote Österreichs bei. So

wird der Anteil der Forschungsausgaben am Bruttoinlandsprodukt

(BIP) laut jüngsten Schätzungen der

Statistik Austria 2015 erstmals über 3 Prozent steigen

und damit die Zehn-Milliarden-Euro-Marke

überschreiten. In absoluten Zahlen heißt das, dass

sich die Ausgaben von Unternehmen heuer auf etwa

4,76 Milliarden Euro oder 47,2 Prozent der Gesamtsumme

belaufen werden. Die öffentliche Hand, vor

allem der Bund, steuert rund 3,77 Milliarden Euro

bei, was einem Anteil von 37,3 Prozent entspricht.

Aus dem Ausland dürften etwa 1,53 Milliarden Euro

(15,1 Prozent) kommen, vorrangig ebenfalls von

Unternehmen, in zweiter Linie Rückflüsse aus den

Forschungsförderungsprogrammen der EU.

Das ist noch lange kein Grund, sich zufrieden zurücklehnen

zu können, denn kaum etwas ist härter

und brutaler als der internationale Wettlauf um neue

Innovationen. "Die Struktur des österreichischen Innovationssystems

hat sich zwar in den vergangenen

Jahren sehr positiv entwickelt und bildet eine gute

Basis für Wettbewerbsfähigkeit, Innovationsführerschaft

und Sicherung von Arbeitsplätzen", schreibt

deshalb auch Wissenschaftsminister Reinhold

Mitterlehner in seinem Aktionsplan zum Jahr der

Forschung 2015. "Im Innovation Union Scoreboard

2014 liegt Österreich aber nur in der Gruppe der

Innovation Followers auf dem zehnten Platz. Unser

Ziel ist es, zum Innovation Leader aufzusteigen."

Weil dies nicht nur intensive intellektuelle, sondern

auch enorme finanzielle Anstrengungen erfordert,

drängt die österreichische Industriellenvereinigung

(IV), deren Mitglieder für fast zwei Drittel der

F&E-Ausgaben verantwortlich zeichnen, darauf,

dass "Wissenschaft und Forschung noch mehr in den

Mittelpunkt der politischen Anstrengungen gerückt

werden und sich dies auch im Budget niederschlägt".

Zwar wolle die Regierung bis 2020 rund 1,6 Milliar-

PHOTOS: XYXXYXYXY

PHOTOS: HARTWIG ZÖGL (4), BEIGESTELLT

ZKW-MANAGEMENT

Was leuchtet da? Natürlich Zizala

Zizala – the masters of lightning

Kfz-Beleuchtung. Egal, ob Rolls-Royce, Porsche, BMW,

Mercedes, VW, die General-Motors-Flotte oder Lkws von

MAN oder Scania – Scheinwerfer des Wieselburger

Kfz-Zulieferunternehmens Zizala sind heutzutage integraler

Bestandteil fast aller Top-Automarken. Zizala ist einer von

Österreichs international erfolgreichsten Hidden Champions

mit rund 800 Millionen Euro Umsatz und etwa 5.000

Mitarbeitern an weltweit sieben Produktionsstandorten.

Die 1938 vom Schlosser Karl Zizala gegründete Metallwarenfabrik

begann in den 50er-Jahren mit der Produktion

von Scheinwerfern für die damalige Tochter KTM und hat

danach sämtliche Entwicklungsschritte der Kfz-Lichttechnik,

egal ob Halogen-, Xenon- oder LED-Leuchten,

maßgeblich mitgeprägt. Darunter Standards wie

Abbiege-Lichter, Lenkerbewegungen sofort nachvollziehen,

Fernlichter, die nicht mehr abgeblendet werden müssen,

weil ein Matrixsystem den Gegenverkehr

ausschneidet, automatisches Abblenden im

Ortsbereich dank GPS-Steuerung, gezieltes

Ausleuchten von Hindernissen oder

spezielle Lichtstreuungen bei Nässe

und Nebel.

Vehicle lighting. Be it cars of

Rolls-Royce, Porsche, BMW, VW,

General Motors or trucks of MAN or

Scania – headlights made by

Wieselburg company Zizala, a supplier

of the international car industry, today

are an integral component of the

world's car brands. Zizala is one of the

most successful Austrian hidden

champions with a revenue of some 800

million Euros and a workforce of some 5,000

employees at seven global manufacturing

factories. It was founded in 1938 by Karl Zizala,

a locksmith, who began producing headlights in

the 50ies for KTM, the Austrian motorcycle

company. Today all modern vehicle lighting,

bending lights, bright or automatic dimming lights,

only to mention a few, are made or at least

influenced by Zizala innovations.

MED-EL-HÖRGERÄTE

Die Firma, die wieder einen Sinn gibt

The company that gives a sense back again

Medizintechnik. Was die beiden MED-EL-Gründer Ingeborg und

Erwin Hochmair vor über 30 Jahren als Forschungsprojekt an der

Universität Innsbruck begonnen haben, ist heute eines der

prominentesten Technologie-Vorzeigeunternehmen Österreichs.

Cochlea-Hörimplantate werden inzwischen von mehr als

200.000 hörbehinderten Menschen in aller Welt getragen,

sie verdanken MED-EL sozusagen die Wiedererlangung dieses

elementaren Sinns. Die Hörgeräte von MED-EL werden in das

menschliche Innenohr implantiert und sind so konstruiert, dass

sie akustische Signale in elektrische Impulse umwandeln, die ans

Gehirn geschickt werden; auf diese Weise werden selbst

vollkommen Gehörlose wieder in die Welt des klaren Klangs

zurückgeholt. Ingeborg und Erwin Hochmair wurden für ihr

Lebenswerk unter die Finalisten des äußerst begehrten und

streng selektierten "Europäischen Erfinderpreises 2014" gereiht.

Medical technology. More than 30 years

ago, MED-EL founders Ingeborg and Erwin

Hochmair started a research project at the

University of Innsbruck which is today

one of the foremost Austrian technology

companies. Its "Cochlea" hearing

implantants are giving back the vital

sense of hearing to currently some

200,000 partially deaf persons. They

are wearing them in their inner ears

where acoustic signals are transformed

into electric impulses and then sent to

the brain thus improving the ability of

hearing to a normal level again.

56 Cercle Diplomatique 3/2015

Cercle Diplomatique 3/2015

57
---
L'AUTRICHE INNOVATIONLEADER AUSTRIA

den Euro zusätzlich für Forschung und Entwicklung,

vorrangig für Universitäten, zur Verfügung stellen;

für das Erreichen einer Forschungsquote von 3,76

bis 2020 würden allerdings noch "einige hundert

Millionen Euro fehlen", so die IV.

Wie weit Österreich trotz der Wirtschaftsflaute in

Europa auf diesem Weg aber bereits vorangeschritten

ist, zeigt der Vertrauensindex für Direktinvestitionen

(FDI), in dem der Beratungsmulti A.T. Kearney

(ATK) jährlich die Anlage-Attraktivität von 25 Ländern

für Manager der 1.000 größten Konzerne der

Welt bewertet. Im Vorjahr konnte sich Österreich

erstmals seit 2002 wieder den 21. Platz erkämpfen.

Florian Haslauer von ATK Österreich führt dies vorwiegend

auf "stabile Rahmenbedingungen und eine

hohe F&E-Quote" zurück.

Ausschlaggebend dafür sind zweifellos auch die

vielen wissenschaftlichen Spitzen-Institutionen in

Österreich – etwa das Wiener Institut für Molekulare

Biotechnologie (IMBA) unter der Leitung des Star-

Krebsforschers Josef Penninger, das Institut für

Quantenoptik und Quanteninformation rund um

Anton Zeilinger, dessen Team erstmals ein Quantenteilchen

"gebeamt" hat, oder das Austrian Institute

of Technology sowie die Biotech-Zentren in der

Dr.-Bohr-Gasse und der Muthgasse. "Aber wir würden

viel mehr solche akademische Leuchttürme

brauchen", sagt Wolfgang Lutz vom Wittgenstein-

Zentrum für Demografie und globales Humankapital,

einer der weltweit renommiertesten Bevölkerungsforscher

der Welt. "Denn schon durch die

Ermordung und Vertreibung der Juden durch die

Nazis ist ein Großteil der geistigen Elite in Wien und

Österreich verloren gegangen. Und auch nach dem

Zweiten Weltkrieg wurde bis heute zu wenig getan,

um den Mut zur wissenschaftlichen Innovation zu

fördern und die Trägheit und Mittelmäßigkeit des

Systems nachhaltig zu überwinden."

Did you know that when babies suck on a

dummy before they go to sleep it can reduce

the risk of cot death? That when newborns

suck their thumb it can damage their teeth but

a dummy helps to align their teeth? That Europeans

tend to prefer green and yellow dummies whereas in

the USA and South America it's blue and pink? These

are no old wives' tales but the results of intensive

research conducted by "MAM Babyartikel", a baby

care products manufacturer headquartered in Vien-

APEIRON

Die Krebs-Krieger aus Wien

The Vienna Cancer Warriors

Krebsforschung. Ihre Mission heißt "Checkpoint Blockade",

ihre Methode ist das "Silencing", die Ruhestellung, ihr Ziel ist die

totale Abtötung von Krebszellen jeglicher Art. Codename der

Aktion: "APN 401". Sollte dem kleinen Wiener Biotech-Unternehmen

"Apeiron Biologics" (35 Beschäftigte) dieses Vorhaben

tatsächlich gelingen – und im Moment sieht die Sache echt

vielversprechend aus –, ist das vielleicht einer der größten

Durchbrüche im Kampf gegen die vielleicht größte Geißel der

Menschheit: Krebs. Apeiron wurde 2003 vom Star-Genetiker Josef

Penninger gegründet und setzt in seinen Forschungen voll auf die

immense Heilkraft des menschlichen Immunsystems – ein Weg,

der inzwischen weltweit als äußerst vielversprechend gilt.

"Es geht darum", erklärt Apeiron-CEO Hans Loibner (r.), "das

körpereigene Immunsystem so stark zu aktivieren und zu

enthemmen, dass es von sich aus mit all seiner Kraft die weitere

Krebsentwicklung bekämpft."

Cancer research. Their mission: "Checkpoint blockade". Their

method: "Silencing", their aim: "Kill all cancer cells". Their

codename: "APN 401". This is the name of a new cancer

treatment in development by the small (35 employees) Vienna

biotech startup "Apeiron Biologics". According to its CEO Hans

Loibner (right), APN 401, which concentrates on the power of the

human autoimmune system, could be a breakthrough in science

fight against cancer. Explains Loibner: "We try to activate the

body immune system strong enough that it begins to fight cancer

cells soon before they are able to spread deadly and to destroy

them." Currently APN 401 is undergoing first phase tests in the

USA and according to Loibner the prospects that there will be no

side effects are very promising.

PHOTOS: FOTOLIA, ALOIS FURTNER, KLAUS MORGENSTERN, STEPHAN HUGER, BEIGESTELLT

FACC

Ländliche Heimat, himmelhohe Ziele

Rural location, sky high ambitions

Flugzeugindustrie. Früher bekannt als "Fischer Advanced

Composite Components", beheimatet in Ried im Innskreis, gilt

FACC heute als führender Flugzeugkomponenten-Hersteller

Österreichs. Das Unternehmen, das laut Angaben seines CEOs

und Miteigentümers Walter A. Stephan (unten) im Vorjahr mit

3.100 Mitarbeitern einen Umsatz von knapp 530 Millionen Euro

erwirtschaftete, produziert Strukturbauteile und Flugzeuginnenausstattung

vom Feinsten für internationale Flugzeughersteller

wie Boeing, Airbus, Embraer und British Aerospace, aber auch für

Triebwerkshersteller wie Rolls-Royce oder Goodrich.

Ende 2009 wurde FACC zu mehr als 90 Prozent vom chinesischen

Flugzeugbauer Xi'an Aircraft übernommen; allerdings wurde

dafür nicht der österreichische Produktionsstandort aufgegeben,

vielmehr will man das hier vorhandene technologische Know-how

auf eine breitere internationale Basis stellen.

Aircraft industry. Formerly known as "Fischer Advanced

Composite Components" and located in rural Ried im Innkreis in

Upper Austria, FACC today counts as Austria´s leading producer

of aircraft components. According to the company´s CEO, Walter

A. Stephan (below), who also holds a small share of 3,75 %, FACC

employs some 3,100 people from 41 countries and generated a

revenue of some 530 million Euros last year. It is delivering

structural parts and aircraft interior equipment for producers like

Boeing, Airbus, Embraer and British Aerospace as well as for

engine producers like Rolls-Royce or Goodrich. In 2009, FACC has

been acquired by Xi'an. The Chinese aircraft producer, which now

holds shares of 90 % plus but still relies on the technological

knowhow provided by the Austrian engineers and says, it is trying

to provide a broader international basis to FACC expertise.

BLUE DANUBE

ROBOTICS

Der blaue Helfer

The helper in blue

Haushaltsroboter. Ab Herbst

2015 soll "Blue", der neue

Haushaltsassistenz-Roboter des Wiener Start-up-Unternehmens

"Blue Danube Robotics", körperlich eingeschränkten und älteren

Menschen leichte Alltagsarbeiten abnehmen und ihnen helfen,

selbstständiger zu leben. Die beiden Gründer Walter Wohlkinger

(l.) und Michael Zilich, ausgebildet am Institut für Automatisierungs-

und Regelungstechnik der TU Wien, beschreiben sein

Aufgabengebiet so: "Blue soll kleine Dinge vom Boden aufheben,

um Stürze zu verhindern, Türen öffnen, Getränke bringen und im

Notfall rund um die Uhr Hilfe rufen." Dahinter stecken Forschung

pur, jede Menge künstliche Intelligenz und eine Hightech-Ausstattung

vom Feinsten: 4-Wheel-Drive, Sprach- und Gestiksteuerung,

zwei Greifarme mit starken, vierfingrigen, hochtaktilen Händen,

3D-Kameras, Lärm-, Rauch- und Hitzesensoren, leise Wasserhydraulik

und ein automatisches Selbstladesystem, das jede

Steckdose findet. Der bis zu 135 Zentimeter große und 60 Kilo

schwere Hilfsroboter soll im Bedarfsfall auch Kranken- und

Pflegepersonal bei der medizinischen Betreuung entlasten und

lediglich 16.000 Euro kosten.

Assistance robots. This fall "Blue", the new household robot

developed by the Austrian startup company "Blue Danube

Robotic", will hit the market at a price of some 16,000 Euros only.

It is aimed to help elderly or handicaped persons in everyday

household procedures. The founders Walter Wohlkinger (left) and

Michael Zilich, both educated at Technical University of Vienna,

say that Blue "will lift small objects from the floor, open doors,

deliver drinks or conduct life-saving calls in case of emergency".

58 Cercle Diplomatique 3/2015

Cercle Diplomatique 3/2015

59
---
L'AUTRICHE INNOVATIONLEADER AUSTRIA

na. Thanks to their research and development (R&D)

efforts, MAM has developed more than 300 patents

and sells just under 100,000 dummies every day in

56 countries across five continents.

Or did you know that more than 200,000 people

in the world are wearing another Austrian high-tech

product in their ears? Namely a multichannel cochlear

implant by MED-EL, based in Tyrol, that converts

acoustic signals into electrical signals, sends

these to the brain and so people with complete hearing

loss can hear sounds clearly again. Or did you

know that without the microchips from Infineon in

Villach, modern cars wouldn't be able to drive a single

metre, without the measuring and analysis instruments

from "Anton Paar" in Graz many industrial

production processes would come to a standstill or

without the control systems from "Bernecker & Rainer

Industrie-Elektronik" based in Upper Austria all

kinds of deep-sea vessels are at risk of sinking?

We could go on forever. Austrian industrial and

technology companies are ranked among the most

research-intensive companies in the world. Since the

beginning of the millennium, they have registered

more than 30,000 patents, approximately one quarter

of them in modern key technologies. Their products

can be found in cars, planes, ships, mobile phones,

satellites or food. Their continual development as

well as their high technical quality have shaped

Austria's excellent reputation as a leading innovative

country in Europe. In order to illustrate the complete

range of products, Cercle Diplomatique has taken a

closer look at seven of these innovative companies.

They and their innovations all contribute to the

above-average R&D ratio in Austria. The proportion

of gross domestic product (GDP) spent on research

will, therefore, increase to more than three per cent

in 2015, according to the latest estimate from "Statistics

Austria", the state's data agency, and will exceed

€10 billion. In absolute numbers this means that

company expenditure this year will amount to

roughly €4.76 billion, or 47.2% of total expenditure.

The public sector, especially the federal government,

will contribute about €3.77 billion, approximately

37.3%. About €1.53 billion will come from abroad

(15.1%), mainly from companies again, but also as

receipts from EU research programmes.

But this is by no means a reason to lean back in

satisfaction as scarcely anything is harder or more

brutal than global competition for innovation. "The

structure of the Austrian innovation system has most

FREQUENTIS

Sprechen Sie jetzt, die Leitung ist sicher

Let's talk, this line is secure

Kommunikationstechnologie. Das Produkt heißt schlicht

"Control Centre Solutions" – und gemeint sind damit Systeme,

die wohl die sicherste Art und Weise moderner Kommunikation

darstellen. Frequentis-Lösungen kommen in praktisch allen

kritischen Kontrollzentralen und Leitstellen des zivilen und

militärischen Transportwesens zum Einsatz, vorwiegend in

Flughafen-Towers, die den sicheren Flugverkehr gewährleisten,

und in Leitsystemen für die öffentliche Sicherheit und Verkehrskontrolle,

beispielsweise für Polizei- oder Rettungseinsätze oder

den Schiffs- und Eisenbahnverkehr. Im Vorjahr konnte Frequentis,

so sein Eigentümer und CEO Hannes Bardach (links), mit rund

1.250 Mitarbeitern einen Umsatz von etwa 214 Millionen Euro und

einen Betriebserfolg von circa 12,4 Millionen Euro erwirtschaften.

Communications technology. Frequentis AG is an international

supplier of communication and information systems for

control centres with safety-critical tasks. These 'Control Centre

Solutions' are developed and distributed by Frequentis in the

business segments Air Traffic Management (civil and military air

traffic control, aeronautical information management, air defence)

and Public Safety & Transport (police, fire and rescue services,

emergency medical services, vessel traffic and railways). With a

market share of 30%, the company – which is owned by its CEO

Hannes Bardach (top left) – is the world market leader in voice

communication systems for air traffic control; it's also world

market leader in the area of Aeronautical Information Management.

2014 its operating performance reached around Euro 214

million and its operating profits (Earnings Before Interest and

Taxes) amounted to Euro 12.4 million.

PHOTOS: BEIGESTELLT

UNENDLICHE WEITEN

DER NEUE FORD GALAXY

DER NEUE FORD GALAXY

7 Sitze mit Easy Fold Flat-System

Entdecken Sie, wie großzügig und luxuriös der neue Ford Galaxy ist! Mit 7 Sitzen

und dem flexiblen Easy Fold Flat-System passen Sie Ihren Innenraum per

Knopfdruck an Ihre Bedürfnisse an. Auch in Sachen Effizienz macht er keine

Kompromisse. Genießen Sie die leistungsstarken und hocheffizienten Motoren.

Besuchen Sie Ihren Ford-Händler für eine unverbindliche Probefahrt.

BUSINESS-BONUS

€ 2.000,– 1) C02

ab 129 g/km

VORSTEUER-

ABZUGsFÄHIG

Ford GALAXY Kraftstoffverbr. ges. 5,0 – 7,9 l / 100 km, CO2-Emission 129 – 180 g / km.

Symbolfoto | * Beginnend mit Auslieferungsdatum, beschränkt auf 100.000 km. 1) inkl. USt. Freibleibendes Angebot.

Nähere Informationen bei Ihrem Ford Händler oder auf www.ford.at.

60 Cercle Diplomatique 3/2015
---
L'AUTRICHE INNOVATIONLEADER AUSTRIA

Foto: dieindustrie.at/Mathias Kniepeiss

certainly improved in the last few years and provides

a good basis for competitiveness, innovative leadership

and job security", Reinhold Mitterlehner, the

Federal Minister of Science, wrote in his Research

Action Plan 2015. "However, the Innovation Union

Scoreboard 2014 ranked Austria tenth and, therefore,

in the group of innovation followers. Our aim is

to become an innovation leader."

As this not only requires intense intellectual effort

and a huge financial investment, the Federation of

Austrian Industries, whose members are responsible

for nearly two thirds of R&D expenditure, is demanding

that "governmental policies should give science

and research a higher priority and this has to be reflected

in the budget." The government has decided

to provide an additional €1.6 billion by 2020 for research

and development, mainly to universities. But

in order to achieve a research rate of 3.76% by 2020,

a few more "several hundred million euros are needed,"

according to the Federation.

The Foreign Direct Investment (FDI) Confidence

Index reveals the amount of progress Austria has

made despite the economic downturn in Europe.

Every year, the international consulting company

A.T. Kearney evaluates the views of senior executives

at the 1000 largest corporations in the world on the

investment attractiveness of 25 countries. Austria reappeared

in the index in the previous year for the

first time since 2002, ranking 21st. Florian Haslauer

at A.T. Kearney Austria attributes this mainly to "a

stable framework and a high R&D ratio."

The many excellent scientific institutions in Austria

are undoubtedly also a decisive factor – such as

the Vienna Institute for Molecular Biotechnology

(IMBA)) run by the famous cancer researcher Josef

Penninger, the Institute for Quantum Optics and

Quantum Information with Anton Zeilinger whose

team "beamed" a quantum particle for the very first

time, or the Austrian Institute of Technology and the

biotech centres on Dr.-Bohr-Gasse and Muthgasse.

"But we need a lot more of these academic beacons,"

Wolfgang Lutz, one of the most renowned demographers

in the world, based at the Wittgenstein Centre

for Demography and Global Human Capital, maintains.

"When the Nazis murdered the Jews, they decimated

a large part of the intellectual elite in Vienna

and Austria. And since World War II up to the present

day, too little has been done to encourage scientific

innovation and to overcome the lethargy and

mediocrity of the system permanently."

TTTECH

Die Stars aus Silicon Wieden

The stars from Silcon Wieden

Steuerungstechnik. Für die, die es nicht wissen: Der 4. Wiener

Gemeindebezirk wird im Volksmund nur Wieden genannt.

Und hier in Wien hat sich in den letzten Jahren eine vibrierende

Hightech-Gründerszene entwickelt, deren unumstrittener Star das

Steuerungstechnologie-Unternehmen TTTech ist. TTTech-

Produkte sorgen für die exakte Steuerung von Hochgeschwindigkeitszügen

(oben), Flugzeugen, Schiffen und natürlich auch Autos.

Insbesondere in jenen des Herstellers Audi, der mit knapp

30 Prozent beteiligt ist. Erst im Vorjahr machte dessen zentrales

Fahrerassistenz-Steuergerät "zFAS", das auf TTTech-Entwicklungen

basiert, Furore, als erstmals ein Audi den deutschen

Hockenheimring umrundete, ohne dass ein Fahrer hinter dem

Steuer saß. Und selbst die NASA-Raumkapsel Orion, die ab 2030

Menschen auf den Mars bringen soll, ist von TTTech ausgerüstet.

Control engineering. For those who do not know – Vienna's

fourth district in the vernecular only is called "Wieden". For a

couple of years, Wieden has become the centre of a vibrant

startup scene and its mainly hightech companies therefore

nicknamed their neighborhood simply "Silicon Wieden". One of

the star companies there is TTTech, a specialist in control

engineering components which rely on the most advanced

computer science developments. They are in charge of exact

steering of airplanes, ship and all kinds of modern cars. Especially

the ones of Audi, the German luxury car maker, which owns nearly

30 % of TTTech. Audi's first driverless car is full of TTTech´s

control engineering technology and the company also was able to

secure a contract for the equipment of NASA's space vehicle

"Orion", which in the year 2030 shall take humans to Mars.

PHOTOS: ANNA RAUCHENBERGER, BEIGESTELLT

In einem rohstoffarmen Land wie Österreich sind Innovation sowie

Forschung und Entwicklung DER Schlüssel für Wachstum und Arbeitsplätze.

Begeisterung für Wissenschaft und Technik muss bei Kindern

daher so früh wie möglich gefördert werden.

Industrie ist Innovation.

62 Cercle Diplomatique 3/2015

www.iv-net.at
---
L'AUTRICHE EU AMBASSADOR

Didier Lenoir

"Wir müssen die Ursachen des Flüchtlingsproblems bekämpfen."

"The root causes of the migration problem have to be addressed."

AD PERSONAM

EU-BOTSCHAFTER

Didier LENOIR

ist der neue Leiter

der Delegation der

Europäischen Union bei

den internationalen

Organisationen in Wien.

EU AMBASSADOR

Didier LENOIR is the new

head of the delegation of

the European Union to the

International Organisations

in Vienna.

Der neue EU-Botschafter bei den internationalen Organisationen in Wien im Gespräch.

A talk with the new EU Ambassador to the international organisations in Vienna.

Interview: Rainer Himmelfreundpointner

CD: Monsieur Lenoir, was würden Sie als Ihre wichtigsten

Aufgaben als Botschafter der Europäischen Union bei den

internationalen Organisationen hier in Wien bezeichnen?

Lenoir: Ich möchte da zwischen drei Arten von Aktivitäten

unterscheiden: der Leitung des täglichen

Bürobetriebs, der Gewährleistung einer engen und

effizienten Koordination und Kooperation mit unseren

EU-Mitgliedstaaten und natürlich der Repräsentation

der EU in den verschiedenen internationalen

Organisationen.

Mit welchen Themen sind Sie da in erster Linie befasst?

Es versteht sich, dass alle Aspekte wichtig sind, aber

einige Themen werden uns im kommenden Monat

wahrscheinlich besonders in Anspruch nehmen:

• Der Atomwaffensperrvertrag. Wir hatten dazu im

Mai eine Konferenz in New York, allerdings mit

durchwachsenen Ergebnissen. Wahrscheinlich wird

es dazu in Wien noch einiges zu tun geben.

• Eine weitere wichtige Aufgabe wird darin bestehen,

die Atomgespräche nachzubearbeiten, die im Juni

und Juli mit dem Iran hier in Wien stattgefunden

haben. Wir müssen jetzt Wege finden, wie die Ergebnisse

implementiert werden können.

• Und Mitte April nächsten Jahres wird eine große

Veranstaltung der UN-Generalversammlung zum

Thema Drogen stattfinden. Diese muss hier in Wien

vorbereitet werden, und da sind wir auch beteiligt.

Wir müssen auch sicherstellen, dass die Ukraine zu

einem funktionierenden Staat wird, zu einer Erfolgsstory.

Aus diesem Grund unterstützt die EU die

Ukraine über deren gesamte Bandbreite an Reformplänen.

Die EU stellt zudem eine Menge an Humanressourcen

und ist folglich intensiv in dieser Krise

involviert.

Eines der zentralen Themen, mit denen Europa derzeit

konfrontiert ist, sind die gravierenden Probleme im

Zusammenhang mit der Migrationssituation, vor allem im

Mittelmeerraum. Wo sehen Sie als EU-Repräsentant Ihre

Rolle in dieser Frage?

Die EU-Position zu diesem Thema beruht auf zwei

Grundprinzipien. Zum einen wollen wir eine aktive

Partnerschaft mit den vielen beteiligten Ländern.

Das zweite Grundprinzip besteht darin, einem

derart komplexen Problem mit umfassenden

Antworten zu begegnen. Die höchste Priorität ist

natürlich, Menschenleben zu retten. Darüber hinaus

sind jedoch Maßnahmen zu setzen, die auf eine

Zerschlagung der Menschenschmuggler-Netzwerke

hinauslaufen. Und schließlich müssen die eigentlichen

Ursachen des Problems bekämpft werden.

Da geht es um die Entwicklung und Stabilität in den

Herkunftsländern der Migranten. Die Reduzierung

des Migrationsproblems auf die Frage "Was machen

wir bloß mit ihnen?" wird dieser Gesamtproblematik

nur zum Teil gerecht.

sues will probably be on the forefront of our work in

the coming month :

• The Non Proliferation Treaty. We had a conference in

May in New York with mixed results. So there is probably

some work left to do here in Vienna.

• Another important task would be the follow on to the

talks on nuclear issues with Iran which have taken

place here in Vienna in June and July. We have to look

how the results can be implemented.

• And next year, in mid April 2016, there will be a major

UN General Assembly event on drugs. This has to

be prepared here in Vienna and we are involved in this.

What about your mission in regard to the Ukraine crisis?

We still have to work on the implementation of the

Minsk agreements. For the EU, a lasting ceasefire remains

key to the success of current efforts to reach a

sustainable political solution, based on respect for

Ukraine's sovereignty and territorial integrity. We

stand ready to support efforts to this effect. But beyond

this the EU is investing a lot to help Ukraine, our work

is not only focused on solving the conflict. We also

have to make sure that Ukraine becomes a functional

state, I would say a success story. That is why the EU is

supporting Ukraine in its broad reform agenda. The

EU is also facilitating a lot of human assistance and

therefore is heavily involved in this crisis.

One of biggest issues Europe is confronted with are the problems

in course of the migration situation especially in the Mediterranean

regions. How would you as an EU representative be

involved in this question?

The EU position on these issue is determined by two

basic principles. The first one is that we want to have an

active partnership with the many countries involved.

The second key principle is to give comprehensive

answers to a complex problem. The first priority of

course is to save lives. But beyond that actions should

be taken to dismantle the network of human trafficking.

And then the root causes of the problem have

to be adressed. It's about development and stability in

the countries the migrants are coming from. Limiting

the problem of migrants to the question "What do you

do with them" is only a part of the whole issue.

"Unsere höchste

Priorität ist es natürlich,

Menschenleben

zu retten."

"Our first priority of

course is to save lives."

Was können Sie uns über Ihre diplomatische Mission mit

Bezug auf die Ukraine-Krise berichten?

Wir müssen nach wie vor die Implementierung der

Minsk-Verträge vorantreiben. Für die EU ist ein anhaltender

Waffenstillstand wesentliche Voraussetzung

für den Erfolg der laufenden Bemühungen um

eine nachhaltige politische Situation, die auf dem

Respekt vor der ukrainischen Unabhängigkeit und

territorialen Integrität beruht. Wir sind bereit, alle

Anstrengungen in diesem Sinne zu unterstützen.

Darüber hinaus unternimmt die EU erhebliche Investitionen,

um der Ukraine zu helfen. Unsere Arbeit

beschränkt sich nicht auf die Lösung des Konflikts.

Monsieur Lenoir, which would be your major duties as ambassador

of the European Union to the international organisations

here in Vienna?

Lenoir: I would distinguish three type of activities :

running the daily office business here, ensuring close

and efficient coordination and cooperation with our

EU Member States, and obviously representing the EU

in the various international organizations.

What would be the main topics you have to deal with?

Naturally all aspects are important, however some is-

FOTOS:

PHOTO:

XYXXYXYXY

BEIGESTELLT

Den Alltag im Tal lassen.

Es ist ein wunderbares Gefühl, angekommen zu sein. Entspannt

lassen Sie den hektischen Alltag hinter sich. Jetzt heißt es auftanken

und genießen. Den großzügigen Spa, die kulinarischen Finessen einer

2-Hauben-Küche und den behaglichen Luxus Ihres Hotels.

Wellness- & Kultur-Wochenenden ab € 352 p. Person. Mehr Informationen auf www.interalpen.com

64

Cercle Diplomatique 3/2015

Dr.-Hans-Liebherr-Alpenstrasse 1, A-6410 Telfs-Buchen/Seefeld, Tel. +43 (0) 50809-31273, reservation@interalpen.com

Cercle Diplomatique 2/2015

65
---
L'AUTRICHE OPEC

50 Jahre OPEC in Wien

50 years of OPEC in Vienna

Im September 1965 hat die OPEC ihre

Zentrale in Wien eingerichtet. Sie

erlebte hier ihre dunkelsten Stunden.

In September 1965, OPEC established

its headquarters in Vienna where it

experienced its darkest hours.

Text: Rainer Himmelfreundpointner

Die Macht des Öl-Kartells.

Die zwölf OPEC-Länder

fördern mehr als 40 Prozent

des Rohöls weltweit.

Power of the OPEC cartel.

40 per cent of the world's

crude oil is produced by the

twelve OPEC member states.

PHOTOS: XYXXYXYXY

PHOTOS: FOTOLIA, OPEC PR&INFORMATION DEPARTMENT, AV LIBRARYDG (2)

Der 24. Juni 1965 und der darauffolgende

September markieren zwei der wichtigsten

Meilensteine für Österreichs Rückkehr auf

die politische und wirtschaftliche Weltbühne in der

Zeit des Wiederaufbaus nach dem Zweiten Weltkrieg.

Kurz vor diesem Sommer unterzeichneten der

damalige österreichische Außenminister Bruno

Kreisky und der zu dieser Zeit amtierende OPEC-

Generalsekretär Ashraf Lufti das Amtssitz-Abkommen

über die Errichtung der OPEC-Zentrale in

Wien. Gleich nach dem Sommer übersiedelte das

Kartell von Genf in zwei Gebäude am Wiener Möllwaldplatz

5, womit sich in der Bundeshauptstadt die

zweite große internationale Organisation nach der

UN-Atombehörde IAEA etabliert hatte.

Bald darauf verlegte die OPEC, die 1960 in Bagdad

gegründet worden war und der heute zwölf Erdöl exportierende

Länder angehören, die für 40 Prozent des

weltweit geförderten Rohöls verantwortlich sind und

über etwa drei Viertel der bekannten Reserven verfügen,

ihr Hauptquartier in ein Bürohaus am Dr.-Karl-

Lueger-Ring 12. Dort erlebte sie am 21. Dezember

1975 einige der dunkelsten Stunden ihrer Geschichte

und Wien wurde erstmals zum Weltschauplatz eines

bis dahin hierzulande unbekannten Phänomens – des

internationalen Terrors. Unter der Führung eines gewissen

Illich Ramirez Sanchez, besser bekannt als

"Carlos", stürmte ein sechsköpfiges Terrorkommando

eine OPEC-Konferenz, nahm elf Öl-Minister als Geiseln

und tötete drei Menschen.

Zwei Jahre später verlegte die OPEC ihre Zelte in

die Obere Donaustraße, im November 2009 übernahm

die Organisation dann einen Neubau im ersten

Wiener Gemeindebezirk gegenüber der Börse

und gleich in Nachbarschaft zum Haus der Europäischen

Kommission, wobei die Mietkosten von der

Republik Österreich und der Stadt Wien als Zeichen

der Wertschätzung gemeinsam getragen werden.

Das neue OPEC-Hauptquartier

in der Wiener City

wurde 2009 eröffnet.

The new OPEC headquarters

in Vienna's inner city district

was opened in 2009.

Ex-Vizekanzler Spindelegger

(rechts) und OPEC-Generalsekretär

El-Badri beim

Handshake.

Handshake: Former

Vice-Chancellor Spindelegger

(right) and OPEC Secretary

General El-Badri.

66 Cercle Diplomatique 3/2015

Cercle Diplomatique 3/2015

67
---
L'AUTRICHE OPEC

FACTS &

FIGURES

Ex-Kanzler Bruno Kreisky

und Ex-OPEC-Generalsekretär

Ashraf Lufti bei

der Unterzeichnung des

Amtssitz-Abkommens für

die Wiener OPEC-Zentrale.

Bruno Kreisky and Ashraf

Lufti sign the treatment for

the installation of OPEC

headquarters in Vienna.

Von hier aus versucht die OPEC nun mit wechselndem

Erfolg, ihren Einfluss auf die weltweiten

Energiemärkte aufrechtzuerhalten. Denn jene Zeiten

wie etwa in den 70er-Jahren, als der Westen im Zuge

der Ölkrise vor der Macht des Kartells zitterte, sind

längst vorbei. Zum einen setzen viele Staaten wegen

des Klimawandels verstärkt auf erneuerbare

Energien, zum anderen haben sich vor allem die

USA durch den Einsatz der Fracking-Fördertechnologie

nahezu unabhängig von OPEC-Lieferungen

gemacht. Die OPEC hat im Vorjahr entschieden,

ihre hohen Förderquoten trotz eines weltweiten

Überangebots auf dem Ölmarkt nicht zu reduzieren,

was zu einem dramatischen Ölpreisverfall auf etwa

50 Dollar pro Barrel geführt und die US-Fracking-

Industrie in gehörige Schwierigkeiten gebracht hat.

Aber gleichzeitig auch viele ihrer eigenen Mitglieder,

denn die Staatsbudgets der meisten OPEC-Länder

sind von den Einnahmen aus Energieexporten abhängig,

und zwar vielfach auf einem Ölpreisniveau

von 100 Dollar pro Barrel oder mehr.

"Cercle Diplomatique" hat das 50-Jahr-Jubiläum

der OPEC in Wien zum Anlass genommen, um den

amtierenden Generalsekretär Abdallah Salem El-Badri

im Interview Bilanz ziehen zu lassen; dabei nimmt er

zu den großen Fragen der Energieversorgung für eine

wachsende Weltbevölkerung Stellung. Sein prinzipielles

Fazit: "Es sind herausfordernde Zeiten."

The day of 24 June 1965 and the following September

highlight two of the most important

milestones for Austria's return to the political

and business world stage during the reconstruction

after the Second World War. Just before that summer,

Bruno Kreisky, the Austrian Foreign Minister at

the time, and the then OPEC Secretary General Ashraf

Lufti signed the Headquarters Agreement to

build the OPEC headquarters in Vienna. Very soon

after that summer, the cartel moved from Geneva

into two buildings at Möllwaldplatz 5 in Vienna, thereby

establishing the second largest international organisation

in the federal capital after the UN Atomic

Energy Agency (IAEA).

Soon after, OPEC switched its HQ to an office

building located at the then Dr.Karl-Lueger-Ring 12.

OPEC had been founded in 1960 in Baghdad and

currently has twelve oil-exporting member countries

who are responsible for 40 per cent of the crude oil

PHOTOS: FOTOLIA, OPEC PR&INFORMATION DEPARTMENT, AV LIBRARYDG (2)

produced worldwide and with slightly more than

three quarters of the proven reserves. At the new

address, on 21 December of the same year, it was to

experience some of the darkest hours in its history

when Vienna became the stage for a worldwide audience

for the first time with a phenomenon Austria

had never encountered before – international terror.

Led by a certain Illich Ramirez Sanchez, better

known as "Carlos", a six-person terror commando

stormed an OPEC conference, took eleven oil ministers

as hostages and killed three people.

Two years later, OPEC moved to Obere Donaustraße,

and in November 2009, the organisation took

over a new building in Vienna's first district opposite

the stock exchange and in the same neighbourhood

where the European Commission is located, whereby

the Republic of Austria and the City of Vienna

jointly bear the rental costs as a sign of appreciation.

OPEC has tried to maintain its influence on the

global energy market from here with varying degrees

of success. The times such as when the West was

trembling during the oil crisis in the 70s because of

Sacher Anz. Circle Diplomatique 230x148,5_Druck 25.02.15 14:17 Seite 1

the cartel's power are long gone. On the one hand,

climate change has led to a number of countries focussing

more and more on renewable energy and on

the other hand other countries, especially the USA,

are less dependent on OPEC's oil supply because of

their own use of fracking technology. Last year,

OPEC decided not to reduce their high production

rates in spite of global oversupply, which in turn led

to the oil price plunging to about 50 dollars per barrel

and caused difficulties for the US fracking industry.

But a number of their own members were also

affected as the budgets of most OPEC countries depend

on the revenue from energy exports and they

were used to oil prices of 100 dollars per barrel or

more.

Cercle Diplomatique used the 50-year anniversary

of OPEC in Vienna as an opportunity to let the

current Secretary General Abdallah Salem El-Badri

take stock and give his opinion on the major issues

of supplying energy for a growing world population

in an interview. His basic conclusion was: "These are

challenging times."

Die OPEC-

Mitgliedsstaaten

OPEC member states

Gründungsstaaten. Irak,

Iran, Kuwait, Saudi-Arabien,

Venezuela.

Weitere Mitglieder. Katar,

Libyen, Vereinigte Arabische

Emirate, Algerien, Nigeria,

Angola, Ecuador (Indonesien

war bis 2009 Mitglied,

Gabun von 1975-1992).

Founding members. Iraq,

Iran, Kuwait, Saudi Arabia,

Venezuela.

Further members. Qatar,

Libya, United Arab Emirates,

Algeria, Nigeria, Ecuador,

Angola (Indonesia has

suspended membership in

2009, Gabon was member

between 1975-1992).

TIMELESS

ELEGANCE

WITH

VIENNESE

CHARM

Philharmonikerstraße 4 • A-1010 Wien

Tel.:+43/1/514 56-0 • wien@sacher.com

www.sacher.com

68 Cercle Diplomatique 3/2015

Cercle Diplomatique 3/2015

69
---
L'AUTRICHE OPEC

Abdalla Salem El-Badri

"Manchmal wünsche ich mir, ich hätte eine Kristallkugel."

"Sometimes I wish I had a crystal ball."

Generalsekretär Abdalla

Salem El-Badri: "Wien ist

ein exzellenter Gastgeber

für die OPEC."

Secretary General Abdalla

Salem El-Badri: "Vienna is an

excellent host for OPEC."

Herr El-Badri, vor 50 Jahren ist die OPEC von Genf nach

Wien umgezogen. Wie würden Sie diese fünf Jahrzehnte

der OPEC in Wien in großen Zügen beschreiben?

Die OPEC ist im Jahr 1965 nach Wien gegangen. Damals

war die OPEC eine sehr junge Organisation,

nicht mehr als fünf Jahre alt und weithin unbekannt.

In den vergangenen 50 Jahren war sie mit zahlreichen

Hindernissen und Herausforderungen konfrontiert;

sie hat an Statur gewonnen und gehört

heute zu den großen Playern im globalen Ölmarkt.

Ich möchte den Österreicherinnen und Österreichern

für ihre Unterstützung danken. Und der Stadt

Wien für ihre ausgezeichnete Gastgeberschaft und

die uneingeschränkte Unterstützung unserer Organisation,

während diese an Größe, Expertise und

Einfluss gewonnen hat. Möge unsere positive und

erfolgreiche Beziehung noch lange währen – in

guten und in schwierigen Tagen.

Der globale Ölmarkt war im vergangenen Jahr von

Preisrückgängen und einem Überangebot gekennzeichnet.

Sehen Sie eine Fortsetzung dieser Trends?

Ja, die Preise sind im vergangenen Jahr gefallen und

derzeit herrscht ein Überangebot am Markt. Es war

eine herausfordernde Zeit für die gesamte Branche

und eine Prüfung für Produzenten wie Investoren.

Allerdings erwarten wir für 2016 einen ausgeglicheneren

Markt, wenn das globale Wirtschaftswachstum

Fahrt aufnimmt, die Erwartungen für das

Wachstum der Ölnachfrage über dem Jahr 2015 liegen

und das Wachstum des Nicht-OPEC-Angebots

stark schrumpft. Was den zuletzt genannten Aspekt

betrifft, ist interessant, dass in diesem Segment im

Jahr 2016 ein Wachstum von nur 300.000 Barrel pro

Tag (b/d) erwartet wird, verglichen mit geschätzten

860.000 b/d in diesem Jahr und 2,17 Millionen b/d

im Jahr 2014. Das bedeutet, dass die Nachfrage nach

OPEC-Erdöl im Jahr 2016 bei 30,1 Millionen b/d

liegen wird, was einer Zunahme um 900.000 b/d

gegenüber dem aktuellen Jahr entspricht.

Der Klimawandel hat dafür gesorgt, dass das Thema der

nachhaltigen Energie in den Blickpunkt der globalen

Entscheidungsträger gerückt ist. Inwiefern wirkt sich

dieser Trend auf die OPEC-Politik aus und leistet die OPEC

einen Beitrag zur Entwicklung nachhaltiger Energie?

Wir wollen alle in eine Zukunft mit nachhaltiger

Energie gehen, doch ist in diesem Zusammenhang

AD PERSONAM

zu berücksichtigen, dass die drei Säulen nachhaltiger

Entwicklung – Ökonomie, Umwelt und Soziales –

für verschiedene Menschen unterschiedliche Bedeutung

haben. Ja, der Klimawandel bereitet uns allen

Sorgen und die laufenden Verhandlungen für eine

Übereinkunft in Paris noch in diesem Jahr sind von

höchster Wichtigkeit. Doch wir dürfen daneben

auch nicht vergessen, dass rund 2,7 Milliarden Menschen

oder mehr für ihre Grundbedürfnisse nach

wie vor auf Biomasse angewiesen sind und 1,3 Milliarden

Menschen keinen Zugang zu elektrischem

Strom haben. Um leben und sich entwickeln zu können,

benötigen diese Menschen Zugang zu verlässlichen,

sicheren und modernen Energie-Dienstleistungen.

Die OPEC-Mitgliedsländer unterstützen

über eigene Hilfsorganisationen sowie durch den

OPEC Fund for International Development (OFID)

verschiedene Projekte zur Bekämpfung der Energiearmut.

Und viele unserer Mitgliedsstaaten investieren

auch in Initiativen zugunsten sauberer Energie

und unternehmen gewaltige Anstrengungen zum

Schutz der Umwelt. Beispiele sind Investitionen in

die Kohlenstoffbindung und -speicherung, die Reduzierung

des Abfackelns, die Entwicklung kombinierter

Solar-Gaskraftwerke, sonnenenergiebetriebener

Entsalzungsanlagen und Windkraftanlagen

sowie die Produktion saubererer Mineralölerzeugnisse.

Wenn Sie 50 Jahre in die Zukunft blicken könnten, welche

Vision haben Sie da bezüglich Energietechnologien und der

Energieversorgung einer wachsenden Weltbevölkerung?

Manchmal wünsche ich mir, ich hätte eine Kristallkugel!

Aber stellen wir doch mal eine Gegenfrage:

Wenn wir 50 Jahre zurückblicken, wie viel hätten wir

wohl voraussehen können? Wer hätte beispielsweise

die Supercomputer und die Internetrevolution prognostiziert,

die wir heute für selbstverständlich nehmen,

sowohl in der Ölindustrie wie in der Welt

insgesamt? Und wer wäre imstande gewesen, die revolutionäre

Entwicklung der Luftfahrt vorherzusehen,

die dazu geführt hat, dass Flüge rund um die

Welt für viele Menschen heute eher die Norm als die

Ausnahme darstellen? Ich will darauf hinaus, dass

2065 noch sehr weit weg ist. Ich bin überzeugt, dass

wir neue Technologien erleben werden, die in den

kommenden Jahrzehnten die Ölindustrie und andere

Branchen komplett neu formieren werden, warten

wir mal ab. Was die Frage betrifft, wo unsere Energieversorgung

herkommt, möchte ich darauf verwei-

PHOTO: COPYRIGHT HELD BY ZHANG JIANSHE

sen, dass der aktuelle Welt-Ölausblick der OPEC von

einer Steigerung der Energienachfrage um 50 Prozent

bis 2040 ausgeht. Diese Tatsache unterstreicht

die Notwendigkeit, alle verfügbaren Energieformen

zu nutzen – erneuerbare Energien, Kernkraft und

natürlich fossile Energie. Es ist im Übrigen davon

auszugehen, dass die fossilen Brennstoffe im Jahr

2040 noch immer rund 78 Prozent des weltweiten

Energiemix liefern werden.

CD: Mr. El-Badri, 50 years ago the OPEC relocated from

Geneva to Vienna. If you had to paint a big picture, how

would you describe these five decades of OPEC in Vienna?

El-Badri: OPEC moved to Vienna in 1965. At that

time, OPEC was a very young organization – only

five years old – and unknown to many. Over the past

50 years, it has faced and overcome many obstacles

and challenges, it has grown in stature and it is now a

major stakeholder in the global oil market. I would

like to thank the Austrian people for their support.

And the city of Vienna for being excellent hosts and

fully supportive of our Organization as it has grown

in size, expertise and influence. Long may our positive

and successful relationship continue, as we tackle

the challenges and opportunities that come our way

in the years ahead.

The global oil market has seen prices drop over the past year

and the market remains over-supplied. Do you see these

trends continuing?

Yes, prices have fallen over the past year or so, and

currently there is some oversupply in the market. The

period has been a challenging time for the industry

and a test for all producers and investors. However,

we can expect to see a more balanced market in 2016,

as global economic growth picks up, oil demand

growth expectations exceed those for 2015, and non-

OPEC supply growth drops considerably.

In terms of the latter, it is interesting to note that

growth is expected to be only 300,000 barrels a day

(b/d) in 2016; this compares to an anticipated

860,000 b/d this year, and 2.17 million b/d in 2014. It

means that demand for OPEC crude in 2016 will be

30.1 million b/d, a projected increase of 900,000 b/d

over the current year.

As a result of climate change, the issue of sustainable energy

is at the forefront of talks among global leaders. How does

this trend impact OPEC policies, and is OPEC contributing in

the field of sustainable energy development?

We all want to develop a sustainable energy future,

but it is important to recognize that the three pillars

of sustainable development – 'economic, environmental

and social' – mean different things to different

people. Yes, climate change is a concern for us

all, with the current negotiations to develop an agreement

in Paris later this year extremely important. But

we also need to remember that around 2.7 billion

people or more still rely on biomass for their basic

needs, and 1.3 billion people have no access to electricity.

They need access to reliable, safe and secure

modern energy services to live and prosper.

From OPEC's perspective, our Member Countries

through their own aid institutions, as well as the

OPEC Fund for International Development (OFID),

support various projects aimed at alleviating energy

poverty. And many of our Member Countries are

also investing in clean energy initiatives and making

huge efforts to protect the environment. For example,

through investing in carbon capture and storage,

reducing gas flaring, developing hybrid solar-gas power

stations, solar-powered desalination units and

wind power facilities, and producing cleaner petroleum

products.

If you could look 50 years into the future, what would your

vision be in regard to energy technologies and energy supply

for a growing global population?

There are times I wish I had a crystal ball! Let me ask

the question: if we look back 50 years how much

could have been predicted? For example, who could

have envisaged the super computers and the Internet

revolution we now take for granted, in both the oil

industry, and the world at large. And who could have

forecasted the aviation revolution, with flights for

many around the world becoming the norm, rather

than the exception. My point is that 2065 is a long

way off. I am sure we will see new technologies that

may reshape the oil industry and others in the coming

decades, but let us wait and see. In terms of

where our energy supply comes from, OPEC's current

World Oil Outlook emphasizes that energy demand

is expected to increase by 50 per cent by 2040.

This underlines the need to utilize all available energies

– renewables, nuclear, and of course, fossil fuels.

And by 2040, fossil fuels are still expected to supply

around 78 per cent of the world's energy mix.

"2040 werden

fossile Brennstoffe

immer

noch 78 Prozent

des weltweiten

Energiemix ausmachen."

"By 2040, fossile

fuels are still expected

to supply

around 78 per

cent of the world's

energy mix."

OPEC-Generalsekretär Abdalla Salem El-Badri wurde 1940

in Libyen geboren, war Manager bei großen Ölmultis wie

ExxonMobil und wurde 2007 in diese OPEC-Position berufen.

OPEC Secretary General Abdalla Salem El-Badri was born in

Libya in 1940. Before being appointed to Secretary General of

OPEC in 2007, he was serving as oil-manager (eg. ExxonMobil).

70 Cercle Diplomatique 3/2015

Cercle Diplomatique 3/2015

71
---
L'AUTRICHE SALZBURG RECEPTION

Teilen & Verteilen

Share & Distribute

Der Festspielempfang der Industriellenvereinigung Salzburg gemeinsam mit den Salzburger

Festspielen war wie jedes Jahr ein Highlight des gesellschaftlichen Lebens.

The Festival reception by the Federation of Austrian Industries Salzburg together with

Salzburg Festival was, like every year, a social highlight.

2

4

1

3

Text: Eva Maria von Schilgen

Salzburg zur Festspielzeit ist nicht nur Treffpunkt

der Kulturfreunde aus aller Welt; hier

werden, abseits und zwischen den großen Kulturevents,

auch wertvolle wirtschaftliche Kontakte

angebahnt. Einer der gesellschaftlichen Höhepunkte

der Sommerzeit ist der Empfang der Industriellenvereinigung

Salzburg (IV). Deren Ziel ist es, die besten

Rahmenbedingungen für die Salzburger Unternehmen

zu erreichen. Unter anderem geschieht dies

durch die Vernetzung der Unternehmen untereinander,

durch Lobbying, Information und individuellen

Service, durch den Einsatz für die besten Bedingungen

für Forschungsförderung und -Finanzierung auf

Landes-, Bundes- und EU-Ebene oder in ihrer Funktion

als Gesellschafterin der Innovation und Technologietransfer

Salzburg (ITG), die den Innovationsgeist

in Salzburg aktiv fördert.

Der Einladung des Präsidenten der IV Salzburg

KommR. Mag. Rudolf Zrost und seiner Geschäftsführerin

Mag. Irene Schulte zum Empfang 2015 ins

Restaurant M32 am Mönchsberg folgten mehr als

350 hochkarätige Gäste aus Politik, Wirtschaft, Kultur

und Medien. Während Zrost über das Thema

"Ungleichheit verringern und versöhnen" sprach,

referierte die Präsidentin der Salzburger Festspiele

Dr. Helga Rabl-Stadler über die erfolgreiche Verbindung

zwischen Kultur und Wirtschaft.

Die Festspiele sind seit Jahrzehnten ohne Zweifel

der "Motor" der Salzburger Wirtschaft und Industrie.

Doch damit ein Wagen auch fahren kann, bedarf

es einer soliden Karosserie – das sind Salzburgs

Unternehmen. Zusammen machen sie Salzburg zum

zweitgrößten Handelsplatz Österreichs und zu einer

der dynamischsten und innovativsten Wirtschaftsregionen

in Europa. Bravo! Applaus! Weiter so!

CD-Autorin Mag. art. Eva

von Schilgen und

Rechtsanwalt

Dr. Wolfgang Berger

CD author Mag. art.

Eva von Schilgen with

lawyer Dr. Wolfgang Berger

burg. Its aim is to gain the best conditions for Salzburgbased

companies. This is achieved through networking

amongst the companies as well as lobbying,

information and individual service. Furthermore, via

the commitment to obtain the best possible conditions

for research support and financing at regional, national

and EU level. More than 350 high-profile guests from

politics, business, culture and media followed the invitation

by Councillor of Commerce Rudolf Zrost,

President of the IV Salzburg, and its Managing Director

Irene Schulte. While Zrost spoke about the

topic "Reducing inequality and reconciliation", Dr

Helga Rabl-Stadler, President of the Salzburg Festival,

lectured on the successful connection between

culture and economy.

The Festival has been, without a doubt, the "engine"

of the Salzburg economy and industry for decades,

but just like a car needs a solid body to drive, so

do Salzburg's businesses form the necessary framework.

Together, they make Salzburg Austria's second

largest trading centre and one of the most dynamic

and innovative economic regions in Europe.

Bravo! Applause! And keep it up!

Mirabell_CercleDiplomatique_01-09_ISOcoated_v2.pdf 1 06.08.15 04:26

Auszug aus der Gästeliste

Excerpt from the guest list

AiKON media & technology GmbH

Arbeiterkammer Salzburg

ATTCO Technische Beratungs- u. Beschaffungs GmbH

Austrian Power Grid AG

Bankhaus Carl Spängler & Co AG

Berger & Partner Rechtsanwälte

Bosch Industriekessel Austria GmbH

Botschaft der Französischen Republik

Botschaft des Großherzogtums Luxemburg

Brau Union Österreich AG

Bundeskanzleramt Österreich – Kunst und Kultur

Bundesministerium f. Wissenschaft, Forschung, Wirtschaft

Camerata Salzburg

Deutsches Theater Berlin

Liebherr-International Austria GmbH

Dreyer Ventures & Management GmbH

Eisenwerk Sulzau-Werfen R. & E. Weinberger AG

Elektro Markl Anlagentechnik GmbH

Erzdiözese Salzburg

Escad-Austria GmbH

Fachhochschule Salzburg GmbH

Geislinger GmbH

GrECo International Aktiengesellschaft

Großglockner Hochalpenstraßen AG

GTB Ges. für Tief- u. Brückenbau GmbH

Hartl Bau GmbH

Hinteregger & Söhne Baugesellschaft mbH

Immobilienkanzlei Alexander Kurz GmbH

Ingenieurbüro Stadlmann GmbH

Iro & Partners Personal- u. Managementberatungs-GmbH

Jacoby GM Pharma GmbH

Johann Graggaber GmbH

Kian Browns GmbH

Mercedes-Benz Österreich GmbH

Miele Gesellschaft m.b.H.

Miele Werk Bürmoos GmbH

Mitterbauer Beteiligungs-AG

Muhr Real Estate

Oberbank Salzburg

ORF – Österreichischer Rundfunk

Österreichische Kunststoffwerke

Politische Akademie der ÖVP

Red Bull GmbH

SAG Motion GmbH

Salzburg AG für Energie, Verkehr u. Telekommunikation

Salzburg Wohnbau GmbH

Salzburger Kulturvereinigung

Salzburger Landes-Versicherung

Sammlung G.u.A. Lenz

Schauspielhaus Salzburg

Schneiders Bekleidung Gesellschaft m.b.H

Siegl Elektro Produktions- und VertriebsgmbH

Siemens AG Österreich

StandortAgentur Salzburg GmbH

Stiftung Mozarteum

Subaru Österreich

Teach For Austria

UBS (Luxembourg) S.A. Niederlassung Österreich

UniCredit Bank Austria AG

Universität Salzburg

Universität Salzburg FB Materialforschung und Physik

Wiener Philharmoniker

Wimmer Hartstahl GmbH & Co KG

WirtschaftsförderungsgmbH des Landkreises Traunstein

Wirtschaftskammer Salzburg

Wüstenrot AG

Zanetti Austria GmbH

Zell-Metall GmbH

Zementwerk LEUBE GmbH

1 Von links/from left: Dr. Susanne Riess (Generaldirektorin Bausparkasse Wüstenrot AG), Alfons Haider,

Marlies Muhr (Marlies Muhr Real Estate)

2 KommR Ing. Wolfgang Hesoun (Generaldirektor Siemens AG Österreich, Präsident IV Wien) mit Gattin

Brigitte

3 Von links/from left: KommR Mag. Rudolf Zrost (Präsident IV Salzburg), Bundesminister Dr. Reinhold

Mitterlehner und Landeshauptmann Dr. Wilfried Haslauer

4 Von links/from left: Mag. Irene Schulte (Geschäftsführerin IV Salzburg), Dr. Sabine Galsterer,

Univ.-Prof. DI Dr. Maurizio Musso (Universität Salzburg) mit Begleitung

5 Von links/from left: Dr. Christina Rösslhuber, Landeshauptmann Dr. Wilfried Haslauer, Dr. Helga

Rabl-Stadler (Präsidentin der Salzburger Festspiele), Susanne Czepl-Zrost, KommR Mag. Rudolf Zrost

(Präsident IV Salzburg)

5

Salzburg is not only a meeting place of culture lovers

from around the world during Festival time,

but also a place where valuable business contacts

are initiated between the large cultural events. One of

the social highlights of the summer is the reception

hosted by the Federation of Austrian Industries Salz-

PHOTOS: ANDREAS KOLARIK

72 Cercle Diplomatique 3/2015

Cercle Diplomatique 3/2015

73
---
L'AUTRICHE FUTURE LAB

Dkfm. Dr. Claus J. Raidl

"Gut ist nicht genug."

"Good is not enough."

BOOK TIP

Der Präsident der Österreichischen Nationalbank über den Wirtschaftsstandort Österreich.

The President of the OeNB about Austria as a business location.

ABOUT THE AUTHOR

Claus J. Raidl wurde 1942

in Kapfenberg, Steiermark,

geboren. Er war Vorstandsmitglied

der ÖIAG,

Austrian Industries AG

sowie der voestalpine AG.

Seit 1. September 2008 ist

er Präsident der

Österreichischen

Nationalbank (OeNB).

Zudem ist er Sprecher von

"21st Austria".

Claus J. Raidl was born

1942 in Kapfenberg, Styria.

He worked as Member of

the Executive Board of

ÖIAG, Austrian Industries

AG as well as voestalpne

AG. As of 1 September

2008, he is President of

the Austrian National Bank

(OeNB). He is also

spokesperson of "21st

Austria".

oenb.at

21st-austria.at

Kaum ein Tag vergeht, an dem heimische Persönlichkeiten

kritische Aussagen zum Wirtschaftsstandort

Österreich tätigen. Die Fakten

scheinen ihnen recht zu geben: im aktuellen Standort-

Ranking des Schweizer IMD erreicht Österreich nur

noch Platz 26 von 61 untersuchten Ländern. Das heißt

konkret: In den vergangenen acht Jahren entwickelte

sich der Wirtschaftsstandort Österreich vom Hoffnungsträger

(Platz 11) zum Durchschnittskandidaten.

Also nicht mehr sehr gut, sondern nur noch gut.

Derartige Entwicklungen können nicht ohne Reaktion

bleiben. Es besteht zunehmend Konsens darüber,

dass Reformen in vielen Bereichen notwendig

sind. Die Bundesregierung nimmt die nötigen Veränderungen

Schritt für Schritt in Angriff. Dass dies

in einer Koalitionsregierung nicht immer einfach

und noch dazu oft sehr zeitaufwändig ist, gehört zu

den europäischen Spezialitäten, die jenseits des Atlantiks

oder der Großen Mauer zwar immer wieder

ein erstauntes Stirnrunzeln auslösen, aber zu unserer

Realität gehören.

Aber wann ist "gut" auch gut genug? Es ist völlig

legitim, gegenüber internationalen Meinungsbildnern,

denen ich beispielsweise im Rahmen der

Standortinitiative "21st Austria" (www.21st-austria.

at) begegne, zu sagen: Österreich steht gut da. Denn

natürlich tut es das. Wir sind nach wie vor eines der

reichsten Länder der Europas und der Welt, wir genießen

nach wie vor ein extrem hohes Ausmaß an

sozialem Frieden, und die Lebensqualität in Österreich

ist legendär.

"Gut" braucht den Vergleich. Doch woran messen

wir das? Eine Möglichkeit sind hard facts – also objektive

Kennzahlen, Rankings, Performance-Indikatoren.

Doch viel interessanter scheint mir die Frage:

Was sind eigentlich unsere eigenen Ziele? Und sind

wir dabei auf einem guten Weg? Wenn es um Zieldefinitionen

geht, bietet es sich an, beim Physiker und

Vordenker Heinz von Foerster Anleihe zu nehmen.

Dieser hat in Anlehnung an den kategorischen Imperativ

von Immanuel Kant den ethischen Imperativ

formulierte: "Handle stets so, dass die Anzahl der

PHOTO: 21ST AUSTRIA

Wahlmöglichkeiten größer wird."

Dies scheint mir eine Aufforderung, die unserer

Zeit am ehesten gerecht wird. Viele Entwicklungen

schränken unsere Möglichkeiten tendenziell ein: Demographie,

Klimawandel, der Aufstieg Asiens können

alle dazu beitragen, dass unser Handlungsspielraum

in Europa eher kleiner als größer wird. Umso

mehr müssen wir anpassungsfähig bleiben und unsere

Ziele ständig nachjustieren, um innerhalb der

geänderten Rahmenbedingungen dennoch Gestaltungsmöglichkeiten

und Freiraum zu haben.

Ziele sind beweglich – während wir versuchen,

eines zu erreichen, verändert es sich, und damit uns.

Niemand stellt dies wohl so überzeugend unter Beweis

wie unsere "Hidden Champions", die österreichischen

Weltmarktführer, die in ihrer jeweiligen

Nische Spitzenleistungen erbringen. Der Wirtschaftsprofessor

Hermann Simon, der diese Hidden

Champions eingehend untersucht hat, hat auch ihre

Charakteristika analysiert. Was Hidden Champions

auszeichnet und besonders macht, sind

• extrem ambitiöse Ziele,

• kontinuierliches Wachstum,

• den Markt führen,

• durch Tiefe Einzigartigkeit schaffen und

• beharrlich innovieren.

Die österreichischen Hidden Champions haben

gelernt, den ethischen Imperativ positiv anzuwenden.

Wenn es uns gelingt, diese Stärken der Hidden Champions

wieder für den gesamten Wirtschaftsstandort

Österreich umzusetzen, dann sind wir gut. Und bleiben

gut genug in einer Welt, die nicht stehen bleibt.

Hardly a day goes by without critical statements

being made by local figures about the

business location Austria. The facts seem to

prove them right: the current Swiss IMD ranking

places Austria only at number 26 of 61 countries studied.

This means that Austria as a business location

has dropped in the past eight years from being a

hopeful (11th place) to an average. Not very good,

but still good.

Such developments need an appropriate reaction.

There is a growing consensus that reforms are needed

in many areas. The Federal Government is gradually

implementing the necessary changes. In a coalition

government, this is not always easy and often

very time-consuming, and it can be seen as one of

the European traits. Beyond the other side of the Atlantic

or the Great Wall, this fact might repeatedly

trigger a surprised frown, but it is part of our reality.

When does "good" become good enough? Within

the framework of "21st Austria" (www.21st-austria.

at), I meet many international opinion leaders. It is

perfectly legitimate to tell them that Austria is doing

well, because of course it is. We are still one of the

richest countries in Europe and the world, we continue

to enjoy an extremely high degree of social

peace, and the quality of life in Austria is legendary.

A comparison is needed for "good". But how do

we measure it? One way is to take the hard facts: objective

indicators, rankings, performance indicators.

Personally, the following questions are much more

interesting to me: What are our own goals? And are

we on the right track? When it comes to defining objectives,

it makes sense to take heed of physicist and

pioneer Heinz von Foerster's words, who in reference

to the categorical imperative by Immanuel Kant formulated

his own ethical imperative: "Act always so as

to increase the number of choices".

I find it to be an invitation which is most suited to

our times. Many developments tend to limit our options:

demography, climate change and the rise of

Asia can all contribute to our scope in Europe becoming

smaller rather than larger. All the more, we

must remain adaptable and adjust our goals continually

to retain our possibilities and autonomy within

those changed conditions.

Targets are mobile – while we try to reach one, it

changes, and thus ourselves. Nobody probably

proves this as convincingly as our "Hidden Champions",

the Austrian world market leaders, who provide

outstanding service in their respective niches. The

economics professor Hermann Simon, who studied

these Hidden Champions in detail, also analysed

their characteristics. What distinguishes and makes

Hidden Champions special is:

• extremely ambitious goals

• continuous growth

• leading the market

• creating uniqueness through depth

• constant innovation

The Austrian Hidden Champions have learned to

apply the ethical imperative in a positive way. If we

manage to reinforce the strengths of Hidden Champions

again and apply them to the entire business location

Austria, then we will be "good". And we will stay

good enough in a world that does not stand still.

HERBERT CORDT

(Editor), HELMUT

KRAMER, GERD

MILLMANN

Wirtschaftslegenden.

Vom Marshallplan zu

TTIP.

Legends of Economy.

From Marshall Plan to TTIP.

ISBN 978-3854853367

–

Molden Verlag, € 26,90

74 Cercle Diplomatique 3/2015

Cercle Diplomatique 3/2015

75
---
L'AUTRICHE NEWS

Das Neueste aus der Welt des Business

The latest from the business world

Text: Daniela Pötzl

PHOTO: EVA KELETY, EUROPÄISCHE UNION, SPIRIT DESIGN

EU-Kommission | European

Commission

Neue Leitung |

Leadership change

Jörg Wojahn ist zum

Leiter der Vertretung der

Europäischen Kommission

in Wien ernannt worden

und tritt sein Amt am

1. September 2015 an.

Zuletzt war er als Botschaftsrat

in der EU-Delegation in

Riad eingesetzt.

Jörg Wojahn has been

appointed Head of the

European Commission

Representation in Vienna and

will take up his new position

on 1 September 2015. He was

most recently employed as

Counsellor for the EU

Delegation in Riyadh.

ec.europa.eu

Wirtschaftsagentur Wien |

Vienna Business Agency

Begehrtes Wien |

Popular Vienna

Derzeit arbeiten rund 20.000

internationale Mitarbeiter in

der Stadt, die vieles bietet,

was ein Expat-Herz begehrt:

geeignete Mietobjekte,

ein großes Angebot an

Theater- und Musikdarbietungen

und Restaurants sowie

internationalen Schulen.

Around 20,000 international

employees are currently

working around the city that

offers many of the things an

expat's heart desires: suitable

rental properties, a wide

range of theatre and musical

performances, restaurants

and international schools.

wirtschaftsagentur.at

Zukunft | Future

Vision für Kleinbauern |

Vision for small farmers

Auch der brasilianische Botschafter (im Bild

3.v.r.) war beeindruckt: Die Vision der Wiener

Firma Spirit Design, Kleinbauern in Schwellenund

Entwicklungsländern ein Arbeitsfahrzeug

zur Produktivitätssteigerung und Eigenversorgung

zur Seite zu stellen, ist Realität geworden.

Der Prototyp des CH4PA wurde nun als zentrales

Symbol der Biogas-basierten Mobilität im

Rahmen des Vienna Energy Forums 2015

vorgestellt.

The Brazilian ambassador (pictured 3rd right)

was impressed: the vision of the Viennese

company Spirit Design – to supply small farmers

in emerging and developing countries with a

utility vehicle to increase productivity and

self-sufficiency – has now become a reality. The

prototype of the CH4PA was introduced as a

central symbol of biogas-based mobility at the

Vienna Energy Forum 2015.

spiritdesign.com

Erfolg | Success

Preisregen für

Austrian |

A big haul for Austrian

Top-Platzierungen für Austrian

Airlines: erster Platz in den

Kategorien "Best Airline Staff

Service in Europe" sowie "Best

Business Class Catering" beim

Skytrax World Airline Award 2015.

Zudem erhielt die Fluglinie den

WKO-Exportpreis für ihren Einsatz

auf internationalen Märkten.

Top rankings for Austrian Airlines:

first places in the categories "Best

Airline Staff Service in Europe" as

well as "Best Business Class

Catering" at the Skytrax World

Airline Awards 2015. In addition,

the Austrian Federal Economic

Chamber Export Award went to the

airline for its efforts in international

markets.

austrian.com

Wien | Vienna

Rekord am Wasser |

Record highs on the waterfront

Der Hafen Wien – ein Unternehmen der Wien

Holding – hat auch im Geschäftsjahr 2014

die Segel erfolgreich im Wind gehalten und

konnte das Rekordjahr 2013 übertreffen.

Mit 53,6 Millionen Euro Umsatz konnte ein Plus

von 1,3 Prozent verbucht werden. Der Hafen ist

nicht nur eine der wichtigsten und größten

Güter-Drehscheiben Mitteleuropas, sondern auch

einer der wichtigsten Binnenhäfen an der Donau.

2014 legten über 1.300 Schiffe an, um in den drei

Häfen Freudenau, Albern und Lobau – die

gemeinsam den Hafen Wien bilden – Güter

umzuschlagen. Nicht zuletzt schafft die Hafen

Wien Gruppe rund 310 dauerhafte Arbeitsplätze.

The Port of Vienna – a part of the Wien Holding

group – has successfully kept their sails to the

wind in the financial year 2014 and exceeded

the record year 2013. With a turnover of 53.6

million euros, an increase of 1.3 per cent was

recorded. The port is not only one of the largest

and most important freight hubs in Central Europe,

but also one of the most important inland

ports on the Danube. In 2014, more than 1,300

ships called at it to handle goods at the three

harbours of Freudenau, Albern and Lobau, which

together form the Port of Vienna. Around 310

permanent jobs are maintained by the Port of

Vienna group.

hafenwien.com

76 Cercle Diplomatique 3/2015

Rückkehr | Return

CzechTourism

wieder in Wien |

CzechTourism in

Vienna again

Nach zweijähriger Absenz ist

Czech Tourism mit einer

Vertretung wieder nach

Österreich zurückgekehrt:

Mag. Dr. Yvette Polasek

repräsentiert nun als neue

Direktorin mit einem kleinen

profunden Team im 14. Bezirk

Tschechien.

Following a two-year absence,

CzechTourism has returned to

Austria: Dr Yvette Polasek is

the new director now and

represents the Czech Republic

with a small team in the 14th

district.

czechtourism.com

Termin-Aviso | Save the date

Austria Connect

Gulf 2015 |

22 November 2015,

Dubai

Unter dem Motto "Rethink

Gulf – From Integration to

Education" werden etablierte

österreichische Unternehmen

der Golfregion mit neu

in den Markt eintretenden

Exporteuren unter Mitwirkung

der Wirtschaftsdelegierten

aus den VAE, Saudi-Arabien,

Iran, Irak, Katar, Oman und

Pakistan vernetzt. Mit

Fachvorträgen und Panels.

Under the motto "Rethink

Gulf– From Integration to

Education", established

Austrian companies in the

Gulf region are connected

with new exporters in the

market, with active

participation by business

delegates from the UAE,

Saudi Arabia, Iran, Iraq, Qatar,

Oman and Pakistan. With

panels and lectures.

wko.at

WKO-Präsidium | Presidium

Neu mit dabei |

New at the helm

Die WKO hat zwei neue

kooptierte Vizepräsidenten:

Die beiden Unternehmer

Mag. Ulrike Rabmer-Koller als

alleinige Gesellschafterin der

Rabmer-Gruppe in Altenberg

bei Linz in Oberösterreich und

den Steirer Mag. Jürgen Roth,

der die väterliche Firma Roth

Heizöle GmbH in Graz leitet.

The WKO has two new

co-opted Vice Presidents: the

entrepreneurs Ulrike

Rabmer-Koller as the sole

shareholder of Rabmer group

in Altenberg near Linz in

Upper Austria and Jürgen

Roth from Styria, who runs his

father's company Roth

Heizöle GmbH in Graz.

wko.at

BEST IB DIPLOMA PASS RATES in

AUSTRIA

2013 – 98%

2014 – 100%

2015 – 100%

'striving for

EXCELLENCE, by

ENGAGING minds,

EXCITING learners,

acting ETHICALLY and

showing EMPATHY'

DANUBE INTERNATIONAL SCHOOL VIENNA

2 JOSEF GALL GASSE, 1020

registrar@danubeschool.com

www.danubeschool.com

01 720 3110 22

IB World School

Aged 3‐18 550 students

Family‐orientated

Friendly, Focused & Fun

Improvement Driven

Central Elegant Location

Cercle Diplomatique 3/2015

77
---
Pure Verwöhnung

legendäre Straffung

LAPRAIRIE.COM © 2015 LA PRAIRIE INC.

SAVOIR

VIVRE

IN "SAVOIR VIVRE" DREHT

SICH ALLES UM DIE SCHÖNEN

DINGE DES LEBENS WIE KULTUR

& REISEN, KULINARIK & HOTELS,

AUTO & SPORT, UHREN &

SCHMUCK, MODE & DESIGN,

WELLNESS & GESUNDHEIT

UND VIELES MEHR.

"SAVOIR VIVRE" FOCUSES ON

THE BRIGHT SIDE OF LIFE SUCH

AS CULTURE & TRAVELLING,

HOTELS & RESTAURANTS, CARS &

SPORTS, WATCHES & JEWELLERY,

FASHION & DESIGN, WELLNESS

& HEALTH AND MUCH MORE.

Skin Caviar Luxe Cream • Sheer

Erleben Sie die außergewöhnlich straffende und festigende Wirkung von Skin Caviar ab jetzt in einer

Creme, die so zartschmelzend und federleicht ist, dass Sie ihre herausragende Wirkung umso mehr

überraschen wird.

Dank einer hochwirksamen Konzentration aus wertvollem Kaviarextrakt kombiniert mit unserem

exklusiven Cellular Complex werden die Gesichtskonturen gefestigt und die Haut gestrafft.

Brandneu und jetzt schon eine Legende.
---
SAVOIR VIVRE VIENNA BARS

Kenner lieben es unverfälscht

Aficionados love it straight

Wien hat dank junger und kreativer Bartender eine der aufregendsten Barszenen Europas. Doch

manche Kenner bevorzugen klassische Bars, in denen sie feine Whiskys oder alte Rums pur genießen.

Vienna has one of the most exciting bar scenes in Europe with trendy and creative bartenders. But some

connoisseurs prefer classic bars where you can enjoy fine whiskys or old rums – straight.

Text: Wolfgang Schedelberger

FOTOS: XYXXYXYXY

PHOTOS: FOTOLIA, BARFLY´S CLUB, PRIVAT

Alkohol ist etwas Wunderbares! In Maßen genossen

befeuert er nicht nur unsere Fantasie

und bringt Gespräche in ungeahnte Höhen

(und Tiefen). Er fördert auch die Gesundheit und

wurde jahrhundertelang als Medizin sehr geschätzt.

Vor allem aber kann Alkohol ganz wunderbar

schmecken.

Während der Geschmack am Anfang der meisten

Trinker-Karrieren zumeist recht simpel gestrickt ist

(süß, unkompliziert), entwickeln Connaisseure im

Laufe ihres Lebens ein Näschen für die feinen Nuancen,

die ein gutes Glas von einem sehr guten unterscheiden.

Ein wirklich großartiger Tropfen vermag

sie gar in Ekstase zu versetzen. Das Glas mag ausgetrunken

sein, doch die Erinnerung an den außergewöhnlichen

Geschmack hallt noch lange nach. Doch

der Mensch genießt nicht gern allein. Deshalb besucht

er eine Bar.

Andere gründen eine.

Keimzelle der Wiener Barkultur

Mario Castillo war ein offenherziger Mensch. Er

liebte guten Alkohol so sehr, dass es ihm wichtiger

war, andere Menschen damit zu beglücken, als ihn

selbst regelmäßig zu genießen. Nicht dass er ein

Kostverächter gewesen wäre, doch ein guter Bartender

trinkt bei der Arbeit bekanntlich nicht.

Erstaunlich übrigens, dass Castillo vor allem gute

Whiskys so schätzte, wo er doch aus der Karibik

stammte, von wo bekanntlich die besten Rums kommen.

Einige Juwelen aus seiner persönlichen Schatzkammer

kann man übrigens immer noch genießen,

obwohl Mario Castillo vor fünf Jahren von uns gegangen

ist. Seine Frau Melanie bewahrt sein Erbe, in

dem sie den Barfly's Club auch nach seinem Tod weiterführt.

Das Barfly's war die Keimzelle des sogenannten

Wiener Barwunders. Praktisch alle Größen

unter den heute aktiven Bartendern haben hier ihre

ersten Drinks gemixt. Nach wie vor werden hier

Cocktails auf Top-Niveau angeboten, doch vor allem

Stammgäste kommen regelmäßig hierher, um Rum

oder Whisky pur zu genießen.

"Für viele Gäste ist das Gespräch vor und nach

dem Drink genauso wichtig wie der Drink selbst.

Schließlich geht es bei einem raren Whisky ja nicht

nur um den sensorischen Geschmack, sondern oft

auch um Erinnerungen", weiß Tom Sipos, Chefbartender

im Barfly's. Wie viele Etiketten es genau gibt,

weiß selbst er nicht, weil laufend etwas dazukommt,

aber Einzelflaschen auch regelmäßig leer getrunken

werden. Im Barfly's findet man aktuell rund 850

Whiskys auf der Karte, wobei Islay (100 Etiketten)

und Speyside (250 Etiketten) besonders stark vertreten

sind. Die Preise für 4 cl reichen von zehn bis 200

Euro. "Wir kalkulieren alle unsere Spirituosen fair

und gerade bei den teuren Flaschen freuen sich die

Gäste oft ganz besonders, dass es so etwas in Österreich

überhaupt gibt", weiß Melanie Castillo.

Qualität im Glas

Ebenfalls etwas abseits der Hochfrequenzlagen

liegt der Planter's Club. Er hat auch 20 Jahre nach der

Eröffnung und der Übernahme durch einen neuen

Eigentümer nichts von seinem Charme eingebüßt.

Im stimmungsvollen Ambiente, das an einen britischen

Club irgendwo im kolonialen Empire erinnert,

fühlt man sich einfach wohl. Dass es gleich nebenan

mit dem Livingstone auch ein empfehlenswertes Restaurant

gibt, sei hier nur deshalb erwähnt, weil man

sämtliche Speisen auch an der Bar bestellen kann.

Natürlich kann man im Planter's Club einfach auf

einen schnellen Afterwork-Drink hereinschneien,

doch wer hier ernsthaft genießen will, sollte sich etwas

mehr Zeit nehmen. Schon für die Lektüre der

Karte, die hier ein kleines Buch ist, benötigt man

Muße. Und gerade für die Freunde gereifter Rums

und exklusiver Whiskys gilt das Gleiche wie für andere

Genießer: Die größte Freude ist die Vorfreude.

Das Rum-Angebot erstreckt sich über elf, das der

Whiskys gar über 26 Seiten. Wer die Wahl hat, hat

die Qual ...

Vorbild für eine Vielzahl von

Wiener Bartendern: Mario

Castillo, Gründer der Bar

Barfly´s Club

Role model for plenty of

Viennese bartenders: Mario

Castillo, founder of Barfly´s

Club

80 Cercle Diplomatique 3/2015

Cercle Diplomatique 3/2015

81
---
SAVOIR VIVRE VIENNA BARS

INFO

Ein beliebter Klassiker:

Planter's Club.

A popular classic:

Planter's Club.

Gepflegt trinken

Sophisticated drops

Barfly's Club

im Hotel Metternich,

6., Esterhazygasse 33

Tel.: +43 1 586 08 25

barflys.at

ab Oktober täglich ab 18

Uhr, im Sommer 20 Uhr

open daily at 6 pm from

October, summer 8 pm

Planter's Club

1., Zelinkagasse 4

Tel.: +43 1 533 33 93 15

plantersclub.com

Mo-Mi/ Mon-Wed: 17-2

Uhr/ 5 pm-2 am, Do-Sa/

Thu-Fri: 17-4 Uhr/ 5 pm-4

am

Nightfly's American Bar

1., Dorotheergasse 14

Tel.: +43 1 512 99 79

nightflys.at

Mi-Sa/Wed-Sat: ab 18 Uhr/

from 6 pm

Gepflegte American Bar im

Herzen von Wien.

Neat American Bar in the

heart of Vienna.

Intermezzo Bar

im Hotel Intencontinental

Tel.: +43 1 711 22 0

vienna.intercontinental.

com/gastronomie/

intermezzo-bar

täglich ab 18 Uhr/ daily

from 6 pm

Wunderschöne Bar mit

dem längstdienenden

Barchef der Stadt.

Beautiful ambience with

the longest serving head

bartender in the city.

Halbestadt

In den Stadtbahnbögen

9., Stadtbahnbogen 155

Tel.: +43 1 219 47 35

halbestadt.at

Di-Sa/ Tue-Sat: ab 19 Uhr/

from 7 pm

Sehr persönlich geführte

Bar mit exquisiten

Raritäten.

Personally run bar with

exquisite rarities.

82 Cercle Diplomatique 3/2015

Intermezzo Bar: einer der opulentesten Luster Wiens. Intermezzo Bar: one of the most lavish chandeliers in Vienna.

Ein überdurchschnittlich gutes Whisky-Angebot

ist übrigens auch in der Nightfly's American Bar, der

Intermezzo Bar und der Halbestadt unter der Führung

von Bar-Spezialist Erich Wassicek und Ehefrau

Konny Wunder in den Stadtbahnbögen zu finden.

Also, nehmen Sie sich Zeit, ein Glas mit gepflegtem

Inhalt zu erheben.

Alcohol is a wonderful thing! In moderation,

it will not only fuel the imagination and

bring conversations to new heights (and

lows), but also promotes health and was highly valued

as a medicine for centuries. Above all, however,

alcohol can taste quite fabulously.

Most drinkers' careers frequently begin with quite

simple tastes: sweet and uncomplicated. Connoisseurs,

over a lifetime, develop a nose for the subtle

nuances that can distinguish between a good glass

and a very good one. A fantastic drop can even send

them into a state of ecstasy! The glass may be empty,

but the memory of the extraordinary taste reverberates

long after. But man does not enjoy being alone.

Therefore, a bar is visited.

Others open one.

Nucleus of Viennese bar culture

Mario Castillo was an open-hearted person. He

loved good alcohol so much that it was more important

to him to delight other people with it than to

regularly enjoy it himself. He did appreciate a good

drop, but it is a well known fact that a good bartender

does not drink at work.

Amazingly, Castillo especially liked good whiskies,

considering that he came from the Caribbean,

where the best rums are made. Some gems from his

personal treasures can still be enjoyed, although Mario

Castillo passed away five years ago. His wife Melanie

preserves his legacy by continuing to run

Barfly's Club even after his death. Barfly's was the

nucleus of the so-called Vienna Barwunder ('bar

wonder'). Virtually all notable, active bartenders today

mixed their first drinks here. Cocktails are mixed

at the highest level, but the majority of patrons regu-

PHOTOS: HOTEL INTERCONTINENTAL WIEN, PLANTER´S CLUB, BEIGESTELLT

FOTOS: XYXXYXYXY

larly come here to enjoy straight rum or whisky.

"For many guests, the conversation before and after

the drink is just as important as the drink itself.

After all, it's not just about the sensory taste of a rare

whisky, but often also about the memories attached,"

according to Tom Sipos, head bartender at Barfly's.

Even he does not know how many kinds there are

exactly, because more are being added and individual

bottles emptied on a regular basis. Currently,

Barfly's offers around 850 whiskies. Islay (100 kinds)

and Speyside (250 kinds) are particularly strongly

represented. The price for 4 cl ranges from 10 to 200

euros. "We calculate all our spirits according to fair

value. The guests are often pleased especially when

expensive bottles are available in Austria at all," says

Melanie Castillo.

Quality in the glass

Planters Club is also located a bit off the beaten

path. It has lost none of its charm, even 20 years after

opening its doors and with new owner management.

In the atmospheric ambience that is reminiscent of a

1.200 whiskys

480 cocktails

400 rums

wide range of cigars

British club somewhere in a colonial empire, one

feels very comfortable. Just next door, there is the recommended

Livingstone restaurant – but it is only

mentioned here because all its meals can be ordered

at the bar.

You can, of course, drop in for a quick after-work

drink. Anyone seriously wanting to enjoy being here

should take a little more time. Reading the menu alone,

the size of a small book, will occupy you for a

while. But the same applies for lovers of exclusive

aged rums and whiskies as for other connoisseurs:

anticipation is the greatest joy. The selection of rums

spans eleven and whiskies even more than 26 pages

– a tough choice to be made!

An above-average variety of whisky on offer can

also be found at Nightfly's American Bar, the Intermezzo

Bar at the Intercontinental Hotel and at Halbestadt,

managed by bar specialist Erich Wassicek

and his wife Konny Wunder at the Stadtbahnbögen

subway arches.

So – take your time to raise a glass with precious

content!

Vienna's legendary american bar

Club Barfly's I Esterhazygasse 33 (close to Mariahilferstraße U3) I

1060 Vienna I www.barflys.at I reservation: 01/5860825

Opening hours: every day from 6pm - summertime & sundays from 8pm

Cercle Diplomatique 3/2015

83

INSIDERS TIP:

Best Cocktails

in Vienna
---
SAVOIR VIVRE CONNOISSEUR

Essen und trinken mit Stil

Wine and dine in style

Text: Wolfgang Schedelberger

Wenn die Omas kochen

Grandma's cooking

Vollpension

4., Schleifmühlgasse 16

Tel.: 01/585 04 62

Do-Di von 9 bis 2 Uhr/

Thu-Tue 9 am – 2 am

facebook.com/vollpension.wien

Die Vollpension bezeichnet sich als "Generationenkaffeehaus", in dem die Omas kochen, die Enkerln servieren und alle genießen. Nun hat dieses bemerkenswerte Sozialprojekt

ein permanentes Zuhause gefunden. Eine fixe Speisekarte gibt es nicht und auch die Mehlspeisen wechseln laufend, je nachdem, was gerade aus dem Ofen kommt.

Ein etwas anderes Lokal im Freihausviertel.

Vollpension describes itself as a 'multi-generational café' where grandmothers cook, the grandchildren serve and everyone can enjoy. This remarkable social project has now

found a permanent home. There's no set menu and the pastries change frequently, depending on what they have just baked. A different kind of café in the Freihaus district.

L.A. meets

Grinzing

Im Sommer eröffnete mit dem

Melrose ein bemerkenswertes

Restaurant mitten in Grinzing.

Das überaus geschmackvoll

eingerichtete Lokal bietet eine

kalifornisch inspirierte,

internationale Küche, tolle

Weine und eine edle Bar.

Frische Fische werden von

Küchenchef Jeffrey

Bartolome – so wie in

Kalifornien – gerne mit etwas

Frucht kombiniert. Die Steaks

kommen perfekt gegart aus

dem Josper-Grill, einer

Mischung aus Backofen und

Grill. Tolle Cocktails und eine

Weinkarte, die Schätze bietet,

die man im restlichen

Grinzing vergeblich sucht.

Melrose, a remarkable

restaurant, opened in the

heart of Grinzing in summer.

This tastefully designed

restaurant serves international

cuisine inspired by California,

has great wines and an

elegant bar. Head chef Jeffrey

Bartolome combines fresh

fish with fruit – just like in

California. His steaks are

cooked perfectly in the Josper

oven. The great wine list

reveals treasures you can't

otherwise find in the rest of

Grinzing.

Melrose

Restaurant, Bar, Lounge

19., Grinzinger Straße 1

Tel.: +43 1 328 20 20

täglich geöffnet/open daily

melrose-vienna.at

PHOTOS: MELROSE, PERNOD RICARD, BEIGESTELLT, VEUVE CLCQUOT, FOTOLIA, MARK GLASSNER, FOTOLIA/ JLV IMAGE WORKS

Fein Gebranntes

Fine brandy

Die Armenier sind nicht nur ein sehr kulturbeflissenes

Volk, auch der Genuss kommt nicht

zu kurz. Den gibt es als Ararat Brandy auch in

gebrannter Form. Nun ist Ararat in Österreich in

den Qualitäten 5 Years, 10 Years und 20 Years

erhältlich. Präsentiert wurden diese feinen Brände

im Rahmen eines großen Gala-Abends im Wiener

Kempinski Hotel.

Armenians are not only interested in culture, they

also know what pleasure is. And it comes in the

shape of Ararat Brandy. Ararat is now available in

Austria, in qualities of 5 years, 10 years and 20

years. These fine brandies were presented during

a large gala evening in Vienna's Kempinski Hotel.

pernod-ricard-austria.com/marken/ararat/

Der Bar-Champagner

Champagne for bars

Champagner schmeckt nicht nur pur, er findet auch in den

edelsten Cocktails Verwendung. Speziell für den Genuss an

der Bar hat Veuve Clicquot jetzt den neuen "Rich"

heraus gebracht. Ausschließlich auf Eis genossen, mit

höherer Dosage, kann er mit Grapefruit, Ananas, Schwarztee,

Paprika, Sellerie oder Gurke verfeinert werden.

Champagne not only tastes good on its own, it can also be

added to classy cocktails. Veuve Clicquot has launched

"Rich", ideal for being enjoyed at the bar. Designed to be

drunk with ice cubes, the measure can be increased to refine

it with grapefruit,

pineapple, black tea,

peppers, celery or

cucumber.

veuve-clicquot.com

PETER FÜRNWEGER

The Investigator – The bodyguard

IN AusTRIA ANd AbRoAd

l PERsoNAl ANd EscoRT PR oTEcTIoN

l EVENTsEcuRITy

24 / 7 -VIP-service

Do it yourself

closeprotection.wien

eventsecurity.wien

A-1210 Vienna / Austria

Feine Speisen und edle Cocktails schmecken im

luxuriösen Ambiente des Park Hyatt Hotel

besonders gut. Nun geben Küchenchef Stefan

Resch und Head-Bartenderin Michaela Beier ihr

Wissen in Form vom Workshops gerne weiter:

am 7. Oktober ab 17 Uhr zu "Die Geheimnisse

tropischer Tiki-Cocktails", gemeinsam groß

aufgekocht wird am 24. Oktober ab 12.30 Uhr

mit "Trüffel & Gänseleber".

Fine food and elegant cocktails are particularly

delicious in the luxurious atmosphere of the Park

Hyatt Hotel. Head chef Stefan Resch and head

bartender Michaela Beier are happy

to share their knowledge in the

form of workshops:

7 October from 5 pm with "The

Secret of Tropical Tiki Cocktails"

and 24 October from 12.30 pm

cooking together with "Truffles &

goose liver".

Reservierung/Reservation:

bar-pearl.vienna@hyatt.com

Tel.: +43 1 227 40 1236

vienna.park.hyatt.com

iStockphoto / MACIEJ NOSKOWSKI

84 Cercle Diplomatique 3/2015

Cercle Diplomatique 3/2015

85
---
SAVOIR VIVRE WEEKENDER

Wiens kleine Schwester

Vienna's little sister

HOTELTIPP

HOTELTIP

Twin Cities nennen sich die beiden Städte Wien und Pressburg, so nahe liegen sie beieinander.

Zu Besuch in einer der jüngsten und charmantesten Hauptstädte Europas.

Twin Cities is how the two towns of Vienna and Bratislava refer to each other, showing just how close

they are. A visit to one of the youngest and most charming capital cities in Europe.

Text: Gerald Sturz

Schräges Wahrzeichen.

Der Pfeiler der Donaubrücke

mit dem markanten

Restaurant an der Spitze ist

von fast jedem Punkt der

Stadt sichtbar.

Oblique landmark. The pillar

of Danube Bridge with its

striking restaurant on top can

be seen from almost all parts

of the city.

PHOTOS: ROIS & STUBENRAUCH, JAKUB DVORAK

Wer vor hundert Jahren von Wien nach

Pressburg fuhr, der nahm die Straßenbahn.

30 Jahre lang verkehrte die "Pressburger

Bahn" zwischen den beiden Städten. 1945

wurde sie eingestellt. Knapp 70 Kilometer lang war

die Strecke, und wer die gesamte Strecke fuhr, der

stieg in Wien beim Hauptzollamt ein und in Pressburg

am Hviezdoslavovo námestie aus.

Wer heute von Wien nach Pressburg, das nun auf

Slowakisch Bratislava heißt, fährt, kann zum Beispiel

den Zug nehmen. Etwas mehr als eine Stunde dauert

die Fahrt und sie führt wahlweise übers Marchfeld

oder über den burgenländischen Ort Kittsee.

Schöner ist jedoch eine Schifffahrt auf der Donau.

Seit 2006 verbindet der sogenannte Twin City Liner,

ein flinker Katamaran, die beiden Hauptstädte.

In Pressburg legt der Twin City Liner an der

Bootsanlegestelle am Fajnorovo nábr. an. Dahinter

liegt Stare Mesto, die Altstadt. Pressburg hat eine

kleine, kompakte und übersichtliche Altstadt. Fast

zur Gänze ist sie heute Fußgängerzone. Hier reihen

sich die Restaurants und Cafés und Bars und Kneipen

aneinander. Herausragendes Bauwerk ist der

Martinsdom. Man kann sich in Erinnerung rufen,

dass Pressburg einst die Hauptstadt Ungarns war,

und der Martinsdom jener Ort, an dem die ungarischen

Könige gekrönt wurden. Daran erinnert die

vergoldete Stephanskrone, die an der Spitze des Kirchenturms

angebracht ist. Auch Maria Theresia ließ

sich hier 1741 zur Königin von Ungarn krönen.

Flaniermeile ist der Hviezdoslavovo-Platz, ein

breiter, lang gestreckter Platz, der nach einem gewissen

Pavel Országh Hviezdoslav benannt ist, der als

der beste Dichter in der slowakischen Literaturgeschichte

gilt. Der Platz fungiert als schöne Promenade

mit vielen Restaurants und Cafés, mit Eisdielen

und einem kleinen Programmkino, mit in den Boden

eingelassenen Schachfeldern und improvisierten

Open-Air-Ausstellungen. Am oberen Ende des

Platzes befindet sich das Nationaltheater; es wurde

nach Plänen des Wiener Architekturbüros Fellner &

Helmer errichtet, welches bekanntlich so ziemlich

jedes Theater in der k.u.k. Monarchie und auch

darüber hinaus geplant hat; und so wirkt auch das

slowakische Nationaltheater auf den Besucher sehr

vertraut. Dass das Theater Opernaufführungen von

einer hohen Qualität zu bieten hat, hat sich inzwischen

gar im verwöhnten Wien herumgesprochen,

und so hat es sich ergeben, dass viele Opern-Afficionados

aus der österreichischen Hauptstadt gerne

Im Restaurant UFO an der Spitze der Donaubrücke.

On top of Danube Bridge: the UFO Restaurant.

nach Pressburg reisen, um eine Aufführung zu besuchen.

Gleich neben dem Nationaltheater befindet

sich eine weitere ange sehene Kultureinrichtung: die

Redoute, die Pressburgs wichtigsten Konzertsaal

beherbergt.

Pressburg hat auch einige recht interessante Museen

zu bieten. Etwa die Slowakische National galerie,

die zur Zeit provisorisch im Palais Esterházy unterbracht

und in der gerade eine recht ambitioniert

gestaltete Best-of-Schau des Bestandes zu sehen ist,

sowie eine Ausstellung über die Biedermeier-Zeit in

der Slowakei und in Ungarn. Etwas außerhalb des

Stadtzentrums, im Stadtteil Cunovo, befindet sich

ein Museum für moderne und zeitgenössische

Kunst, das Danubiana Meulensteen Art Museum.

Origineller sind einige der kleinen Museen, die in

der Stadt zu finden sind. Zum Beispiel ein Pharmazeutisches

Museum. Es befindet sich gleich neben

dem Michaelertor in den Räumen der früheren Apotheke

Zum Roten Krebs; hier werden pharmazeutische

Gerätschaften aus vielen Jahrhunderten gezeigt.

Zu den bemerkenswerten Objekten, die das Uhrenmuseum

am Fuße des Burgbergs zeigt, gehören tragbare

Sonnenuhren aus der Zeit um 1700. Das Weinmuseum

im Palais Apponyi beschäftigt sich mit der

vitikulturellen Geschichte Pressburgs und der Slowakei.

Von überall zu sehen ist das "Ufo". Dabei handelt

es sich um ein Restaurant samt Aussichtsplattform,

das hoch über der Novy most, der neuen Brücke, und

über der Donau zu schweben scheint und von dem

man einen hervorragenden Blick auf die Stadt hat.

Und an einem sonnigen Tag macht man das, was

scheinbar alle Pressburger machen: Man spaziert an

der Donau entlang. Wenn man ein wenig donauaufwärts

wandert, kommt man zum River Park,

einem noch jungen städtebaulichen Projekt direkt

am Fluss. Hier befinden sich Restaurants, Büros, eine

schöne Buchhandlung und auch das beste Hotel der

Stadt, das Grand Hotel River Park, das bis vor

Kurzem noch Teil der anspruchsvollen Kempinski

Grand Hotel River Park

Das ist ohne Frage

Pressburgs luxuriösestes

Hotel. Das Haus, das zur

Luxury Collection der

Starwood Hotels gehört,

befindet sich direkt am

Ufer der Donau. Zur

Ausstattung zählen das

feine River Bank

Restaurant, eine

Wine and Tapas Bar und

ein großzügiges Spa. Und

wer es bei der Anreise

besonders eilig hat: Am

Dach befindet sich ein

Hubschrauberlandeplatz.

This is undoubtedly

Bratislava's most luxurious

hotel. It is located directly

on the banks of the

Danube. Facilities include

the excellent River Bank

Restaurant, a wine and

tapas bar and a large spa.

And if a guest needs to get

here urgently, they can use

the rooftop heliport.

Grand Hotel River Park

Dvorákovo nábrezie 6

Tel.: +421 2 3223 8222

luxurycollection.com/

grandhotelriverpark

86 Cercle Diplomatique 3/2015

Cercle Diplomatique 3/2015

87
---
SAVOIR VIVRE WEEKENDER

Jogger am Donauufer vor

der Burg.

People jogging along the

Danube riverbank.

Gruppe war und nun zur Luxury Collection von

Starwood gehört.

Anyone wanting to travel from Vienna to

Bratislava one hundred years ago would

have taken the tram. The "Pressburger

Bahn" ('Bratislava Tram') ran between the two towns

for thirty years until it was discontinued in 1945. It

was just under 70 kilometres long and if they stayed

on for the entire journey then they would have got

on at Hauptzollamt station in Vienna and got out at

Hviezdoslavovo námestie in Bratislava. Bast the

"Austrian Riviera".

Anyone wanting to travel from Vienna to Bratislava

today can take the train. The journey takes a

little more than an hour and they can opt to go

through Marchfeld or the town of Kittsee in Burgenland.

But a boat trip on the Danube is much more

exciting. The Twin City Liner, a fast catamaran, has

been connecting the two capital cities since 2006.

Once in Bratislava, the Twin City Liner docks at

the landing stage at Fajnorovo nábr., behind which

lies Stare Mesto, the historic centre. Bratislava has a

small and compact historic centre that is easy to navigate

around. Most of it is pedestrianised. Restaurants,

cafés, bars and pubs are all lined up next to

each other. St Martin's Cathedral is a prominent building

that reminds us that Bratislava was once the capital

city of Hungary and that St Martin's Cathedral

was the place where Hungarian monarchs were

crowned. The golden Crown of St Stephen at the top

of the tower alludes to this. Maria Theresa of Austria

was crowned queen of Hungary here in 1741.

Hviezdoslavovo Square is the strolling promenade,

a wide and elongated square named after a certain

Pavel Országh Hviezdoslav who is considered to

be the best poet in Slovakia's literary history. It is a

wide square, a pretty promenade with lots of restaurants

and cafés, with ice cream parlours and a small

art house cinema, with chessboards embedded in the

ground and improvised open-air exhibitions. The

Slovak National Theatre is at the top of the square

and was built by the Ferdinand Fellner and Hermann

PHOTOS: ROIS & STUBENRAUCH

Helmer architecture office in Vienna, which famously

designed practically every theatre in the Austro-

Hungarian Monarchy as well as other kinds of buildings.

This is why the Slovak National Theatre looks

familiar. It is generally acknowledged in spoilt-forchoice

Vienna that the theatre gives high-quality

opera performances, leading to many opera buffs

readily making their way from the Austrian capital

city to Bratislava to see a performance. There is another

attractive cultural institute right next to the National

Theatre: the Redoute, which houses Bratislava's

most important concert hall.

Bratislava also has a number of extremely interesting

museums. The Slovak National Gallery, for example,

located temporarily in Palais Esterházy, where

a very ambitious exhibition displaying its best

artefacts is being held as well as an exhibition on the

Biedermeier period in Slovakia and Hungary. A museum

for modern and contemporary art is located

just outside the city centre, in the Cunovo area, the

Danubiana Meulensteen Art Museum. Some of the

smaller museums in town are quite original, e.g. a

Pharmacy Museum. It is located right next to

Michael's Gate, in a former pharmacy known as "At

the Red Crayfish" where pharmaceutical equipment

from many centuries is on display. The most unusual

items at the Museum of Clocks, located at the foot of

Bratislava Castle, are mobile sundials from about

1700. The Museum of Viticulture is located in Apponyi

Palace and provides an overview of the history of

wine in Bratislava and Slovakia.

The "UFO" can be seen from everywhere. This

restaurant has a viewing platform, which seems to

float above Novy most (New Bridge) and over the

Danube, providing a glorious view of the town.

And when it is sunny, all of the locals seem to

have a favourite pastime – taking strolls along the

Danube. Just a short walk up the Danube is the River

Park, a relatively new urban planning project on the

waterfront. There are restaurants, offices, a charming

bookshop as well as the best hotel in town, the Grand

Hotel River Park, which until recently was a part of

the luxurious Kempinski Group and now belongs to

Starwood Hotel's Luxury Collection.

Pulsierende Hauptstadt:

Café Stur; Galerie Krokus.

Vibrant capital: Café Stur;

Krokus Gallery.

Weinstraße Niederösterreich

ist Weg zum Weinherbst … und uns

© weinfranz.at

© Michael Liebert

www.weinherbst.at

Cercle Diplomatique 3/2015

89
---
SAVOIR VIVRE BEAUTY & MEDICAL

Strahlend aussehen

A fresh and radiant look

Text: Michaela Hocek

Wien genießt als Gesundheitsstandort international sehr hohe Reputation –

dank hoher medizinischer Kompetenz und Spezialisten mit einzigartigen

Technologien in Privat- und Tageskliniken sowie Ärztezentren.

Vienna enjoys a very high international reputation as a healthcare location thanks

to its great level of medical expertise and specialists with unique technologies in

private hospitals, out-patient clinics and health centres.

PHOTOS: WWW.BERNHARDLUCK.COM, BEIGESTELLT

Die Reise zur Schönheit führt immer öfter

dorthin, wo fortschrittliche Mediziner,

innovative Technologien, exklusive Privatkliniken

und Wellnessoasen in den besten Lagen

beheimatet sind. Das internationale Niveau von

Österreich – und speziell Wien – für präventive und

korrektive Medizin sowie ästhetische Akzente genießt

hohes Ansehen. Nicht zuletzt auch deswegen,

weil es hierzulande nicht um das reine Ansinnen,

dem Jugendwahn gerecht zu werden, geht. Dem Ziel

der Patienten, wacher, frischer und strahlender auszusehen,

sich besser zu fühlen und möglichst gesund

und vital zu altern, wird auf hohem Niveau Rechnung

getragen.

Gestiegene Ansprüche

Einer, der diese Trendwende früh erkannt hat,

ist Dr. Rafic Kuzbari. In seinem Zentrum für ästhetische

Medizin ist die Zukunft in Form des "Medical

Spa" bereits angebrochen. Hinter diesem

Schlagwort steht eine ganzheitliche Herangehensweise,

die Wohlgefühl und medizinische Treatments

verbindet. Das erkennt man nicht nur an der

fachlichen Kompetenz, sondern auch an Standort

und Design. "Schon bei der Auswahl der Location

im historischen Palais Todesco in der Wiener

Innenstadt sowie beim Interieur wurde viel Wert

auf Qualität und Details gelegt, um alle Sinne anzusprechen",

erklärt Dr. Kuzbari. Imposante Leuchter

aus Murano, luxuriöse Textilien und Altwiener

Stuck sind eine willkommene Ablenkung für die

Patienten. Wüsste man es nicht besser, könnte man

sich in einem schicken Boutiquehotel wähnen. Der

medizinischen Präzision und Sorgfalt tut dies aber

selbstverständlich keinen Abbruch. So setzt sich

beispielsweise Sonja Panagiotides in ihrer Rolle als

medizinische Dermatokosmetikerin für präventive

und korrektive Methoden der Hautstrukturverbesserung

ein.

Fachkompetenz unter einem Dach

Auf den nachhaltigen Erfolg von Gesundheitsbetrieben

hat sich Premiqamed spezialisiert und

zeigt in Wien mit der Privatklinik Döbling und der

Confraternität-Privatklinik Josefstadt, wie Medizintourismus

funktionieren kann. Erstere durfte Ende

Juni den Österreichischen Exportpreis 2015 in

Bronze für ihren Einsatz im internationalen Umfeld

entgegennehmen. "Wir sind stolz, dass die Privatklinik

Döbling dazu beiträgt, Wertschöpfung für

unser Land zu generieren", so Premiqamed-Geschäftsführer

Werner Fischl. Der Anteil der hier

behandelten ausländischen Patienten (überwiegend

aus Rumä nien, Russland, der Ukraine und Deutschland)

gemessen am Umsatz betrug 2014 bereits

rund 15 Prozent. Auf Wunsch werden Patienten von

Personen mit medizinischem Background in ihrer

Muttersprache über das gesamte Leistungsspektrum

informiert, die auch beim medizinischen Check-up

anwesend sind. Fachärzte sämtlicher Disziplinen

gewährleisten umfassende medizinische Betreuung

und kurze Wartezeiten. Außerdem wird momentan

das angrenzende Ordinationszentrum in Döbling

um rund 1.400 m² erweitert. Alles Faktoren, die

eine weitere Steigerung erwarten lassen.

Hoher Qualitätsstandard

Medizinische Spitzenversorgung, serviceorientierte

Pflege, Flexibilität und exklusives Ambiente sind

auch Stärken der Wiener Privatklinik. Kürzlich wurde

die Eröffnung der neuen, großzügig und edel gestalteten

Einzelzimmer gefeiert, die durch die Auslagerung

des Ordinationszentrums in das neue Health Service

Center möglich wurden. Hier haben Begleitpersonen

die Möglichkeit, bei den Patienten zu bleiben. "Das

liegt gerade bei ausländischen Patienten im Trend",

weiß Robert Nikolaus Winkler, Geschäftsführer der

WPK. "Patienten aus dem arabischen Raum legen

großen Wert darauf, dass ihre Angehörigen immer in

"Wir verbinden Wohlgefühl und

medi zi nische Treatments", erklärt Sonja

Panagiotides, Medical Spa Kuzbari.

"We combine a sense of well-being with

medical treatments," Sonja Panagiotides,

Medical Spa Kuzbari.

90 Cercle Diplomatique 3/2015

Cercle Diplomatique 3/2015

91
---
SAVOIR VIVRE BEAUTY & MEDICAL

Privatkliniken | Private hospitals

The journey to beauty is increasingly finding

its way to where progressive doctors, innovative

technology, exclusive private hospitals

and spa oases are based in the best locations. The international

standard in Austria – and especially Vienna

– for preventive and restorative medicine as

well as aesthetic touches is extremely renowned. Not

least because in this part of the world it is not all

about satisfying people's obsessions with youth.

Instead, the patients' aim to look more alert, fresher

and more radiant, to feel better and to age as healthily

and energetically as possible is taken into account

on a very high level.

Higher expectations

Someone who recognised this turnaround early

on is Dr Rafic Kuzbari. In his Center of Aesthetic

Medicine, the future of "Medical Spas" has already

begun. This buzzword refers to a holistic approach,

which connects, even satisfies, a sense of well-being

with medical treatments. This is not only reflected by

the professional expertise but also the location and

Kuzbari – Zentrum für ästhetische

Medizin

Facelift, Brust-OP, Fettabsaugung,

Nasenkorrektur, Lidlift etc. sowie

kosmetische Behandlungen.

kuzbari – Centre for Aesthetic Medicine

Classic treatments (facelifts, breast surgery,

liposuction, rhinoplasty, eyelid lifting, etc.)

and cosmetic treatments such as rehydration

therapies

kuzbari.at

Confraternität und Privatklinik Döbling

Komplettes medizinisches Leistungsspektrum,

Anti-Aging-Behandlungen.

The Confraternität and Döbling Private

Hospital

A full range of medical services, anti-ageing

treatments. As of January 2016 laser

technology for smoothing and improving skin

complexion, endermology (focus on treating

cellulite and scars)

premiqamed.at

Wiener Privatklinik

Neues Health Service Center und Erweiterung

der Tagesklinik sowie neue exklusive

Einbettzimmer mit Appartementcharakter.

The surgery and radiology institutes are

moving to the new Health Service Center,

therefore making room for the extension of

the out-patient clinic and the exclusive single

rooms with an apartment character.

wiener-privatklinik.com

Smile4life powered by MIC

Fokus auf Sofortbelastungsimplantologie

(auch bei Knochenschwund!), Invisalign-

Zahnspangen und Lumineers.

Immediate loading implantology (even with

osteoporosis!), Invisalign braces and

lumineers as well as all oral and maxillofacial

surgery and dental treatments

mic-vienna.at

Als Privatspital mit

langer Tradition ist die

Confraternität seit 1994

im Management der

Premiqamed.

The Confraternität, a private

hospital with a long tradition,

has been managed by

Premiqamed since 1994.

der Nähe sind." Die Station liegt abseits aller häufig

frequentierten Wege, sodass Ruhe und Diskretion garantiert

sind. Die tagesklinischen Leistungen wurden

ebenfalls auf eine noch breitere Basis gestellt. Der Umbau

wird mit den neuen Qualitätskriterien des Österreichischen

Strukturplans Gesundheit (ÖSG) vereint

und betrifft technische Verbesserungen sowie zusätzliche

Qualifikationen und Fortbildungsmaßnahmen

der Mitarbeiter des Aufwachteams. Diese werden

wohl ebenso goutiert werden wie die bereits 2013 getätigten

Neuanschaffungen, etwa Hochgeschwindigkeitschirurgiebohrer,

OP-Tischsystem für adipöse

Patienten, Nervenleitgeschwindigkeitsmessgerät oder

Hochfrequenz-Chirurgiegeräte im OP-Bereich.

Einzigartige Technologie

Ebenfalls außergewöhnlich innovativ verhält es

sich bei Smile4Life powered by MIC. Das Medical

Implant Competence Center auf der Wiedner

Hauptstraße hat sich auf die Zahngesundheit spezialisiert

und wartet mit minimal-invasiver Sofortbelastungsimplantologie

auf. Eine Technologie, die seit

Jahrzehnten im südfranzösischen Raum gelehrt und

erfolgreich praktiziert wird, hierzulande aber weitgehend

unbekannt ist. Absolut erwähnenswert ist,

dass diese Methode auch bei Patienten mit Knochenschwund

angewendet werden kann und die Implantate

weit mehr Lebensqualität bieten als Prothesen.

"Wir sind besonders stolz, dass wir einen der angesehensten

Spezialisten auf diesem Gebiet, Dr. Henri

Diederich, für unsere Patienten gewinnen konnten",

freut sich Geschäftsführer Heinrich Lachmuth über

die Bereitschaft des luxemburgischen Experten, regelmäßig

vor Ort zu sein. Weitere Schwerpunkte, die

in den fünf Behandlungsräumen durchgeführt werden,

sind "unsichtbare" Zahnspangen (Invisalign)

und Lumineers (Haftschalen, die ein Hollywood-

Lächeln zaubern). Fünf Fachärzte und vier Assistenten

zählen momentan zum Team. Fremdsprachen

sind auch hier ein Thema. Neben Beratungen in

Englisch ist auch russische Expertise möglich: "Mit

Rimma Hansel haben wir eine russische Muttersprachlerin

im Haus und sind somit prädestiniert für

hochexklusiven Zahntourismus." Außerdem wird

das Fachwissen im Kompetenzzentrum auch an die

internationale Ärzteschaft weitergegeben, wie beispielsweise

im Rahmen einer im September stattfindenden

Schulung.

PHOTOS: JOHANNES ZINNER

28,94 – 59,40 kWh/m 2 a

EXKLUSIVVERTRIEB

EXKLUSIVES WOHNEN

IM STIL DER GRÜNDERZEIT

EIN PROJEKT

DER

92 Cercle Diplomatique 3/2015

info@living-kolin.at | www.living-kolin.at
---
SAVOIR VIVRE BEAUTY & MEDICAL

Smile4life powered by MIC bringt hochmoderne

Zahn- und Kiefertechnologien nach Wien.

Smile4life powered by MIC has brought state-ofthe-art

dental and oral technologies to Vienna.

Premium-Zimmer für mehr

Komfort im Gesundheitsalltag

der Wiener

Privatklinik.

Luxury rooms to make

everyday hospital life at the

Wiener Privatklinik more

comfortable.

design. "Quality and details were important to us,

especially when we chose the location in the historic

Palais Todesco in the centre of Vienna and the interior

design, as it has to appeal to all of the senses," Dr

Kuzbari says. Imposing candlesticks from Murano,

luxurious textiles and old Viennese stucco are welcome

distractions. If you didn't know any better, you

would think you were in a chic boutique hotel. But

this has obviously not harmed their medical precision.

Sonja Panagiotides, an aesthetic dermatologist,

advocates, for example, preventive and restorative

methods for improving skin structure.

Professional expertise under a single roof

Premiqamed is specialised in the long-term sustainable

success of healthcare institutions and shows

just how well medical tourism can work, e.g. in Vienna

with both the Döbling Private Hospital and the

Confraternität Josefstadt Private Hospital. The former

received the 2015 Austrian Export Award at the

end of June for the role it plays internationally. "We

are proud that Döbling Private Hospital has contributed

to generating added value to our country,"

Werner Fischl, Premiqamed's managing director,

stated. The proportion of international patients treated

here (mainly from Romania, Russia, Ukraine and

Germany) measured in terms of revenue was already

about 15 per cent in 2014. If so desired, patients can

be informed about the entire range of services by someone

with a medical background who speaks their

native language and who can also be present at their

medical check-up. Medical specialists of all disciplines

provide comprehensive medical care and ensure

short waiting times. Furthermore, the adjacent Döbling

surgery centre is being extended by about 1,400

m². These are all factors indicating their growing

success.

High standard of quality

Wiener Privatklinik is proud of its medical excellence,

service-oriented care, flexibility and exclusive

atmosphere. They recently celebrated the inauguration

of their new spacious and elegant single rooms,

which was made possible as the surgery centre was

moved to the new Health Service Center. This means

someone accompanying a patient is able to stay with

the patient. "This is extremely popular with our international

patients," Robert Nikolaus Winkler, managing

director of WPK, states. "Patients from the

Arab world, for example, attach great importance to

their relatives always being near them." The ward lies

far away from the busy paths in the building, guaranteeing

silence and discretion. They have also expanded

their out-patient services. The restructuring was

combined with the new quality criteria of the Austrian

Health Care Structure Plan (Österreichischer

Strukturplan Gesundheit, ÖSG), which applies to

technical improvements as well as the recovery

team's additional qualifications and training. These

will be valued highly just as the new equipment

bought in 2013, e.g. high-speed surgery drill, operating

table system for obese patients, nerve conduction

study devices or high-frequency surgical instruments

in the operating room.

State-of-the-art technology

Smile4Life powered by MIC is just as innovative.

The Medical Implant Competence Center in the

heart of Vienna is specialised in aesthetic dentistry,

especially minimally invasive, immediate loading

implants. A technology that has been taught in southern

France for decades and practised successfully,

but largely unknown here. It should be noted that

this method can also be used with patients who have

osteoporosis and the implants provide a higher quality

of life than dentures. "We are extremely proud

that we could gain one of the most reputable specialists

in this field, Dr Henri Diederich, for our patients,"

Heinrich Lachmuth, the managing director, is

delighted that the expert from Luxembourg will be

regularly on site in Vienna. Other specialist services,

which are carried out in the five treatment rooms,

include "invisible" braces (Invisalign) and lumineers

(veneers that give you a Hollywood smile). The team

currently consists of five medical specialists and four

assistants. Foreign languages are also important here.

Not only do they offer consultations in English, but

they can provide their expertise in Russian, too.

"Rimma Hansel is our in-house Russian native speaker

and, therefore, predestined for highly exclusive

dental tourism." Furthermore, the competence centre

also passes on its expertise to the international

medical profession, for example as part of a training

session, which will be taking place in September.

PHOTOS: LUKAS-ANDREAS KROPIK, BEIGESTELLT

Stay in Vienna boutique style!

MyPlace City Centre | Vorlaufstraße 3 | 1010 Vienna, Austria

www.my-place.at | reservations@my-place.at | Tel.: +43 (1) 317 17 17-75

94 Cercle Diplomatique 3/2015

Your home away from home.

MyPlace Riverside | Rossauer Lände 23 | 1090 Vienna, Austria
---
SAVOIR VIVRE MUSEUM VISIT

Wo die Meteoriten zu Hause sind

Where the meteorites found their home

Naturhistorisches Museum Wien | Natural History Museum Vienna

Text: Rois & Stubenrauch

DIRECTOR'S TALK

INFO

Oben: Allosaurus im historischen

Ambiente, 25.000 Jahre alte Venus

von Willendorf (re.), Prunkstiege des

Museums (unten).

Top: Allosaurus in historic ambience,

the 25.000 year-old figure of Venus of

Willendorf (right), Ceremonial

Staircase in the Muesum.

Das Naturhistorische Museum Wien bildet

eine einmalige Einheit aus historischen Beständen,

dem prunkvollen Ringstraßenbau

aus dem Jahr 1889 und einer modernen Forschungsinstitution.

In diversen Ratings der besten Museen

der Welt wird es dann auch regelmäßig auf die vordersten

Plätze gereiht. Die einzigartige Sammlung,

die inzwischen auf rund 30 Millionen Objekte angewachsen

ist, nahm ihren Ausgang um 1750 im

Ankauf des größten damals bekannten Naturalienkabinetts

durch den Mann Maria Theresias, Franz

Stephan von Lothringen (das in der Folge per Maultier

von Florenz über Innsbruck nach Wien transportiert

wurde). Rund 100.000 Ausstellungsstücke werden

auf 8.460 m² dem Publikum präsentiert, darunter

Höhepunkte wie die bei Weitem größte und bedeutendste

Meteoriten-Schausammlung der Welt oder

die einzigartige prähistorische Sammlung mit der

berühmten Venus von Willendorf.

The Natural History Museum Vienna is a

unique place with historical collections, the

magnificent Ringstraßen (ring road) construction

in 1889 and modern research institution.

Various ratings of the best museums in the world

therefore regularly rank it amongst the top places.

The rare collection that has grown to around 30 million

objects, originated in the purchase of the largest

then known natural produce cabinet in 1750 by

Franz Stephan of Lorraine (von Lothringen), husband

of Maria Theresa. Subsequently, the cabinet

was transported from Florence by mule via Innsbruck

to Vienna. Some 100,000 exhibits are presented

to the public on 8,460 m² including highlights

such as the by far largest and most important meteorite

collection in the world or the exclusive prehistoric

collection with the famous Venus of Willendorf.

PHOTOS: NHM WIEN (2), NHM WIEN/KURT KRACHER

Prof. Christian Köberl

Generaldirektor des Naturhistorischen Museums Wien | Managing director of the Natural History Museum Vienna

Prof. Christian Köberl studierte Technische Chemie und Astronomie in Wien, war Gastwissenschafter am Johnson Space Center der

NASA und ist seit 1998 Professor an der Universität Wien. Er ist Autor zahlreicher Publikationen auf dem Gebiet der Planetologie und

Meteoritenforschung. Seit Juni 2010 ist Christian Köberl Generaldirektor des Naturhistorischen Museums Wien.

Prof. Christian Köberl studied Technical Chemistry and Astronomy in Vienna, was a visiting scientist at NASA's Johnson Space Center and

has been a professor at the University of Vienna since 1998. He has written numerous publications on planetary science and meteoritics.

Christian Köberl has been the managing director of the Natural History Museum Vienna (Naturhistorisches Museum Wien) since June 2010.

Das Naturhistorische Museum residiert in einem

denkmalgeschützten historischen Ringstraßenbau,

gleichzeitig muss das Museum den Anforderungen des

21. Jahrhunderts gerecht werden. Wie bringen Sie diese

beiden Pole unter einen Hut?

Das Gebäude und seine Inhalte sind eine Einheit, die man selten

in dieser Form findet. Das Naturhistorische Museum Wien hat

außerdem eine Vielzahl an besonders wertvollen, einzigartigen

Sammlungen. Diese historische Ausstattung ist etwas Wunderbares,

andererseits finde ich es wichtig, dass das NHM kein

Geschichtsmuseum ist, sondern moderne Naturwissenschaften

zu vermitteln hat.

In den letzten 25 Jahren hat sich das Naturhistorische

Museum Wien zu einem modernen Haus auf der Höhe der

Zeit entwickelt. Auf welche Neuerungen sind Sie

besonders stolz?

Einerseits auf die neuen Schausäle wie den sehr attraktiven

Meteoritensaal – ein Weltunikat. Das neue, digitale Planetarium

ist eine Vermittlungseinrichtung ersten Ranges. Aber auch hinter

den Kulissen sind wichtige Neuerungen erfolgt, die es dem

Naturhistorischen Museum Wien, das ja eine Forschungsinstitution

darstellt, erlauben, moderne Forschung zu betreiben.

Wo sehen Sie ganz generell die Aufgaben des NHM im

21. Jahrhundert?

Der Sinn eines Museums wie des unseren bleibt es, den

Menschen anhand von Originalobjekten wissenschaftliche

Erkenntnisse zu vermitteln und die Vielfalt der Natur zu zeigen.

Digitale und virtuelle Technologien sollen unterstützend wirken,

können aber nie die Originale ersetzen.

Haben Sie selbst ein Lieblingsstück unter den 100.000

Exponaten?

Schwierig! Aufgrund meiner Fachrichtung als Wissenschafter,

aber auch wegen seiner Bedeutung möchte ich den Gründungsmeteoriten

unserer Sammlung, Hraschina, gefallen 1751 bei

Zagreb, nennen. Er ist über 4,5 Milliarden Jahre alt und somit

Zeitzeuge der Entstehung unseres Sonnensystems und der Erde.

The Natural History Museum Vienna (NHM) is located on the

ring road, in a historic and magnificent building, which has

landmark status thanks to its exhibition architecture. But the

museum still has to meet the requirements of the 21st century.

How do you reconcile this contradiction?

The building and its contents form an entity rarely found in this

constellation. The Natural History Museum Vienna also has a

number of extremely valuable and unique collections. This historic

environment is wonderful, on the other hand I think it's important

that the NHM is not a history museum but a place that teaches

science. Some visitors come because of the historic environment

but then leave with a great appreciation of the modern aspects.

In the last 25 years, the Natural History Museum Vienna has

grown into a modern building in pace with the times. Which

improvements are you particularly proud of?

On the one hand the new exhibition halls such as the very attractive

meteorite hall – completely unique in the world. The new

anthropology and dinosaur halls have turned out really well, too.

The new digital planetarium is a first-rate teaching facility. But the

scientific facilities behind the scenes have also had important

improvements, which enable the Natural History Museum Vienna,

which is in fact a research institute, to conduct modern research.

What do you consider to be the general duties of the NHM in

the 21st century?

It is still the purpose of a museum such as ours to give our visitors

scientific insights based on original artefacts and to show how

multifaceted nature is. Digital and virtual technologies do support

this but they can never replace the originals.

Do you have a favourite item among the 100,000 exhibits?

That's difficult! Because of my scientific field but also because of its

importance, I'd name Hraschina, the founding object of our collection,

which fell near Zagreb in 1751. It is more than 4.5 billion years old and,

therefore, witnessed the origin of our solar system and Earth.

Sammlungen und

aktuelle Sonderausstellungen

des NHM

Collections and current

exhibitions at the NHM

Neugestaltung der

Prähistorischen Abteilung

Die neuen Prähistorischen

Schausäle mit der berühmten

Venus von Willendorf sind ab

30. September 2015

zugänglich.

Redesign of the Prehistoric

Department

The new prehistoric

exhibition halls with the

world-famous Venus of

Willendorf are accessible to

visitors of the NHM from 30

September 2015.

Die Präparierte Welt

Das Erhalten von Originalen

im Lauf der letzten 200

Jahre, bis 4. Oktober 2015.

The world of taxidermy

and preparation

Reveals how taxidermists

mastered the task of

preserving living objects over

the past 200 years and how

model makers of today bring

extinct species back to life,

until 4 October 2015.

Das Wissen der Dinge

Eine Ausstellung anlässlich

des 650-jährigen Jubiläums

der Universität Wien,

bis 10. Jänner 2016.

The knowledge of things

A special exhibition to mark

the University of Vienna's

650th anniversary, until 10

January 2016.

Planet 3.0

Wie wird sich der

Klimawandel auf Umwelt

und Menschen auswirken?

11.11.2015 bis 3.4.2016.

How will climate change

affect flora and fauna – and

us humans as a consequence?

11 November 2015

to 3 April 2016.

Eisenmeteorit Hraschina,

Ausgangspunkt der einzigartigen

Meteoritensammlung.

Iron meteorite Hraschina, starting

point of the unique collection of

meteorites.

INFO:

NHM

Maria-Theresien-Platz

1010 Wien

www.nhm-wien.ac.at

96 Cercle Diplomatique 3/2015

Cercle Diplomatique 3/2015

97
---
SAVOIR VIVRE SERVICED APARTMENTS

Nicht daheim und doch zu Hause

A home away from home

Text: Michaela Hocek

Zeitweise Wohnortswechsel sind ein Zeichen unserer Zeit. Vor allem im urbanen

Gebiet gibt es Unterkünfte mit heimeligem Luxusflair.

Temporary relocations are a sign of our times. Accommodation with a homely yet

luxurious style can often be found in urban environments.

EHL IMMOBILIEN

Beste Wohnkultur

und Infrastruktur

Best style of living

and infrastructure

Wer sich für permanenten

Luxus in einer der lebenswertesten

Städte der Welt

entscheidet, ist mit Lagen im

9. Bezirk gut beraten, wie

beispielsweise bei diesem

Projekt in der Kolingasse.

Anyone who wants to enjoy

luxury permanently in one of

the most liveable towns in

the world should head for the

9th district, such as this

project on Kolingasse.

PHOTOS: VALERIE ROSENBURG, MAXIMILIAN SYDOW

Wechselnde Arbeitsplätze, Individualreisen

und der Wunsch nach Abwechslung

lassen alternative Wohnformen auf Zeit

boomen. Möblierte Apartments mit luxuriösem

Komfort und lokaler Atmosphäre sind ein Trend, der

längst auch Wien ergriffen hat – und nicht selten im

dauerhaften Sesshaftwerden samt Eigentumsimmobilie

gipfelt. Je nach persönlichen Präferenzen finden

sich Plätze mitten im pulsierenden Zentrum, in noblen

Nachbarbezirken oder beschaulicheren Außenlagen.

Die durchschnittliche Aufenthaltsdauer reicht

von einigen Tagen über mehrere Wochen bis zu Monaten.

Im Vergleich zu Standard-Hotels wird eine

Menge an Mehrwert geboten – das reicht von mehr

Wohnraum und Full Service über Highspeed-

WLAN bis zu VIP-Flughafentransfers.

Angenehmes Umfeld

Barbara Krammer-Punzet von VCA Vienna City

Apartments beobachtet den weltweiten Trend "Wohnen

mit Service" als Alternative zum Hotelzimmer

seit 15 Jahren und kennt auch die heimische Entwicklung.

"Ein regelrechter Boom der servicierten

Apartments begann in Wien mit der Wirtschaftskrise

im Jahr 2008, wobei sich unterschiedliche

Apartmentkonzepte am Markt etablierten. Es wurden

viele Wohnungen und Büros in Einzelapartments,

aber auch einige leer stehende Wiener (Büro-)

Gebäude, zuweilen in prominenter Lage, in Apartmenthotels

umgebaut. Wenn diese jedoch nur einfachen

Hotelzimmern mit minimalistischer Küchenausstattung

ohne jeglichen Flair entsprechen, bleibt

abzuwarten, ob der Gast nicht etablierte Hotels mit

gutem Service bevorzugt. Es liegt daher am Investor,

Apartments mit dem gewissen Mehrwert und einzigartigem

Flair zu schaffen, um den Kundenerwartungen

zu entsprechen."

Anspruchsvolle Klientel

Bleiben mit erstklassigem Service sprechen

selbstbewusste Menschen an. "Diese Zielgruppe ist

wirtschaftlich erfolgreich und bevorzugt Individualität,

Privatsphäre, guten Service und auch ein erhöhtes

Platzangebot – was nicht unbedingt zu den

Stärken von Hotels zählt. Hohe Qualität auf allen

Ebenen setzt sich unter diesen Rahmenbedingungen

sowohl bei Familien, Senioren als auch unter Geschäftsreisenden

durch. Wobei gerade im Businessbereich

auffällt, dass erstklassige Apartments unab-

hängig vom Preis gerne längerfristig gebucht

werden", so Krammer-Punzet. Auf Vertreter von

Regierungsstellen, international bekannten Unternehmen,

Kanzleien sowie Bildungs-, Wissenschaftsund

Kultureinrichtungen, die die österreichische

Hauptstadt zum Ziel ihrer Businessreisen machen,

ist man auch bei Derag Livinghotels eingestellt: "Ob

die Besucher einen Tag, eine Woche oder über

Monate in Wien bleiben – wir bieten jedem Gast ein

passendes Wohnkonzept." Dafür stehen zwei Häuser

in unmittelbarer Nähe zur Staatsoper und im

Döblinger Botschaftsviertel im Umkreis von internationalen

Schulen zur Verfügung. Das My Place

Management kennt seine Kunden ebenfalls genau.

"Während Reiseanbieter servicierte Apartments

langsam in ihr Portfolio aufnehmen, sind sie im

Relocation-Geschäft schon lange ein fixer Faktor.

Unsere Hauptzielgruppen sind CEOs, Botschafter,

Projektmanager und Mitarbeiter internationaler Organisationen.

Wir registrieren aber auch vermehrt

Kurzaufenthalte, weil Urlauber die Alternative zum

Hotel als bessere Option wahrnehmen."

Der Weisheit letzter Schluss

Hat man die Stadt lieben gelernt und entscheidet

sich doch für die Investition in eine Immobilie, ist

die Lage meist das ausschlaggebende Kriterium:

"Besonders gefragte Lagen für City-Apartments befinden

sich im 1. Wiener Gemeindebezirk und in

angrenzenden Lagen, von denen man innerhalb weniger

Gehminuten die Innere Stadt erreichen kann.

Der 9. Bezirk rund um die Kolingasse oder die Argentinierstraße

im 4. Bezirk gelten als besonders

schöne und beliebte Wohngegenden", so DI Sandra

Bauernfeind, Leitung Wohnimmobilien EHL Immobilien

GmbH. Interessant sind aber auch Neubauten

mit höchstem Komfort im Einzugsgebiet der Wiener

UNO-City, wie die rege Nachfrage bei Bauträger

Hart+Hart zeigt. So oder so müssen die Wohnkonzepte

von heute über Hightech-Ausstattung

verfügen – wobei die Technik idealerweise unsichtbar

bleibt – und mit persönlichem Service punkten.

Die Gäste erwarten sich bei kurzen wie langen

DERAG LIVINGHOTELS

Oper und

Botschaftsviertel

Opera and Embassy

Quarter

Zwei Standorte mit

exklusiv sanierten Serviced

Apartments: "An der Oper"

ist mitten im Zentrum und

"Kaiser Franz Joseph"

befindet sich im Döblinger

Botschaftsviertel, umgeben

von internationalen Schulen.

Two locations with

exclusively renovated

serviced apartments: the

opera is in the centre of town

and Kaiser Franz Joseph is

located in the embassy

quarter in Döbling and is

surrounded by international

schools.

98 Cercle Diplomatique 3/2015

Cercle Diplomatique 3/2015

99
---
SAVOIR VIVRE SERVICED APARTMENTS

VCA VIENNA CITY APARTMENTS

Optimaler Servicecharakter

Optimal service quality

HART+HART

Fernab der City | Away from the City

Einzigartiges Design und ausgezeichnete Lage, z.B. an der

Wiener Ringstraße, sind ebenso Teil der Firmenphilosophie

wie unaufdringlicher Full Service.

Unique design and excellent locations, e.g. on Vienna's

Ringstraße, are as much a part of the company's

philosophy as is their unobtrusive full service.

In UNO-Nähe finden sich exklusive Neubauten, die mit

modernsten Standards und idealen Verkehrsverbindungen

aufwarten.

Exclusive new builds close to the UN with state-of-the-art

standards and perfect transport connections.

MY PLACE

Nahe Stephansdom

und Schwedenplatz

Near St Stephen's

Cathedral and

Schwedenplatz

Residenzen mit einem Mix

aus charmantem Luxus und

ultramoderner Ausstattung

machen das Wohnflair aus.

Terrasse, Design-Fahrräder,

Sauna und Fitness sowie die

Nähe zu Erholungsgebieten

sind willkommene

Draufgaben.

Residences with a

combination of charming

luxury and ultra modern

facilities provide the flair. A

terrace, designer bicycles,

sauna, fitness and the

proximity to recreational

areas are welcome extras.

Aufenthalten, dass die Apartments auf ihre Bedürfnisse

zugeschnitten sind, denn Flexibiliät wird großgeschrieben.

Working in different locations, individual

travel and the desire for change have all

led to a boom in alternative short-term

accommodation. Furnished apartments providing

luxurious comfort and the local atmosphere are

trends that have long embraced Vienna, too – and it

is not uncommon for visitors to become permanent

residents and buy their own property. Depending on

personal preferences, you can opt for a place in the

heart of the vibrant city centre, in affluent neighbouring

districts or more peaceful suburbs. The average

stay ranges from a few days to several weeks to even

months. Compared to standard hotels, these kinds of

dwellings offer a lot of added value – ranging from

more living space and a full service to high-speed

WLAN through to VIP airport transfers.

Pleasant surroundings

Barbara Krammer-Punzet from VCA Vienna

City Apartments has been observing the global and

national trend of "serviced living" as an alternative to

hotel rooms for 15 years. "The economic crisis in

2008 caused a real boom in serviced apartments in

Vienna and various accommodation concepts established

themselves on the market. Many apartments

and offices, including empty (office) buildings in Vienna,

were converted into individual apartments,

sometimes even in prestigious locations. But when

they are only simple hotel rooms with the minimum

of kitchen equipment and lacking any kind of flair,

then it remains to be seen whether guests wouldn't

prefer established hotels with a good service. Therefore,

it is up to the investors to create apartments

with a certain added value and a unique flair to satisfy

customer expectations."

Demanding clients

Accommodation with first-class service appeals

to confident people. "This target group is economically

successful and prefers individuality, privacy,

good service and also more space – which are not

necessarily the strengths of hotels. Under these conditions,

high quality at all levels is becoming more

popular with families, senior citizens and business

travellers. Whereby business clients tend to book

first-class apartments for a longer period of time regardless

of the price," according to Krammer-Punzet.

Derag accommodates representatives from government

agencies, internationally known companies,

law offices as well as educational, research and cultural

institutions who have made the Austrian capital a

destination for business travellers from around the

world. "Whether these visitors stay in Vienna for one

day, one week or several months – we can offer every

single guest the accommodation concept that suits

them best." They have two buildings, one near the

State Opera and one in the embassy quarter in the

Döbling district close to international schools. My

Place-Management knows its clients just as well.

PHOTOS: BEIGESTELLT

"While travel operators are slowly adding serviced

apartments to their portfolio, relocation companies

have been using them for a long time. Our main target

groups are CEOs, ambassadors, project managers

and employees of international organisations. But we

have also been registering more and more short stays

as holidaymakers prefer this kind of alternative to a

hotel."

Ideal Solution

Once you get to know and love a town and decide

to invest in a property, then the location is usually

the deciding factor. "Popular locations for town

apartments are in Vienna's 1st district and the neighbouring

areas in walking distance of the city centre.

The 9th district around Kolingasse or Argentinierstraße

in the 4th district are considered to be

attractive and popular neighbourhoods," according

to Sandra Bauernfeind, managing director of Wohnimmobilien

EHL Immobilien GmbH. But new

builds offering the highest comfort located in the

commuter belt around Vienna's UNO City are also

attractive, as is shown by the high demand the property

developer Hart+Hart has encountered. Either

way, today's accommodation concepts need to provide

high-tech facilities – whereby ideally the technology

should remain out of sight – and score with personal

service. Guests expect the apartments to be

geared to their needs during short as well as long

stays – as flexibility is rated very highly.

Top-10-Adressen | Top 10 Addresses

Aparthotel Adagio Vienna

adagio-city.com

BeLLeArTi

bellearti.at

DERAG Livinghotels

deraghotels.de/hotels/wien

EHL Immobilien

ehl.at

Hart+Hart

hart-hart.at

My Place Premium Apartments

my-place.at

Orchideenpark/Campus Lodge

ig-serviced-apartments.com

Riess Apartments

apartment.co.at

VCA Vienna City Apartments

schottenring33.com

LiV'iN Reisidence by Fleming's

basedinvienna.at

EXCLUSIVE

FURNISHED

APARTMENTS

IN THE HEART

OF VIENNA

Top location

in the 1st district

Living room with separated

sleeping area (45-85m 2 )

Fully equipped kitchen

with induction hob

Flexible services adapt

to your individual needs

100 Cercle Diplomatique 3/2015

WWW.DERAGHOTELS.AT

E-Mail: info@deraghotels.at

Phone: +43 (0) 1 5858 059-0
---
SAVOIR VIVRE SUITE DREAMS

Suite Dreams

Park Hyatt Vienna, Präsidenten Suite | Presidential Suite

Interview: Rois & Stubenrauch

Seit der amerikanische Präsident Woodrow Wilson in seiner

Amtszeit (1913–1921) seine spezifischen Anforde rungen an

ein Hotelzimmer für seine Amtsreisen formulierte, verfügt jedes

Fünfsternehotel über eine Präsidenten oder Royal Suite für

höchste Würdenträger und Staatsgäste. Cercle Diplomatique hat

Generaldirektorin Monique Dekker um ein paar Worte zur

Präsidenten Suite des im Juni 2014 eröffneten Park Hyatt

Vienna in der Wiener Altstadt gebeten.

uring his time in office (1913 – 1921), the American

D President Woodrow Wilson specified particular demands

his hotel room was to meet. Since then, each five star hotel offers

a Presidential or Royal Suite for high dignitaries or state guests.

Cercle Diplomatique asked general director Monique Dekker to

give us a little insight into the Presidential Suite at Park Hyatt

Vienna which opened in Vienna's Old Town in June 2014.

Generaldirektorin Monique

Dekker über die Präsidenten

Suite des Park Hyatt Vienna.

General Manager Monique

Dekker about the Presidential

Suite at Park Hyatt Vienna.

Wie viele Räumlichkeiten und welche besonderen Fazilitäten stehen dem Gast der Präsidenten Suite im Park Hyatt Vienna

zur Verfügung?

Die Lage der Suite im historischen Gebäude der ehemaligen Zentrale der Länderbank ist so gewählt, dass sich von den Räumlichkeiten

die beste Aussicht über die Wiener Innenstadt bietet. Die Suite verfügt über ein geräumiges Wohnzimmer, ein separates Arbeitszimmer,

der Essbereich bietet Platz für bis zu acht Gäste. Ein eigenes Gästebadezimmer, das mit Perlmutt verzierte Himmelbett, harmonisch

verbunden mit einem holzverkleideten Ankleidezimmer, sowie ein geräumiges Marmorbadezimmer mit integriertem Dampfbad

komplettieren den speziellen Luxus der Präsidenten Suite.

Wie würden Sie den Stil der Präsidenten Suite Park Hyatt charakterisieren – mit welchen Kunstwerken, Antiquitäten oder

Besonderheiten kann die Suite aufwarten?

In den historisch restaurierten, 170 Quadratmeter umfassenden Räumlichkeiten mit Fischgrät-Parkettboden stechen besonders der

opulente Luster des österreichischen Traditionsbetriebes Lobmeyr und ein original Bösendorfer-Klavier hervor – und natürlich der

fantastische Rundumblick über Wiens historisches Zentrum und das exklusive Einkaufsviertel Goldenes Quartier.

Welcher außergewöhnlicher Service Ihres Hauses für die Gäste der Suite erfüllt Sie mit besonderem Stolz?

Auf Wunsch bieten wir private Walzer-Tanzstunden und Piano-Stunden in den Räumlichkeiten der Präsidenten Suite. Außerdem kann der

Gast einen privaten Koch für die komplett eingerichtete Küche der Suite anmieten. Ein 24-Stunden-Butlerservice kann selbstverständlich

ebenfalls gebucht werden. Bei einem Mindestaufenthalt von zwei Nächten steht dem Gast zudem eine Signature-Behandlung im Arany

Spa offen.

Welche speziellen Herausforderungen für den normalen Betrieb des Hauses ergeben sich durch den Aufenthalt eines hohen

Gastes?

Natürlich werden die Sicherheitsvorkehrungen erhöht. Auch der eine oder andere Bereich des Hauses wird zu Zeiten geöffnet, welche

über die regulären Öffnungszeiten hinausgehen.

How many rooms and which special facilities are available to guests of the Presidential Suite at Park Hyatt Vienna?

The location of the Suite in the historic former headquarters of the Länderbank was chosen to provide the best view of Vienna's city

centre. The Suite offers a spacious living room, a separate study and the dining area can accommodate up to eight guests. A private guest

bathroom, the mother of pearl decorated poster bed, harmoniously connected to a wood-panelled dressing room and a generous marble

bathroom with integrated steam room complete the special luxury of the Presidential Suite.

How would you describe the style of the Park Hyatt Vienna Presidential Suite – which works of art, antiques or special features

does it enchant with?

The historically restored floor finishings of the 170 square metre Suite is decorated with the opulent traditional Austrian Lobmeyr

chandelier and Bösendorfer piano, and delights with fantastic views of the historic part of Vienna and the city's most exclusive shopping

area, the Goldenes Quartier.

Which exceptional service you provide for guests of the Suite fills you with great pride?

We offer private waltz dance and piano lessons upon request inside the Presidential Suite. Furthermore, guests can hire a private chef for

the fully equipped kitchen in the Suite. A 24-hour butler service can of course also be booked. At a minimum stay of two nights, the guest

can enjoy a signature treatment at the Arany Spa.

Which special challenges for daily business arise when a distinguished guest visits?

Safety precautions are of course increased. Particular areas of the house will be open at times that go beyond the regular opening hours.

PHOTOS: PARK HYATT VIENNA

INFO:

PARK HYATT VIENNA

Am Hof 2

1010 Wien

Tel.: +43 1 22740 1234

vienna.park.hyatt.com

102 Cercle Diplomatique 3/2015

Cercle Diplomatique 3/2015 103
---
SAVOIR VIVRE CHECK IN

Hotel Sofitel Vienna Stephansdom

Ein Gespräch mit General Manager Alexander Moj | A conversation with General Manager Alexander Moj

Interview: Daniela Pötzl

Welche Veranstaltungs- bzw. Banketträumlichkeiten,

die für Botschaftsempfänge geeignet sind, haben Sie?

Unsere Meetingetage verfügt in alle Räumen über Tageslicht,

teilweise auch über Akustikparkett. Der Meetingraum Le Corbusier

ist für bis zu 150 Personen, unser offener, modern-minimalistischer

Foyer-Bereich mit Blick über Wien ist für bis zu 400 Personen

geeignet. Das Loft im 18. Stock mit 360°-Panorama bietet

190 Gästen Platz. Küchenchef Fabian Günzel nimmt dort den Gast

mit seinem kosmopolitischen Stil auf eine geschmack liche

Weltreise über die Kontinente mit.

PHOTOS: SOFITEL VIENNA STEPHANSDOM, BEIGESTELLT

Wodurch zeichnet sich Ihr Hotel aus?

Dieser in Wien einmalige Bau revolutioniert das "traditionelle"

Hotel und lädt ein, in einem Kunstwerk zu übernachten.

Der französische Architekt Jean Nouvel hat bei diesem Bauwerk

mit der Schweizer Künstlerin Pipilotti Rist, dem Gartenbauspezialisten

Patrick Blanc sowie Kunststudenten zusammengearbeitet.

Die flachen, glatten Fassaden haben je nach

Himmelsrichtung und sogar je nach Wetterlage eine andere

monochrome Farbe: grau im Süden, schwarz im Westen,

weiß im Norden und durchscheinend im Osten.

Können Sie Botschaften und Delegationen Special Deals

anbieten?

Für Botschaften und internationale Organisationen bieten wir

spezielle Firmenraten an. Auch für die Junior-Suite-Kategorie sind

vergünstigte Raten vereinbart.

Welche Suiten haben Sie im Angebot?

Unser monochromes Farbbild kommt auch in den Suiten zum

Ausdruck. Die weiß gestalteten Junior Suiten (55 m2), die Black

Suiten (57 m2) und die Suiten Prestige (75 m2), in Grau gehalten,

bieten tolle Ausblicke wie zum Riesenrad oder auf die Altstadt

und den Stephansdom. Sie haben getrennte Wohn- und

Schlafbereiche, einen ergonomischen Arbeitsplatz, zwei große

Flachbildschirme und ein großzügiges Badezimmer mit

Fußboden heizung, Regenwalddusche, separater Badewanne

sowie Hermès-Pflegeprodukten.

Von der 180 m2 großen Suite Magnifique hat man einen

180°-Blick über Wien. Dieser ganz in Schwarz, Weiß und Grau

gestaltete Bereich bietet ein Esszimmer für zwölf Personen, ein

separates Wohnzimmer, vier Fernsehgeräte mit Flachbildschirmen

sowie ein Wellness-Bad mit Jacuzzi- und Hamam-Möglichkeit.

Wie sieht es mit den Sicherheitsvorkehrungen aus?

Wir haben Sicherheitskameras in den öffentlichen Bereichen

sowie einen gesonderten Eingang aus der Parkgarage bzw. durch

das Stilwerk nebenan.

Können Sie auf spezielle Ernährungsbedürfnisse eingehen,

wie koschere oder Halal-Kost?

Dieses Angebot haben wir selbstverständlich auch in unserem

Portfolio. Bei speziellen Lebensmitteln bitten wir allerdings um

etwas Vorlaufzeit für die Bestellung.

Welche Business-Facilities bieten Sie?

Unsere Meetingräumlichkeiten befinden sich auf 1.100 m2 im

4. Stock. Neben dem Business Center im 1. Stock mit Drucker, Fax

und Sitzmöglichkeiten für Besprechungen bieten auch die Suiten

durch die separaten Wohn- und Schlafräume die Möglichkeit für

Meetings direkt im Zimmer.

What makes your hotel exceptional?

This building, unique in Vienna, revolutionised "traditional" hotels,

and our guests get to stay in a true masterpiece. The French

architect Jean Nouvel worked on this building together with the

Swiss artist Pipilotti Rist, the horticulturist Patrick Blanc as well as

with art students. Depending on the cardinal direction and even

the weather, the flat and smooth facades have a different

monochrome colour: grey in the south, black in the west, white in

the north and translucent in the east.

Can you offer embassies and delegations special deals?

We offer special rates for embassies and international organisations.

We even have discounted rates for the Junior Suite

category.

What types of suites do you offer?

Our suites have also been decorated in our monochrome colour

scheme. The white Junior Suites (55 m2), the Black Suites (57 m2)

and the Prestige Suites (75 m2), kept in grey, provide stunning

views of the Ferris wheel or the historic old town and St Stephen's

Cathedral. They have separate living and sleeping areas, a comfortable

workspace, two large flat screens, a spacious bathroom with

underfloor heating, a rainfall shower and separate bathtub as well

as Hermès skincare products.

The Suite Magnifique with its 180 m2 offers a 180° view of Vienna.

The suite is designed in black, white and grey and has a dining

room for 12 people, a separate living room, four flat screen TVs as

well as a wellness bathroom with a Jacuzzi and a Turkish bath.

What safety precautions do you take?

We have security cameras in all of the public areas as well as a

separate entrance from the car park and through Stilwerk next

door.

Can you cater for special dietary requirements, such as

kosher or halal food?

We also cater for special dietary requirements, naturally. For

certain foods, however, we do ask for some notice so we can

order them in time.

What business facilities do you offer?

Our meeting rooms are located on the fourth floor, covering

1,100 m2. Not only does the Business Centre on the first floor

come with a printer, fax machine and seating, but the suites can

also be adapted to hold meetings thanks to the separate living

and sleeping areas.

What type of event or banquet rooms do you have, which are

suitable for embassy receptions?

Our meeting rooms all feature natural daylight, some even

soundproof parquet flooring. The Le Corbusier meeting room can

accommodate up to 150 people, our open, modern and

minimalistic foyer area up to 400 people, with a view of Vienna.

Not forgetting Das Loft restaurant on the 18th floor, which boasts

a 360° panoramic view, and can sit 190 guests. Here, head chef

Fabian Günzel and his cosmopolitan style will accompany diners

on a delicious culinary round-the-world trip.

INFO:

HOTEL SOFITEL VIENNA

STEPHANSDOM

Praterstraße 1, 1020 Wien

Tel.: +43 1 906 160

sofitel.com

General Manager Alexander Moj über das

Sofitel Vienna Stephansdom. General Manager

Alexander Moj talks about Sofitel Vienna

Stephansdom.

104 Cercle Diplomatique 3/2015

Cercle Diplomatique 3/2015 105
---
SAVOIR VIVRE IMPERIAL

Heute sind wir Kaiser!

Emperor for a day!

Text: Daniela Pötzl

INFO

Schloss Schönbrunn steht für imperiale Pracht und den

Glanz des kaiserlichen Hofes. Diese einzigartige Atmosphäre

können Gäste der Schloss Schönbrunn Grand Suite erleben.

Schönbrunn Palace stands for imperial grandeur and the

splendour of the imperial court. Guests staying in the Grand

Suite at Schönbrunn Palace can experience this unique

atmosphere.

Fantastisch.

Vom Himmelbett

genießt man einen

herrlichen Ausblick auf

die Gloriette.

Phantastic.

A terrific view to the Gloriette

can be enjoyed from the

four-poster bed.

PHOTOS: SCHLOSS SCHÖNBRUNN KULTUR- UND BETRIEBSGMBH/ALEXANDER KOLLER, AUSTRIA TREND HOTELS/ JÜRG CHRISTANDL UND /SEBASTIAN REICH, BEIGESTELLT

Im großzügigen Ambiente kann man seit dem

Vorjahr auf 167 Quadratmetern wie ein Kaiser dinieren

und sich wie eine Prinzessin betten. Die

Grand Suite der Austria Trend Hotels an einer der nobelsten

Adressen Wiens bietet alles, was das Herz von

Royal-Fans zum freudigen Klopfen bringt.

Einst war die heutige Suite eine Wohnung, die im

Osttrakt von Schönbrunn unter Beachtung des Denkmalschutzes

behutsam umgebaut wurde. Absolute

Priorität hatte dabei die Erhaltung des imperialen

Flairs des Schlosses als UNESCO-Weltkulturerbe. Interieur

und Ausstattung orientieren sich am Stil der

ehemaligen Sommerresidenz der Habsburger. Bestes

Beispiel dafür ist das seit den 1830er-Jahren am

Wiener Hof bekannte Neorokoko, das auch als

"maria-theresianischer Stil" bezeichnet wurde. Bis

heute bekannt sind vor allem die weiß-gold gefassten

Möbel mit rotem Damastbezug.

Edles Farbenspiel beim Interieur

Zwei Schlafzimmer, zwei Bäder, Salon, Wohnzimmer

und Kitchenette warten mit in Gold, Schwarz

und Weiß gehaltenem Interieur auf – alles handverlesene

Einzelstücke, inspiriert vom kaiserlichen Schloss.

Fixer Bestandteil ist der Hofdamast, bekannt als

"Ananasdamast". Der rote Seidenstoff, benannt nach

dem charakteristischen Hauptmotiv einer stilisierten

Ananasfrucht, bezeugt seine ausschließliche Verwendung

für den Wiener Hof. So zieren rote Wandbespannungen

in Stuckarbeiten eines der Schlafzimmer,

das mit einem prunkvollen schwarzen Bett

mit Goldumrandungen, lederbezogenem Schreibtisch

und goldpatinierter Kommode ausgestattet ist.

Getafelt wird im Salon auf mit Ananasdamast bespannten

Stühlen mit traditioneller weißer Lackierung

und Goldapplikationen in Anlehnung an das

Schönbrunner Rösselzimmer. Geschmackvolle Stuckarbeiten

und Maria-Theresia-Lüster runden die herrschaftlichen

Räumlichkeiten ab. Bestehende antike

Türen wurden renoviert, neue den klassischen angepasst.

Die Suite verfügt über eine in schwarz und weiß

gehaltene Kitchenette und zwei großzügige, moderne

Bäder.

Service wie zu Kaisers Zeiten

Um das persönliche Wohl der Gäste kümmert

sich das nahe gelegene Austria Trend Parkhotel

Schönbrunn, das ehemals selbst als Gästehaus des

Kaisers fungierte. Der Check-in erfolgt im benachbarten

Viersternehotel, der Concierge geleitet die Gäste

Schloss Schönbrunn

Grand Suite

Die exquisite Unterkunft

befindet sich im Osttrakt

von Schloss Schönbrunn

und ist für maximal vier

Personen konzipiert.

Gäste erhalten schon

beim Check-in im nahen

Austria Trend Parkhotel

Schönbrunn einen

besonderen Schlüssel,

der ins Hauptgebäude des

Schlosses führt. Der

Check-out erfolgt je nach

Gästewunsch entweder im

Parkhotel Schönbrunn oder

direkt in der Suite (der

Concierge bringt die

Rechnung in die Suite).

Angeboten werden

verschiedene Packages in

diversen Preisklassen.

The exquisite accomodation

is located in the east

wing of Schönbrunn Palace

and is designed for a

maximum of four people.

At the check in at Austria

Trend Parkhotel

Schönbrunn, guests

receive a special key

which leads to the main

building of the Palace.

According to the

guests´wish, the check out

can be done either in

Parkhotel Schönbrunn or in

the uite (the concierge will

bring the bill to the suite).

A big diversity of packages

in various price classes is

offered.

Reservierung/

Reservation:

Austria Trend Hotels

Tel.: + 43 1 588 00-800

thesuite.at

106 Cercle Diplomatique 3/2015

Cercle Diplomatique 3/2015 107
---
SAVOIR VIVRE IMPERIAL

SEIT 1707

the palace as it is a UNESCO World Heritage Site.

The interior decoration and furnishing were influenced

by the style of the former summer residence of

the Habsburg monarchy. The best example of this is

the neo-Rococo style, also referred to as the "Maria

Theresa" style, popular at Viennese court since the

1830s. Even today, everyone recognises the white

and gold furniture with red damask covers.

Maria-theresianischer Stil

und Eleganz, gepaart mit

Modernem

Maria Theresia-style and

elegance, combined with

modern outlook

bis nach Schönbrunn in die Suite. Kaiserlicher Service

erwartet die Gäste: Im Angebot sind eine Fiakerfahrt

sowie eigener Butler und Koch. Auf Wunsch wird das

Frühstück in der Suite frisch zubereitet. Kein Wunder

also, dass ein Aufenthalt in der Suite nicht nur von

Hochzeitsreisenden, sondern für spezielle "private

Feiertage" wie runde Geburtstage, Hochzeitstage oder

auch zur Pensionierung nicht nur gerne selbst genossen,

sondern auch als außergewöhnliches und edles

Geschenk gebucht wird.

As of last year, guests can enjoy the imperial

atmosphere in a 167 m2 suite where they can

wine and dine like an emperor and sleep like

a princess. The Grand Suite in the Austria Trend Hotel

in one of the most prestigious locations in Vienna

offers everything that will make the hearts of fans of

royalty beat faster.

The Suite is located in the east wing of Schönbrunn

Palace and was once an apartment that was

later renovated, particular attention being paid to

not affect the character of the listed building. It was

absolutely essential to preserve the imperial flair of

Elegant interior colour palette

Guests will find two bedrooms, two bathrooms, a

salon, a living room and a kitchenette where the colours

gold, black and white dominate – every single

item is unique and carefully selected, inspired by the

imperial palace. One fixed feature is the well-known

court damask, also referred to as the "pineapple damask".

The red silk, named after the distinctive motif

of a stylised pineapple, was used exclusively for the

Viennese court. Red wall coverings in stucco work

decorate one of the bedrooms, which has a magnificent

black bed accented with a gold border, a leather

desk and a commode with gold patina.

Guests can enjoy a glorious view of the Gloriette,

the Palace Park and Privy Garden straight from the

high and romantic four-poster bed in the master bedroom.

They can dine in the salon on chairs covered

with the pineapple damask with the traditional white

finish and gold applications based on the style of the

Stallions Room in the palace. Elegant stucco work

and the Maria Theresa chandeliers add the finishing

touch to these grand rooms. Existing antique doors

were restored, new doors were adapted to match the

traditional style. The Suite has a black-and-white kitchenette

and two spacious and modern bathrooms.

Be treated like an emperor

The Austria Trend Parkhotel Schönbrunn nearby,

which used to be the emperor's guesthouse, looks after

the well-being of the guests. Guests check in at

the neighbouring 4-star hotel and the concierge accompanies

them to the Suite at Schönbrunn. Imperial

service awaits the guests: from going on a carriage

ride to having their own butler and chef. If so desired,

breakfast can be freshly made in the Suite. It is

hardly surprising, therefore, that not only honeymooners

can enjoy the Suite just for themselves, but

it can also be booked for special "private celebrations"

such as milestone birthdays, wedding anniversaries

or even retirements to make a unique and precious

gift to others, too.

PHOTOS: AUSTRIA TREND HOTELS/ JÜRG CHRISTANDL UND /SEBASTIAN REICH

Gerhard Richter, Grün-Blau-Rot, 1993, Öl auf Leinwand, 30 x 40 cm, € 200.000 – 300.000, Auktion November 2015

Auktionswoche 20. – 22. Oktober

Alte Meister, Gemälde des 19. Jahrhunderts, Antiquitäten, Juwelen

Auktionswoche 23. – 27. November

Zeitgenössische Kunst, Klassische Moderne, Silber, Juwelen, Uhren

Palais Dorotheum, Dorotheergasse 17, 1010 Wien

Tel. +43-1-515 60-570, client.services@dorotheum.at

www.dorotheum.com

108 Cercle Diplomatique 3/2015
---
SAVOIR VIVRE HIDEAWAYS

Kleine Fluchten

Little Escapes

Zeit für eine herbstliche Auszeit? Wir haben vier Empfehlungen für Sie! | Time for an autumn break? We have four recommendations for you!

Text: Daniela Pötzl

MEHR ENTSPANNUNG

MORE RELAXATION

110 Cercle Diplomatique 3/2015

PHOTOS: LUXUSLODGE ZEIT ZUM LEBEN, DER DABERER.DAS BIOHOTEL, HANNER, PURESLEBEN

Luxuslodge in Annaberg

Die kleine, feine Luxuslodge in Annaberg im Salzburger

Land schenkt ihren Gästen genau das, was im Alltag

meist zu kurz kommt: Zeit für sich und seine Liebsten.

Unter dem Motto "Zeit zum Leben" werden drei Chalets mit

Panoramafenstern angeboten, 60 bis 150 m2 groß. Von einer

top eingerichteten Küche bis hin zum Wohn/Essbereich mit

Kamin und dem persönlichen Wellnessbereich mit Hot Tub

im Freien, privater Zirbenholz-Sauna und Ruheraum bietet

das großzügige Urlaubszuhause hochwertigen Komfort.

Christine Schwaighofer ist die gute Seele des Hauses. Mit

viel Liebe und Engagement bietet sie ihren Gästen jeden

"Fünf-Sterne-Luxus". Sei es mit Koch Simon, der im Chalet

frische Köstlichkeiten zubereitet, sei es eine Massage, eine

Beauty-Anwendung oder der gesunde Fünf-Elemente-

Brunch. Die Chalets bieten Platz für bis zu zehn Personen,

so können auch (Groß-)Familien zusammenkommen. Alle

Schlafzimmer sind mit Naturmaterialien, Altholz-Möbeln,

Böden und Schränken aus Zirbenholz sowie hochwertigen

Matratzen ausgestattet. Auch sportliche Gäste sind hier

bestens aufgehoben: Zahlreiche Wanderwege und

Mountainbikerouten – von gemütlich bis anspruchsvoll –

umgeben das kleine Urlaubsjuwel in der Salzburger

Bergwelt.

The small, fine luxury lodge in Annaberg in the federal

state of Salzburg provides guests with exactly what they

often miss out on in everyday life: time for themselves and

their loved ones. In line with the motto "time to live", three

chalets with panoramic windows are available from 60 to

150 m2 in size. The spacious holiday home presents

high-quality comfort including an excellently equipped

kitchen, a living-dining area with fireplace, the exclusive spa

with outdoor hot tub, private pine sauna and relaxation

room. Christine Schwaighofer is the good soul of the house.

She offers guests 'five star luxury' with much love and

dedication. It could be cooking with chef Simon, who

prepares fresh delicacies in the chalet, alternatively perhaps

a massage, a beauty treatment or serving a healthy Five

Elements brunch. The chalets can accommodate up to ten

people, which means that large families can come together.

All bedrooms are furnished with natural materials, old wood

furniture, floors and cabinets made of pine and high-quality

mattresses. Even athletic guests are in the right place, as

numerous hiking and mountain bike trails – from easy to

challenging – surround the small holiday jewel in the

Salzburg mountains.

INFO:

LUXUSLODGE "ZEIT ZUM LEBEN"

Steuer 88

5524 Annaberg im Lammertal

Tel.: +43 664 4232662

luxuslodge.at

der daberer. das biohotel

Familie Daberer in St. Daniel im Gailtal in Kärnten zählt seit

mehr als 35 Jahren zu den absoluten Pionieren des heute so

zeitgeistigen "Green Lifestyle". Umgeben von Fischteichen,

Wald und Wiesen und dem großen Kräutergarten genießt

man Küche, Zirbensauna im Wald und Yoga in Top-Qualität.

The Daberer family in St Daniel in Carinthia has been known

as the absolute pioneers of the now increasingly popular

'green lifestyle' for more than 35 years. Surrounded by

ponds, woods and meadows and the large herb garden, one

can enjoy top quality cuisine, pine sauna in the forest and

yoga relaxation.

biohotel-daberer.at

Hotel Hanner

Die Natur des Wienerwalds hat das Gestaltungsprinzip des

Hotels mit Holz und Stein vorgegeben. Mit Gastgeber Heinz

Hanner hat das Haus auch einen 3-Hauben-Koch, der sein

Jubiläum "30 Jahre Hanner Gourmet" köstlich zelebriert und

Feines von damals und heute serviert.

The nature of the Vienna Woods was the inspiration for the

hotel-design with wood and stone. Host Heinz Hanner,

himself an award-winning chef, celebrates the "30 Years

Hanner Gourmet" anniversary, serving delicacies from past

and present menus.

hanner.cc

Pures Leben

Die acht Ferienhäuser (manche

mit Spa) befinden sich in

Tunauberg, Sausal und Kitzeck.

Jedes Haus ist von einem

Weinberg oder einem Obsthain

umgeben, besticht durch Panoramablick nach allen Seiten

sowie absolute Privatsphäre. Ein weiteres Plus: Gasthäuser

und Haubenlokale auf höchstem Niveau sind in wenigen

Minuten zu Fuß erreichbar.

The eight holiday cottages, some with spa, are located in

Tunauberg, Sausal and Kitzeck. Each house is surrounded by

a vineyard or an orchard and offers panoramic views as well

as complete privacy. Absolute bonus: Award-winning

restaurants and top-level inns are within walking distance

from the houses.

puresleben.at
---
SAVOIR VIVRE FESTIVITIES

O du fröhliche

Oh how joyfully

Text: Daniela Pötzl

Im Advent, zu Weihnachten und Silvester kann man sich in Wien stimmungsvoll und kulinarisch auf

höchstem Niveau verwöhnen lassen. Wir baten Hotel-Profis um ihre ganz persönlichen Empfehlungen

für diese besondere Zeit im Jahr.

During the Advent season, Christmas and New Year, one can be spoiled in a Vienna full of atmosphere

and culinary delights. We asked hotel professionals about their own personal recommendations for this

special time of the year.

PHOTOS: VON DEN HOTELS ZUR VERFÜGUNG GESTELLT

Bereits sechs Wochen vor dem Heiligen Abend

beginnen in Wien ganz besondere Tage.

Mit der Traditionsveranstaltung "Wiener

Adventzauber", die heuer im bereits 30. Jahr vor der

stimmungsvollen Kulisse des Wiener Rathauses stattfindet,

hat Wien ein winterliches Wahrzeichen geschaffen.

Nicht ohne Grund gilt der Wiener Adventzauber,

heuer vom 14. November bis 24. Dezember

2015, als besonders kinderfreundlicher Weihnachtsmarkt:

Nostalgie-Ringelspiel, Rentierzug und Christkindl

Express sind für die Jüngeren beliebte Fixpunkte,

die natürlich auch in diesem Jahr nicht fehlen dürfen.

Wirtschaftsfaktor und Werbewert

"Vom eindrucksvollen großen Christbaum über

das bunte Angebotsportfolio der Marktstände bis

zum in liebevoller Detailarbeit geplanten Programm

im Rathaus und im Rathauspark ist es mit Mitteln

der Stadt Wien und der Wirtschaftskammer Wien

gelungen, nicht nur ein touristisches Leitprojekt,

sondern auch ein europäisches Vorzeigeprojekt zu

etablieren. Jahr für Jahr besuchen bis zu 3,5 Millionen

Gäste – davon rund 500.000 aus dem Ausland –

den Wiener Adventzauber, und damit ist dieses Projekt

für Wien ein bedeutender Wirtschaftsfaktor",

betont Vizebürgermeisterin Renate Brauner. Laut

Statistiken von WienTourismus ist die Tendenz stark

steigend: Im Langzeitvergleich von 2009 bis 2013

zeigten sich der Trend zu winterlichen Städtereisen

und die Beliebtheit Wiens als vorweihnachtliche

Destination mit beträchtlichen Steigerungen der

Nächtigungszahlen deutlich, und zwar mit einem

Plus von rund 31 Prozent.

Zum Jahreswechsel tanzt die Stadt

In der Nacht vom 31. Dezember auf den 1. Jänner

2016 verwandelt sich beim "Wiener Silvesterpfad"

die Innenstadt bereits zum 26. Mal in die

angesagteste Festbühne. Auch dieses Jahr organisiert

die stadt wien marketing gmbh den Wiener

GM Reiner Heilmann Hotel Sacher

GM Monique Dekker Park Hyatt Vienna

Wir bieten in der Adventzeit jeden Sonntag ein festliches

Gabelfrühstück im Restaurant "The Bank". Kinder bekommen

Spezial-Preise. Außerdem werden die Kleinen in einem eigens für

sie gestalteten Kid Corner betreut und unterhalten. So können die

Großen entspannt ihr Gabelfrühstück genießen.

Throughout the Advent season, we offer a festive fork lunch every

Sunday at the restaurant The Bank. Children pay less. In addition,

the little ones are looked after and entertained in a specially

designed Kid Corner. The adults can relax blissfully and enjoy

their fork lunch!

vienna.park.hyatt.com

Kulinarisch ins neue Jahr starten: Egal ob Katerfrühstück oder Mittagessen – unser reichhaltiges

Brunchbuffet am 1. Jänner 2016 lässt in unseren eleganten Gesellschaftsräumlichkeiten im

Mezzanin mit Blick zur Wiener Staatsoper oder auf die Kärntner Straße von

12:00 bis 15:00 Uhr keinen Ihrer Wünsche offen.

A culinary start to the New Year: whether hangover breakfast or lunch – our

plentiful brunch buffet on 1 January 2016 from 12 noon to 3 pm fulfils every

wish in our elegant reception rooms on the mezzanine floor overlooking the

Vienna State Opera or the Kärntnerstraße.

sacher.com

112 Cercle Diplomatique 3/2015

Cercle Diplomatique 3/2015

113
---
SAVOIR VIVRE FESTIVITIES

INFO

GM Andrea Fuchs Sans Souci Wien

Das Restaurant "La Véranda" oder, ganz exklusiv, "Le Salon"

sind schöne Rahmen, um Weihnachtsfeiern mit Freunden und

Mitarbeitern für bis zu 100 Personen zu gestalten. Auch für Ihre

ganz persönlichen Feierwünsche haben wir ein offenes Ohr!

The restaurant La Véranda or the very exclusive Le Salon are nice

locations to celebrate Christmas with friends and colleagues with

up to 100 people. We can also cater to your special personal

celebration wishes!

sanssouci-wien.com

GM Rosemarie Jurasky Austria Trend Hotel Astoria

Direkt an der Kärntner Straße liegt unser traditionsreiches Haus, das bei seiner

Eröffnung 1912 als das modernste Hotel der Stadt galt. Es beherbergte zahlreiche

in- und ausländische Aristokraten, Diplomaten, berühmte Wissenschaftler und

Politiker sowie internationale Bühnen- und Filmstars. Bei unserer Silvestergala

verbinden wir gekonnt Eleganz mit stilvoller Gemütlichkeit.

Our traditional house, considered the most modern hotel in town when it opened in

1912, is located centrally at Kärntnerstraße. It hosted numerous domestic and foreign

aristocrats, diplomats, famous scientists and politicians as well as international

stage and screen stars. For our New Year's Eve Gala, we skillfully combine elegance

with stylish comfort.

austria-trend.at/hotel-astoria

GM Jean Paul Dantil Hotel The Ritz-Carlton Vienna

Silvesterpfad, der im Vorjahr 620.000 Besucher in die

Bundeshauptstadt lockte. Als beliebter Brauch wird

bei den Klängen der Pummerin im Stephansdom um

Mitternacht dann überall in den Straßen Wiener Walzer

getanzt. Am Neujahrsmorgen lädt der Wiener Rathausplatz

traditionell zum beliebten Katerfrühstück

sowie zur Liveübertragung des Neujahrskonzerts der

Wiener Philharmoniker.

Einkehren und feiern mit Muße

Wer für Weihnachten oder Silvester auf der Suche

nach einer passenden Location ist, dem kann sogar

etwas "Himmlisches" empfohlen werden: Denn

blitzschnell ist man mit dem Lift auf 250 Meter Höhe

im 57 Restaurant & Lounge des eleganten Hotel

Meliá unweit der UNO-City. Was für ein Ausblick,

bei dem einem ganz Wien zu Füßen liegt! Unter der

Leitung von Hoteldirektorin Dorothea Schuster

sorgt Head Sommelier Pascal Kopetzky für tolle

Wein-Erlebnisse, Operations Manager Jemill Wette

kümmert sich als Vollblutgastronom um das Wohl

der Gäste zu den Feiertagen.

Im Hotel InterContinental Wien verwandelt sich

das Café Vienna in der Adventzeit ab 27. November

und sogar bis zum 27. Dezember täglich in ein riesiges

Lebkuchenhaus. Knuspern ist dann ausdrücklich

erlaubt!

Originell geht es im Palais Coburg zu, wenn man

zu "Pimp My Christstollen" bittet. Da kann man

gemeinsam mit dem neuen Souschef Lukas Gstir

backen und verschiedene Füllungen erstellen. Das

Angebot für Erwachsene gibt es auch für Kinder,

ausschließlich am 13. Dezember am Nachmittag.

Beeindruckende Palais-Architektur und das fürstliche

Ambiente der weihnachtlich dekorierten Festsäle

sind der glanzvolle Rahmen für Ihre Firmen-Weihnachtsfeier

im Hotel Imperial. Schon der Aperitif mit

Punsch (auch ohne Alkohol) sowie Maroni versetzt in

die richtige Stimmung. Danach folgt ein weihnachtliches

Dreigangmenü oder Buffet. Besonders süß: Imperial

Torten-Sonderpreise werden in Verbindung mit

diesem Arrangement sehr gerne gewährt.

Stimmungsvoll, entspannt und individuell: So

soll sich das Essen am Heiligen Abend im Palais

Hansen Kempinski gestalten. Im Restaurant Edvard

wird ein 7-Gang-Degustationsmenü geboten,

wohl noch entspannter geht es

bei fünf Gängen in "Die Küche" zu. Zeit

für Besinnlichkeit, Familie und Freunde

also.

PHOTOS: VON DEN HOTELS ZUR VERFÜGUNG GESTELLT, BEIGESTELLT

In den Tagen nach dem Heiligen Abend ein tolles

Essen serviert zu bekommen, ohne selbst zu kochen,

ist selbst in einer kulinarisch versierten Stadt wie

Wien nicht so einfach. Im Grand Hotel hat Toni

Mörwald vor Kurzem das Küchen-Szepter in die

Hand genommen. Im Gourmetrestaurant Le Ciel

verwöhnt er z.B. mit Steinbutt mit Lardo oder

Champagnercrèmesorbet mit Rosen am Christtag

(25. Dezember) und Stephanitag (26. Dezember).

Einen glamourösen Silvesterabend begeht man

im Vienna Marriott Hotel mit einem bunten und

fröhlichen Fest im ganzen Haus. Im Parkring Restaurant,

Salon Sachsen Coburg, dem Garten Café

und der Cascade Bar warten verschiedene Buffet-

Variationen. Neben einer Liveband sorgen ein

Pianist und Samba-Tänzerinnen aus Brasilien mit

ihrer energiegeladenen Show für Stimmung. Die

Champions Sports Bar im Erdgeschoss lädt wieder

zu einer Silvesterparty mit DJ.

The Guest House nächst der Albertina bietet für

den Jahreswechsel ein besonderes Package: Es beinhaltet

u.a. drei Übernachtungen in einem Deluxe-

Zimmer, Silvesterdinner im Haus, zwei Circle-

Tickets für den Hofburg Silvesterball (siehe auch

Seite 134), Katerfrühstück im Zimmer am 1. Jänner

sowie Late Check-out erst um 16 Uhr am Abreisetag.

Vienna launches its special season six weeks

before Christmas Eve. The traditional event

"Magic of Advent", already in its 30th year,

takes place every year with the stunning backdrop of

the Vienna City Hall. It has become a true winter

landmark for Vienna. The Magic of Advent runs this

year from 14 November to 24 December 2015. It is

considered a particularly child-friendly Christmas

market for many reasons: a nostalgic carousel, reindeer

train and Christkindl express are highlights that

the younger ones don't want to miss.

Economic factor and advertising value

"From the impressive, large Christmas tree and

the colourful products in the market stalls to the City

Hall and City Hall Square programme scheduled in

Weitere Details

zu den einzelnen

Arrangements:

More details on the

various offers:

melia.com

intercontinental.com/vienna

palais-coburg.com

imperialvienna.com

grandhotelwien.at

kempinski.com/vienna

viennamarriott.com

theguesthouse.at

Auch heuer verwandelt sich die "Atmosphere Rooftop Bar & Lounge" im 8. Stock in Wiens

höchsten und exklusivsten Christkindlmarkt. Inmitten stimmungsvoll arrangierter Holzhütten

ist ein Glühweinempfang der perfekte Einstieg in eine unvergessliche Feier. Im 200 Jahre alten

"Ritz-Stüberl" werden pikante Gulaschsuppe oder klassisches Fondue gereicht.

The Atmosphere Rooftop Bar & Lounge on the 8th floor is once again transformed into

Vienna's highest and most exclusive Christmas market this year. Surrounded by lovingly

arranged wooden huts, a mulled wine reception is the perfect introduction to an extraordinary

celebration. Spicy goulash soup or classic fondue are served in the 200 year old "Ritz-Stüberl".

ritzcarlton.com
---
SAVOIR VIVRE FESTIVITIES

1

4

www.viennatime.at

1 Marriott Hotel

2 Grand Hotel

3 The Guesthouse

4 Kempinski

5 Palais Coburg

13. bis 15. November 2015

GM Simone Dulies Hotel Bristol

Machen Sie die Silvesternacht 2015/16 zu einem unvergleichlichen

Erlebnis. Der "Salon Oper" ist Ihre exklusive Location für bis zu

15 Personen – persönlicher Butler und private Terrasse mit

atemberaubendem Blick über die Dächer Wiens inklusive.

Dinieren Sie vor der einzigartigen Kulisse der Wiener Staatsoper

und lassen Sie Ihren Blick über die nächtliche Stadt schweifen.

Experience an unforgettable New Year's Eve 2015/16! The Salon

Oper is your exclusive location for up to 15 people – personal

butler and private terrace with breathtaking views over the

rooftops of Vienna included. Dine in front of the majestic setting

of the Vienna State Opera and enjoy views over the city at night.

bristolvienna.com

GM Alexander Moj Sofitel Vienna Stephansdom

Der Heilige Abend wird bei uns mit einem 6-Gang-Menü gefeiert, ein Glas

Champagner und die perfekt abgestimmte Weinbegleitung sind inkludiert. Wir

verwöhnen u.a. mit Austern, Taube und einem Weihnachtsbaum aus Schokolade.

Und natürlich unserer Aussicht vom "Das Loft".

Christmas Eve is served with a 6-course menu including a glass of champagne and

perfectly matched wines. We spoil with oysters, pigeon and a Christmas tree made

of chocolate, to name a selection. And, of course, our spectacular view from Le Loft.

sofitel.com

GM Elisabeth Perwanger Steigenberger Hotel Herrenhof

Vom 11. November 2015 bis 6. Jänner 2016 lautet das Motto: "Sie haben die Gäste – wir

liefern die Gans." Bestellen Sie eine saftige, mit Äpfeln und Dörrfrüchten gefüllte und

knusprig gebratene Gans (oder Hirschkeule) ab 4 Personen, mit Beilagen wie

Kartoffelknödeln, Apfelrotkraut, Maroni, Bratensaft und einer Flasche Rotwein direkt zu

sich nach Hause. Wir bitten um eine Vorbestellung von mindestens 24 Stunden.

From 11 November 2015 to 6 January 2016, we say: "You have the guests – we supply

the goose"! Order a juicy, crispy roast goose (or haunch of venison) stuffed with

apples and dried fruit for a minimum of 4 people, with side dishes such as potato

dumplings, red apple cabbage, chestnuts, gravy and a bottle of red wine directly to

your home. Order at least 24 hours before delivery.

herrenhof-wien.steigenberger.com

116 Cercle Diplomatique 3/2015

loving detail, it has been possible, with

funding from the City of Vienna and

the Vienna Economic Chamber, to

establish not only a tourist pilot

project, but a European showcase

project. Year after year, up

to 3.5 million guests visit the

Magic of Advent including

around 500,000 from abroad

and thus, this project is an important

economic factor for

Vienna," says Deputy Mayor

Renate Brauner. According to

statistics from the Vienna Tourist

Board, the trend is rising sharply:

long-term comparison from 2009 to

2013 shows the tendency towards winter

city breaks and the popularity of Vienna as a

pre-Christmas destination with a considerable increase

of around 31 per cent in the number of overnight

stays.

The city dances into the New Year

In the night from 31 December to 1 January 2016,

the city turns into a lively festival stage at the "Viennese

New Year's Trail" for the 26th time. The stadt

wien marketing gmbh organises this year's New

Year's Trail again, which attracted 620,000 visitors to

the capital last year. A popular custom is the dancing

of Viennese waltz in the streets around St Stephen's

Cathedral at midnight with the first sounds of

"Pummerin", the Cathedral's famous bell, ringing in

the New Year. Traditionally, on New Year's morning,

the City Hall Square offers the popular hangover

breakfast as well as a live broadcast of the New Year's

Concert with the Vienna Philharmonic Orchestra.

Stop by and celebrate with leisure

Whoever is in search of a suitable Christmas or

New Year's Eve location can consider these heavenly

recommendations: in a flash, the elevator will take

you up to 250 metres and a magnificent view with

Vienna at your feet in the 57 Restaurant &

Lounge in the elegant Hotel Meliá near the

UNO City. Under the leadership of Hotel Director

Dorothea Schuster, Head Sommelier

Pascal Kopetzky provides for a great wine

experience and Operations Manager Jemill

Wette cares about the welfare of the guests

for the holidays.

2

5

PHOTOS: VON DEN HOTELS ZUR VERFÜGUNG GESTELLT, BEIGESTELLT

The Vienna Café at Hotel Inter-

Continental Vienna is transformed

3

into a giant gingerbread house during

the Advent season from 27 November to

27 December. Nibbling is explicitly allowed!

"Pimp my Christstollen" is the unusual request

one can make at Palais Coburg to bake the Austrian

Christmas cake including different fillings with new

Sous Chef Lukas Gstir. The offer for adults is also

available for children, and only on 13 December in

the afternoon.

A glamorous setting for your company Christmas

party is the impressive palace architecture and the royal

ambience of the festively decorated banquet halls

at the Hotel Imperial. The punch aperitif (also

without alcohol) and chestnuts are sure to put

you in the right mood! This is followed by a

Christmas 3-course menu or buffet. Particularly

sweet: Imperial Pie special prices are

available in connection with this package.

Serene, relaxed and individual: the Christmas

Eve food at Palais Hansen Kempinski encompasses

it all. The restaurant Edvard dishes up a

7-course gourmet tasting menu, a probably even more

relaxed atmosphere can be found at "Die Küche" with

its 5 courses. Time for contemplation, family and joy.

Not even a culinary city such as Vienna makes it

easy to be served a great meal without cooking it

oneself in the days after the Christmas Eve. Toni

Mörwald recently started cooking things up at the

Grand Hotel. The gourmet restaurant Le Ciel pampers

you with turbot with lardo or champagne cream

sorbet with roses on Christmas Day (December 25)

and Boxing Day (December 26).

A glamorous New Year's Eve is guaranteed at the

Marriott Hotel Vienna with a colourful and joyous celebration

in the entire house. Different buffet variations

await guests in Parkring Restaurant, Salon Sachsen Coburg,

the Garden Café and the Cascade Bar. In addition

to a live band and a pianist, samba dancers from Brazil

contribute to the fabulous mood with their energetic

show. The Champions Sports Bar on the ground floor

invites you to a New Year's Eve Party with DJ.

The Guesthouse next to the Albertina offers a

special package for New Year's Eve: it includes three

nights in a deluxe room, New Year's Eve dinner in

the house, two circle tickets for the Hofburg New

Year's Eve Ball (see also page 134), hangover breakfast

in the room on 1 January as well as late checkout

until 4 pm on departure day.

Park Hyatt Vienna

Am Hof 2, Wien 1

Die Welt Der Feinen Uhren

in der historischen Beletage des Hotels

Medienpartner:

Cercle Diplomatique 3/2015

117
---
SAVOIR VIVRE MOTOR

4 x Modellpflege auf höchstem Niveau

Four premium facelifts

Text: Rois & Stubenrauch

Motor Engine

R6-Diesel und -Benziner, V8-Benziner, ab 2016 auch Hybridantrieb / R6

diesel and petrol engine, V8 petrol engine, from 2016 also hybrid drive

Antrieb Drivex

Hinterradantrieb / BMW xDrive / rear-wheel drive / BMW xDrive

kW (PS) kw (HP) 195 (265) – 330 (450)

Hubraum Capacity

2.993 – 4.395 cm3

Kraftstoffverbrauch Fuel consumption 4,5 – 8,3 l/100 km

Preis | Price ab | from € 96.000,-

Ford Galaxy: Kraftvolles Design, mehr Komfort | Powerful design, more comfort

Auch der Ford Galaxy erlebt diesen Herbst seine Neuauflage im Zeichen höchster Ingenieurskunst. Mit hochgezogener Fensterlinie und markantem Kühlergrill an das

aktuelle, kraftvolle Design der Ford-Familie herangeführt, erfährt der Großraum-Van mit intelligentem Allradantrieb und Pre-Collision Assist substanzielle Neuerungen

bei der Fahrsicherheit. Die dritte Sitzreihe lässt sich per Knopfdruck einklappen, Einparkassistent und ein Bewegungssensor zum Öffnen der Hecktür sorgen für

zusätzlichen Komfort.

A new Ford Galaxy is also being launched this autumn, thanks to the art of

engineering. The latest, powerful design includes a higher window line and a

distinctive grille. New features have improved the driving safety of this people

carrier, such as the intelligent four-wheel drive and Pre-Collision Assist. The

third row of seats can be easily folded flat at the touch of a button, the

Parking Assist System and a movement sensor to open the rear door all

provide additional comfort.

Motor Engine

Antrieb Drivex

kW (PS) kw (HP)

Hubraum Capacity

Kraftstoffverbrauch Fuel consumption

Preis Price

1,5 l und 2,0 l EcoBoost Benziner; 2,0 l TDCi Diesel / 1.5 l and 2.0 l

EcoBoost petrol engine; 2.0 l TDCi diesel

intelligenter Allradantrieb iAWD | intelligent four-wheel drive iAWD

88 (120) – 177 (240)

1.498 cm3 – 1.999 cm3

7,9 – 5,0 l/100 km

ab | from € 38.100,-

MINI Clubman: Maximale Individualität |

Maximum individuality

Jaguar XF: Britische Powerlimousine |

British power saloon

Seit BMW den Mini 2001 neu lanciert und ins 21. Jahrhundert geholt hat, ist der

kultige Kleinwagen aus dem Straßenbild nicht mehr wegzudenken. Im Zuge des

Generationenwechsels der Modellfamilie erfährt nun der Mini Clubman sein

Update: Die charakteristische, zweiflügelige Hecktür bleibt selbstverständlich

erhalten, ganze 27 cm mehr Länge und ein Plus von 9 cm in der Breite machen aus

dem neuen Clubman beinahe schon einen Maxi. In Sachen Individualität lassen elf

zur Auswahl stehende Farben und diverse Extras jedenfalls keine Wünsche offen.

Ever since BMW relaunched the MINI in 2001 and brought it into the 21st century,

this iconic compact car has become a fixture on our streets. Other MINI models

have gone through a generation change and now it is the MINI Clubman's turn to

be updated: it retains its distinctive split rear doors but now that it is 27 cm

longer and 9 cm wider, the new Clubman is nearly a maxi. It comes in 11 colours

and various extras to suit individual preferences, leaving nothing to be desired.

BMW 7er: Neues Flaggschiff aus München | BMW 7 Series: new flagship from Munich

Die neue Luxuslimousine XF des britischen Autobauers basiert wie die kürzlich

lancierte kleine Schwester XE auf der neu entwickelten iQ-Plattform mit

serienmäßiger Aluminium-Karosserie. Das pure, kraftvolle Design mit großen

Lufteinlässen und sportlicher Linie zeigt auch optisch die Kraft an, die unter der

Motorhaube des Jaguar XF steckt.

The British car manufacturer has based the new luxury XF saloon on the newly

developed iQ platform with a standard aluminium body, just like the XE, its little

sister, that was launched recently. The pure and powerful design with large air

intakes and a sporty form hints at the power concealed under the bonnet of the

Jaguar XF.

Vom rundum erneuerten BMW 7er, der Mitte September auf der IAA die offizielle Weltpremiere feiert, gibt es schon jetzt Imposantes zu berichten: Die Navigationsdatengestützte

Acht-Gang-Automatik bringt die Motorleistung effizient auf die Fahrbahn, beim V8-Benziner satte 450 PS! Für absolut ruhige Straßenlage selbst in der Nacht sorgt

die dynamische Luftfederung mit Radartechnik. Ferngesteuertes Ein- und Ausparken und Gestiksteuerung, die BMW als erster Automobilhersteller anbietet, runden das Bild ab.

Schließlich gilt es den Anspruch der Bayern zu untermauern, mit ihrem "Meisterstück" nicht weniger als die beste Limousine der Welt zu präsentieren.

Although the completely redesigned BMW 7 Series officially celebrates its world premiere at the IAA in mid-September, we can still mention some of its new impressive

features: the navigation-data-based eight-gear automatic transmission ensures the engine performs efficiently when driving, and the V8 petrol engine has an astounding 450

HP! The dynamic air suspension combined with radar technology enhances driving comfort and improves road handling, even at night. BMW is the first car manufacturer to

implement remote control parking and gesture control. This all confirms the Bavarian's claim that this "masterpiece" is simply the best saloon car in the world.

FOTOS: XYXXYXYXY

PHOTOS: HERSTELLER

Motor Engine

2.0 l R4 Diesel, 3.0 l V6 Diesel und Benziner / 2.0 l R4

diesel, 3.0 l V6 diesel and petrol engine

Antrieb Drivex

Hinterradantrieb, V6-Benziner auch AWD / rear-wheel

drive, V6 petrol also AWD

kW (PS) kw (HP) 120 (163) – 280 (380)

Hubraum Capacity

1.999 cm3 – 2.995 cm3

Kraftstoffverbrauch Fuel consumption 8,6 – 4,0 l/100 km

Preis Price ab | from € 42.100,-

Motor Engine TwinPower Turbo R4 Diesel, R3- und R4-Benziner /

TwinPower Turbo R4 diesel, R3 and R4 petrol

Antrieb Drivex

Hinterradantrieb | rear-wheel drive

kW (PS) kw (HP) 100 (136) – 141 (192)

Hubraum Capacity

1.499 cm3 – 1.998 cm3

Kraftstoffverbrauch Fuel consumption 6,3 – 4,1 l/100 km

Preis Price ab | from € 24.900,-

118 Cercle Diplomatique 3/2015

Cercle Diplomatique 3/2015 119
---
SAVOIR VIVRE LIFESTYLE

Keine Chance dem Herbstblues

Bypassing the autumn blues

Redaktion: Michaela Hocek

Weiterentwicklung einer Ikone

Evolution of an icon

Limitierter Luxus

Limited luxury

Van Dalsky ist ein österreichisches

Start-up, das sich auf

luxuriöse Strandtuniken

spezialisiert hat. Jedes

Kollektionsteil ist auf wenige

Exemplare limitiert. Gründerin

und Designerin Claudia

Wendner: "Mein Label steht

für handverarbeitete Qualität,

die in kleinen Schneidereien –

hauptsächlich in Europa –

produziert wird." Jede Tunika

ist mit einem Silber- oder

vergoldeten Silber-Emblem

mit Logo versehen.

Van Dalsky is an Austrian

startup which specialises in

luxury beach tunics. Each

collection is limited to a few

pieces. Founder and designer

Claudia Wendner: "My label

stands for carefully crafted

quality, produced mainly in

Europe by small tailoring

companies." Each tunic has a

silver or gilded platelet on

which the logo is engraved.

vandalsky.com

120 Cercle Diplomatique 3/2015

PHOTOS: ARNO LIPPERT, BEIGESTELLT

Einzigartiger Luxus und besondere Wirksamkeit – das Image der Skin Caviar Collection von La Prairie ist legendär.

Die Kosmetiklinie ist für ihre außerordentlich straffende und festigende Wirkung seit 1998 bekannt. Neu ist

Skin Caviar Luxe Cream Sheer, die mit ihrer seidigen, federleichten Textur pflegt und das Hautbild verfeinert.

Die Lifting-Wirkung lässt die Haut schon nach vier Wochen Anwendung elastischer, straffer und ebenmäßiger

erscheinen. Bei weiterer Anwendung verstärkt sich die außerordentliche Wirkung: Nach nur acht Wochen wirken Wangenpartie und Kieferkontur sichtbar straffer.

The image of unique luxury and extraordinary effectiveness of the Skin Caviar Collection by La Prairie is legendary. The cosmetic line is known for its extremely toning and

firming effect since 1998. The new Skin Caviar Luxe Cream Sheer with its silky, feathery texture maintains and refines the appearance of the skin. The lifting effect makes the

skin appear more elastic, firm and even after just four weeks of use. The extraordinary impact is strengthened upon longer application. After just eight weeks, the cheeks and

jawline look visibly firmer. laprairie.at

Maskulines Statement

Masculine statement

Profil zeigen ist für Männer

Teil des Alltags. Mit

Baldessarini Ultimate gelingt

das dank der metallig-würzigen

Frische des peruanischen

Pfefferbaums, Mandarine,

Bergamotte, Amber, Patschuli

und Weihrauch. Die Herznote

aus Freesie, Magnolie und

Jasmin erledigt den Rest.

Standing out from the crowd

is part of an everyday life aim

for men. With Baldessarini

Ultimate, featuring

metal-spicy freshness of the

Peruvian pepper tree with

mandarin, bergamot, amber,

patchouli and frankincense,

this goal can be reached. The

heart notes of freesia,

magnolia and jasmine will do

the rest.

baldessarini-fragrances.com

Sinnliche Hightech

Sensual high tech

Fernsehen war gestern. Smart TV ist heute. Das

Modell LG 98UB980 ist der beste Beweis dafür.

Das Ultra-HD-Gerät mit 248 cm Bildschirmdiagonale

und Cinema 3D Technologie zieht mit

erstklassiger 4K-Auflösung (8,3 Millionen Pixel),

True 4K Engine Pro für makellosen Detailreichtum

und LG Smart+ TV in seinen Bann.

Erhältlich bei Mediamarkt Wien-Mitte.

Television was yesterday. Smart TV is today. The

LG 98UB980 is the best proof. The Ultra HD

device with 248 cm screen diagonal and Cinema

3D technology convinces with premium 4K

resolution (8.3 million pixels), True 4K Engine

Pro for flawless detail and LG Smart+ TV.

Available at Mediamarkt Wien-Mitte.

mediamarkt.at

Rassige Sportlichkeit

Racy sportiness

Mit einem neuartigen 30-Sekunden-Chronograph

röhrt der Motor der Bentley B06 S. Das Manufakturkaliber

geht auf ein Patent von 1926 zurück.

Die Sonderserie mit 44 mm

Durchmesser, gerändelter Lünette

und schwarzem oder silbernem

Zifferblatt ist nicht nur schön

anzusehen, sondern feiert mit

dem variablen Tachometer auch

eine Weltpremiere.

The engine of the Bentley B06 S

roars with its innovative

30-second chronograph. The

manufacture calibre is based on a

patent from 1926. The special

series with 44 mm diametre,

knurled bezel and black or silver

dial is not only beautiful to look

at, but celebrates a world premiere

with the variable tachometer.

breitlingforbentley.com

Pure Schönheit

Pure beauty

Beauty-Anwendungen, die

ohne Skalpell auskommen,

rücken zunehmend in den

Fokus ästhetikbewusster

Menschen. Mit Adonis

Gesichts- und Körperfeeling

wird man diesem Trend bei

1st beauty spa gerecht.

Die Profis sind mit allen

Anti-Aging-Wellnessbehandlungen

vertraut.

Scalpel-free beauty

treatments are increasingly

shifting into focus for

aesthetics-conscious people.

With the Adonis Face and

Body Feeling, this trend is

met at 1st beauty spa. The

experts at the spa are familiar

with all the anti-aging

treatments.

firstbeautyspa.at

Glamfaktor hoch

Glam factor: high

"Winter Gardens" ist das

übergeordnete Thema der

aktuellen Herbst-/

Winterkollektion von

Swarovski. Die heitere

Gelassenheit japanischer

Zengärten hat die Designer

inspiriert. Beim Collier "Fit"

stimmen Symmetrie und

Tragegefühl.

"Winter Gardens" is the

overarching theme of the

current Swarowski autumn/

winter collection. The

designers were inspired by

the serenity of Japanese Zen

gardens. Symmetry and feel

are reflected perfectly in the

Fit necklace.

swarovski.com

Cercle Diplomatique 3/2015

121
---
SAVOIR VIVRE INTERIOR DESIGN

Wohnen mit Stil

Living in style

Redaktion: Michaela Hocek

Möbelmacher | Furniture makers

Inspirierend und smart

| Inspirational and clever

Die Polstermöbel-Kollektion "Terra" der Marke ADA AUSTRIA

Premium vereint edle Hölzer aus regionaler, nachhaltiger

Forstwirtschaft und hochwertige Polstermaterialien zu

zeitgemäßen Designkonzepten. Modell "Hudson", ein Entwurf des

österreichischen Designers Georg Mähring, ist mit eleganten

Massivholzelementen in Eiche oder Nuss eine Ruheinsel mit

Charakter. Darüber hinaus sorgen feiner Stoff oder naturbelassenes,

offenporiges Anilinleder auf einer erstklassigen

Polsterung für besten Sitzkomfort. Die Sitzgruppe ist Ausdruck

der hohen Kunst des Möbelmachens.

The "Terra" upholstered furniture collection by ADA Austria

Premium combines precious woods from regional, sustainable

forests and high-quality materials to create contemporary design

concepts. Elegant, solid wood elements in oak or walnut are used

in the "Hudson" model created by the Austrian designer Georg

Mähring, which represents a haven of peace. Fine fabrics or

open-pored aniline leather in its natural state on quality padding

offer prime seating comfort. The fine art of furniture making is

tastefully expressed in the furniture.

ada.at

Handverlesen | Handpicked

Einrichten mit allen Sinnen

| Decoration for the senses

122 Cercle Diplomatique 3/2015

"Shirins" in der Wiener Rahlgasse ist ein

Möbelgeschäft, das die Liebe zum Detail

mit Charme vermittelt. Exklusivität,

Ambiente und Service sind die Kernpunkte

für Shirin Akhavan. Sie sucht das gesamte

Sortiment selbst aus und plant auf Wunsch

auch die Inneneinrichtung für Wohnungen,

Häuser und Büros. Besonders stolz ist die

Inhaberin darauf, dass in ihrer Oase des

guten Geschmacks die Unikate der

Marke Rivièra Maison erhältlich sind.

Das Sortiment reicht von Sofas bis zu

stilvollem Geschirr. Viele der Produkte

werden in Ateliers weltweit hergestellt.

"Shirins" in Rahlgasse, Vienna, is a

furniture store which pays attention to

detail and charm. Exclusivity, ambience

and service are the key focus points for

Shirin Akhavan. She personally selects the

range and plans the interiors of

apartments, houses and offices upon

request. Her particular pride as owner of

the shop is that the unique brand Rivièra

Maison is available in her oasis of good

taste. The assortment ranges from sofas to

stylish crockery. Many of the items are

produced in studios worldwide.

shirins.at

PHOTOS: WWW.AMIRG.AT, BEIGESTELLT

Cercle Diplomatique 3/2015 123
---
LE SAVOIR XYX XYXYXY VIVRE AUTUMN OF ART IN VIENNA

Zeit für Kunst und Design

Time for art and design

Text: Rois & Stubenrauch

INFO

FOTOS: XYXXYXYXY

FOTOS: XYXXYXYXY

Wenn die Tage wieder kürzer werden und die Blätter sich langsam färben,

schwingt sich Wien mit zahlreichen hochkarätigen Events für zwei Monate zur

europäischen Kunst- und Designhauptstadt auf.

When days start getting shorter and the leaves are slowly changing their colours,

then this is the time when Vienna becomes the European art and design capital by

hosting numerous top-class events for two whole months.

Ein kompakter Querschnitt des aktuellen heimischen

und internationalen Kunstschaffens,

hochgradig konzentriert an einem Ort – das

ist die viennacontemporary. Mit neuem Namen und

bewährtem Team startet die profilierte Messe für

Gegenwartskunst vom 24. bis 27. September erstmals

in der Marx Halle im dritten Bezirk durch. "Wien

bietet mit der Kombination aus reicher Geschichte

und pulsierender moderner Kunstszene

ein einzigartiges Setting", schwärmt Christina

Steinbrecher-Pfandt, künstlerische Leiterin der

viennacontemporary. "Unser Ziel ist es, die erste

wichtige internationale Kunstmesse im Herbst zu

sein." Galerien aus 24 Ländern von Aserbaidschan

bis zu den Vereinigten Arabischen Emiraten, darunter

alle wichtigen Player der Wiener Kunst- und

Galerieszene, unterstreichen diesen Anspruch eindrucksvoll.

Dem bewährten Schwerpunkt Mittelund

Osteuropa bleibt man selbstverständlich auch

dieses Jahr treu. "Die Kunstszene der CEE-Region

gilt es auch über 25 Jahre nach dem Fall der Berliner

Mauer noch immer zu entdecken", ist Steinbrecher-

Pfandt überzeugt. Die diesjährige "Focus Bulgaria"

etwa gewährt einen profunden Einblick in die dynamische

Kunstszene des Balkanlandes. Spannend und

für Entdeckungen gut wird sicher auch die Parallel

Vienna, die, wie der Name sagt, parallel zur viennacontemporary

stattfindende, wilde kleine Schwester

der etablierten Kunstmesse in der leer stehenden alten

Postzentrale an der Dominikanerbastei – schon

der besondere Spielort ist einen Besuch wert.

Zwanzig internationale Starkuratoren

Auf eine ganze Reihe packender und origineller

Positionen aktueller Gegenwartskunst samt Wanderung

durch die Wiener Innenstadt wird man wiederum

von der Galerienschau "Curated by" eingeladen.

Zwanzig führende Wiener Galerien setzen den eigentlichen

Startschuss für den Wiener Kunstherbst

und bitten am Abend des 10. September zur Vernissage.

In Kooperation mit der viennacontemporary

und mit Unterstützung von departure wurden zwanzig

international renommierte Kuratorinnen und

Kuratoren nach Wien geladen, um jeweils eine Ausstellung

zu realisieren. "Tomorrow Today", ein Essay

des Philosophen Armen Avanessian, steht als thematische

Klammer über dem spannenden Ausstellungsmarathon,

der bereits zum siebten Mal den

Wiener Kunstherbst befeuert.

Französisches Design zu Gast in Wien

Den Terminkalender für kulturinteressierte Stadtbewohner

noch einmal heftig verdichten wird dann

die Vienna Design Week, die vom 25. September bis

4. Oktober unter der Losung "A City full of Design"

die ganze Stadt mit einer Vielzahl von Events, Ausstellungen,

Vorträgen und Workshops und Design in

seiner ganzen Breite und all seinen Facetten überzieht.

Als prominentes Gastland begrüßt das Designfestival

dieses Jahr Frankreich, was zahlreiche illustre

Programmhöhepunkte nach sich zieht, wie Festivalleiterin

Lilli Hollein voller Vorfreude erläutert:

"Besonders gespannt bin ich auf die Ausstellung

,20 Ikonen des französischen Designs', kuratiert von

Cédric Morisset und Hélène Convert. Sie bietet einen

Einblick in fast 100 Jahre französisches Design und

zeigt Objekte, die eine ganze Generation geprägt haben.

Außerdem besucht der französische Stararchitekt

Dominique Perrault die Vienna Design Week für

einen Vortrag über sein aktuelles Projekt in Versailles,

da freue ich mich natürlich auch schon sehr darauf."

Fokusbezirk ist in diesem Jahr Favoriten, mit der

Brotfabrik hat sich die Vienna Design Week einen

aufstrebenden Hotspot der Wiener Kunstszene als

Festivalzentrale ausgesucht. Im Rahmen des beliebten

Festivalformats "Passionswege" arbeiten wieder

junge, aufstrebende DesignerInnen mit Wiener

Traditionsunternehmen zusammen. Design in all

seinen Spielarten vom kultigen Citroën DS in der

Festivalzentrale bis zum avantgardistischen Social

Design im Stadtraum macht Wien zehn aufregende

Tage lang zur Designhauptstadt Europas.

Wiener

Kunstherbst |

Vienna's

Autumn of Art

Curated by_vienna

Vernissage: 10. September,

11. September bis

17. Oktober 2015

Opening event:

10 September,

11 September to

17 October 2015

curatedby.at

viennacontemporary

24. bis 27. September 2015

24 to 27 September 2015

viennacontemporary.at

Parallel Vienna

23. bis 27. September 2015

23 to 27 September 2015

parallelvienna.com

Vienna Design Week

25. September bis

4. Oktober 2015

25 September to

4 October 2015

viennadesignweek.at

ORF Lange Nacht der

Museen 2015

ORF Long Night of

Museums 2015

Samstag, 3. Oktober 2015

Saturday, 3 October 2015

langenacht.orf.at

Viennafair

8. bis 11. Oktober 2015

8 to 11 October 2015

viennafair.at

Vienna Art Week

16. bis 22. November 2015

16 to 22 November 2015

viennaartweek.at

VIENNA ART WEEK

Olafur Eliasson,

Seu planeta compartilhado,

2011, 195 x 325 x 200 cm.

124 Cercle Diplomatique 3/2015

Cercle Diplomatique 3/2015 125
---
LE SAVOIR XYX XYXYXY VIVRE AUTUMN OF ART IN VIENNA

CURATED_BY

Nachts im Museum, tagsüber auf der Kunstmesse

Pflichttermin für kulturaffine Nachtschwärmer

ist dann die Lange Nacht der Museen: Am 3. Oktober

ist der Kunstgenuss bis ein Uhr früh ausgedehnt.

Neben den regulären Ausstellungen haben viele der

teilnehmenden Galerien und Museen zahlreiche

Sonderveranstaltungen für die nächtlichen Besucher

auf dem Programm. Vom 8. bis 11. Oktober findet

der Reigen dann in den Messehallen im Wiener

Prater mit der Viennafair seine Fortsetzung. Diesen

Herbst finden somit nach dem Neustart der Vienna

Contemporary im 3. Bezirk erstmals zwei Messen

für zeitgenössische Kunst in Wien statt – dem kunstinteressierten

Publikum soll's recht sein. Die

Viennafair sucht ihr Profil jedenfalls mit einer großen

kuratierten Schau zu schärfen, die sich unter

dem Titel "kínēsis – eine Studie zur Bewegung im

Bild" dem Wiener Kinetismus, den 1960er-Jahren

und der zeitgenössischen Kunst widmet, und erweitert

ihren Fokus zudem mit der Viennafair Masters

auf den Kunsthandel.

Art as art can

Für den fulminanten Schlusspunkt des Wiener

Kunstherbstes sorgt schließlich die Vienna Art

Week: Vom 16. bis 22. November gehen zahlreiche

Ausstellungen, Performances, Spezialführungen,

Künstlergespräche, Vorträge und Podiumsdiskussionen

unter Beteiligung aller wichtigen Wiener Kunstinstitutionen

von der Akademie der bildenden

Künste über das Dorotheum bis zur Secession über

die Bühne. Vor elf Jahren als exklusive Veranstaltung

für Kunstexperten und Sammler ins Leben gerufen,

hat sich die Vienna Art Week inzwischen zu einem

international beachteten Kunstereignis ausgeweitet,

das eine beeindruckende Woche lang noch einmal

aufzeigt, was die Stadt in Sachen Kunst alles zu bieten

hat. "Einen guten Moment, das Atelier für Besucher

und Besucherinnen zu öffnen" sieht die Künstlerin

Barbara Kapusta etwa im schon traditionellen Open

Studio Day am 21. November, bei dem mittlerweile

bereits rund 100 in Wien tätige Kunstschaffende einen

spannenden Blick über die Schulter gewähren.

"Man ist dann sehr nahe an den Materialien und

Rohzuständen der Arbeiten, spricht über Ideen und

Pläne – das mag ich." Ein weiterer Höhepunkt unter

den zahlreichen Programmpunkten wird sicherlich

die Eröffnung der Ausstellung des isländisch-dänischen

Künstlerstars Olafur Eliasson im Winterpalais

des Belvedere und in der TBA21Augarten. Nach die-

FOTOS: XYXXYXYXY

FOTOS: XYXXYXYXY

PHOTOS: GOLDIN+SENNEBY/INDEX, STOCKHOLM; GALERIE ENGHOLM; COURTESY GALERIE MICHAEL SCHULTZ, BERLIN

ser geballten Ladung an Malerei, Design, Performance

und Diskussionen über die Kunst darf sich

Wien dann guten Gewissens in die besinnliche

Vorweihnachtszeit verabschieden.

A

compact cross-section of current national

and international art work, highly concentrated

in one place – that is the viennacontemporary.

With a new name and tried and tested

team, the distinguished fair for contemporary art

will be held at the Marx Halle in the third district

from 24 to 27 September for the first time. "Vienna's

rich history combined with pulsating modern art

provides a unique setting," Christina Steinbrecher-

Pfandt, artistic director of the viennacontemporary,

enthuses. "It is our goal to be the first important international

art fair that takes place in autumn." Galleries

from 24 countries ranging from Azerbaijan to

the United Arab Emirates, not forgetting all of the

important players in Vienna's art and gallery scene,

point towards this aspiration. The fair has remained

true to its established focus on Central and Eastern

Europe this year, too. "The art scene in the CEE region

is still waiting to be discovered, even after more

than 25 years after the fall of the Berlin Wall," Steinbrecher-Pfandt

maintains. This year's "Focus Bulgaria"

gives a somewhat deeper insight into the dynamic

art scene in the Balkan countries. The Parallel

Vienna is fascinating as well as great for discovering

new artists, which, just as the name says, is a parallel

fair running alongside the viennacontemporary, as

its wild little sister, in the empty Alte Post at the Dominikanerbastei

– the venue is worth visiting.

Twenty international star curators

Despite the numerous thrilling and unique locations

showing current contemporary art as well as

the impressive Viennese historic city, the "curated_

by" gallery exhibition will stop you in your tracks.

Twenty of Vienna's leading galleries are in fact opening

the autumn of art with a preview on 10 September.

In cooperation with the viennacontemporary

and supported by departure, 20 internationally renowned

curators were invited to Vienna to hold their

own exhibitions. "Tomorrow Today", an essay written

by the philosopher Armen Avanessian, is the theme

of this exciting exhibition marathon, which has

inspired Vienna's autumn of art for the seventh time

now.

VIENNA

CONTEMPORARY

Cornelia Schleime, Björk,

2012-2014, Galerie Michael

Schultz, Berlin.

Goldin+Senneby, Headless

From the Public Record,

2009, Galerie Hubert

Winter (oben / top).

horses futurepast, Angie

Keefer, Kerstin Engholm

Galerie (unten / below).

126 Cercle Diplomatique 3/2015

Cercle Diplomatique 3/2015

127
---
SAVOIR VIVRE AUTUMN OF ART IN VIENNA

VIENNA DESIGN

WEEK

Sitzen – Wiener SITZgruppe

(oben / top).

Chmara.Rosinke,

Cucina futurista 2.0

(unten / below).

French design comes to Vienna

The diaries of Vienna's culture buffs are going to

get a lot fuller during the Vienna Design Week,

which is running from 25 September to 4 October

under the slogan "A City full of Design" with numerous

events, exhibitions, talks and workshops on

the entire spectrum of design, in all its facets all across

town. The host country of this year's design festival

is France and their programme has many outstanding

highlights, as festival manager Lilli Hollein

explains enthusiastically, "I'm really excited about

the '20 icons of French design' exhibition by Cédric

Morisset and Hélène Convert. It provides an insight

into nearly 100 years of French design and will be

showing objects that have influenced a whole generation

on an international level. The French star architect

Dominique Perrault will also be visiting the

Vienna Design Week to give a talk on his current

project in Versailles, I'm really looking forward to

that, too." The chosen district this year is Favoriten,

and by making the Brotfabrik its HQ, the Vienna Design

Week has gone for an up-and-coming hotspot in

Vienna's art scene. As part of the popular festival format

"Passionswege" ('Path to Passion'), young aspiring

designers are working again with traditional

companies in Vienna. Design in all its variety from

the iconic Citroën DS at the festival HQ to the avantgarde

Social Design in Stadtraum will be turning Vienna

into the design capital of Europe for ten exciting

days.

The museum at night, the art fair by day

The Long Night of Museums ('Lange Nacht der

Museen') is a compulsive event for night revellers

who are also interested in culture: on 3 October visitors

can enjoy art up until 1 in the morning. Apart

from the regular exhibitions, many of the participating

galleries and museums have planned a number

of special events for their nocturnal visitors. It continues

in the exhibition halls of the Vienna Prater from

8 to 11 October as the Viennafair. Two contemporary

art fairs are being held in Vienna this autumn simultaneously

for the first time since the viennacontemporary

relocated to the 3rd district – art

PHOTOS: CLAUS KROMMER; CHMARA.ROSINKE; REED MESSE WIEN/CHRISTIAN HUSAR

lovers surely won't mind. The Viennafair is also trying

to sharpen its profile with a large curated show,

dedicated to Vienna's kinetic art, the 1960s and contemporary

art and with the title 'kínēsis – a study on

the movement in images' and has started the Viennafair

Masters to broaden its focus on art trade.

Art as Art can

The Vienna Art Week is the grand finale of

Vienna's autumn of art: from 16 to 22 November, numerous

events, performances, special guided tours,

discussions with the artists, talks and podium discussions

will be attended by all of Vienna's important

art institutions from the Academy of Fine Arts to the

Dorotheum to the Secession to the Bühne. Having

started eleven years ago as an exclusive event for art

experts and collectors, the Vienna Art Week has now

grown into an internationally acclaimed art event

showing everything the town has to offer regarding

art for a whole impressive week. "The ideal opportunity

to open studios for visitors," the artist Barbara

Kapusta is referring to the traditional Open Studio

Day on 21 November where as many as 100 artists

working in Vienna allow strangers to look over their

shoulders. "You are so close to all of the materials

and unfinished works and can talk about ideas and

plans – I love that." Another highlight among the numerous

events is probably the opening of Olafur

Eliasson's exhibition, the Danish-Icelandic artist star,

in the Winterpalais of the Belvedere and in the TBA-

21Augarten. After this highly concentrated charge of

painting, design, performance and discussions about

art, Vienna unashamedly embraces the contemplative

pre-Christmas season.

VIENNAFAIR

Messebesucher in der

Halle A der Reed Messe

Wien.

Fair visitors in Hall A at

Reed Messe Vienna.

23. September 2015 bis 10. Jänner 2016

11 | 09 –

17 | 10 | 2015

PROJEKTRAUM VIKTOR BUCHER | Vincent Honoré CHARIM GALERIE |

Brigitte Huck & Martin Guttmann KERSTIN ENGHOLM GALERIE | Chris

Fitzpatrick GALERIE ERNST HILGER | Jeanette Zwingenberger GALERIE

ANDREAS HUBER | Rózsa Zita Farkas GALERIE MARTIN JANDA | Joe

Scanlan GEORG KARGL FINE ARTS | Barnabás Bencsik KNOLL GALERIE

WIEN | Sebastian Cichocki CHRISTINE KÖNIG GALERIE | Cointemporary

KRINZINGER PROJEKTE | Harald Falckenberg KROBATH WIEN | Friederike

Nymphius GALERIE EMANUEL LAYR | Catherine Chevalier & Benjamin Hirte

MARIO MAURONER CONTEMPORARY ART | Katerina Gregos GALERIE

MEYER KAINER | N.O.Madski GALERIE RAUM MIT LICHT | Ruth Noack

GALERIE NÄCHST ST. STEPHAN ROSEMARIE SCHWARZWÄLDER | Kolja

Reichert GABRIELE SENN GALERIE | Marcus Andrew Hurttig GALERIE

STEINEK | Myriam Ben Salah GALERIE ELISABETH & KLAUS THOMAN |

Veit Loers GALERIE HUBERT WINTER | Alfredo Cramerotti

curatedby.at

Der Weg vom Krieg zum Frieden

Çanakkale / Gallipoli

1915-2015

www.hgm.at

Unbenannt-3 1 06.08.2015 13:56:39

Edvard Munch, Vampir, 1895/1902 –1914; Privatsammlung Courtesy Galleri K, Oslo © Reto Rodolfo Pedrini, Zürich

Edvard

MUNCH

SEPTEMBER 25, 2015 – JANUARY 24, 2016

ALBERTINAPLATZ 1, 1010 VIENNA | DAILY 10 AM TO 6 PM, WEDNESDAY 10 AM TO 9 PM

Cercle WWW.ALBERTINA.AT

Diplomatique 3/2015 129
---
SAVOIR VIVRE ARTS

Kultur-Highlights Herbst 2015

Cultural Highlights Autumn 2015

Redaktion: Evelyn Rois

Kampf für

Gerechtigkeit

Fight for justice

Wie kaum ein anderer hat Simon Wiesenthal den (Nicht-)Umgang Österreichs mit seiner

NS-Vergangenheit angeprangert und von Wien aus unermüdlich seinen weltweiten Kampf für

Gerechtigkeit geführt. Anlässlich seines zehnten Todestages widmet das Jüdische Museum Wien dem unbequemen, in Galizien geborenen

Holocaust-Überlebenden mit "Wiesenthal in Wien" vom 20.9.2015 bis März 2016 ein vielschichtiges Porträt.

Simon Wiesenthal, like almost no other, denounced how Austria (non-)dealt with its Nazi past and waged a global struggle for justice with

Vienna as his hub. On the occasion of the tenth anniversary of his death, the Jewish Museum Vienna honours the Holocaust survivor born in

Galicia with the multifaceted portrait "Wiesenthal in Vienna" from 20 September 2015 to March 2016.

jmw.at

Wiens Bürgermeister

Helmut Zilk und Simon

Wiesenthal, 1985.

The Mayor of Vienna,

Helmut Zilk, and Simon

Wiesenthal in 1985.

Winona Ryder im Film "Experimenter" von

Michael Almereyda.

Winona Ryder in the movie "Experimenter"

by Michael Almereyda.

Großes Kino

Big cinema

Jedes Jahr Ende Oktober versetzt

Österreichs größtes Filmfestival

"Viennale" ganz Wien in einen

cineastischen Ausnahmezustand:

300 aktuelle Höhepunkte der

weltweiten Kinoproduktion, vom

großen Historienspektakel "The

Assassin" von Hou Hsiao-hsien bis

zum ersten Zusammentreffen von

Isabelle Huppert und Gérard

Depardieu seit 35 Jahren in "Valley

of Love" flimmern vom 22.10. bis

5.11.2015 über die Leinwände der

vier Festivalkinos.

The Viennale, Austria's largest film

festival which takes place every

year in late October, transforms

Vienna into a cinematic state of

commotion: 300 current highlights

of worldwide movie productions

grace the canvases of the four festival

cinemas. The great historical

spectacle "The Assassin" by Hou

Hsiao-hsien and "Valley of Love",

the first movie in which Isabelle

Huppert and Gérard Depardieu

appear together in 35 years, are

just two of the main features. From

22 October to 5 November 2015.

viennale.at

PHOTOS: JASON ROBINETTE; MA 13 LANDESBILDSTELLE; COURTESY GALLERI K, OSLO / RETO RODOLFO PEDRINI, ZÜRICH

Kunsthalle der Alpen

Art gallery in the Alps

In St. Christoph am Arlberg, auf rund 1.800 Meter

Seehöhe, wird es in Zukunft einiges an hochkarätiger

Kunst zu sehen geben: "Arlberg1800" nennt sich

die "höchste Kunsthalle der Alpen", ein kühn in den

Berg gesetzter Bau mit Ausstellungs- und

Konzerthalle. Initiiert hat das Projekt der umtriebige

Tiroler Hotelier Florian Werner. Soft Opening ist am

1.10.2015 – Höhenrausch inbegriffen!

In St Christoph am Arlberg, at 1,800 metres above

sea level, there will be a lot of world-class art to see

in the future. "Arlberg1800" calls itself the "highest

art gallery in the Alps", a bold building with an

exhibition and concert hall located in the mountain.

The highly driven Tyrolean hotelier Florian Werner

initiated the project. High-altitude euphoria is

guaranteed at the soft-opening on 1 October 2015!

arlberg1800.at

Edvard Munch,

Abend. Melancholie I,

1896/97

27. 9. — 6. 12. 15

pillars of fire

darkness aglow

The volcano painter

Michael Wutky

Melancholie | Melancholy

Mit unglaublicher Intensität arbeitete sich

Edvard Munch in den 1890er-Jahren an den

großen Themen des menschlichen Daseins

ab. "Liebe, Tod und Einsamkeit" in der

Albertina ist zweifellos das Ausstellungsereignis

der Saison und bringt vom 25.9.

2015 bis 10.1.2016 rund 120 bedeutende

Werke des norwegischen Expressionisten

mit Fokus auf seinem bahnbrechenden

druckgrafischen Werk nach Wien.

Edvard Munch began working on the great

topic of human existence in the 1890s with

incredible intensity. "Love, death and

loneliness" at the Albertina museum is

undoubtedly the most outstanding

exhibition of the season with about 120

important works by the Norwegian

expressionist. The focus is on Munch's

groundbreaking printmaking work, which is

still bursting with rich expression more

than a hundred years after its creation. Not

to be missed from 25 September 2015 to

10 January 2016.

albertina.at

130 Cercle Diplomatique 3/2015

The Paintings Gallery of the Academy of Fine Arts Vienna | 1., Schillerplatz 3 | Tue – Sun 10 am – 6 pm | www.akademiegalerie.at
---
SAVOIR VIVRE ARTS

Egon Schiele, Sitzende Frau in violetten Strümpfen, 1917.

Quiet Tip "Friday Afternoon MuTh in Vienna´s Augarten.

Future Vintage

Japanische Energie

Japanese energy

Hommage an

Anton Bruckner

Tribute to Anton

Bruckner

Vom Macao Orchestra über

Valery Gergiev mit dem

Mariinsky Orchester

St. Petersburg bis zur

Moskauer Kammeroper –

zum Brucknerfest treffen sich

jedes Jahr internationale

Musiker aus den unterschiedlichsten

Stilrichtungen in Linz

für eine Hommage an den

großen Sinfoniker des

19. Jahrhunderts Anton

Bruckner. 13.9. bis 7.10.2015.

From the Macao Orchestra

and Valery Gergiev with the

Mariinsky Orchestra of St.

Petersburg to the Moscow

Chamber Opera – every year,

international musicians from

different styles come together

at the Bruckner Festival in

Linz to pay homage to Anton

Bruckner, the great composer

of the 19th century. 13

September to 7 October 2015.

brucknerfest.at

TrioVanBeethoven.

PHOTOS: PETER RIGAUD; R. WINKLER; ANNA PESCHKE; COURTESY RICHARD NAGY LTD., LONDON;

ARLBERG1800 /CHRISTIAN REICH

Anna Peschke; Ophiopogon.

Der Steirische Herbst, anspruchsvollavantgardistisches

Festival in Graz und

Umgebung, widmet sich vom 25.9. bis

18.10.2015 in gewohnter Vielfalt seinem

Leitmotiv "Back to the Future".

Performance, Tanz und Musik gehören

dabei ebenso zu den Stilmitteln des

Festivals wie ein temporäres

feministisches Nagelstudio oder noch

nie gehörte Klanginstallationen auf der

Murinsel.

The steirischer herbst, a sophisticated

avant-garde festival in Graz and the

surrounding area from 25 September to

18 October 2015, is devoted to its

multidisciplinary theme "Back to the

Future". Performance, dance and music

feature as part of the productions as

well as a temporary feminist nail salon

or a sound installation on the Murinsel

which has never been heard before.

steirischerherbst.at

Zu neuen Ufern

Pastures new

Vienna Boy's Choir

Die freizügige Darstellung von Liebespaaren, schwangeren Frauen und

Akten führt in der Ausstellung "Klimt, Schiele, Kokoschka und die

Frauen" vom 22.10.2015 bis 28.2.2016 im Unteren Belvedere Wien

exemplarisch vor Augen, wie Anfang des 20. Jahrhunderts durch

weitreichende gesellschaftliche Umbrüche die traditionelle

Geschlechterordnung immer stärker in Frage gestellt wurde.

The liberal representation of loving couples, pregnant women and

nudes in the exhibition "Klimt, Schiele, Kokoschka and the Women"

from 22 October 2015 to 28 February 2016 at the Lower Belvedere

Vienna shows how traditional gender roles were increasingly

questioned through far-reaching social changes in the early 20th

century.

belvedere.at

Friday Afternoons

Camerata Schulz

Artistic Director: Gerald Wirth

Für das renommierte Tonkünstler-Orchester Niederösterreich beginnt eine neue, herausfordernde Ära:

Yutaka Sado, der als einer der bedeutendsten japanischen Dirigenten unserer Zeit gilt, folgt mit Beginn der

Saison 15-16 Andrés Orozco-Estrada als neuer Chefdirigent. Sein Antrittskonzert dirigiert Yutaka Sado am

1. Oktober 2015 im Wiener Musikverein, als Solistin wird die Pianistin Maria João Pires zu erleben sein.

A new and challenging era is ahead for the prestigious Tonkunstler Orchestra from Lower Austria: Yutaka

Sado, one of the most important Japanese conductors of our time, follows Andrés Orozco-Estrada as the

new chief conductor at the start of the 15-16 season. He conducts his inaugural concert on 1 October 2015 at

the Musikverein Vienna with the pianist Maria João Pires as soloist.

musikverein.at, tonkuenstler.at

Yutaka Sado, neuer Chefdirigent des

Tonkünstler-Orchesters.

Yutaka Sado, new principal conductor of the

Tonkunstler Orchestra.

132 Cercle Diplomatique 3/2015

Every Friday at 5.30 pm

11 Sept. – 23 Oct. 2015

Tickets: Tel. +43 1 347 80 80, www.muth.at or at the Box Office

Konzertsaal der Wiener Sängerknaben

Am Augartenspitz 1, 1020 Wien

Penthouse Perfection Photo: lukasbeck.com
---
SAVOIR VIVRE UPCOMING

Wo es uns gefällt

Where we love to be

Text: Daniela Pötzl

Geschichte | History

Residenzen mit

Geschichten

| Residences with stories

PHOTOS: FOTO FAYER, HOTEL SACHER, DGWH

Kunstprojekt | Art project

Karitativ im Sacher

| Charitable Sacher

Die Artists' Collection ist ein karitatives

Projekt, das 2009 von Elisabeth Gürtler mit

dem Credo "Gutes bewahren und mit neuem

Guten verbinden" ins Leben gerufen wurde.

Jedes Jahr gestaltet dabei ein bekannter

österreichischer Künstler die Holzkiste der

Original Sacher-Torte, heuer Hans Staudacher.

Der Reinerlös der streng limitierten Edition

geht an die Gesellschaft für Epileptologie.

The Artists' Collection is a charitable project

which was launched in 2009 by Elisabeth

Gürtler in line with the motto to "preserve

what is good and connect with new good

things". Every year, a well-known Austrian

artist designs the wooden box packaging of

the Original Sacher-Torte, this time the artist is

Hans Staudacher. The net proceeds of the

strictly limited edition go to the Austrian

association of epileptology.

sacher.com

Einst schlossen sich Eigentümer

schönster historischer Anwesen zur

Kooperation der "Schlosshotels &

Herrenhäuser" zusammen. Nun wurde

das 50-Jahr-Jubiläum im berühmten

Schloss des Salzburger Festspielbegründers

Max Reinhardt gefeiert.

"Eine Mitgliedschaft ist bei

Eigen tümern historischer Anwesen

heute gefragter denn je", freut sich

Präsident Max Eidlhuber.

Owners of the most beautiful historic

estates once formed the cooperation

"Castle Hotels & Mansions". The 50th

anniversary was celebrated at the

famous (Salzburg Festival founder)

Max Reinhardt castle. "Membership

by owners of historic property is in

higher demand than ever," president

Max Eidlhuber is happy to report.

schlosshotels.co.at

Gute Idee | Great idea

Elegante Mitbringsel

| Elegant presents

Auf der Suche nach etwas aus Österreich

als Geschenk für die Lieben zu Hause?

"Das goldene Wiener Herz" ist legendär,

viel besungen und zitiert. Unter diesem

Namen vertreiben Veronika Janele und

Alexander Dworsky Produkte mit Wiener

Stil. Die formschönen Porzellanbecher mit

Wiener Architektur-Details des Jugendstils

gibt es z.B. im eigenen Store am Spittelberg,

in ausgewählten Museums- und

Designshops sowie online.

Looking for something from Austria as a gift

for loved ones back home? The golden

Viennese heart is legendary, celebrated and

oft-quoted. Veronika Janele and Alexander

Dworsky sell products with Viennese style

at "Das goldene Wiener Herz". The lovely

porcelain mugs with Viennese Jugendstil

architecture inspired design are available

in-store at Spittelberg, in selected museums

and design shops as well as online.

dgwh.at

Termin-Aviso | Save the date

Stilvoll reisen

| Travel in style

Bei der wohl schönsten Reisemesse,

dem Reisesalon in der Wiener

Hofburg, kann man vom 20. bis

22. November 2015 wieder Ausschau

nach einer geeigneten Destination für

den nächsten Urlaub halten.

Fokuspartner sind der Robinson Club

und Ethiopian Airlines. Über die

Onlineplattform sind übrigens

Reiseangebote 365 Tage im Jahr

buchbar.

At the Vienna Hofburg ReiseSalon,

arguably the most beautiful travel fair,

one can look out for a suitable holiday

destination from 20 to 22 November

2015. Robinson Club and Ethiopian

Airlines are main partners. You can

book your next travel deal via the

online platform 365 days a year.

reisesalon.at

Silvesterball Hofburg | Hofburg New Year's Eve Ball

Eine unvergessliche Ballnacht| An unforgettable ball night

Die Damen tragen bodenlange Abendkleider, die Herren Frack, Smoking oder Galauniform. Auch nationale wie internationale Landestrachten

sind hier herzlich willkommen. Dermaßen elegant gewandet können Sie eine unvergessliche Ballnacht verbringen und ins neue Jahr feiern.

Der Silvesterball in der Wiener Hofburg bietet Tanzmusik von Walzer bis Jazz, Neujahrswalzer und Arienreigen um Mitternacht mit SolistInnen

der Wiener Staatsoper und Volksoper Wien sowie die beliebte Publikumsquadrille zum Mitmachen. Für das leibliche Wohl sorgen das

Galadiner, ein Wiener Kaffeehaus oder die Cocktailbar. Wohlbehalten nach Hause kommen Sie dann mit dem Transferservice.

The ladies wear full length ball gowns, the gentlemen tails, tuxedo or gala uniform. National and international costumes are welcome here

as well. Apparelled so elegantly, you can enjoy an unforgettable ball night and celebrate the New Year. The Hofburg Silvesterball offers

dance music from waltz to jazz, New Year's waltz and arias performed by soloists from the Vienna State Opera and Vienna Volksoper at

midnight as well as the popular take to the floor for the public quadrille. A gala dinner, a Viennese coffee house or the cocktail bar

guarantee your well-being. To ensure that you come home safely, a transfer service will take you there.

INFORMATION & BOOKING

HOFBURG VIENNA

Heldenplatz, 1014 Vienna

Tel.: +43 1 5873666 214

hofburgsilvesterball.com

134 Cercle Diplomatique 3/2015
---
SAVOIR VIVRE TRAVEL

Fernweh

Itchy Feet

Die besten neuen Hotels und Restaurants aus aller Welt. | The best new hotels and rest aurants around the world.

Redaktion: Gerald Sturz

Dubai

Grosvenor House

Die beiden 45 Stockwerke hohen Türme,

die das Grosvenor House Hotel bilden,

sind längst zu einem der berühmten

Wahrzeichen des modernen Dubai

geworden. Hinter der ikonischen und

modernen Fassade der – miteinander

verbundenen – Twin Towers steckt eines

der anspruchsvollsten und elegantesten

Hotels des Scheichtums. Als Mitglied

der Luxury Collection von Starwood

Hotels muss es auch höchsten

Ansprüchen gerecht werden. Das

Grosvenor House befindet sich an der

Dubai Marina, zum Strand, zu den

Golfplätzen und gerühmten Einkaufszentren

von Dubai ist es nicht weit.

Selbstverständlich bietet das Hotel auch

hervorragende Facilities für Konferenzen

und Meetings und mit dem Retreat

Health & Spa und dem B/Attitude Spa

zwei wunderbare Orte für Rest &

Recreation. Sechzehn Restaurants

sorgen für Stärkung und Genuss.

The two 45-storey towers of the

Grosvenor House Hotel have been a

landmark in modern Dubai for some

time now. Behind the iconic and modern

facade of the Twin Towers which are

connected to each other is one of the

most upmarket and elegant hotels in the

sheikdom. As a Luxury Collection Hotel

belonging to Starwood Hotels, it has to

meet the highest demands. Grosvenor

House is located in the Dubai Marina,

not far from the beach, golf courses and

the fantastic shopping centres of Dubai.

The hotel also has excellent facilities for

conferences and meetings, its Retreat

Health & Spa and B/Attitude Spa are

perfect havens to relax and enjoy

pampering treatments. Sixteen

restaurants will give your taste buds a

treat.

grosvenorhouse-dubai.com

PHOTOS: MIRCO TOFFOLO, BEIGESTELLT

Jesolo

Falkensteiner Hotel & Spa

Jesolo

"Jesolo meets Miami Beach" – unter dieses

Motto stellt sich das neue Resort, das die

italienisch-österreichische Falkensteiner Gruppe

kürzlich in dem norditalienischen Badeort Lido

di Jesolo eröffnet hat. Tatsächlich könnte der

weiß strahlende Bau auch an einem Strand in

Florida stehen. Errichtet wurde es nach Plänen

des amerikanischen Star-Architekten Richard

Meier, das Interior-Design stammt von dem

Mailänder Designer Matteo Thun. So ist das

Resort in diesen Wochen und Monaten nicht nur

ein idealer Platz, um den Sommer ein wenig zu

verlängern, sondern es ist dank seiner Facilities

auch ein guter Ort für Kongresse und Meetings.

Und das wunderbare Venedig ist nur eine kurze

Bootsfahrt entfernt.

"Jesolo meets Miami Beach" – this is the motto

of the new resort, which opened recently in the

north Italian resort of Lido di Jesolo and is

managed by the Italian-Austrian Falkensteiner

Group. In fact, the pearly-white building

wouldn't even look out of place on a beach in

Florida. It was designed by the American star

architect Richard Meier, the interior design

comes from the Milanese designer Matteo Thun.

Therefore, this resort will be not only the perfect

place to prolong the summer in the next few

weeks and months but thanks to its facilities

also a good location for congresses and

meetings. And glorious Venice is only a short

boat trip away.

falkensteiner.com

Miami

The Edition Miami Beach

Längst hat der Mid Beach von Miami Beach den South Beach als angesagtes

und trendiges Viertel abgelöst. Nun hat dieser Abschnitt auch ein Hotel, das

alle anderen in Sachen Glamour und Eleganz überstrahlt. Das ultraschicke

Edition Miami Beach gehört zu der neuen Hotelmarke, die der legendäre

Hotel-Impresario Ian Schrager gemeinsam mit Marriott Hotels entwickelt hat.

Wer den neuen Glamour von Miami Beach erleben will, der tut gut daran, einen

Tisch im Restaurant Matador zu reservieren. Die Bar, an der man sich zum

Aperitif trifft, erinnert an die Goldene Zeit Miamis in den Fifties, das Restaurant

selbst ist sehr theatralisch, sehr sinnlich in Szene gesetzt, die Gäste zeigen sich

von ihrer elegantesten und aufreizendsten Seite und die Cuisine von

Jean-Georges Vongerichten beeindruckt mit einer zeitgemäßen und bisweilen

überraschenden und mutigen Interpretation lateinamerikanischer Gerichte.

Wunderbar! Sexy! Glamourös!

The Mid Beach in Miami Beach has taken over from South Beach as a hip and

trendy neighbourhood. This area now also boasts a hotel that outshines all

others in terms of glamour and elegance. The ultra chic Edition Miami Beach

belongs to the new hotel brand developed by the legendary hotel impresario

Ian Schrager together with Marriott Hotels. Whoever wants to experience the

new glamour of Miami Beach would do well to reserve a table at the Matador

restaurant. The bar where people come together to enjoy an aperitif is

reminiscent of the golden age of 1950s Miami. The restaurant itself has been

staged very dramatically, very sensuously, the guests are extremely elegant and

alluring and Jean-Georges Vongerichten's cuisine impresses with its

contemporary and at times surprising and bold interpretations of Latin-American

dishes! Fantastic! Sexy! Glamorous!

editionhotels.com

136 Cercle Diplomatique 3/2015

Cercle Diplomatique 3/2015 137
---
SAVOIR VIVRE TRAVEL

New York City

Sixty Soho Hotel

Losinj

Villa Hortensia

Nach einem aufwendigen und detailreichen Relaunch hat die Villa Hortensia in der schönen Bucht von Čikat auf

der kroatischen Insel Losinj in diesem Jahr neu eröffnet. Das Fünf-Sterne-Haus ist ein luxuriöser Fin-de-Siècle-

Hideaway, der in einer eleganten Villa mit österreichisch-ungarischer Architektur vom Anfang des 20. Jahrhunderts

untergebracht ist. Die Kombination aus traditioneller Architektur und modernem Komfort gepaart mit

stilvoller Opulenz, Designmöbeln und sorgfältig ausgewählten Details wirkt sehr elegant, zeitlos und edel.

Die von einem herrlichen Garten umgebene Villa Hortensia verfügt über einen Whirlpool im Freien, einen

Außenpool mit beheiztem Meerwasser und einen Sonnenbadebereich. Die Fernsicht, die man über einen

Pinienwald hinweg aufs offene Meer hat, ist unschlagbar.

The Villa Hortensia reopened this year in the beautiful bay of Čikat on the Croatian island of Losinj after an

extravagant and detailed restoration. The five-star hotel is a luxury fin-de-siecle hideaway housed in an elegant

villa with Austro-Hungarian architecture dating back to the beginning of the 20th century. The combination of

traditional architecture and modern comfort paired with stylish opulence, designer furniture and carefully

selected features gives it a very elegant, timeless and classy look. The Villa Hortensia, surrounded by a glorious

garden, has an outdoor whirlpool, an outdoor pool with heated sea water and a sunbathing area. The view over

the pine forest across to the open sea is second to none.

losinj-hotels.com

Portopiccolo bei Triest

The Falisia Resort

Portopiccolo nennt sich der neue Beachfront

Luxury Complex in der Nähe von Triest, gleich

bei der legendären Ortschaft Duino. Hier

entstand in den letzten Jahren ein Dorf mit

465 Apartments und Villen, einer Marina, einem

Kongresszentrum, mit Restaurants, Bars, Cafés

und Boutiquen – sowie mit dem Falisia Resort,

das Teil der Luxury Collection von Starwood

Hotels ist. Das elegante Haus spielt in der

Gestaltung mit Designelementen jener

Luxuskreuzfahrtschiffe, die im nahen

Monfalcone gebaut werden. Im Sommer lockt

ein großzügiger und luxuriöser Beach Club,

abseits der heißen Tage setzt das Resort auf

Konferenzen und Meetings und auf ein

Medical Spa, das sich vor allem als Facial Spa

spezialisiert hat. Rund ums Jahr verwöhnt das

Restaurant Bris, dessen Küchenchef Leonardo

Marongiu beim berühmten Gualtiero Marchesi

gelernt hat.

Portopiccolo is the name of the new beachfront

luxury complex near Trieste, very close to the

legendary village of Duino. A village has

emerged here in the last few years with 465

apartments and villas, a marina, a congress

centre, with restaurants, bars, cafés and

boutiques – as well as the Falisia Resort that is a

part of Starwood Hotel's Luxury Collection. The

design of the elegant building was inspired by

the luxury cruise liners built in nearby

Monfalcone. A large and luxurious beach club

beckons in the summer. When it is not so hot,

the resort focuses more on conferences and

meetings as well as its medical spa, which

specialises in facials. The Bris restaurant treats

its guests all year long, the head chef Leonardo

Marongiu was trained by the famous Gualtiero

Marchesi.

falisiaresort.com

PHOTOS: SOHO HOUSE ISTANBUL, BEIGESTELLT

Mitten in Soho, dem beliebten Shopping-District

von Manhattan, befindet sich das Sixty Soho Hotel.

Das Interior-Design stammt von der britischen

Designerin Tara Bernerd. "Ich suchte eine Synthese

aus europäischem Schick und der Energie von

Downtown Manhattan", sagt sie. Mission

accomplished, mag man da antworten. Die Bar des

Hotels ist nun ein beliebter Treffpunkt der New

Yorker In-Crowd.

The Sixty Soho Hotel is located in the heart of

Soho, the popular shopping district in Manhattan.

Its interior was designed by the British designer

Tara Bernerd. "I wanted to combine European chic

with downtown Manhattan energy," she says.

Mission accomplished, you might want to respond.

The hotel bar has become a popular meeting place

for the New York in-crowd.

sixtyhotels.com

Istanbul

Soho House

Dieses Haus hat Geschichte. Der Palazzo Corpi im

Stadtteil Beyoglu, in dem das jüngste Haus der Soho

House Gruppe untergebracht ist, war einst die

diplomatische Vertretung der Vereinigten Staaten von

Amerika und Gegenstand spannender Geschichten,

Gerüchte und Spekulationen. Das Soho House Istanbul

ist nun Istanbuls schickste Bleibe. Eine gute Mischung

aus historischen Elementen und moderner Gestaltung,

west-östlichem Design und Londoner Club-Atmosphäre.

Rooftop Pools laden nach langen Spaziergängen durch

Istanbul zur Erholung ein, ebenso Hamam, Sauna, ein

Cowshed Spa und ein Screening Room.

This hotel is full of history. The Palazzo Corpi in the

Beyoglu district housing Soho House Group's latest

hotel was once the American embassy and an object

of fascinating stories, rumours and speculation. Soho

House Istanbul is now Istanbul's most elegant

residence. A superb combination of historical elements

and modern styles, west-east design and a private

member's club atmosphere. After enjoying a long stroll

through Istanbul, the rooftop pools are perfect for

relaxing as are the hammam, sauna, a Cowshed Spa

and a screening room.

sohohouseistanbul.com

138 Cercle Diplomatique 3/2015

Cercle Diplomatique 3/2015 139
---
SAVOIR VIVRE MUST READ

Lesenswertes rund um Österreich

Books on Austria worth reading

Text: Gerald Sturz

Michaela Pfundner (Herausgeberin/Editor)

Wien wird Weltstadt.

Die Ringstraße und

ihre Zeit

Der gedruckte Begleiter zur aktuellen Ausstellung

in der Nationalbibliothek.

The printed companion to the current exhibition in

the National Library.

Andreas Bitesnich

Vienna

Überraschende Blicke auf Wien in

Schwarz-Weiß.

Surprising views on Vienna in black-white.

Friedrich Achleitner

Friedrich Achleitners

Blick auf Österreichs

Architektur nach 1945

Erfrischendes vom Doyen der Architekturkritik.

Refreshing thoughts of the doyen of architecture

critique.

Jon Mathieu

Die Alpen

Die Geschichte der Alpen von einst bis heute.

The history of the Alps from then till today.

Helga Maria Wolf und Sepp Forcher

Verschwundene

Bräuche

Ein wertvoller Blick in vergangene Zeiten.

A precious look on bygone times.

Cecily und Johannes Trapp

Das kulinarische Erbe

der Gräfin Julia Trapp

Eine Familie mit (kulinarischer) Tradition.

A family with (culinary) tradition.

Ein Jahrhundert Wiener Stadtgeschichte erzählt die

aktuelle, sehr sehenswerte Ausstellung "Wien wird

Weltstadt" in der Österreichischen Nationalbibliothek.

Zeitgleich ist dieses reich illustrierte Buch erschienen,

in dem namhafte Wien-Forscher sich mit jener

Epoche auseinandersetzen, in der nicht nur die alten

Stadtmauern der Kaiserstadt geschliffen wurden und

der Ring, dieser Prestige- und Prachtboulevard,

entstanden ist, sondern in der sich Wien auch von

einer etwas rückständigen Residenzstadt in eine

moderne und innovative Metropole verwandelt hat.

The current exhibition "Wien wird Weltstadt"

("Vienna becomes a metropole") in the Austrian

National Library tells the story of one hundred years

of Vienna and is extremely gripping. This highly

illustrated book has been published to complement

the exhibition. Renowned experts on Vienna discuss

this era when not only the old town walls in the

imperial capital were demolished and the Ringstrasse,

this prestigious and splendid boulevard, was created

but also a time when Vienna was being transformed

from a somewhat backward royal capital into a

modern and innovative metropolis.

–

Metroverlag

€ 29,90

Der Fotograf Andreas Bitesnich ist vor allem für seine

eleganten und erotischen Schwarz-Weiß-Bilder

bekannt. Dass er auch ein hervorragender Reisefotograf

ist, hat er mit Büchern zu New York, Tokio, Paris

und Indien gezeigt. Nun hat er einen Bildband über

Wien veröffentlicht – mit Schwarz-Weiß-Fotos,

die einen bisweilen sehr überraschenden und

ungewöhnlichen Blick auf die Stadt erlauben.

The photographer Andreas Bitesnich is mainly known

for his elegant and erotic black-and-white images. His

books on New York, Tokyo, Paris and India prove that

he is also an excellent travel photographer. He has

now published an illustrated book on Vienna with

black-and-white photos, which at times capture very

surprising and unusual impressions of the town.

–

Room5Books

€ 55,00

Friedrich Achleitner ist der Doyen der österreichischen

Architekturkritik, sein Blick ist undogmatisch,

erfrischend und von unvergleichlichem Wissen

geprägt. Sein mehrbändiges Werk "Österreichische

Architektur im 20. Jahrhundert" gilt als Standardwerk

zum Thema. Sein neues Buch basiert auf seiner

legendären Vorlesungsreihe, die er kürzlich an der

Kunstuniversität Linz wiederholt hat. Das Buch

umfasst rund tausend Fotografien architektonischer

Objekte, die größtenteils von Achleitner selbst

aufgenommen worden sind. "Friedrich Achleitners

Blick" ist eine hervorragende Dokumentation der

Nachkriegsarchitektur Österreichs.

Friedrich Achleitner is the doyen of Austrian

architecture critique and his view is open-minded,

refreshing and characterised by exceptional

knowledge. His multi-volume work "Österreichische

Architektur im 20. Jahrhundert" ("Austrian

Architecture in the 20th Century") is considered a

standard reference. His new book is based on his

legendary lecture series, which he recently repeated

at the University of Art and Design Linz. The book

comprises of about one thousand photos of

architectural objects, which were mainly taken by

Achleitner himself. "Friedrich Achleitner's View" is an

excellent documentation of Austria's post-war

architecture.

–

Birkhäuser Verlag

€ 48,50

"Alpenbücher gibt es genug, aber eine einheitliche

Überblicksdarstellung zur Geschichte der Alpen

musste erst noch geschrieben werden", stellt der

Schweizer Historiker Jon Mathieu fest. Nun erzählt er

in seinem sehr schönen Buch die Geschichte und die

Geschichten dieser Region: vom Alpenüberquerer

Hannibal über die Schlachten des Großen Krieges bis

hin zur aktuellen Ökologisierungswelle. Diese

Geschichte der Alpen umspannt die Besiedelung des

alpinen Raums bis heute und berichtet von der

menschlichen Kultur und vom Leben, Arbeiten und

Denken in den Bergen und Tälern der Alpen.

"There are plenty of books on the Alps, but a

consistent overview has yet to be written," the Swiss

historian Jon Mathieu notes. He now tells the history

and stories of this region in his beautiful book, from

Hannibal who crossed the Alps to the battles of the

Great War through to the current trend of organic

agriculture. This history of the Alps covers the

settlement of the Alpine region up to today and

describes human culture and the way of life, of

working and of thinking in the mountains and valleys

of the Alps.

–

Reclam

€ 38,80

"Das Buch der untergehenden Rituale" – so nennt sich

dieser Band im Untertitel. Und er begibt sich auf die

Spurensuche: nach verschwundenen Bräuchen, die in

vergangenen Zeiten fixer Bestandteil des gesellschaftlichen

Lebens waren und die wichtige soziale

Funktionen hatten. Die Ethnologin Helga Maria Wolf

und der Journalist und Autor Sepp Forcher, der für

seine großartigen Volkskultur-Sendungen im

österreichischen Fernsehen bekannt ist, haben ein

Lexikon zusammengestellt, das einen Blick in

vergangene Zeiten wirft, ohne Nostalgie und ohne

falsche Sentimentalität.

"The book of vanishing rituals" is the subtitle of this

volume. This book sets out on a search for lost

customs, which were once a fixed part of social life

and had important social functions. The ethnologist

Helga Maria Wolf and the journalist and author Sepp

Forcher who is well-known for his marvellous

programmes on folk culture on Austrian television

have compiled an encyclopaedia that takes a look at

bygone times, without nostalgia and without false

sentimentality.

–

Brandstätter Verlag

€ 34,90

Seit der Mitte des 15. Jahrhunderts ist die gräfliche

Familie Trapp in Tirol ansässig. Unter ihrer Leitung

wurde die Südtiroler Churburg von einer mittelalterlichen

Burg zu einem schmucken Renaissanceschloss

umgebaut. Die Familie hat also Tradition. Und die

spiegelt sich wider in der Sammlung der altösterreichischen

Rezepte, die Gräfin Julia Trapp über viele

Jahre hinweg zusammengetragen hat. Die Wiener

Küche ist hier ebenso präsent wie die böhmische und

die Tiroler. Und so erhält der Leser einen Einblick in

die kulinarischen Gepflogenheiten einer adeligen

Familie zwischen 1815 und der Zeit nach dem Ersten

Weltkrieg.

The aristocratic Trapp family has lived in Tyrol since

the middle of the 15th century. Under their command,

the Churburg in South Tyrol was transformed from a

mediaeval castle into a Renaissance castle. So this

family has a long tradition. And this is reflected in the

collection of old Austrian recipes, which Countess

Julia Trapp has put together over the years. With a

number of Viennese, Bohemian as well as Tyrolean

dishes, the reader gains an insight into the culinary

traditions of a noble family between 1815 and the time

after the First World War.

–

Brandstätter Verlag

€ 29,90

140 Cercle Diplomatique 3/2015

Cercle Diplomatique 3/2015

141
---
SAVOIR VIVRE MY VIENNA

Hussam Abdullah Ghodayeh Al Husseini

Botschafter des Haschemitischen Königreichs Jordanien | Ambassador of the Hashemite Kingdom of Jordan

PERSONAL DETAILS

Hussam Abdullah Ghodayeh Al Husseini wurde 1965 in Jordanien geboren. Nach dem Studium

der Öffentlichen Verwaltung an der Yarmuk-Universität in Irbid trat er 1991 in den Diplomatischen

Dienst ein. Seit Oktober 2013 ist er Botschafter in Wien. Er ist verheiratet und hat drei Kinder.

Hussam Abdullah Ghodayeh Al Husseini was born in Jordan in 1965. After studying Public

Administration at the Yarmouk University in Irbid, he joined the diplomatic service in 1991. He has

been ambassador in Vienna since October 2013. He is married and has three children.

Interview: Daniela Pötzl

Sie sind nun seit rund zwei Jahren in Wien. Welche Orte in

der Stadt haben Sie in dieser Zeit besonders lieb

gewonnen?

Vielleicht weil ich nahe der Innenstadt wohne, habe ich mich in

diese Gegend besonders verliebt. Wann immer ich Zeit finde,

mache ich einen Spaziergang auf der Ringstraße mit ihren alten

Gebäuden. Ein Halt beim Rathaus ist ein Muss für mich, weil jedes

Mal eine neue Aktivität vor dem Haus des Bürgermeisters

stattfindet, die meine Zeit noch farbenfroher gestaltet.

Was macht für Sie Wien aus?

Immer wenn ich durch Wien spaziere, habe ich das Gefühl,

dass diese Stadt mit sich im Einklang ist und dieses Gefühl auch

anderen leicht vermitteln kann. Trotz der breiten Vielzahl von

internationalen Aktivitäten, Organisationen und Treffen bewahrt

sie ihren österreichischen Charakter und ihre Seele. Das hat auch

sehr mit der Bevölkerung zu tun – wenn ich sie betrachte, sehe ich

vor allem Lebendigkeit in einer aktiven Stadt.

Wenn Sie Besuch aus Ihrer Heimat haben, wohin führen Sie

Ihre Gäste zuerst?

Zuerst bringe ich sie auf den Kahlenberg, von wo sie die ganze

Stadt von oben betrachten können. Dann zeige ich ihnen die Cafés

in der Stadt, wo wir die Geschichte jedes einzelnen erforschen.

Haben Sie einen Lieblingsort? Wenn ja, welchen?

Ich liebe die alte Gegend am Ring, und das Café Schwarzenberg

ist mein Lieblingsplatz, wenn ich mal Freizeit habe.

Welche Erinnerungen werden Sie mitnehmen, wenn Sie

Wien wieder verlassen müssen?

Ich werde die Erinnerung an jene Plätze hochhalten, die

geschichtsträchtig und gleichzeitig zukunftsweisend sind.

Das sehe ich vor allem rund ums Museumsquartier. Und ich werde

gerne an jene Menschen denken, die mich daran erinnern, wie

schön und großartig diese Stadt ist.

You have been in Vienna for almost two years now. Which

places in the city have become particularly dear to you in this

time?

Maybe it is because I live close to downtown that I fell in love

with this area. Whenever I have time I take a walk on the

Ringstrasse with its old buildings. Then a stop at the Rathaus is a

must for me since every time there is a new activity going on in

front of the Mayor's hall that makes time more colourful.

What makes Vienna outstanding for you?

Every time I walk around Vienna I have the feeling that this city is

at peace with itself, so it can easily give it to others. Inspite of the

wide range of international activities, organisations and meetings

in the city, it continues to preserve its Austrian character and

spirit. I think the people has a lot to do with that - when I look at

them I only see liveliness in a living city.

When you have visitors from home, where do you take your

guests first?

I take them first to Kahlenberg hill, so they can see the whole city

from top. Then I show them the cafes downtown, exploring the

history of each one.

Do you have a favourite place? Where is it?

I love the old area at the Ring, and Cafe Schwarzenberg is my

favourite place when I have some time off.

What memories will you take with you when you have to

leave Vienna?

I will cherish the memories of the places that tell the history while

being open to the future. I can see that for example at the

Museumsquartier area. And I will keep the memories of the

people who keep reminding me of how beautiful and great this

city is.

PHOTOS: CHRISTIAN STEMPER, BEIGESTELLT

Media Markt

Wien Mitte

Flagshipstore.

We offer you

a wider choice

and a better

service!

MEDIA MARKT Wien-Mitte:

Landstraßer Hauptstraße 1b • 1030 Wien • Tel. 01 / 716150

For customized consultation please make an appointment:

Beratung.wienmitte@mediamarkt.at or 01/71615-123

Öffnungszeiten:

Mo-Mi: 9 - 20 Uhr, Do-Fr: 9 - 21 Uhr, Sa: 9 - 18 Uhr

TEIL-

ZAHLUNG

142 Cercle Diplomatique 3/2015

Wien Mitte
---
SCHOOL.

ARTS.

BOARDING.

LE RENDEZ-

VOUS

EIN RÜCKBLICK AUF

GESELLSCHAFTLICHE

EREIGNISSE DER

JÜNGSTEN

VERGANGENHEIT.

A REVIEW OF SOCIAL

EVENTS OF THE RECENT

PAST.

» My school is a place

where excellent schooling

meets my passion for

music and the arts. «

Caroline K., Student

WE INVITE YOU

– 14 October 2015 | Open House | 09:00 – 15:00 | AV

– 13 February 2016 | GALA Concert | Musikverein

– 08 March 2016 | Open House | 09:00 – 15:00 | AV

– 12 May 2016 | Open House | 09:00 – 15:00 | AV

AMADEUS VIENNA – WHERE EXCELLENCE MEETS PASSION

INTERNATIONAL SCHOOL – MUSIC & THE ARTS – SUPERIOR BOARDING

Bastiengasse 36 – 38 | 1180 Vienna | Austria

+43 1 470 30 37 00 | info@amadeus-vienna.at | www.amadeus-vienna.com
---
LE RENDEZVOUS EVENTS

Popping of Flashbulbs

Find more

photos online

cercle-diplomatique.com

May 2015

After two years of absence,

Czech Tourism re-opened its

Viennese office again.

May 2015

"Ararat Revelations" was the motto of the evening, when the Embassy

of Armenia invited in cooperation with Pernod Ricard Austria to

discover true liquid gems.

May 2015

What no one has seen before: Directly after the Biennale in Venice,

Indonesian artist Zico Albaiquni opened his exhibition at the Galerie

Suppan Contemporary in Vienna.

May 2015

H.E. Edgars Skuja and the Association

Austria - Nordic Countries invited to a

discussion of Latvian and Austrian historians

at the Diplomatic Academy in Vienna.

A colourful evening: The Indonesian

Ambassador, H.E. Rachmat

Budiman (l.), met installation artist

and painter Zico Albaiquni (r.). The

exhibition "Beyond The Veil" was

shown for the first time ever.

Ambassador Arman Kirakossian (left, bottom) and

Axel Herpin, Managing Director Pernod Ricard

Austria, introduced Ararat Brandy which has a long

tradition and history. Now it is also available in

Austria (see also page 85).

June 2015

Media-Breakfast at the Hotel Bristol! CD and the then GM Gerald

Krischek invited representatives of Media and PR Agencies to a good

start in the day. The new concept of the magazine was presented in

relaxed atmosphere.

A new start with an active

team (picture in the middle)

under the new lead of

Yvette Polasek (middle).

PHOTOS: CZECH TOURISM, CD, PHILIPP HUTTER

Special highlight: Now former GM of the

Hotel Bristol, Gerald Krischek, gave a

personal tour of the hotel and the "Prince

of Wales" Suite, where VIPs such as King

Juan Carlos, King Ibn Saud or Paul

McCartney had stayed over night.

"Can history be

domesticated?"

was only one of

the lectures with

interesting titles

and content.

146 Cercle Diplomatique 3/2015

Cercle Diplomatique 3/2015 147
---
LE RENDEZVOUS EVENTS

June 2015

What an anniversary! The Spanish Riding School celebrated its 450 years with gala shows at the Heldenplatz in

Vienna, with Federal President Heinz Fischer as special guest at the pre-gala. In the evening, the Fête Impériale

had a royal visitor: Elena Maria Isabel Dominica de Silos de Borbón y Grecia, Infanta of Spain, attended one of

the most elegant balls in Vienna.

June 2015

It was the Queen´s birthday and we cheered, too! This special day of Her Majesty Queen Elizabeth II was

celebrated with a reception at noon and a garden party in the evening.

The Spanish Riding School

is the only institution

worldwide where classical

horsemanship in renaissance

tradition of the

"High School", is still so

lively alive.

PHOTOS: SPANISCHE HOFREITSCHULE, CD/ HARALD KLEMM

Although British agents could not be

exposed, the offered meat products

were - Britwurst is made by a true

Brit, Richard Holmes, a young and new

entrepreneur, living in Vienna.

148 Cercle Diplomatique 3/2015

Cercle Diplomatique 3/2015 149
---
LE RENDEZVOUS EVENTS

June 2015

The original recipe from 1832 is kept a secret and is stored in a safe. Just less than a handful of people know the

actual ingredients of an Original Sacher Torte. CD and Reiner Heilmann, General Manager Hotel Sacher in Vienna,

invited Lady Ambassadors and Ambassadors´wives to an exclusive production tour and provided many sweet

impressions.

June 2015

The Vienna Economic Forum (VEF) invited to the Vienna Economic

Talks at Studio 44, followed by a garden party at the Diplomatic

Academy the next day.

June 2015

Fire and magic when celebrating

Midsummer festival in the

Wachau region.

Former Ambassador

Elena Kirtcheva

(Secretary General

VEF, r.) and Karl Stoss

(middle), General

Director Casinos

Austria

Friends gathered on a Danube cruise ship: H.E. Alexa

L. Wesner (middle), host Erwin Pröll, Governor of

Lower Austria (r.) and Waltraud Steinböck (l.).

June 2015

The motto "When East meets

West" made the Concordia Ball

an unforgettable evening.

There is only one Original Sacher Torte! Today the

sweet Austrian cake is shipped worldwide in many

countries and can be ordered online.

PHOTOS: CD/ HARALD KLEMM, VEF, BEREITGESTELLT, CD

The ball guests were

taken on an art and culinary

journey through Thailand

and China.

150 Cercle Diplomatique 3/2015

Cercle Diplomatique 3/2015

151
---
LE RENDEZVOUS EVENTS

June 2015

Vice Mayor Renate Brauner and the Vienna Business Agency invited ladies to the networking event

"Leading Women, on tracesearch in Literature and at the Imperial Court" at the National Library. The very special

treat was a guided tour in the beautiful building with history.

June 2015

Important organisations care for excellent media relations. Each summer the WKO with its President Christoph

Leitl, invites media representatives to a reception - this time at the Gloriette, one of Vienna´s landmarks in the

area of Schönbrunn Palace.

There is always time for a group photo - not often is the

ambience so special. After the guided tour, a charming

evening full of networking and exchanging views and

business cards started.

PHOTOS: CD, WIRTSCHAFTSAGENTUR WIEN/ TIRZA PODZEIT, WKO/LEITHNER

The WKO has two new co-opted Vice Presidents: the

entrepreneurs Ulrike Rabmer-Koller from Upper Austria

and Jürgen Roth from Styria.

152 Cercle Diplomatique 3/2015

Cercle Diplomatique 3/2015 153
---
LE RENDEZVOUS EVENTS

* DIPLOMATIE & INTERNATIONALE COMMUNITY

* POLITIK & WIRTSCHAFT * ÖSTERREICH & KULTUR

* LUXUS & LIFESTYLE * HIGH SOCIETY & EVENTS

DIPLOMACY & INTERNATIONAL COMMUNITY * POLICY & ECONOMY *

AUSTRIA & CULTURE * LUXURY & LIFESTYLE * HIGH SOCIETY & EVENTS

July 2015

Federal Minister for Europe, Integration and Foreign Affairs, Sebastian Kurz, invited to a Diplomatic Summer

Excursion to Lower Austria. The programme contained a visit of the Altenburg Abbey, a guided tour through the

LOISIUM "WineExperience"as well as a visit of the VERBUND hydroelectric power plant in Altenwörth.

Cocktail and dinner were taken on board the Danube river cruise MS Austria Princess.

Wo die ganze Welt

zuhause ist

Where the whole world feels at home

02/2015

Das führende Magazin für das diplomatische Corps, internationale Organisationen und Wirtschaft

The leading magazine for the diplomatic corps, international organizations and the economy

www.cercle-diplomatique.com

44 years

Salzburg

Special

founded in 1971

new since

2015!

18 Seiten

extra

Nr. 303 * 44. Jahrgang/Ausgabe 02/2015 Unabhängiges Magazin * Einzelpreis: € 10,00 * P.b.b. 15Z040313 M * Verlagspostamt: A-1190 Wien * Aufgabepostamt: A-1000 Wien

Federal Minister

Sebastian Kurz

(top, very left) with

diplomatic guests

in summer style

(top, left) and with

CD Editors Andrea

Fürnweger (below) and

Alexander Bursky.

katar DiE klEinstE GrossMAcht DEr WElt

Qatar thE sMAllEst sUPEr PoWEr in thE WorlD

PHOTOS: MAHMOUD/ BMEIA, CD

Bestellen Sie Ihr Jahresabo (4 Ausgaben) um Euro 36,–

(Lieferung in Österreich frei Haus, im Ausland plus Versandkosten) per mail an

office@firstclassmedia.at oder auf www.cercle-diplomatique.com

Order your subcsription for a year (4 editions), Price: Euro 36,-

(Delivery free in Austria, other countries plus shipping costs) by mail to office@firstclassmedia.at

or on www.cercle-diplomatique.com

Altenburg Abbey (r.) is proud of its "Garden of

Religions", an abbey garden dedicated to the world´s

five main religions.

ECONOMIQUE et TOURISTIQUE INTERNATIONAL

154 Cercle Diplomatique 3/2015
---
LE

GUIDE

EINE NÜTZLICHE

ÜBERSICHT ÜBER DIE

WICHTIGSTEN ADRESSEN

FÜR DIE INTERNATIONALE

GEMEINSCHAFT.

A USEFUL OVERVIEW

OF THE MOST IMPORTANT

ADDRESSES FOR THE

INTERNATIONAL COMMUNITY.
---
LE GUIDE ADDRESSES

Useful addresses

You would love to live in a city which offers views

like this? Viennese relocation services are happy to

help you moving from all over the world.

PHOTO: WIENTOURISMUS / CHRISTIAN STEMPER

Relocation Services

Crown Worldwide GmbH

Tel: +43 1 516 33 31-68

vienna@crownrelo.com

crownrelo.com

Feuerstein Consulting

Tel.: + 43 (0) 699 105 72 81

office@recom-relocation.at

fuanxin.at

Presup – Professional Expat Support

Tel: +43 (0) 676 448 64 06

info@presup.at

presup.at

Randos Relocation and Office Service

GmbH

Tel.: +43 1 710 33 18 0

randos.vienna@relocation.at

relocation.at

recom - relocation company

Tel.: +43 1 409 24 62

office@recom-relocation.at

recom-relocation.at

Relocation Services Erika Strohmayer

Tel.: +43 1 706 21 70

office@relocation-services.at

relocation-services.at

Real Estate Agents

EHL Immobilien GmbH

Tel.: +43 1 512 76 90

office@ehl.at, ehl.at

Hart + Hart Bauträger GmbH

Tel.: +43 1 209 37 77-0

office@hart-hart.at

hart-hart.at

Hübl & Partner GmbH

Tel.: +43 1 277 88

office@huebl-partner.com

huebl-partner.com

RealGoodLiving -

Real Estate Services GmbH

Tel.: +43 1 890 01 52

office@realgoodliving.at

realgoodliving.at

IG Immobilien Management GmbH

Tel.: 0800 80 80 90

info@ig-immobilien.com

ig-immobilien.com

Vienna immobilien

Tel. +43 1 478 49 68

office@viennaimmobilien.com

viennaimmobilien.com

S+B Gruppe AG

Tel. +43 1 713 06 50-0

wien@sb-gruppe.at

sb-gruppe.at

6B47 Real Estate Investors AG

Tel: +43 1 350 10 10-0

office@6B47.com

6B47.com

BAR bareal Immobilientreuhand

GmbH

Tel: +43 1 205 21 5

office@bar.at

bar.at

Dr. Koch & Co. GesmbH

Tel.: +43 1 479 15 58

kochreal@kochreal.at

kochreal.at

Immobilienkanzlei Jasmine Kupfer

Tel.: +43 1 912 43 86

office@immobilien-kupfer.eu

immobilien-kupfer.eu

IES Immobilien-Projektentwicklung

GmbH

Tel.: +43 1 512 31 38

office@ies-immobilien.com

ies-immobilien.com

HL Living Deluxe Real Estate GmbH

Tel.: +43 1 503 22 71

wien@livingdeluxe.com

livingdeluxe.com

OTTO Immobilien GmbH

Tel.: +43 1 512 77 77

office@otto.at

otto.at

Serviced City Apartments

VCA Vienna City Apartments

Tel: +43 (0) 650 443 38 00

office@SR33.com

Schottenring33.com

My place City Centre,

My place Riverside

Tel.: +43 1 317 17 17 – 75

reservations@my-place.at

my-place.at

Derag Livinghotel Kaiser Franz Joseph

+43 1-329 00-0

reservierung.kfj@derag.de

deraghotels.de

Style Appartement BeLLeArTi

Tel.: + 43 1 317 65 65

office@bellearti.at

bellearti.at

Adagio Vienna City

Tel.: +43 1 908 303

h7216@adagio-city.com

www.adagio-city.com

Wienwert Serviced Apartments

Tel. +43 1 332 07 08

reservation@serviced-apartment-vienna.com

serviced-apartment-vienna.com

Pain free – step by step

State-of-the-art hip and knee joint operation techniques at Confraternität Privatklinik Josefstadt

INTERNATIONALE APOTHEKE

INTERNATIONAL PHARMACY

Dr. Alexander Zembsch

Hip joint replacement "AMIS"

• Most innovative and gentle hip

replacement method

• Muscles and tendons are preserved

• Quick mobilisation, rehabilitation

twice as fast as with conventional

methods

Dr. Stefan Dittrich

Knee joint replacement "MyKnee"

• Customized / individually tailored,

computer-designed knee joint

• Less time in surgery,

less blood loss, less risk

• Quick return to a normal,

active life

Confraternität Privatklinik Josefstadt

offers the perfect infrastructure to

accommodate these new surgical techniques,

as well as highly competent

medical care, ease of scheduling, and

affordable packages for clients without

private insurance.

THE INTERNATIONAL PHARMACY

The International Pharmacy stands for commitment,

service and efficiency concerning

health, beauty and well-being of its Austrian

and foreign customers. We make it our top priorities

to procure medicine from around the

world and to offer a wide variety of health and

beauty products such as cosmetics, sports and

fitness supplements, vitamins, herbs and much

more. Trained wellness coaches are available to

those who are interested in intelligent fitness.

It will be a great pleasure to the team of the

International Pharmacy to help you to "get well

and stay well"! We accept all major credit cards

and speak most European languages. Tax free

forms available.

Contact: Confraternität Privatklinik Josefstadt, Skodagasse 32, 1080 Vienna, Tel.: +43 1-40 114-5509, international@pkj.at

Opening hours Monday to Friday between 8:00am and 7:00pm and Saturdays between 8:00am and 6:00pm

1010 Vienna, Kärntner Ring 17, T: +43 (0)1 512 28 25, F: +43 (0)1 512 28 259 | www.internationale-apotheke.at
---
LE GUIDE ADDRESSES

The city of Vienna has a

great public transport system.

Yet the Fiaker horses have

to be paid extra.

IMPRESSUM

Lawyers

Cerha Hempel Spiegelfeld Hlawati

Tel.: +43 1 514 35 0

office@chsh.com

chsh.com

CMS Reich-Rohrwig Hainz

Tel.: +43 1 404 43 0

vienna@cms-rrh.com

cms-rrh.com

Dorda Brugger Jordis

Tel.: +43 1 533 47 95-0

office@dbj.at

dbj.at

Heller & Gahler

Tel.: +43 1 713 70 11

office@ra-heller.at

ra-heller.at

Lansky, Ganzger + Partner

Tel.: +43 1 533 33 30-0

office@lansky.a

lansky.at

Dr. Clemens Lintschinger, MSc

(Real Estate Investment)

Tel.: +43 1 513 02 84

lintschinger@ra-lintschinger.at

immobilienrechtsanwalt.at

Rechtsanwaltskanzlei Nikolaus Rast

Tel.: +43 1 317 12 26

info@anwaltrast.at

anwaltrast.at

Schönherr Rechtsanwälte

Tel.: +43 1 534 37-0

office.austria@schoenherr.eu

schoenherr.eu

TaylorWessing enwc

Tel.: +43 1 716 55 0

vienna@taylorwessing.com

taylorwessing.com/at/home.html

Transportation

Vienna public transport information

wienerlinien.at

Austrian Federal railways ÖBB

oebb.at

Austrian Airlines

austrian.com

Vienna Airport

viennaairport.com

Avcon Jet AG

avconjet.at

Vienna Airportlines

viennaairportlines.at

CAT (City airport train)

cityairporttrain.com

Taxi 40100

taxi40100.at

Taxi 60160

taxi60160.at

Taxi 31300

taxi31300.at

Austrian Automobilist Club ÖAMTC

(AAA – partner)

oeamtc.at

call 120 for breakdown-assistance

Health & Private Clinics

Augenzentrum Tuchlauben

Tel.: +43 1 995 87 70

augenarzt.wien

Austrian Health – agency for high

quality medicine

Tel.: +43 1 361 88 66

info@austrianhealth.at

austrianhealth.at

DHC - Dental Health Care

Graben 27-28/3/19, 1010 Wien

Tel.: +43 664 440 66 77

office@dentalhealthcare.at

dentalhealthcare.at

International Pharmacy

Kärntner Ring 17, 1010 Wien

Tel.: +43 1 512 28 25

internationale-apotheke.at

Goldenes Kreuz Privatklinik

Tel.: +43 1 40 111-0

verwaltung@goldenes-kreuz.at

goldenes-kreuz.at

PHOTO: WIENTOURISMUS / MAXUM

Privatklinik Döbling

Tel.: +43 1 36 066-0

privatklinik@pkd.at

pkd.at

Medical Implant Competence GmbH

Tel.: +43 1 904 83 21

info@smile4life.at

mic-vienna.at

Service Department for foreign

patients of the Vienna Medical

Association

Tel.: +43 1 513 95 95

viennamed@aekwien.at

Wiener Privatklinik

Tel.: +43 1 40 180

office@wpk.at

wiener-privatklinik.com

Rudolfinerhaus

Tel.: +43 1 360 36

info@rudolfinerhaus.at

rudolfinerhaus.at

Kurzbari – Zentrum für ästhetische

Medizin

Tel.: +43 1 358 28 01

office@kuzbari.at

kuzbari.at

Security

The Investigator

Tel.: +43 664 44 99 464

office@derfahnder.at

closeprotection.wien

4mation

Tel.: +43 664 124 14 67

office@4mation.at

4mation.at

International Schools in

Vienna

Vienna International School

Straße der Menschenrechte 1, 1220 Vienna

Tel: +43 1 203 55 95-0

Fax: +43 1 203 03 66

Mail: info@vis.ac.at

vis.ac.at

The American International School

Salmannsdorfer Straße 47, 1190 Vienna

Tel: +43 1 401 32-0

Fax: +43 1 401 32-5

Mail: info@ais.at

ais.at

Danube International School Vienna

Josef Gall Gasse 2, 1020 Vienna

Tel: +43 1 720 31 10

Fax: +43 1 720 31 10-40

Mail: info@danubeschool.at

danubeschool.at

Amadeus - International School

Vienna

Bastiengasse 36-38, Haus 3, 1180 Vienna

Tel.: +43 1 470 30 37-00

Mail: info@amadeus-vienna.at

amadeus-vienna.com

Vienna Elementary School

Lacknergasse 75, 1180 Vienna

Tel: +43 1 470 46 00

Fax: +43 1 470 46 00-99

Mail: office@ves.at

vienna-elementary-school.at

International Christian School of

Vienna

Wagramer Straße 175, 1220 Vienna

Tel: +43 1 251 22-0

Fax: +43 1 251 22-518

Mail: office@icsv.at

icsv.at

Svenska Skolan / Swedish School

Scheibelreitergasse 15 1190 Vienna

Tel: +43 1 320 79 80

Fax: +43 1 320 79 80-20

Mail: svenskaskolan@svenskaskolan.at

svenskaskolan.at

Lycée Francais de Vienne

SECONDARY SCHOOL / LYCÉE:

Lichtensteinstraße 37A, 1090 Vienna

Tel: +43 1 317 22 41

Fax: +43 1 310 24 17

KINDERGARTEN + PRIMARY SCHOOL /

MATERNELLE ET ELÉMENTAIRE:

Grinzingerstraße 95, 1190 Vienna

Tel: +43 1 370 12 17

Fax: +43 1 370 12 17-22

Web (for both): lyceefrancais.at

Japanese School in Vienna

Prandaugasse 2 1220 Vienna

Tel: +43 1 204 22 01-0

Fax: +43 1 204 22 01-85

japaneseschool.at (Japanese only)

Useful links & ressources

Emergency numbers

(all without prefix):

Fire-brigade 122

Police 133

Ambulance 144

City Of Vienna

wien.gv.at/english

Vienna Tourist Board

wien.info/en

Immigration & residency

wien.gv.at/english/administration/

civilstatus

Vienna Service Office

(in the UN-center)

vso.wien.at

Vienna Expat Center – A service

provided by the City of Vienna:

Schmerlingplatz 3, 1010 Vienna

Tel: +43 1 4000-869 49

Info@expatcenter.at

expatcenter.at

CERCLE DIPLOMATIQUE – ECONOMIQUE et

TOURISTIQUE INTERNATIONAL

The leading magazine in Austria for the diplomatic

corps, international organizations, business,

corporate, tourism, lifestyle & culture and events

for over 40 years

Editors-in-Chief:

Andrea Fürnweger, Mag. Alexander Bursky

& KR Prof. Waltraud Steinböck (Co-Editor)

Media Owner, Publisher & Producer:

FCM firstclassmedia GmbH

Pokornygasse 17/2, A-1190 Wien

Tel.: +43 1 934 65 94, Fax: -4

E-mail: office@firstclassmedia.at

firstclassmedia.at

cercle-diplomatique.com

Managing Directors:

Mag. Alexander Bursky, Andrea Fürnweger

Advertising Sales:

Mag. Alexander Bursky, Andrea Fürnweger,

Michaela Hirsch, Eva Nikolaou, Mag. Friedrich

Schmied, Kurt Heinz

Back Office Coordinator, Production &

Print Documentation:

Paula Jenner, paula.jenner@firstclassmedia.at

Editors:

Mag. Daniela Pötzl (Leitung)

dani.poetzl@firstclassmedia.at

Mag. Gerald Sturz (redaktionelles Konzept)

Rainer Himmelfreundpointner, Michaela Hocek,

Mag. Wolfgang Schedelberger, Mag. Eva Maria von

Schilgen, Evelyn Rois & Bruno Stubenrauch

Art Director:

Ralph Manfreda

Graphic Design:

Gabriele Sonnberger

Proofreading:

Barbara Hofmann

Transvox Language Services

Translations:

Transvox Language Services

Photographer:

Harald Klemm

Print:

Berger Druck, Wiener Strasse 80, 3580 Horn

Frequency of Publication:

4 x p.a., 40.000 Auflage

Subscription:

Issue price €10, annual subscription €36

(within Austria)

All articles in CERCLE DIPLOMATIQUE are

copyrighted. Further utilisation and reproduction

of text, photographs and layout without written

permission of the publisher and the designers is

prohibited and punishable by law. No liability is

assumed for unsolicited manuscripts, pictures, etc.

received. The author bears responsibility for articles

which identify anyone or anything by name. The

views expressed in the articles do not necessarily

reflect those of the publisher or editors. All articles

contained in this magazine serve informational

purposes and freedom of expression only.

Price list valid from 1 January 2015.

Disclosure:

Published according to § 25 media law and always

available at www.cercle-diplomatique.com/

impressum

Foreign and Austrian Embassies:

For the lists of Foreign Embassies in Austria, the Austrian Embassies abroad

and the Foreign Trade Centers of the Austrian Economic Chambers, please

visit our website at

www.cercle-diplomatique.com/vertretungen

160 Cercle Diplomatique 3/2015

Cercle Diplomatique 3/2015 161
---
AU REVOIR

Stadtspaziergang

City walk

Donaukanal, Franz-Josefs-Kai, 1. Bezirk | Danube Canal, Franz-Josefs-Kai, 1st District

Text & Photo: Rois & Stubenrauch

Goldener Herbst.

Joggen, Rad fahren,

flanieren oder entspannt

vom Liegestuhl aus über

die glitzernde Wasserfläche

in die warme

Herbstsonne blinzeln -

der Donaukanal hat sich

entlang des Stadtzentrums

in den letzten Jahren

zu einer bunten und

lebendigen Freizeit- und

Gastronomiemeile

entwickelt.

Golden autumn.

Jogging, cycling, strolling

or gazing at the warm

autumn sun across the

sparkling water from the

comfort of the deck chair

– in recent years, the

Danube Canal along the

city centre has evolved

into a colourful and

vibrant leisure and dining

street.

162 Cercle Diplomatique 3/2015
---
BMW 7er: von 195 kW (265 PS) bis 330 kW (450 PS), Kraftstoffverbrauch gesamt von

4,6 l/100 km bis 8,5 l/100 km, CO 2 -Emission von 122 g CO 2 /km bis 197 g CO 2 /km.

Symbolfoto

Der neue BMW 7er

DER NEUE BMW 7er. DRIVING LUXURY.

www.bmw.at/7er

Freude am Fahren