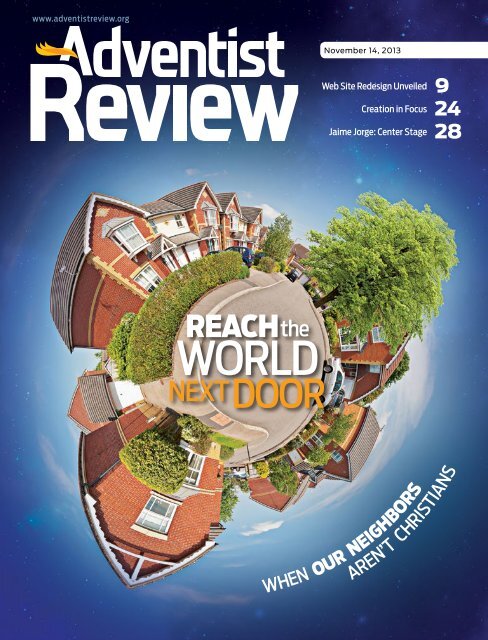 Christians
Download PDF - Adventist Review
Download PDF - Adventist Review
SHOW MORE
SHOW LESS
Do you know the secret to free website traffic?
Use this trick to increase the number of new potential customers.
www.adventistreview.org

November 14, 2013

Web Site Redesign Unveiled

Creation in Focus

Jaime Jorge: Center Stage

9

24

28

REACHthe

WORLD

NEXTDOOR

aren't Christians

When our neighbors
---
"Behold, I come quickly . . ."

Our mission is to uplift Jesus Christ by presenting stories of His

matchless love, news of His present workings, help for knowing

Him better, and hope in His soon return.

16 20 8 6

COVER FEATURE

16 Reach the World

Next Door

Scott Griswold

A mission specialist suggests

how to share the

gospel with the non-

Christians who live in

our neighborhoods.

ARTICLES

20 My Lungs Expand

With His Praise

Ilyn Clarke and Maria

Mc Clean

An organ transplant recipient

reflects on receiving a

second chance at life.

24 Creation in Focus

George T. Javor

Once we understand

our origins, everything

else falls into place.

DEPARTMENTS

4 Letters

7 Page 7

8 World News &

Perspectives

13 Give & Take

15 Searching the Obvious

2 3 Introducing the Why

27 GLOW Stories

EDITORIALS

6 Lael CAESAR

Xenophobia and God

7 Carlos Medley

Speaking Truth to Power

ON THE COVER

We used to have to go to the

mission field to meet Buddhists,

Hindus, Muslims. Now, in many

cities, they live right next door.

28 Jaime Jorge:

Center Stage

Karen Pearson

How can such a young

man be celebrating 25

years of music ministry?

31 Reflections

Next Week

From Clicktivist to Activist

Let's face it: It's easier to be

an activist in front of a keyboard

than out in the community.

But is that enough?

Publisher General Conference of Seventh-day Adventists ® , Executive Publisher Bill Knott, Associate Publisher Claude Richli, Publishing Board: Ted N. C. Wilson, chair; Benjamin D. Schoun,

vice chair; Bill Knott, secretary; Lisa Beardsley-Hardy; Daniel R. Jackson; Robert Lemon; Geoffrey Mbwana; G. T. Ng; Daisy Orion; Juan Prestol; Michael Ryan; Ella Simmons; Mark Thomas; Karnik

Doukmetzian, legal adviser. Editor Bill Knott, Associate Editors Lael Caesar, Gerald A. Klingbeil, Coordinating Editor Stephen Chavez, Online Editor Carlos Medley, Features Editor Sandra

Blackmer, Young Adult Editor Kimberly Luste Maran, KidsView Editor Wilona Karimabadi, News Editor Mark A. Kellner, Operations Manager Merle Poirier, Financial Manager Rachel Child,

Editorial Assistant Marvene Thorpe-Baptiste, Marketing Director Claude Richli, Editor-at-Large Mark A. Finley, Senior Advisor E. Edward Zinke, Art Director Bryan Gray, Design Daniel

Añez, Desktop Technician Fred Wuerstlin, Ad Sales Glen Gohlke, Subscriber Services Steve Hanson. To Writers: Writer's guidelines are available at the Adventist Review Web site: www.adventistreview.org

and click "About the Review." For a printed copy, send a self-addressed envelope to: Writer's Guidelines, Adventist Review, 12501 Old Columbia Pike, Silver Spring, MD 20904-6600.

E-mail: revieweditor@gc.adventist.org. Web site: www.adventistreview.org. Postmaster: Send address changes to Adventist Review, 55 West Oak Ridge Drive, Hagerstown, MD 21740-7301. Unless

otherwise noted, Bible texts in this issue are from the Holy Bible, New International Version. Copyright © 1973, 1978, 1984, 2011 by Biblica, Inc. Used by permission. All rights reserved worldwide. Unless

otherwise noted, all photos are © Thinkstock 2013. The Adventist Review (ISSN 0161-1119), published since 1849, is the general paper of the Seventh-day Adventist ® Church. It is

published by the General Conference of Seventh-day Adventists ® and is printed 36 times a year on the second, third, and fourth Thursdays of each month by the Review and

Herald ® Publishing Association, 55 West Oak Ridge Drive, Hagerstown, MD 21740. Periodical postage paid at Hagerstown, MD 21740. Copyright © 2013, General Conference

of Seventh-day Adventists ® . PRINTED IN THE U.S.A. Vol. 190, No. 31

Subscriptions: Thirty-six issues of the weekly Adventist Review, US$36.95 plus US$28.50 postage outside North America. Single copy US$3.00. To order, send your name, address, and

payment to Adventist Review subscription desk, Box 1119, Hagerstown, MD 21741-1119. Orders can also be placed at Adventist Book Centers. Prices subject to change. Address changes:

addresschanges@rhpa.org. OR call 1-800-456-3991, or 301-393-3257. Subscription queries: shanson@rhpa.org. OR call 1-800-456-3991, or 301-393-3257.

www.AdventistReview.org | November 14, 2013 | (995) 3
---
1888

inbox

Letters From Our Readers

10/40 Evangelism

»»

Thank you for calling the

attention of the world church

to the opportunities that

exist in the 10/40 window

(see Mark A. Kellner's article

"Statistics Reveal Massive

Missions Challenge," Oct. 24,

2013). God is sending visions

to many people in that

region, and performing

other miracles, preparing

people to receive the message,

if/when someone

invites them. Much more

could be accomplished if we

in the West would grasp

what He wants to

accomplish.

Evangelism is very costeffective

in some areas in the

10/40 window. . . . And dedicated

local pastors are ready

to preach the gospel if we

will support them.

David Ekkens

Muak Lek, Thailand

www.adventistreview.org

Head

subhead

WHAT HAppened?

And why should

you care

125 years later?

October 10, 2013

OctO ber 10, 2013

Vol. 190, No. 28

Thr e Ki led in Van Ro lover

e len White's burden

hope and Peace

1888

»»

I commend the Adventist

Review for printing the October

10, 2013, special issue on

"1888." This was the best

Review I've read in years. The

magazine usually contains

9

34

41

several good articles, but this

issue has a dozen or more

excellent articles that every

Adventist should read.

I can't see how a loyal

Adventist can be without the

Review. I read each issue from

cover to cover. Keep up the

good work!

Carroll Brauer

Hendersonville, North

Carolina

»»

In regard to the coverage

about the 1888 General Conference

session, thank you

for again bringing this vital

happening to our attention.

The Adventist Book Center

should have the writings of

Jones and Waggoner on their

shelves. I also wonder: Why

haven't our publishing

houses republished a book

by either author since about

1904?

I appreciated Bill and

Shawn Brace's article "The

Theological Issues: Another

Perspective."

Don Anderson

Port Moody, British

Columbia

Citizenship Test

»»

I was impressed by Bill

Knott's editorial "Citizenship

Test" (Oct. 10). It highlighted

the fine line we have to walk

in upholding truth while

being Christlike. And the

truth is that we cannot walk

this line on our own. It is

through the presence of the

Holy Spirit in the heart that

we are enabled to stand for

truth and be peaceable.

Indeed, the two are not

mutually exclusive.

As I look at Jesus this fact

is very clear. Christ always

spoke the truth, clearly and

firmly, but never with an

argumentative spirit. As

Knott concludes, it is not

about winning. . . .

Truly, we are to uphold

each other, praying for each

other fervently, not willing

that any of us should stray or

be deceived. It is not always a

perfect understanding of

every truth at the same time

that determines those who

are the children of God. It is

the heart that is filled with

the love of Jesus, manifesting

His character and obeying

His commands that the Lord

recognizes. . . .

Thanks for calling our

attention to this topic.

Jessica Esochaghi

Loma Linda, California

Florida Church

Vehicle Accident

»»

I am writing in regard to

the article "Three Dead, 13

Injured in Florida Church

Vehicle Accident" (Oct. 10, p.

9). It may be that this already

is being done, but it would

be responsible to have this

tragic accident examined to

see if the cause can be determined,

and whether there is

a causal defect (such as in a

tire). If so, there may be

resources available to assist

the injured and the families

who have lost members.

William Blythe

Palo Alto, California

The God of the Gap

Clifford Goldstein's "The

God of the Gap" (Sept. 19,

2013) is a good article.

My favorite atheistic "gap

filler" is the phrase "The

brain interprets," as in

"The brain interprets the

electrochemical signal as

pain." This brings me to the

Achilles heel of all atheistic

science: it is pain insensitive

at all levels of complexity.

The building blocks (the

chemical elements and electromagnetism)

are paininsensitive

in every known

sense of the word, and the

laws of assembly (the laws of

covalent and ionic bonding,

and electromagnetism, etc.)

do not produce pain sensitivity,

but rather cause spatial

and time variation,

changes in bonding energy,

bonding angle, entropy, boiling

point, etc.

The only evidence I have

that pain exists is experiential

and anecdotal.

I know that I experience

pain, and you tell me that

you do too—and I believe

you.

The impossibility of atheistic

pain agrees perfectly

with Genesis 2:7, that pain

cannot exist without the

supernatural breath of life. If

anyone expresses a concern

to you that God does not

exist, and that the atheists

are right, don't give some

complicated argument, just

4 (996) | www.AdventistReview.org | November 14, 2013
---
tell them to pinch

themselves.

"Ouch! This is just too

good to be true! I can hardly

believe it! I had to pinch

myself!"

George Day

Frankfort, Kentucky

A Living Testimony

»»

I am writing in regard to

the Page 7 feature "A Living

Testimony" (Sept. 19). In

this article it is stated that

Sarah Davis is a testament

to the Seventh-day

Adventist lifestyle of abstinence

from meat, alcohol,

and cigarettes.

This statement is rather

misleading since it clearly

states in the photocopy of

the newspaper to the left

that she has been a vegetarian

for only five years, but

has abstained from pork,

alcohol, and cigarettes

throughout her life. That

being said, Davis did live 100

years of her life apparently

eating meat.

A person can live a healthy

lifestyle whether they eat a

balanced diet that includes

clean meats or they choose to

be a vegetarian. After all,

there is much more to living

a healthy lifestyle than just

diet.

Dawn Glass

Red Lake Falls, Minnesota

Tell 'Em About

the Dream

»»

Outstanding is the word

for Bill Knott's editorial "Tell

'Em About the Dream." God

uses those who are willing to

speak the truth, and King

was the right man at the

right place and the right

time.

We as a church have been

given a message—God's

redemptive plan of love for

this world and His soon

return. Knott's editorial is a

reminder "of our duty and

our privilege."

Natalie Dodd

Centerville, Ohio

Forgiveness

»»

I thank God for the transforming

power of Roy Gane's

article on forgiveness (June

27, 2013)! Another Scripture

with the same message is

Romans 3:23, 24: "All have

sinned and [all] fall short of

the glory of God, and all are

justified freely by his grace

through the redemption that

came by Christ Jesus." (See

Rom. 5:18; 2 Cor. 5:19; 1 Tim.

4:9, 10.)

Ellen White writes about

the woman caught in adultery.

Jesus said, " 'Neither do

I condemn you; go and sin no

more [John 8:11].' Her heart

was melted, and, casting herself

at the feet of Jesus, she

sobbed out her grateful love

and with bitter tears confessed

her sins" (The Ministry

of Healing, p. 89). Repentance

and confession followed

forgiveness.

Two Greek words translated

"forgive" are charizomai

(in Col. 2:13), a judicial pardon

as in corporate amnesty;

and aphiemi (in 1 John 1:9),

which means a separation

from or a taking away of sin

following repentance and

confession resulting in justification

by grace through

faith.

I recommend reading The

Message of the Latter Rain, by

Kelvin M. Duncan and Earl D.

Peters, 2012, printed by the

Review and Herald Publishing

Association.

Lloyd Knecht

Washougal, Washington

The God of the Gap

»»

If Clifford Goldstein is

"It is not always a perfect understanding of every

truth at the same time that determines those who are the

children of God. It is the heart that is filled with the love of

Jesus, manifesting His character and obeying His

commands that the Lord recognizes.

"

—jessica esochaghi, Loma Linda, California

going to be permitted to

write prose that few of us

can understand, such as the

tortured prose in "The God

of the Gap" (Sept. 19, 2013), I

believe the editors should

provide an interpretation at

the conclusion of each such

column, or return them to

Goldstein for a rewrite. Goldstein

is capable of writing

brilliant and insightful copy.

He should be held to just

that kind of standard.

Mike Jones

Gresham, Oregon

»»

Thank you for addressing

the topics of evolution and

atheism from time to time.

We should also be concerned

for the teaching of Darwinism

as fact in our colleges,

but something else can be

worse, namely, popular

social sciences—psychology

and psychiatry. . . . Psychology

is too closely related to

religion and character to be

seen as irrelevant to

Christians.

Maurice K. Butler, M.D.

Morrison, Tennessee

We welcome your letters, noting,

as always, that inclusion of a letter

in this section does not imply that

the ideas expressed are endorsed by

either the editors of the Adventist

Review or the General Conference.

Short, specific, timely letters have

the best chance at being published

(please include your complete

address and phone number—even

with e-mail messages). Letters will

be edited for space and clarity only.

Send correspondence to Letters to

the Editor, Adventist Review, 12501

Old Columbia Pike, Silver Spring, MD

20904-6600; Internet: letters@

adventistreview.org.

www.AdventistReview.org | November 14, 2013 | (997) 5
---
Editorials

Lael

Caesar

Xenophobia and God

Sometimes, instead of contempt, familiarity breeds love.

Xenophobia is born of the absence of familiarity. It is the determination that whatever is unlike

what I know is a basis for discomfort. Whether rationally articulated or otherwise, it is the fear

of things or people based on their foreignness. Our protest against West African ackee or Southeast

Asian durian may simply be that we have never eaten either, which gives us no right to be

confident about them. We have more right to be uncertain, suspicious, afraid.

Naturally, we think the same way about God.

As Adam's fallen children we are xenophobic about the Bible's God. For the Bible's God is surely

the most foreign of all foreignness to fallen humanity, utterly different from everything we naturally

conceive of and incline to. We are "covetous, boasters, proud, blasphemers, disobedient . . . ,

without natural affection, trucebreakers, . . . fierce, despisers of those that are good, traitors,

heady, highminded, lovers of pleasures more than lovers of God" (2 Tim. 3:2-4, KJV). We invent

gods like ourselves: "Every culture has evolved its own mythology," and the archetypes our gods

constitute "help to deepen our understanding of human psychology." 1 We invent a promiscuous

Zeus, he of the many lovers both male and female—he is, after all, the head god; we create champion

Marduk splitting open the carcass of Tiamat, his great-great-grandmother, whom he has just

conquered—for it is the young who win in intergenerational struggle; our South Asian Kali, born

out of Durga's head when she is angry, revels in carnage as much as does Near Eastern Astarte.

For isn't carnage the stuff of our joy? "Beat 'em up," "hack and slash," "shoot 'em up [shmup]" are

three of the dozens of genres of games we play on screen today. The contention, jealousy, brutality,

and immorality of our ancient gods is the stuff of our modern prime-time newscasts and ESPN

entertainment, or simply the peace of our private dens. We pay money to relax by attacking people

on a screen. Grand Theft Auto V, a game of criminal activity (as its name suggests), raked in $1

billion in sales in its first three days of availability. 2

God, the God of Scripture, is too frighteningly different from these sordid preferences as life

and these gory appetites as fun. We would be more at ease turning Him into a brute who indiscriminately

slaughters Canaanite animals and children, instantaneously strikes down a man and

woman who were trying to support His church work, and consigns everyone who doesn't do as

He says to the flames of eternal torment. Which may help explain why the ignorance expressed in

these distortions outbellows the documented truth of His caring, self-sacrificing, eternal love.

What then is a compassionate God to do?

God answers human xenophobia with the Incarnation, living in a tent "in the midst of His

people . . . He pitched His tent by the side of the tents of men, that He might dwell among us, and

make us familiar with His divine character and life." 3 The God of all things became one of us. It

could have bred contempt. But no! He walked our streets and rode our donkeys, ate our food and

gave us His. He hugged our kids and our lepers. Contempt? Xenophobia? Not now that we've met

Him. We can trust Him—for life, and death, and whatever else there is. Love Him for always,

because He came and showed us who He is.

Now we know: Sometimes, instead of contempt, familiarity breeds love. n

1

Arthur Cotterell and Rachel Storm, The Ultimate Encyclopedia of Mythology (Lorenz Books, 1999), p. 6.

2

www.fool.com/investing/general/2013/09/28/gta-5-sales-hit-1-billion.aspx, accessed Oct. 3, 2013.

3

Ellen G. White, The Desire of Ages (Mountain View, Calif.: Pacific Press Pub. Assn., 1898), p. 23.

6 (998) | www.AdventistReview.org | November 14, 2013
---
Speaking Truth to Power

O God . . . we are helpless without Your power. Unless You

empower our lawmakers, they can see the ideal, but not reach it. They can know the right, but not do

it. They can comprehend their duty, but not perform it. They can seek the truth, but not fully find it."*

During the recent U.S. government shutdown the media was filled with reports of raucous

debate, unbridled name-calling, and parliamentary maneuvering. For more than two weeks both

sides were dug in, holding entrenched positions.

But amid the rancor, grandstanding, and brinksmanship I was encouraged to know that there

were voices calling for calm, civil dialogue. Among those voices was Adventist pastor Barry C.

Black, who serves as U.S. Senate chaplain.

At the start of each Senate session Black opens the meeting with prayer, bringing a moral influence,

according to some commentators. Through his ministry he urged lawmakers to put politics

aside and do what's best for the country. His ministry made such an impact that the story of his

prayers was featured in ABC News, MSNBC, the New York Times, Washington Times, and USA Today.

Black is uniquely positioned to bring a moral influence to Capitol Hill. Serving for the past 10

years as Senate chaplain, Black is often involved in weddings and funerals for senators and their

families. He also leads many of them in Bible study and provides counseling.

When asked about his ministry on Capitol Hill, Black simply says, "I'm trying to be a servant

of the Lord who, when necessary, is unafraid to speak truth to power."

While God calls us to stand for truth in our own circles of influence, it's especially exciting to

see an Adventist pastor answer the call in such a public way. n

* Barry C. Black, Prayer for the Senate, Congressional Record, Oct. 2, 2013, http://thomas.loc.

gov/cgi-bin/query/z?r113:502OC3-0001:/.

Carlos

Medley

The "RighT" Way.

Ministry published a column entitled Kindly

Correctives from 1928 through 1950. Each month articles would highlight something

for pastors to correct—pronounciation, spelling, posture, or phrasing. The idea was that a

pastor who could take criticism and correct his unfortunate habits would become a more effective

witness in the pulpit. It became one of the more widely read features. Below is just a sampling.

June 1928

a sampling of proper pronunciations:

• "Breth'ren (two syllables), not breth'e-ren."

• "Of'ten, pronounced of'n, not of'ten

(the t is silent)."

• "Saith, pronounced in one syllable, as

if spelled like the name of one of the

sons of Adam: Seth; not say-eth. The

frequency of this error emphasizes the

need of great care."

November 1943

Preparing a manuscript: "First

impressions are important. If you plan

to do much writing, it will be decidely

to your advantage to learn to type."

Excerpts from Ministry, June 1928, p. 23; July

1929, p. 19; February 1934, p. 9; April 1939, p. 39;

November 1943, p. 21; February 1950, p. 16.

July 1929

Phrases to avoid:

• "The greatest single influence"

• "It is our firm conviction that"

• "I am here to say that"

• "We have the high honor"

• "A singular pleasure"

February 1934

Regarding loud, fast speaking:

"Surely it is unwise for us to adopt

extreme ways of presenting the truth

at any time. It is a mistaken idea that

loudness gives strength, or that a

frenzied, hurried presentation proves

more effective."

april 1939

Distracting manners in the pulpit: "Speaking without moving; gripping

the lapels of the coat; too deliberate speech; dropping the voice at the end

of sentences until the words are almost inaudible; pounding the Bible or desk

(perhaps to keep the audience awake?); the use of the word 'finally' more than

once in a service . . . and the most objectionable—violent clearing of the throat."

February 1950

Making a strong beginning. "How much better it would have been if the

minister in question had stepped to the pulpit in an energetic manner, and in a

voice full of life and strong enough to be heard in the back row combined his

manner, his voice, and his first 25 words to make his audience feel that they were

going to hear something that would be useful to them the rest of their lives!"
---
World News & Perspectives

photo: Ansel Oliver/Adventist News Network

MORNING MESSAGE: Adventist Church president Ted N. C. Wilson delivers the Sabbath sermon at Annual Council, October 12, 2013, at

the Adventist Church's world headquarters in Silver Spring, Maryland, United States.

■■WORLD CHURCH

Consistent, Expressive

Faith Called for in Annual

Council Messages

1888 message recalled; Wilson

emphasizes communication of gospel

By MARK A. KELLNER, news editor

One hundred twenty-five years after

the Seventh-day Adventist Church began

its focus on righteousness by faith,

global leaders of the 17-million-member

movement gathered to hear calls for consistent,

expressive faith in the merits of

Jesus.

The weekend commenced October 11,

2013, with an evening program that celebrated

the 1888 General Conference

session and its focus on Christ's

righteousness.

"Jesus has become my sufficiency,"

declared Ganoune Diop, an Adventist

theologian and scholar who serves as

the church's liaison to the United

Nations. Raised in Senegal, West Africa,

Diop contrasted the faith of his childhood

with his adult Christian belief in a

Lord who died to redeem broken and

sinful humanity.

Shawn Brace, a young adult pastor

from Maine, gave a brief but powerful

testimony of being raised in an

Adventist home where his parents consistently

focused on the righteousness

of Christ. "When we fall in love with

Jesus, obedience becomes a delight,"

Brace said.

Artur Stele, a general vice president of

the church and director of its Biblical

Research Institute, focused on the Old

Testament narrative of Mephibosheth,

the son of King David's friend Jonathan,

to draw parallels with the mercy and

grace extended to broken human beings

through Jesus.

Lael Caesar, an associate editor of

Adventist Review and Adventist World magazines,

used the Luke 17 story of Jesus

healing 10 lepers to underline that it is

God who does the work of salvation and

healing in human lives: "What did these

guys do to cleanse themselves? 'As they

went along, they were cleansed.'

Remember the lepers and let go of the

burden and anxiety and stress. Take

Jesus at His word: 'As they went, they

were cleansed.' "

The balance of the Friday evening

meeting was devoted to reports of evangelism

from the eastern United States

and the NY13 effort covering New York

City and neighboring areas in New Jersey

and Connecticut. Church leaders

reported a total of nearly 4,100 bap-

8 (1000) | www.AdventistReview.org | November 14, 2013
---
tisms and 31 new congregations established

as results of the yearlong

campaign.

On Sabbath morning, October 12, the

church leaders and delegates turned to

worship, prayer, and reflection. Speaking

to a capacity crowd of more than 450

in the General Conference auditorium,

General Conference president Ted N. C.

Wilson emphasized a call to "communicate

God's truth in love and illuminate

the earth with God's glory." He noted

the pressures of the age that tempt

Christians to abandon Bible teaching.

"There are those in the church and

outside the church who wish to change

the very beliefs we have held sacred and

change the character of the Seventh-day

PHOTO: Edwin Manuel Garcia/Adventist News Network

SONG LEADERS: J. Alfred Johnson, North American Division Personal Ministries director,

and his wife, Paula, lead singing of the closing hymn, "Seeking the Lost," at Annual Council

on Sabbath, October 12.

different message than we intend by

how we personally use the Internet, by

what we watch on television, by what

we wear, by how we use our time, by

what kind of music we listen to, or by

our worship style?"

Wilson appealed to members and

leaders to adopt thoughtful, reflective

elements in worship: "Recognizing

the world is full of various cultures,

let's worship in simplicity and in

truth, using the Word of God and

aligning ourselves with the culture of

heaven."

As members and leaders of the world

church paired off two by two for prayer,

Wilson challenged his hearers to rededicate

themselves to Christian service

and proclamation: "As we come to the

end of time, realizing the devil is making

every effort to confuse our message

and mission, let us rest firmly on God's

Word and promises to make us truly

His messengers." n

photo: Ansel Oliver/Adventist News Network

ready for translation: A language

interpreter assists Annual Council delegates

who are listening to him on earphones

in the Adventist world church

headquarters auditorium.

Adventist Church itself—people who

want to turn the grace of God into

something vile, thus denying Jesus

Himself, even though they pretend to

lift up His name," Wilson warned. "As

we communicate truth to those who do

not know Christ, we must guard against

the world entering the church, [and]

neutralizing its mission."

Wilson also urged Adventists to

examine the integrity of their witness:

"Are we communicating to the world a

■■WORLD CHURCH

Adventist Church Web Site

Redesign Unveiled

Leaders hope unified look will strengthen brand

By Edwin Manuel Garcia, Adventist News Network

The Seventh-day Adventist Church

unveiled a major redesign to its Web

site October 16, and urged regional

leaders to make similar upgrades to

ensure the church has a more consistent

global online identity.

The content of the site has also

shifted to address a new audience: The

non-Adventist public, as distinct from

church members.

Adventist.org contains most of the

same information as before, but it's

now presented in a more modern,

graphically oriented look, and is accessible

in four languages: English, Spanish,

Portuguese, and French.

"What begins as a relationship with a

Web site can lead to a relationship with

a brand; the research tells us this," Garrett

Caldwell, the General Conference of

Seventh-day Adventists' associate Communication

Department director for

public relations, told Executive Committee

members of the 2013 General Conference

Annual Council in Silver Spring,

Maryland.

"And if people can get to the point

where they can trust a brand," Caldwell

added, "then they will want to know the

product, and the product of the Seventhday

Adventist Church is every life that

has been transformed by the message

that we've been given and the God we

serve."

www.AdventistReview.org | November 14, 2013 | (1001) 9
---
World News & Perspectives

The redesign is the

most significant

update since 2004, said

John Beckett, director

of the Adventist

Church's Office of

Global Software and

Internet.

General Conference

leaders are offering the

new design to every

denominational organization

through the

free tools and templates

available at

Ansel Oliver/Adventist News Network

NEW LOOK: Garrett Caldwell of the Adventist world church's Communication Department unveils the

redesigned Adventist.org to Annual Council delegates.

10 (1002) | www.AdventistReview.org | November 14, 2013

framework.adventist.org.

Planning for the redesign began more

than a year ago in collaboration with

the Inter-European Division and its

development team at the Stimme der

Hoffnung (Voice of Hope) Media Center

in Germany, whose Web experts had

updated the division's Web site and

offered to collaborate with the General

Conference's own upgrade.

Some 100,000 people each month

perform Web searches using the

English-language phrase "Seventh-day

Adventist," Caldwell said, suggesting

that catering the site to the public can

serve as a vehicle for evangelism.

Users of the redesigned site will open

the main page and find personal testimonies

of Adventists, along with photos

or videos of their stories. The same

top portion also includes a section

titled "Our Beliefs," which includes a

link to the church's 28 fundamental

beliefs in a PDF document for easy

printing.

The redesign, which now has larger

fonts and more white space, also

includes three standing features: spirituality,

vitality, and service.

Under spirituality, one can learn

about the Sabbath, download Bible

study guides, read about prayer, and

find out more about prophecy. The

vitality section offers information

on family life, health, and education.

The service component displays

details on missionaries, humanitarian

work, and religious liberty.

"Rather than communicating the

structure of our church, we're trying to

communicate the impact that our ministries

can have on your life," Caldwell

said. "We want people to know that

Seventh-day Adventists are committed

to making the world a better place." n

■■NORTH AMERICA

Southeastern California

Constituency Votes Sandra

Roberts Conference President

Move contravenes General Conference policy.

BY ADVENTIST REVIEW staff

Delegates to the October 27, 2013,

constituency session of the Southeastern

California Conference (SECC) of Seventhday

Adventist elected Sandra Roberts as

president.

Delegates also elected five other key

administrators. These included Jonathan

Park, executive secretary; Verlon

Strauss, treasurer; Elizer Sacay, vice

president for Asian/Pacific ministries;

George King, vice president for Black

ministries; and Alberto Ingleton, vice

president for Hispanic ministries.

Ricardo Graham, president of the

Pacific Union Conference, reminded delegates

that the General Conference does

not endorse women's ordination, and he

passed on a message from Ted N. C. Wilson,

president of the Seventh-day

Adventist world church, stating the election

of a woman as president would not

be recognized by the General Conference.

But Graham continued by stating that

because delegates to the Pacific Union

special session voted in 2012 to authorize

the ordination of women, the recommendation

of the SECC nominating

committee is in harmony with conference

and union bylaws and policies.

For one of the session reports, Rudy

Carrillo, youth ministries director,

introduced Carmen Ibanez, director of

Pine Springs Ranch. They presented the

Pines Springs Ranch report with

images of the damage caused by fire

earlier this year, as well as a plan to

rebuild the camp. Delegates approved a

spending request to begin the rebuilding

process. n

—with information from Enno Müller,

interim communication director, Southeastern

California Conference.

News Continued on page 12 »
---
Moving Forward Together

A RESPONSE FROM THE GENERAL CONFERENCE TO RECENT ACTIONS IN NORTH AMERICA

The Seventh-day Adventist Church has been called by God as an urgent, end-time voice proclaiming God's love and last

day message to the world. He has commissioned us to proclaim the three angels' messages of Revelation 14:6-12 to

people worldwide desperately looking for hope. The message and mission of the Seventh-day Adventist Church is

unique and is heaven-sent. Our top priority as a church is knowing Jesus ourselves and sharing His message of

redemption. Nothing is to stand in the way of this proclamation as we unite to reach every "nation, and kindred, and

tongue, and people" with the "everlasting gospel" (KJV).

The Seventh-day Adventist Church is a fellowship of believers bound together by a common commitment to Christ, the

truths of the Bible, a worldwide church organization and a mission to the world. Each of these elements is vitally

important in preserving the unity of the church and keeping it from fracturing. The Seventh-day Adventist Church is not

organized as a collection of independent units. Although each Conference/Mission, Union and the General Conference

(which includes the divisions) have their own constituencies, they are also united by common commitments, mutual

trust and agreed upon policies. The Church, the body of Christ, is inter-related. Actions that affect one part of the body

affect the whole. The Apostle Paul stated it succinctly in these words, "For as the body is one and has many members,

but all the members of that one body, being many, are one body, so also is Christ"(1 Corinthians 12:12, NKJV)*.

Working Policy, which is the recording of our agreements as to how we will work together to do the Lord's work and

mission, serves as one of the practical unifying agents that the Holy Spirit uses to bind the church together. Policy is not

inflexible. It can be changed but it reflects the understanding of the collective group, under the guidance of the Holy

Spirit. When personal convictions are placed ahead of the collective policy decisions of the worldwide church, troubling

precedents are set. God works in an orderly way and wishes His church to exemplify this sanctified behavior through the

power of the Holy Spirit. Humility and submission to God for the good of the church body as outlined in the Word of

God and the Spirit of Prophecy are fundamental Biblical principles for the benefit of the church.

At the 2012 Annual Council in a voted action entitled, "Statement on Church Polity, Procedures, and Resolution of

Disagreements in the Light of Recent Union Actions on Ministerial Ordination," the world church strongly indicated that

it does not recognize as ordained ministers individuals who do not meet the criteria outlined in policy. It deeply

concerns the world leadership of the church that recently a local conference constituency elected as a conference

president an individual who is not recognized by the world church as an ordained minister. Ordination to the ministry is

one of the criteria set forth for being a conference president. General Conference administration is working with the

North American Division administration as they deal with the implications of this local conference action, which is

contrary to the 2012 Annual Council action.

The world church is currently working together in a Theology of Ordination Study Committee with participation by all

divisions to better understand the functions of ordination as well as the role of women in relation to ordination to the

gospel ministry. A careful process is functioning and reports will be given to the 2014 Annual Council with the expectation

that this subject will go to the 2015 General Conference Session for a decision under the guidance of the Holy Spirit.

We have every confidence in the Lord's leading of His precious remnant church. By God's grace and through the Holy

Spirit's guidance, the church will find its way through this challenging time as we move forward with the unique

message and mission entrusted to the Seventh-day Adventist movement. It is God's plan that we proclaim His end-time,

prophetic truth to every corner of the globe and especially the enormous metropolitan centers of the world through

"Mission to the Cities" utilizing every form of comprehensive urban evangelism including comprehensive health

ministry and many other methods. We urge all church members and leaders to pray that the Holy Spirit will unite us to

fulfill Christ's promise that "this gospel of the kingdom will be preached in all the world as a witness to all nations and

then the end will come" (Matthew 24:14, NKJV). United in Christ's love, bound together in a common Biblical message,

linked through a common church organization and committed to one another with mutual respect and trust through

the power of the Holy Spirit, we are confident this church will triumph at last and proclaim Christ's eternal message of

truth to the ends of the earth in anticipation of Jesus' soon second coming.

* Texts credited to NKJV are from the New King James Version. Copyright © 1979, 1980, 1982 by Thomas Nelson, Inc. Used by permission. All rights

reserved.

—The General Conference Executive Officers

www.AdventistReview.org | November 14, 2013 | (1003) 11
---
World News & Perspectives

» News Continued from page 10

■■WORLD CHURCH

Management

Expert Exhorts

Adventist

Leaders to

Encourage

Innovation

GC's LEAD sessions

feature business expert

By MARK A. KELLNER, news

editor, with ANSEL OLIVER,

Adventist News Network

One of Silicon Valley's brightest minds

challenged 400 world leaders of the Seventh-day

Adventist Church to create a climate

of innovation at every level of the

movement.

"I think aspiration is the best insurance

against irrelevance," management

thinker Gary Hamel declared in a keynote

address to the Leadership Education

and Development (LEAD) training

program, which preceded the October

11 opening of the General Conference of

Seventh-day Adventists' Annual Council.

"No organization ever outperforms

its own aspirations."

Hamel, cited by the Wall Street Journal

in 2008 as the world's most influential

business thinker, encouraged leaders to

be aware of changing climates in their

constituencies. Overall, he said, society

is changing the way it views and interacts

with institutions such as the

church, sometimes rendering those

institutions less effective: "Every successful

organization is successful until

it's not," adding, "as human beings, we

are all susceptible to denial."

The LEAD program is part of an effort

to introduce Seventh-day Adventist

Church decision-makers worldwide to

current innovations and best practices

in leadership.

Hamel is a founder of Strategos, an

international management consulting

firm. His books include What Matters

PHOTO: Ansel Oliver/Adventist News Network

BUSINESS THINKER: Management consultant Gary Hamel speaks to Adventist Church

leaders during Annual Council at the denomination's world headquarters in Silver Spring,

Maryland, on Friday, October 11. Hamel has been recognized by The Wall Street Journal

and Fortune magazine as one of the world's most influential management experts. He is

the author of many books, including What Matters Now.

Now, a guide to building organizations

that thrive amid uncertainty and shifting

priorities. He urged Adventist leaders

to facilitate experimentation and

change within the organization's ranks:

"The pace for change is ultimately the

question of how much experimentation

is going on inside that organization,"

Hamel said. "The job of every leader is

to make sure that change always seems

more exciting than standing back."

Hamel reminded his audience that

while divinely given truths are eternal,

the structures of organizations to communicate

those truths can and should

adapt to the times: "We don't worship

tradition; we worship a risen Lord," he

said.

Drawing from his consulting experience

at the epicenter of America's high

technology industry, the famed "Silicon

Valley" area between San José and San

Francisco, California, he noted that

Google strives to have 5,000 experiments

aimed at improving the firm's

computer search technology every year,

with the expectation that a significant

number will yield results for the firm.

"Basically every large corporation has

an innovation lab in the Silicon Valley,

he said. "Maybe the [Seventh-day

Adventist] Church needs an innovation

lab, too."

Hamel said that while the church is

committed to redemption, renewal, and

reconciliation, there are times that

established programs, policies, or practices

obscure the core message.

"The only way you would really know

you are committed is if you were willing

to sacrifice some of those habits, some

of those structures, to those commitments,"

he said.

G. T. Ng, executive secretary of the

General Conference, said Hamel's earlier

presentations to the Secretariat

sparked the invitation to address the

leadership at this year's Annual Council.

Ng said the church can learn much from

Hamel's message.

"The church at different levels could

do more to overcome the inertia to

change in terms of methodologies, to

maximize the use of technology, to keep

pace with a fast-changing world," Ng

said. "We probably could do better in

empowering the rank and file for mission

by removing or reducing red tape.

In [Secretariat] we have already taken

steps in that direction. The South Pacific

Division's example of downsizing in

order to allocate more money for mission

is a good example." n

12 (1004) | www.AdventistReview.org | November 14, 2013
---
did you know

Adventists hold 28 fundamental beliefs

that can be organized into six doctrines:

the doctrines of God, man, salvation, the

church, the Christian life, and last things. In

each teaching, God is the architect, who in

wisdom, grace, and infinite love is restoring

a relationship with humanity that will last

for eternity. To find out more, and to share

with others, visit the Adventist Church's

revamped Web site at www.adventist.org/

beliefs.

share with us

We are looking for brief submissions in

these categories:

Sound Bites (quotes, profound or

spontaneous)

Adventist Life (short anecdotes, especially

from the world of adults)

Camp Meeting Memories (150 words

or less)

Jots and Tittles (church-related tips)

Please send your submissions to Give &

Take, Adventist Review, 12501 Old Columbia

Pike, Silver Spring, MD 20904-6600; fax: 301-

680-6638; e-mail: marank@gc.adventist.

org. Please include phone number, and city

and state from which you are writing.

Sound Bite

"There is no place

safe except where

God sends you."

—Homer Trecartin, during

morning worship at the General

Conference, October 9, 2013,.

church bulletin

adventist life

I had a little conversation with our son Camden

about bedtime one evening. He said that we shouldn't

sing songs (what we usually do for bedtime worship),

but just go straight into bedtime stories, because

"Mommy has a headache."

I said to him, "You just don't want to sing songs, do

you?" Camden admitted this was the case because

singing takes too long and he wanted to go right into

the stories--the best part.

So I asked him, "Why? Worship is great. Jesus is the

best part of the day."

To which he replied, "I hear you, friend." Funny kid—

even if he is trying to work the system.

—Shawn Brace, Bangor, Maine

The Campus Hill Seventh-day Adventist Church in Loma Linda, California, has a unique

way of announcing sunset times in their bulletin. One of their church members submitted a

bulletin from this past summer with the announcement worded this way:

"The blessings of the Sabbath draw to a close at 8:02 p.m. and resume

next Friday at 8:03 p.m."

© terry crews

www.AdventistReview.org | November 14, 2013 | (1005) 13
---
Searching the Obvious

Know-and-Tell

I enter a small auditorium inside the Christian school and academy.

The usher hands me a program and walks me to a seat at the very top with a sign that reads RESERVED. The

usher smiles and says: "Ella asked me to seat you here, the best seat in the house." I glance at the program.

Then I take a second look at the title of the play I came to see. Is that a typo?

* * *

I kneel down in front of Bret and hold the dictionary in my hands. Will it be too heavy for him? His small

hands take the book with wide eyes and a beautiful smile. He can handle it. Ella and Bret have come by to

drop off an invitation. In two weeks Bret's second-grade class will host family night at his school. Ella,

who teaches the second-grade class, is insistent that I not miss the event. I wouldn't miss it for the

world. Ella used to be my student.

* * *

As the stage is prepared, I look around. I see people demonstrating support for teachers

and students. I glance at the program again and read the title of Ella's play: Know-and-Tell.

Shouldn't it be Show-and-Tell? The lights dim. The stage has only a microphone and two

screens with a picture of Ella's students holding signs that read: Know-and-Tell.

It's not a typo.

From behind the curtain a little girl in a pink dress walks toward the microphone. The

auditorium is silent. In a little voice she says: "I am grateful for my grandpa" (the screen brings

up a picture of the girl with her grandpa). "My grandpa is a veteran; he loves to sing and plays

the piano. He sings with me. He is teaching me to play the piano. Thank you very much." The

little girl takes a bow, and the audience applauds.

One by one the children come forward. Only kind words are said.

"My mother is very loving to me. We have Sunday cookie day, when we make cookies for our

neighbors, and my friends come over and we help mom and have juice. I love her and want to be

like her."

I sit and watch as tissues emerge from purses, and handkerchiefs wipe away tears. These are memorized

words. They are only kind words.

Then I see a picture of Bret and me, sitting in his backyard. Bret approaches the microphone. "I appreciate

my friend Dixil. I like that she reads to me and it doesn't matter it's always the same book. She gave me a

grown-up book, a dictionary, because I told her I liked it. I learn a new word each day. Today I learned 'appreciate,'

but I really love her. I am still in the a's."

The audience laughs and applauds as I reach into my purse for a tissue.

For the finale, the second grade stands holding a banner that says: Know-and-Tell. On the screens appear

the words: "What would happen if we only spoke of others with kind words? What if mistakes, bad decisions,

or poor choices were not relevant in our conversations of others?"

The auditorium is silent. I look around and see people reaching for one another's hands, heads leaning

on shoulders. Others stare blankly at their hands, maybe contemplating reckless words they have said. I am

in the best seat. Ella knew the obvious would be seen from this seat. We all came to support teachers and children, when in

reality we came to learn, to be reminded.

As I sit in the auditorium watching everyone exit to the reception, I begin to wonder. Know-and-Tell. It's

an interesting concept, but it's not quite developed yet. To speak well of others all the time . . . ironically, we

would have to rethink several things: compassion; loving our sisters and brothers unconditionally; treating

others as we would like to be treated ourselves; not speaking ill of others; mission; holding someone when

their heart is broken in two—without judgment. We would have to follow the example of Jesus.

But we know this.

The Holy Spirit simply whispers to help us show it. n

Dixil

Rodríquez

Dixil Rodríguez, a college professor and volunteer hospital chaplain, lives in Texas.

www.AdventistReview.org | November 14, 2013 | (1007) 15
---
By Scott Griswold

I

Cover

grew up in a mostly White California

town, speaking only English. I

never considered learning Spanish

to talk with migrant workers. I

never visited the Buddhist temple

on the edge of town or had even a passing

thought that Buddhists were my

mission field.

But God had His surprises waiting. I

ended up spending 16 years in Southeast

Asia, sharing the gospel in Khmer

and Thai. I am extremely thankful that I

discovered a world that had not yet met

Jesus. There is no joy like sharing with

those who have never heard. Now that I

have returned to North America, my

eyes are open to the mission field next

door.

Have you felt the tug of Jesus' great

commission? There are about 3 billion

unreached people in almost 7,300 distinctly

different people groups who

don't have a vibrant, multiplying Christian

witness among them. 1 How is that

final sign of Jesus' soon return ever

going to be accomplished (Matt. 24:14)?

Just Around the Corner

God has His strategy. In the early

church He brought "devout men from

every nation" (Acts 2:5, NASB) 2 to Jerusalem,

then poured out His Spirit, and

the gospel was preached to each. In

these last days He is doing it again in

cities all over the world. God has

brought refugees, immigrants, and

international students "to our very

doors and thrust them, as it were, into

our arms, that they might learn the

truth, and be qualified to do a work we

could not do in getting the light before

men of other tongues." Migration is

definitely "a divinely appointed means

of rapidly extending the third angel's

message into all the nations of earth." 3

For example, people from at least 20

of the 100 most unreached people

groups in the world have moved to live

in the United States. 4 When I worked for

the Center for East Asian Religions in

Reach

Thailand, I often prayed for the tiny

country of Bhutan, near India. Almost

no Christians live in this mountainous

country that isolated itself for years. It

is expensive to visit and dangerous to

share the gospel there.

One day I flew to the United States for

meetings at the General Conference

building near Washington, D.C. I

stopped by Target to pick up some treats

to take back to my family. To my surprise,

I saw a large man with a shaved

head and an orange robe. I had to find

out where he was from. I was delighted

to hear him say, "Bhutan!" Later I found

out his was not an isolated case. As of

December 2012, 63,400 refugees from

Bhutan have been resettled in the United

States; 5,296 in Canada; 3,837 in Australia;

and 724 in Denmark. 5

The mission field has come to us. A

problem remains, though. We think a

missionary is somebody who goes to

Africa or China, and that somebody is

certainly not us! Who are these

missionaries, anyway?

I saw the answer back in

Thailand at a crowded

theWorldNext

Door

16

(1008) | www.AdventistReview.org | November 14, 2013
---
It's adventurous

—and it's God's plan.

evangelistic meeting. There was an English-speaking

preacher with a Chinese-

Thai translator cooperating with the

Indian landlord and some Filipino volunteers.

What caught my eye most was

the huge smile on the face of a refugee

from the Democratic Republic of Congo.

It was the love of Jesus in him that had

bound six cultures together to plant a

church among Thai Buddhists.

That special multicultural event gave

me a taste of God's Pentecost missionary

plan: Spirit-filled everybody from everywhere

reaching everyone until the coming of Jesus.

Everybody means you and me, every

disciple of Christ, not just the pastor or

the overseas missionary. From everywhere

means missionaries from Kenya, Mexico,

and China, not just North America.

Reaching everyone means watching with

missionary eyes for Bhutanese refugees,

Saudi international students, Cambodian

migrant workers, and anyone else

who crosses your path—right next

door! Spirit-filled is the only way this can

happen, because our hearts are selfish,

and we like to be with our own people.

Until the coming of Jesus--because this is

why Christ's return waits.

Just as in Jerusalem on Pentecost,

God has now brought people from

almost every nation to our big cities

around the world. It is His plan that the

Holy Spirit will move through us in

such a way that each of these ethnic

groups will understand the gospel in

their unique context. That is part of the

"tongues of fire" we must be asking for

when we pray for revival.

I never realized quite how good our

good news is until I started sharing it

cross-culturally. The Seventh-day

Adventist Church is uniquely placed with

a very special message for people of other

religions. When the gospel transforms us,

our doctrines are lived from the heart,

and people see in us their highest values.

Muslims are pleasantly surprised when

they learn that our surrender to the one

true God includes not eating pork or

drinking alcohol. Jews see us valuing

"their" Sabbath, celebrating family and

our amazing Creator God. Spiritually

minded, vegetarian Hindus respect our

wholistic message that ties physical, mental,

and spiritual health into an integrated

package. Buddhists find a close

connection between their emphasis on

right living in view of the impermanence

of all things and our call to holy living in

light of the end of the world.

Beyond our similarities with world

religions, the everlasting gospel is perfectly

matched to what the other religions

do not have. My 6-year-old son

and I were making friends with a Buddhist

monk on a train ride in Thailand.

His head was shaved, and he wore the

simple orange robe, showing his dedication

to the many precepts of his religion.

He asked me, "How can Christians just

sin, sin, and keep on sinning, boasting in

the fact that they are forgiven?" His view

of a supposedly Christian, but decadent,

immoral West, had him confused.

I told him the story of Jesus' sacrifice

and compassion at the cross. I shared

that Jesus died because He took our

selfishness onto Him, so He could both

forgive and free us from sin, which

causes us suffering. My son told him

about God's power to change his own

naughty heart into a clean one. I

watched the monk's face light up with

interest as he caught a view that the

purity and freedom he was working so

hard to obtain could be possible

through the gift of God. How excitedly

we can share this amazing gospel!

Are you eager to do more than you

have done? Here are some simple things

I have found effective for reaching the

world next door.

Watch and Pray

I like to watch for cross-cultural

opportunities wherever I go, praying for

divine appointments like the one Philip

www.AdventistReview.org | November 14, 2013 | (1009) 17
---
had with the Ethiopian in Acts 8. "What

language were you speaking to your

friend?" I ask the Indian gas station

attendant. Then I follow it with "So how

do you say 'thank you' in Punjabi?" Or I

might ask the Cambodian doughtnut

maker who has an obvious accent,

"How long have you lived in America?"

"What do you miss about your country?"

Conversations about their culture

and values are bridges to friendship.

Then I keep watching and praying to

know their needs and find opportunities

to share something that points to

our great God.

Give Real Care

Newly arrived refugees have great

needs and a huge adjustment to their

new country. A church in San Diego, California,

provides day-old donated food

to various families from Bhutan. A

school in Rockford, Illinois, sacrifices to

provide Christian schooling to refugee

children from Myanmar and the Democratic

Republic of Congo. A couple in

Wisconsin allows many Hmong families

to grow gardens on their property.

You also can help in such tangible ways.

Befriend International

Students

It's amazing to think that many of the

world's future leaders are studying at

the universities in our own towns and

cities. The king of Bahrain, Sheikh

Hamed bin Isa

Al Khalifa,

went to college

in Kansas.

Annette Lu,

vice president

of Taiwan, studied

in Illinois

and Massachusetts.

Just think

what you might do

for the world by

befriending an international

student! It can be as

simple as volunteering at a university

to practice English with a

student for an hour a week. Ron and

Cathy Bush went a big step further and

hosted a Japanese exchange student in

their home for a school year. He became

a Christian and now serves as a pastor in

California.

Relay Resources

Recently I met a literature evangelist

who said, "I felt so bad when the Vietnamese

woman shook her head indicating

she couldn't read my books. I wanted

something to give her in her own language.

I just had to walk away." To fix

that problem, we've collected Seventhday

Adventist pamphlets, sermons, videos,

Bible studies, and more in many

languages. Now it's as easy as the click of

a smartphone or your computer. 6 Think

how their eyes will light up when you

Ready to Go?

Here Are the Tools

Prepare yourself for cross-cultural mission action right in

your neighborhood. Reach the World Next Door is just off the

press. Video presentations, small-group interaction, and out-inthe-community

activities will build your confidence to make international

friends, tangibly help refugees, share the gospel with people of other world

religions, and even partner to begin new ethnic churches right where you are. Produced

through a partnership between ASAP Ministries and the North American Division,

this material can be ordered at www.reachtheworldnextdoor.com.

hand them a downloaded pamphlet in

their own tongue or sit and watch the

"Jesus Movie" in their language with

them.

Learn Their Beliefs

You may not feel confident to talk with

someone of another religion. Perhaps

you are afraid you will make a mistake,

embarrassing yourself and God's cause.

Don't worry! God can do it through you.

You can learn and grow in confidence by

asking them questions about what their

religion teaches and what values matter

to them. Beyond this, the Seventh-day

Adventist Church has six Global Mission

centers that are constantly working on

developing training manuals and Bible

studies especially geared for these different

religions. 7

Share an Experience

I don't like getting into a debate with

anyone, but I do want to share my faith. I

have found the best way to do it is by telling

stories. I introduce my God by telling

stories of how He has protected me, or

healed a friend, or set a drug addict free. I

deal with deceptions about ghosts and

reincarnation by telling the great controversy

story of Satan's attack on God in a

way that highlights in the lies—and the

truths—of these subjects.

Some things are best experienced. I

18 (1010) | www.AdventistReview.org | November 14, 2013
---
Christ's Method Alone

BY JIM AYER

Christ's method of mingling with those we may not know

or even understand worked for two men living in North Carolina

who were willing to leave their personal comfort zone.

Nearly two years ago God laid a burden upon the hearts of

Fabian Reid and Brian Jobe when they realized that a large

group of refugees from Nepal were living in North Carolina, near

their homes. Asking for guidance from the Holy Spirit, they

started visiting the homes of the refugees, offering help. Neither

Fabian nor Brian spoke a word of the Nepali language, but this

didn't hinder their desire for service.

They offered the Nigerian immigrants rides to the Asian market—30

minutes travel time in one direction. They drove them to

a Laundromat and helped them complete government paperwork.

They took them to the doctor, and for those who were

able to obtain a job—with their help—they took them to work.

They even taught them how to drive using their own personal

cars: talk about "ministering to their needs"!

Word traveled throughout the refugee community: "If you

need any kind of help, call the Christians." The list of requests

grew exponentially. Demand was so great that soon other

church members helped meet the needs of the refugee community.

These volunteers became their only lifeline in America.

Since most of the refugees were illiterate, the only communication

between the two people groups were smiles, sign language,

and an occasional English word. Fabian searched the

Internet in hopes of obtaining a greater understanding of Nepalese

culture. God led him to Adventist World Radio (AWR), where

he discovered hundreds of Nepali sermons. He excitedly downloaded

many of them and, with player in hand, headed to the

home of one of his Nepali friends. He started the sermon and

waited. The listeners seemed to enjoy the message.

This encouraged the other team members, who immediately

began playing sermons in their cars while shuttling people

back and forth across the city. Two years later, involving

many joys and heartaches, 60 people are attending a new

Nepali church fellowship every Sabbath—and the numbers

are growing!

If you need evangelistic material in other languages, make

use of AWR's vast library of podcasts in hundreds of languages

(www.awr.org/en/listen/podcasts). You may not understand

everything, but you surely can press the "play" button and make

somebody feel at home. n

Jim Ayer is vice president for advancement at AWR.

find I can best share the Sabbath with

non-Christians by inviting them to join

my family for an afternoon exploring

nature and learning moral lessons. This

leads to talking about the Designer and

Great Teacher behind it all. I also find that

people don't refuse my offer to pray for

them. God moves through such

experiences.

Do It Together

Many of us are overly busy with our

own families, jobs, and churches. How

can we possibly add cross-cultural mission

work too? The best way is to do these

special new activities for internationals

with our family and church members. We

must redirect our time to the unreached,

but we must not do it alone. There is such

benefit in this for our families. I have

thoroughly enjoyed working with my

wife and our four children to hold English

camps and visit people of other cultures.

Together we hosted an ethnic

church plant in our home. The involve-

ment has helped my children grow and

mature. Recently I led a Bible study with a

Mien father in California while my

daughter and son kept his noisy children

happily occupied.

It's going to be difficult for us to stay

focused on finishing this Great Commission.

There is so much to distract us. We

have to daily connect with our Missionary

God who is like a parent.

Think about what He feels right now

in relation to all these unreached people.

A mother is not going to stop dishing

out food until every child has something

on the plate. A father is not going to stop

running back into his burning house

until every child is out. God looks at us

who know Him. He sees right beside us

those who have never had a chance. They

can't hear because of their language or

religious background. They don't know

their Father. He will miss them for eternity

if they are not there!

So now He moves on our hearts,

changing us, inspiring us, flowing

through us to care for those of other

cultures. n

1

http://joshuaproject.net/great-commissionstatistics.php.

2

Scripture quotations marked NASB are from the

New American Standard Bible, copyright © 1960, 1962,

1963, 1968, 1971, 1972, 1973, 1975, 1977, 1995 by The

Lockman Foundation. Used by permission.

3

Ellen G. White, Evangelism (Washington, D.C.:

Review and Herald Pub. Assn., 1946), p. 570.

4

For more details, see joshuaproject.net.

5

Shreedeep Rayamajhi, "75,000 Bhutanese Refugees

Resettled," Ground Report (2012). http://groundreport.

com/75000-bhutanese-refugees-resettled/.

6

Visit www.mylanguagemylife.com and also www.

awr.org/en/listen/podcasts. More creative and practical

ideas about reaching out cross-culturally can be

found in www.reachtheworldnextdoor.com.

7

Learn more about the study centers at www.

adventistmission.org/32-study-centers.

Scott Griswold, His wife,

and four children were

missionaries in Southeast Asia

for 16 years. He is currently

associate director for

ADVENTIST SOUTHEAST ASIA PROJECTS [ASAP]

Ministries and can be reached at scott.

griswold@asapministries.org.

www.AdventistReview.org | November 14, 2013 | (1011) 19
---
Adventist Life

My Lungs

Expand With

His Praise

McClean: When was the first time

you recognized that something was

wrong with your lungs?

Clarke: I didn't exhibit symptoms of

lung issues at first. When I was a child, I

had severe muscle cramps in my legs and

arms. In my late teens and early 20s investigation

[as to the cause] was started

because of my constant abnormal blood

work and continuous muscle cramps.

Interview with

an organ recipient

I

"

bless God every chance I get; my lungs expand with his praise. I live and

breathe God; if things aren't going well, hear this and be happy: Join me in

spreading the news; together let's get the word out" (Ps. 34:1-3, Message). 1

This passage has become Ilyn Clarke's favorite—and for good reason. On February

7, 2013, she celebrated six years as a double-lung transplant recipient. Hers is

an amazing story of faith in a God who has allowed her the incredible opportunity

to breathe and move again without pain.

To mark this anniversary of her "new" life, Clarke—currently a registered nurse

at the Princess Margaret Hospital in Toronto, Ontario, Canada—agreed to share

her story with Maria McClean, director of health and children's ministries for the

Ontario Conference of Seventh-day Adventists and health coordinator for the Seventh-day

Adventist Church in Canada. Clarke's prayer is that God will use her

experience to testify of His faithfulness to His children.—Editors.

What tests did you undergo, and

what was the initial diagnosis?

Testing at this stage was focused on

what was causing the muscle cramps and

elevated muscle enzymes. Eventually, I had

a muscle biopsy done and was diagnosed

with malignant hyperthermia (MH).

What treatments were you given, and

how effective were they?

I was given dantrolene tablets for the

muscle cramps. I took the pills, but

stopped after a week because they made

my muscles relax so much that I could

hardly walk. Later, I developed Raynaud's

syndrome, a condition that affects circulation.

I was given blood pressure medication

to relax my blood vessels in order

to have better blood flow to my extremities.

In my mid-30s I had another muscle

biopsy. The result came back perfectly

normal. The doctors thought for sure

they would have a diagnosis. Instead they

were more puzzled than ever.

During this period of investigation,

my face started to swell for no apparent

reason. My eyelids were so swollen that

I had to lift them to see. I was tested for

every possible allergy. The only allergy I

20 (1012) | www.AdventistReview.org | November 14, 2013
---
had was environmental in nature. I was

a medical mystery. It took about six

months for the swelling to resolve, and

no definitive diagnosis was made.

Because I'm an operating-room nurse,

the anesthetists with whom I worked

decided to study my case. After examining

all my lab tests, muscle biopsy

reports, and other symptoms with

which I had presented over the years,

they concluded that I did not have MH.

Tell me about your experience at the

Toronto General Hospital (TGH), where

you were employed at the time. [TGH is

one of three hospital campuses that

comprise the University Health Network

(UHN)].

One of the benefits of working in a

Photo by:Dennis Williams

RAISING AWARENESS: Ilyn Clarke and

Maria McClean hope to raise awareness of

the need of organ donors through the

telling of Ilyn's story.

world-class academic medical institution

is that there are always people willing

to take on a challenge.

I started having greater difficulty

digesting my meals. In my later teens I

had noticed on occasion that I had problems

with what appeared to be slow

digestion. This persisted as I aged and

while working at TGH. I consulted one

of the surgeons there. He booked me for

a gastroscopy and a gastrointestinal

(GI) motility test. These tests revealed

that I had decreased motility between

my esophagus and stomach. I was sent

to a rheumatologist and a pulmonologist.

Eventually, I was diagnosed with

mixed connective tissue disease. There

was nothing the doctors could do but

treat symptoms as they arose. They told

me I had handed them a deck of cards

that made no sense.

After working at TGH, you decided to

relocate to North Carolina. What

prompted this move?

In 1999, after working for 13 years for

UHN, I decided to relocate to North Carolina

to enjoy warmer weather. The cold

winters caused much pain and discomfort

to my extremities. I was employed

in the operating room at Duke University

Hospital in Durham.

At what point did you notice respiratory

changes?

In the summer of 2004 I began having

shortness of breath, which I attributed to

humid weather. By the fall I had developed

a productive cough, which was

treated with antibiotics, but the coughing

would return every few weeks

accompanied by laryngitis [hoarseness]

and extreme fatigue. Getting things done

required extra energy and time. The

shortness of breath also affected my rest.

I spent the first weekend in March 2005

in bed sleeping in a sitting position,

because every time I tried to lie on my

bed I felt I would drown from the fluid in

my lungs. I went to work the following

Monday but was wheezing and became

completely hoarse throughout the day.

I decided to go to the emergency room

for treatment. From there I was admitted

to the hospital after being diagnosed

with pulmonary hypertension (PH).

What happened next?

After I was discharged I was given

medication to control the PH and then

returned to work. I felt great, and life

resumed as usual. This good feeling

lasted for about a year. I then started

slowing down again and experienced

severe muscle cramps as well as shortness

of breath on exertion. I was placed

on experimental drugs and told that I

needed to be on oxygen 24/7. I was still

working at this time, and no one knew

how sick I was because I had become

very skilled at concealing my illness.

When my shift finished, I would head to

my car, connect to the oxygen, and drive

home. I would also experience periods

of syncope [fainting] after a prolonged

coughing spell. I lived alone, and whenever

I felt I was going to faint I would lie

on the floor so I wouldn't hurt myself.

Not once did I cough or lose consciousness

while driving, however. That was a

miracle in itself. I fainted twice at work

in October 2006. The first time, I was

about to start an intravenous line in a

patient, but collapsed on the floor. I was

able to recover, complete the procedure,

and finish the 12-hour shift. After the

second incident I was transferred to the

emergency room. That was my last day

of work in North Carolina.

How was your faith during this

period, and how did these incidents

influence your decision to return to

Canada?

My faith remained strong. I always

believed my life was in God's hand.

Whatever He decided was fine with me. I

knew angels were constantly protecting

me. I was never afraid. And although

there was no good news coming from

my doctors, God kept me calm because I

knew He was in control. I also knew I

had to return to Canada. That was

not an option. I prayed for

strength to make it through

each day so I could accomplish

what was needed to

facilitate the return to my

family in Canada. God honored

that request. He put incredible,

unselfish friends in place to take over

and orchestrate my move.

When did you learn of a donor?

At the end of November 2006 I

returned to Canada. I was seen by my former

pulmonologist, who had received all

my medical records from Duke Hospital.

He arranged for me to consult the lungtransplant

team for an assessment to

determine if I were a possible candidate.

www.AdventistReview.org | November 14, 2013 | (1013) 21
---
Photo by:Dennis Williams

SHARING HER STORY: Ilyn Clarke, a

double-lung transplant recipient (left),

shares her story with the Seventh-day

Adventist Church in Canada health

coordinator, Maria McClean.

It was imperative that

something be done because

my health was deteriorating

rapidly. I experienced another

fainting spell in January 2007 and

sustained a broken right ankle. I lost my

appetite and a significant amount of

weight. Eventually, I was placed on the

waiting list for a transplant. Nine days

after that decision was made, we received

the call that compatible donor lungs

were available. On February 7, 2007, I

received those lungs at Toronto General

Hospital in an operation that lasted six

hours. God be praised!

Amen! Tell me about the team that

performed your operation. And how

was the recovery period?

I was blessed to know the team that

performed my transplant because they

were colleagues with whom I had

worked previously—literally the cream

of the crop. This was no coincidence; this

was part of God's amazing plan. My

immediate recovery was slow because of

a nosocomial [hospital-acquired] infection

that delayed my discharge for a

month. It was nine months before my

incision closed properly, largely because

my immune system was so compromised.

By September 2008 I had regained

enough strength to return to work in the

operating room on a part-time basis.

Thankfully, I have not experienced

any episodes of rejection to date. Living

with donor lungs means that I will be

taking antirejection medication for

life—some 18 different types twice

daily. Many of the medications are to

offset side effects of other drugs that

are included in my regimen. In the

absence of an adequate drug plan my

medications are costly, but God is faithful

and continues to "supply all [my]

need according to His riches in glory by

Christ Jesus" [Phil. 4:19, NKJV]. 2

Praise God for His faithfulness! Can

you please comment on organ donation?

There is a great need for organ donors

worldwide. According to the Trillium

Gift of Life Network, 3 there are currently

1,500 people in Canada on the waiting

list for organ transplantation. Hundreds

of people die every year while waiting for

transplants. [In Canada] it's not enough

to sign a donor card; those interested in

becoming donors must be registered

online as well. 4 Organ donation offers

the gift of life to people like me. Information

about my donor remains private,

but God alone knows how truly grateful

I am to this individual for consenting,

and his or her family for honoring, the

request to donate organs that have given

me this tremendous opportunity to continue

fulfilling God's plans for my life.

AN ARDUOUS

JOURNEY: Maria

McClean (left),

Seventh-day

Adventist Church in

Canada Health

coordinator, talks to

organ recipient Llyn

Clarke about

Clarke's many-year

struggle with lung

disease.

Photo by Wayne McClean

Final thoughts?

It has been a comfort and joy knowing

Christ as my personal Savior during

this whole ordeal. If I did not believe

God was real, I wouldn't have made it.

Having a great sense of humor also

helps. It comes in handy when I have to

comfort those who come to comfort me!

I praise God for family who took care

of me and the friends and well-wishers

who prayed with me and blessed me tangibly

throughout this experience. The

only outward sign of my transplant is the

Medic Alert necklace I wear. But inside

my ribcage are two lungs that joyfully

"expand with His praise." And I look forward

to continuing this praise song all

through eternity—with the help of an

immortal pair of lungs in an immortal

body. Awesome! Awesome God!

Someone died; now you live. Jesus

died; now He lives. And because of His

death, we can live forever.

Amen! n

1

Texts credited to Message are from The Message.

Copyright © 1993, 1994, 1995, 1996, 2000, 2001, 2002.

Used by permission of NavPress Publishing Group.

2

Texts credited to NKJV are from the New King

James Version. Copyright © 1979, 1980, 1982 by

Thomas Nelson, Inc. Used by permission. All rights

reserved.

3

www.giftoflife.on.ca/en/transplant.htm.

4

To find out more or to register as an organ donor

in Canada, go to beadonor.ca. In the United States go

to www.organdonor.gov/becomingdonor/index.html.

22 (1014) | www.AdventistReview.org | November 14, 2013
---
Introducing the Why

The Fight of Our Lives

This isn't the article I was planning to write. I was going to write

about the problems in my church.

You know, the important stuff: such as how they never use both the piano and the organ for song service (by

the way, they sound great together). Or those minor grammatical errors that pop up in the bulletin (very tough

for us tortured writer types to ignore). But the worst is when the deacons don't put chairs back where they

were in my Sabbath school room after their committee meetings (hey, OCD is a serious disorder!).

Yeah, so I was going to tell you about all of those problems. Then I was going to talk about how I'd

been out of town for a variety of reasons for four of the past five Sabbaths. Then, how on this past Sabbath,

when I was finally back in my normal routine, I realized—despite all the "problems"—that I'd

really missed being at my home church.

So I was going to spend 700 words talking about how much each of us needs to be part of a church

community, rather than just attending on a weekly basis. We need people to miss us when we're gone

and tell us so when we're back. The scientific evidence is pretty conclusive: People who are part of a

spiritual community tend to live longer and healthier lives. The spiritual evidence in my own life tells

me that I can't thrive in isolation or exist with only surface-deep relationships. I have to belong to

something that supports my belief system and provides an opportunity to connect with others on a

more profound level.

Anyway, that was going to be the extent of my article this month. To summarize, church is awesome;

make sure you find one that meets your needs.

Right? Well, sort of.

Engaged in Battle

As humans we're innately selfish and often express that self-centeredness in a variety of ways. That

can certainly include our religious experience. Don't get me wrong: we should all be so fortunate as

to be part of a church that supports our emotional, social, and spiritual needs. But it can't stop there.

Don't take my word for it: check out what Ellen White wrote.

"Many professed Christians, in seeking church relationship, think only of themselves. They wish to

enjoy church fellowship and pastoral care. They become members of large and prosperous churches,

and are content to do little for others. In this way they are robbing themselves of the most precious

blessings. Many would be greatly benefited by sacrificing their pleasant, ease-conducing associations.

They need to go where their energies will be called out in Christian work and they can learn to bear

responsibilities."*

Where can your energy be used most effectively? In Judges 6, after testing God twice with a fleece, Gideon

knew he was called to center his energy on more than 100,000 Midianites. His initial army consisted of just

32,000 men. And that was before 22,000 went home out of fear.

Are you and I part of that number? Do we sign up on God's team out of obligation, but run away at the

first sign of resistance?

In God's eyes Gideon still had too many men. This time the Lord told Gideon to send back all those who

knelt down to take a nice long drink. Another 9,700 soldiers were excused.

Perhaps like the 9,700, we made it past the first round, staying the course out of obligation. But as the

battle looms it's easy to relax and soak in the last moments before certain failure.

Gideon had only 300 warriors left. But these men were not afraid to leave their comfort zone or face

impossible odds. They most certainly were not about to lose focus with the confrontation so close. These

were men with whom Gideon could go to war.

The battle has shifted, but the great controversy is alive as ever.

Be the kind of person with whom God can go to war. n

Jimmy

Phillips

* Ellen G. White, The Ministry of Healing (Mountain View, Calif.: Pacific Press Pub. Assn., 1905), p. 151.

Jimmy Phillips (jimmyphillips15@gmail.com) writes from Bakersfield, California, where he is director of marketing and

communications for San Joaquin Community Hospital. Visit his Web site: introducingthewhy.com.

www.AdventistReview.org | November 14, 2013 | (1015) 23
---
Heart and Soul:

Theology

the Adventist label to find a significant

range of views on creation.

Time for More

Notwithstanding our confidence in

the Bible's creation account, belief in

the six-day creation week has for too

long been merely one of the 28 fundamental

beliefs. It has not received our

GEORGE T. JAVOR

Why Buy Creation?

full attention, and we are the poorer for

There is not a great But why would books on creation not it. The end-time call by the second angel

deal of interest in

sell? Perhaps because, even though we of Revelation to worship the Creator

are surrounded by evolutionary thinking

in mainline media, academia, and Long after evolution is forgotten, cre-

(Rev. 14:7) is directed to all of us.

creation among

Adventists," the Adventist even some religious bodies, Adventists ation will dominate the thinking of the

Book Center manager have long ago settled on the veracity of redeemed throughout eternity! The vehicle

of creation draws us closer and closer

the biblical account of creation. After all,

told me. I was stunned.

every seventh day we stop our busy to our Creator and Redeemer that we

After all, she would know. lives to worship the Creator on the Sabbath.

The very name of our denomina-

and Eve found in Eden's garden of

may the better experience what Adam

She sold books to

Adventists. She knew tion is a proclamation of our

delight. As Ellen White wrote, there "the

unshakable belief in creation!

laws and operations of nature, which

what they bought.

have engaged men's study

Creation

for six thousand years, were

opened to their minds by

the infinite Framer and

Upholder of all. . . . On every

leaf of the forest or stone of

in

Focus

The Seventh-day Adventist membership

at large does not need to be convinced

about the veracity of creation.

This may help explain the low level of

interest in books on this topic. Of

course, reality is a bit more complex.

One needs only to peruse the blogs and

overhear the lectures of some who bear

the mountains, in every shining star, in

earth and air and sky, God's name was

written. The order and harmony of creation

spoke to them of infinite wisdom

and power." Adhering to that order, "they

would be constantly gaining new treasures

of knowledge, discovering fresh

springs of happiness, and obtaining

24 (1016) | www.AdventistReview.org | November 14, 2013
---
of Creation. However, shamayim here is the

Hebrew word for the visible heavens, the

sky, or the atmosphere. As some translations

put it: "In the beginning God created

the sky and the earth" (Gen. 1:1, NCV). 2

clearer and yet clearer conceptions of the

immeasurable, unfailing love of God." 1

The Hebrew word for the creation of

the world (bara', Gen. 1:1) has no English

equivalent. It has been said that only the

Hebrew language has this particular

term, which describes an act only God is

capable of, "creating out of nothing." It

happens, however, that my Hungarian

mother tongue also has such a word

(teremt), identical in meaning to bara'.

Science and bara'

Creating matter out of nothing violates

the first law of thermodynamics,

which states that the energy/matter content

of the universe is constant. But the

Lord is not confined to the three dimensions

of the universe. In creating, He

simply introduces new matter into it.

As to the true nature of matter,

nuclear physicists are still struggling

to comprehend how energy becomes

matter. Their latest hope rests on the

newly discovered "Higgs boson" as the

subatomic particle that will complete

the puzzle. We also still cannot explain

the fundamental nature of positive or

negative charges, magnetism, or gravity.

When it comes to human knowledge,

we still "see through a glass,

darkly" (1 Cor. 13:12, KJV).

The Bible teaches that the Lord placed

our world into a preexisting universe.

Unfortunately, the English translation,

"heavens" (Hebrew, shamayim), in Genesis

1:1 is subject to significant misunderstanding,

leading some to conclude that

the entire universe was created on day one

The Solar System

It is entirely possible that on day one

of the Creation the Lord created not

only the earth but the entire solar system,

with an unignited sun holding

eight planets and some 150 moons in

orbit. Then on the fourth day the Lord

ignited the sun, illuminating the earth,

moon, and planets. Isaiah's comment

that the Lord did not create the earth in

vain, but formed it to be inhabited (see

Isa. 45:18), provokes reflection on the

"earthlike" planets—Mercury, Venus,

Mars—all of which appear to

be barren and lifeless. And

what, we may ask, are the

large gaseous planets—Jupiter,

Saturn, Uranus, and Neptune—surrounded

by

numerous planet-sized

moons, doing out there?

Our Creator never does anything

"in vain." Sanctified speculation

on now uninhabitable

neighboring planets may draw

inspiration from the Lord's

original plans for our own.

Once our unfallen earth had become covered

with replicas of the Garden of Eden, 3

it would have necessitated the expansion

of humanity to neighboring planets. The

Creator would probably have then converted

these into livable places in the full

view of onlooking humanity, so that we

too could have shouted for joy!

The gaseous compositions of Jupiter

and Saturn hint that they may be unignited,

miniature suns. The moons of the

outer planets would require additional

light and energy to support human existence.

Therefore, with Jupiter and Saturn

becoming small suns, in the unfallen

earth we would have enjoyed not one

but perhaps three suns in the sky.

It is inconceivable that on the pre-

Flood world anyone looking up could

have been blinded by the sun. Genesis

1:7 states that originally the upper

atmosphere contained a water canopy

that must have acted as a disperser of

sunlight, suggesting that there may have

been no shadows on the pre-Flood earth.

The printed

version of the

chromosomal

sequence, using a

conventional font

size, takes up 1,000

pages of singlespaced

lines.

With the water canopy in place, possibly

the light intensity of the uniformly lit

blue sky would have varied during the

day, starting out slightly pinkish, then

turning brighter and brighter blue,

reaching its peak at noon. Then, in the

afternoon, the process would have

reversed, with the blue sky becoming less

bright, and finally turning uniformly

pinkish at sunset. During moonless

nights fewer stars may have been visible.

On the sixth day of the Creation,

www.AdventistReview.org | November 14, 2013 | (1017) 25
---
when everything was accomplished,

"God saw everything that he had made,

and, behold, it was very good" (Gen.

1:31, KJV). This was not the first time

the Lord created a world and populated

it with living beings. There may be

untold numbers, perhaps billions, of

other created worlds floating in the universe.

Had the Lord simply repeated

what He had done so many times

before, there may not have been a need

for this final quality control. That the

Creator carefully examined all of His

creation on earth suggests that He had

presented Himself with something new,

something unique, to review!

At the same time, we must be compatible

with the rest of the universe, capable

of interacting with other created

nonhumans and even learning their

language. Since the universe has been

around a long time before our appearance,

we will have a lot of catching up to

do in the new earth.

Focused Wonder:

Escherichia coli

The creation of the sun, earth, and the

planets shows the Creator's might. But

the formation of millions of living organisms,

from amoebas to the zebra, declare

His indescribably inventive genius and

compassionate care. All organisms were

created to fill a designated place in the

rich tapestry of the biosphere's ecosystem.

Contrary to evolutionary assertions

about the "survival of the fittest," no

organism can exist alone. As Ellen White

observed, "There is nothing, save the selfish

heart of man, that lives unto itself. No

bird that cleaves the air, no animal that

moves upon the ground, but ministers to

some other life." 4

Biology, the study of life, has played a

compelling role in science since the

middle of the twentieth century. And

the information explosion regarding

life processes brings an increased

appreciation of the intricate sophistica-

tion of living matter.

Much biological knowledge has been

garnered from the study of the model

organism Escherichia coli. This bacterium

is a normal resident of the human

colon. It assists in the digestive process

and provides us with the B-complex

vitamin biotin. Some rogue strains of E.

coli with noxious properties have given

this organism a bad reputation. But

working with harmless laboratory

strains of E. coli for decades, I was drawn

into the sophisticated miniature world

of the bacterial cell.

E. coli is an automated self-replicating

nano (mini) factory. Its product inventory

rivals the world's largest chemical

manufacturers (DuPont, etc.). Its single

chromosome consists of two circular

intertwined DNA molecules, each consisting

of 4.6 million nucleotides.

Inspecting the chromosome's nucleotide

sequence, its genetic information,

one sees a seemingly endless run of

four nucleotides, abbreviated as A, G, T,

and C. The printed version of the chromosomal

sequence, using a conventional

font size, takes up 1,000 pages of

single-spaced lines.

E. coli has in excess of 4,000 different

proteins, and the chromosome's genetic

information tells the cell how and when

to synthesize these compounds. Most of

the 4,000 proteins work to promote

individual chemical reactions.

The substances E. coli manufactures

include coenzyme Q , or ubiquinone, a

substance that helps the cell's growth in

the presence of air. Through nine years

of studying the biosynthesis of coenzyme

Q , my laboratory was able to pinpoint

the exact location of the ubiD

gene on the chromosome of E. coli. 5 This

gene involved a sequence of 1,491

nucleotides. A change of a single nucleotide

inactivated the ubiD protein.

This small detail illustrates the extent

of specificity and complexity required

for the life processes of this microscopic

organism. The totality of information

on E. coli is now so enormous

that it can be stored only in databases

such as "Ecocyc." 6

E. coli represents but an insignificant

fraction of all living organisms. Science's

vast database on this microorganism is

but a drop in an ocean of all biological

facts, known and unknown. Our great

Creator is the inventor and implementer

of all biology. The exceptions are all the

noxious and toxic entities that are the

result of corrupting and parasitizing

God's good creation by an enemy, Satan

(see Matt. 13:28). Biology too bears the

scars of the great controversy.

Conclusion

Conscientious and intelligent minds

may find reasons for faith in our great

Creator by being more sensitive to the

beauties and wonders of existence. In

our innermost being we may magnify

the Lord for His greatness and goodness.

Thinking and acting thus gives us practice

for eternity, as this will be the joyous

privilege of the redeemed forever.

1

Ellen G. White, Patriarchs and Prophets (Mountain

View, Calif.: Pacific Press Pub. Assn., 1890), p. 51.

2

Scriptures credited to NCV are quoted from The

Holy Bible, New Century Version, copyright © 2005 by

Thomas Nelson, Inc. Used by permission.

3

Ellen G. White, Education (Mountain View, Calif.:

Pacific Press Pub. Assn., 1903), p. 22.

4

Ellen G. White, The Desire of Ages (Mountain View,

Calif.: Pacific Press Pub. Assn., 1898), p. 20.

5

H. Zhang and G. T. Javor, "Identification of the

ubiD Gene on the Escherichia coli Chromosome," Journal

of Bacteriology 182 (2000): 6243-6246.

6

www.ecocyc.org.

George T. Javor is a retired

professor of biochemistry and

microbiology, Loma Linda

University, School of Medicine.

His recent publications include

A Scientist Celebrates Creation (Ringgold, Ga.:

TEACH Services, 2012).

26 (1018) | www.AdventistReview.org | November 14, 2013
---
GLOW Stories

Giving light to our world—

GLOW—is an outreach

initiative in multiple North

American Division conferences

based on the concept of

church members carrying

Adventist literature with them

wherever they go and handing

it out—free of charge—at every

opportunity. Here are two

short stories of lives touched

by GLOW:

Giving Light to Our World

Beth routinely visits a small restaurant in

Story 1 her town where she leaves a GLOW tract

along with her tip. One day a new server named Jasmine

waited on Beth's table, and Beth hesitated to leave a tract

because she didn't know how Jasmine might react. Beth

decided, though, to step out in faith and do it. A week later

Beth again visited the restaurant. As soon as Jasmine saw

Beth, she rushed over and profusely thanked her for the GLOW tract. She said that it was

just what she had needed that day and had made her feel that someone cared for her.

Beth and Jasmine have now become good friends and regularly discuss spiritual issues.å

Seven-year-old Kimberly attended a day-care program owned by Elena, the

Story 2 GLOW leader of the local Adventist church. One day Kimberly noticed Elena

sorting GLOW tracts and asked her questions about them. She then requested some

tracts for herself and her friends, and Elena gave her 10 of them. Kimberly then asked for

more tracts to give to her teachers, so Elena gave her 10 more. Kimberly also wanted a few

in Spanish for her Spanish-speaking relatives, so she received those as well. When her

mother came to pick her up from day-care, she asked Elena about the GLOW tracts her

daughter had. She and Elena discussed Bible prophecy for a few minutes, and then Kimberly's

mom accepted Elena's invitation to attend church that weekend.

photo: Ricardo Camacho

Stories compiled by Central California Conference GLOW director Nelson Ernst. To find out more about GLOW,

go to sdaglow.org..

www.AdventistReview.org | November 14, 2013 | (1019) 27
---
Story

Jaime

Jorge:

CENTER STAGE

BY KAREN PEARSON

Jaime Jorge sat in the restaurant and looked at his friend from across the table. He had an important project

he wanted to talk about, and though there was no way to predict the outcome, he knew the next few minutes

were crucial. He had prayed about this meeting. In fact, he was sure the Lord had orchestrated it. But

now that he was here he wondered how his friend would respond.

This is God's music ministry, he reminded himself, and that's the reason I'm here. Jaime edged

forward on his seat and waited to see what God would do.

Talent Search

Twenty-five years earlier Jaime Jorge

had found himself backstage listening

to a raucous crowd. When he'd been

invited to participate in the talent competition

he'd thought it was, well, a serious

competition. Now he wasn't sure. It

seemed like more of a rock concert.

He just had time to glance down at his

violin before his name was announced

and he was thrust toward center stage.

Jaime took a deep breath, closed his eyes,

and started to play. That's when it happened;

that strange, wonderful, something

that happened whenever he played.

The restless crowd became quiet as

they were caught up in the musical

mastery that is Jaime Jorge. As the music

ended, the audience remained quiet for

a moment, then spontaneously

exploded into applause, jumped up

from their seats, and yelled for more.

Everything changed for Jaime in that

one pivotal moment. He now knew he'd

been given something extraordinary:

God had given him an exceptional talent.

And now that he knew, what would

he do with this gift from the Lord?

Years earlier Jaime's mother, Mayda

Isabel García, recognized God's anoint-

28 (1020) | www.AdventistReview.org | November 14, 2013
---
Celebrating

25 years

of music

ministry

ing on her son. An accomplished musician

and pianist in her own right, Mayda

accepted the responsibility of guiding

5-year-old Jaime and planting his feet

firmly where they needed to be. Through

the years Mayda would say, "God has

given you a gift, Jaime. And He wants you

to use it for Him." Her faithfulness at

encouraging Jaime to stay focused in

using his gift to further God's kingdom

has been blessed.

Jaime Jorge has performed in school

auditoriums and magnificent cathedrals, in

small churches and in Carnegie Hall. Few

professional musicians can match his concert

itinerary. Over the course of the past 10

years he has averaged at least 200 concerts

each year, and since the start of his ministry

has performed more than 3,000 times in 46

countries. In spite of playing in so many different

countries, he has never had a problem

communicating, for his violin speaks

every language.

Now as Jaime watched his friend he smiled

UNFORGETTABLE MOMENT: During the

finale of his twenty-fifth anniversary concert,

Jaime Jorge (right) performs with

Larnelle Harris (left) Reinaldo Macías,

Jennifer LaMountain, Kirk Whalum, and

Michael Card.

to see him lean forward, eager to hear what

Jaime had to share. "Please, Lord," he prayed,

"I want Your will. If You want my friend to

partner with me, help him catch the vision for

this project."

An Idea Grows

Toward the end of 2011 Jaime and his

sister, May, spoke about doing something

to commemorate 25 years of

music ministry. They thought about a

special concert that would include May

on the flute, Mayda on piano, and a few

other friends.

Then the idea started to grow: Why

don't we put together an orchestra, a band,

and a choir, and make this even bigger? The

idea continued to grow. Why not record

the concert and turn it into a live concert

DVD and Blu-ray?

Jaime spoke to his family and a few

trusted friends. When they encouraged

him, he called his friend and mentor,

Sam Ocampo, and John Stoddart, a

friend and producer with whom

he'd previously worked. If they

thought it was a good idea it would

be worth pursuing.

After both men enthusiastically

jumped on board, only one thing

remained. Well, two, really. First,

Jaime wanted confirmation this idea

would be blessed by the Lord. It had to

be God's project, not his: a celebration

of 25 years of God's ministry.

The second thing? Money. Lots of it.

For it to become a reality, God would

have to provide the resources. Jaime

placed the project before the Lord. If You

want me to move forward, Lord, please let the

very first potential sponsor I contact be

excited about being involved.

Soon afterward, Jaime made an

appointment with Beecher Hunter of

Life Care Centers of America. During

their meeting Jaime shared his vision

for the project and watched Beecher's

face light up with excitement. It was

exactly what Jaime had prayed for.

Creating a Concert

Over the next several weeks Jaime

knocked on many doors. Some opened,

others did not. As the Lord continued to

lead, Jaime found himself in Chicago,

seated across from his friend in a favorite

restaurant. Roger Cary, chief operating

officer of Cancer Treatment Centers

of America, leaned forward as Jaime

spoke about the possible concert and

live DVD. Before he could even ask

about sponsorship, Roger suggested it.

Cancer Treatment Centers of America

became the primary sponsor. Without

their involvement the project would not

have become a reality.

With the Lord's blessing and funds

coming in, Jaime now turned to the serious

work of choosing guest artists. He

wanted musicians who were dedicated

to the Lord first and foremost, musicians

who had a true heart for ministry and

for God, musicians who demonstrated

musical excellence. And he wanted diversity

in music styles and arrangements.

Through God's providence the final

lineup proved to be jaw dropping.

The concert was

everything Jaime

had dreamed.

Jaime Jorge Live!

After eight months of nonstop work,

Sunday night, November 25, 2012,

finally arrived. While waiting backstage

Jaime remembered that night 25 years

earlier when he'd first recognized God's

gift to him. He'd had so much to learn:

one of the most important being how to

measure success. True success is measured

by how effectively one shares

God's love for men and women everywhere.

It's not about the size of the

audience, the grandeur of the concert

hall, or any level of remuneration. I just

want to talk about Jesus, he thought. He is

the reason I've been doing this for 25 years!

www.AdventistReview.org | November 14, 2013 | (1021) 29
---
STAGE PRESENCE: Over his career as a

musician, Jaime has performed on a variety

of stages before hundreds of audiences.

Here he poses with Robert Schuller,

founder of the Crystal Cathedral.

When his friend Frank González

announced his name, Jaime strode

toward center stage.

Every seat was filled, and a sense of

expectancy rippled through the crowd.

God's Spirit felt very near. In the audience

sat his mother. He looked at her

and his heart melted. The look of pride

on his father's face made him smile.

Jaime lifted his violin and the air filled

with the sound of "A Mighty Fortress Is

Our God."

Song followed song, artist followed

artist, and woven between and holding

it together was the power and anointing

of the Holy Spirit. Larnelle Harris

sang his classic "Were It Not for Grace";

the Oakwood University Aeolians

brought the audience to its feet with

"Blessed Assurance."

The second half of the concert opened

with a patriotic medley featuring John

Stoddart's masterful arrangement of

"The Battle Hymn of the Republic." Jennifer

LaMountain and Reinaldo Macías'

duet "It's Not in Vain" was moving, and

Michael Card sang "El Shaddai."

But the most unforgettable moment

came during the finale. Jaime played a

stanza of "Amazing Grace"; the Aeolians

joined in and sang the first verse;

Michael Card joined Jaime on stage and

sang the next verse; Kirk Whalum on

saxophone played next; then Jennifer

LaMountain and Reinaldo Macías sang

a verse; Larnelle Harris continued the

momentum; and everyone sang and

played for the final verse. By that time,

the crowd was on its feet. The song

ended with a spontaneous burst of

praise to God.

The concert and the evening were

everything Jaime had dreamed, and

then some.

Living the Impossible Dream

In his book Crescendo (Pacific Press)

Jaime speaks of that moment. "I wish I

could capture and freeze what I experienced

at the end of the concert that

night. I wanted to laugh. I wanted to cry.

But mostly I worshipped God. At that

moment I caught a glimpse, a small

glimpse, of the depth and extravagance

of God's amazing grace! It is really and

truly all about His amazing grace!"

"God calls and gifts each one of us,"

says Jaime. "We each have a work to

do to share Christ with the world,

using what He has placed in our

hands, for His glory. He calls us to

serve Him with humility and excellence

and, if we are faithful, He will

bless beyond our wildest dreams."

Jaime is living proof. n

Both the DVD, Jaime Jorge Live! and the

book, Crescendo, are available at Adventist

Book Centers and online at AdventistBook

Center.com.

Karen Pearson is director of

publicity and public relations

for Pacific Press Publishing

Association.

READY TO PLAY: At 12 years of age,

Jaime poses before performing at

Chicago Symphony Hall.

STARTING YOUNG: Jaime Jorge (front, center) was concertmaster

of the Milwaukee Youth Symphony Orchestra when he

was 8 years old.

30 (1022) | www.AdventistReview.org | November 14, 2013
---
Reflections

Stuck @ 60

The summer morning dawned gloriously, promising a gorgeous

start to a wonderful weekend. Our son had just turned 20, and my husband had managed to arrange for

him to join us for a weekend together on Tangier Island, a quaint fishing community in the middle of the

Chesapeake. Our boat to the island was scheduled for pickup at a marina several hours away, and we had

just enough time to make it after collecting him and his luggage from the airport.

Friday morning congestion in the Washington, D.C., metropolitan area, however, was a little worrisome.

Added to the traffic delays was a little excitement at a crowded red light when a heavy-duty dump truck tried

to come alongside with its center, heavy-load tires on fire. So you can understand why, when the traffic

finally thinned and we left the city behind, I sat back and set my cruise at 60 to try to make up a little time.

I cannot remember what made me check, but on an almost-deserted straight stretch of the four-lane

divided highway, I realized that my brake was not disengaging the cruise control. The car would slow somewhat,

but would immediately begin accelerating again. I tested the brakes several times in disbelief; then

reverted to the Off button on the cruise control. Nothing worked! A bit of panic began to edge in, and when

my husband suggested I try to pull the car over and turn the engine off, I jumped right in with both feet on

the brakes.

Thankfully, the brake was able to overpower the engine enough to pull the car off the road and onto the

grass. Though the engine complained when I quickly jammed it into park and turned the key, a short call

to our mechanic enabled us to locate the cable at fault under the hood and allowed us to proceed on our

way, albeit without cruise control.

In reflecting on the experience, I realized that life has a few parallels to my story. Deadlines and

delays, distractions, and disruptions all tempt us to push the limits. To-do lists and meeting

schedules fill our calendars, and it is easy to end up barreling down life's road unaware that

we are on course for a collision.

Despite the excitement and delay that summer's day, the timing turned out perfectly.

We pulled into the marina just as the charter arrived and enjoyed a delightful weekend

kayaking around the islands and exploring the salt marsh and beaches, village homes,

and shops.

Our mechanic's inspection later revealed that the end of the cable had begun to fray,

allowing it to catch in the mechanism. Hindsight also brought the realization that a

quick kick into neutral would probably have been a better recourse and spared the

engine a little grief in the process.

That aside, my reflections brought a few other conclusions into focus: First of all,

when the pace picks up and your day begins to take on a life of its own, take a moment

to remember that things can begin to fray even when everything is apparently under

control. Second, thank the Lord for every reminder He sends to check your cruise

control, and be prepared, if need be, to shift everything into neutral and jump on the

brakes with both feet.

"Step out of the traffic! Take a long, loving look at me, your High God, . . . above everything" (Ps.

46:10, Message).* n

* Texts credited to Message are from The Message. Copyright © 1993, 1994, 1995, 1996, 2000, 2001, 2002. Used by permission

of NavPress Publishing Group.

Miriam Taylor writes from Laurel, Maryland.

www.AdventistReview.org | November 14, 2013 | (1023) 31