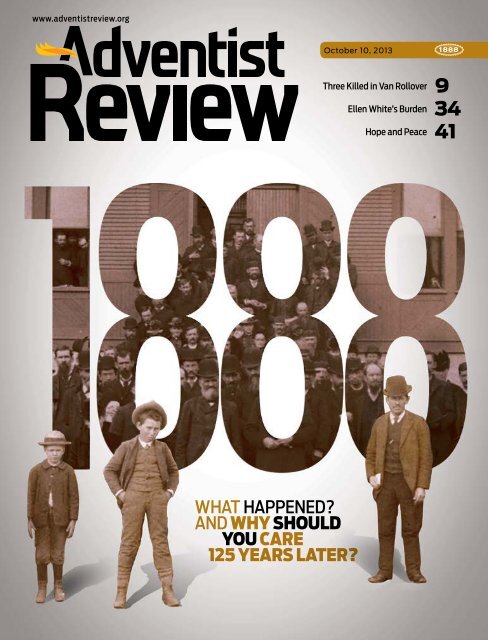 Head
Download PDF - Adventist Review
Download PDF - Adventist Review
SHOW MORE
SHOW LESS
You also want an ePaper? Increase the reach of your titles
YUMPU automatically turns print PDFs into web optimized ePapers that Google loves.
www.adventistreview.org

October 10, 2013

1888

Three Killed in Van Rollover

Ellen White's Burden

Hope and Peace

9

34

41

Head

subhead

WHAT Happened?

and why should

you care

125 years later?
---
"Behold, I come quickly . . ."

Our mission is to uplift Jesus Christ by presenting stories of His

matchless love, news of His present workings, help for knowing

Him better, and hope in His soon return.

16 34 10

6

FEATURE ARTICLES

16 What Happened in 1888?

George R. Knight

A General Conference session in Minneapolis that's

still teaching us important lessons 125 years later.

24 The Faith of Jesus: The Doctrinal Legacy of 1888

Merlin Burt

Discovering doctrinal truth that brings spiritual freedom

28 The Theological Issues: Another Perspective

Bill and Shawn Brace

What, exactly, should we take away from

those discussions of 125 years ago?

32 Bird 9-1-1

Lee Schappell

The little creature would die within minutes, unless . . .

34 Ellen White's Burden

Denis Fortin

It was more than a matter of who was right.

38 Sabbath Afternoon Talk

Ellen G. White

It's not truth unless it changes our lives.

DEPARTMENTS

4 Letters

7 Page 7

8 World News &

Perspectives

13 Give & Take

15 Cliff's Edge

2 3 Introducing the Why

41 Searching the Obvious

4 2 Session Snapshots

Angel Manuel Rodríguez

Alberto Timm

Stephen Bauer

46 Testimony

47 Reflections

EDITORIALS

6 Bill Knott

Citizenship Test

7 E. Edward Zinke

Mission Without

a Message

Next Week

What Happened in 1844?

The second coming of Christ was

front-page news, until it wasn't.

Publisher General Conference of Seventh-day Adventists ® , Executive Publisher Bill Knott, Associate Publisher Claude Richli, Publishing Board: Ted N. C. Wilson, chair; Benjamin D. Schoun,

vice chair; Bill Knott, secretary; Lisa Beardsley-Hardy; Daniel R. Jackson; Robert Lemon; Geoffrey Mbwana; G. T. Ng; Daisy Orion; Juan Prestol; Michael Ryan; Ella Simmons; Mark Thomas; Karnik

Doukmetzian, legal adviser. Editor Bill Knott, Associate Editors Lael Caesar, Gerald A. Klingbeil, Coordinating Editor Stephen Chavez, Online Editor Carlos Medley, Features Editor Sandra

Blackmer, Young Adult Editor Kimberly Luste Maran, KidsView Editor Wilona Karimabadi, News Editor Mark A. Kellner, Operations Manager Merle Poirier, Financial Manager Rachel Child,

Editorial Assistant Marvene Thorpe-Baptiste, Marketing Director Claude Richli, Editor-at-Large Mark A. Finley, Senior Advisor E. Edward Zinke, Art Director Bryan Gray, Design Daniel

Añez, Desktop Technician Fred Wuerstlin, Ad Sales Glen Gohlke, Subscriber Services Steve Hanson. To Writers: Writer's guidelines are available at the Adventist Review Web site: www.adventistreview.org

and click "About the Review." For a printed copy, send a self-addressed envelope to: Writer's Guidelines, Adventist Review, 12501 Old Columbia Pike, Silver Spring, MD 20904-6600.

E-mail: revieweditor@gc.adventist.org. Web site: www.adventistreview.org. Postmaster: Send address changes to Adventist Review, 55 West Oak Ridge Drive, Hagerstown, MD 21740-7301. Unless

otherwise noted, Bible texts in this issue are from the Holy Bible, New International Version. Copyright © 1973, 1978, 1984, 2011 by Biblica, Inc. Used by permission. All rights reserved worldwide. Unless

otherwise noted, all photos are © Thinkstock 2013. The Adventist Review (ISSN 0161-1119), published since 1849, is the general paper of the Seventh-day Adventist ® Church. It is

published by the General Conference of Seventh-day Adventists ® and is printed 36 times a year on the second, third, and fourth Thursdays of each month by the Review and

Herald ® Publishing Association, 55 West Oak Ridge Drive, Hagerstown, MD 21740. Periodical postage paid at Hagerstown, MD 21740. Copyright © 2013, General Conference

of Seventh-day Adventists ® . PRINTED IN THE U.S.A. Vol. 190, No. 28

Subscriptions: Thirty-six issues of the weekly Adventist Review, US$36.95 plus US$28.50 postage outside North America. Single copy US$3.00. To order, send your name, address, and

payment to Adventist Review subscription desk, Box 1119, Hagerstown, MD 21741-1119. Orders can also be placed at Adventist Book Centers. Prices subject to change. Address changes:

addresschanges@rhpa.org. OR call 1-800-456-3991, or 301-393-3257. Subscription queries: shanson@rhpa.org. OR call 1-800-456-3991, or 301-393-3257.

www.AdventistReview.org | October 10, 2013 | (883) 3
---
inbox

Letters From Our Readers

Tell 'Em About

the Dream

»»

Bill Knott's editorial "Tell

'Em About the Dream" (Sept.

12, 2013) is one of the most

refreshing articles I have

read in a long time. I'm

embarrassed to say that after

some "door-shutting" experiences

I just gave up on my

White fellow believers. My

solace has been the thought

that the time of trouble

would force us together and

we would discover the joys

of unity in Christ as persecution

would necessitate. I have

since then discarded my

resentment that led me to

give up my struggle with my

own prejudice, as it stood in

the way of my salvation. It is

comforting to know that all

is not lost and that there is

hope for all of my family in

Christ. Congratulations

to Knott for this bold

perspective.

S. Peter Campbell

via e-mail

www.adventistreview.org

MARtIN

DOBLMEIER:

Filmmaker

AwArd-winning

documentAriAn

tAkes Aim At

seventh-dAy

Adventists—

AgAin

August 22, 2013

August 22, 2013

Vol. 190, No. 24

Pakistani Adventist

Receives Life Sentence

Coming to Our Senses

Companions Along the Way

God and the Movies

»»

My wife and I, along with

most of my relatives, work in

8

14

28

the health-care field. So

imagine our surprise when

our daughter, Summer,

expressed no interest whatsoever

in pursuing a career

in this field. Instead, what

started out as a "fun hobby"

has become her choice of

career: filmmaking!

Not knowing a whole lot

about this industry except

that going to theaters was

forbidden because I was told

our "guardian angel stayed

outside," we were a bit

apprehensive about her profession

of choice.

But during the past couple

years God has been reassuring

us that He needs godly

Christian filmmakers in this

industry. We've gotten to

know Maranatha Volunteers

International's filmmakers,

Christine Lloyd and David

Brillhart, on our last two

family summer projects. We

attended this year's SONscreen

Film Festival, where

we saw Christians active in

this industry. Loma Linda

University's Media Department

won several Emmy

awards for their documentaries.

We've read Columbia

Pictures Vice President of

Production DeVon Franklin's

autobiography about how

being a faithful Sabbathkeeper

can be an advantage

in the cutthroat world of

Hollywood. Then, to top it

off, two Adventist Review's

cover stories, "What if God

Made Movies," by Lynelle

Ellis, and "Martin Doblemeier:

Filmmaker," by Stephen

Chavez, in the August

15 and August 22, 2013, editions,

were on movies!

Maybe God is reassuring

us that He wants to use Summer's

creative talents to

"paint pictures of God" for

others to enjoy, and hopefully,

lead others to a closer

relationship with Him. Isn't

that just as important as my

profession, helping people

live healthier lives, or my

wife's profession, educating

a future generation of Christian

nurses? We think so!

Ernie Medina, Jr.

Loma Linda, California

www.adventistreview.org

Head

subhead

August 15, 2013

August 15, 2013

Vol. 190, No. 23

Consensus statement Voted

for "Theology of Ordination"

The Clock's Running

God Likes secrets Too

»»

Thanks for printing Lynelle

Ellis' article "What if God

Made Movies." While not a

moviemaker, I have done

about 70 different firstperson

Bible and historical

characters, and can absolutely

support the reality

8

14

20

that telling a good story in a

compelling way has lasting

impact. Indeed, as the author

says, "Creating is a Godgiven

pleasure and . . .

reaches its highest potential

. . . when it is informed by

God's own revelations."

I have had people remind me

of seeing a first-person presentation

they experienced

years earlier and sharing

amazing recall of details. In

one setting the mother of a

7-year-old boy was appreciative

of how her usually

squirmy son listened and

remembered the presentations,

and a Th.D. Bible

teacher chimed in that he

learned things too. Yes, creative

modalities are a positive

way to share the gospel

and Bible truths. Let's continue

to promote and appreciate

the widest range of

creative endeavors that move

hearts toward the kingdom.

Dick Stenbakken

Loveland, Colorado

Money Management

»»

I am writing in regard to

Dan Serns' article "Teach

Your Children Money Management"

(Aug. 15, 2013). I

thought it might be of interest

how I taught my three

"Creative modalities are a positive

way to share the gospel and Bible

truths. Let's continue to promote and

appreciate the widest range of creative

endeavors that move hearts

toward the kingdom.

"

—dick Stenbakken, Loveland, California

4 (884) | www.AdventistReview.org | October 10, 2013
---
"Christ's sacrifice took legal control

of the world back from Satan and

granted legal amnesty to all human

beings.

"

—dennis priebe, Galt, California

children at age 3. I gave them

a dollar a week allowance in

dimes, nickels, and one

quarter.

I set up four little glass

jars on their dresser. Jar one

was for a dime for tithe;

number two was for the

quarter for Sabbath school

offering; number three was

for a savings account, and

number four was for 60

cents—left for them to

spend.

All three children are married

now and good money

managers.

Imogene Sheffield

Apopka, Florida

NAD Responds

to Supreme

Court Rulings

»»

I am highly encouraged by

the official response of the

North American Division by

Dan Jackson concerning the

Supreme Court ruling on

same-sex marriage ("The

North American Division

Responds to Supreme Court

Rulings," posted online July

1, 2013; see www.adventist

review.org/article/6426/

archives/issue-2013-1518/18-

cn-nad-responds-to-the-u-ssupreme-court-decision-ondoma).

The world church of

Seventh-day Adventists is

often viewed through the

lens of North America, and it

should always uphold biblical

standards. Kudos.

Gaius Anonaba

Lagos, Nigeria

Forgiveness

»»

I hardly have words adequate

to express how much I

appreciated Roy Gane's article

"Forgiveness: Seven

Accomplishments of Christ's

Sacrifice" (June 27, 2013). If

we do not understand what

was given to the human race

apart from choice and what

was offered or provided to

individuals dependent on

their choices, we will make

serious mistakes regarding

the plan of salvation. As Gane

clearly pointed out, Christ's

sacrifice took legal control of

the world back from Satan

and granted legal amnesty to

all human beings (freedom

from automatic condemnation

because of Adam's sin).

If legal forgiveness had not

been provided at the

moment of Adam's sin, there

would have been no possibil-

ity for the human race to

continue. Christ's sacrifice

saved the human race from

extinction.

Dennis Priebe

Galt, California

One Step at a Time

»»

My thanks go to Darin

Patzer, for writing "One Step

at a Time" (June 13, 2013), an

article about his dad, Jere. A

few months before Jere died I

became one of his prayer

partners, even though we

never met. I don't remember

how I got his name, but I

wrote an e-mail prayer to

him every week. Jere was

always very faithful in writing

back.

After Jere died, I continued

praying for Darin's mother,

whom I never met either, and

any member of his family,

which means I was also praying

for Darin and his brother.

I am glad to know Jere had

two sons.

Oh, yes, it will be wonderful

on the resurrection morning

for the Patzers to be

reunited with Jere; and I will

be reunited with my husband

and my youngest son. Yes,

God is teaching me to take it

"one step at a time" too.

Virginia Collins

Alvaton, Kentucky

History Lessons

October is an important

month in Adventist

Church history—this fall

our October editions will

contain feature articles on

some key events in our

church's past. This issue, a

48-page special on the

significance of 1888 (Oct.

10), will be followed by a

special cover package on

1844 (Oct. 17); and a cover

article on Guide, the

church's youth magazine

that is celebrating 60

years of publication (Oct.

24). Look for these in print

and online at www.

adventistreview.org.

We welcome your letters, noting,

as always, that inclusion of a letter

in this section does not imply that

the ideas expressed are endorsed by

either the editors of the Adventist

Review or the General Conference.

Short, specific, timely letters have

the best chance at being published

(please include your complete

address and phone number—even

with e-mail messages). Letters will

be edited for space and clarity only.

Send correspondence to Letters to

the Editor, Adventist Review, 12501

Old Columbia Pike, Silver Spring, MD

20904-6600; Internet: letters@

adventistreview.org.

www.AdventistReview.org | October 10, 2013 | (885) 5
---
Editorials

Citizenship Test

The wolf did with lambkin dwell in peace

His grim carnivorous nature there did cease

The leopard with the harmless kid laid down

And not one savage beast was seen to frown

The lion with the fatling on did move

A little child was leading them in love.

the peaceable kingdom/oil on canvas painting by edward hicks/1826/

philadelphia museum of art

Bill

Knott

When nineteenth-century Quaker artist and preacher Edward Hicks embellished the frame of one of his early paintings

of The Peaceable Kingdom with a versified paraphrase of Isaiah 11:6, he certainly wanted his viewers to both read

and see the sermon.

At first glance, Hicks' portrait of the future seems foolishly utopian: a heifer nuzzles the back of a full-maned lion,

whose head is brushing the arm of a confident, rosy-cheeked child. Wolf and lamb lie together in a meadow, while a

full-grown ram seems carelessly inattentive to the leopard at his back. There is no fear; there are no predators in Hicks'

holy vision.

But your eye inexorably moves to the back and left of the painting, where Hicks has rendered a this-worldly image

of Quaker leader William Penn's famous 1682 treaty with the Delaware Indians. The shimmering river behind the

carefully balanced treaty group (four Friends and four chiefs) tells us how the negotiations proceeded and what

resulted from their covenant—one of the few respectful dialogues between Whites and Native Americans in the whole

history of the continent. Equality reigns; conversation continues.

The preacher in the artist has made his point: the future in the foreground emerges from the peacemaking of the

past.

Intriguingly, art historians tell us that Edward Hicks painted at least 61 different versions of The Peaceable Kingdom

in his lifetime—all with similarly irenic animals and people, but sometimes with subtle differences in shading or

posture. Never fully satisfied that he had captured the peacemaking connection between this world and the world to

come, he kept working at it—adjusting the palette, warming the hues.

Peacemaking takes work, close attention, and continual adjustments.

Which is a sermon we could all stand to hear more often.

Seventh-day Adventists are, by history, a contentious people. Conceived in the wonderfully contrarian Millerite

movement of the 1830s and 1840s, this denomination was born in the 1860s—in the midst of America's Civil War—

and learned to argue at an early age. When Lincoln called for volunteers to fight, Adventists refused and stayed

home—and loyal to the sixth commandment. When nineteenth-century "robber barons" built their massive monopolies

on the backs of workingmen and -women, Review editors excoriated them in full-cry editorials. When the National

Reform Association called for Sunday law legislation in the 1890s, Adventists rallied thousands to oppose and defeat

the threat to religious liberty. And when early-twentieth-century America was awash in alcohol and its resulting social

misery, Adventists marched into the public square with an unrelenting call for Prohibition.

As useful as that public combativeness was in identifying Seventh-day Adventists as a people known for spiritual

and social reform, it has proved less helpful within this faith. We are, theologically, also a quarrelsome lot—about

justification and sanctification; about the sanctuary doctrine; about the nature of Christ; about the role of Ellen White;

about the meaning of 1888; about the ordination of women to ministry.

Truth is, we don't have a history—or a vision—of peacemaking among us, in part because of our very commitment

to truth. Our story seems to teach us that being right is more important than being kind, that negotiation is the sport

of those who can't compete. We prefer the laurel wreaths of victory to the olive branches of peacemaking on any day.

The memory verse is "Put on the whole armor of God" (Eph. 6:11).* Not one in 10 remembers that Paul also wrote: "If

it is possible, so far as it depends on you, live peaceably with all" (Rom. 12:18).

It's time for that to change—within this movement, through this movement, and for this movement. Declare yourself

a citizen of the peaceable kingdom. Make the case for dialogue, not winning. Speak kindly to those we once called

"Brother" and "Sister."

Take olive branches to the next church business meeting. n

*

Bible texts are from the New Revised Standard Version of the Bible, copyright © 1989 by the Division of Christian Education of the National

Council of the Churches of Christ in the U.S.A. Used by permission.

6 (886) | www.AdventistReview.org | October 10, 2013
---
Mission Without a Message

The mission of the Seventh-day Adventist Church is the

proclamation of the everlasting gospel, salvation provided by Jesus Christ. This mission includes

a desire to share all that God has been pleased to reveal about Himself in the Bible.

God's call includes healing the sick, caring for widows and the fatherless, and binding the

wounds of the brokenhearted. Caring for the physical needs of humanity is closely connected to

the proclamation of God's Word. It is the right arm of the gospel, for it has the potential of opening

recipients to the message of the gospel.

But it is all too easy to retreat into a social gospel, where caring for physical needs becomes an

end in itself, a mission without a message. In this view, mission is complete when the physical

needs of individuals are cared for.

This view may come from a fear of intruding into the lives and cultures of others, or a fear of

rejection. It may also come from loss of belief in the relevancy or truth of God's Word.

God invites each individual to enter a personal relationship with Him based upon a knowledge

of Him as the only true God (see John 17:3). God has chosen to partner with us in sharing His love

with the world, both in ministry and proclamation. We have the privilege of teaching all the world

the message of the everlasting gospel before the return of Christ (see Matt. 28:19, 20; 24:14; Rev.

14:6, 7). Why would we desire to bring only physical healing, which is temporal, when it is within

our scope to share the gospel of eternal life?

Jesus said, "If anyone is ashamed of me and my words . . . , the Son of Man will be ashamed of

them when He comes" (Mark 8:38). n

E. Edward

Zinke

Before or After?

Was 1888 a turning point in Ellen White's understanding of righteousness by faith? Which

of the following statements do you think were made by Ellen White prior to the Minneapolis

session and which were after? Circle the word "before" or "after" as it relates to the 1888 session. Then turn

the page upside down for the answers as well as to read a relevant statement from Ellen White.

before after before after before after

"The Lord requires at this

time just what He required

of Adam in Eden—perfect

obedience to the law

of God. We must have

righteousness without a

flaw, without a blemish."

"We can do nothing,

absolutely nothing, to

commend ourselves to

divine favor. . . . God will

accept every one that

comes to Him trusting

wholly in the merits of a

crucified Savior."

"We must learn to trust, to depend solely upon

the merits of the atonement, and in all our helpless

unworthiness cast ourselves upon the merits of the

crucified and risen Savior. We shall never perish while

we do this —never!"

Ellen White said in 1889: "I have had the question

asked, 'What do you think of this light that these men

[Waggoner and Jones] are presenting?' Why, I have

been presenting it to you for the last 45 years—the

matchless charms of Christ. This is what I have been

trying to present before your minds. When Brother

Waggoner brought out these ideas in Minneapolis, it

was the first clear teaching on this subject from any

human lips I had heard, excepting the conversations

between myself and my husband."

—Sermons and Talks, vol. 1, pp. 116, 117.

"We may rest upon God,

not because of our own

merit, but because the

righteousness of Christ is

imputed to us."

before after before after

"Man's destiny will be

determined by his obedience

to the whole law."

Answers (from left to right): (top row) after,

Faith and Works, p. 89 (1890); before, Testimonies,

vol. 1, pp. 309, 310 (1862); before,

Gospel Workers (1892 ed.), p. 427 (1883);

(bottom row) before, Faith and Works, p.

39 (1883); after, The Desire of Ages, p. 498

(1898)
---
World News & Perspectives

Mark A. Kellner/Adventist Review

THOUSANDS IN ATTENDANCE: A gathering estimated at 4,000 people filled the main hall at the Jeju International Convention Center

for Sabbath worship on August 31, 2013.

■■NORTHERN ASIA-PACIFIC

"Go Into Harvest Field," Wilson Tells

Northern Asia Seventh-day Adventists

By MARK A. KELLNER, news editor, reporting from Jeju Island, Republic of Korea

On what was the brightest and balmiest

day of the four-day event, Seventhday

Adventists attending morning

worship at the 2013 Northern Asia-

Pacific Division International Mission

Conference were challenged to "go forward

into the harvest field" and tell the

world about Jesus and His soon coming.

Ted N. C. Wilson, General Conference

president, issued the appeal in a Sabbath,

August 31, 2013, sermon heard by more

than 4,000 gathered at the Jeju International

Conference Center off the southern

coast of the Republic of Korea.

There was much to recall from the

morning's varied activities: a Sabbath

school lesson, songs from two choirs, a

sand "painting" done on a lightbox in

front of the congregation, and a spirited

performance by young children "who

told us about Abraham's faith," and a

"wonderful testimony from China

about the faithfulness of the people of

the division." Wilson praised the

efforts, but said these were but a prelude

for the congregation.

"All of this is pointing to God's call to

you and to me, people who accept God's

commandments and the faith of Jesus

to go forward into the harvest field, all

NSD photo

through the power of the Holy Spirit,"

Wilson said.

"We have had quite a display of

human activity and creativity during

this congress, and we thank God for the

skills and the creativity," he noted, adding,

"But I want to tell you, brothers and

sisters, none of this is possible without

the power of the Holy Spirit."

In an impassioned message Wilson

discussed the three angels' messages of

Revelation 14 and their link to today's

world. He implored his hearers to lovingly

and cheerfully share these messages

with others to help "call out" those attentive

to God's Word at the end of time.

He tied the first angel's message, a

summons to worship the Creator of the

MOTIVATING MISSION: Jairyong Lee, Northern Asia-Pacific Division president, at left,

motivates delegates to the International Mission Conference in Jeju Island, Korea, to

answer the call to missionary service.

8 (888) | www.AdventistReview.org | October 10, 2013
---
universe, and to the keeping of the Bible

Sabbath: "The call to worship God as the

Creator automatically places upon people

the responsibility to observe the day

that honors His creative act," Wilson

said. "A created being cannot honor his

Creator while defying the command to

keep Saturday, the Sabbath, the seventh

day of the week, holy, which God Himself

set aside as a memorial of His creation."

Wilson added that this first message

is also tied to the issue of origins: "To

worship God as the Creator means there

must be a willingness to reject false theories

about the origin of life, such as

evolution," he said. "It is impossible to

believe in evolution and say that God is

Creator of heaven and earth and all the

life they contain. The two concepts do

not mix. In essence, evolution is not a

science; it is a false form of religion."

The Adventist leader noted that the

second angel's message is a plea to

abandon a dead, false, and fallen religious

system: "God's people who are

still in Babylon are called out so they

will not be guilty of participating in her

sins and will not receive the plagues

that are to be poured out upon her,"

Wilson said. "Therefore, Babylon is constituted

by churches that teach many of

the theological errors passed down

through the church of the middle ages."

Wilson added, "In order for God's

people who are still in Babylon to

understand the urgency of getting out,

they must understand the sins and

errors of Babylon. This puts a tremendous

responsibility upon God's remnant

people."

Noting that those who reject the Sabbath

will be angered by Adventists and

others who advocate for the biblical day

of rest, part of the third angel's message,

Wilson said a time of testing will

follow.

"We are so grateful for the religious

freedom that is available in many

countries around the world. Thank

God for it; we need to use our religious

liberty to defend religious liberty," he

told the congregation. "However,

YES, MY LORD: Youngsters retell the story of Abraham, who answered God's call with a "Yes,

my Lord." They performed during Sabbath school at the International Mission Conference.

according to Bible prophecy, the time is

coming when religious freedom will be

reduced and churches will so control

the government that the government

will pass laws that will fulfill the

wishes of the apostate churches. Anyone

who disagrees with this church/

state relationship will be persecuted.

Don't be afraid of that day. Lean on

Jesus today, and you will lean on Him

in the future."

Wilson noted, "Apostate religious

leaders will not be able to refute scriptural

evidence for the sacredness of Saturday,

and this will fill them with anger.

As a result, Sabbathkeepers will be persecuted

and imprisoned."

He told his hearers, in remarks

streamed over the Internet throughout

the division and worldwide: "The time

will come when people do not want to

hear the truth, but preach the truth anyhow.

Live like the Lord is coming soon,

because He is!"

A period of prayer and dedication followed

for the thousands in the conference

center's main hall. The service also

featured an offering for the Seventh-day

Adventist Church's work in and for the

people of North Korea. n

■■north america

Three Dead, 13 Injured in Florida

Church Vehicle Accident

Crash occurred en route to district meeting in Tampa

By MARK A. KELLNER, news editor

Three members of a Seventh-day

Adventist congregation in Florida are

dead and 13 more are injured following

a September 14 accident on Interstate

75 near Fort Myers, media

reports indicate. The Florida Conference

has expressed sympathy over the

deaths and injuries.

The Florida Highway Patrol said the

accident occurred on an overpass

when a church van's tire exploded

and the vehicle flipped several times

before coming to rest on its roof. The

Maranatha French (Mission Group)

Seventh-day Adventist Church in Lauderhill,

Florida, operated the van,

which was en route to a Haitian Adventist

convocation in Tampa.

Nostra Damas, 20, of Lauderhill,

apparently died at the scene of the

crash. Osee Elian, 22, and Gertha

Petit-Frere, 62, both of Sunrise, Florida,

succumbed to their injuries the

next day.

"Our hearts at Florida Conference

of Seventh-day Adventists continue

to be saddened from the news of

two additional deaths as a result of

the van accident," a statement from

the conference said. "We continue

our prayers for the families of the

victims who died and pray for God's

healing on those still recovering

from the accident." n

www.AdventistReview.org | October 10, 2013 | (889) 9
---
World News & Perspectives

photos: Mark A. Kellner/Adventist Review

CHARTING PROGRESS: Display posters show the number of schools needing craft kits

so that students have an alternative to "coloring, coloring, coloring, and more coloring,"

as Lin said of those school's limited arts and crafts activities.

■■Republic of Korea

For Taiwan's People,

Adventist Seeks a Better Life

Taiwan Adventist Foundation has

"healthier life" as a goal.

By MARK A. KELLNER, news editor, reporting

from Jeju Island, Republic of Korea

recalling her first year at the foundation.

For the farmers, it means helping

them reach consumers directly at outdoor

markets, and encouraging them to

grow organic produce. This "creates

another market" for the farmers, who

she says are often "exploited" when selling

to the larger concerns.

"If the farmers get better pay" for

their crops, she said, "it means a better

standard of living." She said the group

is also helping the farmers to post pictures

of their crops on Pinterest, the

Internet-based social network, to help

create demand for those goods.

Although Taiwan's educational system

is highly regarded, some students

there—as in other parts of the world,

including the United States—have

fewer resources than their counterparts

in larger schools. To help these students,

Taiwan Adventist Foundation

supplies a "Happy Craft Kit" of various

pieces of colored wool. These are then

made into small coasters, giving the

students a different kind of craft, and a

sense of having made something with

their own hands.

"If the children like to use their hands

to make something," Lin explained,

"they will use their hands to take care of

others later in life."

Although Taiwan is viewed by many

as a hub of global prosperity—the island

is home to global powers ASUS, Acer, and

Eva Air, among others—there are pockets

of poverty, suffering, and disadvantage

waiting for the touch of compassion

that a Christian hand can bring.

Jane Lin happens to possess just

those hands.

Lin is executive officer of the Taiwan

Adventist Foundation, a registered charity

operating on the island and reaching

its most underserved peoples, including

indigenous farmers who are often

exploited by larger agricultural firms

buying their produce; students in elementary

schools of fewer

than 28 pupils; and Taiwan's

poor, whose homes

are sometimes in great

disrepair.

"Our vision is to motivate

and empower people

in Taiwan society to live a

healthier life," Lin said,

reciting the group's

credo. This is done

through sponsoring projects

aimed at helping

those in need.

"God has blessed us

very much," Lin said,

HELPING HANDS: Jane Lin, executive officer of the Taiwan

Adventist Foundation, displays a "Happy Craft Kit" provided

by the group to students in some of the island's smallest

elementary schools.

10 (890) | www.AdventistReview.org | October 10, 2013
---
And for those in poor living conditions,

the Taiwan Adventist Foundation

uses volunteer labor to help clean,

repair, and even rebuild dwellings

where needed.

"No one helps them, and no one

cares," Lin said of these poor people.

Other charities are beginning to call on

the Taiwan Adventist Foundation, asking

them to help families in need.

Sometimes, Lin said, all that's necessary

is a simple housecleaning and

instruction in running a household,

something that may have been

neglected. "The target is to help people's

homes have basic functions, safe and

clean," she said.

Much of the funding for the Taiwan

Adventist Foundation comes from the

Northern Asia-Pacific Division. The

group's board is chaired by Stanley Wai

Chun Ng, assistant to the Northern

Asia-Pacific Division president for

China affairs. But the group accepts

outside funds and hopes to become

self-sufficient, Lin said, noting they

hope to have a facility to accept creditcard

donations soon.

More information on the group can be

found online at www.twaf.org.tw. n

■■north america

Adventists Help Flood-Ravaged

Colorado Communities

Three members lose homes; prayer meeting becomes "work bee" to repair basement

By MARK BOND, communication director, Rocky Mountain Conference

of Seventh-day Adventists, reporting from Denver.

Seventh-day Adventist members and congregations

are assisting as massive amounts of rain have caused extensive

flooding along the Front Range of Colorado. Boulder and

adjacent communities have fared the worst, but there has also

been flooding in many communities. Estes Park, Louisville,

Longmont, Loveland, and Aurora are some of the hardest hit.

According to Craig Carr, ministerial director for the Rocky

Mountain Conference, three members of the Boulder Seventh-day

Adventist Church have lost their homes; one couple

from Lyons and an individual who lives in Jamestown

lost theirs as well. Both Lyons and Jamestown were completely

cut off from emergency access because of roads

being washed out by floodwaters.

There was minor damage to the Boulder church. There is

also some reported damage in the basement at the Estes

Park Seventh-day Adventist Church, but the extent is not yet

known.

Blake Jones, pastor of the Twin Peaks Adventist Church in

Louisville, shared that the flooding began in their area during

prayer meeting last Wednesday evening. Approximately

20 members had gathered for prayer meeting when water

started flooding into the church and filling the basement.

The head elder called a phone tree alerting members, and

within minutes about 50 people were at the church, building

a makeshift dam to divert the river of water that was

flooding the church.

Before they could divert all the water, about two inches

had accumulated in the basement of the church. One member

with an industrial shop vacuum was able to get most

of the standing water out of the basement, while other

members rushed to rent carpet cleaners.

By the time the wet, weary church members left, they had

been able to extract the rest of the water from the downstairs

carpet, but there was considerable dampness left

behind. Jones called a restoration company to dry out their

carpets with fans and dehumidifiers. They were told that

they would be added to a list, since there were more than

800 calls in ahead of them.

On Friday, with many of the roads impassable because of

flooding, Jones headed out to see if it was even possible to

drive to the church. He spotted a restoration company van

parked on the side of the road. He spoke to the driver and

told him about the Twin Peaks church basement. The driver

said, "It's the weekend, and this is the Lord's house, so I'll

come set up some fans and a dehumidifier for you right

now." Because of that little miracle, the Twin Peaks church

basement is back to normal already and won't even have to

report an insurance claim.

"If we hadn't had a good attendance at our prayer meeting,"

says Jones, "we would have certainly had the entire

basement flooded!" He continues, "But that prayer meeting

turned into the fastest 'church work bee' in history! I'm so

thankful for all the members who showed up to help us

avoid a major calamity."

Cathy Kissner, Rocky Mountain Adventist Community

Services and Disaster Response (ACS/DR) director, reports

emergency supplies are being positioned near the Colorado

flood areas for distribution. Donations may be made to the

ACS/DR effort by visiting http://bit.ly/acs-colorado online,

or by calling 800-381-7171. n

www.AdventistReview.org | October 10, 2013 | (891) 11
---
share with us

We are looking for brief submissions in

these categories:

Sound Bites (quotes, profound or

spontaneous)

Adventist Life (short anecdotes, especially

from the world of adults)

Camp Meeting Memories (150 words

or less)

Jots and Tittles (church-related tips)

Please send your submissions to Give &

Take, Adventist Review, 12501 Old Columbia

Pike, Silver Spring, MD 20904-6600; fax:

301-680-6638; e-mail: marank@gc.

adventist.org. Please include phone number,

and city and state from which you are writing.

poem

A Haiku

In this green hollow

My heart is a cathedral

Each footfall a prayer.

—L. L. Kellogg, Park City, Illinois

sermon in seven

Many people go on mission

trips. Most, if not all, go with

good intentions. So what do

you think of this?

Too many excursions pass for

mission trips.

adventist life

It came to me one day: "Haystacks"

can be considered the Seventh-day

Adventist equivalent of

the Israelite's "manna." Why? In

most Adventist churches (at least

in the U.S.) almost everyone knows

what "haystacks" are, but if you tell

someone of a different faith you

had or are going to have "haystacks,"

they ask, "What is that?"

—Martha Ledbetter, Graysville,

Tennessee

© terry crews

history lesson: quick bits on 1888

The General Conference assembled at Minneapolis on Wednesday, October

17, 1888. About 90 delegates represented 27,000 church members. What

many Adventists likely hold as important from those meetings is that "the

Lord in His great mercy sent a most precious message to His people through

Elders Waggoner and Jones. . . . It presented justification through faith in the

Surety [Christ]; it invited the people to receive the righteousness of Christ,

which is made manifest in obedience to all the commandments of God." 1

After the Minneapolis meetings A. T. Jones and E. J. Waggoner took the

message of righteousness by faith to the churches. With Ellen White joining

them, they crossed the U.S., visiting camp meetings, workers' meetings, and

Bible schools. In 1889 White wrote: "I have never seen a revival work go forward

with such thoroughness, and yet remain so free from all undue

excitement." 2

Minneapolis 1888 can be seen as a turning point in the history of the

Seventh-day Adventist Church. With the teaching of Waggoner and Jones,

and support from Ellen White, the church gained a clearer understanding of the

gospel.

Minneapolis, MN, c. 1880s/M. Nowack/New York Library

1

Ellen G. White, Testimonies to Ministers and Gospel Workers (Mountain View, Calif.: Pacific Press Pub.

Assn., 1923), pp. 91, 92.

2

Ellen G. White, in Review and Herald, Mar. 5, 1889.
---
Cliff's Edge

The Truth Behind the Lie

It's one thing for secular thinkers to argue that truth is relative,

contingent, cultural. But to hear Christians spout similar sentiments? Though the Lord and Master of their faith

says, "Whoever is not with me is against me" (Luke 11:23) and "But small is the gate and narrow the road

that leads to life, and only a few find it" (Matt. 7:14) and "I am the way and the truth and the life. No one

comes to the Father except through me" (John 14:6), His professed followers argue for moral, theological,

even ontological relativism? Go figure.

Relativism is intellectually incoherent anyway. The claim that "all truth is relative" must include that

specific claim itself; hence, why should anyone take the claim that "all truth is relative" seriously?

One shouldn't, but for more reasons than its own self-immolation. This relativism undercuts itself

in another, even more powerful way. However vehemently the most radical relativists denounce the

existence of absolute truth, none denies the existence of lies.

Yet how can lies exist without truth? Take the statement "Mitt Romney won the 2012 presidential

election in the United States." Truth or lie? It's a lie. But how could it be a lie without

the truth behind it, which is that Barak Obama, not Mitt Romney, won the 2012 United States

presidential election?

How about "2 + 2 = 31.7447"? A lie, but why? Because we know that 2 + 2 = 4; thus, "4" is

the truth that makes the first statement false.

What about "The sun orbits the earth every day"? Truth or lie? It's a lie because of the

truth, which is that the earth spins on its axis, making the sun appear to move from horizon

to horizon daily.

Some would argue that these are trivial examples, because we know the correct answers (i.e.,

the truth behind the lies). But what makes the statement "The center of Jupiter is made of creamy

peanut butter" a lie? Certainly not because of anyone's knowledge about the consistency of Jupiter's

core. A lie remains a lie even if we don't know the truth that makes it one. You don't have to

have a correct answer, or any answer, in order to detect a false one. Yet it's false only because the

truth about the center of Jupiter, whatever it is, exists.

Most would agree that the statement "The torture of babies is morally justified" is wrong,

even if we might disagree why. Whatever the arguments against that statement, they presuppose

that truth must exist behind it, which is that it's not morally justified to torture babies.

Otherwise, how could the position that it is justified be a lie? How could any position, on any subject, be

a lie or an error without the truths that make lies lies and errors errors?

"The world order," wrote Czech author Franz Kafka, "is based upon a lie." Fine, but it is a lie only because

the truth about the world order, whatever it is, makes it a lie.

Some things are relative, contingent, cultural. Driving on the right side of the road is hardly absolute

moral truth. If, however, one does it in England, it becomes "wrong" (and can even take on a moral tone

because it could lead to an accident), but only because there's the truth (that in England people drive on the

left side), which makes driving on the right side wrong.

On the other hand, someone says, "The Flying Spaghetti monster created the universe, and She alone

determined human morality." You wouldn't necessarily have to know who or what created the universe and

determined human morality in order for that statement to be a lie. It's a lie only because of the truth, which

is that something or someone else, not the Flying Spaghetti monster, created the universe and determined

human morality.

How ironic that professed Christians deny the reality of truth, but not of lies, even though lies—whether

about the small stuff or the grand metaphysical stuff—cannot exist without truth, either about the small

stuff or the grand metaphysical stuff. Hence every claim declaring absolute truth a lie automatically refutes

itself. n

Cliff

Goldstein

Clifford Goldstein is editor of the Adult Sabbath School Bible Study Guide. He is also featured on the Web site

1844madesimple.org.

www.AdventistReview.org | October 10, 2013 | (895) 15
---
1888

Heart and Soul:

Theology

W H A T

H A P P E N E D

I N

16 (896) | www.AdventistReview.org | October 10, 2013
---
BY GEORGE R. KNIGHT

Dear Brethren Who Shall Assemble in General Conference: We are

impressed that this gathering will be the most important meeting

you have ever attended. This should be a period of earnestly

seeking the Lord, and humbling your hearts before Him." 1

Such were the words of Ellen White on August 5, 1888, in a letter circulated

to the delegates who would be attending the forthcoming session of the

General Conference in October at Minneapolis, Minnesota. She not only highlighted

the importance of the meetings but also hinted at tensions among

the delegates and their need for serious and faithful Bible study.

TENSION IN THE CAMP

The tension didn't take long to surface.

"Elder Smith," A. T. Jones blurted out

early in the meetings, "has told you he

does not know anything about this matter.

I do, and I don't want you to blame

me for what he does not know." Ellen

White responded with "Not so sharp,

brother Jones, not so sharp." 2 Unfortunately,

such harsh words and pompous

attitudes provided part of the backdrop

A Historical

Account of a Very

Historic Event

1 888

for the conflict that characterized the

1888 General Conference session.

Jones had no monopoly on the harshwords

front. Ellen White repeatedly

faulted General Conference president

George I. Butler and Review and Herald

editor Uriah Smith for what she labeled

as the spirit of the Pharisees. Those

leaders and their friends repeatedly

expressed an attitude that "burdened"

her, being "so unlike the spirit of Jesus."

?

Its sarcastic, critical, self-righteous

aspects, she noted, stirred up "human

passions" and "bitterness of spirit,

because some of their brethren had ventured

to entertain some ideas contrary

to the ideas that some others . . . had

entertained, which were thought . . . to

be inroads upon ancient doctrines." 3

THE "MEN" OF

MINNEAPOLIS

The battle lines of the 1888 session

had arisen earlier in the decade over

two theological points, and involved

certain major participants. On one side

were the two young editors of the California-based

Signs of the Times—Ellet J.

Waggoner and Alonzo T. Jones [see

fuller biographies on pages 20, 21]. A

trained physician who preferred the

work of gospel ministry, Waggoner was

probably the most gentle and sophisticated

of the major male leaders in the

struggle. His colleague, A. T. Jones, had

been a sergeant in the United States

Army and had all the attributes of his

first profession. Jones never ran away

from a battle, whether it be a frontier

confrontation or one in the halls of Congress

over church/state issues or with

his fellow church leaders.

Of somewhat the same mold were

George I. Butler and Uriah Smith, presi-

www.AdventistReview.org | October 10, 2013 | (897) 17
---
1888

concluded that Smith's published list

dent and secretary, respectively, of the

General Conference. Smith was also editor

of the Michigan-based Review and Herald

and the denomination's authority on

the prophecies of Daniel and Revelation.

Butler and Smith viewed themselves as

defenders of traditional Adventism,

especially in the face of the new ideas

being set forth by Jones and Waggoner.

A fifth major participant in the Minneapolis

meetings was Ellen G. White,

Adventism's prophetic voice. At first it

appears that she sought to remain neutral

in the developing struggle. But by

April 1887 she had come out openly in

support of the younger men from the

West. She not only realized that they had

something to say that the denomination

desperately needed to hear, but she also

had concluded that they were being

wrongly treated in a very unequal struggle.

She would dedicate herself to making

sure that Jones and Waggoner and

their ideas would get a fair hearing at the

forthcoming General Conference session.

CONTROVERSY OVER

THE HORNS IN DANIEL

The rumbles of disharmony had

begun in the early 1880s along two lines

that would build in intensity as the

denomination rolled toward the Minneapolis

meetings. The first point of contention

formed up around the

seemingly minor topic of the identity of

the 10 horns of Daniel 7. The 1884 General

Conference session had commissioned

Jones to "write a series of

articles gathered from history on points

that showed the fulfillment of prophecy,"

4 a task that led him to study the

book of Daniel.

Smith initially expressed joy over the

idea of Jones having the time to undertake

a more complete examination of

the 10 kingdoms, but suggested that it

would be a difficult task—somewhat

like "hunting the pieces of a building"

after it had been "struck by a hundred

pounds of dynamite." 5

The cordial relationship between the

newcomer to the study of Daniel and

the established author of Daniel and Revelation

rapidly deteriorated after Jones

was incorrect on the identity of the

tenth kingdom, with Jones asserting it

was the Alemanni rather than the Huns.

The difference of opinion mattered,

because getting prophecy right mattered

to Adventists anticipating the

world's imminent end. Throughout the

1880s Adventists were being arrested in

such states as California, Tennessee, and

Arkansas for the "crime" of working on

Sunday. Some Adventist ministers in

the American South were even serving

on chain gangs with hardened criminals.

The tension would build on the

Sunday front until the spring of 1888,

when H. W. Blair introduced a bill into

the United States Senate to promote the

observance of "the Lord's day" "as a day

of religious worship." 6 Blair's national

Sunday bill was the first such legislation

to go before Congress

since the establishment of the

Adventist movement in the

1840s. The denomination connected

that move with the

forming of the image to the

beast of Revelation 13 and the

giving of the mark of the

beast. The end was clearly

near, and accurate prophetic

interpretation was clearly

crucial.

Smith argued aggressively

that if Adventists began to

change their understanding

on points of prophetic interpretation

that had stood for 40 years,

"thousands would instantly notice the

change. . . . 'If we give you time enough,'

they would then say, 'you will probably

come to acknowledge finally that you

are mistaken on everything.' " Jones shot

back that it was more important to be

right than to maintain a faulty position

that would be exposed publicly by the

denomination's enemies. 7

CRISIS OVER THE

LAW IN GALATIANS

But if the crisis over the 10 horns was

intense, the issue of the identity of the

law referred to in the book of Galatians

was literally explosive. With the Sunday

crisis right upon them it was bad

enough to be tinkering with the validity

of Adventist prophetic interpretation,

but to be making major changes in the

denomination's theology of the law

could spell total disaster.

An important text that Adventists had

to deal with was the "added" law of

Galatians 3:19-25. For three decades the

denomination had interpreted that law

as the ceremonial law. Such an interpretation,

Adventist leaders held, was

important in guarding the perpetuity of

the Ten Commandments. After all, did

not Galatians 3:25 plainly teach that

once an individual had faith, he or she

was "no longer under a schoolmaster"?

The law in Galatians had become a

controversial issue between 1884 and

1886, when Waggoner began to teach

that Galatians had the Ten Commandments

in mind rather than the ceremonial

law. That understanding was met

head on by Butler and Smith, who held

that the new interpretation undermined

Adventism's traditional position

on the end-time importance of the law

of God. As might be expected, the

national Sunday crisis heightened the

importance of the topic.

Butler sought to solve the problem at

the 1886 General Conference session,

but failed. His next move was to block

Jones and Waggoner from presenting

their views at the 1888 session. But Ellen

White outmaneuvered him by publicly

coming to the support of the younger

men. The stage at that point was set for

18 (898)

| www.AdventistReview.org | October 10, 2013
---
the controversial Minneapolis meetings.

THE MINNEAPOLIS MEETINGS

The 1888 General Conference session

convened in the newly constructed Adventist

church from October 17 through

November 4. A ministerial institute lasting

from October 10 to 16 preceded the

formal conference session. The agenda

contained two categories of items: business

matters and theological concerns.

While official action on the business

items was restricted to the official session,

action and reaction on the theological

issues flowed from the institute

into the regular session as if they were

one meeting.

As expected, the major issues of substance

in the conference centered on

three issues—two controversial and

one agreed upon. In the latter category

were Jones' lectures on church and state

in relation to the Sunday law crisis. The

conference voted to publish his presentations.

They came off the press, with

some editing, in 1889 as Civil Government

and Religion, or Christianity and the American

Constitution.

In the controverted realm, Jones and

Smith each spoke several times on the

10 horns and related prophetic topics.

But the major subject of contention and

importance was the lectures of E. J.

Waggoner on righteousness by faith.

Interestingly enough, his focal point

was not on the law in Galatians

(although he did not neglect that topic)

but on issues related to salvation. For

him the connection between the law in

Galatians and righteousness by faith is

the fact that experientially the 10 commandments

point out sin and lead individuals

to Christ as Savior.

Contrary to Waggoner's approach,

J. H. Morrison (who stood in for the

emotionally exhausted Butler who was

too ill to attend the meetings) presented

at least eight lectures focused on the

nature of the law in Galatians.

Ellen White joined Waggoner in his

focus on Christ and issues in salvation.

"My burden during the meeting," she

wrote, "was to present Jesus and His love

before my brethren, for I saw marked

evidences that many had not the spirit of

Christ." 8 On October 24 she cried out:

"We want the truth as it is in Jesus. . . . I

have seen that precious souls who would

have embraced the truth have been

turned away from it because of the manner

in which the truth has been handled,

because Jesus was not in it. And this is

what I have been pleading with you for

all the time—we want Jesus." 9

Three days before she noted that "the

Lord desires us all to be learners in the

school of Christ. . . . God is presenting to

the minds of men divinely appointed precious

gems of truth, appropriate for our

time. God has rescued these truths from

the companionship of error, and has

placed them in their proper framework." 10

That proper framework, she would note in

other connections, was the third angel's

message, which united both the law of

God and righteousness by faith. 11

CONCLUSION

At Minneapolis in 1888, Seventh-day

Adventists locked horns over biblical

interpretation in a way that threatened

to lock out the spirit of graciousness

that gives evidence of the presence and

control of Christ. But truth has prevailed

and grace continues to conquer.

The most important teaching to flow

out to posterity from those sessions

was the emphasis on Christ and faith in

Him as Savior and Lord. That teaching

and its implications for the end-time

message of the third angel is what gives

the Minneapolis meetings their ongoing

significance.

1

Ellen G. White to Dear Brethren, Aug. 5, 1888, in

Ellen G. White, The Ellen G. White 1888 Materials (Washington,

D.C.: Ellen G. White Estate, 1987), p. 38.

2

A. T. Robinson, "Did the Seventh-day Adventist

Denomination Reject the Doctrine of Righteousness

by Faith?" (unpublished manuscript, Jan. 30, 1931);

R. J. Wieland and D. K. Short, "An Interview With J. S.

Washburn," June 4, 1950.

3

For more on the spirit of Minneapolis, see George

R. Knight, A. T. Jones (Hagerstown, Md.: Review and

Herald Pub. Assn., 2011), pp. 46, 47, 75-77.

4

Alonzo T. Jones to Uriah Smith, Dec. 3, 1886.

5

Alonzo T. Jones to Uriah Smith, June 3, 1885.

6

See my treatment of the Sunday law issue in

George R. Knight, A User-friendly Guide to the 1888

Message (Hagerstown, Md.: Review and Herald, 1998),

pp. 30-33.

7

Uriah Smith to Alonzo T. Jones, Nov. 8, 1886;

Alonzo T. Jones to Uriah Smith, Dec. 3, 1886.

8

Ellen G. White manuscript 24, c. November or

December, 1888, in 1888 Materials, p. 216.

9

Ellen G. White manuscript 9, Oct. 24, 1888, in 1888

Materials, p. 153.

10

Ellen G. White manuscript 8a, Oct. 21, 1888, in

1888 Materials, p. 139.

11

For a fuller discussion of Ellen White on the place

of law and gospel in the third angel's message, see

George R. Knight, Angry Saints (Washington, D.C.:

Review and Herald Pub. Assn., 1989; Nampa, Idaho:

Pacific Press Pub. Assn., 2013), pp. 52-60.

An expert on 1888 issues, church

historian George Knight has

written three historical books

on the topic (A. T. Jones; Angry

Saints; and A User-friendly Guide

to the 1888 Message).

www.AdventistReview.org | October 10, 2013 | (899) 19
---
1888

Bio

E. J. Waggoner:

The Man and His Legacy

BY WOODROW W. WHIDDEN

Ellet Joseph Waggoner (1855-

1916), * son of prominent Adventist

"pioneer" editor and

revivalist Joseph H. Waggoner

(1820-1889), was educated at

Battle Creek College and then studied medicine

at the University of Michigan (Ann

Arbor) and Long Island College Hospital of

Brooklyn, New York, graduating in 1878.

In October 1882, Waggoner experienced

a "visionary" turning point in life

when he "saw Christ crucified for me,

and . . . that God loved me, and that

Christ gave Himself for me personally."

The young doctor was convicted to dedicate

his talents to full-time gospel ministry.

As coeditor with A. T. Jones, of the

Signs of the Times, he would play a major

role in the subsequent revival of "righteousness

by faith," and the memorable

1888 General Conference session.

During the four years following the

1888 Minneapolis event, Waggoner,

Jones, and Ellen White traveled widely,

spreading the message of "Christ our

righteousness" to North American

Adventism. Then, from the spring of

1892, Waggoner served in Europe and

spent the next 11 years editing the British

missionary journal Present Truth.

He returned to the United States in

the fall of 1903 and, against Ellen

White's counsel, eventually settled in

Battle Creek. While he was there, his

first marriage ended in divorce, and he

left the ministry of the Seventh-day Adventist

Church and lost his membership.

He remarried in 1907 and died in

1916, leaving behind a distressing personal

and theological legacy.

At First

In an important statement in 1896,

recorded in Testimonies to Ministers, pages

91-93, Ellen White laid out a wonderful

assessment of the message of Waggoner

and Jones, and its significance as affirming

(1) the uplifting of Christ as Savior

(not just lawgiver); (2) justification by

faith in Jesus; (3) the connection

between the righteousness of Christ and

obedience to God's commandments; (4)

the need for Adventists to focus on Jesus

and the importance of faith in His sacrifice;

(5) that Christ's righteousness, or

"righteousness by faith," has an intimate

relationship to the third angel's

message of Revelation 14:9-12; (6) that

Jesus has special "covenant blessings"

for His children; (7) that Adventists had

been emphasizing the law but neglecting

Jesus; and (8) that God had raised up

Jones and Waggoner to redirect the gaze

of Adventists to Jesus, to faith in His sacrifice

and merits.

But Then

How could the bearers of such a message

end up in apostasy? The answer is

instructive for the most gifted among us.

Their tragedy may be linked directly to

the effective rejection of prophetic counsel.

Along with this, Waggoner's teaching

came to involve extremely mystical and

excessively subjective interpretations. He

adopted an explicit "post-Fall" view of

the humanity of Christ in early 1889, and

later repudiated the "penalty/substitution/satisfaction"

model of the atonement.

His adoption of the mystical view

of the atonement led him to understand

justification as a subjectively "effective"

experience. A believer is declared justified

because the mystically indwelling

Christ makes them truly righteous in

character. This is similar to the Roman

Catholic view as defined at the Council of

Trent.

Waggoner's heretical and morally

compromising theology issued from

this decline into subjectivity. He came to

an extreme view of perfection, strong

opposition to church organization—

since individuals were to follow the

Holy Spirit directly with no need for

formal organization, false views on faith

healing, a rejection of the traditional

sanctuary doctrine, and ultimately to

pantheistic views that led him to a species

of mystical spiritualism that

opened the door to personal moral failure.

His tragedy was not inevitable. He

might have listened to God's messenger:

"Believe his prophets, so shall ye prosper"

(2 Chron. 20:20, KJV). n

* See the definitive biography at Woodrow W.

Whidden, E. J. Waggoner: From the Physician of Good News

to Agent of Division (Hagerstown, Md.: Review and

Herald Pub. Assn., 2008).

Woodrow Whidden is emeritus

professor of religion, Andrews

University.

20 (900)

| www.AdventistReview.org | October 10, 2013
---
Cover Feature

1888

BY MERLIN BURT

In 1870 hazel-eyed, brown-haired,

20-year-old Alonzo Trévier Jones

(1850-1923) left the home of his

parents, Grammer and Ingaby

Jones, and his work as a clerk at a

dry goods store, to join the United

States Army. He served from 1870 to

1875 and attained the rank of sergeant.

He participated in the Modoc war in

northern California in 1873. 1 Arthur

Spalding remembered Jones during the

1890s as a "towering, angular man, with

a loping gait and uncouth posturings

and gestures." 2

Baptized by Isaac Van Horn on August

8, 1874, in Walla Walla, Washington

(then a territory), he emerged from the

water exclaiming with upraised hands,

"Dead to the world, and alive to thee, O

my God!" 3

Jones subsequently assisted I. D. Van

Horn with evangelism in Oregon and

Washington and became a minister. On

April 15, 1877, he married Frances E. Patten,

the younger sister of Van Horn's

wife, Adelia. Although he wanted an

education, the pressing needs of ministry

interfered.

In 1884 he began editorial work with

the Signs of the Times and the Sabbath Sentinel

in Oakland, California. He also

served as pastor of the Healdsburg College

church, and as a Bible teacher at the

college. In a few short years Jones went

from relative obscurity to being one of

the denominations most prominent

workers, partnering with E. J. Waggoner

in an important role at the 1888 Minneapolis,

Minnesota, General Conference

session. Ellen White identified them as

sharing "a most precious message" of

righteousness by faith.

In December 1888 Jones testified

against the Blair Sunday law bill before

the Senate Committee on Education and

Labor. He remained on the national

stage, and his views were widely noticed

in newspapers. Jones also became pastor

of the Battle Creek Dime Tabernacle and

presented lengthy and dynamic sermons

A. T. Jones

at the General Conference sessions during

the 1890s that brought dramatic

spiritual revival. From 1897 to 1901 he

was editor of the Review and Herald.

During the 1901-1903 reorganization

of the General Conference he took a

strong stand against "kingly power"

and argued against the administrative

position of "president." After 1903 he

became more closely aligned with J. H.

Kellogg in organizational intrigues, and

harbored a critical attitude. By 1906 he

had lost most of his influence with Seventh-day

Adventists. His ministerial

credentials were removed in 1907 and

his membership in 1909. Tragically, his

last years were spent in opposition to

the Seventh-day Adventist Church. He

participated with the Ballenger brothers

in the establishment of their dissident

movement and paper, The

Gathering Call.

To the end of his life he professed to

believe and preach the third angel's

message and righteousness by faith. He

also continued to publish a religious

liberty paper The American Sentinel (not a

Seventh-day Adventist periodical). 4

Jones died on May 12, 1923, at his

home in Battle Creek, Michigan. n

1

United States Federal Census Records for 1850,

1870, and 1900; Alonzo T. Jones Passport Application,

Aug. 23, 1895; United States Army Register of Enlistments:

1798-1914; "A Tribute to the Life and Labors of

the Late Alonzo T. Jones," American Sentinel of Religious

Liberty, July 1923, pp. 1-8.

2

Quoted in George R. Knight, A. T. Jones: Point Man on

Adventism's Charismatic Frontier (Hagerstown, Md.:

Review and Herald Pub. Assn., 2011), p. 18. Some other

details in this account are drawn from George Knight's

book.

3

Adelia P. Van Horn, "A Sabbath in Walla Walla, W.

T.," Review and Herald, Aug. 25, 1874.

4

G. E. Fifield, "In Memoriam: Elder A. T. Jones," The

Gathering Call, June 1923.

Merlin Burt is director of the

Center for Adventist Research,

Andrews University.

www.AdventistReview.org | October 10, 2013 | (901) 21
---
Introducing the Why

Allure of the Church

For our one-year wedding anniversary Natalie and I decided to go

on a cruise, something neither of us had ever done. In early September we set out on a Royal Caribbean

seven-day sail that included stops in the Bahamas, St. Thomas, and St. Maarten.

The ship itself was . . . big. Occupied by more than 6,000 passengers and 2,300 crew members, the vessel

had at least 20 restaurants, a Broadway theater, an ice-skating rink, and a boardwalk that could make

any oceanside town jealous. And that's just the beginning.

What really made the aptly named Allure of the Seas unique was the staff personally assigned to each

traveler. If you've been on a cruise, you know it's much different than staying at a hotel. Each stateroom

has the same attendant throughout the entire voyage. Not only does this person clean and freshen your

room, they're available to assist with everything from dry cleaning to restaurant advice. As a bonus,

each night fresh towels are provided in the shape of exotic animals (think balloon animals, but with

towels).

The dining room features a similar personalized setup. Each couple is assigned to a table of six,

attended by the same waiter and assistant waiter every evening. What's neat is that you really get to

know the workers on a personal level. For example, in chatting with our headwaiter, Kemar, I learned

that he's planning to leave Royal Caribbean after seven years to open a restaurant in his native country

of Jamaica.

On our last night in the dining room Kemar asked for feedback on the dining room service. Thinking

I was delivering a compliment, I told him that the service had been "really good."

As politely as ever, he expressed his gratitude for my kind words, but added something I'll never

forget. "Mr. Phillips, for us 'really good' is not good enough. We want your experience to be excellent

in every way possible."

Setting the Bar

As I filled out the guest satisfaction survey later that night, I gave Royal Caribbean high marks. Our

experience was truly excellent, but not for the obvious reasons. The food was good, but I've certainly

had better. The stops were nice, although our preplanned snorkeling excursion in St. Thomas was rained

out. The ship was great, but even a self-contained city at sea has its limitations.

What made our adventure so memorable and worry-free was the staff stationed throughout the

ship. Every crew member on board was helpful, pleasant, and prompt, from those we interacted with

every day to those we encountered just once. Most important, from departure to docking each staff member

seemed to have a shared but personal mission to ensure that our experience was truly excellent.

Their calling, on behalf of Royal Caribbean, is not unlike the charge given to us. Paul says it plainly: "We

are therefore Christ's ambassadors, as though God were making his appeal through us" (2 Cor. 5:20).

In light of such a clear mandate, here's my question, posed both to you and back at me: When visitors step

inside our churches, do we feel personally accountable to ensure that their experience is truly excellent? If

not, shouldn't we? After all, we're after much more than repeat business and tips; our endgame is to be

conduits for the Holy Spirit to save souls.

The mission of an ambassador is to perfectly represent the wishes and values of the one on whose behalf

he or she is sent. Imagine the power that would exude from our churches if each of us came on Sabbath

morning with this sole focus. It might change the way we build our programs, maintain the grounds, and

dress. More important, it would affect the way we act toward those we don't recognize, those who look as

though they don't belong, or those who are obviously struggling.

In the cruise industry there's something called the Crown and Anchor Society, an exclusive membership

level for repeat guests. The "crown society" I want to join is in heaven. If I live as God's earthly ambassador,

perhaps others will want to come too. n

Jimmy

Phillips

Jimmy Phillips (jimmyphillips15@gmail.com) writes from Bakersfield, California, where he is director of marketing and

communications for San Joaquin Community Hospital. Visit his Web site: introducingthewhy.com.

www.AdventistReview.org | October 10, 2013 | (903) 23
---
1888

Heart and Soul:

Theology

of

The

Faith

Jesu

eventh-day Adventist doctrine and theology today is directly

BY MERLIN BURT

influenced by the teaching and experience that grew out of

1888 and the 1890s. Those years have yielded three significant

and foundational developments: A new clarity on the role of

the Ten Commandments in relation to salvation, reframing the

third angel's message of Revelation 14 in terms of righteousness by faith

in Jesus, and a shift toward a biblical Trinitarian understanding.

The Role of the Law in Salvation

"Wherefore the law was our schoolmaster

to bring us unto Christ, that we

might be justified by faith. But after that

faith is come, we are no longer under a

schoolmaster" (Gal. 3:24, 25, KJV). This

text launched the new emphasis on

righteousness by faith for the Seventhday

Adventist Church leading up to the

1888 Minneapolis, Minnesota, General

Conference session. It had been controversial

through much of the history of

the church. The fundamental question

was whether the law referred to was the

Ten Commandments or was it the system

of sacrifices and ceremonies connected

to the earthly sanctuary service?

An important point for this discus-

24 (904) | www.AdventistReview.org | October 10, 2013
---
s

sion is that righteousness by faith was

not a new idea in 1888. During the early

1850s Adventist leaders such as James

White and J. N. Andrews had taught that

the moral law pointed us to Jesus. In an

1851 tract Andrews wrote: "How is the

law a schoolmaster to bring us to

Christ? Answer. The law shows our guilt

and just condemnation, and that we are

lost without a Savior." 1 A year later

James White wrote: "Those who represent

Sabbathkeepers as going away

from Jesus, the only source of justification,

and rejecting His atoning blood,

and seeking justification by the law, do

it either ignorantly or wickedly." 2

But J. H. Waggoner's 1854 tract shows

that the matter continued to require

address. He admonished readers that

"if it were even possible for them to

keep [the law], it would lead them to

trust in themselves, and seek for justification

by personal obedience, instead

of seeking to the Savior for it." 3

Waggoner unfortunately took an

additional step and excluded the ceremonial

law from Galatians. "Respecting

[the] letter to the Galatians," he wrote,

"not a single declaration has been found

therein which can be referred to the ceremonial

or Levitical law." 4 This was

awkward for Seventh-day Adventist

ministers who, in debate with other

Protestant ministers, had argued that

the ceremonial, and not the moral law,

was a shadow that pointed us to Christ.

Waggoner's book was withdrawn,

and the position in print over the next

30 years presented the ceremonial law

as the schoolmaster to bring us to

Christ. The conflict grew during the

mid-1880s when Waggoner's son E. J.

Waggoner presented in the Signs of the

Times that the law in Galatians 3:24, 25

was the moral law. Church leaders G. I.

Butler and Uriah Smith saw this as an

attempt to revive an old argument that

had been debunked.

Tragically, many in the church were

legalistic in their approach to the Ten

Commandments. Ellen White would

write in 1890: "As a people, we have

preached the law until we are as dry as

the hills of Gilboa that had neither dew

nor rain." 5 Waggoner, like his father,

presented the gospel in relation to the

Ten Commandments. The law condemns

us, and drives us to Jesus as the

only Savior who can forgive our sins.

The surface issue in 1888 was the law

in Galatians. But the real problem was

indifference to righteousness by faith.

Butler and Waggoner both published

www.AdventistReview.org | October 10, 2013 | (905) 25
---
tracts with their respective positions on

the law in Galatians. 6 In his conclusion

Waggoner lamented Butler's reference

to "the much vaunted doctrine of justification

by faith," and continued: "[your]

theory leads inevitably to the conclusion

that men are justified by the law. . . . I

conclude that it is impossible to overestimate

the doctrine of justification by faith." 7

Ellen White's response on the law in

Galatians eventually bridged the two

views: " 'What law is the schoolmaster to

bring us to Christ?' I answer: Both the

ceremonial and the moral code of the Ten

Commandments. Christ was the foundation

of the whole Jewish economy." 8

In the end, Adventists accepted that

the law represented in Galatians was

both the moral and ceremonial law, with

a particular relevance for the moral law.

mandments of God, and the faith of

Jesus" (Rev. 14:12, KJV).

Early Adventists understood the

"faith of Jesus" as something that

needed to be kept. It was descriptive of

Jesus' faith that we emulate. It included

"the New Testament requirements, such

as repentance, faith, baptism, Lord's

Supper, washing the saints' feet, etc."

that Jesus practiced. 9

This position countered

those in the

Protestant world who

considered those

requirements to be

the "commandments

of God." By identifying

them as the "faith

of Jesus," Adventists

distinguished and

preserved the perennial

imperatives of

the Ten Commandments

and the Sabbath.

Waggoner and

Jones' interpretation

seemed to some to be

supporting the anti-

Sabbatarian Protestant position.

Ellen White recognized that Adventists'

original interpretation had weakened

the living power of the gospel

when she wrote: "The commandments

of God have been proclaimed, but the

faith of Jesus has not been proclaimed

by Seventh-day Adventists as of equal

importance, the law and the gospel

going hand in hand." 10

Waggoner and Jones constantly

emphasized the "faith of Jesus" in the

third angel's message. A. T. Jones titled

his lengthy series of sermons in the General

Conference Bulletin of 1893 and 1895,

"The Third Angel's Message." A careful

reading reveals that much of the presentation

was focused on the "faith of

Jesus" in Revelation 14:12. He interpreted

it as an active and living experi-

The "Faith of Jesus" and

the Third Angel's Message

The new emphasis on Jesus and salvation

was soon linked to a core theological

foundation of the Seventh-day

Adventist Church—the third angel's

message. "Here is the patience of the

saints: here are they that keep the comence

with Jesus. Just before a praise

meeting he said, " 'Justified by faith' . . .

we shall see the whole law of God written

in the heart and shining in the life,

and the words: 'Here are they that keep

the commandments of God and the faith

of Jesus.' All . . . is reflected and shines in

Jesus Christ." 11 Ellen White emphatically

supported the gospel connection to the

"faith of Jesus," writing, "It is the third

angel's message in verity." 12

This critical development made the

gospel the heart of the third angel's message.

It placed the law of God in a correct

relationship to a living faith in Jesus. The

three angels of Revelation 14 are framed

with the gospel. They begin with the

"everlasting gospel" to the entire world

and end with the "faith of Jesus."

The Divinity of Jesus

and the Godhead

Up to the 1890s most Seventh-day

Adventists were anti-Trinitarian. They

viewed God the Father as God in every

way, the Son as divine but begotten and

having a beginning, and the Holy Spirit

reduced to merely a manifestation of

either the Father or the Son. Today we

have a biblical doctrine of the Godhead

in part because of the emphasis on

Jesus and the plan of salvation as presented

after 1888.

During the 1890s Jones played an

important role in presenting the eternal

deity of Jesus. During his 1895 series on

the third angel's message, he returned

repeatedly to Colossians 2:9. Christ was

the "fullness of the Godhead bodily."

"The eternal Word consented to be

made flesh. God became man." 13 Two

days later, speaking of Christ, Jones

said: "In view of eternity before and

eternity after, thirty-three years is not

such an infinite sacrifice after all. But

when we consider that he sank his

nature in our human nature to all eternity—that

is a sacrifice." 14

26 (906) | www.AdventistReview.org | October 10, 2013
---
In 1899, as editor of the Review and Herald,

he wrote of the Godhead in a Trinitarian

way: "God is one. Jesus Christ is

one. The Holy Sprit is one. And these three

are one: there is no dissent nor division

among them." 15 Though Jones gave particular

emphasis to the eternity of Jesus,

Ellen White is probably the first to point

to Jesus' eternity. During the 1870s she

described Jesus as the "eternal Son of

God." 16 During the 1890s she would

write some of the clearest statements on

the Godhead and divine nature of Jesus.

In 1898 she wrote, "In Christ is life, original,

unborrowed, underived." 17 She also

affirmed the personhood and divinity of

the Holy Spirit who was "the Third Person

of the Godhead, who would come

with no modified energy, but in the fullness

of divine power." 18

Conclusion

We can be grateful for each of these

important doctrinal developments that

are now part of Seventh-day Adventist

faith. As a result of careful Bible study,

through the leadership of Waggoner,

Jones, and White, we rediscovered the

emphasis on righteousness by faith

during the 1890s. As God's commandment-keeping

remnant we cherish the

role of the law in both showing us our

sin and pointing us to Jesus as our only

Savior. As bearers to the whole world of

God's truth for these last days, we commit

to sharing the three angels' messages

as a proclamation of the gospel in

light of the Sabbath, sanctuary, and soon

coming of Jesus. And as we worship

Him who made heaven and earth, and

the sea and the fountains of waters, I

pray that this adoration may be representative

of the God whose love and

character are revealed in a biblical

understanding of the Trinity. n

1851), p. 22.

2

[James White], "Justified by the Law," Review and

Herald, June 10, 1852.

3

Joseph H. Waggoner, The Law of God: An Examination

of the Testimony of Both Testaments (Rochester, N.Y.:

Advent Review, 1854), pp. 93, 94.

4

Ibid., p. 74; see also pp. 80, 81, 98, 108.

5

Ellen G. White, "Christ Prayed for Unity Among

His Disciples," Review and Herald, Mar. 11, 1890.

6

George I. Butler, The Law in the Book of Galatians: Is It

the Moral Law, or Does It Refer to That System of Laws Peculiarly

Jewish? (Battle Creek, Mich.: Review and Herald

Pub. House, 1886); Ellet J. Waggoner, The Gospel in the

Book of Galatians: A Review (Oakland: n. p., 1888).

7

E. J. Waggoner, The Gospel in the Book of Galatians,

pp. 70, 71.

8

The Seventh-day Adventist Bible Commentary, Ellen G.

White Comments, vol. 6, p. 1109.

9

[James White], "The Third Angel's Message, Rev.

xiv 9-12," Present Truth, April 1850; see also Uriah

Smith, Thoughts, Critical and Practical, on the Book of Revelation

(Battle Creek, Mich.: Seventh-day Adventist Pub.

Assn., 1881), p. 301.

10

Ellen G. White manuscript 24, 1888, in Ellen G.

White, Ellen G. White Manuscript Releases (Silver Spring,

Md.: Ellen G. White Estate, 1990-1993), vol. 12, p. 193.

11

Alonzo T. Jones, "The Third Angel's Message—No.

19," General Conference Bulletin, Feb. 27, 1895; see also

E. J. Waggoner, The Gospel in the Book of Galatians, p. 70.

12

Ellen G. White, "Repentance the Gift of God,"

Review and Herald, Apr. 1, 1890.

13

Alonzo T. Jones, "The Third Angel's Message—

No. 17," General Conference Bulletin, Feb. 25, 1895.

14

Alonzo T. Jones, "The Third Angel's Message—

No. 20," General Conference Bulletin, Feb. 27, 1895.

15

Alonzo T. Jones, "Editorial," Review and Herald,

Jan. 10, 1899.

16

Ellen G. White, "An Appeal to the Ministers,"

Review and Herald, Aug. 8, 1878.

17

Ellen G. White, The Desire of Ages (Mountain View,

Calif.: Pacific Press Pub. Assn., 1898), p. 530.

18

Ibid., p. 671.

Merlin Burt is director of the

Center for Adventist Research,

Andrews University.

1

John N. Andrews, Thoughts on the Sabbath, and the

Perpetuity of the Law of God (Paris, Maine: James White,

www.AdventistReview.org | October 10, 2013 | (907) 27
---
1888

Heart and Soul:

Theology

Another Perspective

BY BILL AND SHAWN BRACE

early 125 years ago Ellen White offered a courageously orienting declaration

of Adventism's true calling. Writing in 1890, she boldly proclaimed,

"One interest will prevail, one subject will swallow up every

other—Christ our righteousness." 1

This was Ellen White's singular focus.

For much of her ministry, however, both before and after the 1888 General Conference

session, sadness overwhelmed her heart as she realized that this subject was scarcely

acknowledged. This is why, when she heard that same message proclaimed by two

young upstart preachers, Alonzo T. Jones and Ellet J. Waggoner, she recounted that "every

fiber of my heart said, Amen." 2 What they heralded she called a "most precious message."

It was to go to every church and "given to the world." 3 In fact, she proposed, it was

the "loud cry" of Revelation 18 that was to "lighten the whole earth with its glory." 4

But what made it "most precious"—to the point that Ellen White eagerly traveled

with the two young men, heralding its beauty?

28 (908)

| www.AdventistReview.org | October 10, 2013
---
Perhaps the most succinct explanation

is her summary from 1895: "This message,"

she wrote, "was to bring more

prominently before the world the

uplifted Savior, the sacrifice for the sins

of the whole world. It presented justification

through faith in the Surety; it invited

people to receive the righteousness of

Christ, which is made manifest in obedience

to all the commandments of God.

Many had lost sight of Jesus. They needed

to have their eyes directed to His divine

person, His merits, and His changeless

love for the human family." 5

An Uplifted Savior

Jones' and Waggoner's "most precious

message" flowed from their

emphasis on the centrality of Jesus.

Prior to this, Adventists were guilty of

preaching "the law until we are as dry

as the hills of Gilboa." 6

But the two lifted up Jesus—both His

divinity and humanity. Concerning the

former, they sought to herald His full

divinity, maintaining, contrary to the prevailing

Adventist sentiment, that Christ

was not created but was eternal. For, Waggoner

proposed, "no one who holds this

view [that Christ was created] can possibly

have any just conception of the exalted

position which Christ really occupies." 7

This was held in tension with Christ's

humanity. One could be appreciated

only in light of the other. Thus, Waggoner

declared that one of the "most

encouraging things in the Bible" was to

realize that "Christ took on Him the

nature of man" in its sinful condition,

and that "His ancestors according to the

flesh were sinners." 8 This remained a

central part of their proclamation

throughout their ministries.

A Universal Savior

In Ellen White's 1895 summary she

mentioned that a core component of the

message was Christ dying as "the sacrifice

for the sins of the whole world."

This teaching stemmed from a

unique understanding of Christ's atti-

tude toward humanity; an attitude of

faith and confidence in what His grace

could accomplish in the lives of sinners.

"His practiced eye saw in you great possibilities,"

Waggoner wrote in 1890,

"and He bought you, not for what you

were then or are now worth, but for

what He could make of you." 9

Waggoner's logical conclusion of this

idea was that Christ must have therefore

justified the existence of all

humankind at Calvary. "As the condemnation

came upon all, so the justification

comes upon all," he wrote. 10

Indeed, "the judgment will reveal the

fact that full and complete salvation

was given to every man, and that the

lost have deliberately thrown away their

birthright possession." 11 Thus, Christ's

death actually accomplished something

for everyone—even if that accomplishment

does not end in every person

enjoying eternity.

Ellen White echoes this concept in

affirming that "for every human being,

Christ has paid the election price. No one

need be lost. All have been redeemed." 12

An Effective Savior

Writing in 1890, Ellen White passionately

highlighted a critical component of

this message: "There is not a point that

needs to be dwelt upon more earnestly,

repeated more frequently, or established

more firmly in the minds of all, than the

impossibility of fallen man meriting anything

by his own best good works." 13

This was the crux of the problem.

Many were trying to save themselves by

their own good works. These feeble

attempts, however, were not only manifested

in trying to earn God's forgiveness

through obedience, but also by

trying to produce obedience in one's life

after conversion. Both were futile.

At the root of Jones' and Waggoner's

understanding was their unique insight

into the covenants. The old and new

covenants didn't necessarily speak of

time periods, they proposed, but the

experiences of those living in any age.

Jones' and

Waggoner's

"most

precious

message"

flowed from

their emphasis

on the

centrality of

Jesus.

"The first [old] covenant," Jones submitted,

"rested upon the promises of

the people, and depended solely upon

the efforts of the people. The second

[new] covenant consists solely of the

promise of God, and depends upon the

power and work of God." 14

It was within this context that souls

were invited to receive by faith Christ's

righteousness—both its imputed and

imparted aspects.

A Complete Savior

Perhaps the greatest achievement of

their message was its balance between

the law and gospel—which, according

to Ellen White, must always go "hand in

hand." 15 It avoided the ditch of legalism

by giving the assurance of forgiveness;

and it avoided the ditch of "cheap grace"

by showing that a faith-filled life results

in complete obedience. As Ellen White

wrote in 1895, receiving Christ's righteousness

is "made manifest in obedience

to all the commandments of God."

This is because White, Jones, and

Waggoner appreciated the ability of the

gospel, when fully understood and

embraced, to change one's heart and

save him or her from sin—not in sin.

This is all accomplished through "an

appreciation of the cost of salvation." 16

This was, after all, the goal of the gospel

and the ultimate goal of Jones' and

Waggoner's ministry. "The Lord has

raised up Brother Jones and Brother

Waggoner," Ellen White declared in 1893,

www.AdventistReview.org | October 10, 2013 | (909) 29
---
"to proclaim a message to the world to

prepare a people to stand in the day of

God." 17 This was in the context of the

cleansing of the sanctuary and the third

angel's message.

Waggoner and Jones both grasped this,

with the former writing in 1890, "And so

we find when Christ covers us with the

robe of His own righteousness, He does

not furnish a cloak for sin but takes the

sin away. And this shows that the forgiveness

of sins is something more than a

mere form, something more than a mere

entry in the books of record in heaven. . . .

And if [a person] is cleared from guilt, is

justified, made righteous, he has certainly

undergone a radical change." Indeed, "the

new heart is a heart that loves righteousness

and hates sin." 18

He was simply echoing what he had

written after the 1888 General Conference

session: "When the Lord comes there will

be a company who will be found 'complete

in him.'. . . To perfect this work in the

hearts of individuals . . . is the work of the

third angel's message." 19

sacrifice, and showing what God will

accomplish in the lives of those who

embrace His love—was a much fuller

explanation of the gospel than existed

both within and without Adventism.

This message has still not been given

the fullest expression it deserves. Recognizing

our own need, we appeal to all

to proclaim this powerful message that

has been ordained to "lighten the whole

earth with its glory." 20 n

1

Ellen G. White, in Review and Herald, Dec. 23, 1890.

2

Ellen G. White, The Ellen G. White 1888 Materials

(Washington, D.C.: Ellen G. White Estate, 1987), p. 349.

3

Ibid., pp. 1336, 1337.

4

Ibid., p. 1575.

5

Ibid., p. 1336.

6

Ellen G. White, in Review and Herald, Mar. 11, 1890.

7

Ellet J. Waggoner, Christ and His Righteousness (Oakland:

Pacific Press Pub. Co., 1890), p. 20.

8

Ibid., p. 61.

9

Ibid., p. 72. Compare with Ellen G. White, Christ's

Object Lessons (Washington, D.C.: Review and Herald

Pub. Assn., 1900), p. 118.

10

Ellet J. Waggoner, in Present Truth, Oct. 18, 1894.

11

Ellet J. Waggoner, The Glad Tidings (Oakland: Pacific

Press Pub. Co., 1900), pp. 22, 23. They saw their growing

views on what some label as "universal justification"

as the logical outworking of their understanding

of Christ's faith in humanity.

12

The Seventh-day Adventist Bible Commentary, Ellen G.

White Comments, vol. 7, p. 944.

13

E. G. White, 1888 Materials, p. 811.

14

Alonzo T. Jones, in Review and Herald, July 24, 1900.

15

Ellen G. White, in Review and Herald, Sept. 3, 1889.

16

Ibid., July 24, 1888.

17

E. G. White, 1888 Materials, p. 1814.

18

E. J. Waggoner, Christ and His Righteousness, pp. 65, 66.

19

Ellet J. Waggoner, in Signs of the Times, Dec. 28, 1888.

20

E. G. White, Christ's Object Lessons, p. 228.

Bill and Shawn

Brace are

Seventh-day

Adventist

ministers in the

Southern and Northern New England

conferences, respectively. Together they edit

the magazine New England Pastor.

Conclusion

Like Ellen White and her contemporaries,

we have had our hearts strangely

warmed by this message. We recognize

there is a beautiful uniqueness to what

Jones and Waggoner—along with Ellen

White—proclaimed. Their message—

explaining the depth of Christ and His

30 (910) | www.AdventistReview.org | October 10, 2013
---
Story

BY LEE SCHAPPELL

On a particularly hot Friday

afternoon, the beginning of

Memorial Day weekend,

most folk had already

pulled the plug on business

activities and begun the mad rush

to the mountains, the beach, the ball

game, the hammock.

My New Earth Band had an upcoming

concert, for which I had to swing by one

of my musical apparatus suppliers to

pick up an essential item. I was in the

store but a moment, and as I emerged,

my wife, Elsa, said, "There must be a

fallen bird over there, because employees

leaving the building keep asking, 'Is

that bird still there?' "

I asked Elsa, "Would you like to take a

look?"

"Sure," she responded.

Hunkered down on his little belly,

alone on that sizzling asphalt parking

lot, was the tiniest baby bird I had ever

seen. No bigger than a golf ball, he had

no plumage, save a tuft of fuzz crowning

his head, just a wisp atop each

shoulder, and a teeny stub where he

would eventually require a tail. I could

here most of the day," Elsa replied.

From an immense yellow wraparound

bill we heard a weak cheep.

I remember a time in my life that I

had fallen from a lofty height, and the

sudden stop at the bottom had knocked

the wind out of me. I was broken, alone,

and thoroughly exhausted from an

extended, fruitless struggle to regain

my footing. There appeared to be not a

hint of hope on the horizon.

If We Don't, Who Will?

"Maybe I should move him to a

cooler spot; maybe in the grass over

there in the shade," I offered.

"We should at least give him some

water," Elsa suggested.

I gently picked up the little fellow, cradling

him in my fingers. I laid him in the

cool grass on the shady side of the building.

Then I trotted back inside the store,

where a salesman filled a bottle with

cool water. I pirated a small cardboard

carton from the shipping department.

Seeking a delivery system for the

water, I scanned the surrounding landscape,

and there it was: long and slim,

like a little bottle

brush, with rows

and rows of tiny

blossoms on a

three-inch-long

head, perfect for

Bird 9-1-1

He wouldn't make it on his own.

And he still might

see blood vessels through his semitransparent

pink and purple flesh. His

wings resembled miniature marimbas,

merely two little racks of delicate bones.

His eyes were closed in exhaustion, and

he heaved slowly as he labored to

breathe in the afternoon sun.

Scattered around him on the ground

were pieces of a broken nest. Siblings or

adult birds were nowhere in sight. The

little dude was in a pickle.

"This little nipper is being slowcooked

on the tarmac!" I whispered.

"Yes, and he's apparently been out

capturing and holding dozens of droplets

of water. Dunking the weed into the

bottle, I touched the tip to the bird's bill,

which immediately opened for me to

shake in a shower of refreshing

moisture.

Cheep! he said, which we interpreted

as "Do it again, bub!" So I did, again and

again. As I stood up Elsa and I looked at

each other for a moment, then uttered

in unison, "Well . . ."

Cheep! Cheep! came the frantic call

from the ground.

Returning our attention to our dis-

32 (912) | www.AdventistReview.org | October 10, 2013
---
tressed friend, we were pleased and surprised

to see that he had risen from his

hunkered-down posture and was now

wobbling weakly on his toothpicklike legs.

Cheep! Cheep! translated to "More

H 2 O, please!"

"If we leave him here, he's sure to

become somebody's supper."

"Do you want to take him home with

us?" asked Elsa.

In the aftermath of my fall, a friendly

face had been hard to find. There had

been an occasional sympathetic look, a

brief word of encouragement, then a

rapid exit. My rescue finally came when I

called on the One who promised never to

leave me or forsake me. He took me in,

cared for my needs, restored my strength,

and set me on a brand-new path.

Down to Business

I knew we were buying ourselves one

serious project, but still, how could we

have closed our eyes and tried to sleep

that night, knowing we had left the little

guy defenseless on the ground? We

pulled up fistfuls of grass and carefully

lined that corrugated box to cradle its

fragile occupant.

"We'll call you Rocky," I assured him as I

lowered him into his makeshift nest,

"because you're one gnarly little scrapper."

On the way home I used my cell

phone to call some friends who are

knowledgeable about wild

birds. Karin suggested we

grind up some dry cat

food for him, because it is

high in protein. But her

husband, Ken, said, "Nah,

he won't make it."

Ken's comment made me all the more

determined. I understood that I had

elected to interfere with nature's

course, and I was fully aware of the

responsibility I had placed on my wife

and me. So what's a guy to do in a situation

such as this? Well, he prays! We

asked God's guidance in caring for His

precious little critter. Then we knuckled

down to the task.

To replenish the water he had

undoubtedly lost during his long day in

the sun, we came up with a more effi-

not.

cient delivery system: a medium-sized

eyedropper. Rocky grasped its intended

purpose at first sight, and promptly

opened the hatch whenever he saw us

approaching with that dropper in hand.

For Rocky's first meal, Elsa prepared a

concoction of crushed dry cat food,

mixed with a little bit of raw egg, a generous

spoonful of wheat germ, and a

goodly measure of a powdered food

supplement, along with a small dash of

milk. When mixed together, those ingredients

morphed into a gritty, olive-green

pudding. Aesthetics aside, it offered a

powerhouse of nutrition, so I offered the

earth-toned muck on the skinny handle

of a spoon to the little guy.

Rocky was unable to hold his head up

to take food. But in a delightfully inventive

maneuver our unfeathered friend

wobbled over to the side of the box,

rested the bottom of his bill in the corner,

and propped his head in an

upward-facing position. Immediately

that enormous yellow beak opened

wide, and Rocky proceeded to wolf

down that gourmet dinner mixture!

We took turns feeding our scrawny

guest every hour or two, with copious

amounts of water interjected between

his mealtime blitzes. In just a matter of

a few days patches of downy fuzz began

to appear on his wings and on his back.

In addition, he was beginning to navigate

around the box with ease, and soon

was climbing up the front of my shirt to

sit on my shoulder or nestle into the

crook of my neck.

Time to Fly

Rocky, whom Ken identified as a

European starling, appeared to grow

with each passing day. Just a week into

his rehab he had outgrown his little carton.

So one evening I built a spiffy twosquare-foot

cage furnished with a

network of branches strategically positioned

to facilitate climbing, hopping,

and fluttering around his new home.

Rocky seemed to acquire these, and

additional skills, one day to the next.

After three weeks Rocky had grown

into a strong, healthy, great-looking

super-starling. The bad news was that

he loved that olive-drab pudding concoction

so much that he had no interest

in insects, worms, and more conventional

bird fare. Besides, Rocky had

become so tame that he permitted us to

scratch his belly and rub his head, and

he even allowed Elsa to help him pick

the dried food from his face!

We knew it was time to take the next

step. I phoned a wildlife shelter in the

adjacent county, told them our winged

amigo's story, and asked whether they

would be willing to prepare him to

return to the wild. It was a somber

"Is that bird still there?"

90-minute ride in my pickup truck that

afternoon. Rocky clung to my right hand

most of the way, while I drove with my

left. There's no question it was the right

thing to do.

Two weeks later we received an e-mail

message from the people at the shelter,

notifying us that Rocky had been

released onto the grounds of the shelter,

along with several other starlings, and

that he seemed to be doing just fine.

I firmly believe that our heavenly

Father led us to Rocky, then blessed us

with this living experience so that we

might gain a more complete understanding

of what He has done for us,

and for Adam's entire fallen race.

Elsa and I still talk and laugh about

Rocky, respinning his saga, and showing

our amazing photos of the little nipper.

In fact, we readily agreed, right from the

day we heard that Rocky had been set

free, that, given the opportunity, we

would do it all again, because of the tremendous

satisfaction we received from

rescuing a precious life from certain

demise; and most of all, because Someone

had first done the same for us. n

Lee Schappell lives with Elsa

in Reading, Pennsylvania.

www.AdventistReview.org | October 10, 2013 | (913) 33
---
1888

Heart and Soul:

Theology

Ellen

White's

Burden

What

is most

crucial

to our

church's

mission

BY DENIS FORTIN

"

My burden during the

meeting was to present

Jesus and His love before

my brethren, for I saw

marked evidences that

many had not the Spirit of Christ." 1

With these words Ellen White summarized

her thoughts and feelings

about what she perceived to be the real

issue of what happened at the General

Conference session in Minneapolis,

Minnesota, in the fall of 1888. She saw

that many hardworking ministers of

our church were not really in communion

with Christ and that our church

was in grave danger of seeing its mission

derailed. Above all else, she perceived

her ministry at the session to

have been redemptive.

What Happened

For a few years before the eventful

session, ministers had been debating

fiercely a few concepts among themselves

in the pages of the two most

prominent publications of the church,

the Review and Herald in Battle Creek,

Michigan, and the Signs of the Times, in

Oakland, California. The unsuspecting

initiators of these acrimonious discussions

were the two young editors of the

Signs of the Times, A. T. Jones, and E. J.

According to Ellen White's

family and friends, she

considered this engraving

of Christ "the most nearly

correct of any picture she

had ever seen" (W. C. White

to Fred Harvey, April 25,

1935). The Ellen G. White

Estate cautions that there

is nothing in Ellen White's

writing regarding this

picture.

34 (914) | www.AdventistReview.org | October 10, 2013
---
Waggoner. Jones, a self-educated Bible

scholar and historian, taught that the

northern European tribe of the Alemanni,

not the Asian Huns (as taught by

Uriah Smith), was one of the 10 horns

or kingdoms of Daniel 7. Waggoner, like

his father, J. H. Waggoner, 30 years

before, taught that the schoolmaster

law Paul refers to in Galatians 3:24

should be understood as the moral law

of the Ten Commandments. George I.

Butler, current General Conference

president, opposed Waggoner's view.

This debate was characterized as the

old guard defending the true teachings of

the church against new heresies. Ellen

White spent numerous sleepless nights

worrying over the bitter religious conflict.

"While [Christ's]

Spirit pervades

the soul, then

there will be

unity."

Who Is Right?

When E. J. Waggoner began to teach

views similar to what his father and

other pioneers had taught 30 years earlier,

Elders Butler and Smith were quick

to point out that Ellen White had had a

vision on the subject in 1854 and had

written to J. H. Waggoner that the law in

Galatians was the ceremonial law rather

than the moral law. However, when

asked to produce this document, Ellen

White was unable to find it.

In a letter to Jones and Waggoner in

February 1887 she recalled that she had

written to J. H. Waggoner "that I had

been shown [that] his position in

regard to the law was incorrect," but

that she could not recall exactly what

was incorrect about it. One thing was

clear to her, however: the various positions

on the law in Galatians "are not

vital points" and they should not be

made a controversial and divisive issue. 2

Two months later, in a letter to Butler

and Smith, she again referred to the lost

letter and pointed out that the counsel

may not have been on doctrine at all. "It

may be that it was a caution not to make

Photo: ellen G. white estate

(915)

35
---
his [J. H. Waggoner's] ideas prominent

at that time, for there was great danger

of disunion." 3 In other words, she

claimed that her ministry in regard to

this issue in the 1850s had been pastoral

rather than hermeneutical or exegetical,

and she still claimed the same

pastoral ministry in 1887.

Butler and Smith, however, disagreed

with that recollection, holding that Ellen

White had seen in vision that J. H. Waggoner

had been wrong theologically.

Hence, in their view, not only was this

issue posing a threat to the traditional

Adventist teaching on the perpetuity

and immutability of the Ten Commandments,

and the cherished doctrine of the

Sabbath, but it also threatened Ellen

White's own prophetic ministry and

reliability if she changed her mind on

theological issues—that is, of course, if

her ministry is understood as clearing

up biblical uncertainties. Ellen White

was thus caught in the middle of this

conflict because she was not willing to

decide who was right.

Walking Out by Faith

Overwhelmed with discouragement,

Ellen White felt she did not have the

energy to attend the Minneapolis session

and engage this issue in person.

But remembering her words to her

dying husband seven years earlier and

her commitment to stand by her post of

duty, she decided that "to walk out by

faith against all appearances was the

very thing that the Lord required me to

do." 4 As she stepped out by faith, day by

day she gained more strength.

Personal Bible Study

Ellen White insisted that she had not

been shown the answer to the question

of the law in Galatians. The issue needed

to be settled by prayerful Bible study.

"Truth," she claimed, "will lose nothing

by investigation." 5 Some of Waggoner's

interpretations were incorrect, she

found. But "the fact that he honestly

holds some views of Scripture differing

from yours or mine is no reason why we

should treat him as an offender, or as a

dangerous man, and make him the subject

of unjust criticism." 6 While she did

not recall clearly what she had said in

the 1850s, she did not want her opinion

on the matter to settle this debate. Settling

matters of biblical interpretations

was not how she saw her ministry.

Instead she recommended a deep and

humble study of Scripture.

"I take the Bible just as it is, as the

Inspired Word," she said at the session.

"I believe its utterances in an entire

Bible. . . . Men of humble acquirements,

possessing but limited capabilities and

opportunities to become conversant in

the Scriptures, find in the living oracles

comfort, guidance, counsel, and the plan

of salvation as clear as a sunbeam. No

one need be lost for want of knowledge,

unless he is willfully blind. We thank

God that the Bible is prepared for the

poor man as well as for the learned man.

It is fitted for all ages and all classes." 7

For her, Waggoner's major contribution

was in building a bridge between

the law and the gospel: "I see the beauty

of truth in the presentation of the righteousness

of Christ in relation to the law

as the doctor has placed it before us" she

told the assembly in Minneapolis. 8

In the months following the session,

Ellen White joined Waggoner and Jones

in presenting this perspective on the

law and the gospel. "Holding up Christ

as our only source of strength, presenting

His matchless love in having the

guilt of the sins of men charged to His

account and His own righteousness

imputed to man, in no case does away

with the law or detracts from its dignity.

Rather, it places it where the correct

light shines upon and glorifies it. This is

done only through the light reflected

from the cross of Calvary." 9

Love in Human Relationships

In her many communications with all

those involved in this bitter controversy,

Ellen White's goal was to bring people

closer to Jesus and closer to one

another. Her ministry sought for reconciliation

and redemption. Human relationships

mattered a great deal to her,

and her many counsels in her letters

and sermons highlight her emphasis on

the love of Jesus.

One such counsel was written to William

Healey, a pastor in California, who

sided with Butler and Smith and likely

instigated some of the rumors against

Jones, Waggoner, and Ellen White herself.

She wrote to him shortly after the

36 (916) | www.AdventistReview.org | October 10, 2013
---
end of the session. "I have [now] told

you that my views are not changed in

regard to the law in Galatians. But if we

have had the truth upon this subject our

brethren have failed to be sanctified

through it; the fruits are not after

Christ's order, but bitter as gall." 10 Her

counsels may be summarized as follows:

1. Let the Holy Spirit guide your mind. To

Jones and Waggoner, many months

before the Minneapolis session, as the

conflict was taking speed, she counseled:

"There is altogether too little of

the love of Christ in the hearts of those

who claim to believe the truth. While all

their hopes are centered in Jesus Christ,

while His Spirit pervades the soul, then

there will be unity, although every idea

may not be exactly the same on all

points." 11 Thus the Holy Spirit desires

unity in spite of variations of interpretation

among believers.

2. We will never understand all Bible truth.

According to Ellen White, it is mistaken to

assume that any one side in a conflict over

interpretation understands and possesses

"I see the beauty of truth

in the presentation of

the righteousness of

Christ in relation to the

law as the doctor has

placed it before us."

all the truth. To Jones and Waggoner she

stated, "The Bible is but yet dimly understood.

A lifelong prayerful study of its

sacred revealings will leave still much

unexplained." 12 And to Butler and Smith:

"But let none feel that we know all the

truth the Bible proclaims." 13 To the assembly

in Minneapolis she acknowledged,

"We are to be ever searching for the truth

as for hidden treasures." 14

3. There can be dire consequences to internal

conflicts. The consequences of strife

and contentions are tragic and eternal.

"There has been a door thrown open for

variance and strife and contention and

differences which none of you can see

but God. . . . The bitterness, the wrath,

the resentment, the jealousies, the heart

burnings provoked by controversies of

both sides of the question causes the

loss of many souls." 15

4. We need a daily experience with Jesus.

During the Minneapolis session Ellen

White spoke a number of times. On Sabbath

afternoon, October 13, she felt led

by the Lord to speak of the love of God.

"The blessing of the Lord rested upon

me and put words in my mouth and I

had much freedom in trying to impress

upon our brethren the importance of

dwelling upon the love of God much

more and let gloomy pictures alone. The

effect on the people was most happy,"

she wrote to her daughter-in-law.

"Believers and unbelievers bore testimony

that the Lord had blessed them in

the word spoken and that from this

time they would not look on the dark

side . . . but talk of the goodness and the

love and compassion of Jesus, and

praise God more." 16

This became her major emphasis in

the weeks and months following the

session. Love for Jesus will produce love

toward one another. Already to Waggoner

and Jones

she had written

that "looking to

Jesus, learning of

Jesus, obtaining

the love of Jesus"

will melt hearts

"in tenderness

toward each

other." 17 During

the conference she realized that a different

spirit was animating most of the

ministers. "We all know better than to

do as we have done," she wrote. "If

Christ were abiding in the soul we could

not but reveal Christ's forbearance,

Christ's courtesy, and the love of Christ.

All this hard, unkind, uncourteous spirit

manifested toward brethren is registered

in the books of heaven as manifested

toward Jesus Christ." 18

5. More than anything else, we must learn

to let the love of Christ abide in our hearts.

"The love of Christ must be an abiding

principle in the heart, that will bear

fruit in love and tenderness and respect

for one another. The love of the truth,

the doing of the words of Christ, would

soften and subdue our hearts. The

purity and goodness and love of the

great heart of Jesus must be reflected

upon our hearts and revealed in our

characters, that we may be partakers of

the divine nature and have tender compassion

for each other." 19

Conclusion

Perhaps the most compelling lesson

Ellen White would have us learn from

the 1888 General Conference session

and its famous doctrinal conflicts is

that there is never a reason that justifies

an un-Christlike spirit in our conversations

with brothers and sisters.

Although we may not agree with each

other on all points of teachings and

interpretations, Christ's Spirit must

abide in our hearts. n

1

Ellen G. White manuscript 24, 1888, in Ellen G.

White, The Ellen G. White 1888 Materials (Washington,

D.C.: Ellen G. White Estate, 1987), p. 216.

2

Ellen G. White letter 37, Feb. 18, 1887, to E. J. Waggoner

and A. T. Jones, in Ellen G. White, Ellen G. White

Manuscript Releases (Silver Spring, Md.: Ellen G. White

Estate, 1990-1993), vol. 15, pp. 18-20.

3

Ellen G. White letter 13, Apr. 5, 1887, to George I. Butler

and Uriah Smith, in Manuscript Releases, vol. 16, p. 281.

4

Ellen G. White manuscript 2, 1888, in 1888 Materials,

p. 47.

5

Ellen G. White manuscript 15, 1888, in 1888 Materials,

p. 163.

6

Ibid., p. 164.

7

Ellen G. White manuscript 16, 1888, in Ellen G.

White, Selected Messages (Washington, D.C.: Review and

Herald Pub. Assn., 1958, 1980), book 1, pp. 17, 18.

8

Ellen G. White manuscript 15, 1888, in 1888 Materials,

p. 164.

9

Ellen G. White manuscript 24, 1888, in 1888 Materials,

p. 228.

10

Ellen G. White letter 7, Dec. 9, 1888, to William M.

Healey, in 1888 Materials, p. 189.

11

Ellen G. White letter 37, 1887, in 1888 Materials,

p. 31.

12

Ibid.

13

Ellen G. White letter 13, 1887, in Manuscript

Releases, vol. 16, p. 285.

14

Ellen G. White manuscript 15, 1888, in 1888 Materials,

p. 166.

15

Ellen G. White letter 37, 1887, in 1888 Materials, p. 26.

16

Ellen G. White letter 81, Oct. 9, 1888, to Mary

White, in 1888 Materials, pp. 67, 68. The letter was

started on October 9 but finished on October 14.

17

Ellen G. White letter 13, 1887, in Manuscript

Releases, vol. 16, p. 285.

18

Ellen G. White manuscript 21, 1888, in 1888

Materials, p. 181.

19

Ibid., p. 176.

Denis Fortin is professor of

theology at the Seventh-day

Adventist Theological

Seminary of Andrews

University.

www.AdventistReview.org | October 10, 2013 | (917) 37
---
1888

Spirit of Prophecy

BY ELLEN G. WHITE

We have seen of the

grace of God since we

met you last. Since last

spring I have visited

Lemoore, Fresno, and

Selma. I was at the Selma camp meeting.

During my stay there I was introduced

to a tall man—over six feet tall—and

well proportioned. When he took my

hand he seemed much affected and said,

"I am so glad to meet you; I am thankful

that I can speak with you."

After going into the tent a brother

came in and said, "That man has a history."

Then he went on and told how a

year before he had been converted; how

he had once kept the Sabbath but had

gone back, and how he claimed that he

never had been converted. Then after he

gave up the truth he went back into the

company of hard cases, and Satan took

complete possession of him. Two or

three were linked with him in his wickedness—men

who would not want it to

be known that they were in such business.

They stole and did wickedness in

every way. . . . He did not care for the

spoil of his robberies, but did it for the

enjoyment he found in it.

Well, Elder [E. P.] Daniels was holding

meetings, and he was speaking on confession.

What was said seemed to take

hold of this man's mind, and he could

not resist. He seemed to turn white, and

then left the tent. He could not stand it.

He went out and then he came back

again. This he did three times; he looked

as if he were going to faint away.

After the meeting had closed he said,

"I must talk to you, sir." He told Elder

Daniels his condition and said, "Is there

any hope for me? I am a lost man; I am

undone; I am a sinner. Will you pray for

me? I dare not leave this place to go

home for fear the Lord will cut me down

Sabbath

Afternoon

in my sins." He said he could not stay in

the tent, and went out again and again,

but did not dare remain outside for fear

the power of the devil should fasten on

him and that would be the last of him.

They prayed for him, and the man was

converted right there. The defiant look

was gone; his countenance was changed.

"Now," said he, "I have a work to do. I

stole thirty-one sheep from that man in

Selma, and I must go and confess to him."

Elder Daniels was afraid to have it

known for fear they would shut him up.

He said he would rather go to prison

and stay there than to think that Christ

had not forgiven his sin. So he started,

with a young man who before this was

engaged with him in thefts, to go and

see the man. He met the man on the

road and stopped him. The man commenced

to shake like an aspen leaf. He

was an infidel. Well, he got on his knees

before them in the road and begged to

be forgiven.

The man asked, "Where did you get

this? What has brought you into this

state? I did not know that there was any

such religion as this." They told him that

they had been down to the camp meeting,

and heard it preached there. "Well,"

said he, "I will go over to that meeting."

They confessed to having burned

houses and barns. And they went to the

grand jury and confessed to having stolen

here and there. Mind, they confessed

to the authorities. They said, "We deliver

Talk

38

(918) | www.AdventistReview.org | October 10, 2013
---
ourselves up. Do with us as you see fit."

So the case was considered in court,

and they had a council over the matter.

One suggested that they better put

those men through. The judge looked at

him and said, "What, put him through?

Put a man through that God is putting

through? Would you take hold of a man

that God is taking hold of? Whom God's

forgiving power has taken hold of?

Would you do that? No, I would rather

have my right arm cut off to the shoulder."

Something got hold of those men

so that they all wept as children.

The report of that experience went

everywhere. People thought that there

was a power in this truth that was in

nothing else—a power that shows that

Jesus lives. We have seen the power of

His grace manifested in many cases in a

remarkable manner.

Now, whenever we can see anything

encouraging, put it in the paper, and

talk about it. Why talk of Satan's great

power and his wonderful works, and say

nothing of the majesty and goodness

and mercy of our God which falls to the

ground unnoticed? Pick these up, brethren,

with consecrated hands, pick them

up. Hold them high before the world.

Talk of the love of God and dwell upon

it; thank Him for it. Open the doors of

your hearts and show forth your gratitude

and love. Clear away this rubbish

which Satan has

piled before the

door of your heart

and let Jesus come

in and occupy.

Talk of His goodness

and power.

You know how

it was with Moses. He felt that he must

have an answer to his prayer. He realized

the responsibility of leading the people

out of Egypt, but he did not go and pick

up everything objectionable and dwell

on it. He knew they were a stiff-necked

people, and he said, "Lord, I must have

Thy presence"; and the Lord said, "My

presence shall go with thee." You

remember Moses went into the wilderness

and stayed forty years, during

which time he put away self, and that

made room so that he could have the

presence of God with him.

He thought if he could have the presence

of God's glory it would help him to

carry on this great work. He says, "Shew

me thy glory."

There was a power in this

truth that was in nothing

else—a power that shows

that Jesus lives.

Now that was a man of faith, and God

did not rebuke him. God did not call it

presumption, but He took that man of

faith and put him into the cleft of the

rock and put His hand over the rock and

showed him all the glory that he could

endure. He made His goodness to pass

before him, and showed him His goodness,

His mercy, and His love.

If we want God's glory to pass before

us, if we want to have memory's halls

hung with the promises of love and

mercy, we want to talk of His glory and

tell of His power. And if we have dark

and miserable days we can commit

these promises to memory and take our

minds off discouragement. It would

please the devil to think he has bothered

us; but we want to talk of Jesus and

His love and His power, because we

have nothing better to talk of. n

This article is excerpted from a

sermon preached Sabbath

afternoon, October 13, 1888 [see

Ellen G. White manuscript 7,

1888, in The Ellen G. White 1888

Materials, pp. 81-83]. Ellen G. White, its author,

was one of the founders of the Seventh-day

Adventist Church. Her life and work testified

to the special guidance of the Holy Spirit.

www.AdventistReview.org | October 10, 2013 | (919) 39
---
Searching the Obvious

Hope and Peace

In the silence, I am in awe.

* * *

I walk the greenhouse with my friend Angie. She talks about the different flowers she has planted: bromeliads,

Chinese hibiscus, chenille plants, lilies, and orchids. She tells me that these flowers are OK, but her

favorite are the African violets. "They take more care, more time, and they are fragile," she says as her prosthetic

hand touches the leaves of a pink African violet she has called "Hope." Hope. How perfect.

As the sun filters through the greenhouse, I help Angie check the labels on each of the African violet

pots. These will soon be in a new home.

* * *

As I pull into the driveway, I am not certain what I will see. It's been 13 months since I visited

my friend Kathy. As I turn the engine off it seems like an invitation for memories to flood my

mind. I remember. I remember finding Kathy in the surgical waiting room, her arm in a sling,

bruises on her face, mumbling a prayer. I remember her tears as she told me her 14-year-old

daughter, Angie, was in critical condition. I remember sobs as Kathy told me of the car

accident, the drunk driver, and Angie's ongoing surgery to try and save her left arm

crushed by the impact. I remember the surgeon's apologetic face. I remember Angie in

the hospital bed asking "Why?" But nobody had answers.

A knock on my car window breaks me away from the past and returns me to the present.

Angie. She smiles, and for a moment her resilience makes me forget she has ever suffered pain

in her life.

"Come on!" she says. "I want to show you my greenhouse! Dad built it, but I'm in charge of

the plants."

I see Kathy at the door smiling and waving. Much has grown in this home in the past year.

* * *

Kathy and I sit at the kitchen table watching Angie and her father load two small crates of African

violets into a minivan. As we watch, Kathy tells me that after the accident, when Angie came home, she

sat in this very chair, at this very table, and for the first time in her life she was speechless. When words

finally found her, her prayer was simple: "Dear God, she is Your daughter. Help us get through this."

I look at Angie, laughing with her father, then calling to us inside. It's time to go. It's time to deliver flowers.

* * *

I ring the doorbell. Angie stands next to me holding Hope. I have been invited to participate in an activity

that is now part of daily life: delivering flowers to homebound amputees. I hear footsteps coming to the

door. Angie greets the woman at the door, then makes herself at home walking upstairs. She knows this family.

"Shelly?" Angie calls as we turn the corner and enter the room.

The room is pink. It's a child's room! It's a little girl's room! Sitting on the bed is Shelly. I notice crutches next

to her, and my heart breaks as I see Shelly's bandages, her right leg amputated above the knee. Angie hugs

Shelly and shares the gift: Hope. I smile as I hear Shelly squeal with joy. She is happy. Despite it all, she is happy.

I watch and listen as Angie talks with Shelly. This is more than a flower delivery. Angie explains how to care

for the African violet, and I watch as she encourages Shelly to gently touch the leaves of Hope.

The room goes quiet for a moment, and in the silence I am in awe. I stand in awe amazed at all that God

has done, from the healing of Angie, to the receptive heart of Shelly, to the creation of a flower. I welcome

the peace of the Holy Spirit, knowing that God is watching.

* * *

As we drive to the next home, Angie tells me she has decided to go into physical therapy. It's a fitting choice. She

looks pensive for a moment and says: "I just hope it won't cut into my time of delivering God's flowers." n

Dixil

Rodríquez

Dixil Rodríguez, a university professor and volunteer hospital chaplain, lives in Texas. Join the conversation at

searchingtheobvious@dixilrodrigez.com.

www.AdventistReview.org | October 10, 2013 | (921) 41
---
1888

Snapshot

BY ANGEL MANUEL RODRÍGUEZ

The theology of the last generation

was developed and

popularized in the Adventist

Church by M. L.

Andreasen (The Sanctuary

Service [Washington, D.C.: Review and

Herald Pub. Assn., 1937; revised 1947]).

Andreasen was building on insights

from A. T. Jones and E. J. Waggoner. This

theology introduced a strong element of

legalism in some sectors of the church

by claiming that the character of God,

maligned by Satan in the cosmic conflict,

will be vindicated through the holy and

perfect life of obedience of the last generation

of believers. This generation will

reach a level of character development

unequaled in Christian history, copying

perfectly in their lives what God did in

Christ. Once this happens, the Lord will

return. This theology seeks to explain

why the Lord has not returned and the

nature and purpose of Christian perfection.

It is based primarily on a particular

reading of the writings of Ellen G. White.

Christ and the Vindication of God: In the

Bible and the writings of Ellen G. White

the cosmic vindication of God is the

exclusive result of the sacrificial death

of Christ. He was the only one who

could reveal who God is and therefore

vindicate Him in the cosmic conflict

(John 1:18). White is also very clear: "By

His life and His death, Christ proved

that God's justice did not destroy His

mercy, but that sin could be forgiven,

and that the law is righteous, and can be

perfectly obeyed. Satan's charges were

refuted. God had given man unmistakable

evidence of His love." 1 What Christ

accomplished does not need to be supplemented;

it is more than enough.

Theology of the

Last Generation

Christian Perfection: God's will for His

people has always been the same: Victory

over the enslaving power of sin in

their lives (Rom. 6:11-14; 8:5-8). Christ

has always been the model for the

Christian life. But true Christian perfection

cannot be separated from the eternal

efficacy of the cross and our

constant reliance on its forgiving power

(1 John 2:1, 2). Christian perfection is a

constant growth in grace accompanied

by a constant reliance on God's forgiving

grace. Notice how precise Ellen G.

White is on this important theological

topic: "As the penitent sinner, contrite

before God, discerns Christ's atonement

in his behalf, and accepts this atonement as

his only hope in this life and the future

life, his sins are pardoned. This is justification

by faith. Every believing soul is to

conform his will entirely to God's will, and

keep in a state of repentance and contrition,

exercising faith in the atoning merits of

the Redeemer and advancing from

strength to strength, from glory to

glory." 2 We will perfectly reproduce the

character of Christ in our lives through

growth in grace and by absolutely relying

every day in Christ's forgiving grace.

Safety in Heaven: Although it would be

possible for sin to arise again in heaven,

this will never happen in actuality. The

reason is not found in the unique experience

of the last generation of believers

but in the work of Christ on the cross.

He, through the cross, reconciled the

whole cosmos to God in a permanent

bond of union (Col. 1:19, 20). Again,

White is powerfully clear: "The angels

ascribe honor and glory to Christ, for

even they are not secure except by looking

to the sufferings of the Son of God. It

is through the efficacy of the cross that

the angels of heaven are guarded from

apostasy. Without the cross they would

be no more secure against evil than were

the angels before the fall of Satan" 3 The

perfection of creatures is not powerful

enough to hold the cosmos together.

Praise God for Christ! n

1

Ellen G. White, The Desire of Ages (Mounatin View, Calif.:

Pacific Press Pub. Assn., 1898), p. 762. (Italics supplied.)

2

The Seventh-day Adventist Bible Commentary, Ellen G.

White Comments, vol. 6, p. 1070. (Italics supplied.)

3

Ellen G. White, "What Was Secured by the Death of

Christ," Signs of the Times, Dec. 30, 1889.

Angel Manuel Rodríguez,

retired, was director of the

Biblical Research Institute,

General Conference.

42
---
Snapshot

1888

© Lars Justinen/GoodSalt.com

The Nature

of Christ

BY ALBERTO TIMM

Early Seventh-day Adventist

Christology was chiefly

focused on Christ's present

heavenly sanctuary priesthood

(Heb. 4:14-16) and His

future second coming in the clouds of

heaven (Rev. 1:7), and largely shaped by

the anti-Trinitarian views of the pioneers.

1 As time went by, significant

Christological issues emerged in regard

to (1) the eternity of Christ, (2) His

human nature during the Incarnation,

and (3) whether His divine nature died

on the cross.

George R. Knight's exhaustive research

indicates that "from all existing records it

appears that the topic of the human

nature of Christ had an extremely small

role at the Minneapolis meetings. . . . That

does not mean that the topic never surfaced."

2 Whatever the case, Ellen White

played a crucial role in correcting basic distortions

related to issues of Christology.

Against the theory that Christ was "the

first created being" 3 and "proceeded

forth" from God back "in the days of eternity,"

4 White stated that "in Christ is life,

original, unborrowed, underived," 5 and

that "from all eternity Christ was united

with the Father." 6

Correcting the assumption that

"Christ's nature is precisely our

nature," without any "particle of difference

between him and you," 7 White

acknowledged that "Jesus accepted

humanity when the race had been weakened

by four thousand years of sin" and

that He "took upon Him the infirmities

of degenerate humanity . . . with the

possibility of yielding to temptation." 8

But she also warned, "Be careful,

exceedingly careful as to how you dwell

upon the human nature of Christ. . . . He

could have sinned; He could have fallen,

but not for one moment was there in

Him an evil propensity." 9

In response to the idea that at the cross

the divine nature of Christ also died, 10

White declared, "When Christ was crucified,

it was His human nature that died.

Deity did not sink and die; that would

have been impossible." 11

Two main reasons have prevented

those issues from settling down in

some Adventist circles. One has been

the primitivistic temptation of confusing

faithfulness to the Bible and the

Spirit of Prophecy with loyalty to the

views of the pioneers, regardless of

what they were. The second reason has

been the selective approach of emphasizing

one side of a given issue in detriment

to the other side. The abovequoted

corrective statements by Ellen

White can help us to develop a wellrounded

Christology.

1

See Jerry Moon, "The Adventist Trinity Debate,"

two-part series in Andrews University Seminary Studies 41,

no. 1 (Spring 2003): 113-129; 41, no. 2 (Autumn 2003):

275-292.

2

George R. Knight, A User-friendly Guide to the 1888

Message (Hagerstown, Md.: Review and Herald Pub.

Assn., 1998), pp. 152, 153.

3

Uriah Smith, Thoughts, Critical and Practical, on the

Book of Revelation (Battle Creek, Mich.: Steam Press of

the Seventh-day Adventist Pub. Assn., 1865), p. 59.

4

Ellet J. Waggoner, Christ and His Righteousness (Oakland:

Pacific Press Pub. Co., 1890), pp. 21, 22.

5

Ellen G. White, The Desire of Ages (Mountain View,

Calif.: Pacific Press Pub. Assn., 1898), p. 530.

6

Ellen G. White, Selected Messages (Washington, D.C.:

Review and Herald Pub. Assn., 1958, 1980), book 1, p. 228.

7

Alonzo T. Jones, "The Third Angel's Message—No. 13," General

Conference Bulletin, Feb. 19, 1895. See also [Ellet J. Waggoner],

"God Manifest in the Flesh," Signs of the Times, Jan. 21, 1889.

8

E. G. White, The Desire of Ages, pp. 49, 117.

9

Ellen G. White letter 8, Feb. 9, 1895, to "Dear Brother

and Sister Baker," published in The Seventh-day Adventist

Bible Commentary, Ellen G. White Comments, vol. 5, p. 1128.

10

[Joseph H. Waggoner], "The Atonement—Part II.

The Doctrine of a Trinity Degrades the Atonement,"

Advent Review and Sabbath Herald, Nov. 3, 1863; ibid., Nov.

10, 1863; idem, The Atonement: An Examination of a Remedial

System, in the Light of Nature and Revelation [3rd ed.] (Oakland:

Pacific Press Pub. Co., 1884), pp. 165, 166, 173, 174.

11

Ellen G. White letter 280, Sept. 3, 1904, "To Ministers,

Physicians, and Teachers," published in The Seventh-day

Adventist Bible Commentary, Ellen G. White

Comments, vol. 5, p. 1113.

Alberto Timm is an associate

director of the Ellen G. White

Estate.

www.AdventistReview.org | October 10, 2013 | (923) 43
---
1888

Snapshots

Universal Legal

Justification

BY STEPHEN BAUER

The doctrine of universal

legal justification (ULJ)

expresses both admirable

and problematic ideas.

Glorious Truth

As to the former, it celebrates a glorious

truth: The death of Christ secured

access to God for all humans. Paul frequently

calls this access "reconciliation."

For him, this reconciliation appears to

be unilateral and unconditional, and

something occurring prior to justification.

"For if when we were enemies we

were reconciled to God through the

death of His Son, much more, having

been reconciled, we shall be saved by His

life" (Rom. 5:10). 1 By contrast, for Paul,

both justification and salvation are conditioned

upon and preceded by personal

faith/belief: 2 "Believe on the Lord Jesus

Christ," he says, "and you will be saved"

(Acts 16:31). Again, "with the heart one

believes unto righteousness [justification],

and with the mouth confession is

made unto salvation. . . . For 'whoever

calls on the name of the Lord shall be

saved' " (Rom. 10:10-13). 3

Problematic Ideas

ULJ is based, I find, on a dualistic doctrine

of man differing from the wholistic

view of man that we find throughout

Scripture. Humanity is depicted as a single

corporate life; yet this single life is

manifested through all human individuals.

This single, corporate life sinned in

Adam, was assimilated into Christ, and

paid the death penalty for its sin in

Christ, on the cross. Corporate humanity

was thus forgiven and justified in

Christ, on the cross and therefore, all

individual manifestations of that

humanity are now unilaterally, unconditionally

forgiven and justified in the

legal sense. Each individual, however,

has the ability to reject that universal

justification and become personally lost.

Some proponents of ULJ dismiss the

associated concepts of vicarious atonement

and the transfer of sin as illegal

and unethical. The charge mirrors

Roman Catholic objections to the Reformation

position that sin and righteousness

are transferred between the sinner

and Christ our substitute. Proponents

of ULJ have been known to espouse an

alternate view of substitution sometimes

called "shared substitution."

The Seventh-day Adventist Church

was founded on an interpretation of the

sanctuary that emphasizes the vicarious

substitution of Christ for the sinner

through the transfer of sin from sinner

to substitute. To this extent, ULJ

appears to stand in direct contrast to

this pivotal Adventist understanding.

One attempt to support ULJ biblically

involves a unique proposal for reading

Paul. The translation "having been justified

by faith, we have peace with God"

(Rom. 5:1) is rejected in favor of "having

been justified, by faith we have peace

with God." In this rendering believers

have peace by faith, rather than justification

by faith.

This would make for an exceptional

reading of Paul, who nowhere else packages

"faith" and "peace" together.

Rather, he speaks consistently of "justification

/ righteousness" (a single word

in Greek) "by faith." A biblically solid

belief should not require peculiar textual

re-readings to support it.

Let us rejoice that all

people, regardless of

race, nationality, gender,

and religion have universal

access to God and to

the cross.

Conclusion

Let us rejoice that all people, regardless

of race, nationality, gender, and religion

have universal access to God and to

the cross. And let us each be the

preacher sent to bring the good news

(Rom. 10:14, 15), so that all may hear,

know in whom to believe, "call on the

name of the Lord," and be saved. n

1

The Greek grammatical structure here is one of

sequence, in which reconciliation precedes justification.

(Bible texts in this article are taken from the New King

James Version. Copyright © 1979, 1980, 1982 by Thomas

Nelson, Inc. Used by permission. All rights reserved.)

2

In Greek, "faith" and "believing" are noun and verb

forms of the same verbal root. Lacking an English verb

"faithing," we use the verb "believe."

3

Paul echoes the sequence given by Jesus in Mark

16:16: "He who believes and is baptized will be saved."

Stephen Bauer is Professor of Theology and

ethics at Southern Adventist University.

44 (924) | www.AdventistReview.org | October 10, 2013
---
1888

Testimony

The

Prevailing Interest

BY KELLY VEILLEUX

Growing up in the

church has

advantages and

disadvantages.

I'm very thankful

for the privilege of being

raised in a fairly balanced

Seventh-day Adventist home.

Knowing that Jesus loves me

was something I grew up

with. But the depth of that

love is just now beginning to

take hold of my heart.

Somehow through my

early years I never heard

about "Christ our righteousness." So "righteousness" was something that I tried to attain by obedience. I know some

of my readers can relate to this. It seems a natural human response to think we have to "do something" to "get

something."

Then a pastor friend of mine introduced me to the "1888 message." For two years I read everything I could on this

subject and invited others to join me in this journey. The fog began to lift from my brain, and a warm settling into

the truth began to take hold in my heart and life.

In 2010 the Holy Spirit moved on my heart so

strongly and led me into the waters for rebaptism, followed

by a prayer for the baptism of His Holy Spirit.

From that moment on, one interest has consumed my

heart and mind; one interest that shapes everything

else I do and all that I am becoming; one interest that

can only be defined as His agape love. Now I understand

why God's prophet said, "One interest will prevail, one

subject will swallow up every other—Christ our righteousness"

(Advent Review and Sabbath Herald, Dec. 23,

1890).

I'm so thankful to be alive now to see the final movements

take place. May we join together in unity to

become the loud cry and the glory that will lighten this

earth with the victorious agape love of Christ! n

The fog began to lift

from my brain, and a

warm settling into

the truth began to

take hold in my

heart and life.

Kelly Veilleux is Northern New England

Conference prayer ministries leader and InVerity

prayer ministries coordinator.

S T A T E M E N T O F O W N E R S H I P

Statement of Ownership, Management, and Circulation of the Adventist Review, published

weekly at 55 West Oak Ridge Dr., Hagerstown, MD 21740. The names and

addresses of the publisher, editor, and managing editor are: Publisher: General Conference

of Seventh-day Adventists, 12501 Old Columbia Pike, Silver Spring, MD 20904;

Editor: William Knott, 12501 Old Columbia Pike, Silver Spring, MD 20904; Managing

Editor: Stephen Chavez, 12501 Old Columbia Pike, Silver Spring, MD 20904. The owner

is the General Conference of Seventh-day Adventists, 12501 Old Columbia Pike, Silver

Spring, MD 20904, a nonprofit, charitable corporation. There are no bondholders,

mortgagees, or other security holders owning or holding 1 percent or more of the total

amount of bonds, mortgages, or other securities.

Average number copies Single issue

each issue during

nearest to

preceding 12 months* filing date*

Total number copies printed 25,000 25,939

Paid circulation to term subscribers 22,600 23,117

Free distribution 700 710

Total number copies distributed 23,300 23,827

*These figures are U.S. postal figures only.

I certify that my statements above are correct and complete.

Graham Barham, CFO

46 (926) | www.AdventistReview.org | October 10, 2013
---
Reflections

The Genius of Disunity

Heresy is often less important than disunity. Disunity can do what

heresy cannot. Heresy draws true believers together. They circle the wagons. They expel the heretic. But

disunity does not necessarily require false doctrine. Only a little intemperance of spirit. Disunity works

remarkably well with genuine conviction about genuine truth. This is because it is not logical rigor or

theological precision that brings oneness. It is the spirit of the meek and lowly Jesus (John 16:33; James

3:16-18). So disunity, for the devil, can be better than heresy. For in disunity true believers stand their

theological ground against one another.

Meanwhile, the archetypal "dis-uniter" knows that "if Christians were to act in concert, moving forward

as one, under the direction of one Power, for the accomplishment of one purpose, they would move the

world." 1 Why let that happen?

As I reflect on 1888, it seems that skepticism, cockiness, deep commitment, objectivity and detachment—

all these or any one will do to smother meekness and facilitate disunity. Jesus, meek and lowly, will simply

be run over by totally committed heretics; or dismissed by the skeptic as a spineless weakling; or evaluated

by detached objectivity as deficient in leadership qualities; or simply shriveled to inconsequence by cocky

wit. Being meek and lowly can be perilous to personal or corporate success. But it

is essential to heavenly unity.

In February 1887 Ellen White wrote to A. T. Jones and E. J. Waggoner from Switzerland

about material they were publishing in Signs of the Times: "I have no hesitancy

in saying you have made a mistake here. You have departed from the positive

directions God has given upon this matter, and only harm will be the result. This is

not in God's order. You have now set the example for others to do as you have done,

to feel at liberty to put in their various ideas and theories and bring them before

the public, because you have done this. This will bring in a state of things that you

have not dreamed of." 2 Tell me about the voice of prophecy!

Correspondence with George I. Butler and Uriah Smith expresses the same

concern: "Had you avoided the question . . . , it would have been more in accordance

with the light God has seen fit to give to me." 3 She thought "the whole

thing . . . not in God's order." 4 Even the treatment of apostatizing D. M. Canright

deserved reprimand: "God did not treat apostates in this way, and if you had

anything to say, say it without putting such things in the paper. I tell you,

brethren, I am troubled when I see you take positions that you forbid others to

take and that you would condemn in others." 5 But because of saints who had

to push their point of view at all costs Ellen White had to conclude, "I believe now that nothing can be done

but open discussion." 6 Evidently, much of what we remember of the 1888 Minneapolis General Conference

session is a history lesson on what happens when personal vindication—administrative, theological, or

otherwise—triumphs over meek submission to counsel, and the bliss of harmony that Jesus says will prove

to the world that He came from God (John 17:21).

It is not so much false doctrine the devil needs as disunity: Heresy is often less important than disunity. n

1

Ellen White, Testimonies for the Church (Mountain View, Calif.: Pacific Press Pub. Assn., 1948), vol. 9, p. 221.

2

Ellen G. White letter 37, 1887.

3

Ellen G. White letter 13, 1887.

4

Ibid.

5

Ibid.

6

Ibid.

Lael Caesar, an associate editor of Adventist Review, keeps focusing on Jesus' high-priestly prayer that we

all may be one.

www.AdventistReview.org | October 10, 2013 | (927) 47