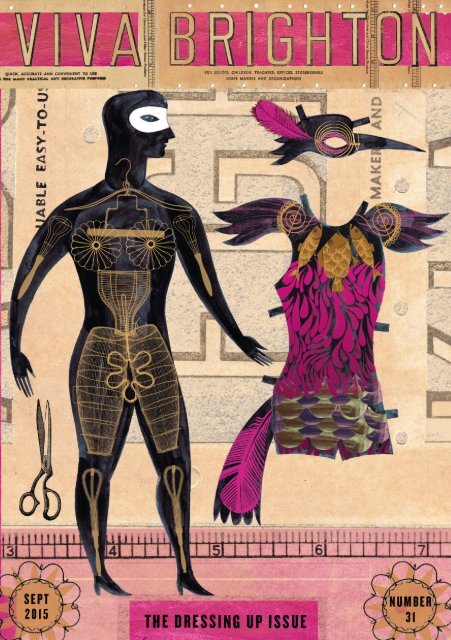 Viva Brighton September 2015 Issue #31
You also want an ePaper? Increase the reach of your titles
YUMPU automatically turns print PDFs into web optimized ePapers that Google loves.
vivabrighton

Issue 31. Sep 2015

editorial

...................................................................................

What are you wearing, as you read this? Are you dressed for comfort,

or are you making some sort of style statement? Or possibly both?

How long did it take you to decide what to put on this morning? To

what extent is the set of clothes you've put on some sort of uniform?

How much money did your current get up cost you? What percentage

of what you're wearing is second hand? What percentage was bought

in Brighton? How much of it came from national chain stores, and how much of it from

independent retailers? If you have a partner, do they approve of everything you're wearing? Is

there a significant difference between the clothes you wear in the week, and the clothes you

wear at the weekend? When did you last 'dress up' and what was the occasion? Has anything

in your wardrobe been chosen for its outrageous nature? If so, what? How long have you

owned the item of clothing you bought longest ago? How often do you cull your wardrobe?

What percentage of the clothing in your home has not been worn in the last year? Do you

think people think you dress well? Do you care? Should you care? What do your clothes say

about you? This month our theme, inspired by The Costume Games taking place in the city,

is 'dressing up'. Our sartorial advice? Be yourself. Enjoy the issue…

The Team

.....................

EDITOR: Alex Leith alex@vivabrighton.com

DEPUTY EDITOR: Steve Ramsey steveramsey@vivabrighton.com

ART DIRECTOR: Katie Moorman katie@vivabrighton.com

PHOTOGRAPHER AT LARGE: Adam Bronkhorst

EDITORIAL ASSISTANT: Rebecca Cunningham

ADVERTISING: Anya Zervudachi anya@vivabrighton.com, Nick Metcalf nickmetcalf@vivabrighton.com,

PUBLISHERS: Nick Williams nick@vivabrighton.com, Lizzie Lower lizzie@vivamagazines.com

CONTRIBUTORS: Amy Holtz, Andrew Darling, Antonia Phillips, Ben Bailey, Chloë King,

Holly Fitzgerald, Jim Stephenson, JJ Waller, Joe Decie, Joda, John Helmer, Lizzie Enfield and Martin Skelton

Viva is based at Brighton Junction, 1A Isetta Square, BN1 4GQ

For advertising enquiries call 07596 337 828

Other enquiries call 01273 810259

Every care has been taken to ensure the accuracy of our content. We cannot be held responsible for any omissions, errors or alterations.
---
contents

...............................

Bits and bobs.

6-22. Cover artist Sarah Young,

Brighton-born Ben Sherman, JJ

Waller, more secrets of the Pavilion

and Joe Decie

63

Photography.

25-29. Jean-Luc Brouard takes us

behind the scenes at the Brighton (and

London) Fashion Week

Columns.

30-33. Amy Holtz' Jedi partner, John

Helmer's Norwegian forebears, Chloë

King's Swedish lodgers and Lizzie

Enfield's Texan interviewee

Brighton in History.

34-35. Valerie Barker, Brighton-resident

transgender pioneer

My Brighton.

36-37. Nicky Röhl, Moshimo co-owner

and Costume Games organiser

In Town this Month.

39-50. Nineties badboys These Animal

Men, a digital ballet, a possible robot

takeover, Today's James Naughtie,

Avenue Q puppetry, stand up feminist

Clare Dowie and subversive comedian

Mark Thomas

45

Cinema.

51-53. How to Change the World director

Jerry Rothwell, and Yoram Allon's

round-up of September's most interesting

movies, including Scalarama 2015

....4 ....
---
contents

...............................

Art, design and literature.

54-59. Al fresco artist Solange Leon,

Graham Churchyard's Batsuit and

Brighton novelist Alison MacLeod

67

Brighton makers.

61-64. We try knicker making with

Sew Fabulous, and meet Frances Tobin

from Maker's Atelier, and inventor Paul

Harrison. Plus Gladrags costume hire

The Way We Work.

67-73. Adam Bronkhorst investigates

the world of sewers and dressmakers

Food and drink.

74-83. Fusion tapas at Señor Buddha,

a recipe from Sourdough, a Bronx

Burger at the Mesmerist, and cocktails

at Okinami. Plus Small Batch's everinformative

Coffee Guy, Alan Tomlins

77

97

Family.

85-86. Remixing the Booth Museum, and

outdoor activities for the Under 16s

Health and fitness.

87-92. Children's counselling, Albion's kit

manager, bike-frame maker Jon Chickens,

and salt-water floatation

Features.

93-97. Bluffers' guide to film making,

Brighton Chamber boss Sarah Springford,

and Fabrica's fab new extension

Inside Left.

98. A cowboy, a pirate and a mystery

jockey in New England Street, 1953

....5 ....
---
this month's cover artist

..........................................

....6 ....
---
this month's cover artist

..........................................

This month's 'dressing up' theme had us all thinking

about those lovely cut-out paper dolls we used to

have, which came with little cut-out outfits you

could dress them up in. So we were thrilled when

this month's cover artist, Sarah Young, came to us

with the idea of re-creating exactly this. "I thought

it was very apt for me to do this cover," she said, "I

had done a silk screen print years ago called The

Mothcatchers, and I wanted this design to have the

same mannequin clotheshorse feel." Initially there

were going to be two costumes: a bird and an insect,

but given the limited space on the cover of a Vivasized

magazine, she decided that one would work

better. The figure itself was designed to be "slightly

androgynous, with character, but faceless." As a

designer and print-maker, Sarah prints wonderful

cut-and-sew tea towels, which seem too beautiful

to cut up, and apparently many buyers pick up two:

one to keep and one to sew. We hope you'll feel the

same about your Viva, or at least that you'll have a

good read of it before you get crafting.

Sarah also forms one half of Tutton and Young,

the creative duo behind MADE Brighton (and

London) and Brighton Art Fair, which takes place

later this month. The fair "promises a good balance

of established and emerging artists," with

100 exhibitors from the UK and abroad. A few of

Sarah's ones to watch include Blue Beany, or Anna

Bean, who makes surreal constructed photography

prints and illustrations, Rosie Wates, who creates

mixed media theatre boxes, and Alberto Fusco, a

sculpted-paperwork artist. This year's event will be

supporting Chestnut Tree House hospice and there

will be a Big Heart Auction to raise money for the

cause. Each of the artists has been given two manila

envelopes, which they will decorate with their own

artwork, and the envelopes will be for sale during

Brighton Art Fair.

Rebecca Cunningham

sarah-young.co.uk. More information and advance

ticket details can be found at brightonartfair.co.uk.

24-27 September, The Corn Exchange

....7 ....
---
"SOME OF THE BEST RESULTS IN THE COUNTRY" CHANNEL 4 NEWS

"INCREDIBLE RESULTS. BEST EVER

BY ANY CO-ED SCHOOL."

THE GUARDIAN AUGUST 2015

CONGRATULATIONS TO ALL OUR PUPILS!

OPEN MORNINGS

COLLEGE 26TH SEPTEMBER 2015 (11+, 13+, 16+)

PRE-PREP & PREP 3RD OCTOBER 2015 (3+ TO 10+)

DAY, FULL AND WEEKLY BOARDING

01273 258692

WWW.BRIGHTONCOLLEGE.ORG.UK
---
its and bobs

...............................

on the buses:

spread the word

#5 Ben Sherman (No 12A)

Illustration by Joda, jonydaga.weebly.com

There was a time

when Ben Sherman

worked as 'a

waiter who serenaded

the evening

customers with a

variety of songs,'

according to the

brand's historian,

Paolo Hewitt.

Back then, Sherman

was still Arthur Sugarman, an expat Brit seeking

wealth in America.

He was born in Brighton, where his parents ran a

sweet shop and later a pawn shop. Too ambitious

to merely carry on the family business, Sugarman

moved to America in 1946, aged 20. In the following

seven years, he went through two marriages and

various jobs, including salesman and tobacco picker.

His third wife, Ruth, was the daughter of a successful

clothing entrepreneur, who hired Sugarman and

subsequently taught him 'every aspect of the business'.

The young protégé found the company's shirt

designs 'too conservative', and was 'bored and frustrated',

Hewitt writes.

Brought back to Brighton in 1961 by news of his

mother's serious illness, he set up a factory at 21

Bedford Square, initially 'making shirts for other

companies,' a former employee later recalled. 'He

slowly, very slowly, started to introduce odd samples

and bits and pieces he wanted to do. That's how it

all started.'

His shirts developed such cachet among mods that

Sherman was later described, by a Brighton Museum

pamphlet, as 'the Mod God'. In the mid-70s, the

firm's website notes, 'bad health meant he sold the

company and retired to Australia'. He died in 1987.

Further reading: Paolo Hewitt - My Favourite Shirt

Young Cody Clarke, of Sydney's Watsons Bay,

takes in July's issue of Viva Brighton – and news

of the British summer - whilst the winter sun sets

over the harbour. Carry on taking Viva wherever

you go and, via hello@vivamagazines.com, help

us spread the word…

brighton art fair offer

Over 100 artists exhibit at Brighton Art Fair.

To get your 2-4-1 ticket voucher, email your

name and address to 241@brightonartfair.co.uk

by Monday 21 Sept and you'll shortly be sent

a voucher in the post. Private View tickets for

Thursday, 24th September (6pm - 8.30pm), will

be available online for £10 and include an exhibitor

catalogue in the ticket price. Early bird tickets

are available online for £5.50. Tickets on the

door will cost £6.50 per person (children under

14 free). brightonartfair.co.uk

....9 ....
---
LEwes

LidO SWIm

ChalLEng

Saturday 19 September 2015

Take the plunge and join Team Macmillan

for our very own 2km or, more challenging,

5km sponsored swim at Pells Pool on Saturday

19 September 2015.

Sign up as an individual or get your friends

together to form a relay team! You can help

us ensure no one faces cancer alone.

To sign up and for more information

visit macmillan.org.uk/lidolewes

email swimming@macmillan.org.uk

or call 020 7840 4937

Macmillan Cancer Support, registered charity in England and

Wales (261017), Scotland (SC039907) and the Isle of Man (604).
---
its and bobs

...............................

jj waller's brighton

For our 'dressing up' theme JJ's chosen this shot: "Skinhead style has always appealed

to me, so the annual reunion at the Volks is a must for me and my camera," he says.

He's been further afield recently. "I'm working on a book about Blackpool so I've

been there many times this year. They're both seaside resorts, but they're enormously

different. One huge difference is in the clothes people wear. Brighton is very selfconscious

and style-led. I haven't seen a single beard-and-haircut thing in Blackpool."

....11....
---
TOUR THE

WINE ESTATE

EAT OR STAY AT

THE FLINT BARNS

EXPLORE THE

RATHFINNY TRAIL

HOST YOUR

SPECIAL EVENT

Rathfinny Wine Estate, Alfriston, East Sussex BN26 5TU / www.rathfinnyestate.com
---
Joe decie

...............................

....13....
---
Visit our Brighton shop in September and

get 15% off your curtain and blind orders.

23 New Road

Brighton

BN1 1UF

01273 605574

sales@mistersmith.co.uk

www.mistersmith.co.uk

Croft Road

Crowborough

TN6 1DR

01892 664152

info@mistersmith.co.uk
---
its and bobs

...............................

Pub: the colonnade

"He's called Willie," says Paul, outgoing

manager of the Colonnade pub on New

Road, about the slightly creeps-inducing

automaton that welcomes visitors into

the bar. "Nobody seems to know how

long he's been here, but a customer who

was an expert on suits told me the one

he's wearing would have been made in

the 1890s."

I'm having a chat with Paul about the

history of the place, which is owned by

the Theatre Royal, and run by the family

pubco The Golden Lion Group, as a

freehold. He won't switch Willie on because

"he's delicate, and anyway he's not

plugged in", but on a good day he'll doff

his top hat to you. He used to be clockwork,

but his innards were electrified in

the fifties or sixties.

The building used to house a cobbler's,

apparently, before being converted into

a 'Refreshment Rooms', then into a

'Wine and Supper Rooms', and then, in

1854, into 'The Colonnade Hotel', with

rooms upstairs. It was renovated in the

1890s, at some expense, judging from

the elegantly glazed green terracotta

exterior, and intricate etched-glass panels.

In this period the colonnade which

shelters the entrance from the rain used

to be the pick-up point for town-centre

prostitutes. "After the show," says Paul,

"you could hire out-of-work actresses

for the night".

The proximity to the theatre means it's

packed three times an evening: before

and after the show, and during intervals.

Often the actors come in, and many

of them have left their publicity cards,

which are framed on the wall, "but only if we like them." I

spot George Cole, Lionel Blair, and, remarkably enough, Judy

Garland (when was she in town?) "Rowan Atkinson was here

in the winter," says Paul. "He was a very nice man." I ask Paul

which celebrities he hasn't liked, but he's too discreet to tell me.

A little bit of research reveals that, before his time presumably,

Sean Connery was at least once a visitor, and Dora Bryan was

quite a regular.

The faded grandeur of the place takes some beating, making

the Colonnade quite a fun place to take visitors who want their

Brighton experience to be a bit Patrick Hamilton (though a

post-smoking-ban £50,000 renovation means it isn't quite as

shabby-chic as it used to be). And, as they don't do food, it's an

excellent place for a quiet lunchtime pint; if your appetite for

one makes it past their sinister doorman, that is. AL

Painting by Jay Collins

....15....
---
its and boBs

...............................

di coke's competition corner

The Royal Pavilion & Museums Foundation are delighted to offer one lucky reader the chance to win a year's

annual membership to the Royal Pavilion, giving you and one guest a year's unlimited free entry to the Pavilion,

Brighton Museum and all paying exhibitions, with a host of other benefits

too - find out more at brightonmuseums.org.uk. Three runners-up will win a

cream tea for two at the Royal Pavilion.

Inspired by the forthcoming exhibition, we'd like you to design and

name your own 'Exotic Creature' - it could be a drawing, a collage or

a model. Share a photograph of your creature on Twitter, Instagram or

Facebook with the #VivaBrightonComp hashtag - or alternatively, email

to competitions@vivamagazines.com. The most creative entry will feature

in our November issue and win the annual membership – the three runnersup

prizes will be awarded at random. Entries must be received before 30th

September 2015 and all ages are welcome to enter. Full terms and conditions

can be found at vivamagazines.com

Di Coke is very probably the UK's foremost 'comper', having won

over £250,000-worth of prizes. For winning inspiration and creative

competitions, check out her blog at superlucky.me

Relax in the latest state-of-the-art pod

Ocoon

A Healing Arts Centre

4 energises 4 rejuvinates

4 revitalises 4 promotes calm

4 increases creativity

4 allieviates stress

Our new state-of-the-art healing arts centre also

offers a wide range of natural therapies which include:

Allergy Testing | Beauty Therapy | Counselling

Hypnotherapy | Massage | Physiotherapy

Reflexology | Reconnective Healing | and more!

+ Studio for Yoga / Pilates / Creative Arts

OPEN 7 DAYS

01273 686882

www.cocoonhealthcare.co.uk

20-22 GLOUCESTER PLACE, BRIGHTON BN1 4AA
---
its and bobs

...............................

Secrets of the pavilion:

Anatomy of a room: The Saloon

Part 4: "Of superior taste and costliness" - The final scheme from 1823

From at least 1815, the designer and artist Robert

Jones became one of the most important creative

forces in the decorative scheme of the Royal Pavilion.

He was responsible for many rooms, including

the final Saloon scheme of 1823. In the last of our

series on this room I would like to give readers an

impression of how the room looked when Jones

decorated it and a taste of what visitors can expect

to see again soon. A significant current restoration

project aims to recreate Jones' scheme. As part of

this restoration, extensive re-silvering and re-gilding

on the wall ornaments has already been carried out.

The badly tarnished wallpaper will be replaced by

a replica of the original stencilled silver-on-white

design, while the Chinese export wallpaper that was

on the wall cartouches will be replaced by red silk

hangings - currently being woven by Humphries

Weaving Company in Sudbury, Suffolk - that can be

seen in an aquatint from 1826 from Nash's Views.

There are also plans to create a copy of the multicoloured

Axminster carpet, originally designed by

Jones, of which two design drawings and a large

fragment, the latter regrettably badly faded, survive.

The design for the carpet has been prepared by

Royal Pavilion artist and conservator Anne Sowden

and will be made by the Axminster factory.

Despite many changes to the structure of the

Pavilion, the Saloon still forms the centre of what

is an essentially symmetrical building and retains

its internal shape and dimensions from when it was

built in 1787. As I have shown in previous issues

of Viva Brighton, the room went through at least

three different decorative schemes, including an

early neo-classical scheme by Biagio Rebecca and

strongly coloured Chinoiserie schemes by John and

Frederick Crace, before the Prince Regent decided

on a near-complete redecoration of the interiors

following the great transformation of the exterior

by John Nash from 1815 onwards.

The scheme by Jones, which was implemented

shortly after George was finally crowned King in

1821, has often been described as a regal style, more

suitable for a newly crowned King, but while it lacks

the irreverent playfulness of the Banqueting Room

and Music Room, it is certainly lavish, daring and

impressive. In one of the earliest complete descriptions

of the interiors (llustrations of her Majesty's

Palace at Brighton, 1838) the author Edward Brayley

compared it to the earlier schemes and comments

that it was 'conceived and executed in a style of far

superior taste and costliness than have been previously

exhibited'.

The essential colour scheme was white, gold, silver

and crimson. Silver in particular was used most

lavishly and creatively, and is not often found in

British historic interiors in such quantity. Silver leaf

was used at low and high level on the wallpaper,

cornices, capitals, apse ceilings, and on wooden

pilasters around the room. It was applied to a variety

Japanned Saloon door © Royal Pavilion & Museums

....18....
---
its and bobs

...............................

of materials, such as stuccoed plaster, paper, metal

and wood, frequently in combination with gilding

and contrasting with wall hangings, draperies and

upholstered furniture in 'His Majesty's Geranium

and gold colour satin decorated with silk gimp'.

Large areas of re-gilding and re-silvering on carved

and stucco work at higher level are already completed,

while all but one of the pilasters and most

of the giltwood frames and gilded crestings have

been removed from site for the restoration work.

The tarnished silver and white wallpaper (an early

twentieth century replacement) has been almost

entirely removed and the Chinese-export wallpaper

(not original to the room) in the wall panels has

been taken down (see Viva Brighton July 2015). The

clouded ceiling on the dome dates from Victorian

times, although Jones' scheme also included a

painted sky. In 2005, following some water damage,

some of the silvered ornamentation from Jones's

original scheme was discovered in the south apse. A

decision was made to secure the original element, a

silver palm leaf, and re-create Jones's design in the

south apse, while leaving the rest of the Victorian

ceiling untouched. If you look carefully you can

make out the original leaf in the south apse.

While there are hundreds of Pavilion-related

design drawings by the Craces, very few drawings

by Jones survive, but there is one in the Royal

Pavilion archives that shows an unexecuted design

for the Saloon, with shaded lilac wallpaper above

the overdoors. Jones's account book entries reveal

his attention to decorative detail (often with the

aim to appear realistic or imitate exotic materials

and objects) and a penchant for shimmering and

reflective paint effects, resulting in a distinctive and

imaginative style.

Apart from balancing the colour scheme of the

Saloon with the newly created Banqueting Room

and Music Room, and the desire to create a more

regal look for this central space, the inspiration for

this interior may also have come from a room that

was about to disappear. The redecoration of the Saloon

coincided with the plans for the demolition of

Carlton House, George's London palace, which had

for a while been structurally unstable. At Carlton

House the so-called Circular Room boasted one of

the grandest and most lavishly decorated interiors.

It is possible that George instructed Jones to make

decorative references to it in his Brighton Saloon

scheme. The scheme as it appears in 1817 shows

striking similarities to Jones' design scheme for the

Pavilion Saloon, such as the sky ceiling, the general

layout and columnisation of the room, the combination

of reflective metal surfaces on one object or

in close proximity (bronze, silver, gold), and, most

importantly, silvered cornices and capitals. The

colour scheme was a combination of orange, pale

blue, red, black, green and silver.

Was George's intention to recreate in the Royal

Pavilion one of his favourite rooms of his beloved

London residence he knew would not be there for

much longer? It seems more than likely. The Circular

Room in Carlton House is certainly one of the

great lost British interiors. Likewise, the restoration

of the Saloon design by Robert Jones in the Royal

Pavilion will recreate a similarly great interior that

we almost lost.

Alexandra Loske, Art Historian and Curator

Saloon 1823, © Royal Pavilion & Museums

....19....
---
its and bobs

...............................

magazine of thE month: the white review

Can a magazine that only prints

1,500 copies of each issue be

called a success? (Yes.) Can a

magazine that has long-form

essays, reviews, interviews

and poems make it in this

140-character world? (Yes.) Is

there any point even stocking

such a thing in a shop? (Yes!)

Shouldn't magazines like this

just be in galleries? (No.)

How can we be so sure of

ourselves? Simple. Since we

opened our shop, the number

of people buying copies of

The White Review has doubled and continues to

increase. Some people rush in with delight when

a new issue is released, willing to put in the extra

time to reap the rewards of the outstanding writing,

the beautiful illustrations and the great design. Of

course, it helps us know we are right when the New

York Times describes The White Review as 'growing

in stature' and Deborah Levy describes it as 'nothing

less than a cultural revolution'.

Issue 14, published in August,

includes interviews with author

Rachel Cusk, artist and

film-maker Mark Leckey, essays

about Madrid and stories

by Joanna Kavenna and more.

(How can you resist a short story

by Owen Booth called I Told You

I'd Buy You Anything You Wanted

So You Asked For A Submarine

Fleet?) On top of all that, there's

a really fine essay about the author

of the cult book The Dice

Man that unravels who 'Luke

Rhinehart' actually was, and so

much about this book that tells the story of someone

who lives their life by continually letting the

die choose one of six possible options for action.

It's a serious thing, The White Review. Celebrities

don't exist in its pages. The reader has to do some

of the work. It refuses to wash over you. Isn't that

wonderful? Many people think so - and I'm certainly

one of them.

Martin Skelton, MagazineBrighton, Trafalgar Street

toilet graffito #8

Penny for your thoughts!

Our toilet correspondant, Fan Fan,

returns this month with this philosophical

graffito (which a second scrawler has

found too challenging). But in which pub

did she find it?

Last month's answer: The Mash Tun.

Thanks to Fiona Hilary Ward (@artisthis)

who tweeted saying she'd spotted

the mystery 'Alberto' (seemingly a black

cat) painted on the wall of Artschism on

Gloucester Road about two years ago.

....21....
---
its and bobs

...............................

goodmoney competition winners

Brighton-based social enterprise Goodmoney CIC recently ran

a competition in these pages for young people to design greetings

cards inspired by what they love about Brighton & Hove.

These greetings cards will be available to buy alongside a new

gift voucher that supports independent businesses in Brighton

& Hove. The four winning artists, chosen by a panel of judges

including our Art Director Katie Moorman, are: Nola Player

and Elijah Oakeshott in the Under 8s category and Rio Carroll

and Daisy Stansfield (pictured) in the 8-12 age group.

The winners and their families are invited to Goodmoney's

launch event on 24th September, where they'll be presented with

their prizes. This will also be the first time the gift vouchers will be available to buy, and will be a celebration

of independent Brighton & Hove. The event is open to the public and you can reserve your free place on

their website, goodmoney.co.uk. After their launch, the gift vouchers will be available to buy online and in

selected local stockists. The vouchers can be spent with a wide range of our best independent businesses;

from shops to eateries, sports clubs, kids clubs, local artists and more. Over 100 businesses have joined

already, with more joining by the day. Goodmoney gift vouchers are a great way for people to give the

best of Brighton & Hove as a gift, and give independent businesses a welcome boost.

⨀ 一 攀 眀 挀 甀 琀 漀 洀 攀 爀 猀 漀 渀 氀 礀 ⸀ 倀 氀 攀 愀 猀 攀 焀 甀 漀 琀 攀 ᠠ 嘀 䤀 䈀 ᤠ
---
eeze up

to the Downs

kids go

FREE!

See leaflets

for details

77

You can now breeze up to Stanmer

Park and Devil's Dyke by bus

seven days a week, and up to

Ditchling Beacon at weekends.

For times, fares, leaflets and walk ideas,

go to www.brighton-hove.gov.uk/breezebuses

or call 01273 292480

Or visit www.traveline.info/se

to plan all your journeys.

5480
---
CALLING ALL SUPERHEROES

SEE THE DARK KNIGHT RISES BATSUIT

AT BRIGHTON MUSEUM

& ART GALLERY

FROM 18 AUGUST TO

20 SEPTEMBER 2015

Brighton Museum & Art Gallery

brightonmuseums.org.uk

Open Tue-Sun 10am-5pm

Open Bank Holiday Monday

Admission fee payable

Members and Residents free

Tel 03000 290900

Image by Eva Rinaldi

BATMAN'S IN TOWN
---
photography

..........................................

Jean-Luc Brouard

Behind the catwalk

The fashion runway show is

one of the most heavily choreographed

and elaborate

showcases out there. For

most, the image we see is

the polished and composed

model on the runway. Here,

as part of Miniclick's regular

photo feature, Brighton-resident

photographer Jean-Luc

Brouard shows us another

side. Taking us backstage he

remains calm amongst all

the chaos…

How long have you been

working fashion shows? I've been shooting in a

working capacity at fashion shows for about five

years now. I have shot them for fun or personal

work for more like seven. I'd go along to meet up

with friends who were working on them (make-up

artists, models, production and so on) so it just

started from there.

Are you specifically asked to do backstage

work, or is that something you're naturally attracted

to? I do now tend to get asked to specifically

shoot backstage, thankfully. I've done runway

before but now I only do it under duress! I'm definitely

more interested in the backstage element of

the shows. I'm not great at waiting in one place,

I don't have a long lens and I really like working

with flash, so shooting from the runway pit isn't

really for me. Also I like to try and get shots that

don't look like everyone else's, there's a lot more

scope for that backstage than front of house.

These seem like quite hectic, stressful places,

yet your images are quite calm and considered.

How difficult is it to remain

calm and focus on your work

when you're in the middle of

it all? Backstage can be really

hectic, especially at bigger London

shows. Sometimes there's

20 or 30 other people trying to

shoot the 20 or 30 people trying

to dress, finish and check the

models before they walk. Usually

all in cramped spaces. It's

fairly easy to stay calm, though,

as I enjoy the pace of it. I just

always try to be polite: after

all the person who just trod on

your foot is trying to do their job, too. The few

times I get stressed are when I'm about to get a

shot and someone else sees you've seen something

and jumps in front to shoot it themselves!

A lot of your backstage work hides the subjects'

faces, behind clothes, wigs, in shadow or

behind the hundreds of hands trying to fix the

hair and make-up. Are you looking out for this

on purpose, or is that just a coincidence? I do

look for that a lot. Not always with success! I always

keep an eye on the background of people and

what they're adding or detracting from the shot.

At times you can pre-empt it and place yourself

for the shot you want, other times it's almost on

instinct. It's my eye and my finger on the shutter

that's in charge of when to shoot in these cases.

The brain kind of lags behind. Interview by Jim

Stephenson of Miniclick miniclick.co.uk

jeanlucbrouard.com. Miniclick celebrate their fifth

birthday with a whole day of events on Sept 12th

at the The Unitarian Church, New Road.

....25....
---
photography

...............................

....26....
---
photography

...............................

....27....
---
photography

...............................

....29....
---
column

...........................................

Amy Holtz

The truth is, I'm a Minnesotan

My partner is going to (not

so) Secret Cinema in London.

It's The Empire Strikes Back.

Being born in the 80s has relieved

me of fanatical Wookieworship,

and it's the reason

I'm 80 Galactic Credits better

off and not searching for the

perfect rebel fighter gloves to

go with my faction scarf.

My partner though, was born

in the 70s. 'If you don't get the

scarf,' he explains, 'then the

other rebels won't ask you to fight with them and

the whole thing would be pointless.'

I feel like suggesting, at this juncture, pointless is a

fairly accurate description even without the scarf,

but horses for courses. Instead, I posit the theory

that the Galactic Empire* has grown increasingly

infatuated with commercialism and that the

Cantina's new craft beer fridge should have been

the first warning.

'The appearance of craft beer at Mos Eisley* is a

good thing, though, because it means the Empire's

economy is stabilising and people can buy new

face scarves when the purges turn all of the planets

into poisonous wastelands.'

He frowns. He senses a feminist argument in the

Type 1 atmosphere*.

'There are loads of us going,' he reminds me,

swiping across to the next page of suede over-theknee

boots.

Except me, I think. Then, unexpectedly, I get that

feeling you get on a Sunday when you've been

dreaming about chickens all morning and some

pushy so-and-so who

stole the bartender's eye

mere seconds before you

is ordering the last of the

chicken roasts.

His fingers hover over

sand-camo 'knee armour'.

Knee-pads, I translate.

'Can I look?'

'No.' Swipe... swipe.

'How come?'

'Because you're not part of

the Rebel Alliance.' Well,

isn't that just the story of my life. I sit back, frown.

He shifts so I have to watch the swiping over his

shoulder. I'll look at Vanity Fair, I think, glancing at

Taylor Swift in a suit. There's an article on Botox,

Tinder AND Chelsea Clinton - hours of fun.

But my eyes keep straying back to the screen.

Even though I really, really want to see Taylor's

photo spread.

'You should get some trading crystals,' I say,

pointing.

He ignores me.

On the next page, there are starfighter jumpsuits.

I'm envisioning him, in that, space-cocktail drunk.

'Do you think,' I begin casually, 'that you'll be

wearing this home?'

He shrugs. He's moved on to the baseball scores.

My fingers are itching to go back to the Empire's

superstore. I don't even like fancy dress. But exclusion

is a powerful, unconscious persuasion.

'If I come with, what are the chances they'll let me

be Han Solo?'

*Don't be silly. Of course I googled this.

....30....
---
column

...........................................

John Helmer

Ibsen and me

Illustration by Joda, jonydaga.weebly.com

'Is this your first visit to Grimstad?' Tall and

twenty-something, Cedrik is our guide for the

Ibsen tour that my family has allowed me to

inflict on them. The playwright lived in this little

harbour town when he was young, and wrote his

first play here.

'I've never been to Norway before,' I tell him,

'but my great-grandfather was born in Grimstad.'

'Oh yes, I know about the Helmers.'

I do a double take.

'There were only 800 people in Grimstad at the

time,' explains Cedrik who, it turns out, is a bit

of a local historian. He is keen to share what he

knows, and since we modern Helmers are the

only people who have signed up for the tour, the

rest of it takes on a bit of a theme.

'… So this is where Ibsen lived – in a

house owned by one of your relatives.

He was an apothecary, but always away

at sea ...' These were useful absences.

The role of apothecary in those

days involved dispensing wine and

spirits, and my relative's long sea

trips allowed Ibsen, his assistant,

to turn the place into party central

for bohemian youth. Everyone

back to Henrik's. I picture a crowd

of whacked-out hipsters (one of

whom, it transpires, was a further

relative) in velvet jackets, slooshing

back the pharmaceutical hooch.

Ibsen also liked to go at it during the

day, getting high on his own supply

as he neglected the business and

cracked on with what was to

be the first in a long line of world-class gloomy

dramas.

Cedrik lets us into the house, which is being restored.

There's not much to see. I look across the

street to the doll's house of a place we're staying

at, called Café Ibsen. 'Do you think he actually

went there?' I ask.

'Certainly not: it didn't serve alcohol.'

I've always known there was some sort of Ibsen

connection, but the stories were vague. Besides

which, all family history projects are to some

extent self-aggrandising, and about as interesting

to listen to as other people's dreams. 'Even people

in the same family aren't interested in them,'

quips son Freddy when I try to tell him later

about ours. '—There: comedy gold; put that in

your column.'

So he never hears the last bit of the story.

I've brought a book to Grimstad, a town ledger

from 1897 that has come down through the family.

Cedrik's eyes grow round when I pull it out

of my IKEA backpack. There is a chapter headed

'Helmer', and though the text is in Norwegian,

you can clearly see the name Henrik Ibsen in one

of the footnotes. 'What's that all about?'

Cedrik translates. The footnote concerns a third

relative, whose story might or might not have inspired

a famous poem of Ibsen's called Terje Vigen.

He was arrested by the British Navy for breaking

the blockade of Grimstad during the Napoleonic

wars – rowing to Denmark and back for supplies.

They banged him up in Reading Gaol.

Drug landlord … Pisshead … Jailbird: what a

heritage.

I feel suitably aggrandised.

....31....
---
column

......................................

Chloë King

In loco parentis

I turn to Mr, making a face

not unlike that emoji our

Swedish students would text

when their bus was late. I

had to poll my friends to

find out what that 'toothy

grin' emoji meant - 'grimace';

'excitement'; 'slight

fear'; 'anxiety'; 'smiling

through pain'.

"They have my blog address,

my Twitter handle,

my Instagram… I've replied

Illustration by Chloë King

chocolate buttons off their

bedroom floor pleased me

no end. I needed my preconceptions

busting.

We're expecting two boys

next, a German and an

Italian, but then I get emails

from two Austrian females,

and a friend request from

one of their fathers. It's sent

me into panic.

"I feel uncomfortable," I tell

the school. "I don't want to

personally to their emails. Does he want to see be unfriendly, but my Facebook account is about

pictures of that time in 2008 I got so drunk I had as personal as the underwear on my washing line. I

half my hair shaved off? Would anyone want their want you to come to my house in order to see it."

teenage daughter to stay with a woman who, at any The young woman on the end of the line - clearly

point in her past, had shaved her head?"

regretting the huge quantity of calls she made

Mr looks at me saying: "I told you so," with his encouraging me to sign up has been matched 1:1

eyes and "this is what you signed up for, fool," with by queries from me – replies patiently, "you can

his mouth.

change your privacy…"

We're taking part in a fast-track course in 'Hosting ***

International Students', you see. So far we've been The night the girls are due, Mr and I tidy all evening.

in loco parentis to two fifteen-year-old Swedes for Julia and Leonie arrive at a time of night that renders

three weeks. That was easy, once we got over the my offer of a jacket potato downright bizarre. Few

shock of their arrival - we had just 24 hours warning

they were coming.

I'm brushing my teeth when the door goes again.

words are said then they hurry off to bed.

I spent the whole day doing housework, paranoid I hear Mr answer it, and a girl introduces herself

over my prejudice that all Scandinavians are scrupulously

clean. Mopping the pool of water that gathers have the wrong address. "CHLOë!" he calls up

as Julia. Mr says we already have a Julia; she must

under our sink, I thought it equivalent to seeing a the stairs and I come down in time to see Julia 2

squat toilet for the first time. The sort of thing that crumple. Her arms reach out, clutching onto a

makes you think, "how do people live like this?" dining chair. "THIS ISN'T PEACEHAVEN?" she

before you realise you are one of those people. cries, sobbing loudly. I look at Julia, then the taxi

Turns out I was half-right about the Swedish. driver, then my husband, smiling through gritted

They take lots of showers, but having to scrape teeth. "I think I'd better call the school."

....32....
---
column

.............................

Lizzie Enfield

Notes from North Village

"Look, there's loads of Prime Ministers!" My

daughter, then aged about four, was very excited

by this collective of political leaders.

I looked in the direction she was pointing and saw

a gaggle of HSBC staff on the pavement outside

their offices, having a fag and coffee break.

"Where?"

"There." She's pointing at the bank staff.

"But they're not prime ministers."

"Yes, they are. They're wearing prime ministers'

outfits."

By this she meant suits. So dressed down were all

the people in her life that the only time she'd seen

a man in a suit, it was the Prime Minister (Blair at

the time) on the news. Brighton pretty much operates

on the principle that every day is dress-down

Friday, and neither parent has a job that requires

much in the way of dressing up.

In another life I used to dress up for a proper job

(as a BBC journalist) and I still have the clothes

to show for it. But being a freelance

writer, working from home most of

the time, they don't get much of an

airing.

I do like to give them one, occasionally,

given the opportunity,

mind. The trouble

is the opportunities

that present themselves

have mostly involved interviewing

people even

more dressed down

than the denizens of the

North Village.

The most mismatched

I've ever been was going

to interview Larry Hagman,

a short time before he died. He was JR in

Dallas, of course.

Interviewing JR was an opportunity to pull out a

BBC dress and jacket from the back of the wardrobe,

if ever there was one. I met him in the London

hotel he'd arrived at after flying in from Texas

(or wherever it is he actually lives) the night before.

I was suitably smart. He was a bit jet-lagged,

had just got up and was still in his dressing gown

and pyjamas.

I've never felt so overdressed.

"Better than being underdressed," said a friend

who is an award-winning TV producer.

The thing with award-winning producers, at least

the ones I know, is they never expect to win the

awards. So they turn up at ceremonies expecting

to skulk at the back rather than having

to parade in front of the cameras

in a suit and… trainers.

"I thought my feet would stay under

the table," he said afterwards, just

as another person (I happen to live

with) thought all of him would stay

off camera, when he was nominated

for an award and told he had to wear

black tie.

"Can't I just wear a jacket and tie?"

"No. If the invite says black tie then

you should wear black tie."

He ended up sitting two seats away

from Kevin Spacey. Thank God for

the last minute dash to Moss Bros,

I thought, as I watched him appear

on the telly looking so smart as to be

virtually unrecognizable.

"Nice Prime Minister's outfit," we

told him after.

Illustration by Joda, jonydaga.weebly.com

....33....
---
history

..........................................

Sir Victor Barker's secret past

WW1 hero, or lady landworker?

Valerie Barker had been tomboyish long before

she had met Ernest Pearce Crouch, and fallen

for him, and had two kids with him, and watched

him lose his job on a national newspaper and

start drinking too much.

But it was Pearce Crouch who, without meaning

to, pushed her further in that direction; dangerously

far, in fact. The final provocation was the

time he grabbed her by the hair and hit her in

front of her best friend. She decided to start a

new life as a man. This was autumn 1923, around

September.

It was partly an empowerment thing, an economic-opportunity

thing, of course. But it was also

a chance for a female Littlehampton farmer to

enter Brighton high society.

Having kicked Pierce Crouch out, she was left

with her freedom, a home, and a way to make a

living. She could have just renamed herself Mr

Barker and carried on tending the farm, and

"would no doubt have got away with it forever,"

her biographer Rose Collis says. But that wasn't

enough for her.

On October 15, 1923, Valerie Barker cycled to

Ford railway station, and boarded a train. She

got out at Brighton as Colonel Sir Victor Barker,

a baronet and First World War hero with an abdominal

wound, a Distinguished Service Order,

and some impressive war stories.

"I guess it's a kind of madness, isn't it? It is

hugely risky," says Mark Bunyan, who's written a

musical-theatre biopic of Barker. "But I think she

can see the good lives that she could have if she

were a man, and just goes for that."

Barker had prepared carefully, smoking a 'continuous

chain of cigarettes… to coarsen my voice,'

roughening the skin around her chin, strapping

her chest down, getting hold of the right medals,

and making sure her hair and all her clothes were

correct. "She wasn't wearing ladies' underwear,

because that would have changed how she felt,"

Collis says. "Nothing was left to chance." But she

was still nervous when she first presented herself

at the reception desk of the The Grand.

'The manager, staff and guests all accepted me

without question. In [the] lounge and bar I was

greeted as a good fellow. I smoked and drank

with the male guests, and paid little courtly attentions

to the womenfolk. As the weeks slipped

by, I began to experience a sense of exhilaration

that I was "getting away with it"'.

Having 'discovered that boldness was the best

way to allay suspicion,' in her own words,

'Colonel' Barker swam in the hotel pool, went

horseriding, mingled in high society, and did

some acting for the Brighton Repertory Company.

She even got married.

Elfrida Haward, her best friend from Littlehampton,

apparently believed Barker's explanation

about an abdominal war wound which had

forced 'him' to live as a woman previously. And

Elfrida's parents believed it too, or believed it

enough to worry about the family's reputation,

as she and Barker were sharing a room at the

Grand. They pressured Barker to do the gentlemanly

thing.

The wedding was at St Peter's Church on November

14th, 1923. It's not clear what happened

on the honeymoon, but both women always

denied any lesbian tendencies, and Collis thinks

....34....
---
they were telling the truth. "In the

whole book I didn't say Barker was a

lesbian because she wasn't… I think

it was a very asexual persona, it was

like, 'this is how I'm happy living, in

this gender role.'"

And Barker was good at playing the

role, Collis adds. She was "six-foot

tall and pretty broad", with impressive

knowledge of "what was expected

of a gentleman, how to speak

to people, what wine went with what

food, and how a gentleman would

dress". Most importantly, "it was

the confidence with which she did

it. I think that's the key to this. 'Of

course I'm Sir Victor Barker!'"

But the money started running

out, and she left the Grand, and

Brighton. 'Sir Victor' moved around

a lot, trying to make money through

acting, dealing antiques, running a

cafe, working as a hotel receptionist,

and brief spells of manual work. Elfrida

left him. He got involved with a

British fascist group. And he carried

on spending too much.

"Then, of course, it all unravelled,"

Collis says. "Barker was brilliant at

getting away with living as a man,

but hopeless with money. And that

was his or her downfall." She was arrested

in February 1929 over a £103

debt, and in prison, as Bunyan puts

it, "a routine strip search revealed

Photo courtesy of Rose Collis

things that were far from routine."

The revelation, and subsequent court case, provoked vast press

coverage, and public outrage. The novelist Radclyffe Hall called

Barker 'a mad pervert of the most undesirable type,' and the

judge at the Old Bailey was equally scathing.

"The fact it ended up at the Old Bailey was extraordinary,

because the charge was falsifying a marriage certificate," Collis

says. "To end up as a major trial… That's how seriously it was

taken in those days, it really was. 'You have offended God's laws

and we're going to punish you for it.'"

After nine months in prison, Barker carried on living as a man,

moving around, working various jobs, and continuing to get in

trouble over money. At one point, she was reduced to appearing

in a freakshow in Blackpool. However, neither Bunyan nor Collis

think of it as a particularly tragic story. Bunyan says: "I don't

think it's ever a tragedy when someone makes a go of it - has an

amazing go of it. And she did." Steve Ramsey

With thanks to Mark Bunyan and Rose Collis, whose book is

called Colonel Barker's Monstrous Regiment

....35....
---
Photo by Adam Bronkhorst

....36....
---
interview

..........................................

mybrighton: Nicky Röhl

Moshimo co-owner and Costume Games Festival Director

Are you local? I grew up in Kingston near Lewes.

My dad moved there in the mid-sixties, at the same

time as lots of other lecturers at the new University

of Sussex. The village was built for them: they were

all the same sort of age, and came from similar

backgrounds, and had kids at the same time… and

many split up at the same time too! It was truly a

unique time and place to grow up… very experimental

in its way; it would make a good subject for

an anthropological study of life in the seventies.

Why did you locate Moshimo in Brighton? We

set up our first restaurant in London in 1994, and

rapidly opened two more successful branches there.

For our fourth we wanted to show potential investors

that a sushi bar could work outside of London,

and Brighton was the obvious choice: we knew it,

and it was being touted as London-by-the-Sea…

But it wasn't quite like that! When we opened in

2000 it was a real struggle because people were still

very suspicious of sushi. It's amazing to think how

the culinary scene has changed since then.

So when did you move here? In 2000. Like many

people we found living in London with kids was

unaffordable. I hadn't ever got to know Brighton

that well, in spite of growing up in the area. My

view of the place was as a scuzzy sort of town,

skewed by the fact that I had mostly visited it on

a Friday or a Saturday night as a teenager, but as I

started coming down here to build the restaurant,

I discovered what a fantastic place it is – except for

the centre of town on Friday and Saturday nights,

which is still pretty grim.

Can you recommend any other restaurants,

beside your own? The problem with restaurants

is that one bad experience and you go off them. My

favourite used to be [names city centre pub] but

one night before Christmas it was too cold there,

and the phone kept ringing and ringing, and it took

forever to be served. I haven't been there again. We

should all be more forgiving: restaurants are like

theatres: there are lots of factors involved in getting

it right, and sometimes you just have a bad night.

Do you go to the pub much? Not that often any

more, but I love real ales. I like the Evening Star.

How would you spend a perfect Sunday afternoon?

I prefer to work seven shorter days than

five full ones, so I try to make every late afternoon

a Sunday afternoon, hanging out with my kids, or

swimming in the sea…

Do you do much exercise? I'm a year-round

swimmer. There's a group of us that aims to swim

every day. It's interesting: I know people in that

group better than I would if I met them down the

pub every day, from the different ways they confront

the challenge of getting into the water.

Do you think Brighton has changed for the

better while you've lived here? In many ways, but

not in others. Brighton used to be full of underutilised

spaces, like the car park with weeds growing

out of it where they built the Jubilee Library.

Nowadays every space possible is exploited in some

way. I miss the rubble, and the city's unselfconscious

charm. But the food and coffee is definitely better!

Why have you 'converted' the Brighton-Japan

Festival into the Costume Games? I wanted a

festival that was relevant to more people. In this festival

we're throwing together real people who like

getting dressed up with leading costume designers

from the film industry, and mixing it up. And where

better to do something like that than Brighton? AL

The Costume Games, 16th-20th September,

thecostumegames.com

....37....
---
Open

daily

from

12pm

DJ's

Bands

Cocktails

Photo Booth

Areas to reserve

Local beers & ales

Sea facing terrace

Free high speed WiFi

www.patternsbrighton.com

10 Marine Parade, Brighton, BN2 1TL
---
local musicians

..........................................

These Animal Men

Beautifully flawed

Brighton band These

Animal Men had a

brief but controversial

stint in the 90s,

finding themselves

on Top of the Pops and

championed by the

NME, but imploded

before the end of

the decade. Now the

band has reformed

for a one-off gig

in London for the

launch of a new documentary (charting their demise)

called Flawed Is Beautiful. We spoke to the one

they used to call Hooligan.

How well do you think the film captures what

went on? The film catches it all. We were lucky

enough by accident or design to be in the eye of

the culture storm at the time. We were loud and

fundamental in our views, which meant we were

both lauded and hunted like animals. This made for

interesting times and most of it was caught by the

camera. The director Adam Foley's talent for storytelling

makes the film a testament to the times.

What was the band trying to achieve? We had

the colour and the noise and it didn't represent the

order of the time so this lit all the fireworks. We

were pilloried for being cartoons but the truth of it

was that we really were like that. Fame and careers

were no driving factor at all.

What, if anything, did you do wrong? Everything!

As it should be…

Is there a contradiction between what the band

were about and the inevitable nostalgia involved

in making a film 20 years later? Contradiction is

maybe the wrong word. A desperate desire not to

mess with our twentysomething

selves. A

cynical deathwish is to

be avoided at all costs.

What was the music

scene in Brighton like

when you started?

There were plenty of

great bands in Brighton

in the late 80s and early

90s. We had the 'riot

grrrl' scene associated

with Huggy Bear, I

think a landmark in music. It felt like a graphic

novel come to life, a major influence on us. The

band Spitfire lived it how they strutted it. Brighton

had all the rogues you could shake a stick at in

those days.

These Animal Men once played a gig in my

school canteen in Shoreham. How did that

happen? We put on a tour of schools in protest at

young people being excluded from licensed concert

venues. We were forced to cancel them all except

yours. An English storm over nothing (a stink over

the Speedking single rhetoric). We fought on too

many fronts and had our Stalingrad. Glad the one

gig left was in Shoreham.

What exactly happened at Phoenix Festival in

1994? The film tells the story of that year in UK

music culminating in the festival. Suffice to say it

was a Battle of Waterloo with the forces of love and

total contempt fighting it out to the death. Who

won is still up for debate. You will have to see it to

understand. Interview by Ben Bailey

These Animal Men are playing at Heaven in London

on 11 September alongside S*M*A*S*H and a

screening of the film. flawedisbeautiful.com

....39....
---
Gigs In Brighton...

MARK LANEGAN

Wednesday 2nd September

Concorde 2

OUTFIT

Wednesday 9th September

The Hope

NIMMO

Thursday 17th September

The Green Door Store

KID WAVE

Friday 18th September

Sticky Mike's

BROTHER AND BONES

Tuesday 22nd September

Komedia

GIRL FRIEND

Wednesday 23rd September

The Hope

SUMMER CAMP

Friday 25th September

Bleach

JENN GRANT

Sunday 27th September

The Prince Albert

5 Sep Mini Maker Faire

10 - 11 Sep Fake it 'Til You Make It

19 Sep SPECTRUM

19 Sep Bring Your Own

Beamer

19 Sep Seun Kuti & Egypt 80

22 - 26 Sep Avenue Q

6 Oct Shobana Jeyasingh

Dance

RHODES

Tuesday 29th September

Komedia

RAG 'N' BONE MAN

Tuesday 29th September

Concorde 2

BEN OTTEWELL

Tuesday 29th September

Komedia Studio

NEW MOTION

Wednesday 30th September

Komedia Studio

@LoutPromotions

LoutPromotions.co.uk

01273 709709

brightondome.org
---
local musicians

..........................................

Ben Bailey rounds up the Brighton music scene

TOGETHER THE PEOPLE

Sat 5 & Sun 6, Preston Park, 12pm, £75

What's that?

A weekend in

Brighton with no

festival? Luckily,

local promoters

One Inch Badge

have plugged the

gap with a brand

new open-air weekender in Preston Park. Whilst

offering an impressive array of headliners for a

first-time festival (Super Furry Animals, Billy Bragg,

Roots Manuva, etc), TTP also seems like a genuinely

homegrown event with locally-sourced food

and drink and a 'soapbox stage' dedicated to local

charities and community groups. Brighton music

is well represented too: from The Levellers and

Brakes to up-and-comers like Normanton Street,

MOK, Verity Sessions and Wild Cat Strike.

ANAL BEARD

Sat 12, Prince Albert, 8pm, £5

Even if you've never heard their music, you've

probably heard the name. It's not easily forgotten.

Having peddled their peculiar brand of comedic

punk since the 90s, the Beard are finally calling it

a day with a blowout farewell show at one of the

only venues in town that was around when the band

began. Over discordant thrash and end-of-the-pier

keyboard ditties, the band's two frontmen will no

doubt be doing their best terrible dancing whilst

bickering about crappy holiday camps and obsessive

record collectors. As if to prove their point, they've

put together a 108-track compilation to mark the

occasion. Support comes from fellow musical buffoons

The Lovely Brothers.

NICE WEATHER FOR AIRSTRIKES

Fri 18 – Sun 20, The Haunt, 7pm, £25

After five years at the

Druids, Brighton's

annual post-rock

festival has found a

new home. Branching

out to embrace

ambient and cinematic

sounds alongside their usual anchor of guitar noise,

NWfA has booked Brooklyn loopist Julianna

Barwick (pictured) and minimalist cellist Jo Quail

whilst welcoming back northern post rockers Her

Name Is Calla. There are plenty more acts still to

be announced, but so far Written In Waters and

Speak Galactic are heading up the local contingent.

That an operatic diva can sit comfortably on the

same bill as a wig-out krautrock trio tells you all

you need to know about the diverse scope of the

festival's line-up.

RAG'N'BONE MAN

Tues 29, Concorde 2, 7pm, £10

Though an unlikely candidate

for the role of a mainstream

soul singer, it looks like

Rag'n'Bone Man might just pull

it off. With a songwriting style

that's grounded in classic blues

and soul, but bolstered by the

production values of hip hop, this guy makes music

that's radio-friendly in the best possible way. It also

helps that he has one hell of a voice. This night is

part of a series of curated shows he's putting on at

various venues around the UK, starting off in his

hometown. He'll be performing alongside his handpicked

support of Tiggs Da Author and Òlah Bliss.

....41....
---
digital festival

...........................

Digi-Fears

A world ruled by robots?

From dystopian novels to the Frank Zappa rock

opera which features a 'nuclear-powered Pan-

Sexual Roto-Plooker', the idea of intelligent robots

has habitually intrigued, worried and inspired artists.

"Well, it's the uncanny, isn't it?" says Lorenza

Ippolito. "Something that is close to our perception,

our idea of ourselves. It's near us but it's not.

There's that kind of double take, I think."

With fellow artist Cici Blumstein, Ippolito is curating

two 'Digi-Fears' events in September, the first

of which is a panel discussion called: 'A new world

has begun! The rule of Robots!'

Lorenza: My idea is just having the time during the

Digital Festival to sit down and chew the fat about

what robots are and what they could be, and maybe

also take into consideration dystopian ideas and

fears about robots, and the fact that they could take

over the world. I was just interested in seeing what

people think.

Cici: I'm intrigued by what ever-more sophisticated

robots elicit from humans. Like maybe feelings

of possibly being replaced.

Lorenza: It's interesting, the word robot

comes from a Slav word meaning

slave. So that kind of sets the

intention of what these machines

are, for us, in a way. Or should be,

for us. But at the same time they

might become more clever and

take over.

I'm also interested in the

idea that with every

new technological

advance, we lose a way of thinking. When photography

came into mass usage, the idea of perception

of space and distance changed forever. So how will

robots change our perception of housework… Or

sex workers? They've already completely changed

the idea of war making. If you give computers,

algorithms, the power to decide who to kill or who

not to kill, and why, etc, that becomes… that's a

very interesting subject to discover, to talk about.

Cici: It's this humanoid kind of appearance, and

capabilities that are being developed ever faster,

combined with the kind of utter machineness that,

once that algorithm is in place, it will do that thing,

whatever that thing is.

It's that really deep question: 'What it is to be human?'

You keep knocking up against that when you

talk about robots, because the aim is to get as close

as possible to robots being human in some way, as

convincing as possible. So then, what is that, that

humanness? I think that's why writers and other

artists are so interested in them. Whereas if robots

were simply boxes that speak…

Lorenza: Our house is already full of machines;

we've got washing machines, hoovers…

Cici: But robots always have that extra bit that

makes them somehow, not independent, but having

their own agency. It's implied somehow. That's

something that makes them very interesting.

Cici: Will robots rule the world? I hope not. Would

that be an improved world? I don't think so. SR

'Digi-fears' is part of Brighton Digital Festival. Part

I, on robots, Sept 8, Fabrica, 2.30pm. 'Part II: Help!

Evil Digital Forces Are Trying To Control My

Messy Body', Sept 26, Onca Gallery, 2pm.

Both free.

....42....
---
digital festival

.........................................

[Data]Storm

Digital rain dancing

"Basically, [Data]Storm

is a classical ballet

about computer science

theory. There are

particular ideas we're

looking at, about the

internet, networks, data

transmission, signal

processing, viruses…"

This is Genevieve

Smith-Nunes, a Computing

teacher and dance fan who, as part of her

ongoing efforts to make her subject as fun-andnon-intimidating

as possible, has created two

computer-science ballets.

The first, [Arra]Stre, dealt with "computational

thinking", binary, algorithms, etc. "All the programmers

that watched it were like, 'Oh my - I

just saw checking and validating!'"

[Data]Storm follows the travels of a bit of data,

played by one of the dancers. "Data has a pretty

rough journey a lot of the time. It doesn't go

from my computer to yours; it goes from mine to

15 different servers around the world, and then

ends up on your computer. And also, depending

on where it is, it might use satellite data. So then

it's got to go through the atmosphere; does that

affect it, the same as electrical storms affect lots of

different signals? It's really interesting, I love stuff

like this."

To make it clearer what's going on, there'll be

some visual projections based on weather data,

which will serve as a kind of metaphor. "People

understand weather, they know what rain does,

and what storms are, and how they travel across

the world, the same way as data does.

"We're using weather patterns to create some of

the choreography, so they

actually dance weatherfronts

and things. It's datadriven

dance, basically.

"We're using weather and

climate to help people

with the visualisation of

abstract concepts, which

may be quite hard to do.

What is the internet?

What is signal processing?

You can't really visualise that unless you have some

kind of clue. And we use classical ballet because it's

a really good way to marry the algorithmic nature

of classical ballet and computer science."

Eh? "If anyone's done classical ballet they'll understand

that it has set sequences, set forms, and

its own language, usually old French. That's like

the programming language of classical ballet. You

could turn all of those motifs into a programme.

Which is just the choreography, really. It's very

structured, the same way as programming is…"

The student dancers chosen for [Data]Storm

hadn't been doing computer science, "but actually

they really like it now. We always explain the little

bit of theory that they're going to dance. Once

they do more and more movement, and start

dancing, they actually have a physical memory of

the theory; it's quite interesting."

It's hard to imagine how computer science theories

could be danced, especially something like

encryption. But Genevieve says that one's in the

show. "We might not be able to do it as literally as

you would like, as it might look boring. We're taking

artistic license with some of it…" Steve Ramsey

[Data]Storm (part of Brighton Digital Festival), The

Old Market, Sept 13, 6:30 pm

....43....
---
攀 㨀 戀 漀 漀 欀 椀 渀 最 猀 䀀 挀 漀 瀀 瀀 攀 爀 搀 漀 氀 氀 愀 爀 猀 琀 甀 搀 椀 漀 ⸀ 挀 漀 ⸀ 甀 欀 簀 琀 㨀 㜀 㜀 㜀 㔀 㔀 ㈀ 㜀 ㈀ 㜀

䈀 伀 伀 䬀 䤀 一 䜀 匀 伀 一 䰀 䤀 一 䔀
---
theatre

...........................

Avenue Q

Who would be a puppeteer on Avenue Q?

Avenue Q's acting-and-singing-and-dancing audition

process is so competitive that no experienced

puppeteer has ever made it into the cast of any of

its professional runs in the UK. You need to be

talented, but also willing to use that talent in a show

for which you're dressed in grey and you're trying

to blend into the background, to keep the attention

on the puppet.

You have to fight your actorly instincts, restraining

your movements and facial expressions, expressing

the character's feelings solely through the puppet.

Which you have to learn to operate - while also

learning to play to the other puppet, not the puppeteer,

which is "a bit like talking to someone but

looking over their shoulder the whole time".

As there are only four of you, you each have to

learn the lines and songs for two or three characters,

and deal with the fact that some puppets require

two operators. Then there's the physical strain

of holding your hand up in just the right position,

for long periods, in rehearsal and during performances.

And, if you're Trekkie Monster, you have to

stand on stage and enthusiastically sing about how

'The Internet is for Porn'.

But actually, Nigel Plaskett, long-serving puppet

coach for the UK version of Avenue Q, is very

upbeat about the whole thing. The recruits see

learning to act through a puppet as a challenge

rather than an irritation, he says. It is physically demanding,

but they're given regular physio. Though

the puppets are the stars, it's the humans that get

the applause at the end. And they get to be part of a

musical which Plaskett says is so good that, though

"I've seen it over 200 times now… I do still laugh at

it, and I find that remarkable."

Given the various challenges involved, why do

it with puppets at all? First of all, of course, it's

a parody of Sesame street, an affectionate look at

[Sesame Street-type characters] after they've gone

out into the real world. That was the starting point.

And yes, I think you can say things with the puppets

that you couldn't say with actors. There are certain

things you can't do without the puppets because it's

physically impossible, and some things you probably

wouldn't want to do in front of an audience.

Is the sex scene a particular challenge for puppeteers?

Well, not so much a challenge, but… they

can use their imagination at that point, be inventive.

We do try and re-block that scene for each actor.

Do any of the puppeteers get embarrassed

about delivering certain lines to a big audience,

like in 'The Internet is for Porn? No, not at all.

In fact they enjoy it, because they get such a huge

response. More embarrassed, perhaps, about doing

the sex scene, but they get over that quite quickly

too. At least they're not doing it themselves. SR

Avenue Q, Tues 22 - Sat 26 Sept, Brighton Dome

Concert Hall

....45....
---
interview

.........................................

James Naughtie

On life after Today and looking forward to a lie-in

"'Shambolic' is the word people often write,"

says James Naughtie, the long-serving Today

programme host. He seems to get characterised

as a lovable, bumbling intellectual: a

deeply knowledgeable Westminster insider and

asker of thoughtful, incisive and long-winded

questions who, in the Radio Times' words,

'frequently loses the weather and cannot tell

listeners the correct time'.

I would only add that he's affable and talkative

and interesting, and we had to reschedule the

interview because he initially sent me his number

with two digits the wrong way round.

"I'm afraid the shambolic adjective is not

entirely unfair. My wife gave me, as a birthday

present, a new device, an app, where you put

tags on things - your keys, wallet and so on - so

you can find them. It was a very thoughtful

thing. But, two days before my birthday, I lost

my phone.

"That side of me is inescapable; it just is the

case. I once left my passport on the wrong

side of the Berlin Wall; I once lost a wallet in

Buenos Aires and the taxi driver drove right

across the city to bring it back… I think people

overdo it, though. John [Humphrys] is always

going on about me chewing my polystyrene

cups in the Today studio, which I maybe did

once or twice."

Naughtie grew up in a village near Inverness,

and started his career on the Aberdeen Press &

Journal, later working at the Scotsman and the

Guardian. "I loved it, phoning in stories late at

night, writing against deadlines. It's just who I

am. I never really wanted to do anything else.

"Funnily enough, on Today, when I get in there

at 4am, writing scripts for the programme, I'm

doing what I was doing as a kid journalist in

the 70s. It's the same thing: 'What's important

about this? What's interesting? What do we

want to find out? What does it mean? What

happens next?' And I am somebody who's

always thinking A) why did they do that?, and

B) what happens next?"

Naughtie is "a news junkie", who is so fascinated

with the human drama of politics that if

you ask him about it, you may get a nineminute

answer.

In this case, the answer took in: How a generation

of politicians have grown up with the idea

that they must never look weak or uncertain,

or change their mind. Why they should be

more open about the limits of their power, the

awkwardness of decision making, and the fact

there are no perfect solutions. And something

a Congressman once told him, that the really

difficult thing isn't the policy decisions, but

dealing with the fact that playing the game,

and advancing your career, will likely cost you

friendships.

"If you have any contact with people in public

life, you realise that they've decided to pay

a heavy price," Naughtie says. "I think most

people still go into politics for very good

reasons, because there are things they want to

achieve. But who would live a life like that if

they weren't driven by some desire to get to

somewhere near the top?

"That means it can be a very lonely business,

and self-doubt does come into it. Watching

....46....
---
interview

.........................................

somebody fall from grace - it's not a pretty

sight. Whether you think they deserve it or

not, it is sometimes a tragedy being played

out on the stage. I think politics is like that;

it's not a machine, it's a human drama, which

is why it's so fascinating."

He does acknowledge that presenting Today

gets him close to the centre of that drama.

But then again, he also does classical-music

stuff for the BBC, and has presented Radio

4's Bookclub since 1998. Is he a hard-nosed

news journalist or is he a sensitive, bookish

opera lover?

"I don't know that I'm sensitive… I'm a

news person; I love new things, and being

out describing things, telling people what it's

like to be there. The business of politics just

fascinates me. And I love getting a ringside

seat at important moments.

"But at the same time, I love music, books,

and having a life that isn't just about who

do you vote for, who do you support, why

are you voting for Jeremy Corbyn or Yvette

Cooper or whoever it happens to be.

"I think if you just do one thing, you get

trapped in a rather tedious world. I enjoy

the different sides of my life. It's part of my

personality, I suppose. Maybe I'm just a butterfly.

But that's the way I am, and I couldn't

really be anything else.

"When I stop presenting Today at the end

of the year, I'll do different correspondent

roles across Radio 4, broadcast about things

I like, do quite a bit on the constitution in

Scotland and so on, a bit of foreign reporting,

a bit of fireman duty for big stories.

But I'll also do a lot of culture. So, honestly,

if you'd asked me to write [an ideal] job

description, what is happening to me after

January is exactly what I would say. I'll be

doing the things that I want to do, but I

won't be getting up at three in the morning."

Steve Ramsey

Radio 4 Bookclub, with Tessa Hadley, Fri 25

Sept, 1.30pm, at Charleston, as part of the

Small Wonder festival. For ticket info, see

bbc.co.uk/programmes/b006s5sf. For other

festival tickets, see brightonticketshop.com

....47....
---
theatre

...........................

Claire Dowie

John Lennon's still wearing that skirt

Claire Dowie once wrote a play about childbirth

and called it Leaking from Every Orifice. A feminist

humourist and pioneer of 'stand-up theatre', she

said in 2013 that 'when I first started stuff [in the

80s] it was really radical… I'm on the curriculum

now for A-level.'

What is Why is John Lennon Wearing a Skirt

about? It's about growing up as a woman and the

world being for men. Everything – I think it's still

true now – is sort of geared towards men. Sixties

and seventies TV programmes were all men, it was

Dr Who, James Bond, The Saint, Man in a Suitcase,

Randall and Hopkirk Deceased… You still get films

where women are going 'yes dear, I love you dear,

anything you say dear', and they're not actually

human, for want of a word. They're just there for

the men. A lot of men do seem to think that women

are just there for men, and that's what John Lennon's

kind of about.

Would that atmosphere have affected your

generation's psyches? Absolutely. Even today, you

see women doubting what they want to do, and

not sure whether they should be allowed to do it.

They've been taught, from a very young age, to not

be counted.

I gather John Lennon also deals with clothing,

like women's clothing is meant to be good

looking while men's clothing is meant to be

practical? Yeah, it's about everything to do with

women… I was watching the news this morning,

watching a female newsreader. Yay, we've got a

female newsreader, fantastic. But I was watching her

desperately trying to hold her stomach in. You're

thinking 'how can we take you seriously when your

main concern is holding in your stomach?' But

that's what women have to do to be newsreaders.

This guy with his big pot belly was just standing

there natural and normal.

Was it easy to find humour in those themes?

Yeah, because that's the way I look at life anyway,

that sort of black humour… I hate people who take

things too seriously. It can be tragic, but you can

laugh at it; you should laugh at it.

How was John Lennon received during its initial

run, in 1990? It sold out, it really took off. The audience

were kind of divided between… There was

a lot of division in those times. That was the height

of feminism, and women's liberation, and everybody

was trying to do something, which was great, but

a lot of women were worried about whether they

were doing it right. It's the same thing; women not

having the courage of their own beliefs. That still

goes on today, because women still aren't encouraged

to be autonomous.

So the play's still relevant? That's the tragedy of

it. Also it's a good thing for me because I've got

something to do. Steve Ramsey

Claire Dowie performs Why is John Lennon Wearing

a Skirt (Sep 29, 8pm) and H to He (I'm Turning

Into a Man) (30 Sep, 8pm), both at The Otherplace,

otherplacebrighton.co.uk

....48....
---
comedy

...........................

Mark Thomas

Forgive us our trespasses...

Mark Thomas is the guy who drove a tank, decorated

as an ice-cream van, to a minister's house, and

asked for tips on exporting it to Iraq. He's the guy

who, in the late 90s, posing as a PR consultant, got

an Indonesian Major General to admit that 'we do

some tortures'.

He's 'stopped arms deals… investigated everything

from Coca-Cola to inheritance tax avoidance,' and

'been arrested on numerous occasions', according

to the press release for his latest show. That document

also quotes prominently the Metropolitan Police's

description of him as a 'general rabble-rouser'

and 'alleged comedian'.

Thomas started out in the 80s, 'working on a building

site by day, and hammering the comedy circuit

by night,' in the Times' words. In the 90s, he got a

Perrier nomination and his own Channel 4 series,

which lasted six seasons. But he fell out with them,

he later said, 'when they suggested making Celebrity

Guantanamo Bay and offered me a place'.

A hard-to-classify comedian/performer/journalist/

activist, he tells me his latest show is "what I normally

do: go away, have adventures, cause trouble,

fuck people off, come back and tell the story."

What is Trespass about? It's about public space

and the privatisation of it. About corporations buying

it up, and the consequence of what I think is a

mass takeover of public space.

Who's buying them? Hedge funds, management

groups, the Qatari wealth fund, Mitsubishi… all

sorts of people.

Why? Just as an investment? Yeah. How much

do you think London property has risen? It's huge.

You can basically buy a shed and wait five years and

make a fortune.

Why would they then want to control these

spaces? If you're going to buy it then you will

want to control what happens within it. So if you

buy a shopping centre, what you'll want to do is to

maximise the number of people in your shopping

centre who are shopping, rather than, say, having a

social gathering.

What kind of effect does that kind of thing have

on the public? Well, there'll be all sorts of things

that you can and can't do. So if I go onto a public

highway I can demonstrate, hand out leaflets, hold

a meeting, make a speech, busk, do pavement art,

anything I want. But there, you wouldn't be able to

do any of that, it'd be forbidden. Which means that

rights that we have as individuals, in law, are eroded

from these spaces.

How did you start to realise that the subject

– which at first glance seems unpromising

and potentially dry – would actually make an

interesting show? It's kind of what I specialise in.

I always find things that look really unsexy and go:

'Let's make a show about that'.

Do you think politicians in general are wellmeaning

people? I think people have ideas and

ideologies and practicalities and agendas, and someone

can be totally nice and honest and reasonable

and still be an utter bastard in the way they treat the

poor. Steve Ramsey

The Old Market, Sept 16, 8pm, £15/£13

....49....
---
Digital treats

& electronic

beats

Over 100 events all over

Brighton all of September

#BDF15

brightondigitalfestival.co.uk
---
cinema

.........................................

How to Change the World

The genesis of Greenpeace

Jerry Rothwell's latest

documentary sprang

from a serendipitous

moment in a research

library in the States.

"The guy sitting next

to me happened to be

looking through reams

of archive film footage

shot in the early days

of Greenpeace," he

tells me, "working out what to throw out." Jerry

realised he'd stumbled upon a cinematic goldmine,

as the founders of the movement, "little more than

a bunch of hippies in a boat", had filmed every

manoeuvre they carried out. When this involves,

for example, placing a manned rubber dinghy

between a whale and a Russian whaler's harpoon

gun, and watching the harpoon being fired anyway,

fifteen feet over their heads, you can imagine

some of the resulting footage is pretty sensational.

Jerry did further research and realised that there

was a human angle to the story of the early days

of Greenpeace – namely the conflict between the

leaders of the organisation - which could drive the

narrative along, turning his movie into "something

more than just another rallying eco documentary".

One of the inner circle of the group was a dedicated

film-maker, who was filming the day-to-day

existence of the group off and on their boat, so the

struggle for power that developed, centring round

their unelected and often unwilling leader Robert

Hunter, was also well documented.

The resulting film that Rothwell wrote and directed

- How to Change the World - was seven years

in the making, and he intersperses the archive

footage (from 1971-1979) with specially filmed

talking-heads shots from

many of the people involved.

These range from

a synthesiser player who

was employed to make

whale-like noises from the

Greenpeace boat's deck,

to Patrick Moore, who

replaced Hunter briefly as

leader of the group, and

has more recently reinvented

himself as an active climate-change denier.

"It was quite easy to get people to talk," says

Rothwell, "because there were many different

sides to the story, and everybody wanted to be in a

position to voice their own."

The one protagonist who doesn't get interviewed

is Robert Hunter, who died in 2005. Nevertheless

Hunter is the central character of the film. A

journalist by trade, he had the vision to understand

that he could manipulate the media into getting his

environmental messages across to the public if he

served up 'mindbombs': well strategized manoeuvres

that would be guaranteed front-page column inches

and first-item categorisation on the news channels.

He was so successful he became an international

hero, but the pressure that resulted from his success

nearly destroyed him. It's a gripping story.

Rothwell includes excerpts from Hunter's biography

throughout the film, and ends it when he

bows out of Greenpeace, in 1979, after which the

organisation was converted into an international

concern, under the presidency of Jeff McTaggart,

based for its first ten years in Lewes. Alex Leith

8pm on Sept 9 at Uckfield Picturehouse and Duke

of York's, followed by a live-broadcast Q&A with

Jerry Rothwell. howtochangetheworldfilm.com

....51....
---
BREMF 2015 celebrates Women through

the ages – as composers, performers,

inspirational characters, muses and symbols.

Highlights include ancient Arabic, Jewish and

Christian songs from Joglaresa, silent film and medieval

music with the Orlando Consort, and a new production

of the earliest opera by a female composer – Francesca

Caccini's La liberazione di Ruggiero.

Tickets from £5 at bremf.org.uk

or Brighton Dome Ticket Shop on 01273 709709

Resident Music The Vinyl Frontier

BREMF15 Viva Lewes15 v1.indd 1 Dome Box Office

(Eastbourne)

27/07/2015 10:22

Venue if applicable

Union Records

seetickets.com

Music's Not Dead

(Bexhill)

ticketweb.co.uk

Pebbles

(Eastbourne shows)

Age restrictions may apply.

Friday 11 September — The Hope & Ruin

(with friends Dictionary Pudding)

DRINKS

+ The Soft Walls

Monday 14 September — The Hope & Ruin

Girlpool

+ Nai Harvest

+ lilcraigyboi (DJ)

Saturday 19 September — Towner Gallery,

Eastbourne

Club Abstract

Thursday 24 September — Otherplace at

the Basement

H Hawkline &

Gwenno + support

Friday 9 October — The Haunt

Two Gallants

+ support

Monday 26 October — Komedia

Ron Sexsmith

+ support

Monday 9 November — Komedia

Julia Holter

+ support

Tuesday 10 November — Komedia

An evening with

Alela Diane &

Ryan Francesconi

Tuesday 17 November — Komedia

Mercury Rev

+ Nicole Atkins

+ Wolf Solent (DJ)

Wednesday 18 November — Komedia

The Mountain Goats

+ The Weather

Station

Thursday 26 November — Komedia

Built to Spill

+ Disco Doom

meltingvinyl.co.uk
---
CINEMA

..........................................

Scalarama

Great cinema… but not necessarily in cinemas

With over 500 diverse events across 300 venues

in over 100 towns and cities up and down

the country (and beyond), Scalarama, now in

its fifth year, is an openly-sourced season of

film events, with each screening programmed

by a different organisation or individual,

often in collaboration with established exhibitors

but increasingly using alternative spaces.

In venues as diverse as Redroaster coffee

house in Kemp Town, the Brighton Media

Centre on Middle Street and the glorious

Emporium theatre on London Road, there's

plenty to enjoy. Kicking off the festival at

Fabrica, Duke Street, on Tuesday 1st is a rare

screening of Shirley Clarke's The Cool World

(1963), the first commercial film to be set

in Harlem; this cinema verité-style feature,

replete with soundtrack by Dizzy Gillespie,

focuses on the 14-year-old leader of a local

gang as he attempts to survive the violent

expectations of his environment. The film is

part of a Clarke retrospective that includes

the stunning Portrait of Jason (1967), Ornette

Coleman: Made in America (1985) and debut

feature The Connection (1961). If nothing else,

do try to see these films.

Other highlights include a screening of the

German Expressionist classic The Cabinet

of Dr. Caligari with a live score by Partial

Facsimile, more horror glory with a screening

of two versions of Nosferatu, a season of films

based on the life and work of Oscar Wilde,

Germaine Dulac's avant-garde classic The

Seashell and the Clergyman, on 16mm, with

a live score by Drill Folly and Miles Brown,

and, as a fitting Closing Night gala, a chance

to see Alejandro Jodorowsky's surreal, psychedelic

nightmare, Santa Sangre.

Another stand-out moment is the screening

of B-Movie: Lust & Sound in West Berlin

1979–1989 (2015), playing at the Duke of

York's on Sunday 27th. Brought to us by the

good people at KissKissKino and Sensoria,

this documentary on the music and art scene

in West Berlin prior to the fall of the Wall is a

fascinating insight into this very special time

and place that attracted radical artists of every

hue to create a unique moment in popular

(sub-)culture. Serious fun.

Yoram Allon

....53....
---
MODERN AND

CONTEMPORARY

BRITISH

PAINTING AND

SCULPTURE

WE LOOK FORWARD

TO WELCOMING

YOU TO OUR GALLERY

IN HOVE.

OPENING TIMES:

MON—SAT

10.30AM—6PM

SUNDAY/BANK HOLIDAYS

12PM—5PM

CLOSED TUESDAY

FOR ENQUIRIES TELEPHONE 01273 727234 OR EMAIL CAMERONART@AOL.COM

1 VICTORIA GROVE, 2ND AVENUE, HOVE BN3 2LJ TWITTER @CAMERONART10

CCA_PallantHouse_Advert_106x148_Jan2015_v1AW.indd 1 17/01/2015 10:12
---
cinema

..........................................

Yoram Allon takes a look at other film highlights

Elsewhere in the city, movie magic continues

in many different guises. Firstly, in the

firm hope that we enjoy more of an Indian

Summer than the supposed real thing,

Brighton's Big Screen keeps the flag flying

for classic and family films showing on the

beach just east of Palace Pier, through to

Sunday 13th. Highlights include Richard

Linklater's tour-de-force, Boyhood; Ridley

Scott's masterpiece, Blade Runner; Alfonso

Cuarón's groundbreaking Gravity; obvious

but still satisfying selections such as Quadrophenia

and Brighton Rock; and the full-on

genius that is School of Rock. Just pray that

the rain holds off.

Meanwhile, over at the Duke of York's, as

well as getting fully behind the Scalarama

shenanigans (including the screening of

F. W. Murnau's Nosferatu with a live score

by harpist Elizabeth-Jane Baldry as part

of their 105th birthday celebrations on

Tuesday 22nd) Andrew Haigh's excellent

45 Years, starring Charlotte Rampling and

Tom Courteney, while Friday 11th sees the

opening of Woody Allen's latest offering, Irrational

Man. Both these strong films herald

the return of more sensible fare after the

inanity of the traditional summer blockbuster

season.

Other events of note at DoY's this month

include the all-day one-off screening on

Sunday 6th of Bruno Dumont's tragiccomic

crime story P'tit Quinquin, the French

TV four-part mini-series that's been getting

rave reviews and favourable comparisons

to David Lynch's iconic Twin Peaks, as well

as Roger Waters' The Wall getting another

airing on Tuesday 29th.

In addition to these fine filmic events, the

DoY's 'Vintage Sundays' strand continues,

with screenings of – amongst others –

Marco Ferreri's black comedy La Grand

Bouffe (6th) and John Huston's classic, The

Misfits (13th), scripted by Arthur Miller and

starring Marilyn Monroe and Clark Gable.

Over at the Duke's at Komedia, the excellent

'Discover Tuesdays' strand presents

its customarily strong mix of features and

documentaries, including the incendiary

Best of Enemies (1st); Alice Rohrwacher's

slow-burning family melodrama, The

Wonders, starring Monica Belluci (8th);

and award-winning Andalucia-set murder

mystery Marshland (15th).

....55....
---
....56....
---
art

.....................................

Solange Leon de Iriarte

Whatever the weather

Solange Leon de Iriarte spends more of her time

working outdoors than in her studio. The Scottishborn

Chilean artist creates her pieces in situ, sitting

outside for hours, enduring the great British weather.

"I almost died of hypothermia twice this year; I had

heat packs on my wrists and feet, and on my back, but

if it's February and you're not moving, your body gets

really cold," she says. Rather than try to protect her

work from the elements, she embraces the impact they

can have on a drawing: "What rain does to ink is really

beautiful;" she explains, "the lines blend and they soften."

Puppy paw prints and seagull droppings have also

made their mark on her work.

Solange has dedicated her time to her art since leaving

a career in architecture five years ago. "My mum

wouldn't let me study art, because she was a painter herself

and she didn't want me to have to go through the

hardship and sacrifices of being an artist. She said, 'if

you want to study art, you have to pay for it yourself.' So

I had to study architecture, but, me being me, I chose

the most creative, avant-garde, artistic architecture

school I could find."

She studied in Chile at the University of Valparaiso,

which uses an area of land called the Open City to

give students the opportunity to design and build experimental

structures, which their professors then live

in. "The really exciting part of designing a building,

for me, was how people were going to use it," she says,

"but detailing windows was not so great." The school

encouraged students to devote their time to drawing,

telling them to 'come to class with 20 drawings, or don't

come to class at all.'

While architecture remains her key influence, the energy

and movement in her pieces give life and soul to

an otherwise stationary structure. You can tell, without

seeing any human figures, whether it has been a busy

day or a quiet one, stormy or sunny. "It's the expression

of movement that matters," she says. "I drew a

piece during Paddle Round the Pier, and the beach

was packed. These pieces are more difficult to draw,

they're 'noisy' pieces."

Just before part of the West Pier broke away last

winter, she managed to get one of the last drawings

of the structure in its previous state. "I went down to

the seafront in the wind and rain, and drew for three

hours. By the time I'd finished my drawing was so wet

I couldn't take it home, so I brought it to the café underneath

the Bandstand and asked if I could leave it

there until the rain stopped. By the time I got back to

pick it up, the structure had fallen." RC

Solange's work is at Cameron Contemporary Art, on

Second Avenue, in the 'Black White Light Dark' Show,

5 Sept–5 Oct. cameroncontemporaryart.com.

solangeleon.com

....57....
---
design

................................

Batsuits you, sir

Costume specialist Graham Churchyard

What attracted you to working in costume?

I grew up in London, so from a young age I was

able to see what people were wearing on the

Kings Road and Carnaby Street, then, as a teen,

I got into punk and the New Romantics. My first

costume job was a bit of an accident. I applied to

work for a company called Bermans and Nathans.

I didn't really know what they did; I just thought

it sounded interesting... I worked there for seven

years, on many productions, with many designers.

Working on things like The Empire Strikes Back

and Superman II, I realised costume isn't just about

sequined dresses and funny hats; it can be technical

and challenging.

You worked on the first Batman film as well as

The Dark Knight and The Dark Knight Rises.

How has Batman changed? Batman has always

had a wonderful silhouette, but what has changed

greatly has been the technology and materials that

have gone into creating it. Early Batman had a

foam-latex bull neck that caused the so-called 'Batturn',

meaning he had to swivel at the waist. By

developing a lighter foam mixture, we improved

that. For The Dark Knight and The Dark Knight

Rises, he was still sculpted and moulded, but the

neck became a separate piece from the cowl.

What does your job involve exactly? I start by

pulling the team together: model makers, technicians,

cutters, dressmakers, on-set standbys... The

number of people involved in a costume like Batman

is quite incredible. With Costume FX we use

both established techniques, and try to innovate

with new materials and technologies. We make

prototypes, for example, if we have an army we

make samples that can be reproduced in-house or

in workshops all over the world. We might have

leatherwork from India or chainmail from Italy. I

have to ensure that we get the best for the budget,

in terms of visuals and practicality.

What do you love about your work? The greatest

pleasure is in combining the creative design

side of a costume with the technical and practical

aspects. I also like the collaboration between

myself, the costume designer, director and in later

stages, the actor. This worked particularly well

during the making of the Bane mask on The Dark

Knight Rises. The point when you see the actor

really owning the costume - seeing how they will

take it forward to help them create the character -

is probably the most exciting moment.

What will you be talking about at The Costume

Clinic on 19th Sept? I will be part of the

'Bat Panel' - a line-up of professionals, including

Oscar-winning costume designer Lindy Hemming,

that have worked on every Batman film. We will

talk through how things have changed, as well as

how much has stayed the same… There'll be a few

tales from behind the scenes too.

Anything to add? Capes are cool… and a leading

man needs the right hat. Chloë King

The Batsuit will be on show at Brighton museum

until Sept 20, as part of thecostumegames.com

....59....
---
Charleston, Firle, near Lewes,

East Sussex, BN8 6LL

For more information call 01323 811626

Tickets from 01273 709709 or

brightonticketshop.com

charleston.org.uk/smallwonder
---
literature

..........................................

Unexploded

Alison MacLeod's frightened Brighton

Alison MacLeod's 2013 Bookernominated

novel, Unexploded, has

been picked by the organisers of

this year's Shoreham Wordfest as

the 'festival read'. Unexploded spans

a year of life in Brighton during

WW2, 1940-1941, when the town

was under threat of Nazi invasion.

This very real sense of threat and

terror is at the forefront of the

novel and permeates the life of

every character.

However, as MacLeod was keen

to point out, when I meet her at The Emporium

in Brighton, this is not a book which is set solely

in the past: "When I write historically," she says,

"I am only ever interested if I am really writing

about the contemporary".

It is no surprise, then, that the idea for Unexploded

was conceived during the days after the 2005 London

bombings. "That's really how the book came

about, I didn't start off by any means thinking I

want to write a WW2 novel." Thinking about the

way in which the fear of terrorism is felt across the

world and perpetuated by the media, MacLeod

turned to WW2, and Brighton in particular, to

explore how we are currently affected by this

persistent sense of threat.

Though London was devastated during the war,

"with Brighton it was different, it was more

psychological. Bombs were being dropped but

they weren't constantly being dropped, at Park

Crescent there were unexploded bombs. But what

interested me was that the Nazis had a psychological

strategy for Brighton. They called it terrorism

and it was about terrorising the

population."

MacLeod was also drawn to writing

about Brighton after having

noticed a paucity of novels set in

this city: "It is so rich, there are all

these little palimpsests of stories

here and a whole range of life,

from wealth to poverty, real light

and darker elements... I just became

alert to the possibilities and

had antennae up for Brighton and

then on the antennae a sense of

untold stories began to arrive. The way Brighton

had been affected had not really been explored."

By setting the book in Brighton, MacLeod

succeeds in shedding light on the reality of the

situation whilst simultaneously creating a palpable

sense of surrealism. Walking around the streets of

Brighton after reading Unexploded one wonders

how this city could have ever had an internment

camp at the racecourse; how it bore this

interminable sense of invasion. But we know that

it did, and MacLeod's use of hindsight enables the

book to avoid sentimentalism and nostalgia and

instead captures "the tissue paper of stories, shifting

about, layer upon layer... at the same time not

letting it shift so much that the tension falls out

but to keep a sense of urgency. For me very logical

realism makes too safe a container for a story and

so I wanted those touches of the surreal to shake

it… just to make it seem like it can't be true, but it

is." Holly Fitzgerald

Shoreham Wordfest, 20 Sept-10 Oct,

shorehamwordfest.com

....61....
---
ighton maker

................................

'Mr Flame'

Inventor Paul Harrison

How would you describe what you do? I don't

know quite... explore, invent. I'm the inventor of

the silk flame illusion – that was back in 1999. I

was exploring just for my own amusement, making

some wind-driven puppets, and I came up with

the flame. Then I worked with everyone: Disney,

MTV, the Brit awards, the Royal Opera House,

the Metropolitan Opera house. I had four years of

being 'Mr Flame' and going round the world with

it, but I had some dodgy business people, it all went

a bit squirly-wirly and lots of people copied me, so

I developed into other prop-making stuff. But the

flame gave me a bit of wind under my wings.

What did you do next? I moved down here and

did a whole load of signs – all the big hand-painted

shop signs – for everybody pretty much around

Brighton. And I'm quite famous for my inside-out,

upside-down and back-to-front piano which I used

to busk with. I found the piano in a skip - you find

them all the time in skips - and opened it up and

took out all the moving parts. It's tuned to all the

black notes. I've made some dreamy, other-worldly

music on it, now I'm making film music for the

BBC. It's been used on The Voice.

What have you been making recently? An

illusion, for a new bar called The Yellow Book on

York Place. It's going to be like looking down a

bottomless ladder surrounded by three hundred

bottles of champagne. It's about a metre and a half

squared and about the same deep and people will

walk across the top of it. I had the idea and made a

prototype of it, before someone turned them onto

me. You've just got to make things when you think

of them so you can show people.

Where do you work? This amazing place came

up, at The Old Foundry in Lewes. It's this incredible

hundred-year-old building where the ironwork

for the West Pier and Brighton station was built,

but it's due for demolition. It's enabled loads of

things for loads of people. I had a big studio in

Brighton but it was nowhere near as big as this. I

have the space to store things which never really

would have got off the ground and to tinker about

all day. If you want to find out more about the

building there's an interesting video on my website,

or have a look at lewesphoenixrising.com.

What's your favourite invention? My favourite is

whatever I've made the week that I make it. Then it

gets put on the backburner and I make something

else and the new thing becomes the favourite. RC

harrisonsbrighton.co.uk

....62....
---
Photo by Katya de Grunwald

Photo by Amelia Shepherd

brighton maker

................................

The Maker's Atelier

Kemptown's maven of handmade

The Maker's Atelier occupies an achingly enviable

subterranean slice of a Regency block in Kemptown

and its founder, Frances Tobin, seems as

comfortable in her own skin as she is in her super

stylish (homemade) clothes. Put simply, it's a place

to spend a day learning dress-making skills from a

person with a dyed-in-the-yarn love of textiles. But

it's so much more. Her clothes, she says, "are really

for any woman but she's all about style. It's about an

attitude rather than an age". And she's right.

It's also the home of her online pattern store. If

you've ever bought a dressmaking pattern, it can

be an underwhelming experience, but The Maker's

Atelier's patterns - the very objects themselves - are

beautiful. Promisingly packaged in a string-tied,

card envelope, there are two coats, two dresses,

tops, a pencil skirt and a jacket to choose from and,

for those lacking Frances' feel for fabric, they come

as makers' kits too, including all the material and

trim you'll need. For the fully immersive experience,

you can make a dress in a day or a coat in a

weekend with Frances to guide you. Her premise is

that the simplest shapes, in beautiful fabrics, make

the most successful clothes.

But like many things that look simple and effortless,

The Maker's Atelier is the creative tour de

force of decades of experience. Frances made her

first skirt when she was eight, and already obsessed

with fabric. Her father was an avid collector of

textiles and her mother made clothes for her and

her four siblings, so the scene was well set. She

names David Bowie as an early influence; "When

I saw him I was living in Worcester, hating convent

school, and I realised – Oh God – I can get out

of here!" If he could change his image every week,

it meant she could too and, after studying Textiles

at Brighton University and the Royal College, she

spent years in the industry, initially at Les Copains

('for the love of yarn') and then stints with Versace,

Thierry Mugler, Gucci Sport and others.

She's inhabited squats and tumbledown breweries

and elegant apartments in Bologna but now lives

and works in the Kemptown atelier. The space itself

is an exercise in the same pared-back cool; a

blank canvas, full of possibility and worthy of its

own article. The sample clothes on the rail are all

simple lines and beautiful fabrics and, Frances tells

me, incredibly easy to make. I can't think of a nicer

place to spend the day.

Of her latest project she says "I loved building

brands and thought it would be a challenge to

build the Net-a-Porter of patterns. Luxe and what

I wanted in my world. Then I thought 'I'm going

to do this'".

And so she has. The Maker's Atelier has just celebrated

its first birthday and her mission to inject

style into homemade is firmly on track.

Lizzie Lower

Patterns £22.50, Makers' Kits from £30, Experience

Days from £195. themakersatelier.com

....63....
---
we try...

........................................

Knicker making

A frill a minute

I'm at Sew Fabulous, a not-for-profit sewing

school run by friends Sue and Susie in the Open

Market, learning how to sew my very own pair of

frilly knickers.

Firstly Sue takes me through the basics of using

the sewing machine: checking that it is set up

correctly and threading the machine. "It's always

good when you're starting a new project to test

out your stitching on a piece of scrap before you

start using your expensive fabric," she explains, and

we practise a few straight stitches and the zig-zag

stitch which we'll be using to sew the elastic onto

the knickers, to allow them to stretch.

After I've carefully selected my fabric and chosen

a co-ordinating elastic trim, Sue shows me how to

correctly cut out the pieces, resting the blunt edge

of the fabric shears on the table, to keep the fabric

laying flat. I cut out the front and back

pieces, and the gusset, ready to be stitched

together. The construction of the knickers

is relatively straight-forward and

quite therapeutic. One seam in, I've

already decided I'm going to make

myself ten more pairs when I

get home, and another pair for

everybody I know. Susie tells

me that they get lots of hen

parties booking in for group

workshops, and their cosy

studio feels like the perfect place

for a little natter.

Sue started sewing almost by accident;

as a young mother looking to

develop a new skill she found a college

which also had a crèche, so she

enrolled on courses in sewing and

carpentry. I think it's obvious which

one won. Susie started making her own clothes

from a young age and became fed up when the

things she had made started to fall apart because

she hadn't known how to make them properly, so

she decided to learn. They've been running Sew

Fabulous together for about a year, but running

these workshops is only the beginning of their

plans for the studio.

Their ultimate aim is to be able to offer free or

subsidised sewing lessons to people who need

them most. The unemployed, young people from

disadvantaged backgrounds and people on low

incomes are charged on a sliding scale according

to what they can afford. To fund this, Sue and Susie

teach regular workshops like the one I've been

on today, as well as after-school clubs for kids and

parties for adults. They also hold 'sewing socials'

where anyone who needs a machine

or space to work can come along for an

hourly fee, and one of the ladies will be

on hand for support.

I get to the final stage of making my

knickers: stitching the elastic trim

around the edges. Sue shows

me how to stretch the elastic

evenly and stitch it into

place, which is really fiddly

and takes up all of my

concentration.

On closer inspection, my

stitching is all over the place,

I've let the fabric overlap the trim in

places and underlap it in others, but

I don't care. I've made them myself

and I shall wear them with pride.

Rebecca Cunningham

sew-fabulous.org

....64....
---
talking shop

................................

Gladrags

Who do you want to be today?

How did Gladrags begin? I used to work in community

theatre as a costume designer and I always

had a tiny budget, so I had to be very creative with

what I could find and adapt. At the same time, I

worked in nursing, caring for elderly people. I had

to run reminiscence sessions, helping them to remember

things from their past and tell stories; I

wanted to make costumes accessible to projects like

these. I started to develop my own small collection

which I lent out, and it grew organically from

there. Now I've got a fantastic team of volunteers

and around 6,000 costumes which we hire out to

schools, community groups and amateur dramatics.

How much does it cost to hire a costume?

Schools and community groups pay about £3-£6

for an adult's costume. We have people coming to

hire costumes for parties and festivals who pay about

£20-£25, which is part of how we subsidise lending

for those who need it, but only a small part. We also

do a lot of fundraising.

What will you be doing this month? During

the Costume Games we're going to be within the

arena, and we're running a special costume deal.

There are lots of events where people need to turn

up in costume and we want to encourage them to

come here! For some of the events we are running

a costume bus. On the Sunday there's a costume

carnival for children where people are encouraged

to come dressed up. Any proceeds will be going towards

Gladrags - it's our 21st year, and as a way of

celebrating that, we're holding 21 outreach events.

What does your outreach work involve? We

teach sewing skills to children and young people,

focusing on those living in deprived areas, as

a means of maintaining their own clothes. Some

sessions we run during school time for kids with

special needs; tasks like threading a needle develop

fine motor skills, and there's a direct correlation

between this and literacy or handwriting skills. It's

also a nurturing space for the child; they could be

very bright but issues around self-confidence might

mean that they're not be doing so well at school.

Do you teach any adults? We also work with

communities and groups who aren't able to access

all of what Brighton has to offer, either because it's

beyond their budget or beyond their cultural interest.

In my experience, communities who are geographically

on the fringe of everything that's going

on can feel like it doesn't apply to them. We'll

be holding a big fundraiser on 27th November to

help us raise funds towards our 21st birthday aim of

reaching communities like these with our popular

dressing-up, storytelling, sewing and reminiscence

projects in their area.

Rebecca Cunningham talked to Vania Mills

01273 609184/gladragscostumes.org.uk

....65....
---
䤀 一 䐀 䤀 䔀 ⴀ 䴀 䄀 刀 吀 䈀 刀 䤀 䜀 䠀 吀 伀 一

䈀 爀 椀 最 栀 琀 漀 渀 ᤠ 猀 渀 攀 眀 椀 渀 搀 漀 漀 爀 洀 愀 爀 欀 攀 琀 椀 猀 漀 瀀 攀 渀 椀 渀 最 漀 渀 一 漀 爀 琀 栀 匀 琀 爀 攀 攀 琀 ⸀

∠ 䄀 栀 甀 戀 昀 漀 爀 搀 攀 猀 椀 最 渀 攀 爀 猀 Ⰰ 洀 愀 欀 攀 爀 猀 愀 渀 搀 椀 渀 搀 攀 瀀 攀 渀 搀 攀 渀 琀 戀 甀 猀 椀 渀 攀 猀 猀 攀 猀

∠ 䰀 漀 眀 挀 漀 猀 琀 Ⰰ ˻ 攀 砀 椀 戀 氀 攀 琀 爀 愀 搀 椀 渀 最 猀 瀀 愀 挀 攀 椀 渀 愀 栀 椀 最 栀 昀 漀 漀 琀 昀 愀 氀 氀 愀 爀 攀 愀

伀 倀 䔀 一 䤀 一 䜀 匀 伀 伀 一 ℀

䘀 漀 爀 猀 瀀 愀 挀 攀 愀 渀 搀 猀 琀 愀 氀 氀 攀 渀 焀 甀 椀 爀 椀 攀 猀 Ⰰ ǻ 氀 氀 椀 渀 琀 栀 攀 漀 渀 氀 椀 渀 攀 昀 漀 爀 洀 愀 琀 㨀

眀 眀 眀 ⸀ 椀 渀 搀 椀 攀 ⴀ 洀 愀 爀 琀 ⸀ 挀 漀 ⸀ 甀 欀 漀 爀 攀 ⴀ 洀 愀 椀 氀 栀 攀 氀 氀 漀 䀀 椀 渀 搀 椀 攀 ⴀ 洀 愀 爀 琀 ⸀ 挀 漀 ⸀ 甀 欀

㘀 ⴀ 㜀 一 漀 爀 琀 栀 匀 琀 爀 攀 攀 琀 Ⰰ 䈀 一 䔀 䈀 ⠀ 攀 砀 倀 椀 攀 爀 ⼀ 䌀 愀 爀 最 漀 猀 琀 漀 爀 攀 Ⰰ 渀 攀 砀 琀 琀 漀 䄀 洀 攀 爀 椀 挀 愀 渀 䄀 瀀 瀀 愀 爀 攀 氀 ⤀
---
the way we work

This month, Adam Bronkhorst photographed some of Brighton's seamstresses, alterers

and dressmakers. "My influence for the shoot came from a documentary I'd watched

about a photographer who didn't shoot in 'available light' – as most photographers

describe lighting conditions – but preferred to shoot in 'available darkness'. He

thought people were more interesting and relaxed in darker conditions." We asked

them to tell us about the item of clothing they bought longest ago.

www.adambronkhorst.com | 07879 401 333

Annia at The Zip Yard, thezipyard.co.uk

"Actually these trousers; I got these zips put in and one day I fell off my bike

and tore the knees so I got the guys here to sew in some patterned patches."

....67....
---
the way we work

Evangelina at Helen's Alterations, helensalterations.co.uk

"I have a lot of clothes from the 90s. The other day I was going to a gig and

I pulled out this ridiculous bias-cut plaid dress that I wore as a student."
---
the way we work

Kat at Sew in Brighton sewing school, sewinbrighton.co.uk

"The item I've had the longest is probably something I made myself. The first pair of jeans

I made were a pair of hipster flared jeans, about 10 years ago."
---
the way we work

Wendy at Sew What Darling, sewwhatdarling.co.uk

"It would be my first pair of stilettos, which I bought aged 15, from Saxone

as they were the only place I could buy size two shoes from – I have ridiculous feet!"
---
Beat the traffic & arrive in style

Long furlong Barn have teamed up with Elite Helicopters

to offer flights to Goodwood Festival of Speed

and The Goodwood Revival.

Arrive at the barn and enjoy a full english breakfast

whilst taking in the stunning views before being picked

up by Elite Helicopters for your 10-15 minute flight to

Goodwood avoiding all the traffic and arriving in style!

Find out more at

www.elitehelicopters.co.uk

Call us: 01903 871 594

Email us: EnquiriEs@longfurlongbarn.Co.uk

Visit us: www.longfurlongbarn.Co.uk

find us: Clapham | worthing | wEst sussEx | bn13 3xn

Axtell Hairdressing , 4 Station Street, Lewes
---
the way we work

Caroline at The Fashion School, thefashionschool-uk.com

"I've got a really great old 20s dress. My mother was an antique clothes seller

on Kings Road and I used to wear these clothes to clubs and trash them."
---
Food & Drink directory

Raise Bakery

Our well-established, family-run bakery has opened its first shop offering

a wide range of sweet treats, breads, lunches, coffees, breakfast options,

smoothies and milkshakes. Everything in store is handmade in Sussex with

a modern British/American style. We also stock a range of baking supplies

for the avid baker. Free Wi-Fi and power points. Join us in our friendly,

relaxed environment, open seven days a week.

facebook.com/raisebakery

twitter.com/raisebakery

100 Church Road, Hove, 01273 778808, raisebakery.com

No.32

No.32 has it all and

more in this all-in-one

venue. A restaurant, bar

and club in the heart of

Brighton, serving freshly

made food and drink

seven days a week. From traditional grills to

fashionable burgers to freshly made cocktails.

With the sound of great music from local DJs

you can eat, drink and dance at this all-encompassing

modern setting, so come and visit us for

an evening to remember!

Burgers, grills, bites, platters, sandwiches, salads.

Modern & classic cocktails. Craft & draught

beers. Happy hour Sundays - Fridays 5-7pm.

No.32 is a restaurant, bar and exclusive late

night venue in Brighton with regular live

music and special events.

32 Duke Street, 01273 773388, no32dukestreet.com

71 East Street, 01273 729051, terreaterre.co.uk

Terre à Terre

Al fresco dining

on the terrace and

now street dining

on East Street at

weekends available

at Terre à Terre,

the local go-to for

the most creative

vegetarian food in

Brighton and always

delivered with a cheeky little pun! Open seven

days a week offering brunch, lunch and dinner

options from small plates, sharing tapas

to three-course set meals and not forgetting

their magnificent afternoon-tea menu, multitiered

savoury, sweet and traditional delights

available from 3 till 5pm daily, and lots of

organic wines, beers and juices! Summer, true

Brighton style!

MARKET

OPENING EARLY SEPTEMBER

Situated in the heart of Brunswick village, MARKET Restaurant and Bar will

be all about the very best of Sussex. MARKET is to be a Marketplace; a place

for great people, for great food and for great drink. MARKET will be a hub,

a hive of activity and the setting for many good times. Sharing is very much a

theme of MARKET with a wide variety of Small Plates on offer plus

MARKET Classics, Sunday roasts and the weekend Big MARKET Brunch.

Sit at one of the many stools at the kitchen bar that overlooks the chefs, take a

table or book the upmarket private dining room, 'DownMARKET'.

42 Western Road, 01273823707, market-restaurantbar.co.uk
---
advertorial

Boho Gelato

6 Pool Valley, 01273 727205, bohogelato.co.uk

Ranging from Vanilla to Violet, Mango to Mojito and Apple

to Avocado, Boho's flavours are made daily on the premises

using locally produced milk and cream and fresh ingredients.

24 flavours are available at any time (taken from their

list of now over 400) and for vegans, Boho Gelato always

stock at least five non-dairy flavours. Gelato and sorbet

is served in cups or cones or take away boxes.They were

recently included in the Telegraph's top ten ice creams in the

UK and last summer were featured in Waitrose magazine.

Saint Andrew's Lane, Lewes, 01273 488600

209 High Street, Lewes, 01273 472769

Pelham House, Lewes

A beautiful 16th-century four-star town house

hotel that has been exquisitely restored to create

an elegant venue. With beautiful gardens, a

stylish restaurant and plenty of private dining

and meeting rooms it is the perfect venue for

both small and larger parties.

pelhamhouse.com

Facebook: Pelham.house

Twitter: @pelhamlewes

Flint Owl Bakery, Lewes

Our breads contain organic stoneground flours,

spring water, sea salt and that's it. No improvers of

any kind. Long fermentations bring characteristic

flavours and a natural shelf life. We wholesale our

craft breads and viennoiserie in Brighton and deliver

six days a week. Visit our shop/cafe on Lewes

High St to find our full range of breads, croissants,

cakes, salads and enjoy Square Mile coffee in our

courtyard garden. info@flintowlbakery.com

Ten Green Bottles

Wine shop or bar? Both, actually... wine to take away

or drink in, nibbles and food available. Many wines

imported direct from artisan producers. We also offer

relaxed, fun, informal private wine-tasting sessions from

just two people up to 30 and for any level of wine knowledge - we encourage you

to ask questions and set the pace. We also offer tastings in your home or office,

and will come to you with everything you'll need for a fun, informative and even

competitive evening. The best-value destination for great wine in Brighton!

9 Jubilee Street, 01273 567176, tengreenbottles.com
---
drink

...........................................

Okinami Cocktails

Slow news day

Writing for a magazine called Viva Brighton,

one can occasionally justify watching the world

go by in the name of work. City life is meat

and drink to us, after all. So, on the hottest day of the year so far, we assign ourselves a watching brief and

head barwards as soon as the hour strikes respectable. We find the perfect people-watching spot on the

shady balcony of Okinami in New Road. It's an irresistibly voyeuristic vantage point, so we're immediately

distracted by the vignettes playing out below. Conversation slows to an intermittent commentary and soon

dries up completely. Heat sapped, slo-mo, hot-blooded street life is, it turns out, utterly absorbing. A welcome

trio of elegant green drinks arrives in a waft of cool air, condensation beading on each glass. Mine's a

Mojito - a mercifully long measure of white rum, sugar syrup and soda muddled with fresh lime and mint.

RC slowly sips her way to five a day with a Cabbage Patch Cooler – gin, fresh lemon, elderflower, cloudy

apple, celery bitters and cucumber. In other news, Alex takes onboard a Corpse Reviver #2 – a medicinal

blend of Plymouth Gin, Cointreau, Lillet Blanc and fresh lemon complete with absinthe rinse. Blood duly

cooled and the undead restored, it would be all too easy to while away the evening assigning stories to fleeting

scenes but it's rude to stare (too long) and so we descend and slink homewards through the early evening

heat haze. LL Okinami Bar, New Road. All cocktails £4.50 until 6 and £6 thereafter

䈀 唀 夀 伀 一 䔀 䌀 伀 䌀 䬀 吀 䄀 䤀 䰀

䜀 䔀 吀 伀 一 䔀 䘀 刀 䔀 䔀

圀 䤀 吀 䠀 吀 䠀 䤀 匀 嘀 伀 唀 䌀 䠀 䔀 刀

....76....
---
food review

...........................................

Señor Buddha

Fusion tapas

As I'm going out to dinner,

I put on a smart new shirt,

which is slightly tight-fitting,

but what the hell. Where

I'm going is Señor Buddha, a

new tapas place on Preston

Road, kind of opposite

the Duke of York. As you

might suspect from its name,

there's a 'fusion' theme to

this bar-restaurant, the two

fusing elements being Spain

and Thailand. I'm going with

my best mate Johnny, a good

judge because he lived for

years in San Sebastian, famous

for its small-plate bar-food culture. He's a bit cynical

about the whole concept.

We sit up at the silver bar, overlooking the kitchen,

where two blokes dressed in black are frying up

my favourite sort of foodstuff – I see scallops, I see

asparagus – for a noisy group sitting at the biggest

of the three tables behind us. One of these blokes

turns out to be the owner, Lee.

We normally do these reviews incognito, but this

time, I must reveal, it's on the house, and, starting

with a dish of king scallops and morcilla de Burgos

(served on cauliflower and coconut puree), over the

next couple of hours Lee serves us up pretty much

every dish on the menu, each one accompanied by

a small glass of wine carefully chosen to complement

its flavour.

From the first forkful of scallop, soft black pudding

and puree, I know I'm going to have an exceptional

culinary experience. A subtle addition of coriander

really brings out the delicate flavour of the scallop,

but this particular fusion is more Spanish than

Thai, and it really works.

Just about every concoction

we get through is excellent.

We start with three fish dishes,

accompanied by French and

Portuguese whites, and then

proceed through the flesh and

fowl section, with a variety of

reds, finishing with some extremely

alcoholic Boho Gelato

ice creams. We try, in roughly

this order: Padron peppers;

octopus tentacle; Asian tuna

tartare with Iberian ham;

aromatic soy lamb cutlets;

patatas bravas; confit duck leg;

grilled asparagus; mountain mutton stew; vegetable

croquettes; green mango salad (prices range from

£2.50 to £6.50). In most every case there's a subtle

fusion element: a dash of wasabi here, a miso and

lime dressing there, which makes every dish rise

above the regular tapas you'd expect in a standard

Spanish-themed bar. Johnny's scepticism melts

away, and – the loud group having soon moved on

with their night – Lee takes us through every dish,

revealing a great passion for what he's doing, plus

an ambition to make the concept work in other

places beyond Brighton.

The absolute highlight is the octopus, which has

been slow cooked in red wine and Thai spices, and

comes accompanied by little dollops of 'squid ink

caviar'; that and the Thai-inspired gin cocktail he

makes us, to finish. All in all, then, an unexpectedly

comprehensive, if ultimately slightly overindulgent

success: I'll certainly be back soon, in a

looser-fitting shirt. Alex Leith

9 Preston Road, 01273 567832/senorbuddha.co.uk

....77....
---
ecipe

..........................................

Sugardough Bakery

Spinach and ricotta roll

Photo by Lisa Devlin, cakefordinner.co.uk

Owner and chief baker of the Sugardough bakery in Hove, Kane McDowell, has just opened his

second shop, in the Lanes. Here he shares his recipe for a lunchtime favourite – the spinach and

ricotta roll – which he says is best served warm with a side salad, topped with homemade sourdough

croutons. 18 Market Street, 01273 771218

Ingredients:

Puff pastry (we make all of ours, but

pre-rolled is simpler!)

250g ricotta

250g bag of fresh spinach

30g grated cheddar

One medium onion, diced

A handful of sourdough breadcrumbs

Salt and pepper

Recipe:

Start by wilting the spinach, then let it cool

and squeeze out all of the water. Roll out your

pastry into a long rectangle, to about 3mm

thick. Mix all of the ingredients together in a

bowl and pipe along the top long edge of the

pastry. Roll the pastry over and chop into rolls

of your required size; we use about five-and-ahalf

inches for a large roll. Brush with egg and

bake at 250°C for 20 minutes to half an hour,

or until golden.

....79....
---
food news

...........................................

Edible Updates

It's all go in Hove this month, with two openings. Fourth and

Church, on Church Road, is styling itself as a neighbourhood shop

and wine bar, offering gourmet deli fare such as artisan cheeses,

cured meats and fish, pâtés and terrines, pickled vegetables and

preserves, as well as fresh food made onsite. They'll also be stocking

fine wines from Butlers Wine Cellar. Customers can drop in and

pick up supplies or stay for lunch or dinner, as they're open all day.

The pedigree behind the place is impressive, as owners Sam and

Paul are chefs by trade and have worked in everything from Michelin-starred formal restaurants to busy

gastro-pubs, but they've also worked front of house, in management, tended bar and waited on tables.

Just down the road, where AA-rosette restaurant Graze used to be, and from the same owners Kate Alleston

and Neil Mannifield, comes MARKET Restaurant and Bar. Diners can choose to eat at the bar and watch

the chefs do their thing, or book 'DownMARKET', for a table in their private dining room. The building's

makeover promises to give the feel of a traditional market, with green Victorian metro tiling, mirrors and

a bright, clean, utilitarian approach to the design. The market theme continues through the menu, when

customers can choose 'From the Greengrocer', 'From the Fishmonger' and 'From the Butcher'. Expect

interesting-sounding concoctions like scallops with wild boar bacon & Frangelico syrup, or polenta, mushroom,

& cream cheese balls with smoked paprika popcorn. Antonia Phillips @PigeonPR

Wedding Fair

Sunday 20th September

11am-3pm Free entry

Long Furlong Barn is delighted to announce they

will be hosting a wedding fair.

Come along to meet with a range of suppliers

and get inspiration for your special day.

Sunday 20th September

11am-3pm Free entry

Call us: 01903 871594

Email us: enquiries@longfurlongbarn.co.uk

Visit us: www.LongFurlongbarn.co.uk

Find us: Clapham | Worthing | West sussex | Bn13 3xn
---
food

...........................................

Bronx Burger

Beef in the Lanes

A mid-August sunny Monday lunchtime: ideal time for

office-skiving, and people-watching. I decide to go to the

Mesmerist, to try out one of their 'Bronx Burgers', and am

happy to see there's a table free in their suntrap outside

space, on the corner of Bartholomew Square. This bit of the Lanes has a completely different demographic

to its more Brightoner-frequented, hipsterful neighbour, North Laine. I decide, while sipping

a pint of Brighton Pale Ale, to do a very unscientific survey, on a napkin. This reveals the following (all

figures hugely approximate): 30% of passers-by wear sunglasses; 50% (from their slightly aimless gait

and slightly bored expressions) are tourists; only about 5% have visible tattoos; ten times more people

hold mobile phones than one another's hands. My burger arrives, with pleasingly contoured chips, in a

red plastic basket, into which I squirt mayonnaise. The 'Bronx', one of eight choices, has cost me £8, and

is, according to the menu, 'topped with crispy bacon, butter-fried white onions, baby gem lettuce and

our house burger dressing'. The beef patty, which has pleasing heft, has a home-made, hasn't-witnessedthe-freezer

quality. The bread is of the soft, brioche variety. It's a tasty burger. The chips are good, too,

or more accurately the 'skin-on, triple cooked, hand-cut French fries, seasoned with our house smoked

paprika salt'. 'Triple cooked' sounds a bit worrying, but they're good fries. Apart from the garnish on the

salad, there's no attempt to tick off any of my five-a-day, so it's vegetable stew for dinner. Alex Leith

5

Friday 2nd to Sunday 4th October

Fourth
---
Natural and honey coffees drying on the patios, El Salvador Cherries being pulped for the washed process, Mexico Being washed after fermentation, Ethiopia

coffee

...........................................

Coffee Guy

Small Batch's Alan Tomlins

Everybody knows the difference in taste between

red, white and rosé wine. Not so many realise that

the way coffee tastes is equally defined by how it is

processed. There are three main ways of processing

coffee cherries after they are harvested, and the

method employed can have just as much impact on

the taste of your drink as the roast, the barista or

the country of origin.

These three methods are 'washed', 'natural' and

'honey', terms which describe what is done to

the seed of the coffee cherry after harvesting, and

before it is ready to export.

The most common method across the globe is the

'natural' method, as it is the oldest and simplest

form of processing and requires little equipment

or water. The coffee cherries are harvested then

dried in the sun until they are brittle enough to be

put through a huller that pops the seeds or coffee

beans out. This method means a lot of the cherry's

flesh, or mucilage, is dried onto the coffee bean

and lends a very distinct taste that can range from

earthy and rubbery to boozy and berry-like.

In lower-grade coffees this can be very unpleasant,

but done well and with good coffee beans, naturals

can be amazing. Either way these tend to be lovethem-or-hate-them

coffees. About 20% of the

beans we import here are naturally processed.

The next-most-common method is 'washed' or

'fully washed'. Most specialty-grade coffee is

processed this way, and it accounts for 70% of our

coffee. A pulping machine pops the beans out of

the cherry, which are put in a fermentation tank,

where the mucilage is broken down through natural

fermentation and separated from the beans.

The coffee is then pushed through water-filled

channels to further clean it, before being dried.

This coffee hasn't got those funky, earthy notes,

but it's a cleaner, purer taste.

This method uses a lot of clean, fresh water, so

in places where this can be scarce (such as Brazil

and Central America) a third method has been

developed, called 'honey' processing. The beans

are popped out of the cherry, and then dried with

quite a bit of the mucilage still around them.

This gives you the clean, light taste of a washed

coffee, mixed with the fuller body and distinctive

flavours of a natural coffee. When it's done well it

can produce amazing results, and it is being done

well, especially in Costa Rica where the industry is

highly developed. Most of the remaining 10% of

our coffee is 'honey' processed.

So next time you buy a good coffee, have a look on

the label to see how it has been processed, just as

you'd take into account the colour of the wine you

buy. I'm a fan of all three methods, if they're done

well, each for a different occasion, but my go-to

method is 'washed' because it affects the natural

flavour of the coffee the least and allows the coffee

to shine.

As told to Alex Leith

....83....
---
倀 刀 䤀 伀 刀 夀 匀 䌀 䠀 伀 伀 䰀 Ⰰ 䰀 䔀 圀 䔀 匀

伀 倀 䔀 一 䔀 嘀 䔀 一 䤀 一 䜀 ㈀ 㔀

吀 栀 甀 爀 猀 搀 愀 礀 㜀 琀 栀 匀 攀 瀀 琀 攀 洀 戀 攀 爀

㘀 ⸀アパート 瀀 洀 ⴀ 㤀 ⸀ 瀀 洀

䌀 漀 洀 攀 愀 渀 搀 樀 漀 椀 渀 甀 猀

匀 攀 攀 眀 栀 愀 琀 眀 攀 漀 昀 昀 攀 爀

一 漀 愀 瀀 瀀 漀 椀 渀 琀 洀 攀 渀 琀 渀 攀 挀 攀 猀 猀 愀 爀 礀

圀 攀 椀 渀 瘀 椀 琀 攀 瀀 爀 漀 猀 瀀 攀 挀 琀 椀 瘀 攀 瀀 愀 爀 攀 渀 琀 猀

愀 渀 搀 琀 栀 攀 椀 爀 挀 栀 椀 氀 搀 爀 攀 渀 琀 漀 漀 甀 爀 伀 瀀 攀 渀 䔀 瘀 攀 渀 椀 渀 最 ⸀

倀 爀 攀 猀 攀 渀 琀 愀 琀 椀 漀 渀 愀 琀 㘀 ⸀アパート 瀀 洀 Ⰰ 爀 攀 瀀 攀 愀 琀 攀 搀 愀 琀 㜀 ⸀アパート 瀀 洀 ⸀

匀 瀀 愀 挀 攀 氀 椀 洀 椀 琀 攀 搀 㬀 渀 漀 攀 渀 琀 爀 礀 愀 昀 琀 攀 爀 瀀 爀 攀 猀 攀 渀 琀 愀 琀 椀 漀 渀 戀 攀 最 椀 渀 猀 ⸀

䄀 爀 攀 礀 漀 甀 氀 漀 漀 欀 椀 渀 最 昀 漀 爀 愀 猀 挀 栀 漀 漀 氀 眀 栀 椀 挀 栀 搀 攀 氀 椀 瘀 攀 爀 猀 㨀

ⴀ 愀 挀 愀 爀 椀 渀 最 愀 渀 搀 搀 椀 猀 挀 椀 瀀 氀 椀 渀 攀 搀 攀 琀 栀 漀 猀 㬀

ⴀ 愀 渀 漀 甀 琀 猀 琀 愀 渀 搀 椀 渀 最 挀 甀 爀 爀 椀 挀 甀 氀 甀 洀 眀 栀 椀 挀 栀 瀀 爀 漀 瘀 椀 搀 攀 猀 愀 爀 椀 挀 栀 氀 攀 愀 爀 渀 椀 渀 最 攀 砀 瀀 攀 爀 椀 攀 渀 挀 攀 㬀

ⴀ 栀 椀 最 栀 愀 挀 愀 搀 攀 洀 椀 挀 猀 琀 愀 渀 搀 愀 爀 搀 猀 愀 渀 搀 攀 砀 挀 攀 瀀 琀 椀 漀 渀 愀 氀 琀 攀 愀 挀 栀 椀 渀 最 㬀

ⴀ 愀 猀 甀 瀀 瀀 漀 爀 琀 椀 瘀 攀 挀 漀 洀 洀 甀 渀 椀 琀 礀 椀 渀 眀 栀 椀 挀 栀 礀 漀 甀 渀 最 瀀 攀 漀 瀀 氀 攀 挀 愀 渀 昀 氀 漀 甀 爀 椀 猀 栀 㬀

ⴀ 愀 渀 攀 砀 挀 椀 琀 椀 渀 最 愀 渀 搀 甀 渀 椀 焀 甀 攀 爀 愀 渀 最 攀 漀 昀 漀 瀀 瀀 漀 爀 琀 甀 渀 椀 琀 椀 攀 猀 㬀

ⴀ 愀 渀 愀 挀 琀 椀 瘀 攀 瀀 愀 爀 琀 渀 攀 爀 猀 栀 椀 瀀 眀 椀 琀 栀 瀀 愀 爀 攀 渀 琀 猀 愀 渀 搀 琀 栀 攀 挀 漀 洀 洀 甀 渀 椀 琀 礀 㬀

ⴀ 猀 琀 甀 搀 攀 渀 琀 猀 眀 栀 漀 栀 愀 瘀 攀 ᠠ 搀 攀 瘀 攀 氀 漀 瀀 攀 搀 愀 瘀 攀 爀 礀 猀 琀 爀 漀 渀 最 猀 攀 渀 猀 攀 漀 昀 猀 攀 氀 昀 ᤠ⠀ 伀 䘀 匀 吀 䔀 䐀 ㈀ 㔀 ⤀ 㼀

倀 爀 椀 漀 爀 礀 匀 挀 栀 漀 漀 氀 愀 挀 挀 攀 瀀 琀 猀 猀 琀 甀 搀 攀 渀 琀 猀 昀 爀 漀 洀 愀 眀 椀 搀 攀 愀 爀 攀 愀 ⸀

倀 爀 椀 漀 爀 礀 匀 挀 栀 漀 漀 氀 Ⰰ 䴀 漀 甀 渀 琀 昀 椀 攀 氀 搀 刀 漀 愀 搀 Ⰰ 䰀 攀 眀 攀 猀 Ⰰ 䔀 愀 猀 琀 匀 甀 猀 猀 攀 砀 Ⰰ 䈀 一 㜀 ㈀ 堀 一

吀 攀 氀 㨀 ⠀ ㈀ 㜀 アパート⤀ 㐀 㜀 㘀 ㈀アパート 䔀 洀 愀 椀 氀 㨀 愀 搀 洀 椀 猀 猀 椀 漀 渀 猀 䀀 瀀 爀 椀 漀 爀 礀 ⸀ 攀 ⴀ 猀 甀 猀 猀 攀 砀 ⸀ 猀 挀 栀 ⸀ 甀 欀

䘀 愀 砀 㨀 ⠀ ㈀ 㜀 アパート⤀ 㐀 㠀 㘀 㤀 ㈀㈀ 圀 攀 戀 猀 椀 琀 攀 㨀 眀 眀 眀 ⸀ 瀀 爀 椀 漀 爀 礀 ⸀ 攀 ⴀ 猀 甀 猀 猀 攀 砀 ⸀ 猀 挀 栀 ⸀ 甀 欀

䠀 攀 愀 搀 琀 攀 愀 挀 栀 攀 爀 㨀 吀 漀 渀 礀 匀 洀 椀 琀 栀 䈀 䄀

䄀 搀 洀 椀 猀 猀 椀 漀 渀 猀 伀 昀 昀 椀 挀 攀 爀 㨀 圀 攀 渀 搀 礀 䘀 爀 愀 渀 挀 椀 猀 攀 砀 琀 ㈀
---
family

...........................................

Remix the Museum

Bringing natural history to life

The historical artefacts from the Booth Museum

of Natural History are being brought to life this

September. For the second year running, animator

Dave Packer has teamed up with the Brighton

Youth Film Festival to produce Remix the Museum,

an exhibition showcasing animations of the Booth's

artefacts, created by a group of 13-19 year olds.

Dave began the first stage of the project by visiting

the museum and taking photographs of the exhibits,

which were printed out for the students to cut

up and play about with. "Young people seem really

clued up on animation," says Dave, who works as a

freelance animator, creating corporate animations

for use on the web, as well as the "silly stuff" he

does for fun (you might have seen the video entitled

There's a problem with Brighton's Christmas lights

on YouTube). Part of the idea for the project came

from the growing 'remix culture' of the internet. "I

thought it'd be fun to play with the museum artefacts

and be able to bring a 'hands on' side to them."

Remix the Museum is created using a rather more

old-fashioned method than he is used to; the stopmotion

animations are made up of photos taken

using a copy stand, which positions the camera

pointing directly downwards at the subjects placed

on the floor. "Gravity can be incredibly annoying

in animation," Dave explains, because there's always

a point in the middle of a movement where the

figure being moved becomes off balance. "I was

essentially thinking about how I could take the

annoying parts out of the process, giving them all

of the fun bits."

For the second stage of the project, Dave gave

the young people a camera and told them to take

their own photographs inside the museum, which

they would turn into a second set of animations.

"The progress from one to the other is really great

to see," says Dave, "and the results are far more

elaborate and advanced than I would have imagined."

The two sets of animations will be projected,

alongside some of Dave's own work, on the south

balcony in Brighton Museum and Art Gallery,

between the 8th and 30th September. RC

remixthemuseum.com

....85....
---
family

...........................................

The Outdoors Project

Al fresco activities, whatever the weather

It's time to go back to

school, time for the

days to start getting

shorter and darker,

and time for the

outdoor adventures

of summer to draw

to a close. That is,

unless you'll be taking

part in The Outdoors

Project this autumn.

Set up five years ago

by father-of-three Joel

Evans, the project's

aim is to get kids outside, whatever the weather. "I

grew up in the States and a lot of my life was spent

outside," says Joel, "but as a parent, I've been just as

guilty of sitting my kids in front of the TV instead of

getting them outdoors." The project started as a kids'

boot camp, run by Joel, for a group of about eight,

but since then the project has exploded in popularity,

and there are now 32 schools in Brighton and Hove

running after-school clubs each week.

The activities change every term, covering games,

team-building, bush-craft survival, fire-lighting and

camp-craft, and forest school, where children learn

about things like tree identification. The sessions also

include Nerf – a game using toy blasters and foam darts

which has become hugely popular with kids around the

world, including those in their 20s and 30s. "The Nerf

thing is fantastic, but we deliver it as a tactical base invasion

game rather than a war game. We use it as a way

to get them running around and exploring strategies,

working together and staying active."

Joel currently has 30 freelance instructors running the

sessions, from mountain bikers to expedition leaders,

bush-craft experts and personal trainers. "They each

bring a different element

to it and the kids

really look up to them,"

he says. "A lot of the

instructors are just 'boys'

so the kids respond really

well to them – they're all

great role models."

As well as after-school

clubs, they run The

Saplings Project, a

parent-and-toddler

forest school group,

and hold holiday clubs

throughout the year. They also organise kids' parties

and run workshops with schools which are based

on their curriculum. "For example," Joel explains,

"if they're learning about the Stone Age, we'll go in

and make some Stone Age shelters and medallions.

It's a great way to tie in with what they're learning at

school, particularly for those kids – like myself – who

don't learn by sitting down for six or eight hours."

We all know that there's a lot to be gained by spending

more time in the great outdoors: the exercise, the

fresh air, learning about the world around us, but for

Joel the most important skill that kids gain from the

group is just being able to be children. "When you get

to a certain age, especially around your friends and

peers, you start to worry about embarrassing yourself

in front of them. But when you've got an adult there

who's much more ridiculous than you are, you can

just have fun."

Rebecca Cunningham

Visit their website to find out if your child's school is

involved with The Outdoors Project, or for more information

on the October half term holiday club:

theoutdoorsproject.co.uk

....86....
---
family health

......................................

Counselling Children

Rebecca Kirkbride

You work in private practice

rather than in schools, so

presumably it's parents who

bring their offspring along…

Yes, and I make it clear from the

outset that it can be difficult for

parents. They've probably been

doing 'the right thing' bringing

up their child, then they contact

me and their role is to bring the

child along and pay someone else

to help them. And from the age

of 12/13 there's the issue of confidentiality: it may

well be that the parents are being talked about, but

they can't just ask 'So, what did you talk about?'!

This modern expression, 'parenting', can

increase the pressure to be 'a good parent'…

It can seem for some parents that the more

information and advice there is, and the more

they read and take in about parenting, the more

shame they 'should' feel if it seems something has

'gone wrong'. The reality is that life is all about

going through difficult times both for individuals

and families and the most any parent can hope for

really is to be good enough. The place of therapy

for children and young people is in making sure

that difficult times don't become more entrenched

and create major problems for them as they move

into adulthood.

Isn't there a sense that adolescents are inevitably

going to run amuck, though? How can

a parent know that it's gone too far? Parental

instincts are important. It's partly true, that idea

that 'they're all like that', but it's when they're

doing something like smoking or drinking more

than their friends. When a parent has concerns

that won't go away, or there's a sense that a child

is finding it difficult to talk to you,

that's the time.

Which again can be hard for a

parent these days. 'I'm really

good mates with my child'…

From around 12, young people

need a private life beyond Mum and

Dad. There are very few extended

families where you can talk to say,

an aunt about things that are too

embarrassing to talk about with

your parents.

What are common issues that bring people

along? With boys, drugs and alcohol, with teenage

girls issues around body image, self harm, anger,

anxiety. With both genders there can be LGBT

issues. Exam stresses crop up a lot. Increasingly

there are difficulties around social media. Being

constantly on the radar is difficult; arguments

get posted on social media and stay there forever

rather than blow over. There's a whole cohort of

kids whose sexual awakening is taking place on Instagram,

so clearly we'll see more problems arising.

There's the old Woody Allen cliché of therapy

never ending. Can that happen with youngsters?

On the whole, young people get bored and

lose interest once they've got what they needed

from their therapy and are ready to move on. It's

like a picnic - the therapist puts out the food on

the blanket and the young person takes what they

need and then wanders off to get on with their life,

hopefully satisfied for the time being. Andy Darling

Rebecca Kirkbride (baileykirkbridecounselling.

co.uk) works with children and adolescents aged

11 upwards. Her book Counselling Children and

Young People in Private Practice: A Practical Guide

(Karnac) is published in 2016

....87....
---
*Based on an adult ticket at £465 on our 12 month free direct debit scheme.

**On public transport within our extended travel zone.
---
football

......................................

The Albion: Behind the scenes

Kit manager Clive Thompson

I started this job in

December 2012, after

working as assistant to my

brother-in-law in a similar

capacity at Derby County.

I work with three other

full-time staff members.

We are in charge of the kits

of all the Brighton teams,

from the under eights to

the first team. That's twelve

different squads, and that's

a lot of kit.

Long gone are the days

when the apprentices used to clean the pros'

boots. The first-team boots are our job now. Only

two players wear them in black.

My normal working day is from 7am to 5pm,

but of course that all changes on match days. On a

normal training day we have to get all the training

kit ready for the players, then collect it up again,

and wash it, and start all over again. It's pretty

relentless.

Match days are different. On away matches I

don't travel up with the team, I drive the van up

with the kit. I'm always worried I've forgotten

something, though I never have. Once I accidentally

prepared an XL shirt for a player who's tiny,

but luckily for me, he didn't make the bench.

You've got to have a good memory in this job,

because all the players like to have things just so.

Most of them like the foot cut off their socks,

nowadays, and they wear ankle socks. Goalkeepers

are generally the fussiest, and, of course, they need

the most gear.

On match days we have to make sure each player

has his boots, and socks, and slips (even those

have to have numbers

on them) and shorts,

and two match shirts,

then work-out shirts,

and work-out tops,

and training bottoms,

and sometimes cycling

shorts and t-shirts and

gloves and hats all laid

out and hung up for

them in the correct part

of the dressing room.

There's a lot of funny

stories I could tell but

what happens in the dressing room stays in the

dressing room. Here's one I can tell: when I was at

Derby an Ireland international, who shall remain

nameless, came into the dressing room after a game

complaining his right foot hurt, and when he took

his boot off, his toe was black. He'd been wearing

two left boots. Funny thing was, he'd played a

blinder and won 'man of the match'.

I watch the home matches standing in the tunnel.

I like standing up, and I can run into the dressing

room if anything's needed. At away matches I

usually get a seat behind the dug-out.

Everyone's got a nickname here, and sometimes

more than one. One of my assistants, Matt, is called

'The Bear'. Another, Alex, is called 'Minty' because

he always rolls in after eight. I get 'Cliff' and 'Clint'

and 'Olive' and 'Rigsby', because I often say 'no'.

You need a good sense of humour in this job, too.

I'm a frustrated footballer, of course I am. Every

kit man would prefer to be a player. But the best

thing about this job is that you're slap bang middle

of the professional football world, 24/7.

As told to Alex Leith

....89....
---
Excitement begins with E

10 year

anniversary

OFFer

10% Off

ALL BIKES*

E-asily the best

and cheapest

E-Bikes

in Brighton

E-asily the biggest online retailer

E-bikes from £499 to £3,500

E-asily the lowest prices guaranteed.

E-asily the most comprehensive range.

E-asily delivered and pre-assembled.

E-asily the best finance.

*On purchases between 15th August and September 30th 2015.

Please enter promotion code EB1615 at checkout. Terms and conditions apply.

www.e-bikesdirect.co.uk

Tel: 01580 830959

E-Bikes Direct Unit 6. Midicy Oast.

Bodiam Business Park. Bodiam.

E. Sussex TN32 5UP.

Joy of Movement

Holistic dance for health

A guided class combining simple, flowing and easy to

follow steps with mindful movement for adults of all ages,

fitness levels and experience. Feel balanced, connected

and energised as you find your own natural way of

moving in a relaxed and friendly atmosphere.

First taster class free.

Brighton - Wednesdays 11am-12pm (from Sept 23rd)

The Loft (above Little Dippers), Upper Gardner St, Brighton, BN1 4AN

Lewes - Thursdays 10.30 - 11.30am (Ongoing)

Cliffe Hall, St Thomas a Becket, Cliffe High St, Lewes BN7 2AH

Drop in £8, or 5 classes for £35 (Concessions available)

Call Stella on 07733 450631

Email: stellahomewood@yahoo.com

www.stellahomewood.com
---
cycling

...........................................

Jon Chickens

Bespoke steel-bike-frame maker

Jon Chickens is one

of only about a dozen

people in the country

who hand-makes

steel bike frames,

and he does this in a

converted shipping

container just north

of Woodingdean, in

a beautiful location

overlooking a secret

valley.

Photo by Alex Leith

I park my bike while he busies around making

me coffee, and getting me a folding chair to sit

in, outside his micro-factory, which has a fairly

ramshackle extension built on the side.

Jon, fortyish and scruffy-cool, originally trained,

he tells me, to be an astrophysicist. I can tell within

seconds that he's driven by passion for his trade.

He shows me his left wrist, revealing scars from

a healed-up break. "I came off my bike in 2008,

while I was a commissaire trying out a course I'd

designed for Brighton Big Dog," he says. "I was

working for Enigma [bike-frame firm] at the time,

but sadly couldn't continue working for them with

a bust wrist"

When he says he fell off 'his' bike, he means it

literally. "You can't believe how good it feels to

ride something you've made yourself," he says.

He's made them for many other people besides,

using traditional, old-fashioned methods. While he

produces frames which are sold on by top-notch

companies like Mosquito, he really prides himself

on a bespoke service whereby he meets his client,

measures them up and goes for a ride with them

to check out their style, and builds them a frame

to exactly suit their needs. It takes him about three

or four days to make

a frame – always

of steel, with tubes

sourced in Italy, or

Birmingham – and

a day or two to

paint it (that's what

the extension's for).

That's an output of

approximately one

frame every five or six

days: there's a threemonth

waiting list for his services. His frames start

at £1,000. "All of my trade comes from word of

mouth," he says. Brighton boasts an "incredibly

large community" of people in the bike business,

many of whom have helped him set up from

scratch, especially his clothing partner, Morvelo.

Many of his frames are sold locally, but as his fame

spreads, so does the distance he sends them: "I also

have customers in Australia and the States."

He shows me the specialist machinery he uses,

all of which he's bought second hand, and whose

previous owners he can name; then he tells me lots

of technical stuff about the process, which I only

half understand. "When someone buys a frame

from me," he says, "they know it's a frame for life."

He doesn't just build frames; he also repairs them,

if your existing bike needs "some life breathing

back into it."

'Chickens' isn't his real surname. "It's my mountain-biking

nickname," he says. And also the name

of his company 'Chicken Frames Emporium'. If

ever you need a bespoke steel frame, for any sort of

bike, I reckon he's your go-to man.

Alex Leith

Chickens Frame Emporium 07941 779903

....91....
---
we try...

......................................

Floatation Tank

Floating in a salty wonderland…

"I feel like Peter Pan"

says a man with a ridiculously

relaxed look on

his face, as he leaves the

Cocoon Centre. I know

exactly where he's coming

from. I had the same

experience two days

earlier, and I'm back for

more.

I knew very little about

therapeutic floating,

other than that people go to the Dead Sea for that

purpose, so, before my first visit, I had no preconceptions.

Proprietor Emma D'Arcy explains that

Cocoon offer two floating experiences, one in a

one-person pod, and the other in a larger 8.5 foot

cube, filled with approximately 18 inches of Epsom

salt-laden water, which I'm going to experience.

They always aim to give new floaters the larger

tank for their first float, I'm told, partly to limit

any risk of claustrophobia.

I climb out of the shower and open the doors of

the spacious tank. The water is set at skin temperature

so you don't really notice it, which apparently

helps with the overall feeling of relaxation. Soothing

music is playing, and the space is lit both by

underwater lights and by sparkling star-like roof

lights. I initially sit on the floor, before letting my

legs drift upwards. Emma has advised me to put

my hands behind my head, which I do, and immediately

I'm floating. Initially, though, my mind

is racing. Are my legs actually floating? Will my

head sink if I removed my hands? Is it OK that I'm

naked? Will I fall asleep? Flip over? Drown? The

answers are, categorically: yes, no, yes, yes, no, no.

Emma has assured me

of all these things before

I go in, but there's

nothing like confirming

it for yourself. As

my mind starts to calm

down, I turn off the

underwater lights with

the well placed foot

switch and concentrate

on the lights above

me. At the same time,

I notice the music quietening down, and start to

enjoy the sense of weightlessness. At times I feel

like I'm drifting, but every time I open my eyes, I

seem to be in the same place. The next time I open

my eyes, I realise that the outside lights are back

on and my hour is up. I'd fallen asleep for maybe

30 minutes, but felt as refreshed as from a deep

long sleep.

A couple of days later I talk through the experience

with Emma. She is passionate about both the

relaxation and healing benefits of floating - allocating

a number of free sessions per month for therapeutic

floatation. She confirms that the inanelooking

grin experienced by me and Peter Pan is

not unusual, and surprisingly (to me anyway), the

fact that more men than women float. "It's probably

because it's usually a solo activity and men

tend to be a little more wary of group activities"

she says. As I leave the centre, thinking briefly of

my various slightly embarrassing attempts at yoga

and Pilates classes, I realise I fall into that category.

Solo floating? I'll sign up to that… Nick Williams

Cocoon Healing Arts Centre, 20-22 Gloucester

Place, cocoonfloatationtherapy.co.uk/01273 686882

....92....
---
luffers' guide to

...........................................

Making a feature film

Jamie Patterson from Jump Start Productions

Don't bother with

shorts. Who watches

shorts? They're a waste

of time: it's easier than

you might think to make

a feature film. I've made

12. [Jamie is 28 years

old, and the co-owner

of Brighton-based Jump

Start Productions].

Start with a script, like

every film does. You could write it, or buy it off

the internet: there are hundreds knocking around.

Make sure you format it right: there's free software

on the internet for that, too.

Make sure the script fits your budget. With a

low budget, choose a script with very few locations

and just two or three actors. I had £100 for the first

film I made, having been given a great camera as an

18th birthday present. I shot most of it in my parents'

house, in five days. Now I'm raising budgets

of £100,000, so that gives me more scope. But we

still shoot in 10-12 days.

Your film is only as good as your actors' performances.

So choose carefully. Remember that 85%

of actors are unemployed at any given time, and

that what most of them really want to do is to act

in feature films. So if you're making a film, you'd

be surprised how cheaply you can hire people that

you've heard of.

If you need a soundtrack, use unsigned local

bands' music. They'll do it for the publicity.

Don't ever give up. The world is full of half-made

feature films. If you get the reputation of being

able to finish a film, people will come to you. I have

never not finished a film I started.

Editing is the hardest

job. It took me two

years to edit my first

film. If you can afford

it, get yourself a good

editor, if you can't,

download some good

software, and be patient.

Don't worry if the

film isn't brilliant.

There is no such thing

as a perfect film. The worst thing you can be in

this business is a perfectionist, because there are so

many compromises that need to be made. Anyway

you will learn from your mistakes. Every film I

make I become a better director.

I'm a producer, as well as director and scriptwriter.

Producing means raising the cash to make

the film, basically. My advice is to investigate

crowd-funding your film. In effect you sell perks to

people who want to invest. You can raise money by

just thanking somebody in the credits.

When you have made your film, enter it into

every festival you can think of. There are hundreds

of them out there. You're unlikely to get into

Cannes or Sundance, but don't worry.

Oh, and if you get a film into a festival, make

sure that you go to that festival, because you're

more likely to win something. And that's a big bonus.

We won Best Film at the Madrid International

Film Festival with City of Dreamers, which was massive,

for us, and put us on the world map.

As told to Alex Leith

Jump Start have two films in development, one in

pre-production and three in post-production.

jumpstartproductions.co.uk

....93....
---
All talk

and no

vote?

You need

to make sure that

you're on the

updated electoral

register, or you

might not be able to

vote in future.

Register online

now at

www.gov.uk/

register-to-vote

Electoral Services, Brighton & Hove City Council

Visit us at www.brighton-hove.gov.uk/vote

Email electors@brighton-hove.gov.uk

or call 01273 291999
---
trade secrets

......................................

Sarah Springford

Brighton Chamber of Commerce Director

'Brighton Chamber of

Commerce'. Isn't that

a bit of a stuffy name?

We tend to shorten it to

'Brighton Chamber'. We

thought about changing

it, but decided that

instead we would show

that we are very far from

being stuffy by making

sure our branding, copy,

photos, videos and social media are reflective of

how friendly, lively, exciting and relevant we are.

What's the organisation for? How long have

you got? We organise events which help our

members network with other business people in

the community, as well as 'bite-sized learning'

skill-sharing sessions where members pass on their

knowledge of business-related subjects, from intellectual

property to handling social media. Plus

much, much more, from being the voice of the

business community in Brighton to helping our

members with any advice they might need.

How long has it been going? We recently

celebrated our centenary; the company has been

running in its current form for about 15 years. I

was offered the job as director six-and-a-half years

ago. The job was only meant to last 18 months,

but I'm delighted still to be here.

Is your membership growing? When I joined

there were 213 members. Now there are over 500.

In the last three months alone we have attracted

60 new members. There's no reason for that

growth to stop. I'd like to see 2,000 members!

But your operation is quite small… Sometimes

people's jaws drop when they come to our offices

in Hove, and realise what a small company we

are. We have four full-time

staff, including myself. But

what's exciting is that we

also have around 50 volunteers,

from businesses in

the city, who help out with

elements like design, copywriting,

PR, running sessions,

and making podcasts.

A lot of my time is spent

co-ordinating the volunteer

team to make sure we promote what they're doing

and that they get something out of it.

I hear you're moving? Before your magazine goes

to press we'll have moved, for a limited period of

12-18 months, to the new Entrepreneurial Spark

near Preston Park, a business hub run by the social

entrepreneur Jim Duffy. We are to be one of three

'anchor companies' there. It's very exciting.

How's Brighton doing, business-wise? I'd say

business is booming. There are a lot of small

companies here, and a lot of start-ups. The only

problem is wages: workers tend to be paid less

than they do in nearby towns like Guildford and

Crawley. Which is why we have started the only

business-led 'living wage' campaign in the country,

possibly the world.

Is there any reason why not to set up in

Brighton? Good affordable office space is really

hard to find.

Have you got a tip for anyone who's starting

up a company in Brighton? Do a lot of research

before you get going. And make sure that you tap

into all the support and help there is on offer in

Brighton for businesses. Interview by Alex Leith

businessinbrighton.org.uk, annual membership

from £12.50 per month

....95....
---
We asked a few of our students what they like about the

Counselling and Psychotherapy training at The Link Centre...

"the training... it's interactive, thought-provoking

and challenging as well as supportive and fun!"

"a fabulous learning environment - the tutors are inspiring

and the people I have met come from all walks of life,

which adds to the richness of the learning experience."

㜀 㜀 㠀 㘀 㔀 㔀 㜀 㤀 㤀 㠀

䤀 一 䘀 伀 䀀 䈀 伀 䐀 夀 ⴀ 䠀 䄀 倀 倀 夀 ⸀ 䌀 伀 ⸀ 唀 䬀

圀 圀 圀 ⸀ 䈀 伀 䐀 夀 ⴀ 䠀 䄀 倀 倀 夀 ⸀ 䌀 伀 ⸀ 唀 䬀

倀 䔀 刀 匀 伀 一 䄀 䰀 吀 刀 䄀 䤀 一 䤀 一 䜀 䤀 一 䄀

倀 刀 䤀 嘀 䄀 吀 䔀 Ⰰ 䘀 唀 䰀 䰀 夀 ⴀ 䔀 儀 唀 䤀 倀 倀 䔀 䐀

匀 吀 唀 䐀 䤀 伀 䤀 一 䌀 䔀 一 吀 刀 䄀 䰀 䠀 伀 嘀 䔀

∠ 䘀 刀 䔀 䔀 䤀 一 䤀 吀 䤀 䄀 䰀 䌀 伀 一 匀 唀 䰀 吀 䄀 吀 䤀 伀 一

∠ 䠀 䤀 䜀 䠀 䰀 夀 ⴀ 儀 唀 䄀 䰀 䤀 䘀 䤀 䔀 䐀 䄀 一 䐀

唀 一 䐀 䔀 刀 匀 吀 䄀 一 䐀 䤀 一 䜀 吀 刀 䄀 䤀 一 䔀 刀 匀

Counselling and Psychotherapy Training

Part-Time courses in Newick, East Sussex

leading to national and international accreditation

This counselling and psychotherapy course provides you with

theoretical understanding, practical skills and personal insight to

enable you to practise as a professional with a range of client groups.

Each year runs for 10 weekends between October and July

at our training rooms in lovely surroundings in Newick, East Sussex,

which is in easy driving distance from Brighton.

Apply now for courses starting in October 2015.

We also run other Counselling/TA workshops, courses and events.

01892 652 487

www.thelinkcentre.co.uk

email: leilani@thelinkcentre.co.uk

Counselling and Psychotherapy Training

Mohammed - Spice of Life

Fresh, home-cooked Bangladeshi and Goan speciality dishes

mohammedspiceooife.co.uk

Unit 19, e Open Market

07985176812

• Daily lunchbox specials.

• Served hot and ready to eat or

'take and heat' chilled / frozen.

• Healthy cooking lessons.

• Freshly mixed spices, Bangla

snacks, sweets and desserts.

• Ethnic groceries and spices.
---
icks and mortar

..........................................

A facelift for Fabrica

And a 'floating cube', too

You'd be forgiven for not knowing about the new

extension to Brighton's beloved Duke Street art

gallery Fabrica. The project, funded by the Arts

Council and designed by Brighton-based CDMS

Architects, has been on the table since 2012, but

building will start in September.

I meet CDMS Director Corin Morton and Architect

Tom Wainewright, to find out more about the

attractive 'floating' cube they will append to the

deconsecrated church. It's a compact addition, comprising

three stories of modest office and storage

space to the rear and a new glazed 'shopfront' on

Duke Street. The size belies the build's importance,

however, as Corin says, "It will enable Fabrica to do

what they do so well, properly," freeing them from

having to run the charity, and its network of about

90 volunteers, from inadequately-sized offices. As

Corin says, "you put in extra effort because you're

doing it for the right people and the right organisation.

What they do is just brilliant."

Its compactness also compounds the build's difficulty,

says Tom: "it's essentially a big juggling act.

The amount of complexity does not reflect the size

of the finished building, but it probably does reflect

its cultural importance in Brighton… We've said

a few times, you could probably build something

ten times the size with the amount of drawings and

details we are producing for it."

The intricacy of the build is a big part of what has

Corin and Tom fired up about the project. "The

least interesting thing for an architect," says Corin,

"is to ask them to design a building where there's

no point of reference, there's no challenge." A big

obstacle here is the access, as the space borders a

'landlocked' pocket of Dukes Yard. "One of the

intriguing things about this, is it's going to be this

hidden gem that few people actually ever see," explains

Corin. "It's made us all the more determined

to make sure that it's a really interesting piece of

architecture."

I'm personally attracted to the Fabrica extension because

of its modernity. Slim, glazed panels partition

the extension from the brick and flint of the original

Grade II listed church. As Corin says, "It needs to

be distinct". His thinking may be challenging, but it

reflects how the church has been developed in the

past: originally sporting a stucco façade, then the addition

of a gothic revival front. "It's changed materials

and styles all over the years," says Corin. "The

most logical thing to do was to change it again."

I ask if there is much difference between the sorts

of builds commissioned in Brighton to elsewhere.

"The unfortunate truth is it can be quite difficult

to get interesting architecture built in Brighton,"

replies Corin. The heritage, geography and the

varying interests of community groups can make it

hard to build, especially for contemporary projects.

"Where this seems to be happening more easily is

within the larger institutions such as the university,"

he says, "but whether that trickles down is another

matter… [Brighton] has to continue to embrace

modern architecture." Chloë King

cdmsarchitects.com

....97....
---
inside left: STREET PARTY, 1953

...................................................................................

These kids, decked out in fancy dress, are celebrating the Coronation, at a street party on June 2nd,

1953. Little will most of them know it, but the New England Street houses either side of them were

not to last the end of the decade: they were already earmarked for demolition.

The development between London Road and the railway line was built in 1850, ten years after

Brighton Station opened, largely in order to house the many workers involved in the new industry.

The land was previously used for the growth of arable, and this street and the area took on the name

of the farm it was built on – New England Farm. The new quarter, according to the late city historian

James Gray, was constructed 'with little regard to density per acre, the chief object seemingly

being to build as many houses in as small a space as possible'. In 1950 much of it was chosen by

Brighton Corporation as 'Area Number 1' for slum clearance.

There was, however, little wrong with the structure of the houses, and, as you can see from this and

other pictures, the area was home to quite a thriving community. The old New England Street was

eventually demolished in 1958/9, and many of the structures you can now see on the new widened

version, including New England House, were built in its place. Of course the redevelopment of the

area has continued, in various stages, to this day.

We sourced the photo from the Queens Park Books photo library, and it was contributed to that

excellent archive by Nicola Preston, whose father you can see in the picture. He is the pirate in the

centre of the group; the cowboy in the splendid chaps next to him is his mate Ray Brindley. If we

were judging the costumes, we'd really rate the Francis Drake, the Beefeater, the Pierrot and the Britannia,

but we'd have to give the top prize to the little jockey on the right of the group. Does anyone

know what became of this little chap?

....98....
---
Lancing College

Preparatory School at Hove

AN INDEPENDENT DAY SCHOOL FOR BOYS AND GIRLS FROM NURSERY TO YEAR EIGHT

RATED EXCELLENT IN ALL AREAS

INDEPENDENT SCHOOLS INSPECTORATE REPORT, MARCH 2015

Join us for our

Open Morning

Saturday 10 October 2015

10.00am - 12 noon

www.lancingcollege.co.uk

The Droveway Hove

Tel 01273 503452

East Sussex BN3 6LU

hove@lancing.org.uk

Registered Charity Number 1076483
---
IT'S NOT TOO LATE TO

APPLY FOR A PLACE AT

SUSSEX DOWNS COLLEGE!

Call our student services team

on 030 300 39551 for more information

and advice on your next steps.

VISIT ONE OF OUR OPEN EVENTS TO SEE

WHY SDC IS RIGHT FOR YOU...

LEWES CAMPUS

OPEN EVENTS

FRIDAY 9 OCTOBER,

16:30 – 19:30

SATURDAY 10 OCTOBER,

10:00 – 13:00

EASTBOURNE CAMPUS

OPEN EVENTS

FRIDAY 16 OCTOBER,

16:30 – 19:30

SATURDAY 17 OCTOBER,

10:00 – 13:00

WEDNESDAY 27 JANUARY,

16:00 – 19:00

WEDNESDAY 3 FEBRUARY,

16:00 – 19:00

w w w . s u s s e x d o w n s . a c . u k