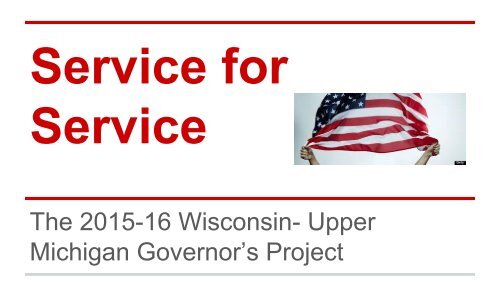 Service for Service (1).pdf
Create successful ePaper yourself
Turn your PDF publications into a flip-book with our unique Google optimized e-Paper software.
Service for

Service

The 2015-16 Wisconsin- Upper

Michigan Governor's Project
---
Introduction

The 2015-16 Governor's Project is called 'Service for Service'. The Veterans

have served us in so many ways, so we are repaying them for their efforts

through Key Club service! This Cookbook will be your recipe for success with

this project. There are service projects, phone numbers, and different volunteer

locations in this cookbook. Our goal is to have every club in the Wisconsin-

Upper Michigan District do at least 2 service projects for the Governor's Project.

This is our goal because the men and women we serve have risked their lives

so that we can live in a free country. They leave their families for long periods

of time to fight for our freedom. We will be providing services to those who have

provided the greatest service to us. Let's get ready for a great year of serving

our nation's heroes!
---
Veteran Hospitals

The Wisconsin-Upper Michigan Key Club District is very fortunate to have five

Veteran Affairs (VA) Programs between the two States. Having these hospitals

give us a great opportunity to donate and volunteer.

To become a Student VA Volunteer, visit their website and either fill out a form,

or contact one of the facilities listed on the next page. To donate, go to their

website or contact the hospital of your choice and ask about ways that you can

donate.

http://www.volunteer.va.gov/StudentProgram.asp
---
Contact Veterans Hospitals

William S. Middleton Memorial Veteran Hospital - Madison, WI

(608) 280-7030

Tomah VA Medical Center - Tomah, WI

(608) 372-1727

Clement J. Zablocki VA Milwaukee - Milwaukee, WI

(414) 348-2000 Ext. 41803

Iron Mountain VA - Iron Mountain, MI

(906) 774-3300 Ext. 32781

Jacobetti Home for Veterans - Marquette, MI

(906) 226-3576 Ext. 396
---
Service Project

Make Cards - Making cards such as Thank You's or Holiday cards is a great way to

show your support for Veterans. They are easy, fun, and do not take much time; but they

can make such a difference in someone's life!

Tie Blankets - Tie blankets are another easy and fun project that you and your club can

do. Many Honor Flights and hospitals use them for their Veterans. You can find

instructions on how to make a tie blanket online. Also, if you are really crafty, there are

other types of blankets that you can make such as afghans; but they take a longer period

of time.
---
Service Projects

Red Poppies - Making something with Red Poppies is another great way for people to

show their support for Veterans. On this website you will find many different Red Poppy

crafts.

http://www.poppytime.com/poppy-craft-activities.htm

Honor Flights - Volunteering for an Honor Flight in your town is another great way to

serve Veterans. For many, this trip means so much, and they need volunteers to make

everything possible. For more information, you can visit their website.

https://honorflight.org/honor-our-veterans-with-your-donation/
---
Service Projects

Welcome Back Veterans Foundation - Donate to the Welcome Back Veterans

Foundation which helps Veterans transfer back into civilian life. This website tells you

how you can donate and help the cause.

http://web.welcomebackveterans.org/index

U.S. War Dog Association - Donate to the U.S War Dog Association because dogs

have been serving just as much as humans. Also, this association makes memorials for

veteran dogs. This is the official website and has everything that you need to know!

http://www.uswardogs.org
---
Service Projects

American Red Cross - Volunteer with the American Red Cross! They help with things ranging

from counseling referrals to shelter and clothing aid. The American Red Cross has many

locations, and there may be one near you! You can go on their website for more information.

http://www.redcross.org/find-help/military-families/veterans-services

Adopt a Military Family - Adopting a military family during Christmas time is another great way

to support our troops. Many families struggle to get through the holidays, so Soldiers Angels

made an Adopt-A-Family program. You send a gift card for food, or buy Christmas presents for

the family. You can visit their website for more information!

http://soldiersangels.org/Adopt-A-Family.html
---
Veterans Day

Veterans Day is Wednesday November 11th, which is a school day but there

are things you still can do. Such as…

●

●

●

●

●

Sending Thank You cards out to Veteran Hospitals or Veterans in you area

Educating younger kids on Veterans and what they do for us and then

making Thank You cards with them

Visiting or volunteering at your local VA Facility

Donating to a VA or other Veteran Organizations

Wear or sell red poppy pins at your school
---
I am incredibly excited to work with everyone on the Governor's Project!

Service for Service truly makes an impact on our veterans by serving those

who have served us. If you have any questions, comments, in need of help, or

want to tell me about a project that you have done or are planning, please email

me or send me a call or text.

"The sanctity of our battlefields, monuments, and veterans institutions is of the

utmost importance to preserve military history and pay respect to those who

fought" -Henry Waxman

Yours in Service,

Abbey Claes

District Governor's Project Committee Chair

E: governorproject.wium@gmail.com | P: 906.280.5647