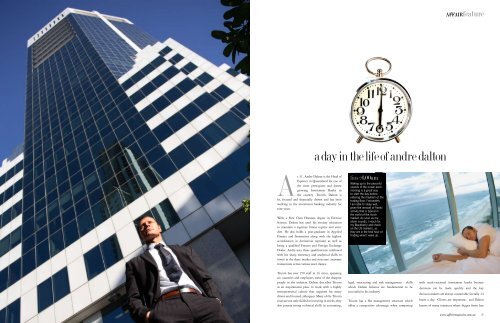 At
a day in the life of andre dalton - Crikey
a day in the life of andre dalton - Crikey
SHOW MORE
SHOW LESS
Create successful ePaper yourself
Turn your PDF publications into a flip-book with our unique Google optimized e-Paper software.
affairfeature

affairfeature

a day in the life of andre dalton

At 31, Andre Dalton is the Head of

Equities in Queensland for one of

the most prestigious and fastest

growing Investment Banks in

the country -Tricom. Dalton is

fit, focused and financially driven and has been

working in the investment banking industry for

nine years.

With a First Class Honours degree in Exercise

Science, Dalton has used his tertiary education

to maintain a rigorous fitness regime and strict

diet. He also holds a post-graduate in Applied

Finance and Investment along with the highest

accreditation in derivatives (options) as well as

being a qualified Futures and Foreign Exchange

Dealer. Andre uses these qualifications combined

with his sharp numeracy and analytical skills to

invest in the share market and structure corporate

transactions across various asset classes.

Tricom has over 250 staff in 16 cities, spanning

six countries and employees some of the sharpest

people in the industry. Dalton describes Tricom

as an inspirational place to work with a highly

entrepreneurial culture that supports his many

driven and focused colleagues. Many of the Tricom

team are not only skilled in investing in stocks, they

also possess strong technical skills in accounting,

time: 6.00am

Waking up to the peaceful

sounds of the ocean each

morning is a great way

to start the day before

entering the mayhem of the

trading floor. Fortunately

I am able to sleep well,

given the amount of frantic

activity that is typical in

the world of the stock

market. As soon as my

alarm sounds, I reach for

my Blackberry and check

on the US markets, as

they are in the final hour of

trading when I wake up.

legal, structuring and risk management - skills

which Dalton believes are fundamental to be

successful in his industry.

Tricom has a flat management structure which

offers a competitive advantage when competing

with multi-national investment banks because

decisions can be made quickly and the key

decision makers are always contactable literally 24

hours a day. Clients are important, and Dalton

knows of many instances where bigger firms lose

104

www.affairmagazine.com.au

www.affairmagazine.com.au 31
---
time: 6.10am

I normally exercise each

morning, and start off with

some stretching and yoga.

By now I have turned on

CNBC and am listening

to the commentary on

the stock market action

from the European and US

trading sessions.

time: 6.25am

I then go for a training

session, which involves

either skipping, swimming,

mountain bike riding,

running, paddling or deep

water running. My training

regime has a lot of variety.

interest in their clients, whereas at Tricom they are

a priority.

A number of advisors have joined Tricom from

Macquarie Bank, UBS, CSFB, ABN Amro

and Ord Minnet and all of them have been

extremely satisfied with the Tricom culture

and entrepreneurial environment to grow

their business. Although Tricom has lost a

few advisors as well, the attrition rate is very

low and some environments simply just don't

suit everyone.

Compliant,

professional and

humble...are

the principles

that Andre

promotes to

his advisors

time: 4.00pm

affairfeature

The high-pitched bell rings again at 4pm signifying the close of the

market. At this point, headsets are removed temporarily and most of

the team takes a small break, before putting their headsets back on

and making sure we've reported and reconciled our day's work.

time: 6.30pm

Sometimes it's

hard to get away,

but I usually leave

the office between

6:30pm and 7pm.

time: 10:00am

We have a bell in the office, and each morning at 10am we

hear this high-pitched ring, which signifies that the market is

open and trading. The noise becomes increasingly loud as

clients and advisors jostle for position to buy and sell stocks

at the opening of the market. There is real atmosphere on

the trading floor and a real sense of teamwork.

time: 7.15am

After picking up my breakfast and lunch at the organic

café Toast on the Gold Coast's Tedder Avenue (highly

recommended if you have a strict, healthy diet), I arrive

at work around 7.15am. I have about 30 advisors on the

trading floor and a couple are usually there before me. I eat

my breakfast at work, whilst flicking through the 'Fin' (The

Financial Review) and preparing for my morning meeting.

The Boardroom: where it all happens! Video conferencing allows the entire company

to be involved – whenever, wherever. During these conferences, our analysts

provide comments on major headline news items relating to the previous day's

trading in Australia, Asia, Europe and the US, and what to expect. We also discuss

recommendations, new corporate deals and any major economic data on the horizon.

time: 11.30pm

The US markets open at 11:30pm, and I usually lay in bed

to watch the open and then fall asleep shortly thereafter. I'm

sometimes called by my principal at this time (who never seems

to sleep) to have a meeting on some topic that we need to

spend time on. He's almost worse than me!

www.affairmagazine.com.au 33