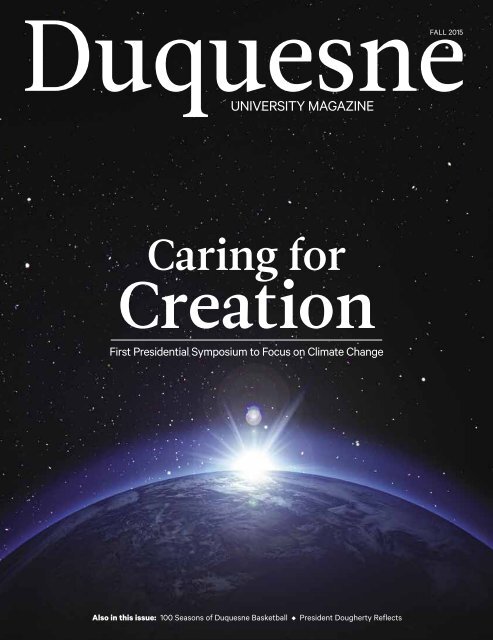 Creation
Fall 2015 DU Mag
Fall 2015 DU Mag
SHOW MORE
SHOW LESS
Create successful ePaper yourself
Turn your PDF publications into a flip-book with our unique Google optimized e-Paper software.
FALL 2015

Caring for

Creation

First Presidential Symposium to Focus on Climate Change

Also in this issue: 100 Seasons of Duquesne Basketball

President Dougherty Reflects

duq.edu 1
---
Contents

is published three times annually

by Duquesne University's Office

of Public Affairs

30

100 Seasons

of Basketball

Vol. 14, Number 1

Fall '15

Editor

Bridget Fare

Associate Editor

Megan Tressler

Editorial Committee

Timothy R. Austin, Ph.D.

Mike Dillon, Ph.D.

Rev. Raymond French, C.S.Sp.

Luci-Jo DiMaggio

Dean McFarlin, Ph.D.

John Plante

Sarah Sperry

Adam Wasilko

Debra Zugates

Caring for

24 Creation

Transformative

Research 2

Writing

Michelle Boehm

Karen Ferrick-Roman

Christine Hudson

David Jakielo

Susan McCue

Rose Ravasio

Tina Tuminella

Joseph Vickless

Bob Woodside

Design

Connie Gartland

Doug Miller

Lia Morrison

Jeremy Neeley

Taylor Tobias

Duquesne University Magazine

Office of Public Affairs

406 Koren Building

600 Forbes Ave.

Pittsburgh, PA 15282

Tel: 412.396.6050

Fax: 412.396.5779

Email: dumagazine@duq.edu

Join the conversation: #dumag

Returning Vietnam Veteran Breathes in Spirit of Reconciliation Outside Hanoi.......................6

New DU Commercial to Air........................................................................................................................................ 7

Creating Knowledge.......................................................................................................................................................8

The Hope of the Lost Boy.........................................................................................................................................10

Rangos School of Health Sciences Celebrates 25th Anniversary....................................................12

Dinner Marks Beginning of Two New Traditions........................................................................................13

University Receives $2M Alternative and Clean Energy Funding....................................................13

Recent Rankings and Honors for DU Programs and Schools.............................................................14

President Dougherty Reflects................................................................................................................................16

A Perfect Match..............................................................................................................................................................18

A Letter From the Alumni Board President....................................................................................................18

Did You Know?................................................................................................................................................................19

DU in Pictures.................................................................................................................................................................20

Diversity Keeps Growing at Duquesne: A Look at the Class of 2019............................................ 22

Local Foundation Community Supports DU in Developing Public Bio Lab............................... 23

Perseverance, Self-Determination Lead Alumnus to Successful Career in Medicine......... 23

Lasting Memories.........................................................................................................................................................29

Our Bluff in Brief............................................................................................................................................................36

Tabata, Love Selected as A-10 Nominees for NCAA Woman of the Year...................................40

Alumni Updates.............................................................................................................................................................42

Event Calendar...............................................................................................................................................................48

2 DUQUESNE UNIVERSITY MAGAZINE Fall '15
---
PRESIDENT'S MESSAGE

Thoughts from

the President

The class of 2019 recently arrived on our Bluff,

ushering in the most diverse class in Duquesne

University history. This group of young men and

women will enhance the campus community with their

distinct backgrounds and cultural perspectives.

These freshmen reflect the University's strategic plan

of sustaining a diverse campus environment. They will be

respected for what they bring to Duquesne—but they also

will learn about what has been the focus of the University's

137-year history: its Holy Ghost, Spiritan mission.

One of the core tenets of Duquesne's Spiritan mission

is concern for the environment. This fall, an international

conference will be held on campus, focusing on the

integrity of creation. As detailed in this issue's cover

story, the conference will explore how humans should

and can be good stewards of the world around them.

Noted scholars will bring their expertise to Duquesne as

the world continues to reflect upon Pope Francis' recent

environmental encyclical and prepares for the United

Nations' Climate Change Conference, scheduled to be

held in Paris in December.

Another critical part of Duquesne's Spiritan mission

is reaching out to underserved communities. This issue

spotlights an award-winning program that brings

academically talented high school students from

economically disadvantaged backgrounds to campus for

a hands-on chemistry research experience. For the last 12

years, Project SEED has opened up the world of science

to local students, offering new career possibilities and the

idea that a college education is within their reach.

Transformative initiatives are an integral part of

the Duquesne experience, and these pages give me an

opportunity to reflect on my time at Duquesne as I enter

my last academic year before retiring in June. I am proud

of so many things—national recognitions for the quality

of our schools and programs, the deepened commitment

to our Spiritan identity, and the new beauty of campus.

But, my best memories involve people. Building

relationships with students, faculty, administrators, staff,

and alumni has made my time at Duquesne University

truly meaningful. I am confident that the campus

community and our national network of alums will

continue to work together to achieve great things for our

university in the future.

Thank you for all you do for Duquesne University of

the Holy Spirit.

"One of the core

tenets of Duquesne's

Spiritan mission

is concern for the

environment."

duq.edu 1
---
Transformative

Research

PROJECT SEED GROWS SCIENCE SKILLS AND A LIFETIME OF

POSSIBILITIES FOR UNDERSERVED HIGH SCHOOL STUDENTS

By Karen Ferrick-Roman

2 DUQUESNE UNIVERSITY MAGAZINE Fall '15
---
The world of science careers

opens to Project SEED

students. The program

familiarizes them with the

terminology, techniques and

processes of conducting

research. Students also learn

to give presentations and

plan possible career paths

with mentors.

Take four or more high school kids from economically depressed areas. Mix with graduate students and

University faculty. Add to this "recipe" research labs and equipment, and science projects involving

complex concepts. Percolate for eight weeks.

What do you get? Project SEED.

Over the summer, another crop of students arrived on Duquesne's campus to experience this transformative

initiative, which for the last 12 years has been opening a lifetime of possibilities for local students.

"In accordance with the University mission, we strive

to promote diversity in the chemical sciences by reaching

out to these academically talented students from

economically disadvantaged backgrounds and offering

them a hands-on chemistry research experience, allowing

them to visualize themselves among the next generation

of scientists," says Dr. Jennifer Aitken, associate professor

of chemistry and biochemistry, who started Project

SEED—a program offered in cooperation with the

American Chemical Society (ACS)—at Duquesne 12

years ago.

Aitken has grown the Duquesne program to be

one of the largest in the area, twice recognized by the

ACS with the top honor for exemplary programs,

the ChemLuminary Award. This past summer,

Pennsylvania's acting secretary of education, Dr. Pedro

Rivera, visited Duquesne to see the program in action.

Such recognition is wonderful—but can't match the seal

of approval given by the 50-plus students who have

participated over the years.

The Project SEED experience can be intimidating,

program alumni say. It got them used to the idea of

being on a college campus. It gave them an opportunity

to develop critical thinking, to sharpen presentation

skills and to exhibit leadership. But the most critical

and long-term benefit was that it offered new career

duq.edu 3
---
Amber Latona prepares a sample of blue pigment

for X-ray powder diffraction analysis under the

guidance of her mentor, Dr. Jennifer Aitken.

possibilities and the realization that a college

education was within grasp. For some, it launched

a career in the sciences—an overall goal of the

program.

ACS and other organizations involved in STEM

(science, technology, engineering and math) fields

have been taking steps to assure

future positions can be filled.

To avoid a STEM employee

shortage, they are focusing on

recruiting minorities, females

and students who otherwise

might not consider the

sciences—including those from

economically disadvantaged

backgrounds. Designed as

a way to widen the STEM

pipeline, Project SEED provides

rising high school juniors and

seniors the opportunity to earn

stipends and learn what work

in the sciences looks like on a daily basis. These

high school students present alongside University

students at the Summer Undergraduate Research

Symposium and at other conferences.

It's a giant leap for kids who might not have

had their sights set on a 40-hour work week

of scientific pursuits during summer break. To

enter a world of graduated beakers, live chemical

reactions and computer-based data reports "was

To enter a world of

graduated beakers,

live chemical reactions

and computer-based

data reports "was

really eye-opening."

really eye-opening," says Kristin Olejar, an alumna of

the program, a May 2015 graduate of the Duquesne

pharmacy program and a pharmacist at a Giant Eagle

market.

"When you're coming from a high school that

doesn't even have lab equipment, it's like you're in a

movie," says Olejar, who had

hopes of a softball scholarship at

a small school and an education

degree before Project SEED. "It

was intimidating…but Dr. Aitken

and the other professors in the

program are so welcoming. They

never talk down to you; they

make you feel like you're just as

important to the program as they

are. It was a great experience."

As a Project SEED student,

Olejar worked on a computational

chemical analysis of designer

drugs under the guidance of

Professor Dr. Jeffry Madura. She still remembers the

feeling of accomplishment when Madura discussed the

possibility of publication. To Olejar, that said, "You're

doing the right work, work that's good enough that I

would feel comfortable with other people seeing it."

Presenting at the 40th anniversary of Project SEED in

Philadelphia was another seminal moment for Olejar.

"In my high school, you didn't get a lot of experience

in presenting or public speaking," she says.

4 DUQUESNE UNIVERSITY MAGAZINE Fall '15
---
Organic acid molecules attached to the

surface of cobalt, studied by Nadejda Kodjo,

could have implications for cardiovascular

and orthopedic surgery, as well as dentistry.

Student Jordan Pestok (left) works with graduate mentor Khiry Patterson to develop a

laboratory model for undergraduates involving the sequencing of unknown peptides using

tandem mass spectrometry. Pestok now has his sights on becoming a chemistry teacher.

"...Project SEED

students gain

the confidence

that they need

to continue on

a career path in

the sciences."

Dr. Jennifer Aitken

associate professor

of chemistry and

biochemistry

A Project SEED classmate, Chris Sidun, also recalls

his presentations, including an ACS meeting at Rider

University and his poster presentation at the ACS

national meeting in Boston.

"Obviously, the national meeting was an intimidating

experience because you're a high school kid," says

Sidun, a 2014 Duquesne pharmacy graduate who now

is a pharmacy manager in charge of eight pharmacists

and technicians at Walgreens in Akron, Ohio. "There

were doctors presenting; there were a lot of professional

people at these meetings and it was a little bit of an

insight into how that whole world works."

His presentation skills were useful in job interviews,

but the overall idea of presenting had an even greater

impact.

"It gave me confidence to go into a science-related

field," he says.

This scenario has been witnessed by Aitken time and

again, motivating her to continue recruiting donors and

faculty mentors to keep the program going.

"By presenting the findings of their studies at the

research symposium, the Project SEED students gain the

confidence that they need to continue on a career path

in the sciences," she says.

For Sidun, this program has made a lifelong

difference.

"It helped me bring into focus what I wanted to do.

How important Project SEED was to my development

shouldn't be understated," he says. "I don't know

where I would have ended up without Project SEED."

duq.edu 5
---
Returning Vietnam Veteran Breathes in Spirit

of Reconciliation Outside Hanoi

Dr. Dennis Woytek, assistant professor of journalism and

multimedia arts, recently returned to Vietnam nearly 50 years

after serving as a soldier there. He is creating a documentary

about his return to Vietnam. Here, he shares his story.

By Dr. Dennis Woytek

"We did what our country asked

us to do and served our country

to the best of our abilities."

As I stepped off the plane in Hanoi, I could feel the

heat, the humidity and the baking sun as we walked across

the tarmac. It was just like 47 years ago, when this then

18-year-old from Erie, Pa., stepped onto the battlefields of

Vietnam. Remembering back, I was as prepared as I could

be for that experience. In April, I also was prepared for an

experience, however there were no bullets flying, no rockets

in the air, no hostile ground fire. I returned to a land that has

recovered from the ravages of war.

This trip began as an idea 10 years ago when several

Navy Seabees first talked about the chances of returning to

Vietnam. Five years ago, again meeting in Washington, D.C.,

for Veterans Day, we decided to pursue this quest. One year

ago, we said, "Let's do it," and so began an adventure with

11 Navy Seabees returning to the places where we were

stationed.

I attended Catholic grade school in Erie. I was an altar

boy, helped the nuns around the school and was raised in a

middle-class American home. The thoughts of killing another

human were totally against my faith beliefs. But, as is the

case in war, the goal is to survive and do whatever it takes to

6 DUQUESNE UNIVERSITY MAGAZINE Fall '15
---
accomplish that goal. We did what our country asked us to do

and served our country to the best of our abilities.

I can honestly say while in Vietnam in 1968, many of

us lost touch with our faith, with the question, "How can

God permit this?" Our deep beliefs and our attitudes are

rooted in our faith. So at one point during an attack on our

compound, we probably said a silent prayer asking that

same God to protect us. Going back to Vietnam, we knew

our emotions and our memories were bound to surface.

Many memories centered around our return from Vietnam.

Coming back to a very unfriendly United States, many

Vietnam veterans just hid their service and did their best to

blend into society. We let our hair grow, not telling anyone

that we served in Vietnam, and tried to resume our lives.

So here we are, 11 veterans returning to a land and

people that we had hated. The memories of the war are still

alive in some Vietnam veterans. I believe that the same holds

true for all veterans who served during wartime. For us, this

personal journey would take us through a range of emotions,

some of which we were prepared to face, some not.

Stepping off that plane into the persistent heat of Hanoi,

we discovered that the people of Vietnam, including those

in the north, are very friendly, welcoming, inquisitive—and

forgiving. I was wondering if we could be as open and

forgiving toward our former enemies. After all, over 58,000

American troops died in Vietnam, many of them close

friends. Everywhere we went, former North and South

Vietnamese soldiers wanted to take pictures with us. They

wanted to talk about their lives, and they wanted to know

about ours. We took the time to sit and talk through our

interpreter, and expressed to many of them our surprise at

the country's recovery, noting that it is now a top tourist

destination. It was good to see a country that had moved on,

as I hope many Vietnam veterans have. A few on this trip

would struggle over these few days to find the elusive inner

peace they sought.

Many of the locations we visited were not recognizable

after the passage of time. Where there were once military

compounds and rural villages now stood cities and houses

and businesses. A few locations, like the radio-TV station

our own unit built in Quang Tri, were recognizable even

though none of the buildings were standing. A former North

Vietnamese Army soldier took us to his backyard where I

could see the remnants of what was once our armed forces

radio station, AFVN Quang Tri.

Two members of our group survived the siege at the

Khe Sanh base. In 1968, the U.S. lost over 1,400 sailors and

Marines in that battle alone. We shared what was probably

one of the most emotional parts of this trip as we walked

across what was, at one time, a runway on that outpost high

in the mountains. We all stood in that place, our souls bared.

We cried and prayed for those who died on this hill, and

for those who are buried on this hill. It's in our spirit that

we have meaning and purpose in life. Somehow those who

died on the Khe Sanh base—and all the others who died in

Vietnam—help give meaning to those of us who survived. I

realize that all—friend and foe—lost friends and loved ones

in this conflict.

This trip brought us in touch with the inner reaches of

our hearts, our minds and our souls. I found myself digging

deep into my belief in God as loving parent of us all, to

see our basic relationship as brothers and sisters, sharing

hopes and dreams, joys and sorrows. My faith, instilled and

nurtured by my family and my Catholic education, enabled

me personally to experience reconciliation I never thought

possible.

This story first appeared in the Pittsburgh Catholic.

New DU Commercial to Air

Duquesne University's new television commercial, set to debut this fall, asks "Are you ready

for something more?" To watch the new commercial, please visit the University's Facebook

page (www.duq.edu/facebook) or YouTube at www.duq.edu/youtube.

duq.edu 7
---
RESEARCH UPDATE

Creating

Knowledge

RECENTLY, DUQUESNE RESEARCHERS

HAVE BEEN FOCUSING ON HEALTH CARE

IN AFRICA, WATER QUALITY MONITORING,

NEUROLOGICAL DISORDERS IN INFANTS,

AND MORE.

DEAN'S ARCHAEOLOGICAL TEAM FINDS ANCIENT MOSAIC FLOOR

IN NAZARETH

A mosaic floor that appears to be from one of the earliest churches

in the history of Christianity was uncovered recently in Nazareth,

Israel, at the Church of the Annunciation (Greek Orthodox). Dr. Philip

Reeder, dean of the Bayer School of Natural and Environmental

Sciences, is a co-investigator on the project and is the chief

cartographer for the research team that made the discovery.

The church is seen by Christians worldwide as a shrine of great

significance going back to the origins of what became Christianity.

According to an ancient tradition, the Angel Gabriel "announced"

the forthcoming birth of Jesus at a spring or well that Mary was

visiting to get water. It became the place where the Greek Orthodox

located their first Church of the Annunciation in the Byzantine

period. Over the centuries, the church was destroyed multiple times

and rebuilt in the pre-modern period. The mosaic floor is thought to

have been created in the 4th century, when Queen Helena, mother of

Constantine the Great, came to the Holy Land to establish Christian

pilgrim sites for the new religion of Rome.

"Based on the data we collected in December 2012 and January 2015

using the geophysical techniques ground-penetrating radar and

electro-resistivity tomography, we determined that 'something' was

buried beneath the courtyard behind the current incarnation of the

church," says Reeder.

Excavation confirmed that the feature found in the geophysical

data was the mosaic floor. The excavation was led by University

of Hartford Professors Richard Freund and Maha Darawsha, and

Haifa University Professor Shalom Yanklovitz. Dr. Harry Jol from

the University of Wisconsin-Eau Claire, Paul Bauman, a geophysicist

from the energy and resources company Worley Parsons, and Reeder

compose the remainder of the research team.

FACULTY RESEARCH GRANTS TO SUPPORT WORK IN NIGERIA,

SOUTH AFRICA

Dr. Peter I. Osuji, C.S.Sp., assistant professor of health care ethics,

and Dr. Derek Hook, associate professor of psychology, have been

awarded 2015 Rev. Alphons Loogman, C.S.Sp., Faculty Research

Grants in African Studies.

Osuji's previous research found that medical decisions in African

cultures are made by the community, including the patient, family,

kindred elder and the African traditional medicine doctor. These

decisions lead to informed consent and treatment, but what if the

patient does not follow through with treatment? The Loogman grant

will help Osuji, a Nigerian native, to answer that question.

Hook, who started his academic career at the University of the

Witwatersrand in Johannesburg, is a psychoanalyst who has written

about post-apartheid South Africa. His research will lead to a

biographic account of the earliest years of Robert Sobukwe, one of

South Africa's renowned Africanist intellectuals and an opponent of

the apartheid regime.

CONTINUED GRANT FUNDING TO SUPPORT GREATER PUBLIC

UNDERSTANDING OF WATER QUALITY DATA

Duquesne's role in a regional water quality monitoring initiative will

be expanded, thanks to continued grant funding from the Colcom

Foundation. The new funding will be used to disseminate the results

of the ongoing study to community groups, government agencies and

individuals in an understandable format.

The goal is to promote greater public understanding of water quality

data, what it is and what it means in order to facilitate appropriate

action, when necessary.

Duquesne is one of four partners in the 3Rivers Quest (3RQ)

initiative, which has received more than $1.6 million from the Colcom

Foundation to establish baseline water quality data and to train

citizen scientists in water sampling.

"There is no question that we have improved the region's river water

quality by addressing issues like untreated sewage, a biological issue,

and abandoned mine drainage, a chemical issue like those we are

tracking," says Dr. Stan Kabala, the 3RQ coordinator based in the

University's Center for Environmental Research and Education. "But

industry—most prominently, fracking—poses a chemical threat to

the watershed. There is a risk of going backward after decades of

improvement at a time when people value these amenities and realize

what a treasure these rivers are."

8 DUQUESNE UNIVERSITY MAGAZINE Fall '15
---
PREVIOUS RESEARCH SPURS NEW STUDY ON INFANTS' MOTOR,

COGNITIVE DEVELOPMENT

Prior to joining the Rangos School of Health Sciences, Dr. Regina

Harbourne completed research that focused on infants with basic

neurological disorders that affected their motor development—

specifically, learning how to sit up, which is a major benchmark in a

baby's development.

What Harbourne didn't expect was to find that the study's

intervention not only improved the infants' motor development (with

sitting), it also advanced their cognitive development. To further

investigate the effects of physical therapy intervention on the motor

and cognitive development of infants with neuromotor disorders,

she garnered a grant for $32,778 from the Commonwealth Universal

Research Enhancement.

For this study, infants approximately 11 months old who have a

diagnosed neuromotor disorder and have not yet learned to sit

on their own will each participate for three months during which a

physical therapist will work each week with the child.

"It's always important for children to learn to move, but what

we're finding out is that moving helps you get smarter, it helps

your cognition, and that's the real importance of this study," says

Harbourne, assistant professor of physical therapy.

FEMALE-FRIENDLY PHYSICS MAKES A DUQUESNE DIFFERENCE

The Duquesne University physics department is unique.

Of all of the bachelor degree-granting physics programs in the

United States, 47 percent have no female professors, according to the

American Institute of Physics. At Duquesne, the department chair, Dr.

Simonetta Frittelli, is female. Two other women are among the seven

faculty members. That's 43 percent female, three times the national

average.

Perhaps not surprisingly, the percentage of Duquesne female physics

graduates has risen from 25 percent in 2013 to 50 percent in 2015.

ETHICS OF MILLENNIALS MORE ALIGNED WITH BOOMERS THAN

GEN X, RESEARCH SHOWS

Millennials—the 80 million Americans born between 1980 and

2000—are flooding the workforce and are expected to influence

corporate and philanthropic life, as well as the consumer

marketplace.

Dr. James Weber, professor of business ethics and management

in the Palumbo•Donahue School of Business, surveyed more than

550 Duquesne University millennials about work values and ethics.

Weber's findings show:

• By an overwhelming 3 to 1 margin,

millennials place greater importance on

values associated with themselves rather

than with societal goals. They emphasize

such things as happiness and a comfortable

life as opposed to focusing on others through

world peace, equality and national security.

• Millennials follow a competence value

orientation, focusing on personal inadequacy

or capabilities, such as being independent,

intellectual, logical, capable—rather than an

interpersonal moral-value orientation that

arouses conscience or guilt.

• About 46 percent of the millennials

Weber surveyed exhibited personal and

competence value orientations. The

preference for these values grew with a higher

grade point average and with more than six

months of work experience.

Interestingly, the millennial stance aligns more closely with baby

boomer senior managers (born between 1946 and 1964) than with

Gen X managers (born between 1965 and 1980).

Weber questions whether millennial values will change over time,

mitigated by professional and personal life experiences. Armed with

a grant from the A.J. and Sigismunda Palumbo Charitable Trust,

Weber is delving deeper to create an ethical profile of millennials.

Female-friendly physics at Duquesne is not new. Since 1974, a woman

has always been on the physics faculty.

"Attracting and retaining the interest of more females in science

subjects is important to the field," says Dr. Philip Reeder, dean of the

Bayer School of Natural and Environmental Sciences. "By offering

programs that reach individuals typically under-represented in the

sciences, Duquesne contributes to building a pool of strong, diverse

scientists for our future."

duq.edu 9
---
The Hope of

the Lost Boy

STUDENT WHO FLED CIVIL

WAR IN AFRICA WORKS TO

IMPROVE EDUCATIONAL

OPPORTUNITIES FOR OTHERS

By Rose Ravasio, A'90

When he first tried to write

his story of being a child

soldier in the Sudan People's

Liberation Army, Paul Deng Kur

says re-living the memories was so

agonizing, he would repeatedly delete

the draft as if he were erasing the pain.

"It was very difficult to do—I would

delete all that I wrote. I did it over and

over and over again," says Kur, 32,

who works as an evening desk aide

in Duquesne's Des Places residence

hall. "It's my pain. It's what I went

through, but the only way to reduce

my pain was to share my story."

Kur eventually persevered and,

after more than a year of writing,

completed and self published Out of

the Impossible: The Hope of The Lost Boy.

The book tells how 5-year-old Kur and

his cousins returned from herding

sheep and goats near his village of

Werkok (in South Sudan) to find all

the buildings and homes burned to the

ground and his family gone.

10 DUQUESNE UNIVERSITY MAGAZINE Fall '15
---
Already in the midst of the tumultuous Sudanese civil

war, Kur didn't know whether his family was alive or dead.

To survive, he banded together with other orphans. By age

6, Kur and a cousin were recruited into the Sudan People's

Liberation Army and sent to Ethiopia for military training.

"Because of the life we were living, many of us didn't

have a choice," explains Kur. "We were always looking

for our family members—being in the army was the only

option to find them, and it was the only

way we could feel protected. It was the only

constant."

Despite being taken to refugee camps in

Uganda, Ethiopia or Kenya numerous times

by UNICEF, Kur would escape, sometimes

walking for days only to re-join the army

to continue the search for his family. When

he was 16, Kur found himself at a refugee

camp in Kenya for what would be the last

time.

"They knew I'd try to leave again, so they

decided to bring me with a group of 'lost

boys' to the United States," says Kur.

Kur arrived in Philadelphia in 2001, and

was overwhelmed by the culture shock.

"It was great—we didn't know these

types of things were real," says Kur. "There

was so much food. There were stores. You

could go to school and nobody bombed

you, no one was hurting anybody. It was a

very big change."

The move was both life-changing and

lifesaving.

"My life didn't have any meaning back

home," he says. "A lot of my friends back

home committed suicide. You know you're

alive, but it is a painful life. I don't know if I

would have lived if they hadn't brought me

to the United States. It was very tough."

Kur graduated from high school and

attended college, all the while still hoping to

find his family. In 2005, he received a fateful

"It's my pain.

It's what I went

through, but

the only way to

reduce my pain

was to share

my story."

phone call. A friend in South Sudan met a young boy who

turned out to be Kur's brother—one he didn't know existed.

"I told him that I didn't have a younger brother, but I

knew that I had to talk to him," he says.

After talking on the phone, Kur confirmed that the boy

was his brother who had been born while Kur was in the

army. And—after nearly 18 years—he finally learned that

his parents and some of his siblings were alive.

"Many others had been reunited with

their families, and so I thought hopefully

mine was safe somewhere. I always had

hope—it was a big relief," says Kur.

Because his family has no phone service

in South Sudan, they must walk—literally

for weeks—to Uganda to access telephone

service. Kur finally spoke to his mother and

a sister in 2008.

"The family couldn't believe I was alive—

just as I couldn't believe they were alive,"

says Kur. "My funeral had already taken

place."

Kur will graduate in December with

a Master of Science in Leadership from

Duquesne and wants to work to promote

education for girls and women in his native

country, where 92 percent of females cannot

read or write.

"I don't want the same life for my

children," says Kur, who pays for his

younger brother to attend school back

home. "When the war ended in 2005 in

Sudan, I decided to do something positive

and to pursue my education to help at

home. I want to change how education is

provided to children back home."

Out of the Impossible: The Hope of The Lost

Boy is available on www.Amazon.com and

www.BarnesandNoble.com.

estimated number of deaths

in Sudan since the outbreak of

civil war in 1983

Sudanese per-capita

income in 2014

average life expectancy

in Sudan

duq.edu 11
---
NEWS & NOTES

Rangos School of Health

Sciences Celebrates 25th

Anniversary

By David Jakielo, A'05, GA'10

The John G. Rangos Sr. School

of Health Sciences is celebrating

its 25th anniversary this year,

marking a quarter century of

excellence in producing elite

health professionals.

From physical therapists who

teach patients to walk again, to

speech-language pathologists

who help patients learn to talk

again, graduates of the school make

a lasting impact on the countless lives

they serve with compassion, dignity

and respect.

"Many individuals around the United

States are masterfully served every day by a

Rangos graduate, committed to clinical excellence and

service to those in need," says Dr. Greg Frazer, dean of the

school of health sciences.

In the tradition of Duquesne's mission to help the

underserved, the school was founded in 1990 to meet the

need for more professionals in the fields of health sciences.

The school was launched because of the generosity and

support of then-board member John G. Rangos, Sr., an

entrepreneur and philanthropist known for his contributions

to educational and health-oriented causes. Rangos continues

to support the school with significant gifts.

"Through the vision of John Rangos, late Chancellor

John Murray and founding Dean Jerry Martin, Duquesne

entered the health professions education arena," says Frazer,

a recent recipient of the prestigious Association of Schools

of Allied Health Professions' (ASAHP) Legacy of Excellence

Award. "If Mr. Rangos had not provided the financial

support, Duquesne would not be recognized today as such a

significant contributor to the 'meds and eds' environment of

Pittsburgh."

Rangos reflects proudly on his investment to help launch

the school and to see what it has become.

"We train the students well and they are superbly well

educated," he says. "They are serving the best purpose you

could ever serve—good health to all of our citizens—and

a constructive attitude about life itself. Health is the most

important thing in your life. If you're healthy you can

do something for others. Any patient that you touch will

always remember, 'Somebody cared for me.'"

Dr. Paula Sammarone Turocy, associate professor in the

Rangos School of Health Sciences and director of the Pre-

Medical and Health Professions Program, was the founding

athletic training chair and is currently in her 24th year as

part of the school. She has witnessed firsthand how far the

school has come.

"While we always knew that our school and its programs

would be successful in this community, I don't think

anyone could have imagined the impact that our faculty

and students have had on their respective professions

nationally and internationally," she says. "I am

thrilled to be part of the great teams who have

gotten us here today."

Today, the Rangos School has

grown to become one of the largest

schools of its kind in the nation, and

has a national reputation for excellence

in clinical instruction, research and

service. Faculty are recognized

both nationally and internationally

as award-winning educators and

experts in their field who continue to

remain active in clinical practice.

The school has expanded over the

years to offer a diverse group of fully

accredited programs that represent some

of the fastest growing occupations in the

country: athletic training, health management

systems, occupational therapy, physician

assistant studies, physical therapy, rehabilitation

science and speech-language pathology.

All programs are highly competitive and fully enrolled,

with the school receiving 10 qualified applications for every

available seat. Graduates enjoy an exceptionally high pass

rates on all licensure and certification examinations and a 99

percent placement rate in all majors.

"Our school continues to be robust in enrollment,

placement, successes of our graduates," says Turocy. "We

continue to be challenged by the changes in health care and

to prepare individuals to meet the needs presented by that

ever-changing landscape. I am confident that our expert

faculty, competent and dedicated staffs, and talented student

and alumni populations will allow us to continue our

successes well into the future."

A QUARTER CENTURY OF

EXCELLENCE

The John G. Rangos Sr. School of Health Sciences will host a

25 th anniversary celebration on Friday, Oct. 16 in the University's

Power Center Ballroom. Cocktails will be served at 6 p.m., with

dinner to follow at 7 p.m.

This black-tie optional event will honor the legacy of the Rangos

School, pay homage to distinguished alumni and celebrate the

successes of current faculty and students.

In lieu of a ticket price, guests are respectfully asked to donate

to the Dean's Student Scholarship Fund when registering.

Registration is now open and required, but space is limited.

To register and for more information, visit www.duq.edu/rshs25.

12 DUQUESNE UNIVERSITY MAGAZINE Fall '15
---
Dinner Marks

Beginning of Two

New Traditions

President Dougherty (seated, center) with his wife, Judge Sandra Dougherty (left), Women's

Advisory Board President Mary McIntyre (right), and members of the Women's Advisory Board.

Duquesne University held its first

President's Scholarship Dinner on April 23

at the Omni William Penn Hotel. Nearly 20

University vendors and corporate partners

supported the event, led by presenting

sponsor Eat'n Park Hospitality Group, Inc.

A highlight of the evening was the

presentation of the inaugural Spiritus Award,

recognizing exceptional philanthropic

support of Duquesne. The first recipients

were Robert Z. Gussin, Ph.D., P'59,

GP'61, H'95, and his wife, Patricia E.

(Stewart) Gussin, M.D., H'02. The Gussins

have created endowments supporting a

scholarship for pharmacy students, the

Spiritan Division of Academic Programs, and

a new scholarship supporting students from

the Boys & Girls Clubs of Sarasota County,

Fla., who attend Duquesne.

President Dougherty (left) and Vice President for

Advancement John Plante (right) with Trina DeMarco

and Nick Camody of Eat'n Park Hospitality Group, Inc.

President Dougherty with the

inaugural Spiritus Award honorees,

Drs. Patricia and Robert Gussin.

University Receives $2M

Alternative and Clean

Energy Funding

A $2 million grant through Pennsylvania's Alternative

and Clean Energy (ACE) program will help Duquesne

University upgrade its Energy Center, which generates the

bulk of electricity for campus with a clean-burning, natural

gas turbine generator. This marks the largest state grant

that Duquesne has ever received.

"We are very grateful for the ACE program funding that

will help us improve our energy efficiency and continue

our sustainable development efforts," says Duquesne

President Dr. Charles J. Dougherty. "Duquesne University

has been and will continue to be a leader in the civic and

economic vitality of Pittsburgh and the Commonwealth of

Pennsylvania. This grant greatly affirms and strengthens

that leadership in the area of clean energy."

A longtime pioneer in sustainability, Duquesne has

operated a combined heat and power (cogeneration)

facility since 1997 that generates electricity and uses the

waste heat from the process to heat and cool campus

buildings. Annually, the natural gas-fired power plant

produces approximately 75 percent of the power used

for electricity and nearly 100 percent of the heating and

cooling of the University's facilities. It is Pennsylvania's first

approved generation system for creating Alternative Energy

Credits. Duquesne purchases the remainder of its energy

needs from renewable sources—this combination of energy

generation and renewable energy purchasing led to the

University's 100-percent reliance on clean energy.

The ACE grant will enable Duquesne to:

• Increase boiler capacity by 2.5 times

• Replace existing gas boilers with less-polluting, more

efficient boilers

• Update the steam heating generation system

• Relocate roof penetrations for steam relief vents and stack

locations to accommodate the future installation of a

green roof on the Energy Center

• Reduce the overall environmental and carbon footprint on

the 50-acre campus

The ACE-funded project is anticipated to save 18,256 million

cubic feet of natural gas annually and provide $82,154 in annual

cost savings.

Sustainability is intrinsic to Duquesne's mission, and the

University practices responsible stewardship of natural resources.

Among recognition and accolades for its sustainable efforts,

Duquesne University:

• Was the first academic institution in Pennsylvania to

receive the Environmental Protection Agency's (EPA)

Energy Star Combined Heat and Power Award

• Was named in April 2015 by the EPA (for the eighth

consecutive time) as the Individual Conference Champion

of the College & University Green Power Challenge, using

more green power than any other school in the Atlantic 10

• Ranked No. 28 (in January 2015) in the nation on the

EPA's Top College and University Green Power Users

This project was financed in part by a grant from the

Commonwealth of Pennsylvania, Commonwealth Financing

Authority.

duq.edu 13
---
NEWS & NOTES

Recent Rankings and Honors for DU Programs and Schools

Duquesne has recently been the recipient of prestigious

rankings and honors, including:

FORBES CALLS DUQUESNE ONE OF 'AMERICA'S TOP COLLEGES'

Duquesne is again on Forbes' list of top colleges in

America.

Duquesne was listed as No. 129 among research

universities, No. 120 in the northeast and No. 312 on the

650-school list. The rankings were based on five weighted

measurements: student satisfaction, student debt, academic

success, graduation rate and post-graduate success.

Forbes considered student transfer and retention rates;

low student-to-faculty ratios; whether students graduated in

four years; acceptance rate; and the amount of financial aid

awarded.

"It's rewarding when external firms such as Forbes

validate the results of our efforts," says Paul-James Cukanna,

associate provost for enrollment management. "It's even more

meaningful since our work is aligned solely with the Spiritan

mission of service to students rather than with any external

ranking entity."

THE PRINCETON REVIEW NAMES DUQUESNE AMONG

'THE BEST 380 COLLEGES'

Duquesne is considered one of the nation's best

institutions for undergraduate education, according to The

Princeton Review in its newly released 2016 edition of The Best

380 Colleges.

Just 15 percent of America's 2,500 four-year colleges and

just four colleges outside the U.S. are profiled in The Best 380

Colleges, which serves as The Princeton Review's flagship

college guide. It features detailed profiles of the colleges with

rating scores for all schools in eight categories, as well as

ranking lists of top 20 schools in 62 categories based on The

Princeton Review's surveys of students attending the colleges.

In the publication's profile of Duquesne, students describe

the University's "culturally-rich urban setting in the heart

of the city (where) students get a personalized experience in

an enriching environment in which (they) are encouraged to

think critically and act deliberately."

In addition, the book touts the University as a member

of its 2016 Fire Safety Aid Honor Roll, which includes just 23

colleges that received a Fire Safety Rating of 99, the highest

possible score.

"Duquesne University's outstanding academics are

the chief reason we chose it for this book, and we strongly

recommend it to applicants," says Robert Franek, Princeton

Review's senior vice president-publisher and author of The

Best 380 Colleges. "We make our selections primarily based on

data we collect through our annual surveys of administrators

at several hundred four-year colleges. Additionally, we give

considerable weight to observations from our school visits,

opinions of our staff and our 23-member National College

Counselor Advisory Board."

PERCENTAGE OF FEMALE MBA STUDENTS MAKES

DU A LEADER IN DIVERSITY

Duquesne is No. 2 among the top universities in the

country with robust gender diversity among MBA students.

Duquesne was included in a recent U.S. News & World

Report listing with 65.6 percent female enrollment in its

MBA program, just a fraction of percentage points behind

the leading University of North Carolina-Greensboro (65.9

percent).

Nationwide, women comprise less than 40 percent of

graduate-level business students, according to U.S. News, while

female business school leaders are less than 20 percent.

"It is wonderful to see an increase in bright young women

entering our MBA programs and it's a sign of the changing

times," says Dr. Karen Donovan, associate dean of graduate

programs and executive education in the school of business.

"While there is still gender disparity, it is no longer so stark.

The increasing number of strong female role models in the

classroom, as well as in the boardroom, serves as an inspiration

to the next generation of women. Additionally, the success

of outstanding alumni reaching back and interacting with

our students serves to illustrate that with hard work, the

possibilities are endless."

DUQUESNE AGAIN RANKED IN TOP 10 ONLINE

NURSING GRAD PROGRAMS FOR VETS

For the second consecutive year, U.S. News & World Report

has ranked Duquesne among the Top 10 on its Best Online

Graduate Nursing Programs for Veterans list.

The University is ranked No. 9 in

among the the online graduate nursing programs

category. The 2015 U.S. News Best

Online Programs for Veterans identifies

737 programs that provide veterans

with high-quality, flexible education

options in online bachelor's programs

and online master's degree programs

in business, education, engineering,

nursing and computer information

technology, as well as MBA programs

and graduate criminal justice programs.

14 DUQUESNE UNIVERSITY MAGAZINE Fall '15
---
The rankings methodology requires programs belong to

institutions that are certified for the GI Bill, participate in the

Yellow Ribbon Program or are public institutions that charge

in-state tuition for all out-of-state veterans.

To be ranked, programs also had to be among the top 75

percent of schools in the overall 2015 Best Online Programs

rankings. Duquesne was ranked No. 81 in this year's rankings

for the best online bachelor's degree programs category. In

addition, U.S. News recently ranked Duquesne University No.

28 in its 2015 Best Colleges for Veterans list.

The School of Nursing is ranked No. 9 overall in U.S. News'

Best Online Graduate Nursing Programs in the nation.

GRAD STUDENTS RANK LAW SCHOOL NO. 16

FOR SOCIAL LIFE BENEFITS

Reviews from current and recent graduate students from

across the nation have resulted in the School of Law being

ranked at No. 16 for its social life aspect.

Provided by GraduatePrograms.com, the ranking of Top

Law Schools for Social Life is one of 15 categories that cover a

variety of student topics, such as academic competitiveness,

career support, financial aid and quality of work.

"This relates to Duquesne being a nice place for social

interaction in which students work together, engage in

activities together and support each other," says Law School

Dean Ken Gormley. "It is quite a compliment, and the other

schools on the list are certainly good company to keep."

Some of the law schools ranked with Duquesne include

the University of Virginia, Northwestern, Duke, Stanford and

Notre Dame.

U.S. VETERANS MAGAZINE LISTS DUQUESNE AS

A TOP VETERAN-FRIENDLY SCHOOL

U.S. Veterans Magazine has listed Duquesne among the

nation's Top Veteran-Friendly Schools in a Best of the Best list

for 2015.

The magazine, a publication of DiversityComm that

focuses on employment and business opportunities for

veterans, compiled the list from market and independent

research, diversity conference participation and survey

responses from more than 250 companies and institutions.

UNIVERSITY RECOGNIZED AS A TOP 25 PARALEGAL

SCHOOL FOR JOB PLACEMENT

Duquesne's Paralegal Institute, one of only three programs

in the nation approved by the American Bar Association and

administered by a law school, has been ranked among the Top

25 Paralegal Schools for Job Placement.

Online Paralegal Programs, the organization that created

the list, ranked Duquesne's program No. 17 among 270

programs surveyed.

For the methodology, Online Paralegal Programs

reviewed three components to determine job placement

after graduation: average salary of paralegals in the region;

projected job growth in the state until 2020; and quality of the

institution providing the program.

ONLINE BACHELOR'S IT DEGREE RANKED IN STUDENTS

BEFORE PROFITS AWARD

Duquesne's online undergraduate information technology

program has been ranked among the top 50 nationwide by the

Nonprofit Colleges Online website.

The Students Before Profits Award, the organization said,

"was created to promote nonprofit colleges and universities

offering online degree programs that put students before

profits and education before the bottom line."

Duquesne was ranked No. 43 on the list for its program

that prepares students to design and manage information

systems.

DUQUESNE NAMED A TOP UNIVERSITY FOR PROFESSIONAL SALES

Duquesne became one of only two institutions in the state

to be named to the Sales Education Foundation's 2015 Top

Universities for Professional Sales Education list.

On the list since 2013, Duquesne is again among the

universities recognized for preparing students for careers in

professional selling and helping

to elevate the sales profession.

The foundation reported

that top sales programs, such as

Duquesne's, average about 92

percent job placement for their

students within three months of

graduation.

job placement rate

NURSING, PHARMACY GRADUATE PROGRAMS RANKED

Graduate programs in nursing and pharmacy have been

recognized by two new national rankings.

The School of Nursing has been ranked No. 8 by

BestNursingMasters.com in its 2015 list of the Top 20

MSN Online Programs in the nation. The Graduate School

of Pharmaceutical Sciences is ranked No. 4 by Graduate

Programs in its 2015 Pharmacy Grad Rankings.

According to BestNursingMasters.com, the Top 20

MSN Online Programs were selected based on a school's

"ability to provide a flexible online option for students,

overall reputation through rankings and accreditation, and

specializations offered."

Graduate Programs works to provide helpful information

to prospective graduate students through peer-written

ratings and reviews. For its methodology, Graduate Programs

considers 15 categories, including academic competitiveness,

career support, education quality and financial aid and

graduate program value.

EPA RECOGNIZES DU AS TOP GREEN POWER USER

IN THE ATLANTIC 10

Duquesne, for the eighth consecutive year, has been

recognized by the U.S. Environmental Protection Agency

(EPA) as a 2014-2015 Individual Conference Champion of the

College and University Green Power Challenge, using more

green power than any other school in the Atlantic 10.

Duquesne beat its conference rivals by using more than 18

million kilowatt-hours (kWh) of green power, representing 36

percent of the school's annual electricity usage—equivalent

to the electricity use of nearly 2,000 average American homes

annually.

Thirty-nine collegiate conferences and 90 schools

competed in the 2014-2015 challenge, collectively using nearly

2.4 billion kWh of green power.

duq.edu 15
---
President

Dougherty

Reflects

PRESIDENT CHARLES DOUGHERTY

IS ENTERING HIS FINAL ACADEMIC

YEAR AT DUQUESNE. AS HE

PREPARES TO RETIRE ON JUNE 30,

2016, HE IS REFLECTING ON HIS

TIME AT DUQUESNE.

PRESIDENT DOUGHERTY ON HIS FIRST IMPRESSION

OF DUQUESNE UNIVERSITY

My immediate first impression of Duquesne was the

compact character of campus and its proximity to downtown

Pittsburgh. I liked the academic mix of liberal arts and

professional programs. I identified fully with the Catholic

identity and mission of the institution. After a while, I

realized that the campus needed work both in appearance

(more green space and public art) and in neglected repair

and maintenance work. I became concerned that our

front door on Forbes was shabby and needed significant

improvement. I concluded that the Spiritan dimension of

our character was insufficiently stressed. And it became

obvious that our students needed a recreation center, a better

student union, and renovations to their residence halls.

PRESIDENT DOUGHERTY ON HOW DUQUESNE

HAS CHANGED DURING HIS PRESIDENCY

In one sense, the campus has remained what it was. But

in another, it has changed considerably. Brottier was

purchased and Des Places built. Major improvements have

been made in other residence halls and in the Student

Union. The Power Center was added and our public face on

Forbes is now attractive. Every academic building has been

renovated in whole or in part. We have spread across Forbes

and onto Fifth Avenue. Today, we have a model urban

campus, taking advantage of the proximity to Pittsburgh in

the best way. The University and our academic programs

are being recognized for their quality nationally—and

for our overall affordability. We are still Catholic and

Spiritan, but now the Spiritan dimension is much more

deeply felt and shared on campus. It is pervasive.

16 DUQUESNE UNIVERSITY MAGAZINE Fall '15
---
"I am especially proud of the growing national

reputation of Duquesne, our enriched Spiritan identity,

and the new beauty of campus, which draws praise..."

PRESIDENT DOUGHERTY ON HIS DUQUESNE MEMORIES

The best memories involve graduations and friendships

with Spiritans, administrators, Board members, faculty,

staff, and students. Others include ribbon cuttings and an

unbroken string of balanced budgets and high credit ratings.

I have enjoyed our many University receptions and our

summer outings to PNC Park because they allowed me to

meet and talk directly with faculty and staff from across

the University. Two unpleasant, but riveting memories

involve the impact of 9/11 on campus—evacuating our

buildings, serving lunch outdoors, the spontaneous

religious service. The other is the night that our basketball

players were shot—the shock and prayers, the press

conferences, the hospital visits. Though terrible, both

of these events drew us together as a community.

PRESIDENT DOUGHERTY ON HIS PROUDEST

ACCOMPLISHMENTS AS PRESIDENT

I am especially proud of the growing national reputation

of Duquesne, our enriched Spiritan identity, and the new

beauty of campus, which draws praise from prospective

parents, lifelong Pittsburghers, and even recent alumni.

Our impressive minimum wage ($16), continued pay raises

even through the Great Recession, our strong benefits

program, enhanced outreach to alums, and the success

of our fundraising efforts are also points of pride.

PRESIDENT DOUGHERTY ON HIS HOPES FOR

THE FUTURE OF DUQUESNE

I hope the next president—no matter who he or she

may be—will take Duquesne to new and unprecedented

levels of achievement. I hope that those who compare this

and the next presidency will see that we have done much

under this administration. But, I hope they conclude that

our main accomplishment was setting the stage for the

truly great things the next administration will achieve.

PRESIDENT DOUGHERTY ON WHAT DUQUESNE

MEANS TO HIM

My primary thought and feeling for the Duquesne

community is gratitude for the home and the support

provided to Sandy and me. None of the accomplishments

cited above are mine; they are all of ours through our work

together. The Spirit Who Gives Life does so through the

faith and effort of our entire University community. I hope

we stay true to ourselves. We should always be proud of

our Catholic and Spiritan mission and of Pittsburgh as

our home. But, we should aspire at the same time to be a

leading academic citizen of the nation and the world.

duq.edu 17
---
NEWS & NOTES

A Perfect Match

Harry Witt graduated from

Duquesne's business school in 1962 and

went to work for the accounting firm

Touche Ross Bailey & Smart (now known

as Deloitte & Touche).

He stayed for 40 years. You could say

it was a perfect match.

"I had other job offers," he admits. "My decisions to

stay were more intuition than anything else. Partnership

means a lot to me in terms of values, whether in business or

personal relationships."

As accounting firms consolidated and expanded

into consulting, Witt's career took him from auditing in

Pittsburgh to managing operations in New York, New

Jersey and Philadelphia, and then to a vice chairmanship

and leading strategic integration throughout the western

hemisphere.

Deloitte's support of its staff extends to their

philanthropic priorities. Like many employers, the

company matches its employees' charitable gifts.

"Anytime someone comes up and says, 'We'll double

your money,' it catches my attention," he explains.

"Basically, they said they would match my gifts up to $5,000.

I didn't give much thought to it; just started to do it."

In 1998, Witt established a scholarship that provides

financial aid for Duquesne undergraduate business

students. Even knowing his gifts were being matched, he

was astounded to learn that the market value of his fund

had reached nearly $300,000 after just 15 years. Deloitte's

annual matching gifts accelerated the compounding

effect of his personal contributions and the University's

investment, even with scholarships being awarded to

several students every year.

As a member of the Duquesne Business Dean's

Advisory Council and other professional organizations,

Witt urges his colleagues to investigate matching gifts

programs.

"Beside firms that already have a matching gifts

program, there are a lot of alumni who are in the position

of influencing corporations that could afford to have

matching gifts programs of their own," he explains.

At the same time, he continues to support the

business school in new ways. Last year, he established

the Harry W. Witt Faculty Fellowship, which provides

salary augmentation, research support and curriculum

development funding for outstanding recently-tenured

faculty members.

Witt's achievements and generosity were recognized

with the business school's 2015 Distinguished Alumnus

Award.

"I got a good academic education here," recalls Witt.

"But more than that, I got an infusion of values that

affected my life and career more than anything."

A Letter From the Alumni

Board President

Dear Alumni,

As the school year begins on the Bluff

and the campus community welcomes

the class of 2019, I am excited to begin

my term as the new president of the

Alumni Board of Governors. The Alumni

Board, the governing body of the

alumni association, encompasses all graduates of Duquesne

University and works to fulfill our mission "to create

opportunities for alumni to foster lifelong engagement,

affinity and pride within the Duquesne community to

further the mission of the University."

This year, we embark on a five-year plan with the goals

to grow volunteer involvement, increase alumni interactions

with current students, develop programming that engages

various alumni demographics and enhance our external

communication to alumni groups. We hope that you will

like what you see from us over the next several years. But,

we can't do it alone!

We hope you, as alumni, will want to take part in the

success of your alma mater and its alumni programs.

What's the easiest way to do that? Make sure we can keep

in touch with you! Update your contact information with

the alumni office and provide them with your email address

so that you can hear about the offerings for alumni. Want

to be more involved? Volunteer to be a mentor or attend an

alumni event. Serve on your class reunion committee or get

a group of friends to return to Homecoming. Follow us on

social media and share what you like with your classmates.

Whatever level you'd like to be involved, we hope you'll

take the next step today! If you have programming

suggestions or ideas, please let us know. We are your voice!

I look forward to hearing from you!

Go Dukes!

Carl Bartolomucci, A'71

President

Alumni Board of Governors

alumniboard@duq.edu

The Alumni Board consists of the committees listed below. If

you'd like to be part of a committee, please contact one of the

current officers of the board.

Marketing and Communications

Scholarship and Selection

Governance and Engagement

Programming and Events

Volunteer Engagement

For information on the Alumni Board of Governors, go to

www.myduquesne.duq.edu/alumniboard

CONTACT: Office of Alumni Relations | alumnionline@duq.edu

412.396.6209 | www.myduquesne.duq.edu

18 DUQUESNE UNIVERSITY MAGAZINE Fall '15
---
NEWS & NOTES

Did You Know?

The University's 2014

United Way Campaign

raised

and was recognized by the United Way of Allegheny County

with the Community Choice Award, which highlights a

special event or activity designed to increase campaign

participation.

A Mary Pappert School of Music student was one

of just four musicians selected to perform recently

at a special free concert at the Kennedy Center

Millennium Stage in Washington, D.C. Senior

Sophie Graf, who is studying harp performance

at the University, performed at the May 22

concert as part of the prize package awarded to

the winners of the 2015 VSA (Very Special Arts)

International

Young Soloists

Competition.

Dr. Mary Ellen Glasgow, dean and

professor of the School of Nursing,

has been inducted into the National

League for Nursing's Academy of

Nursing Education, with

the credential of Fellow.

She joins the academy's 202

fellows representing nursing

schools and programs

throughout the United States.

Glasgow was among just 22

inductees this year.

The number of prospective students

and their families who visited

campus in June for Duquesnefest, the

University's summer open house.

Duquesne was one of just three locations

nationwide to host the prestigious

National Jazz Workshop, held on

campus in July. The workshop was

hosted by Mike Tomaro, director of jazz

studies in the Mary Pappert School of

Music, along with the Pittsburgh Jazz

Orchestra at the City Music Center.

The Pennsylvania Liquor Control Board has awarded the

University a two-year, $40,000 grant as part of its 2015-17

Alcohol Education Grant Program.

Duquesne was one of just 24 universities to receive one of these

highly competitive grants.

duq.edu 19
---
SNAPSHOTS

DU in

Pictures

1. The FETTERMAN FAMILY

traveled to Taiwan in March

for the wedding of Erica

Fetterman to Joseph Lee

at the Sacred Heart Roman

Catholic Church in Taipei,

Taiwan. Shown at the

Chiang Kai-shek Memorial

are: Sarah Fetterman Hale,

P'07; Erica Fetterman, A'07;

Joseph Lee; and John Allen

Fetterman, P'14.

1

2. The DUQUESNE WOMEN'S

GUILD SPRINGTIME ON

BROADWAY event was

held on April 26 in the

Union Ballroom. Proceeds

will benefit the Women's

Guild Endowed Scholarship

for students in financial

need, as well as Spiritan

Campus Ministry annual

mission trips.

2

3. CHARLOTTE PHARMACY

ALUMNI: Pharmacy

graduates from 2001-2011

enjoyed catching up at the

Duquesne alumni night at

the Charlotte Knights game.

3

4. Christian Sesek, M'18, and

Mary Hannah Paterni,

A'15, student and alumnus

speakers at this year's

DONOR RECOGNITION

RECEPTION, are shown

with President Charles

Dougherty.

5. A penguin was a main

attraction at the alumni

BREAKFAST WITH

THE BIRDS event, held

at the National Aviary in

Pittsburgh in May.

4

5

20 DUQUESNE UNIVERSITY MAGAZINE Fall '15
---
6

6. D.C. PIRATES GAME : It was

a hot night in June when

alumni joined together at the

Washington Nationals game in

the nation's capital for a night

of baseball and Duquesne

camaraderie.

7. THE ANNUAL EASTER

EGG HUNT offered a fun

afternoon for more than 75

Duquesne alumni families. The

event includes crafts, games,

pictures with the Easter Bunny

and a race to find eggs.

7 8

8. These members of the Class of

2015 couldn't wait to celebrate

becoming alumni at their first

alumni event: BECOMING THE

TRADITION.

10

9

9. FOLLOWING IN SPIRITAN

FOOTSTEPS: Nineteen

Duquesne students recently

participated in a unique study

abroad opportunity in Tanzania

and Zanzibar. The students

carried donations of vitamins

for a flying Tanzania medical

mission and books for a new

Spiritan University College

in Bagamoyo. The Center for

African Studies organized the

study abroad with the Office of

International Programs.

10. In April, Duquesne students,

faculty and staff joined

members of the neighboring

South Side and Hill District

communities for an ANNUAL

SPRING CLEAN-UP. The

clean-up was sponsored by

Spiritan Campus Ministry in

the Division of Mission and

Identity in collaboration with

on campus and community

partners.

11

Want to be more

involved? Join

us at our next

event or follow

@duqalumni on

Instagram! Share

your Duquesne

alumni photos

at #duqalumni.

11. Degrees were conferred

upon approximately 1,600

students at the May 8

SPRING COMMENCEMENT

CEREMONY. On June 7, the

School of Law conferred

degrees upon nearly 150

graduates at its 101st

commencement ceremony.

duq.edu 21
---
NEWS & NOTES

Diversity Keeps Growing

at Duquesne: A Look at the

Class of 2019

By Karen Ferrick-Roman

The most diverse freshman class in Duquesne University

history has arrived on our Bluff.

Enrollment Management's preliminary figures show

that the Class of 2019 is one of the five largest in University

history, with an estimated enrollment of about 1,437

freshmen. (Final enrollment figures will be confirmed after

the official University census in late September.)

Of the incoming freshmen, 17 percent are minorities,

creating the most ethnically and racially diverse class in

University history. Increasing diversity on campus and

sustaining an environment where diversity is valued have

been among the core goals of the University's strategic plan.

"Strategically building a more diverse and inclusive

University community has been a key item of President

(Charles) Dougherty's planning agenda since his arrival in

the summer of 2001," says Paul-James Cukanna, associate

provost for enrollment management. "As a first-generation

college student, he shared that he was intimately aware of

the importance of access and choice in the college selection

process. As such, Dr. Dougherty has been willing to invest

the resources that are necessary to create a more diverse

campus atmosphere and learning environment.

"From an enrollment management perspective, diversity

is important because it expands worldliness, enhances

social development, promotes creative thinking, enhances

self-awareness and prepares our students for future career

success within a global society," continues Cukanna.

"Diversity is also reflective of a changing demography

nationally and is aligned to our Spiritan mission of service to

students."

Duquesne also continues to welcome geographic

diversity. While more than 70 percent of Duquesne's

students are Pennsylvania residents, class members

represent 31 states plus Washington, D.C. and Puerto Rico,

and 11 countries.

At the same time, the Class of 2019 is among the most

selective in University history, with Duquesne's acceptance

rate near 75 percent. The mean SAT score for freshmen is

1130.

Additionally, this was the first year that students

could enroll via test-optional admission in the McAnulty

College and Graduate School of Liberal Arts. More than 100

academically talented students exercised this option, which

is available at other institutions, such as George Washington,

American and Wake Forest universities.

"Our professional experiences and research have shown

that there are applicants for whom the SAT/ACT may not be

a fair predictor of academic preparedness, based upon their

motivations and high school academic accomplishments,"

says Cukanna.

These students meet or exceed the academic profile of

the new freshman class other than standardized test scores,

which are usually above the national average, but below

Duquesne's average, he explains.

The school of liberal arts, as well as the schools of

business, health sciences and pharmacy, have the largest

numbers of freshmen this academic year.

The vast majority of freshmen—78 percent—said

Duquesne was their top choice among schools. The survey

of incoming freshmen showed Duquesne was a top pick

because of programs of study—80 across nine schools—and

because of the University's urban location, size and

academic reputation.

22 DUQUESNE UNIVERSITY MAGAZINE Fall '15
---
Local Foundation

Community Supports DU in

Developing Public Bio Lab

The Fisher Fund of The Pittsburgh Foundation, The

Grable Foundation, an anonymous donor and BMe

Community are investing another $312,500 in educational

program development and scholarships at The Citizen

Science Lab—pushing the total of foundation-funded

investments to $612,500. In-kind contributions from the

Hillman Foundation and another anonymous donor have

added another $303,000.

The grants support the work of Dr. Alan Seadler, Fritzky

Chair in Duquesne's biotechnology program and associate

provost for research and technology, and The Citizen

Science Lab, a community life sciences laboratory located in

Pittsburgh's Hill District neighborhood and launched in 2014

by Duquesne and economic development nonprofit Urban

Innovation21.

"These serious investments in Pittsburgh's first

community-based biotech lab illustrate these foundations'

continued interest in making a better Pittsburgh," says

Seadler. "They see the lab as bolstering Pittsburgh's

educational future by building life science skills in all young

people, including those in disadvantaged communities.

We want to create a bridge to the technology-based world,

where more and more employment opportunities are

developing."

Exposing low-income students to advanced education

and potential "new economy" careers and offering low-cost

space to entrepreneurs for product development were

important to the anonymous donor. The Grable Foundation

was excited about the hands-on approach and cutting-edge

tools available. The Buhl Foundation, a ground-level

funder for the lab module, sees rich opportunities for the

community and for private-public partnerships.

Perseverance, Self-Determination Lead

Alumnus to Successful Career in Medicine

CATCHING UP WITH DR. DANIEL NAPIERKOWSKI

By Joseph Vickless

According to Dr. Daniel Napierkowski, P'79, laughter

really is the best medicine.

Keeping a sense of humor has helped him stay focused

and positive through nearly 40 years in the medical field,

from starting out as a pharmacist in Pittsburgh to his new

position as president of Cleveland Clinic's Euclid Hospital.

Pursuing a career in medicine can be challenging, and he

credits Duquesne in part for giving him the confidence to

follow—and ultimately achieve—his goals.

"Duquesne's pharmacy school was very hard and

required perseverance. It prepared me well for other

challenges, including med school," says Napierkowski.

When he was working as a young pharmacist in a retail

pharmacy and hospital in Pittsburgh, he began to see a clear

intersection between his pharmaceutical work and patient

care—this led him to consider a career in anesthesiology.

"With my pharmacy background, I was attracted to

anesthesiology," says Napierkowski. "It seemed like a

natural fit and a perfect place to see the interaction between

pharmacology and physiology."

He remembers the daunting task of applying to medical

school and how he turned to one of his former professors

for help.

"I returned to Duquesne seeking advice on how to

proceed and was helped by one of my favorite former

anatomy instructors, Dr. Douglas Bricker. He was kind

enough to give me encouragement and write me a letter of

recommendation," says Napierkowski.

Bricker's (Bricker is now dean of the Mylan School

of Pharmacy) encouragement and Napierkowski's belief

in himself resulted in his application to medical school.

Although he was initially waitlisted, four days before classes

were scheduled to begin, he found out he had been accepted

to the University of Pittsburgh Medical School.

After completing his anesthesiology residency at UPMC

Mercy Hospital of Pittsburgh in 1990, he went on to private

practice at Hillcrest Hospital in Cleveland, Ohio. In 1997, he

began working at the Cleveland Clinic, most recently serving

as chairman of regional practice anesthesiology, responsible

for overseeing the anesthesiologists and certified registered

nurse anesthetists throughout Cleveland Clinic's regional

hospitals and ambulatory surgery centers.

His colleagues appreciate his dedication to providing the

best care for patients.

"Dan has played an integral role at Euclid Hospital

for many years and is a strong physician leader," says Dr.

J. Stephen Jones, president of Cleveland Clinic Regional

Hospitals and Family Health Centers. "He is a visionary and

compassionate leader who will further the impressive work of

our caregivers for the benefit of our patients."

Today, he is enjoying his hard-earned success and

reflecting on his education and career.

"Duquesne helped me to remain humble and always feel

that I was part of something much bigger and more important

than just myself," he says.

As Napierkowski recounted his story about Bricker, he

also offered advice to Duquesne students and young alumni:

"I went on to become a doctor and Doug [Bricker] went on

to become a dean. Think big. Never settle for good enough.

Never accept the answer 'no' from someone who does not

have the authority to tell you 'yes.'"

duq.edu 23
---
Creation

Caring for

FIRST DU PRESIDENTIAL CONFERENCE TO FOCUS ON CLIMATE

CHANGE, STEWARDSHIP OF CREATION By Karen Ferrick-Roman

24 DUQUESNE UNIVERSITY MAGAZINE Fall '15
---
I

n the wake of Pope Francis' recent environmental encyclical and in preparation for

the upcoming United Nations' climate change summit in Paris, more international

attention than ever is focused on the ecological condition of our world.

Concern about the environment—a key facet of Duquesne University's mission and

an issue of great importance to the University's founders, the Spiritans—will come to

light in a very public way on campus this fall.

Duquesne will tackle climate change and stewardship in its inaugural Presidential

Conference on the Integrity of Creation, bringing noted scholars such as Nobel

Laureate Richard Alley to campus Wednesday, Sept. 30, through Friday, Oct. 2.

duq.edu 25
---
THE INTEGRITY OF CREATION encompasses

human interactions with each other and other forms of life in

our natural world. President Charles J. Dougherty established a

University endowment to support this annual conference series,

which aligns with Duquesne's strategic plan to have respect for

the environment shape academic and business decisions.

"The core commitments of the Spiritans are sometimes summed

up as 'Justice, Peace and Respect for the Integrity of Creation.' The

meanings of the first two concepts—justice and peace—are relatively

clear. The goal of this conference is to shed light on the third

commitment, respect for the integrity of creation. By announcing this

as the first of an annual series of conferences and assuring a means of

ongoing funding, our intent is to secure a leading role for Duquesne

in this important discussion," says Dougherty.

The conference occurs at a critical time of influence and

impact, falling between Pope Francis' Laudato Si' (Praised Be), his

environmental encyclical released in June, and its secular bookend,

the United Nations' Climate Change Conference in December.

Additionally, Pope Francis will visit Philadelphia just days before the

Duquesne conference, perhaps again calling attention to the topic.

As a Spiritan, Catholic institution, Duquesne celebrates global

solidarity and environmental diversity, says Dr. Gerard Magill, chair

of the conference committee.

"The urgency and importance of climate change have inspired this

inaugural conference," says Magill.

The integrity of creation—and the care of creation—make

stewardship critical in our lives, says the Rev. Daniel Walsh, C.S.Sp.,

director of Spiritan Campus Ministry and University chaplain. It is a

key element in the work of Spiritans around the world committed to

serving the poor and marginalized. Poverty relegates millions to live

amid the harmful effects of industrialization, which may degrade the

water they depend upon or the soil for their crops.

"The integrity of creation calls upon us to be stewards, but how do

we become good stewards?" asks Walsh. "We need insights, we need

teachers. We need to know what the effects will be if we continue to

live in the manner in which we do today."

Urgency is promoted in the encyclical, reflecting that the pope

sees global environmental conditions as "real, grave and demanding

immediate action," says Dr. Daniel Scheid, assistant professor of

theology at Duquesne and author of the forthcoming book, The

Cosmic Common Good: Religious Grounds for Ecological Ethics.

The pope articulates the link between poverty and environment,

says Scheid, a member of the Integrity of Creation conference steering

committee.

"Of special concern are the poor and future generations, and

Francis rejects any 'green rhetoric' that aims to conserve nature but

ignores the plight of the poor," he notes in an article for America

magazine.

Reinforcing this philosophy, Scheid notes that the poor

disproportionately suffer the greatest environmental impacts, but are

the least responsible for it. He also hears the pope calling not just for

a new understanding of the human person in the mind and for the

development of an "ecological culture" through the work of human

hands, but for hearts to sing about the Earth's beauty.

"Reverence for creation allows awe and wonder to penetrate into

our hearts and calls us to a 'universal communion,' to kinship with

all creatures, to a sense of belonging and rootedness, and to joy in

the cosmos," writes Scheid. "After all, the final aim of an encyclical

on ecology is not just sustainable economies and immediate

international action on climate change, but also the praise and

worship of the Creator."

"The integrity of

creation calls upon

us to be stewards,

but how do we

become good

stewards?"

26 DUQUESNE UNIVERSITY MAGAZINE Fall '15
---
The inaugural Integrity of Creation conference will feature presenters and issues from

across the globe—including some of the expertise housed within Duquesne University.

Duquesne presenters on this conference about climate change include:

Dr. Lisa Lopez Levers, professor of counseling, psychology and special education, School of

Education, with Peter R. Teahen, president of the International Mass Fatalities Center, and Dr.

Vilia Tarvydas of the University of Iowa, who will speak about Disaster, Climate Change and

Public Health: Building Social-Ecological Resilience. Their work focuses on climate change as

a critical driver of disaster risk, especially in emerging areas.

"People in developing countries already are bearing the brunt of increasingly frequent and intense

floods, storms and droughts, and this burden is expected to increase over time," compounded by

development, environmental degradation, urbanization and public health issues, according to Lopez

Levers and her team. Interdisciplinary social-ecological theories may supply strategies to build resilient

communities that are better prepared for disaster, incorporating response, community resilience and

survival with pertinent disasters, climate change and public health concerns.

Dr. Robert Sroufe, Murrin Chair of Global Competitiveness, MBA Sustainability Program,

Palumbo•Donahue School of Business, who will speak about Operationalizing Organizational

Sustainability and the Integrity of Creation. Through interviews with a cross-industry sample

of 22 top-performing firms, Sroufe has identified how sustainability initiatives have evolved

in businesses and predicts how businesses might integrate sustainability efforts with a threephased

approach to measuring and managing performance. Current practices show that, already,

the triple bottom line considered by corporate leaders extends beyond financial performance to

incorporate human and social capital.

Sroufe will discuss why, how and what leading companies measure; their collaborative practices;

barriers to working with global supply chains; and the impact of gathering big data.

Dr. John Stolz, director of the Center for Environmental Research and Education, Bayer

School of Natural and Environmental Sciences, who will focus on Climate Change and the Gaia

Hypothesis. Forty years ago, James Lovelock put forth the Gaia hypothesis that proposed

the Earth's climate was modulated by geologic and cosmologic forces. He designed a simple

model, called Daisy World, in which populations of white daisies and black daisies could affect

the global surface temperature because of our sun's radiance. A major criticism at that time was

no control planet could be found to test this hypothesis.

Stolz looks at a different stressor in the Gaia hypothesis: the human-caused increase in atmospheric

carbon dioxide—higher by 70 parts per million since only the late 1970s—and the accompanying

increase in global temperature.

Hillary Cox, a student in the law school, who will speak about The EPA's Clean Power Plan

and Its Effects on Southwestern Pennsylvania. Based upon testimony collected at public

hearings in Pittsburgh, Cox will examine the economic and environmental impacts of this

attempt to lower the carbon intensity emitted through power generation.

"Insofar as our faculty expertise and research position us to be world leaders in the field and

in light of the recent encyclical on the environment from Pope Francis, it is highly appropriate for

Duquesne University to host an interdisciplinary conference on climate change this fall," says Dr.

Gerard Magill, chair of the conference committee. "This is the focus of the inaugural conference in

a new presidential conference series on the Integrity of Creation to celebrate the Spiritan mission

of our University. It is a delight to have prominent scholars at Duquesne who will contribute to this

conference that has attracted participants from around the world."

duq.edu 27
---
"...the final aim of an encyclical

on ecology is not just sustainable

economies and immediate

international action on climate

change, but also the praise and

worship of the Creator."

Hearts to God, Hands and Minds to Work for Solutions

In this vein, Integrity of Creation conference topics will

address global health, coastal housing, clean air and water,

agriculture diversity and international security issues—all

areas impacted by climate change, says Magill, who

holds the Gallagher Chair for the Integration of Science,

Theology, Philosophy and Law.

Among the presenters and topics—including three

Duquesne professors speaking about public health, how

businesses can incorporate sustainability measures and the

increase in Earth's atmospheric carbon dioxide—will be:

• Dr. Richard Alley, a member of the Nobel Peace

Prize-winning intergovernmental panel on climate

change, who will speak about Gold and the Golden

Rule: Economic and Ethical Opportunities on Energy and

Environment

• Dr. Robert Brinkmann, professor of geology,

environment and sustainability at Hofstra University,

who will speak about Global Sustainability Indicators:

Can We Get Along and Save the World in a Time of

Crisis?

• Mary Wood, the Philip H. Knight Professor of

Law and faculty director of the Environmental and

Natural Resources Law Program at the University of

Oregon, who will speak about Nature's Trust: A Legal

and Sacred Covenant to Protect Earth's Climate System

for Future Generations

• Dr. Laurie Zoloth, professor of religious studies,

bioethics and medical humanities at Northwestern

University, and past president of the American

Academy of Religion, who will speak about The Role

of Faith and Religious Commitments to Stewardship

"Each speaker brings extraordinary expertise on

climate change," says Magill. "They will inspire fascinating

discussion about this pivotal issue that is so much at the

heart of the University's Spiritan mission."

The Presidential Conference on the Integrity of Creation is

free and open to the public, but registration is required at

www.duq.edu/ioc.

Theology Professor to

Examine Faith-Based

Environmentalism

Dr. Daniel P. Scheid, assistant

professor of theology, is continuing

the conversation about eco-ethics, reframing it within

traditional Catholic social thought and exploring shared

common ground with other religious traditions.

Scheid's book, The Cosmic Common Good: Religious

Grounds for Ecological Ethics, will be published in

January by Oxford University Press. Scheid, a member

of the steering committee for Duquesne's inaugural

Integrity of Creation conference, reorients Catholic

social thought to ecological challenges, then examines

other religions' views of what he terms "the cosmic

common good."

Scheid begins with new principles of Catholic social

thoughts and grounds them in the doctrine of creation

in St. Augustine, St. Thomas Aquinas and contemporary

thinker Thomas Berry. He then examines this concept

in Hinduism, Buddhism and American Indian religion.

Across these religious traditions, he finds a moral

framework placing humans as part of the greater

universe—and proposes interreligious cooperation

as a way to preserve our natural world.

28 DUQUESNE UNIVERSITY MAGAZINE Fall '15
---
SPIRITAN TIES

Lasting Memories

In recent years, perhaps no Spiritan has touched the lives of as many

Duquesne students and alumni as the Rev. Sean Hogan, C.S.Sp., who stepped

down this summer as executive vice president of Student Life and now heads

the Duquesne University Scholarship Association.

A fixture on our Bluff for the past four decades, Fr. Hogan will be honored

at a tribute event on Saturday, Sept. 26. Here, three of the organizers share

their remembrances.

Brian L. Sullivan, B'82

Senior VP and Regional Marketing Director, Putnam Investments

Member, University Board of Directors

"In my senior year, I was hit by a car and had serious injuries which

put me in the hospital for a number of weeks. Fr. Hogan was the first

to come to the hospital to be with me during the most challenging

time of my life. He also contacted my family in New Jersey and made

arrangements for them when they arrived in Pittsburgh. As a result

of his kindness and concern, a lifelong bond developed among Fr.

Hogan, my family and me. Fr. Hogan has not only celebrated the first

Holy Communion of my daughters, but also the funeral Mass for my

father. We welcomed his family into our Pittsburgh home and then,

when my family visited Ireland, we spent time with his family."

The Honorable Maureen Lally-Green, E'71, L'74

Former Judge of the Pennsylvania Superior Court,

Duquesne Law Professor and Retired Director of

Church Relations for the Diocese of Pittsburgh

"For some of us, Fr. Hogan has made a spiritual impact—through his

beautiful celebration of the Mass, his splendid homilies or his wise

counseling. For others, his influence is witnessed in charitable acts

of kindness, as reflected by the many Duquesne graduates who have

benefited from the scholarship established in his family's name. For still

others, he made formative impressions—for example, a student who

celebrated too early in life or too noisily in the early hours. Having to

provide an explanation to Fr. Hogan was an unenviable position to be

in, but the experience was an important part of the college years. For

each and every one of us, our lives have been so much better for having

known him and for the great privilege of calling him a friend!"

Samuel A. Costanzo, A'72

Founder and President, The Academy System

Member, University Board of Directors

"Fr. Hogan has counseled, advised and helped thousands of students.

My wife and I are happy to be a part of this family, and honored to be

chairs of the Tribute Committee. We have watched him rescue students

with his scholarship. Suddenly a freshman can't pay for books or is

$1,000 short of paying room and board. What do you do? Call Fr. Hogan.

His work ethic is incredible. He works seven days a week, up to 16

hours a day. And he knows everyone. If you are lucky enough to dine

with him, get ready for a reception line at your table! Yet, he's incredibly

humble. When my father passed away, my brother and I were in shock.

He took care of the Mass arrangements for us, and at the Mass, he was

an altar server. There's such beauty in that humility. We plan on hosting

a wonderful tribute to Fr. Hogan that is both dignified and fun."

"...Fr. Hogan has

made a spiritual

impact—through his

beautiful celebration

of the Mass, his

splendid homilies or

his wise counseling."

A Tribute to Father Hogan:

Celebrating 40 Years of

Distinguished Service

Saturday, Sept. 26, 2015

5 p.m. Mass, Chapel

6 p.m. Cocktails, 5th Floor,

Duquesne Union

7:15 p.m. Dinner, Ballroom,

Duquesne Union

For more information, contact

Jim Miller at 412.396.6044 or

millerj@duq.edu.

duq.edu 29
---
CELEBRATING

100 Seasons

of Basketball

ON THE BLUFF

The Duquesne men's basketball program will be

celebrating its 100th season in 2015-16.

Duquesne, which played its first game on Jan. 9,

1914, has been part of many firsts in the history of college

basketball. Four years after becoming the first school to play

in both the NIT and NCAA tournament in the same season

(1940), Duquesne was one of the first schools to disband

its program (1944-46) to assist with the World War II effort.

This list goes on, notably as Duquesne's Chuck Cooper was

the first African-American drafted by an NBA team (Boston

Celtics in 1950). And to this day, Duquesne stands as the

only school to produce the No. 1 overall pick in consecutive

NBA drafts (Dick Ricketts in 1955 and Sihugo Green in 1956).

Those are just a few of the interesting chapters in the

storied history of the Duquesne Dukes. Read on and enjoy as

we present some of the highlights from the first 99 years of

Dukes basketball.

1914

1914

Duquesne defeats

Bethany in its first

game, 43-28.

CUMBERLAND

1917-18 POSEY

Duquesne sees its first recorded African-American

athlete, Cumberland Posey, complete his playing

career. Posey, who played for the Dukes under the

name Charles Cumbert, led DU in scoring for three

seasons before going on to greater fame as the

manager and later owner of the fabled Homestead

Grays of the Negro Baseball League. Posey, along with

Harvard grad Edwin Henderson, is considered to have

been instrumental in introducing basketball to the

African-American community in the early 1900s.

30 DUQUESNE UNIVERSITY MAGAZINE Fall '15
---
1920 1930

1922-23

Rev. Eugene McGuigan leads the Dukes to a school record

16 wins (16-2) in his last of eight seasons as head coach. DU

constructs its own 1,200-seat gymnasium, replacing its old home,

which consisted of a slanted stage located below the chapel.

1924-25

Legendary head coach Chick Davies takes the

reins of the Duquesne program. Davies would go

on to post a 314-106 record in 21 seasons at DU..

1932

A capacity crowd is on

hand at Pitt Stadium to see

Duquesne defeat Pitt, 28-21,

in the first basketball meeting

between the two schools.

Dudey Moore, who would go

on to have an outstanding

coaching career at DU, led the

Dukes with nine points.

CHICK

DAVIES

duq.edu 31
---
IRON

DUKES

1937-38

The legendary Iron Dukes come in together as freshmen

in 1937-38. The name "Iron Dukes" was derived from the

fact that only five players were used in most games. The

names are fabled in DU basketball history: Moe Becker, Lou

Kasperik, Paul Widowitz, Rudy Debnar, Ed Milkovich (Melvin)

and Bill Lacey.

1940-41

The Iron Dukes reach their zenith in the 1940 and

1941 seasons, compiling a 37-6 record while bringing

national attention to Duquesne basketball. The 1940

team (20-3) was Duquesne's first 20-game winner,

as well as the first in college basketball history

to play in both the NIT and NCAA Tournament in

the same season. The '41 squad finished 17-3 and

declined a bid to the NCAA Tournament to play in

the more prestigious NIT.

1950

Duquesne's Chuck Cooper is the first

African-American drafted by an NBA

team (Boston Celtics).

1940

1952

The first televised game in Pittsburgh

basketball history is between Duquesne and

St. Bonaventure on Feb. 11, 1952 from Duquesne

Gardens. The Dukes and Bonnies were the only

unbeaten teams in the nation at the time.

1947

The Dukes finish 17-6 in Chick Davies'

final season as head coach. Davies,

whose 21-year tenure is the longest in DU

basketball history, went 42-27 against 19

Hall of Fame coaches and had just one

losing season during his career.

1943

The Associated Press reports

that "Duquesne University, a little

school with a big football and

basketball reputation, became

a 'war casualty' today, scrapping

its entire intercollegiate sports

program for the duration. While

numerous schools have dropped

either football or basketball—or

both—Duquesne is one of the

few major schools to sever all its

collegiate sports ties."

1946

Duquesne head coach Charles "Chick"

Davies, honoring the stand of DU

administration, refuses to yield to

Tennessee coach John Maurer's refusal

to send his team on the floor in protest

of DU's African-American center Chuck

Cooper taking part in the game. Judge

Sammy Weiss, acting chairman of the

Duquesne athletic committee, addressed

the nearly 3,000 disappointed fans on

hand: "Speaking as a Duquesne Athletic

Council official, I insist that no player be

barred from this game by reason of race,

color or creed. The principle of the entire

matter means more to us than a mere

basketball game." Duquesne, which won

its first 20 games on its way to a 20-2

record—the best among the nation's 32

independent teams—declined an NCAA

Tournament bid to play in the more

prestigious NIT.

CHUCK COOPER

32 DUQUESNE UNIVERSITY MAGAZINE Fall '15
---
1954

Duquesne is one of only four

current Atlantic 10 schools

that have reached the top of

the Associated Press poll. The

Dukes were ranked No. 1 in the

country for two weeks in 1954.

1957-58

Donald "Dudey" Moore—who

led the Dukes to the 1955 NIT

title—finishes his 10-year career

at Duquesne with a 191-70 record.

Moore led the Dukes to six NIT

appearances (DU played in both

the NIT and NCAA Tournament

in 1952) and five Top 10 AP

poll finishes. Moore was named

college Coach of the Year by the

United Press in 1952 & 1954.

1955

Duquesne, led by consensus

All-Americans Dick Ricketts

and Sihugo Green, win the

1955 NIT. DU is one of five

current A-10 schools with an

NCAA or NIT title.

NIT

CHAMPS

Sihugo Green is taken as the first overall

pick in the 1956 NBA draft by Rochester,

making Duquesne the only school in NBA

history to have the first overall pick in

back-to-back years (Dick Ricketts was

taken first overall by Milwaukee in 1955).

1950 1960

1958-59

Red Manning takes over as head

coach of the Dukes. Manning would

go on to post a 247-138 (.642) record

and lead the Dukes to two NCAA and

four NIT appearances in 16 seasons.

1961

On Dec. 6, 1961, Duquesne plays in the first college basketball game at

Pittsburgh's Civic Arena—a 78-40 win over Carnegie Tech.

"The scene on the basketball floor after last night's Duquesne win over St.

Bonaventure resembled the hysterical mobs that roamed the city streets when

the Pirates won the World Series last fall," wrote Bob Drum in the March 2, 1961

edition of The Pittsburgh Press. "The students thundered out of the stands and

mobbed the five men who played the whole way, including overtime, for the Dukes.

And St. Bonaventure, which went with only one sub all night, slowly walked away

unnoticed." What set off the standing room crowd of 5,439 at Pitt Field House? It

was unranked Duquesne's 79-74 overtime win over the No. 2 Bonnies. Duquesne

University President Rev. Henry J. McAnulty, caught up in the excitement of the

win over the 21-2 Bonnies, cancelled the next day's classes, giving DU students

the opportunity to celebrate the upset victory. The Dukes, who won their final

four games to finish 14-7, were overlooked for that desired NIT berth. The win over

the No. 2 Bonnies, which stands as the highest-ranked team Duquesne has ever

beaten, paved the way to a 22-7 record and NIT semifinal appearance in 1962.

duq.edu 33
---
1962

Coach Red Manning turns in one of his

best coaching jobs as Duquesne, competing

without preseason All-American Willie

Somerset (who was lost for the season

due to knee surgery), wins three of its final

four games to finish 13-9. The Dukes, with

Somerset back, built on that 3-1 '63 finish to

make an NIT appearance in 1963-64.

1971

On Jan. 18, 1971, unranked

Duquesne defeats No. 9 (AP)

Notre Dame 81-78 in overtime

before 10,131 at the Civic Arena.

The '71 Dukes averaged a

school record 85.8 points per

game on their way to an NCAA

Tournament appearance.

2001

On Jan. 27, 2001, Duquesne retires the numbers

of Chuck Cooper (#15), Dick Ricketts (#12), Sihugo

Green (#11), Willie Somerset (#24) and Norm Nixon

(#10) at halftime of a game against Xavier.

1996

Tom Pipkins hits a school-record

99 3-pointers in 27 games.

1993

Derrick Alston earns First

Team All-Atlantic 10 honors

in leading the Dukes to an

NIT appearance. Alston would

go on to be drafted in the

second round by the NBA

Philadelphia 76ers.

1970

1980

1990

NORM NIXON

1988

On Dec. 3, 1988, Duquesne plays

its first game at Palumbo Center,

a 73-69 win over Saint Joseph's. It

was the first basketball game on

campus since the 1943 season.

1980-81

Bruce Atkins leads the Dukes to the

Eastern 8 Tournament championship

game by posting a school-record 22

double-doubles. Atkins averaged 15.1

points and 11.7 rebounds/g. in '81.

1976-77

Duquesne, with conference Player of the Year Norm Nixon

leading the way, earns an NCAA Tournament bid by winning

the Eastern Collegiate Basketball League Tournament title

in its first season as a conference member.

1978

On Dec. 29-30, 1978, B.B. Flenory

posts the most prolific two-game

scoring outburst in school history

with 41 points vs. Marshall followed

by 48 vs. Ohio at the West Virginia

Classic at Morgantown, W.Va.

Flenory led the Eastern 8 in scoring

that season at 20.8 ppg.

34 DUQUESNE UNIVERSITY MAGAZINE Fall '15
---
2002

Mike James begins a 13-year

NBA career—the longest of

any DU player—with the Miami

Heat. James would go on to

play for 12 NBA teams as well

as spend one season playing

professionally in Turkey.

2008-09

First Team All-Atlantic 10

pick Aaron Jackson posts a

school-record 194 assists

in leading the Dukes to an

NIT appearance.

2014

Tenth-ranked Saint Louis (25-2), riding a 19-game winning

streak, needed one victory to clinch the Atlantic 10 regular

season title when 11-15 Duquesne strolled into town on

Feb. 27, 2014. The upstart Dukes, led by a then career-high

22 points from sophomore guard Micah Mason, stunned

the sellout crowd with a 71-64 win, Duquesne's first road

victory over a Top 10 team in 52 years. The Dukes finished

strong, making 12 of their last 15 shots after Saint Louis had

taken its largest lead at 42-35 with just under 14 minutes

left. Duquesne went 8-of-15 from 3-point against a SLU

defense that was leading the nation in 3-point field goal

2000 2010

defense. Mason, the nation's leading 3-point shooter, and

senior Jerry Jones were a combined 7-of-9 from the arc.

The win was Duquesne's first over a Top 10 team since a

72-68 win over No. 9 (AP) Xavier on Feb. 7, 2009. It was also

Duquesne's first road win over a Top 10 team since a 73-72

victory at No. 6 (AP) Bradley on March 5, 1962. It was the

16th time in school history—and just the third time since

1975—that an unranked Duquesne team defeated a Top 10

opponent. The game was televised nationally by NBCSN.

NCAA-BEST

2013-14

Micah Mason becomes the first Dukes men's basketball

player to lead the nation in an individual statistic when

he shoots an NCAA-best .560 from the 3-point arc.

DUKES TIP-OFF "100"

The Dukes will host Seton Hill University in

the home opener at the Palumbo Center on

Friday, Nov. 13, 2015 at 7 p.m.

Highlights to celebrate include:

• Vote for Your Duquesne Men's Basketball All-

Century Team

• Hall of Fame Weekend & Men's Basketball Alumni

Weekend (Feb. 5-6, 2016)

• Throwback Uniform Auctions

• Giveaways Every Game Day at Home

Stay on top of the action by visiting GoDuquesne.com

and following "GoDuquesne" on social media.

Looking Forward:

THE 2015-16

SEASON

DUKES TO COMPETE IN 2015

GULF COAST SHOWCASE

The Duquesne Dukes will head to southwest Florida

Nov. 23-25, 2015, to compete in the third annual Gulf

Coast Showcase, a 16-team tournament featuring

the top mid-major programs from across the country.

The Dukes will be joined by Central Michigan, Drake,

Milwaukee, Murray State, Pepperdine, Weber State and

Western Kentucky.

Tickets:

Purchase through Ticketmaster or call

Germain Arena box office at 239.948.7825.

Fan travel packages:

Visit GulfCoastShowcase.com for package

details and to book your trip.

duq.edu 35
---
OUR BLUFF IN BRIEF

Our Bluff in Brief

FROM NEW FACES

AND NEW SPACES

TO AWARDS AND

SPECIAL EVENTS,

THERE'S ALWAYS

SOMETHING

HAPPENING ON

OUR BLUFF.

FULBRIGHTS, HONORS COME TO INCREASINGLY PROMINENT

PHILOSOPHY DEPARTMENT

Two graduate students have been selected as Fulbright recipients

from the same department—a first for the University. These two

are joined by four other graduate philosophy students receiving

prestigious awards for study abroad.

The award winners are:

Martin Krahn received a Fulbright supporting the study of the

relationship between metaphysics and physics in Georg Wilhelm

Friedrich Hegel's philosophy of nature at the Technical University of

Kaiserslautern in Germany.

Paul Zipfel's Fulbright supports the study of the phenomenology of

Edmund Husserl, specifically the phenomenology of intersubjectivity.

After a month of language studies in Nantes, France, Zipfel will study

at the Husserl Archives at the University of Cologne.

Alessio Rotundo is one of only 15 Chateaubriand Fellows selected

by the French government. He will study at the Husserl Archives in

Paris and critically evaluate Maurice Merleau-Ponty's reflections on

biological nature and the place of human beings within nature.

Bethany Somma received a three-year research fellowship from the

Munich School of Ancient Philosophy at Ludwig Maximilian University

in Germany, where she will work to produce her doctoral dissertation

on late antique Greek and classical Arabic philosophy.

Tristana Martin-Rubio will attend an intensive language course at

the Goethe Institute in Berlin, thanks to a Deutscher Akademischer

Austausch Dienst. Her doctoral work at Duquesne will focus on

phenomenology. Her studies are supported by the CAD Social

Sciences and Humanities Research Council (SSHRC) Doctoral

Fellowship, the most elite award for Canadians studying at

international institutions and one of the top doctoral awards in

Canada.

Aaron Higgins-Brake is another SSHRC Doctoral Fellowship

winner who chose to study at Duquesne. He will focus on Plotinus'

philosophy of the self, individual happiness and understanding of the

world at large.

DEDICATION OF REBUILT

ORGAN LAUNCHES NEW MUSIC

ERA AT DUQUESNE CHAPEL

A special, invitation-only

dedication Mass and recital on

June 28 marked the beginning of

a new musical era in the Chapel

of the Holy Spirit.

After several months of work,

the first-of-its-kind rebuilt organ

and a redesigned choir loft were

at the center of the dedication

events. Dr. Ann Labounsky,

professor and chair of organ and

sacred music in the Mary Pappert

School of Music, played the

organ during a Mass attended by

more than 150 people and was

accompanied by a choir and a

brass quartet.

Originally installed in Duquesne's

chapel in 1896, the organ

received various updates as

needed. But by 2012, serious

problems began to plague the

organ, including numerous leaks

in the bellows and wind chests.

A gift from the Donald and

Therese Hastings family

provided Duquesne University

with the funds needed for a

new organ. Additional funding

was provided by the Estate of

Alexander Stephen Labounsky

(Ann's late brother) for the

acquisition of the organ, and the

Rita M. McGinley Foundation

provided funds for the renovation

of the chapel's choir loft (where

the organ is located).

36 DUQUESNE UNIVERSITY MAGAZINE Fall '15
---
IN ITS FIRST YEAR, BIOMEDICAL

ENGINEERING PROGRAM

DRAWS KEEN INTEREST

As the University ended its

first year of offering biomedical

engineering (BME), it discovered

the program is a leader in

generating more female

engineers—with 47 percent

more women enrolled in the

new program than the national

average for females working in

the field.

Across the nation, women

account for less than 28 percent

of workers in all science and

engineering occupations,

according to the National

Science Foundation's Science

and Engineering Indicators 2014.

In bioengineering and biomedical

engineering, women account for

18.2 percent of the workforce.

At Duquesne, females account

for about 65 percent of the

BME enrollment—three times

the national average for women

working in the field, says Dr. John

Viator, director.

Duquesne's pioneering program

launched as the BME field

exploded. The Bureau of Labor

statistics project that BME

employment needs through 2022

will skyrocket by 27 percent, far

beyond the average job growth

of 11 percent.

An attractive mix of theoretical

and hands-on experiences at

Duquesne appears to resonate

with students. In its first year,

20 percent more students than

anticipated enrolled in the

program, for a total of 24. In its

second year, more than 230

applicants are interested in 25

class slots.

BUSINESS SCHOOL LAUNCHES

E-MAGAZINE WITH FOCUS ON

ALUMNI ENGAGEMENT

The Palumbo•Donahue School

of Business has published the

inaugural issue of Duquesne

Business Leader, its new

biannual e-magazine that

focuses on alumni outreach and

engagement.

The e-magazine provides a

forum for building stronger links

between alumni and the school.

It features a sampling of the

school's accomplishments and

addresses strategic plans for its

future.

Dr. Dean McFarlin, dean of the

Palumbo•Donahue School,

believes that reaching alumni

and keeping them involved is

the key to helping the school

achieve its goals for growth and

progress.

"We can't achieve our strategic

goals as a school without the

support of our alumni and

friends," says McFarlin. "They

provide advice, resources

and jobs for our students. But

that support requires

engagement—alumni need to

know what we are doing, what

our goals are and how they can

help. Moreover, they need to feel

connected with us and that, by

engaging with us, they can make

a real difference in moving the

school forward."

The introductory issue of

Duquesne Business Leader

can be viewed online at www.

duq.edu/dbl. The next edition

is scheduled for publication in

October.

FUNDING WILL HELP DU

PHARMACY BETTER ASSIST

ELDERLY

Recent funding from McAuley

Ministries, the grant-making

foundation of the Pittsburgh

Mercy Health System, will

help the Duquesne University

Pharmacy in the Hill District

better focus on the senior

population through its

community-based health

screenings.

The $46,300 McAuley Ministries

renewal grant will support efforts

to target the elderly population

who will benefit from the

pharmacy's disease/medication

therapy management and patient

safety programs.

Terri Kroh, director of the

Duquesne University Pharmacy,

says information gathered

through initial outreach activities

from a previous McAuley

Ministries grant in 2012 helped to

determine additional community

needs and identify emerging

health care issues. Of the

3,610 individuals the pharmacy

screened in that time, nearly

2,960 were identified as being

at-risk.

"We are very grateful for this

grant renewal from McAuley

Ministries," says Kroh. "Our

senior wellness and disease

management program will be

improved with fall prevention

assessment; therapeutic

duplication and high-risk drugs

screenings; and continued health

screenings to improve access

and affordability to preventative

health care in the community we

are proud to serve."

PHILOSOPHY OF

COMMUNICATION EXPLORED

AT INTERNATIONAL

CONFERENCE

The Department of

Communication and Rhetorical

Studies' Communication Ethics

Institute hosted four acclaimed

keynote speakers and featured

competitive papers and panel

presentations when it hosted the

second biennial Philosophy of

Communication Conference on

campus in June.

The conference focused on four

themes: Rhetoric and Philosophy;

Organizational Communication/

Corporate Communication;

Semiotics and Phenomenology/

Communicology; and Media

Ecology and History.

Presenters included Dr. Calvin

O. Schrag, a professor emeritus

at Purdue University, Fulbright

Scholar at Heidelberg and Oxford

universities and a Guggenheim

Fellow at the University of

Freiburg; Dr. Linda Putnam,

professor at the University

of California, Santa Barbara;

Dr. Frank J. Macke, professor

of rhetoric, semiotics and

communication theory at Mercer

University; and Dr. Gary Genosko,

professor of communication at

the University of Ontario Institute

of Technology.

duq.edu 37
---
OUR BLUFF IN BRIEF

SCHOOL OF NURSING NAMED

NLN CENTER OF EXCELLENCE

For the third consecutive time,

the National League for Nursing

(NLN) designated the School

of Nursing as an NLN Center

of Excellence. Only 12 schools

of nursing were chosen as NLN

Centers of Excellence for the

period 2015-2020.

According to the NLN,

designation as a Center of

Excellence in Nursing Education

distinguishes those schools

and healthcare organizations

that demonstrate sustained,

evidence-based and substantive

innovation in a selected area;

conduct ongoing research to

document the effectiveness

of such innovation; set high

standards for themselves; and

are committed to continuous

quality improvement.

Each year since 2004, the

NLN invites nursing schools

to apply for Center of

Excellence status based on

their ability to demonstrate

sustained excellence in faculty

development, nursing education

research or student learning and

professional development.

PROFESSOR PARTICIPATES

IN ACCREDITATION VISIT

FOR SPIRITAN UNIVERSITY IN

NIGERIA

A Spiritan university under

construction in Africa is on its

way to accreditation by the

Nigerian government.

Dr. George Worgul, theology

professor and Duquesne's

coordinator of Africa programs,

recently participated in the

initial visit by Nigeria's National

Universities Commission for the

Spiritan University Nneochi—

Abia State.

Worgul, who serves on the

institution's board of trustees,

met with local leaders and

shared the possibilities of further

collaboration with Duquesne,

which embraces strengthening

ties with Africa as part of its

strategic plan.

The private university is

sponsored by the Nigeria South

East Province of Spiritans—the

home province of several

Duquesne Spiritans and the

world's largest Spiritan province.

Initially, 400 to 700 male and

female students are expected

to enroll in the undergraduate

programs.

"Higher education is a way to

address the challenges of making

peace, providing social justice

and having development that

respects the environment," says

Worgul.

6TH ANNUAL SIZEMORE

SUMMER CONFERENCE

FEATURES NEW YOUTH

CONFERENCE

The annual Barbara A. Sizemore

Summer Conference on campus

featured a new event—a youth

conference designed to help

increase the interest of urban

high school sophomores and

juniors in science, technology,

engineering and math (STEM)

disciplines.

Now in its sixth year, the

Sizemore Summer Conference is

sponsored by the Canevin Center

for Educational Transformation

and Social Justice, the Barbara

A. Sizemore Education Initiative

and the School of Education.

Titled The Right to an Excellent

Education for All Children: Do We

Have the Will?, the conference

was held in May.

Approximately 250 members

of the Duquesne University

and Pittsburgh education

communities discussed and

addressed issues related to

improving education for all

students, particularly those in

urban schools. Events included

keynote presentations by

educators and renowned experts,

and 12 professional development

workshops focused on enhancing

learning in the urban classroom.

SPIRITAN GENERAL ASSEMBLY

HELD ON CAMPUS

Members of the Congregation

of the Holy Spirit Province of

the United States gathered

on campus recently for their

triennial general assembly during

which they re-elected the Rev.

Jeffrey T. Duaime, C.S.Sp., as

provincial for another three-year

term.

"It's an opportunity to be of

service to the congregation and

to the members," says Duaime,

who was first elected provincial

in 2012 after serving as provincial

for what was then the East

Province from 2004-2009. "For

that to have happened (at the

assembly) in the context of the

prayer and discussions that we

had and in the great spirit—I

feel humbled and empowered to

continue my work as provincial."

During the weeklong session, a

facilitator helped the Spiritans

manage discussions that

centered on two previously

selected topics: International

Community Life and Focusing

Our Spiritan Mission in the

United States. Overall, Duaime

says the general assembly

resulted in those who had

attended leaving with a feeling

of a strong commitment to each

other and to the work that the

Spiritans are doing.

38 DUQUESNE UNIVERSITY MAGAZINE Fall '15
---
LEADERSHIP SYMPOSIUM

FOCUSES ON SOCIAL JUSTICE

THROUGH EDUCATION

Reflections and perceptions that

can generate action and renewal

through education was the

focus of the annual Duquesne

Educational Leadership

Symposium, which gathered

educators and academics on

campus in May.

The theme, Rivers of Justice,

Bridges of Love, examined ways

to reclaim voices of innocence

and foster renewal during the

eighth annual event hosted

by the University Council for

Educational Administration

(UCEA) Center for Educational

Leadership and Social Justice.

Making Pittsburgh and other

cities livable for all—including

minorities and other marginalized

people—was a focus of this

year's symposium, says Dr.

Gretchen Generett, associate

dean for graduate studies and

research, who is director of the

UCEA Center for Educational

Leadership and Social Justice at

Duquesne.

The UCEA Center for Educational

Leadership and Social Justice at

Duquesne, which is sponsored by

the School of Education, is one

of only eight centers of its kind

in the world. It focuses on the

relationship between educational

leadership and social justice,

and better preparing leaders

to deal with those who are

marginalized, under-represented

and underserved.

CONFERENCE EXPLORES RE-

ENERGIZING BUSINESS

The Small Business

Development Center's 17th

annual Entrepreneur's Growth

Conference, held in May, explored

how to re-energize one's

business with new resources,

ideas and contacts.

Two prominent local business

leaders offered keynote

addresses during the conference

with advice and insight on

shepherding a growing business

through changes. Rob Daley,

chief executive officer of

Pittsburgh-based 4moms, kicked

off the conference with his

breakfast presentation. Daley has

led 4moms since its formation in

2005, and has made the concept

of high-tech baby gear not only

successful, but sought after for

its usefulness and convenience.

For the lunch keynote address,

Bill Sarris, president of Sarris

Candies, shared how—as part

of a family business that spans

generations—he has seen many

different trends, innovations and

growth phases come and go for

his company.

The conference agenda also

included 12 different workshops,

nearly two dozen expert

speakers and panelists, and a

business-building tradeshow.

IABS SPONSORS DUQUESNE

BOOK SERIES ON BUSINESS

ETHICS

The International Association

for Business and Society (IABS)

is sponsoring the development

of an annual book series by

Duquesne University business

faculty on ethics issues.

The series comprises a

compilation of peer-reviewed

chapters that complement the

academic journal distributed

by the IABS, an organization

promoting research on the

relationships of business,

government and society.

Co-editors for the series

will be Dr. David Wasieleski,

chair of the management and

marketing department and

associate professor of business

ethics, and Dr. James Weber,

professor of business ethics

and management, both in the

Palumbo•Donahue School

of Business. The two faculty

members anticipate launching

the series next year.

"The development of the

series will not only draw upon

Duquesne's faculty expertise,

but will help shape the field in

business ethics in important

ways, cementing our school

as a leader in an area that fits

perfectly with our mission

and Spiritan heritage," says

Dr. Dean McFarlin, dean of the

Palumbo•Donahue School of

Business. "Scholars, students and

practitioners all will benefit from

the knowledge and insights this

book series will provide about

cutting-edge issues in business

ethics."

DUQUESNE UNIVERSITY

PHARMACY, CENTER AND

SCHOOL GARNER PRESTIGIOUS

AWARD

The Mylan School of Pharmacy,

together with the Duquesne

University Pharmacy, the Center

for Pharmacy Care and the

Academic Partners Program, has

been selected by the American

Pharmacists Association

Foundation as one of its three

2015 Pinnacle Award honorees.

The Pinnacle Awards celebrate

significant contributions to the

medication use process through

increasing patient adherence,

reducing drug misadventures,

promoting the use of national

treatment guidelines, improving

patient outcomes or enhancing

communication among members

of the health care team.

Duquesne was selected for the

Government Agency-Nonprofit

Organization-Association Award,

which recognizes organizations

that have demonstrated

approaches to assist patients

and their caregivers in achieving

better outcomes from their

medications.

"We live our mission through

many ways in the school

of pharmacy, including

direct patient contact and

practice-based research,

pharmacoeconomics outcomes

research and the basic science

research efforts that affect

disease outcomes," adds Dean

of Pharmacy Dr. J. Douglas

Bricker. "This is yet another

example of how we are true to

our mission of improving health

outcomes in patients and their

communities."

duq.edu 39
---
ATHLETICS

Tabata, Love Selected as A-10 Nominees

for NCAA Woman of the Year

Two of the brightest stars from the

Atlantic 10 Conference have been selected

as the league's nominees for the NCAA

Woman of the Year Award. Former studentathletes

Devon Tabata and Arielle Love

were announced in July as the conference

candidates for one of the NCAA's most

prestigious awards.

Both student-athletes completed their

eligibility last year and graduated from

Duquesne in May. Tabata, a women's

soccer goalkeeper, and Love, a volleyball

outside hitter, were selected from a pool

of 11 outstanding institutional honorees,

representing six A-10 sports and 10

different A-10 institutions. Love and Tabata

were chosen as the league's nominees based

on their athletic achievements, academic

prowess, community involvement and

leadership abilities.

"Each year, we have remarkable

nominees for this award, which showcases

the best of the best in the NCAA," states

Atlantic 10 Commissioner Bernadette V.

McGlade. "Devon and Arielle have excelled

academically, athletically and are leaders

on a national stage. They are committed

student-athletes, campus and community

leaders, and inspiring role models. The

A-10 is proud to nominate each for this

prestigious NCAA award."

Tabata, who was recently featured in a USA Today profile,

has been actively involved in NCAA leadership, serving on

the new NCAA Division I Council, making her one of the first

two student-athletes to participate as a voting member on

the high-level, executive-led decision-making body. She also

has served as vice chair of the Division I National Student-

Athlete Advisory Committee (SAAC) for the past two years.

Her national accolades during that time also include serving

as the only student-athlete voice on the Division I Student-

Athlete Reinstatement Committee, and sitting on the former

Division I Academic Cabinet. She was a member of the

Atlantic 10 Conference and Duquesne campus SAACs. On

Duquesne's campus, she served on the Student Executive

Leadership Council and was a member of the Senior Gift

Giving Committee.

A four-year starting goalkeeper for the Duquesne women's

soccer team, Tabata was the Duquesne 2015 Co-Female

Devon Tabata

Arielle Love

Student-Athlete of the Year. She ranks

second in program history with a goals

against average of 1.29, second in program

history with a save percentage of .799 and

third in program history with 17 wins.

Tabata has been a member of the A-10

Commissioner's Honor Roll, the Duquesne

Dean's List and the Dukes' Director of

Athletics Honor Roll in each of her eight

semesters. Tabata served as a coordinator

and project leader in multiple volunteer

efforts. She earned her bachelor's degree in

business administration, magna cum laude.

A Lowe's Senior CLASS Award candidate,

Love was just the fourth player in Atlantic

10 history to earn AVCA National Player

of the Week (Oct. 7, 2014). She was named

to the Atlantic 10 Commissioner's Honor

Roll and Duquesne Dean's List nine

times in 10 semesters, and was on the

Athletic Director's Honor Roll 10 out of 10

semesters.

Love was selected for the 2014 A-10

Volleyball All-Academic Team. A threetime,

All-Conference First Team selection,

her AVCA Honorable Mention All-America

honors came during her senior year,

when she was also selected as AVCA

All-Region. Love was the 2013 Atlantic 10

Championship Most Outstanding Player

and a member of the All-Championship Team after leading

Duquesne to its first-ever A-10 title and NCAA Tournament

appearance. She was named A-10 Player of the Week six times

throughout her career, and was a member of the 2011 A-10

All-Rookie Team. Love served as team captain for the Dukes

and was a volleyball representative on the Duquesne Student-

Athlete Advisory Committee.

She coached club volleyball with Pittsburgh Elite and

Tri-State Elite teams, worked with the Boys and Girls Club of

Western Pennsylvania, and volunteered at the Maple Heights

Community Food Pantry. This past spring, Love volunteered

on the media support staff for the NCAA Men's Basketball

Championship Second and Third Rounds. She worked

with Net Impact on social and environmental changes,

and graduated cum laude in just three years with a sports

marketing degree. Love is currently pursuing her master's

degree in sustainability.

40 DUQUESNE UNIVERSITY MAGAZINE Fall '15
---
WE

DREAM

WE

SUCCEED

WE

THINK

WE

SERVE

Introducing

THE DUQUESNE FUND

Duquesne provides a distinctive blend of academics that challenge,

values that guide, a location that inspires and an experience that

def ines. It's an experience that makes each of us something more.

Sustaining and improving our holistic education for

the mind, heart and spirit requires consistent annual

support—gifts of all sizes, from thousands of alumni

and friends—with a powerful cumulative effect.

Gifts to The Duquesne Fund provide immediately

expendable operating support that is targeted to the

top priorities and most pressing needs facing the

University, its schools and vital departments. The

Duquesne Fund enhances teaching, research and

technology; scholarships and financial aid; a vibrant

student life; and the safe and well-maintained facilities

in which our students live, learn and grow.

Every gift makes a difference. Of the more than $2.3

million in annual gifts received last year, nearly half of

the gifts were under $100. And while directly benefiting

students, each gift also raises our participation rate,

which in turn sustains and improves Duquesne's

national rankings, financial ratings and reputation.

Your gift ensures that today's students gain everything you did

from Duquesne—and SOMETHING MORE.

Every donor, every gift, every year—enhances every aspect of the Duquesne experience.

Give our students SOMETHING MORE. Learn more and make your gift at duq.edu/the-duquesne-fund!

duq.edu 41
---
CLASS NOTES

Alumni Updates

1950s

Carl P. Izzo, Sr., S'54, has closed

his industrial paint consulting

business, 23 years after retiring

from Westinghouse R&D Center,

where he was the corporate paint

consultant for 33 years. He also

retired from his monthly column for

Products Finishing magazine after

34 years. He will now have more

time for building his model railroad.

A classically-trained pianist, he

also performs monthly concerts at

a personal care home.

1960s

William F. Kraft, A'60, GA'62,

Ph.D.'65, is the author of Coming

to God, A Psychospiritual

Approach (Wipf & Stock). He

is professor emeritus at Carlow

University and the author of 12

books in the areas of addiction,

sexuality, life-cycle development,

and holiness and healthiness.

Dr. Rosemarie Rizzo Parse,

N'60, was the keynote speaker

in Singapore at the Innovating

Long-Term Care Conference

in March. Earlier, she was the

keynote speaker at the 16th

Biennial National Conference on

Humanbecoming in Sioux Falls. Her

address was The Humanbecoming

Paradigm and Living Quality.

William Deigan, A'68, was elected

president of the advisory board

for Florida Atlantic University's

Lifelong Learning Society. He is

also chair of the advisory board

of Our Lady of Florida Spiritual

Center.

1970s

Ralph Stalter, A'73, is a member of

the League of Resident Theatres,

Nevada Repertory, sister company

of Las Vegas Shakespeare

Company, and has been appointed

executive director of the Clark

County Theatre Center.

Stephen Levin, L'74, has

been elected president of

the International Society

for Philosophical Enquiry

(ISPE), a global ultrahigh-IQ

society. The only admission

qualification is an IQ at the

99.9th percentile as measured on

standard psychometric tests of

intelligence. He formerly served

as ISPE's general counsel since his

admission in 1994.

David S. Pollock, L'74, received

the Years of Service Award from

the Washington County Bar

Association, which recognizes

individuals who have committed

40 or more years of service to the

legal profession. He was also a

2015 recipient of the Pittsburgh

Business Times Diamond Awards.

Criteria are based on "leadership

capability, business philosophy,

and relationships with employees,

as well as community involvement."

He is included in the Pennsylvania

Super Lawyers list and also the

2015 Top 50 Pittsburgh Super

Lawyers list. He is the founding

partner of the family law firm

Pollock Begg Komar Glasser &

Vertz LLC.

Brian Blair, B'75, has been named

president of Bryn Athyn College.

40 th REUNION YEAR

Dr. Daniel Napierkowski, P'79,

was named president of Cleveland

Clinic's Euclid Hospital. Since 2010,

he has been chairman of regional

practice anesthesiology and plans

to continue his clinical practice at

Euclid Hospital.

1980s

Patricia Dodge, L'81, Meyer,

Unkovic & Scott managing

partner, was honored by The

Legal Intelligencer with a Lifetime

Dr. Michelle Zuckerman-Parker is shown in the front row, fourth from left.

ALUMNI SPOTLIGHT

Dr. Michelle Zuckerman-Parker, GA'02, GE'07, an integrated

studies teacher at Holy Family Academy, recently received

a grant through the 2014 LRNG Innovation Challenge and is

currently working with students throughout the Pittsburgh area

to bring together their love of learning and relentless curiosity to

create sustainable solutions for people in need.

Through the LRNG Challenge, a project supported by the

National Writing Project, singer-songwriter John Legend's Show

Me Campaign, and the John D. and Catherine T. MacArthur

Foundation, teams of teachers follow the theme of "No Walls,

No Bells" to expand the time and space students have to create,

explore and follow their interests and passions.

This past summer, Zuckerman-Parker's students participated

in a poverty simulation and created an array of products

springing from an ethos of compassion. For example, students

redistributed over 35,000 pounds of perishable food for a local

food bank. To improve their model of distribution, the students

created a software application to customize donated food to

recipients based on dietary restrictions.

A regionally sponsored competition, SciTECH Days at

the Carnegie Science Center, is scheduled for November and will

allow students to share their products.

For more information, visit Linking Communities with STEM on

Facebook.

Achievement Award, which

recognizes "noteworthy individuals

who have advanced the legal

profession in the state, helped

foster legal education of younger

attorneys and stood as examples

of some of the best virtues of

Pennsylvania attorneys." She was

also honored by the Pittsburgh

Business Times with a 2015

BusinessWomen First Award, which

recognizes the most influential

female business leaders in the

region at nonprofit and for-profit

organizations.

Photo credit: Kandy Newell

42 DUQUESNE UNIVERSITY MAGAZINE Fall '15
---
Gigi Gerben, A'82, GE'95, was

recently granted a sub-permit from

the federal Bird Banding Lab and

is researching areas including the

migration of the northern sawwhet

owl, the ecology of eastern

bluebirds, and the population

and survivorship of local nesting

songbirds. She is also serving as

county co-chair for the Bluebird

Society of Pennsylvania and is a

master naturalist candidate.

David C. Schanbacher, L'86,

partner in the firm of Hoffmeyer

and Semmelman, LLP, has been

admitted as a fellow to the

American Academy of Matrimonial

Lawyers.

U.S. Army Lt. Col. Cynthia Zivic

King, A'88, graduated from the

Class of 2015 Leadership South

Carolina. The program accepts

approximately 50 participants a

year who demonstrate commitment

to their community and strive to

reach a higher level of service

to the state. She serves as the

director of public affairs for the

South Carolina National Guard.

Heidi Roberts Markish, E'88,

became a national board-certified

teacher in the category of middle

childhood generalist in 2014. In

May, she was selected as teacher

of the year for Hancock County

Schools, W.Va., and represented the

county at the state level.

1990s

Chris Powell, M'93, is now director

of administration and community

engagement for Glimmerglass

Festival in Cooperstown, N.Y.

He will supervise marketing,

planning, artistic administration,

public relations and community

engagement. He was previously

the Pittsburgh Opera's music

administrator.

Jan F. Jumet, L'97, GB'01,

opened an office in Boston for

the investment management and

advisory firm that he co-founded,

Allocated Financial Planning.

Allocated Financial now has offices

in Boston, Scottsdale, Darlington

(Pa.), and Golden (Colo.), with

clients in 25 states.

Jay McBride, L'97, has been

appointed vice president, U.S. tax

operations, in the United States

chief financial officer organization

of Bayer Corporation. He was

recently the global head of tax

and risk management at General

Nutrition Centers, Inc.

Michael Grandinetti, B'99, master

illusionist, will be appearing in

the second season of Masters

of Illusion on The CW and Don't

Blink on POP TV. He recently

performed a levitation, where he

was suspended 15 feet in midair

over Hollywood Boulevard, with no

apparent means of support.

2000s

Rev. Charles A. Cortinovis, S'00,

GS'00, was named priest secretary

to Cardinal Donald Wuerl. He is the

son of Nancy Cortinovis, N'74.

Shirley Ann "Sam" Minehart,

GA'00, was promoted to senior

product line manager, e-learning

for SAE International, where she

is responsible for professional

development live online, ondemand

courses and a team of 10.

She recently celebrated 25 years

with the organization.

Linda Gioia Simon, GA'01, of

the Excela Health marketing and

communications team, was a

recipient of eight awards for 2014

marketing efforts based on patient

care experiences. The honors came

from the Association of Marketing

and Communication Professionals

in the form of the AVA Digital

Awards.

Michael Hilliard, B'03, L'14, is

an associate at Ferguson Law

Associates in Latrobe, Pa., handling

business and corporate law, after

having worked at U.S. Steel and

BNY Mellon for the past eight

years.

Cassandra Pritts, GA'03, was

named professor of the year at

Potomac State College of West

Virginia University for 2015. She is

an assistant professor of history.

Benjamin E. Orsatti, L'04,

associate at Pollock Begg Komar

Glasser & Vertz LLC, has been

named to the 2015 Pennsylvania

Rising Stars list. He also helped

contribute to the second edition

Pennsylvania Bar Institute Press

custody resource book, Custody

Law & Practice in Pennsylvania.

Dana Vojtko, HS'04, recently

obtained certification as a

registered nurse and is employed

by UPMC McKeesport in the

medical surgical orthopedic unit.

George Philippopoulos, GB'07,

L'07, has been promoted to vice

president, strategic initiatives,

regulatory compliance, at HSBC

Bank in New York.

Lindsey (Aspden) Kelly, S'08,

recently received her doctor

of philosophy degree from the

University of Pittsburgh Medical

School. Her dissertation was titled

Identification and Functional

Characterization of STRN-ALK

Fusions as a Therapeutic Target

in Aggressive Forms of Thyroid

Cancer. She has accepted a

position as supervisor of next

generation sequencing at the

Molecular & Genomic Pathology

Clinical Laboratory at UPMC.

Richard Lorenz, A'09, has joined

the law firm of Galloway Monzo,

P.C. as an associate.

Joseph R. Williams, L'09, partner

at Pollock Begg Komar Glasser &

Vertz LLC, has been named to the

2015 Pennsylvania Rising Stars List.

2010s

Alyssa Conner, P'11, was named

one of Charlotte, N.C., area's "30

Under 30" by Elevate Lifestyle.

Nicole Shannon, N'12, has started

a new career as a nurse in the

cardiac intensive care unit at

Children's Hospital of Pittsburgh.

Roderick Williams, GLPA'13, was

nominated as a finalist for the

2015-2016 Coro Fellows Program in

Public Affairs.

André D. Samuel, Ph.D.'14, was

one of 10 Pittsburghers to receive

a grant from BMe Community to

help build better communities

in their city. He is the director of

The Citizen Science Lab, where

he "provides opportunities for

students in grades 6-12 to attend

afterschool programs, weekend

workshops and summer camps

that explore the life sciences

through highly interactive, handson

experiences."

Katherine (Kate) Tanski, N'14, is a

nurse at the Cleveland Clinic.

Marriages

Cynthia Papageorgiou, B'83,

married Rolf W. Caldwell.

Colette M. Hucko, GLPA'04,

married David M. Chambers.

New Arrivals

Giovanna Francesca, daughter of

Andrea Cannistraci, A'96, and

Carlos Ortiz.

Benjamin Samuel, son of Brigitte

(Shower) Gamrat, HS'00, GHS'01,

and Steven Gamrat, P'02.

Eamon William, son of Megan

(Zuza) McHale, GE'05, and Bill

McHale.

Santino Samuel, son of Kristy

(Cherillo) Drizos, P'08, and Pete

Drizos.

Theodore Glenn, son of Karla L.

Caruso, P'09, and Christopher J.

Caruso, HS'07, N'09.

Henry John, son of Emily (Lunz)

Lohr, P'10, and Brian Lohr, P'10.

5 th REUNION YEAR

In Memoriam

It is with deep sadness that we list

the following alumni and friends

who recently passed away.

Aaron James, A'56

Robert Adams, E'71

duq.edu 43
---
CLASS NOTES

IN MEMORIAM

Paul J. Raley, A'66, passed away in Los Angeles on June 6 at

the age of 71. Raley began his career in advertising but moved

to television, winning an Emmy Award as a writer for David

Letterman's short-lived 1980 daytime talk show. Raley turned a

character from that show into a stand-up comedy act, and later

was head writer for D.C. Follies and executive story producer for

Grace Under Fire. Other writing credits included Saturday Night

Live, Benson and Night Court.

Gino Giocondi, B'56

John Graham, A'50

Watson Gregg, E'62

David Gutsy, B'50

Robert Haberman, M'56, GN'58

Mary Hearn, E'51

Frank Hess, B'43

Robert Hilf, M'63, GM'65

Dolores Kranick

Mary Kelly Krapp, A'76

George Kushner, S'51

Electa Lagrutta, E'55, GE'72

Thomas Lamb, A'48, L'52

Patricia Pryle Olivo Lang, A'67

Russell Lanza, P'54

Louis Larocca, M'48

Merle Addams, B'51

Jean Clark, E'70

Sidney Hoffman, B'41

Betsy Lee, M'54

Ellen Antal, P'76

Geraldine Cleaveland, S'65

Leo Hokaj, A'68

Samuel Lewis, B'53

John Bandyk, A'45, GM'49

Rev. Dennis Colamarino, A'69

Thomas Hopko, GA'69

Eugene Liberatore, A'70

John Bartos, L'74

Joseph Cowfer, S'69

Dominic Iannotta, E'42

Mary Held Libroth, E'58

Racie Becket, E'60

Theresa DeCaria, E'73

Dorothy Impens, GA'67

John Logue, A'50

Robert Berger, B'53

Thomas Demacio

Peter Iole, E'56, GE'58

Tommaso Lonardo, L'91

Robert Berner, E'64

W. Jerome Der, B'59

Fr. Cuthbert A. Jack, OSB, A'73

M. Magdalen Lovrich, A'53

Robert Besser, E'72, GE'75

George Diamantopulos, L'61

Marie Jenkins

Benjamin Lubinsky, LPA'96

Michael Bishop, M'74, GE'80

John Dohmlo, B'70

Selma Karsten, GE'59

Jeffrey Lytle, P'98

Margaret Matsinger Blissman, E'53

Walter Dubis, B'49

Daniel Kaufman, M'82, GM'84

Anne Maier

Norma Squitieri Bogotay, M'44,

GE'66

Samuel Bohinc, E'51

Ann Bolf, GE'70

Leroy Brocard, B'50

John Bruno, E'66

Paul Bummer, P'78, GA'82

Paul Burke, B'83

Gerald Burkhart, B'49

Louise Boyer Burky, B'83

Helen Byler, GE'75

Patrick Campbell, E'91

Antoinette Cardamone

Sam Cerniglia

Narcissus Trentin Chioldi, E'51

Sr. M. Eileen Chleboswki, GE'72

Judith Pavlik Choltco, M'65, GM'69

Andrew Churman, B'51

Paul Eckman, GA'66

William Elder, M'76

Anthony Faessel, Pittsburgh

Catholic College'42

William Falcon, GE'62

Patrick Falconio, A'63

Peter Fascetti, E'01

Sr. Mary Jean Flaherty, N'66

Sr. Mary Dulcia Flis, CSSF, E'58,

GE'61

John Fliss, P'51

Elsie Florian, E'76, GE'94

J.R. Friday

Leonard Fried, GE'48

Anne Kindling Friedhoff, B'42

Keen Furlong, P'50

Darvin Cornelious Geyer, A'89

Robert Gillespie, B'50

Sr. M Thomasette Kij, CSSF, E'62

Thomas King, B'67

John Kinnee, E'50

Elayne Kitay, A'84, GE'87

Thomas Kochowski, B'59

Paul Kochu, N'14

Marcia Koluder, E'62

Alida Kornreich, L'82

Steve Kovacev, E'52, GE'64

IN MEMORIAM

Melissa Marhefka, P'60

Dorothy Mary

Catherine McCormick, E'67

Maureen McDonough

Donald Miketa, GE'68

Eric Milechman, M'74

Kimberly Miller, E'00

Rose Miller

William Muehlethaler, B'69

Gino J. Giocondi, B'56, died on Dec. 6, 2014, in Tarpon Springs,

Fla. He was 82. Giocondi joined Chrysler Corporation in 1963 as

a dealer field auditor and rose through a number of regional and

national sales management positions. Promoted to vice president

for service and parts in 1985, he also held vice presidencies

for special products and quality and productivity prior to his

retirement. One of the nation's leading experts on total quality

management in the automotive industry, he also served as an

adjunct professor at Oakland University in Michigan.

44 DUQUESNE UNIVERSITY MAGAZINE Fall '15
---
Paul Nolte, A'75

Michael Nutz, P'52

Laverne Biller O'Connor, A'47

William O'Connor, GS'89

Jerome O'Malley, GA'64

Chester Oddis, E'50, GE'56

Joan Margaret Opferman, N'60

Marsha Owens, M'00

Wilfrid Palladino, E'57

Leland Partain, GA'67

Sr. M Miriam Patalski, CSSF, E'60

James Patterson, A'75

Louis Petrich, S'54

Celestine Petruska, E'65, GE'72

Robert Petyak, L'75

Leland Phelps

Charles Podrebarac

George Preisinger, E'69, GE'71

George Provost

M. Pusvaskis, N'60

Ramen Raak, L'74

William Radtke, GA'68

Paul Raley, A'66

James Rauch, B'50

Kenneth Raymond, B'76

Linda Diethorn Rheinlander, B'79

M. Richards, E'62, GE'67

James Roberts, B'09

M. Ronan, E'56

Angelo Ruzzini, GM'62

Carol Sabinsky-Baumann, S'67,

GA'73

John Scanlon

David Schwartz, A'60

Patricia Farley Scouten, P'88

James Selva, B'56

William Shearer, B'50

John Skaj

Charles Skorija, A'59

Carl Smith, B'70, L'75

James Sober, B'59

Cheryl Sparks, M'77

Sally Spears

Herbert Sperling, S'60

Jay Spiegel, L'77

Lou Stanisha

Andrew Stasny, P'58

Caroline Stewart

Donald Stoeckle, A'56

Claire Swanson, N'49

Michael Tabacek

Richard Talarico, E'73

Gary Thomas, GS'84

John Thompson, M'58, GM'60

Bryan Tippett, GS'82

Robert Turkoly-Joczik, GA'83

Nancy Careatti Underwood, A'77,

GE'79

W. Robert Valerio, M'69, GM'72

George Vinarski

Joseph Vogel, B'58

John Vojtek, E'69

Mary Wacker, GA'84

Donna Washington, M'79

Rosemary Matzzie Westerman,

N'71, GE'75

Elizabeth Wilson, A'89

Loretta Liston Winski, A'49

Thomas Winslow, A'56

Maximillian Worhatch, P'54

Sr. M Christopher Zayicek, VSC,

E'63

SOCIAL MEDIA

FOLLOW DUQUESNE UNIVERSITY

ON SOCIAL MEDIA TO STAY ON

TOP OF NEWS AS IT'S HAPPENING.

duq.edu/facebook

duq.edu/twitter

The #Duquesne University Our Lady

of Lourdes Grotto. #Pittsburgh

duq.edu/instagram

Today's view from the Sklar Skywalk #DuquesneUniversity

#Duquesne #Pittsburgh. jfirefrancesco Great capture!!

Meet this week's #MyDUPet -- Miska! Thanks to Molly

Cavanaugh, a 2014 Duquesne University music education

major, for sending this in!

duq.edu 45
---
H mecoming

& Reunion

Weekend 2015

DUQUESNE UNIVERSITY Presents

An ALUMNI ASSOCIATION PRODUCTION

D

October 9-11, 2015

Weekend Highlights

Reunion Receptions

Autumnfest, KidsZone and

Rally to Rooney Parade

Tailgate and Post-game

Tent Parties

Dukes vs. Alderson Broaddus

Football Game

School Events

Greek Alumni Celebration

Veterans Memorial

Former Student Leaders

Reception

Battle of the Bands

Farewell Mass and Brunch

Check out www.duq.edu/homecoming to view the complete schedule.

46 DUQUESNE UNIVERSITY MAGAZINE Fall '15
---
Prepare for Your Journey Back to the Bluff

Class Reunions and

Affinity Group Celebrations

Homecoming and Reunion Weekend will be

packed with exciting events for ALL alumni,

with special celebrations being held for the

following groups:

Reunion Classes

(1965, 1975, 1990, 2005 and 2010)

Zero Year Reunion

(Class of 2015)

Greeks

(All fraternity and sorority members, with

special gatherings for Delta Chi, Tau Kappa

Epsilon and Zeta Tau Alpha)

Former Student Leaders

(Student Government Association,

Orientation, Duquesne Programming Council,

Greek Life, Residence Life, Multicultural

Affairs, International Student Organization,

Commuter Council and more!)

Golden Dukes

(classes prior to 1965)

Varsity D

(All former varsity athletes, with gatherings for

football and swimming)

Red Masquers

(reception for Red Masquers alumni)

The Burrows Travel Group

(events for those who traveled abroad with

Professor Walter Burrows in the 1960s and

1970s)

School Events

Friday, October 9

5 p.m.

Bayer School of Natural & Environmental

Sciences Reception

Join Dean Reeder and members of the

Bayer School faculty for happy hour!

Saturday, October 10

8 a.m.

Mylan School of Pharmacy Breakfast &

Continuing Education

Join fellow School of Pharmacy alumni

for breakfast (8-9 a.m.) and a morning of

continuing education (9-11 a.m.). Dr. Jordan

Covvey will present "Pharmacological

Treatment for Idiopathic Pulmonary Fibrosis

(IPF): Old and New Therapies."

9 a.m.

Mary Pappert School of Music Meet & Greet

Breakfast

Reconnect with fellow School of Music

alumni and join Dean Beckman for an

informal meet-and-greet breakfast. All

School of Music alumni and their guests are

welcome to attend.

Palumbo-Donahue School of Business

Networking Breakfast & Tour of Rockwell Hall

Join Dr. Dean McFarlin and the School of

Business for breakfast, networking and a

special tribute to the class of 2016. Hear

about exciting new initiatives that will take

the School of Business to even greater

heights! Tour newly renovated sections of

Rockwell Hall and learn about the school's

intention to create world-class learning

environments for students.

9:30 a.m.

Rangos Homecoming Alumni Brunch

Join fellow Health Sciences alumni and their

families for brunch before the football game.

10 a.m.

McAnulty Meet & Greet

Meet with other College alumni over a

continental breakfast, then take a tour of the

new Black Box Theater. Talk with members

of the Red Masquers, and hear from host

John Lane, executive director of the Red

Masquers. Open to all College alumni and

Red Masquers.

School of Education Breakfast & School Update

Join the School of Education for breakfast

and an update on current highlights of the

School of Education, including enrollment

goals and alumni successes.

School of Nursing Champagne Brunch

Join the School of Nursing for its annual

Champagne Brunch. Learn about exciting

new School of Nursing initiatives, and meet,

greet and reunite with classmates.

Sunday, October 11

2 p.m.

School of Law Alumni Death of a Salesman

Viewing & Reception

Enjoy a performance in Duquesne's new

Genesius Theater! Reception immediately

following the show in the theater lobby with

the cast. Register at www.law.duq.edu/

alumni/events.

Register online at

www.duq.edu/homecoming or by phone at 412.396.6209.

RSVP by October 5!

Book Your Hotel

Several area hotels are offering special rates for a limited time for alumni and friends

during Homecoming and Reunion Weekend. When booking at these hotels, mention

"Duquesne University Homecoming" to receive the reduced rate.

For a listing of hotels and weekend rates, please visit www.duq.edu/homecoming.

Reconnect with your friends and

classmates via social media

@DuqAlumni

#duqhomecoming

duq.edu 47
---
Event Calendar

Sept. 19, 2015

Gamma Phi Beta's 13th

Annual Walk Miles for Kids'

Smiles

Annual 5k walk benefiting The

Children's Institute of Pittsburgh

12 p.m. start, registration begins at

11 a.m.

Duquesne Campus

Contact/RSVP: Nicole Falcione at

falcionen@duq.edu or 412.396.6651

Sept. 21, 2015

Duquesne Athletic Fund Fall

Golf Invitational

Laurel Valley Golf Club

Contact: Bryan Colonna at

colonna770@duq.edu or

412.396.5927

Sept. 23, 2015

Washington, D.C. Young

Alumni Happy Hour

5-7 p.m.

Buffalo Billiards

1330 19th St NW

Washington, DC 20036

Register at www.myduquesne.duq.

edu.

Sept. 24, 2015

Pittsburgh Law Alumni

Reception

5-8 p.m.

Doubletree Downtown Pittsburgh

Details: www.law.duq.edu/

events/2015-pittsburgh-fall-lawalumni-reception

Sept. 26, 2015

A Tribute to Father Hogan:

Celebrating 40 Years of

Distinguished Service

5 p.m. - Mass, Chapel

6 p.m. - Cocktails, 5th Floor,

Duquesne Union

7:15 p.m. - Dinner, Ballroom,

Duquesne Union

Contact/RSVP: Jim Miller at millerj@

duq.edu or 412.396.6044

Sept. 27, 2015

Zeta Tau Alpha's Pretty in

Pink Brunch

Annual breast cancer awareness

philanthropy brunch and auction

10 a.m.

Duquesne Union Ballroom

Contact/RSVP: Meghan Frost at

frostm@duq.edu or 412.396.6651

Oct. 6, 2015

Greek Life Blood Drive

11 a.m.-6 p.m.

Power Center-4th floor gym

Contact/RSVP: Grant Barber at

barberg@duq.edu or 412.396.6651

Oct. 8, 2015

Pa. Appellate Rules of

Procedure 40th Anniversary

CLE

The program, which offers five

hours of continuing legal education,

includes speakers discussing the

history and future of the rules and

appellate practice.

8:30 a.m.-4:30 p.m.

Power Center Ballroom

Details: www.law.duq.edu/events/

PaAppellateRulesCLE

Oct. 9-11, 2015

Homecoming and Reunion

Weekend

Back to the Bluff

For full details, see pages 46 and 47,

or go to www.duq.edu/homecoming.

#duqhomecoming

Oct. 16, 2015

Sigma Kappa Ultraviolet

Challenge

The chapter's annual Alzheimer

awareness indoor games challenge

9 p.m.-midnight

Power Center Recreation Area

Contact/RSVP: Jessica Piatt at

piattj@duq.edu or 412.396.6651

Oct. 16, 2015

Forensic Friday

WHAT'S in a "MATCH?": How to

Read a DNA Report

1-4:30 p.m.

Duquesne Union, 3rd Floor, Africa

Room

Contact/RSVP: Debbie Jozwiak

at wechtinstitute@duq.edu or

412.396.1330

Oct. 16, 2015

A Quarter Century of

Excellence

25th Anniversary Celebration of the

John G. Rangos, Sr. School of Health

Sciences

6 p.m. - Cocktails

7 p.m. - Dinner

Power Center Ballroom

Details: www.duq.edu/rshs25

Oct. 17, 2015

Alpha Phi Phiesta Bowl

Annual athletic event to raise

awareness for the Alpha Phi

Foundation heart health programs

11 a.m.-3 p.m.

Rooney Field

Contact/RSVP: Skyler DeWitt at

dewitts@duq.edu or 412.396.6651

Oct. 21, 2015

The History Forum

Time and Location TBD

Contact/RSVP: Laura Donaldson at

412.396.6470

48 DUQUESNE UNIVERSITY MAGAZINE Fall '15
---
Oct. 23, 2015

Greek Life Carnival

Annual skits and ensemble musical

competition to benefit the Spiritan

Mission School in Ghana

Doors open at 5:30 p.m., show at

approximately 6 p.m.

Duquesne Union Ballroom

Contact/RSVP: Bethany Kelly at

kellyb7@duq.edu or 412.396.6651

Oct. 27, 2015

Haunted Duquesne

Join University Archivist and

Pennsylvania folklore historian

Thomas White for ghost stories and

legends of Duquesne University and

surrounding neighborhoods.

8:30-10 p.m.

Gumberg Library, Phenomenology

Center

Contact/RSVP: Kelley Cotter at

cotterk@duq.edu or 412.396.5343

Oct. 30, 2015

Holy Spirit Lecture

7 p.m.

Power Center Ballroom

Contact/RSVP: 412.396.6523

Nov. 4 OR

Nov. 5, 2015

Gandhi's Life as a Lawyer

Duquesne Law presents a

fascinating program about

Mohandas Gandhi featuring

an expert on Gandhi's life and

the period when he started

experimenting with his philosophy

of nonviolence later used in the

Indian independence movement.

4 p.m. (TBD)

Power Center Ballroom

Contact/RSVP: www.duq.edu/law

Nov. 7, 2015

Alpha Sigma Tau's Annual

Miss Duquesne Pageant

Annual sorority talent competition

to benefit The Children's Miracle

Network

9 p.m.

Duquesne Union Ballroom

Contact/RSVP: Kayla Langfitt at

langfittk@duq.edu or 412.396.6651

Nov. 8, 2015

Delta Zeta's Hike for Hearing

DZ's 5k raises funds for the DePaul

Institute for Hearing and Speech

11 a.m. registration, walk begins at

noon

Duquesne Campus

Contact/RSVP: Jacqueline O'Toole

at otoolej@duq.edu or 412.396.6651

Nov. 12, 2015

The Kelly Lecture in Health

Care Ethics

1-2:30 p.m.

Location TBD

Contact/RSVP: Glory Smith at

412.396.4504

Nov. 12-13, 2015

Beyond Baltimore: Balancing

Public Safety and Social

Justice in the Policing of

America's Streets

The 15th Annual Forensic Science

and Law Symposium

8:30 a.m.-4:30 p.m.

Duquesne Union Ballroom

Contact/RSVP: Debbie Jozwiak

at wechtinstitute@duq.edu or

412.396.1330

Nov. 13, 2015

Men's Basketball vs.

Seton Hill

See full details on page 35

Nov. 14, 2015

Sigma Nu White Rose Ball

Annual dinner dance that honors

and raises funds for the American

Gold Star Mothers

6 p.m.

Duquesne Union Ballroom

Contact/RSVP: Joseph (J.J.)

Ravinskas at ravinskasj@duq.edu or

412.396.6651

Dec. 2, 2015

Duquesne Law Alumni

Association Holiday

Reception

Honoring Fellows of the 1911 Society

Open to DLAA members and 1911

Society fellows only

5:30-7:30 p.m.

Duquesne Union, Suite 613

Contact: www.myduquesne.duq.

edu/event

Dec. 4, 2015

Men's Basketball vs. Pitt

7 p.m.

Annual City Game at CONSOL

Energy Center

Tickets: www.GoDuquesne.com or

412.232.DUKE

Dec. 5, 2015

Advent Alumni Retreat:

Joyfully Expecting the Holy

Family

Spend an afternoon on campus with

Spiritan Campus Ministry to prepare

for Christmas. More details available

soon at www.myduquesne.duq.edu.

Contact: alumnionline@duq.edu or

412.396.6209 (RSVP by Nov. 20)

Dec. 12, 2015

Alumni Breakfast with Santa

Doors open at 8:30 a.m.

Duquesne Union Ballroom

Registration will open Nov. 10 at

noon and will sell out very quickly:

www.myduquesne.duq.edu.

Contact: alumnionline@duq.edu or

412.396.6209

Dec. 12, 2015

Gaudete Sunday Midnight

Mass

Duquesne University Chapel of the

Holy Spirit

11:30 p.m. carols begin; 12 a.m. Mass

Live streaming available at www.

duq.edu/midnight-mass

Contact: 412.396.6020

Feb. 5, 2016

Duquesne University

Athletics Hall of Fame

Induction

Power Center Ballroom

Contact: Natalie Hozak at hozakn@

duq.edu or 412.396.6566

Feb. 2016 –

Date to be

Announced

19th Annual RSHS Alumni

Night at the Men's

Basketball Game

All alumni are invited to attend with

their family/guests. The event is

FREE but advance reservations are

required.

6 p.m. - pre-game reception in the

Auxiliary Gym, followed by the game

A.J. Palumbo Center

Contact/RSVP: Deb Durica at

durica@duq.edu or 412.396.5551

Book of Life

Each year, the Church dedicates

the month of November to the

remembrance of our beloved

who have passed on. Deceased

Duquesne University alumni

and family and friends of alumni

will be remembered at the

annual University Thanksgiving

liturgy (Nov. 19 at noon) in the

University Chapel. If you wish

to have your deceased loved

ones included in our Book of

Life, please provide their names

online at www.myduquesne.

duq.edu/bookoflife15 by Oct.

29. The full list will be available

online Nov. 1 by visiting

www.myduquesne.duq.edu.

duq.edu 49
---
600 Forbes Avenue

Pittsburgh, PA 15282

www.duq.edu

Change Service Requested

Transfer Your Prescription

to Duquesne's Pharmacy

Free Delivery!

Duquesne University Pharmacy—formerly

known as the Center for Pharmacy

Services—is on the leading edge of helping

patients manage their medications and

live healthy lifestyles. In addition to filling

prescriptions and delivering them locally for

free, the pharmacy provides a number of

complimentary health and wellness services,

including screenings for blood pressure,

cholesterol, blood glucose and bone density.

Staffed by licensed pharmacists, the

pharmacy is operated by Duquesne's School

of Pharmacy and serves both the public and

the University community.

• Free local delivery

• $4 generic drug program

• Online refills and automatic monthly refills

• Free wellness screenings

50 DUQUESNE UNIVERSITY MAGAZINE Fall '15

Order your prescriptions at www.duqpharmacy.org or call 412.246.0963.