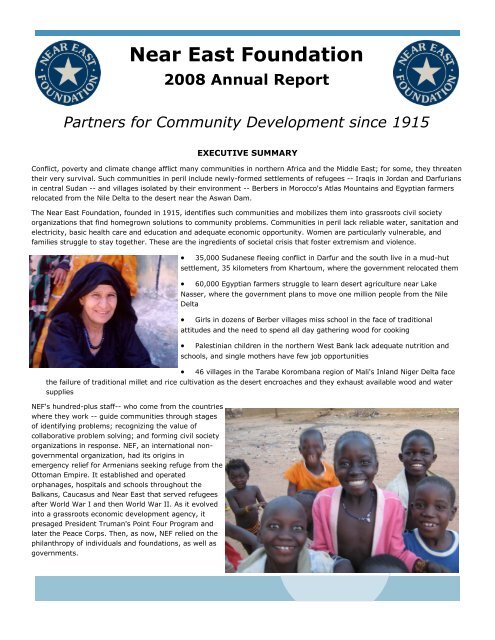 Near East Foundation 2008 Annual Report
You also want an ePaper? Increase the reach of your titles
YUMPU automatically turns print PDFs into web optimized ePapers that Google loves.
<strong>Near</strong> <strong>East</strong> <strong>Foundation</strong><br />
<strong>2008</strong> <strong>Annual</strong> <strong>Report</strong><br />
Partners for Community Development since 1915<br />
EXECUTIVE SUMMARY<br />
Conflict, poverty and climate change afflict many communities in northern Africa and the Middle <strong>East</strong>;; for some, they threaten<br />
their very survival. Such communities in peril include newly-formed settlements of refugees -- Iraqis in Jordan and Darfurians<br />
in central Sudan -- and villages isolated by their environment -- Berbers in Morocco's Atlas Mountains and Egyptian farmers<br />
relocated from the Nile Delta to the desert near the Aswan Dam.<br />
The <strong>Near</strong> <strong>East</strong> <strong>Foundation</strong>, founded in 1915, identifies such communities and mobilizes them into grassroots civil society<br />
organizations that find homegrown solutions to community problems. Communities in peril lack reliable water, sanitation and<br />
electricity, basic health care and education and adequate economic opportunity. Women are particularly vulnerable, and<br />
families struggle to stay together. These are the ingredients of societal crisis that foster extremism and violence.<br />
35,000 Sudanese fleeing conflict in Darfur and the south live in a mud-hut<br />
settlement, 35 kilometers from Khartoum, where the government relocated them<br />
60,000 Egyptian farmers struggle to learn desert agriculture near Lake<br />
Nasser, where the government plans to move one million people from the Nile<br />
Delta<br />
Girls in dozens of Berber villages miss school in the face of traditional<br />
attitudes and the need to spend all day gathering wood for cooking<br />
Palestinian children in the northern West Bank lack adequate nutrition and<br />
schools, and single mothers have few job opportunities<br />
46 villages in the Tarabe Korombana region of Mali's Inland Niger Delta face<br />
the failure of traditional millet and rice cultivation as the desert encroaches and they exhaust available wood and water<br />
supplies<br />
NEF's hundred-plus staff-- who come from the countries<br />
where they work -- guide communities through stages<br />
of identifying problems;; recognizing the value of<br />
collaborative problem solving;; and forming civil society<br />
organizations in response. NEF, an international nongovernmental<br />
organization, had its origins in<br />
emergency relief for Armenians seeking refuge from the<br />
Ottoman Empire. It established and operated<br />
orphanages, hospitals and schools throughout the<br />
Balkans, Caucasus and <strong>Near</strong> <strong>East</strong> that served refugees<br />
after World War I and then World War II. As it evolved<br />
into a grassroots economic development agency, it<br />
presaged President Truman's Point Four Program and<br />
later the Peace Corps. Then, as now, NEF relied on the<br />
philanthropy of individuals and foundations, as well as<br />
governments.
---
Board of Directors<br />
Shant Mardirossian, Chair<br />
Shahnaz Batmanghelidj, Vice-Chair<br />
Alexander Papachristou, President<br />
Ronald E. Miller, Treasurer<br />
Haig Mardikian, Secretary<br />
Charles E. Benjamin, Ph.D.<br />
Amir Ali Farman-Farma, Ph.D.<br />
Johnson Garrett<br />
John Goelet<br />
John Grammer<br />
John M. Kerr, Ph.D.<br />
David W. Mize<br />
Abe Moses<br />
Thomas D. Mullins<br />
Richard Robarts<br />
Timothy Rothermel<br />
Michaela Walsh<br />
Anthony Williams<br />
Tarek Younes<br />
President's Council<br />
H.E. André Azoulay<br />
Ambassador Edward P. Djerejian<br />
Vartan Gregorian, Ph.D<br />
Linda K. Jacobs, Ph.D.<br />
Ambassador Richard W. Murphy<br />
Her Majesty Queen Noor of Jordan<br />
The US Department of State Middle <strong>East</strong> Partnership Initiative has funded NEF<br />
since 2004 to enhance enrollment and retention in rural primary schools, particularly<br />
for girls, in the High Atlas Mountains. From 2004 to 2007, on a budget of<br />
$600,000, NEF's program focused on 21 schools in the Ghessate and Imminoulaoune<br />
rural communes in the Ouarzazate province with 3,000 students and increased<br />
overall attendance by 35%, girls' attendance from an average of 10% to<br />
100% and retention to 98%. (Photo by Jina Dev.)<br />
Phone: 212-425-www.neareast.org