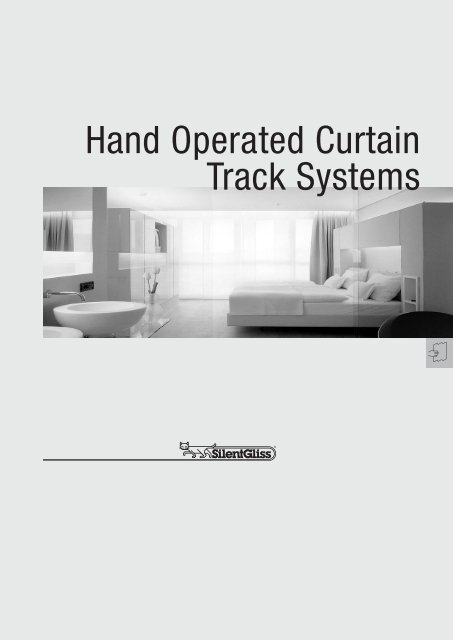 Hand Operated Curtain Track Systems
System 1200 Curtain Track - Brochure
System 1200 Curtain Track - Brochure
SHOW MORE
SHOW LESS
Create successful ePaper yourself
Turn your PDF publications into a flip-book with our unique Google optimized e-Paper software.
Silent Gliss ®

Hand Operated Curtain

Track Systems
---
2

Silent Gliss ®
---
Hand Operated Curtain Track System

Silent Gliss ® 1200

Product Information

• Robust and versatile wall and ceiling fix hand operated curtain track

• For light to medium weight curtains

• Patented glider which glides on the profile edge, minimizing friction

• The quick-clip gliders 3933 can be easily added or removed without taking track down or

apart

• Easy ceiling or wall fix to all surfaces

• Standard colour: white powder coated

• Metallic line colours available are silver anodised, black, anthracite, gunmetal, brushed

aluminium and chrome effect

• Standard length of the profiles is 6m, with the exception of chrome, anthracite and brushed

aluminium which are available in 4m lengths

• Can be bent

1200

Silent Gliss ® 3
---
Profile, Bending and Specification Information

8.2

23.6 Standard radius 100mm

1200

The standard radius is recommended for optimal operation.

Specification Guide - download from www.silentgliss.co.uk (password required).

Silent Gliss 1200 hand drawn curtain track in white powder-coated aluminium. Fix to wall with brackets 3175/ceiling with brackets 3176 every

60cm. Special gliders should be fitted at 14/m to run on back rims of channel so as to keep curtain heading upright. Fit with end covers 3986 at

either end.

Fitting Information

Bracket positioning and fixing with 3175 and 3176

10 cm 3050 cm 3050 cm 10 cm

The fixing distances are meant as guide a only: they may vary in practice

depending on surface or curtain weight.

A

Installation: push track on bracket in direction indicated

Removal: place screwdriver where indicated (A) and twist. Pull track

away from bracket

1200

Quick-clip glider 3933

1

2

Easily clipped in and out of profile.

4

Silent Gliss ®
---
Fitting Options

Ceiling fix with bracket 3176

11

20

29

50 80 50 80

3176

Top fix bracket

Wall fix with bracket 3175

17.5

20

34

27

3175

Bracket

Standard Accessories

18R Screw 25mm. No. 8 roundhead 1200 Profile

3175 Bracket 3933 Glider 3933 in strip form

3986

Endcover (white, black, grey and

dark grey)

Optional Accessories

1200

3113 5cm spacer for double fixing 3115 7cm spacer for double fixing

3133 Bracket cover (60mm) 3134 Extension bracket (60mm)

3135 Extension bracket (80mm) 3136 Extension bracket (100mm)

3137 Extension bracket (120mm) 3138 Extension bracket (150mm)

3139 Extension bracket (200mm) 3176 Top fix bracket

3271 Adjustable bracket base 3272 Adjustable bracket arm (69mm)

3273 Adjustable bracket arm (92mm) 3274 Adjustable bracket arm (122mm)

Silent Gliss ®

5
---
3275

Adjustable extension bracket set

(69mm)

3276

Adjustable extension bracket set

(92mm)

3277

Adjustable extension bracket set

(122mm)

3942 Endstop

3945 Magnetic glider (part of set 3947) 3946 Magnetic glider (part of set 3947)

6748 Cheese head machine screw (M4) 10430 Draw rod with hook, 50cm

10431 Draw rod with hook, 75cm 10432 Draw rod with hook, 100cm

10433 Draw rod with hook, 125cm 10434 Draw rod with hook, 150cm

3133L Extended bracket cover for 3138/9

Useful Information and Sewing Accessories

8.2

23.6

31.6

8

Diagram uses standard 3933 glider and is measured to the inside of the glider eye. For optional gliders substitute dimensions below:

3945/3946 = 8mm

1200

3562 Standard tape 3582 Hook

3599 Hook

6

Silent Gliss ®
---
Silent Gliss ® 7

1200
---
www.silentgliss.co.uk

8

Silent Gliss Ltd

Pyramid Business Park

Poorhole Lane

Broadstairs

Kent

CT10 2PT

Great Britain

Tel: 0044 (0) 1843 863571

Fax: 0044 (0) 1843 864503

sales@silentgliss.co.uk

Silent Gliss ®

SGGB_TB_HD_1200_20110412 /