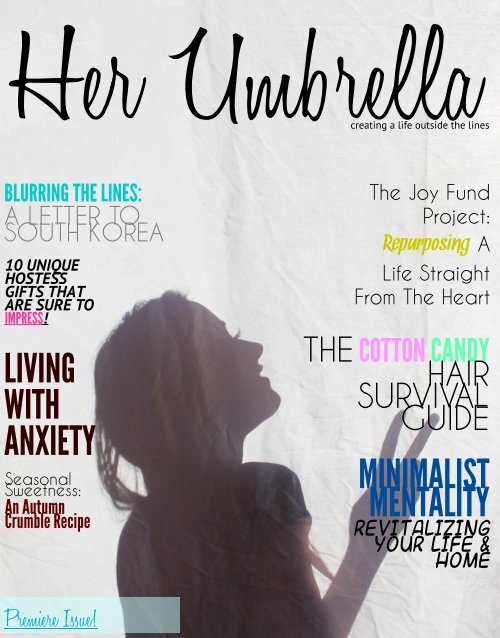 Her Umbrella Premiere Issue Fall 2015
Her Umbrella is a women's digital, lifestyle magazine dedicated to creating a life outside the lines. Published quarterly during the changing of the seasons, you'll find a bohemian, free-spirited style woven throughout its pages. Every woman has an umbrella with a variety of likes, dislikes, stories and memories hidden underneath. And we're looking to uncover them. Our premiere issue features bigger contributor highlights, a variety of topics - intertwined without rhyme or reason. We've nixed the rules and forewent table of contents and the like to be a freer, more unmatched way of exploring. It's not perfect but it's an inspirational start to a dream. Enjoy!
Her Umbrella is a women's digital, lifestyle magazine dedicated to creating a life outside the lines.

Published quarterly during the changing of the seasons, you'll find a bohemian, free-spirited style woven throughout its pages. Every woman has an umbrella with a variety of likes, dislikes, stories and memories hidden underneath. And we're looking to uncover them.

Our premiere issue features bigger contributor highlights, a variety of topics - intertwined without rhyme or reason. We've nixed the rules and forewent table of contents and the like to be a freer, more unmatched way of exploring. It's not perfect but it's an inspirational start to a dream. Enjoy!
SHOW MORE
SHOW LESS
Create successful ePaper yourself
Turn your PDF publications into a flip-book with our unique Google optimized e-Paper software.
Her Umbrella

creating a life outside the lines

BLURRINGTHELINES:

A LETTER TO

SO UTH KO REA

10 UNIQUE

HOSTESS

GIFTS THAT

ARE SURE TO

IMPRESS!

The Joy Fund

Project:

Repurposing A

Life Straight

From The Heart

LIVING

WITH

ANXIETY

Seasonal

Sweetness:

An Autumn

Crumble Recipe

THE COTTONCANDY

HAIR

SURVIVAL

GUIDE

MINIMALIST

MENTALITY

REV I T ALI ZI N G

YOU R LI FE &

H OM E

PremiereI sue!
---
She is a boho girl.

10 Fun Things TOD0 This Season

1. Watch HOCUSPOCUS.

2. Visit an ORCHARDand go apple picking.

3. Host a DESSERTPARTY.

4. Make a VIDEOBLOGto share with your future kiddos.

5. LEARNTOSAYHELOin five different languages (outside of what you already know).

6. Go to the BOOKSTOREand pick out something that you'll actually read.

7. Try MAKINGyour favorite Starbucks drink at home.

8. BAKEsomething with a bit of maple in it.

9. Take a DANCECLASS.

10. PLANa weekend getaway with your gal pals.

composed by GraceLynneFleming

Premier Issue Fall 2015 / Her Umbrella 2
---
YOURDESERT

ISLAND

ON-THE-GO

PLAYLIST

GRAYSON WOOLERY

If you were stranded on a deserted island, what would you need to survive? Water?

Your favorite book? Mascara? Or maybe some music to keep you sane? Timeless

classics, trendy rhythm, these are the songs you can't live without.

1. Bon Iver Re:stacks

2. Tallest Man on Earth

Singers

3. Kris Allen Lost

4. Jack White Missing Pieces

5. Aretha Franklin Think

Grayson Woolery is from a small town and goes to University of Tennessee! Go

Vols! She enjoys singing, Jesus, waiting tables & laughing till her ribs hurt and

eyes water. Things she doesn't enjoy are Debbie/Danny Downers, being scared

by other people,& going without eating cheese for more than a day.

Follow Grayson:

Premier Issue Fall 2015 / Her Umbrella 3
---
She

rewrites

the rules.

composed by GraceLynneFleming

Premier Issue Fall 2015 / Her Umbrella 4
---
A Letter FromTheEditor:

WELCOME

A year ago I was anxiously awaiting the birth of

our first child. An adventure no matter how many

twists, turns, throw-up bags or Spanx one

endures, pregnancy is a wild ride for everyone.

Unfortunately, we had an extra tumultuous trip.

And while aboard the fearful ride I put my work,

my writing, my reading, my blog and my

emotional and mental health on the back burner.

The goal was simple: take care of this wondrous

baby and everything else can be dealt with later.

And then New Year's Eve rolled around and,

Claire, our magical daughter made her grand

entrance. We eventually began to mend. And

slowly got the hang of the whole "takin' care of

baby" thing as we relaxed into a comfortable -

although hectic - routine. I even fell back into

work within two weeks of coming home. But I was

missing my blog, known then as Her Umbrella.

The problem was that I couldn't find the time,

energy or even passion to continue the

momentum of the space. So my wheels began to

turn and Her Umbrella, the digital magazine, was

re-born. The once HU blog was revamped into

just Grace Lynne Fleming (.com) - a personal, yet

public, space to share lifestyle adventures and

travel journals. But now I had the freedom to

reach out to other women and men in the

creative community and generate something

special - that had a heart I admired.

Grace Lynne Fleming, Editor-in-Chief

editor@herumbrella.com

-----------------------------

Editor'sCrush:

Magazines have always held a place in my life.

From my first Highlights subscription to my still,

slightly-odd obsession with Seventeen Magazine, this media niche is a

definite love of mine. And now we have Her Umbrella, dedicated to

creating a life outside the lines, where "she" has the freedom to move in

ways "she" didn't know "she" could.

Every woman has an umbrella with a variety of likes, dislikes, stories

and memories hidden underneath. And we're looking to uncover them.

Look Around& Enjoy!

DefineBottle

learn more at definebottle.com

H&MPoncho

earn more at hm.com

Perfect Rainy Day Read

Premier Issue Fall 2015 / Her Umbrella 5
---
3 FORAUTUMN SARASTRAUSS

Grabyour scarf andyour mugfilledwithwarm, Earl Greyandenjoythebeautyof theseason.

Changing leaves. Pumpkin spice lattes. Sweaters. Apple-picking.

Autumn always feels like a fresh start because the air is crisper and kids are going back to

school.

Allow Sara to show you why she swoons over fall, as if the season were Mr. Darcy himself, in

three fall-inspired outfits!

Apple-Picking

There's no shortage of pumpkin-flavored

foods and I like hunting for the best pumpkin

in the patch, but it doesn't compare to

apple-picking. Trying every kind of apple in

the orchard, collecting more than you need,

and then sharing the wealth with family and

friends in the hopes that they'll make you a

warm, fruit-filled pie. I was inspired by the

apples themselves, so with a gray dress as a

base I added a bright red cardigan, a turquoise,

beaded belt, a blue floral scarf and brown

wedges.

Premier Issue Fall 2015 / Her Umbrella 6
---
Creamy Tea

Don't get me wrong, I love iced coffee and iced tea, but

there's something magical about a steaming cup of hot chai

to warm you up when there's a chill in the air. Especially

when that cup of tea is sitting next to a good book in a cute

coffee shop. I put together an outfit that's reminiscent of

milky coffee and tea: a white scarf, a light taupe blouse, jeans,

and black ankle-strap flats. And don't forget your mug!

Falling Leaves

Brown to yellow to orange to red. The changing leaves are

stunning, and I find myself paying more attention to the

trees than the road when I drive during the autumn months.

If you're not ready to give up your summer brights, this is a

great summer-to-fall transition outfit: pair an olive green

jacket with a bright yellow dress and taupe booties.

Sara Strauss is a social media coordinator by day and an aspiring novelist by

night. She writes about style, books and inspiration on her blog, Sincerely, Sara.

You can find her reading YA novels, writing, watching Netflix and eating too

many Oreos. Follow Sara:

Premier Issue Fall 2015 / Her Umbrella 7
---
She had the spirit of a gypsy.

Premier Issue Fall 2015 / Her Umbrella 8
---
EEF, BEAN&

CORNBREAD

CASSEROLE

Melinda Birdwell

Ingredients:

- 1lb ground chuck or hamburger

- 1cup diced onions

- 16 oz tomato paste

- 32 oz pinto beans- rinsed and

drained

- 4.5 oz green chillies- undrained

- 1 tbsp chili powder

- 1.5 tsp cumin

- .5 tsp oregano

- 6 oz pkg cornbread mix package

Instructions:

Cook the chuck/hamburger, onion

and tomato paste, drain and return

to the skillet. Stir in tomato sauce.

Stir in beans, chilies, chili powder,

cumin, oregano. Cover and cook 10

minutes on medium low. Pour into 2

quart baking dish. Prepare cornbread

mix according to package directions.

Pour over beef mixture.

Bake at 400 degrees for 30 minutes

til golden.

Freshgrenbeanssautedinabit of oliveoil withadash

of salt andpepper arethebest compliment tothishearty

bite. Cozyupandtasteabit of our family-friendly,

perfectlyfall weknight dinner idea.

Melinda Birdwell is a wife to Daniel, mother to three, Dalton, Kami and McKenna and

teacher for 21 years. Once retired, she dreams of cultivating and diving into her

own catering business.

Premier Issue Fall 2015 / Her Umbrella 9
---
MAKINGTIMEFORDATENIGHT

WHY, WHEN& 6 WAYSTODOSO

MONICAENCARNACION

DO YO U HAVE TIME FO R ?DATE

NIGHT?? If you?re a busy parent, and what parent isn?t,

it?s probably a rare occurrence and involves some

intricate logistics. Trust me I understand! Family life

keeps us so busy /that more often than not, ?date night?

is the last thing on our long list of to-dos. I have

laundry to do, I can?t find a sitter, money is tight or I just

simply do not have the energy. Those are all the

thoughts that fly threw my head every time I consider

scheduling a ?date night?with my hubby.

I know that if I allowed myself to, I could find just

about any excuse as to why the husband and I can?t

spend quality time together. Really, its not because I

don?t long for those carefree hours together, because I

often do, but rather because at some point after our

second child was born I started accepting the fact that

finding alone time as a couple can be nearly impossible

when one has kids. After the birth of my second baby I

also allowed guilt to set in and convinced myself that

everything we did had to involve the kids. Why?

Because it?s what parents do. It?s how happy families

work! Isn?t it?

As parents we work so hard to provide our kids

with the things we think will make them happy,

sometimes clearly forgetting that our children?s

happiness heavily relies on our own happiness as a

couple. As parents we want nothing more than to

provide our children with a great childhood and a loving

home to grow up in. Too often all of our time and

energy is dedicated to them. We think that this will keep

everyone happy. Well, I?m here to tell you that it won?t!

A few weeks after our daughter was born I began

feeling sad, alone, disconnected, tired, irritated and

sometimes even angry. I wasn?t sure why I was feeling

this way. I have a wonderful caring husband, two

amazing kids, and a beautiful home. I wasn?t alone!

There wasn?t anything to be angry about! At the time, I

truly couldn?t put my finger on what was making me feel

this way. Then one day my mom came over and offered

to stay with the kids so that my husband and I could

take a break, go out to do some much-needed shopping,

alone, no kids, no distractions. After spending the day

out, I suddenly realized that we had fallen into the

?parent trap." We had allowed ourselves to become so

consumed with what the kids needed, or what we

thought they needed that we had completely forgotten

about us. Without giving it much thought, we had just

accepted our new reality!

Premier Issue Fall 2015 / Her Umbrella 10
---
And just like that it hit me! We needed to find a way to make couple time happen. We could not give up on

?date night?without at least giving it a really good try.

In our minds we always assumed that we would continue to have time to go out as a couple, to enjoy nice

dinners and quiet moments alone. Now that we realized that those days were long gone, we had to start getting

creative in order to find the time to spend together. We agreed that even when we can?t get a sitter or splurge on

that fancy dinner we still need to have couple time, call it ?date night?if you want. We realized how important

couple time is not only for our own happiness, but also for the happiness of our kids and our family.

Below are some simple ideas that can help you find the time to re-connect even when you think it's not an

option.

An Afternoon Nap Snack Date

This idea is especially handy for parents of small

children who still take daily naps. If you plan ahead, a

nap can buy you some much-needed alone time. You?ll

have at least an hour or two to spend together so

make it count!

Schedule an afternoon nap snack date with each other.

This can easily be done on the weekend or any other

day when you are both off from work. Forget the

laundry, cooking and any other chores that you usually

tackle during nap time and only focus on each other.

Prepare some snacks earlier in the day or even the

night before and have them ready to go as soon as the

kids pass out. A little cheese and wine spread works

nicely in my opinion, and really helps to set the adult

mood. So go ahead, dust off that ole wine bottle and

get a little romance going

Premier Issue Fall 2015 / Her Umbrella 11
---
Did Someone Say

Breakfast?

When I think of a romantic gesture,

I think of my husband bringing me

breakfast in bed. Reality is that with

kids jumping into our bed at the

crack of dawn, mornings are most

likely not the best time for romance.

But who said breakfast has to

happen in the morning? Wait until

the kids are all tucked in bed for

the night. Then pop the bubbly and

pour the OJ! Sip on a few Mimosas.

Prepare some of your favorite

breakfast treats and enjoy them

together, all snuggled up in bed,

just the two of you, under the

covers...

Take Out Isn?t Only for

Dinner

Breakfast in bed is my favorite

treat! My hubby loves to do this for

me but like I said above, it?s usually

impossible when we have early

morning visitors in our bed. So how

do we sometimes beat these early

birds to it? We rise a bit earlier than

they do and don?t waste any time

cooking breakfast. Instead we order

take out for breakfast. Some egg

sandwiches from our local deli

make for a nice treat. No time

spent cooking gives us enough time

for a few extra cuddles before

breakfast and the visitors arrive!

Plan a Play Date ? One for

the Kids and One for You!

Kids are always longing for more

time with their friends, so why not

give it to them? Plan a play date for

your kids! Do they have a favorite

friend they like to visit? Maybe

they?ve been looking forward to

seeing the latest movie or checking

out some new books from your

local library. These are things they

might enjoy doing with friends. Ask

a trusted parent to take over for an

hour or two. The other parent

might also be longing for a little

kid-free time, so offer to do the

same for them at a later time. Once

your kids are off plan on enjoying a

little play date of your own. Turn off

all phones, pull the shades and

enjoy!

Keep ThemBusy So You Can

Get Busy

Don?t feel guilty for popping in a

movie or letting them play that

video game a bit longer. Choose a

time when the kids are engaged in

something that doesn?t involve your

undivided attention and step away

for a moment, just the two of you.

Take it into the next room or step

out onto the porch or in the yard.

Enjoy a moment together, a glass of

wine, a long kiss. Catch up on your

day or just sit and hold hands.

Worried that the kids won?t be safe?

Put that old baby monitor to good

use during moments like this! It

will allow you to step away while

still monitoring what?s going on in

the next room. It might not hurt to

talk to your kids about it too. If

your kids are school-aged they will

mostly likely understand that

mommy and daddy need a moment.

Let them know that you will be in

the next room and will return soon.

Just a few minutes away from the

kids can make a big difference after

a long day!

Step Out for a Matinee

If you have school-aged kids this

one can work like a charm! When

was the last time you went to the

movies alone, just the two of you?

Plan to go see a movie when the

kids are away at school. Skip out of

work a bit early or plan to do this

on a day off. Not only will you save

money on tickets, since a matinee

showing is cheaper, you?ll probably

also have the entire movie theaters

to yourselves! When was the last

time you made out at the movies?

No, really! When was it? Well, here?s

your chance! Go ahead and feel free

to act like a pair of teenagers!

Premier Issue Fall 2015 / Her Umbrella 12
---
FORTHE

LOVEOF

SCARVES

Some favorites from the season. A wrap around

your neck on a chilly evening, a whimsical tie

around your tote or a new way to cinch your waist

in a fall maxi, these are the scarves we inspire in.

Burberry, Cashmere

Scarf: Dark Cyan,

$795

Free People, Upstate

Silk Indigo Blanket,

$225

Saturday

shopping

dates.

Urban Outfitters, Dye

Effect Knit Mix Skinny

Scarf, $24

At the

game.

Old Navy, Butterfly

Printed Infinity,

$16.94

Evening

classes.

Nordstrom, Fringe

Trim Infinity: Camel,

$20

Anight at the theatre.

Splurges,

Saves &

Smore's &

Bonfires.

composed by GraceLynneFleming

Premier Issue Fall 2015 / Her Umbrella 13
---
THEJOY

FUND

PROJECT

MARGARETDABBS

TODAY YOU MIGHT CATCH A GLIMPSE OF

JOY HUNT EDEN GENTLY PEDALING HER

FLOWER-COVERED, LIME GREEN HIGHLIGHTED

BICYCLE HOME FROM THE MARKET IN MOBILE-

VIBRANT FRESH FLOWERS CHEERFULLY PERCHED IN

THE BASKET AND A THOUGHTFUL SMILE ON HER

EXPRESSIVE FACE.

Just three years ago, Ash

Wednesday 2012, while she was on a

ski\ snowboard vacation in Aspen,

Colorado, thirty-seven year old Joy

went into sudden cardiac arrest (SCA)

while shopping in the Aspen

Emporium & Flying Circus. In what

she describes as a ?series of good

fortune,? shop owners Shae Singer

and Shirley Tipton responded

without hesitation, calling 911 and

administering CPR while waiting for

the paramedics, who happened to be

only two doors down from the shop,

to arrive. Revived by swift use of an

Automated External Defibrillator

(AED), Joy was taken to Aspen Valley

Hospital where she stayed a day

waiting for weather conditions to

allow a Flight for Life jet to transport

her to the University of Colorado

Hospital in Denver. After a series of

discouraging complications, she was

not expected to survive.

However, Joy woke up after four days

in a medically induced coma and

made significant progress which

paved the way for surgical placement

of an Automatic Implantable

Cardioverter Defibrillator (AICD). Ten

days later, she was released. Since

Joy was not allowed to fly, she and

her husband, Kenny, left Colorado in

blizzard conditions in a rental car and

arrived in Mobile after an intense

four-day expedition. She returned to

the hospital in Mobile on two

occasions- once for treatment of

blood clots and another for a heart

arrhythmia episode. Eighteen

months of medication trials finally

resulted in the discovery of the right

combination and Joy continued her

journey to recovery.

After her close dance with death,

Joy reflected on the first part of her

life and knew she had to begin

reinventing it without losing precious

time. Living in Pensacola from two

until she graduated from Tate High

School, Joy?s growing up years were

spent relishing life on the Gulf Coastendless

sunshine and year-round

water access for water skiing and

wake boarding. Athletic and

endlessly energetic, she also played

tennis, softball, and enjoyed music

with the flute and piccolo. This child

of the sun became a child of the

snow when she spent her college

years at Boise State University in

Idaho and aggressively took up skiing

and snowboarding.

College

graduation

accomplished, Joy

lived in

Cambridge,

England, for a few

years and then

moved to Georgia.

In addition to

working in sales

training for

financial

institution

employees, she

began preparing

Repurposing

A Life

Directly

FromThe

Heart

for triathlons. In 2003, Joy competed

in her first one- running ten miles,

cycling forty miles, and swimming one

half mile. All these years, she felt the

relentless tug of the Gulf Coast and

Premier Issue Fall 2015 / Her Umbrella 14
---
happily returned in 2010, readily finding home in Mobile

with her husband, her family, and her new job managing

money for large businesses.

Joy?s heart condition and the placement of her

AICD have imposed extreme limitations on her activities.

Short walks and easy bicycle rides to the grocery store

and market replace triathlon training. Moving to a one

level home eliminated difficult stairs and a reluctant

retirement from her job avoided life threatening stress.

The Aspen Emporium & Flying Circus propelled

Joy?s movement towards a new direction for her energy

when they started the Joy Fund in her honor as a means

to raise money to purchase AED training and devices for

other businesses. AEDs, small portable devices which

include simple instructions, are designed to be used by

laypersons. If the AED finds a heart issue that will

respond well to an electrical shock, it provides the shock

in order for the heart to return to a normal rhythm.

On its website, the Sudden Cardiac Arrest Foundation

shares two jolting statistics which reveal how an AED can

unequivocally make the difference between life and

death for SCA victims. ?On average, only 10.6% of

EMS-treated non-traumatic SCA victims of any age

survive.? However, if bystanders take appropriate action

by calling 9-1-1, employing CPR, and using an AED,

?survival rates increase to 38% .?

admiring vintage tablecloths. Growing up in a family that

frequented yard sales on Saturday mornings, she

developed an appreciation for old items that were

capable of a new life. As Joy noted, ?I have always

preferred vintage over new.? Thus, an easy and perfect

choice emerged. Vintage tablecloths would serve as the

canvases for her apron creations.

Joy?s neighbor, former co-worker, and ?surrogate

mom,? who has a degree in fashion design, became her

sewing mentor. ?She was my guide when I couldn?t figure

it out.?

By the end of 2012, Joy had designed and sewn

her first, very plain apron. Without pockets or other frills,

?It was very basic because I had no clue.? Now, her

ever-increasing sewing skills, eye for amazing fabric, and

persistence as a ?picker? at estate sales, flea markets,

yard sales, and antique stores, allow Joy to offer sunny,

vibrant aprons that immediately, yet tenderly, evoke

warm memories and a sense of comfort.

Motivated by her desire to help the shop raise

funds for these life-saving devices, Joy decided to make

and sell aprons and the Joy Fund Project (JFP) sprang into

action. Describing herself as a reluctant cook, she

explained, ?For some reason, I always liked aprons. It was

something about dressing you up for something you

didn?t want to do? making it more fun.?

Joy?s complete lack of sewing experience failed to

deter her newly found mission. When Kenny tried to be

the pragmatist and pointed out that she did not even

know how to use a sewing machine, Joy replied, ?I

managed money for multi-million dollar companies, I

should be able to figure out a sewing machine. It can?t be

that hard.?

After deciding on aprons, Joy was at a yard sale

ShewasmyguidewhenI couldn't

figureit out.

Premier Issue Fall 2015 / Her Umbrella 15
---
Joy?s ?basic? aprons have matured into a list of impressive

descriptions- French, children?s, collegiate tailgating

collection, team aprons. Her product line has expanded as

well. Enthusiasm for her bicycle, via the need to carry

items home from the market, resulted in B3-

bike.basket.bag. This useful handiwork, with laminated

interior, fits into a bicycle basket and carefully holds

necessities such as water bottle, cell phone, car keys and

purchased items including flowers and groceries. When

the ride is over, the basket bag lifts out freely and

becomes a tote bag. One bag does it all. When large

burlap coffee bean bags are available, Joy converts them

into tote bags, incorporating words and letters on the bag

into the design scheme.

The JFP?s distribution sources are as varied and

distinctive as its products. Shoppers discover them on site

at Pie Lab in Greensboro, Aspen Emporium & Flying Circus,

and Market on the Square in Mobile, and online at

Facebook and Etsy. In just three short years, Joy?s

aprons and other handiwork have travelled across the

country and around the world. Two aprons were delivered

to Poland, two journeyed to Guatemala to be worn by

ladies who run a mission kitchen, and two chefs in Italy

wear theirs proudly. Notably, one of the Italian restaurants

has an AED which has been used for a successful

resuscitation. In Cape Cod, Massachusetts, a bride and

groom were treated to JFP monogrammed aprons as an

after rehearsal lobster boil dinner gift. As close to home as

the southeastern states, and as far away as Rhode Island

and Washington, the JFP shares sunshine and happiness.

When a friend and JFP supporter sent Joy a dress the

friend wore when she and her young sons attended

former President Jimmy Carter?s Sunday school class in

Plains, Joy turned the well-worn dress into an apron that

will last forever and preserve incredible memories.

Always grateful for the people who saved her life and

eager to help save others, Joy was the keynote speaker for

her local American Heart Association Go Red for Women

2014 luncheon. She also serves on the Go Red for Women

2014-2015 Executive Leadership Team. After

participating as a motivational speaker for young children

and teenagers who live with AICDs at Camp Wired

Together at Children?s Harbor on Lake Martin, she and

Kenny now regularly attend as volunteers. Since its

inception, the JFP has collaborated with a Catholic church

in Mobile as well as Aspen Emporium & Flying Circus to

facilitate placement of AEDS and to provide training for

their use. With a persistent focus on awareness and

education, the fund plans to work with other churches,

nonprofit organizations, and small businesses in its

continuing quest to save lives. Joy appreciates the

multitude of additional blessings the JFP generates. Abbi,

her niece, is her first assistant. With project business, they

spend many pleasant, productive hours together

discovering fabrics and designing merchandise. Joy?s

mother, who died when Joy was a teenager, was an

accomplished seamstress and often encouraged her to

learn to sew. But Joy refused. With the JFP, sewing and

aprons created a new connection to her mother, once

stubbornly lost, and now happily found. For Joy Hunt

Eden, a potentially life-ending incident evolved into a lifepromoting

passion. Each one of her unique handmade

products profusely blossoms from Joy?s wide open heart,

carefully and directly aimed for the hearts of others.

Premier Issue Fall 2015 / Her Umbrella 16
---
She

rubs

glitter

in

her

hair.

Premier Issue Fall 2015 / Her Umbrella 17
---
She feels all the

feelings.

Premier Issue Fall 2015 / Her Umbrella 18
---
1 .

5 .

1 . The Philosopher:

Wonderful Life Tray.

Paper Source, $14.95

2 . The Natural:

Agate Coasters. West

Elm, $59

2 .

3 . The Homebody:

Imogen Throw.

Target, $45.99

6 .

4 . The Creative:

Wreck This Journal

Everywhere. Urban

Outfitters, $10

3 .

7 .

5 . The Reader: Tech

Tools Hand

Bookends. Amazon,

$23

6 . The Pet-Lover:

Dachshund Cutting

Board. World Market,

$14.99

7 . The Gilmore:

Luke's Diner Key Tag.

Pink Olive, $8

4 .

8 .

8 . The Relaxed:

Gallery Copper

Moscow Mule Mug.

Kohl's, $14.99

9 .

9 . The Charmer:

Macaroon Trinket

Box. Hattan Home,

$10

Hostess Gifts

a compilation of appreciative pieces

for the lady entertainment cultivator -

from the cat lover to the artsy fart.

composed by GraceLynneFleming

1 0 .

1 0 . The Adventurer:

Fossili Centerpiece

Bowl. Crate & Barrel,

$99.95

Premier Issue Fall 2015 / Her Umbrella 19
---
THROUGHALOCAL'SEYES:

NASHVILLE

PHOTOGRAPHYFROMDALTONWEAVER

Premier Issue Fall 2015 / Her Umbrella 20
---
Dalton Weaver is a cinematography student and Nashville native. His dreams

involve creating and directing blockbuster, Hollywood films.

Premier Issue Fall 2015 / Her Umbrella 21
---
She is a

trailblazer.

Premier Issue Fall 2015 / Her Umbrella 22
---
She

reads

of the

world

around

her.

Premier Issue Fall 2015 / Her Umbrella 23
---
WHAT I WISH FOR

MY DAUGHTER: AN

EXTENDED LETTER

GRACELYNNEFLEMING

Claire,

MY WISHES LIE INFINITE AND THERE WILL NEVER BE ENOUGH WORDS OR PAPER

TO SORT THROUGH THEM ALL. You may need a magnifying glass for

some or may be embarrassed of them enough to shield them

away but to express all the wishes that I have for you is a near

impossible feat. But I shall try, because one wish I have for you

is that you jump in and try.

I wish that I could change the world for you, just enough, that

when you're 16-years-old, staring at yourself in the mirror,,

there's no question of your worth, your equality or your

contribution. I wish that confidence runs through your body

like blood and there's never a day that you feel less than your

peers or society may make you feel. I wish that you understand

the need for strength and exercising your intellect until the

day you become old and gray.

I wish that you find fulfillment and that it doesn't come from

someone else's words. I wish that it comes from your

accomplishments, your dreams and the journeys that they take.

I wish that you leave bitterness aside and you stay sensitive to

the hardships and tragedies of life without forgoing your love

of others - all others - of every nook, cranny, corner and home

of the world.

I wish that you bend molds, stereotypes and assumptions, as

Premier Issue Fall 2015 / Her Umbrella 24
---
you surprise all those stuck in self-proclaimed

tradition and ignorance.

I wish that you develop a hunger for enjoyment. Of

everyday simplicity's. I don't want you on a constant

search of "more" or "better," instead I wish that you

are able to stay content with yourself long enough

to get excited about bowls of ice cream and fall

TV-shows.

I wish that you never take those simplicity's for

granted. I wish that you travel and cultivate a desire

to travel, see, read, do, explore and, most importantly,

learn, always learn.

I wish that you make time for naps, hugs, Halloween

Oreos in October, movie nights with Mom and Dad

and giggles with your pup.

I wish that you learn to embrace your femininity, as

long as it feels right, without being taught that it

makes you inferior. Instead, I want you to know that

there's power in being a woman with the ability to

wear lipstick and heels all the while ripping

someone to shreds with your words.

I wish that you follow through with those words and

commitments. I wish that you realize that there's

nothing worse than being an incomplete friend.

But most of all, I wish that you always know that I

wished for you. I dreamt of you. I crossed my fingers

for you. I prayed for you.

I love you, Claire.

xoxo, Mommy

Premier Issue Fall 2015 / Her Umbrella 25
---
REALSNACKS

FORKIDS

AMANDAQUEEN

If you are interested in feeding your child a snack that?s not

from a package, but feel overwhelmed, you?re not alone. Here are some

tips to keep it simple for you and fun for your kids. This also works

really well for groups of children during play dates, field trips or study

breaks.

Try serving a variety of fruits and veggies. Cut them up so

they're ready to eat with some fun but healthy things for dipping. Let's

have a peek at some ideas!

Cucumbers Superpower: Hydration! Cucumbers are 96% water. A great

choice for staying hydrated on warm summer days.

Strawberries Superpower: high levels of vitamin C and trace minerals.

Peppers Superpower: Great source of vitamin C and vitamin A (eat with

some fat to get the full benefits).

Figs Superpower: All around excellent source of concentrated nutrition.

Great source of d?ietary fiber, vitamin B6, copper, potassium,

manganese, and pantothenic acid.

Nix the overly-processed

and packaged. Instead offer

up healthy alternatives

with big benefits.

Premier Issue Fall 2015 / Her Umbrella 26
---
Carrots Superpower: full of vitamin A (eat

with fat).

Grapes Superpower: antioxidant boost!

Antioxidants help to neutralize free radical

damage from our environment.

Olives Superpower: loaded with

monounsaturated fat.

Hummus Superpower: packed with protein

and good fats for sustaining energy and

building strong healthy bodies.

Salsa Superpower: The tomatoes and lime

juice in salsa are loaded with vitamin C.

Additionally, you teach your child to love

and appreciate REAL FOOD! Yay!

Dirty Dozen/ Clean 15 The Environmental Working Group publishes

a list called the ?Dirty Dozen and the Clean 15??every year. It?s a

great guideline for choosing what produce to be particularly

concerned regarding pesticides. The 2015 list:

Dirty Dozen

Clean 15

MIX& MATCH

YOURSNACKS!

- Apples

- Peaches

- Nectarines

- Strawberries

- Grapes

- Celery

- Spinach

- Bell Peppers

- Cucumbers

- Cherry Tomatoes

- Snap Peas

- Potatoes

- Hot Peppers

- Kale/ Collard Greens

- Avocado

- Sweet Corn

- Pineapple

- Cabbage

- Sweet Peas (frozen)

- Onions

- Asparagus

- Mangoes

- Papayas

- Kiwi

- Eggplant

- Grapefruit

- Cantaloupe

- Cauliflower

- Sweet Potatoes

Amanda Queen is a physician assistant, fellowship trained in Integrative

Medicine with Dr. Andrew Weil through the Arizona Center for Integrative

Medicine at the University of Arizona. She is a North County San Diego

mama to Zula. She blogs at Amanda?s Apothecary, Integrative Wellness.

Follow Amanda:

Premier Issue Fall 2015 / Her Umbrella 27
---
She will make a difference.

Premier Issue Fall 2015 / Her Umbrella 28
---
THECOTTONCANDY

HAIRSURVIVALGUIDE ELAINAKARRAS

A trend on-the-rise, learn how to take

care of those pastel, mermaid tresses

from a Nashville hair and makeup artist

with first-hand experience and

professional know-how.

The first time I ever colored my hair pink

was one of the most giddy experiences of my life! I

was so excited (and scared)... but, once I saw the

cotton-candy deliciousness surrounding my face, I

knew I had made the right decision! It's been three

years and my locks have seen every color of the

rainbow. Although having mermaid hair has

probably changed my life in some very positive

ways - yes, really - there are many important factors

to consider and understand before taking the

plunge. This is a need-to-know ?survival guide? so

you have the necessary information to save you a

lot of time, money, and most importantlydisappointment.

Be Realistic.

It may not be possible for your stylist to

accomplish this service in one day. Doing creative

color properly is like performing surgery. Hairstylists

have to chemically extract all of the natural (and/or

chemically-altered) pigment from the hair without

severely changing the physical structure and

causing permanent damage. In order to do this

correctly, it may take several hours to lift out the

spectrum of colors from the hair.

It is, unfortunately, not always your stylist?s

error if your hair doesn?t become white within one

sitting. At this time, we realistically do not have the

technology available to us to lift dark brown hair to

white in one sitting. On previously colored brown

hair, it usually takes me 4-5 lightening sessions to

accomplish the level of brightness that my clients

desire without damaging their hair.

Premier Issue Fall 2015 / Her Umbrella 29
---
Splurge on the Lightening Service

This is not a good place to try to cut costs. Creating

radiant, pretty mermaid hair is only possible with a healthy,

beautiful, perfectly light canvas. Imagine drawing crayons on red

or yellow paper; the colors would be muted out. This same

concept holds true for cotton candy colors.

Do yourself a favor and go to a professional and make

sure the lightening process is done in a safe and healthy manner.

Lightening your own hair without damaging is it incredibly hard

to do and will often result in irreversible breakage and hundreds

of dollars in corrective services.

In order to maintain pastel shades, you have a couple of

options. I always recommend that my clients start off with a more

intense shade and allow it to fade into a pastel shade over the

next few weeks. Otherwise, maintaining the color may require a

visit to your stylist every 2-3 weeks.

Use Protection

Protect your hair?s precious and fragile bonds by making

sure that your stylist is using Olaplex. During any lightening

service, hair?s hydrogen bonds are broken and usually will

re-attach to oxygen in the air, causing a different chemical

makeup altogether. With Olaplex, these bonds are isolated and

preserved, and are therefore able to re-attach and maintain the

hair?s strength during and after a lightening session. This service

is going to cost more initially; however, it?s like purchasing

insurance for your hair. I find it so crucial to my craft that I have

built it into my pricing structure. I can no longer morally use

lightener on a customer?s hair knowing that Olaplex is an option.

It's essentially like a condom for your hair - better to be safe than

sorry!

Invest in a Color-Enhancing Conditioner

The truth is, these beautiful, magical colors seem to come

with a fairy godmother in tow. However, instead of the clock

striking midnight - it's more like the 6th or 7th shampoo. And

then ... poof! The color is all gone!

Thankfully, beauty companies are starting to realize there

is a growing market for unicorn babes, like myself, and now

several color enhancing conditioners are becoming available that

help to pro-long the cotton candy colors' lifespan. A

custom-mixed, in-salon option is the EVO Fabuloso Colour

Intensifying Conditioner.

Keep it Dirty

The more you shampoo, the faster any hair color is going

to fade. Invest in a sulfate-free, color-safe Shampoo and a dry

shampoo that you love, like Kevin Murphy FRESH.HAIR Dry

Cleaning Spray. Use the dry shampoo as an aid in allowing your

body?s natural oil system to adjust, so you don?t need to shampoo

your hair as often.

Premier Issue Fall 2015 / Her Umbrella 30
---
Beat the Heat

Using hot water on your hair will make your color fade

faster. Use cool water when you absolutely MUST shampoo.

Cooler water is going to help keep your cuticle sealed down so

the color can stay trapped in a bit longer.

The sun?s UV rays can cause free radical damage that can

lighten and weaken your hair strands. The antioxidants in

sunflower oil are able to fight off free radicals, providing a

natural UV filter to protect your hair color from being affected by

the sun. Try incorporating sunflower oil into your diet to prevent

weak, brittle hair and naturally stimulate hair growth.

Temporary Alternatives

There may be a lot of reasons preventing you from going

all ?My Little Pony?on your hair, but that doesn?t mean you have

to miss out on all of the fun!

There are so many options now to test-drive these colors;

on the weekends with clip-in extensions, hair chalk, or even your

favorite eyeshadow (which you?ll want to set with hairspray).

VISITELAINA!

Elaina Karras is a hairstylist and makeup artist that specializes in image

development and visual branding. Her days are spent on the set of music

videos, photoshoots,and creating tutorials and reviews for her new beauty blog,

The Beauty Sensei. Elaina considers herself an advocate for the freedom of self

expression. Follow Elaina:

Premier Issue Fall 2015 / Her Umbrella 31
---
She empowers

her youth.

Premier Issue Fall 2015 / Her Umbrella 32
---
AppleSIPSSERVED3 WAYS

seasonal-inspired treats for any day in fall

Monica Encarnacion

SparklingCaramel AppleSangria

This sangria is bubbly blend of Sparkling White

Chardonnay Grape Juice and Sparkling Apple Cider with

a kiss of sweet caramel. Nothing says autumn like

apple cider and caramel apples! This yummy beverage

makes a great treat to share with family and friends on

any crisp fall day!

Prep Time: 10 Minutes Yield: 1 large pitcher Equipment:

large pitcher or jar

Ingredients:

- 2-3 apples, cored and chopped into

small cubes

- 1 bottle Sparkling White

Chardonnay Grape Juice

- 1 bottle Sparkling Apple Cider

- ¼ cup of Caramel Syrup (or a tad

more if you love caramel like I do!)

Instructions:

Chill both the Sparkling White Chardonnay Grape Juice

and the Sparkling Apple Cider. Core the apples and

chop them into small cubes. Place the apple cubes at

the bottom of a pitcher. Pour ¼ cup of Caramel Syrup

over the apple cubes. Pour in the chilled Sparkling

White Chardonnay Grape Juice. Pour in the chilled

Sparkling Apple Cider. Stir, pour, drizzle a little extra

caramel over the served Sangria for an added kiss of

caramel goodness and enjoy!

TurnIt IntoAnAlcoholicCocktail!

Substitute the Sparkling White Chardonnay Grape Juice

for a bottle of your favorite White Wine or Chardonnay .

You can also skip the caramel syrup and add ½ cup of

Caramel Premier Issue Vodka Fall instead. 2015 / Her Umbrella 33
---
SparklingAppleCinnamonTea(Hot or Cold!)

This sparkling apple cinnamon tea is made with

Sparkling Apple Cider, black tea steeped with cinnamon

sticks and just a dash of lemon juice. Not only does it

taste delicious, it smells delicious too! As soon as you

start to pour it you?ll understand why I like to say, ?It

smells like autumn in a cup!?

Instructions:

Place tea bags and cinnamon sticks in a large

glass-measuring cup. Fill the measuring cup with 2

cups of boiling water. Let the tea steep for about 10

minutes.

To make it a cold:

Chill your bottle of Sparkling Cider for 1 hour. Once the

10 minutes are up and your tea is ready, remove the tea

bags and cinnamon sticks and chill the tea in the

refrigerator for at least 1 hour. In a large pitcher

combine the chilled Sparkling Cider, the chilled black

tea, and fresh lemon juice. Stir and serve over ice.

Garnish with cinnamon sticks if you wish.

To make it a warm:

Once the 10 minutes are up and your tea is ready,

remove the tea bags and cinnamon sticks and pour the

(still hot) tea into a large teapot. Pour Sparkling Apple

Cider into the teapot. Pour in the fresh squeezed lemon

juice. Stir and pour into a teacup. Garnish with

cinnamon sticks if you wish.

Prep Time: 15 Minutes Yield: 1 large pitcher or teapot

Equipment: large pitcher or large teapot, kettle (boil water),

large glass measuring cup (to steep tea)

Ingredients:

- 2 black tea bags

- 2 or 3 tall cinnamon sticks (plus a few more for

garnish if you wish)

- Fresh-squeezed lemon juice from 2 small lemons

- 1 bottle of Sparkling Apple Cider

Monica Encarnacion is a born and raised New Yorker and innovative educator. She loves raising her family in the

city she?s always called home. Married to her best friend and husband of 16 years, she now spends most of

her time playing and laughing with their two young children. When she?s not busy with the kids, you?ll find

her building connections through social media, writing, blogging here, cooking and taking tons of photos!

Follow Monica:

Premier Issue Fall 2015 / Her Umbrella 34
---
She

will

take

your

breath

away.

Premier Issue Fall 2015 / Her Umbrella 35
---
DISNEYINSIDERTIPS:

A Vacationer'sGuidetotheHappiest PlaceonEarth

MANDYVOGELPOHL

Having worked right in the heart of one of the most popular vacation spots in

the world, allowthis Disney "insider" to give you the scoop.

Disney World is a place where people from all over the world long to

visit. There's just something about the atmosphere - the characters, the

castle, the fireworks, the legacy and the magic.

Working in the parks for a little over seven years, I noticed that a lot

of guests were unaware of what was going on around them. There were so

many people who were so confused about where they were, what the parks

had to offer and why things were done a certain way. People would be

cranky and I would often ask how it was possible to be so grumpy in a place

like Disney World! Eventually, I came to realize, that it was because a lot of

the guests were unaware of so many of the most important nooks, crannies,

secrets and itineraries of the parks. So here I am to share a few tidbits that I

have learned over the years that will hopefully make planning your magical

vacation a bit easier and less of a stress.

1. Don't use a travel agent if you can help it. If you have a really good travel

agent and you have been to the parks before, it may be beneficial. However, I

cannot tell you the number of times I have experienced travel agents, who

have not worked at or for Disney, have messed up the guests' itineraries and

left them throwing their hands up in the air and angry at the front line cast

members. If you haven't been to Disney before, it can be very frustrating

when you get to the park and you have no idea what the travel agent set you

up for and what they didn't. A lot of the times, this problem occurs with

Premier Issue Fall 2015 / Her Umbrella 36
---
purchasing Memory Maker, setting up Magic Bands, and dinner reservations. If you're not familiar with the

parks and have no clue what you want to do or see, this can be a huge problem. Understand that Walt Disney World

does not include Universal Studios, Sea World or Aquatica. I know that might sound like a no-brainer, but there is an

issue with guests getting confused by this every single day. A lot of the time it has to do with travel agents who

have misguided them, or have booked them in all of those parks without explaining that they are different. It's

easier to just call Disney Reservations at (407) 939-5227 and have them walk you through your planning.

2. Should you buy Park Hopper tickets? My advice is to always buy the park hoppers. I know that they are a

bit more expensive, but I really believe that it is worth it. While you're on your trip, you might decide that you want

to spend half a day in Animal Kingdom and the other half in Hollywood Studios. Or, maybe you want to spend most

of the day in Epcot and then later head over to Magic Kingdom for their evening Extra Magic Hours. There are so

many choices when you have a Park Hopper ticket. You could also make a dinner reservation in a separate park.

3. Download the My Disney Experience App onto your smartphone. This phone app is the key to your trip. You can

do everything on it: set up Fastpass+, make dining reservations, find out the wait times to rides, find show times,

and set up your itinerary. You can even add friends to your plans!

4. Purchase Memory Maker. Memory Maker is a product that Photopass offers. And if you buy it online three days

before your trip, you'll get a discount. What Memory Maker does is allow you to take as many photos in the park as

you want (including ride photos and even ride videos). When you get home, you can download all of these to your

computer, along with the copyright. From there, you can upload and print your photos and share them online in any

way that you want. It's a great product because you don't have to worry about dragging your camera with you. I

would say that you should at least have your camera phone with you, because there will most likely be an instance

where a photographer will not be around. But, if you're nervous about not being able to get enough photos for your

money or about finding the photographers, there is a section on My Disney Experience that will show you where the

Premier Issue Fall 2015 / Her Umbrella 37
---
photographers are located in the parks. Make sure you

ask for Magic Shots. Every photographer that is

shooting an icon location is supposed to automatically

do this for you, but some don't. Don't be afraid to ask

for those special shots. As long as you are being safe

and are wearing appropriate attire, any of the

photographers should be more than willing to take the

photo that you want. Memory Maker is definitely worth

it, as the price of one photo starts around $15. I believe

the estimate is that by the time you buy 14 photos from

your trip, you have paid for Memory Maker and could

have had all of your images instead of the single

photos.

Not-So-Scary Halloween Party. This is my absolute

favorite thing in the Magic Kingdom.

8. What are the must-see things to do and see? See my

picks below!

5. Drink a lot of water. Regardless of the time of year

that you are visiting, please stay hydrated. People pass

out like flies at Disney World, because they are not used

to the heat and being on their feet all day. The cast

members want you to be safe. If you don't feel like

spending $5 on a water bottle, any of the quick service

locations that have soda fountains will give you free

cups of water!

6. Decide the main things you want to do. Do you want

to spend the day meeting characters? Do you want to

ride all of the rides? Do you want to see the shows? If

you want to do some of everything, I recommend

picking one thing out of each of those categories. Plan

them out by times and then work everything else

around those. If you are using Fastpass+, pick the three

rides you want to do and schedule them as early in the

day as you can. Once you use those three Fastpasses up,

you can go back and get one more. If you want to meet

characters, keep in mind that a lot of them are only out

in the morning and finish around 2:30pm to get ready

for the parade.

7. When is the best time to visit Disney World? To be

honest, the attendance has been going up throughout

the entire year. The slowest times are the weeks

following Labor Day up until mid-October. Epcot has

their International Food and Wine Festival from

September until November. If you love Halloween, I

would recommend buying tickets to Mickey's

Premier Issue Fall 2015 / Her Umbrella 38
---
Magic Kingdom:

Attractions - Mickey's Philharmagic, The Haunted

Mansion, Thunder Mountain, Space Mountain,

Enhanted Tales with Belle

Special Tips & Must-See's - At The Haunted Mansion,

take a peek in Memento Mori right outside. You can get

a ghost photo taken of yourself!

You don't have to be a little girl to get pixie dust! If you

pop into Castle Couture behind Cinderella's Castle, the

merchandise cast members have special pixie dust

wands and they will pixie dust you for free!

The Festival of Fantasy parade (every day at 3 P.M.) is

extraordinary! It is my favorite parade! You can sit

anywhere from Frontierland up to Main Street U.S.A.

Wishes Fireworks Show

Mickey's Not-So-Scary Halloween Party

(September-November)

Seven Dwarfs Mine Train is a fun roller coaster, but

don't fret or feel left out if you don't get a hold of a

Fastpass or don't have the time to wait out the lines.

Hollywood Studios:

time. It's a lot of fun to just walk around Epcot and to

experience the different countries. It's great for dining

and shopping.

Animal Kingdom:

Attractions - Mount Everest, Kilimajaro Safari

Special Tips & Must-See's - The Festival of the Lion King

is my favorite show! It's closely followed by Finding

Nemo.

Favorite Restaurants

O'hana at Disney's Polynesian Resort | Boma at The

Animal Kingdom Lodge | Splitsville at Downtown

Disney | Seasons inside The Land at Epcot | The Garden

Grill inside The Land at Epcot | Pizza Planet at

Hollywood Studios | 50's Prime Time Cafe at Hollywood

Studios | Sci-Fi Diner at Hollywood Studios

Attractions - The Great Movie Ride, Rockin' Rollercoaster,

Tower of Terror, Star Tours, Muppet Vision 3D

Special Tips & Must-See's - Star Wars Weekends

(May-June)

Fantasmic

The Animation Courtyard has a lot of cool things inside!

You can even take a class on how to draw a Disney

character.

Epcot:

Attractions - Soarin', Test Track,

Imagination, The Land

Journey Into the

Special Tips & Must-See's - Club Cool has Coca-Cola

samples from all over the world!

World Showcase is usually where we spend most of our

Mandy Vogelpohl lives in Orlando, Florida with her husband, Matt, and puppy, Ella.

She is very passionate about stories and other people's stories and believes

they should be told. She loves writing, crocheting, music, going to Disney World

and experimenting with makeup. Visit her blog here.

Follow Mandy:

Premier Issue Fall 2015 / Her Umbrella 39
---
She reminisces.

Premier Issue Fall 2015 / Her Umbrella 40
---
Take your lashes to an

entirely different level.

Benefit Cosmetics,

BADgal Lash Mascara:

Rich Black mini, $10

Highlight what's left of

your summertime glow.

NYC Sun'n'Bronze

Bronzing Powder, $4.99

Silky lacquer with

brilliant color choices.

After School Boy Blazer,

$8.50

10 UNDER$10

Seasonal & Reasonable Beauty

It really is as smooth as

buttahhh. NYX Buter

Gloss: Tiramasu, $4.99

Soft, rich colors that stay

all day. Ulta Cheek Color:

After Glow. $7.00

Quick Drying & Pleasant

Shine. Avon Rare Gold

Shimming Body Powder.

$5.50

Refreshing all year.

CLEAN Air 0.17 oz.

Rollerball. $8.00

Quick & easy cover up

that works. e.l.f. Studio

Concealer. Ivory, $3.00

Inexpensive & effective.

Equate Original Clean

Facial Wipes. $5.97

composed by GraceLynneFleming

Premier Issue Fall 2015 / Her Umbrella 41
---
FALLIN' FOR

FLATBREAD

Inspired by both the season and by

Middle Eastern, Sfeehas, pair these artistic

snacks with a salad or soup for dinnertime

any day this week!

NADJAMERALI

Flatbreads make a great snack, appetizer or simple meal when paired with a salad. These flatbreads

were inspired by Sfeeha, Middle Eastern flatbreads typically topped with a minced lamb mixture or

spinach and cheese. They are absolutely delicious and are something that I enjoy on a regular basis.

Essentially, they are the equivalent to pizza, just Middle Eastern. The toppings can vary but the

aforementioned are the most commonly enjoyed. With Fall around the corner I thought we could

make use of some seasonal inspiration for the toppings.

Premier Issue Fall 2015 / Her Umbrella 42
---
__________________________________________________________________________________________________

With that cool air ready to breeze around the corner, it is probably getting about time for you to either bring

in your herbs from your outdoor garden or dry them so you can enjoy them throughout the winter months.

Drying herbs is actually quite straight forward.

1.) Take about 5-10 stems of herbs;

2.) Rinse your herbs and remove any browning leaves;

3.) Fasten the stems with an elastic band, string or twine;

4.) Take a paper bag and pierce two holes in it near the top (see photo). Place your herbs inside and secure an

additional elastic or string to the herbs so that you can hang the herbs through the holes. Secure the other

end of the elastic to a hanger. The paper bag will catch any leaves that will drop off during the drying process,

so you don?t end up with a messy floor;

5.) Seal closed with staples or tape and store in a warm and well ventilated space. The fewer sprigs of herbs

Mix & Match International Ingredients!

squash, riccotta cheese, lemon zest, dates, cheeses natire to the Levantine region such as: akawi, baladi &

halloumi, oregano, cinnamon, feta cheese, thyme and even pine nuts!

Premier Issue Fall 2015 / Her Umbrella 43
---
Flatbread Dough

Ingredients:

- 250 ml warm water

- 1/ 8 cup of sugar

- 1 package of active dry yeast (8 grams)

- 4 grams of salt

- 60 ml of vegetable oil

- 600 grams of flour

- ¼ cup of roasted sesame seeds

- 2 teaspoons of ground cinnamon

Instructions:

Using a stand mixer (if you have, if not a

large bowl is fine) place the yeast, warm

water, oil, sugar and salt in the bowl and

stir gently. Let sit for about 10 minutes to

allow the yeast to activate. You will notice

the yeast activating as it will no longer be

seedy. Add the flour, cinnamon and

sesame seeds and mix with the dough with

the dough hook attachment until a nice

round ball forms ? or knead until smooth.

Brush on some more oil on top of the ball

of dough and cover with plastic wrap and a

cloth and let rise until the dough has

doubled in size ? approximately 1 hour.

Set aside and start on your toppings.

Butternut Squash Topping

Ingredients:

- 1 small (~1 lb 14 oz) butternut squash, oven

roasted and pureed2 This should result in ~1 ¼

cups of pureed squash

- 1 teaspoon of brown sugar

- juice of one lemon

- salt & pepper to taste

Instructions:

Combine ingredients in a bowl, taste for salt

and pepper and place in a piping bag if you

have ? if not a ziploc bag will do, you will just

need to cut a hole in one of the corners once

ready to dress the flatbreads.

Feta & Date Topping

Ingredients:

- 250 grams of feta

- 90 grams of dates pitted

- 1 tablespoon plus 1 teaspoon of minced shallots

or onion

- 1/ 8 cup of olive oil

- 1 tablespoon each of fresh thyme and oregano

- salt to taste

- 1/ 8 teaspoon of cayenne pepper

- 1/ 8 cup of pine nuts

- Mint to garnish (optional)

Instructions:

1.) Pit your dates, I simply squeeze out the pit,

medjool dates are very soft, and dice them into

1 cm pieces; 2.) Dry roast your pine nuts in a

pan on medium heat until fragrant and lightly

toasted ? set aside; 3.) Combine the dates with

the feta, shallot, olive oil, spices add salt.

Riccota Topping

Ingredients:

- 1 ¼ cups of ricotta

- 1 tablespoon each of fresh thyme and fresh

oregano

- 3 zest of 1 lemon

- salt to taste

Honey Roasted Pecans

Ingredients:

- ½ cup of pecan pieces

- 1/ 8 teaspoon cayenne pepper

- 1 tablespoon of honey

- ¼ teaspoon of salt

Instructions:

1.) Combine the ricotta, thyme, oregano, lemon

zest and salt in a bowl and place in a piping bag

if you have ? if not a ziploc bag will do, you will

just need to cut a hole in one of the corners

once ready to dress the flatbreads. 2.) Roast the

pecans in pan with no oil over medium heat

until they are fragrant and slightly browned.

Remove and immediately toss with the

cayenne, salt and honey. Set aside.

Assembly - Bringing Your Dough & Topping Together

1.) Preheat your oven to 425 degrees;

2.) Decide what size of appetizers you want to make, you make larger ones and simply cut them into small

pieces like pizza for your guests to enjoy or you can make smaller flatbreads ? 4? for example and allow you

guests to enjoy one person. I have done a combination;

3.) Roll out your flatbreads on a lightly floured surface until they are about 1/ 8 inch thick and place them on a

pizza sheet (or cookie sheet lined with parchment paper) I pinch the entire rim of the flatbreads to give a bit of

a design;

4.) If you are using the squash and ricotta topping brush the flatbread with some olive oil before placing your

Premier Issue Fall 2015 / Her Umbrella 44

toppings on;
---
5.) With your pipping bag you can alternate the mixtures like I have done, it will give you a very pretty effect.

Top with your roasted pecans;

6.) With the feta and date mixture you simply spread it on and garnish with your pine nuts before placing in

the oven;

7.) Bake for 10 minutes or until nicely browned;

8.) Remove and garnish with mint if desired.

Nadja Merali is a hobbyist cooking blogger born and raised in Edmonton, Alberta, Canada

of Lebanese and German heritage. The Teeny Table is where she putters and creates

new recipes as well as harbour and document family favourites. She loves playing with

different spices and flavour combinations and is a true believer that you do not need a

recipe to start cooking; all you need is imagination & taste buds!

Premier Issue Fall 2015 / Her Umbrella 45
---
SO -LO NG FO O D

TRUCKS

UNTILNEXTSUMMER

LAURATOLEDO

YOU KNOW IT?S SUMMER IN MINNEAPOLIS WHEN THE FOOD TRUCKS ARE OUT.

Summertime in the Midwest is coveted. We are holed up on our

offices and homes for 7+ months out of the year while we watch the

snow accumulate. We deal with bad traffic, weird weather (or

extended weather), and lots and lots of weather talk.

By the end of winter (April through July, depending on the year),

we've had enough. Not just of being stuck indoors, but stuck with the

same food options, the same routes and scenes. Sure, the 20+ miles

of skyway system is cool (kind of like the Mall of America is cool -

you go a couple times, and you've had enough for your lifetime), but

it gets old.

So when summer hits, we spend as much time as we can outdoors

(even if that means we?re wearing shorts and flip-flips in 40 degree

weather). And with summer in Minnesota, comes food trucks. And the

lure of food trucks is strong. So strong that I?ll forego the (healthy)

lunch I brought just to get a taste of something different.

Not too many years ago, there were only a few food trucks. More like

a novelty, their reputation spread through word-of-mouth and

Twitter feeds. Those food trucks have increased exponentially, to

brick-and-mortar restaurants and food truck fairs.

It?s become a ritual. Each summer morning, the trucks park early,

securing their spot for the day. We? those who ?live? in the

Premier Issue Fall 2015 / Her Umbrella 46
---
skyway? check Twitter feeds and peer out our windows, starting to

think of what we want to eat for lunch that day. We check the

dedicated website for food truck locations? tcstreetfoods.com, which

aggregates all locations and menus of the trucks in the area that

day? and start emailing. "What are you craving today?" Will it be the

rice bowl from World Street Kitchen, or perhaps the beet sliders from

the Moral Omnivore. Hot? Cold? Tacos, or perhaps falafel. Maybe I'm

in the mood for a homemade soda. There are all kinds. And you can't

go wrong.

Most trucks focus on a particular type of food: local/sustainable,

seafood, areapas, tacos, Asian fusion, Indian cuisine, pizza, grilled

cheese, salad, burgers, cupcakes? even ice cream and smoothies! So

many varieties. Each truck has unique and exquisitely made food.

Small menus that promote quality and creativity.

There?s also a method to ?food trucking.?My colleagues and I have

found that the best time to go is between 11 & 11:30, before the

lines get long and before they sell out. This also means you get first

dibs for seating, which is extremely limited. There are few tables and

benches outside for us to enjoy the (limited) nice weather. There is,

however, a section of stairs overlooking a plaza, which turns into a

tennis court for two weeks out of the year. The tennis tournament is

an extension of Minnesota?s Aquatennial celebration? which means

you have to be extra diligent about going out early.

Minnesota might not be known for much outside of the state, but it?s

become a hot-bed of creative food experiences. And a food truck is

just one of those experiences that you want to share (even to those

who live here and don?t work downtown).

It?s just too bad there are 7 months of winter, each and every year.

Until next year, food trucks.

Laura Toledo is a mom, writer/ editor and communications professional out of

Minnesota. She, her daughter, and husband, love to read, travel, host dinner

parties, watch MMA and try new restaurants.

Premier Issue Fall 2015 / Her Umbrella 47
---
She collects

positive

vibes.

Premier Issue Fall 2015 / Her Umbrella 48
---
LIVINGWITHANXIETY:

AFIRSTHANDPOINT-OF-VIEW

MANDYVOGELPOHL

THE DAY THAT MY HUSBAND PROPOSED TO ME, I found myself on the floor of a bathroom convulsing and hyperventilating.

Not because of anything he did, but because of the amount of stress and anxiety that other people around me were

causing me. It should have been the happiest day of my life and not just some other day on the calendar. But there I

was, again, dealing with the issues that I had been dealing with all year and not being able to cope. Anyone can say,

"Well, you just shouldn't have let anything get to you and ruin your day," but unless you are facing anxiety, it's

impossible to understand what goes on inside of your head and your body.

Living with anxiety is difficult. It's difficult for the person with anxiety, as well as for the loved ones around

them. It's exhausting, especially if it is severe, like in my case. I had a wonderful childhood. I grew up in a pretty, red

brick house with a very large backyard. My sister and I have fun memories jumping on the trampoline and sitting on our

swing set, singing Backstreet Boys songs at the top of our lungs. At home, I always felt safe. I was comfortable.

When I was a toddler, I remember pretty vividly hyperventilating if I got into trouble. I found out later, that this

was because of something that happened to me. I was so young, that I don't remember the event, but it's still in my

subconscious. It was traumatizing. I was a good kid-- I didn't ever want to get into trouble. I was very hard on myself. I

was a rule-follower. There was even a time in the second grade, where my teacher accused me of something that I didn't

do. She took a star off my name. She quickly regretted it, because she had to spend about forty-five minutes with me

hyperventilating in the bathroom trying to calm me down.

I believe that everyone has some sort of anxiety. I think that some level of it is normal and healthy. But I have

always known that I had a little more than that normal amount. I have always been a very over-sensitive person. Things

get to me. Words get to me. Actions get to me. It's how I am wired. Most of the time I can handle it, but sometimes I

cannot. And it's caused me to have insomnia. I also have dealt with a great deal of social anxiety. There was a time in

my life where I wouldn't speak to anyone other than my family and the one friend that I had.

Until the last two years, I have felt like I have been able to handle things rather well. I was able to come out of

my shell and talk to almost anyone around me. I had blossomed into a social butterfly and I was enjoying it. I had a

successful blog and I was working on starting a project online. Then, out of nowhere, I had family members begin

harassing me online. I would block them, but they would create new accounts and continue harassing. There were

horrible things said to me. I was told I was worthless, stupid, uneducated and someone even threatened to harm my

family. This went on for eleven months. It only stopped when I completely deactivated my social networks and changed

my name. This wasn't a joke. I was being stalked online. I was crying every day because it was so much to handle. I felt

like I lost everything. As a writer, my social networks have always been a great thing for me.

Premier Issue Fall 2015 / Her Umbrella 49
---
Seven months into the harassment, my husband, Matt (at the

time boyfriend), and I decided that it would be best for me to begin

counselling. My anxiety had gone off the charts. I am a very

self-aware person and I knew that the way I was reacting to things

was not healthy. I wasn't hyperventilating, but I would get this build

up in my chest that would cause me to breathe heavily. I would cry

and scream. I would sometimes get extremely nauseous and have

hot flashes. Sometimes when Matt would hold me to calm me down,

I would just feel like all I wanted to do was run. I don't know where

to, but it was an uncontrollable feeling. I would stress about every

little thing. I would freak out about something silly, like Matt moving

the toothpaste to the other side of the sink. It was absolutely

ridiculous.

Counselling was one of the best decisions we have made. I

started off going by myself and then Matt would join me for support

and insight on how to help. To a lot of people, counselling seems

scary. People wonder what others will think of them. People worry

that their peers will view them as less than. The honest truth is: we

all have issues that we have to deal with on a daily basis. It doesn't

make someone weaker for seeing a counselor. It has made me

stronger.

We started by detecting the types of anxiety that I have.

Before my first session, I had talked to my counselor on the phone

and explained what was going on. It was a really good step, because

it helped me become comfortable with her. She asked me to order a

copy of The Anxiety & Phobia Workbook by Edmund J. Bourne, PhD.

and gave me some pages to read before the first session. I highly

recommend this book if you have anxiety, even if it's not severe

anxiety, because it is a very great book to learn from.

When we sat down, she asked me a bunch of questions as we

went through my life story. The book had some self-diagnosis

questions and I filled those out. By the second session, it was known

that I had social anxiety, generalized anxiety disorder, OCD, and

some PTSD. I had anxiety about phone calls, online messages, sitting

in a group, parties, any situation where I was expected to speak out

loud, and water tanks (aquariums are difficult for me). Most of these,

I had my entire life. However, the thing about anxiety, is if

something traumatic happens to you, it can be amplified. Feeling

out of control is what drives most anxiety.

Another factor to anxiety is your own personality style. I have

always been quiet. I'm a writer, so I often enjoy listening and

noticing things around me. I like this more than speaking. I can be

outgoing if I am comfortable in a situation, but sometimes it takes

me a long time to get to that point. This doesn't ultimately cause my

anxiety. Up until the past two years, I would just accept that I was

quiet. A lot of it is how I am naturally. Some of it is because of

situations that have caused it and when my mind wanders to those

things, that is when my anxiety starts to peak.

The four personality styles that can swing anxiety into motion are

perfectionism, excessive need for approval, ignoring signs of stress,

and the need for control. I am three of these (perfectionist, need for

Premier Issue Fall 2015 / Her Umbrella 50
---
approval, and I like to feel like I can control situations around me).

These personality styles can control the way you think. My mind is my worst enemy. For example, the

perfectionist in me wants everything in the house in order at all times. It also wants me to look put together at all

times, which is something that I have learned to handle a little better. My need for approval is always high. I am not

sure that will ever really calm down. I want my husband to be happy with me. I want my family and my friends to be

happy and accepting of who I am. When people don't like me, it is very difficult for me to get past. The need for me to

be in control is also very high. It's not so much that I need or want to be in control of people, but more the situations

that surround me. I couldn't control the harassing messages being sent to my Facebook and my Twitter accounts. I can't

control if it is going to rain while we are out at Disney. I can't control how much my husband has to work. I can't control

whether or not my hair decides to cooperate everyday. Some of these are serious examples and some are more serious.

My stress level is usually found hand-in-hand with these things.

There are a lot of coping mechanisms to try when you have anxiety. The first one that we tried was a mood

chart. This one didn't help me at all. The last thing I want to do when I feel like I can't breathe, is sit down and write out

all the emotions I am feeling. I tried to write them afterwards, too, but by the time it was all said and done, I just felt

kind of ridiculous about any of the attacks. Some things that did work for me were heavy breathing, imagery and

tracing figure 8's. I have also written letters to people who have caused stressful situations, just to get all the words out

and then thrown it away. I deal with a lot of self-blame and negative self-talk, so when I am feeling overwhelmed, I

typically will lay down and weigh out the situation. Affirmations are important as well. Make sure you are doing your

best to be positive about yourself.

I was put on medication around this time, as well. Medication was something that I wanted to avoid, but because

of the stress from the harassment and because we were planning our wedding within two months, it was decided that

it would be a good tool to get through. I was put on Celexa, which is used for depression as welll. I'll be honest and say

that it helped me, but at the same time it didn't. It would block out some stress, but oftentimes I would still have

attacks. I didn't hyperventilate while on it, but my chest would tighten.

I started tapering off Celexa this past May which was the hardest part. The side effects were difficult to deal

with. You never know for sure what your body is going to do. My doctor didn't talk me through the side effects, so I had

no idea why I was feeling so strange. The side effects depend on the medication. There was a moment where I found

myself questioning why I decided to even come off it. It felt too hard and I was worried that I couldn't do it. I pushed

through those emotions and almost two months later, I am so glad that I did!

Anxiety isn't something that goes away. It's something that you have to deal with on a daily basis. Some days

are really, really great, while other days can be terrible. Sometimes I am really good at applying my tools and coping

mechanisms and other days I am not.

Having a strong support system is very important. I would be completely lost without my husband. Keep in mind

though, that anxiety, no matter how severe, is emotionally tolling on your loved ones as well. Remember that the

people who love you are always there to listen and support you, but sometimes they need time for themselves as well.

No matter what you're facing, know that you are capable of overcoming the obstacles thrown at you. Don't give

up! There are always people who care, sometimes you just have to seek them out. Ultimately, you need to take the

steps to become healthier for you. Mental health is extremely important. Don't ever be ashamed to ask for help. Don't

worry about what people will think if you go to a counselor or decide to take medications. There is nothing shameful

about it.

Premier Issue Fall 2015 / Her Umbrella 51
---
I got married on December 7, 2014 in a nature

preserve in Florida. Every day, my husband and I still face

the challenges of living with anxiety. But wee get through

it together, as a team.

*If you are facing online harassment, make sure you

report it and tell someone. You've been given a voice to

speak up. Don't ever let anyone take that away from you.

You may think that this can only happen to children and

teenagers, but it can happen to an adult. A lot of people

hide behind their computer screens. Be safe online. Use

your privacy settings. If you are a writer, like me, you can

use a pen name or change your first name to protect your

identity. If at any time you do not feel safe or you feel like

someone has crossed the line, take it seriously and get

help.

For resources about Cyberbullying visit

www.cyberbullying.us.

Premier Issue Fall 2015 / Her Umbrella 52
---
She is gentle.

Premier Issue Fall 2015 / Her Umbrella 53
---
6 MOMMY

SHORTCUTS LAURATOLEDO

makingeverydayabit moreproductivefor thesuper busymom

AS A BUSY PARENT, IT'S HARD TO KEEP EVERYTHING TOGETHER. (Or it's just

hard remembering.) That's why finding the right technology

can help you save some time...and sanity.

* Back up those adorable photos! Speaking from experience,

it SUCKS when your SD card or phone dies, and you lose

precious memories. Don't risk it, back up your photos! There

are a whole host of options from which to choose. Personally,

I backup the original files to Dropbox, and reduced file size

to Google (this is free with unlimited storage). Why two? Well,

Google lets me store at reduced file size for free, with

unlimited storage, and I love its features (they generate GIFs,

collages, videos, and stories from my photos). And Dropbox

allows me to store the original resolution for a reasonable

price (yes, I pay for my files to be stored in Dropbox - this is

my equivalent to external hard drives). Dropbox charges a

reasonable amount for 1 TB of storage - worth it, in my book.

For iPhone users, the iCloud might be a good option (but

your storage limit is hit early, whereas Dropbox has quite a

bit of storage for free before you're required to upgrade).

* Get on the same page. Busy schedules can lead to

overlapping events. Avoid double-booking by sharing a

calendar with your significant other. My husband and I use

Google Calendar (you might see a trend here - Google does a

fantastic job of integrating their platforms). By sharing our

calendars with each other, we can easily see what the other

has scheduled for the day. The nice thing is that I can get to

the calendar on all devices, desktop included. Cozi is another

great app for families. It does a lot more than calendar

events - it includes contacts, shopping lists, and a meal

planner.

* Never forget anything. OK, so that's exaggerating it a bit.

But, since I've been using Evernote, I forget a lot less.

Evernote is a virtual notebook that helps you organize

thoughts from anywhere (web, hand-helds, desktop). I use

Evernote as my "inbox" - I write down all thoughts, tasks,

articles, shopping lists, etc., and then sort them from there. I

can collect recipes and articles to read later from a browser

extension. I can even use other third-party tools with it - for

example, notes tagged with a certain keyword go

automatically to a task manager. Bonus: you can schedule

notes with alerts/reminders, and can share notes with your

family.

* Remember your passwords. Remembering over 200+ sites

and their passwords is a bit of a headache. Instead, I use

LastPass. It's an app that works with your browser that allows

you to save and access passwords on-the-go. It's encrypted,

so your data is safe. And the app is available on mobile, as

well, if you ever need to look one up. (The phone app is part

of their premium package, which is $12/year.)

* Stream! One of the best decisions we ever made was

dropping cable. Sure, it was relatively cheap for the first few

months, before the deal ran out. Instead, we use Chromecast

and Amazon's Fire Stick for our TVs. Between Amazon Prime

and Netflix, we can stream almost anything! And it saves us

from mindlessly flipping through channels when we have

"downtime" (HA!).

* Grocery delivery. This seems like it would be expensive, but

I've done the math. For us, who spend way too much on

dessert groceries, ordering groceries to be delivered has

saved us so much money (and the two hours it takes my

husband to grocery shop). Write a list out and research local

delivery businesses. Compare prices, or compare the types of

produce they offer (this seems to be the hardest to find

online), and try it out one week. Even with the $10 delivery

fee, we spend waaaaaaay less on groceries than shopping

in-store. Plus, it lets us spend more time with the baby.

Premier Issue Fall 2015 / Her Umbrella 54
---
StopWishing, Start Wandering

CARLYVIATOR

?I?VE ALWAYS WANTED TO GO THERE!?

?Aww, I wish I could do something like that.?

Perhaps you are wasting time envying world travelers?

Instagrams instead of planning your own adventure.

Maybe you just need a little pep talk to understand

how easy it is to get out there and experience the

world. Money is not the issue here. It is telling yourself

?I am going there,? and believing it.

Portions of my time spent globetrotting have been

dedicated to showing audiences how easy it is to travel

on a budget and ways to meet locals for a more true

experience. Below are some tips for getting there,

lodging for free, meeting like-minded friends and

learning more about the world and yourself than ever

before.

1. PICK A PLACE!

That?s right, go on then. Where do you want to go and

why?

2. SAVE THAT DOUGH!

Throwthe envy out the windowand jump!

Live a simple, frugal life for a couple of months. If I

could hop across the ocean while still in college and

again right after, then you have no excuses. You CAN

make this happen if you TRY. Start out somewhere

Premier Issue Fall 2015 / Her Umbrella 55
---
closer if that makes you more comfortable! Most of

my tips still apply for not-so-far-away trips. If you do

want to wander out of the country, a passport is only

around $110.

3. BUY YOUR TICKET!

Once you have the money, search the net until

finding the best flight deal. Nothing beats the

feeling of pressing that final ?PURCHASE? button. I

have gone through cheapflights.com a few times,

but try a few different sites. Side

note: sometimes you can do multi-destination trips

without paying much more. Check it out.

Now, this means you have no choice but to start

saving money again! But you can literally say ?I am

going there!? and that will inspire you to be an

excellent budgeteer.

4. RESEARCH, RESEARCH, RESEARCH?

Research has definitely led me to places I would not

have otherwise known to visit. Ranging from

reviews of a city?s must-see spots to the mapped out

scenic routes, it?s all there waiting for you. Once you

know what you want to see, planning your trip gets

very exciting. The internet makes travelling a

breeze, as you will observe from my tips.

5. ESTABLISH AMBITIONS

What is the reason you chose your destination?

Maybe you just want to be by the ocean or perhaps

touring a big foreign city full of history. This does

not mean that you can?t do both though! It?s just

deciding where you want to start and what you want

to see.

My last trip involved the above activities, but also

hands on work (which I actually enjoyed) in

exchange for food and shelter. More details coming

below!

6. PLAN LODGING ACCORDING TO AMBITIONS

This is my favorite part to discuss because people do

not seem to know enough about their

budget-friendly lodging opportunities as a traveler.

Let me name just a few options, all of which I have

tried out and adore.

FREE: Couchsurfing.org

This site has landed me friends that I plan to have forever. Strangers have welcomed me into their homes

without any financial benefit and I have done the same for travelers through this site. What is it? Basically,

you make a profile that is similar to any typical social media site and then look start searching for a host

anywhere on earth! First, you choose according to location, then common interests (like music, sports, films,

etc). Reviews are included for that person to make sure they have always been good hosts, which is what

makes the site legit. Finally, you send a request to your preferred hosts in hopes that they will take you in

and show you around.

This has become a HUGE part of the travelling culture and is a great experience for both the host and the

Couchsurfer. I love having people in my home and showing them what Louisiana has to offer. I also learn

more about the travelers?homeland as we discuss similarities, differences, and our language whilst having a

drink or meal. Remember to be a polite guest because that?s what makes this lifestyle go round! You are

representing your state/ citycountry. Be respectful, get respect. Many of my Couchsurfers do some tidying up

and cooking as a way to show their appreciation.

Premier Issue Fall 2015 / Her Umbrella 56
---
FREE: WWOOF.org & workaway.org

These are volunteer-based websites where one can

work on farms or projects in exchange for food,

shelter, and the lifestyle experience. WWOOF, which

stands for World Wide Opportunities on Organic

Farms, and Workaway both consist of all kinds of

projects as well. These sites are great for those

interested in getting their hands dirty while helping

someone else out. It?s a mutual benefit!

I spent so many hours researching opportunities

from these sites. I was seeking knowledge about

sustainable, eco-friendly living and I have indeed

learned a lot about ways to improve my style of

living. Typical experiences for me have included

farming, building a house, having meals as a family,

and learning about new regions first hand. Where do

you want to go work? A California vineyard or an

olive farm in the south of Spain? Your options are

endless.

*Note: There are fees to using these sites (around

$100/ yr) but when you consider the money you save

with free lodging and the value of new friendships

with like-minded people, it?s a no brainer. These

sites show you how others live and to have faith in

humanity.

CHEAP: HOSTELS

For those of you unaware what a hostel is or for

those afraid of the concept because of a stupid

horror movie, let me explain the truth about hostels.

This lodging option has been around for a long time

and are possibly the easiest way to be sure you have

shelter at a good price. Hostels.com is a reliable

source for booking. You can choose according to

your budget, but I always go with the cheapest

option: a dorm of around 6-20 people in bunk beds.

You pay anywhere from $7-50 and get a bed,

shower, and place to relax.

There are public bathrooms for showers (which may

be the best thing ever after getting sweaty from

your travels). You meet people from all over the

world in your room, at the bar, or in the kitchen. I

enjoy cooking my own groceries in the communal

kitchen because it?s cheaper and it makes you

remember what the sense of having a home feels

like. Most of the hostels I choose provide a small

breakfast for free, which is a big saver as well.

Having a hot tea and cereal in the morning is a big

part of the backpacking culture.

PRETTY CHEAP: AIRBNB.COM

AirBNB gives an opportunity for travelers to rent a

room or an entire home/ apart in the city of their

choice. This method has also taken the travel world

by storm! You get to see what it feels like to live in

that city first hand. I have had tiny apartments for as

little as $20/ night but you can get as fancy as you

wish. For instance, places like Southeast Asia have

massive homes with a pool for decent prices.

These homes/ apartments may be in the city, on the

beach, or the middle of nowhere. It?s fun to look

through all of your options and research the best

place for your needs. I actually plan to rent my

apartment out on this site during Mardi Gras next

year. Everyone will win!

Premier Issue Fall 2015 / Her Umbrella 57
---
7. TRANSPORTATION

So there are some obvious choices for transportation once you are in

a new place, as well as those less known. Here are a few for you to

consider.

* Flights: Maybe you don?t realize that other places, like Australia or

Europe, have tiny airplanes that you can hop on for very cheap prices

to get around. It is less of an ordeal, yet often a bumpier ride. Ryan Air

is an example of a Euro flight company you could check out to get

from country to country in Europe. Keep in mind though, tiny planes

mean tiny cargo space. So try to pack lightly or you will end up paying

a big baggage fee.

* Trains: You can get rail passes to save a little money, but I find that

trains can still get pretty expensive. I do suggest trying one out

though because it is a great experience and often a scenic ride. Eurail

is big in Europe and AmTrak is still up and running in the U.S.

* Buses: Usually there are pretty decent bus prices from places like

Grey Hound or IDBus. Yes, it does take forever. But I personally love to

take a nap or read a book while on the bus so it doesn?t bother me.

* Hitchhiking: This is a rush for the bold people! Hitchhiking is not

necessarily a trend in the states anymore, but in other countries the

hitchhiking world is going strong. Young people stand enthusiastically

with signs that have their destination. You can meet fun, trusting

people and get around for free in exchange for keeping them awake

and in good company. Your best bet is to ask locals if they suggest

hitchhiking in that area. The downfall, of course, would be safety

concerns or the risk of getting stuck in bad weather for hours with no

ride. I have yet to try it, but am very eager to in places like France or

Ireland. Many friends have had great success and enjoy hitching rides.

* Car share: This is catching on in the U.S. and I am very happy about

that! LYFT and Uber are spreading quickly. But there are also options

for long distance travel!

I used BlahBlah Cars all over Europe and it was always my cheapest

bet. Drivers have a have a profile with reviews, the type of car, where

they are heading, and the amount you will chip in for gas/ toll fees. As

a passenger, you also will need a profile and then put in your

departure city and where you are heading and your driver choices pop

up. Sometimes you can take one car halfway and then hop in another

to finish out your journey. Words can?t express how much I loved

BlahBlah cars. I even did a podcast about it on my site.

8. PACK LIGHTLY

It is certainly not easy to bring everything a gal needs in one

backpack! But I am getting better each time I travel. Be sure to get a

quality, comfortable bag or you will regret it. I would try to keep your

bag around 30 pounds.

Here are a few suggestions for must haves:

* A scarf: take a nap on it, have a picnic on it, wear it in the rain, wrap it

around you for warmth, wear it like a scarf. You just need one, okay?

* A pillowcase: put clothes inside and use as a foldable pillow.

* A sleeping bag: Budget-friendly travel means times that you need a

good sleeping bag.

9. GO!

Your departure date will sneak up on you will be ready! BON VOYAGE!

I hope that my tips have made you feel like your adventure is

possible? because it IS! Feel free to check my site out for details

about my adventures, such as mountain climbing and building a home

out of clay. Travel opens your mind in more ways than I could try to

explain. Realizing first hand that you share this planet with so many

amazing people and such beautiful places is an irreplaceable feeling.

Email me with any travel questions you may have!

Carly Viator is a media freelancer/ cultural enthusiast based out of New Orleans,

LA. Her work includes sharing stories of lifestyles, creativity and knowledge

about cultures near and far. She also provides media content (like videography,

photography, and web design) for musicians and businesses. Learn more about

her work and inspirations over at carlyviatormedia.squarespace.com.

Premier Issue Fall 2015 / Her Umbrella 58
---
She

flourishes

in the

spotlight.

Premier Issue Fall 2015 / Her Umbrella 59
---
MINIMALIST

MENTALITY

CARLYVIATOR

As my fiancé and I planned our move to a new city, we suddenly had the

opportune moment for that fresh start we had been longing for. It was

time to give up unavailing paint jobs, as well as our accumulation of

useless objects around the house. It felt as if I had lost sight of the things

most important to me, literally. My artwork and photographs seemed to be

camouflaged by random stuff and the bold colors of our walls. So while

packing up, I told myself, ?Look lady, it is time for a change.?These changes

were so simple and rewarding that I feel compelled to share some

thoughts on minimalist mentality.

First, let?s talk paint. When considering colors, it is easy to end up slapping

something bold on all four corners of a room because you LOVE that color.

Well my recent decision to white out all of our walls was actually guided

by my adoration of colors. The result: my accent colors and favorites pieces

are finally granted some space and the chance to be the focal point. Many

disregard white as an option because it is ?boring?and to some, it is not

even considered a color. Though who really cares what it is considered? As

British writer and philosopher G. K. Chesterton put it ?White is not a mere

absence of color; it is a shining and affirmative thing, as fierce as red, as

definite as black.?

when you are finished, downsize again. Clutter is unnecessary and can

become burdensome as dust builds up and you lose things all day long. I

know, we are Americans living in the 21st century and we tend to like

having a lot of stuff. But imagine only being surrounded by what you

need/love.

My inspiration came from the European homes I have visited, which

consisted of strategically placed belongings instead of excess stuff

everywhere. The simplicity of each room drew my eyes to the objects that

the homeowner wants visitors to see. Again, focal points become visible

when there are less distractions. One bold art piece/decoration can speak

louder than four mediocre pieces competing for the attention.

In the end, our landlord expected to find a ?stark? apartment when he

came to see the renovations, but he actually hugged me in response to the

changes. The blank walls make our apartment like an art gallery, though it

is still cozy with books and records around to entertain. The fresh

transformation of our lives is visually demonstrated in our home and is

easy to maintain. Start fresh and stay fresh by revitalizing your space

because home is the place where you want to feel your best.

Suddenly our decor pops and catches your eye when you enter each room.

White does not make our house boring, but instead makes it easier to be

eclectic as it lends attention and respect to our beloved maps, instruments,

artwork, and photos. Natural sunlight is also a key in our home. New

Orleans style bay windows welcome the sunlight onto the reflective walls

and together they light up our space.

So, you have your white walls and your blank slate is all ready to mesh

with whatever decorations you so choose. Now it is time to downsize. Then

Premier Issue Fall 2015 / Her Umbrella 60
---
"Whiteisnot amereabsenceof color;

it isashiningandaffirmativething,

asfierceasred, asdefiniteasblack.?

-G.K. Chesterton

Premier Issue Fall 2015 / Her Umbrella 61
---
She

laughs at

sameness.

Premier Issue Fall 2015 / Her Umbrella 62
---
And she

makes

wishes

on the

sunshine.

Premier Issue Fall 2015 / Her Umbrella 63
---
AUTUMN

CRUMBLE

AMANDAQUEEN

Ingredients:

Filling

- 3 apples (I used Pink Lady, but Granny

Smith or Honeycrisp would be delicious

too!)

- 2 tablespoons coconut sugar

- 2 tablespoons coconut oil

- 2 tablespoons lemon juice, + zest of 1

lemon

- 1 teaspoon cinnamon

- 1 teaspoon vanilla

- pinch of nutmeg

- pinch of sea salt

Topping

- ½ cup almond flour or almond meal

- ½ cup almonds, finely chopped

- ½ cup of rolled oats

- 3 tablespoons coconut oil

- 3 tablespoons honey

- 1 teaspoon cinnamon

- pinch of sea salt

In\structions:

Preheat oven to 375 degrees. Chop apples

into small, bite sized chunks, leaving peel

intact. Combine in a large bowl with the

remainder of filling ingredients and mix well.

In a separate, smaller bowl combine topping

ingredients and mix well.

Fill your desired baking containers with

apple mixture. Bake for 15 minutes, then add

topping and bake for another 10-15 minutes.

Makes 4-6 servings. I like these in individual

baking ramekins but you can use any dish

you like!

Premier Issue Fall 2015 / Her Umbrella 64
---
Whipped Coconut Cream

Optional! Top with whipped cream or my favorite, whipped coconut cream. Here?s how to make:

Put a can of coconut cream in the freezer for 20-30 minutes. Open and scoop out everything solid and place

in stand mixer (there will be a small amount of liquid in the can). Whip for 5-10 minutes. If you like, you can

add a little honey or powdered sugar, or vanilla or the inside of a vanilla bean. Store extra (what?s that?!) in

Premier Issue Fall 2015 / Her Umbrella 65
---
BACK-TO-SCHOOL

ESSENTIALOILS

PATRICIAA. WILKINSON

WITH SCHOOL BACK IN SESSION THERE IS ALWAYS SO MUCH

TO THINK ABOUT. New routines, homework,

extracurricular activities, it's a constant battle for

time. The beginning of a new school year can also

bring additional stresses to the whole family.

Keeping the kids healthy, boosting the immune

system and finding easy ways to take the edge off

by creating a healthy and calm home environment

can make a tremendous difference.

About 4 years ago I started researching

natural ways to keep my three kids healthy using a

more holistic and natural, chemical free approach. I

grew up in a medical family; my dad is a family

doctor. Growing up, I never really thought twice

about using over the counter medication, or

prescription antibiotics. I believe there is a time and

place for traditional medicine, but I wanted my ?at

home methods? to feel more natural. And my first

approach was diving into essential oils!

Essential oils have been around for centuries

and used by many different cultures. And there is

evidence of their healing properties from essential

__________________________________________________________________

uplifting mood properties as well, but it is known for

its aid in focus and concentration. Lemon also

cleanses the air when diffused. I switch between wild

orange and lemon in the mornings while the kids get

ready for school. I also use lemon essential oil in my

cleaning supplies.

Lavender: Lavandula Angustifolia.

Lavender is a STAPLE essential oil to have in your

cabinet! There are many types of lavender, but

Lavandula Angustifolia is the classic type used for

aromatherapy. Lavender is best known for its calming

and relaxing qualities. Although, it is also known for

its ability to soothe insect bites, minor burns and

eczema and to reduce allergies. It can be used

topically and aromatically. I use lavender daily in my

oils carbon dating back to 18,000 B.C.E.

Over the years, I have dabbled in a variety of

oils and eventually found my favorites. Keep in

mind, there are very special guidelines one must

follow before introducing anything new to your

holistic medicine cabinet! Do you research but don't

be afraid to dive in.

Lemon: Citrus Limon

Lemon essential oil is another one of my kids?

favorites. It has a clean subtle aroma. It not only has

Premier Issue Fall 2015 / Her Umbrella 66
---
in my diffuser. I also use it topically, and for

cleaning.

Tea Tree or Melaleuca: Melaleuca Aernifolia.

Tea Tree oil can be labeled as ?Tea Tree? or by

Melaleuca; at times it can be confusing! Tea Tree is

one of my favorites because of its cleansing and

regenerative properties. I specifically use Tea Tree

topically on the skin and for cleaning. I do not

diffuse Tea Tree oil.

Wild Orange: Citrus Sinensis

Wild orange essential oil is one of my kids?favorites!

It has a light citrusy aroma and is used to energize

and revitalize! Wild orange is a good tool for

creating an uplifting mood especially good for those

early mornings while getting ready for school. I

diffuse Wild orange, and use it for cleaning.

Thieves Oil / OnGuard Blends

This blend usually includes Wild Orange, Clove Bud,

Cinnamon, Eucalyptus, and Rosemary with some

variation based on brand. **Note** the oils used in

thieves oil are not all suggested for young children.

Please be sure to research age restrictions before

using for your family.

Find more information about essential oils by visiting Doterra or Young Living.

Patricia A. Wilkinson is a single mother of three girls. She

lives in Clarksville, Tennessee where she is pursuing

her education in holistic health and nutrition.

Premier Issue Fall 2015 / Her Umbrella 67
---
BLURRINGTHELINES:

ALETTERTOSOUTHKOREA

At 26-years-old Brooke isn't falling into the

stereotypical ways of Western society, at least by

her hometown's standards. Instead, she's breaking

the mold, blurring the lines and traveling the world

as a teacher of English and an explorer of the

heart.

I GREW UP IN A SMALL CITY, IN A SOUTHERN STATE, IN AMERICA.

That was my world. Yes, I traveled around the states

and dreamed of European cities and of tropical islands,

but my home was in that country, in that state, in that

small city. I wasn't sure how to get out, but I always felt

there was more for me.

I had an unnerving, unsettling feeling that I

wasn't where I was supposed to be. But I knew that my

place was somewhere overseas, I just didn't know

where. Overseas wasn?t a specific place for me, it was

just somewhere foreign where I?d be helping people in

need. Others would tell me stories of their travels and

the feeling I would get inside was incredible. It was this

longing for more, to help, for the unknown, for freedom,

for it all. That never wavered or disappeared. It was a

feeling that would bring me to tears and make me want

to drop everything and GO. So out of all the countries in

the world I chose South Korea. An odd choice, for most,

even for myself, but little did I know, the perfect one.

My world was about to be flipped upside down.

Dear Korea,

BROOKEGREENWADE

Thank you for being the perfect start to my

journey.

Thank you for accepting me and showing me a

culture so different that I?ll never be the same.

I remember my first weeks here, I had no choice

but laugh and adapt and figure things out. I starved my

first two weeks but eventually found Korean bbq and

bibimbap.

Korea you are beautiful. Your people, your cities,

your customs are incredible. You are overlooked in the

world so much but will never be forgotten in mine. I

Premier Issue Fall 2015 / Her Umbrella 68
---
was shown so much blatant kindness by

complete strangers and taken back each time. You

fed me, helped me when I was lost, took care of me

when I was sick, and complimented me more times

than I can count.

I gave my heart to over fifty beautiful

children and it was an honor to be a part of your

lives. I feel like I learned more than you did some

days. I?m blown away by the work ethic and respect

these children have. At such young ages, they are

taught order and respect and to want the absolute

best for themselves.

Thank you Korea, for welcoming me with

open arms and giving me a place to call home for

the past year. This is only the beginning for me, but

the lessons I learned here will never be forgotten.

My eyes were opened to a world that I didn?t

even know existed and now I have a desire to

explore every inch of it.

Sincerely,

a student, a teacher, an exploring woman with the

curiosity of the world at her fingertips and in her

suitcase, Brooke.

Premier Issue Fall 2015 / Her Umbrella 69
---
She was born to fly free.

Premier Issue Fall 2015 / Her Umbrella 70
---
Her Umbrella

Editor-in-Chief Grace Lynne Fleming

Contributors

Sara Strauss

Grayson Woolery

Joy Eden

Margaret Dabbs

Melinda Birdwell

Dalton Weaver

Elaina Karras

Mandy Vogelpohl

Monica Encarnacion

Nadja Merali

Laura Toledo

Carly Viator

Amanda Queen

Brooke Greenwade

Photography/Art

Credits:

Bhakti Kulmala

Foundry

Public Domain Pictures

Unsplash

Larisa Koshkina

Open Clipart Vectors

bertvthul

Logan Art

Matt Trostle

Splitshire

Hans Braxmeier

Karolina Grabowska

Linda72

Ximena-c

SnipsAndClips

AJ

Stinne24

Stefan Schweihofer

Stokpic

epicantus

Rainer Küster

Jan Va?ek

David Mark

SnapwireSnaps

Lebensmittelfotos

skeeze

StartupStockPhotos

Gabrielle Savoy

ClkerFreeVectorImages

bloodymarie

Johanna Pakkala

Nicole Köhler

Petra

Richard Thelion

Peter Wieser

Special Thanks to my husband. Without you, I would have been the

only one mesmerized by the computer every weekend this month. I

love you.

biggifraley

uploaderpixaby

Premier Issue Fall 2015 / Her Umbrella 71
---
Premier Issue Fall 2015 / Her Umbrella 72