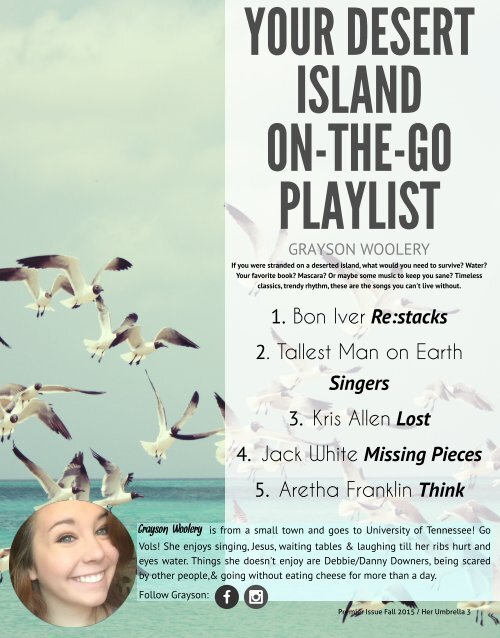 Her Umbrella Premiere Issue Fall 2015
Her Umbrella is a women's digital, lifestyle magazine dedicated to creating a life outside the lines.

Published quarterly during the changing of the seasons, you'll find a bohemian, free-spirited style woven throughout its pages. Every woman has an umbrella with a variety of likes, dislikes, stories and memories hidden underneath. And we're looking to uncover them.

Our premiere issue features bigger contributor highlights, a variety of topics - intertwined without rhyme or reason. We've nixed the rules and forewent table of contents and the like to be a freer, more unmatched way of exploring. It's not perfect but it's an inspirational start to a dream. Enjoy!
YOURDESERT

ISLAND

ON-THE-GO

PLAYLIST

GRAYSON WOOLERY

If you were stranded on a deserted island, what would you need to survive? Water?

Your favorite book? Mascara? Or maybe some music to keep you sane? Timeless

classics, trendy rhythm, these are the songs you can't live without.

1. Bon Iver Re:stacks

2. Tallest Man on Earth

Singers

3. Kris Allen Lost

4. Jack White Missing Pieces

5. Aretha Franklin Think

Grayson Woolery is from a small town and goes to University of Tennessee! Go

Vols! She enjoys singing, Jesus, waiting tables & laughing till her ribs hurt and

eyes water. Things she doesn't enjoy are Debbie/Danny Downers, being scared

by other people,& going without eating cheese for more than a day.

Follow Grayson:

Premier Issue Fall 2015 / Her Umbrella 3