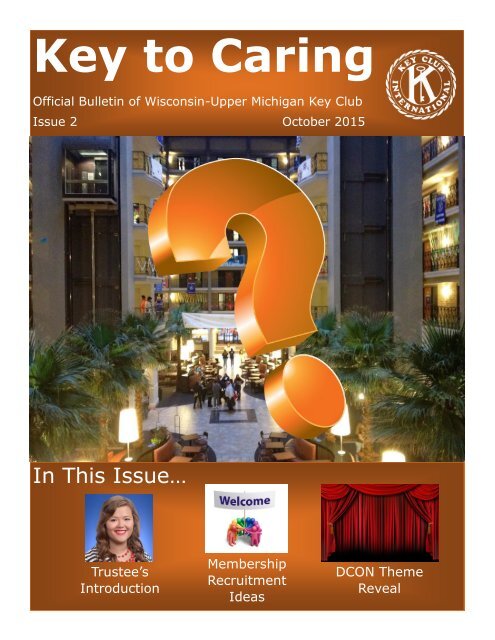 Key to Caring Issue 2-FINAL
Create successful ePaper yourself
Turn your PDF publications into a flip-book with our unique Google optimized e-Paper software.
Key to Caring

Official Bulletin of Wisconsin-Upper Michigan Key Club

Issue 2 October 2015

In This Issue…

Trustee's

Introduction

Membership

Recruitment

Ideas

DCON Theme

Reveal
---
Table of Contents

Welcoming Warriors at Wausau West: Page 3

Elevating Your Key Club Experience: Page 3

Recruiting and Retaining Members: Page 4

Time Management 101: Page 5

Youth Opportunities Fund Information: Page 6

WIUM Grant Information: Page 6

International Trustee Introduction: Page 7

Reward Your Club With Banner Patches: Page 8

ICON Preview: Page 8

Key Club International Partners: Page 9

Banner Patch Promotion: Page 10

DCON 2016 Promotion: Page 11

District Board Contact Information: Page 12

Page 2
---
Welcoming Warriors at Wausau West

August 26 th was open house night at Wausau West, or better known as Warrior

Welcome night. It is mainly for welcoming incoming freshmen and newcomers to the

school. A huge part of that night is to promote and persuade the freshmen to join clubs

and sports. Key Club, of course, took part in this and set up a booth in the Commons as

we do every year. Pictures of past events were displayed, along with bowls of Dum

Dums! As the rest of the officers and myself sat behind the table, it was hard to get the

attention of most of the freshmen. Eventually, they came over to our table and we told

them all about the club, since most did not know what Key Club was. Most freshmen

were persuaded to write their name on our sign-up sheet, which gave us the

opportunity to send them monthly calendars. We also had flyers for coming to the

informational meeting on September 8 th to learn even more about the club and to see

if Key Club is right for them. In addition, these flyers were posted on every floor of the

school.

Sitting there, I couldn't believe I was one of those freshmen last year, although I

do remember being nervous about a new school and new people. But later I found out

Key Club is filled with the nicest people I have ever met. I would have never thought

that I would become an officer of Key Club that following year.

Warrior Welcome night is a huge part for promoting Key Club at our school. It

keeps the club fresh with new members and therefore, new ideas and energy. In this

way, I know the club will be successful once again. As members, we are volunteering

and making a difference.

By Olivia Lemke, Wausau West Key Club

Elevating Your Key Club Experience

Key Club International may be global, but we are still growing, as shown with the

addition of Saudi Arabia as the 36th nation this past week. This growth as an

organization can also be replicated by individual members, although it can look very

different from person to person. In order to set goals, you need to prioritize what is

important to you. While some goals may seem very small and insignificant to

somebody, they could be the most rewarding for somebody else. No goal is more

important than another. They simply accomplish different tasks. For example, your goal

may be to volunteer more this year than you have in past years. Another goal could be

running for a board position on the club, district, or international level. By volunteering

more, you have more opportunities to positively impact your club and the people you

serve. By running for a board position, you also have the opportunity to make positive

impacts by both volunteering and helping to make decisions that will benefit the

members you serve. If you accomplish your goals, great! Be proud of what you

achieved and seek out what else you can do. If you don't accomplish your goals, don't

be discouraged! Be proud of what you have done and set new goals! Key Club is very

rewarding, and it is up to you as to what you will take from it.

By Jason Shebilske, District Bulletin Editor

Page 3
---
Recruiting and Retaining Members

Each year in Key Club is a cycle. As a high school organization, our members

typically enter somewhere around freshman year, grow through the system, gain

leadership roles, and move on to the next stage of the K-family. As straightforward as

the system seems, there are two crucial factors in making the system flow: retention

and recruitment. Both factors play a crucial role in allowing Key Club to maintain its

strength, and you bet I'm going to take the extra paragraphs to tell you why.

A school year progresses and graduating high school students head off to college

(at least most of our amazingly intelligent Key Club members do). In a situation like

this, it might seem like a tragic loss to have 1/4 of our membership base move away,

but, it is no loss if a whole class of young, freshman students is consistently replacing

those fleeing seniors. Recruitment is great because it brings new minds to the table,

either matching or growing upon the group of students who came before them. With

great recruitment, a club will never shrink! It is a very simple task to perform. To

improve your club's recruitment rate, pass out fliers to incoming freshmen, host

sessions at nearby primary schools/middle schools promoting the ideals of Key Club, or

simply host a stand at your school's registration.

While recruitment draws in new members to replace those who have moved on,

retention is vital to maintain the motivation of those who are currently members of the

club. This task may not always seem easy. Each club has its slow times of the year

where there is a sizeable gap between one project and the next, but it is our duty to

make sure our members don't lose interest. Most members joined because they want to

provide a helping hand when possible, so the best way to satisfy that interest is by

scheduling as many projects as possible! Obviously this isn't always a possibility, but

there are still many ways to beef up Key Club. One possible way is by making club

meetings interesting by bringing food and snacks to meetings when possible or have

members build chairs, make blankets, or perform physical service at the meeting so

they are busy and involved. You might even want to take a survey to see what

members are looking to do in your club. To say it plainly: always try to keep the crowd

on their toes.

By Samuel Simon, Lieutenant Governor-Division 9

Submitting Key to Caring Articles

Are you interested in writing an article for the Key to Caring? If so, don't hesitate to

submit an article! They can be about a wide variety of subjects, such as outstanding

individuals or success in either your club or your Division! If you have any other ideas

for subjects to write about, feel free to submit it! Your article will be featured in an

issue of the Key to Caring and could be inspiration for another Key Clubber to take a

step in the club! Articles can be submitted on the WIUM Key Club website. If you have

any questions on writing articles or if you would like to brainstorm ideas for articles,

feel free to contact Jason Shebilske anytime. His contact information can be found on

the final page of this issue.

Page 4
---
Time Management 101

How does the average high-schooler spend 24 hours in one day? Well, about 8.1 hours

are spent sleeping (or in my case, dreaming about becoming the next Beyonce), while a

combined total of 8.4 hours are spent on leisure/sports activities, travel, grooming,

eating, and working. That leaves about 7.5 hours for school-related work, which in

reality isn't that much when you look at the fact that a majority of that is spent at

school. With all that said, how in the world is one to successfully manage his/her time

in a way that efficiently balances important tasks like homework with fun things like

watching the newest episode of American Horror Story on Netflix?

A good first step to take is to find some time where you can sit down for a while and

simply jot down all the work, conversations, and activities you experienced in the past

week. This way you can visualize how much of your week is spent doing things that

produce effective results. You can then prioritize and physically schedule when and how

much time you spend on these important tasks. A simple to-do list can only do so

much, because you'll see what needs to be done, but what you may not see is that the

first task on your list could eat up hours, rather than minutes. Once you have a general

plan about how much time to spend on important things, you should also schedule time

for interruptions; plan time to be pulled away from what you're doing. Everyone needs

bathroom breaks and nap times (assuming you're not a robot…), so leave time in your

schedule for them.

Every morning, leave some time (10 to 15 minutes would be ideal) to carefully go

through everything you plan to accomplish that day. Do you take showers in the

morning? While you're lathering up, you could use that time to plan out what you want

to wear, go through some quick facts for your quiz first hour, estimate what time you're

going to pick up your little brother from soccer practice, and approximate the time you

can start on your homework after coming home from play practice. If you plan your

time out carefully, you'll even leave a few minutes at the end to belt out a couple notes

of Sam Smith's latest song.

Still finding that you have difficulties resisting the lure of procrastination? Here's a tip

from my personal experience. I love listening to music, but I found that I can't work

very efficiently if music is playing while I try to do my homework. Here's how I solved

my dilemma: I told myself, "Ok, you're going to do the first 10 problems on this

Chemistry worksheet, then you can listen to one of your favorite songs." I kept doing

this until I finished the whole worksheet. I have found over time that this method has

really helped me work faster, because as humans, incentives really can serve as

motivators to work harder. One important side-effect to avoid would be rushing.

Although you're motivated to finish in order to receive the incentive, you may work

faster and with less care. To bypass this problem, simply move away all watches and

clocks until you're done with your work.

By Phoebe Hu, Lieutenant Governor-Division 14

Page 5
---
Youth Opportunities Fund Information

Do you have a project that you are passionate about, but don't have the funding to

make it happen? Look no further! The Youth Opportunities Fund (YOF) is a grant that

is available for all Key Club members to qualify for. This grant ranges from $100 up to

$2000, so you can make just about anything happen, large or small. Applications will

be accepted up until October 15th at 11:59 PM, so if you have any ideas, make sure to

start thinking about if the Youth Opportunities Fund can help you! The application can

be found on the Wisconsin-Upper Michigan Key Club website under the 'resources' tab

and within the 'grants' page. If you are unsure about ideas to utilize the grant, a few

examples can be found here. All applications will be viewed and approved by the Key

Club International Board and the grants will be given out in October. Guidelines for

filling out the application can be found in the Key Club guidebook under 'board

policies'. If you have any questions about the YOF, you may feel free to contact your

Lieutenant Governor or another district board member. Applications can be mailed,

emailed, or faxed to Nicole Harris and must be received by October 15th.

Where to send the YOF grant application:

Email: yof@kiwanis.org.

Fax: 1-317-879-0204

Address: 3636 Woodview Trace, Indianapolis, IN 46268-3196, USA

By Keegan Downham, Lieutenant Governor-Division 10B

WIUM Grant Information

Has your club ever come up with a great service project idea, but didn't have the

funds to follow through on it? One of the coolest and lesser known things about the

WIUM District Board is that they accept applications four times a year for grants!

Grants provide financial assistance of up to $200 to Key Clubs that can be used for service

projects. Clubs can apply for grants before the service project by estimating the

cost of the project to receive funds and submitting receipts later, or apply for grants after

the service project happens to be reimbursed for the costs. The application is easy

to find on the WIUM website under the "Resources" tab and easy to fill out. Once

you've typed all of the necessary information into the grant application (all information

has to be typed, not handwritten!), you submit it to the WIUM Key Club District Administrator

Kathy Gillis who has her contact information listed at the end of the application.

It's a simple way to host some fun, cool, new service projects in your club. Start brainstorming

today; the possibilities are endless!

By Leslie Kent, Lieutenant Governor-Division 11

Page 6
---
International Trustee Introduction

Hello, Wisconsin-Upper Michigan District! My name is Kacie Hines, and I have the honor

of serving Wisconsin-Upper Michigan District for the 2015-2016 school year as an

International Trustee. I am an upcoming senior at Vestavia Hills High School in

Alabama. Along with serving my home, school, and

community, I am an avid Netflix watcher and eno

swinging enthusiast.

My Key Club journey began long before most. My mom

became a faculty advisor when I was two years old, so

Key Club was in my life long before I was ever allowed to

be a part of it. I've gone from District Webmaster for half

a year, to District Media Tech to District Governor, and

now I'm here- serving as an International Trustee. Key

Club has given me a way to channel my passion and I

could not be more thankful to be a part of this amazing

organization.

What exactly is an International Trustee, and what is the importance of an International

Board? That's a very good question! An International Trustee is liaison from the

International level to the district level. We work in trying to make the service year the

best for every single members; we also work on various committees. This year I will be

serving on the Executive Committee with International President Rip Livingston,

International Vice-President Addie Clipfell, Trustee Heather Farley, and Trustee Hojin

Yoon, as well as the International Development Committee, chaired by Trustee

Anastasia Slepukhova.

If you have any questions about International or just want to talk feel free to contact

me!

Yours in Service,

Kacie Hines

International Trustee

Email: khines@alabamakeyclub.org

Page 7
---
Reward Your Club With Banner Patches

Recognition for your hard work is something many people strive for. Whether it's

for cleaning the house or organizing a surprise birthday party, it feels good to be

recognized. This year, the Wisconsin-Upper Michigan (WIUM) District Board has created

something that rewards your Key Club for your hard work; banner patches! A banner

patch is similar to a Girl Scout or Boy Scout patch in size and shape, but rewards you

for different reasons. Right now, there are over 10 banner patches your club can earn

over the course of the year! Your club can earn a patch for participating in the

Governor's Project, the District Project, volunteering over the summer, gaining new

paid members, and going to your sponsoring Kiwanis Club's meetings just to name a

few! The applications for these banner patches are easy and only take a few minutes to

complete. Decorate your banner this year with the WIUM Key Club banner patches for

the District Leadership Convention (DCON)!

By Jennifer Englebert, Awards and Contests Committee Chair

ICON Preview

Should you be reading this, and did not attend the 2015 Key Club International

Convention, you missed out on the experience of a lifetime. From Kiwanis family

baseball games, to a live performance from hellogoodbye, and to the elections of our

2015-2016 International Officers, the 72nd Annual Key Club International Convention

was one to remember.

For those who don't know, this year's ICON was held in Indianapolis, Indiana,

from June 24th-28th. Being a 4 day experience, you would think that ICON would feel

like a lifetime, but it was quite the contrary. When every day is crammed with tons of

awesome offerings, time seems to move at an accelerated rate. Notably, the Keynote

Speaker for the convention was Tim Harris, the best speaker I have ever have the

chance to spectate. Tim is best known for being the only individual with Down

Syndrome to own and operate a restaurant. Of all of the events, one of my favorites of

all of the events that we attended was the Monumental Pancake lunch where-you

guessed it-we got free pancakes! Another offering that was appealing to all, including

myself, was the opportunity to shop for tons of Kiwanis Family Gear at the World

Showcase! I personally purchased some Kiwanis dress shirts, a pair of Circle K shorts,

and a Kiwanis mug!

Another added bonus on top of all of this was that, simultaneous with our

convention was the Kiwanis 100th Anniversary, and as a result there were a ton of

Kiwanis events offered that we were able to attend. One of these said events was the

Kiwanis Firework Night at Victory Field, where we were able to watch an awesome

game, followed by some brilliant fireworks. Members of all the different branches of

Kiwanis were there, and having this K-Family get together at such a great game made

the event really special. Our District also was able to visit the Indianapolis Zoo, spend

time at Navy Pier, and-my favorite-go shopping at the Circle Center.

It would take pages on pages to cover the Convention in its entirety, but

hopefully this summary gives you an idea of what an awesome event ICON was, and

maybe piques your interest in attending the 2016 Key Club International Convention in

Atlanta, Georgia!

By Kai Schmitt, Lieutenant Governor-Division 10A

Page 8
---
District Project: Camp Wawbeek and Bay Cliff Health Camp

This year, the Wisconsin-Upper Michigan District Project is supporting Camp

Wawbeek in Wisconsin Dells and Bay Cliff Health Camp in Big Bay, MI. These camps

provide a safe place for campers with disabilities to become more independent and

have a fun experience at the same time. The District Board has set a goal to raise

$7,500 for these camps by the District Leadership Conference (DCON) in March. As an

incentive, clubs that raise over $800 for the camps are eligible to receive a banner

patch! More information on the District Project can be found in Committee Chair

publications or by contacting Derek Kamin, District Project Committee Chair. His

contact information can be found on the final page of this issue.

Key Club Co-Sponsor: Rustic Pathways

Rustic Pathways has had 30 years of experience leading programs that provide

both international education and service programs for students. They are the global

leader in their field, having over 130 programs in 20 countries. Rustic Pathways has

partnered with Key Club to provide members the opportunity to learn more about other

parts of the world while performing service. In 2016, the Wisconsin-Upper Michigan

District of Key Club will be participating in an international service project in Costa Rica

through Rustic Pathways! For more information about Rustic Pathways, visit their

website. If you'd like more information about the service project in Costa Rica, contact

Kathy Gillis. Her contact information can be found on the final page of this issue.

Key Club Vision Partner: Nickelodeon

Nickelodeon has joined Kiwanis International as a vision partner with an

emphasis on the Big Help initiative, which addresses issues in service, education, the

environment, and health. More information on Nickelodeon's Big Help, their Halo

Awards program, and Day of Play can be found on Nickelodeon's website.

Preferred Charity Highlight: Yell and Tell

Does your club love working with kids and helping to keep them safe at the same

time? If you answered yes, then Yell and Tell may be the preferred charity for you! Yell

and Tell is a program in which you can interactively teach children how to respond to a

dangerous situation by yelling for help and telling somebody if they don't know what to

do. If the appropriate action is taken, thousands of deaths of children can be

prevented. Yell and Tell focuses on trying to reduce these misfortunes by educating

children on what to do. More resources to help support Yell and Tell can be found at

wiumkeyclub.com/yell—tell.

Page 9
---
Banner Patch Promotion

Page 10
---
Page 11

DCON 2016 Promotion
---
District Board Contact Information

Name Position

E-Mail Address Cell Phone

Number

Joshua Dvorak Governor

governor.wium@gmail.com 715-803-5539

Daniela Beltran Secretary/Treasurer secretarytreasurer.wium@gmail.com 760-693-2660

Jason Shebilske Bulletin Editor

bulletin.editor.wium@gmail.com 920-419-4345

Taylor Hurst Director of Committees wium.taylorhurst@gmail.com 920-257-6517

Mikaela Hanrahan Director of Technology mikaelahanrahandot@gmail.com 262-888-2712

Daniela Beltran Interim Division 1 LTG secretarytreasurer.wium@gmail.com 760-693-2660

Jessica Korducki Division 2 LTG

ltg.d2wium@gmail.com 262-210-6618

Noah Goetzke Division 3 LTG

div3ltg@gmail.com 608-341-9635

Charlie Deakman Division 4 LTG

ltg4.wium@gmail.com 608-338-2767

Abigail Sann Division 5 LTG

ltgd5abby@gmail.com 715-432-0253

Emily Li Division 6 LTG

lt.governor.wium@gmail.com 414-841-4927

Kristen Navis Division 7 LTG

knavis.wium@gmail.com 920-850-5639

Stevie DeCloux Division 8 LTG

d8ltgstevie@gmail.com 414-416-1138

Sam Simon Division 9 LTG

simon.kc.d9@gmail.com 262-443-2508

Kai Schmitt Division 10A LTG kaischmitt.wium@gmail.com 920-676-0016

Keegan Downham Division 10B LTG ltgd10wium@gmail.com 920-470-9927

Leslie Kent Division 11 LTG

lkent.d11ltg@gmail.com 715-563-2685

Ryan Lucka Division 12 LTG

LuckaLTG@gmail.com 262-689-9194

Tyler Radke Division 13 LTG

radke1800@gmail.com 920-789-9009

Phoebe Hu Division 14 LTG

d14.wium@gmail.com 906-281-0710

Huey Griep Division 15 LTG

huey.key.d15@gmail.com 608-697-8835

Charlotte Strom Division 16 LTG

division16.ltg.15.16@gmail.com 906-420-4349

Shiyue Xie Executive Assistant/ wiumexeassistant15@gmail.com 262-215-4307

Eliminate Chair

Maxwell LaCosse Public Relations/

prlacosse.wium@gmail.com 906-241-6807

Communications Chair

Matthew Jewell

Membership

Development Chair

mattjewellkc@gmail.com 906-280-0869

Abbey Claes Governor's Project Chair governorproject.wium@gmail.com 906-280-5647

Jennifer Englebert Awards/Contests Chair jaenglebert.keyclub@gmail.com 920-680-7972

Derek Kamin District Project Chair dpc.wium@gmail.com 906-399-3123

Kacie Hines International Trustee khines@alabamakeyclub.org 205-370-8757

Kathy Gillis District Administrator wium.admin@gmail.com 920-475-0500

Page 12