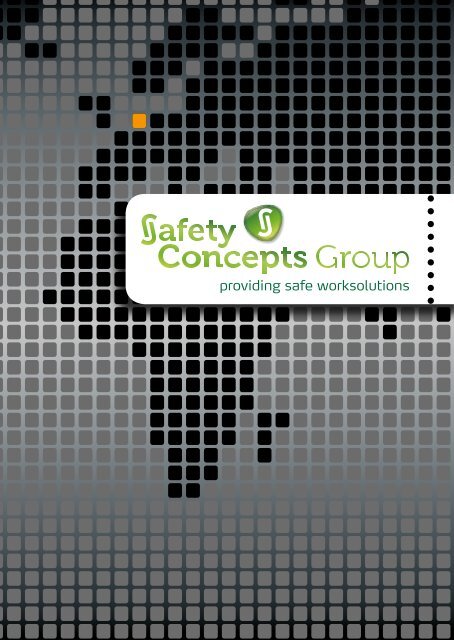 Safety Concepts Group - Company Profile
Create successful ePaper yourself
Turn your PDF publications into a flip-book with our unique Google optimized e-Paper software.
Safety Concepts Group BV (SCG) is a global

conglomerate sharing a similar mission in

different non-related markets.

Our mission is to provide safe and effective

turnkey work solutions for high risk

operations based on thorough risk analysis.

www.safetyconcepts.nl
---
Multi purpose centre

for high risk

work solutions

TEST, TRAINING & DEVELOPMENT CENTRE

Core business of our group is providing safe and effective work

solutions for high risk operations. Our purpose built test, training and

development centre in Amersfoort is being used by all companies

in the group. The centre is conveniently situated in the centre of the

Netherlands and easy accessible from Amsterdam (AMS) Airport.

DEVELOPMENT

Many of our creative ideas have been developed and tested here

in a controlled environment before putting it in the field for some

rigorous testing.
---
TESTING

Try before you buy!

We have a lot of equipment set up for testing. Just try what

equipment works best for you and your team!

TRAINING

Although many of our courses can also be facilitated on site

(worldwide), many of them are held in our own purpose built training

center. A lot of international teams have visited our impressive

venue. There is an important reason why!
---
FEATURES

Over 600m² indoor training

area. The area features multiple

structures which makes practical

scenario training look like the real

thing. Stances, ladders, towers,

confined spaces, several rooftops,

buildings, balconies, dynamic

(breach-) area, cross-fit box, etc.

Here we can "train to the job" in a

safe learning environment.

As everything is risk assessed,

made safe for training, pre-rigged

and set up; no valuable time is lost.

Not weather depending.

The centre also features state

of the art theory rooms and an

impressive and fully equipped

workshop for maintenance-,

service- & inspection-trainings.
---
Qualified maintenance,

repairs and equipment

inspection
---
SERVICE CENTRE

Service is fascilitated in our fully

equipped service centre and carried

out by our qualified and certified

engineers. Services include PPE-

Inspection (category III) and complex

systems (ActSafe, Cresto, TAGS, etc.).

As independent service centre we

have a wide range of special tools and

test equipment available. This avoids

the need to dispatch equipment to

a manufacturer elsewhere. High

quality service with a quick turn

around time and cost effective.
---
Ascent Safety BV is providing

innovative, safe & effective

worksolutions for work at height,

rescue and emergency first response.

Our projects consist of consultancy,

training and/or equipment inspection.

Together with sister company Gear

Point we are able to provide turnkey

concepts for very complex safety

issues: consultancy, training and

equipment solutions in one hand.

Over the last 1,5 decade we have

become market leader in this unique

field of operation and build an

impressive track record. We have

built long lasting relationships with

companies in the field of oil & gas,

heavy industry services, telecom,

construction, (renewable-) energy,

fire rescue services, hospitals and

government bodies like the health &

safety executive, military special forces

and police special operations.
---
Innovative work

solutions based on

thorough risk analysis
---
We provide a wide

variety of specialized

training & consultancy
---
Ascent strives to provide high quality service. Since we advise companies

and government bodies to implement ISO and IRATA (or similar)

standards it will come as no surprise that Ascent is certified NEN-EN-ISO

9001:2008 and certified (full)member of IRATA & SPRAT.

To ensure focus within our organization we have split the company in

two specialized business units.

Ascent Emergency Response is one of the main training providers in

the Netherlands for first aid providers and first responders. Besides the

"usual" high quality "standard" courses we provide a wide variety of

specialized trainings. We facilitate these courses and trainings for private

individuals but also for companies, educational institutions and several

government institutions like prison services, police and fire rescue teams.

Ascent Height Safety & Rescue focusses on height safety- and high

angle rescue solutions for a wide variety of sectors variying from

construction work to Law Enforcement Special Operations (e.g. SWAT,

Anti Terror).

Please visit our website: www.ascent.nl
---
Providing Tactical

Technology Solutions

Worldwide
---
Safe Tactics is providing Tactical Technology Solutions. World

wide. We are experts in providing turnkey concepts for the Law

Enforcement- and Military special forces community: training,

equipment & consultancy in one hand.

Safe Tactics is cooperating with leading manufacturers and is

actively involved in product development.

Our comprehensive training program is marketed

under its brand name Safe Tactics Academy and

can be facilitated at any suitable training venue

anywhere in the world or in our 600m² purpose built

training venue near AMS Airport in the Netherlands.

At Safe Tactics you will find experts with many years of "handson"

experience in your field of operation. Our specialists cover a

wide range of expertise such as urban-, remote- & maritime access

operations, forced entry, intelligence gathering & IED defeat.
---
Safe Tactics is built

on 3 pillars:

Access:

Maritime, Remote and Urban Access Technology;

Entry:

Solutions for Forced Entry & Breaching;

Technology: EOD/C-IED, Intelligence, Counter Threat Solutions &

Tactical Communications (Netherlands market only).

Our services and products are valued by many elite units around the

world. You will find our distinctive "Spider Mark" on many equipment in

the field. Our badge has become a recognized sign of quality and high

integrity.
---
Our global HQ is based in Amersfoort, the Netherlands.

Our USA office is based in Irvine, California.

Rather than providing equipment and procedures that look fancy, Safe

Tactics offers solutions that work!

Please visit our website: www.safetactics.eu
---
Provide easy access

to safe and effective

apparel & equipment
---
Gear Point (GFP bv) its mission is

to provide easy access to safe and

effective equipment & apparel

for professional end users in

the Netherlands, Belgium and

Luxemburg.

Whereas Safe Tactics and Ascent

Safety are providing solutions for

very complex issues and high risk

operations; Gear Point is focussing

on providing easy access to

professional equipment and apparel

for a wide range of professional

activities. High end to mid range.

Both in-store via our 350m² special

interest store in Amersfoort and

online; through our state of the art

web stores (linked to our logistical

system/warehouses).
---
We defined very specific and succesful market strategies for:

• Business to business (dealer network and end users);

• Business to government;

• Business to consumer.

With support of its specialized sister companies (Ascent Safety and

Safe Tactics); Gear Point offers a completely unique concept for the

Netherlands with focus on:

• Customer driven procedures;

• Consultancy by specialists;

• Optimized logistical processes;

• High fulfilment rate: delivery from stock;

• Very high service rate and -flexibility;

• Full integration of in-store and online sales.

Our sales force has been actively involved in your field of operation. We

have specialists covering specific area's and geographical regions. Gear

Point is the Benelux exclusive distributor for Mechanix Wear Tactical

and the Netherlands exclusive distributor for 5.11 Tactical. The store

in Amersfoort features the one and only 5.11 Tactical Concept Store

Netherlands and carries many other leading brands as "preferred" or

"premium" dealer.

Gear Point is located in the centre of the Netherlands:

Siliciumweg 26, 3812 SX Amersfoort.

Please visit our website: www.gearpoint.com
---
Innovative equipment for

boarding, urban and remote

access and high angle rescue
---
Meet TAGS®; a young and innovative brand established by (former)

operators for operators! TAGS was established in 2010 by Safe Tactics.

When traveling around the world to train operators in the field of

boarding, urban and remote access and high angle rescue we noticed

that there was a lot of room for improvement on the equipment side.

That was when we decided to develop a complete new series of Access

equipment.

With help of top notch units around the globe we are rapidly developing

innovative equipment to cope with the ever changing threats and

operational challenges.

TAGS® high performance products are specifically designed for use in the

toughest maritime, industrial, remote and urban environments. Rather

designing products that look fancy TAGS offers products that work!

We are proud to say we are being supported by some of the most famous

top notch units around the world.

Please visit our website: www.tags-systems.com.
---
Safety Concepts Group bv Siliciumweg 26-28, 3812 SX Amersfoort,

The Netherlands T +31(0)33 7200 990 www.safetyconcepts.nl