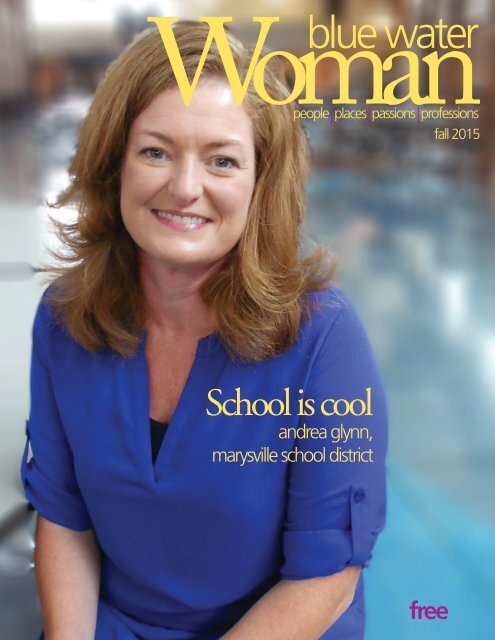 blue water woman--fall 2015
You also want an ePaper? Increase the reach of your titles
YUMPU automatically turns print PDFs into web optimized ePapers that Google loves.
Woman

blue water

fall 2015

School is cool

andrea glynn,

marysville school district

free
---
We've heard your questions about pre-planning.

You want to know more.

You want to know how.

We would like to introduce our Advance Funeral Planner

Michelle Wilkins-O'Hara.

Michelle is guiding local families through the steps of funeral pre-arrangement. She is providing

answers and options to the growing demand of those who wish to pre-plan.

John W. Kendrick, president of Pollock-Randall Funeral Home, sees a significant increase

in pre-need planning today. "Every week I see families who are utterly unprepared to deal

with a death, and whose situation could have been eased by some basic planning. It can be a

tremendous gift to survivors. Michelle will be available to help families pre-plan for funerals

so difficult decisions do not have to be made during such a difficult time."

Michelle

Wilkins-O'Hara

Said Michelle: "I am honored to help the community fully understand their choices and

options. Pre-arranging allows the individual to personalize whatever type of service they

choose. Anyone who has had to sit and make funeral arrangements while grieving the loss

of their loved one can truly see the value of pre-planning. It is an opportunity to give your

family the gift of a plan and free them from the financial stress. I am looking forward to

guiding our families and having the privilege of working with the premier funeral service

provider in the Blue Water area."

Michelle is a graduate of St. Clair High School, Rochester College, and an

honors graduate of The Outlook Academy of Advance Funeral Planning,

Franklin, Ohio.

Michelle loves spending time outdoors engaging in activities such as boating

and enjoying time with her husband Jon, her son Henry, and Sydney, their

Labradoodle. She is an avid gardener, exploring ways to create healthy meals

for her family. They are members of St. Peter's Lutheran Church.

Michelle looks forward to hearing how she can help you! For more

information or to schedule an appointment with Michelle, call 810.982.0179

Michelle and her husband,

Jon, and son, Henry

Pollock-Randall

912 Lapeer Avenue

810.982.0179

www.pollockrandall.com

Manager: Ann Randall-Kendrick

Marysville

1200 Michigan Avenue

810.364-7100

www.pollockrandall.com

Manager: John W. Kendrick

Karrer-Simpson

1720 Elk Street

810.985.9605

www.karrersimpson.com

Manager: Thomas K. Simpson

If this has reached you at an unfortunate time or has offended you in any way, we apologize. By responding to this ad, you may be contacted by an agent "Advance Planner" who may offer you

a pre-need life insurance policy or an annuity underwritten and administered by Physicians Life Insurance Company of Omaha, NE.
---
Blue Water Woman Editor

Patti Samar and her husband,

new PoHo resident, Dale Hemmila

from the editor

A good friend of mine used to say: "Change is good!"

I used to agree with her because, for the most part, there wasn't a lot of dramatic

change in my life. So, of course it was good...it was good for other people!

And then this past year, all kinds of change happened in my life.

Almost a year ago, my husband and I purchased a new home -- just two block

from my old home because, goodness knows, Little Old Stuck in Her Ways Patti

could not possibly change neighborhoods -- and so I left behind a home that was

special to me in many ways and for many reasons.

And so it has been an adjustment, this living in a new place. There has been much

upheaval and distraction and construction and just general chaos on many days.

And then, just as all of the construction began to wind down and life was feeling a

little more settled: my husband moved in.

Yes, I know most married couples begin living together before or upon taking their

marital vows, but we lived in two different peninsulas. When he retired earlier this

year, I knew it was just a matter of time before he showed up at our Port Huron door

with a moving van full of, well, "boy stuff."

And so now I keep repeating that mantra, "Change is good...change is good...

change is good..." over and over in my head.

The fact of the matter is this: I moved all of two blocks. I run the same route. I

have the same friends. After living here for more than 20 years, everything here in

PoHo is ever so familiar to me.

My husband, on the other hand, has made the real sacrifice. After living his entire

life in the Upper Peninsula, he moved 500 miles away...just to be with me.

When he goes to the store, he very seldom sees familiar faces. He is still trying to

remember in what order are Holland Avenue, Krafft Road and Keewahdin Roads off

of Gratiot? (Hint, my dear, I just named them in order headed north...) His family

is no longer a hop and a skip away. Almost everyone he knows here he has met

through me.

All I can say is that I hope HE is repeating "change is good...change is good...

change is good" in his head, lest he hears me whine about this "new" house or all of

his "boy stuff" one more time and heads north packing.

I am the lucky one here. This change has brought me the biggest blessing of all

(and I best learn to appreciate it): The greatest love of my life living under the same

roof with me, in the same area code and zip code, happily ever after. I want him to

know that I am, indeed, ever so thankful for the sacrifices he has made for "us."

This issue of Blue Water Woman has a loose theme: change. All three women

featured made recent changes in their careers: two earlier this year and one just two

years ago. All are excited, enthusiastic and passionate about what they do. And

certainly, when the opportunity to embrace change came along, they answered the

call with a hardy, "Change is good!"

Peace,

content

diane bauer 4

andrea glynn 6

katie phelan 8

advertise

in Blue Water Woman!

it works! just ask our advertisers!

The ad deadline for the next issue of Blue Water Woman

is October 30, 2015.

Prices start at just $125 for a business card sized ad!

Our most popular ad size is a quarter page at just $250;

sign a one-year contract and it becomes just $225 a quarter!

What a deal!

For more information, contact Patti Samar at 810-987-1256

or email her at pjsamar@aol.com

volume 5, number 3 fall 2015

Blue Water Woman is published quarterly by The Write Company,

511 La Salle Blvd., Port Huron, MI 48060. Circulation 7,500.

Editor & Publisher: Patti Samar, owner, The Write Company

Advertising: Patti Samar at 810-987-1256 or pjsamar@aol.com

News releases can be emailed to pjsamar@aol.com

Questions or comments?

Call Blue Water Woman at 810-987-1256

Mission: Blue Water Woman is the premiere publication

for women living, working and playing

in the Blue Water Area of Michigan.

Its stories and features are written and designed

to be inspriational, motivational and encouraging.

www.BlueWaterWoman.com

© Blue Water Woman is the property

of Patti Samar of The Write Company

The Write Company is a writing, graphic design and marketing

consultation firm. View our online portfolio at:

www.TheWriteCompany.net

Patti Samar

Editor & Publisher

Blue Water Woman

2 fall 2015 BlueWaterWoman.com
---
Victoria's

Hair studio

Men l woMen l cHildren

714 Lapeer aVe. port huron

810. 987.4000

fall 2015 BlueWaterWoman.com 3
---
professions

diane bauer, st. clair

4 fall 2015 BlueWaterWoman.com

coming

full circle

by Patti Samar

Diane Bauer has come full circle.

When, as a young college graduate with a psychology degree in her

back pocket, she accepted her first post-college job, she didn't dream that

over the next couple of decades she would be hired three times by the

same organization.

Bauer, a native of Deckerville, earlier this year became the executive

director of Blue Water Safe Horizons, a local nonprofit that, according to

its website: "…offers shelter and support services for survivors of domestic

violence, sexual assault, elder abuse and homelessness. The services and

support programs are delivered to the community in a variety of formats

ranging from shelter and housing to support groups and legal advocacy."

BWSH operates two shelters in the area: Pathway Shelter, a 28-bed

facility that provides services to men who are homeless or victims of

domestic or sexual assault, as well as homeless couples and families, and

Carolyn's Place, a secured 20-bed facility that provides shelter services to

women survivors of domestic violence, sexual assault and/or homelessness

and their dependent children.

Carolyn's Place is named for Carolyn Superczynski, the former

executive director of the organization who first hired Bauer when she

was right out of college. When Superczynski passed away in the 1990s,

Carolyn's Place was named for her.

"I attribute my career to her," said Bauer of her first boss. "She gave

me my start and believed that I could do this. I've come full circle. I

kind of fell into this work and the more I've worked within it, the more

passionate I've become about it."

Though Bauer started her career with Safe Horizons, she did eventually

leave for other opportunities, including a stint in graduate school where

she obtained a master's degree, but she twice returned to the organization

in different positions.

"It's the work that brings me back," she said. "I've always worked

with survivors throughout my social work career, most specifically with

domestic violence and sexual assault and that's always been my passion."

BWSH also serves the homeless population in the area and Bauer noted

that population can be very misunderstood.

"There's still a lot of myths in the community," she said, such as "that

the homeless look a certain way. It's important for people to know it

could be you or me. People get displaced and find themselves without a

home and it might be just plain old economics."

Fundraising is an ongoing process for a nonprofit in the human services

field. Bauer noted that quite a bit of her time during this first year on the

job was spent writing grants to help renew funding that is critical to their

budget. Financial support from businesses and individuals at the local

level is also an important source of income.

Bauer said now that she has spent almost a full year in her new position,

she is beginning to get a feel for the way the organization is being run and

is starting to develop her own "big picture" ideas of how she would like to

see it move forward in the future.

"I've started getting my footing here and envisioning the future," she

said. "What could we do better and what could we be doing more of and

what would that look like?"

In her spare time, Bauer likes to spend time with family and friends.

More recently, she has begun travelling and has particularly enjoyed

cruising in the Caribbean.
---
marketing plan?

What marketing plan?

need help?

call your one-stop shop

for marketing consultation.

advertising creation & strategy.

print & e-neWsletters. direct mail.

logos/branding.

Website design.

aWard-Winning Writing

& graphic design Work.

patti samar. owner.

(Also Editor & Publisher of Blue Water Woman & Blue Water Living)

810. 987. 1256 www.theWritecompany.net

pjsamar@aol.com
---
professions

andrea glynn, marysville

school

is cool

by Patti Samar

Andrea Glynn just always knew she wanted to help children.

Now the assistant superintendent for the Marysville School

District, Glynn has come full circle in her life and in her career where

the decisions she makes every day help impact the children in her

community in a positive way.

A Marysville native, she graduated from high school in Marysville

and then attended Western Michigan University where she received

a bachelor's degree in education. She accepted her first post-college

position with the Marysville School District as a second grade teacher.

She spent four years at Washington Elementary School before leaving

so she could advance her career in an administrative capacity by

becoming a school principal while under the age of 30.

"I pursued it early," she said of her decision to leave the classroom

and become a building administrator with the Roseville School District.

"It was a great district to work in. They provided me with many

opportunities."

However, though she was employed in Roseville, Glynn continued to

live in Marysville with her husband and growing family. After 14 years

of commuting, when the opportunity arose to again work within the

Marysville School District, this time as assistant superintendent, Glynn

readily accepted.

"Marysville is a solid district," she said. "The community feel in

Marysville makes the job feel worthwhile. It's nice to be able to go

to the evening functions and then see everything else that goes on

throughout the community."

She noted that all school districts within the state have struggled

with a financial balancing act and many changes in assessment testing,

but she has been very impressed with the hard work put forth by the

teachers in the Marysville district.

"We have a staff and a district that have really high expectations and

the challenges we face just continue to push us farther," she said of the

staff, and she noted that they work harder in order to continue to meet

those expectations.

Because she left the classroom a number of years ago, Glynn said

that family and friends will often ask her if she misses the kids. "But

what drives me is that whatever decision is made, it always filters down

to the kids," she said. "I know that whatever is done at the central

administrative level filters down to the kids. The goal always is, when

faced with a difficult decision, is do whatever is best for the students."

A mother of two, Glynn notes that although she has a very busy

job, her life is made easier with the help of a husband who is very

supportive, as is a helpful extended family in the community. "I try and

find a healthy balance," she said. "My husband is very helpful. We both

try and remember that both of us work and being able to rely on family

also helps.

Overall, her "return" to Marysville has more than suited Glynn's

personal and professional lives.

"It's a nice fit to be able to be involved in the community and

contribute to the work place."

6 fall 2015 BlueWaterWoman.com
---
who will be named...

Blue Water Woman

Easy

nomination

process!

of the Year?

Nominations now being accepted

for Blue Water Woman of the Year!

The Blue Water Woman of the Year Awards will honor women who reside in the

Blue Water Area of Michigan who demonstrate excellence and achievement

in one or more of the following areas:

?

• Volunteerism

• Mentoring other women

• Professional achievement

• Blue Water Young Woman of the Year (21 and under)

• Overall Honor: Blue Water Woman of the Year

Award Process:

Nominators MUST complete the nomination form and rules available at

www.BlueWaterWoman.com

A distinguished panel of judges from the Upper Peninsula has been asked to serve as an external,

nonresidential award selection committee.

Honoring the Award Recipients:

Those selected for awards will be notified by Blue Water Woman at the end of January/early February

2016. All will be featured in a story in the Spring (February/March) 2016 issue of the magazine. All

will be honored at a public reception (open to men and women) on February 19, 2016.

Deadline for Submissions:

Submissions must be received by email or snail mail no later than Friday, January 1, 2016.

Submissions can be emailed to: pjsamar@aol.com or sent via U.S. Postal mail to: Patti Samar,

Blue Water Woman, 511 LaSalle Blvd., Port Huron, MI 48060.

Use your smart phone

to visit our website

and view the

nomination form:

Sponsored by:

Woman

Blue Water Woman reserves the right to refuse nominations for consideration without cause. All decisions are final and subject

to approval by Blue Water Woman. Why? Because we said so. ;)
---
professions

katie phelan

unfur-getable

work

by Patti Samar

8 fall 2015 BlueWaterWoman.com

Katie Phelan goes to work every day knowing that she is saving lives.

Phelan is not a doctor or a nurse. As the executive director of the Blue

Water Area Humane Society, Phelan not only saves lives but she also helps

deserving animals find loving homes.

A licensed veterinary technician since 2002, Phelan first worked for the

man who raised her, her stepfather, veterinarian Dr. Gary Vyncke.

"I grew up with animals with his clinic," she said. "And I worked for

him for seven years until he retired."

Throughout her career, Phelan volunteered at the BWAHS and when

the opportunity to work as the executive director arose, she answered the

call.

"Doing this job is very different than being a vet tech," she said, "but it

still involves working with animals. There are a lot of really fun parts of

this job and a lot of really sad parts, too."

Phelan noted that the BWAHS is a no-time-limit shelter which allows

adoptable animals to remain at the shelter until someone adopts them.

However, some animals arrive at the shelter in poor health.

"The condition the animals arrive in can be tough," she said. "Some are

pretty neglected. It can be hard to handle sometimes."

The shelter staff will do all it can to work with an animal to help it heal

from an injury or help train an animal to be a good house pet.

"If we can train it, if we can teach it things, we will," Phelan said. She

noted that a number of the staff members and volunteers spend a lot of

time working with animals that need extra time and training.

Volunteers and donors are essential to the BWAHS, as it is a nonprofit

organization not affiliated with any other agency.

"Our board of directors is very, very hands-on, so I don't ever have to

go it alone," said Phelan. "They are always eager to help out. They will

oversee certain fundraising events. It's really, really great. We have a very

active board. And the staff and the volunteers are excellent. We have some

awesome supporters and we couldn't do anything without them.

"Our goals are all the same," she said. "We want the same things and

that is whatever is best for the animals."

Phelan credits her husband and her own furry friends at home with

making her job easier. She is able to bring her dogs to work – she and

her husband have four dogs, two cats and two rats – and she noted that

her husband does not hesitate to spend spare time volunteering at the

shelter, cleaning and doing whatever needs to be done. "He really is super

supportive," she said. "He's my cheerleader and he does an awful lot of

stuff that we can't always get to."

One of the hardest parts of her job is watching animals walk out of her

life.

"Adoptions can be bittersweet," she said. "You get attached to these

animals, but you know this family is going to take it home and love it."

One of the best parts of her job is seeing the same animals, days, weeks,

months or even years later and knowing, based on their joy at seeing her,

that their memories of their time spent with her are happy ones.

"We will see the adopted animals at a fundraiser or when they come

back to visit and it's nice that they don't remember this place as being bad

or scary. They remember it as being fun and happy. We don't want this to

be a scary place for them."
---
Cell: (586) 801-6068

Email: diannare@aol.com

There is always

something fun

to do at

Lake Huron Woods

Senior Living!

• Independent living

located just 2 miles north

of the Birchwood Mall

• Full complement of

amenities & activities

• Close to shopping

& dining

• Offers living assistance

if needed

810-385-9516

www.lockwoodseniorliving.com

5221 Lakeshore Road

Fort Gratiot Twp, MI 48059-3122

fall 2015 BlueWaterWoman.com 9
---
Your

life could

change with

one stroke.

Capable of causing severe disability or even death,

one stroke could change your life forever. But it

doesn't have to. When your life is on the line from

stroke, seek care quickly from McLaren Port Huron,

the area's first hospital to receive Primary Stroke

Center certification. We're the ones always standing

by to administer care that's saving lives and reducing

the negative impact of stroke.

When it comes to stroke, your best choice—your one

choice—is clear. McLaren Port Huron. To learn more,

visit mclaren.org/phstroke.

Spot stroke symptoms FAST.

> Face drooping

> Arm weakness

> Speech difficulties

> Time to call 911 if you notice any of

the symptoms above—don't wait

and don't drive!

1221 Pine Grove Avenue, Port Huron, MI 48060 | (810) 987-5000 | mclaren.org/phstroke