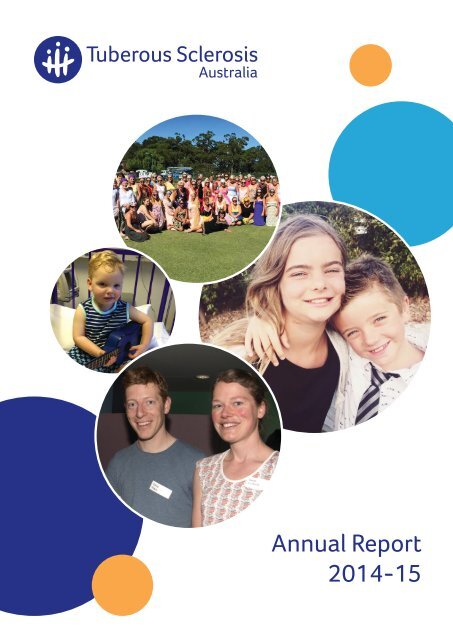 Annual report 2014-15-Final
Do you know the secret to free website traffic?
Use this trick to increase the number of new potential customers.
Tuberous Sclerosis

Australia

Annual Report

2014-15
---
Tuberous Sclerosis Complex (TSC)

affects more than 2000 individuals in Australia and thousands more carers, families and

friends who live with the impact of the disease.

TSC tumours can grow in any organ of the body, commonly affecting the brain, skin, heart,

lungs and kidneys. TSC can cause epilepsy, developmental delay and autism. There is no

known cure for TSC.

Tuberous Sclerosis Australia

works to connect, inform and empower people affected by tuberous sclerosis complex as

we work towards a cure for TSC.

Our Team

Debbie Crosby, President

Patrick Norris, Treasurer

David Matheson, Secretary and editor of Reach Out

Kate Green, Committee Member

Hayley Hill, Committee Member

Georgina Schilg, Committee Member

Clare Stuart, General Manager

Sally Nicholson, Family Support Volunteer

Alice O'Donnell, TSC Professionals Network manager

Regional Contacts

A vital part of our volunteer team, the regional contacts live

throughout Australia and work with local families to share

information and experiences.

NSW:

WA:

QLD:

VIC:

TAS:

Janiffer Reynolds

Nicole Stone & Sue Williamson

Fiona Hiatt

Narelle Kerr

Georgina Schilg

TSA works with

Medical Advisors

Dr Sean Kennedy, Nephrologist

Dr John Lawson, Paediatric Neurologist

Dr David Mowat, Clinical Geneticist

Tuberous Sclerosis

Australia

2
---
Expanding our reach to

improve the wellbeing

of all people with TSC

Debbie Crosby, President and

Clare Stuart, General Manager

Fear. This is the emotion that we know can

overwhelm people when they are given a diagnosis

of tuberous sclerosis. While we know that TSC

affects everyone differently, there is no crystal

ball that can predict how any one person will be

affected. People with TSC and their families try to

live one day at a time, not knowing what medical,

financial, practical or emotional challenge is waiting

around the next corner.

This year Tuberous Sclerosis Australia helped

hundreds of families affected by TSC and with your

continued support we can help many more in the

future. Our achievements this past year include the

first ever TSC conference in New Zealand, social

events around the country, the development of

the TSC professionals network and our ongoing

education and family support work. You can find

more information about these activities in

this report.

Our donors and fundraisers are the fuel that

keeps our organisation working. Most of them

have a personal connection to tuberous sclerosis

– so while their choice to support our cause

is understandable, their dedication and energy

with which they do so is all the more admirable

because of their caring responsibilities. We'd like

to particularly acknowledge the efforts of Jeff and

Manoela Place from Sydney's Northern Beaches.

Along with their family and friends and in honour of

their daughter Zarah, they created the TSC Heroes

triathlon team and raised more than $45,000 to

help other families with TSC. We love supporting

our fundraisers so please give us a call or send an

email if you want to get involved.

TSA is a small organisation that achieves a lot.

The reason we are able to keep our costs so low

is our volunteers. Our management committee

is responsible for the governance and leadership

of TSA but also takes an active role, particularly in

3

connecting with families and in fundraising. This year

we published the 100th issue of our magazine Reach

Out, so I would particularly like to acknowledge the

commitment of David Matheson who has long been

both the editor of Reach Out and the secretary of

TSA. We also want to thank Kate Norris who was TSA's

vice-president until her resignation this year. Kate has

made a big impact on TSA while in this role and we are

a stronger organisation because of this.

Beyond the committee we would like to thank Alice

O'Donnell, Megan Lacoba and Chris Burgoyne for

volunteering their time this year. Megan's work helped

to ease us through our change of name and improved

our communications and Chris provided some much

needed technical help to launch our new website

in late 2014, using his volunteer leave through his

employer Google. Alice's ongoing leadership of the

TSC Professional's Network has ensured this important

part of our work has grown consistently this year.

We have taken some time to refocus our priorities this

year. This builds on the results of the 2014 TSC Family

Survey, which identified the key challenges faced by

people with TSC in Australia. We have formulated six

strategic objectives that include particular focus on

our work with health professionals and expanding TSC

research in Australia.

Up to 50 families were given a diagnosis of tuberous

sclerosis this year, adding to the thousands that

already live with the impacts of this challenging

disease. Tuberous Sclerosis Australia has been able to

reduce the isolation they feel and improve the health

services they receive. We look forward to working

with you to continue this work this year.

Tub
---
With your help we...

Education and Support

Directly helped more than 80 families through

our phone and email support service.

It really made my day talking to

someone who knows the struggles that

go along with living with TSC. I want to

thank you for taking the time to call me

and reach out to me, I am truly grateful

for your call. You have reminded me

that I have lots of options to choose

from when it comes to pregnancy and

children and ultimately, a family.

- Jodi, who has TSC

Held the first TSC meeting in New Zealand

and launched Tuberous Sclerosis Complex New

Zealand, our new partners for tackling TSC in

Australasia. 48 people came to the two day

meeting and four new TSC educational videos are

available online.

To be a well informed, connected and

supported TSC parent is the best gift we

can give our TSC affected children.

- Hannah, whose child has TSC

Published the 100th (and 101st) issue of Reach

Out, our magazine that provides up to date

TSC information and shares the challenges and

triumphs of living with TSC.

With a son with TSC, it was great to have

him here to learn as a family what he has,

how to work with it and how to get on

with life.

- Andre, whose adult son has TSC

Tuberous Sclerosis

Australia

4

Held educational events for medical specialists

and families in Sydney and Brisbane with a focus

on best practice for managing TSC kidneys.

Expanded our information resources, adding

new information on managing the financial

aspects of TSC, using facebook for TSC

information and support and the new TAND

checklist for recognising the learning, behaviour

and mental health impacts of TSC. We've also

updated several of our information pages

to reflect new treatment and management

guidelines.

Hosted global awareness day picnics around

Australia giving local families a chance to connect

and share their experiences with TSC.

Facilitated peer support through our active

facebook discussion group. The group has more

than 324 members and more than 300 topics

were discussed during the year.
---
Research & Advocacy

Established the TSC Professionals Network,

connecting with specialist health professionals

around Australia. This recognises their interest in

TSC, improves communication and helps us refer

people with TSC to TSC expert doctors.

Shared the impact of TSC in Australia from our

TSC Family Survey, as input to the TSC research

plan from the National Institutes of Health (USA),

and as a poster at the international TSC research

conference in the UK.

Recognised the dedication of Dr Sean Kennedy,

a kidney specialist, to his TSC patients by awarding

him the 2014 Elizabeth Pinkerton Memorial Award.

Completed funding the clinical trial into a new

treatment for the skin tumours experienced by 90%

of people with TSC.

Provided new funding to understand the financial

burden experienced by families with a child with

TSC through a new Sydney University study.

Supported recruitment to research projects

examining the psychological aspects of TSC.

Collaborated with TSC organisations around the

world to understand approaches for improving

care for people with TSC.

Awareness

Shared 31 Facts about TSC and #IAMTSC on social

media for TSC Global Awareness Day on May 15th

Our community raised awareness of TSC through

newspaper articles, TV segments, and a Queensland

Theatre Company play.

5

Tub
---
Our strategy

What's ahead for TSA

Building on our successes and the results of our TSC family survey in 2014, we've set our sights on these strategic

objectives for 2015-2020. You can read more on our website www.tsa.org.au/about-us/strategic-plan

1.

Improve health services for

people with TSC

Encourage the provision of best practice care

for people with TSC, particularly in multidisciplinary

teams and through following the

guidelines for management of TSC

Work towards equitable access to TSC

medicines and other treatments

Influence policy in key areas that affect

people with TSC and their families

Encourage the interest and expertise of

health professionals in TSC through the TSC

professionals network

4.

Provide direct support

and facilitate peer

support for people

affected by TSC

Provide a TSC Information service

that can listen, answer questions and

connect people to services that can

help them.

Connect people affected by TSC to

professionals and services that can help

them

Provide opportunities for people with

TSC to connect online and face to face

2.

Encourage research into TSC

Directly fund research, particularly in

Australia

Encourage funding for research from other

sources

5.

Encourage fundraising activities that

provide peer support opportunities

Ensure sustainable

funding for our work

Represent the voice of the patients in

research planning and design

Increase our fundraising reach into the

networks of those affected by TSC

Assist with recruitment to research studies

Promote research projects and outcomes

Secure project specific grant funding to

expand our services

3.

Publish and promote TSC

information

Publish accurate, balanced and up to date

information about TSC

Hold TSC information events for people with

TSC, their families and health professionals.

Publish and promote information relevant

for people living with TSC, their families and

professionals

6.

Grow TSA as a reputable,

well-governed

organisation

Adopt governance practices that

uphold responsibility, accountability,

transparency and compliance.

Develop and implement our people

strategy.

Share TSC information through various

channels including: face-to-face, printed,

website, social media, email

Tuberous Sclerosis

Australia

6
---
Financial Overview

Tuberous Sclerosis Australia produced a surplus of

$34,033 in 2014/15, positioning us well for future

growth. Our retained earnings include funds that

are earmarked for the following projects:

Income and Expenditure

Where the money comes from

$42,000 for 2015 Australian TSC Conference

being held in November

$2,500 for TSC International project to share

approaches to improving care for people with

TSC around the world

$2,000 for the in progress Sydney University

APSU Out of Pocket costs study

Resulting in true reserves of $244,266.48, a

position $30,000 better than at the end of the

previous year. The fundraising efforts of the TSC

Heroes team and the Surfside group have been

critical in achieving this financial result.

Where the money goes to

Fundraising Growth

Did you know?

TSA volunteers

contributed

more than 800

hours this year,

contributing more

than $20,000 of

value to TSA.

Categories

Accountability and

administration:

The costs of running the

organisation efficiently, including:

insurance premiums, finance, IT,

office expenses, and reporting to

the TSA management committee.

Research: Final costs of the topical

rapamycin clinical trial being

Tuberous Sclerosis

conducted by Sydney Children's

Hospital and a grant to Sydney

University for a study on the out

of pocket costs experienced by

families with a child with TSC.

Fundraising: The time to support

community fundraisers and

organise TSA-run fundraising

events and campaigns. This

includes promotional and thank

you materials and fundraising team

uniforms.

Australia

8

Education and support: Costs

associated with providing

information to people affected by

TSC, writing and updating our TSC

information pages, our resource

directory and publishing Reach

Out.

Advocacy: Time spent working

with policy makers in health and

disability to improve the care

available to people with TSC.
---
Thank you

Our fundraising targets were exceeded this year.

We are grateful for the time, energy and money

contributed by our fundraisers and their supporters.

The TSC Heroes team, led by the amazing family

of Zarah Place, entered 23 athletes in the Forster

Triathlon and raised $44,667 in total.

The Surfside community, led by Ian and Sharron

Bilsborough and inspired by Kyah McGroder,

organised a golf and lawn bowls event that raised

$9,140.

TSA held the second annual Lizzie's Lunch in

honour of Lizzie Pinkerton, raising $7,290 after

costs.

The family and friends of Maryanne Madden raised

a total of $5,350 in her memory.

The generosity of all of our donors and fundraisers

has both supported our work this year and will allow

us to achieve even more in 2015/16.

Our work with pharmaceutical companies

During this year we have collaborated with Novartis and other pharmaceutical companies in a

number of ways:

Novartis provided an educational grant of $45,000 for the combined medical and family

conference being held in Sydney in November 2015.

Clare Stuart completed her role on the steering committee for the Working Together Guide,

a joint project of Consumer's Health Forum and Medicines Australia. You can find out more at

http://workingtogetherguide.com.au

TSA was represented by Debbie Crosby and Clare Stuart at a meeting of TSC specialist health

professionals hosted by Novartis in October 2014. Novartis provided travel and catering for this

event.

Clare Stuart volunteered her time as chair of the steering committee for the Health Consumer

Advocacy workshop. This group organises networking and skill building events for small health

consumer organisations and these are sponsored by a group of six pharmaceutical companies.

Clare and Debbie Crosby attended the HCA workshop in 2015.

Our policy on working with pharmaceutical companies describes how we maintain our

independence and integrity. This policy is available on our website or can be provided on request.

We encourage you to contact us for more information.

9

Tub
---
Financial Statements

The accounts for 2014/15 were reviewed by Rachel Goddard CA (member 72291). A copy of her report is

available on request. The accounts of TSA now follow the National Standard Chart of Accounts published by

the Australian Charities and Not-for-profits Commission.

Profit and Loss: Year ended June 2015

INCOME

Contributions from members - Bronze $1,190.00

Contributions from members - Silver $1,100.00

Contributions from members - Gold $10,308.55

Donations Received $66,742.11

Educational Event Fees $2,106.05

Fundraising Event Fees $6,490.00

Grants Received $48,120.10

Income From Raffles $1,915.00

Interest Income $5,226.03

Sales of Goods $1,076.90

Sitting Fees $1,225.60

Total Income $145,500.34

GROSS PROFIT $145,500.34

LESS OPERATING EXPENSES

Accounting Fees $2,673.00

Advertising and Promotion $638.38

Bank Charges $759.07

Board/Governance Expenses $234.94

Credit Card Fees $1,984.35

Educational Event Expenses $9,287.69

Fundraising Event Expenses $4,879.07

Fundraising Expenses $1,917.84

Information Technology Expenses $5,643.75

Insurance Expense $2,184.45

Membership Fees Paid $150.00

Postage, Freight and Courier $809.97

Printing & Stationery $2,963.70

Publications and Information Resources $7,114.25

Rapamycin Trial Costs $1,582.20

Research Grants Awarded $29,783.17

Salaries and Wages $16,461.53

Salaries and Wages - Salary Sacrifice $13,468.53

Salaries and Wages - Superannuation $3,303.79

Sundry Expenses $626.65

Telephone, Fax and Internet $440.36

Travel & Accommodation $3,688.02

Volunteer Costs $762.54

Total Operating Expenses $111,357.25

NET PROFIT $34,143.09

Tuberous Sclerosis

Australia

10
---
Balance Sheet as at 30 June 2015

ASSETS

CURRENT ASSETS

Cash at Bank - Restricted

Term Deposit - E Pinkerton $5,110.09

Cash at Bank - Unrestricted

CBA Cash Investment Account $79,998.23

General Cheque Account $11,384.90

Macquarie Cash Management Account $19,071.85

Short term investments

Macquarie Term Deposit - Maturing 2 August 2015 $125,000.00

Macquarie Term Deposit - Maturing 7 April 2016 $54,860.73

TOTAL ASSETS $295,425.80

LIABILITIES

CURRENT LIABILITIES

PAYG Withholding Payable $963.00

Rounding -$0.01

Superannuation Payable $831.24

Grant Payable (Sydney University Out of Pocket Expenses Study) $2,745.00

TOTAL LIABILITIES $4,539.23

EQUITY

CURRENT EQUITY

Current Year Earnings $34,143.09

Retained Surplus $256,743.48

TOTAL EQUITY $290,886.57

11

Tub
---
Phone

Email

Website

Facebook

Mail

1300 733 435 (within Australia)

info@tsa.org.au

www.tsa.org.au

www.facebook.com/AuTSC

Tuberous Sclerosis Australia

17 Linksview Rd, Springwood

NSW 2777 Australia

ABN 20 681 174 734

Incorporated association in New South Wales, incorporation no. Y 07116-42.

Registered charity with the Australian Charities and Not-for-Profits

Commission from 3 December 2013. Public benevolent institution (PBI) and

endorsed by the Australian Taxation Office as a deductible gift recipient (DGR)

and an income tax exempt charity. We fundraise throughout Australia and are

registered under fundraising legislation as required.

Registered Charity CC25313

CFN 13968

Donations of $2

and over are

tax deductible

We think all families with TSC

should have someone to turn to.

Help us make this a reality.

Tuberous Sclerosis

Australia