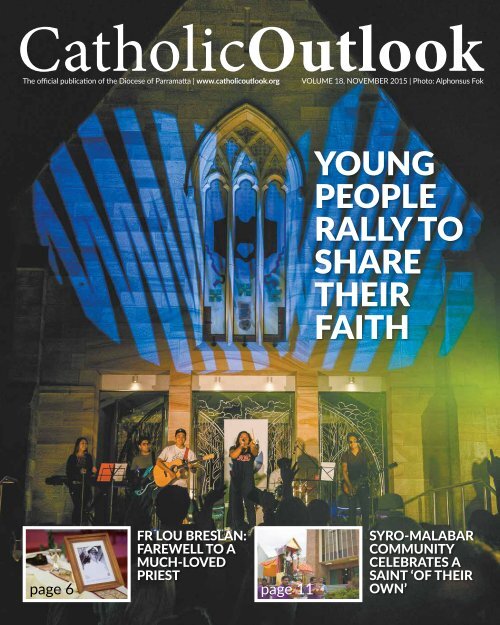 Catholic Outlook November 2015
You also want an ePaper? Increase the reach of your titles
YUMPU automatically turns print PDFs into web optimized ePapers that Google loves.
CatholicOutlook

The official publication of the Diocese of Parramatta | www.catholicoutlook.org

VOLUME 18, NOVEMBER 2015 | Photo: Alphonsus Fok

YOUNG

PEOPLE

RALLY TO

SHARE

THEIR

FAITH

page 6

FR LOU BRESLAN:

FAREWELL TO A

MUCH-LOVED

PRIEST

page 11

SYRO-MALABAR

COMMUNITY

CELEBRATES A

SAINT 'OF THEIR

OWN'
---
Dear Brothers and Sisters,

When I was about 12 years old I remember

my mother telling me that there were

certain topics that I should never bring up in

conversation with people I didn't know very

well. Those topics were religion, politics and

sex!

In the late 1950s and early 60s there was still

a view that such matters were reserved to

those who were professionally equipped to

deal with them, and in 'polite society' such

topics were taboo.

Every topic related to human beings, and

now their behaviour is open for discussion at

any time and in any forum.

FROM THE DIOCESAN ADMINISTRATOR

Very Rev Peter G Williams

Death is part of the

journey that leads us

to eternity with God

CONTENTS

CATHOLIC YOUTH

DIOCESAN NEWS

DIOCESAN PASTORAL

PLAN

FAMILY & LIFE

PARISH PROFILE

CATHOLIC

EDUCATION

CATHOLICCARE

SOCIAL SERVICES

SYNOD NEWS

DWF APPEAL

- FAITH AT WORK

NEWS & EVENTS

SOCIAL JUSTICE

3

4-6, 11, 19

7

8-9

10

12-14

15, 17

16

18

20-21, 23

22

One only has to recall the censorship laws

that controlled much of the content on

television in this country from the mid-

1950s when TV first came to Australia, and

look at the content that now pervades our

screens, at any time of the day or night.

Yet there is one subject that is avoided and,

when it does bubble up to the surface, is

often treated in a very clinical way. I am

talking about death.

I remember as a teenager reading a novel

entitled The Loved One: An Anglo-American

Tragedy (1948). It is a short, satirical novel

by British novelist by Evelyn Waugh, which

focuses on the absurdity of the American

funeral industry at that time in its attempt to

disguise, as much as possible, the fact that a

body is dead.

In recent decades, we seem to have adopted

much of the American attitude to death.

That we can watch films and TV programs

in which characters are terminated regularly,

and think nothing of it, is measure that we

have become desensitised simply because we

know 'they are only actors and will get up at

the end of the scene'.

We seem disconnected when watching the

news and, when images of dead people come

on to the screen, we remain disconnected.

(Sometimes there is a warning before the

images are shown so that we can switch off!)

However, when we are confronted by the

death of a relative or close friend, that reality

is very different. We come face to face with

the rude and brutal nature of extinct life.

It is important to confront death and name it

for what it is – an end for which, on this side

of the grave, there is no return!

For Catholics, the month of November

traditionally has been devoted to

remembering and praying for our deceased

loved ones. The practice of praying for the

dead has great antiquity in the Church and

was part of the life of the earliest Christian

communities.

The annual commemoration of the faithful

departed was linked to the Solemnity of All

Saints' Day, which happily this year falls on

a Sunday.

Traditionally, the month of November has been devoted to remembering and praying for our deceased loved ones.

As on the secular days linked to mothers and

fathers, there will be many in our Catholic

community in the Diocese who will visit

cemeteries and places where the dead are

memorialised. It is a wonderful expression of

love by those who remain in calling to mind

those who have died.

The practice of requesting that Masses be

offered for the departed is also quite old and

dates back to the early medieval period.

As all of us continue in our journey that will

lead us to encounter the fullness of God's

glory, we want to ensure that those who

have died can be aided by us, and have the

assurance that they too are united to us, and

that whatever blocks their union with God

will be purged so that they can enjoy the

beatific vision.

We should not fear the reality of death as

we see it as being part of the journey that

extends beyond physical existence and draws

us to eternity with God.

The death and resurrection of Jesus Christ

is the core of our faith and we should

experience that immersion spiritually

every week in the Sunday celebration of the

Eucharist, which has at its heart the Paschal

Mystery.

As Catholics we should also give serious

consideration to making adequate

preparation for the time when our earthly

lives will end. There is nothing morbid or

bleak about setting out now, while we are

well and active, the choices of Scripture

readings and liturgical music we would like

to form part of our own funeral liturgy.

As much as anything it provides an insight

for those who come to remember us in

prayer, what were the key drivers in our own

faith.

While funerals are invariably a time of

sadness and grief, for the Christian they are

also an expression of hope, not only for the

deceased person, but also for ourselves.

It is captured quite beautifully in a hymn

from the Ukranian Rite, which is sung to a

very old melody from Kiev. When the late

Cardinal Edward Clancy was being lowered

into the crypt of St Mary's Cathedral it was

chanted by a schola made up of adolescent

boys from the Cathedral choir:

Give rest, O Christ, to thy servant with

thy Saints:

where sorrow and pain are no more;

neither sighing, but life everlasting.

Thou only art immortal, the Creator and

Maker of man:

and we are mortal, formed of the earth,

and unto earth shall we return:

for so thou didst ordain, when thou

createdst me, saying:

Dust thou art, and unto dust shalt thou

return.

All we go down to the dust; and, weeping

o'er the grave, we make our song:

Alleluia, alleluia, alleluia!

(Contakion of the Departed: Kiev melody)

This month, let us continue to remember

with love those who have died and with

whom we had a special bond and whose

absence we lament, but know that we are

united with them still in the mystery of the

communion of the Church.

With my prayers,

Very Rev Peter G Williams

Diocesan Administrator

CatholicOutlook

The official publication of the Diocese of Parramatta

Publisher:

Very Rev Peter G Williams

Diocesan Administrator

Tel (02) 8838 3400

Fax (02) 9630 4813

PO Box 3066,

North Parramatta, NSW, 1750

Email: diocese@parra.catholic.org.au

Website: www.parra.catholic.org.au

Editor:

Jane Favotto

Tel (02) 8838 3409

editor@parra.catholic.org.au

PO Box 3066,

North Parramatta, NSW, 1750

Journalists:

Adrian Middeldorp

Elizabeth McFarlane

Designer:

Aphrodite Delaguiado

School news:

Catholic Education Office

Tel (02) 9840 5683

news@parra.catholic.edu.au

Deadlines:

Editorial and advertising

– 10th of the month prior to publication

Advertising:

Tel (02) 8838 3409

Accounts:

Alfie Ramirez

Tel (02) 8838 3437

ARamirez@parra.catholic.org.au

Printing:

Rural Press Printing, North Richmond

40,500 copies of Catholic Outlook are

distributed monthly through 48 parishes and

86 schools. All material in this publication

is copyright and may not be reproduced

without permission of the editor. Catholic

Outlook is a member of the Australasian

Catholic Press Association.

2 CatholicOutlook | NOVEMBER 2015

www.catholicoutlook.org
---
CatholicYouthParra @cyp_parramatta @CatholicYouthParra

CATHOLIC YOUTH

Young people rally

to share their faith

By James Camden, Director of Catholic Youth Parramatta

The forecourt of St Patrick's Cathedral

attracted more than 300 young people

from across the Diocese of Parramatta

for the first Diocesan Youth Rally, held on the

Feast of St John Paul II.

The rally on 24 October was coordinated

by Catholic Youth Parramatta (CYP), the

Diocese Youth Council and the World Youth

Day Committee.

The rally is a new initiative of Catholic

Youth Parramatta, who hope to facilitate a

similar event a couple of times throughout the

year. The concept provides young people with

a welcoming, festival-like experience where

connected Catholics can invite a friend.

As the sun set over the precinct, the

Cathedral steps were transformed into a

spectacular stage for youth bands from Our

Lady of the Angels at Rouse Hill, Mary Queen

of the Family Parish at Blacktown and Youth

for Christ to perform short sets of music

throughout the evening.

Each group entertained the crowd with a

selection of appropriate chart-topping music

and worship songs from their ministries.

The Chair of the Diocese Youth Council,

Fr Paul Roberts, opened the rally with an

inspiring and motivational call to follow the

example of St John Paul II as he welcomed

and encouraged the young people of the

Diocese to enjoy and embrace their coming

together from all reaches of Western Sydney

and the Blue Mountains.

The recent unveiling of the statues of St

John Paul II with young people provided an

opportunity for young people at the rally to

truly celebrate the occasion with the founder

of our Diocese and father of World Youth

Day.

A wall of mercy allowed participants to

write a prayer of intercession or light a candle

before the statues.

Throughout the program young

people preparing for various national and

international pilgrimages to the Philippines

and Poland for World Youth Day 2016, and

Adelaide for next month's Australian Catholic

Youth Festival were treated to bursts of

formation about the life, spirituality, impact

and history of St John Paul II.

The talented Youth Mission Team

performed a drama and Polish dancing by

the Lajkonik Group gave the crowd a taste of

what to expect in St John Paul II's homeland,

Poland, during WYD.

A number of youth groups took up the

opportunity to run stalls that provided food

or fun activities to involve young people. Any

profits earned are being pooled back into their

parish fundraising for WYD or other worthy

causes.

The WYD Pilgrimage Leadership Team,

Small Group Leaders and Chaplains were

announced on the night and can be seen on

the back page of this issue of Catholic Outlook.

For more images of the event, please visit

www.flickr.com/parracatholic/albums

Photos: Alphonsus Fok

Twilight Tours &

Information Evenings

24-26 November, 2015

Drop in anytime between 5:00pm – 7:00pm

Arts & Sciences | Business | Education | Law | Medicine* | Nursing | Philosophy & Theology

Notre Dame will be open for extended hours to assist you with

course information. There's still time to apply for 2016.

ü High graduate

employment rate in Sydney

ü 10 minutes from Central

& Railway square

ü Real world experience

ü No upfront fees

Register now at: nd.edu.au/twilight

Fremantle Broome Sydney

*Applications for the School of Medicine are now closed for 2016 | CRICOS PROVIDER CODE: 01032F - ND1025

www.catholicoutlook.org

CatholicOutlook | NOVEMBER 2015 3
---
DIOCESAN NEWS

Paul Worthington retires

By Elizabeth McFarlane

Paul Worthington. Photo: Elizabeth McFarlane.

Paul Worthington will retire as Director

of the Confraternity of Christian

Doctrine (CCD) on 18 December after

close to 13 years in the role.

The CCD was established in Australia in

1958, some 400 years after its genesis, and

was introduced to Parramatta in 1987.

The CCD provides adult education for

catechists (Special Religious Educators) so

that they are equipped to teach the Catholic

faith in state schools. Paul believes there are

two major motivators for those who decide

to become catechists.

"They have to want to share their faith

and love to teach kids," he said. "You have

to love it because it's hard going into a

classroom. Anyone who says that teaching is

easy has no idea. It's a hard task."

Paul said the greatest attribute of the

CCD was its individual catechists. "For

some kids, that's their only contact with the

Church."

Prior to his work with the CCD, Paul was

principal of St Joseph's Primary School in

Laurieton-Kempsey, where he experienced

the daily challenges associated with teaching,

recognising also the unique difficulties

linked to teaching primary and secondary

students.

"It is a challenge. I always taught primary

but I changed to secondary in about 2007,"

he said. "I changed over because if I was

going to ask people to teach secondary, I had

to be prepared to do it myself.

"That requires training – to be able to

take a question, answer it respectfully, and

then get back to the course outline. Some

people would find that difficult."

Paul has been asked many tough

questions over the years, and he recommends

being upfront and truthful about your own

knowledge.

"If you don't know the answer, admit it.

Say, 'Look I don't know the response to that.

Can I get back to you?' Because as soon as

you try to pull the wool over the students'

eyes, they read you straight away."

Reflecting on the changes he has seen in

his time with the CCD, Paul said there was

a need to encourage more young people to

become catechists.

"The days of having

catechists teach

for 40 or 50 years

is changing. We

need more young

people to become

catechists."

"The days of having catechists teach for

40 or 50 years is changing. We need more

young people to become catechists."

In our Diocese, 510 students from 19

Catholic schools are catechists in 190 state

primary schools.

"I am grateful to Bishop Kevin Manning

and Bishop Anthony Fisher OP, who were

very conscious of the work of the CCD

and who supported its ministry across the

parishes," Paul said.

"I have been blessed with a CCD team of

regional coordinators and my co-worker in

the office, Maree Collis, who have supported

the hard work of parish teams of SRE

teachers and helpers. I am very indebted

to this diocesan team but extremely well

supported by the local parish teams where

SRE begins."

The Holy Door in Parramatta

By Rev Paul Roberts and Sr Mary Louise Walsh ISSM

The designated door for our Diocese will be the eastern door, far right, at the top of the entry steps at St

Patrick's Cathedral in Parramatta. Photo: Elizabeth McFarlane.

On 8 December, the Feast of the

Immaculate Conception, Pope

Francis will open a usually sealed

door of St Peter's Basilica in Rome as a

symbolic door of God's mercy.

During the Jubilee Year of Mercy,

millions of pilgrims will pass through this

door as a stepping into the arms of God's

mercy and renewal.

The Jubilee will be celebrated in every

diocese of the world, where there will also be

a designated door for the many of us who are

obviously unable to visit Rome.

In our Diocese, this door will be at St

Patrick's Cathedral in Parramatta. It will be

the eastern door at the top of the entry steps,

closest to the new statue of St John Paul II

and his friends.

The themes of the Jubilee Year of Mercy

will call people to be merciful like the

Father, to rediscover works of mercy, to

receive sacramental healing and strength,

to dialogue with those in our world who

are different to us and to truly participate in

God's merciful love.

Likewise, our cathedral will have

specially prepared focuses and activities

reflecting these themes and into which we as

local pilgrims can be drawn.

Our Holy Door will be opened on the

3rd Sunday of Advent, 13 December, at the

11am Mass. All are most welcome to attend.

During the year of the Jubilee, this will be the

only door through which to enter at the front

of the cathedral.

The tradition of gaining a plenary

indulgence will apply during the Jubilee Year

and more will be communicated about this

as the Jubilee begins.

In brief, it is a special favour of God's

grace and love with which we can be

blessed by participating in certain spiritual,

sacramental and merciful expressions.

The focuses and themes around our

cathedral's door of mercy will continue

throughout the year. The special sense of

passing through this threshold of God's

mercy will be emphasised until the close of

the Jubilee in November 2016.

During the course of the year, many

people from our parishes, Diocese

and beyond will be able to participate

meaningfully with a pilgrimage to St Patrick's

Cathedral.

"The people who walked in darkness have seen a great light;

those who lived in a land of deep darkness - on them

light has shined." (Isaiah 9:2)

Advent Lessons & Carols

Led by the ACU Strathfield Choir

New Hope

Date: Tuesday December 1, 2015

Time: 6pm, followed by light refreshments

Venue: Barron Memorial Chapel

Australian Catholic University

25a Barker Road, Strathfield NSW 2135

For further information contact 02 9701 4223 or email: belinda.lynch@acu.edu.au

4 CatholicOutlook | NOVEMBER 2015

www.catholicoutlook.org
---
Fostering relations with

people of other faiths

By Rev Walter Fogarty, Chairman of the Diocesan Interfaith Commission

DIOCESAN NEWS

Divine Mercy Devotions

for the Holy Year of Mercy

St Mary of the Cross MacKillop Parish,

Upper Blue Mountains

As the Church prepares for the

Jubilee Year of Mercy the Diocese of

Parramatta has announced a newly

reformed Diocesan Interfaith Commission to

foster relations with peoples of other faiths.

Previously, such relations were overseen by

the Commission for Ecumenism and Interfaith

Dialogue.

In separating the two aspects of the

previous commission, the Diocese stresses the

importance of, and focus that needs to be given

to, both areas in its mission within Western

Sydney.

The work of the new Interfaith Commission

will focus on two broad areas: developing and

strengthening dialogue between the Diocese

and other faiths; and promoting a greater

understanding among Catholics of Church

teaching on interfaith relations.

The Commission will further the formal

process of interfaith relations initiated by

Vatican II, leading to formation of what is

now known as the Pontifical Council for

Interreligious Dialogue.

Laying the foundation for the Pontifical

Council's work, its earlier manifestation,

the Secretariat for Non-Christians, saw that

through its efforts "the Church extends a hand

to our brothers and sisters on their way to God,

who is the end of every human life".

Australia's Cardinal Edward Cassidy was

active in the Church's interfaith dialogue,

especially as a past president of the Vatican's

Commission for Religious Relations with the

Jews.

Cardinal Cassidy identified the Church's

early approach as twofold: promoting within

the Church the new understanding of relation

with other faiths as taught by Vatican II's

declaration Nostra Aetate; and a conscious

effort to develop dialogue with the aim of

building trust and overcoming barriers.

The Pontifical Council, outlining

the method it adopts towards dialogue,

states genuine dialogue "is a two-way

communication. It implies speaking and

listening, giving and receiving, for mutual

growth and enrichment. It includes witness to

one's own faith as well as an openness to that of

the other. It is not a betrayal of mission of the

Church, nor is it a new method of conversion

to Christianity."

St John Paul II reinforced this need for

open dialogue in his encyclical Redemptoris

Missio (1990). Interfaith dialogue, he wrote, can

aid "the world to be renewed and to journey

ever closer toward the kingdom".

"Understood as a method and means of

mutual knowledge and enrichment," St John

Paul teaches, "dialogue is not in opposition

to the [Church's] mission ad gentes [to the

nations] … It is demanded by deep respect

for everything that has been brought about

in human beings by the Spirit … Through

dialogue, the Church seeks to uncover

the 'seeds of the Word,' a 'ray of that truth

which enlightens all men''; these are found

in individuals and in the religious traditions

of mankind. Dialogue is based on hope and

love, and will bear fruit in the Spirit. Other

religions constitute a positive challenge for the

Church: they stimulate her both to discover

and acknowledge the signs of Christ's presence

and of the working of the Spirit, as well as to

examine more deeply her own identity and to

bear witness to the fullness of Revelation which

she has received for the good of all."

Pope Francis continues this teaching

in the bull proclaiming the Year of Mercy,

Misericordiae Vultus, declaring, "There is an

aspect of mercy that goes beyond the confines

of the Church. It relates us to Judaism and

Islam … I trust that this Jubilee year celebrating

the mercy of God will foster an encounter

with these religions and with other noble

religious traditions; may it open us to even

more fervent dialogue so that we might know

and understand one another better; may it

eliminate every form of closed-mindedness and

disrespect, and drive out every form of violence

and discrimination."

The members of the Diocesan Interfaith

Commission, both lay and ordained, endeavour

to assist in this often overlooked and

misunderstood aspect of the Church's mission,

an endeavour given greater significance in the

face of growing religious intolerance in our

community.

Parish Churches

St Canice's Church, 158 Katoomba St,

Katoomba

St Bonaventure's Church, Railway Pde,

Leura

St Francis Xavier's Church, Day St,

Wentworth Falls

First Sunday of every month at Leura

The Divine Mercy is celebrated with

beautiful music and song, with prayer

and Rosary, together with Exposition and

Confessions

From 3pm-4.30pm, followed by Sunday

Mass at 5pm

Every Friday at Leura

From 5.15pm-5.50pm, prayer and praise

for the Divine Mercy

(Each parish church has the Divine Mercy

image – the Leura image is life-size)

Each Sunday at Katoomba

Noon, Divine Mercy Holy Hour

Each Sunday at Leura

Noon, Divine Mercy Holy Hour

In each parish church

Before all weekday Masses the Rosary

and Divine Mercy prayers are said

Before all Sunday Masses Divine Mercy

prayers are said

Stations of the Cross once a month in

each parish church

Exposition

Tuesday: Leura 4.45pm-5.15pm (then

Mass), Thursday: Leura 4.45pm-5.15pm

Leura (then Mass)

Friday: Katoomba 12.30pm (after Mass

at noon)

Daily Confessions

(till no more waiting)

Sunday: Wentworth Falls 9am; Leura

4.30pm

Monday: Katoomba 9am

Tuesday: Leura 4.45pm and 5.45pm

Wednesday: Wentworth Falls 10.30am

Thursday: Leura 4.45pm and 5.45pm

(except 4th Thursday)

Friday: Katoomba 12.30pm

Saturday: Katoomba 10am and

Leura 4.30pm

Confessions at any time on request

Parish Mass times

For Parish Mass times please

visit the parish website: www.

marymackillopupperbluemountains.org.au

Proud photography partner of Catholic Outlook

catholicinsurance.org.au

1300 655 003

Home Contents Car Personal Accident Travel Landlord Caravan

www.catholicoutlook.org

CatholicOutlook | NOVEMBER 2015 5

CCI CatholicOutlook Sponsorship printAd APR15.indd 1

16/04/2015 8:16:47 AM
---
Farewell to a much-loved priest:

Rev Louis Breslan

15 March 1923 – 17 October 2015

The funeral Mass was celebrated in St Patrick's Church, Guildford. Photos: Alfred Boudib.

The Diocese of Parramatta lost one of

its much-loved priests with the death

of Fr Louis (Lou) Breslan, aged 92, on

Saturday 17 October.

A priest for more than 67 years, Fr Lou

celebrated his Diamond Jubilee of ordination in

2008 when he was Parish Priest of St Patrick's

Parish, Guildford.

He retired from active ministry in 2009

and spent his remaining years in the quiet

surrounds of Rosary Village at Yennora.

Fr Lou's brother, Fr Fergus Breslan, came

from Ireland to concelebrate the Mass of

Christian Burial in St Patrick's Church on 23

October.

The homily was given by Very Rev John

Hogan, who had known Fr Lou for more than

20 years. On arrival in Australia from the UK in

1975, Fr John had served as assistant priest with

Fr Lou at Guildford Parish.

"Because of the warm and open friendship

which emerged between us, I was in a

privileged position to experience the realness of

this man," Fr John said.

"A mildness of disposition, a courteous

temperament and a heart of hospitality and

charity do not quite do justice to the spirit and

soul of the man, which manifested themselves

in these outward signs of inward grace."

Fr John recalled how Fr Lou was well

known for his blessings. "Nothing was outside

the jurisdiction of his outstretched hand, always

ready and eager to sketch a benediction. People

loved him for that. They loved him for the way

he selflessly made precious time available for

their concerns.

"They loved him for the way in which

he treated their concerns with as much

preciousness as they did. Whether it be rosary

beads, holy cards, holy water to take home,

toothache and other maladies, or whatever

other desperation people suffered, they knew

3 SESSIONS • 9 Nov – Randwick • 16 Nov – Penrith • 19 Nov – Port Macquarie

Aged 50 or over? This seminar may benefit you.

Book your FREE retirement planning seminar and learn how to optimise your

savings for retirement and potentially SAVE TAX with an allocated pension. *

*members aged 56+ years and still working

St Patrick's Church at Guildford was full to overflowing.

they could always approach Fr Breslan with the

assurance that a blessing would always be given

and that Christ stood behind the priest."

Fr John recalled how Fr Lou paid close

attention to the "little things" of life and made

these his world and the objects of his ministry

and priesthood.

"I believe Fr Breslan's charism was for the

sanctification of people's lives in the midst of

the overwhelming ordinary."

Most Rev Robert McGuckin, Bishop of

Toowoomba, was the principal celebrant for the

Mass, which was concelebrated by the Diocesan

Administrator, Very Rev Peter Williams,

Parramatta's Bishops Emeriti Bede Heather

and Kevin Manning, Most Rev David Cremin,

Emeritus Auxiliary of Sydney, priests of the

Diocese of Parramatta and visiting priests.

Commander Ted Wynberg represented

Navy Fleet Command Australia. Guildford RSL

was also represented.

Fr Lou was born in Maghery, County

Armagh, Ireland, in 1923. He and three of his

brothers became priests. Ordained at age 25, Fr

The homily was given by Fr John Hogan.

Right: Fr Lou receives the

Cross 'pro Ecclesia et Pontifice'

from the Apostolic Nuncio to

Australia, Archbishop Gino

Paro, in 1975.

Lou completed his priestly studies at St Patrick's

Seminary in Carlow, with the intention of going

on overseas mission.

A meeting with Cardinal Gilroy convinced

him that his future ministry lay in Australia,

and on arriving in Sydney in March 1949, he

was appointed curate at St Mary's Cathedral.

His later parish postings were to parishes at

Thirroul, Lithgow and Manly before he enlisted

as a chaplain in the Royal Australian Navy in

1955. His 20-year appointment included active

service overseas.

In 1975, he left the RAN and was appointed

Parish Priest at Guildford. He also served as

Chancellor of the Diocese of Parramatta when

it was established in 1986.

In retirement, Fr Lou's daily devotions

included celebrating morning Mass with fellow

priests, saying the Rosary and the Stations of

the Cross, and readings from the Daily Office.

Fr Lou is buried in the Priests' Section of

Rookwood Catholic Cemetery.

For more images of the event, please visit

www.flickr.com/parracatholic/albums

SECRETS TO SAVING TAX ON SUPER

Final salute by Cmdr Ted Wynberg RAN.

Breslan family photo taken after Fr Lou's first Mass.

BOOK NOW – www.catholicsuper.com.au/seminars | 1300 658 776

SCS Super Pty Limited, ABN 74 064 712 607, AFSL 230544, RSE L0002264 Trustee of Australian Catholic Superannuation & Retirement Fund, ABN 24 680 629 023,

RSE R1055436. This document is not intended to be financial advice, therefore, you should consider obtaining independent financial advice before making any decisions

about your benefits in the fund. For further information refer to the Product Disclosure Statement available on the website.

PARTNERS

& FRIENDS

WELCOME

6 CatholicOutlook | NOVEMBER 2015

www.catholicoutlook.org
---
By Richard McMahon, Director of Pastoral Planning & Implementation

DIOCESAN PASTORAL PLAN

How do we grow our faith and share our faith?

Mr Richard McMahon

When I share with my friends my

new job title, I am often greeted

with a quizzical expression.

The world of pastoral planning can be

perceived as far removed from everyday

life.

However, as a husband, father, soccer

coach and parish youth group leader,

and having worked both in parishes and

at a diocesan level in support of faith

communities, I firmly believe planning is

vital in our Christian life.

Jesus says, "Love God and love your

neighbour as yourself." That seems

straightforward. Why do we need to

plan?

Planning is part of everyday life.

Families need to budget, holidays need

itineraries, and a soccer coach needs a

strategy for the team.

While good in theory, responding to

needs as they arise and spreading ourselves

too thin can quickly lead to burn out. We

may miss opportunities or be road blocked

by an emerging challenge.

Jesus offers us a valuable insight into

planning. "The crowds went looking for

Jesus, and when they found Him, they

tried to prevent Him from leaving them.

But He said to them, 'To the other towns

also I must proclaim the good news of the

kingdom of God, because for this purpose

I have been sent.'" (Luke 4:42-43).

In other words, Jesus says "no" to

pressing needs because He has a vision.

So what is the vision of our Diocesan

Pastoral Plan, Faith in Our Future? How

is it meant to help us?

With our plan boasting 24 strategies,

95 actions, and 171 additional agency

actions, we may feel a little overwhelmed!

It is important to remember why we are

planning.

Our plan's vision is one with Jesus

Christ's vision. We are called to grow in

faith and to share our faith, to grow in love

of Christ and our Church so as to share

and invite other people into Christ's love

and our Church.

In the Diocese of Parramatta, Bishop

Anthony Fisher OP invited us to consider

how we could grow our faith and share

our faith in areas of greatest need and

potential: our families, youth, ethnicity,

vocations and evangelisation.

Each of these areas requires good

planning to enable us to foster new and

mature disciples in our current climate.

FORMING

THEYoung

&

Church Adult

A PARISH RESOURCE

IN SUPPORT OF

GOALS 2 AND 4 OF

'Faith in Our Future

2014-2018'

We don't need to rush off and do every

action listed, but the strategies and actions,

shaped by our own people, agencies

and services, give us practical ways of

addressing these priorities of our Diocese.

And in responding to these

priorities, our agencies and services and

communities have renewed our own

vision. We are reminded of why we do the

good we do.

What is our new pastoral planning

parish resource all about?

The booklet Forming the Young & Adult

Church contains a rich collection of ideas

GOAL 2 – CONNECTING BETTER WITH THE YOUNG

GOAL 4 – GROWING AND SUPPORTING LAITY AND CLERGY

for youth leaders, ministries and groups

as well as resources for parish pastoral

councils and the formation of adults in

our communities.

My gratitude to my predecessor,

Daniel Ang, and his team for their work in

bringing this great resource to life.

More copies of this booklet are

available, along with its companion

guide, Welcome & Evangelise. Please let

us know if you require further booklets

and support in developing any of their

recommendations.

What is next for Faith in our Future?

In my first month, I have been visiting

parishes, agencies and services and have

much more listening to do. I want to

ensure that our plan is making a difference

and is assisting us in sharing our faith and

growing our faith.

Your input and suggestions will be

vital to ensure we keep the plan focused

on deepening our love of Christ and one

another, and offering us good ways of

sharing God's love with others, inviting

them into the heart of Christ and our

Church.

Richard McMahon

Director of Pastoral Planning &

Implementation

Tel (02) 9831 4911

rmcmahon@parra.catholic.org.au

Catholic Super – providing superannuation

services for more than 40 years

Offices in BrisBane, canBerra, Darwin,

GeelOnG, HOBart, MelBOurne, PertH & syDney

ư Industry super fund returning all profits to members

ư Superior long term investment performance

ư Fees well below Industry average

ư Flexible investment options

ư Superannuation and pension products

ư Low cost personal insurance

ư Financial planning advice

1300 655 002 | csf.com.au

Authorised by CSF Pty Limited (ABN 30 006 169 286; AFSL 246664), the Trustee of the MyLifeMyMoney Superannuation Fund (ABN 50 237 896 957).This information is about the Fund and is general information only.

It has been prepared without taking into account your personal investment objectives, financial situation or needs. It is not intended to be, and should not be construed in any way as, investment, legal or financial advice. CS106 150915

CS106 150915 Catholic Outlook 260wx165h_v1.indd 1

www.catholicoutlook.org

CatholicOutlook | NOVEMBER 2015 7

16/09/2015 12:48 pm
---
FAMILY & LIFE

www.parrafamlife.org.au @parrafamlife parrafamlife

Families called to share the 'good news'

Jim and Julie-Ann McLaughlin shared how the World Meeting of Families has changed their life.

Brad and Natalie Wilkinson's testimony was inspirational as they experienced their family as being "fully alive" in

Philadelphia.

The World Meeting of Families event

was conceived by St John Paul II in

1992 to look at strengthening the

sacred bonds of the family unit across the

globe. The first event took place in Rome

in 1994, the International Year of the

Family.

This year, two families representing

the Diocese of Parramatta attended in the

World Meeting of Families in Philadelphia,

US, from 22-27 September.

The Wilkinson family from Padre Pio

Parish, Glenmore Park, is headed by Brad

and Natalie. The McLaughlin family from

St Finbar's Parish, Glenbrook, is headed by

Jim and Julie-Ann.

At our local Diocesan Family

Gathering on 18 October, they shared

their experience of participating in such

an uplifting event in the life of the Church.

Here are two reflections.

Natalie Wilkinson:

We started our journey towards the

World Meeting of Families with a sense

of awe. We couldn't understand why our

family had been selected to represent the

Diocese.

Travelling overseas with five young

children seemed daunting as the furthest

we had travelled was Queensland. But

despite the unknowns, we put our faith in

the Lord to lead us on this journey.

As we prepared for the trip, we met the

Now

enrolling

for 2017

McLaughlins and our families got on like

a house on fire. This connection gave us

some more confidence for the journey.

The long flight to Washington was

tough and our family struggled to readjust

to the time zone and get enough sleep. We

were lucky to be with eight other families,

Bishop Michael Kennedy and Ron and

Mavis Pirola from Australia to help us

acclimatise to the US.

In Philadelphia, we enjoyed a few days

of listening to the world's top speakers

on marriage and the family at a Family

Congress. One of the key outcomes of

the Congress was that my husband, Brad,

felt called to be the spiritual leader of our

family, which I am happy to support.

He is now leading prayer in our home

and taking an active role as head of our

family.

We were excited to attend a Vigil and

a Mass with Pope Francis, despite the long

waits in large crowds.

We saw the best and worst of our

children in these moments. But we have

now learnt to love them as they are, as God

sees them.

By loving them in this way we were

able to experience one aspect of the event's

theme: 'the family fully alive'. All families

are broken in some way and by embracing

this reality we can be open to Christ's

participation in our family so we can be

fully alive.

Jim McLaughlin spoke passionately about how the family can evangelise our society.

Jim McLaughlin:

One of the blessings my wife,

Julie-Ann, and I have received from

participating in the World Meeting of

Families, is the realisation that Christianity

should not be a private affair and that we

as Catholics need not be silent.

We have good news about Christ,

about the family and about how families

contribute to all we hold dear, for indeed

our families are the 'Domestic Church'.

This conviction was fostered in a number

of aspects of the event.

Firstly, by the universality of our

Church as we witnessed lines of bishops

and priests, all from their own families,

from the nations of the world, process in to

concelebrate Mass in Spanish, Vietnamese

and English, to a vast audience.

We have a universal message with a

universal appeal.

Secondly, the truth and simplicity

in Christ's message for the family. That

we aim to imitate the love between the

persons of the Holy Trinity within the

family.

Thirdly, the practicality of the message

that the Church and the Holy Father urges:

'waste time with your children'. Grow

by loving your spouse and your children

with their failings and yours. Strive, pick

yourself up and try again when you fail.

ALBERT & MEYER

FUNERAL DIRECTORS

Mercy Scholarships

OLMC Parramatta is now taking

applications from girls entering

Years 7, 9 or 11 in 2017 for

Mercy Scholarships in the areas of

Academic Excellence

Music Excellence

T 9683 3300 E olmc@olmc.nsw.edu.au

W www.olmc.nsw.edu.au

8 CatholicOutlook | NOVEMBER 2015

www.catholicoutlook.org

Serving the

Parramatta Diocese

since 1967

Australian Family Owned & Operated

301-303 PENNANT HILLS ROAD, THORNLEIGH

9484 3992

ALL SUBURBS 24 HOURS

www.albertmeyer.com.au

Rebecca Pincott Michael Bolton
---
www.parrafamlife.org.au @parrafamlife parrafamlife

God wants to build bridges not walls:

Reflections on Pope Francis' trip to the US

By Ben Smith, Director of the Family & Life Office

Family was at the core of Pope Francis' trip

to the US at the end of September. In his

General Audience on 30 September, he

identified that his words and actions from the

trip could be symbolised by this statement:

"God always wants to build bridges; we are

the ones that build walls! And walls collapse,

always."

This bridge building approach was evident

in the way he spoke to audiences at the World

Meeting of Families in Philadelphia.

The Pope's first address to the meeting was

at the Prayer Vigil for the Festival of Families

on 26 September. He began this address by

reflecting on the mystery of God's entry into

the world through a family, the Holy Family.

God's interest in being close to humanity

and to families is expressed from His name,

Emmanuel, or "God is with us". The Pope

contrasted this closeness with the solitude of

Adam before the creation of Eve, by pointing

out that a family is the remedy to loneliness

because:

"Family is the living symbol of the loving

plan of which the Father once dreamed. To

want to form a family is to resolve to be part

of God's dream … To join him in this saga of

building a world where no one will feel alone,

unwanted or homeless."

At the core of this saga, the Pope noted, is a

love for another person that:

"… is not just a strong feeling – it is a

decision, it is a judgment, it is a promise. We

learn to stake everything on another person,

and we learn that it is worth it."

According to Pope Francis: "Love grows as

it is 'forged' by the concrete situations which

each family experiences."

While he encouraged families, he also

acknowledged that they all have their

SUICIDE

BEREAVEMENT

SUPPORT

A Reflection Day

– to honour the lives of loved ones

"Come to Me, all you who are weary and burdened, and I will give you rest."

Matthew 11:28

A day to honour and celebrate those loved

ones who have taken their lives. There will

be some information sessions, small group

sharing, quiet reflection time and celebration

of the Eucharist.

Facilitators:

Fr Stan Lim SJ, Sr Eileen Quade RSM,

Philippa Ford, Ann O'Brien

Saturday 14 November

10am to 4pm

St Joseph's Centre,

64 MacKillop Drive,

Baulkham Hills

Bishop Michael Kennedy, Bishop Delegate for Marriage and Family, with Ron Pirola, Yili and Salome Li from the

Archdiocese of Sydney and the Wilkinson family from our Diocese.

"The reality is that we

don't forget, move on, and

have closure, but rather we

honour, we remember, and

incorporate our deceased

children and family members

into our lives in a new way.

In fact, keeping memories

of your loved one alive in

your mind and heart is

an important part of your

healing journey."

Harriet Schiff

challenges in saying that "perfect families do

not exist" and that:

"… we make mistakes, yes; we have

problems, yes. But we know that that is not

really what counts. We know that mistakes,

problems and conflicts are an opportunity to

draw closer to others, to draw closer to God."

In his homily for the closing Mass 27

Diocesan Development Fund

Catholic Diocese of Parramatta

Supporting the

growing needs of the

institutions and agencies within

the Catholic Diocese of Parramatta

www.parra.catholic.org.au/ddf

FAMILY & LIFE

September, Pope Francis highlighted that

"holiness is always tied to little gestures … we

learn at home, in the family." He went on to

point out that:

"Love is shown by little things, by attention

to small daily signs which make us feel at home.

Faith grows when it is lived and shaped by love.

This is why our families, our homes, are true

domestic churches."

The Pope sees these little signs of love to be

"miracles" that are signs of Jesus' "own living

and active presence in our world" that he also

described as "prophetic".

These gestures of love, patience and

tenderness between family members stand in

contrast to the "scandal of a narrow, petty love,

closed in on itself, impatient of others!"

Pope Francis' messages to families at the

gathering focussed on the ordinary events

which occur in the home and are opportunities

for growing in love and holiness.

Consequently, Pope Francis is reaching out

to all families by identifying them as a place in

which God's love can be present in both their

joys and sufferings.

This loving approach is a great example of

the pastoral conversation that he is encouraging

all bishops to foster with families to build the

bridge between the Church and families.

The nature of this bridge will be a lot clearer

now that the Synod on the Family in Rome has

concluded.

Morning tea and Lunch will be provided.

Registrations essential.

For bookings and enquiries phone CatholicCare Social Services

on (02) 9933 0222 or email enquiries@ccss.org.au

Disclosure Statement

The Diocesan Development Fund Catholic Diocese of Parramatta (DDF) is not subject to the provisions of the Corporation Act 2001 nor has it been examined or approved

by the Australian Securities and Investments Commission.

Deposits with the DDF are guaranteed by CDPF Limited, a company established by the Australian Catholic Bishops Conference for this purpose.

We welcome your investment with the DDF rather than with a profit oriented commercial organisation as a conscious commitment by you to support the Charitable,

Religious and Educational works of the Catholic Church.

Neither the DDF nor the Trustees of the Roman Catholic Church for the Diocese of Parramatta are prudentially supervised by the Australian Prudential Regulation Authority;

contributions to the DDF do not obtain the benefit of the depositor protection provisions of the Banking Act 1959; the DDF is designed for investors who wish to promote

the charitable purposes of the DDF.

www.catholicoutlook.org

CatholicOutlook | NOVEMBER 2015 9
---
PARISH PROFILE

Above and left: Sacred Heart Church at Blackheath.

A parish in the hills

Sacred Heart Parish, Blackheath

By Adrian Middeldorp and Elizabeth McFarlane

If there was an award for the most picturesque parish in

the Diocese, Sacred Heart Parish at Blackheath would

certainly be a contender.

Nestled at the most western point of the Diocese, high

in the Blue Mountains, it lies closer to St Michael and St

John's Cathedral in Bathurst than St Patrick's Cathedral in

Parramatta.

Regardless of its remote proximity, it is wholeheartedly

aligned to our Diocese through the implementation of the

parish outcomes for the Pastoral Plan, Faith in our Future,

which the Parish Priest, Fr Bob Sheridan, demonstrates with

pride.

It is no ordinary parish and Fr Bob is no ordinary priest,

if there is such a person. At 82 years of age, Fr Bob is the

oldest parish priest in the Diocese, but he has been ordained

just 11 years.

Prior to becoming a priest, he was a business owner and

had been married for 33 years before his wife passed away.

Despite his venerable age, the years do not slow him down.

He travels more than 400km a week on parish duties,

including home visits, hospital visits and nursing home visits.

The parish has three churches: the main church of Sacred

Heart at Blackheath, St Joseph's Church in the Megalong

Valley and St Paul's Church at Mt Victoria.

Next door to the Blackheath church sits a block called

'Pine Forest', which has been cleaned up since Fr Bob's arrival

with the assistance of parish volunteers, who Fr Bob credits

with what the parish is able to achieve.

The parish hopes to use the forest for important outdoor

events such as a Family Christmas Mass and Holy Week/

Easter activities.

Fr Bob's affection for his parish is infectious and the quiet

hamlet of Blackheath is becoming more popular with those

seeking a tree-change. "The reason this parish works so well

is the voluntary help of so many people," he said.

You'll find a warm welcome from Fr Bob and the parish at Blackheath.

"We've seen a real change in demographics. When I first

came here, there were mainly older parishioners, but as the

price of property soars and Sydney gets busier, we've seen

an influx of new young families. Baptisms have increased

substantially."

Responding to this change in demographic, the parish

has produced a New Parishioners Pack, which is being

distributed to all new parishioners.

The colour brochure inside the pack was produced a year

ago and distributed to every household within the parish

boundaries.

It was so successful that it became the catalyst for the

pack, which includes a welcome from Fr Bob, a parish history

and an outline of parish groups. It also includes a copy of the

implementation of the Pastoral Plan.

Sacred Heart Parish prides itself on its liturgies, as well

as other events that are both moments of fellowship and

fundraising, such as 'Fashion in the Pews', which provides

parishioners with the opportunity to donate pieces of

clothing to sell and partake in a fashion show.

For more information about the parish visit

http://keepersoftheflame.net/SacredHeartParish/

Fr Bob Sheridan at St Paul's Church at Mt Victoria.

An unwelcome

parishioner

By Fr Bob Sheridan

A couple of months ago,

at the exterior of St Paul's

Church at Mt Victoria, a

large cavity in the ground

appeared under one of the

recently replaced downpipes.

We then knew that a wombat

had tunnelled under the church.

Then came the breakthrough! We found a massive,

1m deep hole at the end of the property, near the

entrance sign. We now think that this wombat has

brought their entire family. Not sure how much

tunnelling has been done, but the distance from the

main tunnel entrance to the church is more than 100m.

We have asked the people at Taronga Zoo for

help. As this is the oldest Catholic church in the Blue

Mountains, opened and blessed by Cardinal Moran in

1902, we do not want to lose it, especially not courtesy

of a wombat infestation!

theLMent.com

Our retired Priests have always been a part of

your FAMILY,

in your celebrations, unions,

happiness & sadness

CATHOLIC DIOCESE OF PARRAMATTA CLERGY SUPPORT FOUNDATION

In their retirement,

they can still remain a part of your

FAMILY

CARING FOR THOSE WHO CARED

Please support our sick and

retired Priests through the Clergy

Support Foundation.

Donations are welcome at any

time – amounts of $2 or more are

tax deductible.

If you are preparing or changing

a Will you may consider

bequeathing a donation to the

Foundation.

For more information please call

(02) 9639 0598 or donate online

at www.parra.catholic.org.au

10 CatholicOutlook | NOVEMBER 2015

www.catholicoutlook.org
---
A special saint

'of their own'

By Adrian Middeldorp

Photos: Adrian Middeldorp.

An image of St Alphonsa was carried in procession around the church grounds.

The streets of Wentworthville were

filled with the sights and sounds of

celebration last month when the Syro-

Malabar Catholic community observed the

feast of St Alphonsa.

Our Lady of Mt Carmel Church was filled

to capacity for the celebration on 18 October,

which began with a novena, followed by Mass

in the Syro-Malabar Rite.

The principal celebrant was the Vicar

General of the Syro-Malabar Catholic Diocese,

Very Rev Francis Kolenchery.

In his homily, Fr Francis spoke of how

St Alphonsa gave Jesus to others, even in the

midst of her sufferings. He also emphasised the

responsibility of parents in handing over the

faith and ethos they have received to the next

generation.

Members of the Syro-Malabar Rite

originate from Kerala, South India.

St Alphonsa is the first female Indian-born

saint canonised by Pope Benedict XVI in 2008.

Alphonsa was born in 1910 as Anna

Muttathupadathu in Kottayam, India.

Coming from a wealthy family she was

offered many marriage proposals but instead

chose to join the Franciscan Clarist sisters and

took the name Alphonsa of the Immaculate

Conception, in honour of St Alphonsus

Ligouri.

Her life was marked by personal holiness,

but she suffered continued health issues and

physical pain.

In a letter to her spiritual director she

wrote, "My good Lord Jesus loves me so very

much, I sincerely desire to remain on this sick

bed and suffer not only this, but anything else

besides, even to the end of the world. I feel

now that God has intended my life to be an

oblation, a sacrifice of suffering."

Alphonsa died on 28 July 1946 at the age

of 36.

Fr Joby Kadambattuparambil Ittira MS,

chaplain to the Syro-Malabar community in

the Diocese of Parramatta, said of St Alphonsa,

"she is a special saint amongst the Syro-

Malabar Catholics as she is one of their own".

Veneration of her relics and a procession

around the church grounds followed the Mass

and concluded with a fellowship meal.

The Syro-Malabar Church is one of the

22 Eastern (Oriental) Catholic Churches in

full communion with Rome. There are an

estimated 500 families in the community of

the greater Parramatta area and 1000 families

across the Diocese. The La Salette Fathers

pastorally support the community.

This Apostolic Church traces its origin

to St Thomas, the Apostle, who it is said have

brought Catholicism to the subcontinent. The

early Christian community in India was known

as 'St Thomas Christians'.

It is the second-largest Eastern Catholic

Church after the Ukrainian Church and with

4.6 million believers is the largest of the 'St

Thomas Christians'.

The community is experiencing strong

growth in Australia and in 2014 Pope Francis

raised the community to a Diocese as the Syro-

Malabar Eparchy of St Thomas the Apostle.

In our Diocese, the community meets on

the 1st and 3rd Sunday of the month when

Mass is celebrated at Our Lady of Mt Carmel

Church, Wentworthville.

For more information about the

Syro-Malabar Catholic community in the

Diocese of Parramatta visit: http://www.

syromalabarparramatta.org/

To watch a video of the celebrations

go to http://catholicoutlook.org/

feaststalphonsa2015/

For more images of the event, please visit

www.flickr.com/parracatholic/albums

Allan Drew OAM, JP

Supporting families in a time of need is

what Allan from Allan Drew Funerals

has done best for more than 25 years.

Tel (02) 9680 1344

allandrewfunerals.com.au

www.catholicoutlook.org

CatholicOutlook | NOVEMBER 2015 11
---
CATHOLIC EDUCATION

What does

it take to

make a

really great

teacher?

www.parra.catholic.edu.au @CatholicEdParra CatholicEdParra

Leading for success at Principals' Masterclass

I recently wrote to the Sydney Morning Herald in response

to NSW Minister for Education Adrian Piccoli's plan to

lift teaching standards in NSW by requiring higher ATAR

results from future teachers. I'm all for investment in

great teaching but the starting point has to be asking the

right question: 'what does it take to make a really great

teacher?'

Higher ATAR results or sitting literacy and numeracy

tests for aspiring teachers will not raise teaching

standards. Critical skills required to teach in today's

world include collaboration, flexibility, emotional

intelligence, creativity and the ability to analyse

and diagnose student needs, in addition to subject

knowledge and a deep understanding of how students

learn. I'd add compassion to the list and a stubborn

refusal to never give up on a student, no matter how

challenging or complex.

To become a doctor in Australia, it takes much more than

having the academic ability. Even students with an ATAR

of 100 need to sit the UMAT (admissions test) and are

assessed on skills in critical thinking, problem solving

and understanding people. It's an acknowledgement

that medicine is not just an intellectual discipline, but

like education, a human service and a relational process

requiring the ability to understand and diagnose diverse

needs. We need a rigorous selection process that

assesses more than the academic ability of aspiring

teachers.

World Teachers' Day was celebrated on 30 October

this year. It is a great time to reflect on our own 'best'

teachers and their lasting impressions on our learning.

My primary schooldays at St Monica's Primary, North

Parramatta are a reasonably distant memory. Yet I still

remember teachers like Sr Rosarii and I guess most of us

have had an unforgettable teacher or two!

In Catholic schools, great teachers are also integral to

the evangelising mission of the Church. We can look to

Jesus, whose teaching has surely endured the test of

time, as a great model for our work as Catholic teachers.

Throughout the gospels, 'rabbi' (meaning teacher) is

the most common way that Jesus is addressed. The

preservation of many of Jesus' teachings through the

gospels demonstrates an extraordinary capacity as a

teacher. Further, the gospels show Jesus' humanity as

he reaches out to the untouchable and those considered

unteachable alike.

It is this quality, humanity, that makes a really great

teacher. Jesus' teaching ministry continues today in each

of us, as does his humanity.

On behalf of our school communities I would like to

recognise our teachers, school leaders, educators at the

Catholic Education Office and the staff who support our

schools in delivery quality Catholic schooling.

I trust that all my colleagues enjoyed a happy World

Teachers' Day!

Greg Whitby

Executive Director of Schools

@gregwhitby

blog: bluyonder.wordpress.com

Leaving principals Mary Leask and Peter Wade with Greg Whitby.

The annual Principals' Masterclass was held on 8 and 9

October at Rooty Hill RSL, giving school leaders a valuable

opportunity to come together to share ideas and participate

in professional learning.

The two-day event was attended by 78 primary and secondary

principals and Catholic education leaders.

The Executive Director of Schools, Greg Whitby, said the

Principals' Masterclass was the primary professional learning for

principals each year.

"The value of the Masterclass is that it brings together good

theory, good educational practice and reflection on learning,"

Greg said.

"Built into the Masterclass is a sharing of expertise and the

collaboration that demonstrates how you can build capacity at

every level of the school community."

Guest speakers included Director of Learning and Development

Research in the NSW Department of Education and

Communities Dr Paul Brock AM; Principal of York School

District in Ontario, Canada, Jill Maar; Catholic Education's

Director of Evangelisation and Religious Education Ian Smith;

and Principals, David Bourne and Dr Elizabeth Ricketts

St Patrick's Marist College, Dundas Principal Angela Hay thanking Dr Paul

Brock for his keynote address.

Educational leader Dr Paul Brock delivered a stirring and often

humorous keynote address including leading principals in a

rendition of the classic Catholic hymn, Faith of our Fathers.

Paul spoke about the influence of his parents in his early years,

stating "our home was infused with the search for knowledge".

He shared experiences of discrimination as a young Catholic and

reflected on joining the Marist Brothers as a very young man.

Principals were reminded of the importance of carefully

critiquing the use of the English language wherever it occurs.

Paul told principals: "I know that teaching is not only an art and

a science but also a craft."

In 1996, Paul was diagnosed with Motor Neurone Disease and

advised that he had three to five months to live.

Reflecting on the personal challenge of receiving this diagnosis

19 years ago, Paul commented frankly, "I was shocked and

terrified … what has kept me keeping on? The love of my wife

and our children".

Paul also said that his work as an educator "sustains life

expectancy and quality of life".

In sharing his philosophy of teaching and learning, Paul spoke

about the truth of the OECD description of education as a

"knowing and caring profession".

He reminded principals that we must never forget that our

fundamental focus as educators was on student learning.

From left: Michael Hopley, Sergio Rosato, Tony Hughes and Attila Lendvai.

Finally, Paul commented on "education as perhaps the most

powerful 21st Century force" and closed by quoting from a WH

Auden poem on the beginning of World War II, a reflection on

love and hope amid chaos.

Paul's personal and deeply moving reflection on education and

living with Motor Neurone Disease was met with a standing

ovation.

Jill Maar is currently working as a visiting educator with Catholic

Education for 12 months, supporting school leaders and the

Education Office to support learning and teaching.

Jill looked at case studies of two schools in Ontario, Canada -

Armadale Public School and RL Graham Public School. Both

schools had a high number of students from multicultural

backgrounds and around one-third of students were on

personalised learning plans for learning and additional needs.

Using rich learning tasks, staff partnerships and community

engagement, learning became everyone's responsibility with high

expectations for each student.

Failure was not an option and Jill and her staff transformed

learning, improving literacy and numeracy results well beyond

the district.

Ian Smith spoke about Transforming Catholic Schools and

engaged his break-out groups by taking a deep dive into

Archbishop Miller's recent address to clergy and education staff,

given at Rosehill in August.

David Bourne reflected upon his own journey and the

experiences that led him to become a principal.

He said that without being a transformational leader he would

not be able to be an instructional leader.

"Transformational leadership is the leadership of Jesus," David

said.

In ushering in the second day of the Principals' Masterclass,

Deputy Executive Director Sue Walsh conducted a live interview

with St Aidan's Primary, Rooty Hill, Principal Dr Elizabeth

Ricketts.

Liz spoke about her experiences and the lessons she learnt from

her first job in Yarralumla and her work at St Aidan's in pastoral

care and data.

She said that in order to continuously improve learning

outcomes she assessed whether tasks set for students were

engaging and relevant.

"The standard you walk past is the standard you are willing to

accept," Liz said.

The masterclass provided an opportunity to farewell retiring

principals and those leaving the Diocese.

From left to right: Yvette Baird, Gary Borg and Mary Harb.

12 CatholicOutlook | NOVEMBER 2015

www.catholicoutlook.org
---
www.parra.catholic.edu.au @CatholicEdParra CatholicEdParra

In May this year, students in Years 3, 5, 7 and 9 sat the National Assessment

Program Literacy and Numeracy (Naplan). Naplan has five measures of

assessment for each student: reading, writing, spelling, grammar/punctuation

and numeracy.

Results released in August identified many areas of improvement for students in

Catholic schools in the Diocese of Parramatta especially in Year 3 literacy and

numeracy, Year 5 reading and Year 9 reading for Indigenous students.

Catholic Education's Deputy Executive Director Sue Walsh said while Naplan is

only one measure of student assessment in literacy and numeracy, it is a valuable

tool that tells teachers about a student's performance and identifies areas for

improvement and future growth.

"In all schools across the Diocese we have been focused on improving literacy

and numeracy through good classroom practice and intervention strategies," Sue

said. "Naplan allows us to assess areas of strength and improvement for each

student and helps teachers to identify the next steps in learning."

Sue said a focus on best practice learning and teaching and the implementation

of key strategies, including Focus160 (100 minutes of reading and 60 minutes of

numeracy each day for K-6), Reading Recovery and Extending Mathematical

Understanding (EMU) have contributed to the improved results.

Expand your imagination by reading this

summer and you could win an iPad mini

Read as many books as you can, tell us why you love them,

and you could win one of four iPad minis. The more books

you read, the more chances you have to win*.

Enter online at www.parra.catholic.edu.au

Entries close 5 February 2016.

We would like to

CATHOLIC EDUCATION

Continued focus on literacy and numeracy reaps results

1500

1000

500

Literacy

100

%

80

60

40

20

0

0

Early year assessments: No of students below benchmark

has consistently fallen since 2011

1228

1158

780

590

*366

2011 2012 2013 2014 2015 (*Projected)

Numeracy

BEFORE INTERVENTION Y1 2013 AFTER INTERVENTION Y3 2015

1400

1200

1000

800

600

100%

b

100% of students selected for the EMU intervention

program were below the minimum expected level for Y1

Mathematics

NUMERACY Y3 No of students in Top 2 bands since 2011

29%

2768 Year 12 students

good luck

9%

3%

5%

29%

24%

Band 6

Band 5

Band 4

Band 3

Band 2

Band 1 -

below minimum

Y3 standard

9% of students were below the national minimum standard in

Y3 Mathematics and the remainder had moved to higher

bands.

NUMERACY Y3 CEDP average compared to State

4.0

2.0

0.0

-2.0

-4.0

-6.0

-8.0

2011 2012 2013 2014 2015 2011 2012 2013 2014 2015

The percentage of students in diocesan schools at or above minimum standard is greater than the percentage for the state

READING Y3-9 Percentage of students above the

National Minimum Standard

Y3 Percentage of students in top 2 bands

80

%

CEDP State CEDP State

70

0

Year 3 Year 5 Year 7 Year 9 Reading Writing Numeracy

60

50

40

30

20

10

READING Y3 CEDP average v State average

440

CEDP

State

435

430

425

420

440

435

430

425

420

415

410

405

400

2011 2012 2013 2014 2015

WRITING Y3 CEDP average v State average

CEDP

State

2011 2012 2013 2014 2015

READING Y5 CEDP average compared to State

3

2

1

0

-1

-2

15

%

12

2011 2012 2013 2014 2015

9

6

3

0

READING Year 9 Indigenous Students

Top Bands

2011 2012 2013 2014 2015

*Terms and Conditions apply

@CatholicEdParra

catholicedparra

as they prepare to sit for their Higher School Certificate examinations.

www.catholicoutlook.org

CatholicOutlook | NOVEMBER 2015 13
---
CATHOLIC EDUCATION

www.parra.catholic.edu.au @CatholicEdParra CatholicEdParra

Where are they now? Former

principals return to the Diocese

Gondwana Indigenous Children's

Choir perform with Christine Anu

Bethany celebrates 20 years of

schooling

Former principals enjoy afternoon tea together.

On Friday 25 September 2015, 42 former primary and secondary

principals who worked at Catholic schools within the Diocese

were recognised for their years of service with a Principals'

Afternoon Tea.

Former Principal of St Patrick's Primary, Blacktown Sr Margaret

Sheppard RSM said she started working for the Diocese when it

first began.

"I was there at the beginning of the Diocese in 1986 until 1992,"

Sr Margaret said.

"Since then I have completed further study in Ireland in pastoral

guidance and I came back and worked for the Archdiocese of

Sydney, Our Lady of Mercy College, Parramatta and Our Lady

Queen of Peace Parish, Greystanes.

"Over the past two years I have been working in detention

centres with asylum seekers and refugees as a pastoral worker on

behalf of the Jesuit Refugee Service," she said.

Executive Director of Schools Greg Whitby said the afternoon

tea was a great opportunity for the Diocese to catch up with

former principals and acknowledge their contribution to

Catholic education.

"It was a great opportunity for us to recognise and reconnect

with our former leaders and colleagues and to thank them for

their many years of service," Greg said.

Voice of Youth is heard throughout

the Diocese

On Monday 14 September

2015, six Year 6 students

representing Catholic

schools across the Diocese of

Parramatta competed in the

29th Voice of Youth grand

final at St Paul's Catholic

College, Greystanes.

Voice of Youth winner Christine

Muscat from Corpus Christi Primary,

Cranebrook.

The finalists spoke on

various topics including

refugees, gender

discrimination and

stereotypes,career ambitions,

animal rights, the acting

profession, and daring

to be different. Students

were judged on their thesis

statement, language, gesture,

tone, pitch and overall effect

Voice of Youth host and Principal of St Anthony's Primary

School, Girraween Attila Lendvai said the contest enables

students to learn much more as part of their learning.

"The important thing about this contest is that it is firmly

embedded into the syllabus and in the curriculum of what we

actually do in Year 6" Anthony said.

Grand final winner Christine Muscat from Corpus Christi

Primary, Cranebrook said her speech 'Dare to be different'

was inspired by her hope that all students find their sense of

individuality.

Christine Anu backstage with the Gondwana Indigenous Children's Choir.

On Tuesday 25 August 2015, 20 Gondwana Indigenous

Children's Choir students from the Diocese of Parramatta

performed in front of 1000 people at Sydney Town Hall as part

of the City Talks program.

The choir was accompanied in song by Torres Strait Islander

singer Christine Anu performing her song, My Island Home.

The Gondwana Indigenous Children's Choir (Mt Druitt) is a

partnership between Gondwana Choirs and Catholic Education

Diocese of Parramatta, coordinated through the Jarara

Indigenous Support Unit as part of CAPTIVATE.

The choir also recently performed at Sydney Boys High School,

Moore Park along with the Sydney Children's Choir.

Reading Recovery teachers focus on

improving students' oral language

A day of professional learning for 105 Reading Recovery teachers.

On Thursday 27 August 2015, 105 Reading Recovery teachers

from across the Diocese of Parramatta joined experienced

language and literacy educator, Assoc Prof Janet Scull for a full

day of professional learning.

A key author of the Victorian Early Literacy Program, Janet said

the day largely focused on the foundations of oral language and

how these are facilitative of children's literacy learning.

"There are key aspects of language and often we take them for

granted," Janet said.

"We have been focusing on three areas of literacy; vocabulary,

syntax and the role of narrative discourse," she said.

"We have also been looking at narrative structures and grammar,

in terms of children's literacy learning as a bridge from the oral

to the written discourse structures," she said.

St Matthew's Primary, Windsor Reading Recovery teacher,

Rosie Von Keisenberg, said Janet Scull brought another level of

expertise to the work of the Reading Recovery teachers.

"For me the highlight of today has been in knowing that we are

bringing another level of expertise," Rosie said.

"We have been able to unpack the elements that contribute

to oral language and what also stands in the way of acquiring

literacy skills," she said.

The founding Principal of Bethany Catholic Primary, John Walsh, with

current Principal Ted Langford.

Bethany Catholic Primary, Glenmore Park recently celebrated

their 20th anniversary on Friday 4 September, 2015 with a

Father's Day breakfast, open classrooms, a prayer assembly,

teddy bear's picnic and an afternoon of fun-filled activities like

inflatables, mime and animal shows, making of time capsules

and going on a history walk.

Bethany was founded in 1995 with a starting enrolment of 92

students. It has grown to over 600 students.

Principal Ted Langford said the anniversary celebrations focused

on thanking the early pioneers and those staff and families

before us who worked so hard to create the beautiful facilities we

now enjoy.

"We stand upon the shoulders of many many people who

generously supported Bethany over the years and built it into an

excellent school community," Ted said.

29th Annual Parramatta Diocesan

Golf Day

CCI Best All Ladies Team event was won by the team from Marian College,

Kenthurst (from left): CCI NSW & ACT Manager Susan Yates with Catherine

Brown, Lynn Papandrea, Julie Cannon and Karen Romer.

On Tuesday 22 September 2015, the 29th Annual Parramatta

Diocesan Golf Day was held at the Richmond Golf Club. Over

130 golfers were blessed with perfect weather.

The Parramatta Diocesan Golf Day event was established by

former principal and World Youth Day 2016 Project Officer

Ian Jordan and retired principal Richard McGuiness in 1987 to

celebrate the beginning of the Diocese.

Ian said over the last 29 years, approximately $200 000 has

been raised for a number of charities including Caritas,

Catholic Mission, Westmead Children's Hospital, Bishop

Manning Scholarship Fund and St Gabriel's School for Hearing

Impairment, Castle Hill.

Approximately $10 000 was raised at this year's golf day for

the Panglao Island Women and Children's Crisis Centre in the

Diocese of Tagbilaran, Bohol, Philippines.

For more school news, visit:

CatholicEdParra @CatholicEdParra

www.parra.catholic.edu.au

14 CatholicOutlook | NOVEMBER 2015

www.catholicoutlook.org
---
www.ccss.org.au CCSSParramatta

CATHOLICCARE SOCIAL SERVICES

Providing compassionate, professional and relevant support to the people in our diverse community

Parramatta: (02) 9933 0222 Blacktown: (02) 8822 2222 Springwood: (02) 4751 4956

MENTAL HEALTH MONTH

The 2nd Annual Mental Health Month Art Exhibition was launched

at Bungarribee Doonside Community Hub during Mental Health

Month, which this year had the theme, 'Value Your Mind'.

The National Mental Health Commissioner, Jackie Crowe, opened the

exhibition on 9 October. Members of the community who attended

the event included Chief Insp Bob Fitzgerald from Blacktown Area

Command.

More than 50 artists displayed visual art, sharing their personal

mental wellbeing journey.

Aboriginal elder and Manager with Aboriginal Catholic Services

Aunty Janice Kennedy gave a Welcome to Country. Three

local participants in CatholicCare's RECOVER Wellbeing

program shared moving and inspiring personal accounts of their

respective experiences with depression and bipolar.

RECOVER Wellbeing is a program centred around The Black

Dog Institute's nine-week, recovery-oriented REACH Program. It

comprises regular professionally facilitated support groups, CREATE

4 Wellbeing, WALK 4 Wellbeing and more.

The program began as a pilot in 2014 and this year received funding

from Western Sydney Partners in Recovery (part of WentWest). Since the

pilot, more than 300 participants and have credited the program with having

a resounding positive improvement in their mental wellbeing.

To inquire about RECOVER Wellbeing tel (02) 8822 2222.

COURSES

& EVENTS

Suicide Bereavement Support - Saturday

14 November, 10am-4pm at St Joseph's

Centre for Reflective Living, 64 MacKillop Dve,

Baulkham Hills. A day to honour and celebrate

those loved ones who have taken their lives.

Registrations essential, tel (02) 9933 0222.

Couples Evening - Friday 6 November at

7.30pm. Free event discussing St John Paul

II's Theology of the Body, St Paul the Apostle

Parish Hall, 40 Buckley's Rd, Winston Hills. To

register tel (02) 9933 0222 or email marriage@

ccss.org.au.

Responsible Gambling Support Group -

free and on every Saturday, 9.30am-11am at 51

Allawah St, Blacktown. For more information tel

(02) 8822 2222.

Catherine Villa - Young Mothers Group

(under 25 years) - Tuesdays noon-2pm at

Uniting Church Hall, Highfield Rd, Quakers Hill.

Tel (02) 9837 2095.

Top: RECOVER Wellbeing participant and volunteer Jess Blacklock.

Right: Chief Inspector Bob Fitzgerald and National Mental Health

Commissioner Jackie Crowe. Photos: Aphrodite Delaguiado

Everyone is invited to CatholicCare's

next

Couples Evening

Friday, 6 November at 7.30pm

Mr Ben Smith, Director of the Family and Life Office

will give an address on 'Theology of the Body'.

This free event will be held at St Paul the Apostle

Parish Hall, 40 Buckley's Rd Winston Hills.

To register please call the CatholicCare office (02)

9933 0222 or email marriage@ccss.org.au

Light supper to be served, donations welcome.

FAMILY

FRIENDLY

Carols @ Mamre

Sunday 13 December

181 Mamre Road, St Marys,

from 5.30 - 9pm

Bring a picnic!

BBQ, drinks & snacks available for purchase

Fireworks, Music, Carols and Entertainment

Free Face Painting

VOLUNTEERS NEEDED URGENTLY

Mamre Creche and

Blacktown Neighbour Aid

If you are interested in making a difference

for local services, email

volunteer@ccss.org.au

Triple P Positive Parenting Group -

Monday evenings, 19 October to 16 November,

6.30pm-8.30pm. Mary, Queen of the Family

Parish, 51-59 Allawah St, Blacktown. Gold coin

donation. Bookings tel (02) 8822 2222.

Recover Wellbeing comprising REACH

(Black Dog Accredited nine-week program) and

support groups for people experiencing mental

distress and carer support options. For more

information tel (02) 8822 2222.Bookings tel

(02) 8822 2222.

Younger Widowed: Bereavement

Support - 3rd Tuesday of each month, 7pm–

9pm at CatholicCare Centre, 51-59 Allawah St,

Blacktown. Fee $5. Tel (02) 9933 0205 or email

soloparentsservices@ccss.org.au

Stepping Beyond - Post Separation

Support - held on the last Tuesday of each

month, 7.30pm-9.30pm for those who are

separated or divorced. CatholicCare Centre, 51-

59 Allawah St, Blacktown. Fee $5. Tel (02) 9933

0205 or email soloparentservices@ccss.org.au

Bereavement Support Program -

Springwood - for those whose spouse

or long-term partner has died. Fortnightly

sessions on Wednesdays, 10.30am-12.30pm

at St Thomas Aquinas Parish Centre, 168

Hawkesbury Rd, Springwood. Cost: $5.

To register tel (02) 9933 0205 or email

soloparentservices@ccss.org.au

www.catholicoutlook.org

CatholicOutlook | NOVEMBER 2015 15
---
SYNOD NEWS

The Synod on the Family shows vitality of the Church

Australia's Archbishop Mark Coleridge (left) and Bishop Eugene Hurley participated in the Synod.

Photo: Fiona Basile.

The Synod on the Family from 4-25

October in Rome was the second and

larger of two such gatherings to take

place in the course of a year.

Like its 2014 precursor, the focus of the

2015 Synod of Bishops was the family, with

the theme: 'The vocation and mission of

the family in the Church and the modern

world.'

Australia's Archbishop Mark Coleridge

and Bishop Eugene Hurley participated in

the Synod.

Archbishop Coleridge said it had been

an intense three weeks as well as a poignant

one. "All of us are grateful for the time we

have been privileged to share: a time of

rich discussions, intense debate and the

congenial settling of most differences."

The Australian Catholic Bishops

Conference launched a Synod blog titled,

'On the Road Together', which has daily

updates, photos and videos. These can be

viewed at: https://www.catholic.org.au/

synod2015/blog

In his address at the conclusion of the

Synod, Pope Francis said the experience

had brought about a better realisation

that the true defenders of doctrine are

not those who uphold its letter, but its

spirit; not ideas but people; not formulae

but the gratuitousness of God's love and

forgiveness.

He said the Church's first duty was

not to hand down condemnations or

anathemas, but to proclaim God's mercy, to

call to conversion, and to lead all men and

women to salvation in the Lord

In his address the Holy Father said:

"Many of us have felt the working of the

Holy Spirit who is the real protagonist and

guide of the Synod. For all of us, the word

"family" does have the same sound as it did

before the Synod, so much so that the word

itself already contains the richness of the

family's vocation and the significance of the

labours of the Synod

"As I followed the labours of the Synod,

I asked myself: What will it mean for the

Church to conclude this Synod devoted to the

family?

"Certainly, the Synod was not about

settling all the issues having to do with the

family, but rather attempting to see them

in the light of the Gospel and the Church's

tradition and 2000-year history, bringing

the joy of hope without falling into a facile

repetition of what is obvious or has already

been said.

"Surely it was not about finding

exhaustive solutions for all the difficulties

and uncertainties which challenge and

threaten the family, but rather about seeing

these difficulties and uncertainties in the

light of the Faith, carefully studying them

and confronting them fearlessly, without

burying our heads in the sand.

"It was about urging everyone to

appreciate the importance of the institution

of the family and of marriage between

a man and a woman, based on unity

and indissolubility, and valuing it as the

fundamental basis of society and human

life.

"It was about listening to and making

heard the voices of the families and the

Church's pastors, who came to Rome

bearing on their shoulders the burdens and

the hopes, the riches and the challenges of

families throughout the world.

"It was about showing the vitality of

the Catholic Church, which is not afraid to

stir dulled consciences or to soil her hands

with lively and frank discussions about the

family.

"It was about trying to view and

interpret realities, today's realities, through

God's eyes, so as to kindle the flame of

faith and enlighten people's hearts in

times marked by discouragement, social,

economic and moral crisis, and growing

pessimism.

"It was about bearing witness to

everyone that, for the Church, the Gospel

continues to be a vital source of eternal

newness, against all those who would

"indoctrinate" it in dead stones to be hurled

at others.

"It was also about laying closed hearts,

which bare the closed hearts which

frequently hide even behind the Church's

teachings or good intentions, in order to sit

in the chair of Moses and judge, sometimes

with superiority and superficiality, difficult

cases and wounded families.

"It was about making clear that the

Church is a Church of the poor in spirit and

of sinners seeking forgiveness, not simply

of the righteous and the holy, but rather of

those who are righteous and holy precisely

when they feel themselves poor sinners.

"It was about trying to open up broader

horizons, rising above conspiracy theories

and blinkered viewpoints, so as to defend

and spread the freedom of the children

of God, and to transmit the beauty of

Christian Newness, at times encrusted

in a language which is archaic or simply

incomprehensible.

"In the course of this Synod, the

different opinions which were freely

expressed – and at times, unfortunately, not

in entirely well-meaning ways – certainly

led to a rich and lively dialogue; they

offered a vivid image of a Church which

does not simply "rubberstamp", but draws

from the sources of her faith living waters

to refresh parched hearts.

"And – apart from dogmatic questions

clearly defined by the Church's Magisterium

– we have also seen that what seems

normal for a bishop on one continent, is

considered strange and almost scandalous

– almost! – for a bishop from another; what

is considered a violation of a right in one

society is an evident and inviolable rule

in another; what for some is freedom of

conscience is for others simply confusion.

"Cultures are in fact quite diverse, and

every general principle – as I said, dogmatic

questions clearly defined by the Church's

magisterium – every general principle

needs to be inculturated, if it is to be

respected and applied.

"The 1985 Synod, which celebrated

the 20th anniversary of the conclusion

of the Second Vatican Council, spoke

of inculturation as "the intimate

transformation of authentic cultural values

through their integration in Christianity,

and the taking root of Christianity in the

various human cultures". Inculturation does

not weaken true values, but demonstrates

their true strength and authenticity, since

they adapt without changing; indeed

they quietly and gradually transform the

different cultures.

"We have seen, also by the richness of

our diversity, that the same challenge is ever

before us: that of proclaiming the Gospel

to the men and women of today, and

defending the family from all ideological

and individualistic assaults.

"And without ever falling into the

danger of relativism or of demonising

others, we sought to embrace, fully and

courageously, the goodness and mercy of

God who transcends our every human

reckoning and desires only that "all be

saved" (cf. 1 Tm 2:4). In this way we wished

to experience this Synod in the context of

the Extraordinary Year of Mercy which the

Church is called to celebrate."

For the full address given on 24

October, click on Pope Francis' Speeches at:

w2.vatican.va

JOURNEY OF CHRIST

2016

BROCHURE

COMING

SOON!

HARVEST PILGRIMAGES

Toll Free: 1800 819 156

A 16 day pilgrimage departing

24th April 2016 with

Fr Angelo Ison OFM

Experience the very land where Jesus

lived and worked His ministry and gain a

privileged insight into His life as the child

of Nazareth, healer of Galilee and our

Saviour on Calvary.

Featuring: Dead Sea • Bethlehem

Nazareth • Sea of Galilee • Jerusalem

Also departing 29th May, 4th September

and 14th October 2016

www.harvestpilgrims.com

16 CatholicOutlook | NOVEMBER 2015

www.catholicoutlook.org

Lic. 2TA 003632

Pastoral Care

Accredited Qualifications

Pastoral Care attends in a sustained way to the emotional and

spiritual needs of people through a ministry of presence,

companionship and support.

Nationally recognised qualifications:

CHC41112 Certificate IV in Chaplaincy and Pastoral Care

91561 NSW Diploma of Ageing and Pastoral Care

For further information contact:

Holy Family Services

Registered Training Organisation

Tel (02) 9678 8200

email: educator@holyfamilyservices.com.au

www.holyfamilyservices.com.au

91448NSW
---
www.ccss.org.au

CatholicCare Social Services

has achieved the Bronze

Level GreenBizCheck

Certification after implementing

an Environmental Sustainability

Program that successfully ticks off

60% of office-based environmental

recommendations, detailed by

GreenBizCheck and facilitated by

Coefficiency.

Sister Eileen Quade RSM,

Chairperson of CatholicCare

Social Services' Sustainability

Committee, is dedicated to

reducing the organisation's impact

on the environment.

"We have a moral obligation

and responsibility to care for the

CCSSParramatta

CatholicCare Social Services receives Bronze

Level GreenBizCheck Certification

By Elizabeth McFarlane

earth for future generations. We

have a responsibility for the care

of the earth because everything

God has created has its own

dignity," she explained.

"If we are going to be serving

people, we need to be serving

people also through our care of

the environment."

Sr Eileen commends the work

of the Sustainability Committee in

limiting the use of non-renewable

resources, reducing water,

electricity and paper use, as well

as waste to landfill.

"We've had a very active

committee. Their hard work,

leadership and commitment has

CATHOLICCARE SOCIAL SERVICES

led to this certification," she said.

"It has also been achieved

through the cooperation and

commitment of every staff

member who has been taking

practical steps to do whatever can

be done in our workplace to care

for and protect our environment."

Through the use of Save

Energy tags on all electrical

switches, the committee has been

able to monitor CatholicCare's

electricity usage. All printers have

been set to default to black and

white print, and paper goes in a

recycle tray.

The Committee has

endeavoured to involve the

Sr Eileen Quade RSM said CatholicCare's certification had been achieved through the

cooperation and commitment of every staff member. Photo: Elizabeth McFarlane.

staff wherever possible in the

sustainability goals.

"We've sent requests and

reminders for people to have

recycle and compost facilities

in kitchen areas, and we have

recycling containers for used

batteries. We also ensure all our

redundant mobile phones and IT

equipment are sent to recycling

and e-waste centres," Sr Eileen

said.

"We have even produced an

Environmental Sustainability

Policy and a set of Procedures for

Waste Management and Water

Efficiency."

"We've removed electrical

water coolers, and use only ecofriendly

sprays in bathrooms

and environmentally friendly

dishwashing liquids.

"We even had to obtain a bin

for cigarette butts! It's so funny the

things we had to tick off to get this

bronze certificate."

The work of the Committee

over the past two years has

been affirmed by Pope Francis'

encyclical, Laudato Si': On Care

for Our Common Home, in which

he called for people to reaffirm

their personal vocation to be

stewards of creation.

"Pope Francis has supported

us greatly. He really backed us up

well," Sr Eileen said.

In the lead-up to National

Recycling Week, from 9-15

November, Sr Eileen is hopeful

of the continued reduction of

CatholicCare Social Service's

environmental footprint.

"I see this as further

motivation for us to continue

along the path we have begun

and as a reminder to us to live up

to our certification. If we can do

this, we may even get to a Silver

Certification in the future."

When experience

counts

Of all life's celebrations the funeral liturgy can

touch us the most deeply.

We prefer to place our trust and reliance on

those whom have the skill and experience to

plan a funeral that has meaning and dignity.

At least that's what Sydney families look for

when they choose WN Bull Funerals.

As the funeral liturgy expresses faith, it also

contextualises the life of the deceased with

traditional and contemporary elements.

(02) 9519 5344

wnbull@wnbull.com

www.wnbull.com.au

AUSTRALIAN OWNED

Edmund Rice Retreat &

Conference Centre

Winbourne

(Conducted by the Christian Brothers)

Winbourne is a place of quiet reflection, peace and tranquillity, set on 100 hectares, located in Mulgoa.

We welcome:

School self run retreats

Staff spirituality days

School day groups

Church groups

Professional groups

Sporting groups

Reflective groups

Special occasions

Hermitage available for single retreat

Our Centre offers various sized conference rooms with all AV equipment supplied, including free

wifi. Accommodation is available on site along with catering. We welcome your enquiry.

Enquiries

Phone: 02 4773 5555 Fax: 02 4773 5500 Email: reception@winbourne.org

Website: www.winbourne.org Address: 1315 Mulgoa Road, Mulgoa, NSW, 2745

www.catholicoutlook.org

CatholicOutlook | NOVEMBER 2015 17
---
DWF APPEAL - FAITH AT WORK

www.faithatwork.org.au

DWF Appeal

Faith at Work

With the theme Faith at Work, the Diocesan

Works Fund (DWF) Appeal supports the

ministries and agency services of the Catholic

Church in the Diocese of Parramatta.

However large or small, any donation you

can make to this month's appeal is gratefully

received and helps our ministries to continue

their important work.

By making a donation to the DWF, you will

be supporting the ministries and agency

services of the Diocese as they carry out their

mission and works, which benefit thousands of

members of our local community.

The agencies and ministries you will be

assisting include:

Seminarians minister to the

vulnerable and those in need

By Elizabeth McFarlane

Catholic Youth Parramatta (CYP)

Catholic Youth Parramatta (CYP) helps young

people develop an intimate

and dynamic relationship

with Jesus Christ, and brings

together all youth and

young adults throughout

the Diocese to share in one

another's journey through

life and the faith.

Ecumenism and Interfaith Dialogue

In the Diocese of Parramatta, the Commission

for Ecumenism and the Commission for

Interfaith Dialogue are responsible for

encouraging everyone in the Diocese to be

proactive in promoting ecumenism and

interfaith dialogue.

Ecumenism is the movement among Christian

Churches – Catholic, Orthodox and Protestant

– towards Christian unity.

Interfaith dialogue is the movement

among faiths and religions towards a better

understanding of each other, promoting

acceptance and respect, world peace and justice.

Confraternity of Christian Doctrine (CCD)

The CCD provides Special

Religious Educators

(catechists) in Government

schools with training

programs, personal support

and ongoing faith formation

and education.

At the parish level, the CCD

provides the service of evangelisation through

the religious education and pastoral care of

Catholic students attending state schools.

For more information about the DWF or to

make an online donation visit:

www.faithatwork.org.au

Adam Carlow at the Aboriginal Services Centre in Emerton. Photo: Elizabeth McFarlane.

Five seminarians from Holy Spirit

Seminary at Harris Park are currently

completing their pastoral placement

with CatholicCare Social Services (CCSS).

Matthew Dimian, Jack Green, Andrew

Rooney, Chris del Rosario and Adam

Carlow are in formation for the priesthood

in the Diocese of Parramatta.

Ann O'Brien, Director of Marriage

Support and Specialist Services for

CCSS, has been working closely with the

seminarians to support them in their

pastoral placement.

"This is the first year we are doing

something like this and I think it is great

because it enables the seminarians to

understand the work that we do, so that

they can make referrals in the future," Ann

said.

"Lots of people go to priests with lots of

different issues and some of the needs will

be very much relevant to the services that

we provide."

Andrew Rooney has been taking

CatholicCare's frail and aged on outings so

that they don't feel isolated. Jack Green and

Chris del Rosario have been out at Mamre

"It's really important

for the Church and for

those who are studying

to be priests to be in

contact with the weak,

the vulnerable, and

those who are in need."

Homestead in Orchard Hills, helping with

the day support group for adults with

disabilities.

CatholicCare's Aboriginal Services

Centre at Emerton provides art therapy

sessions for Aboriginal people and for

those recovering from mental illness.

Adam Carlow's placement there has

involved decorating scarves and painting

masks.

"The purpose of the artwork is to really

express yourself. Sometimes people find

Matthew Dimian on the Walk 4 Wellbeing.

Photo: Elizabeth McFarlane.

it very hard to express themselves with

words and so a way of overcoming this is

to use artwork as a form of expression,"

Adam said.

Matthew Dimian has joined the Walk

4 Wellbeing group at Embark Cottage in

Blacktown, supporting those with mental

health issues. The group walks from

Blacktown to Lalor Park.

"It's very casual. If you want to chat,

you can. If you don't want to chat, you

can just walk and think. It's a comfortable

short walk," Matthew said.

The pastoral placement with CCSS is

highly recommended by the seminarians.

Matthew believes the experience with

CCSS is indispensable in helping them

prepare for the priesthood.

"It's really important for the Church

and for those who are studying to be

priests to be in contact with the weak, the

vulnerable, and those who are in need," he

said.

"Those are the people who we

particularly have a mission for because

Our Lord had a love for those who were

especially vulnerable."

Bulk Billing for GP Services

MEDICAL CENTRE OPENING HOURS

Monday-Friday 8.00am-6.00pm

Saturday & Sunday 9.00am-2.00pm

Public Holidays to be advised

NO APPOINTMENT NECESSARY

DOCTOR HOME VISITS AND AFTER

HOURS SERVICES AVAILABLE

Parking on-site available

Pathology on premises

DENTIST

(DR GARIMA MALHOTRA)

• Free initial check-up • 10% discount for seniors

• Veterans' Affairs cover and pensioners

• Dental X-rays

• Patients from all funds welcome

• Medicare Bulk Billing - Health fund claims on the spot

- for eligible children aged

between 2 and 17 years of age

Benefits up to $1000/child

DOCTORS AND PHYSIOTHERAPIST

DR. ARUNTHA JESUTHASAN (Female GP)

DR. CHARLES HAYES (Male GP)

DR. VAN NGUYEN (Male GP)

DILHAN JAYAMANNE (Physiotherapist)

• Children's/Women's/Men's Health

Immunisations Health Assessment

• Heart and Lung Assessment

• Prevention of Chronic Illnesses

• Weight Loss Programme

• Skin Diseases Management

- including Skin Cancer

• Minor Surgical Procedures

• WorkCover

• Pre-employment Medicals

• Travel Medicine

MEDICAL CENTRE

81– 83 Richmond Rd, Blacktown, NSW | 9622 1998

Holy Trinity Parish

Golden Jubilee Celebrations

Mass at 9.30am on Sunday 29 November

Followed by festivities from 11am-3pm

Everyone is invited celebrate the Golden

Jubilee of Holy Trinity Church at Granville

Join us for Mass followed by family-friendly

activities for the young and young at heart!

Festivities

* Car Meet with more than 30 vehicles

* International Food Stalls

* Cultural Entertainment

* Various Stalls

* Fun and exciting Games

* Prizes to be won

Holy Trinity Parish, Granville

corner Randle & Bennalong sts

18 CatholicOutlook | NOVEMBER 2015

www.catholicoutlook.org
---
St Matthew's Church at Windsor celebrates 175th anniversary

By Mary Hampshire

Over the past 175 years, our

parish has been blessed

with 25 parish priests and

three administrators. These men

lived out their vocation and led our

community through many good

times and many difficult times.

Droughts, floods and wars

each presented their own discrete

challenges, which were overcome

with a strong faith and community

spirit.

This year we are celebrating our

175th anniversary with a program

of memorable events to bring the

community together.

Our story began in 1831 with

the first parish priest, Rev CV

Dowling, who was appointed to

establish St Matthew's Catholic

Parish in 1832. Bishop John Bede

Polding later described Windsor

parish as "70 miles long and very

wide".

Rev JV Corcoran was

appointed parish priest in 1835,

and it was recorded that because

the road to Windsor was so bad,

coach drivers refused to travel on

it.

The condition of this road may

have attributed to the death of Fr

Corcoran, who was killed driving

his gig near the tollgate on his way

to Windsor in 1837.

In 1836, a founding

parishioner, James Doyle, died

leaving an extremely generous

bequest of £350, which was used

to build the new church. In 1837,

deeds were issued for the church

and a school on the corner of

Tebbutt and Little Church streets.

The church and school, which

is now the parish hall, were

completed by 1840.

Catholic education began in

Windsor in 1834. A pioneering

couple, James and Esther Cassidy,

opened the first school and by

1838, there were 104 students.

Catholic education has always

Fr Arthur Cook with (from left): Judy Rigg, Judy Newland, Mary Hampshire, Di Wilson and

Jeanette Holland at the Dinner Dance.

been an integral part of our

parish, and the Catholic Church in

Australia.

The Good Samaritan Sisters

arrived in 1875 and we are very

fortunate to have a continued

presence of the 'Good Sams' in

our community. Three sisters are

resident in the convent in Windsor.

Cameroon

Members of other religious

orders have also contributed

significantly to the continued

operation of the parish.

One of the longest-serving

parish priests, Rev Leo Murphy

(1954-76), is credited with bringing

about a greater understanding and

respect between Catholics and

other religious denominations in

the Windsor area.

As a keen lawn bowler he

was elected president of Windsor

Bowling Club, located across the

road from the presbytery, and was

greatly respected by its members.

Rev James Dooley followed

him as parish priest from 1976-93.

During this time, Bede Polding

College was opened at South

Windsor and planning commenced

for a Catholic primary school,

DIOCESAN NEWS

also at South Windsor, and for the

refurbishment/rebuilding of St

Matthew's historic church.

Rev Maurice McNamara

arrived in 1993 and was present for

the building of Chisholm Catholic

Primary in South Windsor (Bligh

Park) and for the completion of the

refurbishment of the church.

Rev Arthur Cook was

appointed administrator in 1987

and returned as our Parish Priest

in 2010. He introduced a 9.30am

Sunday Mass at Chisholm Catholic

Primary, which is going from

strength to strength.

Everyone is welcome to join

St Matthew's Parish for a series of

community events.

On Sunday 1 November, a

program of Parish Picnic Festivities

will commence with Mass at

9.30am in the school grounds,

followed by morning tea. There

will be a shared lunch and activities

for all the family, young and old.

Chisholm Catholic Primary, 30

Collith Avenue, Bligh Park.

On Wednesday 18 November

there will be a High Tea for

'seasoned citizens' (aged 60 and

over) at 10.30am in St Matthew's

Church Hall, 12 Tebbutt Street,

Windsor.

The 175th Anniversary Mass

was celebrated on 25 October and

a Dinner Dance at Windsor RSL

on 25 September had everyone

tapping their toes.

A priest in the Andes

annointing the sick

Monaghan

& Gleeson

FUNERAL DIRECTORS

Catholic Outlook

www.catholicoutlook.org

CatholicOutlook | NOVEMBER 2015 19
---
NEWS & EVENTS

To listen with the heart

CWLA 47th Biennial Conference

By Donella Johnston

More than 250 women from across

Australia gathered in Parramatta to

attend the 47th Biennial Conference

of the Catholic Women's League Australia

(CWLA) from 22-24 September.

The theme for the conference was 'Listen

with the Heart' and evoked the values of

understanding, forgiveness, compassion,

empathy, mercy, justice and love.

Beginning with the opening Mass in St

Patrick's Cathedral on 22 September, the

conference focus was very much on the social

justice issues concerning women in Australia

today.

Keynote speaker the Hon Pru Goward,

NSW Minister for Women and Minister for the

Prevention of Domestic Violence and Sexual

Assault, addressed the highly topical issue of

family violence.

Reminding the conference "it takes a village

to raise a child", Ms Goward pointed out that it

takes a community to address the problem of

domestic violence and that deeply held views

about women contributed to coercion and

control and should be challenged.

"Domestic violence is not a women's

problem," she said. "It's a men's problem: 80%

of victims are women while 20% of victims are

men."

Sr Hilda Scott OSB was right at home as

a speaker, given the Benedictine theme of the

conference.

Communicating about the importance

of prayer, Sr Hilda reminded delegates that

"prayer opens up the mind and heart to find

out who God truly is".

"God's love never gives up. There isn't an

ache in the human heart that doesn't find a

corresponding ache in the heart of God."

It was a good reminder because some of

the examples outlined by guest speaker Jennifer

Burn were certainly heart-achingly disturbing.

Speaking on the topic of human trafficking

and slavery, this passionate advocate for women

and children highlighted the need for improved

protection of the rights of trafficked people.

Other highlights included a talk by Pat

McDermott from the Australian Women's

Weekly 'Family Matters' column and a

presentation about the extraordinary journey of

Sr Dr Mary Glowrey JMJ.

The conference mixed business with

pleasure. The conference dinner saw a packed

dance floor of women who got up early the

Keynote speaker Pru Goward said it takes a community to address the problem of domestic violence.

Photo: Karen Cassar.

Pastoral care team reflects on ministry to the sick

Members of the pastoral care team at Westmead Hospital came together last month.

THE

PERMANENT

DIACONATE

A God-given calling to ordained ministry,

open to married and single men

In the service of the Liturgy, the Word, and Charity

next day to vote for motions and introduce the

incoming National Executive team.

This team will be based in South Australia

and begins its term of office on 1 January 2016.

The new office bearers are: Anne Marie

Clark (President), Margaret Quinn (Vice

President), Maureen Clarke (Vice President),

Joan Young (Secretary) and Geraldine Davis

(Treasurer).

Outgoing National President Carolyn

Metcalfe said she was very pleased with the

By Lyn Keane

Members of the pastoral care team

at Westmead Hospital held their

annual meeting at the Shrine of the

Holy Innocents at Kellyville last month. The

shrine is a place of pilgrimage in this Year of

Consecrated Life.

Some 30 extraordinary ministers of the

Eucharist came together for the meeting on 10

October 2015. The program was organised by

chaplain Deacon Nicephorus Tan.

A highlight of the day was a talk by Dr

Frank Lah on the many forms of pain relief and

pain control that are now available.

We then walked through the grounds,

praying the Stations of the Cross, which are set

in the landscaped gardens that surround the

chapel.

Fr Dado Haber MI is a Minister of the

Infirm (Order of St Camillus). The Camillians

provide pastoral care at Westmead Hospital and

other hospitals around the Diocese.

Fr Dado spoke about the emotional and

spiritual care of the patients to whom we offer

Communion, and the honour it is to serve

conference and felt it offered participants

both spiritual nourishment and a variety of

important social justice issues affecting women

and girls.

For more images of the event, please visit:

www.flickr.com/parracatholic/albums

Donella Johnston is Director of the National

Office for the Participation of Women. This

article was originally published on the ACBC

Media Blog, 16 October 2015: www.catholic.

org.au

those who can often no longer participate at

parish Masses and who will continue to need

visitation when they go home.

In the early evening, Fr Dado celebrated

Mass, which was followed by a shared meal.

Anyone who is interested in this ministry

to the sick is invited to contact the Catholic

Chaplain's Office at Westmead Hospital.

Ministers are rostered every few weeks on a

Sunday morning.

Inquiries to Deacon Tan, Chaplain, 0407

270 782, nwht@yahoo.com.uk

Save the date: 11 February 2016

Mass for World Day of the Sick

The annual diocesan Mass for World Day of

the Sick will be celebrated on 11 February 2016.

This will be an acknowledgment of carers and

those for whom they care.

The Mass at 10.30am in St Patrick's Church,

51 Allawah Street, Blacktown, will include the

Sacramental Rite of Anointing of the Sick and

Prayers for Healing.

All welcome – a light luncheon will follow.

Catholic Diocese of Parramatta | www.parra.catholic.org.au

Inquiries to Rev Dr Arthur Bridge AM, Director of Vocations to the Permanent Diaconate

Tel 0411 289 954, arthurbridge@arsmusica.org.au PO Box 23, Toongabbie, NSW, 2146

20 CatholicOutlook | NOVEMBER 2015

www.catholicoutlook.org
---
Domus Australia in Rome

celebrates 4th anniversary

Background information on 'your home in Rome'

Established by the Archdiocese of Sydney

with the support of other Australian dioceses,

Domus Australia is an authentic Italian 32-room

guest house located centrally in Rome.

It is within walking distance of the Spanish

Steps, key shopping areas and the city's major

cultural attractions.

The light-filled spacious rooms, large

ensuite bathrooms, friendly staff, cleanliness

and full hot Aussie breakfast are major

drawcards.

The magnificently restored Chapel of St Peter Chanel in Domus Australia.

The historic building and chapel are

home to a number of 19th and 20th Century

artworks, which have been beautifully and

faithfully restored by a team of Roman art

specialists

Mass in English is celebrated every day for

guests and visitors to Rome.

To make a reservation call (02) 9390 5980

in Australia, send an email to reservations@

domusaustralia.org or visit

www.domusaustralia.org

ST PATRICK'S CATHEDRAL

MASS TIMES AND REGULAR SERVICE

Weekend Masses

Saturday 8am, 9:30am

(Mass in the Extraordinary Form – Latin),

6pm (Vigil) Sunday 8am, 9.30am (Family

Mass), 11am (Solemn Mass), 6pm

Weekday Masses

Monday to Friday 6.45am,12.30pm

Public Holidays 8am

Adoration of the Blessed Sacrament

Monday to Friday 11.15am-12.20pm

First Friday of the month 6pm-7pm

Sacrament of Penance

Weekdays 11.15am-12.20pm

Saturdays 8.30am-9am, 5pm-5.30pm

Devotions

Morning Prayer of the Church

Monday to Friday 6.30am

Saturday and Sunday 7.30am

Angelus

Monday to Friday noon

Rosary

Monday to Friday after Angelus at noon

Canticle of Our Lady's Marian Movement

Friday 1pm

Christian meditation

Tuesday 9.30am-10.15am

Baptism - Sunday 12.45pm by appointment

Marriages - By appointment

Contact the Parish Secretary

tel (02) 8839 8400 or email

1 Marist Place, Parramatta

On 18 October, staff and friends of

Domus Australia celebrated the 4th

anniversary of the official opening

of the guest house with a special Mass in

its magnificent Chapel of St Peter Chanel,

commemorating also the 5th anniversary

of the canonisation of St Mary of the

Cross MacKillop, patron of the Diocese of

Parramatta.

The principal

celebrant for the

Mass was Cardinal

George Pell, who

now resides in Rome

as the Prefect of the

Secretariat for the

Economy.

It was Cardinal

Pell's vision to create

this home-awayfrom-home

for

Australian pilgrims

travelling to Rome.

On 19 October

2011, Pope Benedict

XVI conducted the

opening ceremony

and blessing of this unique guest house.

Last month's Mass was concelebrated

by the resident Rector of Domus, Rev

Terry Bell, Rev Conor Steadman (recently

ordained for the Archdiocese of Perth), Rev

Trenton Van Reesch (recently ordained for

the Archdiocese of Canberra & Goulburn)

and other Australian clergy.

In attendance for the celebrations were

Australia's Ambassador to the Holy See,

John McCarthy, representatives of the

architects and restorers who worked on the

Domus Australia project and special guests.

NEWS & EVENTS

Australia's Ambassador to the Holy See, John

McCarthy, catches up with Domus Australia's Guest

Services Manager, Annie Casey.

Thursday 11 February 2016 at 10.30am

Including the Sacramental Rite of Anointing of

the Sick and Prayers for Healing

Please join us for a light lunch at the conclusion

of Mass

St Patrick's Church, 51 Allawah Street, Blacktown

All welcome

SAVE THE DATE

A celebratory lamington cake was

prepared by the Domus chefs.

The Business Manager of the

Archdiocese of Sydney, Michael Digges,

said since opening its doors, Domus

Australia had welcomed guests from all

over Australia and from all over the world.

Ranked in Rome's top 20 on

TripAdvisor, the

reviews say it all,

with many referring

to this boutique

guest house as

'their home in

Rome'. In 2015,

Domus Australia

was again awarded

a TripAdvisor

Certificate of

Excellence and

has had an average

review rating of

5 out of 5 since

opening.

"Our guests

have shared their

experiences with

friends and family and the level of repeat

visits is a significant part of the business,"

Mr Digges said.

"We have managed to combine a

traditional Roman guest house with some

Australian flavour, including a full hot

Aussie breakfast, English-speaking staff,

and excellent Wi-Fi, tea and coffee facilities

in the spacious guest rooms."

Domus Australia is preparing for an

even busier 2016, with the Jubilee Year of

Mercy commencing on 13 December this

year.

Mass for World Day of the Sick

in acknowledgment of carers

and those for whom they care

www.catholicoutlook.org

CatholicOutlook | NOVEMBER 2015 21
---
SOCIAL JUSTICE

Mercy Tree to benefit

Jesuit Social Services

Award nomination an

honour for Cate

Sr Catherine Ryan RSM, Congregation Leader of the Sisters of Mercy Parramatta, pictured with Year 11 OLMC

Parramatta students, Director of Jesuit Refugee Services, Fr Aloysius Mowe SJ, and Oliver White and Maeve

Brown from Jesuit Refugee Services.

The 2016 beneficiary of OLMC

Parramatta's Mercy Tree social justice

initiative is Jesuit Social Services, a social

change organisation with a vision of building a

just society by working with those most in need

to make a real, sustainable difference.

Planted and blessed in early 2012, the

Mercy Tree is a focus for social justice activity

at Our Lady of Mercy College Parramatta.

Standing more than 2m tall in the Brigid

Shelley courtyard, its continued growth

symbolises an ever-increasing commitment

to the eight Mercy Values in the OLMC

Parramatta community.

These values are Mercy, Compassion,

Justice, Stewardship, Service, Hospitality,

Excellence and Dignity.

The Principal of OLMC, Stephen Walsh,

said that 2016 was especially important in the

life of the Mercy Tree. "This coming year has

been proclaimed by Pope Francis as the Year of

Mercy: through our tree, we can help open the

'Doors of Mercy' to help empower vulnerable

people by supporting services that foster

positive mental health and wellbeing," he said.

"Past Mercy Tree appeals have helped to

open doors to people with disabilities, refugees

and asylum seekers as well as young Aboriginal

mums.

"The Sisters of Mercy and the OLMC

community are passionate about doing what we

can to assist organisations who work with the

most vulnerable."

Jesuit Social Services was chosen by Year

10 Mercy Girls Andrea Fok, Olivia Murillo and

Jasmine Bautista as a part of a Year 10 Religious

Education Assessment.

Through a range of programs, Jesuit Social

Services helps people through difficult periods

of their life and focuses on engaging them to

reach their potential.

Their hands-on work in this space includes

counselling, outreach support, assistance

with education and training, and therapeutic

outdoor activities.

In the past year, Jesuit Social Services

has provided intensive support to 730 people

affected by complex mental health problems

and offered information, referrals and general

support to more than 60,000 others seeking

help.

Arrupe Place Parramatta received a $7000

cheque from students on behalf of the OLMC

Mercy Tree Charity.

Arrupe Place provides a range of services to

refugees and asylum seekers living in Western

Sydney, including food vouchers, computer

use, casework services, general information and

referrals, financial assistance and social support

activities.

It is located in Coolock Cottage (donated

by the Sisters of Mercy Parramatta to Jesuit

Refugee Services for their use), next to the

Convent of the Sisters of Mercy.

Arrupe Place is part of a broader Shelter

Project, which responds to the needs of the

growing number of asylum seekers facing

financial destitution and homelessness by

providing temporary accommodation, financial

support, and casework services.

Shrine of Our Lady of Mercy

Penrose Park

Fatima Day: Friday November 13

(Month of the Holy Souls)

Main Celebrant: His Excellency Most Reverend Adolfo Tito Yllana

Apostolic Nuncio to Australia

Holy Mass 11 am, Devotions at the Grotto of Our Lady of Lourdes 1.30 pm

Divine Mercy Devotions - First Sunday of the Month

Fatima Family Sunday: November 15

Cate Sydes: "I love what I do because at MYC we provide solutions to improving the life chances of vulnerable

young people."

The CEO of Marist Youth Care, Cate

Sydes, is a NSW State Finalist in

this year's Telstra Business Women's

Awards, one of the most prestigious and highly

recognised programs for Australian women in

business.

Cate's nomination is in the 'For Purpose

and Social Enterprise' category.

During a career spanning 35 years, Cate

has focused on the welfare of children and

has had the delivery of positive social and

environmental change as her core mission

As CEO of Marist Youth Care for 10 years,

Cate has expanded the organisation's reach in

Western Sydney through innovative programs,

business development and fundraising.

"I am proud that I have helped build

an organisation that is vibrant, diverse and

innovative in the provision of services," she

said. "Social inclusion is a priority for MYC,

ensuring that we allow access for all young

people who need safety, support, education,

training or employment, regardless of their

background."

Marist Youth Care is recognised as a

leading Catholic agency working with the

most at risk young people, their families and

communities.

"I am proud that I

have helped build an

organisation that is vibrant,

diverse and innovative in

the provision of services."

One of Cate's landmark programs, MYC's

Aboriginal Trainee Support Worker Program,

has established MYC as the largest employer

and trainer of Aboriginal people in Western

Sydney.

The program has enabled local people to

gain skills, qualifications and employment in

the community services sector.

In partnership with the local Aboriginal

community, MYC trains employs culturally

aware and experienced staff to work with and

achieve outstanding results for Aboriginal

young people in juvenile justice, foster care,

education, training, employment and family

support programs.

"I love what I do because at MYC we

provide solutions to improving the life chances

of vulnerable young people so they can go on to

live successful and fulfilling lives," Cate said.

All-day

Eucharistic Adoration

Our Lady of the Angels Church, Rouse Hill

"Could you not watch one hour with me?" (Matt 26:40)

Upcoming celebrations in Our Shrine:

CHRISTMAS SEASON

Christmas Eve (December 24): 11.30pm Carol Service in English; Midnight Mass

in English (Shrine Church) and Polish (Bethlehem Chapel)

Christmas Day (December 25): 11am Solemn Mass in English (Shrine Church)

and Polish (Bethlehem Chapel)

New Year's Eve (December 31): 11pm Exposition and devotions in the Shrine

Church followed by Mass at Midnight

Pauline Father's Monastery

Address: 120 Hanging Rock Road, Berrima, NSW, 2577 Phone: 02 4878 9192 Fax: 02 4878 9351

Email: paulinefathers@yahoo.com.au

Website: www.penrosepark.com.au

Spend time with our Lord truly present in the Blessed

Sacrament exposed for Adoration.

You are invited to sign up for a regular time slot.

Monday to Friday, 8am-8pm

Our Lady of the Angels Church

1 Wellgate Ave, Rouse Hill

Contact the Parish Office tel (02) 8883 4063

parishoffice@ourladyoftheangels.org.au

22 CatholicOutlook | NOVEMBER 2015

www.catholicoutlook.org
---
NEWS & EVENTS

Students celebrate

International Youth Day

On the day, more than $4000 was raised for charity.

Tangara School for Girls has a

tradition of celebrating International

Youth Day in August each year

when the focus is on raising funds for

a number of charities supported by the

students. This year the cultural focus was

on all things Lebanese.

The Lebanese parent community came

together to showcase the food, music and

dancing of Lebanese culture, much to the

delight of the students.

A highlight was the performance

of traditional Lebanese drumming and

Dabke dancing.

The warmth and hospitality for which

the people of Lebanese background are

renowned was evident.

In addition, each Year grade ran

fundraising stalls. More than $4000 was

raised for charities including: the School

of St Jude in Tanzania; the Hamlin Fistula

Hospital in Sesobel, which assists children

with disabilities and their families; Room

to Read, which is dedicated to eradicating

poverty through education; and Manto de

Guadalupe, which helps those suffering

A highlight was the performance of traditional

Lebanese drumming and Dabke dancing.

extreme poverty by providing food,

housing, clothing and medical care.

The International Youth Day

celebration also complements the NSW

Board of Studies 'Learning across the

curriculum' outcomes and working

towards the goal of active and informed

citizenship for students.

Tangara is a school of PARED (Parents

for Education), a personal initiative of

parents and educators. The Catholic faith

is taught in PARED schools.

6

10

12

14

15

18

19

20-22

20-22

21

22

29

NOVEMBER CALENDAR

COUPLES EVENING

Address by Ben Smith, Director of the Family & Life Office, on St John Paul II's

Theology of the Body. Hosted by CatholicCare Social Services. Starts 7.30pm

in St Paul the Apostle Parish Hall, 40 Buckleys Rd, Winston Hills. Register with

CatholicCare (02) 9933 0222, marriage@ccss.org.au

ANNUAL THANKSGIVING MASS

Clergy, parish coordinators, facilitators, sacramental teams and volunteers (including

RCIA and Baptism teams) are invited to the Annual Thanksgiving Mass at 7.30pm in

St Patrick's Cathedral, Parramatta. RSVP 6 November: Adelle (02) 9831 4911, email

ofw@ifm.org.au

MARRIAGE AND THE RIGHTS OF CHILDREN

Lecture by Joe de Bruyn, Chairman of Campion College. Organised by the St Thomas

More Society and McAuley Hawach Lawyers. Starts 6pm in St Patrick's Cathedral

Hall, Parramatta. All welcome – no charge. RSVP 5 November: (02) 9633 1826,

reception@mcauleyhawach.com.au

SUICIDE BEREAVEMENT SUPPORT REFLECTION DAY

A day to honour and celebrate those loved ones who have taken their lives.

Information sessions, small group sharing, quiet reflection time and celebration of

the Eucharist. From 10am-4pm at St Joseph's Centre, 64 MacKillop Dve, Baulkham

Hills. RSVP: CatholicCare Social Services (02) 9933 0222, enquiries@ccss.org.au

CHRISTIAN MEDITATION DAY

This Christian Meditation Introduction & Renewal Day at St Benedict's Monastery

includes presentations, Introduction to Christian Meditation, two periods of

meditation, Eucharistic Celebration and information exchange. Arrive 10am for

10.30am, concludes about 3pm. Monastery is at 121 Arcadia Rd, Arcadia, tel (02)

9653 1159. Inquiries: Ann Bergman (02) 9498 2625 or Ann Lomas (02) 9456 4775.

175TH ANNIVERSARY OF ST MATTHEW'S CHURCH

Everyone is welcome to join the community of St Matthew's Parish, Windsor, as they

celebrate this historic milestone with a Thanksgiving High Tea for 'seasoned citizens'

(aged 60+). Starts 10.30am in St Matthew's Church Hall, 12 Tebbutt St, Windsor.

HOLY HOUR FOR VOCATIONS

Everyone is welcome to join the Holy Hour for Vocations from 7pm-8pm for an hour

of adoration, prayer, music and quiet time in the Blessed Sacrament Chapel in St

Patrick's Cathedral, Parramatta.

WORLDWIDE MARRIAGE ENCOUNTER WEEKEND

A unique opportunity for married couples to reconnect, rekindle and refresh their

relationship. Mt Carmel Retreat Centre, Varroville. Contact Ardell & Bill Sharpe (02)

4283 3435 or wsharpe@bigpond.net.au

20-22 RACHEL'S VINEYARD HEALING RETREAT

Designed to bring psychological and spiritual healing to anyone who has

been affected by an abortion experience including women, men, couples and

grandparents. Mount St Benedict Centre, Pennant Hills. Confidential inquiries: SMS

0400 092 555, info@rachelsvineyard.org.au

ST PHILOMENA ASSOCIATION HOLY MASS

St John Vianney was very devoted to St Philomena. Pope Gregory XVI called her

"the great wonder worker". Mass at noon with Confession from 11.30am. St John

Vianney's Church, 17 Cameron St, Doonside. Please bring a snack to share. RSVP:

Elizabeth 0423 15 44 63, epeoples9@gmail.com

ST VINCENT'S OLD BOYS ASSOCIATION REUNION

Annual Mass and Reunion of the St Vincent's Old Boys Association. Gather at

11.30am for BBQ lunch at 12.30pm. Sacred Heart Church, 14 Ralph St, Westmead.

RSVP: Christine McGee 0400 881 779.

HOLY TRINITY GRANVILLE GOLDEN JUBILEE

Everyone is invited celebrate the Golden Jubilee of Holy Trinity Church. Mass at

9.30am followed by family-friendly activities from 11am-3pm. Includes car meet,

international food stalls, cultural entertainment, games and prizes. Holy Trinity

Parish, cnr Randle & Bennalong sts, Granville.

Blackheath

Reflection Morning

Saturday 21 November

from 10am-1pm

'Ways into Meaning'

Presented by Dr Tim O'Hearn

Entry by donation.

No need to book. Morning tea provided.

Sacred Heart Parish Hall

cnr Sturt & Wentworth sts, Blackheath

Further details tel Carmel Vanny (02) 4787 8706

"The most beautiful

and visually

compelling film

I have ever seen. I did

not want it to end."

Kim, Brisbane.

Filmed and Edited by

Michael Luke Davies

A unique inside portrait of

the world of the Tyburn Nuns.

"This film takes you into

another realm…"

What is life in a cloistered Benedictine

community really like? Let the Tyburn

Nuns take you to their 9 monasteries

around the world. Witness the nuns' holy

life of prayer and work, centred on the

Eucharist, in this remarkable film.

ORDER ONLINE:

www.tyburnconvent.org.uk

or send cheque/money order for $25

payable to:

Tyburn Priory, 325 Garfield Road East

RIVERSTONE NSW 2765

Name ........................................................

..................................................................

Address .....................................................

..................................................................

..................................................................

..................................................................

www.catholicoutlook.org

CatholicOutlook | NOVEMBER 2015 23
---
Meet the WYD Team from the Diocese of Parramatta

You're invited to join them on our

pilgrimages to Krakow Poland in July 2016

PILGRIMAGE

LEADERSHIP

TEAM

David Bourne

James Camden

Sr Rosie Drum MGL

Ian Jordan

Sophie Ryan

Ian Smith

Mark Tuffy

Asante Viswasam

Greg Whitby

SMALL GROUP

Karina Anthony

Genevieve Banks

Amanda Bentley

Christopher Bettiol

Monique Boyer

Steven Buhagiar

Raimie Caramancion

Carmen Cassar

Martin Crew

Simone Di Matteo

Christian Dulawan

Lisa Howell

Christian Illigan

Len Lara

Chris Lee

Attila Lendvai

Malia Lolesio

Philip Margerison

LEADERSHIP

TEAM

Luzviminda Mercado

Patrice Moriarty

Nathan Mulheron

Anthony Ndaira

Danuta Paton

Joseph Portelli

Anne Prendergast

James Prendergast

Mary Reyes

Michelle Rosewell

Alison Ryan

Gerard Sadaya

Alicia Shaw

Tim Vane-Tempest

Donnie Velasco

Mei Velasco

Sr Lucy Vo

Michelle Yager

CHAPLAINS

Rev Jolly Chacko MS

Rev Clifford D'souza MSFS

Rev Ruben Elago MSP

Rev John Paul Escarlan

Rev Andrew Fornal OP

Rev Shane Reade SDB

Rev Peter Strohmayer OSPPE

Rev Robert William

There are further chaplains in reserve ready to

serve if pilgrim registrations exceed expectations.

24 CatholicOutlook | NOVEMBER 2015

www.catholicoutlook.org

Registration is now

OPEN!

www.parrawyd.org