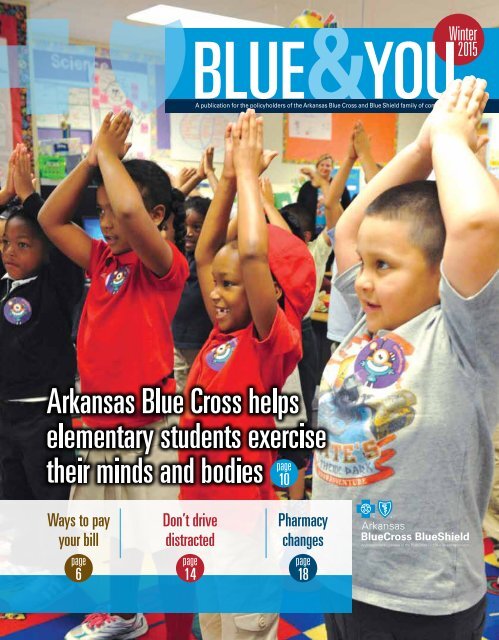 Blue & You - Winter 2015
Arkansas Blue Cross helps elementary students exercise their minds and bodies - p10 Ways to pay your bill - p6 Don't drive distracted - p14 Pharmacy changes - p18
Arkansas Blue Cross helps elementary students exercise their minds and bodies - p10
Ways to pay your bill - p6
Don't drive distracted - p14
Pharmacy changes - p18
SHOW MORE
SHOW LESS
Create successful ePaper yourself
Turn your PDF publications into a flip-book with our unique Google optimized e-Paper software.
Winter

2015

A publication for the policyholders of the Arkansas Blue Cross and Blue Shield family of companies

page

10

Ways to pay

your bill

page

6

Don't drive

distracted

page

14

Pharmacy

changes

page

18
---
3

- Thank you for choosing us

4

- There's still time to enroll

5

- Hold the phone

- Uninsured? Neep help?

Visit a Goodwill store!

Vera Campbell and her family

can look forward to a better

future thanks to Arkansas'

private option — page 8

6

7

8

- Paying your bill just got easier!

- Don't throw it away!

- Living Fearlessly: Moving on with

life thanks to health insurance

18

19

20

- Formulary alternatives for 2015 exclusions

- Drug benefit plan tier changes

- Boo with Blue Halloween party draws 600

10

12

14

- Exercising mind & body

- SilverSneakers: Fitness never

looked more fun

- Distracted driving:

Don't text and drive

21

22

- 2015 Blue & You Fitness Challenge

- Komen Race for the Cure 2014

- The Blue & You Foundation: By the numbers

- Blue & You Foundation recognized by UAMS

for contributions to medical education

17

- Get social with us

23

- Pregnant women at higher risk of

complications from the flu

- Customer service numbers

Winter

2015

24

- A show you can see, and you get in for free!

EDITOR: Jennifer Gordon – bnyou-ed@arkbluecross.com • DESIGNER: Ryan Kravitz • PHOTOGRAPHER: Chip Bayer

CONTRIBUTORS: Chip Bayer, Ben McVay and Alex Roberts VICE PRESIDENT of CORPORATE MARKETING: Karen Raley

MANAGER of COMMUNICATIONS and eMARKETING: Kelly Whitehorn

BLUE & YOU Winter 2015

on the

cover

Children at Chicot Primary in Little Rock take a

much-needed GoNoodle break during class — page 10
---
Thank you for choosing us

It's now up to us to earn your trust and loyalty.

The health insurance open enrollment period

in 2013 was the first time Americans could sign

up for health care coverage through the federal

Health Insurance Marketplace (healthcare.gov).

Ultimately we saw a dramatic increase in the

number of Arkansans who have coverage, but

we know it was a rocky start for everyone.

People were trying to enroll, and were having

difficulties accessing the healthcare.gov

website. Many of our current members had

questions. New enrollees wanted to be sure

they had coverage. We pride ourselves on our

quick response to sales and service calls, but

last year was an extraordinary circumstance.

It pains us that you needed us and at times

there were delays, so we made some changes

for the current enrollment season. Our goal

is to provide you the very best in customer

service, and due to the open enrollment not

beginning in October (later than last year)

but starting November 15 (per the federal

government) this is another challenging open

enrollment period.

Not only did we increase the number of

employees answering our customer service

telephone lines, we streamlined our processes

to get you enrolled quickly, get your ID card

mailed to you and send you the information

you need to get started using your health

insurance. We also developed more options

for you to be able to pay your bill. We are not

through by any means, but we are working

every day to meet your needs.

A more pleasant surprise after last year's

open enrollment period closed was finding

out that Arkansas' unique Medicaid

expansion, called the private option, enrolled

more than 211,000 Arkansans. In fact,

Arkansas experienced the largest drop in

uninsured citizens in the nation thanks to the

private option. Hospitals in the state have

reported that their unreimbursed care costs

have been significantly reduced now that

many of their patients have health insurance.

We talk to people every day whose lives have

changed because they now have access to

needed health care. People like Vera Campbell,

one of our members on the private option,

who we feature in this issue of Blue & You.

Like so many Arkansans, Vera was working

hard, but could not afford health care

coverage. Her future, and her family's future,

is brighter because she now can get the

medical care she needs.

Regardless of your politics, we can all take

pride that our state has been responsible

for reducing the pain and suffering of so

many of our fellow Arkansans. And, your

neighbors at Arkansas Blue Cross are

committed to making sure you receive the

highest quality health care coverage with

the best experience possible.

Winter 2015 BLUE & YOU
---
There's

still time

TO ENROLL!

f you are considering an individual

health plan — on or off the federal Health

Insurance Marketplace (healthcare.gov)

— Arkansas Blue Cross and Blue Shield

has several options from which to

choose. But don't delay — you only have

until February 15 to apply!

If you are under 65 and not eligible

for Medicare, you still have time to

sign up for health insurance on the

Marketplace, where you may qualify

for financial assistance. If you have

friends or family who may qualify, let

them know that Arkansas Blue Cross is

ready to help them enroll. We also have

affordable options for people shopping

off the Marketplace.

Call an agent or call us at

1-800-310-3778, or go to our website,

arkansasbluecross.com, to find out more

about the health plans available. You

can use the "Do I Qualify for Financial

Assistance" online tool to find out if

you could receive financial help on your

health insurance premium. You can even

visit one of nine Goodwill Industries of

Arkansas ® stores to visit with an Arkansas

Blue Cross representative (see page 5).

If you have an individual or family

plan purchased before April 2010, it is

a grandfathered plan, which is exempt

from many health care law regulations.

You already should have renewed

your grandfathered plan before

December 31 in order to keep it.

If you have a Medicare plan or an

employer-purchased health plan,

your health insurance needs should

be covered.

Whether you are already enrolled in a

plan or are still looking, you can put your

trust in Arkansas Blue Cross to provide

you with the best possible coverage

and service.

David Bridges, executive

vice president and chief

administrative officer for

Arkansas Blue Cross, answers

calls from our members.

4 BLUE & YOU Winter 2015

HOLD THE

PHONE!

During open enrollment, Arkansas Blue

Cross and Blue Shield and our family

of companies sometimes experience

surges in the number of telephone calls

we receive. In anticipation, this year

we developed a strategy that allows

our Customer Service representatives

in other lines of business, their

supervisors, and even our executive

management to take incoming calls

at peak call times. If you call with a

question about your coverage, don't

be surprised if you get to talk to David

Bridges, (pictured) our executive vice

president and chief administrative

officer, or one of many others in

management. Because at Arkansas

Blue Cross, we recognize that we

all work in customer service.
---
Uninsured? Need help?

Visit a Goodwill store!

If you have a friend or family member who

is uninsured and think they may qualify for

no-cost or low-cost health insurance, help

is around the corner. Arkansas Blue Cross

and Blue Shield representatives will be at

nine Goodwill Industries of Arkansas stores

to provide assistance enrolling in the Health

Insurance Marketplace (healthcare.gov).

You can shop for bargains and health

insurance at the same time!

Certified insurance agents are manning

Arkansas Blue Cross enrollment stations in

these Goodwill retail stores. They can walk

eligible Arkansans through the enrollment

process, answer

questions and help

them select a health

plan. "Arkansans

without insurance

face barriers in

accessing quality health care and

necessary medications," said Karen Raley,

vice president of Corporate Marketing

for Arkansas Blue Cross. "We were thrilled

last year to team up with Goodwill Industries

of Arkansas to give Arkansans a place to

go to apply for health care coverage,

and we are pleased to offer the same

opportunity this year."

®

Agents will be at the nine Goodwill

locations an average of 20 hours a week

through February 15, 2015. Go online to

arkansasbluecross.com for current hours of

operation or to find out more information.

Goodwill locations hosting Arkansas Blue

Cross enrollment stations are:

®

Cabot

Fayetteville

Jonesboro

Little Rock

Newport

N. Little Rock

Paragould

Pine Bluff

204 S. Rockwood Dr.

3105 W. Martin Luther

King Jr. Blvd. /

705 E. Appleby Rd.

1515 S. Caraway Rd.

109 Markham Park Dr.

2500 Malcolm Ave.

6929 JFK Blvd.

2808 W. Kingshighway

2707 E. Harding Ave.

Winter 2015 BLUE & YOU

5
---
Paying your bill

just gOT

easier!

If you have an individual or family health plan

that you purchased directly from us or with

help from an agent, Arkansas Blue Cross and

Blue Shield offers several convenient ways

to pay your bill, and recently added two

new ways — online or mobile and by phone.

ONLINE or MOBILE

Go online to

arkansasbluecross.com/

paybill to make a payment

24/7. You can pay online

using a credit card, debit

card or check. You will need

your member ID number

from your invoice.*

BY PHONE

Call 1-800-354-9904

to pay your bill using

a credit card, debit card

or check. You will need

your member ID number

from your invoice.*

BANK DRAFT

Go to our website or call us

for a form to set up a

monthly automatic

bank draft. It's the

easiest way to pay!*

If you have questions,

visit our website

arkansasbluecross.com.

* Medicare Advantage and Prescription Drug plan

product members must call Customer Service

(see page 23) to discuss available payment options.

Health Advantage conversion plans are not eligible

for online, mobile or pay-by-phone payment options.

6 BLUE & YOU Winter 2015
---
IN PERSON

You can visit any Arkansas Blue Cross office,

ArkansasBlue retail store, or go to any of the more

than 250 MoneyGram** locations in the state.

Arkansas Blue Cross Offices

and ArkansasBlue locations

Please bring a check or money order and

your invoice to pay your bill. Cash is not accepted.

We have locations throughout the state. See

page 23 for addresses and contact information.

MoneyGram

You'll need your invoice and you may

pay by cash or debit card with a PIN.

No transaction fee applies. Call 1-800-666-3947

or visit moneygram.com to find a location.

Don't throw it away!

BY MAIL

For members with metallic medical plans

(Gold, Silver, Bronze, Catastrophic),

send a check or money order (no cash) to:

Enterprise Exchange Services

P.O. Box 34320 • Little Rock, AR 72203-4320

For all other members (including dental

and non-metallic medical plans),

send a check or money order (no cash) to:

Arkansas Blue Cross and Blue Shield

Attn: Cashiers

P.O. Box 3590 • Little Rock, AR 72203-4320

**MoneyGram is an independent company that

provides health insurance payment services for

Arkansas Blue Cross and Blue Shield customers.

When you get your member ID

card from Arkansas Blue Cross

and Blue Shield or one of our

family of companies, it may

come with additional

information printed on the

same page or in a letter.

If it does, don't throw it away!

If information is included, it will

tell you about your deductible,

copayments and a bit about

your benefits. It's all good

information to know and keep

handy. If that information isn't

with your card, it will come in

your new member

Welcome Kit. And, as always,

if you don't know something

about your benefits and can't

find your information, just

call our customer service

representatives. We love to

hear from you!

Winter 2015 BLUE & YOU

7
---
Moving on with life

thanks to health insurance

s Vera Campbell and

her family enjoyed an autumn

afternoon at the small fishing

pond near her home, she

remembered a similar outing this

past summer that led to some

big changes in her life — some

frightening and some positive.

The positive changes

happened when nurse case

managers from Arkansas

Blue Cross and Blue Shield

worked with Vera and others

in the medical community to

get her the medical care she

needed through her insurance

coverage under Arkansas'

private option. The frightening

changes happened a few

weeks before that.

Vera had just returned home to

Pine Bluff from visiting Texas in

June when she and her fiancé,

Cosie Robinson III, took their

seven-year-old son AJ down to

8 BLUE & YOU Winter 2015

the fishing pond. Vera wasn't

feeling well and struggled to

breathe on the short walk from

the car to the edge of the pond.

She thought she would feel

better once she rested, but she

just couldn't catch her breath.

Thinking she was having an

asthma attack, Cosie rushed

her to the emergency room

at Jefferson Regional Medical

Center. Laboratory tests

showed that Vera's kidneys

were failing — a result of

uncontrolled diabetes. Cosie

said that looking at her later

that night, covered in tubes

and surrounded by monitors,

he thought he and AJ might

lose her forever.

How had Vera ended up in such

a critical situation?

"She was one of the many

working Arkansans who fell

through the cracks," said Vickie

Montgomery, a nurse case

manager for Arkansas Blue

Cross and the one to visit Vera a

few days into her hospital stay.

Looking back, Vera said the

problems started a few years

earlier when she was laid

off from a full-time job. Back

then she was managing her

diabetes, but when she went

to pick up her prescriptions

soon after, the bill was

$167, which was most of

what she was receiving in

unemployment. Knowing she

needed to feed and care for

her son, she didn't get her

medications that day. Later

she was able to find parttime

work, but she no longer

had health care coverage

and couldn't afford her

medications. All the while,

diabetes was destroying

her kidneys.
---
When Vera received Arkansas

Blue Cross health care coverage

through the private option in

January 2014, she said she

didn't understand that the cost

of her doctor appointments and

medications would be covered.

And, like many working moms,

she kept putting off taking care

of herself. It wasn't until Vera was

critically ill that she realized she

had to make changes in her life.

Vickie said that when she

walked into Vera's hospital

room that day, she could see

how sad and overwhelmed

the young mother was with

her life. Vera's kidneys were

only working at about 10

percent, and her hemoglobin

A1C, the test that shows

how her body is handling

diabetes, came back above 14

(a normal reading is around

5). Vickie said Vera was still in

the mindset that she couldn't

afford the medical care she was

receiving, so she made sure

she understood the situation.

"That was then and this is

now," Vickie told Vera. "You

have access to medicines now

and you have to do this for

your little boy. I'm here to help

you with that." She shared with

Vera all the resources available

to her and how Arkansas Blue

Cross nurse case managers

could help, but Vera was very

quiet. Vickie told her she would

come back in a few days to see

if she had questions.

Two days later, Vickie walked in

to see Vera ready for her with

a notepad full of questions.

"That's what really impressed

me about her," Vickie said,

remembering how Vera

Vickie Montgomery (left) and

Sonya Peterson, nurse case

managers for Arkansas Blue

Cross, have become close

with Vera and her family.

Having health care

coverage has helped me

move forward and have

a better quality of life.

Vera Campbell

–Vera Campbell

decided she was determined to

help herself get better. The two

visited often when Vera was in

the hospital, getting her set up

with a primary care provider

and diabetic supplies delivered

to her home. When Vera was

discharged from the hospital,

the whole family came to the

ArkansasBlue health insurance

retail store in Pine Bluff where

Vickie works so she could go

over the instructions from

the doctors.

Because Vickie was training

to become a supervisor, Vera

met once a week with another

nurse case manager, Sonya

Peterson. Through Sonya, Vera

learned that if she could get

her diabetes under control, she

could use an insulin pump.

She had already received

approval for in-home dialysis

earlier. Those changes will

lead to an even bigger goal —

going back to college. Vera had

previously put her education

on hold, and only had two

more classes to go at the

University of Arkansas at Pine

Bluff to receive a bachelor's

degree in human development

and family studies.

"Having health care coverage

has helped me move forward

and have a better quality of

life," Vera said recently. "When

you have your medicines, you

can keep going." She said she

believes that having health

insurance through Arkansas'

private option will lead to

her finishing her degree and

getting a full-time job where

she once again has health

care coverage through an

employer. And that means a

better life for her entire family.

Winter 2015 BLUE & YOU

9
---
EXERCISING

MIND & BODY

A new program in

Arkansas schools

encourages healthy living

The kids bend and flex into dozens of spelling

words until they've exhausted the list — and

themselves. It's more than just a spelling

exercise — it's exercise. The five minutes of

fast and furious bursts of movement help the

students expend their pent up energy.

Statewide phenomena

GoNoodle describes itself as "brain breaks" for

the classroom. The physical activity program

was developed using research showing that

short bursts of physical activity positively

impact academic achievement, cognitive skills

and behavior as well as overall health. Activity

breaks include math, spelling, science and

geography, applying action-based learning

principles to improve fluency and recall.

T

he students in Tera Phillips' first grade class

find their square on a multi-colored rug in the

front. It's 8:20 a.m. and the kids are already

restless and fidgety, waiting on their first brain

break of the day. They don't know the jumping,

stretching and thinking they are about to enjoy

is sponsored by Arkansas Blue Cross and Blue

Shield and the Arkansas Children's Hospital;

they just know it's fun.

With a click of a mouse, an interactive physical

activity break is beamed to the front of the

classroom. The first graders are instantly

focused — it's GoNoodle time. The first activity

is Bodyspell. A robot spells out a word and the

students move their bodies to create the shape

of each letter in a word.

Teachers use GoNoodle in between lessons as

short, snappy educational transitions combined

with much-needed classroom calisthenics.

Arkansas Children's Hospital began working with

HealthTeacher, Inc., the developers of GoNoodle,

in 2008, to begin a new initiative within the

state's schools with a two-pronged approach

to improving the health of children, according

to Fidel Samour, director of child advocacy and

public health at Arkansas Children's Hospital.

1) Increase physical activity among

school-aged children

2) Teach healthy-living tools and values

that students can take home

C-L-A-P.

10 BLUE & YOU Winter 2015
---
WHAT THE

KIDS HAD

TO SAY

"I like the songs

and the characters."

– Amira

"It gets out all my energy."

– Derrick

"You can get muscles."

– Denilson

"I like to jump."

– Angalic

"GoNoodle lets me

shake and dance."

– Bren

"I'm learning to move."

– Eber

Thirty-five Arkansas school districts took part in

a successful pilot of HealthTeacher, a web-based

health education curriculum, in 2009, and began

using GoNoodle in 2013. After that, Arkansas

Children's Hospital wanted to see GoNoodle

reach more Arkansas children, and looked for

some financial help to make that happen. That's

when the Blue & You Foundation for a Healthier

Arkansas stepped in. The Foundation is funded

by Arkansas Blue Cross to promote better health

in Arkansas. In 2014, the Foundation agreed to

co-sponsor GoNoodle with Arkansas Children's

Hospital in every elementary school in the

state. And based on good results in 2014, the

Foundation will fund GoNoodle again in 2015.

In the first nine months of 2014, Natural State

elementary students logged 15,618,764 total

minutes of exercise with GoNoodle. That's 30 years

worth of exercise minutes from the state's kids.

BOUNDLESS ENERGY

"Children that age have a very short attention span

and benefit from getting wiggle opportunities,"

said Sherry Chamber, principal at Chicot Primary

School in Little Rock. "We can have a class

GoNoodle

IN ARKANSAS

A LOOK AT ONE MONTH *

4,728

CLASSES

engaged for about 20 minutes, then we have

to do something to get them moving around."

"GoNoodle is a great resource for us to use

in the classroom and my students have made

more progress because of it," Tera Phillips said.

"GoNoodle allows us to get the energy out

before we move on to the next lesson. If I don't

let them move around, my lesson falls apart."

Mainstream science supports what these

teachers already know. In 2013, the Institute

of Medicine's report, "Educating the Student

Body," stated:

"Students should engage in additional

vigorous or moderate-intensity

physical activity throughout the

school day through recess, dedicated

classroom physical activity time,

and other opportunities."

GoNoodle is doing this and more in

Arkansas classrooms across the state,

thanks to the vision of Arkansas Children's

Hospital and the investment from the

Blue & You Foundation. Arkansas teachers

can learn more by calling 501-364-9916 or

emailing naturalwonders@archildrens.org.

110,702

STUDENTS

*

numbers from October 2014

93,482

PHYSICAL

ACTIVITY BREAKS

Winter 2015 BLUE & YOU 11 7
---
Lavinda

Counce

Fitness

Never Looked

MORE FUN

ucked away in the back of a Jonesboro

wellness center is a small rectangular

workout room with floor-to-ceiling

mirrors lining the walls. It's here

you'll find 90-year-old Lavinda

Counce — every Monday, Wednesday

and Friday — working out with

20 or 30 of her SilverSneakers ®

Fitness Program classmates.

On Wednesday, September 10, though,

class was a little different. The NEA

Baptist Clinic Wellness Center was filled

with friends, family and classmates,

all there to celebrate Lavinda being

awarded the state's 2014 Richard L.

Swanson Inspiration Award.

Kara Fowler, fitness coordinator and

senior advisor at the wellness center,

described Lavinda as an inspiration

and a model SilverSneakers student.

12 BLUE & YOU Winter 2015
---
I would probably be in a

wheelchair without SilverSneakers

–Lavinda Counce

"I wish for nothing more

than for everyone to be

as active, energetic and

sweet as Lavinda," Fowler

said. "But I also want

people to see the difference

that exercise and the

SilverSneakers group have

made in her life."

Nearly eight years ago,

Lavinda fell on a staircase

and broke her leg. Instead

of moping in misfortune,

she committed herself to a

full recovery. One year later,

Lavinda was in Fowler's

SilverSneakers classes.

"She has more strength,

energy and spunk than

many of the 65-year-old

rookies in my class," Fowler

said of the 90-year old.

Lavinda's near-perfect

attendance and enthusiasm

for exercise were both factors

in her Swanson award. But

it's not perfect attendance or

awards that motivate her. It's

all about how she feels at the

end of the day.

"I would probably be in

a wheelchair without

SilverSneakers," said

Lavinda. "At home, you

don't get as much exercise.

Here, I get to be with friends. I

get exercise. It's a great place."

On that particular warm

afternoon, Lavinda and her

classmates smile, chitchat

and enjoy lunch together.

When the remarks are read,

the final piece of celebratory

cake finished and family and

friends all depart, the NEA

Baptist SilverSneakers class

folds up the excess chairs,

puts away leftover food

and turns on some tunes.

Time for 45-minutes of

SilverSneakers exercise.

It is a Wednesday, after all.

THE

DREAMTEAM

For more information on

SilverSneakers, call 1-888-423-4632,

or visit silversneakers.com.

The NEA Baptist Clinic Wellness Center in Jonesboro

is getting used to the flashbulbs of the paparazzi.

Lavinda is the state's second consecutive

Richard L. Swanson Inspiration Award winner

from that class of 20-30 people. Last year, Betty Foster

was crowned the winner. Talk about a Dream Team!

SilverSneakers ® is a registered mark of

Healthways, Inc. The SilverSneakers ® Fitness

Program is provided by Healthways, Inc.,

an independent company that operates

separately from Arkansas Blue Cross

and Blue Shield.

Winter 2015 BLUE & YOU

13
---
DON'T BE A DANGER ON THE ROAD!

If you haven't made a resolution for 2015, consider this one:

"I will not be distracted while driving."

In 2011, the National Highway Traffic Safety Administration began

collecting data on distraction-affected crashes. The following year, more

than 400,000 people were injured and 33,500 were killed because of

a distracted driver. At Arkansas Blue Cross and Blue Shield, we want

you to be safe, for your own health and the health of others.

WHAT is distracted driving?

Distracted driving is simple. If you're not 100 percent focused on driving,

you're distracted. There are three types of distractions:

According

to the CDC,

distracted driving

is a global public

health problem.

COGNITIVE

VISUAL

MANUAL

These distractions take your mind off the task of

driving, like talking to a passenger or someone on a

cell phone (even hands-free phones are problematic).

These distractions take your eyes off the road,

like Christmas lights, children in the back seat,

watching a video or reading a map.

These distractions take your hands off the wheel,

like eating, grooming, digging through a purse

or adjusting the radio.

14 BLUE & YOU Winter 2015
---
THE MOST DANGEROUS DISTRACTION

Texting is one of the most dangerous

things you can do behind the wheel

because it involves all three types

of distractions simultaneously. Your

attention is turned to communicating,

your eyes are focused on a small

screen, and your hand(s) are off the

wheel. Engaging in this kind of visualmanual

subtask increases your risk of

getting into a crash by three times!*

THE TRUTH ABOUT CELL

PHONES AND DRIVING

People talking on cell phones

or sending text messages

cause more than one out of

every four accidents.**

Brain activity associated with

driving is reduced by 37 percent

when using a cell phone.***

Sending or reading a text takes

your eyes off the road for five

seconds. At 55 miles per hour, that's

like driving the length of an entire

football field, blindfolded.**

LAWS IN

ARKANSAS

Besides accidents, distracted driving can

have other expensive consequences. In

the state of Arkansas, any driver can be

pulled over for texting, as well as any

driver age 18-20 that's seen using a handheld

device. Further, if a driver under age

18 is pulled over for speeding or another

violation and is found to be using a cell

phone, he or she can receive a ticket for

that as well. It's just not worth it!

WHAT YOU CAN DO

Pledge to not drive distracted. Turn your cell phone

off when you turn the ignition on, let your passengers

do some of the work so you're not multi-tasking, and

save the serious conversations for later. Removing

distractions will allow you to prioritize safety.

Speak up! At any given daylight moment, more than

660,000 drivers are using a hand-held device.** If you're

in the car with one of these people, gently remind him or

her of the dangers of being distracted. It could save a life.

Be a good example. Sixteen percent of all distracted

driving crashes are caused by drivers under age 20.**

These inexperienced drivers are most at risk and can

benefit from watching seasoned drivers treat driving as

the serious responsibility it is.

For more information, visit distraction.gov, the official

U.S. government website for distracted driving.

SOURCES

*Virginia Tech Transportation Institute

**National Highway Traffic Safety Administration

***Carnegie Mellon University

Winter 2015 BLUE & YOU

15
---
The holidays have come and gone … the extra

pounds have come and not gone … and it's cold

and dreary outside. If you are hungry for comfort

food but don't want to ruin your resolution to eat

healthier, this zesty chicken chili recipe from the

crew at the Green Leaf Grill is great for watching

a football game on a lazy Sunday or for coming

home to after a long, cold day at work.

Prep Time: 10 minutes

Cook Time: 4-6 hours

Yield: Serves 6

Ingredients:

Directions:

1. Combine all ingredients

but the chicken and cilantro

in the slow cooker (crock

pot). Stir until combined.

Place uncooked chicken

on top of the mixture and

cover. Cook on low for six

hours or on high for four

hours, stirring occasionally.

Chicken Taco Chili

2. Thirty minutes before

serving, pull chicken

breasts apart with two

forks. Stir and continue

cooking. Top with fresh

cilantro or any other

desired toppings.

Serving size 1 1/2 cups.

Nutrition Facts:

– 297 calories – 22.7 g. protein – 1.7 g. fat

– 15.6 g. fiber – 8.7 g. sugar – 1,314 mg. sodium

– 0.2 g. saturated fat – 50.5 g. carbohydrate

• 1 16-ounce can black beans, drained

• 1 16-ounce can kidney beans, drained

• 2 garlic cloves, minced

• 1 medium onion, chopped

• 1 jalapeno pepper, minced

• 1 green bell pepper, chopped

• 10-ounce package (1 1/4 cups)

frozen corn kernels

• 1 8-ounce can tomato sauce

• 1 28-ounce can diced tomatoes, drained

• 1 tablespoon cumin

• 1 tablespoon chili powder

• 1 teaspoon dried oregano

• 1 teaspoon kosher salt

• 1/2 teaspoon freshly ground pepper

• 2 boneless, skinless chicken breasts,

uncooked

• 1/4 cup chopped fresh cilantro (optional)

Optional toppings: Additional cilantro,

shredded cheese, chopped scallions, red

onion, fat-free sour cream or Greek yogurt.

16

BLUE & YOU Winter 2015

The Green Leaf Grill is a restaurant located

on the first floor of the Arkansas Blue Cross

and Blue Shield building at Sixth and

Gaines in downtown Little Rock. It is a

full-service restaurant and open for

breakfast and lunch to the general public.
---
Get social

with us!

If you'd like to know more about upcoming events we

sponsor in the community, fitness-related information,

or even some motherly advice, be sure to like our

Facebook pages and follow us on Twitter!

Arkansas Blue Cross and Blue Shield has three profiles

in social media: as Arkansas Blue Cross, The Blue & You

Fitness Challenge and Mother Hood.

The Arkansas Blue Cross and Blue Shield

Facebook page is a community page

where we share and interact with our

friends, employees and members. When

you like us, you can be one of the first to

know about upcoming events, like kids'

parties at the Museum of Discovery, or

free tickets to shows at the Arkansas Arts

Center. To find us on Facebook search for

Arkansas Blue Cross and Blue Shield and

follow @ArkBlueCross on Twitter.

Mother Hood Is our "neighborhood"

where you can connect with other

moms, share your favorite

"play date" locations or even brag

ALL YOU WANT on your little one.

On Facebook and Twitter, you'll find

useful articles, helpful tips, and even

information about consignment sales

or stroller-friendly walks. Search for

Mother Hood on Facebook and

@TheMother_Hood on Twitter.

If you are a fan of fitness, the

Blue & You Fitness Challenge starts

in March (see article on page 21)

and will keep you active all

year long. Just search Blue & You

Fitness Challenge on Facebook and

follow @BYChallengeAR on Twitter.

Whatever social media you use, feel free to send us

questions and comments. We love to hear from you!

Winter 2015 BLUE & YOU 17
---
Medication Options *

FOR 2015

FOR OUR STANDARD AND

VALUE FORMULARIES

KEY

Non-covered Medication – Use

• Similar, covered medications

Humalog/Humulin (insulin) – Diabetes

• Novolog/Novolin

Each year Arkansas Blue Cross and

Blue Shield reviews our drug benefit

plans and makes changes. As of

January 1, the non-covered medicines

below are only available at full price.

If one or more of your medications is

listed, the good news is that there are

other, lower-cost choices available.

Talk to your doctor about getting new

prescriptions for covered generic or

preferred brand options.

Apidra Solostar (insulin glulisine – rapid acting insulin) – Diabetes

• Novolog (insulin aspart – rapid acting insulin)

Byetta (exenatide) – Diabetes

• Bydureon (exenatide)

• Different formulation of exenatide

Onglyza (saxagliptin) and Kombiglyze (metformin/saxagliptin) – Diabetes

• Januvia (sitagliptin), Tradjenta (linagliptin)

• Janumet or Janumet XR (metformin/sitagliptin)

• Jentadueto (metformin/linagliptin)

Jalyn (dutasteride/tamsulosin) – BPH

• Finasteride or Avodart (dutasteride) with tamsulosin, alfuzosin, doxazosin, terazosin, or Rapaflo

Ventolin HFA (albuterol ) and Xopenex HFA (levalbuterol) – Rescue inhaler for asthma

• ProAir

Alvesco (ciclesonide) – Inhaled steroid for asthma

• Asmanex, Flovent, Pulmicort Flexhaler, Qvar

Symbicort (budesonide/formoterol) – Combination steroid and long acting beta agonist for asthma

• Advair, Dulera

18 BLUE & YOU Winter 2015
---
Drug Benefit Plan Tier Changes *

Our job at Arkansas Blue Cross and Blue Shield is to make certain you get safe

and effective medicine at the lowest possible cost. This year we have included

more generics and preferred medications to our benefit plans' drug lists. Because

of this, we ask some members to consider these medications to help keep their

costs low. Starting January 1, the following medicines will cost more at the pharmacy,

but because there now are lower-cost options available:

• Enjuvia — Hormone replacement • Combipatch — Hormone replacement

• Cenestin — Hormone replacement • Zovirax cream — Topical antiviral

If you take one of these medications, we encourage you and your doctor to consider

changing to a preferred or generic medicine.

Several other medications have become preferred medications and will be available

at a lower copayment:

• Crestor – cholesterol

• Dexilant – Acid reflux

• Lyrica – Nerve pain

• Focalin XR – ADHD

• Synthroid – Thyroid

• Celebrex – NSAID

• Chantix – Smoking cessation

*These changes do not impact Medicare Part D prescription,

Metallic plans or plans that use a different pharmacy vendor.

Qnasl (beclomethasone) and Veramyst (fluticasone) – Nasal steroid for allergies

• Flunisolide, fluticasone, triamcinolone, Nasonex

Androgel and Testim (testosterone) – Testosterone replacement

• Androderm, Axiron, Fortesta

Livalo (pitavastain) – Cholesterol

• Atorvastatin, fluvastatin, lovastatin, pravastatin, simvastatin, Crestor, Simcor, Vytorin

Lumigan (bimatoprost) – Glaucoma

• Latanoprost, travoprost, Travatan Z, Zioptan

Prevacid SoluTab (lansoprazole) – Acid reflux

• Nexium, Dexilant, lansoprazole, omeprazole, pantoprazole

Asacol (mesalamine) – Inflammatory bowel disease and ulcerative colitis

• Balsalazide, sulfasalazine, Apriso, Lialda, Pentasa

Adderall XR (amphetamine-dextroamphetamine salts XR) – ADHD

• Generic available

Rebif (interferon Beta-1a) – Multiple sclerosis

• Avonex, Copaxone, Extavia, Gilenya, Tecfidera

If you have questions or need

additional information, please

call 1-800-863-5561.

Winter 2015 BLUE & YOU

19
---
NEWS

Boo with Blue Halloween party draws 600

Halloween got an early start in 2014

as more than 600 parents and children

joined Arkansas Blue Cross and

Blue Shield at the "Boo with Blue"

Halloween party at the Museum of

Discovery in Little Rock, October 10.

The museum was filled with ghosts,

goblins and vampires as well as

cheerleaders and princesses. Many of

the costumed families took part in the

costume parade and were judged by

Arkansas Blue Cross volunteers. Prizes

were awarded for the best costumes

in six different categories. Partygoers

also enjoyed a dance party, trick-ortreating,

crafts and a 'scary' movie.

The event was free to Arkansas

Blue Cross members and nonmembers

could pick up free

tickets at any of our ArkansasBlue

retail store locations. Watch Blue

& You magazine, our websites

and Facebook for information on

upcoming events.

18 20 BLUE & YOU Winter 2015

Arkansas Blue Cross took part in "The

Happiest 5K on the Planet!" by sponsoring

the blue color zone at The Color Run

Little Rock held in the River Market on

November 8. More than 5,000 fearless

race participants were sprayed with our

favorite color…blue. Arkansas Blue Cross

also hosted a booth in the Finish Festival

and gave runners shoelaces and water.
---
2015 Blue & You Fitness Challenge

Resolving to get fit? Then register for the Blue & You

Fitness Challenge! Individual registration began

January 2. It's the perfect time to make a commitment!

The Challenge is an annual three-month physical

activity contest designed to encourage healthy living by

exercising 30 minutes each day, most days of the week.

The Challenge kicks off March 1, 2015, which gives

you time to register. To get more information, visit

blueandyoufitnesschallenge-ark.com.

THINK

PINK!

Arkansas Blue Cross and Blue Shield is proud

each year to turn from blue to pink in honor of

the Susan G. Komen Race for the Cure. Not only

are we the largest corporate team at the race in

Little Rock, but we hand out thousands of gifts

to the participants and provide water along the

way. We also celebrate our employees who are

survivors. It's our way of "living fearlessly" as we

support the search for a cure to breast cancer.

Winter 2015 BLUE & YOU 21
---
The Blue & You Foundation

By the numb3rs

Arkansas Blue Cross and Blue Shield is so

committed to the health of all Arkansans

that we created a foundation to focus on our

mission to help Arkansans be healthier.

Here is an overview of the

Foundation, by the numbers:

2001 – Year established

501(c)(3) – The Foundation's non-profit status

$45 million – Amount invested by Arkansas

Blue Cross in the Foundation

2 – Employees dedicated to the Foundation

$56 million – Current assets in Foundation

(grows through investment returns)

5% – Percentage of assets required by IRS to be

distributed each year in grants

$2 million – Average amount given in grants each year

13 – Years of grant making

$22 million – Awarded in grants so far

$5,000 to $150,000 – Size of individual grants made

$1,000 – Mini grants available (Jan – March)

1,700 – Number of applications received (and read)

4 – Evaluators who read and score each application

7 – Board members who select the grant recipients

1 in 4 – Average number of grants funded

584 – Health-improvement projects

funded (grants awarded)

91% – Arkansas counties that have received

a grant (68 of 75)

122 – Number of cities in Arkansas that have

received grants

202 – Applicants considered in latest cycle

$2.6 million – Grant funding awarded in latest cycle

7/15/15 – Date when applications are due for next

funding cycle

The Blue & You Foundation for a Healthier

Arkansas makes grants to nonprofit

organizations, governmental agencies, and

public schools and churches to help support

health-improvement programs in Arkansas.

The Foundation has created a perpetual

source of funding that is not subject to the

ups and downs of the enterprise's financial

results and external environmental factors.

This ensures a lasting commitment to the

state and the health of its citizens.

Blue & You Foundation

recognized by UAMS

for contributions

to medical education

The Blue & You Foundation recently

was inducted into the "Society of

the Double Helix" by the University

of Arkansas for Medical Sciences

(UAMS). The award, which mimics

the double helix structure of the DNA

molecule, recognizes individuals and

organizations that have contributed

$100,000 or more to UAMS. The

funding goes toward UAMS's mission

to improve the health, health care and

well-being of Arkansans and others in

the region, nation and the world by

educating current and future health

professionals and the public.

Patrick O'Sullivan,

Executive Director

Blue & You Foundation

22 BLUE & YOU Winter 2015
---
Pregnant women at higher risk of complications from the flu

If you are pregnant, you may be hesitant to get a

flu shot, but the Centers for Disease Control and

Prevention (CDC) says the risk from the flu is

much higher for you and your baby. Here's why.

A recent study from Stanford University found that

while it was previously thought that a woman's

immune system weakened during pregnancy,

exposure to the flu virus actually created a much

stronger response than normal. And while that

might sound good, these same immune cells

create even more inflammation in the lungs,

which makes it hard to breathe. Pregnant women

are more likely to become very ill if they get the

flu, which is why the traditional flu shot is

recommended for pregnant women.

CUSTOMER SERVICE NUMBERS

May we help?

For customer service, please call:

TOLL FREE Number

Medi-Pak ® members 1-800-338-2312

Medi-Pak ® Advantage members 1-877-233-7022

Medi-Pak ® Rx members 1-866-390-3369

Arkansas Blue Cross members 1-800-238-8379

• Pharmacy questions 1-800-863-5561

• Specialty Rx pharmacy questions 1-866-295-2779

Arkansas Blue Cross Metallic members

(Gold, Silver, Bronze, Catastrophic) 1-800-800-4298

• Pharmacy questions 1-800-969-3983

Health Advantage members 1-800-843-1329

• Pharmacy questions 1-800-863-5567

BlueAdvantage members 1-888-872-2531

• Pharmacy questions 1-888-293-3748

Federal Employee members 1-800-482-6655

Looking for health or dental insurance? We can help!

For individuals, families 1-800-392-2583

For employer groups* 1-800-421-1112

*Arkansas Blue Cross, Health Advantage and BlueAdvantage Administrators of Arkansas

PAY YOUR *

B I L L

To pay by phone*, please call 1-800-354-9904

Prefer to speak with someone close to home?

Call or visit one of our offices near you:

• ArkansasBlue — Little Rock

2612 S. Shackleford Rd., Suite J 1-501-378-2222

• Fayetteville

516 East Millsap Rd., Suite 103 1-800-817-7726

• Fort Smith

3501 Old Greenwood Rd., Suite 5 1-866-254-9117

• ArkansasBlue — Hot Springs

1635 Higdon Ferry Rd. – Suite J 1-800-588-5733

• Jonesboro

707 East Matthews Ave. 1-800-299-4124

• Little Rock

601 S. Gaines Street 1-800-421-1112

• ArkansasBlue — Pine Bluff

509 Mallard Loop Drive 1-800-236-0369

• Texarkana

1710 Arkansas Boulevard 1-800-470-9621

Visit our websites for more information:

arkansasbluecross.com • healthadvantage-hmo.com

blueadvantagearkansas.com

blueandyoufoundationarkansas.org

Medicare Advantage and Prescription Drug plan product members must call Customer

Service to discuss available payment options. Health Advantage conversion plans are

not eligible for online, mobile or pay-by-phone payment option.

Winter 2015 BLUE & YOU

23
---
aSHOW

and you

for

get in

FREE!

you can

see,

Dr. Seuss is coming to the

Children's Theatre at the

Arkansas Arts Center! Plan

now to pick up your free

tickets to a special showing

of "The Cat in the Hat" at

4 p.m. on Sunday, March

9. Complimentary tickets

will be available for pickup

starting February 1 at any

ArkansasBlue location (Little

Rock, Hot Springs or Pine

Bluff). Arkansas Blue Cross

and Blue Shield is proud to

sponsor the arts in Arkansas!

Oh the things you can find,

if you don't stay behind! – Dr. Seuss

MPI 3152 1/15