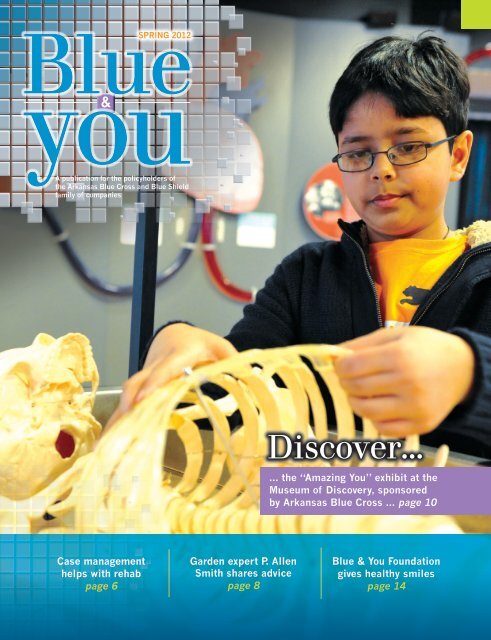 Blue & You - Spring 2012
The "Amazing You" exhibit at the Museum of Discovery; Case management healps with rehab; Garden expert P. Allen Smith shares advice; Blue & You Foundation gives healthy smiles
The "Amazing You" exhibit at the Museum of Discovery;
Case management healps with rehab;
Garden expert P. Allen Smith shares advice;
Blue & You Foundation gives healthy smiles
SHOW MORE
SHOW LESS
You also want an ePaper? Increase the reach of your titles
YUMPU automatically turns print PDFs into web optimized ePapers that Google loves.
SPRING 2012

Discover...

... the "Amazing You" exhibit at the

Museum of Discovery, sponsored

by Arkansas Blue Cross ... page 10

Case management

helps with rehab

page 6

Garden expert P. Allen

Smith shares advice

page 8

Blue & You Foundation

gives healthy smiles

page 14
---
table of

contents

The newly renovated Museum of Discovery in downtown Little Rock

wows guests with new exhibits.

INSIDE

3

4

Out of the Blue

Healthy eyes and teeth with our new DentalBlue Gold SM

Plus Vision plan

PAGE

10

5

6

8

10

11

12

13

14

16

18

19

20

22

23

24

We've gone mobile

Review your doctor

Case management helps with rehab

Eat healthy with Arkansas Blue Cross and P. Allen Smith

Arkansas Blue Cross members invited to "discover" a new museum

UAMS chair in emergency medicine honors Stanley Reed

Register now for the Ozark Race for the Cure!

Effects of secondhand smoke on children

Risk of a heart attack goes up after a loved one dies

Lose weight The Healthy Weigh!

Shower the Mother Hood with "Likes"

Blue & You Foundation gives healthy smiles

Lifelong Health with Dr. David

Prescription drug abuse is everyone's problem

The Doctor's Corner

Notice of Privacy Practices

New preventive service for Medicare

The 2012 Blue & You Fitness Challenge is under way

Customer Service telephone numbers

Good for you events and activities

2 Blue & You SPRING 2012

SPRING 2012

Blue & You is published four times a year

by Arkansas Blue Cross and Blue Shield

for the company's members, health care

professionals and other persons interested

in health care and wellness.

Editor: Jennifer Sullivan –

bnyou-ed@arkbluecross.com

Designer: Ryan Kravitz

Photographer: Chip Bayer

Contributors: Chip Bayer, Gio Bruno,

Gabe Couch, Matthew Creasman,

Damona Fisher, Kristy Fleming,

Trey Hankins, Heather Iacobacci-

Miller, Kathy Luzietti, Mark Morehead

and Kelly Whitehorn

Vice President, Communications and

Product Development: Karen Raley

ON THE COVER: Adi Jain, 10, a student at

E-Stem charter school in Little Rock, checks

out the human skeleton replica in the Arkansas

Blue Cross and Blue Shield "Amazing You"

exhibit at the Museum of Discovery.

&
---
Consumer transparency:

Good for everyone

A message from our

CEO and President,

Mark White

out

of the

Blue

When consumers make important and high-cost

purchases, they generally have the ability to research

their available options and choose accordingly. For

example, when car shoppers begin their search, they

can find numerous sources that provide information

on the quality of the models in which they are

interested. After a model is selected, the consumer can

then compare the price of that model at a number of

dealerships before making the purchase. In this way,

consumers make sure that they are getting the best

quality at the best price. But when consumers need

medical services, they are constrained in their ability

to compare the cost and the quality of the medical

service providers available to deliver the service. This

lack of "transparency" around medical services means

that consumers have very limited ability to make

informed decisions about who will provide their care.

Employers are leading the charge for increased

transparency around medical services and demanding

that health plans provide their employees with

the tools they need to choose wisely when medical

services are required. And as a health insurer, we

understand the value of the American consumer

at evaluating a service and making a wise purchase

decision. And so it becomes our responsibility to

deliver information and tools that help our members

make informed and value-based health care decisions.

We have to make the information our members need

on the doctors and hospitals they are considering

understandable, valuable and easily accessible.

Arkansas Blue Cross and Blue Shield is

a committed partner in the Blue National

Transparency Initiative, which means we are

actively sharing information with other Blue

plans nationwide so that every Blue member has

access to information about doctors and hospitals

throughout the country.

It is our goal to deliver transparent health care

treatment cost and quality information to our

members. Why is transparency important? By

sharing information with our members, they can

make more informed choices about where to go for

care. It puts them in control of their health care.

The following are examples of how transparency has

transformed our services:

Blue Distinction — This designation is given

to health care facilities that have demonstrated

expertise in delivering quality health care in a

particular medical service area such as treating rare

cancers or performing gastric bypass surgeries.

When our members see that a hospital has earned

the Blue Distinction status for a particular specialty,

they can be assured that the institution has met

stringent criteria designed to provide the best

possible patient outcomes. The Blue Distinction

program initially focused only on the quality of care

that patients received. After all, the highest quality

care is also frequently the most cost-effective. Now,

the program is being expanded to include cost

information as well.

National Consumer Cost Tool — This tool,

available now by logging in to the self-service section

of our Web sites (called My Blueprint) for Arkansas

Blue Cross, Health Advantage and BlueAdvantage

Administrators of Arkansas members, gives access

CONSUMER, continued on page 22

Blue & You SPRING 2012

3
---
Dental Plus Vision

insurance plan now available.

Now it's easier to have healthy eyes and healthy teeth with our new

DentalBlue Gold SM Plus Vision plan.

The new plan, for individuals and families, combines the popular

DentalBlue Gold plan with vision benefits that reduce out-of-pocket eye

care costs by offering annual eye examinations for a low copayment, as

well as providing significant savings on eyeglasses, contact lenses and

other lens options. Members have access to a nationwide network of eye

doctors, ophthalmologists, optometrists and eye-care centers, and there

are no claim forms to file. Members also can take advantage of special

discounts for laser vision surgery.

"Arkansas Blue Cross and Blue Shield is well known for our affordable,

reliable health insurance," said Ron DeBerry, senior vice president of

Statewide Business for Arkansas Blue Cross. "DentalBlue Gold Plus Vision

provides great benefits backed by a tradition of excellent customer service.

Arkansans have been taking advantage of our dental plans for several

years now. Providing affordable vision coverage was a natural next step."

Vision coverage is not sold as a separate policy; it is only available

with the DentalBlue Gold plan.

IN-NETWORK BENEFITS

Eye Examination

EYEGLASSES

Spectacle Lenses

Frames

Collection Frames

• Fashion . . . . . . . . . . . . . . . . . . . . . . . . . . . .

• Designer . . . . . . . . . . . . . . . . . . . . . . . . . . .

• Premier . . . . . . . . . . . . . . . . . . . . . . . . . . . .

Non-Collection Frames . . . . . . . . . . . . . . . .

Free one-year eyeglass breakage warranty

CONTACT LENSES (in lieu of eyeglasses)

Contact Lenses and Evaluation, Fitting

and Follow-Up Care

EVERY 12 MONTHS

Covered in full after $10 copayment

Covered in full for standard single-vision or lined

multi-focal lenses after a $25 copayment

Covered in full (value up to $125)

$15 copayment (value up to $175)

$40 copayment (value up to $225)

Up to $100 plus 20% off balance

Up to $100, plus 15% off balance

4 Blue & You SPRING 2012

DentalBlue Gold covers preventive services (initial and periodic

exams, teeth cleaning, fluoride treatments, X-rays and sealants), minor

restorative services such as fillings, extractions, endodontics (root canals)

and oral surgery, and major restorative services like crowns, bridges

and implants. The DentalBlue Gold plan allows members to "roll over"

a portion of their unused benefit-year maximum to the next year as

long as they submit at least one claim during the year and their total

claims do not exceed $500 for that benefit year. For more information,

call 1-800-818-9761
---
We've gone mobile

Arkansas Blue Cross and Blue

Shield recently launched its mobile

Web site designed for smartphone

users — and it doesn't matter if

you have a Blackberry, iPhone,

Windows or Android phone —

it works for everyone!

To view the new mobile site, simply

use your phone's Internet browser and

go to arkansasbluecross.com and view

the mobile site immediately. If you

prefer to use the full site, there is a

link at the bottom of every page.

The site offers the new "Find a

Doctor or Hospital" search, the ability

to shop for health insurance plans

for individuals and families, sales

and service contact information, and

information for the new ArkansasBlue

health insurance store, which is located

at the Shackleford Crossings shopping

center in Little Rock.

The mobile site allows visitors to get

a rate quote, map to a doctor's office,

or easily call any of our service or sales

phone numbers.

Arkansas Blue Cross continues to

develop a broader presence on the

Internet through all channels available

to create a positive online experience

for all audiences — whether it's the

general public or you, our

member. The new

mobile site is just

another way we're

improving our

online service

and sales

experience.

Review Your Doctor

Let Others Learn From You

You tell your friends and neighbors if they ask you about

your doctor…why not share that information with other

Blue plan members?

If you are a member of Arkansas Blue Cross and Blue Shield

or Health Advantage, you now have the ability to review your

recent doctor's office visit online! Rating doctors helps others

make decisions as to whether a doctor is right for them.

Sharing your personal experience with this doctor is a great

way to share your observations with others.

When can you rate your doctor? After you go to the doctor,

a claim is filed. Go online to our Web site, and log in to the

member self-service center. You then will need to go to the

"Claims" section. You can complete a review for any recent

claims. To fill out the review, you simply give the experience

a rating of one to five stars based on the following questions:

• Recommend – Would you recommend this doctor

to your friends/family?

• Overall Experience – How would you rate your

overall experience and satisfaction with this doctor?

• Availability – How would you rate the doctor's

availability for your appointment?

• Communication – How well did the doctor

communicate with you about your health concerns?

• Environment – How would you rate the doctor's

overall office environment?

A comments section allows you to elaborate

on the visit – up to 600 characters. All comments

are moderated for content.

The results of your review will be incorporated into

the "Find a Doctor" section of our Web sites at a later

date. The review is part of the national Blue plan

consumer transparency effort to ensure you are

receiving the highest quality care possible.

Tell your friends. Tell your doctor. This is a great to

share your opinions with us, your doctor and other

members … and find out what others are saying.

Blue & You SPRING 2012

5
---
Nancy Lowe enjoys spending

some time in her favorite store,

The Yarn Mart, in Little Rock.

help for a lengthy recovery

colorful yarn flows through Nancy Lowe's

hands as her crochet hook flashes in and

out, creating artwork from a single strand.

Crocheting is an art that takes patience and

commitment, and some works of art take a bit

longer to create. As Nancy recently learned,

healing happens in its own time, too.

Nancy's healing from a torn rotator cuff

received the extra time and commitment

needed through the efforts of Brenda Hardage,

a nurse case manager for Arkansas Blue Cross

and Blue Shield.

Nancy, a quality improvement coordinator

at Arkansas Children's Hospital, literally was

asleep on her feet when she fell in April 2011.

"I was going through the house, getting ready

to go to bed, and I must have fallen asleep.

I remember waking up as I was

falling." Her husband, Gary, rushed to her

side. Severe pain in her left shoulder told her

something was terribly wrong, but she thought

it might get better with time.

The fall happened on a Thursday night,

and by Monday she was at her primary care

physician's office. An X-ray showed no sign of

a bone break, so she waited for a few weeks

before having an MRI (magnetic resonance

imaging). "It was very painful to go through

the test," she said. The next day she called to

find out when she would get the results. She

was told they already had the results and that

she needed to schedule an appointment with

an orthopedic surgeon. They also prescribed

her some pain medication for what was now

obviously a very serious problem.

6 Blue & You SPRING 2012
---
The rotator cuff is a system of

four muscles that work together

to allow the arm a wide range of

motion. Not only had one of the

muscles in Nancy's left shoulder

been torn, another had completely

detached and slipped up into the

bony structure of her shoulder.

Most rotator cuff injuries can

be fixed through arthroscopic

surgery, but Nancy's surgery had

to be performed with a traditional

incision, adding to her recovery

time. "It is the most painful thing

I've ever been through," Nancy said.

While she had to

wait a few weeks to

start physical therapy,

her doctor told her

she needed to flex

her fingers. That was

easy — she simply

picked up her crochet

work. Nancy has made

numerous projects,

but is most proud of

the stick horses she

has made for various

Nurse case management can help you:

• Get the most out of your health plan.

• Empower you and your family with information

through health education, so you can work with

your physician to manage your care.

• Experience improved dialogue between

you and your physician.

• Navigate the system effectively to see

the right health care providers at the right

times in the right places.

• Provide you the tools to actively participate

in your medical decision making.

Nancy shows her crocheted stick horse to

Brenda Hardage, her nurse case manager.

– Understand your condition.

– Understand evidencebased

alternatives to

treat your condition.

– Understand how

your benefits support

these alternatives.

• Stay well-informed, follow

your treatment plans, and

know what to do when it is

not working.

children in her life. Each one is a work of art,

exhibiting a personality and detail to capture

a young imagination.

Nancy was scheduled for 26 visits of physical

therapy, which sounds like a lot at first, but as

she progressed, she realized other people with

similar injuries were regaining their strength and

movement much faster. After Nancy discussed her

concern with her doctor and therapist, Brenda was

contacted to see if she could help.

"I took the information from the physician and

therapist, called and talked with Nancy, and put

together a synopsis of what was happening with

her," Brenda said. What she learned was that, not

only was the damage to Nancy's shoulder severe, but

she also has multiple sclerosis (MS), an autoimmune

disease that affects the brain and central nervous

system, which was slowing her recovery.

With a clearer understanding of Nancy's

condition, Brenda was able to get her approved

for 12 additional visits of physical therapy. That

gave Nancy the time she needed to reach her goal

for the therapy, which she showed off by reaching

high above her head with her left arm.

"The last time I went to the doctor he said I had

done much better than he expected," she said of

the therapy.

Nancy said that when she first talked with

Brenda, "I wasn't sure what case management

was," but she now thinks of Brenda as a friend.

"I'm always there to help her any time she

needs it, even if it isn't related to her shoulder,"

Brenda said.

Blue & You SPRING 2012

7
---
Arkansas Blue Cross and Blue Shield is

a sponsor of P. Allen Smith's weekly radio

program, which airs at 4 p.m. on Saturdays on

KARN 102.9 FM. You can enjoy his insights on

healthy eating from the garden to the table and

beyond in this special column in Blue & You. In

addition, you will have opportunities to see him

in person at ArkansasBlue, Arkansas Blue Cross'

health insurance store in Little Rock. P. Allen

Smith's first onsite visit will be:

• Saturday, April 28

Watch for more details about his

upcoming appearances on our Web site at

arkansasbluecross.com and in the news.

ArkansasBlue is located in the Shackleford

Crossings shopping center, across from Walmart.

Buy Local, Be Green

and $ave Green!

by

P. Allen Smith

Are you interested in saving money on your

groceries? Do you want healthy, home grown

food, or do you just enjoy the great taste of

fresh produce straight off the farm? Here's

how to be healthier, be a good neighbor and

also be good to the earth.

8 Blue & You SPRING 2012

Buying Seasonal Food

As a gardener, I love to watch my plants

grow, and I gain great pleasure in slicing a

juicy tomato picked right out of my garden.

I get a similar satisfaction from visiting

my neighborhood farmer's market. Each
---
Saturday morning, I head

downtown to pick up locally

grown produce, fresh eggs,

homemade bread and herbs.

There are several reasons

why I choose to patronize the

farmer's market: the variety,

freshness and value of

locally grown produce.

At the farmer's market, I

can find unique varieties of

fruits and vegetables. And

the price! I can get a pound

of fresh peas for one dollar,

fresh organic eggs for two

dollars and enough chives to

make omelets for a month for

just 50 cents.

Many of the ingredients

that I like to cook with

are seasonal fruits and

vegetables. It's what makes

a dish so special. They taste

better and require fewer

preservatives to keep them

fresh. There is something

about eating food that is in

season that makes me feel

more in tune with nature. Call

me crazy, but a grocery store

apple in May just isn't as

good as a fresh picked farm

apple in October. Although

that May apple looks like an

apple fresh-picked in October,

long-term shortage and the

lengthy journey from farm

to table gives the nutrients

plenty of time to degrade,

especially if exposed to

fluctuating temperatures.

Shopping at the farmer's

market is a community

event. I get to say hello to

friends and neighbors and

build relationships with the

farmers growing my food.

This way I know as much

about how the food I eat

is produced as I would if

I grew it in my own garden.

I also feel it is important to

send my dollars toward the

people with whom I have built

relationships over the years.

You may think that finding

fresh food in early spring

is a challenge, but in fact

there are plenty of fruits and

vegetables that are seasonal

right now, including: arugula,

asparagus, beets, broccoli,

cabbage, carrots, cauliflower,

celery, cilantro, cucumbers,

dill, grapefruit, kale, lemons,

lettuce, leeks, oranges,

onions, parsnips, peas,

pears, rhubarb, shallots,

sweet potatoes, Swiss chard

and turnips greens.

A "Greener" You!

So you may be thinking,

"Allen, how does doing this

also make me a greener

citizen?" Well, buying locally

also saves on petroleum

resources since local farmers

save gas by trucking shorter

distances to get farm-fresh

nutritious produce for a

healthier you.

P. Allen Smith is an Arkansas native, an awardwinning

designer and a lifestyle expert. He hosts

several television programs, a radio show and is

the author of many books on gardening, cooking

and design. Learn more at pallensmith.com.

Blue & You SPRING 2012

9
---
kansas Blue Cross and Blue

Shield has committed to an

"amazing" sponsorship with the

newly renovated Museum of

Discovery in downtown Little Rock.

The "Arkansas Blue Cross and Blue

Shield Amazing You" interactive

gallery inside the museum

premiered during the museum's

grand re-opening in January.

The "Arkansas Blue Cross and

Blue Shield Amazing You" gallery

has 22 exhibits that invite museum

visitors to explore the amazing

things their bodies do each and

every day. The exhibits are divided

among three main sections:

"Incredible You," "Healthy You"

and "Active You."

The "Incredible You" exhibits

showcase the body's circulatory,

nervous, musculoskeletal and

skeletal systems. "Healthy You"

focuses on how making healthy

choices make healthy bodies and

features the digestive and immune

systems. The message in "Active

You" is about how moving your

body is fun and helps you stay

healthy.

The "Arkansas Blue Cross and

Blue Shield Amazing You" gallery is

one museum feature our members

won't want to miss.

10 Blue & You SPRING 2012

Arkansas Blue Cross and Blue Shield

members invited to "Discover"

a new museum

The museum has been completely

renewed, with plenty to do and see.

And there are two fun family

events for which folks who carry

the cross and shield ID card in

their wallet will want to take

advantage:

• "Dance and Discover"

— Saturday, June 9

• "Grow with Grandparents"

— Sunday, September 9

These two events are open

only to Arkansas Blue Cross

members. You'll present your

Arkansas Blue Cross, Health

Advantage or BlueAdvantage

Administrators of Arkansas

member ID card for special

admission and activities for the

kids, parents … and grandparents.

More information regarding these

This series of

gears shows just

how hard it is to

get to one million.

At the one millionth

turn of the crank, a

glass will fall and

break. Come see

if you will be the

lucky visitor!

and other upcoming events

will be posted on our Web site,

arkansasbluecross.com and

the Museum of Discovery's Web

site, museumofdiscovery.org.

"We are excited to sponsor the

'Arkansas Blue Cross and Blue

Shield Amazing You' gallery,"

said Mark White, president

and chief executive officer of

Arkansas Blue Cross. "Each year,

more than 150,000 children

and parents visit the Museum

to experience a world-class

collection of fun and educational

exhibits and displays. The

'Arkansas Blue Cross and Blue

Shield Amazing You' gallery will

provide visitors an opportunity

to learn about how the body

works and how choices we make

affect the body's health and wellbeing.

And, they'll have a lot of

fun in the discovery process.

We believe it is a great way to

showcase how important it is to

take care of yourself."

BlueAnn Ewe, Arkansas

Blue Cross' health and

wellness ambassador, also

will make special guest

appearances throughout

the year at the museum.

The Museum of Discovery

is an exciting destination for

Arkansans — including our

members — to rediscover.
---
Arkansas Blue Cross supports

UAMS chair in emergency medicine

in honor of Stanley Reed

Arkansas Blue Cross and Blue Shield recently

donated $100,000 to support the Stanley E. Reed

Memorial Chair in Emergency Medicine, Trauma &

Injury Prevention at the University of Arkansas for

Medical Sciences (UAMS).

Reed, of Marianna, was a successful farmer, lawyer

and businessman. He was a devoted, longtime UAMS

advocate and had just been named to the Arkansas

Blue Cross board of directors when he died on July 15,

2011. He also was a former member of the University

of Arkansas Board of Trustees and served as president

of the Arkansas Farm Bureau from 2003 to 2008.

Stanley Reed

The endowed chair will help UAMS build upon existing clinical

expertise and training in emergency medicine and trauma system

development, and support injury prevention efforts. The chair

will reside in the College of Medicine Department of Emergency

Medicine, and the recipient of the chair will be announced after

the $1 million goal has been reached.

Register now for the Ozark Race for the Cure!

Arkansas Blue Cross and Blue Shield is a proud

sponsor of the Susan G. Komen Ozark Race for the

Cure, which will be held on Saturday, April 28, 2012,

at the Promenade Mall in Rogers, Ark.

You still can register at komenozark.org. The race

features a 5K, 10K, family fun walk/survivor walk

and the ever popular "Bark for the Cure!"

Blue & You

SPRING 2012

11
---
Effects of secondhand

smoke on children

You may think that if you smoke, you're only harming

yourself. But, if you have children in your home, you're

harming them as well through secondhand smoke.

Secondhand smoke is smoke from a cigarette, pipe

or cigar and the smoke that is exhaled by a smoker. It is

estimated that secondhand smoke contains more than

250 toxic chemicals that can be cancer-causing.

The Environmental Protection Agency suggests that

children are even more vulnerable to the effects of

secondhand smoke because they are still developing

physically. Research suggests that children exposed to

secondhand smoke are at a higher risk for a

host of illnesses, including:

• Asthma

• Sinusitis

• Rhinitis

• Chronic respiratory problems like bronchitis

and pneumonia

• Ear infections

If you need help quitting smoking, log into your

My Blueprint account and view the Health Resources

section for additional information on smoking

cessation programs and help.

Sources: epa.gov

American Academy of Otolaryngology (entnet.org)

Risk of heart attack goes up

after a loved one dies

We've all heard stories, or maybe even experienced

having a loved one die soon after another death in the

family. Recent research in the medical journal

Circulation suggests that the risk for a heart attack

increases dramatically within 24 hours after the death

of a loved one.

Nearly 2,000 patients were interviewed while

hospitalized for acute heart attacks. The researchers

found that the incidence rate of heart attack increased

more than 20-fold within 24 hours of learning of the

death, compared with deaths that occurred anytime

in the prior six months.

If you find your family members in this situation, be

aware of their health risks and keep a close eye on

them. If you see signs of a heart attack, seek

medical attention immediately.

12 Blue & You SPRING 2012

Lose weight

The Healthy Weigh! Education

Program is free for members of

Arkansas Blue Cross and Blue

Shield, Health Advantage (except

ARBenefits members*), Blue Cross

and Blue Shield Service Benefit

Plan (Federal Employee Program),

Medi-Pak® Advantage (PFFS),

Medi-Pak Advantage PPO, and

eligible members of BlueAdvantage

Administrators of Arkansas.

To enroll, complete the attached

enrollment form and return it in

the self-addressed, postage-paid

envelope included in this magazine.

The program starts when you enroll.

After enrollment, you will begin

to receive information through

the mail, which you can read in the

privacy of your own home and at your

own pace. The program is completely

voluntary, and you may leave the

program at any time. If you have

further questions about the program,

call the Health Education Program's

toll-free number at 1-800-686-2609.

Simply complete, sign and

return the attached enrollment

form in the self-addressed,

postage-paid envelope to join

The Healthy Weigh!

*Arkansas state and public school

employees and retirees can access the

"AR Benefits Plus" program through the

Employee Benefits Division, 1-877-815-1017.
---
... an online community for moms just like you.

Shower us with "Likes" to help

Arkansas Children's Hospital.

This spring, money will grow on our tree in an effort to help Arkansas Children's

Hospital. For the month of April, every new "Like" on the Mother Hood Facebook®

page, Arkansas Blue Cross and Blue Shield will donate $1 to Arkansas Children's

Hospital (ACH), up to $10,000.

Arkansas Blue Cross is proud to support ACH, the only pediatric medical center in

Arkansas and one of the largest in the United States. ACH is committed to working

with others to achieve high quality, cost-effective, fully accessible services for

Arkansas' most precious resource — our children, without regard to race, religion or

inability to pay.

Mother Hood is an online community for moms, just like you, and cared for by

Arkansas Blue Cross. In our neighborhood, you'll find useful articles, helpful tips, and

even information about consignment sales or stroller friendly walks.

So, "Like" us in April on Facebook and help ACH. It's fun, it's free, and it's another

way we are good for you!

MPI 985 2/2012

Like us.

Follow us.

Blue & You SPRING 2012

13
---
Blue & You

Foundation grants: Something

Rose Gordon has a smile that can light up

a room, but it had been a while since anyone

had seen it.

Then one Friday in January, she sat in the

dentist chair at Harmony Health Clinic in Little

Rock, as Sam Nickol, DDS, MAGD, fitted her

new dentures into her mouth. Immediately, her

world brightened.

"This man did a fantastic job," Rose said with

a grin as she visited with Dr. Nickol a few days

later. "I went home and the first thing I did was

eat some pecans. I have been waiting to be able

to do that."

"That fits in good," Dr. Nickol told Rose after

checking her dentures. "Those should last you

the rest of your life."

to

smile about

For Harmony Health Clinic in Little Rock,

Rose's life is one of hundreds changed for

the better with the help of the Blue & You

Foundation for a Healthier Arkansas. The Blue

& You Foundation has given two grants to the

clinic to improve the dental health of people

who are medically uninsured and underserved

in central Arkansas.

Arkansas Blue Cross and Blue Shield

established the Blue & You Foundation in 2001 as

a charitable foundation to promote better health

in Arkansas. "The Blue & You Foundation awards

grants annually to non-profit or governmental

organizations and programs that positively affect

the health of Arkansans," said Patrick O'Sullivan,

executive director of the Foundation. "In our 10

years of operation, the Blue & You Foundation

has awarded nearly $14 million to 208 health

improvement programs in Arkansas."

"When you have a healthy smile, it can

make the difference in whether you are hired

for a job, or whether you can keep working,"

said Eddie Pannell, executive director of the

Harmony Health Clinic. Eddie said dental pain

is one of the top reasons people miss work in

the United States. "Your oral health definitely

affects your physical health."

Rose Gordon examines her new smile

from Harmony Health Clinic.

"

Your oral

health definitely

affects your

physical health. ..

"

Eddie Pannell,

executive director of the

Harmony Health Clinic

14 Blue & You SPRING 2012
---
Harmony Health Clinic started seeing

medical patients in 2008 and dental

patients in 2009. As of December

2011, the clinic has seen 1,753 medical

patients and 709 dental patients,

providing more than $2.3 million worth

of services for people who otherwise

would not be able to afford it. A pharmacy

located in the clinic has provided about

$500,000 worth of donated medications,

55 percent of which goes to patients with

hypertension and/or diabetes. The clinic

does not supply narcotics.

Dr. Nickol checks the fit of Rose's new dentures.

Rose can't help but smile while talking to

Dr. Nickol about all the foods she can now

eat with her new dentures.

The clinic helps the medical and dental

community as well. Around 400 volunteers,

most of them doctors, dentists, nurses,

pharmacists and other medical professionals,

give their time, along with students from the

University of Arkansas for Medical Sciences.

The teaching environment allows these

students to get real-world experience with

the supervision of experienced professionals.

Eddie said he often hears the students

discussing cases and saying, "I just learned

about this in class."

For people to qualify for services at the

Harmony Health Clinic, they must live in Pulaski

County, have no insurance of any kind, be

between 13 and 65 years old and their income

must not exceed 200 percent of the Federal

Poverty Level. (Medicaid and Medicare patients

are seen in the dental clinic if they meet the

other requirements, but the clinic is not a

Medicaid/Medicare provider and does not bill

any third party for services.) Eddie said he sees

many single parents come in to the clinic who

are working two or three jobs and still qualify

for their services.

While the medical side of the clinic is

extremely important, Eddie said the dental

side is where the greatest need lies. "Our

clients are asking for dental assistance three

to one over medical assistance," he said.

"We have more than 100 people waiting for

services." And because dental services are not

covered under health

care reform legislation,

"there will always be a

need for this clinic."

"We couldn't have

done any of this

without support," Eddie

said, adding that the

Blue & You Foundation

has been a major

source. The clinic is a

registered 501(c)(3)

non-profit organization

and still is in need of

funding to reach its

operational goals.

Source: harmonyclinicar.org

Blue & You SPRING 2012

15
---
with Dr. David

David A. Lipschitz,

M.D., Ph.D.

Seek peace to

live long and live well

Living a truly healthy life begins with calming down.

Managing stress and making room for peace in life is

just as important to health as exercise or nutrition.

But stress management is a skill. You must learn to

reduce stress; it's not a simple task. By freeing yourself

from stress, a healthier, happier life becomes possible.

Of all the factors leading to disease, stress is one

of the most important. While stress is a natural

part of life, the way we respond to it can cause both

acute and chronic hormonal changes. These changes

can lead to high blood pressure, mood disorders,

alterations in immune function, weight loss or

weight gain, increases in cholesterol and the risk of

heart attack and stroke, infections and even cancer.

Dr. Dean Ornish and many other experts agree

that the best way to reduce the risk of a second

heart attack is to learn how to control stress.

Furthermore, studies indicate that learning to cope

with disease is a central element of recovery in

patients with cancer, following major surgeries and

dealing with depression.

Regardless of what the greatest stressor may be,

the majority of Americans simply do not know how

to cope with stress. This is probably why stress

doesn't end with retirement. Stress is not just about

a job or a situation; it exists everywhere, and until

you learn to use positive coping mechanisms, you

will never be stress free.

More and more evidence shows that, as a nation,

we are not dealing with stress well. According to

a recent survey of the American Psychological

Association, 78 percent of Americans admit to using

poor coping skills when it comes to stress. Too much

stress may cause you to over eat or under eat. It may

make you more prone to lash out at others and cause

unnecessary conflicts. Stress may push you

to seek mindless activities like watching

television or playing video games. At its

worst, too much stress can lead to abuse of

alcohol or drugs.

Ten steps to reducing stress

1. Learn stress reduction exercises.

Learning to unwind and seek true and inner

peace will save your life. Whenever stressed or

revved up, stop and breathe. Notice your breath.

Find peace in this present moment. Doing so

will bring you back, calm you down and provide

a little extra room to be honest.

Dealing with stress requires education, time and

commitment. There are many relaxation techniques

available including meditation, prayer, yoga, tai

chi and breathing exercises and an approach called

guided imagery. Books, tapes and even smartphone

applications can teach you relaxation techniques that

suit your personality and the amount of time you are

willing to devote to stress reduction.

2. Put yourself first.

Be honest with yourself — and others — about what

you need. Give yourself the leeway to be first once in a

while. This applies to all aspects of your life, including

the time you spend with your family. If you have

concerns, learn to be honest, discuss your feelings

openly, and actively look for opportunities to improve

your situation. You can never find peace if you

constantly feel unsatisfied in a job or a relationship.

By putting yourself first, you will actually be better

for everyone around you. This is not a selfish task but

rather a necessary component of being truly peaceful.

16 Blue & You SPRING 2012
---
7. Don't let the little things get to you.

It's amazing how often we get upset over

the smallest things. Remember what is

important and put your challenges into

perspective. Usually, getting upset about

little things is a byproduct of a bigger

problem. Seek the source of your issue.

3. Be kind to your body and seek health.

Your health is precious, and nothing

is more important than taking care of

yourself. A healthy body is more prepared

to handle stress. Eat right, exercise,

get enough sleep and be an empowered

consumer of health care. Always maintain

good health habits.

4. Don't take yourself too seriously.

Voltaire said eloquently, "The art of medicine

consists of keeping the patient amused while

nature heals the disease." In other words, don't

stress about it! Your body has an incredible

ability to heal itself, and the more lighthearted

you are, the better.

5. Be kind to yourself and to others.

Developing healthy interpersonal relationships

is a huge component of living a stress-free life. But

remember: it begins with you. Be kind to yourself

and you can learn to be kind to others as well.

Be vulnerable, open and honest. After you open

yourself up to other people, you simply cannot be

closed anymore. (And being closed isn't healthy!)

6. Learn to say no.

Many of us simply take on too much — myself

included! I took quite a long time learning to refuse

opportunities, delegate tasks and simply make time

for myself. Remember, the greater the responsibility,

the more important it is to not take everything on

yourself. Numerous studies have shown that the

most successful people are not that busy.

8. Learn how to handle conflict.

Perhaps the best lesson I learned from my

therapist was how to handle conflict. We have

a tendency to either confront disagreements

aggressively or bury them in our mind and stew.

Neither is of great value. When you find yourself

in a challenging situation, take a moment to

breathe, and try to find the core reason for your

conflict. It's often not what's on the surface.

When dealing with interpersonal conflict,

discuss your concerns in a calm environment

and, whatever you do, avoid a shouting match.

Try and induce sympathy in the person you

are confronting and avoid accusations. Never

attack. Always relate to the way the problem has

negatively affected you. Choose to collaborate

rather than agitate.

9. Learn to forgive.

Forgiveness plays a major role in promoting

health and assuring a long and independent life.

It rids you of resentment, hostility and negative

thoughts that can eat away at you. Whether it

is by embracing your faith, calling on your inner

strength, or seeking help from others, having

the capacity to forgive and let go allows healing,

growth, comfort and peace.

10. Recognize what stresses you out.

We all have certain triggers that can set us off.

Find out what your trigger is and try to address it.

Each time you feel that thing happen — whatever

it is — stop and breathe. Try to relax and approach

the situation anew.

Always remember the key to health involves a

total and complete approach affecting all aspects of

life. Eat right, have regular medical checkups and

seek peace and happiness to reduce stress and live a

longer, better and disease-free life.

EDITOR'S NOTE: David A. Lipschitz, M.D., Ph.D., is nationally recognized as a leader in the field of geriatrics.

Arkansas Blue Cross and Blue Shield is honored to have him as a contributor to Blue & You magazine.

Blue & You SPRING 2012

17
---
from the

Last November, the Centers for Disease Control

and Prevention (CDC), released a study on

overdoses of prescription pain relievers, including

oxycodone, hydrocodone, methadone, Oxycontin,

fentanyl, and Duragesic, among others. These are

not medications that should be readily available

on the street as they all require a prescription.

When these medications are available on the street,

it is because they have been diverted from the

appropriate person or location. In most cases that

means they were stolen (from a pharmacy or from

someone's medicine cabinet), have been obtained

via fraudulent behavior, or have been given to

someone else by friends and family. Regardless of

where they came from, they have become widely

available. Inappropriate use of these medications

has increased dramatically during the past decade.

The sobering fact is that overdose deaths associated

with these medications now surpass overdose deaths

attributed to cocaine and heroin combined — not

separate but combined. The CDC estimates that in

2010, 4.8 percent of the U.S. population 12 years

and older used an opioid pain reliever nonmedically.

(Nonmedical use is defined as using a prescription

pain reliever without a prescription belonging to the

person or use for the experience or feeling the drug

causes.) By applying that same number to Arkansas,

approximately 150,000 Arkansans used opioid pain

relieving medications without a prescription in 2010.

(Let's bring this even closer to home; if you make

a list of 20 friends, it is probable that one of your

friends used these medications without a prescription

in 2010.)

A 2009 article published in the Journal of the

American Academy of Child and Adolescent Psychiatry

revealed that the most common source of free,

misused prescription drugs for adolescents is friends

18 Blue & You SPRING 2012

by Brandon Griffin, Pharm D.,

Arkansas Blue Cross and Blue Shield

Prescription drug abuse is everyone's problem

and family. The ease of access and high possibility of

significant harm make this a very important issue.

If you have a legitimate reason to be taking

prescription opioid pain relievers and you have some

currently available, please let this sink in — you may,

unknowingly, be contributing to a prescription drug

misuse problem. How many and which people know

you are taking these medications? Do you keep them in

a secure location? These are important questions that

you need to answer for the sake of your friends and

family. You should secure all your medication in a place

where unauthorized people do not have access to it.

Also, if you have unwanted medications you have an

option to get rid of it appropriately, and thankfully,

the U.S. Drug Enforcement Administration (DEA)

has made this much easier. In 2010, the DEA started

a program throughout the United States to take back

and dispose of unwanted or expired prescription

medications. Since September 2010, the DEA has

held three Take Back Days, and the results were

unprecedented. After the third Take Back Day in

October 2011, the DEA and its partners had removed

498.5 tons of medication from circulation — all of

this collected.

The next national Take Back Day will be April 28,

from 10 a.m. to 2 p.m. To find a location nationwide,

visit justice.gov/dea. In Arkansas, you can visit

artakeback.org and enter in the name of your city.

You might be amazed at how close one of the Take

Back locations is to you.

Disposing of unused, unneeded medications will

help slow the rising trend of prescription drug abuse.

This is just one action you can take to help prevent

overdoses of prescription pain relievers and protect

your friends and family from a very costly problem.

Take action on April 28.
---
Resolve to keep

your resolution!

So, now that we are approaching spring,

how are those New Year's resolutions holding

up? Was this the year you were going to get

into shape? Well, if those good intentions

fizzled out after the first few months, don't get

discouraged, and don't give up either.

We are constantly bombarded by the need

for wellness. The rising costs of health care,

increasing incidences of certain medical

conditions and high rates of obesity are a

direct response to our unhealthy lifestyles. The

statistics are staggering. Did you know that

Starbucks spends more each year on health care

than coffee? And the health care portion of the

cost of a new General Motors vehicle exceeds

the cost of the steel from which it is made?

As a rehabilitation physician, exercise has

special meaning for me. I prescribe it as a

treatment when individuals have lost their

independence with the goal of gaining it

back. I see regularly how medical conditions

caused by an unhealthy lifestyle can affect

patient outcome. Stroke patients with diabetes,

regardless of age, are less likely to return home.

Obese patients increase the burden of care

for their loved ones. On a personal note, after

having my last child at 42, I felt an obligation

to do my part to be sure I would be there at a

minimum for his high school graduation.

Many people deviate from their resolutions

by setting themselves up for failure. They

adopt an overly ambitious diet and exercise

plan. Changing habits one at a time works

better. Losing less but keeping it off yields

better health results. Remember the Aesop's

fable about the tortoise and the hare? The hare

alternated between spurts of showing off his

the

DOCTOR'S

corner

by Cygnet Schroeder, D.O.

Medical Director, Fort Smith

speed and long lapses where he was doing

other things while the tortoise plodded along

with slow steps to win the race.

Try picking a realistic goal. Be specific — for

example, you could have the goal to lose 10

pounds during a three-to-four-month period.

Walk twice weekly. Eat fast food one less time

a week than you do currently. A rough rule of

thumb is you maintain your body weight if you

consume 8-10 calories a day for every pound

you weigh. So, if you weigh 200 pounds, you

will start to lose weight if you take in less than

2,000 calories. The daily decrease in calories

will determine your weight loss. Just remember

that to maintain a 10-pound weight loss it will

require eating 10 percent less over time than

when you started. Exercise compliments your

weight loss. A modest gain in muscle tissue

resets your metabolism higher because muscle

must burn calories to maintain itself.

Start exercise slowly. If you overdo it there

will be multiple reasons to quit, such as pain

and fatigue. Try something that appeals to you.

Even an increase of 500 steps a day will help.

Any activity that increases your pulse, makes

you breathe hard, or causes a light sweat

counts. A high school friend who had gained

quite a bit of weight over time and successfully

lost with diet change and exercise told me she

didn't really like to exercise, but she liked how

she looked and felt by doing it. Keep track of

your success. After you have achieved a goal,

revise it. Remember you are racing only with

yourself and you can get to the finish line at

your own pace.

Blue & You SPRING 2012

19
---
NOTICE OF PRIVACY PRACTICES – ARKANSAS BLUE CROSS AND BLUE SHIELD

THIS NOTICE DESCRIBES HOW CLAIMS OR MEDICAL INFORMATION ABOUT YOU MAY BE USED AND DISCLOSED

AND HOW YOU CAN OBTAIN ACCESS TO THIS INFORMATION. PLEASE REVIEW IT CAREFULLY.

By law, Arkansas Blue Cross and Blue Shield is required to protect the privacy of your protected health information.

We must also give you this notice to tell you how we may use and release (disclose) your protected health information held by us.

Throughout this notice, we will use the name "Arkansas Blue Cross" as a short-hand reference for Arkansas Blue Cross and Blue Shield.

Arkansas Blue Cross must use and release your protected health information to provide information:

• To you or someone who has the legal right to act for you (your personal representative)

• To the Secretary of the Department of Health and Human Services, if necessary to make sure your privacy is protected, and

• Where required by law.

Arkansas Blue Cross has the right to use and release your protected health information to evaluate and process your health plan or

health insurance claims, enroll and disenroll you and your dependents, and perform related business operations. For example:

• We can use your protected health information to pay or deny your claims, to collect your premiums, or to share your benefit

payment or status with other insurer(s).

• We can use your protected health information for regular health care operations. Members of our staff may use information in

your personal health record to assess our efficiency and outcomes in your case and others like it. This information will then be

used in an effort to continually improve the quality and effectiveness of benefits and services we provide.

• We may disclose protected health information to your employer if your employer arranges for your insurance and serves as

Plan Administrator. If your employer meets the requirements outlined by the privacy law, we can disclose protected health

information to the appropriate department of your employer to assist in obtaining coverage or processing a claim or to

modify benefits, work to control overall plan costs, and improve service levels. This information may be in the form of routine

reporting or special requests.

• We may disclose to others who are contracted to provide services on our behalf. Some services are provided in our organization

through contracts with others. Examples include pharmacy management programs, dental benefits, and a copy service we

use when making copies of your health record. Our contracts require these business associates to appropriately protect your

information.

• Our health professionals and customer service staff, using their best judgment, may disclose to a family member, other

relative, close personal friend or any other person you identify, health information relevant to that person's involvement in

your care or payment related to your care. An example would be your spouse calling to verify a claim was paid, or the amount

paid on a claim.

Arkansas Blue Cross may use or give out your protected health information for the following purposes, under limited circumstances:

• To state and other federal agencies that have the legal right to receive Arkansas Blue Cross data (such as to make sure we are

making proper claims payments)

• For public health activities (such as reporting disease outbreaks)

• For government health care oversight activities (such as fraud and abuse investigations)

• For judicial and administrative proceedings (such as in response to a subpoena or other court order)

• For law enforcement purposes (such as providing limited information to locate a missing person)

• For research studies that meet all privacy law requirements (such as research related to the prevention of disease or disability)

• To avoid a serious and imminent threat to health or safety

• To contact you regarding new or changed health plan benefits

By law, Arkansas Blue Cross must have your written permission (an authorization) to use or release your protected health

information for any purpose other than payment or health care operations or other limited exceptions outlined here or in the

Privacy regulation. You may take back (revoke) your written permission at any time, except if we have already acted based on your

permission.

Personal Health Record (PHR)

If you have a health benefit plan issued by Arkansas Blue Cross on or after Oct. 1, 2007, you have a Personal Health Record

(PHR). Your PHR contains a summary of claims submitted for services you received while you are or were covered by your

health benefit plan, as well as non-claims data you choose to enter yourself. Your PHR will continue to exist, even if you

discontinue coverage under your health benefit plan. You have access to your PHR through the Arkansas Blue Cross Web site.

In addition, unless you limit access, your physician and other health care providers who provide you treatment have access

to your PHR. Certain information that may exist in the claims records will not be made available to your physician and other

health care providers automatically.

20 Blue & You SPRING 2012
---
To protect your privacy, information about treatment for certain sensitive medical conditions such as HIV/AIDs, sexually

transmitted diseases, mental health, drug or alcohol abuse or family planning will be viewable by you alone, unless you

choose to make this information available to the medical personnel who treat you. Similarly, non-claims data, such as

your medical, family and social history, will only appear in your PHR if you choose to enter it yourself. It is important

to note, that you have the option to prohibit access to your PHR completely, either by electronically selecting to

prohibit access or by sending a written request to prohibit access to the Privacy Office at the address below.

Special Note on Genetic Information

We are prohibited by law from collecting or using genetic information for purposes of underwriting, setting premium,

determining eligibility for benefits or applying any preexisting condition exclusion under an insurance policy or

health plan. Genetic information means not only genetic tests that you have received, but also any genetic tests of

your family members, or any manifestations of a disease or disorder among your family members. Except for preexisting

condition exclusions, we may obtain and use genetic information in making a payment or denial decision

or otherwise processing a claim for benefits under your health plan or insurance policy, to the extent that genetic

information is relevant to the payment or denial decision or proper processing of your claim.

Your Rights Regarding Medical Information About You

You have the right to:

• See and get a copy of your protected health information that is contained in a designated record set that was used

to make decisions about you.

• Have your protected health information amended if you believe that it is wrong, or if information is missing, and

Arkansas Blue Cross agrees. If Arkansas Blue Cross disagrees, you may have a statement of your disagreement

added to your protected health information.

• Receive a listing of those getting your protected health information from Arkansas Blue Cross. The listing will not

cover your protected health information that was given out to you or your personal representative, that was given

out for payment or health care operations, or that was given out for law enforcement purposes.

• Ask Arkansas Blue Cross to communicate with you in a different manner or at a different place (for example, by

sending your correspondence to a P.O. Box instead of your home address) if you are in danger of personal harm if

the information is not kept confidential.

• Ask Arkansas Blue Cross to limit how your protected health information is used and given out to pay your claims

and perform health care operations. Please note that Arkansas Blue Cross may not be able to agree to your request.

• Get a separate paper copy of this notice.

To Exercise Your Rights

If you would like to contact Arkansas Blue Cross for further information regarding this notice or exercise any of the

rights described in this notice, you may do so by contacting Customer Service at the following toll-free telephone

number: Arkansas Blue Cross, 1-800-238-8379.

You also may get complete instructions and request forms from our company's Web site, which is:

arkansasbluecross.com

Changes to this Notice

We are required by law to abide by the terms of this notice. We reserve the right to change this notice and make the

revised or changed notice effective for claims or medical information we already have about you as well as any future

information we receive. When we make changes, we will notify you by sending a revised notice to the last known

address we have for you or by alternative means allowed by law or regulation. We also will post a copy of the current

notice on Arkansas Blue Cross Web site.

Complaints

If you believe your privacy rights have been violated, you may file a complaint with Arkansas Blue Cross, or with the

Secretary of the Department of Health and Human Services. You may file a complaint with Arkansas Blue Cross by

writing to the following address:

Privacy Office

ATTN: Privacy Officer

P.O. Box 3216

Little Rock, AR 72201

We will not penalize or in any other way retaliate against you for filing a complaint with the Secretary or with us.

You also may file a complaint with the Secretary of the U.S. Department of Health and Human Services. Complaints filed

directly with the Secretary must: (1) be in writing; (2) contain the name of the entity against which the complaint is lodged;

(3) describe the relevant problems; and (4) be filed within 180 days of the time you became or should have become aware of

the problem. Last revision 6/2010

Blue & You SPRING 2012

21
---
CONSUMER, continued from page 3

to estimated costs for common medical procedures

at local health care facilities (such as a hospital in

your hometown). You can estimate your treatment

costs by selecting a category, a medical procedure or

service and then enter your ZIP code. The calculator

will estimate the cost of that procedure at health

care facilities near you. It also gives you easy-tounderstand

descriptions of all of the procedures

and definitions.

Patient Review of Doctors — In mid-January,

our patient review of doctors tool went live on our

secure member self-service Web sites (My Blueprint)

for members of Arkansas Blue Cross and Health

Advantage. If you have visited a doctor recently,

you now have the ability to review your visit on a

consistent rating scale and provide comments. By

July, BlueAdvantage members as well as members

of Blue plans throughout the United States will

be able to review physicians. All physician reviews

nationwide (including Arkansas doctors) will be

available for viewing through the Blue National

Doctor & Hospital Finder later this year, while

Arkansas doctors' reviews will be available through

our "Find a doctor" directory in May.

Blue National Doctor and Hospital Finder —

The national online doctor and hospital finder is a

user-friendly tool that features logistical information

on doctors and hospitals throughout the United States

as well as quality-based recognition of both doctors

and hospitals, an outline of specialties and affiliations

and in-depth patient reviews of hospitals nationwide.

These are just a few of the tools available now.

There are more on the way. The move toward

consumer transparency is one we all can agree

will make health care easier to understand, easier

to access and will give members a better

understanding of the choices available within

the health care system. And, we believe that it

will be good for all involved.

New preventive service for Medicare

The Centers for Medicare & Medicaid Services (CMS) recently approved several new

preventive services that will be offered to Medicare enrollees without having to pay

a deductible, copayment or coinsurance (cost sharing).

These preventive services include:

Effective Oct. 14, 2011

• Screening and behavioral counseling interviews

in primary care to reduce alcohol misuse.

• Screening for depression in adults.

Effective Nov. 8, 2011

• Screening for sexually transmitted infections (STIs).

• High intensity behavioral counseling to prevent STIs.

• Intensive behavioral therapy for cardiovascular disease.

Arkansas Blue Cross and Blue Shield will cover any cost

sharing amounts incurred by our Medicare Advantage

members after those dates.

22 Blue & You SPRING 2012
---
The 2012 Blue & You

Fitness Challenge

is under way!

If you are one of the thousands participating

in the 2012 Blue & You Fitness Challenge,

you should be well on your way to exercising

(virtually) across the United States.

Whether or not you are participating in

the Challenge, "Like" us on Facebook ® to

share and receive daily exercise tips and

reminders. This page also provides a forum

for you to share questions, comments and

experiences regarding health and fitness.

Through this site, we hope to help motivate

individuals to start and continue a fitness

routine and/or enhance an existing routine.

The Blue & You Fitness Challenge is an

exercise contest held March through May

each year that encourages participants

to work toward the public health

recommendation of adult physical activity

30 minutes each day, most days of the week.

Each day that a participant completes a

cardiovascular-oriented exercise session,

he/she logs the exercise online to advance

"virtually" one checkpoint on a national

map. The winning entity is determined by

whose group members score the highest

in four categories. Arkansas Blue Cross

and Blue Shield, the Arkansas Department

of Health and the Department of Human

Services host the Challenge.

If you missed the Challenge this year,

you can go to arkansasbluecross.com,

select "Members," go to the "Popular

Links" section and select "Blue & You

Fitness Challenge." Then encourage your

co-workers, friends or people in your

community to participate next year!

Like us.

Follow us.

We Love to Hear From You!

May we help? For customer service, please call:

Little Rock

Number (501)

Toll-free

Number

Medi-Pak ® members 378-3062 1-800-338-2312

Medi-Pak Advantage members 1-877-233-7022

Medi-Pak Rx members 1-866-390-3369

Arkansas Blue Cross members 378-2010 1-800-238-8379

Pharmacy questions 1-800-863-5561

Specialty Rx pharmacy questions 1-866-295-2779

Health Advantage members 378-2363 1-800-843-1329

Pharmacy questions 1-800-863-5567

BlueAdvantage members 378-3600 1-888-872-2531

Pharmacy questions 1-888-293-3748

State and Public School members 378-2364 1-800-482-8416

Federal Employee members 378-2531 1-800-482-6655

Looking for health or dental insurance? We can help!

For individuals, families 378-2937 1-800-392-2583

and those age 65 or older

For employer groups* 378-3070 1-800-421-1112

*Arkansas Blue Cross, Health Advantage and BlueAdvantage Administrators of Arkansas

Prefer to speak with someone close to home?

Call or visit one of our offices near you:

ArkansasBlue — Little Rock

2612 S. Shackleford Rd. — Suite J 501-378-2222

Fayetteville

516 East Millsap Rd. — Suite 103 1-800-817-7726

Fort Smith

3501 Old Greenwood Rd. — Suite 5 1-866-254-9117

Hot Springs

100 Greenwood Ave. — Suite C 1-800-588-5733

Jonesboro

707 East Matthews Ave. 1-800-299-4124

Little Rock

320 West Capitol Ave. — Suite 900 1-800-421-1112

Pine Bluff

1800 West 73rd St. 1-800-236-0369

Texarkana

1710 Arkansas Boulevard 1-800-470-9621

Visit our Web sites for more information:

arkansasbluecross.com • healthadvantage-hmo.com

blueadvantagearkansas.com • blueandyoufoundationarkansas.org

Blue & You SPRING 2012

23
---
events and activities

now saturday, april 28

• "Like" our Mother Hood Facebook page to

help support Arkansas Children's Hospital.

(page 13)

• If you are entered in the Blue & You Fitness

Challenge, don't forget to log your virtual

miles. "Like" us on Facebook to get great

fitness tips and encouragement! (page 23)

• Don't forget to save our mobile Web site to

your smartphone! (page 5)

• If you've been to the doctor recently, you can

review your experience. (page 5)

saturday, june 9

• Enjoy our "Dance and Discover" party

at the Museum of Discovery. Show

your member ID card to get in free

and join the fun! (page 11)

• Get your hands in the dirt with P.

Allen Smith at ArkansasBlue, our

health insurance store at Shackleford

Crossings in Little Rock. (page 8)

• Run in the Susan G. Komen Ozark

Race for the Cure at the Promenade

Mall in Rogers, Ark. (page 11)

• Take your old, unused prescriptions

to be safely disposed of at a National

Take Back Day location. (page 18)

sunday, september 9

• Whether you are a Nana, Mimi,

Pops or Papaw, you can bring

your grandbabies to "Grow with

Grandparents" day at the Museum

of Discovery. Show your member

ID card to get in free! (page 11)