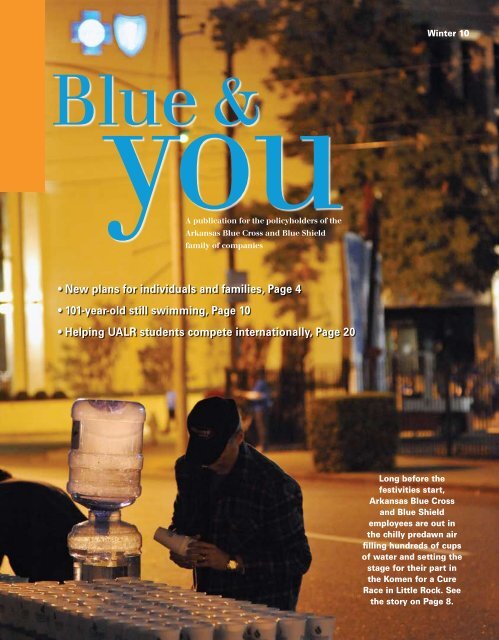 Blue & You - Winter 2010
New plans for individuals and families, Page 4 101-year-old still swimming, Page 10 Helping UALR students compete internationally, Page 20
New plans for individuals and families, Page 4
101-year-old still swimming, Page 10
Helping UALR students compete internationally, Page 20
SHOW MORE
SHOW LESS
Create successful ePaper yourself
Turn your PDF publications into a flip-book with our unique Google optimized e-Paper software.
Winter 10

A publication for the policyholders of the

Arkansas Blue Cross and Blue Shield

family of companies

• New plans for individuals and families, Page 4

• 101-year-old still swimming, Page 10

• Helping UALR students compete internationally, Page 20

Long before the

festivities start,

Arkansas Blue Cross

and Blue Shield

employees are out in

the chilly predawn air

filling hundreds of cups

of water and setting the

stage for their part in

the Komen for a Cure

Race in Little Rock. See

the story on Page 8.
---
101-year-old Tracy Akins,

swimming at the Marvin Altman

Fitness Center in Fort Smith.

on Page 10

6 Eight clinics to pilot

innovative concept

8 Blue in the pink

23 Women's Health and Cancer

Rights Act

INSIDE

3

4

5

6

7

8

10

12

13

14

15

16

18

19

20

22

23

24

Out of the Blue

New plans for individuals and families

Bravo Wellness to manage incentive programs for

employer groups

Eight clinics to pilot innovative concept

Your health plan information is online …

Register today!

Remembering Maudie Rogers

Blue in the pink

In the swim of things — 101 years and counting

Making healthy New Year's resolutions and

making them stick

Lose weight The Healthy Weigh!

FDA issues consumer warning about infant

sleep positioners

Planning to have a baby? Eat more fruits, veggies

and fish!

Vitamin D supplements do not improve bone density

in healthy children

Are supplements a substitute for healthy eating?

Questions on health insurance reform?

Arkansas Blue Cross makes the grade

Lifelong Health with Dr. David

From the Pharmacist — What is step therapy?

The Doctor's Corner

Good for you starts with …

Good for your community

Women's Health and Cancer Rights Act

Customer Service telephone numbers

Good for you

Winter 10

is published four times a year by

Arkansas Blue Cross and Blue Shield for

the company's members, health care

professionals and other persons

interested in health care and wellness.

Editor: Kelly Whitehorn — BNYou-Ed@arkbluecross.com

Assistant Editor: Jennifer Gordon

Designer: Gio Bruno Photographer: Chip Bayer

Contributors: Chip Bayer, Matthew Creasman, Damona Fisher, Kristy Fleming,

Trey Hankins, Heather Iacobacci-Miller, Ryan Kravitz, Kathy Luzietti and

Mark Morehead

Vice President, Communications and Product Development: Karen Raley
---
Out of the

Blue

A message from our

CEO and President,

Mark White

Managing your health care budget

The Patient Protection and Affordable Care Act

(PPACA), signed into law in March, quickly is changing

the health care landscape. There are still a lot of unanswered

questions and concerns about how the coming

changes will affect our members. Regardless of these

changes, Arkansas Blue Cross and Blue Shield still will

continue to conduct business for our members with

three simple things in mind:

1. We want you to be healthy.

2. If you are sick, we want you to receive quality care

from excellent doctors and hospitals.

3. We don't want you to go bankrupt in the process.

Arkansas Blue Cross always has been a careful

steward of your health care dollars. Our administrative

costs are some of the lowest in the country, and we are

always looking for ways to be more efficient without

sacrificing the quality of our customer service. Some

of the ways we save you money is by working with

doctors, hospitals and pharmacies to lower the cost

of care.

You can help add more value to your health care dollar

by following these simple rules:

Buy Generic

Generic medications often are a fraction of the

cost of brand-name drugs, and must meet the same

U.S. Food and Drug Administration (FDA) quality standards

as their counterparts. Generic alternatives to

high-priced branded drugs help increase adherence

to prescribed drug therapies and improve health care,

while providing value to cost-conscious consumers and

businesses.

Join a Health Education Program

Did you know Arkansas Blue Cross has programs

available to help you manage chronic illness or prepare

for a new child? All of our Health Education Programs

provide access to registered nurse case managers and

health information and education from community and

national resources. We believe that by learning more

about your condition, you can avoid problems and stay

healthier.

Use the emergency room only in

emergencies

The use of emergency rooms for non-emergency

conditions results in unnecessary spending estimated

at $14 billion every year in the United States. When

insurance companies cover these costs, consumers

don't immediately see the impact of the cost, but it's

Budget, continued on Page 15

3

Blue & You Winter 2010
---
flexibility of being able to add maternity

and obstetrical coverage to your

plan during the annual open enrollment

period.

4

New plans

for individuals and families

I n the 60 years Arkansas Blue

Cross and Blue Shield has offered

health insurance to Arkansans, we've

learned what matters most to you:

cost, health plans that cover what

you need, and a choice of excellent

doctors and hospitals. Our new plans

for individuals and families, who are

not Medicaid- or Medicare-eligible,

feature all three.

Price, plans and providers

• Our plans offer the protection you

need at prices that won't break

the bank.

• You have low copayments for

primary care doctor's office visits

and generic prescription drugs.

And, other medical services are

covered after a deductible is met.

• With more than 9,300 participating

doctors and hospitals throughout

Arkansas, (and thousands of

doctors throughout the nation and

around the world for when

you travel).

What are you looking for in a

health insurance plan?

Do you want your health plan to

start paying your medical bills

quickly? We have health plan options

featuring $30 copayments for

primary care doctor office visits and

$10 copayments for generic drugs.

Other medical services are covered

after your deductible is met.

Do you want coverage for preventive

care services and the option

to add benefits as your needs

change? Our health plans feature

coverage for routine physical exams,

gynecological exams, routine mammograms,

routine colonoscopies,

children's immunizations and wellpatient

care, and more. Also, if

you're planning to start a family, or

add to it, our plans offer you the

Do you want a plan with tax advantages?

Our "HSA-compatible"

health plans allow policyholders

to make tax-free contributions to a

health savings account (HSA) to pay

for medical expenses.

Money saved in your

HSA can be spent right

away or saved for future use.

Are you looking for dental coverage,

too? We also offer a choice of

dental policies. These plans offer

coverage from preventive care

(including initial and periodic exams,

teeth cleanings, fluoride treatments

and X-rays) to minor restorative care

(fillings and simple extractions) to

major restorative care (root canals,

oral surgery, bridges implants and

more). Plus, you have the freedom to

use any dentist you wish — although

you can maximize your benefits by

using a dentist who participates in

the DentalBlue ® network.

Whatever your need, we've got

the right plan for you. If you would

like more information on any of our

new plans, call toll free 1-800-392-

2583, visit us online at arkansasbluecross.com

or contact a local independent

or Farm Bureau agent.

Blue & You Winter 2010
---
Bravo Wellness

to manage incentive programs

for employer groups

I f you have your health insurance through your employer

(and the business has 51 or more employees),

your employer soon will be hearing about the Bravo

wellness program.

Arkansas Blue Cross and Blue Shield recently announced

that Bravo Wellness will be its exclusive

incentive management partner for employer group

customers. The Bravo program, now offered exclusively

in Arkansas to customers of Arkansas Blue Cross and

its family of companies, provides employers with a tool

to control the cost of health care while encouraging

healthy behaviors among employees.

Because an estimated 75 percent of health care

costs are driven by lifestyle choices, the Bravo program

is designed to reward employees who make positive

lifestyle decisions.

In other types of insurance (like car or home), low

risk is rewarded. Good drivers pay less for car insurance

than bad drivers. Homes with swimming pools may

cost more to insure than those without pools. With the

Bravo program, these same concepts apply to health

insurance. If you make good lifestyle decisions, your

insurance will cost less.

The Bravo program will be available to Arkansas Blue

Cross, Health Advantage and BlueAdvantage Administrators

of Arkansas employer customers with more than

50 employees.

"Our goal is to help our current and prospective

members live healthier lives," said Mark White, president

and chief executive officer of Arkansas Blue Cross.

"With the help of Bravo, we can meet the needs of employers

by providing a results-based incentive program

and continue to help our members reach their own

personal wellness goals."

"We are thrilled to be selected and have given

Arkansas Blue Cross exclusive access to our products

and services in Arkansas," said Jim Pshock, founder

and president of Bravo Wellness. "By offering Bravo's

programs, Arkansas Blue Cross has provided employers

with a unique opportunity to control costs and improve

the health status of their employees."

Bravo Wellness is an independent company that operates

separately from Arkansas Blue Cross and Blue Shield, Health

Advantage and BlueAdvantage Administrators of Arkansas.

Bravo Wellness does not sell or service Arkansas Blue Cross,

Health Advantage or BlueAdvantage products and is solely

responsible for the incentive management services referenced

in this article. This program is not available to Arkansas state

employees or public school employees.

Blue & You Winter 2010

5
---
WELCOME HOME!

Eight clinics to pilot innovative concept

6

Arkansas Blue Cross and Blue Shield has chosen

eight medical practices to serve in a pilot program:

Clinics featuring the new concept are:

Baptist Health Family Clinic; Bryant

Clopton Clinic; Jonesboro

Harrison Family Practice Clinic; Harrison

NEA Baptist Clinic, Internal Medicine; Jonesboro

Ozark Internal Medicine and Pediatrics; Clinton

UAMS-AHEC Northeast Family Medicine Residency

Program; Jonesboro

UAMS-Department of Family and Preventive

Medicine-Family Medical Center; Little Rock

Westark Diagnostic Clinic; Ft. Smith

This innovative approach to health care is another reason

that Arkansas Blue Cross and Blue Shield is good for

you. The eight patient-centered medical homes will be

piloted for two years and, if successful, other locations

may be added. The clinics selected to become medical

homes already are established, but will be transformed

to provide this new approach to health care.

What is a medical home?

Medical homes take the hassle out of medical care.

A medical home:

• Works to keep you healthy and takes care of you

quickly when you are sick.

• Checks to be sure you get the preventive care you

need.

• Helps you manage your chronic health problems.

• Arranges for any specialty care you need.

• Keeps all of your doctors informed of the care you

receive.

• Cares for you and about you, just like at home.

Medical homes provide quick access for sick patients,

yet are available to patients who are taking steps to

prevent illness. By using

a team approach,

medical homes can

be sure patients are

cared for by the team

member who can

best treat their needs.

This may include

advanced practice

nurses, dietitians, pharmacists and other health professionals,

as well as primary care physicians (PCPs).

Keeping you well

Just like Mom reminds you to take an umbrella on a

rainy day, medical homes reach out to their patients to

make sure they are taking care of themselves. Medical

homes keep tabs on the routine screenings, vaccinations,

tests and check ups that can keep patients from

getting sick, and communicate reminders for them to

come in at the appropriate times. It's just one more

thing you don't have to remember in your busy life.

Modern Technology

The medical homes will have information at their

fingertips to be able to provide the best treatments for

specific conditions. And, information on all of the care

you are receiving, regardless of who delivers the care,

will be available to your medical home caregivers.

Maintaining good health

More than anything, the medical home concept is

about helping patients to adopt healthy lifestyles and

helping them reach their wellness goals. At Arkansas

Blue Cross, we want you to have medical care that is

good for you. And as we all know, there is no place

like home.

Copayments, deductibles and coinsurance will apply based on

your coverage.

Blue & You Winter 2010
---
Your health plan information is ONLINE …

Register today!

Do you shop online? Pay your bills online? Catch

up with friends online?

If you spend several hours each day online, you are

not alone. Approximately 80 percent of all U.S. adults

go online for something. And, although you may not

have even thought about it, as a member of Arkansas

Blue Cross and Blue Shield, Health Advantage or

BlueAdvantage Administrators of Arkansas, you have a

personalized self-service Web site that allows you to go

online to:

• Check the status of a claim.

• Print a temporary ID card or order a new one.

• Contact Customer Service.

• Review your health plan benefits and other coverage

information.

• Find health and wellness information.

• Update your Personal Health Record.

• Sign up to get claims notifications by e-mail.

• And much more.

To access the self-service Web site, My Blueprint,

you'll need to use our easy registration process by

visiting:

• arkansasbluecross.com

• healthadvantage-hmo.com

• blueadvantagearkansas.com

And, you can register if you are a:

• Policyholder

• Covered spouse

• Covered dependent

To gain immediate access to all of your personal

information, you'll need to know the date of your last

physician office visit and the physician's name or a claim

number or you can simply call Customer Service (see

phone numbers on Page 23).

Federal employees, Medi-Pak Rx and Medi-Pak Advantage

members do not have access to My Blueprint.

7

Remembering Maudie Rogers

`````````

It is with great sadness that we share that Maudie Rogers of Jonesboro, who

was featured on the cover of the Autumn 2010 Blue & You and in the Silver-

Sneaker's article, died Sept. 29, 2010. Maudie was a member of the Northeast

Arkansas Baptist Clinic Wellness Center and an inspiration to many. Even after

being diagnosed with lung cancer (she never smoked), she continued to

exercise. She will be remembered for her dedication to fitness, which challenged

her friends, and even strangers, to strive for better health.

Blue & You Winter 2010
---
BLUE

8

Carl Carter, one of

hundreds of Arkansas

Blue Cross and Blue

Shield employees who

turn out each year

for the Komen for the

Cure ® race in Little

Rock, shows his spirit

as he cheers on the

participants.

Blue & You Winter 2010
---
in the

pink

In the chill pre-dawn hours, one October morning

each year, Arkansas Blue Cross and Blue Shield employees

gather together at the corner of Sixth and Gaines

streets in Little Rock and transform it into a celebration

of life — a tribute to those battling breast cancer and to

those searching to cure it once and for all.

Under the glow of the blue cross and shield, hundreds

of Arkansas Blue Cross employees, their families

and friends, get ready to walk, run and volunteer their

time for the Komen for the Cure ® race event in Little

Rock. Since 1997, Arkansas Blue Cross has been a

financial sponsor of the race, and recently extended its

support to Komen races in Texarkana and Fayetteville.

But Arkansas Blue Cross' sponsorship is more than

financial — it is a labor of love.

Employees in the Three Miles of Men fill thousands

of water cups and hand them out during the race. A volunteer

employee band fills the air with music, providing

extra encouragement to help race participants cross the

finish line. Other employees line the street to cheer on

racers and share a small gift as they pass by.

As the runners and walkers make their way through

the race route, the sea of pink takes on an undertone

of blue. Arkansas Blue Cross employees in blue T-shirts

are found throughout the race, participating in honor

or memory of women in their lives who have, or had,

breast cancer. This year, more than 30 of the company's

1,141-member team were breast-cancer survivors.

When the last race participant passes the Arkansas

Blue Cross building, employees gather up the decorations

and begin planning for next year's race. It is a

commitment we make, not only to the Susan G. Komen

Breast Cancer Foundation, but also to the one in eight

women who will be diagnosed with breast cancer, to

the people who love them, and to our communities.

And it is one more way Arkansas Blue Cross is good

for you.

9

Blue & You Winter 2010
---
In the swim

of things

10

Tracy Akins, swimming at

the Marvin Altman Fitness Center in

Fort Smith (left), and with

Marilyn Simpson, her second cousin

and swimming partner (below).

101 years and counting

Blue & You Winter 2010
---
In Tracy Akins' 101 years, she

has been a school teacher, a book-

would only drive, but then she said,

"that's kind of silly," and joined her

months, cooped up in rehabilitation.

Then, the fitness center pool

keeper, a cannery worker and a

in the pool. Tracy keeps track of the

needed a face lift and she had to

secretary for a saw mill in Alaska, a

number of laps by reciting as many

wait a bit longer. The week the pool

loving wife and a world traveler. For

words as she can think of starting

opened back up, however, there

the past 30 years, though, she has

with each letter of the alphabet.

was Tracy, gliding through the shim-

been a swimmer.

If she gets to the letter "J" she

mering water with Marilyn beside

Tracy swims at the Marvin Altman

knows she has done 10 laps. In that

her, thinking of words and challeng-

Fitness Center in Fort Smith, where

way she exercises her mind as well

ing her body and mind.

she is a SilverSneakers ® member.

as her body.

When she was 94, Tracy wrote

SilverSneakers is the nation's lead-

When asked how she thinks she

a memoir, filled with adventures

ing exercise program designed

managed to live so long, Tracy said

in Missouri, Alaska and Arizona

exclusively for older adults. The

she eats regularly and keeps her

before she and her husband, Walter,

program offers an innovative blend

mind active. She listens to books

moved to Mountainburg, Ark. Sadly,

of physical activity, healthy lifestyle

and socially oriented programming.

"I just love to swim

Walter died a few years after they

moved to Arkansas and Tracy made

This unique program is available to

Medi-Pak and Medi-Pak Advantage

(PFFS) members at no additional

cost at wellness centers throughout

the country.

… For many years,

I couldn't swim

because I didn't

her home in Fort Smith. She then

became a world traveler, visiting

New Orleans, Washington D.C.,

Jerusalem, Hawaii, the Caribbean,

Germany, Switzerland, London,

11

"I just love to swim," Tracy said

when asked about her favorite exercise.

"I learned to swim when I was

in the eighth grade. We had a swimming

pool in my hometown. For

many years, I couldn't swim because

have a place to go.

Now I swim five

to six times a

week."

Paris, Rome, Australia, New Zealand

and Ireland. Tracy will celebrate her

102 nd birthday in January.

To find out if you are eligible for

SilverSneakers, please contact your

health plan provider. For more infor-

I didn't have a place to go. Now I

mation regarding the SilverSneakers

swim five to six times a week."

on tape from the library and is still

Fitness Program, visit silversneak-

Because of macular degenera-

an active member at Central Pres-

ers.com or call 1-888-423-4632.

tion in her eyes, Tracy can no longer

byterian Church in Fort Smith. But

drive, but that doesn't stop her.

She and her second cousin, Marilyn

Simpson, show up around 7 a.m.

to do the sidestroke and walk laps

back and forth in the pool.

"I call her my trainer," Marilyn

laughed. When Marilyn started

taking Tracy to the pool, at first she

a big part of it, she insists, is the

swimming.

In January, Tracy fell and fractured

her pelvis. A break like that can be

devastating to an older person, but

Tracy attributes her great recovery

to her years of swimming. Still,

she was unable to swim for several

SilverSneakers ® is a registered

mark of Healthways, Inc. The SilverSneakers

Fitness Program is

provided by Healthways, Inc., an

independent company that operates

separately from Arkansas

Blue Cross and Blue Shield.

Blue & You Winter 2010
---
12

Making healthy

New Year's resolutions

and making them stick

Each year, people start out the New Year with a list of goals and

resolutions, only to forget about them or give up on them within a few

weeks. Is it possible to make and keep healthy resolutions? It is when

you are more realistic with your resolutions. Here are some tips to help

you keep those resolutions this year, along with a few healthy resolution

ideas for a happy, healthy 2011.

Tips for maintaining your resolutions:

• Be realistic with your resolutions; don't make them all or nothing. If

you want to eat healthier, start by eliminating one or two unhealthy

food items at a time.

• Set mini-goals on your way to one main goal. If you want to lose

weight, start with a smaller amount per month as a mini-goal.

• Pare down the list. Stick with a few, attainable goals rather than a

long list that may not be manageable.

• Make resolutions based on your own desires and goals, not what

others around you are doing. Don't set up to run a marathon only

because your friends are doing it.

• Reward yourself when you reach your goals or milestones.

Healthy resolution ideas:

• Start an exercise routine.

• Eat healthier.

• Make it to annual checkups.

• Lose the extra weight.

• Challenge yourself — run a 10K (or 5K).

• Try something new — take a Zumba ® class.

• Relax — take just 10 minutes for personal down time.

• Add steps to your day — take the stairs and park farther from the

store entrance.

• Lower your sugar intake.

• Add more fruits and veggies to your diet.

With some willpower and the knowledge that the end result will be

worth it, you can make New Year's resolutions that will stick!

Blue & You Winter 2010

Lose

weight

The Healthy

Weigh!

The Healthy Weigh! Education

Program is free for members of

Arkansas Blue Cross and Blue Shield,

Health Advantage (except state and

public school employees*), Blue Cross

and Blue Shield Service Benefit Plan

(Federal Employee Program), Medi-Pak

Advantage (PFFS) and eligible members

of BlueAdvantage Administrators

of Arkansas.

To enroll, complete the attached

enrollment form and return it in the

self-addressed, postage-paid envelope

included in this magazine. The program

starts when you enroll.

After enrollment, you will begin to

receive information through the mail,

which you can read in the privacy of

your own home and at your own pace.

The program is completely voluntary,

and you may leave the program at any

time. If you have further questions

about the program, call the Health

Education Program's toll-free number

at 1-800-686-2609.

* Our state and public school members can

access the "Nourish" program through

LifeSynch.

Simply complete, sign and return the

attached enrollment form in the selfaddressed,

postage-paid envelope to

join The Healthy Weigh!
---
FDA issues consumer warning

about infant sleep positioners

The U.S. Food and Drug Administration (FDA) and the

Consumer Product Safety Commission (CPSC) recently

issued a warning to consumers not to use infant sleep

positioners. In the past 13 years, the federal government

has received 12 reports of babies known to have

died from suffocation associated with their sleep positioners.

Most of the babies suffocated after rolling from

the side to the stomach.

The most common types of sleep positioners feature

bolsters attached to each side of a thin mat and

wedges to elevate the baby's head. The sleep positioners

are intended to keep a baby in a desired position

while sleeping. They are often used with infants under 6

months old.

Please be careful

It's best not to use infant positioning products. Also,

remember never to put pillows, sleep positioners, comforters

or quilts under the baby or in the crib. Be sure

to always place a baby

on his or her back at

night and during

nap time.

Source: U.S.

Food and Drug

Administration

13

Planning to have a baby?

Eat more fruits, veggies and fish!

Eating more fruits, vegetables and fish before and

during pregnancy can reduce the risk of a baby being

undernourished or small for gestational age (SGA), according

to a recent study. SGA infants are more likely to

be stillborn and to have complications as newborns and

later in life.

The study found that a woman's diet, prior to conception,

had a strong influence on the baby's size at

birth. Women who ate a healthy amount of green leafy

vegetables (three or more portions of vegetables a

day) were found to have 50 percent fewer

SGA babies. Those who consumed

low amounts of fruit (less than one

portion a week) had a 50 percent

increase in SGA babies. Similarly, those who ate more

than three servings of fish a week had a 60 percent

reduction in SGA babies.

Researchers believe that the nutrients found in fruits

and vegetables may be protective to the pregnant

mother and the developing baby but add that women

who consume high amounts of such foods also tend to

lead healthier lifestyles. According to the researchers,

pregnancy, and the months before pregnancy, may be

the ideal time to encourage women to adopt a healthy

diet, improve their intake of important nutrients and

make lifestyle changes.

Source: Royal College of Obstetricians and

Gynaecologists

Blue & You Winter 2010
---
Vitamin D supplements do not improve

bone density in healthy children

A recent study revealed that vitamin D

build bone from calcium-rich foods. Vitamin D supplements

previously have been shown to help build bone

supplements given to healthy children

who have normal vitamin D

density in people with a vitamin D deficiency.

levels, do not improve their bone

In the latest study, researchers wanted

density. Building bone density

to find out if boosting levels of vitamin

at a young age can help protect

against osteoporosis later

age bone density growth —

D in healthy children would encour-

in life and vitamin D has been shown to

specifically in the hip, lumbar

help improve bone density.

spine, forearm or the body as a

Vitamin D is a fat-soluble vitamin that

whole. They discovered vitamin

helps regulate the amounts of calcium and

D supplements had no statistically

significant effect on bone

phosphorus in the blood and promotes the

absorption of calcium, making it easier for the body to density in any of the specific body sites studied.

14

Are supplements a substitute

for healthy eating?

Vitamin supplements are meant to be just that –

supplements. Nothing beats healthy eating and whole

foods for getting the proper balance of vitamins and

minerals.

Whole foods, unlike supplements, are complex,

containing a variety of nutrients and micronutrients and

providing essential fiber necessary for a healthy diet.

They also contain other important substances for good

health, such as antioxidants.

However, sometimes supplements may be needed.

Supplements may be necessary if you:

• Do not eat a well-balanced diet.

• Consume fewer than 1,600 calories per day.

• Are vegan or vegetarian and are not eating a wide

variety of foods.

• Are pregnant, trying to get pregnant or

breastfeeding.

• Are a postmenopausal

woman.

• Have a medical

condition

affecting

how your

body absorbs

and uses

nutrients.

If you do need to take

supplements, read the label

carefully for dosage, expiration date, active ingredients

and U.S. Pharmacopeia (USP) approval, and avoid mega

doses. As always, talk to your doctor to find out which

supplements may be best for you.

Source: mayoclinic.com

Blue & You Winter 2010
---
Questions on

Health Insurance Reform?

The new changes to health insurance can be confusing,

and Arkansas Blue Cross and Blue Shield wants you to have as

much information as possible. The past two issues of Blue & You

magazine focused on these changes; if you missed them, or if you

have questions, you can find them and other health insurance

reform information on our member Web sites, arkansasbluecross.

com and healthadvantage-hmo.com.

Arkansas Blue Cross

makes the grade

A

Arkansas Blue Cross and Blue Shield recently

received an "A" (Excellent) rating for financial strength

from A.M. Best Company, the world's oldest and most

authoritative insurance rating source.

A.M. Best based this rating on the company's significant

market share, enhanced operating flexibility and

considerable capital strength. A.M. Best noted that

Arkansas Blue Cross is well capitalized in support of its

business and insurance risk and has maintained strong

risk-based capital for the past several years.

A.M. Best also reported that Arkansas Blue Cross is

the market leader in Arkansas, has a broad network of

doctors and hospitals, offers diverse products, maintains

a strong and attractive brand image, and is an

industry leader in coordinating member services with

other Blue Plans.

Additionally, A.M. Best recognized that Arkansas Blue

Cross emphasizes "high touch" interaction with members

with seven regional offices throughout the state

that give members easier access to sales and service.

15

Budget, continued from Page 3

still there in the form of higher premiums or reduced

benefits.

In this new health care environment, we all must look

for innovative ways to trim costs while improving health

and health care. It may be as simple as walking or bicycling

to a destination instead of driving, or as involved

as our new initiative to pilot several patient-centered

medical homes throughout the state of Arkansas.

Regardless, the goal is the same — to be good for your

pocketbook and good for you.

Blue & You Winter 2010
---
Lifelong Health

with Dr. David

16

David A. Lipschitz, M.D., Ph.D.

Informed consent:

Make sure you understand why a

treatment is recommended

Whenever a patient receives surgical treatment (and

some medical treatment), he or she is required to sign

an informed consent document that describes the

treatment recommended and the potential side effects.

However, the typical informed consent document does

not tell you the benefits of having the procedure, or the

reasons for having the procedure. This could have a significant

impact on whether you are willing to undergo a

particular treatment.

A good example is the reason many patients believe

they are having coronary angiograms or angioplasties.

To explain this, I must first describe the indications for

angiograms and angioplasties.

A coronary angiogram involves inserting a plastic

catheter into the coronary artery, through which dye

is injected, so the physician can conduct a detailed examination

of the inside of the coronary artery by X-ray.

Localized and generalized narrowing of the artery can

be identified, leading to the diagnosis of coronary artery

disease. An angiogram can help a physician:

• Diagnose coronary artery disease because of

suspicious symptoms such as chest pain or

shortness of breath or an abnormal EKG.

• Confirm the reason for worsening chest pain in

a patient with proven coronary artery disease

(unstable angina).

• Identify worsening heart failure.

• Indicate problems with heart valves.

A coronary angioplasty is done to open a blocked

artery. Using X-ray, the plastic catheter inserted into the

coronary artery is moved to where the vessel is blocked

or narrowed. A balloon at the tip of the catheter is inflated

to open up the blockage. A small wire mesh (that

may be coated with medication) is then placed to keep

the artery expanded. An angioplasty is used to:

• Improve symptoms of coronary artery disease such

as chest pain or shortness of breath.

• Prevent damage to the heart muscle by opening up

an acute blockage that has led to a heart attack.

• Control symptoms in patients with proven coronary

artery disease if the symptoms are uncontrolled by

Blue & You Winter 2010
---
Editor's Note: David A. Lipschitz, M.D., Ph.D., is nationally

recognized as a leader in the field of geriatrics.

Arkansas Blue Cross and Blue Shield is honored to have

him as a contributor to Blue & You magazine.

medications or if the drugs cause too many side

effects.

More than a million coronary angioplasties are done

in the United States annually. In a recent study published

in the Annals of Internal Medicine, more than

88 percent of patients undergoing coronary angiograms

and angioplasties believed that the procedures were

done to prevent a heart attack. Eighty-two percent of

the patients believed the reason was to prevent death

from a heart attack.

Sadly, neither is true. Angioplasty only improves

symptoms caused by coronary artery disease (pain or

shortness of breath).

Experts now recommend using informed consent

documents that are more explanatory to better inform

patients about the benefits and risks of any procedure.

Clearly, a patient is much more likely to agree to an

angioplasty if he or she thinks that the intervention

will prolong life or prevent minor or fatal heart attacks.

But, would an asymptomatic man with proven coronary

artery disease agree to this procedure if he knew that

it had many risks with few evidence-based benefits?

Probably not, unless his cardiologist provides a compelling

reason why the procedure is needed. On occasion,

the patient may be persuaded, but the evidence is

undeniable that many coronary angiograms and angioplasties

are unnecessary. Statistics indicate that more

than 30 percent of angioplasties are done in patients

without symptoms who have proven coronary artery

disease and whose cardiologists insist on performing

an angioplasty to clear blocked arteries.

Every patient needs to fully understand the reasons

for any medical procedure that is recommended. Make

sure you truly understand

what is being

recommended and the

reason for the procedure,

and make sure the following

questions are answered:

The most important

message is to be fully

informed, in writing,

about the potential

benefits and risks

of any procedure

recommended to treat

any illness.

1. Why is the recommended procedure being

proposed?

2. What are the benefits of the procedure?

a. Will it prolong my life?

b. Will it improve the quality of my life?

c. What other benefits may occur?

3. Are there less invasive alternatives? Can

medications provide similar benefits?

4. What are the known side effects, and how often do

they occur in someone like me?

5. Where will the procedure be performed?

6. What is the physician's qualification and record for

performing the procedure?

The most important message is to be fully informed,

in writing, about the potential benefits and risks of any

procedure recommended to treat any illness. While

treatment of heart disease is an easy example to understand,

the same information must be provided for

the treatment of any serious disease, including cancers,

strokes and many other illnesses.

With life-threatening acute illnesses, immediate

intervention can save lives. But, if you are in a situation

where you can spend a little extra time to understand

the scope of your physician's recommendation, it will

be time well spent.

17

Blue & You Winter 2010
---
What is step therapy?

18

Did you know that the average

cost of a brand-name medication is

$140, compared to $18 for a generic

medication? At Arkansas Blue Cross

and Blue Shield, we always are looking

for ways to make it easier for

you to take care of your health —

and your pocketbook.

One of the ways we look out for

you is by making generic medications

even more accessible through

our list of approved medications,

which we call our "formulary." Generic

medications act exactly the same

way in your body as brand-name

medications, but they are much less

expensive. By placing generics on

the lowest copayment level, we give

you the ability to save money and

still receive quality medications.

Another way we help you save

is through step therapy. This

practice requires our members to

start a medication beginning with

the most cost-effective and safest

drug available and progressing to

other more costly therapies only

if necessary. We only do this with

medications that are very similar

with one another and can be easily

interchanged. This way, you can find

the best medication for your needs

with the least cost. If a medication

doesn't seem to be working for

you, you can "step up" to a similar

medication in the next level in the

approved drug list, but you may end

up paying more.

Arkansas Blue Cross currently

uses step therapy in our Value Formulary.

The Value Formulary emphasizes

using generic medications

first. This drug list uses step therapy

on eight drug classes:

• ACE inhibitors/angiotensin

receptor blockers for high

blood pressure

• Statins for high cholesterol

• Non-steroidal anti-inflammatory

drugs

• Bisphosphonates for

osteoporosis

• Selective serotonin agents for

depression

• Triptans for migraines

• Nasal steroids

• Sleep medications

If you are asked to try step therapy

the next time you are prescribed

a medication, you can be sure it

is our way of helping you find the

most cost-effective, quality treatment

for your condition. The use of

step therapy is based on the latest

medical findings, the U.S. Food and

Drug Administration's medication

labeling and medication costs.

Using step therapy to guide

members toward generics and

more cost-effective medications is

another way Arkansas Blue Cross is

good for you.

This does not apply to Arkansas state

employees or public school employees.

From the

Pharmacist

by Trey Gardner, Pharm D.,

Arkansas Blue Cross and Blue Shield

Blue & You Winter 2010
---
The

Doctor's

Corner

and other problems with

blood vessels.

In a study recently pub-

by Ray Bredfeldt, M.D.,

Regional Medical Director

Northwest Region, Fayetteville

What are the risks of

CT scans?

Just last year, Americans received

more than 70 million CT (computerized

tomography) scans. According

to research, approximately half of

those scans were unnecessary and

exposed people to relatively large

doses of radiation.

Just one typical CT scan gives

a person the same amount of

radiation as 100 to 400 chest X-rays.

Total body CT scans provide as

much radiation as 1,500 to 2,000

chest X-rays.

A CT scan combines a series of

X-rays taken from many different

angles to produce cross-sectional

images of bones and tissue. For

example, a CT scan may be used

to examine people that may have

internal injuries (maybe from a car

accident) or to check for blockages

lished in the Archives of

Internal Medicine, researchers

estimated that the radiation

people receive from CT

scans cause as many as

29,000 cancer cases per

year. The younger the person

is, the greater the risk.

There are times when a CT scan

is absolutely necessary, however,

patients would be wise to ask their

doctors if there are alternatives that

might expose them to less radiation.

People also should be aware

that — although they may hear advertising

for screening CT scans of

the heart, lungs (for smokers) or the

entire body — no preventive organization

recommends these scans for

people without symptoms. There

is very little, if any, proof that the

potential benefits of such screenings

outweigh the risks from

the scans.

Flu vaccine

recommended for those

6 months and older

Everyone above the age of 6

months should receive an annual

flu vaccination unless there is a

medical reason not to do so (e.g.

an allergy to eggs), according to the

Centers for Disease Control and

Prevention (CDC). Previously, the

flu vaccine has been encouraged

primarily for the elderly, pregnant

women, and people with chronic

disease. Unfortunately,

only about 50 percent

of those in the

high-risk categories

get the vaccine

each year. The CDC

hopes that by

making it clear

that everyone

could benefit

from the

vaccine,

more

high-risk

individuals

will

get their

flu shot

each year.

19

Blue & You Winter 2010
---
good for you

starts with …

20

The Information Systems Team

It's not as though the Information nology in innovative ways to solve

Systems team at Arkansas Blue real-world problems.

Cross and Blue Shield doesn't have In 2009, UALR fielded eight

enough to do. Quite the contrary; teams in the regional competition.

just keeping up with the fast-paced Two of those teams qualified for the

changes in the world of information national competition, making UALR

technology (IT) is a full-time job. Add the only university in the four-state

to that the responsibility of making region (Arkansas, Texas, Oklahoma

sure an entire company can continue

to use technology to properly the nationals. That's when Janet

and Louisiana) to have a team in

function, and free time becomes Bailey, Ph.D., associate professor of

a premium. But, according to Kim Management Information Systems

Henderson, director of Information and coach of the UALR Imagine Cup

Systems for Arkansas Blue Cross, teams, contacted Kim for help.

it is precisely because the world of "I was very proud of our team,"

IT is so hectic that the members of Kim said. "When I first sent an e-

her team are compelled to volunteer mail asking for volunteers I expected

two or three."

their time and expertise.

For the past two years, Arkansas

Blue Cross IT employees have commendable considering the con-

She got 12. Which is especially

worked with students at the University

of Arkansas at Little Rock "They went to the university at

straints on their time.

(UALR) to help prepare them for night and on weekends," said Kim.

Microsoft's annual "Imagine Cup" "People spent their personal time

technology competition. The worldwide

competition challenges teams And the work paid off. One of the

on this."

of students from colleges and UALR teams won third place in the

universities to apply computer tech-

2009 national finals. Team "Special

At Arkansas Blue Cross and Blue Shield, w

Customer Service, and we have a saying —

of our employees, serving others doesn't e

Blue & You Winter 2010
---
Keith West (left) and Mike Kinnison were

among a group of Arkansas Blue Cross

and Blue Shield Information Systems

employees who volunteered their time to

help the University of Arkansas at Little

Rock Imagine Cup teams prepare for their

national and international competitions.

e recognize that every one of us is in

"good for you starts with me." For many

nd with the workday or the workplace.

Child" developed an application to

create a centralized database to

store information about children in

need of a permanent home and the

information about potential adoptive

parents. Their success qualified

them to compete at the next level.

"They were the only team from

the United States that got to compete

in the 2009 world finals in

Cairo, Egypt," said Kim.

Arkansas Blue Cross helped

UALR students prepare for the

world finals again in 2010. The finals,

which were held in Warsaw, Poland,

challenged teams to

develop a technology

that would help the

World Health Organization.

The students

at UALR designed

a device that used

fingerprints to help

identify children who

had received vaccinations

and those

who had not.

And, despite the

time-consuming nature of the work,

the Arkansas Blue Cross IT professionals

seem to value the opportunity

to help.

"Our programmers just enjoy

helping the young people out," said

Kim. "They remember what it felt

like to be in the students' position."

According to Kim, there is so

much to learn in the IT field that it is

" Our

programmers just

enjoy helping the

young people out.

They remember

what it felt like to

be in the students'

position."

very difficult for a university to prepare

students to be productive their

first day at a new job. Companies

use different software, applications

and processes, so there is no way

a student can learn them all prior to

taking a new job.

"Usually a person is on the job for

six months before they can do very

much because there is just so much

to learn,"

said Kim.

However, when

IT professionals

cooperate with

university faculties,

they can provide a

real-world context

for the students

and assist professors

in reinforcing

the learning concepts.

"We just want to try to help

improve the way students learn and

prepare for a field in information

technology," said Kim. "Hopefully,

we can help them be more

productive when they get into

the workforce."

21

Blue & You Winter 2010
---
22

BlueAnn travels the state

BlueAnn Ewe, Arkansas Blue Cross and Blue Shield's

health ambassador, along with the staff from Arkansas

Blue Cross' Southeast Regional Office, attended a Backto-School

carnival in McGehee, Ark., on August 24.

BlueAnn greeted hundreds of children and posed for

pictures while staff gave away BlueAnn coloring books

and crayons.

BlueAnn

joined Sarah

Tipton, meteorologist

for

television station

KAIT in Jonesboro,

on September 28 to

teach children about the

weather and

its impact on

farming at a

Farm Pizza

Party hosted

by Farm

Credit Mid-

South.

More than

250 secondgrade

students

from

BlueAnn Ewe and

friends at the Backto-School

carnival in

Brookland

McGehee.

and Riverside

elementary

schools in

Jonesboro

attended the pizza party. The students migrated from

different weather and farm stations to learn how crucial

the weather is to growing and maintaining crops. The

different stations also taught students where the ingredients

for pizza come from. BlueAnn Ewe taught her

Healthy ClassAct lesson, which focuses on good health

and nutrition.

In October, BlueAnn participated in the annual Duck

Race, a fundraiser for the CHRISTUS St. Michael

Hospital Foundation in Texarkana.

BlueAnn joined several hundred families at a National

Down Syndrome Society Buddy Walk ® at Bobby Ferguson

Park in Texarkana on October 30. The National

Buddy Walk helps raise awareness about Down syndrome

and builds support systems, both of which last

long after the one-mile walk is over.

Arkansas Blue Cross raises

nearly $10,000 for JDRF

Each year, Arkansas Blue Cross and Blue Shield

sponsors the Juvenile Diabetes Research Foundation's

(JDRF) Walk to Cure Diabetes by forming a corporate

walk team and hosting an annual fundraiser. This year

employees raised nearly $10,000 for JDRF. Employees

also joined BlueAnn at Murray Park on September 18 to

show their support by joining the JDRF walk.

Blue & You Winter 2010
---
Women's Health and

Cancer Rights Act

T he Women's Health and

Cancer Rights Act of 1998

introduced changes in

insurance coverage for

mastectomy.

In accordance with

the law, all group and

individual health plans

that provide medical and

surgical benefits for mastectomy

will cover reconstructive

breast surgery,

including:

• Reconstructive surgery on the breast on which the

mastectomy was performed.

• Reconstructive surgery on the unaffected breast

needed to "produce a symmetrical appearance."

• Prostheses and treatment of complications of any

stage of a mastectomy, including lymphedema (postsurgical

fluid buildup).

The provisions of the Women's Health and Cancer

Rights Act of 1998 apply to all group health insurance

coverage effective on the first day of the plan year

(which in most cases is the anniversary date of the

group contract) after Oct. 21, 1998. The law went into

effect on all individual insurance policies issued, renewed

or in effect on or after Oct. 21, 1998.

These provisions apply to all policies issued by

Arkansas Blue Cross and Blue Shield and Health

Advantage and are subject to the applicable

copayments, coinsurance, benefit limitations,

exclusions and benefit maximums.

If you have questions about your insurance coverage,

contact your group benefits administrator or a customer

service representative at your regional Arkansas Blue

Cross office.

We love to hear from you!

May we help? For customer service, please call:

Little Rock

Number (501)

Toll-free

Number

Medi-Pak members 378-3062 1-800-338-2312

Medi-Pak Advantage members 1-877-233-7022

Medi-Pak Rx members 1-866-390-3369

Arkansas Blue Cross members 378-2010 1-800-238-8379

Pharmacy questions 1-800-863-5561

Specialty Rx Pharmacy questions 1-866-295-2779

Health Advantage members 378-2363 1-800-843-1329

Pharmacy questions 1-800-863-5567

BlueAdvantage members 378-3600 1-888-872-2531

Pharmacy questions 1-888-293-3748

State and Public School members 378-2364 1-800-482-8416

Federal Employee members 378-2531 1-800-482-6655

Looking for health or dental insurance? We can help!

For individuals, families

and those age 65 or older 378-2937 1-800-392-2583

For employer groups 378-3070 1-800-421-1112

(Arkansas Blue Cross Group Services, which includes

Health Advantage and BlueAdvantage Administrators

of Arkansas)

Prefer to speak with someone close to home? Call or visit one

of our regional offices:

Pine Bluff/Southeast Region 1-800-236-0369

1800 West 73rd St.

Jonesboro/Northeast Region 1-800-299-4124

707 East Matthews Ave.

Hot Springs/South Central Region 1-800-588-5733

100 Greenwood Ave., Suite C

Texarkana/Southwest Region 1-800-470-9621

1710 Arkansas Boulevard

Fayetteville/Northwest Region 1-800-817-7726

516 East Milsap Rd., Suite 103

Fort Smith/West Central Region 1-866-254-9117

3501 Old Greenwood Rd., Suite 5

Little Rock/Central Region 1-800-421-1112

320 West Capitol Ave., Suite 900

Visit our Web sites for more information:

arkansasbluecross.com

healthadvantage-hmo.com

blueadvantagearkansas.com

blueandyoufoundationarkansas.org

23

Blue & You Winter 2010
---
24

At Arkansas Blue Cross

and Blue Shield, we are

always looking for new

ways to be "Good for You."

Here are some of our

latest accomplishments.

Member discounts

From contact lenses to health clubs, Arkansas Blue

Cross and Blue Shield negotiates discounts for

members for health-related services. In most cases,

your health plan ID card is all you need to obtain

the discount. Discounts include national chains like

Curves and Jenny Craig, as well as local fitness

centers. From yoga to karate to bicycling, you'll find

an activity you enjoy! To find discounts, select the

"Member Discounts" link on the main page of our

Web site (see a list of Web sites on page 23).

DentalBlue ® Web section available

Whether you are age 1 or 100, if you need affordable

dental coverage, it is as close as the Arkansas

Blue Cross and Blue Shield Web site!

Our DentalBlue ® insurance plans for individuals

offer a variety of valuable benefits — from essential

preventive services to major restorative services.

We offer three DentalBlue plans for people of

all ages.

You can find out more at arkansasbluecross.com.

Go to "Looking for Insurance" or "Individuals and

Families" and select "DentalBlue." You also can find

out more by contacting your local independent or

Farm Bureau agent or by giving us a call, toll free,

at 1-800-392-2583.

Blue & You Winter 2010