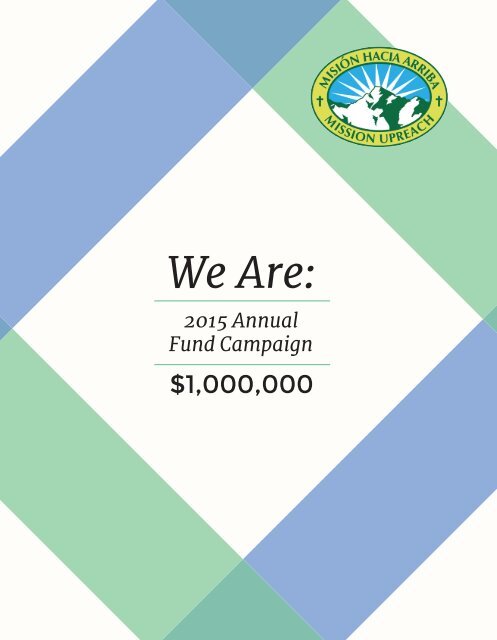 Mission UpReach - 2015 Annual Fund Campaign
Create successful ePaper yourself
Turn your PDF publications into a flip-book with our unique Google optimized e-Paper software.
We Are:

2015 Annual

Fund Campaign

$1,000,000
---
Dear Friends of Mission UpReach,

We are proud to present our plans for our annual giving campaign for 2015 in this small brochure.

This year has been a year of many "firsts" that illustrate the rapid growth we are experiencing here at Team

Mission UpReach. All of these firsts indicate that, among other things, more children are instructed in God's

plan of values; more evangelists and church planters are equipped; more young women who have been abused

or abandoned are given a fighting chance; and more young men who would otherwise drop out of school are

finishing high-school and, in the process, are developing as future leaders in their communities.

These firsts are the result of us seeing increased funding, increased key personnel, and increased

opportunities for the work we are doing. In our eyes, we are daily seeing the detailed construction of a

foundation that we believe is leading to our vision of One Church in Each Village in This Generation becoming

a present reality. While we here at Team Mission UpReach work for a 501(c)3, non-profit organization, as

Christians we carry with us the awareness that we are the Church. Our jobs exist to support the Church in her

mission to transform lives and communities by being the point of contact between people and the Lord of

Creation.

These firsts and the others that are still in our future as we carry on our mission would not be possible

if it weren't for the generosity of people just like you. We take our role here as stewards of the money our

donors give very seriously. In fact, our sense of this role is very acute, just as is our sense that we are partners

in something bigger than ourselves. I want to ask you to look through this brochure and dream with us for a

moment about the good that raising $1,000,000 in this year's campaign will mean. Don't you want to be a part

of that? I hope so, because your generosity is a necessary part of realizing this vision.

So please, right now while this brochure is in front of you, take a minute to write your tax-deductible

check and send it to Mission UpReach, Inc.

With many thanks,

Phil Waldron

CEO

Missionary Evangelist

Mission UpReach, Inc. (A Work of the churches of Christ)

P.S. Thanks to some dedicated friends of our cause we have been blessed with a "challenge fund" for our

annual fund campaign this year. That means every dollar you donate will be matched one for one, up to

$500,000, doubling your total donation.
---
The Who

of everything we do.

1.

Cindy is one of the 1000 children

who are a part of our DESEO

program. Through this program,

we are able to help provide her

with needed school supplies to

continue her eduction and pursue

her dreams. She told us, "DESEO

believed in me and in my ability

to break the cycle of poverty that

has always existed in my family...I

am 12 years old and I have great

dreams I want to achieve."

2.

The boy on the right is Nelson. He

is 5 years old and was born with

clubbed feet. Shortly after he was

born, Phil was studying the Bible

with his family and was moved to

help the family correct his feet.

Over the course of a year that

included numerous doctors' visits

and a couple of minor surgeries,

Nelson is able to walk and now

has perfectly healthy feet.

3.

Jormar Ramos is a graduate of

our Boot Camp program who has

been instrumental in planting a

new congregation in La Paz. He

was converted in an evangelistic

campaign there and came to

his first Boot Camp session

soon after. Jormar left that

week with a clear vision of

graduating from the program

and becoming a leader in his

local church, and that's just

what he did.

1.

2.

3.

These are just a few of the examples of lives that are

being impacted here. All these things we do are for

the glory of God and expansion of His Kingdom in

Western Honduras and beyond.
---
We are arrows,

pointing the way to

Jesus. We do this

through programs like

DESEO and Project

Moses. By trying to

live as Jesus did and

teaching others to do

the same, we direct

people's eyes upward,

toward our King.

DESEO is our public

school ministry that

teaches values to

almost 1000 kids every

single week.

Project Moses is a

three year program

that trains young

men from all over

Western Hondruas

in sustainable

farming practices and

leadership skills

Those who say they live in

God should live their lives

as Jesus did.

1 John 2:6
---
We are waypoints,

guiding people

into the Kingdom.

Through our Boot

Camp Leadership

Training Series,

evangelistic

campaigns, Bible

studies, and other

ministries, we are

guiding people, one

by one, along the

path to the Kingdom.

Repentance for

forgiveness of sins would

be proclaimed in His

name to all the nations.

Luke 24:46
---
We are stars,

shining with only

a fraction of the

brilliance of our

Creator. We live

our lives to shine

his light, reflected

like the sun in the

moon. All that

is good in us is

that which is the

reflected goodness

of our God.

Those who

lead many to

righteousness

will shine like

the stars forever.

Daniel 12:3
---
We are colonists,

bringing the Kingdom of

Heaven into this world.

Like colonists, we go out

into the world with our

identities and citizenship

firmly planted in the

ultimate reality of

Heaven, as we continue

to expand the Heavenly

Empire of our God.

Last year, we planted

a new church in Santa

Rosa. Pictured here is

the day they collected

close to $3000 to buy

food for the poor. They

then traveled throughout

Santa Rosa and the

surrounding villages,

giving out the food and

praying with people in

the community.

Since we are receiving a

Kingdom that is unshakable,

let us be thankful.

Hebrews 12:28
---
His intent was that now, through the church, the m

the rulers and authorities in the heavenly realms.

Ephesians 3:10
---
anifold wisdom of God should be made known to
---
Boot Camp Leadership Training Series

At Mission UpReach, we are focused on planting what we call transformational churches and raising up local

leaders. Our most effective tool for this process is our Boot Camp Leadership Training Series. We bring men

from towns and villages all over Western Honduras and parts of Guatamala and El Salvador to Santa Rosa.

Here, these men complete a one-week intensive study and leadership training seminar. Once they have

completed all six of the one-week modules, they graduate from the program.

DESEO

This program is helping children work towards a brighter future. We want these kids to know that they can

grow up to be anything they can imagine. Our team of DESEO teachers visits nine different schools every

week of the school year, where they work with nearly 1000 students, teaching them values like integrity,

honesty, and respect for authority. To date, more than 50 of these children have become regular attendees at

the local church.

The Moses Project

This program brings young men from surrounding communities to a facility with dormitories and a 60

acre working farm. Here they continue their education, while learning sustainable farming practices and

leadership skills. While in the program, they are mentored and led in Bible study by one of our church

planters, who acts as a campus minister. Our hope is that these young men graduate equipped with the skills

and the spiritual base to become leaders in their communities and further the work of the Kingdom there.

Dulce Refugio

At Dulce Refugio we provide shelter and support for girls who have dealt with difficult circumstances in

their lives. We help them finish high school and then help them go on to college or begin their career.

We see Dulce Refugio as our fulfillment of God's desire for us to "loose the chains of injustice," "set the

oppressed free," and "break every yoke" (Isaiah 58). While we can't save everyone, our ministry is an effort

to at least save some and give them an opportunity to live a blessed and empowered life.

Well Drilling

Up to 90% of all pathogens can be eliminated with enough clean water. Soon we will launch a new ministry

to provide clean water to communities that don't have access to it. Our church planting team, with training

in community organization, will enter communities by drilling wells and organizing water committees.

We already have our rig; now we just need to raise the funds to purchase the remaining supplies and get it

brought down here so we can start drilling!
---
Where is the money going?

Are you ready to join Mission UpReach and help continue the

work of bringing the Kingdom of Heaven to Western Honduras?

Yes, I/we will help. Enclosed is my gift of $________ to help expand the Kingdom.

Yes, I/we will help on a monthly basis in the amount of $________ per month.

Yes, I/we will help by making a campaign pledge. Enclosed is:

$________ as my partial fulfillment.

$________ as my full pledge amount.

Name:______________________ Email:_______________________ Phone:______________

Address:____________________________ City:_______________ State:_____ Zip:_______

Mail this form along with a check to:

Mission UpReach, Inc.

1809 W Loop 281

Suite 100, PMB 107

Longview, TX 75604

Mission UpReach, Inc. is a work of the churches of Christ. Gifts are tax deductible as allowed by law. Contributions are solicited with the understanding that the

donee organization has complete discretion and control over the use of all donated funds.
---
One church in each

village in this generation.

Mission UpReach, Inc.

1809 W Loop 281

Suite 100, PMB 107

Longview, TX 75604

www.missionupreach.org

706-534-7060