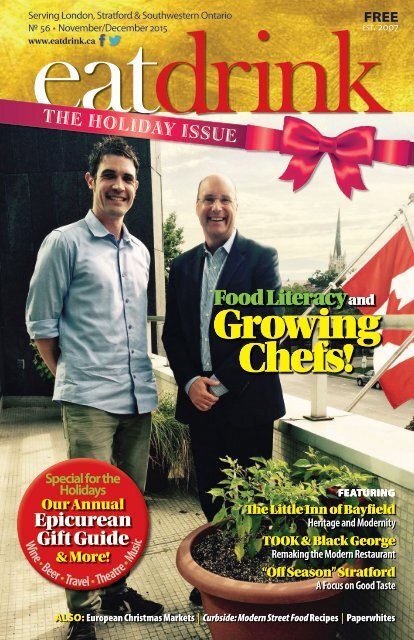 Eatdrink #56 November/December 2015 issue
Local Food & Drink Magazine serving London, Stratford and Southwestern Ontario since 2--7
Local Food & Drink Magazine serving London, Stratford and Southwestern Ontario since 2--7
SHOW MORE
SHOW LESS
Create successful ePaper yourself
Turn your PDF publications into a flip-book with our unique Google optimized e-Paper software.
Serving London, Stratford & Southwestern Ontario

№ 56 • November/December 2015

www.eatdrink.ca

THE HOLIDAY ISSUE

FREE

est. 2007

Food Literacy and

Growing

Chefs!

Special for the

Holidays

Our Annual

Epicurean

Gift Guide

Wine • Beer • Travel • Theatre • Music

& More!

FEATURING

The Little Inn of Bayfield

Heritage and Modernity

TOOK & Black George

Remaking the Modern Restaurant

"Off Season" Stratford

A Focus on Good Taste

ALSO: European Christmas Markets | Curbside: Modern Street Food Recipes | Paperwhites
---
Savouring the magic

of STRATFORD

Come enjoy Stratford's heritage district wrapped in fresh cedar boughs

and sparking lights as you wander the Victorian Christmas Trail

collecting stocking stuffers along the way.

Take an international gastronomic journey at dinner with the Stratford

Chefs School students. Celebrate with friends at special tastings from

our popular Scotch and Chocolate to Italian Cheese and Wine.

And lots of Christmas family cheer awaits at our Victorian Christmas

Market, Santa and Comet photos and holiday arts and crafts shows. Renew

your holiday spirit with traditional Christmas concerts and strolling the

Chocolate Trail.

NOVEMBER

Tue-Sat Stratford Chefs School dinners, The Prune

Fri-Sat Stratford Chefs School lunches, Rene's Bistro (until Dec. 19)

14 Savour Stratford Tutored Tasting, The Milky Whey Fine Cheese Shop

14-15 Rotary Arts and Crafts Show, Stratford Rotary Complex

21-22 Heritage Downtown Christmas Open House,

Sunday: Christmas Market & Santa's Parade of Lights

DECEMBER

4 Libertas Male Choir Concert, Knox Church

5 A Community Messiah, St. Joseph's Church

19 Savour Stratford Scotch and Chocolate Tasting,

Revival House

19 A Choral Christmas, Stratford Symphony Orchestra

For all our holiday events visitstratford.ca
---
WINTER EVENTS AT THE IDLEWYLD

Spa Open House

Wednesday, November 18th, 2015 | 5:00pm - 8:00pm

Save the date for this year's Spa Open House, featuring complimentary

refreshments and hors d'oeuvres, treatment demonstrations and product

promotions. Treat yourself, or start your holiday shopping early!

December 31st, 2015

New Year's Dinner & Show

Dinner Only | 5:00pm or 7:00pm | $75.00pp + HST & grats

Dinner & Show | Cocktails - 8:00pm ~ Show - 8:30pm | $125.00pp + HST & grats

Ring in the New Year with a Gourmet Dinner & Live Jazz! Featuring vocalist

Rebecca Noelle, pianist John Noubarian and bassist Darryl Stacey.

$50

per person

+tax & gratuity

December 25th, 2015

Christmas Buffet Dinner

1st Sitting - 1:30pm | 2nd Sitting - 4:00pm | 3rd Sitting - 6:30pm

Celebrate the holidays with friends and family this year at the Idlewyld

Inn with our annual Christmas Dinner Buffet. Call 519.432.5554 to

reserve your table.

$40

per person

+tax & gratuity

Our Famous Saturday Afternoon Tea

November 21st & December 19th, 2015 | 2:00 - 4:00pm

Enjoy a traditional afternoon tea, featuring an assortment

of loose leaf teas, homemade scones, Devon cream and

preserves, cucumber sandwiches, savory mini quiches, and

mouth watering treats and sweets!

36 Grand Ave London, Ontario N6C 1K8 | ph 519.432.5554

www.idlewyldinn.com | IdlewyldInnAndSpa
---
Serving London, Stratford & Southwestern Ontario

•

www.eatdrink.ca

A Classic Celebration Destination

Special for the

Holidays

Our Annual

Epicurean

Gift Guide

& More!

Books • Beer • Plants • Theatre • Music

ALSO:

FREE

FEATURING

Chocolate Barr's

Stratford's Chocolatier Provocateur

Old East Village

Food for Thought

The 10th Annual Show: Bigger & Better

| SmartAPP | Jamie's Comfort Food | Deliciously Lost in Italy

Serving London, Stratford & Southwestern Ontario

•

www.eatdrink.ca

THE HOLIDAY I SUE

On The Thames

A Classic Celebration Destination

Special for the

Holidays

Our Annual

Epicurean

Gift Guide

& More!

Books • Beer • Plants • Theatre • Music

ALSO:

FREE

FEATURING

Chocolate Barr's

Stratford's Chocolatier Provocateur

Old East Village

Food for Thought

The 10th Annual Show: Bigger & Better

| SmartAPP | Jamie's Comfort Food | Deliciously Lost in Italy

eatdrink

inc.

The LOCAL Food & Drink Magazine

eatdrinkmag

@eatdrinkmag

Think Global.

Read Local.

Publisher

Chris McDonell – chris@eatdrink.ca

Managing Editor Cecilia Buy – cbuy@eatdrink.ca

Food Editor

Bryan Lavery – bryan@eatdrink.ca

Copy Editor

Kym Wolfe

Social Media Editor Bryan Lavery – bryan@eatdrink.ca

Advertising Sales Chris McDonell – chris@eatdrink.ca

Stacey McDonald – stacey@eatdrink.ca

Finances

Ann Cormier – finance@eatdrink.ca

Graphics

Chris McDonell, Cecilia Buy

Writers

Jane Antoniak, Darin Cook, Dave Hammond,

Gary Killops, Nicole Laidler, Bryan Lavery,

Tracy Turlin, Allan Watts, Rick Weingarden,

Kym Wolfe, Rick Young

Photographers Bruce Fyfe, Steve Grimes

Telephone & Fax 519-434-8349

Mailing Address 525 Huron Street, London ON N5Y 4J6

Website

City Media

Printing

Sportswood Printing

© 2015 eatdrink inc. and the writers. All rights reserved.

Reproduction or duplication of any material published in eatdrink

or on eatdrink.ca is strictly prohibited without the written permission

of the Publisher. eatdrink has a circulation of 15,000 issues

published six times annually. The views or opinions expressed in the

information, content and/or advertisements published in eatdrink

or online are solely those of the author(s) and do not necessarily

represent those of the Publisher. The Publisher welcomes submissions

but accepts no responsibility for unsolicited material.

eatdrink

THE HOLIDAY ISSUE

Tableside at

Michael's

On The Thames

eatdrink

Tableside at

Michael's

eatdrink.ca

Read every issue online,

no matter which device you prefer.

Every Page • Current Issue • Back Issues

Plus!

New Stories Only Online

Plus!

OUR COVER

Andrew Fleet, Executive

Director of Growing Chefs!

Ontario, stands with City

of London Mayor Matt

Brown on the Mayor's Office

outdoor balcony.

Photo courtesy of Matt Brown

SUNDAY BRUNCH

11am−2pm

Sun–Tues 11am–11pm

Wed/Thurs 11am–midnight • Fri/Sat 11am–1am
---
notes from the publisher

The Gifts of Time and Experiences

By CHRIS McDONELL

It's the most wonderful time of the year!

If you disagree with that statement, we

hope we will have changed your mind

by the time you put down this issue. Our

cover story is on theme, in that Growing Chefs!

is all about talented professionals helping a

new generation to appreciate food, in every

way. We are happy to celebrate that.

Our annual Epicurean Gift Guide is full

of unique items that we're sure you'll enjoy

giving and that will be warmly received. Also

keep in mind that all of "our sponsors" offer

gift certificates. The experience of dining

out is a wonderful present, one that fosters

togetherness and a sense of well-being —

what the holidays are truly for.

We explore the recent remaking of two

of London's stellar restaurants — and

Destination for the food lover

Enjoy your holiday season

around the table.

we're excited about their changes. The vital

culinary scene in "off season" Stratford is

the focus of our Road Trip column, and

we also visit The Little Inn of Bayfield and

travel to the Christmas Markets in Europe.

Our libation experts offer suggestions for

seasonal beers and bubbly, and we also

have a book for tea drinkers. Holiday music

abounds, and a live performance is the

best way to enjoy it. Our local theatres are

likewise ready to reach your heart "up close

and personal." Tickets make a great gift.

While we don't completely frown upon

overindulgence here, we're hoping you see

"more quality" rather than "just more" as

your goal for this holiday season. Cheers!

Edgy. Fresh. Contemporary.

London's Newest Art Gallery with a Unique Gift Shop

Awesome, quirky and cool gifts from top-rated artists and

designer brands. We've hand-selected each product we sell

because we know it's going to be something you'll love.

Canadian and local artists, humorous greeting cards and books,

colouring books, pottery, glass, wood, metal, ceramic, baby gifts,

paintings, photography, jewelry and much much more!

Unique Art & Gifts

Licensed Retailer

for Sid Dickens

115 King Street, London, ON

jillstable.ca 519-645-1335

www.rustygate.ca

524 Adelaide St. N. (at Princess), London 519-434-1838
---
contents ISSUE № 56

NOVEMBER/DECEMBER 2015

8

12

15

22

34

56

58

FOOD WRITER AT LARGE

8 Food Literacy and Growing Chefs!

By BRYAN LAVERY

RESTAURANTS

12 The Little Inn of Bayfield: Heritage and Modernity

By JANE ANTONIAK

18 TOOK and Black George: Remaking the Modern Restaurant

By BRYAN LAVERY

CULINARY RETAIL

15 The 2015 Eatdrink Epicurean Gift Guide

By THE EDITORS

IN THE GARDEN

22 Paperwhites

By ALLAN WATTS and RICK WEINGARDEN

ROAD TRIPS

24 "Off Season" Stratford: A Focus on Good Taste

By KYM WOLFE

TRAVEL

34 The Christmas Markets of Europe

By CLAUDIA VIANI

NEW & NOTABLE

37 The BUZZ

WINE

46 Food & Wine & Bubbles — It's That Time of Year!

By GARY KILLOPS

BEER MATTERS

48 A Cool Weather Wrap-Up, and Some Gift Ideas!

By THE MALT MONK

THEATRE

51 On the Boards: Holiday Traditions, New and Old

By RICK YOUNG

MUSIC

54 Sound Bites: Wicked Witches and Sugar Plum Fairies

By NICOLE LAIDLER

BOOKS

56 The Tea Book by Linda Gaylard

Review by DARIN COOK

COOKBOOKS

58 Curbside: Modern Street Food by Adam Hynam-Smith

Review & Recipe Selections by TRACY TURLIN

THE LIGHTER SIDE

62 Breaking Bread

By KYM WOLFE

37

15

THE BUZZ

48
---
culture

community live music

festivals

theatre

heritage

fine dining

hockey games

shop local

Richmond Row

farmers' markets

DISCOVER

DOWNTOWN

LONDON

celebration

Shop, Dine, and Discover

November 26-28, 2015

www.downtownlondon.ca
---
8 www.eatdrink.ca

№ 56 | November/December 2015

food writer at large

Food Literacy and Growing Chefs!

By BRYAN LAVERY

Food literacy, when taken literally,

means a person's ability to

correctly read food labels and

Canada's Food Guide and the

aptitude to comprehend basic nutrition

well enough to apply that knowledge

to food preparation. Food literacy also

includes understanding how food is grown

and produced, where it originates, how

production affects the environment and who

has access to what types of foods.

The need to introduce food into school life

is the most compelling at the primary level,

when children are just starting to establish

food preferences, make independent choices

and influence their friends. Growing Chefs!

was conceived in Vancouver B.C. by Chef

Merri Schwartz in 2006, as she identified a

need to articulate the story of the food we eat.

Believing in greater engagement between

chefs, farmers and the general public, she

set out to educate children, families, and

community members about nutrition,

sustainability and healthy food systems.

Schwartz achieved this by providing programs,

seminars, and workshops in classrooms to

promote local and healthy eating.

After working with Schwartz and recognizing

the influence that Growing Chefs!

was having in Vancouver, Andrew Fleet was

inspired to launch the program when he

returned to London, Ontario. Consequently,

The Growing Chefs! Ontario Classroom

Gardening Project was established in the

spring of 2008 at Tecumseh Public School.

Fleet is the Executive Director of Growing

Chefs! Ontario.

What was initially known as the Classroom

Gardening Project has been redesigned as

a full-school project. The Growing Chefs!

team visits every class in each partner school

allowing individual schools to

contribute time and effort into

the coordination piece of the

programming. With this model,

Growing Chefs! is able to reach

three times the number of

elementary students annually,

that's 2,600 students up from 800.

"Kids are well educated in our

school system on health and they

know they need to be making

healthy choices but we don't show

them how to actually do that,"

Fleet explains. "That's the Growing

Chefs! philosophy — you give kids

a chance to cook real food with

real flavour with a real chef."

This year Growing Chefs! hired

Katherine Puzara as the lead chef

Students at the Montessori Academy of

London enjoy lunch — Growing Chefs style!
---
№ 56 | November/December 2015

for the elementary school project, Fresh

Food Frenzy, and Growing Communities.

Puzara has helped to redesign and expand the

workshops and lesson plans, while working to

challenge the perceived limitations of children

and youth in the kitchen. The program

welcomes children from public schools to the

Covent Garden Market where they are given a

list of ingredients to go and find in the outdoor

farmers' market. Afterwards they go upstairs to

the Market Kitchen and prepare a healthy and

seasonal meal.

The Beet Café often pops up at local events and festivals

— part of a skill-building program for youth.

Photo courtesy of Anna Carroll

"The experience teaches the children the

difference between a farmers' market and a

grocery store, and we get to explore concepts

with the kids such as why it is important to eat

locally, and what are heirloom vegetables,"

says Puzara. "In the older grades seven and

eight we have the children doing everything

possible from working on knife skills, mise en

place, working clean, and plating and serving

skills. It is a real accomplishment when they

leave; they really take away some amazing

practical life skills."

Chris Meloche, Executive Chef, The Beet

Café program, has been a stalwart volunteer

since 2008 and was hired full-time to run the

program. The Beet is an educational, skillbuilding

program for youth with a focus on

FESTIVAL OF TREES

November 26–28 Kick off the holiday season at this

fun, family-friendly event. Specially decorated trees and

wreaths will be taken home by lucky winners in support of

the Ontario Lung Association. Festival highlights include:

Santa's Secret Shoppe Thurs, Nov. 26–Sun Nov.

29 (8am–6pm daily) On the Upper Level, The Secret

Santa Shoppe is open for children and adults to purchase

a variety of quality gifts for family and friends. Each item

is $5 or less. Only children at heart are permitted in the

store! Each purchase is kept secret by volunteer elves with

complimentary gift-wrapping!

Soupendous Lunch Fri, Nov. 27, (11:30 am–2 pm)

Local Market venders compete for Best Soup. Event-goers

can taste competing soups and help judges pick winners —

and enjoy entertainment and other fun for $5.

Breakfast with Santa Sat, Nov. 28 (9:30 am–2 pm)

Enjoy a hot breakfast with Santa and his

elves in the food court. Tickets are $5

each and include a pancake breakfast

and a special gift from Santa.

Photos with Santa

Sat, Nov. 28 (10 am–2 pm)

Photos will be available

during breakfast for

children of all ages for $5.

The Kids Corner

Sat, Nov. 28 (8 am–6 pm)

Located near "Santa's Secret Shoppe." Children can create

one of the many holiday-themed crafts with their parents.

For further info: www.on.lung.ca/festivaloftreeslondon

FAMILY CHRISTMAS DAY

Saturday, Dec. 12, 10 am–1 pm

Upstairs On the Mezzanine, get in the Christmas spirit with

festive entertainment and tasty treats provided by our

indoor vendors — FREE!

MARKET HOURS: MON to THURS: 8am–6pm

FRI: 8am–7:30pm | SAT: 8am–6pm | SUN: 11am–4pm
---
10 www.eatdrink.ca

№ 56 | November/December 2015

healthy food preparation, hospitality

and business development. Led by

some of London's foremost chefs,

and Growing Chefs!' youth staff

prepare delicious healthy food for

school hot lunch programs, and

make appearances at festivals, all the

while learning invaluable life skills.

Projects Coordinator Sunni Vann

has been at the heart of everything

at Growing Chefs! this year, from

communications, coordination, and

working on front lines.

London Waldorf School is running

licensed toddler and preschool

programs for the first time this year.

In order to comply with the new

licensing, the school is required

to serve hot lunches to these two

groups of very small children. "We

immediately thought of Growing

Chefs! to partner with on this project

because we are both committed to the same

principles of providing nourishing, quality

experiences for young children. The thought

of being able to provide these children with

local, thoughtful, scratch-made food was one

we really couldn't compromise on," explains

Ruth Baer, Administrative Chair, London

Waldorf School.

The Montessori Academy of London has

worked with Growing Chefs! since 2008,

by using their students as test subjects for

their School program at all ages. "So when

we got thinking about providing a lunch

program that was not only nutritious, but

had community, educational and ethical

impacts I contacted Andrew Fleet almost

two years ago, to figure out if we could

partner on this," says Margaret Whitley,

Executive Director, Montessori Academy

of London. "Our hope was by doing

this, Growing Chefs! would further their

mission, our students would have a lunch

experience that is completely integrated

into our Montessori approach, and there are

additional ripple effects both short term and

long term for the whole community."

The Child Care and Early Years Act, 2014

(CCEYA) came into effect on August 31, 2015,

establishing new rules governing child care

in Ontario. "[This] was a catalyst … I think our

implementation and the tremendous work

Growing Chefs! educates children and youth

about food, from simple to sophisticated.

London Mayor Matt Brown, Chef Katherine Puzara, the lead chef for

Growing Chefs! school and community programming, and Andrew

Fleet (Executive Director, Growing Chefs! Ontario) at Covent Garden

Market in October. Photo credit Jason Ménard, Digital Echidna

Growing Chefs! and The Beet Café program

is doing in re-shaping lunch programs

[provides] models that could change a

generation, in how they develop their senses,

cultural awareness and economic impact

of local food choices," states Whitley. "Not

only do we embrace the menus that Growing

Chefs! are providing, all of our children (18

months to six years) are setting the tables,

serving each other using fragile place settings

and serving dishes. Our lunches support
---
№ 56 | November/December 2015 www.eatdrink.ca 11

practical life skills, sensorial education,

development of grace and courtesy around

meal time and are a true celebration of

community many days in our classroom. As

a long-time educator I think we completely

underestimate the potential of our children

around learning to try new foods and helping

to educate their palates".

Over the years, a who's who of local

chefs have participated in the Growing

Chefs! program. The chefs include Andrew

Wolwowicz from The Springs Restaurant,

who has been on the Board of Directors

of Growing Chefs! since 2010, Jeff Fortner

of The River Room, Kim Sutherland of

Budweiser Gardens, Paul Harding, Scott

Newman and Jason Schubert of The Only

On King, Nancy Abra of From My Garden,

Dani Murphy of The Root Cellar, Kris Pageau

formerly of The London Hunt Club, Shauna

Stewart formerly of The London Club,

Shane Jones of The Springs Restaurant,

Wade Fitzgerald of Fanshawe College, Mark

Kitching from Waldo's on King, Ryan Irwin

of Fellini's in Stratford, Yoda Olinyk of Yoda's

Private Catering, Yam Gurung of Momo's

at the Market, Patrick Dunham of Patrick's

Beans, Amanda Jeffrey of London Hunt Club

and Fanshawe College, Chris Chitty formerly

of Delta Armouries, Aaron Cowell of The

Only On King and The Early Bird, Ellen

Lacroix of the Great Canadian Superstore,

Vicci Coughlin of the Telegraph House,

Dan Garlough of Crossings Pub, Laura Wall

of Petit Paris, Tracy Little of The Springs

Restaurant, Arif Kalid of Dolcetto Restaurant

and Ted Sinasac of Sisters of St. Joseph, chefs

David Rossen, Brian Magee, Kent Van Dyk

and Carolyn Nesbitt-Larking and culinary

farmer Paul Spence of Chatham-Kent Table,

to name a few.

Based on the idea that education can

alter behavior, Growing Chefs! and its

many volunteers have made tremendous

strides by changing the way many children

perceive food and encouraging them to

become excited about nutritious and

healthy food choices.

BRYAN LAVERY is eatdrink's Food Editor and Writer at

Large.

FRESH gift ideas yule love

Select from over 60 flavours of oils and balsamics.

Sample the freshest oils from across the globe, paired with savoury

white & dark balsamic vinegars from Modena, Italy.

Personally bottled to suit your individual taste.

Gift

Cards

Custom

Gift Baskets

Sample

Packs

Corporate

Gifts

Stocking

Stuffers

The

Pristine

live

Tasting Bar

462 Cheapside Street @ Maitland | London | 519-433-4444

www.thepristineolive.ca
---
12 www.eatdrink.ca

№ 56 | November/December 2015

restaurants

The Little Inn of Bayfield

Heritage merges with culinary modernity

By JANE ANTONIAK | photography by BRUCE FYFE

There's a new angle at the historic

Little Inn in Bayfield, Ontario. While

the bones of the 1800s building still

stand strong (albeit a bit delightfully

creaky and slanted in places), the Inn now

offers two dining choices, upgraded rooms,

a beautifully renovated kitchen and a new

front desk area, under the ownership of

Joanne Oliver, assisted by her team of

seasoned hospitality professionals.

Leading the charge of positive change is

Michael Potters. Potters is known in Toronto

and Prince Edward County culinary circles for

his 20-plus years as a farm-to-table champion

at places such as Harvest in Picton (rated Top

Ten in Canada by enRoute magazine 2006)

and Accolade at the Crown Plaza in Toronto.

He also was host of a W Network series called

Chef Worthy which ran until 2010. While

Potters has hung up his apron, his heart

remains in the kitchen. At the Little Inn he

helped to oversee the quarter-million-dollar

renovation and has given guidance to Chef

Jamie Crosby. Potters has taken on the role of

General Manager after deciding to remain in

Bayfield to raise his daughter.

While it might be a bit daunting for Crosby

to have Potters keeping an eye on everything

Innkeeper Joanne Oliver, with her son, and

bar manager of The Little Inn, Kyle Oliver.

from perfect plating on the newly purchased

tableware, to producing themed events

including a Dinner Jazz series, the young chef

is expertly producing a wide variety

of complex menu items for two types

of dining experiences: traditional

fine dining in The Willow Room and

casual gastropub service in the Fourin-Hand

taproom. Crosby's dishes

include fresh dumplings, chorizo

Scotch eggs, Lake Huron pickerel,

dry-aged steaks, juniper-spiced

duck, and melt-in-your-mouth wild

sockeye salmon. His lemon ricotta

pancakes with strawberry compote

and Metzger bacon might be the

best breakfast you can get in Huron

The Little Inn's charming streetscape
---
№ 55 | September/October 2015

county. Crosby interned in Denmark at

Noma (ranked best restaurant in the world

in 2014, and a perennial top contender for

that title). He also interned with Canadian

icon Michael Stadtländer in 2013, "where I

lived in a trailer in this sheep field to scare

away coyotes," he says, laughing. Now,

he returns to the Little Inn where he first

worked as a teenager under Joseph Watters.

"That was like learning to run before I could

walk," he recalls.

The 28-seat taproom is located in what

used to be the parlour at the Inn. Guests

can enjoy a more casual meal and some

creative cocktails prepared by Oliver's son,

Kyle. For the holiday season he has created

"The Grinch" martini — melon liquor

provides the perfect shade of lime green.

There are 12 taps with eight local craft beers

on offer, kept cool through a newly installed

custom keg system with insulated hoses.

Gone is the 1980's wallpaper, but the classic

fireplace remains, as does a small "snug" in

the back of the bar area and a TV room for

sports viewing. Every Sunday at 4 p.m. the

taproom offers "buck-a-shuck Sunday's" —

oysters on the half shell for a loonie each.

"It's been great to meet so many of

the long-time, returning, guests who

have complimented us on what we have

done" says Joanne Oliver. "My name is

on the title of the Inn but this building

belongs to Bayfield. Bayfield has done a

wonderful thing in preserving heritage.

We won't have a Starbucks on the corner,"

she says proudly. Well, the village doesn't

Trust...

Taste...

Roasts and

Hams for the

Holidays

Comfort

Food

Specialties

Gift Certificates +

Seasonal Gift Baskets

Available!

Quality...

Christmas

Themed

Salamis

Chef Michael Potters (right), now The Little Inn's

General Manager, helped with the kitchen renovations

and has given some guidance to Chef Jamie Crosby

(left), who now runs the kitchen.

Open six days a week.

Hensall, Ontario

Just off Hwy 4, 45 minutes north of London.

Available in London at

The Village Meat Shop

at Western Fair Farmers' Market

on Saturdays!

www.metzgermeats.com

519-262-3130

Local Beef • Pork • Lamb • Poultry

Specialty European Meat Products
---
14 www.eatdrink.ca

№ 56 | November/December 2015

can personally vouch

for the locally roasted

Coastal Coffee served

in house.

Beyond cocktails,

beer and coffee is the

wine list, compiled by

master sommelier/

wine consultant John

Szabo. It was nice

to have a glass of

Keint-He pinot noir

from Prince Edward

County — obviously

another Potters touch.

Guests of the inn are treated to kind attention

throughout their stay by restaurant manager Tim

Staines. Born and

raised in London,

Staines returned

home from many

years of work in

exceptional Toronto

restaurants to be

closer to his family.

After bumping into

Potters in London

(they both are fans

of Black George, on

Talbot Street) Staines

joined the Little Inn

team. He clearly

delights in his work

and his genuine

concern for guest

service is apparent.

The 16 guest rooms feature

new flooring, luxurious linens,

new televisions (with Netflix),

and some have fireplaces. Clearly, the place is

made for a get-away. Many clients return annually.

Lake Huron is steps away with public beach access

and year-round viewing of the famous sunsets

from the benches in Pioneer Park.

Still, it is the talent of Chef Crosby that remains

in mind after a visit. "I'm finding a voice now,"

he says modestly, after much prodding, while

explaining how his dishes are evolving with him.

The spectacular pumpkin ravioli, and the sweetness

of perfection in his classic mille-feuille, have created

memories that will propel desire for a return visit.

The Little Inn offers various packages over the

holiday season, with special menus for Christmas

Eve, Christmas Day and Boxing Day. The Inn is

open the remainder of the year, but will close for

most of January.

Clockwise from top left: Seasonally-coloured cocktails in The Taproom, a

Negroni and a Grinch Martini; Juniper-Spiced Duck with citrus reduction;

Pumpkin Ravioli with wild mushrooms; Wild Sockeye Salmon with puffed

wild rice; Chef Jamie Crosby with a festive Raspberry Mille-Feuille.

The Little Inn of Bayfield

26 Main Street North, Bayfield

1-800-565-2611

www.littleinn.com

the four-in-hand taproom:

11–11 daily

the willow room: 8–10:30 am;

11:30–2:30; 5:30–9 pm daily

JANE ANTONIAK is a regular contributor to eatdrink.

She is also Manager, Communications & Media Relations, at

King's University College, London.

BRUCE FYFE regularly contributes photos to eatdrink.

He is Librarian, Weldon Library, Western University.
---
culinary retail

The eatdrink Epicurean Gift Guide

Suggestions for the Foodies in Your Life

It really IS better to give than to receive

when you find the perfect gift that is

warmly received, and you haven't felt

caught up in shopping mall madness.

To help you achieve this end, we've polled

a fine range of independent retailers — the

real shopping experts — for suggestions

for the foodies in your life. Whether you're

looking for a big present for someone close

to your heart, or a small gift for a hostess or

your friend at work, here are some new as

well as tried-and-true suggestions from the

experts. Happy Shopping!

These handcrafted charcuterie boards

come from Once Upon A Tree, a

Kitchener company committed

to using local and sustainably

harvested wood. They

come in walnut or cherry,

and feature a "live edge" that

makes each one unique. They

work as a cutting board, but offer

a stylish way to serve charcuterie,

crostini or pizza. $59.99 at Jill's Table

• 115 King St, London • www.jillstable.ca

• 519-645-1335

Consumable gifts are always appreciated,

especially when they satisfy a sweet tooth!

Chocolate Barr's offers a customized

Stackable Gift Basket — items can be

substituted or more can be added. A

popular choice includes their renowned

1-Pound

Assorted

Chocolates,

a ½-Pound

of mixed

milk and

dark

chocolate

Minties,

and a

½-Pound

of Almond Butter Crunch. $42.99 as shown, at

Chocolate Barr's Candies • 55 George St W, Stratford

• www.chocolatebarrs.com • 519-272-2828

As seen on Dragon's Den, the

artisans at Wendell Estate carefully

select the bees in their

apiaries. The result is as white

as snow. This creamed, raw,

Canadian prairie honey has a

smooth, exquisite tex ture and

a world-class taste profile. Wendell Estate

Honey is both decadent and delicious. $18 for

a 340g jar as shown, at Featherfields • 1570 Hyde Park

Rd, London • www.featherfields.com • 519-474-1165

Perfect for the coffee lover, the Porlex Mini-

Hand Grinder slips inside the Aeropress

Coffee Maker, creating the perfect travel

coffee solution. The grinder's ceramic burrs

won't rust, and stay sharper than metal

burrs. Easy to adjust, from

Turkish Grind to French

Press. Made in Japan. $113 as

shown, at Locomotive Espresso

• 408 Pall Mall St, London

• www.locomotive

espresso.com

• 519-601-3896

On the beach, enjoying a sunset over Lake Huron
---
16 www.eatdrink.ca

The Zippy Easy Popcorn Maker

is a totally new snack-making

experience that allows you the

creative freedom to invent your

own snack recipes. Designed to

be fun and easy, you will impress

your friends with everything

from fluffy popcorn creations to

sweet or savory roasted nuts and snacks.

Think Chili Lime Cilantro Popcorn, Almond

Cherry Granola Popcorn or Toasted Coconut

Cashews. Zippy uses less oil and lets you

№ 56 | November/December 2015

choose the ingredients for healthier, happier

snacking. 4-Quart $59.95, 5.5-Quart $69.95 at

Bradshaws • 129 Ontario St, Stratford •

www.bradshawscanada.com • 519-271-6283

Whether you are buying for friends, family, or corporate events,

an independent retailer such as Olive~Me & Co. can help

you create unique and delicious gifts and gift baskets. With

products ranging from award winning Olive Oils (like Persian

Lime and Roasted Garlic) and Balsamic Vinegars (like Fig and

White Cranberry Pear) in a variety of sizes and flavours, gift

certificates and sample packs, to a tasty selection of tapenades,

mustards, dipping oils and spreads, they can help you come up

with the perfect gift idea! Price ranges to suit every budget,from

as low as $6. $89.99 as shown, at Olive-Me & Co • 1570 Hyde Park Rd,

London • www.olivemeco.com • 519-471-6548

Combining quality and functionality

in a beautiful classic design, Gastrolux

BIOTAN Non-Stick Cookware is ideal for

saving energy and making healthier meals.

The new BIOTAN non-stick cooking surface

lets you cook with little-to-no oil while still

keeping food from sticking. It's also longlasting

and safe because it's made from biominerals

with no dangerous chemicals such

as PFOA and PFOS. Gastrolux cookware

is made in Denmark and suitable for any

cooktop, including induction, and for home

or professional use. Starting at $140, the entire

Gastrolux line is on sale at 25% off for the holidays at

Eurohome Appliances • 40550 Amberly Rd, Wingham •

www.eurohomes.net • 1-877-543-2437

These petite Le Creuset Espresso Mugs will inject a pop of colour

into any kitchen. They are versatile too; perfect for espresso,

they also work beautifully for individual desserts. The

durable enamelled surface resists staining,

chipping and cracking, and is easy

to clean. Providing a totally hygienic

surface, it will not absorb odours

or flavours. Microwave, freezer and

dishwasher safe. The set of six is even on

promo for Christmas. $49.99 (regularly $120) at

Kiss the Cook • 551 Richmond St, London •

www.kissthecookonline.com • 519-850-5477
---
№ 56 | November/December 2015 www.eatdrink.ca 17

Pottery serving, storage

SD

and display pieces

combine form, function

and artistry in unique

EW

ways. Literally infused

WD

with the creative and

personal touch of the

potter, each piece stands

as a work of art that also

serves a practical purpose. Handmade items from

local artisans add an extra element of interest and

connectivity to this ancient art. Three local potters

are represented in this grouping, with just one item

identified to indicate their style. SHERRY DRESSER (SD)

pottery Raku bird $26, large plate $80, Muskoka plate and

bowl set $95, Muskoka mugs $24, turquoise wine cups $21;

WANDA DENSMORE (WD) pottery mugs $26, small plates $22,

3-piece tray set $89, largebowl $79, medium bowl $49;

EARTH WORKS (EW) pottery wine/water jug $88, alkaline

producing wine cups $22, mushroom keepers $44/36, garlic

keepers $35/28 at The Rusty Gate • 524 Adelaide St N,

Handmade in Ontario by nina nina

London • www.rustygate.ca • 519-434-1838

celestina, these flax linen bread bags will

keep your loaf of crusty bread fresh better,

and a bit longer, than paper or plastic

(which tends to make the crust too dry or

too damp). They're made from a tough,

sustainable 100% pre-washed, pre-shrunk

linen that will get softer with each wash,

and with proper care can last a lifetime. In

three sizes for all your odd shaped loaves.

Available mid-November. $24.99 at Decorator's

Choice Fabrics • 1560 Hyde Park Rd, London •

www.decoratorschoicefabrics.com • 519 641 2916

The Pristine Olive Tasting Bar has come up

with a charming way to help customers try

their products (over 60 flavours of oils and

balsamics!). Owner Jamie Griffiths has created

six unique Sample Pack Combinations,

containing many of his most popular items.

Each sample pack holds six individually

labeled, 60ml bottles, enclosed in a customdesigned

gift box. Perfect for people who wish

to try a little bit of everything! $30 (Gourmet Pack

$34) at The Pristine Olive • 462 Cheapside St, London •

www.thepristineolive.com • 519-433-4444

Here's an idea for combining your

shopping with lunch or dinner

overlooking Rondeau Bay on the

shores of Lake Erie, just off Highway

3. Bayside Brewing Company has a

number of new and exciting Christmas

gift ideas for beer lovers. Choose an

assorted sampler beer pack of 8 "tall

boy" cans, or wrap up a favourite growler

and a Bayside glass to quaff it with. Each

Holiday Gift Pack is $25. Bayside also

offers a line of sweatshirts, T-shirts, hats,

sweatpants and more. Open daily from

12 noon, and dining reservations are

recommended. Bayside Brewing Company •

970 Ross Lane, Erieau • www.baysidebrewing.com

• 519.676.8888

Happy Holidays and Happy Shopping!
---
18 www.eatdrink.ca

№ 56 | November/December 2015

eatblackgeorge

with the fresh approach to casual late night

dining.

TOOK's dinner service focuses on a

well-chosen but limited selection of bigger

plates and an assortment of smaller tapasrestaurants

Resto Redux: Black George & TOOK

London Remakes of the Modern Ontario Restaurant

By BRYAN LAVERY

Fine dining isn't disappearing. It is

transforming into something fresh,

as self-determining restaurateurs

just keep changing and redefining

it with new concepts and interactive

experiences. But what is driving the change?

As independent restaurant concepts

continue to evolve, changing demand

creates the need for new ways to

enhance the customer experience.

Restaurants that continue to grow

and even prosper are usually the

ones that are most willing and

readily able to adapt to changing

trends. Today's modern restaurants

are about feasting, sharing, authenticity,

quality ingredients and celebrating the craft

and tradition of farmers, chefs, winemakers

and brewers. We are living in an age when

pioneering chefs wield unprecedented

influence, and some of the

most innovative among

them are finding original

ways to utilize unfamiliar

349 Talbot Street

and largely neglected ingredients. 519.672.5862

blackgeorge.ca

To stay at the top of their game savvy

restaurateurs revamp and rethink their whole

approach to their restaurant on a continuing

basis. This is the story of two independent

restaurants with big reputations on a similar

trajectory. On the surface they may seem

dissimilar. Yet they have a lot in common,

appealing to both food enthusiasts and

connoisseurs who enjoy participating in their

own culinary experiences.

The Only On King recently went through

a brief refurbishment and relaunched

under the acronym TOOK. The relaunch

included a makeover, rebranding, unveiling

new menus, expanding the business hours,

offering lunch Tuesday through Friday, and

adding take-away options including coffee

and fresh pastries. The updated interior is

The Only On King has relaunched as TOOK

BLACK GEORGE

HOURS:

Tue - Sat

5:30 - Close

striking with lots of farm-to-table touches

and handcrafted accents by local artisans.

TOOK, with its fully realized farm-to-table

philosophy, dedicated acknowledgement of

the local terroir and support of local farmers

and producers, remains in the vanguard of

the righteous modern Ontario restaurant.

Chef/owner Paul Harding brings

many years of experience to this

new venture. His commitment to

using locally sourced ingredients

on his menu hasn't changed and

the restaurant continues to serve

some of its classic signature dishes.

Chef is known for traditional farmstead

practices such as pickling, brining, curing and

ageing. There are antipasto, truffles, organic

beef, organic pork, black cod and sheep's milk

ricotta together with more modest ingredients

that are conferred equal reverence, and

multi-cultural culinary

treatments. TOOK is

now open late into

the evening with an

expanded cocktail and beer menu to coincide
---
№ 56 | November/December 2015 www.eatdrink.ca 19

Owner/Chef Paul Harding remains committed to

using locally-sourced ingredients, but the menu, and

the hours, have expanded at TOOK. (Above Right)

Deconstructed Apple Pie Panna Cotta and (Below Right)

salty and spicy roasted peanuts and pecans

style offerings divided into categories which

include snacks, soil, sea, land and sweet

stuff. This menu style proves to be infinitely

versatile by accommodating almost every

culinary tradition and the shareable plates

allow diners to eat communally and sample

a variety of items. It also allows diners the

opportunity to curate their own tasting

experience, either by ordering a selection of

dishes to share, or enjoying their appetizers

as entrées and vice versa.

Some of the recent menu items include

sheep's milk ricotta gundi (gnocchi-like

dumplings) with red sauce and fresh

basil; miso marinated black cod with

pickled mushrooms and a kimchi burger

with organic pork and beef patty with

cilantro lime mayo. These types of modern

menus remain important tools for chefs to

communicate their ethos to their customers.

The other relaunch in downtown London

is an updated, re-imagined Kantina — which

has, after more than five years, evolved and

morphed into Black George. The vibe at

Black George is hip and edgy while the food

is modern, rustic and playful. Owner Miljan

Karac built the former Kantina's stellar

reputation on innovative Balkan-inspired

cuisine, prepared from scratch with farm-totable

ideals.

The newly refurbished space has a clean,

minimal style with whitewashed bricks and

higher ceilings with dangling red cords and

bare bulbs. The updated interior is even

more casual, with less formal service than

the former incarnation. It is the natural

evolution and maturing of Karac as an

innovator and restaurateur.

Black George similarly showcases original

cuisine with small, shareable plates —

tapas-style. In order to fully experience the

concept, your dishes are served as they are

prepared, with understated confidence by

Chef Courtney Noble. The Stratford Chef

School alumna runs a focused kitchen and

all items are made in-house and bear her

stamp. Her personalized dishes underscore

a passion for big flavours and a respect for

farm fresh, seasonally appropriate foods.

The restaurant's most popular dish, and

its namesake, comes with its own symbolic

narrative. Legend has it when Serbia was

under Soviet rule a high ranking official

visited a local restaurant and ordered

Chicken Kiev. The chef dared not disappoint

but didn't have all the ingredients to prepare

the dish. Instead, he created a rolled, fried

schnitzel and called it the Karadjordje (Black

George) after the first elected leader of the

First Serbian Uprising that liberated Serbia

from the Ottoman Empire, and who became

a national hero.

On a recent visit, the deep-fried Black

George arrived at the table cut in half, with
---
its creamy filling oozing out onto the plate. I

tasted it and admired how the combination

of flavours — the buttery clotted cream-like

kaymak, the tenderized pork and the melt-inyour-mouth

ham blend so perfectly. The dish

was served with roasted potatoes, baby heirloom

carrots and cubes of knobby kohlrabi,

that suddenly ubiquitous cultivar of cabbage.

The new menu combines old favourites

with some inspired recent additions. We

love the house-made duck sausage with kale

pesto and risotto. In Noble's hands, warm

feta and lemon dip with olive oil and chickpea

flatbread tastes like a deconstructed

version of the Greek fried cheese appetizer

saganaki. An appetizer of kataifi-wrapped

(phyllo pastry that looks like shredded

wheat) tiger shrimp with cocktail sauce and

avocado purée remains the perfect amalgam

of flavours and textures. There is a chilled,

layered and luxurious lemon meringue parfait

served in a mason jar which has both

sweet and savoury components. The salted

caramel pot au crème becomes a hedonistic

experience after the first spoonful.

Black George and TOOK are independent

businesses that thrive on creativity,

dedication and commitment enhanced

by well-honed and sophisticated culinary

points of view. Both restaurants continue

to be meccas for serious food enthusiasts.

Karac and Harding seem to be directing their

attention to growing successful, sustainable

businesses — based on renewed strategies

(Top Left) The restaurant's signature dish, Black George

Schnitzel; (Bottom Left) A typical sample of Black

George cuisine, with original dishes on shareable plates

— tapas style; (Right) An interior view from the bar

area into the bright and open main dining room.

for winning customers by staying on top of

evolving trends while remaining true to their

strengths and culinary philosophies.

Many new restaurant concepts are

shedding everything that is superfluous

and ingrained about guests' fine dining

perceptions. What's left is understated

and confident, genuinely hospitable and

fueled with the life blood of culinary skill,

craftsmanship and authenticity.

Black George

349 Talbot Street, London

519-672-5862

www.blackgeorge.ca

tuesday–thursday: 5:30–9 pm

friday & saturday: 5:30–10:30 pm

Private bookings available sunday & monday

TOOK (The Only On King)

172 King Street,London

519-936-2064

www.theonlyonking.ca

tuesday–thursday: 11 am–10 pm

friday: 11 am–1 am; saturday: 5 pm–1 am

BRYAN LAVERY is eatdrink's Food Editor and

Writer at Large.
---
The heart of

Downtown

Strathroy

Welcome to

Strathroy!

Just down the road ...

35 km to London

Chef/Owner Mark Graham

offers a fresh, creative,

locally-sourced menu

NEW

Winter

Menu

A Strathroy Tradition

• Fabulous Sunday Brunch

• Family Dinners

• Fully Licensed by LLBO

• Banquet & Wedding Packages Available

• Take-Out & Delivery Available (ask for details)

• Family Owned & Operated

Private Meeting & Banquet Rooms

for groups up to 100

Warm Ambiance

• Catering Available •

New Member of

Now Serving

Sunday Brunch

10am–2pm

8 Boutique Suites

28537 Centre Road, Strathroy

just off Hwy 402 @ Hwy 81 & Second St.

519-245-5400

www.amys-restaurant.com

Historic Post Office & Customs Building

71 Frank St, Strathroy • 519-205-1500

www.clocktower-inn.com
---
22 www.eatdrink.ca

№ 56 | November/December 2015

in the garden

Pot Up Some Paperwhites This Fall

They're not just for the holidays

By ALLAN WATTS and RICK WEINGARDEN

Beautiful, fresh, longlasting and

versatile, paperwhites create a

beautiful display for the holidays

and the perfect distraction from

winter. Each bulb produces at least three

stems of gorgeous star-like flowerettes

creating a wonderful show. They have

become very popular in centrepieces, mantel

displays or simply in the kitchen window.

It is very rewarding and extremely easy to

grow paperwhites indoors and they are the

perfect gift. Simply package a few bulbs with a

small bag of stones and you have an interesting,

attractive, and inexpensive gift option.

Children can have fun with this and learn at

the same time. The whole experience takes

six to eight weeks and it's all very rewarding

and a wonderful connection to nature.

Paperwhites (Narcissus tazetta) are a

variety of daffodil that are only grown indoors

in our climate. The bright white flowers work

as well for holiday decorating as they do

through the winter to brighten your indoors.

Paperwhites Style

As the snow starts to fly or in the depth of

winter, the experience of growing these

beautiful flowers from bulb is really lovely at

every stage.

There is a great deal of creativity offered

in potting them up as they only require

moisture and some medium to grow in. The

medium can be potting soil but paperwhites

are more commonly grown in stones, glass

beads, sea shells, marbles or aquarium

gravel. The different "stones" offer a fun way

to work in your style or colour choice — a

natural look or red aquarium gravel for

holiday mantel, you choose.

Part of the fun of growing your own is

selecting the container you pot them up in.

It can be trendy, classic or chosen to suit

your decor and can be made of anything

that will hold water. If your container is

Paperwhites

Ziva

opaque you only need decorative stones on

the top, underneath can be less expensive

pea stones. If you are using glass containers

the transparency allows an appreciation for

the growing roots and the featured stones or

growing medium. Growing in glass is also

the easiest way to monitor the water level.

Tall glass vase designs like a "hurricane"

make a great choice as they offer support for

the flowers.

Arrangements are best made with a

minimum of three bulbs, and with seven

or more it becomes quite stunning. It is

recommended to plant using odd numbers

for a single display, although a symmetrical

arrangement using an even number of bulbs

and containers provides a great effect.
---
№ 56 | November/December 2015 www.eatdrink.ca 23

How to Grow Paperwhites

Selecting the bulbs: As when

choosing a quality vegetable, the bulb

should be checked before purchasing.

The bulb should be firm, and the

larger the better for bigger flowering.

Kits are available but most include

smaller bulbs, and it is recommended

you open and check the bulbs before

purchasing. Buying loose bulbs

allows for easy inspection and often

these bulbs are larger. Paperwhites

are available at garden shops from

October through December.

Choose a container: Select waterproof

containers to create your look. It is

recommended that you always test the

container first, as even glazed pottery

can allow water to seep through.

Potting up the bulbs: Fill the

container to a minimum depth of two

to three inches, with the medium of

your choice. Place the bulbs, pointed end

up, on the surface of this medium. Water

to the top of the medium (so that it is just

below the bulb). This moisture will stimulate

the root development.

Maintain the water level as the plant

grows. The bulb should not touch the

water, or you risk rot. Next, continue

to add more medium to anchor the

bulbs up to the widest part of the

bulb. If you are using potting soil, it is

recommended to fill with soil to near

the top of the bulb. At this point you

may use a more decorative stone or

material and/or fresh moss, which

will also give a nice finishing touch.

Paperwhite bulbs potted in hurricane-style vases

RICK WEINGARDEN and ALLAN WATTS own

Anything Grows SEED Co. (www.anythinggrows.com). They can be

found at the Western Fair Farmers' & Artisans' Market on Saturdays,

and at various gardening events around the region.

Care: The arrangement should be

placed in a dark place for two weeks

to allow the roots to grow. If it is

cooler, that would benefit the growth.

From planting to flowering the time

frame is four to six weeks. The flowers

can last for another two to three

weeks or longer in a cool location

away from direct sunlight.

A great way to help enjoy the indoors,

paperwhites are a very cheery display

any time before we see any sign of

Spring! Pot some up!

Be creative with the finishing touches!
---
24 www.eatdrink.ca

road trips

"Off-Season" Stratford

A Focus on Good Taste

№ 56 | November/December 2015

SPONSORED BY

By BRYAN LAVERY

It may be the end of another Stratford

Festival season, which brought

diners in droves to the city for prix

fixe menus, but the city's restaurant

community continues to be open for

business and not just for the locals. Stratford

has been known for decades for setting the

benchmark when it comes to dining, but

until just a few years ago it wasn't feasible

for many of the restaurants to operate yearround.

But that has changed.

A full calendar of exhibitions and special

culinary events, music programming, and

lots of restaurants, cafés, food specialty shops,

bakeries, farmers' markets, epicurean treks,

galleries, antique shops and a wide-ranging

system of parks and recreation along the Avon

The theatre is dark but Stratford's culinary scene remains bright

year round. Examples include Monforte on Wellington cheese

selection and (above right) The Red Rabbit restaurant bar

River means that there is plenty to do in

Stratford during the off-season.

Savour Stratford has had successes

in steadily increasing the awareness

of the many and diverse offerings

of Stratford when the theatre-goers

are gone. Programs featured under

an expanded Savour Stratford brand

include Stratford Chefs School

dinners, tutored tastings and a series

of self-guided culinary trails.

Continued on page 26 ...

Win a Lexus Reflections President Package from Lexus of London!

This comprehensive appearance reconditioning service will completely rejuvenate your vehicle.

And while the fully-trained Appearance Technicians detail your vehicle,

you will be provided with a beautiful Lexus to drive for a weekend. Take an exciting Lexus Roadtrip!

Enter at www.facebook.com/eatdrinkmag

Contest ends October 28, 2015. Complete details online.

Congratulations Robert White,

winner of our

Sept/Oct Lexus Draw!
---
COMING SOON

LEXUS OF LONDON

RX

ONCE YOU RX, THERE'S NO

GOING BACK.

Introducing sophistication without boundaries. Arriving November 2015 this is the

completely redesigned RX, where sharp lines and contemporary styling combine with agile

handling and advanced technology - like the most comprehensive safety system ever offered

on the RX. Available in four distinctive models, including the first-ever RX Hybrid F SPORT,

this marks the end of the quiet arrival.

1065 Wharncliffe Road S London, ON N6L 1J9 519-680-1900 lexusoflondon.com
---
26 www.eatdrink.ca

Continued from page 24 ...

Paying homage to the rise of craft beer

and the boom in bacon as a culinary trend,

The Bacon and Ale Trail continues to be a

great success. After all, Perth County pork is

legendary. This is the home of the Ontario

Pork Congress. The Stratford Chocolate trail

showcases skilled chocolatiers and bakers

that work in a city with a storied history in

candy making. Boutique chocolate-makers

include Chocolate Barr's, Rheo Thompson

and The Rocky Mountain Chocolate Factory.

Another well-liked tour is The Maple Trail,

with maple-inspired stops with offerings

that range from maple balsamic vinegar, to

a maple-smoked bacon BLT, and, at Mercer

Hall, a maple Manhattan.

Stratford boasts many independent niche

retailers and specialty services situated in

its downtown late-Victorian streetscapes,

and in the well-preserved commercial

districts on Downie, Ontario and Wellington

streets. There are a number of great bakeries

including the Downie Street Bake House,

which bakes artisanal premium breads

— high quality, hand-crafted and free of

artificial additives and preservatives — and

bills itself as, "Really Good Bread from the

Wrong Side of the Tracks."

The quaint tree-lined streets just north of

the river are great for walking and sightseeing.

Several of the stately heritage homes and

№ 56 | November/December 2015

Derek and Jacqueline Barr, hands-on

owners of Chocolate Barr's Candies.

princely Victorian, Italianate and Second

Empire edifices in Stratford are B&B's.

Visiting Bradshaws, a premier culinary

retailer known for its holiday grandeur, is

an annual Stratford shopping tradition.

Operated by Jeremy and Carrie Wreford, the

downtown retailer recently celebrated its

120th anniversary and remains one of the

country's truly inimitable stores.

This year the maturing restaurant

community had a gastronomic rebirth and

several restaurants were relaunched with

plenty of fanfare — continuing to reinforce

Stratford's already impressive status as one

of Ontario's premier culinary getaways.

One of the standout features of Stratford's

culinary scene is its laid back approach that

unites restaurants and farms through food.

There are so many exceptional restaurants in

Stratford that it is impossible to recommend

one or two. A short list includes Bijou,

Rene's Bistro, Restaurant at The Bruce,

Mercer Hall, Sirkel Foods, Pazzo Taverna &

Pizzera, Madelyn's Diner, Keystone Alley,

Down The Street Bar & Restaurant, Foster's

Inn and The Parlour Gastropub. These

establishments remain open year-round.

Chef Robert Rose's Canadian Grub is one

of few restaurants in the country serving

exclusively Canadian grown and refined

products. We also can't resist Monforte

Dairy's 30 types of artisanal cheese, and

Jessie Larsen and Steve Walters, part of the

community-shared and worker-owned Red Rabbit.
---
№ 56 | November/December 2015

visiting Monforte on Wellington, the

seasonally-inspired osteria on Market

Square, is always a highlight. The restaurant

features an ever-changing selection

of cheeses, charcuterie, salads, soups,

preserves, pickles and other specialties,

prepared by Monforte's culinary team.

Mark and Linda Simone bought Bijou in

March, added a new entrance off Wellington

Street, a new bar in the front area and

extended hours with plans to operate the

bistro for 10 months of the year. Chef Max

Holbrook added to the daily-inspired

chalkboard features a globally-inspired

tapas menu of shareable plates featuring

Perth County ingredients. The menus of

small plates are paired with craft wines and

some old world classics.

Among Stratford's most eagerly awaited

openings this year was The Red Rabbit.

Jessie Larsen and Chefs Sean Collins and

Tim Larsen created the community-shared

and worker-owned venture in a former

bridal shop on Wellington Street. The

instantly successful, down-to-earth, farmoriented

dining experience is built on years

of deep symbiotic relationships that remain

at the heart of The Red Rabbit experience.

There is a dedicated focus on Perth County

ingredients from area farmers like Church

Hill Farm, Perth County Pork Products,

McIntosh Farms, and Soiled Reputation.

Regional ingredients abound on The Red

Rabbit menus and include addictive housemade

salumi (beef heart pastrami) and

delicious rillettes of rabbit. Be sure to try the

Colonel Collins fried chicken and waffles,

which has become a Stratford staple. In

search of a watering spot that serves great

craft and house-infused cocktails? The

Red Rabbit is the ticket. Keep in mind that

The Red Rabbit is closed on Tuesday and

Wednesday, from now through the winter.

The once celebrated Church Restaurant,

where the Stratford Chefs School started in

the kitchens back in 1983, was purchased

and painstakingly refurbished by Rob and

Candice Wigan. The former Baptist church

turned dining and music venue is now the

stunning Revival House and gastro-lounge

Chapel. Chefs Kyle Rose and Byron Hallett

met seven years ago in London, Ontario,

and have been working together on and off

since. "Our friendship started over a love of

salty pork products, knives, hard work and

Continued on page 30 ...

Birdfeeding Experts

Garden Gifts

Holiday Decor

HOME • GARDEN • GIFTS

• In-stock Decorator Fabrics

• Choose from a Large Selection of

Fabric Books

• Custom

Drapery

• Upholstery

• Custom

Pillows

• Unique

Furnishings

& Accessories

• Consultation

Services

1560 Hyde Park Road, London

Located in the former Hyde Park United Church

519-641-2916

www.decoratorschoicefabrics.com
---
eimagined + reinvented + revealed

Stratford is more than

great theatre

visitstratford.ca

@StratfordON

StratfordON

dining

tête-à-têtes

weddings

concerts

dinner shows

519.273.3424

celebrate@revival.house

Formerly

The Church Restaurant

HOLIDAY Gift Baskets, Entrées,

Hors D'0euvres, Sweets & More!

We offer restaurant-style food to

take away, a retail gourmet food

selection, and catering for all

parties, big and small. Let us help

with your Holiday entertaining!

51 York Street, Stratford

TUES–SAT 10:30–6 | SUNDAYS 10:30–3

519 508-8884

www.linleys.ca

SUPPER CLUB Themed Dinners

November 21 — Orange is the New Black Netflix series

December 19 — A Christmas Carol

This monthly event series will continue in 2016.

Guests are encouraged to dress on theme.

$50/person

Nosh Monday has restarted!

@redrabbitresto

64 Wellington St, Stratford

www.redrabbitresto.com

519.305.6464

Thursday–Monday

Year Round
---
Your Christmas Chocolate Shop

Downtown Stratford | 55 George Street West

519.272.2828 | (Ask for Jacqueline Barr)

Shop Online: chocolatebarrs.com

facebook.com/chocolatebarrs | twitter: @chocolatebarrs
---
30 www.eatdrink.ca

Revival House

№ 56 | November/December 2015

Chef/restaurateurs Aaron and Bronwyn

Linley, former owners of Bijou, introduced

Linleys Food Shop, located at 51 York Street,

in late-July. The chef-driven shop features

catering, restaurant-style food to take

away and a selection of gourmet fare. Both

experience and proclivity led the Linleys

—known for their visionary cuisine that

espouses global inspiration, modern French

technique and the very essence of Ontario

— to become formidable culinary retailers.

Bill and Shelley Windsor, who own The

Prune, purchased Mercer Hall Inn this

summer and placed Chef Ryan O'Donnell

at the helm. The restaurant at Mercer Hall

continues to offer chef-inspired food and

drink featuring heritage pork, line-caught west

coast seafood and Ontario-focused wines.

After several delays, Down the Street Bar

and Restaurant re-opened to rave reviews in

July with Chef Lee Avigdor in the kitchen.

Continued from page 27 ...

the beverages that follow. We're

passionate about using local and

sustainable ingredients, showcasing

nose-to-tail cuisine and the best of

what Ontario and Perth County have

to offer," declares Rose.

On a visit to the Chapel, we began

the evening with the Ontario Gouda

Tasting. The sampling consisted of

four half-ounce portions of Mountainoak

and Thunder Oak Gouda (favourites were

wild nettle and fenugreek), which the kitchen

sources from the charming Milky Whey Fine

Cheese Shop on Ontario Street. Chef's pairing

takes cheese tasting to a whole other level. It

was comprised of lightly pickled apple balls,

a mound of torched maple meringue, a glass

of fermented celery water, florets of crunchy

charred dehydrated broccoli and a gorgeous

chunk of pure comb honey from the "Revival

House Hives" (produced in partnership with

Huismann Apiaries).

The charcuterie board was underpinned by

technique and skill and the salumi had lots of

flavour. The offering included speck (smoked

pork leg), lonza (cured pork loin), coppa

(salt-cured from the neck) and rillettes which

in this case were a rich spread of savoury,

seasoned, slow-cooked pork. It should be

noted that there were a heady 22 VQA's to

choose from on the impressive wine list.

An Ontario Gouda Tasting at Revival House

Following on the heels of last fall's

opening of Black Swan Brewing, comes

Stratford's own micro-distillery, Junction

56 Distillery. Owner Michael Heisz began

his first batch in April, and is starting with

vodkas, vapour-infused gins and moonshine

on the shelves at Junction 56. The facility

and retail outlet opened to public in

mid-September. Tours and tastings at the

distillery run every Saturday.

There are plenty of great cafés in Stratford.

Anne Campion's Revel Caffé, behind the

red brick City Hall (with its gables, turrets,

gargoyles, and finials), is a great place to

grab and go or sit and watch the sights

through the large glass windows facing onto

Market Square.

www.visitstratford.ca

BRYAN LAVERY is eatdrink's Food Editor & Writer at Large.
---
Sponsored Content

Ridiculously Fine Food at

Affordable Prices

Lobo's Place in Parkhill — and coming soon to Strathroy!

After a year of finding an appreciative and

loyal clientele in Parkhill, a second Lobo's

Place is slated to open in Strathroy in

early December. Patrons can expect the

same home-cooked savoury and slow-roasted

breakfasts and lunches that have been such a hit in

Parkhill. There are no deep fryers here — and most

of the appealing menu is available gluten-free.

Fresh herbs and quality ingredients are hallmarks

of each dish.

Lobo's Place is family-run and family-friendly.

Kids' meals are served on a frisbee (that they can

keep!). Lobo's Place offers coffee from O-Joe, a

small-batch local roaster from Mount Brydges

that exclusively uses ethically-sourced coffees.

Adult dishes are generously portioned and artfully

presented, and there is certainly something for

everyone. As Lobo's Place's friendly hands-on

owner Vanessa notes, "We believe that dining out

is a treat and should be an experience that brings

friends and family together in a comfortable and

welcoming environment."

Taco Salad

Canadian Skillet

Roasted Beet Salad

Open 7 days a week

9 am – 3 pm

239 Main Street, Parkhill ON

519-459-9666

8 am – 4 pm

11 Front Street, Strathroy

www.lobosplace.ca

Lobos Thai Salad

Fish Tacos

Photographs by Platinum Phoenix Photography
---
PRESENTED BY

#LdnWineFood

@WesternFair

WesternFairDistrict
---
A GIFT

FOR YOUR

TASTE BUDS

JANUARY 14-16

THU 5PM–10:30PM | FRI NOON–10:30PM | SAT NOON–10:30PM

NEW extended hours

TICKETS ON SALE NOW

westernfairdistrict.com

SAMPLING OF THE FINEST CUISINE,

CRAFT BEERS, SPIRITS AND WINES.

Great idea for a holiday gift or stocking stuffer!

98 %

Would recommend

this show to others*

*2015 London Wine & Food Show Attendee Survey
---
34 www.eatdrink.ca

№ 56 | November/December 2015

travel

Holiday Season Travels ...

Discovering the Christmas Markets of Europe

By CLAUDIA VIANI

Ilove to travel and I love the holiday

season, so what better way to combine

both — a trip to Europe to experience

the holiday markets!

It was in Strasbourg in 1570 that the very

first edition of the oldest Christmas market

in Europe took place. It is still called the

Christkindelsmärik — market of the Infant

Jesus.

My kids and I were first exposed to

European Christmas markets in 2001,

while living in Tuscany. We watched local

merchants decorate their stores inside and

out with natural materials — garlands of

magnolia leaves or fresh pine, accessorized

with pine cones and holly berries. Main

piazzas proudly hosted freshly-cut pine trees

decorated with thousands of colourful lights,

while street vendors set up, selling anything

from roasted chestnuts to silk scarves, from

truffles and local cheeses to ceramics and

handmade wooden and glass ornaments, to

Map courtesy of Viking River Cruises

Striezelmarkt, Dresden's Christmas Market

numerous variations of the nativity scene.

While we lived there the town of Lucca

set up an outdoor skating rink in the main

piazza for the first time in their history, and

my kids were certain it was because three

Canadians were in town.

We eventually came home to Canada,

and a few years ago I decided to travel

back to eastern Europe in early December

specifically to enjoy one of my bucket list

items — experience some world-renowned

Christmas markets at their finest.

We decided to do this from the comfort of

a river cruise ship, and chose the Budapest

Strasbourg's Christmas Market, the Christkindelsmärik
---
№ 56 | November/December 2015

EXCLUSIVE

TOURS

The Rathausplatz Christkindlmarkt, Vienna, Austria

to Passau itinerary. We arrived in Budapest

with a day to spare, and so had time to

stroll about this beautiful city and visit two

of Budapest's Christmas markets. The first

was in Vörösmarty Square. There were gift

stalls and a tent with folk dancers, but this

is definitely the place to come for food.

Hot sausages and Hungarian baked goods,

including lángos (deep fried flatbread

with a variety of toppings), strudels and

kürtöskalács (chimney cakes).

A trip to the Great Market Hall, Budapest's

famous indoor market, is a must. The first

floor is filled with locals buying groceries.

It's a foodie's delight, and for the season

there are even garlic buds packaged as

tree ornaments, complete with red bows.

Upstairs caters more to tourists, with

souvenirs like paprika and t-shirts.

In Budapest, our favourite Christmas

market was situated in front of St. Stephen's

Basilica. It featured a small skating rink, and

the big attraction was the hourly lightshow

on the Basilica. After a while we sat and

watched the world go by from a local café.

Our cruise began the next morning. The

eight-day journey took us along the Danube

River, through four of Europe's most enchanting

countries: Hungary, Slovakia, Austria and

Germany. Each day we woke up in a new port

and everywhere we went the yuletide spirit

embraced us. Each stop presented narrow

alleyways in romantic towns and villages,

and open-air markets with fragrances of gingerbread,

mulled wines, roasted chestnuts

and grilled sausages. Old town squares were

festively illuminated with twinkling lights,

while local artisans in wooden stalls displayed

unique items such as handmade wooden toys,

delicate ornaments made from blown glass,

gingerbread houses, and local food delicacies.

One of our most memorable moments

occurred in Salzburg. Seemingly out of

nowhere St. Nick came down the cobble-

Tasting Tuscany

May 13–23, 216 • 1 Nights Land

Escorted by CWT Host and food & wine enthusiast Debbie Monahan.

Enjoy your stay at Villa Marta, an eighteenth-century 15-guest room

villa originally built as a hunting lodge. Located 5km from the city

centre of Lucca, nestled in the countryside that separates Pisa from

Lucca. Highlights include 3 Group Cooking Classes followed by lunch

with wine, with excursions to Barga, Florence, Monteriggioni, San

Gimignano, Siena, Pisa and Viareggio. Contact us for more exciting

details regarding accommodations, meals and inclusions.

Sicilian Splendour

October 2016 • 1 Nights Land

Escorted by CWT Host Claudia Viani, who was born and raised in Italy,

speaks fluent Italian, and welcomes you on this fabulous journey

exploring the food, wine and local traditions that set Sicily apart from

the rest of Italy. Highlights include local wine tasting on the slopes of

Mt. Etna, a visit to Taormina's Greek theatre, the circa 500 BC architectural

ruins of Siracusa and tours of Palermo, Taormina & Monreale.

3 nights in Palermo, 3 nights in Siracusa, 4 nights in Taormina.

For more information on this exciting tour, and others, contact:

Carlson Wagonlit Travel

450 Columbia St. W. Unit 6, Waterloo ON

1-800-267-9269

waterloo@carlsonwagonlit.com TICO Registration 50020877

www.cwtvacations.ca/waterloo
---
36 www.eatdrink.ca

stone

street in

a horsedrawn

carriage,

driving

amidst

all of the

wonderfully

decorated

A booth at the Passau Christmas Market

baroque

shops with their charming wrought-iron

guild signs. A string quartet filled the air

with classical music — Mozart, of course

— and it did begin to feel like the hills

surrounding Salzburg were alive with the

sound of music (forgive me). Around every

corner there were more musicians, including

a flutist and a classical guitarist.

Vienna had over 29 Christkindlmarkts.

There was a small one in front of St. Stephan's

Cathedral, but the main one was located at

the Rathausplatz, the square in front of the

city hall. There were over 150 stalls selling

anything from ornaments to Krapfen (donuts

filled with jelly) and hot chocolate, to roasted

London's Destination

for Culinary Excellence

№ 56 | November/December 2015

nuts and yet again, Glühwein. Carolers and

trumpeters provided angelic sounds, and

here I purchased beautiful hand-painted

ornaments that each year adorn our Christmas

tree and bring back fond memories.

On our final day we docked in Passau,

known as Dreiflüssestadt (City on Three

Rivers) because it's situated at the confluence

of the Danube, Ilz and Inn rivers. The

Christmas market was small but it was one of

our favourites. Although we were abundantly

well-fed on our cruise ship, we continued to

spoil our appetites by enjoying some final

local German treats. Here Glühwein was

available in souvenir mugs that only cost

between two and three extra euros.

A few pounds heavier but with wonderful

life-lasting memories of yuletide days gone

by, we returned home where we continue to

welcome each winter holiday with family,

close friends, good food and the true spirit of

the season.

CLAUDIA VIANI is an avid traveller and has worked in

the travel industry for over 35 years. She is a Director, Leisure

Operations Canada, for Carlson Wagonlit Travel.

502 adelaide st. n, london

theboomboxbakeshop.com

Reserve a

Private Room

for Your

Party!

32

Continental cuisine – with a

contemporary twist! – and Tableside Cooking.

From an amazing Caesar Salad to flaming coffees,

Michael's makes your celebration an event.

eat local.

listen local.

shop local.

Lunch Tuesday to Friday

Dinner 7 Nights a Week

Sunday Brunch 11am–2pm

1 York Street

519-672-0111

Free On-Site Parking

Visit www.michaelsonthethames.com

for Weekly Specials and Theme Nights Info

Gift Certificates

Make the Perfect

Christmas Gift

café • vegfriendly goodies • special orders
---
№ 56 | November/December 2015 www.eatdrink.ca 37

The BUZZ ... new and notable

As we head into winter, seasonal events and

festivals are beginning, providing reasons

and destinations for day tripping around our

region. As well, some farmers' markets operate

year 'round, including those in Sarnia, Chatham, Simcoe,

Dunnville and Woodstock. So, take a hike!

Regional …

The C-K Table is promoting the Craft Beer & Cider

Festival, on November 21. The event will showcase craft

breweries from across southern Ontario in a festival format,

as well as host the first-ever Farmer-Brewmaster Summit.

The Summit will provide opportunities for Ontario craft

brewers to meet local farmers and discuss their needs

regarding grains and the brewing process. Local farmers will

have the opportunity to learn more about the opportunities

to work with Ontario brewers by supplying grains and hops.

www.cktable.ca/craft-beer-festival-november-21/

The wineries of Essex County invite you to explore your

inner artist and create inspiring paintings, with the help of

good friends and, of course, wine! In three hours you will

finish a canvas painting while sampling some of the area's

most popular and distinguished wines. On December 4 the

Wine & Paint Night will be at Colio Estate Winery in

Harrow. www.forartssakeandwine.com

Yoda's Kitchen has expanded and is now open every

Wednesday from 11 to 6 for light lunch and seasonal to-go

meals. Focusing on plant based food, Chef Yoda Olinyk

has opened her kitchen up for cooking classes, workshops

and events. Yoda's Kitchen will also be a vendor, and

Yoda a speaker, at Veg Fest London in November. www.

letyodacookforyou.com

On September 26th Huron Food Action Network (HFAN)

honoured local food heroes in an awards presentation at the

Bayfield Town Hall. Sarah and Peter Gusso of Part II Bistro

in Blyth won for "Most Local Restaurant". Nathan Swartz,

food systems coordinator with HFAN, said the restaurant

won because of its menu, for which it sources as many local

ingredients as possible. Sophie and Christian Burdan of Red

Cat Farm won the "Best Farm Tour 2015". Marlene Beyerlein

of Bayfield Berry Farm had overwhelming support in the

"Most Loved Farmers' Market Vendor" category, and Jim and

Catherine Landsborough of Maelstrom Winery won "Most

Potential". The HFAN food charter is a set of commitments for the

community to cultivate a sustainable local food system.

E&D_LocomotiveED_Nov2014_ART.pdf 1 201

Book NOW for your

Christmas Lunch or Dinner Party

& Reserve for New Year's Eve!

Seasonal Hours

Reservations Recommended

519.238.6224

42 Ontario St. S., Grand Bend

www.finearestaurant.com
---
38 www.eatdrink.ca

Part II Bistro in Blyth has ascended to the top of the

restaurant scene when it was ranked the number one

restaurant in the province (out of 29,000) on the travel website

TripAdvisor, the largest travel review website in the world.

Chef and owner Peter Gusso received the call from Trip

Advisor on September 9th, informing him of the ranking.

Three years ago, the hometown couple of Peter and

Sarah Gusso opened Part II Bistro. Peter, a Fanshawe College

culinary grad, previously worked at Waldo's on King with

Mark Kitching. The Gussos worked in the British Isles to

have new experiences and hone their culinary skills. Initially,

they operated the Blyth Station House B & B and a catering

A Taste of Europe since 1974

MURDER MYSTERIES

Dec. 3 • 4 • 5 • 6 • 10 • 11 • 12 • 13 • 18

& New Year's Eve

Murder, Vegas Style!

Book Your

Holiday Party!

Private Rooms Available

Free Room Rental

(Year Round!)

122 Carling Street (at Talbot, around the corner from Budweiser Gardens)

519-679-9940

Open Daily for Dinner

www.marienbad.ca

Lunch Monday–Saturday

№ 56 | November/December 2015

business. In June 2012, they launched the bistro. Shortly after,

Gusso won the Taste of Huron Chef's Challenge and has

been drawing in Huron County enthusiasts ever since. The

bistro is conveniently located across from the Blyth Festival

Theatre on the village's main street. The dining room is casual

with a blend of rural charm and a modern flair, featuring

theatre festival posters on the walls with a ceiling draped in

twinkle lights. www.part2bistro.ca

Langdon Hall has always been known for setting the

benchmark when it comes to luxurious surroundings

and exemplary service. That quest continues with the

announcement of an expansion. The brand new wing,

located by the lower garden, will be home to a state-ofthe-art

spa, event venue and eight luxurious guest rooms.

Completion is slated for January 2016. www.langdonhall.ca

Five Canadian restaurants have won this year's University

of Guelph Good Food Innovation Awards for inventive

approaches and imaginative meals. The annual awards,

launched in 2010, are sponsored by Stewart, the University of

Guelph President's Office, the Ontario Agricultural College, and

the College of Business and Economics. They recognize chefs

and food professionals who use Canadian ingredients to make

unique, healthy menu selections, and who follow sustainable

management practices. "Canadian culinary traditions are

constantly evolving, and these five chefs are at the forefront

of these changes," said Anita Stewart, Canada's first food

laureate at University of Guelph and founder of Cuisine Canada

and Food Day Canada. This year, the five gold medal winners

were Langdon Hall (Cambridge, ON), Taverne Monkland

(Montreal, PQ), Les Jardins Sauvages (Saint-Rochdel'Achigan,

PQ), Little Louis Oyster Bar (Moncton, NB),

and River Café, (Calgary).

This fall, Feast ON-certified restaurants across Ontario will

be offering unique dining experiences designed to highlight

Ontario food and drink. Participating restaurants will

showcase Ontario beef and cow's milk cheese, produced by

the Beef Farmers of Ontario and Dairy Farmers of Canada.

In our region, restaurants include Eddington's of Exeter,

Mercer Hall, The Bruce, Pazzo, sixthirtynine, Langdon

Hall, and Nick and Nat's Uptown 21.
---
№ 56 | November/December 2015 www.eatdrink.ca 39

Stratford ...

Alan Malloux and Barb McMahon of Downie Street

Bakehouse have completed the expansion of the bakery.

New ovens, another walk-in fridge and a new retail space

that one of the customers described as sexy. Designed by

Ron Nuhn, how could it be otherwise? facebook.com/

DownieStreetBakeHouse

Soup Surreal is growing from strength to strength. The

outside of the shop is newly updated and business is

booming. www.soupsurreal.com

Monforte on Wellington is bringing back Family Style

Dinners on Sunday nights starting November 1st. www.

facebook.com/MonforteOnWellington

The Red Rabbit has released its Supper Club dates

beginning with "Orange is the New Black" dinner on

November 21st and "A Christmas Carol" on December 19th.

$50 per person includes four-plus courses on theme! Be sure

to stay tuned for the Beer Dinner series release starting in

November. www.redrabbitresto.com

Bijou is serving Sunday Brunch featuring "elevated traditional

brunch items" augmented by "Global Dim Sum." Diners will be

able to select items directly from the Dim Sum cart. The menu

will include a core offering of Asian and Chinese specialities

complemented by tacos, raviolis and perogies.

In October, Bijou switched to a full a la carte dinner

menu. Chef Max Holbrook and the culinary team will

feature 12 to 14 small plates/appetizer items and seven main

course choices, plus daily features. Bijou can customize

menus to suite special occasion and seasonal celebration

events from 8-80 people. www.bijourestaurant.com

Stratford Chefs School Lunch and Dinner Series: The

classic four- to six-course Dinner Series meals are served at

The Prune, Tuesdays through Saturdays, while three-course

lunches take place at Rene's Bistro Fridays and Saturdays. Wines

available by the glass or $5 corkage. Menus change daily. Share

your feedback following your meal. Take advantage of special

dinner packages available now for a limited time and reserve

your place at the table. www.stratfordchef.com

Here's the line-up for the Live at Revival House Music Series:

• Saturday, November 7: Lucinda Jones returns for her

annual concert with an evening of Retro Jazz and Blues with

the Lucinda Jones Band.

• Friday, November 13: Award-winning, roots based,

pop/rock recording artists, Upside of Maybe and singer/

songwriter Dayna Manning.

• Thursday, November 19: Madison Violet released their

new album "Year of the Horse" in Europe this past year.

Influenced by pop, electro, disco and folk, the new songs are

a fresh direction for the Juno-nominated Lisa MacIsaac and

Brenley MacEachearn.

639 Peel Street, Woodstock

519-536-9602

www.sixthirtynine.com

"Creative,

local and

sustainable

dishes ..."

Reservations

Recommended

Stunning Views

Excellent Food

Ambiance Galore

Now Booking Christmas

Parties at Both Locations

TUES, WED, FRI, SAT, SUN 11am–5pm

THURS 11–9 • Closed MON

Available for Private Events for up to 60

rhinolounge.ca | 519.850.5111

at

MUSEUM

LONDON

421 ridout st.

HOLIDAY SPECIAL

Pick Up & Reheat

Turkey Dinners $24pp

TUESDAY to FRIDAY, 11–4

SUNDAY Brunch, 11–4

Available Evenings for Private Events

theriverroom.ca | 519.850.2287
---
40 www.eatdrink.ca

• Saturday, December 12: Ali Matthews, a contemporary

Canadian Christian musician and songwriter from Stratford,

presents a seasonal concert. www.revival.house

The Gamekeeper's Dinner is a unique opportunity to

sample Canadian wild game prepared by local chef talent.

Enjoy a four-course dinner featuring a selection of meats

from the hunt as well as local fish, with each dish prepared

with local wine, beer and spirits. All proceeds support The

Local Community Food Centre, a place where people come

together to access, cook, grow, share and advocate for good

food for all! Friday November 13. www.thelocalcfc.org

142 fullarton at richmond

№ 56 | November/December 2015

The Sunday Slow Food Market has moved to its winter

location at the Falstaff Family Centre, 35 Waterloo St. N.

Vendors are very excited to be spending their second winter

in the same bright, cozy location. Customers will be able to

buy all the fixings for a great Sunday dinner. There's often

live music and the Slow Food Youth operate a cafe in the

kitchen downstairs. www.slowfoodperthcounty.com

Scotch and Chocolate: Christine Chessell of Rheo

Thompson Candies and whiskey sommelier Steve Rae

expertly pair seven unique whiskies with different Rheo

Thompson chocolates for a smooth tasting experience. Revival

House, Saturday December 19. www.visitstratford.ca/tastings

On Sunday, November 22nd from 10:00 am to 2:00 pm

visit the historic Market Square for Stratford's Victorian

Christmas Market. Vendors will offer holiday foods, crafts

and gifts. Sip hot cocoa while listening to costumed carollers

singing seasonal tunes.

Stop in at the Local Community Food Centre on Sunday,

November 29th from 10:00 am to 1:00 pm. in Stratford to

enjoy live Bluegrass Music with brunch and coffee from

local coffee roaster, To Bean or Not to Bean. This event is paywhat-you-can.

www.thelocalcfc.org

Catch the spirit of the season on the Victorian Christmas

Trail, a self-guided walk to shops dressed for the holidays

offering tasty treats perfect for stocking stuffers (or just for

you!). Pick up your trail pass at Stratford Tourism Alliance.

This seasonal trail runs November 12 to December 20, 2015.

www.visitstratford.ca/Christmastrail

Bradshaws presents Naughty Nog and other Holiday

Libations: Mixology for the upcoming Holiday Season,

a unique event on November 26 at Red Rabbit bistro.

Hosted by Jessie Larsen, the evening will empower you

to make your own all-natural and delicious eggnog ahead

of the holiday season. You'll learn the easy but impressive

art of creating holiday infusions, and how to update

old favourites like hot toddies and buttered rum. Light

bar snacks to be served. The $40 fee includes a bottle of

Canadian-crafted Dillon's Bitters (retail value $16.95). And

focused on using only the freshest, local, and seasonal ingredients

A boutique, farm-to-table, custom, everything-from-scratch (even the ketchup)

Caterer serving London & Area with different and unique ideas

www.heirloomcateringlondon.com 519-719-9030
---
№ 56 | November/December 2015

check the website for details on another Bradshaws event

in early December called "Meet the Butler" — Learn

proper etiquette and holiday entertaining tips from a REAL

butler! www.bradshawscanada.com/events

Around London …

The 20 Under 40 Awards Program recognizes

accomplished industry leaders in London who are younger

than 40 who also give back to their community. The awards

are given by Business London magazine and sponsored

by Harrison Pensa, Lovers At Work, BlueStone Properties,

the Pristine Olive Tasting Bar, Magnus Associates, CIBC

Wood Gundy Pryde Financial Group and Nothers Signs

and Recognition. Three of our favourite colleagues from

the culinary world will be recognized at a reception at

London Music Hall on Nov. 19. They are: Andrew Fleet,

Founder and Executive Director, Growing Chefs! Ontario;

Jessica Jazey-Spoelstra, President and CEO, North Moore

Catering, The River Room and Rhino Lounge Bakery and

Coffee Shop; and Jeff Pastorius, Founder, On The Move

Organics, and Co-founder, The Root Cellar and London

Brewing Co-operative. www.businesslondon.ca/sites/

businesslondon_ca/upload/20under40/index.html

Chi and Tai Diep opened Taika Japanese restaurant in

2003, concentrating on premium sushi and sashimi. After

years in the restaurant business, Chi and Tai have returned

to their origins, offering home-style Vietnamese cuisine.

The genius of Vietnamese cooking lies in the adaptation

of foreign influences to develop a distinctly unique and

subtle cuisine with contrasting flavours and textures. In

April, they relaunched their restaurant as Saigon 88,

featuring signature dishes such as pho, a deeply-flavoured

broth with long rice noodles, fresh herbs and thin slices

of meat most often accompanied with a side of bean

sprouts, peppers and lime wedges. Other signatures

include pad thai, vermicelli noodle bowls, bahn xeo,

traditional savoury fried pancakes made from rice flour,

and lemongrass scented chicken. The restaurant started

out at 500 Oxford St. W. and relocated south to 400

Sugarcreek Trail in the Riverside-Wonderland Road area in

2012. www.saigon88.restaurant

The eleventh annual London Wine and Food Show

presented by White Oaks Mall will be back at the Metroland

Media Agriplex from Thursday, January 14 to 16th with an

ever-expanding show floor. See the centre spread of this

issue for more details, but in short, Friday night is Ladies'

Night, presented by Pandora. New this year is a second

entertainment stage presented by Fanshawe College.

Explore the Whiskey Lounge, or take a stroll down Craft

Brew Row. www.westernfairdistrict.com/wine-food-show

Things are rolling along at Locomotive Espresso. Some

new offerings to their fall/winter line up are the fall sandwich

offerings from their caterer, Heirloom Catering and new

daily soups from MoMo's at the Market. Enjoy a Maple Latte,

www.davidsbistro.ca

Busy preparing for the holidays?

Let Us Help!

Since 1972

Gift

Certificates

Available

1050 Kipps Lane, London

519-673-6606

www.kippslanefish.com

ALWAYS

a 3-course

prix fixe menu

option

432 Richmond St.

at Carling • London

Come by for a

delicious meal of

Home-cooked

Fish & Chips!

"Homemade Goodness

with a Gourmet Touch"

TUES–THURS: 3–7:30

FRI: 12–7:30 SAT: 3–7:30

Closed SUN & MON
---
№ 56 | November/December 2015

growers & creators of fine lavender products

DISCOVER

Steed & Company Lavender, part of a

45-acre horse farm just outside of Sparta

INDULGE

in our unique handcrafted lavender products

ESCAPE

in the wonderful scent

and calming powers of lavender

519-494-5525

47589 Sparta Line, Sparta

buds@steedandcompany.com

Open Wed-Sat 10-5; Sun 12-4

Mother's Day through Christmas

www.steedandcompany.com

OPEN

Thursday to Sunday

11am to 8pm

Five Fortune Culture

RESTAURANT

366 Richmond Street at King

www.fivefortuneculture.com

226 667 9873

Join us for our

Christmas

Open House

November

28 & 29

"Pure

Chinese"

Cuisine

—eatdrink

its Pilot Roasters Big Bro espresso roast, teamed with locally

sourced syrup from Bishop Farms. Enjoy their toast bar; the

new favourite spread seems to be the cashew butter. Fresh

breads are provided by The Artisan Bakery. Friday mornings

are always special too at Locomotive Espresso, when they

receive fresh-baked almond and butter croissants and chocolate

brioche. www.locomotiveespresso.com

Justin and Gregg Wolf of The Early Bird diner and Rock

au Taco are working on their new concept in Wortley Village.

They will be calling the establishment Wolfe of Wortley,

trying to bring a new experience to the village with a cozy

20-seat restaurant and a 14-seat patio. Wolfe on Wortley will

be open evenings only, for people looking for a date spot or a

nice evening out on the town. Expect casual but sophisticated

dining focusing on pickling, fermenting and preserving.

The menu will also feature oysters, charcuterie, house made

pastas and other farm fresh offerings made from scratch.

Downtown London …

The cool weather is coming but you can fill your belly on

Sunday afternoons in November with Two-Course Films

on Food, at Museum London, when staff pull old and

new flicks out of the cupboard, tossing documentaries and

dramas together with a dash of comedy. There's something

to satiate all palettes, so help yourself to a second serving!

On November 14, VegFest London will feature vegan food,

product, health and wellness vendors, special guest speakers,

cooking demos, a children's activity area and more. Western

Fair District Progress Building. www.vegfestlondon.com

Festival of Trees at the Covent Garden Market will run

November 26–Sunday November 29. Visit Santa's Secret Shoppe

on the Upper Level, with a variety of quality gifts for family and

friends priced $5 or less. (Only children at heart are permitted in

the store!) At "Soupendous" Lunch, market vendors compete for

the Best Soup. Taste competing soups prepared by local chefs,

help judges pick winners — and enjoy entertainment and other

fun for $5. Friday, 11:30 to 2. Breakfast with Santa on Saturday

from 9:30 am to 2 pm. Tickets are $5 and include a pancake

breakfast and a special gift from Santa. Photos with Santa will

also be available, for children of all ages, for $5. And for more fun

for the family,The Kids Corner will be located near Santa's Secret

Shoppe. Children can create one of the many holiday-themed

crafts with their parents. Saturday, 8 to 6.

Garlic's of London will be selling small baskets of honey

and garlicky products from The Garlic Box in Hensall

during the holidays — a great gift, when combined with

a gift certificate. Garlic's is thrilled to feature some new

seasonal fare on their menu, including Ontario Lamb Shank

and Braised Beef Pappardelle. www.garlicsoflondon.com

On Sunday December 6, enjoy Christmas Tea at Eldon

House. Get into the holiday spirit with live entertainment,

tea and a substantial 19th century menu before you

tour Eldon House, decorated for Victorian Christmas! By

reservation only. www.eldonhouse.ca
---
№ 56 | November/December 2015

Local brothers Kirk and Victor Anastasiadis have

opened Burger Burger at 633 Richmond St. A signature

item is a triple-decker burger with three grilled cheese

sandwiches as buns. Word has it there is even a quadruple

burger! www.fb.com/itsburgerburger

Local musicians will be coming together to help the

London Food Bank increase food supply for those in need!!

Attendees are asked to bring non-perishable food items to

enter the event at Food Bank Rock Lottery at The APK

As well as admission the food items enter you into a raffle.

The more items you bring the more chances you will have to

win! Saturday, December 12. www.theapk.ca/events

Kiss the Cook is celebrating its 15th anniversary. Owner

Lawrence Burden's passion is searching for the highestquality

kitchenware — sourcing it from around the world

— and bringing it to your kitchen. Kiss the Cook provides a

wide range of cookware, kitchen gadgets, and giftware, and

offers a popular bridal registry. Chris Squire, who was also

partly responsible for dreaming up the name Kiss the Cook, is

Chef-in-Residence and, along with a variety of top-notch local

chefs, offers cooking classes. www.kissthecookonline.com

Blu Duby owners Joe and Cheryl Duby have built a diverse

and loyal clientele by combining an accessible menu and

wine list with upbeat ambience. Chef Jamie Craig has just

launched a new menu for the holiday season. Three separate

spaces can be easily transformed into private dining areas to

accommodate parties and all types of special occasions with

attentive service, customizable menus and the ability to leave

the planning to talented professionals. www.bluduby.com

The Silver Star Mountain Resort in Okanagan, British

Columbia recently welcomed Chef Scott Sanderson as

executive chef. Chef Sanderson was Executive Chef at La

Casa Ristorante for eight years, carrying on the venerable

restaurant's 20-year tradition of excellence. Sanderson spent

the last year as Head Chef of the iconic and authentically

Italian Bertoldi's Trattoria on Richmond Row.

After a $10-million renovation, the London Hilton has

been rebranded and relaunched as a DoubleTree by

Hilton property. The former London Grill space has

been transformed into Blake's Bistro and Bar, with a

contemporary look and updated menu.

The Bull and Barrel opened at 359 Talbot Street in mid-

October, featuring southern-style smokehouse cooking, a

rooftop patio, dance floor and mechanical bull. Open seven

nights a week, enjoy country music several nights a week with

a band and DJs. Some servers will double as line-dancers.

www.bullandbarrel.com

Brown and Dickson is an antiquarian booksellers located

in the former Novack's premises at King and Clarence Streets.

Brown and Dickson are the anchor retail tenant sharing

space with smaller "pop-up" retailers trying to get a start

in the market before moving on to more permanent space.

"Reasonably priced, fresh, well-executed

Ethiopian cuisine ..." — Bryan Lavery, eatdrink magazine

• FAMILY

FRIENDLY

• Vegetarian

Options

• Takeout

• Catering

• Reservations

Recommended

ADDIS ABABA Restaurant

LUNCH Tuesday–Friday 11am–1pm by reservation

DINNER Tuesday–Sunday 5–10pm • Closed Monday

465 Dundas Street 519 433-4222

www.tgsaddisababarestaurant.com
---
44 www.eatdrink.ca

Their specialty is Canadian culture. This is the place to find

rare cookbooks. www.brownanddickson.com

Quantum Interiors just unveiled their new showroom

on Richmond Row. Quantum will now have products

for kitchen, bar, and dining room redecorations and

renovations. www.quantumfurnishings.com

Old East Village …

Mary Ann Wrona is one of the original market vendors at the

Farmers' & Artisans' Market at Western Fair. Wrona, originally

known to market-goers as "The Cabbage Roll Lady," recently

celebrated eight years operating Café Bourgeois at the

Hormone & Drug-Free

Ontario Beef, Pork, Bison & Lamb

100% Local — from Our Farmers to Your Table

№ 56 | November/December 2015

market. She is gearing up for the holiday season by preparing

what she refers to as "culturally and ethnically authentic Ontariosourced

soul food." This is healthy catering and gourmet-to-go

with strong ties to the eclectic Polish-French culinary tradition.

Wrona is known for her signature queen-sized potato stuffed

perogies, made with a thicker than usual, dairy-free dough

that gives it more of a "chew," and fries to a golden brown, and

for tourtière, stuffed squash and a variety of classic vegetarian

specialities and fabulous organic soups.

The Harvest Pantry is now located on the 2nd floor of the

Farmers' & Artisans' Market at Western Fair. The food and kitchen

Growing garlic goodness

Since 1998

THE VILLAGE

MEAT SHOP

LOCAL - NATURAL - QUALITY

Now Accepting

Special Orders

for the Holidays!

100% CANADIAN

GREEN GARLIC SCAPES

The New Green Salt

SUBSTITUTE FOR

YOUR TABLE SALT

ADD A MILD

GARLIC/ONION FLAVOUR

SHAKE THE

GOODNESS

OF GARLIC

ONTO YOUR PLATE

— EVERY DAY

■ All natural

■ Non-GMO

■ Gluten Free

WE ARE YOUR LONDON OUTLET FOR

Metzger Meat Products • The Whole Pig

Blanbrook Bison Farm • Lena's Lamb

Western Fair Farmers' & Artisans' Market: Saturdays, 8am–3pm

226-376-6328 • www.reallygreatmeat.com

www.thegarlicbox.com | www.garlicrecipes.ca

toll free 1.888.772.9994 | Hensall, ON

AVAILABLE AT: Bradshaws, Clay & Gourmet,

Feather Your Nest, Foodies, Gourmet Passions, Hansen's,

Hayter's, Killer Desserts, Jill's Table, The MillHouse & Remark
---
№ 56 | November/December 2015 www.eatdrink.ca 45

small wares pantry's focus is on preparing small batch

ferments, like sauerkraut, kimchi, cultured mustards,

miso and kombucha. The shop also partners with other

local producers to offer wild foraged Chagas, medicinal

herbs, tea blends, organic spices and sweet seasonal

jams and jellies. www.theharvestpantry.com

Coyote's Run Estate Winery is a small artisan winery

located in Niagara-on-the-Lake. The wines will soon be

available at the Farmers' & Artisans' Market at Western

Fair. www.coyotesrunwinery.com

We want your

BUZZ!

Do you have culinary news or upcoming events that

you'd like us to share? Eatdrink reaches more than 50,000

readers across Southwestern Ontario in print,

and thousands more online.

Get in touch with us at editor@eatdrink.ca and/or connect directly

with our Social Media Editor Bryan Lavery at bryan@eatdrink.ca

Made in Erieau.

Welcome

to

Chatham-Kent,

Shore to Shore!

Enjoyed everywhere.

WOOD BURNING OVEN.

OPEN ALL YEAR.

Simple food.

Local produce.

Great beer.

Reservations 519.676.8888

970 Ross Lane, Erieau ON • 519.676.1888

WWW.BAYSIDEBREWING.COM

"Down the street and around the corner, but worth every inch of effort ..."

Wholesale • Retail • Further Processing

Our Own Quality Raised Pork

Free Run Eggs, Sausages & Deli Products

Custom Barbecues • Catering For All Occasions

10910 Northwood Line, RR#2, Kent Bridge ON

519-351-7711 • www.rmeats.com
---
46 www.eatdrink.ca

№ 56 | November/December 2015

wine

Food & Wine & Bubbles

It's that time of year!

By GARY KILLOPS

The 11th annual London Wine &

Food Show will soon be here. Last

year a record high of over 15,600

attended the three-day event at the

Agriplex at the Western Fair District.

The 2016 festival will once again be at the

Metroland Media Agriplex from Thursday,

January 14th to Saturday, January 16th.

Building on last year's success that saw

almost 100 exhibitors participating in the

event, the show promises to be even bigger

this year. There is something for everyone

at the festival. Ontario winemakers, craft

brewers, distillers and their representatives

will be available to talk about their products.

There will be gastronomical treats from

some of Ontario's top chefs to taste ,while

sipping on some of Ontario's finest wine and

craft beer.

Interested in learning

a little bit while at the

London Wine & Food

Show? The informal

cooking seminars

and wine

tastings are

always well

attended. And there

are opportunities to

discover what is going on in Ontario's

culinary scene.

Tickets will go on sale soon. Visit www.

westernfairdistrict.com/wine-food-show for

ticket information.

TIP: purchase admission tickets online

before the show and save!

Holiday Bubbles!

In the next month or so there is a good

chance that either you will open a bottle of

sparkling wine, or someone will pour you

a glass of bubbly. This fizzy wine is good all

year round, but people do tend to buy more

for holidays. Sparkling wine is synonymous

with celebrations.

A question I am often asked at this time

of year is what the difference is between

sparkling wine and Champagne? Both are

bubbly, the cork pops on both when opened

so what is the difference?

Quick answer: Champagne is a sparkling

wine but not all sparkling wines are

Champagne. A sparkling wine can only

be called Champagne if it comes from

the Champagne region of France. (Some

California wineries do call their sparkling

wine Champagne, but that's another story.)

Getting those tiny bubbles into the bottle

can be accomplished in several ways. The

two most common methods are called the

"traditional method" and "charmat" or tank

method.

Champagne is made using the traditional

method. Secondary fermentation occurs in

the wine bottle. A byproduct of fermentation

is carbon dioxide (CO2). The CO2 can't escape

from the bottle and dissolves into the wine

and over time makes the wine bubbly. After

fermentation is complete, the expired yeast

cells remain in the bottle for an extended

period of time adding complex bready notes

to the wine. It is a time-consuming, labourintensive

process, which explains in part why

Champagne is expensive.

The charmat method is cheaper and

quicker. The secondary fermentation occurs

in large pressurized tanks and the product

is bottled under pressure. This method

produces a fruity style sparkling wine. If you

have ever had an Italian Prosecco you have

had a bubbly made this way.

Both methods are used in the making

of sparkling wine in Ontario. Here are a

few sparkling wine suggestions for you

to consider this holiday season. They are

either available directly from the winery or

at the LCBO.
---
№ 56 | November/December 2015

The Grange of Prince Edward County

2013 Sparkling Riesling ($19.95

lcbo #392746) — A tasty, semi-sweet

bubbly that packs a good punch of

acidity making it very food friendly

and versatile. Fruity apple and pear

notes; this "Limited Edition" was

made using the "charmat method". It

is no longer available at the winery

as it sold out. However it can still

be found at some LCBO Vintages

locations. It's capped with a crown

cap (similar to a beer bottle cap) so

you will need to use a bottle opener

for this one.

JOIN US FOR

THE

ULTIMATE

STEAK

EXPERIENCE

Cave Spring Blanc de Blancs Brut Sparking

Wine ($29.95 lcbo #213983) — Brut on the

label means that the wine is dry. There

should be no perception of sweetness

at all. Blanc de Blancs means that

the wine is made of 100% white wine

grapes, most commonly chardonnay.

This non-vintage sparkling wine,

made from chardonnay grown

on the limestone-rich Niagara

Escarpment bench, was made using

the "traditional method". After

secondary fermentation the wine

remained on the lees for 30 months.

Notes of crisp apple, pear, bread

dough and wet stone. Quite complex

and an excellent value. This one

should impress every discerning sparkling

wine drinker on your list.

Vineland Estates 2013 Reserve Brut ($28,

winery only) — This is a dry bubbly (charmat

method). A blend of pinot meunier (a

black wine grape most noted for being

one of the three main varieties used in

the production of Champagne) (49%),

chardonnay (42%) and riesling (9%).

Fresh apple, crisp acidity with fine

tiny bubbles. Perfect for popping at

any celebration!

Ontario sparkling wines are very

food friendly, and very versatile for

wine and food pairings. Their high

acidity cuts through rich, fatty dishes

and can handle salty dishes too.

GARY KILLOPS is a certified wine geek who loves to talk,

taste and write about wine. He shares his wine tasting notes on

EssexWineReview.com

NOW OPEN IN LONDON!

977 Wellington Road S.

226 663 5100

WALK-IN GUESTS

ALWAYS WELCOME

CHOP.CA
---
48 www.eatdrink.ca

№ 56 | November/December 2015

BEER MATTERS

beer matters

Cool Weather Wrap-up...

And Some Gift Ideas

By THE MALT MONK

We are entering the seasonal

brewing doldrums. The fall

harvest festival brews are still

fresh in our olfactory memory

as we anticipate the upcoming release of the

sturdier winter brews. Craft brewing in the

traditional modality gives us a connection

with the changing seasons. So in synchronicity

with the seasonal overlap I will attempt

to give you some impressions of some of the

fall seasonals which stood out for me, and

some recommendations for winter releases.

I'll review some new brewing operations,

and offer some gift suggestions for the craft

brew acolyte on your shopping list.

Some Outstanding Fall Seasonals

Flying Monkeys Brewing: Coast to Coastless

Imperial ESB (LCBO #435347)—This is a

collaboration brew which was designed

with, and brewed simultaneously at Phillips

Brewing BC, Trou du Diable in Quebec and

Garrison Brewing in N.S. Coast to Coastless is

a 7.6% ABV Imperial ESB, brewed with Amber

and Crystal malts and British hops (Bramling

Cross, Challenger and Admiral). It decants

a deep copper-amber to the glass —

pungent aromas of seed fruits and

sweet malts with some floral bouquet.

Huge billowy tan cap. The flavour is

complex with sweet bready grains

mixing with succulent dark fruit,

toasty-resinous character and an

underlying soothing bitterness to

keep the sweet malt in trim. The

key element here is that the only

thing this monster brew has in

common with an English ESB bitter

is the variety of hops and malt used.

The huge olfactory attack of intense

flavours is the result of ingredient

quantity, method and brewing skills

— well worth a try.

Beau's Farm Table Marzen (on

tap or in bottles lcbo #436899)

— Beau's continues its series of Farm Table

sessionable craft beers with an authentic

Munich Marzen (Oktoberfest bier). This

offering improves on last year's Night

Marzen with more affirmative dry hopping.

Pours a clear reddish-orange with a decent

off-white cap. Aroma is pungent fresh baked

bread tones with the noble hop woodiness,

a supportive side note, a bit of leafy-earthy

mustiness. Flavour follows aroma — breadytoasty

with an adequate whack of Perle hop

bittering and woodiness, clean finish goes

dry with a decent noble hop bite at the end.

A very good Marzen or Oktoberfest beer

for quaffing. For German lager fanciers,

this is as good as it gets — drinks well with

steaming Oktoberfest wurst dinners.

Abe Erb Brewing Co: Alterior Motive

Altbier (on tap at the brewery or your local

beer bistro) — A very nice offering from

this new in-house brewer from Kitchener.

Small capacity but brews twice a week, so

there is enough extra kegged beer to sell to

other pubs. I was particularly impressed

with this excellent amber

Altbier — pours a light

burnished copper with a

moderate off-white cap.

Aroma of toasty-caramel

Munich malts, light

herbal woodiness and

a light beech nut tone.

Flavour is malty-nuttytoasty,

very dry with even

spalter bitterness from front to finish — a

well finished dry hoppy Alt. Let this warm to

about 50 degrees to release all of its nuttytoasty

aroma.

Weihenstephaner Vitus Weizenbock

(lcbo #265140) — Decants a murky honeygold

wheat, massive white cap and lively

natural effervescence. Aromas of clove,

apricot, hay, and sweet grains. Nice wash of

biscuit malts in front. Well-balanced with

fruity tones, some spice, hop presence gives
---
One of 2014's

TOP 10

Beer Bars

in Canada

sufficient bittering to create some pleasant

layering. Finishes rather dry with some nice

noble herbal bitterness. Warming, satisfying.

Flavour and character are that of a great

double wheat beer or imperial wheat rather

than a heller bock. Very drinkable.

Upcoming Winter Seasonals

Innocente, NickelBrook, Amsterdam and

other barrel-aged winter brews promise

to be released in the late fall/early winter

weeks. These great barrel-aged brews have

been maturing in wood for four months or

longer, and will likely show up locally in

bottles and kegs. Word has it some whisky

barrel stouts and porters are near release,

as well as some barley wines and big amber

ales from local OCB brewers.

At the LCBO

• Epic Epicurean Coffee & Fig Oatmeal

Stout: from New Zealand, scores 98% on

beer rating sites, lcbo #429498

• Viking Chili Stout, Premium Danish Ale:

a good example of the artisanal use of

peppers and chilies in stout, lcbo #420349

• Stewart Cauld Reekie Stout: cask-styled

stout from a word class Scottish crafter,

lcbo #429480

• Great Lakes Brewery Saison DuPump:

GLB's take on the quintessential Dupont

Saison, on tap and lcbo #362814

• Viven Porter: a lush robust porter crafted

by Brouwerij van Viven, brewed at De

Proefbrouwerij Sijsele, Belgium, lcbo

#417873

A Review of Smithworks Brewing

I had occasion to be in Peterborough

recently and stopped by to see the relatively

new Smithworks craft brewery operation.

What I found took me aback somewhat. I

had expected a small family-run operation

in its infancy but here, tucked away in a

secluded industrial park, was a state-ofthe

art-craft brewing operation with a

respectable output capacity for the size of

the building. In the rustically styled and

comfortable tasting room you can sample

the brews by the glass on tap, or fill a

growler, or buy some in half-litre bottles.

Smithworks is unique in that it is the first

Ontario craft brewer (to my knowledge)

that does not filter any of the beers. This is

because they are meant to be consumed

fresh, in peak condition, with all the flavour

amalgams present in real unadulterated
---
50 www.eatdrink.ca

beer. I can attest to the fact they

hit the freshness and flavour

target dead center. But the

thing that really makes this

brewery unique is that all

the bottled beers are bottle

conditioned (final extra fermentation

in the bottle). This

gives the bottled beer a natural

№ 56 | November/December 2015

effervescence, and phenomenal

flavour. Smithworks

bottle-conditioned beers

are available at your local

craft beer bar, the brewery,

or your LCBO: Smithworks

Dunkelweizen, Hefeweizen,

Blonde Ale and Kellerbier.

Gifts for Foam-Heads

Here's a guide for those new to craft beerfood

pairing. It's a short guide to cheesebeer

pairing — and it's free! You can get it at

local OCB breweries, DFC cheese outlets or

download it here: www.ontariocraftbrewers.

com/pdf/BeerCheeseGuide.pdf

Books for the Craft Brew Afflicted

• Cool Beer Labels: The Best Art & Design

from Breweries Around the World by

Daniel Bellon and Steven Speeg.

• Craft Beer World: A Guide to Over 350 of

the Finest Beers Known to Man by Mark

Dredge. A new beer

drinker's bucket list of

fine brews to seek out.

• Beer for All Seasons:

A through-the-year

guide to what to drink

and when to drink it by

Randy Mosher. Essential

reading to understand

the seasonal cycles of

beer styles and seasonal releases.

• The Brewmaster's Table: Discovering the

Pleasures of Real Beer with Real Food

by Garrett Oliver. The essential timeless

classic on artisanal beer and nouvelle

cuisine pairing.

Glassware & Gear for Tap Sponges

• Growler Koozies — Keep that growler

cool on the patio! Growler Koozies will be

all the rage as the local markets shift to

fresh draft beer for home consumption.

• Spiegelau Beer Classics 19 Ounce IPA

Glass — the ultimate serving vessel for a

fine IPA.

• 10" Draft Beer Hop back Randall — For

dedicated home brewers with a Corni

keg or other charged draft beer system,

the ultimate dry hop delivery system for

humulone addicts is now very affordable.

• Drink Tanks Insulated Stainless Steel

Growler — With the new changes coming

in Ontario concerning fresh craft

beer for home consumption, it will be

easier than ever to fill a growler at your

local craft brewery, LCBO or brew pub.

This growler is a must for the foam hound

who likes fresh draft crafted beer at

home. It also has a CO2 charging option.

Malt Monk's Taste 'O' the Month

Amsterdam Brewing, Six Boroughs

Bourbon Barrel-Aged Rye Porter (on tap

at your local craft beer oasis, or in a wax

dipped litre bottle LCBO # 438093)

This brew started as an entry in the

Toronto Beer Week competition. The brewer

now makes larger releases of this wonderful

imperial strength rye porter as scheduling

permits — there is a release out as I write

this review. Here is a very sturdy uber-porter

with some bracing complexity from a number

of elements, the least of which is the

spicy-roasty dark rye

malt base. The process

involves a six-month

aging stage in Four

Roses bourbon barrels,

which imparts a rich

whiskey-smoky-vanilla

character to both

aroma and flavour of

the brew. Deep dark black-brown with ruby

highlights, this porter's complexity mingles

the dark fig-plums ester tones with roasty

malts and unmistakable smoky-woodywhisky-vanilla

tones. Rich and silken on the

palate, this wonderful big brew hides its 10%

ABV well. A great fireside sipper to savour

this winter.

THE MALT MONK is the alter ego of D.R. Hammond, a

passionate supporter of craft beer culture. He invites readers to join in

the dialogue at maltmonksbeerblog.wordpress.com
---
№ 56 | November/December 2015 www.eatdrink.ca 51

on the boards

Holiday Traditions, New and Old

By RICK YOUNG

The holiday season is a time for

sharing good times with family

and friends. Why not share some

great local live theatre?

This year you can choose between a

holiday family classic, a British panto

version of a well-known fairy tale, a

re-telling of the Robin Hood legend, and

a timeless American literary classic.

Susan Ferley, the Grand Theatre's

artistic director, says the Grand

is always looking for a play that

speaks across generations for its

holiday offering. Securing the

rights for A Christmas Story

began with the insistence of

her younger staff and a family

conversation she overheard

last December.

"My executive assistant

said 'Susan, you have to

realize that A Christmas Story

is my generation's A Christmas Carol,' " says

Ferley. "The clincher came when I overheard

a family in the lobby talking about watching

A Christmas Story on TV later that night."

Since its release in movie theatres in 1983

A Christmas Story, Jean Shepherd's tale of

Ralphie Parker and his whacky

dysfunctional family, has achieved

cult status on television and is

required viewing for many people

come December.

The story revolves around

9-year-old Ralphie's yearning

to find a Red Ryder BB gun

under the family Christmas

tree, in a setting that harkens

back to pre-war Cleveland in

the early 1940s. The problem

is that everyone, including a department

store Santa, keeps on telling him that he

will "shoot his eye out" with the gun. In

the process, familiar holiday situations like

buying a Christmas tree, visiting Santa, and

writing letters to Santa are presented.

While the basic story and main characters

remain the same — Ralphie, the Old Man,

Schwartz, Farkus, and others are all here —

audience members can expect some noticeable

differences in live stage presentation.

"In the movie, the adult Ralphie

provides an ongoing voice-over,"

says Ferley. "In our stage version, he

actually appears onstage lending his

explanation to the action and he plays

some minor roles in the play. The

role of Esther Jane, one of the girls in

Ralphie's class is also given much

more prominence."

Returning to the Grand as the

adult Ralphie is Steve Ross,

the star of last year's Shrek:

The Musical. Londoner Rachel

Jones plays Miss Shields,

Ralphie's teacher. Bill Layton

has designed sets which

capture the playfulness of the

story, says Ferley.

A Christmas Story plays on the Grand

Theatre's Mainstage from November 24–

December 30. www.grandtheatre.com

Presenting a British pantomime during the

holiday season has become a tradition for

the Elgin Theatre Guild in St. Thomas,

says Lesley Chapman, the Guild's

president.

A pantomime is a musical

comedy designed for family

entertainment. It was developed

in England and is performed

during the Christmas and

New Year season. Modern

pantomime includes songs,

slapstick comedy and

dancing, usually employing

gender-crossing actors, and combining

topical humour with a story loosely based on

a well-known fairy tale, in this case, Jack and

The Beanstalk.

"The big difference between traditional

stage and panto productions is the active

encouragement of audience participation

Author Ian Crof
---
52 www.eatdrink.ca

for the latter," says Chapman, who is

co-directing this year's panto with Ken

Roberts. "The more the audience interacts

with the action onstage the better and the

more fun everyone has."

In fact, before each performance,

Chapman actually "warms

up" the audience by having

members practice their

booing and cheering.

The cast is all local, with

40 people in the chorus,

ranging from five to 84

years of age. Chapman says

there are a few surprises in

order, including a dancing

cow.

"It's all quite silly and a

lot of fun," says Chapman.

"We usually have sell-outs, so people should

get their tickets early."

Jack and The Beanstalk plays at the Elgin

Theatre Guild from December 3 to 13.

www.elgintheatreguild.ca

For readers seeking more adult-oriented

theatre, By The Book Theatre is presenting

John Steinbeck's Of Mice and Men in the

McManus Studio Theatre at the Grand from

November 24 to December 5.

Director/producer Mark Killeen refers

to Steinbeck's classic tale of two drifters —

George Milton (played

by Andre Cormier)

and his dim-witted

companion Lennie

Small (Rob Deman)

— trying to survive

in Depression-era

America as a "time

capsule."

"One of my

favourite lines from the Steinbeck novella

was 'Live off the fat of the land' spoken by

Lennie," says Killeen. "The play opens up a

whole lot of issues and themes including the

dream of a better life, loneliness, how society

deals with racism, people with disabilities,

and why people couple."

Killeen points out that Curley's wife,

played by Jesslyn Hodgson, plays a much

more prominent role in the play than in the

novella.

The production will be staged with lots

of design and a minimalist artistic set with

flats. "It will all work together to tell the story

№ 56 | November/December 2015

exactly as the words come off the page," says

Killeen. "It's a wonderful piece of literature

and we're going to try to do it justice."

Of Mice and Men is recommended for ages

14 plus. www.bythebooktheatre.com

London Community

Players revisit the Robin

Hood tale with The Trials

of Robin Hood at the

Palace Theatre.

"This production is

perfect, family-friendly

theatre for the holidays,"

says director Ceris

Thomas. "It's a silly

version that had me

laughing out loud as

I read the script. Just

this side of a panto, the script actively

encourages audience participation."

King Richard has returned to England and

wants to know what has happened during

his absence. Robin is put on trial, but what

is unique about this production is that it is

told through the points of view of different

Robin Hoods — one of whom is the typical

hero told by Robin himself, a second "lusty"

Robin told by Maid Marion, and a third one

who is depicted as an idiot as told by the

Sheriff of Nottingham. The audience gets to

decide which depiction of Robin Hood is

the "true" one, says

Thomas.

Original music

for the production

is being composed

by London singer/

songwriter Donna

Creighton. "Donna

is writing some

catchy tunes that the

audience can sing along with," says Thomas.

"It's a big Christmas party suitable

for families with children four and up,"

says Thomas. "Don't plan a party, bring

everybody here!"

The Trials of Robin Hood plays from

December 3 to 20 on the mainstage at the

Palace Theatre. www.palacetheatre.ca

RICK YOUNG, whose work has been published in local,

regional and national print and online publications, was the

Managing Editor, Publisher and founder of The Beat Magazine,

an independent London arts magazine, from 2009 to 2014.
---
№ 56 | November/December 2015 www.eatdrink.ca 53

The classic family

favourite on stage!

2015/16 SEASON

BY JEAN SHEPHERD ADAPTED BY PHILIP GRECIAN

GRANDTHEATRE.COM

TICKETS 519.672.8800

Season Sponsor

Title Sponsor
---
54 www.eatdrink.ca

№ 56 | November/December 2015

sound bites

Wicked Witches & Sugar Plum Fairies

By NICOLE LAIDLER

It's a busy time of year on the classical

music scene, as ensembles get ready to

spread musical joy during the holiday

season.

But first, there's time for an opera! Engelbert

Humperdink's Hansel and Gretel brings the

wicked witch and her gingerbread children to

the Davenport Theatre stage, November 20–22.

Presented in English by Opera at Western,

and based on the

familiar Grimm

brothers' fairly tale,

this is "definitely a

family opera," says director Theodore Baerg.

In fact, the production includes 12 local

children in addition to a talented cast of

Western Music students.

Hansel and Gretel is the first of three

student opera productions in this academic

year, as Opera at Western presents Verdi's

Falstaff January 29–February 7, and a

year-end opera and musical theatre gala

performance on March 11. www.music.uwo.ca

The Karen Schuessler Singers begin their

23rd season with Karl Jenkins' The Armed

Man: A Mass for Peace, November 21 at

Wesley-Knox United Church.

Composed in 1999 and dedicated to the

victims of the Kosovo Crisis, The Armed

Man explores the horrors of war, but ends

with an expression of hope for peace in

the new millennium. "I first heard this

work at Lincoln Centre in New York," says

Schuessler. "It makes a powerful statement

with music that is just rhapsodic."

This performance features guest soloist,

contralto Gabrielle Heidinger Baerg, as

well as a multimedia presentation that

Schuessler says will "enhance and enrich

the experience." www.kssingers.com

Serenata Music continues its all-Canadian

2015/16 season on December 6 at Wolf

Performance Hall, when violinist Mary-

Elizabeth Brown joins forces with pianist

Anastasia Rizikov for an afternoon

concert of works by Schnittke, Stravinsky,

Rachmaninoff, Tchaikovsky and Prokofiev.

"I've watched both of these artists develop

over the years," says Serenata Music's Renée

Silberman.

Londoners may remember Mary-Elizabeth

Brown as the associate concertmaster

of Orchestra London. Today, she lives in

Montreal where she was recently appointed

concertmaster of the McGill Chamber

Orchestra. "I like to keep in touch with

musicians who have made a mark here in

London," comments Silberman.

Toronto's Anastasia Rizikov is a rising

young star on the Canadian and international

music scene. "She's a 16-year-old who can

play anything," says Silberman. "I first heard

her when she was 10. She was breathtaking

then and continues to be breathtaking now.

She's a very worthy young artist who deserves

to be heard." www.serenatamusic.com

For many people, the holiday season just

wouldn't be the same without a performance

of Handel's Messiah. And this year, London

Pro Musica picks up the baton from

Orchestra London and Fanshawe Chorus

London to present this beloved seasonal

work, December 9 at St. Paul's Cathedral.

"London Pro Musica has been the choir

component of this annual event for many

years," says LPM member Jenny Nauta.

"This year, with the changes in the orchestra

scene, we have joined in a full

partnership with The Musicians Of

Orchestra London in presenting

this program."

The community-based choir

and the WePlayOn musicians

will be led by conductor Dr.

Vicki St. Pierre and joined by soloists Erin

Bardua (soprano), Laura Puwell (mezzo

soprano), Asetha Tennekoon (tenor) and

Matthew Cassils (bass).

"There is such a feeling of optimism moving

forward that this performance is sure to reflect
---
№ 56 | November/December 2015 www.eatdrink.ca 55

the valued relationship between our choir and

the musicians," notes Nauta. "Then there is the

added enhancement of performing Messiah

at St. Paul's Cathedral. The sound will be

magnificent." www.londonpromusica.ca

The Musicians of Orchestra London also make

a guest appearance with the Amabile Boys &

Men's Choirs, December 5 and 6 at St. Peter's

Cathedral Basilica. "A Candlelight Christmas"

will be led conductor Brian Jackson — another

face familiar to local concertgoers.

"Honoring the

British traditions of

caroling, the music

celebrates the life of

King's College composer and conductor Sir

David Willcocks, who passed away this fall,

and the 70th birthday of his protégé, John

Rutter," says conductor Carol Beynon.

The seasonal sounds continue December

12 when the Junior Amabile Singers &

Amabile Da Capo Choir join forces for "Have

Yourself a Movie Christmas" at New St. James

Presbyterian Church, and December 13 when

the Amabile Young Women's Ensemble

present "Alleluia" at First St Andrew's United

Church. www.amabile.ca

Ballet-lovers are in for a holiday treat when

Canada's Ballet Jörgen brings The Nutcracker,

A Canadian Tradition to Centennial Hall,

December 21.

Founded in 1987, Canada's Ballet Jörgen

is the country's fifth-largest dance company

and one of the few with a truly national

reach, presenting original works in more

than 50 communities each year.

This twist on the traditional Nutcracker

moves the story to rural Ontario and

uses backdrops inspired by The Group

of Seven painters while remaining true to

Tchaikovsky's well-loved score. "My goal

in creating this production was to recreate

the Nutcracker so it would fit in a Canadian

context but still tell the basic Nut cracker

story," writes artistic director Bengt Jörgen in

his program notes. www.balletjorgen.ca

NICOLE LAIDLER has been writing about London's

cultural scene for more than a decade. See what else she's been

up to at www.spilledink.ca

2015-2016 concert season

THE

ARMED

MAN

Saturday

APRIL 2, 2016

Outstanding music by our many

outstanding London and area

musicians,with an opportunity to

meet them and learn just how

they do it - Smallman, Hardy,

VanderHoek, Christmas,White

BA

BA

DANCING QUEEN

Saturday

NOVEMBER 21, 2015

Karl Jenkins' magnificent mass for

peace dedicated to the victims of

the 1998 Kosovo Crisis. With

orchestral ensemble, soloist

Gabriele Heidinger Baerg,

and multimedia presentation.

Two performances:

8 pm,Saturday, MAY 28

3 pm,Sunday, MAY 29

2016

380 million singles and albums can't be wrong! With our very

own ABBA vocal quartet led by Kristin Darsault, pianist

Stephen Holowitz and band, the amazing music of ABBA!

Season subscriptions with reserved area seating

Adult $54, Senior (65+) $48, Student $20, Child (6-13) free

Subscriptions and tickets from KSS members,

at 519.455.8895 or www.kssingers.com

Arthur Rowe

ARTISTIC DIRECTOR

2015–2016

All concerts at 8 pm

at Wolf Performance Hall

251 Dundas, London

All ticket sales through

Grand Theatre Box Office

519.672.8800

grandtheatre.com

Special thanks to

Saturday

Friday

November 21, 2015 January 29, 2016

Arthur Rowe, piano Pacifica Quartet

SCHUBERT | LISZT

SECOND ALL-BEETHOVEN CONCERT

www.jefferyconcerts.com
---
56 www.eatdrink.ca

№ 56 | November/December 2015

books

My Cup of Tea

The Tea Book by Linda Gaylard

Review by DARIN COOK

Some may think tea is simple: black

tea for the afternoon in Britain and

green tea for Asian ceremonies. But

that is just the tip of the tea leaf. There

are white tea, herbal tisanes, yellow tea,

kombucha, cold infusion tea, tea mixology,

and so many more things to be learned from

The Tea Book (DK, 2015, $24.00). Drawing

on her experiences her experiences as a tea

sommelier, Linda Gaylard has taken on the

task of "convincing tea drinkers that there is

much more to tea than a mug and a tea bag.

Beyond the bag there is mystery, history,

travel, industry, culture, and ceremony: a

whole new world to explore." By covering

all aspects of loose-leaf tea preparation, she

hopes to stoke the growing interest in what

she calls "the true path of tea."

Dorling Kindersley (DK) is known for

high-quality reference books, and The Tea

Book is no exception with its encyclopedic

scope covering everything from growing,

harvesting, drying, and storing tea leaves,

to extensive details about the fifteen teagrowing

regions around the world, to

etiquette guidelines for Chinese, Japanese,

and Korean ceremonies.

Along with the horticultural and historical

aspects of tea, Gaylard also primes her

readers to become tea

experts with detailed

notes on how to perfect

all varieties of tea at home

with brewing temperatures,

steeping times, leaf-towater

ratios, and gadgets

for preparing green, white,

oolong, black, Pu'er, and

yellow teas. After you have

the mechanics down,

Gaylard provides guidelines

on how to appreciate tasting

tea with a Flavour Wheel that

visually makes connections

to the intricacies that can

come from complex flavours.

Once

you begin

to identify

flavour

profiles,

Gaylard

urges you

to move

on to the culinary

science of combining classical

blends. For instance, Earl Grey is wellknown

in the tea world, but the distinct

taste can be created with a loose-leaf

combination of three freshly-brewed black

teas — Darjeeling, Ceylon, and Assam —

along with the oil and peel of bergamot (a

citrus fruit that is a cross between an orange

and a lemon; the inside is quite inedible

and its only practical application is the oily

essence extracted from its skin as an agent

for flavouring and perfume).

As well, the health benefits of tea are

highlighted in the book with details about

the antioxidant properties of matcha

powder, probiotic powers of kombucha,

and therapeutic attributes of tisanes (which

are not strictly teas, but mixtures of plants

and other natural elements infused into

an herbal beverage). Similar to the Flavour

Wheel, a Wellness Wheel

identifies plants, seeds,

roots, barks, and flowers

as ingredients for tisanes

to treat ailments, from

the well-known lavender

and chamomile that help

induce sleep to the notso-common

treatment of

fennel seed and dandelion

root to treat arthritis.

Aside from learning to

appreciate flavours and

mixing your own blends and

tisanes, readers can peruse

Author Linda Gaylard
---
№ 56 | November/December 2015

over 50 pages of recipes. This is possibly

the most eye-opening portion of the book.

These recipes go beyond steeping tea leaves

by featuring tea in sophisticated beverages

like Jade Orchard, which combines Yunnan

Green Snail tea leaves with diced pear and

dried goji berries. Another recipe combines

dried figs and shaved dark chocolate with

Pu'er tea leaves for an earthy, sweet brew

named Chocolate Fig. The blend of spices,

honey, and buffalo milk added to Assam tea

to make Masala Chai has become popular

outside of its homeland of India, and bubble

tea, which originated in Taiwan, can be made

at home with tapioca pearls as the bubbles

and tea boiled from taro root. Any looseleaf

tea-lover can keep busy and happy for

months with the novel recipes that Gaylard

introduces. The Tea Book is a wealth of

knowledge for anyone looking to step beyond

the normal tea bag and to be innovative with

loose-leaf tea.

DARIN COOK works and plays in Chatham-Kent, and is a

regular contributor to eatdrink.

feel at home

The latest innovative design from Global's

skilled Japanese craftsmen features a

super sharp cutting edge and ergonomic

handles that are engineered for

comfort. With an impeccable

balance, Global Ni knives

feel like an extension

of your hand.

Save

$30 .00

with this ad!

This discount can be

applied to any regular-priced

Global Chef's Knife

Valid until December 24, 2015

Monday–Saturday: 10am–5:30pm | Sunday: Noon–5pm

551 Richmond Street, London

519-850-5477 ○ www.kissthecookonline.com

Free Drop-In

Tastings Any Time

•

Private Catered

Olive Oil &

Wine Tasting

Parties Available

Why Have Any Other,

When You Can Have Olive-Me!

Extra Virgin Olive Oil & Balsamic Vinegar

TASTING ROOM

50 different olive oils & balsamic vinegars • tapenades, mustards & antipastos

We are proud to carry

California olive oils with

the COOC Seal of Quality

Gift Boxes, Gift Baskets, Boxed Sets,

Gift Certificates, Custom Blends

and Custom Sample Packs ...

Make the Perfect Gift, Corporate Gift,

Hostess Gift or Wedding Favour.

custom labeling is available.

1570 Hyde Park Road at Gainsborough, London

519-471-OLIV (6548) www.olivemeco.com
---
58 www.eatdrink.ca

№ 56 | November/December 2015

cookbooks

Curbside

Modern Street Food from a Vagabond Chef

By Adam Hynam-Smith

Review and Recipe Selections by TRACY TURLIN

If Australian-born Chef Adam Hynam-

Smith ever had a fear of bold and spicy

flavours, his travels through Morocco

and Thailand quickly cured him of

it. In 2010 he brought those flavours to the

Niagara region in one of Canada's first "nontraditional"

food trucks, El Gastrónomo

Vagabundo. In this case, "non-traditional"

means a truck that is mobile and prepares

fresh food to order. We love our fries and

corn dogs from chip wagons in Ontario but

we are definitely ready for something more.

In his first cookbook, Curbside: Modern Street

Food from a Vagabond Chef, Hynam-Smith

gives us a taste of what we've been missing.

Spurred on by the food truck revolution

celebrated on television, more people

are now looking for a taste of high-end

restaurant quality food without the gourmet

prices. Modern food trucks can provide a

whole new experience of tastes and textures

along with the carnival atmosphere of

waiting in line at a trailer for lunch. It's

like eating at the fair but less scary. Well,

slightly less scary. There's a Pickled Octopus

recipe in this book with a full page of photos

that gave me the willies, but I'm sure it's

delicious, if you can get past the tentacles.

I'm too fond of alien

movies for this to be an

option for me. If you're

braver than I, please email

me and let me know how

it turned out.

The Mise en Place

section of this book is

dedicated to a collection

of spice blends, garnishes,

sauces, curries, and

preserves. They can be

made ahead and stored,

Author Adam Hynam-Smith

ready to create

recipes from this book or

liven up just about any other meal you

can imagine. You might add some Harrisa

(Tunisian chili paste) to your burger, or

season some roasted vegetables with Dukkah

(sesame seeds, hazelnuts and spices). Candied

Bacon should work on everything but your

morning cereal. Maybe even there, actually.

I particularly enjoyed the number of pickling

recipes and look forward to adding many of

these to my own favorite Thai noodle salads.

Hynam-Smith has adapted many of his

restaurant recipes for home cooking. He also

includes offerings from some of his friends,

other chefs in the Niagara Region. There's

a great mix of items, from quick, casual

food to more elaborate dishes that take

several days to prepare.

Beverage recipes range

from simple mint tea to

a Caesar made with soup

broth, chili jam and fried

shallots.

The Chicken Pot

Stickers were so good

they never made it to the

table. We couldn't stop

eating each fresh batch

as they came out of the

pan. At our house, that's

a "keeper" recipe. A dish

I'll probably save for
---
№ 56 | November/December 2015

special occasions is a decadent food truck

treat, Fried Banana with Toasted Coconut

Cream. I'm not sure that the health benefits

of bananas completely balance out the deep

frying, but after one bite of this dessert I no

longer cared.

Curbside is one of those books that

makes you feel adventurous just flipping

through the pages. Mike McColl's photos are

spectacular, I only wish there had been more

of them. (Maybe in place of the octopus

pictures.)

I'm not sure how long it will be before we

see more gourmet food trucks roaming the

streets of London but when they get here,

thanks to the efforts of people like Hynam-

Smith and his Vagabundo team, we'll be

ready and waiting.

Ovens

BBQs

$ Starting at:

88 Starting at: $ 99

plus HST

plus HST

A unique mobile service that offers

handcrafted deep cleaning quality,

delivered by trained cleaning

professionals without the dangers

and toxic fumes of self-cleaning ovens

and aerosols.

TRACY TURLIN is a freelance writer and dog groomer in

London. Reach her at tracyturlin@gmail.com

Before

After

Recipes and photos on the following pages are courtesy of

Whitecap Books. Curbside: Modern Street Food from a Vagabond

Chef, Adam Hynam-Smith; Whitecap Books, 2015.

519-619-1416 ovenclean.ca

SAVE THIS HOLIDAY SEASON

5%

OFF

PACKAGE OF

3 APPLIANCES

10%

OFF

PACKAGE OF

4 APPLIANCES

15%

OFF

PACKAGE OF

5 APPLIANCES

40550 Amberley Rd, Wingham ON

877.543.2437 www.eurohomes.net
---
60 www.eatdrink.ca

Chicken Pot Stickers

Pot stickers are a steamed dumpling that is

fried on one side before steaming, which gives

the pot stickers simultaneously a crisp and soft

steamed texture, giving dumpling fans the best of

both worlds. Variations of pot stickers are found

throughout China, Korea, and Japan.

4 dried shiitake mushrooms

3 cups (750 mL) unbleached all-purpose flour

1 1/8 cups (280 mL) just-boiled water (approx.)

1 lb (500 g) ground chicken breast

6 water chestnuts, shelled and finely diced

2-inches (5 cm) long piece ginger, finely diced

5 red shallots, finely diced

3 cloves garlic, finely diced

kosher salt, to taste

black pepper, freshly cracked, to taste

2 Tbsp (30 mL) sunflower oil

¼ cup (60 mL) hot water

Soak shiitake mushrooms in warm water for 20

minutes. Squeeze them to remove excess water

and finely slice. Set aside.

To make the dough, place flour in a mixing bowl

or a stand mixer with the dough hook attachment.

On low speed, gradually add the just-boiled water

№ 56 | November/December 2015

to the flour. Let the dough hook bring the dough

together, stopping to scrape the sides of the mixing

bowl as needed. Once all of the water is added,

make sure all of the flour has been incorporated,

and continue to knead with the dough hook for

an additional 2 minutes. Add more water by the

teaspoonful if mixture is too dry and crumbly.

Place dough on a lightly floured surface. Knead

the dough by hand for 30 seconds to 1 minute,

ensuring the dough is smooth. Place in a

resealable bag, expelled of air. Allow to sit at room

temperature for a minimum of 2 hours.

When dough is ready, remove it from the bag and

cover with a moist tea towel. Cut off tablespoonsized

pieces of dough and roll them out on a

lightly floured surface, one at a time. Stack rolled

dough portions out between layers of plastic wrap

in between, dusted lightly with flour. Repeat this

process until all of the dough has been rolled.

In a bowl, combine chicken, water chestnuts, sliced

mushrooms, ginger, shallots, and garlic. Season

with salt and pepper. Mix well, and set aside at

room temperature.

Working with one piece of rolled dough at a time,

place a spoonful of chicken

mixture in the centre of the

dough. Use your finger to brush

the edges of the dough with

water. Fold the dough over so the

edges meet, forming a moonshaped

dumpling. Pinch the edges

to seal the dumpling. Beginning

at one end of the dumpling, use

your fingers to slightly overlap the

edge of the dumpling with itself,

pinching as you go to create a

series of Z-shaped folds along the

outside edge. Repeat this process

with the remaining dough,

covering the dumplings with a tea

towel or plastic wrap as you go.

To cook pot stickers, heat oil in a

large skillet over medium-high

heat. Place dumplings into the

skillet, flat side down, and fry for

2 to 3 minutes or until golden

brown. Do not flip. Pour in hot

water, cover with a tight-fitting

lid, and allow to cook for an

additional 2 to 3 minutes or until

cooked through.

Serve immediately with your

favourite dipping sauces.

Serves 4
---
№ 56 | November/December 2015 www.eatdrink.ca 61

Fried Banana with Toasted Coconut Cream

This dessert is the ideal food truck treat. It is quick and simple

to prepare, and a crowd favourite. The bananas come out of the

deep-fryer golden and crispy on the outside, and warm and

almost gooey on the inside.

4 cups (1 L) canola oil

1 ½ cups (375 mL) self-rising flour (approx.), divided

1 cup (250 mL) soda water

2 bananas, halved lengthwise

¼ cup (60 mL) Toasted Coconut Cream (see below)

2 kaffir lime leaves, stem removed and finely julienned

4 sprigs mint, leaves picked

In a deep fryer or deep pot, heat oil to 350°F (180°C).

Place 1 cup (250 mL) of flour in a medium mixing bowl. Gradually

add soda water to flour, whisking until batter is smooth but not

too runny, similar to pancake batter.

Dredge banana pieces in 1/2 cup (125 mL) of flour, and then in

wet flour batter. Carefully place battered banana pieces in hot oil

and deep-fry for 3 minutes or until golden brown. Remove pieces

from pot and place on paper towel to absorb excess oil.

To serve, place one banana piece on each serving plate, flattest

side down. Using a teaspoon,

place dots of Toasted Coconut

Cream on each fritter and on

each plate. Sprinkle with lime

leaves and garnish with mint

leaves. Serve immediately.

In a bowl, mix rice flour with ¼ cup

(60 mL) of coconut cream to form

a paste. In a medium saucepan,

mix remaining coconut cream with

flour paste over medium heat,

whisking vigorously to incorporate.

Add salt and toasted coconut.

Bring to a boil, and cook for approximately

5 minutes, stirring constantly.

When coconut cream has

thickened, remove from heat immediately.

Add sugar, and stir until

dissolved. Add additional sugar to

reach desired sweetness. Set aside

at room temperature to cool.

Use immediately or transfer to an

airtight container and store in the

refrigerator for up to 1 week.

Makes 1 ¾ cups (435 mL)

Serves 4

Toasted Coconut Cream

Toasted Coconut Cream can be

served warm or cold.

1/2 cup (125 mL) fine unsweetened

shredded coconut

1 tsp (5 mL) rice flour

1 cup (250 mL) coconut cream,

divided

pinch of salt

2 Tbsp (30 mL) white sugar, or

more to taste

Preheat oven to 350°F (180°C).

Spread coconut in a thin layer

on a baking sheet, and place in

oven. Toast for 8 to 10 minutes

or until golden brown. Remove

from oven, and allow to cool

on the baking sheet at room

temperature.
---
62 www.eatdrink.ca

№ 56 | November/December 2015

the lighter side

Breaking Bread

By KYM WOLFE

'

Tis

the season to eat, drink and

be merry. Raise a toast. Go

wassailing. Clink glasses as you

ring in the New Year. Memories

of Christmas past bring to mind tables

groaning under the weight of everyone's

favourite dishes, from turkey and trimmings,

to Nanny's tourtières, to Baba's cabbage rolls

and pierogies.

Best to be careful if you're driving home

after dinner! Turkey is said to be soporific, and

no one wants to fall asleep behind the wheel.

And family lore includes the story of a relative

who got a warning when he blew

dangerously close to the limit,

all the while protesting that he

hadn't had anything to drink …

then realizing that he must have

had one too many slices of Aunt

Mabel's infamous rum cake.

Feasting and festing have long

gone hand in hand, all the way back

to our cave dwelling days. But communal

eating and drinking habits have changed

over time. Back in the day, people were apt

to eat from the same platter and drink from

the same cup. Rumour has it that raising a

toast has its roots in an old British custom.

The host would float a piece of spiced,

cooked bread in the common cup, and once

it had made the rounds he would have the

pleasure of draining it to the last drop and

eating the toasted bread.

Current etiquette requires us to provide

a separate drinking glass for each of our

guests, and while some serve up food on

family platters, it's also common to eat

from separate plates. But the sense of

connectedness that comes from sharing a

meal really transcends time and cultures.

Enjoying a new romance? Connecting with

an old friend? Sealing a business deal?

Wherever you are in the world, chances are

there will be some eating and drinking.

Sometimes it such a regular part of daily

life — coffee with colleagues; lunch or

drinks with friends; nightly family dinners

— that we simply take it for granted. But

food and drink — and by extension, food

and drink establishments — have an

impact on our sense of community. Places

where we eat and drink can water and feed

our souls. They are the places where the

regulars feel at home, and familiarity breeds

connectedness. As New Zealander Theodore

Graves found when he was doing research

into pubs, "One of the major functions of

moderate alcohol use is to promote social

conviviality. But it is the conviviality, not the

alcohol, which is of central importance."

Sourcing our daily sustenance

can also be a social experience.

Locally owned and operated

eateries and food retailers are

woven tightly into the fabric

of their communities. Take

London's Old East Village, for

example — a neighbourhood that

provides a feast for foodies. The village is

dotted with several authentic ethnic restaurants,

an organic café and micro-brewery, a

butcher, a baker, a chocolate maker, a beanto-brew

coffee roaster and a gourmet cheese

shop. These are the kinds of places where

the person behind the counter gets to know

the regulars by sight, and often by name.

And then there's the Saturday Western Fair

Farmers' & Artisans' Market, with its amazing

selection of edibles, and all the ingredients

you'll need when you are planning to break

bread with family and friends. When you

walk into the Confederation Building on a

Saturday morning and hear the steady hum of

conversation and laughter, you know that you

have landed in a place that connects people —

to each other, to local food producers, to our

roots as an agricultural community. And you

can even buy a bottle of wine (and a loaf of

spiced bread) if you want to toast to that!

Research for her books Barhopping Into History: London,

Ontario and Hopping Into History: London's Old East Village

led writer KYM WOLFE to some interesting eating and

drinking establishments. Visit her at www.kymwolfe.com
---
• Chris' Country Cuts

• Doris Family Produce

• Field Gate Organics

• Forrat's Chocolates

At The Market

• Fraumeni's Fruits & Vegetables

• Glenda's

• Hasbeans

• Havaris Produce

• Hot Oven

• International Bakery

• Kleiber's Deli

• Manito's Rotisserie

& Sandwich Shop

• Nate's Shawarma

• Olive R. Twists

• Petit Paris

• Sebastian's

• Seoul Seafood Shoppe

• Smith Cheese

• Snack 'N Bake

• Tanakaya

• Thai Delight

• Taylor Sue's

• The Chocolate Factory

• The Ice Creamery

• The Little Red Roaster

• The Market Deli

• The New Delhi Deli

• The Piping Kettle Soup Co.

• The Rice Box

• The Salad Bowl

• The Tea Haus

• Waldo's Bistro On King

• Andrew Gillet's The Studio

• Bloomers At The Market

• Carpe Diem Massage Therapy

• Collected Works

• CTV Two

• Forget Me Not Flowers & More

• Happy Wear

• Homeopathy London

• Kwik Fix

• London Community Foundation

• Market Kitchen

• Market Lottery

• Original Kids Theatre Company

• The Barkery

• Tina's Treasury

• Y.O.U. Made It

Market Hours:

Mon. to Thurs. • 8am – 6pm

Friday • 8am – 7:30pm

Sat. • 8am – 6pm • Sun. • 11am – 4pm

Outdoor Farmers' Market

Open May through to December

Thurs. • 8am – 2pm & Sat. • 8am – 1pm

Free Parking:

2 Hours Sat. & Sun. • 1/2 Hour Mon. – Fri.

with validation, no purchase required • during market hours only

coventmarket.com

/coventgardenmarket