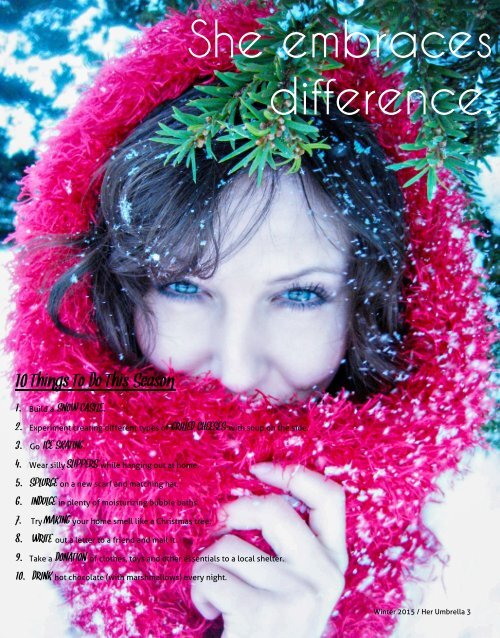 Her Umbrella Winter 2015 / Issue 2
Her Umbrella is a women's digital, lifestyle magazine dedicated to creating a life outside the lines. Published quarterly during the changing of the seasons, you'll find a bohemian, free-spirited style woven throughout its pages. Every woman has an umbrella with a variety of likes, dislikes, stories and memories hidden underneath. And we're looking to uncover them. Our winter issue features some heart-hitting stories and festive features intertwined without rhyme or reason. We've nixed the rules and forewent table of contents and the like to be a freer, more unmatched way of exploring. Enjoy!
She embraces

difference.

10 Things To Do This Season

1. Build a SNOWCASTLE.

2. Experiment creating different types of GRILEDCHEESESwith soup on the side.

3. Go ICESKATING.

4. Wear silly SLIPPERSwhile hanging out at home.

5. SPLURGEon a new scarf and matching hat.

6. INDULGEin plenty of moisturizing bubble baths.

7. Try MAKINGyour home smell like a Christmas tree.

8. WRITEout a letter to a friend and mail it.

9. Take a DONATIONof clothes, toys and other essentials to a local shelter.

10. DRINKhot chocolate (with marshmallows) every night.

Winter 2015 / Her Umbrella 3