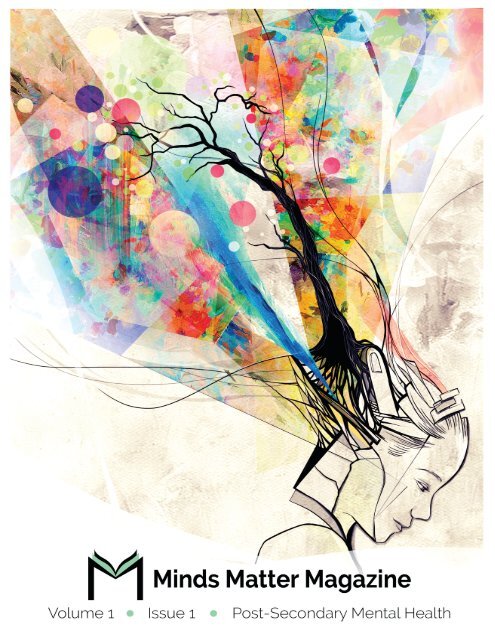 Volume 1, Issue 1: Post-Secondary Mental Health
You also want an ePaper? Increase the reach of your titles
YUMPU automatically turns print PDFs into web optimized ePapers that Google loves.
CoverArtist

Statement

Table of

Contents

Mental health concerns more than just

noticeable disorders or disturbances.

Mental health is about the overall wellbeing

of the mind, a matter that intersects

with almost all aspects of life:

physical health, social and cultural liberty,

and personal and collective identities.

Ideally, mental health recognizes

the complex mingling of sadness and

happiness, stress and serenity, rewards

and struggles, and how they act in the

day-to-day life of people throughout

their life course. Mental health is not

inevitably—or unambiguously— associated

with illness, disease, or disability.

Rather, mental health is rarely static or

set from birth.

The cover image for the inaugural issue

of Minds Matter Magazine aims

to capture the richness of the mind

without concretely depicting its physical

form, the brain. The artist depicts

an interweaving flow of lines, colours,

patterns, and textures that together aim

to illustrate the harmonious reflection

of emotions, thoughts, personality, ego,

and unconscious processes that together

determine our experience of mental

health. The door signifies openness and

acceptance, which is a key to encouraging

mindfulness. The tree represents

the concept of growth, and not only

how we have the capacity to empathize

and embrace change, but also to mature

and become stronger through experiences.

With this image and publication,

Minds Matter seeks to explore the complex,

interdisciplinary nature of mental

health—particularly within the context

of post-secondary education—and allow

its readers the opportunity to engage in

a truly inquisitive, and mindful discussion

on mental health.

Alice Shen, Graphic Designer

Alice Shen is a psychology and physiology

student at McGill University. However,

her connection to UTSC couldn't be more

telling. She was a student of Mr. Gary

Low who was a student of Doris McCarthy.

Low was the first student to earn an

A+ from Doris McCarthy.

10 16 24 30

Meet our

MMMonster

38

Need to find

your way?

Let our UTSC

Map help you

22

Stressed?

Here's Our

Resource

Flow Chart

at your

fingertips

36

2

3
---
Masthead

Winter 2015 Volume I Issue I: Post-Secondary Mental Health

A mental health magazine by students for students, their friends, and family.

This issue is available at: MindsMatterMagazine.com

Made possible with the financial support of:

1265 Military Trail

Toronto, ON, Canada

M1C 1A4

Note: We are not a service provider. If you are in crisis, here are some recommended

resources: UTSC Wellness Centre, Good2Talk, call 911, your nearest emergency department

for assistance, Ontario Mental Health Helpline.

Advisory Board: Liza Arnason, Toni De Mello, Jessica Dere, Jeffrey Dvorkin, Roger

Francis, Andrew Hercules, Katie Kilroy-Marac, Maureen Murney, Perry Sheppard

Theme Advisor for Issue on Post-Secondary Mental Health: Dr. Tayyab Rashid

Theme Advisor on Issue on Arts: Dr. Andrea Charise

Special Thanks: Andrew Arifuzzaman, Marah Ayad, Debbie Belinski, Don Campbell,

Vishakha Chakravarti, Kevin Connery, George Cree, Gerald Cupchik, Kristina Doyle,

Pat Dixon, Andrew Echevarria, Chris Garbutt, Manny Gitterman, Gray Graffam, Rick

Halpern, Jane Hawkes, Kevin Healey, Antu Hossain, Nancy Johnston, Sarah King, Elsa

Kiosses, Danielle Klein, Kira Laurin, David Lucatch, Brian MacKinnon, Josh Miller, Jenkin

Mok, Josh Oliver, Jessica Orellana, Desmond Pouyat, Moshiur Rahman, Simone

Robinson, Susan Schellenberg, Kosan Shafaque, Kim Tull, Andrew Westoll, Andrew

Young, Hema Zbogar

Veerpal Bambrah

Alisia Bonnick

Amina Hussain

Serena Soleiman

Ioana Arbone

Alexa Battler

John Dias

Christina Gizzo

Eva Huang

Samantha Seon

Adley Lobo

Jenny Ann Soriano

Marian Sia

Alice Shen

Samer Lazkani

Nilab Safi

Allyssa Fernandez

Aryel Maharaj

Stephanie Soimu

Tomeo Ho

Ananta Sriram

Fareha Nishat

Gregory Allen

Felipe Templonuevo

Taamannae Taabassum

Editor-in-Chief

Karen Young

Student Advisor

Basma Chamas

Editorial Team

Managing Editor

Managing Editor

Submissions Editor

Online Editor

Journalist

Journalist

Journalist

Journalist

Journalist

Journalist

Creative Team

Creative Director

Creative Director

Graphic Designer

Graphic Designer

Creative Advisor

Graphic Illustrator

Operations Team

Executive Director

Executive Director

Outreach Coordinator

Marketing & Promotions Strategist

Events Coordinator

Communications Coordinator

Champions Lead

Social Media Coordinator

Webmaster

www Subscribe

Like

Follow

Feed

4

5
---
Theme

Advisor

Life on post-secondary campuses has its charms as well as its challenges. Increased

personal autonomy, creative initiatives, and new relationships make the campus

attractive. However, at the same time, students also face ever-increasing costs of

education, worries of job readiness in a globally competitive job market, and meeting

expectations—of the self, the family, and the institution. These challenges are

not entirely new, but rigours of contemporary life and increasing cultural diversity

on our campuses make them more complex.

In order to deal with these challenges, students need institutional scaffolds and

individual skills. One of the most important skills is to care for one's own mental

health. Sadly, most students on post-secondary Canadian campuses are not fully

aware of their mental health concerns and those who are aware, are either reluctant

to seek services or don't find services responsive enough to their concerns.

This is evident in the data. The National College Health Survey completed in 2013

by more than 34,000 Canadian post-secondary students shows an increase in almost

all forms of mental health concerns including depression, anxiety, attentional

issues, drug and alcohol, and above all, feeling overwhelmed and stressed to the

extent that it is difficult to function.

More than two-third of directors at

counselling centres within Canadian

post-secondary institutions report a

significant increase in mental health

concerns. This increase is in numbers

as well as in complexity and chronicity.

Even in its mildest form, mental health

concerns impact a student's emotional,

physical, social, intellectual, and career

development. Yet, only one-third of

students with significant mental health

issues seek treatment.

Minds Matter Magazine, a uniquely

UTSC student-led initiative, and the first

one of its kind on the Canadian postsecondary

canvas is a timely and much

needed endeavour to highlight mental

health concerns. Every article in this inaugural

issue addresses important campus

related mental health themes including

self-stigma, the role of exercise

in dealing with mental health concerns,

gaps in institutional policies affecting

student mental health, and the impact

of mental health concerns on academics.

These themes not only speak to

the inner—and often salient voices—of

students, but also articulate actions that

students and institutions can take on to

tackle mental health challenges.

I hope in the upcoming months and

years, Minds Matter Magazine will help

the campus community to contextualize

and prioritize campus mental health and

advocate for evidence-based, culturally

sensitive, and inclusive treatment approaches.

I wish the very best to Karen Young and

her dedicated team as they embark on

this journey which can help students

to cope with mental health challenges

adaptively to become socially engaged,

and personally fulfilled individuals.

Tayyab Rashid, PhD

Theme Advisor, Volume 1 Issue 1: Post-

Secondary Mental Health

Licensed Clinical Psychologist & Researcher,

Health & Wellness Centre,

UTSC

Co-Chair, Campus Mental Health: Community

of Practice by CACUSS (Canadian

Association of Colleges and University

Student Services)

6 7
---
Editor

in

Chief

During the first half of my undergraduate experience, I sought counselling for a

year and a half at the university. It was the summer of 2013, the last four months

of seeing my counsellor, that I realized there was something systematic about

my case, which seemed to be the norm rather than exception with mental health

cases across Canada.

According to Statistics Canada, persons between the ages of 15 and 24 experience

the highest incidence of mental illnesses/disorders. I spoke to everyone I knew

with lived experiences with mental illnesses/disorders and friends and family who

cared for those struggling. The communal warmth from these heartfelt conversations

encouraged me to stop seeking formal help. For me, it was by being with

people, the supportive and caring kind, that highly influenced me to get better.

So much so, that it inspired me to pursue creative work with the community that

was unlike the TEDx format, encouraging two-way dialogue between the projected

voices and the masses, solely focused on mental health in relation to all aspects

of lived experiences, representations, and the language we use to communicate

mental health.

Although there were, and still are, plenty of initiatives promoting community

dialogue, it was important to bring

together members of the UTSC community

to address local needs. Our

campus, by virtue of our diverse profile,

often reflects national and global

needs too. Minds Matter was born with

sheer respect, humility, honesty, and

optimism in reaction to the fact that

there is plenty of room for structural

and systematic improvement within

the UTSC community and beyond. As

a team of 26, we aim to tackle three

combinatorial priorities: Intersectionality

- acknowledging and shedding light

on interrelated, underaddressed profiles

that compound the struggle to lead

dignified and healthy lives; actionable

awareness - engaging our readers to

take action in 'learning by doing'; and,

recovery through community belonging

and inclusion - healing within a supportive

and creative environment.

As a result of these priorities, we have

plenty of exciting community partnerships

underway: working with the Registrar's

Office and AccessAbility in designing

a needs-based and merits-based

mental health scholarship, garnering

worldwide submissions through the

creative writing contest in partnership

with Scarborough Fair (UTSC's literary

magazine), working in partnership to

train faculty on student mental health

concerns, and coordinating decompression

spaces with the Health & Wellness

Centre, among many other exciting and

collaborative endeavours.

What we are doing with our community

is learning together. This magazine

was created by students for students,

their friends, and family. We are a community

that encourages community

dialogue to help our readers make the

most informed decisions possible for

themselves and others around them. In

order to accomplish this, we would love

to include your voice.

I invite all students, staff, faculty, and

alumni to engage in this critical discussion

on mental health, not only to

practice our rights and freedoms, but

to reinforce celebrated strengths and to

better the institution as a whole, from

the bottom-up and the top-down. We

hope that if your experiences were not

reflected in our inaugural issue, that

Minds Matter can become the platform

where your voices and thoughts can be

shared with the community in a civil

and critical manner.

Karen Young, Editor in Chief

Karen is a 5th year student in psychology

and health studies.

Wanna send a letter to the editor? Contact our editor here.

8

9
---
Ioana Arbone (Author) • Marian Sia (Designer)

I'm ashamed of myself:

Self-stigma in the midst of

Mental Illness

November 11, 2015

"It is like having shame about who you

are, it is as if you are suffering and you

have to suffer, because you are not as

good of a person." - Anonymous

These are the words of someone who

has experienced depression. Quite simply,

it is an example of self-stigma - the

negative beliefs that one attributes to

oneself and the shame that one experiences

as a result of being diagnosed as

"mentally ill".

"

The negative beliefs

that one attributes to oneself

and the shame that one experiences

as a result of being

diagnosed as "mentally ill".

Needless to say, many post-secondary

students experience mental health

problems. And with any diagnosis

comes the risk of self-stigma.

Self-stigma entails: (1) awareness of the

stereotype of a mental illness, (2) agreement

with the stereotype, and (3) applying

the stereotype to oneself [1]. Each

step depends on the step that precedes

it: Applying the stereotype to oneself

cannot occur without the person agreeing,

on some level, with the stereotype,

which, in turn, would not occur without

the person knowing that such a stereotype

exists.

For example, if someone diagnosed

with social anxiety disorder believes the

stereotype that individuals with such

diagnoses are not able to present well in

front of an audience and appear on TV,

they may apply the belief to themselves

and shy away from such opportunities

and, possibly, redirect their entire career

path.

Such a belief is false. On TVOntario, a

television show called "The Agenda"

aired an episode titled "When Anxiety

Attacks," where a man diagnosed with

an anxiety disorder appears to be very

comfortable with public speaking.

Sadly, the power of such negative selftalk

is not limited to simply disparaging

oneself and prematurely changing one's

career path. It can go as far as barring

one from seeking treatment or support

from family and friends, as well as detrimentally

shifting the dynamic of close

relationships and society at large [1].

"

The power of such

negative self-talk is not

limited to simply disparaging

oneself.

Accordingly, low rates of seeking help

and negative attitudes towards mental

health treatment are concerning

when we are talking about university

students, who find themselves in a

high stress period with important life

changes occurring in identity, personal

relationships, and career objectives [2].

A recent report that examined the

changes in help-seeking behaviours and

attitudes among university students -

10

11
---
Ioana Arbone (Author) • Marian Sia (Designer)

Ioana Arbone (Author) • Marian Sia (Designer)

over a 40 year period - suggests that

current rates of seeking help for mental

health issues are decreasing [3].

"

Current rates of seeking

help for mental health issues

are decreasing.

Specifically, although there is an increased

use of psychiatric drugs in

developed nations, such as Canada,

there are more negative attitudes towards

seeking help for mental health

concerns. These negative attitudes exist

despite the increasing prevalence of

mental illnesses in such nations. Further,

help-seeking rates for those belonging

to racial or ethnic minorities are even

lower [4; 5].

As previously mentioned, self-stigma

can lead to possible career redirections,

withdrawal from relationships, and possible

decreased attempts to seek help

[1].

However, it extends to aspects outside

of the individual as well. Self-stigma is

also affected by the family of the individual

with mental illness. Siblings or

parents may want to distance themselves

from the individual with mental

illness and may feel judged by outsiders.

This, accordingly, can play a role in

the family's denial of the illness, or in

their attempts to "save face" and make

it clear that the illness is not their fault.

And when the family is not actively

present and involved in the life of the

individual with mental illness, he or she

may not turn to anyone else, including

professional treatment, for help.

Not only is the family affected, but our

society is affected as well. An example

of the effect of self-stigma on society

is given by Dr. Corey Keyes, a sociology

professor from Emory College of Arts

and Science, whose main areas of expertise

include psychology and mental

health. He comments that hiding one's

mental health problems from society results

in a loss of opportunity to educate

others about mental illness.

"

Not only is the family

affected, but our society is

affected as well.

Although this tendency of self denial

and hiding may be warranted in some

cases, it may produce unnecessary

suffering for the individual with mental

illness. A similar case of self-stigma

and subsequent attempt to hide one's

experience is found in members from

the LGBTTQ (i.e., lesbian, gay, bisexual,

transsexual, transgender, and queer)

community. Sometimes, individuals

from the LGBTTQ community find that

loved ones don't change the view they

have of an individual, regardless of their

orientation [6]. Likewise, Dr. Keyes comments

that: "I think, many people love

and care for people with mental illness,

they just don't know it right now. They

would probably be much more accept-

ing of the fact that those people have

mental illness, because they already

loved and cared for them."

"

Many people love and

care for people with mental

illness, they just don't know it

right now.

Though the consequences of self-stigma

are undeniably negative, there seem to

be some differing opinions as to whether

self-stigma results in decreased treatment

seeking.

According to Sireesha Bobbili, PhD student

and co-investigator at the Centre

for Addiction and Mental Health exploring

mental health stigma, individuals

"may not want to disclose that they

have a mental illness, and if they don't

want to disclose, they won't seek any

mental health services. So, they may

not want to disclose to family members.

And so, your family won't know about

it, they can't offer support or encouragement

as well."

On the other hand, Dr. Keyes is not

convinced that self-stigma results in

decreased seeking of mental health

services:

"I do know that people with mental

illness and self-stigma like to be very

secretive about it, they keep it very

private, but I don't necessarily believe

there is enough scientific evidence to

this common notion that it prevents

help-seeking. I do know that there is

evidence in studies showing that for

people who have self-stigma, the worse

the self-stigma, the harder it is for them

to recover, even if they are getting treatment."

Supporting Dr. Keyes' statement is also

evidence that perceived need for mental

health services increases the tendency

to seek help [7]. Despite this, we still

have a long way to go in terms of improving

help-seeking. Indeed, in a Canadian

community sample from 2009, 59%

of those who made a suicide attempt

and 76% of those with suicidal ideation

did not perceive that they needed psychological

treatment of any kind [7].

Though the consequences of self-stigma

seem bleak, there are things that we

can do to ameliorate these potential

outcomes.

There is a relationship between selfstigma

and stigma. According to both

Dr. Keyes and Ms. Bobbili, without

external stigma against mental illness,

they believe that self-stigma would not

exist.

"

Without external stigma

against mental illness, they

believe that self-stigma would

not exist.

Therefore, efforts to minimize external

stigma will also affect self-stigma.

12

13
---
Ioana Arbone (Author) • Marian Sia (Designer)

Ioana Arbone (Author) • Marian Sia (Designer)

Bobbili claims that such initiatives, including

raising awareness about mental

illness and substance use, may deter

self-stigma and thus, encourage students

with mental illness and substance

use issues to apply to university, scholarships,

and most importantly, seek

treatment and support.

From an individual standpoint, Bobbili

says that we should recognize our

own biases and be aware that we may

say or do things that stigmatize another

individual suffering from mental illness.

Simply listening, accepting, and trying to

understand them - rather than trying to

change them - can also play a huge role

in deterring self-stigma.

Finally, it is worthwhile to acknowledge

the suffering that someone with mental

illness experiences; this acknowledgment

can bring a much needed sense of

understanding and acceptance.

Simply listening, accepting, and

trying to understand them -

rather than trying to change

them - can also play a huge role

in deterring self-stigma.

References:

[1] Corrigan, P. W., Druss, B. G., & Perlick,

D. A. (2014). The Impact of Mental

Illness Stigma on Seeking and Participating

in Mental Health Care. Psychological

Science in the Public Interest, 37 –70.

[2] Cappelli, M., Davidson, S., & Vloet,

M. (2011). We've Got Growing Up to

Do: Policy and Practice in Youth Mental

Health Transitions. Ottawa, ON, Canada:

Ontario Centre of Excellence for Child

and Youth Mental Health.

[3] Mackenzie, C. S., Erickson, J., Deane,

F. P., & Wright, M. (2014). Changes in

Attitudes Toward Seeking Mental Health

Services: A 40-year Cross-Temporal

Meta-Analysis. Clinical Psychology Review,

99-106.

[4] Steele, L., Glazier, R., & Lin, E. (2006).

Inequity in Mental Health Care under

Canadian Universal Health Coverage.

Psychiatric Services , 317-324.

[5] Mojatabai, R., & Olfson, M. (2006).

Treatment Seeking for Depression in

Canada and the United States. Treatment

Seeking for Depression in Canada

and the United States, 631–639.

[6] Gonzalez, K. A., Rostoky, S. S., Odom,

R. D., & Riggle, E. D. (2013). The Positive

Aspects of Being the Parent of an LG-

BTQ Parent. Family Process, 325-337.

[7] Pagura, J., Fotti, S., Katz, L. Y., Sareen,

J., & Team, t. S. (2009). Help Seeking

and Perceived Need for Mental Health

Care Among Individuals in Canada with

Suicidal Behaviors. Psychiatric Services,

943-949.

14

15
---
Christina Gizzo (Author) • Adley Lobo (Photographer)

Beyond the Syllabus:

UTSC Supports Student Mental

Health through Prevention

November 11, 2015

University of Toronto Scarborough

(UTSC) does some great work in fostering

an inclusive and equitable environment

for students of different ages and

races. However, when it comes to invisible

inequities, like mental disorders,

how do we rank? What are we currently

doing for students with mental health

concerns on campus, and more importantly,

in the classroom?

"

What are we currently

doing for students with mental

health concerns on campus,

and more importantly, in

the classroom?

Mental health concerns can have a

huge bearing on one's ability to perform

academically. In fact, a web survey

completed by the National College

Health Association found that Ontario

students' felt as though they received

lower exam scores, lower grades in

courses, and even dropped courses due

to anxiety (27.2%), ADHD (3.9%), depression

(17%), and overall stress (37.6%) [1].

Thus, it is imperative that we have a system

in place to help give these students

the opportunity to be just as successful

as those who are mentally well.

Statistics show that this is a pressing

matter, as the number of post-secondary

students that feel anxious, overwhelmed,

and hopeless continues to

climb [2]. Moreover, the age group of

most university students, especially first

years, correlates significantly with great-

er symptoms of mental illness. Statistics

Canada claims that in 2009, 87,859 people

aged 12 to 19 were diagnosed with

a mood disorder. In 2012, that number

jumped to 111,930 [2]. Accordingly, we

need growing supports to combat these

growing numbers.

"

We need growing supports

to combat these growing

numbers.

Although we have counselling services

that play a vital role in facilitating mental

wellness, these services are mainly

focused on diminishing distress symptoms

and crisis. What about prevention?

The majority of student interaction

on campus takes place not only in the

hallways with friends, but also in the

classroom and during office hours, with

professors and teaching assistants.

These individuals are at the foreground

of student life and the way it is experienced.

As such, any action (or inaction)

on their part can have great impact on

student perspective, which, in turn, influences

student mental well-being. We

should, accordingly, be targeting this

facet of the university as a foundation

for support and prevention.

"

What about prevention?

Though there has been more recent acknowledgment

of mental health issues,

this is foreign territory for most post-

16

17
---
Christina Gizzo (Author) • Adley Lobo (Photographer)

secondary institutions. Regardless, students

could greatly benefit from those

who are thoroughly trained to recognize

signs of mental illness.

"

Students could greatly

benefit from those who are

thoroughly trained to recognize

signs of mental illness.

CACUSS (the Canadian Association of

College and University Student Services)

identifies this in their publication,

"Post-Secondary Mental Health: Guide

to a Systemic Approach" (referred to as

"The Guide"). The Guide breaks down

a proposed framework into seven key

components of approaching and dealing

with mental health, one of which

is "Community Capacity to Respond to

Early Indications of Student Concern."

This component alludes to professor

and instructor involvement. According

to the Guide, "Those who interact with

students in the course of their day on

campus are in the best position to notice

early indications of concern."

"

Those who interact with

students in the course of their

day on campus are in the best

position to notice early indications

of concern.

Currently underway on campus, the

Health & Wellness Centre and Mental

Christina Gizzo (Author) • Adley Lobo (Photographer)

Health Network at UTSC are considering

training tools that will be most

effective for students, staff, and faculty

when it comes to learning how to support

students attending post-secondary

institution. They are looking into implementing

a training tool from morefeetontheground.ca

for faculty, staff, and

students to use as of the fall of 2015.

The objective of this training tool is to

help clarify the definitions of certain

mental health conditions, and help individuals

to recognize, respond, and refer

when needed.

On a similar note, CACUSS Post-Secondary

Mental Health Community of

Practice recently sent out a survey to

Student Services to gauge familiarity

and comprehension of The Guide. Preliminary

results of the survey were presented

at a CACUSS conference in May

with next steps underway, says Basma

Chamas, a fifth year student at UTSC

who sits on one of the CACUSS committees.

Likewise, Mary Nguyen, a fourth year

student at UTSC, claims that staff

and faculty training on mental health

would promote student mental health

and overall well-being. She says that

it would also send the message that

mental well-being should be prioritized,

especially since a student's undergraduate

career and postgraduate aspirations

can be heavily influenced by staff and

faculty.

"

Staff and faculty training

on mental health would promote

student mental health

and overall well-being.

Of course, it's not only about staff,

student, and faculty contributions. On a

large scale, we need the university itself

to incorporate student mental well-being

as a priority in its policies; CACUSS

has also identified a need for a systemswide

approach to creating a campus environment

that is conducive to mental

health and learning. Such an approach

would hold the University accountable,

campus wide, for enhancing and

maintaining the mental health of community

members. Further, using such

an approach would extend the focus of

mental health dissemination beyond the

individual (i.e., strategies such as treatment

and skill-building) to the whole

campus (i.e., considering environment,

organizational structure, policies, and

practices) [3].

The University of Toronto's Institutional

Commitment emphasizes the importance

of adjustments to course design

and curriculum, but there still remain

some issues with the current standard:

"Professors can better accommodate

students with mental illness by evaluating

the limitations of their syllabus. In

terms of participation marks, for example,

it can be limiting to those who have

social anxiety or panic attacks to be put

18

19
---
Christina Gizzo (Author) • Adley Lobo (Photographer)

Christina Gizzo (Author) • Adley Lobo (Photographer)

students with mental illness by evaluating

the limitations of their syllabus.

"

Professors can better

accommodate students with

mental illness by evaluating

the limitations of their

syllabus.

In terms of participation marks, for

example, it can be limiting to those who

have social anxiety or panic attacks

to be put on the spot. Making these

grades worth more than 5% can be the

make or break between a fail and a pass

for a student," says Mary. There continue

to be classes where participation

marks are inaccessible to those who

may have social anxiety. That is, these

marks carry too much weight and some

students are simply incapable of getting

the marks.

The University of Toronto should assess

the effectiveness of adjustments to

course design and curriculum, pedagogical

practices, community-building efforts,

education and training programs,

and the rethinking of services and programs.

Despite what progress has been

made, there's still a fair deal to be done.

"

Despite what progress

has been made, there's still a

fair deal to be done.

Currently, it is also under the University

of Toronto's Institutional Commitment

to integrate mental health strategies on

campus by means of providing a wide

range of supports and programs. This

includes looking at underlying stressors

associated with poor mental health and

enhancing programming that allows students

to cope effectively with stressors

[4]. Again, prevention is key. We should

aim to cultivate resilience such that

there is no need for crisis management.

There is even a grassroots program at

UTSC that does just that. Flourish aims

to help students grow intellectually,

socially, and emotionally and to translate

this growth into action, habits, and

purpose. The program helps UTSC students

to cultivate emotional, physical,

and academic resilience.

"

Flourish helps UTSC

students to cultivate

emotional, physical, and

academic resilience.

Its objective is to focus on our strengths

and what we do right rather than our

weaknesses and what we do wrong. The

program also focuses on different stressors

associated with student life and

how to use your strengths to overcome

them.

Evidently, some great developments,

such as the Flourish program, are on the

rise. The ultimate hope, however, is that

UTSC becomes as accessible and inclusive

an institution as possible, so that

those with and without mental illnesses

will have access to the same opportunities

in education.

The objective is to focus on our

strengths and what we do right

rather than our weaknesses and

what we do wrong.

References:

[1] American College Health Association,

National College Health Association.

(Spring 2013). Ontario province

reference group data report. Retrieved

from http://www.cacuss.ca/_Library/

Provincial_Reports/NCHA-II_WEB_

SPRING_2013_ONTARIO_PROVINCE_

REFERENCE_GROUP_DATA_REPORT.pdf

[2] CBCnews. (2013). Health. Retrieved

from http://www.cbc.ca/news/health/

mental-health-disorders-spike-in-posthigh-school-transitions

-1.2251790

[3] CACUSS. (2013). Post-Secondary

Student Mental Health. Retrieved from

http://www.cacuss.ca/_Library/documents/CACUSS_Handbook.pdf

[4] University of Toronto. (2015). We

all have a role in our students' mental

wellness. Retrieved from http://mentalhealth.utoronto.ca/

20

21
---
http://mindsmattermagazine.com/wp-content/uploads/2015/08/UTSCMap.USB_.pdf
---
Alexa Battler (Author) • Adley Lobo (Photo Editor) • Tomeo Ho (Designer)

Toronto Pan Am

Sports Centre:

A Leader in the Movement of

Mental Health Facilities

November 11, 2015

Though it is not promoted as a mental

health facility, the University of Toronto

Scarborough Campus (UTSC) does have

an innovative treatment opportunity for

mentally ill students: its now-famous

recreation centre.

Research is increasingly demonstrating

the link between physical exercise and

mental health [1]. More specifically, researchers

are finding that exercise benefits

the brain as thoroughly as it does

every other organ. And in 2014, the

Toronto Pan Am Sports Centre (TPASC)

opened, promoting an environment

where both the body and mind could be

exercised.

Reports show that just over 80% of

UTSC students accessed the TPASC,

potentially strengthening their physical

and mental health in 2014 [2]. While

this number does not account for the

amount of students who actually exercised

at the TPASC, the extreme interest

in the centre is a reflection of above

average exercise rates and high rates of

self-care.

These rates are particularly crucial

for individuals struggling with mental

health issues, who require inclusive and

accessible resources to remain healthy,

well-rounded students. This notion also

reflects an interesting campus concept:

students will be very likely to take part

in mental and physical self-care when

appealing opportunities are easily available.

North America's National Intramural-

Recreation Association has discovered

similar findings in the importance of

these facilities: in 2014, the Association

found that 68% of North American

post-secondary students claimed that

the recreation facilities their campus

offered affected their decision to attend

certain post-secondary campuses. Then,

74% reported that these facilities affected

their decision to remain at a specific

campus [3].

So, what exactly is it that makes the

TPASC so successful at attracting and

aiding students to increase their mental

health? And, more importantly, how

can other facilities that cater to mental

health emulate its effects?

In short, the answer to TPASC's success

is its accessibility. With two Olympicsized

swimming pools, an indoor track,

rock climbing walls, studio spaces, a

state-of-the-art gym, and more, TPASC

is a veritable wonderland of an athletics

centre. The sheer number of programs

and facilities available to students

means that there is a higher chance that

students will find a program that fits

their unique style.

"

TPASC's

success is its

accessibility.

The facility also ensures students' ease

by accommodating any and all levels of

expertise and anxiety with its numerous

exercise programs. As such, the facility

offers a unique opportunity as an

24

25
---
Alexa Battler (Author) • Adley Lobo (Photo Editor) • Tomeo Ho (Designer)

Alexa Battler (Author) • Adley Lobo (Photo Editor) • Tomeo Ho (Designer)

empirically successful model for an

effective and inspiring mental health

facility.

"The Pan Am Centre is a huge opportunity,"

says Scott McRoberts, Director of

Athletics and Recreation at UTSC. "The

best thing about it is that it's a new

centre, which means that it adds tons of

different elements. If you don't like to

throw a ball, then maybe you'll do well

on a wall and you should try out the

rock climbing walls."

"

If you don't like to throw

a ball, then maybe you'll do

well on a wall and you should

try out the rock climbing walls.

McRoberts' statement is even backed

by scientific research. Different types

of exercise act as a protective barrier

against certain mental health symptoms,

and so, different impact and

intensity levels are required for each

individual student. In 2006, the American

National Centre for Biotechnology

found that aerobic exercises, including

running, swimming, biking, and walking

were proven most effective in reducing

symptoms of anxiety and depression [4].

The same centre also found that low impact

exercises are preferable for those

with Post-Traumatic Stress Disorder, and

schizophrenia; this could include yoga,

walking, or using modified moves and

activities while exercising [4].

Psychology Today, a magazine that aims

to better disseminate scientific research

to the public, also found that swimming

tops other exercises for the treatment

of Attention Deficit Hyperactivity

Disorder symptoms [5]. Another study

published in Biological Psychology found

that for those who cannot exercise, or

who require very low impact activities,

meditation is effective to gain similar

cerebral benefits to exercise [6].

All of the aforementioned activities are

offered at TPASC, along with a variety

of ways to get physically active - making

it ideal for accommodating those hoping

to strengthen their mental health,

lessen symptoms of mental illness, and

increase overall well-being.

"The Pan Am Centre is a safe space with

no judgement," says McRoberts. "We

can accommodate every skill level and

experience level. There are programs

where trainers teach you how to use all

the equipment or do the moves. It is really

for everyone."

"

The Pan Am Centre is a

safe space with no judgement.

Perhaps due to its promotional hashtag,

#APlace4U, the 312,000 square foot

centre has not been intimidating to the

majority of UTSC students. As McRoberts

states, the centre has an inclusive

atmosphere that only adds to its value

as a successful mental health facility.

Furthermore, exercise offers not only

physical, but social benefits to postsecondary

students. In the 2010 study

'In their Own Words: Understanding

the Undergraduate Experience at the

University of Toronto', the researchers

found that the primary reason students

participate in co-curricular activities

is to expand their social circles, not to

exercise [7].

As a student of the University of Toronto

St. George Campus (UTSG) - particularly

from "Students of the University of

Toronto," - stated: "I often feel distant

from the community. More could be

done to encourage community activities,

not just within individual colleges,

but throughout the entire student

body." For students with mental illness,

isolation is often one of the most common

and devastating habits. Opportunities

to become part of a community

increase a student's odds of breaking

from this habitual isolation.

"

For students with mental

illness, isolation is often one of

the most common and

devastating habits.

In accordance with this student's opinion,

the aforementioned 'In their Own

Words' study found that only 22.4% of

UTSG's seniors and 16.1% of first years

reported exercising at school for at least

five hours per week (as compared to the

80% who accessed the TPASC at UTSC)

[7]. While UTSG does have its own wellestablished

recreation facility, it does

not seem to have created the same appeal

as the TPASC.

But what does this mean for UTSC's

mental health opportunities? As more

and more post-secondary campuses

across Canada work to reform and

prioritize student health, the opportunities

TPASC brings means that UTSC

is primed to become a leader in this

'healthy campus movement.'

"

UTSC is primed to

become a leader in this

'healthy campus movement.'

"UTSC is ready to become a leader in

campus health initiatives, big time," says

McRoberts. "We have so many programs

and opportunities, including the

Pan Am Centre. Our goal is to become

the healthiest campus in Canada. Right

now, we are figuring out how to calculate

that."

Though he is an enthused advocate of

exercise, McRoberts understands the

seemingly unsurpassable mental and

physical barriers that individuals with

mental illness face. He only encourages

that students do what they can in order

to best succeed academically, physically,

and mentally.

26

27
---
Alexa Battler (Author) • Adley Lobo (Photo Editor) • Tomeo Ho (Designer)

Alexa Battler (Author) • Adley Lobo (Photo Editor) • Tomeo Ho (Designer)

"The hardest thing you can do

is to be physically active when

you have a mental illness," says

McRoberts. "But at the same

time, it's the best thing you can

do for yourself."

10.1159/000223730

[7] University of Toronto Vice President

and Provost's Office. (2007). Measuring

Up on the Undergraduate Experience.

Retrieved from http://www.provost.utoronto.ca/Assets/Provost+Digital+Assets/

Provost/Provost+Digital+Assets/Provost/

publication/nsse.pdf?method=1

References:

[1] Deslandes, A. C. (2014). Exercise

and mental health: What did we

learn in the last 20 years? Frontiers in

Psychiatry, 5(66), 1-3. doi: 10.3389/

fpsyt.2014.00066

[2] McRoberts, Scott. Personal interview.

28 July 2015.

[3] Forrester, S. (2014). The Benefits of

Campus Recreation. Corvallis, OR: NIR-

SA.

[4] Blake, H. (2012). Physical activity and

exercise in the treatment of depression.

Frontiers in Psychiatry, 3(106), 1-4. doi:

10.3389/fpsyt.2012.00106

[5] Diller, L. (2008). The Swimming

Cure for ADHD? Psychology Today.

Retrieved from https://www.psychologytoday.com/blog/the-last-normalchild/200808/the-swimming-cure-adhd

[6] Deslandes, A., Moraes, H., Ferreira,

C., Veiga, H., Silveira, H., Mouta, R.,

... Laks, J. (2009). Exercise and Mental

Health: Many Reasons to Move.

Neuropsychobiology 59, 191-198. doi:

28

29
---
John Dias (Author) • Adley Lobo (Photo Editor) • Tomeo Ho (Designer)

The Learning Curve of

Mental Health:

The Impact of Educational

Methods and Policies on

Mental Health

November 11, 2015

A recent report by CTV's investigative

journalism program W5 finds that ten

per cent of university students consider

taking their own lives [1]. This is likely

because many students succumb to the

stresses of managing academic workloads,

extra-curricular activities, relationships,

paying off tuition debts, and

trying to find employment.

Yet, there lacks explicit knowledge of

University of Toronto's (U of T) mental

health services and policies concerning

assignments, exams, and reading weeks.

Without this knowledge, students can

become overwhelmed by their university

schedules and feel uncomfortable

seeking help.

According to Laura Boyko, Director of

Health and Wellness Centre at the University

of Toronto Scarborough (UTSC),

being proactive is imperative to promoting

mental health. Health and Wellness

makes information on mental well-being

services available to new students during

orientation each year. Rather than

wait for a crisis, students are strongly

encouraged to contact Health & Wellness

whenever they may want to see a

counsellor.

"

Rather than wait for a

crisis, students are strongly

encouraged to contact Health

& Wellness whenever they

may want to see a counsellor.

"The big thing that's come out recently

is the mental health framework which

can be found on the Vice-Provost website,"

says Boyko. "The [strategy] is a

comprehensive document that was

released last fall."

Boyko explains that U of T has developed

this inclusive mental health strategy

through the dialogue of many different

groups of people.

One of the most popular services offered

by UTSC's Health and Wellness

Centre is the weekly meditation group

co-facilitated by counsellors Erin Bradford

and Naomi Ball. Boyko describes

the self-referral drop-in group as an

informal community of students, who

support each other and develop friendships.

The Health and Wellness Centre

also organizes many other mental

health and mindfulness services, which

have proven to be very useful for students.

"

Consultation with students,

stakeholders, faculty,

and staff has become the

foundation of mental health

and the well-being of students.

There is a tremendous

amount of services available

to students at UTSC.

The fall reading week is said to give

students a much-needed break from

stressful assignments, midterm exams,

30

31
---
John Dias (Author) • Adley Lobo (Photo Editor) • Tomeo Ho (Designer)

John Dias (Author) • Adley Lobo (Photo Editor) • Tomeo Ho (Designer)

seasonal depression, and a variety of

other concerns. Following UTM's decision

to create the reading week, campus

spokesperson Janet Stirling reported

the break was very important in helping

students de-stress and ensuring that

they have a mental health break.

Nevertheless, some students believe

that the University of Toronto should be

doing more to promote mental health.

They acknowledge, for example, that U

of T St. George (UTSG) has not implemented

a fall Reading Week like U of T's

two satellite campuses, Scarborough

and Mississauga (UTM). UTSG appears

to have no plans of creating the reading

week and instead gives students a mere

two day break.

"

Some students believe

that the University of Toronto

should be doing more to

promote mental health.

Some students, such as fifth year UTSG

student Lizz Corazza, believe that UTSG

does not have a fall reading week because

it has higher academic expectations

of its larger number of students as

compared to UTSC and UTM. According

to Corazza, UTSG places a very strong

emphasis on academic achievement

rather than on mental health programs.

Keith Tong, a recent U of T mechanical

engineering graduate, describes the

learning environment of UTSG as a pressure

cooker. Tong adds that many of his

peers felt completely isolated as they

weren't comfortable contacting U of T's

counsellors.

"

It was like we were all

just numbers. U of T is a big

school, but I felt it could do

more to reach out to students

through counsellors.

Another reality at U of T that is said

be detrimental to the mental health of

students are high expectations and academic

pressures. U of T still has specific

criteria regarding deferring exams. A

student must have three exams within

24 hours to have one of the exams

rescheduled [2]. In most other circumstances,

U of T says it is unable to guarantee

deferrals.

It is unclear what U of T could do to allay

problems related to student stress,

anxiety, and depression; the answer

remains to be seen in years to come.

Some professors and faculty members

suggest that U of T should develop a

course specifically intended to help students

learn how to manage workloads,

deadlines, and common mental health

issues.

If U of T were to create the course, it

would be offered to first year students

and either count towards their electives

or breadth requirements. Rather than

be graded, the course could use a Pass/

Fail system. All students who develop

and demonstrate the ability to manage

the university curriculum, and an understanding

of the health and services

available to them would receive the

course credit.

The University of Toronto has created

a comprehensive platform promoting

mental health, but this may require a

revision of its course and exam policies

in order to facilitate the reduction of

stress, anxiety, and other health concerns

affecting its ever-increasing number

of students.

The University of Toronto has

created a comprehensive

platform promoting mental

health, but this may require a

revision of its course.

References:

[1] "Campus Crisis: Why are suicide rates

rising among university students?" CTV

NEWS (2013 ) Retrieved from: http://

www.ctvnews.ca/w5/campus-crisis-whyare-suicide-rates-rising-among-

university-students-1.1463654

[2] "Examinations" University of Toronto

Scarborough. Retrieved from: http://

www.utsc.utoronto.ca/~registrar/calendars/calendar/Examinations.html

32

33
---
MMMonsterArtist

Statement

Minds Matter Magazine hopes to humanize the perception of mental illness. Too

often, there are statements like "oh, you're depressed? Cheer up!" and "oh, you're

feeling anxious? Let it go – don't worry about it" – and although these people often

mean well, it minimizes the actual illness itself. In this image, we hope to show

that the overwhelmed with are monstrous – bad and out of our control. People

who experience mental illness have NO IDEA when these thoughts are going to

surface and absorb their lives. It's similar to what we used to do as kids: "let's hide

under the sheets and protect ourselves because we never know when the monster

under our bed is going to come up and get us!" We hope that you look at the

overwhelming thoughts written here, see that many of your peers have similar

thoughts, and understand that negative thoughts that people are sometimes these

issues are real and prevalent.

Nilab Safi, Graphic Illustrator

Nilab Safi is a 4th year student at the University of Toronto Scarborough.

Arts&Culture

Coming FALL 2016

39