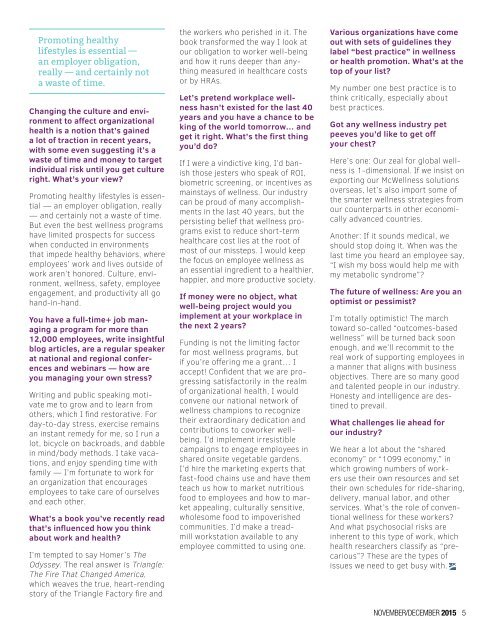 Do you know the secret to free website traffic?
Use this trick to increase the number of new potential customers.
Promoting healthy

lifestyles is essential —

an employer obligation,

really — and certainly not

a waste of time.

Changing the culture and environment

to affect organizational

health is a notion that's gained

a lot of traction in recent years,

with some even suggesting it's a

waste of time and money to target

individual risk until you get culture

right. What's your view?

Promoting healthy lifestyles is essential

— an employer obligation, really

— and certainly not a waste of time.

But even the best wellness programs

have limited prospects for success

when conducted in environments

that impede healthy behaviors, where

employees' work and lives outside of

work aren't honored. Culture, environment,

wellness, safety, employee

engagement, and productivity all go

hand-in-hand.

You have a full-time+ job managing

a program for more than

12,000 employees, write insightful

blog articles, are a regular speaker

at national and regional conferences

and webinars — how are

you managing your own stress?

Writing and public speaking motivate

me to grow and to learn from

others, which I find restorative. For

day-to-day stress, exercise remains

an instant remedy for me, so I run a

lot, bicycle on backroads, and dabble

in mind/body methods. I take vacations,

and enjoy spending time with

family — I'm fortunate to work for

an organization that encourages

employees to take care of ourselves

and each other.

What's a book you've recently read

that's influenced how you think

about work and health?

I'm tempted to say Homer's The

Odyssey. The real answer is Triangle:

The Fire That Changed America,

which weaves the true, heart-rending

story of the Triangle Factory fire and

the workers who perished in it. The

book transformed the way I look at

our obligation to worker well-being

and how it runs deeper than anything

measured in healthcare costs

or by HRAs.

Let's pretend workplace wellness

hasn't existed for the last 40

years and you have a chance to be

king of the world tomorrow… and

get it right. What's the first thing

you'd do?

If I were a vindictive king, I'd banish

those jesters who speak of ROI,

biometric screening, or incentives as

mainstays of wellness. Our industry

can be proud of many accomplishments

in the last 40 years, but the

persisting belief that wellness programs

exist to reduce short-term

healthcare cost lies at the root of

most of our missteps. I would keep

the focus on employee wellness as

an essential ingredient to a healthier,

happier, and more productive society.

If money were no object, what

well-being project would you

implement at your workplace in

the next 2 years?

Funding is not the limiting factor

for most wellness programs, but

if you're offering me a grant… I

accept! Confident that we are progressing

satisfactorily in the realm

of organizational health, I would

convene our national network of

wellness champions to recognize

their extraordinary dedication and

contributions to coworker wellbeing.

I'd implement irresistible

campaigns to engage employees in

shared onsite vegetable gardens.

I'd hire the marketing experts that

fast-food chains use and have them

teach us how to market nutritious

food to employees and how to market

appealing, culturally sensitive,

wholesome food to impoverished

communities. I'd make a treadmill

workstation available to any

employee committed to using one.

Various organizations have come

out with sets of guidelines they

label "best practice" in wellness

or health promotion. What's at the

top of your list?

My number one best practice is to

think critically, especially about

best practices.

Got any wellness industry pet

peeves you'd like to get off

your chest?

Here's one: Our zeal for global wellness

is 1-dimensional. If we insist on

exporting our McWellness solutions

overseas, let's also import some of

the smarter wellness strategies from

our counterparts in other economically

advanced countries.

Another: If it sounds medical, we

should stop doing it. When was the

last time you heard an employee say,

"I wish my boss would help me with

my metabolic syndrome"?

The future of wellness: Are you an

optimist or pessimist?

I'm totally optimistic! The march

toward so-called "outcomes-based

wellness" will be turned back soon

enough, and we'll recommit to the

real work of supporting employees in

a manner that aligns with business

objectives. There are so many good

and talented people in our industry.

Honesty and intelligence are destined

to prevail.

What challenges lie ahead for

our industry?

We hear a lot about the "shared

economy" or "1099 economy," in

which growing numbers of workers

use their own resources and set

their own schedules for ride-sharing,

delivery, manual labor, and other

services. What's the role of conventional

wellness for these workers?

And what psychosocial risks are

inherent to this type of work, which

health researchers classify as "precarious"?

These are the types of

issues we need to get busy with.

NOVEMBER/DECEMBER 2015 5