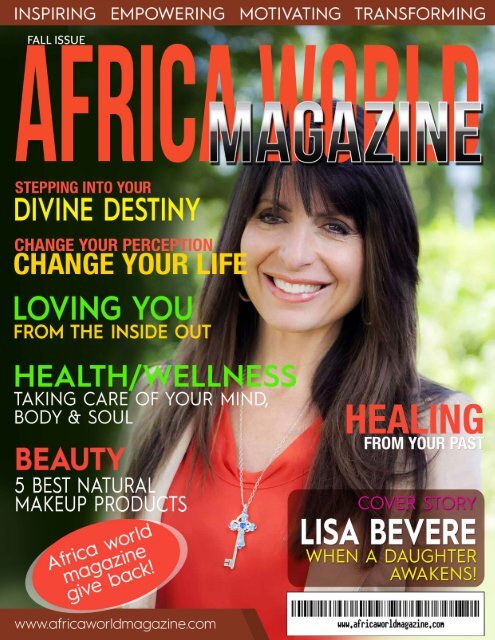 AFRICA WORLD MAGAZINE FALL ISSUE 2015
In this Africa world magazine issue we reached out to several people who possess the wisdom we believe is so vital in awakening you to living your best life with a purpose. For instance, In this issue we are honored to be featuring this powerful woman of God and a great influential catalyst of this generation Lisa Bevere, she offers words of wisdom on "when the daughter awakens" and how to become a lioness of God….We will also have inspirational articles, parenting articles, beauty and fashion, entrepreneurship, relationships and much more...this is a must read!
In this Africa world magazine issue we reached out to several people who possess the wisdom we believe is so vital in awakening you to living your best life with a purpose. For instance, In this issue we are honored to be featuring this powerful woman of God and a great influential catalyst of this generation Lisa Bevere, she offers words of wisdom on "when the daughter awakens" and how to become a lioness of God….We will also have inspirational articles, parenting articles, beauty and fashion, entrepreneurship, relationships and much more...this is a must read!
SHOW MORE
SHOW LESS
Create successful ePaper yourself
Turn your PDF publications into a flip-book with our unique Google optimized e-Paper software.
Contents

10

Recipe 18 Cozy recipes for the fall/

winter season!

Loving You from the

Inside Out

It all starts with identity. Where are you looking

to find self-worth or satisfaction in life?

18

12

14

18

23

25

28

31

37

41

45

5 Best Natural Makeup

Products For The Fall

Season

Healing From Your Past

When a Daught When a

Daughter er Awakens

GOODBYE! FEAR &

INSECURITY

Change Your Perception

Change Your Life

5 Habits that will

strengthen your marriage

9 Must have fashion pieces

and trends for fall

How to Keep Children

Tuned into Family

Recipe

Keeping the Peace in

Chaos

07

STEPPING INTO YOUR

DIVINE DESTINY

47

48

Africa world magazine

gives back through africa

world foundation

Marketplace Moment

Kingdom Entrepreneurship

10

Loving You from the inside

out

50

Destiny was released

at megafest

04

Africa World Magazine
---
Letter from editor

This issue of Africa world magazine serves

multiple purposes. Yes we will be presenting you

wonderful, powerful articles and insight we give

you in every issue

The more you think about life and

how the world is changing, and

time is going so fast I have come

to a realization that we can't make

it without God. God should be the

foundation of everything we do in life.

We need God to guide and direct us

in pursuit of our destiny, education,

marriage, family, businesses and much

more. God is my number one priority

in my life, He is the fountain where I

draw strength to face tomorrow. So

regardless of our issues, whatever

situation you might face allow God to

be part of all the affairs of your life,

rely on him He will take you places you

have never dreamed of.

This issue of Africa world magazine

serves multiple purposes. Yes we will

be presenting you wonderful, powerful

articles and insight we give you in

every issue and in addition to that, we

want to help you gain some or more

knowledge and a different perspective

on your destiny, who God has called

you to be?, why were you created? ,

And what is your destiny and are you

living a life of purpose and how are

you affecting others?

And because of this Africa world

magazine reached out to several

people who possess the wisdom we

believe is so vital in awakening you to

living your best life with a purpose. For

instance, In this issue we are honored

to be featuring this powerful woman

of God and a great influential catalyst

of this generation Lisa Bevere, she

offers words of wisdom on "when the

daughter awakens" and how to become

a lioness of God….this is a must read!

We will also have inspirational

articles, parenting articles, beauty and

fashion, entrepreneurship, relationships

and much more. So as you read and

think about how you can implement

some of the advice in this issue into

your own life, my prayer is that God

will enable you to realize your destiny

in Him ,and the Lion and Lioness in you

will awaken in Jesus's name. With God

you can do anything you put your mind

and effort to!!! God bless you

Antoinette Kingsley

CHIEF EDITOR

Antoinette kingsley

Editorial

Antoinette Kingsley

Allie Bauman

MARKETING & BRANDING

Jessica Roberts

Natalie Peterson

CONTRIBUTORS

Allie Bauman

Susan Mead

Eric Majette

Stacy Haynes

Jessica Roberts

Natalie Peterson

Joseph Grant

Mark Johnson

Sarah Shepard

Africa World Magazine

05
---
06

Africa World Magazine
---
BY SARAH SHEPARD

STEPPING INTO YOUR

DIVINE DESTINY

Every man born into this world has

two destines. They are natural or

human destiny and spiritual or

divine destiny. The natural destiny is

the life we all live. It is controlled and

influenced with all that is natural, society,

government policies, human cultures and

the devil. The devil? Yes! The devil. The

scriptures in 2 Corinthians 4: 4, describes

the devil as the god of this world. That

means the god of the world systems; the

way things are done. So the natural man's

destiny is controlled by the devil.

The natural man is alienated from God.

He is without God in this world and

susceptible to the whims and caprices of

the devil. He has no eternal security and

at the risk of eternal damnation. He does

not have the right to call God his father

or receive answers to prayers. He is in a

pitiable state.

Conversely, Romans 8: 29 – 30, describes

the divine destiny of a man. "For whom

He did foreknow, he also did predestinate

to be conformed to the image of his Son,

that he might be the firstborn among many

brethren…" The man with divine destiny

is foreknew, predestinated, called,

justified and glorified. He is a joint heir

with Christ, an associate of the God-kind

and a new creation in Christ Jesus. He

has the right to call God "Abba Father!"

When he prays, he receives answers.

He is superior to the devil and all the

cohorts of hell.

To step into your divine destiny, is very

simple. All that is required from you is to

Africa World Magazine

07
---
accept Jesus Christ as your personal

lord and savior. This is the first step.

Once you have accepted Jesus Christ as

lord over your life, the next step would

be to ask the Holy Spirit to open your

eyes to see and enter into your divine

destiny. The word of God says "Eye has

not seen, nor ear heard, nor have entered

into the heart of man the things which

God has prepared for those who love

Him." But God has revealed them to us

through His Spirit. For the Spirit searches

all things, yes, the deep things of God." (1

Corinthians2: 9 - 10).

When you discover and walk in your

divine destiny, you would be fulfilled.

This is because you would have come

to know and walk in God's purpose for

your life. God has deposited in every

man unique talents and abilities. You

may not discover and walk with these

special abilities if the Holy Spirit does

not show them to you. This account

Eye has not seen, nor

ear heard, nor have

entered into the heart

of man the things which

God has prepared for

those who love Him."

But God has revealed

them to us through His

Spirit. For the Spirit

searches all things, yes,

the deep things of God."

(1 Corinthians2: 9 - 10).

for why someone can be very wealthy

and yet not fulfilled. Conversely,

another man could not seem so rich

but yet very fulfilled.

We all have different divine destinies.

The same way identical twins may not

have the same divine destines. While

someone maybe fulfilling his divine

destiny as a singer, another person's

divine destiny and fulfillment could be

as a nanny.

Some other factors that can enhance

you fulfilling your divine destiny are

cultivating the right motives; being

passionate and acquiring the right

knowledge. 2 Timothy 2: 15 says

"Study to show thyself approved

unto God, a workman that needs not

to be ashamed, rightly dividing the

word of truth." Also, procrastination,

laziness, inconsistence, fear, doubts

and greed are some of the factors

that can hinder you from stepping

into your divine destiny. The overall

aim is to use your special abilities to

the glory of God and enhancement of

humanity.

08

Africa World Magazine
---
Africa World Magazine

09
---
BY ALLIE BAUMAN

Loving You from the

INSIDE OUT

It all starts with identity. Where are

you looking to find self-worth or

satisfaction in life? From experience,

I can say you will never feel worthy

by looking to outside sources. The

first step to loving yourself from the

inside out is getting to know Christ.

It is about recognizing you need

Jesus to heal your internal wounds

and allowing yourself to grow in

God. By starting your day in the word

and through prayer you can begin

the process of loving yourself. As

you spend more time with Jesus, he

reveals his unconditional love for you.

As you begin to understand his love,

this revelation allows you to love and

grow spiritually.

Now that you have taken time with God,

he also desires us to take care of our

physical bodies. This means taking care

of what he has given us. For example,

eating right, minimizing stress, letting

go of fear and anxiety. There are so

many little things that we can do to

nurture our minds and bodies. As I

mentioned before, minimizing stress can

be one way to help.

1 CORINTHIANS 6:19

Do you not know that your bodies are

temples of the Holy Spirit, who is in you,

whom you have received from God? You

are not your own.

It is NOT healthy to be stressed and

worried all the time. Do you think

God wants his children to be running

around franticly? No, that is not good

for your mind or your heart. Start with

internal disciplines like organizing

your day. It could be as simple as

planning your meals for the week or

waking up 30 minutes earlier. How

about minimizing social media use?

From personal experience I can tell

you that after 30 days, I already have

more time, and I dramatically feel

different about myself. I no longer

waste time scrolling through mini

feeds. Overall, I have become a more

positive person because I am not

comparing myself to others.

Stop. Think. Breathe. How can you

make an effort to take out additional

stress?

God wants us to spend time in his

presence, and he wants us to be

taking care of ourselves. I encourage

you to take time for self-reflection

and journaling. This is a great way to

discover new passions! It can keep

track of what you are learning with

God and about yourself. One of my

favorite things is to re-read what I

have written in the past. Trust me,

journaling is worth it.

For your mind, always keep learning.

Get your nose in a really good book.

Read for knowledge and read for fun!

Let yourself grow! Challenge your

mind.

Final thoughts, you are God's beautiful

daughter. Allow yourself to be

pampered from time to time. Buy

something nice, get your nails done,

have a massage or a bubble bath.

Remember that your beauty is not

found in your physical appearance.

Beauty is fleeting and as long as you

know the difference between this and

vanity, it will be okay to embrace your

inner princess.

Loving You from the Inside Out, it's

easier than you think.

10

Africa World Magazine
---
Africa World Magazine

11
---
5

Best Natural Makeup

Products For The Fall Season

BY JESSICA ROBERTS

One thing a girl never forgets to

pack wherever she goes is her

favourite make-up. A girl can forget

her keys, wallet, or other important but

not likely her make-up. If you look at

all girls' bags, you'd hardly find a bag

without cosmetics. It's a very important

part in a girl's life. It's like their holy grail.

However, since there are many makeup

brands that are booming recently, it

became hard to choose which one is the

best. We've always thought that the more

expensive they are, the better they are

in every way. But we thought wrong. I,

personally, am allergic to some expensive

brands.

Most of the girls now are becoming very

smart and clever in choosing the best

make-up for them. Together with the

outbreak of variety of cosmetics, are the

producing of organic and natural makeup

products. Natural makeup products

have a number of advantages compared

to regular makeup. Aside from being good

for the environment, you also won't have

to worry about facial or skin problems.

12

Africa World Magazine
---
Physicians Formula

Shimmer strips Palette

(smoky eyes for hazel

eyes) A lot of these

are for certain eye

colors, but if you like

the colors and you're

curious to see yourself

wearing those, then go

for it anyway. I have

loved the smoky eyes

palette so much, it can

be used at any time of

Ecco Bella

the day, you just pick

what colors fit and you

use it. You have a lot to

choose from because

it's a single palette with

9 shades. There are

great shades of light to

medium colors, there's

also black if you want

to look seductive at

night parties.

Ecco Bella is

a company

that sells

all natural

products.

They do sell

skincare,

body care,

facial care,

and a lot

more. Some

of their

products are

even vegan,

so from the

sound of it,

it's really

amazing. At

the same time, all their products are cruelty free.

They don't test on animals, so you don't have to

worry about feeling bad. All of their cosmetics

and products are free of water, gluten, dyes and

preservatives. For most, the best one they have is

the Ecco Bella lipstick. What's great about their

lipstick is it's like a smoother and lipstick all at

once. The prices are pretty reasonable but more

expensive than regular ones.

Pure and True

If you want to look years

younger, Pure and True is

the product for you! Affirm

Serum and Infuse Moisturizer,

when used together, can

Bare Minerals

This was one of the first popular

brands of natural makeup. Their

products are ideal for someone

prone to acne because their

foundations and blushes won't

clog your pores that much. One

of their most popular products

is the Bare Minerals Correcting

Concealer. Use it underneath your

eye area and also other areas that

need some concealing.

bring out the glow

in you. Pure and

True is a company

based in Hawaii.

They do not use

parabens, sulphates,

artificial fragrances,

petroleum-derived

ingredients, or any

artificial colorants.

Although their

prices are a bit more

expensive than other,

it's still reasonable

because they donate

5% of their profits to

social and charity projects.

While looking good, you will

also feel good because you

helped poor people in some

ways.

AfterGlow Cosmetics

This brand has been

famous because of

their branding as an

organic and the first

certified Gluten-Free

makeup. The best

one they have is the

AfterGlow Cosmetics

Foundation. It

blends to your

skin really well, no

matter what skin color you have. And what's more, you don't

have to put a lot of different kinds of powder on your face

anymore because this foundation is long-lasting.

Africa World Magazine

13
---
BY SUSAN B. MEAD

Healing

From Your

Past

14

Africa World Magazine
---
When I look in the rearview

mirror of my life, there are

many things I see, both good

and bad. All of it makes me who I am

today. Some things feel like a feather

and are pleasant to recall and share

with others, as our story matters.

Others feel like heavy baggage, holding

me down and pulling me backwards.

Those I want to DROP somewhere!

Have you also felt that way? You love

parts of your story and regret other

parts of that same story of your life?

Yet you know who you are today is a

sum of all the parts, good and bad, in

your life. Oh, but to turn from those

memories that are so very painful,

heavy and hurtful is a desire of our

hearts more often than we know.

I was tired of carrying such a heavy

load. So I turned to the words in the

Bible and saw Matthew 11:30 (NIV)

"My yoke is easy and my burden is light."

And I WANTED that for myself. How I

yearned for light and easy versus heavy

that held me back, captive to the past.

I can only imagine that most people

prefer a light load, yet we carry "the

weight of the world" on our shoulders

and pretend that we are doing well.

Let's read further to see what else Jesus

said as recorded in Matthew 11:28-30

(NIV). All these words are written in red,

meaning they came straight from the

mouth of Jesus. These red letter words

are holy words worth holding close to

my heart. Do you believe that too?

28 Come to me, all you who are weary

and burdened, and I will give you rest.

29 Take my yoke upon you and learn

from me, for I am gentle and humble

in heart, any you will find rest for your

souls.

Africa World Magazine

15
---
30 For my yoke is easy and my burden

is light.

Are you:

Weary?

Burdened?

Need rest?

Ready to learn?

Willing to listen to a gentle

and humble teacher?

Then you WILL find rest for your soul.

Praise God! That made me dig deeper

into the Word of God, so I could be

healed and made whole. Would you

like to be healed from the hurts of

your past and made whole too?

Psalm 30:2-3,5b (NIV)

2 Lord, my God, I called to you for help,

and you healed me.

3 You, Lord, brought me up from the

realm of the dead; you spared me from

going down to the pit.

5b weeping may stay for the night, but

rejoicing comes in the morning.

Thank You, Father God. You let me

lay down my heavy load, that burden I

carried of all the pains of my past and

helped me when I called Your Name,

Lord God.

Thank You for healing me from all the

wounds of my past. Broken, bitter,

wounded, unforgiving, lost and alone,

You, Lord God, redeemed me and

turned me from death to life as it says

above.

Rejoicing comes in the morning!

Today, I look forward to new life in

Christ Jesus. You can too.

For now we see in a mirror dimly, but

then face to face. Now I know in part,

but then I shall know just as I also am

known. And now abide faith, hope and

love, these three; but the greatest of

these is love. 1 Cor 13:12 (ESV)

Dimly, yes, Lord, I see You, dimly. I

long for the day we shall be face to

face, known by You, loved by you. Oh!

Did I hear a whisper that you know me

and love me NOW? Praise God, You

do know us, each one of us, intimately,

compassionately, lovingly.

For you created my inmost being; you

knit me together in my mother's womb.

Psalm 139:13 (NIV)

Each one of us, created by God, for

a purpose. Lovingly knit together in

your mother's womb. REGARDLESS

of the circumstances of your birth and

life, Father God created you out of

love, His infinite love-the greatest of

these three as said earlier.

And we know that in all things God

works for the good of those who love

him, who have been called according to

his purpose. Romans 8:28 (NIV)

God works ALL things for the good

of those who love Him. Was that

situation you faced good? Yet God

will work it together for good for

those who love Him. Have you been

called to His purpose?

14 For if you remain silent at this time,

relief and deliverance for the Jews will

arise from another place, but you and

your father's family will perish. And who

knows but that you have come to your

royal position for such a time as this?"

Esther 4:14 (NIV)

I am not Jewish and you may or may

not be, yet these words speak to us

today just as they spoke to Esther so

long ago. Do not remain silent if you

are seeking relief and deliverance

from your persecution. Who knows

but that you have been created (in

your mother's womb by God) for such

a time as this?

Rise up!

God gave us a promise and He cannot

lie. You were created for such a time

as this. That is powerful to think

about. What purpose has God created

you for? What is it that you feel has

hindered you in the past? What do

you need healing from? All those

parts God weaves together for our

good-for such a time as this.

37 No, in all these things we are more

than conquerors through him who loved

us. Romans 8:37(NIV)

Conquerors! Oh, more than

conquerors. We see that in all these

thing we are more than conquerors

through His who loves us.

Thank You, Jesus! I am healed from

my past and I look eagerly to You.

And I trust You to be with me every

step of the way.

You can trust Him to heal you too.

Ask Him. He invites you to ask, seek,

and find Him…

7 "Ask and it will be given to you; seek

and you will find; knock and the door

will be opened to you. Matthew 7:7

(NIV)

16

Africa World Magazine
---
Africa World Magazine

17
---
Cover Story

18

Africa World Magazine
---
Cover Story

AWAKENS

BY LISA BEVERE

When a Daughter

THE YEAR WAS 1994, AND IT WAS A NIGHT LIKE ANY OTHER IN THAT SEASON

OF MY LIFE. I HAD TUMBLED INTO BED LATER THAN I SHOULD HAVE AFTER

A DESPERATE ATTEMPT AT PUTTING MY HOUSE IN ORDER. AS A PREGNANT

MOTHER OF THREE SONS, I SLEPT DEEPLY IN THOSE DAYS. BUT THIS NIGHT I

WOKE AT DAWN, SHAKEN TO MY CORE.

THESE PEOPLE RISE

UP LIKE A LIONESS,

LIKE A MAJESTIC

LION ROUSING

ITSELF.

In the predawn hours I'd experienced

a vivid, unusual dream. Radiant light

was everywhere and appeared to

come from everything. There was no

mist or shadow, only glorious color.

The backdrop of color showcased an

elevated platform of flawless stone.

On it reclined a golden lioness.

She was feline perfection, majestic

and powerful. She didn't move, but

I had no doubt she was alive. Her

fur and eyes gleamed. Beneath her

flawless coat I could see every curve

of muscle. This stunning lioness was

far more substantial and vibrant than

any of the lionesses that now walk

our earth.

Etched on the front of the platform

were a word and a roman numeral:

Numbers XXIII.

I sensed an urgency to grasp the

weight of the imagery. I absorbed all

I could. My focus shifted, and I looked

into the eyes of the lioness. As I did,

I heard a voice behind me announce:

"With the birth of this son, you will

awaken a lioness."

The next thing I knew, it was morning,

and I was fully awake. What had I just

witnessed?

Curious about the inscription on the

platform, I reached out and drew my

Bible into bed with me. I wondered

what Numbers 23 held. What I found

was riveting:

"These people rise up like a lioness,

like a majestic lion rousing itself."

(Numbers 23:24 NLT)

I sensed a stirring in my spirit. But

what was this to me?

I recalled the words of the vision:

"With the birth of this son, you will

awaken a lioness." What could this

mean? I saw no connection between

the powerful lioness and the pregnant

Africa World Magazine

19
---
woman in my bed. I was terrified by

almost everything outside my control

and intimidated by the majority of the

people I met.

I shook my head in disbelief. If any

of this was true and I was about to

morph into a lioness of sorts, then

surely someone else would see this

impending transformation. This vision

was going to require some serious

secondary confirmation.

Asking for Confirmation

A few weeks passed, and an evangelist

I had immense respect for came into

town. She invited another pregnant

friend and me to lunch. I decided to

casually bring up the vision and watch

their reaction.

On the day of our lunch, I wondered

how I could introduce the lioness

into the conversation. As we ate,

my opening came. My friend told

us she was expecting a girl, and the

evangelist said she was excited about

the prospect of me having a daughter

as well.

"But what if it's another boy?" I asked.

She was aghast. After all, she

reasoned, I had three sons, and John

needed a girl to dote on. I decided to

relay the story of the lioness and the

proclamation of a son.

There was a long pause. The minister

looked at me doubtfully and asked,

"When is your baby due?"

"October tenth," I answered.

She shook her head and said, "No, no,

you could not possibly be a lioness by

then."

I merely nodded. On one level I

felt relief. On another I felt slightly

annoyed and possibly insulted.

What did she mean I couldn't be

a lioness by then? It was only

springtime. October was more than

five months away! How long could

this transformation take?

She explained, "There is still too much

stuff in you that God needs to work

out. You will not be free by October."

Even though I didn't like the woman's

bluntness, I agreed with her.

I was plagued by doubt and

insecurity. Even my husband,

John, was constantly saying

to me, "It must be so hard to

live in your mind, Lisa, with

so many worries and fears

crowding in on you." It was,

and it was getting harder

all the time. I was tired of

being a long-term restoration

project.

Living without Excuse

For years I'd been making

excuses for myself. I was

a cancer survivor and a

stay-at-home mom with

a dysfunctional past who

just wanted to survive her

preschool children. Was it

possible God thought I was

destined for more?

I wanted to recover some

of the strength I'd forfeited

trying to fit in as a pastor's

wife and a nice Christian.

I was ready to rise up in

strength and beauty. I was

tired of being thought of as

weak and whiny. I was tired

of revisiting the pain of my

past. I was up for a challenge.

Maybe the vision of a lioness

was just what I needed!

An interesting transformation began

to take shape. It was as though a

gauntlet had been thrown down. With

the birth of my son Arden, something

within me shifted. God began to

whisper strength to me.

Like many mothers, my God-connected

self had been strained. I was almost at

the point of drowning in my day-today

life. But as I focused on being His

daughter, life and strength flowed into

my days. Rest entered my soul. My

heart enlarged.

I began to step out of my fears and

failures. I wrote my first book, Out of

Control and Loving It!, while nursing

Arden. This opened up another world

to me. Suddenly I was out speaking

to women across my nation who were

hungry for authenticity. In response

to their hurt and hunger, I wrote more

books.

Time passed. I imagined the lioness

story was over and my personal

transformation almost complete. But I

was wrong.

It Wasn't About Me

In the fall of 2007, I was one of many

women ministering at a conference

in New Zealand. For some unknown

reason, I felt troubled during one of

the afternoon breaks. I felt an urgency

to pray, so I headed off to my hotel

room.

I paced my room, praying for God's

direction and insight. To position my

heart, I began to thank God for various

things He was doing in my life. I had

just completed the final edits on my

Nurture manuscript and began to

thank God that the writing and editing

process was over. For me, writing

a book is like going through labor,

so my prayer went something like,

"Thank You, God. It is finished! I don't

want to write again anytime soon!"

Suddenly I sensed God speak to my

spirit. "I am sorry you feel that way,

because I need you to write again."

What? God needed me?

He went on. "I am releasing strategies

from heaven. They will be found in My

Word. You will not have all of these

20

Africa World Magazine
---
strategies by any means, but you will

have a measure of them. You must

write and record what I speak to you

so that when my daughters gather,

there will be a whole picture. If you do

not bring your piece of the puzzle, the

picture will not be complete."

Suddenly the lioness was again before

me.

As I beheld her in all her strength and

fierce beauty, I heard the Voice say,

"I said with the birth of your son, you

would awaken a lioness. I did not say

you were the lioness."

Immediately I saw how limited my

perspective had been. The Voice went

on to say, "Jesus is the Lion of the

tribe of Judah, and it is time His bride

awakens a lioness. Study the ways and

aspects of the lioness."

I was taken aback. Was what I was

hearing even scriptural? What could

all this mean? I wondered, Could it be

God wants to awaken something fierce

and wild within His women?

Numbers 23 came before me once

again, and I saw in it a charge for

Christian women to rise up. Right then

and there I set my heart to study the

lioness and to search out the parallels

for God's daughters.

All told, I spent two years researching

lionesses. They are stunningly

confident, skilled, and strategic. They

do not fear their beauty or their

strength. They hunt together and care

for each other's young. They groom

and serve one another. There is much

we can learn from them.

Perhaps, like me, you have felt

confined by the past or trapped in the

present. Yet there is something wild,

fierce, and beautiful inside you. As you

hear the voice of the Lion of Judah,

you can recover all that has been lost.

There is a lioness within every one

of God's daughters. It is time she

awakens.

To know more about Lisa Bevere go to

messengerinternational.org

Follow Lisa Bevere on Facebook, Twitter

and all social media platforms.

I SAID WITH THE BIRTH OF YOUR

SON, YOU WOULD AWAKEN A

LIONESS. I DID NOT SAY YOU

WERE THE LIONESS.

Africa World Magazine

21
---
22

Africa World Magazine
---
GOODBYE!

FEAR &

INSECURITY

BY JOSEPH GRANT

I

am sure that I don't need to tell you

that fear and insecurity can cripple

every aspect of your life, if you let

it. In the world there are solutions to

these problems - medication, self-help

seminars, positive thinking courses etc.

But as Christians we have the ultimate

solution. Indeed we have the only true

solution - The LORD our God, through

the blessed love and sacrifice of Jesus

Christ. Everything else is, at the end of

the day, counterfeit to this.

Fear and insecurity have the same root -

lack of trust. No matter what source the

fear or insecurity has, lack of trust is the

cause. If you are frightened of flying in a

plane, you lack the trust that the plane

will be able to make the journey; if you

worry about being made redundant

at work, then you do not trust your

employer to keep your job safe.

Of course, these things in life are

ultimately transient in nature - they

will ebb and flow and are not stable.

Why would you trust in the engineering

work of a flawed and imperfect human

being, or in the wisdom of a human

being, who cannot even see what

tomorrow will bring? The true stability

in your life - the true rock - is the

LORD. We need to know that when we

put our trust in God, that it is in a very

safe place indeed.

But how can we know the solution is in

God? If we turn to the truth of scripture,

we see it before us in black and white.

Deuteronomy 31:8 says "It is the Lord

who goes before you. He will be with

you; he will not leave you or forsake

you. Do not fear or be dismayed." And

then in the Gospel of Matthew (6:31-34)

we read the words of Jesus himself, who

Africa World Magazine

23
---
clearly confirmed the truth that

we need not fear or be anxious:

"Therefore do not be anxious,

saying, 'What shall we eat?'

or 'What shall we drink?' or

'What shall we wear?' For the

Gentiles seek after all these

things, and your heavenly

Father knows that you need

them all. But seek first the

kingdom of God and his

righteousness"

Take comfort in the words of

your savior when he tells you

clearly that the LORD - your

heavenly Father - knows what

you need. Jesus also gives us

the perfect alternative to fear

and anxiety. He tells us that

instead of worry and fear we

should focus our attention on

'seeking the kingdom of God'.

So as you look to the kingdom

of God; reminding yourself

of the truth of scripture;

surrounding yourself with

Christian brothers and sisters

to stand in faith with you as

you face your problems; as you

pray and listen for his guiding

voice; your fears and anxieties

will drift away like the fading

memory of a bad dream, and

you will come to know the

real truth that is encapsulated

in every moment of every day

- that it is not the wisdom of

your boss that keeps your job

safe, nor is it the skill of the

engineer that keeps your plane

flying, but it is the safe and

secure hand of the Lord that

cradles you and keeps you safe,

and if your God is for you, who

could possibly stand against

you?

24

Africa World Magazine
---
BY MARK JOHNSON

Change Your Perception

Change Your Life

"Do not

conform to

the pattern

of this world,

but be

transformed

by the

renewing of

your mind…"

How do you see yourself? Your

perception about yourself is

the sum total of your value. It

reflects how you see yourself, how

you value yourself, and it form your

opinion about the issues of life.

Interestingly, you can only go as far as

your perception can take you, in life.

In other words, if you see yourself as a

"For as he thinks in his heart, so is he…" Proverbs 23: 7.

success, as a victor or as a conqueror

that is what you will become. You are

the way you are today as a result of

your perception about yourself.

Of course there several factors

that can make you form the wrong

perception about yourself. Such

factors could be fear, betrayer,

Africa World Magazine

25
---
failed marriage, economic downturn,

sickness, racial discrimination,

abuse etc. However, the word of

God admonish thus: "Do not conform

to the pattern of this world, but be

transformed by the renewing of your

mind…" Romans 12: 2. You must make

deliberate efforts to renew your mind

with the word of God. As you study the

scriptures, you are metamorphosed,

transformed into the same picture it

shows you.

Our true identity is in Christ. Refuse

to see yourself the way the world

sees you or by your past experiences

or failures. It is only God's word that

can show you who you really are.

"Therefore if any man be in Christ,

he is a new creature: old things are

passed away; behold, all things are

become new" 2 Corinthians 5: 17. You

are not your mistakes. So do not let

them define you or form the wrong

perception in you. Rather see yourself

as a new creation, a victor, holy and

as the righteousness of God in Christ

Jesus.

"Finally, brethren, whatsoever things are true, whatsoever things

are honest, whatsoever things are just, whatsoever things are pure,

whatsoever things are lovely, whatsoever things are of good report; if

there be any virtue, and if there be any praise, think on these things"

2 Corinthians 3: 18 says "But we all,

with unveiled face, beholding as in a

mirror the glory of the Lord, are being

transformed into the same image from

glory to glory, just as from the Lord, the

Spirit." See yourself through God's

lenses, the scriptures. The world and

its system will paint the picture of you

as a failure; as poor, weak, confused,

sick, depressed etc. Therefore, focus

your gaze on the mirror of God's word

that is able build in you the right

perceptions to change your life.

Again, for you to be able to form and

maintain the right perception about

yourself and others, you must walk

in the Spirit and not in the flesh. "So

I say, walk by the Spirit, and you will

not gratify the desires of the flesh"

Galatians 5: 16. Walking in the Spirit

means living by the word of God. Let

it form and control your thoughts,

opinions, and contemplations.

"Finally, brethren, whatsoever things

are true, whatsoever things are honest,

whatsoever things are just, whatsoever

things are pure, whatsoever things are

lovely, whatsoever things are of good

report; if there be any virtue, and if

there be any praise, think on these

things" Philippians 4: 8.

26

Africa World Magazine
---
Africa World Magazine

27
---
BY NATALIE PETERSON

5 HABITS THAT WILL

STRENGTHEN YOUR MARRIAGE

Marriage is one

of the most

beautiful

arrangements ever

instituted in scripture.

It creates this fantastic

environment where

a man and a woman

can come together

and spend a lifetime

developing the

most intimate of

relationships. It's also

a great allegory for

understanding the

covenant relationship

that we have with the

LORD too, although

that may be a subject

best kept for another

article.

A marriage relationship is no joking

matter, and keeping a marriage

strong as the years pass can take

a significant amount of effort. It is

something that absolutely must be

worked on; must be a priority; and

must be kept stable - especially if

there are children involved in the

family unit. That being said, here are

5 habits that married couples should

be doing that will keep your marriage

rock solid over the years.

1 Repent and ask forgiveness

of your spouse.

Humility should be at the heart of

any marriage, and there is nothing

more beautifully humble than a man

asking forgiveness of his wife (or vice

versa) for some error in judgement or

comment that they made. This is more

than just saying you are sorry - this is

exploring the heart of your spouse and

learning what actions (or inactions)

hurt them. This is taking ownership of

those hurts you caused, no matter how

slight, and acknowledging them as

being real, then taking steps so they

never happen again. What marriage

would not benefit from that?

2 Affirm the value that your

spouse has

A marriage where a spouse did not

affirm the value, strengths and life

28

Africa World Magazine
---
purpose of their partner would be

a very sad and lonely place. Most

of us do this without giving it too

much thought, but because of this,

we do not do it regularly enough or

thoroughly enough. Living in such a

way that affirming the core of who

your partner is, is so important that I

would struggle to overstate it here. A

spouse needs to know, not only that

they are loved, but that the person

they are has a deep intrinsic value.

3 Affirm the strengths of your

spouse

A spouse benefits immeasurably from

having the person they love most

in the world point out to them their

deepest strengths and why they are so

valuable

4 Affirm their life calling

A spouse can be incalculably

encouraged by having their partner

recognize that the calling on their life

(their ministry to the world - whether

it be as a parent, in their job, or in

service to their church) is significant

and that their partner is committed to

helping them succeed.

5 Never stop laughing

together

Laughter is such an important thing

to a marriage. Ask any behavioral

psychologist and they will tell you

that laughter triggers all kinds of

things in our brains - it helps cement

friendship and community as much

as any other activity you could ever

name. And in a marriage, friendship

and community are key to longevity.

Romance will come and go, and come

again. Physical attraction will wax and

wane over the years. But friendship

is the constant. You should strive to

be the best friend your spouse has.

Laughing together is like a glue that

holds people in friendship. Never

underestimate its importance. Be open

to the funny side of life, even when

things are hard - especially when

things are hard - your marriage will be

transformed because of it.

" Laughter is such

an important thing

to a marriage. Ask

any behavioral

psychologist and

they will tell you

that laughter

triggers all kinds

of things in our

brains - it helps

cement friendship

and community as

much as any other

activity you could

ever name.

Africa World Magazine

29
---
30

Africa World Magazine
---
9 Must have fashion

pieces and trends for fall

Fall style examples will be the imminent season demand with its warm tints,

wonderful cuts, inventive arrangements and breathtaking development. With

every developing season, fall style designs from the past restore again with

fresh, new and in vogue innovative musings. In any case, don't let your wardrobe

miss the offer of splendid sprightly shades of summer.

We ought to talk about the must-have fall wardrobe essentials and the latest

configuration examples of the year 2015:

SWEATERS- Hues FOR FALL 2015

Tones have an amazing impact on a solitary's manner and personality. For the

most part unprejudiced and dirty tones like chestnut, dull, camel, slate faint,

maritime power blue, outfitted power green, samba red, plum and charcoal are

considered as first class fall outline designs. Regardless, it speaks the truth your

own outline persona and flavor.

DRESSES- PRINTS & Surfaces

Best in class fall style examples are significantly creative and irresistible to the

extent its arrangements and surfaces. The dresses are a mix of bleeding edge

and western blueprints, tasteful cuts, social weavings, dab works and component

prints. The clothing materials like chiffon, silk, georgette, wrinkle, cowhide and

velvet are used to identify with fall configuration designs.

Most a la mode prints and diagrams of fall clothing have overall development in

light of their lavishness fabrics and novel cuts. Our inventor's inspiration of fall

style example begins from different themes like evident times, social segments,

nature, expressive arts, inside setup and general people.

Africa World Magazine

31
---
LEGGINGS-METALLIC

Patterns

One of the exceedingly renowned

and invigorating fall style example

consolidates the radiance of metal. The

most sizzling example of the season

speaks the truth the fabric and cowhide

made up of fabulous shades of metals

like gold and silver. Fall style examples

offer a remarkable mix of metallic

shades with neutral and

generous tones.

ACCESSORIES-

Design Extras

Fall style examples are

inadequate without

in vogue additional

items like jewelry

pieces, shades, tops,

belts, decorations and

handbags. In case

you are wearing an

in number shading

from head to toe then

go for a lovely mind

blowing toned tote or

a chain strapped littler

than common sack

for untouchable style

design. Correspondingly,

a few fleecy shades,

an extreme belt or a

valuable stone top can

change your agreeable

examine a more dynamic

and more sizzling look.

1. Boots -Buy now, Utilize

Later

Different originators are joining the

metallic case into their fall style plans

signs, which intertwines metallic cross

segment, shocks, metal prints, metal

chains, metal appliques and fabric

with a case made up of metallic yarn.

The metallic sample has in like way

been found in the improvements and

footwear mixed sacks as the most

enchanting fall style outlines.

2. The Daytime LBD /

dresses

When you have five minutes to pick

what to wear in the morning and still

need to gaze set upward together,

you'll express appreciation toward

yourself for placing assets into a chic

insignificant dull dress that can be

32

Africa World Magazine
---
spruced up, dressed down and worn

all around.

3. Thick Sews / Sweater

Is it genuinely a fall configuration

shopping once-over without one

sweater pick? This present season's

is bigger than normal, thick and has a

creature turtleneck - toward the day's

end, it's extra snuggly.

4. Shoes/ Stage Loafers

Shoes that

incorporate

stature

without the

torment?

We're so

in. These

declaration

oxfords look

basically like

the Stella

McCartney

ones, yet won't realize very nearly as

much sticker paralyze.

5. Retro Shirt

The '70s example is heading full

compel into fall - and this retro

pussyfoot pullover can be worn with

anything.

Africa World Magazine

33
---
7. Hat

6. Coat/ Wear Always Fake

Calfskin

Whether fake or veritable, a calfskin

coat is continually legitimized paying

little heed to the endeavor - you'll

wear it this fall and for some fall style

seasons to come.

9. Scarfs

8. Fluffy Vest

We were to some degree focused

to the accompanying level with the

shroud design the past fall, and we'll

surely be doing cycle two this season.

34

Africa World Magazine
---
Africa World Magazine

35
---
36

Africa World Magazine
---
BY STACY HAYNES

How to Keep Children Tuned into Family

Parents today face

many challenges

with balancing

their children's need

to stay up to date on

technology, but not

letting technology take

over their family. As

technology will continue

to improve, it will be

a part of parenting for

generations to come.

Many families I work

with struggle with

family conflict as a

result of technology

use. We are seeing

our children be less

engaged and more

connected these days.

Here are some tips to

help with technology

use during each stage of

development:

Infants/Toddlers:

No television in their

bedrooms until after

3. Research supports

early learning can be

impacted by too much

television. Try to

have family time with

Africa World Magazine

37
---
television in the living area or family

room of your home. Children can have

books and other learning toys in their

bedrooms.

Try to balance use of technology for

learning as apps and games are not

always used in the classroom. Try

to use paper and pencil, writing and

reading activities to help students

prepare for kindergarten.

Try to use books on tape to encourage

early reading. The multisensory

approach to learning can help young

readers take in words easier and begin

to read with accuracy. Bible stories

on tape are a great way to get young

readers interested in reading and in

their faith.

Minimize technology usage the closer

you are to bedtime. Make sure to pull

kids away from technology at least 1

hour before bedtime. You can read

together, sing songs, or children can

play quietly in their rooms before

bedtime. We like to crawl into bed

and read Veggie Tales devotionals

together.

School Age Children:

Be careful when to give cell phones

to young children. A good rule of

thumb is when they begin to have

long periods of time away from you

and where they would not be able to

access a phone.

Give a set time limit to devices during

the school week. Grades in school

are impacted by the higher amount

of time children are in front of

technology. Be consistent with a time

and try to keep it to no more than 2

hours a day.

Encourage play dates. Allow children

to have time to get together with

friends and to play outside.

Encourage children to have a list

of other activities to do in lieu of

technology. Many children will say they

are "bored" just to return to using their

technology. Have a fun list created by

your child of things they enjoy to do

when technology is turned off.

Homework first. Make technology

a reward not a given right. Many

parents struggle with pulling devices

away from children when it comes

time to complete homework. I

recommend that children receive

devices once homework and other

chores are done for the evening. We

all like the idea of being rewarded

versus having something taken away.

Not all video games are bad. Help

children to make good choices about

which games to purchase and which

38

Africa World Magazine
---
games will be played in the home.

Research finds that even target games

improve areas of the brain needed for

learning.

Teenagers:

Have a family charging station. Many

teens are up late on their phones

and devices. Have a set time that all

devices are to return to the family

charging station. This should be away

from bedrooms and this will allow

even parents a break from technology.

Encourage meal times and family

gatherings to be technology free. Ask

everyone to put phones away prior

to praying for a meal. This allows

everyone to be able to talk to each

other and enjoy meal time as a family.

Make sure teenagers are socializing

outside of technology. For some

youth, online interactions begin to be

their only interactions causing many

youth to have social anxiety or social

difficulties. Encourage your teenager

to be involved in your church's youth

group and other social events in their

schools to help keep up with their

social skills. Making friends in real

life is more important than being able

to make them online.

Monitor your teenager's social media

activity. This becomes a source of

conflict for many families because

we do not talk about the appropriate

usage until there is a problem. Clarify

with teenagers when they can use

social media and what sites would be

appropriate.

Discuss with children that their social

media usage is a reflection of their

character and who they are. Have

teenagers review stories about

individuals not able to get a job or

individuals who have lost their jobs due

to posts and tweets on social media.

Parents should be role models when

it comes to their technology use as

well. Children are learning from us

how to balance the use of technology

and will easily pick up our habits.

Make sure that your children see you

"unplugged" each day and that you

are present with them. I encourage

parents to have the same limits that

their children have with technology

during their child's waking hours.

Many emails and other tasks online

can be completed once the little ones

are in bed.

We can have good family

communication about technology and

the importance of remaining a family

while we use technology. Parents

should develop a plan about how

your family will use technology way

before your children reach the age

of technology. Being prepared will

allow parents to be at peace about

their decisions and will allow for

their family to have balance as their

children grow.

As I always say, I encourage you today

to have parenting that is effective

and prevailing, creates friendship and

unity as you provide guidance, love

and care for your children.

Dr. Stacy Haynes, Ed.D LPC, ACS

is a counseling psychologist who

specializes in the needs of children,

families and parenting concerns. Dr.

Haynes has over 15 years experience

in the treatment of every day

challenging family concerns. She

is the author of Powerful Peaceful

Parenting: Guiding Children, Changing

Lives and the host of Parenting Tips 2

Go w/ Dr. Stacy Radio Show.

Africa World Magazine

39
---
LET US HELP YOU

REACH A LARGER

AUDIENCE

Advertise with us !

40

Africa World Magazine
---
BY NATALIE PETERSON

COZY RECIPES FOR THE FALL/WINTER SEASON!

Kale Salad with Warm Roasted

Sweet Potato and Carrots

Salads don't have to get put on

the backburner during the fall and

winter! Salads can be satisfying and

comforting, we promise. This kale

salad makes use of delicious sweet

potato and carrots- two veggies that

are hearty and filling, yet kind to the

waistline. It's the kind of salad that

feels just right to eat curled up with

a good book by the fireplace- the

ultimate comfort to get through the

cold fall nights!

Did we mention this salad is also

bursting with vitamin A, C, and K?

Awesome eyesight, glowing skin, and

strong bones? Quite frankly, we can't

think of any reason not to enjoy this

salad. Fall just got a whole lot tastier.

INGREDIENTS

Serves 4

1 bunch (whole head) Dino

Kale, de-stemmed and washed

1 cup sweet potato, roasted

and cut into inch cubes

1 bunch (6 medium) carrots,

roasted and cut into coins

DRESSING:

1 Tbsp. Olive oil

1-1/2 Tbsp. apple cider

vinegar

Juice from 1/2 a lemon

1/4 tsp ginger powder

Pinch of salt, pepper

DIRECTIONS

Chop the kale into bite sized pieces

and add to a bowl. Make the dressing

by mixing all the ingredients, and

pour it over the kale. Massage the kale

for a minute or two, until it begins to

become softer and less rigid. * Once

the kale is nice and tender, add the

sweet potato and carrots to the salad,

and toss to combine. Bon Apetite!

*Taste and Nutrition Tip: Massaging

the kale with the dressing makes it

easier for your body to digest, and it

makes the texture amazing!

NUTRITION PER SERVING:

Calories: 121 Fat:3.5g

Carbs:21 g

Protein: 3g

Sodium: 100 mg

sat fat: .05 g

unsat fat: 3 g

fiber: 3.5 g

sugar: 6g

Africa World Magazine

41
---
Ingredients

For the soup

Low-carb slow-cooked beef and cabbage soup recipe

Hearty chunks of tender beef and shredded cabbage become a satisfying end-ofthe-day

meal. Using a slow-cooker makes your low-carb cooking even easier —

just add ingredients and hit the ON button, a few hours later, dinner is served. A

satisfying fall meal that you will enjoy!

Directions:

01 Place all ingredients except garnish in a slow-cooker and cook on high for 4

to 6 hours or on low for 8 to 10 hours.

02 Serve hot, garnished with parsley and a dollop of sour cream.

1 pound stew beef, diced

and browned in oil (but not

cooked through)

1 onion, finely chopped

2 cloves garlic, minced

1 red bell pepper, seeded

and finely chopped

1 small head green

cabbage, shredded (or

about 4 cups)

1 (15 ounce) can tomato

sauce

2 bay leaves

1 soup bone

2 cups water or more for a

soupier consistency

For the garnish

Fresh parsley, finely

chopped

Sour cream

42

Africa World Magazine
---
FALL DESERT

Three ingredients, plus about three minutes is all it

takes (if that long) to put this sweetened up cream

cheese spread together. Of course you'll need more

time to cut up the apples or pears or whatever you want

to serve it with (a spoon?). Begin with some cream cheese,

drizzle it with caramel sauce (homemade or store bought

will do), then sprinkle it with a generous amount of toffee

bits. That is about as simple as it gets. But don't let the

simpleness of this Easy Caramel Apple Cream Cheese

Spread fool you. It's sneaky satisfying. You'll see. I promise.

INGREDIENTS

8 ounces cream cheese

caramel sauce (homemade or store-bought)

toffee bits

sliced apples, pears, pretzels for serving

INSTRUCTIONS

Place cream cheese on a serving dish. Pour as much

caramel sauce as you want evenly over cream cheese.

Sprinkle with a generous helping of toffee bits.

Serve with sliced apples, pears, or pretzels.

Africa World Magazine

43
---
44

Africa World Magazine
---
in line with home plate and 3rd base

about 12 rows up-incredible!),

Walking through Concord and

Lexington to see some of the places

our Founding Fathers fought for

the freedom of our country Monday

morning, April 16, 2013 dawned clear,

with perfect temperatures for the

runners. Wave 1 – the world-class

runners –crossed the finish line about

10 am. We were in the grandstand

cheering them on at the finish line

as Meb crossed followed by so many

other champion runners.

Keeping the

PEACE IN CHAOS

BY SUSAN B. MEAD

Keeping the peace in chaos.

How in the world do you

expect me to do that, you

ask? This statement simply

sounds like an oxymoron. How

can both be achieved at the same

time? Great question!

Here's the deal. An event occurs,

creating chaos. In an instant, the

situation changes. No warning,

no heads up, no anticipation.

BOOM! Change in less than the

blink of an eye, creating a chaotic

situation. Yet it is our response

to an event that shows our

character, not the event itself.

Boston Marathon. April 2013.

Beautiful, sunny, PERFECT day

for the runners. My cousin,

Amby Burfoot, running the 45th

anniversary of winning the

Boston Marathon in 1968.

Yep, Amby is a legend in running.

35+ years as an editor for

Runners World. Prolific writer.

Knowledgeable. Fun. Family.

I had always wanted to watch

Amby run the Boston Marathon.

At a family reunion a few years

earlier, Amby shared he would be

running the 45th anniversary - if

his knees were good. My husband

and I decided to go.

We simply wanted to be in the

crowd celebrating with him!

What an amazing week Boston

presented!

Cheers to the Boston Marathon

opening party - held at the bar

from the Cheers TV show

Boston Mayors Breakfast -

celebrating 4 legends in running

and prior winners of the Boston

Marathon

Runners World party with the

Who's Who in running – I was

clueless!

Red Sox Game (our seats were

Wave 2 and Wave 3 followed. Wave

2 is comprised of the runners who

qualified to run Boston (if I recall

correctly-forgive me if not!) and Wave

3 is composed mostly of the folks

running for charities.

Amby typically runs in Wave 1 with

the world-class runners. Celebrating

the 45th anniversary of his 1968

win with several family and friends

running with him, Amby chose to run

in Wave 3 at a 10 minute per mile

pace instead of his normal 5 minute

per mile pace. Makes my heart beat

faster just thinking about running at

that pace. You too?

We were in the grandstands awaiting

Amby's triumphant finish. The sun

shone bright, the grandstands and

finish line were filled with spectators

as family and friends shared in the

celebration of a magnificent feat.

We knew Amby was about 5 minutes

out – amazing how technology lets

you track your favorite runners on the

course!

BOOM!

Flames erupted and evil entered

the scene. Chaos ensued. The crowd

surged, each person scattering to

safer ground to save their own life. My

husband said hang tight for a moment,

we do not want to be trampled…

BOOM!

Eight seconds later, the second bomb

exploded, sending the crowd into a

heightened frenzy. My hands clasped

Africa World Magazine

45
---
tightly as words flew through my mind

and fell out of my mouth in prayer,

"For He orders His angels to protect

you, wherever you go."

Jesus. Jesus. Jesus. Precious Jesus, only

You can calm this chaos, Lord. Have

Your way and enter here, hold my

hand, calm the storm, Lord, as only

You can. And yes, God, order Your

angels to protect me wherever I go

today. Only You can order them, so I

pray to You, Father, order Your angels

to protect me and the many others

gathered here and scattering from

here today. Cover us with Your mighty

arm, Lord. In Jesus name. Jesus. Jesus.

Jesus…

Jesus. THE Name above all names.

The Name every knee will bow to. The

Answer to your prayers.

Jesus. The Calm in the chaos. The

Changer of perspective. The Life-giver.

Invite Jesus into your world. Chaos.

Will Jesus change the scene? No,

blood was spilt that day, lives were

lost, shrapnel severed limbs from

bodies.

But God…

Changed my perspective. Panic

waned and peace prevailed. Jesus is

THE Answer. He is The Helper in our

hopeless situations. He is…ALL you

need. He moved me from frightened

to fearless, knowing He is faithful.

FOREVER faithful.

Call on His name, change your focus

from fear to faith. Walk in new life as

He settles your seas and calms your

raging storms.

"But as for you, you meant evil against

me; but God meant it for good...."

Gen. 50:20 NKJ

Fear – Faith

Death – Life

Brokenness – Community

Chaos – Calm

The Boston Marathon community,

runners from everywhere and so

many people in the world have come

together to be even stronger, more

committed, more compassionate and

more caring than ever.

So just how do we bring calm into

the chaos of our lives? Jesus. Ask Him

to be present, with you, guiding you

every step of the way.

Here's what I have come to know. It is

our response to an event that shows

our character, not the event itself. So

what choice did I make about how was

I going to walk through that event?

What choice are you going to make

about walking through any moment in

your life?

Ask, Seek, Knock

7 "Ask and it will be given to you; seek

and you will find; knock and the door

will be opened to you. 8 For everyone

who asks receives; the one who seeks

finds; and to the one who knocks, the

door will be opened. Matthew 7:7-8

(NIV)

Jesus is faithful to answer…

46

Africa World Magazine
---
AFRICA WORLD MAGAZINE GIVES BACK

THROUGH AFRICA WORLD FOUNDATION

Our goal is to empower the

orphaned children of Africa

with education, and help them

discover their divine calling in life

and also will demonstrate God's love

to the fatherless and connect these

orphans to their Heavenly Father, By

teaching them about Christ and laying

a biblical foundation, if you passionate

about this movement, please partner

with Africa World Foundation by

donating or becoming an advocate.

Second, the Africa world foundation

will also thrive to provide women with

the opportunity to grow spiritually

and professional in their local village

and also empower women and equip

them with the tools to support their

families. This program will provide

training in areas such as computer

skills, management, financial

support, entrepreneurship, reading

and writing, public speaking and

education on global issues. Through

this movement, women will be

encouraged to a whole new level as

they discover new passions and their

true identity in Christ. If you find that

you have a specific skill that could

be essential throughout the training

process, please submit a request to

africaworldfoundation@gmail.com.

By doing this, we can work with you

to expand the vision that the Lord has

placed on our hearts.

AFRICA WORLD LAUNCHES

BUTTERFLY GRACE INITIATIVE

Butterfly Grace is an initiative that

aims at providing the women of Africa

with feminine essential products.

By partnering with Africa World

Foundation through Butterfly Grace

you can help these women with their

basic feminine needs. In the United

States, women have easy access

to products such as toilet paper,

tampons, pads, and wipes. In certain

areas of Africa this luxury is not as

common. We believe all girls should

have the right to good health and

education and not be hindered by

what is a normal biological process.

"Many girls use rags, leaves or sitting

in the sand during menstruation," this

is a huge dilemma in Africa. Stand

with us and help us provide aid to

every girl in need of sanitary products

in Africa.

Help us keep African girls in

School Statistics

1 out of 10 African schoolgirls skips

school or drops out of school entirely

due to a lack of menstrual products

and poor access to proper sanitation,

according to UNICEF. This critical

unavailability of sanitary products

in developing countries is a major

barrier to education for girls of

school-going age. The inability to

effectively manage menstruation

contributes to absences of up to 4-5

school days each month, equating to

as much as 20% of the academic year

intentionally skipped, simply due to

menstruation. Eventually many of

these girls drop out of school entirely,

increasing their likelihood of teen

pregnancy health complications and

early marriage, and further limiting

their future career and economic

opportunities.

Buttery Grace strives to minimize

this pressing dilemma as we provide

feminine products to every young

girl and woman in need. We are

committed to empowering, helping

women and girls break the barriers

that menstruation creates in their

lives and to help them rise to their full

potential and become who God has

created them to be.

FOR MORE INFORMATION ON HOW TO GET

INVOLVED CONTACT US @

Web: www.africaworldmagazine.com

Email: africaworldfoundation@gmail.com

Africa World Magazine

47
---
BY ERIC MAJETTE

Marketplace

Moment KINGDOM

ENTREPRENEURSHIP

Kingdom Entrepreneurs are christian men and women that's dedicated

to building the kingdom of God and carrying out the "Great Commission"

through their businesses and organizations.

48

Africa World Magazine
---
They are inspired and purpose

driving by incorporating biblical

principles into their

businesses and organizations.

Kingdom Entrepreneurs submit to the

authority of the Holy Spirit and allow

GOD to

be their CEO (Chief Executive Officer).

These men and women has the

ability to impact and transform our

communities.

They are driven by carrying out

their God Given assignment in the

marketplace.

Kingdom Entrepreneurs

are visionaries.

Throughout my travels I come across

so many visionaries that has great

ideas but never see their vision come

to pass. First, I would like to give

you my definition of Vision. Vision is

the process that brings imagination

to creation. Everything starts with a

vision. Everything that is was created

from something that wasn't there. The

founder is a visionary.

The majority of people seek shortterm

comfort and instant gratification.

Vision will provide a more complete

and constant gratification with long

term comfort.

Vision is a destination that identifies

exactly where you want to go, what

results you want,and when.

In order to carry out a vision,

the visionary must be a great

leader and know how to

inspire others to follow them

to an unknown place. Your

vision will usually be larger

than your resources and bank

account. Never allow your

lack of resources to keep

you from carrying out or

launching you vision.

Visionaries are usually inspired and

energized by walking in their purpose

regardless of the sacrifice.

Visionaries can see the end results or

finished product before it's completely

developed.

The definition of purpose driven is

"to do something intentional and on

purpose achieve a specific task or goal

to bring added value to our society

and communities.

Kingdom Entrepreneurs can charge

the dynamics of our communities

while carrying out the "Great

Commission" in the marketplace.

Eric Majette

Entrepreneur,

Educator, Marketplace

Leader, Consultant

Website:

ericmajette.com

Email:

eric@ericmajette.com

Africa World Magazine

49
---
Man power

Bishop T.D.Jakes Destiny book signing at Megafest

Megafest

DESTINY WAS RELEASED

AT MEGAFEST

50

Bishop T.D.Jakes Destiny book signing at Megafest

Bishop T D Jakes did it again

at mega fest 2015, it was an

experience, a phenomenon, it

was life changing, lives were

transformed and changed for

the best, many connected

to God and Gods presence

was alive. From woman

thou art loosed, manpower,

mega- youth, mega-kids,

empowerment sessions were

so powerful and strengthen

people in their careers and

businesses, film festivals and

entertainment, family expos,

God's name was glorified.

Africa world magazine was

honored and blessed to be

part of megafest. May God

continue to bless TD Jakes

ministries.

Africa World Magazine
---
Man power DR. R.A. VERNON

woman thou at loosed

Africa world magazine with Israel Houghton

Man Code

War room movie actress

Priscilla Evans Shirer

red carpet Actor Boris Kodjoe

Actress Nicole Ari Parker,Tasha Smith, Ray Lewis

Africa World Magazine

51
---
52

Africa World Magazine