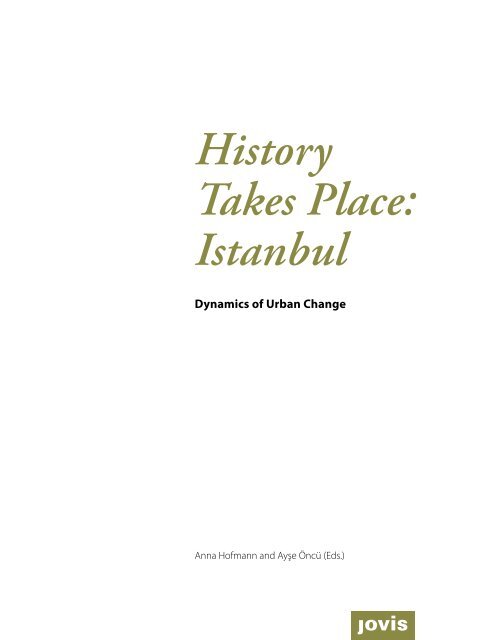 History Takes Place: Istanbul
ISBN 978-3-86859-368-6
ISBN 978-3-86859-368-6
SHOW MORE
SHOW LESS
Create successful ePaper yourself
Turn your PDF publications into a flip-book with our unique Google optimized e-Paper software.
History

Takes Place:

Istanbul

Dynamics of Urban Change

Anna Hofmann and Ayşe Öncü (Eds.)
---
Foreword 7

Michael Göring

Acknowledgements 8

Ayşe Öncü and Anna Hofmann

Introduction 9

Snapshots from Distant Times and Spaces

Ayşe Öncü and Anna Hofmann

Istanbul —Visions of a Metropolis 18

Photo Series of Ali Taptik

Marcella Christiani

I

Contested Histories

and Memories 36

Byzantium, Constantinople, Istanbul? 38

Latin European Cartographic Statements in the Vicinity of 1453

Gerda Brunnlechner

Abide-i Hürriyet 54

Ideology and Form in the Funerary Art of the Ottoman Empire

Guy Rak

When UNESCO Touches Ground 64

Hopes and Limits to Local Heritage Discourses in Istanbul

Vivienne Marquart

Grave Encounters in Istanbul 77

Timur Hammond

II

Home

and Exile 90

From the Polish Times of Pera 92

Late Ottoman Istanbul through the Lens of Polish Emigration

Paulina Dominik
---
Narrating the Architecture of

Turkish Urban Society 104

The Case of the Apartment Building

in Modern Turkish Literature

Lisa Maria Teichmann

Reconstructing Home 114

Social and Spatial Practices of Migrants

as Agents of Urban Change

Aylin Yildirim Tschoepe

Negotiation of the Past and Identities

in a Changing Urban Landscape 134

A Multivocal History of Tophane

Karin Schuitema

III

Shifting Axes of

Exclusion and Resistance 150

Choreographing Space / Performing Public 152

Vulnerability and Authenticity in the Production

of the Sensible in Duran Adam

Danyel M. Ferrari

Streets, Squares, and Stages 163

Theatrical Reflections and Performative Reactions

on Life and Change in Istanbul (2010–2013)

Dorothea Volz

Infinite City 174

Of Tentacles, Transformations, and the

Reoccupation of Urban Spaces

Hendrik Bohle

Afterword 190

The Political Function of Cities 191

Ludger Schwarte

About the Contributors 200
---
Foreword

Istanbul, one of the world's most ancient and vibrant cities, was an impressive

destination in September 2013 for the summer school "History Takes

Place—Dynamics of Urban Change." Only a few weeks after the Gezi Park protests

began to contest the urban development plan for the Taksim Square area,

the program brought together scholars in historical, cultural, and social sciences,

as well as architecture and city planning. The aim of the summer school, which

was initiated by the ZEIT-Stiftung Ebelin und Gerd Bucerius and organized in

cooperation with the Gerda Henkel Foundation, was to facilitate an interdisciplinary

exchange on the past and present development of the city.

In this sixth edition of the "History Takes Place" series—following

St. Petersburg, Wroclaw, Lviv, Warsaw, and Paris—the Istanbul project invited

doctoral researchers to follow the trail of history on a journey through the topography

of Istanbul and to analyze the city's current urbanization processes.

This publication follows the debates of the summer school and concentrates

mainly on the role of the city as a stage for political and social issues, the negotiation

and interpretation of collective urban spaces, informal practices of urbanization,

and power struggles over questions of historical heritage in the city

landscape. It is based on individual research projects by the participants, dealing

with different time layers in Istanbul.

On behalf of the ZEIT-Stiftung, I would like to thank the editors—Professor

Ayşe öncü and Dr. Anna Hofmann—for their dedicated work in gathering and

mentoring a group of young authors exploring such a remarkable range of topics

and case studies, which are now collected in this volume.

Prof. Dr. Michael Göring

Chairman of the Board of Directors

ZEIT-Stiftung Ebelin und Gerd Bucerius, Hamburg

7
---
Introduction

Snapshots from

Distant Times

and Spaces

Ayşe Öncü and Anna Hofmann

Istanbul is a city that haunts the imagination, and continues to fascinate,

even after our entire repertoire of visual images is exhausted, and all familiar

representations at our disposal are used up. It dominates the mind through compelling

panoramic images that seem to make the whole city accessible to the gaze,

imparting a sense of "wholeness" across time and space. These images crack open,

when confronted with the sheer vibrancy of a metropolis of nearly fifteen million,

where physical imprints from the city's different historical epochs compete with

the exigencies of the present, imparting sense of disconnection rather than continuity.

Istanbul continues to fascinate, because it is neither securely graspable,

nor fully representable.

The most familiar metaphors, which precede and overlay dominant

representations of Istanbul, are those of kapı (door or gate) or a köprü (bridge)—

used to conjure the physical layout of the city across the continents of Asia and

Europe, in a seemingly effortless manner. The catchphrase "Istanbul as a bridge (or

door) between continents, civilizations and cultures" constantly circulates across

the consumer markets and cultural spaces of the city, filling in the gaps and missing

links between the remembered past and the lived present of the city. It furnishes

a readymade script for the opening ceremonies and innumerable social and

cultural events in the city, ranging from music and film festivals, to art biennials,

international summits, and academic conferences. It is reiterated by all foreign

dignitaries who pay official visits to the city. And needless to add, it is the central

theme in promoting the historic/cultural attractions of Istanbul in tourist markets.

The standard formula for city marketing for instance, is to begin with satellite

images that remind viewers of Istanbul's location on the continents of Asia and

Europe, then zoom towards the bridges elegantly suspended across the straits of

9
---
Istanbul—Visions of a

Metropolis

Photo Series of Ali Taptik

Marcella Christiani

Does Istanbul really not provide anything surprising? What can we find if

we leave behind the weighty past and move away from the historical heritage of

the city?

We can find totally empty streets with a man sitting exhausted and immobile

beside the road. Emptiness in a metropolis, is this really not surprising enough?

We discover collapsed, boarded, and old houses that may soon get a modern

facelift in the form of urban redevelopment—or might remain ruins as a tourist

attraction. A ship is arriving, obviously without goods, only with a wreck of

another ship as if it brings the goods of the past.

We see panoramic images that show the modern panorama of Istanbul. But

how can we trust in this modernity if the pictures were taken of an abandoned

construction? Skyscrapers seem to protrude almost endlessly into the sky. These

black-and-white photos with their historical character illustrate a modernity that

represents neither the present nor the future of the city: a city fallen out of time.

Street protests in mind, we miss the faces people demonstrating; yet they

seem to be present with their voices and the power of their movement. A flock of

sheep with their urban shepherd is unexpected for some, "Nothing Surprising"

for others.

The images presented here are a selection from the following series by

Ali Taptik:

"Nothing Surprising" (2009–2013)

"Kaza ve Kader" (Accident and Fate) (2004–2008)

"Familiar Strangers" (2007–2009)

"Citadel" (2010)

Istanbul—Visions of a Metropolis 18
---
19
---
Istanbul—Visions of a Metropolis 32
---
33
---
Byzantium,

Constantinople,

Istanbul?

Latin European

Cartographic

Statements

in the Vicinity of 1453 1

Gerda Brunnlechner

Maps are probably an even more authoritative medium than texts. We tend

to take what is cartographically imparted on us as truth. In July 2014, Istanbul's

tourist office praised the town's major attractions using a very modern looking

tourist map on its website. 2 On this map, the stylized geographical structure of

the town serves as a base for attractions such as nargile, raki, music, nightlife, and

the historic and new districts of the town. Unmentioned is anything needed by

or interesting for Istanbul's inhabitants—for example, municipality services or

gecekondus. The map dwells on Istanbul's bridges, public boats, and its historic

tram, but doesn't touch on the rather meager—for a city that is said to have

nearly fifteen million inhabitants—metro lines or the notorious traffic jams on

its streets. At large, rather understandable for a tourist map, it doesn't show the

inhabitants' view of their city, but draws the picture of a tourist town with high

potential for fun.

Byzantium, Constantinople, Istanbul? 38
---
An older tourist map—probably dating from the nineteen-forties—gives a

rather different, much more austere impression of the city. 3 However, it does

show the metro lines, which at the time were the very proof of a city's modernity.

But the main focus of this map lies on historic sights that the mapmaker

categorizes in Byzantine and Turkish monuments. This categorization uses the

conquest of Constantinople by the Ottoman Sultan Mehmed II (1432–1481)

in 1453 as watershed, but keeps quiet about the Ottoman Empire itself. The

map key declares all churches to be Byzantine and all mosques to be Turkish,

neglecting the possibility of newly built or still used churches, post-Byzantine

architectural adjustments, or houses of worship of other faiths. Produced during

the height of Kemalism in the Turkish Republic, this map betrays the politically

predetermined need at the time to get rid of the Ottoman Empire—perceived as

old-fashioned and outlived—and to homogenize its inhabitants as Muslim Turks,

in order to unite the new Turkish Republic.

Analyzing these two maps, it is obvious that they are not exact renderings

of the "real" city but, like all maps, are biased cultural constructs. With maps in

general, even more so with maps to-scale, the unsuspecting observer or reader

tends to yield to their implicit authoritative claim to show "the truth," to be objective

and faithful representations of "reality." 4 We are prone to forget that our

modern maps to scale are based on mere conventions—for example, northward

orientation and Mercator projection, the latter distorting extraordinarily the

proportions of the pole regions on world maps. They are often tinted and give,

emphasize, or conceal meaning, a process that is usually difficult to notice. By

means of this authoritative claim, maps—both medieval and modern—are used

as a medium to demand and maintain dominance. 5 In this sense, maps visualize

a multilayered space, which at the same time structures and is created by social

interaction. 6 The contemporary tourist map discussed above claims prevalence by

the tourist's Istanbul over the resident's one; the older map affirms the unity of

the Turkish Republic, erasing the Ottoman Empire in the process. Still, it firmly

ingrains the Turkish Republic in the history of the Byzantine Empire, contrary

to the younger map, which mentions the Ottoman past, yet avoids the term

"Byzantine," using instead the term "Greek." This change might well have to do

with the relatively recent valorization of the Ottoman past by certain political

forces, paired with distrust of the Byzantine past, which some perceive as an "outpost

of the West." 7 In today's context, one can understand this process as different

narratives competing for hegemony on Istanbul's cultural markets. 8 At least in the

cited article, Ayşe Öncü exclusively considers narratives of the Ottoman past in

her study of this process. She and the mapmakers of the two maps discussed ap-

39
---
When UNESC0

Touches Ground

Hopes and Limits to

Local Heritage Discourses

in Istanbul

Vivienne Marquart

Introduction

In 2010, Istanbul was celebrated as European Capital of Cultural, an event

accompanied by discourses about the city's cultural importance and its cultural

policies. 1 In preparation for the event, the Ministry of Culture and Tourism spent

large funds on regeneration projects, especially on the Historic Peninsula. 2 In the

same year of the celebrations, however, the UNESCO World Heritage Committee

(WHC) once again considered the inscription of the city's World Heritage

property on the List of World Heritage in Danger. 3

Since 2003, the WHC threatened the State Party with an inscription on the

List of World Heritage in Danger. In its annual sessions, the committee discussed

urban transformation and huge infrastructural projects as negatively affecting

the World Heritage areas on Istanbul's Historic Peninsula. 4 In addition, obscure

decision-making and the exclusion of the public were weak points in the heritage

management in Istanbul and other Turkish World Heritage sites. 5 Even if the

WHC acknowledged efforts in heritage preservation and improvements in legal

provisions with regard to European Capital of Cultural initiatives, these were not

enough to refrain from a possible inscription on the List of World Heritage in

Danger by 2010.

When UNESC0 Touches Ground 64
---
In particular, the construction of the Haliç Metro Bridge—a connection of

the metro line over the Golden Horn—caused local and global criticism. With

reference to this example, I want to illustrate the effects of WHC decisions on

local heritage politics and preservation efforts in Istanbul. I examine the interactions

that take place between the WHC and local actors and the ways in which

the label of UNESCO is used in local discourses to claim the protection of certain

kinds of heritage.

World Heritage in Istanbul

The Historic Areas of Istanbul were inscribed in 1985 as one of the first sites in

Turkey, only two years after the ratification of UNESCO's "Convention Concerning

the Protection of the World Cultural and Natural Heritage" by the national

government. 6 The site was included on the World Heritage List for its unique

architectural masterpieces and the incomparable skyline dating back to Byzantine

and Ottoman times. The selected areas contain both unique monuments, but also

residential architecture from different historical periods. 7 Listed as one site, the

property consists of four different protection zones on the Historic Peninsula: the

Theodosian land walls, Zeyrek Mosque and associated conservation area, Süleymaniye

Mosque and associated conservation area, and the Archaeological Park. 8

The area around the Theodosian land walls, built under Theodosius II (AD

408–450) and with its double walls one of the most elaborate defensive systems

in history, includes important remains from the Byzantine era. Along the land

walls, one can find historic neighborhoods with vernacular buildings and old

gardens dating back to the fifth century.

The areas of Zeyrek and Süleymaniye are well known for their mosque complexes

(külliye). The remains of the Aqueduct of Valens, a water-supply system

built during the Eastern Roman Empire, connect both areas and are another

important landmark. In addition, the Zeyrek and Süleymaniye neighborhoods

are composed of vernacular settlements. Altogether, 525 wooden houses are listed

and protected in both areas.

The Archaeological Park at the tip of the Historic Peninsula is the most popular

tourist attraction in Istanbul. The Hippodrome, today called Sultan Ahmet

Square, contains only few fragments of its original structure from the fourth century.

Hagia Sophia and the Sultan Ahmed Mosque (also known as Blue Mosque)

are located next to it. Topkapı Palace, today an impressive museum, exhibits important

Ottoman treasury and holy relics. In this area, one can also find examples

of vernacular, wooden architecture.

65
---
From the

Polish Times

of Pera

Late Ottoman

Istanbul through

the Lens of

Polish Emigration

Paulina Dominik

Introduction

In the aftermath of the final partition of the Polish-Lithuanian Commonwealth

(1795) by Russia, Prussia, and Austria, the Ottoman Empire became one

of the chief destinations for Polish political émigrés. 1 Poles fled to Istanbul in the

hope of securing Ottoman support in their efforts to regain national independence.

The importance that the Ottoman Empire held for the Polish national

activities of the nineteenth century was stressed by such emblematic events as the

foundation of the Agency of the Polish Eastern Mission (Agencja Główna Misji

Wschodniej) in Istanbul in 1841, the establishment in 1842 of the Polish village

called Adampol/Polonezköy, (today part of the Beykoz district in Istanbul), as

well as the organization of the Sultanic Cossacks' Division, commanded by Polish

officers during the Crimean War (1853–56). The Polish presence in the Ottoman

Empire, however, was not limited to activities aimed at the restoration of an

independent Poland; rather, Polish émigrés also played an active role in various

enterprises connected to the reforms of the Ottoman state.

From the Polish Times of Pera

92
---
The Polish presence in nineteenth-century Istanbul is even reflected in the

names of some Beyoğlu streets. Until the mid-twentieth century today's Nur-i

Ziya Street—one of the side streets of Istiklâl Caddesi—was called Leh Sokağı

(Polish Street). One of the streets in Tarlabaşı, where Poland's chief Romantic

poet Adam Mickiewicz (1798–1855) spent the last days of his life, used to be

called until recently, Adam Mickiewicz's Street. 2 In his article on the Polish times

of Pera, the German Orientalist Friedrich Schrader (1864–1922) mentions the

presence of as many as 7,000 Poles in Istanbul in the eighteen-fifties. 3 When

the chief organizer of the Polish political activities on the Bosphorus, Michał

Czaykowski aka Mehmed Sadık Pasha (1804–1886), tried to demonstrate in

his memoirs how numerous Poles were in Istanbul during the Crimean War, he

referred to Mickiewicz's famous "Lady Twardowska" ballad: "Streets and cafés

are filled with Poles. They eat, drink and play cards, just like in the ballad on

Twardowska. They almost destroy Pera." 4

Although Polish-Ottoman relations following the partitions of Poland were

characterized by remarkable cooperation, not much space has been devoted to

this subject in modern historiography. Existing works present a wholly incomplete

image of the Polish presence in the Ottoman Empire. Historians of the

Late Ottoman Empire in Turkey tend to overlook the presence of the Polish

émigrés in their discussions on the multicultural and multiethnic nature of the

Ottoman Empire. An event that had some resonance was the influx of a large

number of Polish and Hungarian refugees following the failure of the Hungarian

Revolution of 1848, and a diplomatic crisis referred to as "the Refugee Issue"

(Mülteciler Meselesi) between the Ottoman state on the one side, and Russia

and Austria on the other. However, the main scholarly focus has been on the

diplomacy behind the event. The fates of these refugees after they settled in the

Ottoman Empire remain highly understudied. Within the Polish historiography

of this period, the main focus has been on the political aspect of the Polish

émigrés' activities in the Ottoman Empire—their efforts to gain Ottoman support

in their struggle against Russia, preparations for the national uprisings, and

attempts to organize Polish legions in the Ottoman army. However, by putting

stress on the émigrés' activities aimed at Polish national independence, existing

literature to a large extent failed to recognize that Poles were also part of Istanbul's

cosmopolitan society.

This paper is an attempt to situate the Polish community within the multiethnic

and multiconfessional society of mid-nineteenth-century Istanbul. While

Adampol/Polonezköy—the Polish village on the Bosphorus that has preserved

its distinctly Polish character—has received considerable scholarly attention, the

93
---
Reconstructing Home

Social and Spatial

Practices of Migrants

as Agents of Urban Change

Aylin Yildirim Tschoepe

It is through the notion of home on the journey of Turkish labor migrants

from the Eastern Black Sea coast that I deal with different phenomena, such as

migrants' agency, self-built housing, and everyday spatial practices. The story of

labor migrants is intertwined with the story of Istanbul's rapid urbanization since

the nineteen-fifties. A large part of this story deals with migrants as agents of bottom-up

urban change, and informal settlements as places of alternative modernities

and urbanities. These alternative urbanities have emerged within Istanbul

as a duplication of migrants' home places: self-built housing, urban agriculture,

and social support networks among communities. Through forced eviction of

residents and top-down urban transformation of neighborhoods, not only are

built environment and socio-spatial networks as part of the homescape being

erased, but also local histories and memories—what I call "spatial overwriting."

The loss of spatial identity perceived by my informants has led them to return to

their place of origin and reconstruct home "at home." While the hometown had

to accommodate the returning migrants as agents of change, the returnees needed

to craft their new homes with a combination of building experience and social

skills, integrating themselves into the home community. The home as a container

for identity remains in flux.

Reconstructing Home 114
---
A few months into my fieldwork in Turkey, Ali and I sat in his clothing shop

drinking tea, as we anticipated the next customer. While we waited, he told me

this story:

To make an ev (house/home), means to make dostluk (friendship). If you have

a home, you can offer it to guests and say "my home is yours"…

Let me tell you a story about what home is. One day a father says to his

son: "Go and travel, and make an ev at each place you go to." When the son

returns he says: "Father, I have built an ev wherever I went." And the father

answers: "Home is not a building; it is to get along with other people." 1

For Ali, home was not simply a built, but a social space, created through

mutual understanding and friendship between people. Part of the story of home

is also mobility, traces of home in different places along the migratory trajectory,

and return. Now that Ali had returned to the place he considered his home, he

was in the position to reflect on earlier houses, and the houses he built upon return.

His houses in Istanbul never felt like home to him, while the houses he built

in the province became home through the situational and individual notions of

what each of us define as home.

Over the course of my ethnographic fieldwork and spatial-architectural

analysis in Turkey, home—often in complex and even paradoxical ways—repeatedly

emerged as a preoccupation, spatial practice, and potent image among my

informants. While migrants who have returned to their places of origin conveyed

their notion of home as a social and emotional concept, the migrants in Istanbul

typically expressed a rather pragmatic idea of it: "İnsanın vatanı doğduğu yer değil,

doyduğu yerdir. A person's home (in the sense of patria) is not the place where one was

born; it is the place where one is nourished." Most of those who did not return,

however, expressed a nostalgic longing for their place of origin.

I am interested in the mental and physical reconstruction of home of migrants

in Turkey who return from Istanbul to the Eastern Black Sea provinces.

My findings are based on an experimental ethnography and multi-sited spatial

analysis, which I carried out among internal labor migrants—users and creators

of their home spaces—in Istanbul and on the Eastern Black Sea coast during

fieldwork in the years 2011–2013. I aim to show how vernacular building practices

(architectural styles, layouts, patterns, landscape) are taken along with migrants,

how they impact urban spaces along the migratory journey, and how these

practices resist or become hybridized with the act of reconstruction. Through

analysis of transformations of home over time and space, I hope to explain dif-

115
---
3

4

altogether in the process of turning informal settlements into post-gecekondu

or by redevelopment of these areas. As opposed to gecekondus, which are maintained

in almost original shape and resident structure and are based on actual spatial

needs and notions of home idiosyncratic to the builders—redeveloped and

transformed areas, such as mass housing compounds with generic layouts, often

lack the possibility to facilitate identification with the space in order to establish

home. The migrants introduce their culture to Istanbul and create an alternative

urbanity. An attempt to redevelop these areas and evict migrants is also an attempt

to erase their culture, memory, and local history in an act of what I refer to

as spatial overwriting. These transformed areas bear no symbolic value of home,

such as spatial layouts that traveled to the metropolis, family stories encoded in

3 Gecekondu houses.

Layouts in Karanfilköy,

an informal settlement

in Istanbul, here: the

multifunctional room

(red square)

4 Gecekondu houses.

Layouts in Karanfilköy,

here: split belly layout

(red brackets)

Reconstructing Home 122
---
the structure and process of home-building; they carry no trace of Black Sea landscape,

such as the hazelnut, a symbol of belonging to the province that is taken to

Istanbul. With spatial overwriting, the symbolic meaning of home is lost.

Reconstructing Home upon Return: Remaking

Upon returning from Istanbul to the province, most of my informants have

been able to make themselves at home in the midst of their community of origin.

This part of the article explains how they have remade home and what potential

obstacles there are to this endeavor. The main issues returnees faced were to recognize

a transformed place of origin as their geographical home and the struggle

to regain a position in the social hierarchy of this place. This struggle for an

adequate social position often depended on the status of relatives or family members,

who have remained in the province, or the wealth with which one returns,

and less frequently on the migrant's education. 13

As an example of remade homes, I will present Hakan's and Ali's houses and

take a closer look at the different layouts they designed and built. Some of these

houses do not exist anymore; I have made sketches based on my informants'

memories.

In the village, Hakan lived with his parents in a house based on a traditional

multifunctional living room layout. ( 5) Since extended family members had

stayed with them only temporarily during the summer months for the hazelnut

harvest, this spatial formation was sufficient for the family.

In Istanbul, Hakan's father built a house based on the traditional split-belly

plan, which was more suitable to also house other family members, who wanted

to stay rather permanently. ( 6) The rooms in the gecekondu house had no

hierarchy in terms of floor area, but in terms of occupancy: while Hakan's parents,

Hakan, and his sister stayed together in one of the rooms, the two uncles

and a cousin shared the other two rooms among them. The last room served as a

5 Hakan's family

house in the village

5

123
---
itants, can deal with everything among themselves, without the involvement of

(city) authorities or the police. This kind of attitude is known by most living

there as "the tough guy attitude" of the delikanli (those with crazy blood) and the

kabadayı (roughnecks, city bandits). In academic literature on the subject, the

Ottoman kabadayı is characterized as a male bandit who operated in Ottoman

Istanbul's criminal underworld, while at the same time being someone perceived

at his time by others as courageous and honorable and who often fulfilled a social

function by policing and providing advice in times of conflict within his neighborhood.

56

In contemporary Turkish society, this historical figure is often romanticized,

as is seen in Tophane as well. 57 The two terms resemble each other in the fact

that they both imply (masculine) physical toughness aiming to protect the social

structures and the neighborhood culture by means of violence (emphasis

on physical toughness). 58 Emphasizing the marginality of Tophane, is possibly a

way to set the area apart from other (high-status or gentrified) urban quarters in

Istanbul and even provides the neighborhood with a mythical status. This feeling

of autonomy might have been inherited from the Ottoman mahalle structure,

as well as the "tough men's" culture inherited from Tophane's past of docks and

sailors. Through a tough attitude, male inhabitants aim to keep Tophane's history,

their own "migrant histories" and "social values." These themes are central

features in the construction of a local identity and the integration of the migrant

inhabitants, keeping both their own old values and remembering (invented) pasts

elsewhere in Turkey, and at the same time creating new neighborhood values.

Conclusion

It can be concluded that Tophane is not solely a geographical area, fluctuating

in dimensions and the composition of inhabitants over time, a social and ethnic

community, constructed through connections with other places and times. 59

Cohesion is mainly sustained through a mahalle feeling, chain migration, shared

lifestyles, political ideas, and religion.

Groups sharing the same urban space often use different memorizations of a

place's past as a way to establish identity formation and social interactions. Therefore,

the research discussed in this paper elaborated on how time and the past

are dealt with by different actors through remembering and forgetting the past

and (re)creating a new past. Previous studies about Tophane have mainly focused

on the gentrification of the area and the tensions between social groups without

taking into consideration Tophane's past and the ways in which this is viewed

Negotiation of the Past and Identities in a Changing Urban Landscape

144
---
6 Lüleci Hendek

street in Tophane,

showing the

mahalle-like

character of the

neighborhood

6

7 Text on a wall

writing "Tophane

o kadar" (Tophane

until here),

indicating Tophane's

mental borders

according to certain

groups

7

and used by various groups. In these studies Tophane represents "the Other" and

its inhabitants are often represented as one homogeneous people. The presented

study aimed to show that the quarter is more heterogeneous than often perceived

and to emphasize the importance of (imagined) pasts in identity formation and

claims on space.

The interviews demonstrated that Tophane's Ottoman past is generally remembered

by more recent migrants from Anatolia in terms of Islamic monuments

and by older inhabitants as well as gentrifiers as a (reinvented) cosmopolitan

past. This "multicultural" past is used by gentrifiers to show that the present-day

inhabitants from migrant origin cannot put themselves forward as the

"legitimate owners" of the neighborhood. Furthermore, the latter views might

be partly influenced by a phenomenon called "Ottoman Legacy" as suggested by

Öncü and Mills, in which multiculturalism of the nineteenth-century Ottoman

past is used as an idea of tolerance in the creation of a Turkish national identity. 60

In this way, this cosmopolitan reinvented Ottoman past has become inextricably

145
---
III

150
---
Shifting Axes

of Exclusion

and Resistance
---
finishes with a picture of Taksim Square, but the place is hardly visible because of

a giant pyramid in the middle of it. Pınarcıklıoğlu explains:

As I said, 3P is a project that has cultural, economic and social aspects. We

are proposing to buy these cultural architecture sites or rent them for 99

years and exhibit them in Taksim Square one by one. Thus, we will increase

our tourism potential tremendously and also help our neighbors who are in

need. Our aim is to give our public the experience I had when I was in the

States. Imagine that you can visit the Pyramids on your lunch break, or on

the weekends you can visit them with your family. 42

With this final climax, the performance picks up the actual plans for the

transformation of the square, ridicules and criticizes them by this exaggeration.

The planned transformation of Taksim Square, which was responsible for the

first protest at Gezi Park, included the building of a giant shopping mall in the

old Ottoman style, following a new interest in the Ottoman times, transforming

public places into places of consumption, and preventing Taksim Square

from further use as place for assemblies. 43 Instead of a preservation of the past

inscribed into the city structure, the project reinvents a certain part of and look

at Turkey's history. The fictional and the real plans share the reduction of space

for assemblies and the development of a city as spectacle. The idea of putting

a pyramid in the middle of the square not only means a "Disneyfication" or

"Dubaisation" of the city by making a theme park out of it, but also the interruption

of the public use of this place. With a massive stone building on it, it

is not longer a square for gatherings, not even for everyday passage. As a theme

park, the plan to neglect the historical meaning and the detachment from a specific

temporality and spatiality are carried to excess. As Eğrikavuk declares, "[t]

here are lots of proposed projects currently affecting Taksim, such as closing it

to vehicular traffic and so on. And each of them is very absurd. It might be fair

to say my performance seems normal when compared to real-life projects." 44 The

dystopia of the "3P" project seems not so far away from the neo-Ottoman shopping

mall. While Mr. Dağacar uses a specific reality for its critical reasoning on

global issues, transforming specific places into general heterotopias, this second

performance transforms a specific place into a dystopia, a virtual theme park

that comes crucially close to real political issues and plans. "For Taksim Square,

the absurd is starting to become reality." 45

Streets, Squares, and Stages 168
---
On Taksim Square

When the Gezi protests started in 2013, it was Taksim Square that gained

attention, as this was where the police and the protestors clashed violently. This

square and Gezi Park became central for the question of freedom of opinion and

speech. While the state fought with tear gas and violence against the protestors,

Taksim Square was chosen as place for a silent protest by Erdem Gündüz. The

performer and dancer from Izmir decided to stand still on the square on June 17,

and his standing still became kind of an iconic image as Duran Adam. 46 Gündüz's

silent and nonviolent resistance was powerful, also because he had chosen Taksim

Square not only for its history as a place of assembly: "The symbolism of the

time and the place of Gündüz's performance are therefore crucial, as the square

is commonly known as [a] national, historical symbol for the Republic of Turkey

commemorating the war of liberation." 47 His choice also guaranteed the attention

of the (inter)national media who observed the square. 48 Gündüz's action or,

rather, non-action, was streamed live on the Internet, where people could see him

"doing nothing." 49 While the performance Change Will be Terrific! suggests an

absurd solution for the use of the square by destroying the space for the public,

Gündüz occupied the space with this motionless presence. The act of standing

still interrupted normal life and its dynamics, and it resisted the rules of movements

in public places and places of passages like Taksim. Duran Adam occupied

public space, 50 and Gündüz became a model, with his non-action being repeated

in other places. 51 His successors were well aware of the importance of place-ness

and linked the standing still directly to other instances when people were hurt

or even killed during protests. And they added another meaning to it, for example

by including empty shoes, standing still next to them, referring to those

who fit into them but are not longer there to protest, because the police arrested

them. 52 As Pieter Verstraete argues, the power of standing still lies in its "multiinterpretability,"

in the "minimal gesture of standing silently and motionlessly." 53

As the Gezi protests united so many different people who felt the need to stand

up, the Standing Man gave them a united voice by saying nothing. 54 But as the

multi-interpretability opened it up for recreations not only in Turkey, the different

reenactments allow another view on the specific temporality and localization

of Duran Adam. Since June 2014, for example, the standing still is repeated by

a group of people every Friday for fifteen minutes in front of the Zentrum für

Kunst und Medientechnologie (ZKM) Karlsruhe, a German museum for contemporary

arts. 55 In front of this building, the chosen place has no comparable

significant meaning. The immobility of the bodies might irritate, but it does

169
---
Infinite City

Of Tentacles,

Transformations,

and the

Reoccupation

of Urban Spaces

Hendrik Bohle

CAY

1

The study IN ISTanbul examines and catalogs the open spaces of the metropolis

on the Bosporus. Each day, street vendors, shoeshiners, and knife grinders—improvised

and mobile—swarm onto public streets and marketplaces,

spread out and retract. Urban niches are filled and thresholds occupied. Through

its specific focus on the use and occupation of Istanbul's city spaces, this study

seeks to initiate a reinterpretation and renegotiation of collective urban spaces.

In this process, circumstances of the imperfect, the informal, and the spontaneous

must be recognized, preserved, and developed as a positive quality of future

metropolises.

1 Like a selfestablished

minimarket

at a key

public transport

hub in Tarlabaşı

urban niches are

filled in Istanbul.

Infinite City 174
---
Urban Transformation

At the beginning of the twenty-first century, the metropolises of the world

are more networked than ever before. Economies and political systems are converging.

The urbanization of society is gathering momentum. The world's population

is over seven billion and growing daily. By 2050, 75 percent of the world's

population will presumably live and work in cities.

The rapid, unrestrained surges of change lead to multilayered crisis situations

in today's congested urban areas. While the megacities of developing and newly

industrialized countries are rapidly growing, many postindustrial cities struggle

with serious contraction. Interestingly, both tendencies are accompanied by an

increase in informal and temporary uses of space and performative practices.

While on the one hand this behavior arises out of citizens' response to economic

and ecological crises or from cultural patterns, it also appears to reflect a growing

desire for collective experiences.

In recent decades, a social-aesthetic erosion of urban spaces has become apparent

in many European cities. Communication, trade, and other social activities

were forced out of the urban sphere. They occurred almost exclusively behind

closed doors or in predefined spaces. The city was no longer perceived and used as

a free urban stage, but rather designed as a preprogrammed matrix—the result:

the dynamic communal life in the neighborhoods collapsed. The fragile equilibrium

between public and private became unbalanced. As early as 1977, the

sociologist Richard Sennett described in his highly respected book The Fall of

Public Man, the corrosion of public life and the attendant tyranny of intimacy as

a result of industrial capitalism. 1 In the process, Sennett brought into focus the

irrevocable transformation of modern societies, in which the community fades

as the sphere of mediation and renegotiation, isolation increases, and in consequence

depoliticization advances. The city becomes homogenized and privatized,

the scope for freedom eliminated. Shopping malls, for example, thrust their tentacles

into the urban fabric and led to new definition of a now privatized urban

life. A regulated, admittedly alluring space allocation plan with controlled access

seemed to take over important functions of the city. Coincidences were thus excluded

as effectively as possible.

Reclaiming the City!

In the past few years, the value of free, undefined city spaces, and of fleeting

and mobile urban building blocks is being rediscovered not only by planners and

architects. These phenomena are increasingly appearing in the current discourse

175
---
3

Infinite City 178
---
3 The

metropolitan

area of Istanbul

has been used for

generations as a

diversified urban

stage.

179
---
the primary task of this architecture is to allow the rational and concentrated

administration of many people, their coexistence, their work, and their leisure,

we must not overlook the fact that the fulfillment of these functions is not a sufficient

condition of what makes a city. Instead all the important characteristics of

urbanity enable the meeting of a multitude of people … (squares, boulevards, stadia,

cathedrals, theaters, shopping complexes…).

Cities are among the conditions for social events, insofar as they assemble people.

They also provide the infrastructure for contacting strangers and enable the

more or less unrestricted and direct expression and action. Cities are the places

where we experience how to share one world with other—and really very different—people.

Since the late Middle Ages, sharing a presence was practically a matter of

fixing a proper time.

Synchronization starts with the splendid clock towers cities began to adorn

themselves with in the thirteenth century to publicize time. Independent now of

natural cycles, such as the course of the sun, the hours began to have the same

length, symbolized by the exhibited cogs and dials. The clocks symbolized social

autonomy, integration into a technical world, the potential for humans to govern

themselves, to keep appointments and calendars independent of transcendental

powers. 3 Yet this social synchronization, of course, means that time becomes a

modern god and the worship of time a key to survival.

Philosophy of Architecture and the Production of Communities

Collecting and synchronizing people and things, the architecture of cities is

therefore not to be reduced to built structures defining a community. Rather, the

built environment is an ensemble, presupposing architectures as acts and operations

exposed to outside forces. Understood in this way, one may adopt Roger

Scruton's definition of architecture as "the art of the ensemble." 4 The performative

acts that make up architecture bring about ensembles, assemblies of people,

things, and their environments.

In Karsten Harries' philosophy of architecture, one finds the idea that architecture

differs from mere building in that "Works of architecture can be understood

as public figures on the ground of comparatively private buildings." 5

In contrast to vernacular buildings, architecture is, from this emphatic point

of view, to be seen as that which points out what is common between us, and

what our values and orientations are; architecture produces "the common" just

like a public figure on a private ground, as Harries sees it. It thus consists less in

The Political Function of Cities 194
---
concrete buildings than in real or imaginary structures, which re-present building

and dwelling. Re-presentation is for Harries the ethical function of architecture:

it has to draw the ideal of common/communal living to everybody's attention,

making it present and real. This does not imply that architecture should invent

and tyrannically impose this ideal (as Scruton tends to suggest), but that the latent

infrastructures of sociality are made manifest and amplified. The function of

architecture is to articulate the common. 6

From Harries' point of view, the church is the best exemplification of this.

It epitomizes the ideal community, the heavenly city of Jerusalem. Because the

church is nothing but the community (of believers), the body congregating to

celebrate the sacrament, the church building can at best only re-present this, and

invite people to such celebrations. Architectures are therefore not buildings, but

repetitions of an event and, at the same time, utopian anticipations; they are, as

Harries expresses it: "precarious conjectures about an ideal dwelling." 7

Architecture succeeds, from this point of view, if it provides a place where

people can come together and get involved as members of a community. Architecture

has to invite people to celebrations as formations of community, 8 it has

to offer opportunities for unification and scenes for the presentation of an ideal

community.

Ek-klesia

The Greek word for a popular assembly is "ek-klesia," literally call-up, convocation.

The related building was called the ekklesiasterion. The word church

derives from this term, ekklesia, the popular assembly. The more general term for

assembly in Greek was syllogos, based on legein (collecting).

So we should change the perspective. We ought not, like Harries, consider

the church as a paradigm for the assembly. We shouldn't give architecture the

task of representing ideals, such as the Heavenly Jerusalem (City of God), epitomized

in the Hagia Sophia, the predecessor building of which was called Megálē

Ekklēsíā, big assembly, built around 325. Rather, we should look at the actual

ways in which cities enable popular assembly. This means, methodologically, a

shift from reading architecture as a symbol system, to analyzing architecture as an

"apparatus," an enabling infrastructure.

Assemblies, then, are not preexisting places determining the functions that

people who meet in them must adopt, nor communities requiring initiation and

identification; instead they construct networks of interaction, of temporal coordination,

and environmental responses. They do not presuppose the existence of

195
---
About the Contributors

Bohle, Hendrik

Istanbul, London, United Arab Emirates: for graduate architect Hendrik

Bohle, these and other cities and countries have played an important role in his

recent work. His Travel and Architectural Guide Istanbul was published in 2014,

and he is currently working on the Architectural Guide United Arab Emirates (release

date: spring 2016). Both books have been written in collaboration with Jan

Dimog. With magma architecture, he designed and implemented the shooting

ranges for the Summer Olympics and Paralympics 2012 in London. Other essential

projects: Masrah Al Qasba (theater) in Sharjah UAE, the BMW Guggenheim

Lab in Berlin 2012 in collaboration with atelier bow-wow and magma

architecture. He studied at the Brandenburg University of Technology Cottbus

and the Technical University of Berlin, where he worked as teaching assistant for

Professor Luise King at the Institute of Urban and Regional Planning. In 2013,

he founded his own practice studio HBohle, focusing on mobile and permanent

design, following the studios' motto, "to delve, develop and design at the interface

between communication, architecture and urban design."

www.studiohbohle.com / hb@studiohbohle.com

Brunnlechner, Gerda

Gerda Brunnlechner is a PhD candidate in History at the FernUniversität

Hagen. In addition to longstanding employment as assistant of the executive

board of a multinational corporation, she studied History and Political Science at

the FernUniversität Hagen, finishing her Magister's degree in 2011. Since then,

she has worked as online research tutor at the department for Premodern History

of the FernUniversität Hagen. Her PhD project, which is entitled "The so-called

Genoese World Map of 1457," is funded by a scholarship from the Gerda Henkel

Foundation.

gerda-brunnlechner@t-online.de

About the Contributors 200
---
Christiani, Marcella

Marcella Christiani is Project Manager Research and Scholarship at the

ZEIT-Stiftung Ebelin und Gerd Bucerius in Hamburg. Before joining the ZEIT-

Stiftung in 2005, she worked as an assistant at Peter Lang International Academic

Publishing, and as a coordinator of the research training group "Dynamik von

Substandardvarietäten" at Heidelberg University. She holds a Magister's degree in

Romance Philology and History of Art from Heidelberg University.

christiani@zeit-stiftung.de

Dominik, Paulina

Paulina Dominik received her BA from the University of Oxford, where she

read Turkish and Persian. In 2013, she was awarded an MSt in Oriental Studies

from the same institution. Her Master's program was dedicated to Ottoman/

Turkish and Polish history and literature. She is currently based in Istanbul where

she is carrying out research on the Polish political émigrés in the nineteenthcentury

Ottoman Empire. Since 2013, Paulina Dominik has been a part of the

Orient-Institut Istanbul's international and interdisciplinary project "Istanbul

Memories." Within the scope of the project, she works on personal narratives

from Late Ottoman Istanbul written in Polish.

paulina.dominik@orinst.oxon.org

Ferrari, Danyel

Danyel Ferrari is an interdisciplinary artist, writer, and curator based in New

York. She focuses on performance strategies at the intersection of contemporary

art, visual culture, and protest, as they respond to historic and contemporary

architectures. She earned a dual Bachelor's in Fine Art and Visual Critical Studies

at the School of the Art Institute of Chicago, a MFA at City University of New

York–Hunter College, studied in the graduate department of Visual Culture at

New York University and is currently at the Central European University in the

department of Gender Studies. She has exhibited in Chicago, New York, Ireland,

the Czech Republic, and Turkey.

danyelferrari@gmail.com

Hammond, Timur

Timur Hammond is a PhD candidate in Geography at the University of California,

Los Angeles. His research is based in the Istanbul district of Eyüp, where he

explores the changing practices through which different groups develop a sense of

history, belief, and urban identity in relation to the built environment. Drawing

201
---
upon interdisciplinary approaches in geography, urban studies, anthropology, and

history, his work helps to explain how cities come to be understood and experienced

as places rich in social, cultural, political, and economic significance.

timurhammond@ucla.edu

Hofmann, Anna

Anna Hofmann is Program Director Research and Scholarship at the ZEIT-

Stiftung Ebelin und Gerd Bucerius in Hamburg. Her work concentrates on urban

studies as well as migration and transformation issues, promoting in particular

interdisciplinary and international exchange of early career researchers. Before

joining the ZEIT-Stiftung in 2008, she served for five years as Project Director

at the Foundation Genshagen–the Berlin-Brandenburg Institute for Franco-

German Cooperation in Europe. She holds a Master's degree in Economics from

Cracow University of Economics, and a PhD in Social Sciences from Humboldt

University Berlin.

hofmann@zeit-stiftung.de

Marquart, Vivienne

Vivienne Marquart is a PhD candidate at the Max Planck Institute for Social

Anthropology in Halle (Saale), where she is part of the research group "The

Global Political Economy of Cultural Heritage." In her dissertation project, she

examines the tension between heritage preservation and urban transformation in

Istanbul. For this project, she did extensive fieldwork in Istanbul from July 2012

until October 2013, and again in October 2014.

marquart@eth.mpg.de

Öncü, Ayşe

Ayşe Öncü is Emeritus Professor of Sociology at Sabancı University and an

Adjunct Professor at Boğaziçi University. Her current research interests focus on issues

of cultural politics in contemporary Turkey. She has published in various international

journals and co-edited several volumes on questions of space, culture, and

power in globalizing cities, with special emphasis on Istanbul. She has also been involved

in research networks in the Middle East, such as the Global Urban Research

Initiative (GURI), the Network Middle East Innovation Awards (MEAwards), and

the Management, Education Research Consortium (MERC). She is also engaged

in collaborative research with partners in the European Research Area. Her work is

situated in the intersection of sociology and cultural theory.

ayseoncu@sabanciuniv.edu

About the Contributors 202
---
Rak, Guy

Guy Rak is a PhD candidate at the Hebrew University of Jerusalem. He was

a member of the Honors Program for Outstanding Doctoral Candidates of the

Hebrew University from 2008 to 2011 and a member of "The Archaeologies

of Memory" research group at Scholion – Interdisciplinary Research Center in

the Humanities and Jewish Studies from 2010 to 2013. His thesis topic is "The

Visual Culture of the Ottoman Empire: The Architecture of the Second Constitutional

Period, 1908–1918." He received his LLB and MA (magna cum laude)

degrees from Tel Aviv University. His MA dissertation, entitled "Anıt Kabir: Between

tradition and reform in the funerary art of the Republic of Turkey," examined

the manifestations of Ottoman continuity in the Turkish funerary art.

guy.rak@mail.huji.ac.il

Schuitema, Karin

Karin Schuitema holds an MA in Archaeology of the Near East and Mediterranean

Archaeology from Leiden University in the Netherlands. During her

studies, she participated in archaeological projects in Greece, Syria, Egypt, Turkey,

and the Netherlands. After graduation in 2008, she worked as a freelancer

on several archaeological projects in European Archaeology, and then moved to

Istanbul in 2011 to work for the Netherlands Institute in Turkey (NIT) as a staff

member and researcher in heritage studies. During this time in Turkey, she started

an oral history project in the Istanbul neighborhood Tophane, which became

one of the mainstays of the NIT (http://www.nit-istanbul.org/projects/tophaneheritage-project).

Her interests combine ethnographic research, oral history, heritage

issues, and identity formation. In addition to interviews, her methodology

includes photojournalism, drawings, and ethnographic filming.

karinschuitema@gmail.com

Schwarte, Ludger

Ludger Schwarte is Professor of Philosophy at the Kunstakademie Düsseldorf,

after having been an Assistant Professor of Image Theory at the University

of Basel (2006–2009) and a Professor of Aesthetics at the Zurich University of

Arts (2009). He studied philosophy, literature, and political sciences in Münster,

Berlin, and Paris, and completed his PhD in Philosophy at Freie Universität

Berlin in 1997, followed by a habilitation in Philosophy in 2007. He was

a visiting scholar at the University of Paris 8, the German-American Center for

Visiting Scholars in Washington, the Maison des Sciences de l'Homme in Paris,

the University of Abidjan, Columbia University in New York, at the école des

203
---
Hautes études en Sciences Sociales in Paris, and at the Internationales Kolleg für

Kulturtechnikforschung und Medienphilosophie in Weimar. His areas of specialization

are aesthetics, political philosophy, philosophy of culture, ontology,

history of science. His books include Die Regeln der Intuition. Kunstphilosophie

nach Adorno, Heidegger und Wittgenstein (München: W. Fink, 2000); Philosophie

der Architektur (München: W. Fink, 2009; Vom Urteilen (Berlin: Merve, 2012);

Pikturale Evidenz. Zur Wahrheitsfähigkeit der Bilder (Paderborn: W. Fink, 2015).

ludger.schwarte@kunstakademie-duesseldorf.de

Taptık, Ali

Ali Taptık (1983) is an artist and PhD Candidate in Architectural Design

at Istanbul Technical University. Representations of urban landscape and architecture

and the relationship between the individual and the city are some of the

themes that he explores. In addition to working with institutions for documenting

ever-changing Istanbul, Taptık has published several books including Kaza

ve Kader (Filigranes Editions, 2009); Depicting Istanbul (Akin Nalca, 2010), and

There are no failed experiments (Atelier de Visu, 2012). Taptık is one of the founders

of Bandrolsüz collective, for the distribution of independent artists' books.

www.alitaptik.com

Teichmann, Lisa

Lisa Teichmann is a PhD student in German at the Department of Languages,

Literatures, and Cultures at McGill University. She holds an MA in Middle

Eastern Studies from Leiden University and a BA in Oriental Studies from the

University of Vienna. Her research focuses on digital humanities and literary

geography in Turkish and Austrian literature. Her publications include "Reflecting

on Istanbul in Turkish Literature—A Comparative Approach to the Issue of

Urban Change," in IMAGES(III)—Images of the City: The Conference Proceedings,

eds. Veronika Bernard and Hatice Övgü Tüzün, 167–74 (Zürich/Wien: LIT

Verlag, 2014); "Portraying Social Hierarchies in the Narrative Architecture of

Haldun Taner's Ayışığında Çalışkur (Çalışkur in the Moonlight)," proceedings of

the V. Student Congress of International Turkish Language and Literature 2014/

TUDOK 2014 (Istanbul: İstanbul Kültür Üniversitesi Yayınları No. 213, 2014),

pp. 513–27; and co-written with Hugo Barreca and Annie Koh, "The City as

a Battleground of Memories," as part of the Vienna Summer School in Urban

Studies: Right to the City—Appropriations of Public Spaces in Transition, University

of Vienna, in dérive Journal Brochure, February 2014. She is also active in

translating Turkish literature to German, such as "Illusion der gähnenden Leere"

About the Contributors 204
---
y Aysegül Yayla, in The Crisis Inside. The International Short Story Project, ed.

Julian Tangermann, (AKV Edition Hamouda: Leipzig, 2015), 349–367.

l.m.teichmann@umail.leidenuniv.nl

Volz, Dorothea

Dorothea Volz is a lecturer at the Institute for Film and Theatre Studies

and Cultural Anthropology at the Johannes Gutenberg University Mainz and an

associate member of the International Postgraduate Programme "Performance

and Media Studies." After studying in Mainz and Paris, she received her MA in

Theatre, History, and German Literature from Mainz University in 2007 (MA

Thesis: "The Museum as a Stage for Collective Identity"). She held a doctoral

fellowship from the Stipendienstiftung Rheinland-Pfalz from 2011 until 2013,

and was a member of the Gutenberg Academy, which promotes the Johannes

Gutenberg University's best young academics and artists. Her dissertation project

focused on cultural practices around 1900 and the way cultural practices (like

consumerism and tourism) are linked to changes in technology (transport and

media) and reflected in the perception of Venice.

volz@uni-mainz.de

Yildirim Tschoepe, Aylin

Aylin Yildirim Tschoepe is an architect, instructor, and researcher. She is

originally from Germany, where she has worked as an architect on public and

private projects. Interested in the social agency of architecture, identity construction,

and cultural and spatial practices of migrants, she continued her academic

career as a Fulbright Fellow at the Harvard Graduate School of Design and received

a degree as Doctor of Design in 2012. She has taught studios and seminars

at introductory and advanced levels and held a visiting assistant professorship in

the Architecture Department of the Wentworth Institute of Technology, Boston,

MA (2013–2014). To expand and deepen her expertise in interdisciplinary research

and teaching, she continues her studies in the PhD program in Anthropology

and Middle Eastern Studies at Harvard University (2011–2017). She has received

a TUBITAK/ EU Fellowship for her current research on German-Turkish

migration and implications on the transnational homescape. She is currently a

Research Fellow at the Bosporus University in Istanbul (2015–2016) engaged in

the study of dirtscapes and the city as spatial palimpsest.

aylin.yt@gmail.com

205