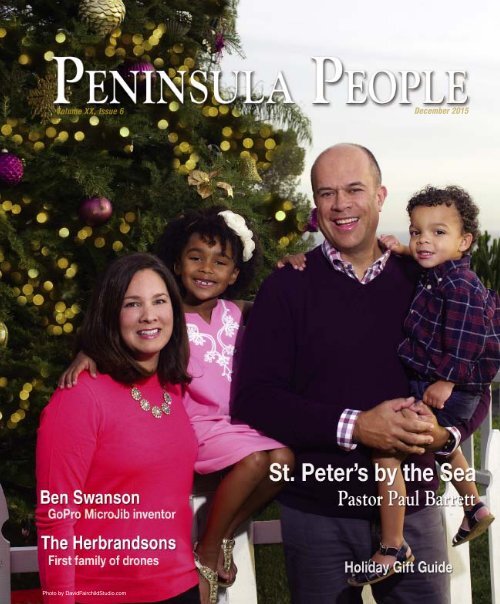 Peninsula People Magazine Dec 2015
Create successful ePaper yourself
Turn your PDF publications into a flip-book with our unique Google optimized e-Paper software.
Photo by DavidFairchildStudio.com
---
Volume XX, Issue 6

December 2015

PENINSULA PEOPLE

P A L O S V E R D E S P E N I N S U L A M O N T H L Y

ON THE COVER

Photo by David Farichild

(DavidFairchildStudio.com)

Paul and Devon Barrett and

family – St Peter's by the Sea

new ministers

PROFILES

36

40

46

Rev. Paul and Devon Barrett

by Robb Fulcher

Serving St. Peter's by the Sea Presbyterian Church

Ben Swanson

by Jennifer Passaro

23 year old inventor of the MicroJib, a portable camera

jib for the adventurous everyday cinematographer.

Herbrandson family

by Esther Kang

Manufacturer of drones for the military.

HIGHLIGHTS

8 PV Woman's Club Books and Authors

12 Cancer Support Girls Night Out

16 Las Madrecitas

20 Palos Verdes Pastoral

24 Asia America Symphony

28 PV Ballet Nutcracker Fundraiser

32 PVAC Signatures Fashion Show

34 Ticktocker Class of 2016

38 PEF Autumn Harvest

56 Volunteer Center Hicks dedication

60 Special Children's League

62 Celebrate Wellness

DEPARTMENTS

48 Calendar

54 Gift Guide

57 In Remembrance

58 Around & About

65 Service Directory

CONTRIBUTORS

David Fairchild's photography is frequently seen in Peninsula People

and Beach magazines.

Robb Fulcher is a former Easy Reader news editor

Esther Kang is a freelance writer based in Long Beach

Jennifer Passaro is a freelance writer for Easy Reader publications

STAFF

EDITOR

Kevin Cody

PUBLISHER

Mary Jane Schoenheider

ASSOCIATE PUBLISHER

Richard Budman

DISPLAY SALES

Adrienne Slaughter,

Tamar Gillotti, Amy Berg,

Shelley Crawford

CLASSIFIEDS

Teri Marin

ADVERTISING

DIRECTOR

Richard Budman

ADVERTISING

COORDINATOR

Teri Marin

GRAPHIC DESIGNER

Tim Teebken

FRONT DESK

Judy Rae

DIRECTOR OF

DIGITAL MEDIA

Jared Thompson

CONTACT

MAILING ADDRESS

P.O. Box 745

Hermosa Beach, CA

90254

PHONE

(310) 372-4611

FAX

(424) 212-6780

WEBSITE

www.easyreadernews.com

EDITORIAL

PenPeople@

easyreadernews.com

ADVERTISING

(310) 372-4611

displayads@

easyreadernews.com

Please see the Classified

Ad Section for info.

FICTITIOUS NAME

STATEMENTS (DBA'S)

can be filed at the

office during regular

business hours.

(310) 372-4611

Peninsula People is a supplemental

publication of Easy

Reader, 2200 Pacific Cst. Hwy.

#101., PO Box 745, Hermosa Beach,

CA. 90254-0427.

SUBSCRIPTIONS

Yearly domestic mail subscriptions

to Peninsula People are $30,

foreign $60 payable in advance.

The entire contents of Peninsula

People are copyrighted 2015 by

Peninsula People, Inc.

4 Peninsula People • December 2015
---
S P O T L I G H T O N T H E H I L L

Palos Verdes

Woman's Club

Books and Authors Luncheon

The fifty-eighth annual Books and

Authors Luncheon was held on

November 11 at Trump National Golf

Club. Six authors presented new publications

of their books during lunch. Guests

were able to meet the authors and purchase

their books and have them autographed.

Proceeds from the event support

local charities.

1

2

PHOTOS BY

MARY JANE SCHOENHEIDER

1. Judith Peters, guest, Judy Willis and Regina

Taylor.

2. Terry Bowen, Beverly Teresinski and Susan

Raymond.

3. Sue Tyre and author Larry Andrews, A

Space Oddity.

4. Mary Sobal.

5. Lindy Miller, Delia Gaseo and Jan Thomas.

6. Jan Philbin and Jan Warner.

7. Eve Boggess and Shirley Denenny Giltzow,

Souls of the Australian Woman.

8. Author Lynn Schubert, The Silence and

Beyond with Mary Beth Muir.

9. Author Debbie Matenopoulos, It's All Greek

to Me (cookbook).

10. Bernadette Shih and Jim and Sue Prock,

Gnorman the Gnorwegian Gnome (children's

book).

11. Audrey Dahlgren and Inez Foy.

12. Christopher Lynch, One Eyed Jack, with

Annett King.

3 4 5

6 7

8

13. Nancy Guenther and Nadra Dahdah. 9 10

11

12 13

8 Peninsula People • December 2015
---
2015'S SUCCESSFUL TRANSACTIONS

ACTIVE

ACTIVE

ACTIVE

ACTIVE

ACTIVE

3300 Palos Verdes Dr. W

$10,800,000

www.3300palosverdesdrwest.com

Wonderful 6 Bedroom

Home in Monte Malaga

$3,248,000

www.1504viamarguritaPVE.com

8 Ringbit Rd. E

$2,999,000

www.8ringbitRoad.com

717 Via Bandini

$2,299,000

www.717Viabandini.com

"Pocket Listing"

$3,299,000

Call for details
---
PALOS VERDES' FINEST HOMES & ESTATES FOR OVER 30 YEARS!

THANK YOU FOR

YOUR TRUST

AND SUPPORT.

WISHING YOU A

PEACEFUL AND

JOYFUL HOLIDAY

SEASON!
---
S P O T L I G H T O N T H E H I L L

Girls Night Out

Raises more than

$150,000 for Cancer

Support

Cancer Support Community-

Redondo Beach (CSC-RB)

held the 13th annual Girls Night

Out "fun-raiser" at The Comedy

& Magic Club on October 6-8 to

increase awareness of women's

cancers and celebrate survivorship

with an evening of laughter

and fun. The three night event –

just for ladies – was a rousing

success resulting in net proceeds

of more than $150,000

which will be directed to free

support programs for cancer

patients and their loved ones.

Six hundred ladies attended the

sold-out event over the three

nights. The event featured a festive

"Rock Your Pink" theme,

and attendees donned their fanciest

pink attire to commemorate

the women in their lives

who have been touched by cancer.

Included in the program,

were inspirational speakers who

shared their stories of cancer

survivorship each evening.

Guest speaker Deb Patrick lost

her husband to esophageal cancer

while simultaneously dealing

with the breast cancer diagnosis

of both her stepmother

and sister. Shortly after, she

faced her own battle with breast

cancer. Other speakers included

breast cancer survivor Lynde

Hartman and cervical cancer

survivor Sara Krish who was

diagnosed at age 29. The event

also included updates on hospital

breast cancer programs from

Dr. Patricia Sacks, CSC-RB

board member and Director of

the Breast Diagnostic Center at

Torrance Memorial Medical

Center and Mary Ann Green,

Director of Specialty Services at

Providence Little Company of

Mary Medical Center in

Torrance. The evening boasted

an impressive lineup of comedians

and kicked off with a silent

auction followed by dinner and

an exciting live auction.For

more information about Cancer

Support Community's freeeducational

and support programs

for cancer patients and their

loved ones call 310- 376-3550 or

visit www.cancersupportredondobeach.org.

1. Virginia Bleier,

Mary Graff and

Paula Moore,

CSCRB Director of

Development.

2. Nancy Franklin,

Chief Marketing

and

Communications

Officer, Southern

CA Region-

Providence Little

Company of Mary,

Suzi Gulcher, Mary

Ann Green,

Director of

Specialty Services-

Providence Little

Company of Mary

Medical Center-

Torrance.

3. Paula Moore

(CSCRB Director

of Development),

Charlotte

Ginsburg, event

sponsor and Vicki

Mack.

4. Christine

Winkler PhD,

CSCRB Group

Facilitator, L.J.

Stogsdill, CSCRB

board member and

Adrian Short.

5. Nancy Forman,

Judith Opdahl,

CSCRB Executive

Director/CEO,

Theresa Plakos,

CSCRB

PR/Outreach

Manager and Pearl

Kaperl,

6. Ruth

Schriebma,CSCRB

Group Facilitator,

Gerry Belleville,

Alice Graham, in

front, Carolyn

Kammerer and

Virginia Renfro.

7. Jeralyn Glass,

Jamie Born, Jacky

Glass, event sponsor,

Maureen

Takahashi and

Joanna James.

8. Jasna

Penich,Executive

Vice President,

CFO Malaga Bank

presents Judith

Opdahl CSCRB

Executive

Director/CEO with

a check from a

Malaga Bank

fundraiser.

9. Meagan

Westergaard, Carol

McFarland, Janet

Westergaard and

Sophie Rietdyk.

1

2 3

4 5

6

7 8

9

12 Peninsula People • December 2015
---
424.488.0602

• Home & business moves

• Local & long distance moves

• Trained, professional &

uniformed movers

The Official Movers of the

LA Kings

TWO MEN AND A TRUCK®

424.488.0602

twomentorrance.com

Easy franchise is individually owned & operated.

D.O.T. 2563519 MC 894806 CAL-T191281

December 2015 • Peninsula People 13
---
S P O T L I G H T O N T H E H I L L

Las Madrecitas

Annual Fall Fundraiser

The Las Madrecitas Fall Fundraiser was

held on Friday, November 13 at the

Trump National Golf Club in Rancho Palos

Verdes and raised funds for the

Orthopaedic Institute for Children to provide

outstanding care to children in need

with musculoskeletal injuries and conditions.

Among the event's honored guests

was OIC patient Bibiana Mashamba, a

young girl from Tanzania who was treated

from a traumatic attack in her home country

in which she lost her leg and several

fingers, but now is on the road to recovery

thanks to her treatment by top surgeons

and professionals at OIC. Las Madrecitas

promotes the welfare of children like

Bibiana through its support of the

Charitable Children's Guild of

Orthopaedic Institute for Children with

fundraising and volunteer work at OIC.

1

3 4

2

1. Lilo Babros, Tom Vanek and Diane Vanek.

2. Katie Cromer, Mary Beth Perrine and Dr.

Jennifer Beck.

3. Traci Mihm, Kerbanu Pudumjee, Alex Davis

and Anette Aguirre.

4. Dodgers Alumni Dennis Powell, Jean Zwarg,

Dr. Anthony Scaduto, Michael Sullivan and Mary

Beth Perrine.

5. Emily Levin, Addie Brannan, Mia Gioiello

and Catie Mihm.

6. Teresa Ryan, Becca Davis and Juliet Babros.

7. Mariah Watts and Ceci Watts.

8. Timothy Lekavich and Wendy Surfas-

Lekavich.

9. Nancy Gerich and Sophia Suhr, Fall

Fundraiser Event Chairs.

10. Dr. Jeff Bogosian, Claire Bogosian, Audrey

Bogosian and Joan Yazejian.

5

7

6

8

9 10

16 Peninsula People • December 2015
---
17-24_Layout 1 12/15/15 4:09 PM Page 17
---
17-24_Layout 1 12/15/15 4:09 PM Page 18
---
17-24_Layout 1 12/15/15 4:09 PM Page 19
---
17-24_Layout 1 12/15/15 4:09 PM Page 20

S P O T L I G H T O N T H E H I L L

Palos Verdes

Peninsula Land

Conservancy

Pastoral Garden-to-Table

Dining Event

Two-hundred lucky guests enjoyed a

beautiful autumn evening featuring an

exclusive local and sustainable four course

menu, wine, and signature natural cocktail

served outside, surrounded by nature to

benefit the Land Conservancy. Terri A.

Haack, President of Terranea Resort and a

member of the Conservancy's President's

Advisory Council was delighted for

Terranea to host this special evening. The

event highlighted the Conservancy's

native habitat restoration to preserve the

Peninsula's natural landscape. Major partners

of the annual benefit event are

Terranea Resort and Whole Foods Market

Torrance.

1. From left, PVPLC

President Bill Swank,

Pastoral Co-Chair

Diana Heffernan-

Schrader, Sponsor

William Hadley,

Jacqueline Glass and

Diane and Jim Staes,

Janet Grothe, Artist

Dan Dempster and

Alice Wong.

2. Sponsor Harlyne

Norris and guest

Webb Caster.

1

3. Terranea's

Executive Chef

Bernard Ibarra and

Gaye Vancans,

Community Relations

4. Guests Anne and

Jack Boyt, Trudy Park

and John Boyt.

5. Guests Michele

and Kelvin Vanderlip.

6. Benefactor Becky

Cool (second from

left) with guests from

left, Denise and Will

Appell, Kathy Wilson,

Donita Smith, Phillis

and Richard Benner,

and Kathy Wilson.

7. Wine sponsors

from left, Dimitri and

Leah Bizoumis and

Shahpar and Darioush

Khaledi.

8. PVPLC Founder

and Board member

Bill Ailor and Barbara

Ailor.

9. William Hadley and

2

RPV City Councilman

Jerry Duhovic.

10. Sponsor Twila

Miller, Lisa Pollinger,

Deborah Price, Mike

and Becky Alfassa.

11. Pastoral Co-

Chairs and sponsors

Diana Heffernan-

Schrader and Sharon

Ryan

12. Sponsors Greg

Gawlik and Patty

Woods Gawlik.

3

4 5

6

7 8

9

10 11

12

20 Peninsula People • December 2015
---
17-24_Layout 1 12/15/15 4:09 PM Page 21

FEE ONLY FINANCIAL PLANNER

• Are you in or approaching retirement?

• Do you want to stop worrying about your

investment portfolio?

• Do you lose sleep wondering if you may

outlive your nest egg?

• Do you want to know if you are on the

right path financially?

• Do you want to take control of your

finances?

• Do you feel you need a second opinion on

your portfolio?

Abbas A. Heydari, CFP®

Certified Financial Planner

and Registered Investment Advisor

Providing Financial Services

in Torrance since 1986

If you answered "yes" to any or all of

the above questions, you may need to

contact me, to provide you with a personal

financial plan designed to help

you take control of your finances,

reduce anxiety and ultimately achieve

your financial goals. There is no cost or

obligation for the initial meeting, as it is

an opportunity for you to learn more

about me, and for me to determine if I

can help you achieve your financial

goals and objectives.

As a fee-only financial planner I will be

compensated solely by my clients, I do

not accept commissions, referral fees, or

compensation from other sources, and I am committed to acting

in your best interest.

21535 Hawthorne Blvd., Suite 355

Torrance, CA 90503

E-mail: aahfp@Yahoo.com

Web: www.aaheydari.com

Phone: (310)792-2090

December 2015 • Peninsula People 21
---
17-24_Layout 1 12/15/15 4:09 PM Page 22

3662 Greve Dr., Rancho Palos Verdes

5 Bedrooms । 3 Bathrooms । 2500 Sq.ft.

SOLD BY JERRY & LAURA $1,195,000

16 Silver Saddle Lane, Rolling Hills Estates

3 Bedrooms । 2 Bathrooms । 2200 Sq.ft.

SOLD BY JERRY & LAURA $1,570,000

JERRYANDLAURA.COM

Over 600 Homes Sold and Counting

Who You Work With MATTERS

(310) 480-3601

2073 Trudie Dr., Rancho Palos Verdes

3 Bedrooms । 2 Bathrooms । 1500 Sq.ft.

SOLD BY JERRY & LAURA $788,000

2612 Colt Road, Rancho Palos Verdes

4 Bedrooms । 3 Bathrooms । 2275 Sq.ft.

SOLD BY JERRY & LAURA $1,200,000
---
17-24_Layout 1 12/15/15 4:09 PM Page 23

2445 Rue Le Charlene, Rancho Palos Verdes

5 Bedrooms । 3 Bathrooms । 2792 Sq.ft.

OFFERED BY JERRY & LAURA $1,399,000

3512 Newridge Dr., Rancho Palos Verdes

4 Bedrooms । 4 Bathrooms । 2912 Sq.ft.

OFFERED BY JERRY & LAURA $1,599,00

JERRYANDLAURA.COM

Over 600 Homes Sold and Counting

Who You Work With MATTERS

(310) 480-3601

7212 Berry Hill Dr., Rancho Palos Verdes

4 Bedrooms । 3 Bathrooms । 3095 Sq.ft.

OFFERED BY JERRY & LAURA $1,899,000

1518 W. 15th St., San Pedro

5 Bedrooms । 5 Bathrooms । 4000 sq.ft.

OFFERED BY JERRY & LAURA $1,699,000
---
17-24_Layout 1 12/15/15 4:09 PM Page 24

S P O T L I G H T O N T H E H I L L

Benoit performance benefits

Asia America Symphony

Aperformance by jazz pianist and Asia America Symphony director

David Benoit, backed by an all-star jazz band was held at the Palos

Verdes Golf Club last month. The performance was preceded by an

awards dinner for the 6th Annual Asia America Symphony Tennis

Tournament. Performing with Benoit was drummer Clayton Cameron,

who has played with Sammy Davis Jr. and Tony Bennett and was also

Benoit's doubles tennis partner in the tournament. The two won the doubles

division. They were joined by guitarist and USC Thornton School of

Music professor Pat Kelley and singer Courtney Fortune, whose performances

have included shows with "A Prairie Home Companion's"

Garrison Keillor. Also sitting in were Asia America Youth Symphony bass

player Colton Russell and drummer Connie Aquas. Proceeds from the

evening benefited the symphony's youth symphony. For more information,

call (310) 377-8977, or visit aasymphony.org

1. Jennifer Siegal, Merlin

David, Karla Boisvert, David

Benoit, Roselle Paskus, Tess

Puglies and Shari Sunada.

2. Los Angeles County

Supervisorial candidate Steve

Napolitano with David Benoit

and Ted Tokio Tanaka

3. Asia America Symphony

president Randall Tamura

4. Brian and Kathy Huben.

5. Mary Jane Schoenheider,

Rebekah Kim and Carolyn Elliott.

6. David Benoit performs with

singer Courtney Fortune.

7. AAYS bass player Colton

Russell, David Benoit, Pat Kelley

AAYS drummer Connie Aquas,

Courtney Forntune and Clayton

Cameron.

1

2

3 4 5

6

7

24 Peninsula People • December 2015
---
Palos Verdes Estates

DRAMATIC..... RUSTIC CONTEMPORARY DESIGN

• Located in the Trees just across from the 15th green of

Palos Verdes golf Club

• A Spacious, Open & Airy 4 Bedrooms, 4 Bath with Family Room

• 3,200+ Square Feet of Private & Comfortable living

OFFERED AT $1,987,000

3025 PALOS VERDES DRIVE NORTH, PALOS VERDES ESTATES

KYLE DANIELS

310.483.3998

BRE# 01843670

www.KyleDanielsRealEstate.com

DAN ERICSON

310.374.2100

BRE# 00426156

www.EricsonBeach.com

Happy

Holidays!

December 2015 • Peninsula People 25
---
WALLACE

OCEANFRONT RANCH

ESTATE

paseo de la luz

RANCHO PALOS VERDES

5 Grand Bedrooms Suites, 8 Bathrooms, 7,925 sq ft Home,

27,119 sq ft Lot

This Magnificent Ocean Front Estate offers Luxury Living with

Stunning Ocean & Sunset Views

Custom Designed with Elevator, Home Theater, Gym,

Entertainer's Backyard & Many Superb Building Features

OFFERED AT $6,300,000

www.55PaseoDeLaLuz.com

IN ESCROW

$200,000

Price Reduction

BEAUTIFULLY

REMODELED

COUNTRY LANE

ROLLING HILLS ESTATES

5 Bedrooms, 3.5 Bathrooms, 4,173 sq ft Home, 16,090 sq ft Lot

Great Ocean & Sunset Views. Large Master Suite. 4 Fireplaces

Sparkling Pool & Spa. Gated Community with Great Amenities.

OFFERED AT $2,288,000

www.39CountryLane.com

Via Somonte

PALOS VERDES ESTATES

Spectacular Coastline and Queen's Necklace View in Malaga Cove

Bring your Architect/Contractor for Major Remodeling or Rebuild

3 Bedrooms, 2 Bathrooms, 2,365 sq ft Home on 8,102 sq ft Lot

OFFERED AT $1,980,000

www.797ViaSomonte.com

Crestridge Road

RANCHO PALOS VERDES

5 Bedrooms, 4 Bathrooms, 4,300+ sq ft Home, 1/2+ acre Lot

Panoramic Los Angeles Basin City Light and Mountain Views

Entertainers' Delight both Inside and Out in a Lovely Secluded Setting.

OFFERED AT $1,899,000

www.28951Crestridge.com

#1 Real Estate Team, RE/MAX Estate Properties YTD September 2015

Stephen Haw

何 精 益

310.503.9886

Skh8828@gmail.com

Kim Hall

Serving the South Bay

310.721.7526

KimHallHomes@gmail.com

Cristina Go

Short Sale Specialist

310.971.0404

gocristinago@gmail.com

Lauren Yoon

로렌 윤

310.619.4989

laurenyoon17@gmail.com
---
SHOWCASE

HOUSE

EXCEPTIONAL

DESIGN

crest roaD

RANCHO PALOS VERDES

5 Bedrooms, 6.5 Bathrooms, 8,533 sq ft Home, Guest House

PANORAMIC VIEW of Queen's Necklace & Downtown LA

Architectural Masterpiece, Luxury Features, Beautiful Landscape

OFFERED AT upon request

www.LuxuryPVhome.com

Via Valdez

PALOS VERDES ESTATES

4 Bedrooms, 4 Bathrooms, 3,684 sq ft Home, 8,229 sq ft Lot

Exceptionally Designed Home, View from Catalina to Santa Monica

Gourmet Kitchen, Dry Sauna, Steam Room, Elegant Living Space

OFFERED AT $3,980,000

PRICE

REDUCTION

LAST LOT

IN AREA

NEWER

BUILT IN 2004

Covered wagon Lane

ROLLING HILLS ESTATES

Gated Estate with 4 Bedrooms, 3.5 Bathrooms

4,048 sq ft Home, 15,719 sq ft Lot

Large Entertainment Room, Cul-de-Sac

OFFERED AT $1,899,000

www.30CoveredWagon.com

alta vista

RANCHO PALOS VERDES

19,907 sq ft Mostly Flat Lot with 112 feet Frontage

Catalina & Ocean View. Prestigious Neighborhood

Near Los Verdes Golf Course, Park, Shops & Ocean

OFFERED AT $1,599,000

17th street

san pedro

5 Bdrm, 3 Bath, 2 Powder Rm, 3,200 sq ft Home, 5,010 sq ft Lot

Vista Del Oro Neighborhood, Huge In-Law Suite Downstairs

Balcony with Lovely Ocean & Harbor Views

OFFERED AT $699,900

Local Experts with International Connections to get YOUR Properties SOLD

Natsuko Fujii

藤 井 奈 都 子

310.941.2468

nfujii10@gmail.com

Alicia Sialana

Real Estate Specialist

310.720.4852

aliciasialana@gmail.com

Dede Hsu

郝 蒂 蒂

310.722.9222

dedehsu@gmail.com

Rod Yoon

롸드 윤

213.663.8888

RodYoon@gmail.com
---
S P O T L I G H T O N T H E H I L L

Palos Verdes Ballet

35th anniversary Nutcracker

Fundraiser Dinner

Palos Verdes Ballet celebrated its 35th

anniversary of the Nutcracker

Fundraiser at Ports O' Call restaurant. The

dinner was festive and so were all the elegant

dancers. The hors d'oeuvres, dinner

and dessert were very tasty and the guests

certainly enjoyed the highlight of the

event, the Palos Verdes Ballet students performing

excerpts from 'The Nutcracker'

under the direction of the Director, Ms.

Uta Graf-Apostpol. This season's performances

take place at the Norris Theatre on

Dec 19 at 7 p.m. and Dec. 20 at 1 and 5

p.m.

1

1. In the center, Karen Nakagawa as Sugar

Plum Fairy and on the bottom Kate Inoue

reprising her role as Sugar Plum Fairy and

beautiful cast of Waltz of the Flowers.

1. Samantha Liu as role of Maid in the Party

Scene and younger students happily playing the

roles of Marie, Fritz, Party Girls and Boys.

3. From the left, Rebecca Halpern, Mariana

Martinez, Rena Koyama and Samantha Liu.

Talented students of Palos Verdes Ballet enjoying

the quality time with each other at the

Fundraiser Dinner.

4. Dr. Linda Govel who decorated beautiful

center pieces for the tables and raffles at the

Fundraiser Dinner and Mrs. Sachi Koyama, the

Chairperson of the Fundraiser Dinner.

5. Saerom Lee ballet instructor of Palos Verdes

Ballet, William Steinleitner, Mr. & Mrs. Frank

Brown and the Board members John P. Apostol

and Mrs. Erica H. Ferro.

2

3

4 5

28 Peninsula People • December 2015
---
Tennis Estate in PVE. Built in 2005, this gated home features stunning views, over

6250 square feet, 5 bedrooms + office, wine cellar, pool, spa and more. $5,250,000

Chris Adlam

310.493.7216

www.chrisadlam.com

Five acre estate in Rolling Hills. This 6 bedroom, 7260 square foot home has

panoramic city lights and coastline views and features the quintessential

indoor/outdoor lifestyle. $6,500,000
---
Palos Verdes Estates 5 bedroom home. Over 3,000 square feet of large, open living spaces and beautiful

ocean views. Great backyard with pool and patios. $1,899,000

Chris Adlam

310.493.7216

www.chrisadlam.com

Lower Lunada Bay 4 bedroom home with almost 4,000 square feet, pool, pool house and

ocean views. Flexible floor plan in great Palos Verdes Estates location. $2,499,000
---
Lower Lunada Bay 5 bedroom home with over 4100 square feet, gorgeous ocean views, large

flat, grassy backyard, and a charming courtyard entrance. $2,795,000

Chris Adlam

310.493.7216

www.chrisadlam.com

Built in 1928, this old Spanish has over 2400 square feet, 3 bedrooms, large outdoor/al fresco

entertaining spaces and loads of old world charm inside and out. $2,350,000
---
S P O T L I G H T O N T H E H I L L

Signatures Fashion Show

This year's Winter Wonderland runway show,

champagne luncheon and boutique at the Atrium

of the Palos Verdes Art Center showcased original

designer fashions by the members commented by

Gabrielle, the mentor for the women who created and

modeled their designs. "Works of art are usually

signed - thus, we call our shows Signatures. Some

artists integrate their signature in the design, others

sign the garment itself and others use a label. This was

our 49th runway show which I call an 'in-action' exhibition

of wearable art! Just as paintings are displayed

on a wall, sculpture on a pedestal, wearable art is displayed

on a model. It's like a walking canvas."

32 Peninsula People • December 2015
---
December 2015 • Peninsula People 33
---
S P O T L I G H T O N T H E H I L L

Back row, standing, left to right: Jordan Karpin, Kristen DiBernardo, Kara Yasunaga, Elena Ueda, Madelynn Maloney, Jennifer Capeloto, Gabrielle Allen, Emily

Ellis, Alissa Beall, Elizabeth Berry, Christina Eldredge, Lauren Bourgeois. Kneeling, left to right: Cameron Leach, Abigail Watson, Annie Graziano, Eva Enriquez,

McKenzie Will, McKenzie Haworth, Annaliese Wargin. Seated, left to right: Madison Denver, McKenna Goldstein, Caillie Horner, Celine Horner, Leonora

Meroth, Leslie Vilicich, Sydney Pascal. Not pictured: Cameron Coffe

Ticktocker Class of 2016

PHOTOGRAPHY BY SARA JORDAN PHOTOGRAPHY

National Charity League, Inc., Palos Verdes Chapter is proud to introduce the Senior Class of 2016 pictured in front of the Point

Vicente Lighthouse. This group will be graduating in the Spring from Palos Verdes High School and Palos Verdes Peninsula High

School. Together, this group of young women has worked 7,350 hours for local philanthropies, including Peace4Kids, Toberman

Neighborhood Center, Heal the Bay, L.A. Food Bank, Boys & Girls Club of LA and Palos Verdes Peninsula Land Conservancy. They will

be formally presented at the Senior Recognition in March at Terranea Resort. The theme for this year is a whimsical "Through the

Looking Glass" and is sure to be a magical night for all.

WANT A BETTER COLLEGE FOR YOUR CHILD?

The SATs and ACTs are coming

and they can do better!

• Tutoring provided at your own home

• Large gains in scores for

all kinds of students

• Free in-person consultation

Give your student

the gift of confidence

310.916.6299

34 Peninsula People • December 2015
---
December 2015 • Peninsula People 35
---
P E N I N S U L A P E O P L E | M I N I S T R I E S

Dr. Devon Singh-Barrett and Pastor Paul Barrett.

Photo by David Fairchild (DavidFarichildStudio.com)

Out into the world

St. Peter's is the right fit

for a community-minded

pastor and his family

by Robb Fulcher

Pastor Paul Barrett and his wife Dr.

Devon Singh-Barrett have found a

"wonderful" church and community –

and steady doses of sunshine – in their move

from the Pacific Northwest to Palos Verdes.

The couple and their two children came

south so that Paul could serve as senior pastor

of St. Peter's by the Sea Presbyterian

Church, while Devon will continue her private

practice as a clinical psychologist.

Barrett was happily serving as co-pastor of

a Presbyterian church in the Seattle area

when he felt led to make a characteristically

unconventional move, announcing that it

was time to leave his ministry.

"I felt a profound sense – and my wife did

too – that God wanted something new for us,

that if we kept doing something comfortable

we would miss the chance to do what God

really wanted us to do, and the church would

miss the chance for something new as well,"

he said.

"I sensed that it was time to leave, and I

announced that I was leaving before I had

anywhere to go. It was good, and hard, and

sad, and wonderful, and complex," he said.

St. Peter's did not initially appear to be an

option, although Barrett had reached out to

the Rancho Palos Verdes church some time

before.

"I ended up talking to the search committee,

but I hadn't heard anything, and I just

forgot about them. Within a day or two [of

his announcement] the phone rang, and they

said hey, can we have a preliminary conversation?"

What followed was five months of Paul

checking out St. Peter's, and St. Peter's

checking out Paul, through Skype interviews,

non-Skype phone calls and in-person interviews

with search committee members in

Seattle and Palos Verdes.

Meanwhile, Singh-Barrett had her doubts

about the Southern California she knew only

from a distance.

"I had never heard of Palos Verdes. I grew

up in the Central [San Joaquin] Valley, and

36 Peninsula People • December 2015
---
when I heard he wanted to check out a church in the LA area I said,

'No way, I don't want to raise my kids there,'" she recalled.

"We were in Southern California, and he said well, let's just do a

drive-through. When we got to the top of Hawthorne, coming down

toward Palos Verdes Drive West – and you can see the ocean and that

whole side – I said, 'Paul, this is amazing.'"

There were other candidates for the pastoral position as well, but

at the end of the process, Barrett and the church realized they had a

match.

"We fell upon each other, and found this great fit," Barrett said.

That was 20 months ago, and Barrett – a community-minded pastor

whose sermons are known for their passion, authenticity, and

connections from Biblical truths to current life situations – has settled

in well.

"This is a dynamic community at St. Peter's, and they've generously

welcomed us and our family," he said.

"We've set some solid ground, established deep bonds of trust,

established a sense of knowing and being known, and are making

intentional efforts to build relationships with our community,"

Barrett said. "Moving into this next season there's lots of excitement.

We are in the same boat, ready to move in same direction together."

Normal in Vegas

Barrett grew up in Nevada, the son of a firefighter and registered

nurse.

"I had a normal childhood in Las Vegas, if people can believe that,"

he said with a laugh.

"I didn't come from a family with pastors. My family wasn't necessarily

very churched," Barrett said.

He was exposed to the Presbyterian Church when he was in fourth

grade, and a friend invited him to a weeklong summer camp.

Barrett was taken with the church's offerings for young kids and

teenagers, including abundant opportunities for education, service,

worship and community.

Singh-Barrett was raised by a schoolteacher mother, and a father

who became a Presbyterian pastor, and later a psychologist. Her

father died in a car accident when Devon was 8 years old, and the

family moved from Camarillo to Visalia.

"I was raised in the Reformed Protestant tradition. It's part of what

I live and breathe," she said. "When I was in high school I prayed,

God please let me meet a nice guy, and please make sure he's

Presbyterian."

Into the woods

The two met when they were working summers at a youth-andfamily

oriented camping ministry in Yosemite, where 400 to 600 people

would flock from around California and Nevada each week of

the camping season.

Barrett began doing housecleaning and the like, and wound up

running the youth and family camping programs, relishing a calling

to work with teens and their families.

He began hearing from other pastors, "'When are you going to

seminary, Paul?'

"A sense of a calling kind of arose from people around me assuming,

or saying I should be, going to seminary," he recalled.

Along the way, Paul and Devon became friends, then started dating.

Singh-Barrett went north to pursue a master's degree at Seattle

University in Seattle, and Barrett followed, to run a youth ministry

and live near Devon, and continue dating.

"We had never lived in the same city," he said. "We were engaged,

and married later that year."

When Singh finished her master's program, the couple moved to

New Jersey so that Barrett could attend Princeton Theological

Seminary and Singh, now Singh-Barrett, could become an academic

Considering A Major Remodeling Project?

Barretts cont. on page 64

December 2015 • Peninsula People 37
---
S P O T L I G H T O N T H E H I L L

Peninsula Education

Foundation

Autumn Harvest

Peninsula Education Foundation's annual

Autumn Harvest donor appreciation

event on November 19 was a food and

wine tasting enjoyed by all. Most importantly,

it was a chance to honor 29

PVPUSD teachers awarded Chuck Miller

grants totaling $35,000 for projects and

supplies that will invigorate classroom

learning. Trump National Golf Club generously

hosted restaurants and vendors

that provided delicious samplings of their

cuisine and libations. Thank you to

Avenue Italy, Bettolino Kitchen, Boisset

Collection Wines, Café Pacific at Trump,

The Depot, Doma Kitchen, Good Stuff,

H.T. Grill, Hey 19 Public House, Inka

Wasi, Locale 90, Misto Caffe, Ortega 120,

Red Car Brewery, Riviera Mexican Grill,

Sumo Salad, Sweet Creations Bakery and

Yellow Vase for their participation.

Chuck Miller Teacher Grants are made

possible by a generous annual donation

from Chuck and Betsy Miller. Additional

support is provided by AXA Advisors and

PEF annual campaign donors.

1

3 4

2

1. Tory Todaro, Betsy

Miller, PEF President

Roma Mistry, Chuck

Miller, and Sameer

Mistry.

2. PVPUSD Board of

Education Vice-

President Malcolm

Sharp, his wife Wayne

Sharp, and PVPUSD

Board of Education

President Larry

Vanden Bos.

3. Rancho del Mar

principal Rosemary

Humphrey, Jacqueline

Glass, and Palos

Verdes High School

principal Charles Park.

4. Peninsula High

School principal Mitzi

Cress, Bruce

Megowan, Maureen

Megowan, PVPUSD

Board of Education

member-elect

Suzanne Seymour,

and Sandra Frasso.

5. Scott Leonard,

PEF Trustee Michele

Feller, Alyson Rener,

PEF Trustee Matthew

Rener, PEF Trustee

Shari Shigenaga,

Robert Feller, Mandy

Leonard, and Silver

Spur Elementary principal

Marta Jevenois-

Richardson.

6. Teachers were

presented Chuck

Miller Grants at the

reception. A total of

33 grants were

awarded to 29 teachers

for classroom

projects and supplies.

7. PEF Trustee Tara

Shao, Andrew Shao,

and Janet Louie.

8. Dian Kang, Lydia

Ho, teacher grant

awardee Paul

Woodward, Susan

Campbell, and PEF

trustee Jill Surace.

5

6

7

8

38 Peninsula People • December 2015
---
We reimburse UBER & LYFT up to $10

HAPPY HOUR TUES-FRI 4-7PM

WINE DEAL

IN DECEMBER

25%-45% OFF

All Bordeaux &

Burgundy

Wines!

Open

All Day

Dec 24 & 25!

New Year's Eve!

2 Dinner Seatings

Complimentary Dinner

Buy 1 Dinner and 2 Drinks, Receive Free Dinner

($17 Max Value. Dine in only. One per table. Not Valid with other offers or holidays. Expires 1/15/16)

$17 $17

5pm-Piana, 9pm-DJ Dancing!

320 Tejon Place Palos Verdes Estates (310) 378-0267

www.LaRiveGauchePV.com

SPECIAL MENU 4-COURSE DINNER $25.95

Dine & Enjoy Our Lunch & Dinner Specials!

December 2015 • Peninsula People 39
---
P E N I N S U L A P E O P L E | I N N O V A T I O N

Ben Swanson visits Rene Vela's video production class at

Palos Verdes High School in November. Photo by Rene

Vela

MicroJib man gave GoPro a cinematic lift

How local inventor Ben Swanson

by Jennifer Passaro

In the mechanics of an old-fashioned eggbeater

Ben Swanson found what he needed

to gear his videography. At 23,

Swanson, a Rancho Palos Verdes native, is

the creator of MicroJib, a portable camera jib

for the adventurous everyday cinematographer.

The MicroJib is, as its website touts, a

GoPro Pole, reinvented. It can film 360

degree pan and tilt with a single adjustment.

A rotating handle at the base of the pole controls

the camera's angle.

"The internal mechanism – what makes

the magic work – is a bevel gear. It is not a

common gear to come upon. An old fashioned

eggbeater was a starting place,"

Swanson said in an interview this week.

The initial inspiration for the MicroJib

came from the more traditional professional

camera jib that can angle down or up at a

subject.

"I thought it would be cool to make a smaller,

more portable jib and make it available to

GoPro users," Swanson said. "I went to a

thrift store, for inspiration, to see what kind

of devices are out there. I found an old fashioned

eggbeater. I didn't even know what a

bevel gear was at the time. I just knew what

I needed it to do. I went to Home Depot and

got some PVC pipe, a metal dowel, a lot of

glue and tape, and PVC pipe fittings. I kept

prototyping at my house for another year. I

filed a patent. I contacted China."

Growing up beneath the cool sweep of the

Palos Verdes hills and within a steep scramble

to the beach, Swanson knew cinematic

beauty in his bones. Growing up with RPVtv

news anchor mom Liz Swanson, he knew

cinematic practicality and editing as well.

"I wanted him to hire an engineer," Liz

Swanson remembered. "But [Ben] is a young

entrepreneur…he figured it out himself. I

wanted him to hire an attorney to write the

patent. But that costs $6,000. [Ben] was like,

'Nope.' He bought a book for $100 and figured

it out…to me that's pretty cool."

Swanson took four years of video classes at

40 Peninsula People • December 2015
---
Palos Verdes High School with teacher Rene Vela. He used that

knowledge to shoot weddings, edit videos, and work for a snowboard

magazine while studying business management at University

of Colorado, Denver.

"Students start with learning the basics: wide, medium, tight.

Then, we move to storytelling," Vela said. "This is the hard part.

Shooting and editing isn't that difficult. It's creating a story that most

students find challenging."

In late November Swanson returned to Vela's classroom to speak

with the students and donate three MicroJibs to the video classes.

"Ben came in, spoke to my students, and left them inspired," Vela

said. "He mentioned, over and over, he didn't take video production

classes in college. His video production experience came from Palos

Verdes High School and my classes. And, obviously, way after high

school, he's still doing video. That's wonderful. I'm very proud to

think I might have had a small part in his success."

"Ben Swanson has been making videos since he filmed his brother's

first bath, in like '98," Liz Swanson said. "[Ben] was six. I have

Alex in the sink in my bathroom. [Ben] is shooting it at like two feet

tall. He was always picking up the camera."

When Ben was in junior high Liz got a phone call from a teacher

one afternoon.

"The teacher said, 'I don't know if you know this, but your son is

selling DVDs on campus. He's made like $200 dollars. He can't do

that, it's against the rules, but I want one.' The video was called

skaterpalooza. I think the teacher did by one," Liz said.

Swanson's dad, Don, remembers Ben inventing, even as a kid.

"He definitely tinkered with lots of things. He tried to take apart a

Nintendo 64 and put it inside its own special case…a whole portable

system. It took a long time and he failed in the end but he tried,"

Don said.

As a high school student Swanson shot LA Kings hockey games,

interned at RPVtv, and, like most kids, filmed his friends outdoors.

"When I was living in Palos Verdes we always made mountain biking

videos, boogie boarding videos, we went up to the mountain on

the weekends and made snowboarding videos," Swanson said.

But something was missing in that filming process. The scope, the

angle, the human-like eye of the camera. Swanson wanted to change

the shape of the gap between an artist and their lens. He wanted a

tool that was more apt at sweeping into and out of the human story.

In his junior year of college, in the advent of GoPro popularity in

the snowboarding and mountain culture of Colorado, Swanson came

up with the idea of the MicroJib.

The MicroJib combines a tripod, camera jib, and selfie pole, but it

is made for people who want to explore.

"A real camera jib has to have a tripod and a counter weight. I

wanted a small convenient package that can deliver big results. [The

MicroJib] is a multifunctional tool – all in this really easy to transport

package," Swanson said.

The differentials for the gears, the concept that came to Swanson

in the form of an eggbeater, allows for the smoothness of the pan and

tilt.

Swanson, by the way, didn't use the eggbeater to make scrambled

eggs. He doesn't even use a frying pan.

"I microwave my eggs. That's the only way to eat them…so fluffy,"

Swanson said. "A minute and 45 seconds on an old rickety

microwave. Salt and pepper after, no add-ons.

Simple, to the point. Much like the MicorJib itself.

"There are two types of users: people like me who want to make a

more professional video, who want to change the angle of their camera

quickly, rather than having it straight mounted on a stick. Then

there are people who are traveling or exploring… They can adjust the

camera in such a way to capture exactly what they want to see,"

Swanson said.

One tutorial opens afoot a skateboard, leaves licking the wheels.

MicroJib cont. on page 64

December 2015 • Peninsula People 41
---
Brian

Estes

Vice President of Investments

Multifamily Specialist

www.sbapts.com

DRE#013394559

Helping clients create wealth by capitalizing on

South Bay investment property opportunities

Why work with Brian:

• Successful 12yr+ track record of specializing

exclusively in the sale and acquisition of

South Bay apartment investments.

• Maximum exposure to listings for sellers and

access to exclusive inventory for buyers.

• Unsurpassed knowledge of multi-family

investments including historical trends, real time

rent and sales data, and long term relationships

with active principals and brokers.

Direct: 310 802 2525 I bestes@remaxcir.com

23001 Hawthorne Bl., Suite 205 Torrance, CA 90505

Custom Concrete & Masonry

William J. Wickwire, M.D.

Certified, American

Board of Dermatology

Neal M. Ammar, M.D.

Certified, American

Board of Dermatology

DERMATOLOGY & SKIN SURGERY

BEACH CITIES DERMATOLOGY

M E D I C A L C E N T E R

Say Goodbye to Stubborn Fat....

• Skin Cancer • Mole Removal & Mohs Surgery

• Reconstructive Facial Surgery and Scar Revision

• Acne & Accutane Treatment

• Warts, Rashes and Cysts • Leg Vein Sclerotherapy

• Hair Loss & Propecia • Restylane, Radiesse, Perlane,

Juvederm & Sculptra • Botox and Dysport Injections

• Age Spots & Sun Damage • Laser Surgery

• Microdermabrasion • Glycolic and Chemical Peels

• Ultraviolet B & PUVA • Pediatric Dermatology

310-798-1515

www.beachcitiesderm.com

Redondo Beach —

520 N. Prospect Ave., Suite 302

Palos Verdes —

827 Deep Valley Drive, Suite 101

Buy One, Get One

FREE

Two Coolscuplting Devices to Treat Two Areas at Once!

Specialists in Skin Cancer Detection

South Bay's

best equipped

Dermatology

Center!

All PPOs Accepted

Evening & Sat.

Appts. Available

• Pools, Spas, Fountains

and Waterfeatures

• Firepits and Fireplaces

• Outdoor Cook Centers

• Stone and Tile Patios

• Interlocking Pavers

• Retaining Walls

• Driveways

(310) 325-6790

www.quinnpools.com

License B, C-8, C-53 #775677

J. QUINN CONSTRUCTION, INC.

4203 Spencer St., Torrance, CA 90503

(310)214-5049 • www.pevelers.com

Appointment Recommended

Showroom Hours: Monday Thru Friday 10-5

Closed Saturday and Sunday

License #381992

• Serving the South

Bay for over 35 years

• Full Service Contractor

• Complete Installation

• New Construction

• Remodeling

• Second Floors

• Additions

• Cabinets

Visit Our

Kitchen &

Bath

Showroom

42 Peninsula People • December 2015
---
CONCRETE - For the Drought-Conscious

Complete

Skateboards

Starting at

$39 99

Annual Christmas Sale

Brand Name

Completes

Starting at $69 99

Baker, Deathwish,

World, Almost,

Enjoi

All Scooters

On Sale

Envy, Lucky,

Madd Gear

3594 Redondo Beach Blvd, Torrance • 310-327-9986

MON – SUN • 11am – 7 pm

Holiday Hours: Mon-Sun 10am-8pm

] u

t

• Stamping

• Driveways

• Pool Decks

• Arificial Turf

• Patios

• Stonework

• Pavers

• Foundations

LIABILITY INSURED • WORKERS COMPENSATION

Casey Lindahl - Founder & President of Lindahl Concrete Construction, Inc.

310-326-6626

Call for Showroom address

Call for estimate

LindahlConcrete.com

Lic.#531387

We carry a full line

of UGG Australia

products for Men,

Women, and children

Mon-Fri 10am-7pm

•Sat 10am-5:30pm

•Sun 11am-4pm

329 W. 6th St.,

San Pedro, CA

310-832-9364

December 2015 • Peninsula People 43
---
P E N

D I N I N G

The Arthur J owner Mike Simms with a portrait

of his grandfather Arthur J. Simms.

Photo by Brad Jacobson

A steak in the

by Richard Foss

Eating steaks has been a symbol of affluence

for hundreds of years and not just

on this side of the Atlantic. Beefsteak

clubs were established in London as early as

1705. Wealthy members dined on steaks,

baked potatoes, wine and beer, a menu that

would delight their counterparts today. It was

such a national trait that the guards at the

Tower of London were nicknamed beefeaters

and a French slang word for Englishmen was

"rosbif."

Still, the place we associate with big steaks

is the USA and the era is not the 1750s but

the 1950s. It was an era of cool music, strong

cocktails, big steaks, and big dreams. Even

people who weren't born yet can get nostalgic

for the era of optimism and opulence.

The place to do that today is The Arthur J.

It's mid-century visually and the kitchen

serves up dishes in that spirit, but made

attractive to a contemporary palate.

The restaurant is an homage by the Simms

brothers to their late grandfather Arthur J.

Simms, who was a restaurateur and whose

portrait hangs by the front podium. The

grandfather is also oddly but touchingly

remembered with a pair of battered golf

shoes by the front door.

Executive chef David LeFevre taps into

nostalgic and historic veins both with what is

served and how it's presented. Some very

modern items are served in the blue-flowered

Corningware baking dishes that were in

every kitchen when Eisenhower was president.

These and other touches show a genuine

affection for what's going on here.

The menu is heavy on steaks, naturally, but

Executive chef David LeFevre brings 1950s era of

steaks and cocktails to downtown Manhattan Beach

there is much more here. I have visited The

Arthur J twice — once with someone who is

a connoisseur of cow, the second time with

someone who hadn't eaten beef for decades

and both visits were successful. Both times

we were served by a cheerful pro named

Rachel who was an excellent guide to the

subtleties of the menu.

The starters are mostly classics. We tried

an emmental popover, split pea soup,

Hamachi tartare and a grilled Treviso salad.

The popover and soup were on different visits,

but I wish I had ordered them together

because they would complement each other

well. The very light, savory roll with funky

cheese filling would have been great with the

soup, which had a slight peppery tang and

extra flavor from rye croutons and the

chunks of Virginia ham. A note to those who

haven't had it before: Virginia ham is saltier

and chewier than most other hams, so adjust

your expectations when you bite into one of

those nuggets of meat in the soup. Including

it in this soup adds a rare flavor of Colonial

America in a California beach town. The

only modern element was the garnish of

smoked chicharrones, which added a rich

crunch to the mix.

The flavor of the Hamachi was another

coast and another century; marinated

chopped yellowtail with micro-greens, tomato,

radish slices, cucumber, Thai chili, peaches,

and peanuts. A puffed rice chip with

sesame on the side adds an additional texture,

if one is needed. Those items don't

sound like they should work together but

they do. There's a slightly different balance

in every bite.

We wavered between a classic Caesar and

Mid-Century spirit

the Treviso salad, but decided on the latter

because we were intrigued by the combination

of bitter lettuce with ricotta cheese, mission

figs and pine nuts with a sherry vinaigrette.

It was interesting but not entirely successful.

Our server had mentioned that the

Treviso had been marinated and seared, both

of which usually diminish the bitterness of

this heirloom lettuce variety, but it still had a

rather sharp flavor in bites that didn't

include the cheese. Using the velvety, aged

ricotta rather than the usual parmesan was

an inspired move, but I would have preferred

more of it, and that it be cut in smaller pieces

so it was spread through the dish more evenly.

The idea of bitter radicchio with figs and

cheese was excellent, but at least that day the

balance was a bit off.

Unusual variations on classic cocktails are

offered, under inexplicable names. A sidecar

is renamed "Gromit's whip," a blood and

sand "Ultimate Degradation." The fact that

they have any variation of blood and sand is

near miraculous — it's a mix of scotch

whisky, vermouth, cherry liqueur and

orange juice that was invented in the 1920s

and is unjustly obscure. If you have ever

enjoyed good cocktails, you must try them

here. The booze is top shelf and the people

behind the bar are masters of their craft.

Wine is better with dinner, of course, so we

asked the sommelier to suggest something.

He suggested Champagne with the split pea

soup and a white Montrachet with the salad.

The pairings were spot on. I'm going to want

sparkling wine with pea soup from now on.

The main courses here are served on an a

la carte basis, though you wouldn't know

that from the menu. The vegetables and

44 Peninsula People • December 2015
---
starches that are mentioned on the same line

as the chops and seafood are mere garnishes.

On the visit with the carnivore we ordered a

ribeye and the sea bream, on the second visit

rack of lamb and a pork chop. (I had been

attracted by an artichoke and cheese dish

that someone at an adjacent table was eating

with gusto, but couldn't resist the pork.) The

meats followed a simple formula: top quality

product minimally seasoned and expertly

cooked. The pork is from a rare crossbreed

of Hungarian and English breeds, the meat

darker, sweeter and more richly flavored

than even most heritage breeds and the

Colorado lamb will make you forget that

bland stuff from the antipodes.

The sea bream was less exotic, but used an

interesting, modern preparation. It had been

dusted with fennel pollen, which lends a

delightfully sweet, spicy scent. Bream is similar

to bass but is more sustainable. The

moist, rich fish came away from the bone

easily. Scottish salmon and lobster are also

offered and based on this meal I'd like to

explore their other seafood options.

As for the steaks, the item that is the centerpiece

for most meals here, both prime

dry-aged beef and wet-aged Angus beef are

available. Supermarket beef is wet-aged and

not for very long. It has an agreeable, mild

flavor. Dry aging intensifies the flavor and

adds a funky richness that is generally associated

with lamb and game meats. Dry-aged

steaks are also more expensive because they

lose volume in the process. We decided on

the dry-aged ribeye and after dithering over

the 13 sauces and eight toppings to choose

from, decided to have none. We wanted to

experience the meat by itself. It was a

superlative steak, and as we ate it we mused

that The Arthur J is missing a bet. They

should offer small portions of both wet and

dry aged steak so that customers could learn

the difference. Offhand, I think that they'd

sell more of the dry-aged to repeat customers

because they will have a basis for comparison.

A variety of sides was offered and these

change with the seasons. A terrific fava bean

dish that I enjoyed on the first visit was gone

on the second, replaced by acorn squash

with candied pecans. The mustard spaetzle

was gone too, though I know of no reason

German handmade noodles would be seasonal.

Perhaps they weren't popular because

The Arthur J is at 903 Manhattan Avenue

in downtown Manhattan Beach. Open daily at 5 p.m.,

close 10:30 p.m.. Sun-Wed., 11 p.m. Thu-Sat. Street

parking, wheelchair access good, full bar. Some vegetarian

items. Reservations suggested at

thearthurj.com, phone 310-878-9620.

nobody knew what they were.

A steakhouse favorite that seems to have

a perennial place on the menu is creamed

spinach. The version here is the classic –

cooked down with real cream and topped

with crisp fried onions.

Desserts were offered, but here the menu

is out of balance. With the exception of

some sherbets, everything was heavy and

rich. Had something light like a fruit tart or

other, similar pastry been offered we would

have ordered it, but on both visits we didn't

see anything that called to us.

Dinner at The Arthur J is on the high side

by local standards. The less expensive of the

two meals ran just over $250 for two, with

two cocktails and four glasses of wine. That

could have been much less if we had

watched the wine budget. One the sommelier

suggested was almost $25 for a threeounce

pour. It was a splendid pairing, but

there were other good ones at more modest

prices.

The Arthur J is a temple to a certain kind

of dining, the mid-century modern décor

in harmony with the ideas on the menu. At

their best both are about simple ideas elegantly

executed. In one case it's wood polished

and sculpted to show its beauty, in

the other dishes crafted to show off minimally

enhanced, excellent ingredients. One

could only wish that the patriarch of the

family could have lived to see it. PEN

December 2015 • Peninsula People 45
---
P E N I N S U L A P E O P L E | B U S I N E S S

Dean and Dale Herbrandson at their Lawndale factory. Photos by Esther Kang

Drone on

Herbrandson drone engines

rotate 100 times a second

by Esther Kang

No signage offers clues about the business inside the

beige brick building across the street from

Lawndale High School. For the Herbrandsons, who

have occupied the space since 1974, discretion is key.

Every now and then a concerned Los Angeles County

Sheriff's Deputy knocks on the door.

"I tell them we do three things: duty, honor and country," said Dale

Herbrandson, 77. "Then they understand. They come in and are relieved we're

not doing narcotics."

Inside the 1,500 sq. ft. building are assembly lines for engines — both new

and used — for unmanned aerial vehicles (UAV), or drones. And not just any

drones, but combat drones. Over the last 10 years, Herbrandson Engines Inc.'s

sole client has been the U.S. military, which uses the engines for its TigerShark

aircrafts.

"Not even our neighbors know what we do," said Dean Herbrandson, Dale's

50-year-old son, who has taken over the helm of the business. Dale's wife

Charlotte also played an integral role in the family business before she passed

away from cancer two years ago.

A Herbrandson engine takes, on average, nine months for the three person

team — Dale and sons Dean and Richard — to build. They cost, on average, 10

times what a similar size, commercial engine costs.

"Maybe even more," Dean said. "It's

because the materials are very high

quality. This little engine rotates 100

times a second and has a lifespan of

1,500 to 3,000 hours."

A four-cylinder, Herbrandson

UAVC engine was included in

the Smithsonian Institute

"Form Follows Function"

exhibit.

Dale was born in

Minnesota during the Great

Depression. His family moved

to Los Angeles when he was
---
still a toddler. In his teenage years, he earned money rebuilding broken

Whizzer motorbikes that his neighbors had neglected and

reselling them.

"I was trying to make some money any way other than by pushing

a lawn mower," he recalled.

Driven by his attraction to drag racing, the shy teenager also fixed

up cars, installing hydraulic brakes in his friends' old Fords as well

as his own. He owned two cars in those days. One was a '32 Ford he

purchased for $50. He still has it.

"I wasn't really confident about myself when I was young," Dale

said, "but when I'm with an engine, I'm in charge. That's what I

liked. When you like something, you pursue it until you've conquered

it. I didn't swim, I didn't travel, I raced cars."

It was love at first sight when Dale met his future wife Charlotte

at a ballroom dance in Lennox. He was a recent Leuzinger High

School graduate and she was a recent Hawthorne High graduate. He

was 19, and she was 18. Just a few weeks after their wedding, he was

drafted to the army and stationed at Fort Sill in Oklahoma. He

worked on classified rocket systems, thanks to his security clearance

from an after high school job at Douglas Aircraft Missile Systems.

After the military, Dale earned a bachelor's in mechanical engineering

from Cal Poly San Luis Obispo and then a master's degree

from USC. The family, with their newborn son Dean in tow, settled

in Manhattan Beach, where they turned their home's two-car garage

into a machine shop.

In the early '70s Dale invented the Reed Valve Intake System for

two-stroke engines. It provides a power boost and is now standard in

motocross bikes. Their backyard was always lined with dirt bikes

from manufacturers who wanted him to test his invention on their

bikes.

"Motorcycle companies would call and say, 'Tell me about your

invention,'" Dale remembers. "… We should have put a US patent on

it. I'm just an engineer."

Dean was just 5 years old when he rode his first mini-motorized

bike. After graduating from Mira Costa High School, he studied

mathematics at El Camino College while simultaneously working for

his parents as the "low man on the totem pole."

"Here I am a high school graduate wanting to do engineering and

I get to go to all these manufacturing shops and laboratories,"

recalled Dean, who proceeded to earn a B.S. in mechanical engineering

at his father's alma mater Cal Poly San Luis Obispo.

An article for Sports Aviation by Dale and Charlotte, detailing the

new engine Dale had invented caught the attention of the U.S. Army.

The Army awarded a contract to Herbrandson Engine Co. to build

engines for its pioneering Aquila aircraft. Business boomed from the

1980s through the early 2000s. At its height, the company employed

14 people. Herbrandson's first international client was the Israeli

Defense Forces.

"Everything is the best of the best because when you're working

on a weapon system, there's infinite money," Dale said. "What we

don't have is time. There's a funny expression – You get threatened

with money. But that's really how it was."

Then, with the national, 2011 sequestration (across the board)

budget cuts, business slowed across the defense industry.

"Everything just went quiet," Dean said.

Over the last decade, they've brought the workforce down to just

the family members and are serving just the U.S. military. They are

constantly developing new engine designs.

There are two more up and coming engineers in the family. Dean,

whose wife Kara is a longtime teacher at Hermosa Valley

Intermediate School, has two sons, Brett, 19, and Erik, 15, from a

previous marriage. Brett is studying mechanical engineering at

Stevens Institute of Technology in Hoboken, New Jersey, the country's

first university dedicated to mechanical engineering. Erik, a

sophomore at Palos Verdes High School, fixes up old mountain bikes

and sells them.

"He makes more money doing that than he could working for me

at Herbrandson," Dean said. PEN

It's Taco Time!

A Unique Catering Service Alternative for those who want to FIESTA!

High Quality Event Specialists

Mobile Taco Bar for Social Events,

Corporate Affairs or Family Gatherings

10%

OFF

plus a

FREE

Appetizer

for All New

Clients

Licensed • Bonded • Insured

• Lifetime South Bay Residents

• Approaching Our 15th Year in Business

• Family Owned and Operated

Call Today For Your FREE ESTIMATE

www.taco-man.com

orderservices@taco-man.com

P: (310) 784-1399 F: (310) 784-1396

December 2015 • Peninsula People 47
---
eventcalendar

CALENDAR OF COMMUNITY EVENTS

Compiled by Mary Jane Schoenheider

You can email your event to our new address: penpeople@easyreadernews.com

All submissions must be sent by the 10th of each month prior to

event taking place.

Wednesday, December 23

Birding with Wild Birds

At George F Canyon, 8:30 a.m. Explore the birds now making a home in

the restored habitat at the preserve. The program is free and open to the

public. All ages welcome. 27305 Palos Verdes Drive East, Rolling Hills

Estates. For more information, contact 310- 547-0862.

Friday, December 25

Merry Christmas

Saturday, December 26

Don't just imagine....

Registration begins for the South Coast Botanic Gardens' "Imagine the

Future" LEFO building contest. Forms and more information will be available

online beginning today or at the Guest Services desk at the Garden.

Entry fee is $5. Deadline for entry is Feb. 27, 2016. Entries will be on display

Feb. 27 through March 5, with winning entries on display thourgh

April 2. See website for rules, prizes and more information: southcoastbotanicgarden.org/event/imagine-the-future-lego-build-contest/2015-12-

48 Peninsula People • December 2015
---
eventcalendar

26/.

Explore Nocturnal Sights

With an expert naturalist under a full moon with the Palos Verdes Peninsula

Land Conservancy at the George F Canyon Nature Preserve. Must be age

9 and up. $12 per person. Reservations required. Call 310-547-0862 for

reservations and time.

Sunday, January 3

South Coast Rose Society

The annual rose pruning demonstration is from 1 to 4 p.m. at the South

Coast Botanic Garden's auditorium. The society's consulting rosarian members

will show how to prune roses properly so come watch and learn! The

public is welcome. For more information, visit Facebook. 26300 Crenshaw

Boulevard, Palos Verdes Peninsula.

Monday, January 4

Adult Education Class

The Palos Verdes Peninsula Unified School District-Adult Education, Winter

2016 Session begins today. Classes include: Simple Sewing, Oil Painting,

Handmade Greeting Cards, One Stroke Painting, Mosaic-Pique Assiette,

Beginning & Intermediate Bridge, Mah Jong, Wine Tasting, Astronomy,

ESL- (English As A Second Language), Italian-All Levels, Spanish-All

Levels. Exercise classes included are: ZUMBA FITNESS, NIA, Pilates, Yoga-

Beginning-Level I-Intermediate, Mind, Body & Spirit workout, Gentle Yoga,

Yogilates, Yoga Stretch & Meditation, Group Golf Lessons, Computer classes

include: Basics Computer, Ipad Basics and Internet Basics, Beginning &

Intermediate Computer, Beginning & Intermediate Excel 2010, Power Point

2010, and Email Savvy, For more information call: (310) 541-7626 x289

or visit pvpusd.net/adulted. Most classes are held at the Rancho Del Mar

High/Adult campus at 38 Crest Road West. Or at the Rolling Hills or

Malaga Cove campuses at 375 Via Almar, Palos Verdes Estates.

Saturday, January 9

Local History series

You are invited to the Palos Verdes Library District's fourth i nstallment of

the seven-part lecture series on idfferent eras of Peninsula history. The next

presentation, Save Our Coastline with Rancho palos Verdes Councilman

ken Dyda, will chronicle the history of the incofpofation of the Penisula's

fourhth city. 2 p.m. at the Peninsula Center Library Community Room, 701

Silver Spur Road, RHE. This program is free andopen to the public. For

more information please call 310-377-9584 x601.

Sunday, January 10

Chunk Cholla

Hiding in Plain Sight: a New Cactus Species from the California Desert will

be discussed by Michelle Cloud-Hughes. The "chunky cholla," found in

nearby San Bernardino, Riverside and Imperial Counties, is a distinct

newly discovered species. Lecture at 1:30 p.m. South Coast Botanic

Garden, 26300 Crenshaw Blvd., Palos Verdes Peninsula 90274. For more

information visit southcoastcss.org.

Monday, January 11

Palos Verdes Gem and Mineral Society

Meet and Greet at 6:30 p.m., Program at 7 p.m., Community Room of

Palos Verdes Main Library, 701 Deep Valley Dr., RHE. Please park on roof

Latisse

Buy One Get One Free*

www.celibre.com/pp

*Buy one 5mL Latisse, get one 3mL Free. While supplies last.

MODEL SHOWN

December 2015 • Peninsula People 49
---
St. John Fisher Catholic Church

Christmas Eve, December 24

Masses in Church and

Parish Activity Center

4:00 pm Church

4:00 pm Parish Activity Center

6:00 pm Church

8:00 pm Church

Midnight Mass Church

Carols begin at 11:30 pm

Christmas Day, December 25

All Masses in Church

7:30 am

9:00 am

10:45 am

12:30 pm

No evening Mass

Please join us as we celebrate the

Birth of Our Lord

Corner of Crest and Crenshaw

Rancho Palos Verdes 310-377-5571 www.sjf.org

calendar

as program goes past the closing

hours of the library. At the first

meeting of the new year, the

Program VP will show a DVD presentation

by the History Channel

called "How the Earth Was Made".

Everyone is welcome. There is no

charge to the public. Call 310-373-

2696 for more information.

Tues., January 12

What to expect

from prayer

"What Should One Expect From

Prayer?" will be the topic of the

Dawn Unity Group's second

Interfaith Discovery Series of Year

15 at St. Francis Episcopal Church.

This is religion at the very personal

level. Does God hear our prayers

and what are we entitled to expect?

When are our requests proper and

when are they selfish? The panelists

are Rev. Michael Bell, Episcopal

Chaplain of The Canterbury; Rev.

Jon Gathje, St. Paul Lutheran

Church; Rev. April Herron, Rolling

Hills United Methodist Church; and

Rev. Reinhard Krauss, Presbyterian

Minister and Prof. at UCLA. Bob

Rothman will be the moderator.

7:30 p.m. The free, 90 minute program

will be followed by refreshments

and a chance for further dialog

with the panelists. For more

information call (310) 833-7008.

2200 Via Rosa, Palos Verdes

Estates.

Wed., January 13

Peninsula Symphony

president to speak

The Palos Verdes Woman's Club

meets at noon at Trump National

Golf Club. John Williams, President

of the Peninsula Symphony, will be

the guest speaker. $32. For reservations

call Beverly Teresinski at

310-378-1349. For further information

visit pvwomansclub.org.

Palos Verdes Buddhism

Club Meeting

Don't worry about when the seeds

will sprout. Just plant them. The

world is full of people who spend

all their time thinking about the

crop they'll reap, without even

planting anything. 2:30 - 4 p.m.

Palos Verdes Library 701 Silver

Spur Road, Rolling Hills Estates,

50 Peninsula People • December 2015
---
eventcalendar

Conference Room next to the Gift Shop. Contact: 818- 571-3573 Call Bita

Asakura for more information.

Friday, January 15

Economist addresses PV Chamber

Celebrity economist Christopher Thornberg, founding partner of Beacon

Economics, will present his 2016 Forecast at the Palos Verdes Peninsula

Chamber of Commerce's Annual Economic Forecast Breakfast, 7:30-9:30

a.m. at Terranea Resort. In addition to the keynote speaker, the Chamber

will install its 2016 Board of Directors, chaired by Terri Haack, president

of Terranea Resort. The Chamber's Volunteer of the Year Award will be

presented to Allen Bond in honor of his volunteer services. $45 per person.

For reservations call (310) 377-8111 or visit

palosverdeschamber.com.

Saturday, January 16

Oh What A Night!

Back by popular demand at the Norris Theatre, "Oh What a Night!" is an

exciting, fast-paced musical tribute to the legendary Frankie Valli and the

Four Seasons. The exhilarating revue is charged with boundless energy,

nostalgic choreography, humor, and of course, classic pop hits like

"Sherry," "Big Girls Don't Cry," "Walk Like a Man," "Working My Way

Back to You," and many more from the dynamic songbook of those boys

from Jersey. The concert-like experience, which has thrilled audiences

world-wide, is written by Motown producer George Soloman and directed

by award-winning Broadway producer/director Michael Chapman.

Tickets for the 8 p.m. performance are $48-$58, with a $10 discount for

children ages 12 and under. For more information or to purchase tickets

call the box office at (310) 544-0403, ext. 221, or go to

www.palosverdesperformingarts.com. The Norris Theatre is located at

27570 Norris Center Drive in Rolling Hills Estates.

Sunday, January 17

Organ concert, from Ives to Bach

The Neighborhood Church presents Tom Trenney in the latest in its series

of annual Organ Concerts, 4 p.m. Trenney will perform music by Ives,

Sweenlick, Durufle, Bach and others, as well as his original compositions.

For more information go to neighborhoodchurchpve.org.

Wednesday, January 20

4-H Club Meeting

The 4H Club offer a wide range of projects for youth members 9 to 19

years old. Projects include Pets & Small Animals, Horses, Dog Care,

Beekeeping, Poultry, Sewing, Marine Biology, Wildlife, Surfing,

Leadership, Photography, Archery, Shooting Sports, Computers, Rocketry

and more. 6:45 to 8 p.m. For more information visit pvp4hclub.org or call

Dee Keese at (310) 377-9773 or Peter Michel at (310) 493-5559. You

can also send an email to pvp4hclub@gmail.com or swimdude64@earthlink.net.

Meetings are at the City of Rolling Hills Estates City Hall, 4045

Palos Verdes Drive North.

Friday, January 22

Laugh Out Loud With The Nerd

Palos Verdes Performing Arts will present the Broadway comedy, "The

Nerd" January 22-31 at the Norris Theatre. Critics have called Larry

Shue's inventive, side-splitting farce one of the funniest plays ever written.

Simply Tiles Design Center

Fine Ceramics, Natural Stone, Hardwoods, Cabinetry, Faucetry.

Kitchen & Bathrooms Specialist.

3968 Pacific Coast Hwy., Torrance • (310) 373-7781 • www.simplytiles.com

License #904876

December 2015 • Peninsula People 51
---
eventcalendar

Suzy Zimmerman, Agent

Insurance Lic#: OF71296

4010 Palos Verdes Dr N, Suite

103

Rolling Hills Estates, CA 90274

Bus: 310-377-9531

www.zimziminsurance.com

That's when you can count on

State Farm®.

I know life doesn't come with a schedule.

That's why at State Farm you can always

count on me for whatever you need –

24/7, 365.

GET TO A BETTER STATE.

CALL ME TODAY.

1101198.1 State Farm, Home Office, Bloomington, IL

The story centers on the hilarious dilemma of a young architect whose life

is suddenly upended by an unexpected visit from a man he has never met,

but who saved his life in the army. Unfortunately, the hero turns out to be

a hopelessly inept "nerd" who quickly wears out his welcome. From the

moment the bumbling, tactless visitor appears, everything falls apart, nearly

destroying the architect's relationships and career. With lovable characters

and unexpected twists at every turn, this laugh-out-loud comedy also

delivers an inspiring moral message. Performance times are Fridays and

Saturdays at 8 p.m. and Sundays at 2 p.m. Tickets are $48-$58. For more

information or to purchase tickets call the box office at (310) 544-0403,

ext. 221, or go to www.palosverdesperformingarts.com. The Norris

Theatre is located at 27570 Norris Center Drive in Rolling Hills Estates.

Sunday, January 24

Film Festival

The Palos Verdes Peninsula Land Conservancy's second annual Wild &

Scenic Film Festival presents an exciting selection of adventurous and inspirational

films about nature, with beautiful cinematography and some

remarkable individuals whose passion is contagious. Tickets and more

information at pvplc.org or call (310) 541-7613. 4 p.m. at the Warner

Grand Theatre, 478 West 6th Street, San Pedro.

Wednesday, January 27

Mac Users Group Meeting

Beginners Q & A at 8 p.m., followed by a presentation on a topic of interest

to all Mac users. Free. All Mac/iPad/iPhone users and potential users

are welcome. For more information, call (310) 644-3315 or email:

info@sbamug.com. Lomita VFW Hall, 1865 Lomita Blvd.

310-325-6500

Thursday, January 28

Designer Suzi Click at Associates

Artisan apparel and accessories designer Suzi Click, whose work is on

exhibit at The Artists' Studio of the Palos Verdes Art Center, will address

the monthly meeting of the Palos Verdes Art Center/Beverly G. Alpay

Center for Arts Education. The PVAC Associates meet monthly on the 4th

Thursday at 6 o'clock. Reservations are not necessary. Appetizers and

refreshments are served at 6 o'clock and the lecture begins at 7. Guests

and prospective new members are welcome at this or future monthly meetings.

For more information, call Membership Chairman, Janet Earl at 310-

378-0625 or email Janetearl@cox.net. 5504 West Crestridge Road,

Rancho Palos Verdes.

Saturday, January 30

Impressions Nature Walk & Art Workshop

Explore the Coastal Colors theme during a naturalist-guided walk, then

paint in the outdoor art studio with Art to Grow On. All ages welcome.

$25 per family. RSVP to info@pvplc.org or 310-541-7613. Pelican Cove

Park, Terranea Resort.

Sunday, January 31

Volunteer Trail Watch Training

If you like to ride your bike or horse or simply hike and want to help protect

the Preserve, its habitat and wildlife, then become a Trail Watch

Volunteer and make a difference on the trails on your own schedule.

Please sign up for all three, 3 hour training sessions. To sign up, visit

pvplc.volunteerhub.com. At the Ladera Linda Community Center. PEN

52 Peninsula People • December 2015
---
December 2015 • Peninsula People 53
---
Give the gift of health

Join our Fusion Revolution-Lose 20 lbs in 6

weeks . Money back guarantee!

Go to KO20.com to register space is limited.

Call (310) 833-6262

Atomic Boxing

(310) 539-6685

25355 Crenshaw Blvd., Torrance

(310) 833-6262

960 N. Western Ave., San Pedro

atomicboxing.com

A Gift of Beauty

Purchase a gift certificate at Celibre Medical Laser

Dermatology in December and receive 10% off the

value.

Celibre

23211 Hawthorne Blvd., Second Floor, Torrance

(800)- 689-1571. Celibre.com/beach

We Bring People & Nature

Together

Your Backyard Bird Feeding Specialist

BIRD FOOD • FEEDERS • GARDEN ACCENTS

• UNIQUE GIFTS • OPTICS

Wild Birds Unlimited

Located in Rolling Hills Plaza

25416 Crenshaw Blvd, Torrance

(310) 326-BIRD (2473)

Mon, Wed-Sat 10-6, Tue 10-5:30 Sun 11-4

Holiday 2015

Always a delicious gift!

Admiral Risty Gift Certificates

Available in any denomination

and they never expire.

Stop in or call Wayne or Tim today!

(310) 377-0050

www.admiralristy.com

31250 P.V. Drive West • Rancho Palos Verdes

The Gift of Luxury

Give the gift of Terranea, with indulgent experiences

for friends

and family members including resort stays, spa

treatments,

golf, outdoor adventures, dining, and more.

Terranea Resort

100 Terranea Way, Rancho Palos Verdes

Terranea.com

(310) 265-2800

Urban Feet & Skate

The UGG Australia story began in 1978 when a

surfer by the name of Brian Smith needed a way to

keep his feet warm between waves and the UGG

classic was born. Crafted from Merino grade A

sheepskin, the classic surf boot is lightweight and

perfect for walking on sand. The idea caught on

and today UGG boots have become a phenomenon.

We carry a full line of UGG Australian

products for men, women, and kids.

Urban Feet

329 W. 6th Street, San Pedro

(310) 832-9364

Celebrate the Holidays!

Join us the entire month of

December for Our WINE Specials!

Receive 25% - 45% OFF

All Bordeaux & Burgundy Wines!

La Rive Gauche

320 Tejon Place

Palos Verdes Estates, CA

(310) 378-0267

LaRiveGauchePV.com

54 Peninsula People • December 2015
---
Southern California's Newest Marina

Happy Holidays!

Marina Amenities

• SLIPS from 28' to 130'

• Dry Storage w/Crane Launching

• New Restrooms w/Showers

• Ice Machines & Laundry

• Pumpout - Public & In-Slip

• Ample FREE Parking

Shortest

Run to

Catalina!

Marina (310) 514-4985 • Dry Storage (310) 521-0200

Cabrillowaymarina@westrec.com • cabrillodb@aol.com

www.CabrilloWay-Marina.com

2293 Miner St., San Pedro, CA 90731

NOW

OPEN!

THE LUXURY OF BEAUTY IN

YOUR OWN HOME

WE COME TO YOU!

MAKE UP ~ $50.00

BLOW OUTS ~ $60.00

A DOLL UP ~ $90.00

*INQUIRE ABOUT SPECIAL EVENTS

BOOK YOUR APPOINTMENT TODAY

WEB: WWW.DOLLEDUP.CO

EMAIL: JENN@DOLLEDUP.CO

PH: 310.200.1606

Preserve your timeless treasure

We live in an age where just about everything is disposable.

Yet centuries ago when the world's finest

clockmakers were hard at work, their aim was to

create a mechanical marvel that operates continuously and

last forever. Imagine a hand made complex mechanism of

inter-working parts designed to keep time accurately. Your

clock is a work of art and your job is to keep this timeless

treasure healthy for the next generation.

Your clock reminds you of its presence every time you wind

it and if its accuracy is not what it used to be, or its chimes are

not as strong rythmic, or maybe it just stops. That means it's

talking to you and telling you that its endless life is in jeopardy.

It is imperative to maintain and service your clock regularly.

Oil gets old and dry forcing the train of gears to work twice

as hard to accomplish their goal. This results in damage that

drastically shortens the life of a fine timepiece.

Michel Medawar has been extending the lives of timepieces

for over fifty years as his father did fifty years before. He is

the inventor of the first talking clock in the world. He is a

graduate from Patek Philippe in Geneva, Switzerland, The

Theod Wagner clock Co. in Wiesbaden, Germany, and the

Howard Miller Clock Co. in Zeeland, Michigan. Call him so

that he may come to your home and offer you a free estimate

for servicing your clock. Or bring your wall or mantel clock to

our store to see our showroom and receive the same complementary

diagnosis.

We are located at 810C Silver Spur Rd., in Rolling Hills Estates, Ca.

90274. Or call us at (310) 544-0052.

Open 10:00 am - 6:00 pm Tuesday - Saturday

810C Silver Spur Road • Rolling Hills Estates • CA 90274

Call 310.544.0052

December 2015 • Peninsula People 55
---
S P O T L I G H T O N T H E H I L L

Volunteer Center

Building Renaming Ceremony

De De Hicks knew that her

Volunteer Center Board had

decided to name the headquarters

for her, but they were able to surprise

her at the donor recognition

party with an oil portrait of her

taken from her favorite photo portrait.

Hicks retires Dec. 31 after

almost 30 years as CEO and president

of the Volunteer Center, South

Bay/Harbor/Long Beach. More than

60 donors gathered on Dec. 3 to

honor her with the naming and

with their support of the De De

Hicks Legacy Funds, which has

raised more than $300,000 to continue

the programs she initiated:

Operation Teddy Bear, Food For

Kids, teen volunteer development

and the Durfee Scholarships.

1

1. Donors gathered outside

the building and on the second

floor as the spotlight shone on

the newly named De De Hicks

Building. Hicks was responsible

for the $1.2 million campaign

that rehabilitated a historic,

derelict building under

the direction of Edward Carson

Beall.

2. De De was caught by surprise

when her portrait was

unveiled and she learned that it

would hang in the lobby with

the list of donors to the De De

Hicks Legacy Funds.

3. Lea Ann King (right) and

Jean Adelsman, the co-chairs

of the De De Hicks Legacy

Funds campaign, flank Sharon

2

Ryan, who chaired the

evening's festivities.

4. De De Hicks greets her

former protege Sara Myers,

who will succeed her on Jan. 1

after nine years as executive

director of the Long Beach

Library Foundation.

5. Donors gather in the lobby

during the reception.

3 4 5

CAREGIVERS PROVIDE:

• Companionship / Activities of daily living

• Home Maintenance: Meals, Light Housekeeping, Errands & Appointments

• Care for Dementia / Stroke / Hospice Clients

• Complex Care of: Wounds, Feeding Tubes, Foley/Ostomy/Trach/Home Vent Clients

• Psychosocial Support: One on one conversation, Games, Walking, Shopping

• Clients are visited by Licensed Nurse Twice a Month

Accepted form of Payments:

Long Term Care Insurance/VA Insurance/ Private Pay

E-mail us at bvillanueva.rn@gmail.com

Licensed, Bonded, Workers Comp

Caring Is What We Do Best

www.24hourhomecarebuddies.com

OUR TEAM

Highly competent, compassionate caregivers,

trained and supervised by

Licensed Nurse/Case Manager

CALL TODAY FOR FREE ASSESSMENT

310-756-5666

(24 HOUR MESSAGE CENTER)

V ilicich

Watch & Clock

Established 1947

Independent Rolex Service

Buy • Sell • Repair

Service of Antique and Grandfather Clocks

714 South Weymouth Avenue, San Pedro, CA 90732

(310) 833-6891

We Buy

Watches!

56 Peninsula People • December 2015
---
Janet L. Dion

1928-2015

The family and many good friends of Janet mourn her passing

from complications of cardiac arrest. Janet was born in Seattle.

The family moved to Southern California when she was three.

She graduated from Long Beach Wilson High, Long Beach City College

and then from UCLA where she earned a BA in business. In 1951 she

met her lifelong partner Mitchell O. Dion, Jr. of Long Beach and were

married In November of 1951. They moved to the Palos Verdes

Peninsula in its early days when $21,000 could buy a new tract home.

Jan managed a successful career in real estate while raising two children.

Eventually she focused her many organizational talents on community

and charity work. She was one of the founders and later a president

of the Palos Verdes Junior Woman's Club. Her affiliation with

National Charity League began in 1966 and from 1971-72 she was

Peninsula chapter president. A great honor was bestowed on her in

1980 when she became president of the National Charity League

Council which governs all chapters. Her other great interests were gardening

and traveling. She is survived by her husband of 64 years and

their children Lindsay Dion and Mitchell Dion lll (Sydney), 3 grand

children and 2 great grandchildren.

Rita Marie Bayer

Rita passed away peacefully at home on November 6, 2015. She

leaves her loving family and a multitude of friends who will

greatly miss her. Rita cut a

wide swath in whatever she did

throughout her life. She was a

native New Yorker, and graduated

with honors from the College

of Saint Rose in Albany with a

degree in Nursing. She delivered

quite a few babies in her nursing

career, as doctors were in short

supply due to World War II.

Rita worked as a nurse until

she met her husband, Al. They

met because both of their mothers

were "Rosie the Riveters" during

WW II. The women got to

talking about their children while

twisting wires as part of the war effort, and as Rita put it – the rest is

history. Al commenced upon a successful career which brought them

to California in 1949. Times were booming and after a number of

moves, they landed in Palos Verdes Estates where Rita resided for 60+

years. Upon moving to PVE, Rita became a volunteer with many

organizations including the Palos Verdes Community Arts Association,

which is now the Palos Verdes Art Center. While with the Art Center,

she served as Development Director, Vice President, President, and

finally Chairman of the Board. Of the many recognitions Rita received

for leadership and service, the 2005 Palos Verdes Art Center Medici

Award was her most cherished. Rita was an avid golfer and served as

Chairman of the Palos Verdes Women's Club, where she used her love

of golf to organize and oversee a number of golf tournaments. As a

long-time member of PV Golf Club, Rita was the first woman ever

elected to its Board of Directors and served on various committees during

her tenure.

Rita's love of classic cars from childhood extended to her involvement

in the Palos Verdes Concours d'Elegance where she served as Co-

Chair, Board member and in a number of other positions over the

years. Rita and Al traveled around the globe, but one of her favorite

in remembrance

spots was a small, rugged family cabin on Great Sacandaga Lake in the

Adirondack Park in upstate New York. She loved the beauty and quietness

of this special place, and spent many summers at "the lake".

Rita is lovingly survived by her son Chris, daughter Kathy, grandchildren

Andrea, Danita and Jonathan, great grandchildren Maeva and

Avelyn, son-in-law Robin, grandson-in-law Jeff, and her most cherished

companion - her cat Ditz. Nothing made her happier than to be

surrounded by her family. Rita was a loving, intelligent, witty, energetic

and gifted person who was an example to many. Though she will

be greatly missed, she lived a full and long life for which we are all

grateful.

A celebration of her life will be held on January 30, 2016 at noon at

the Palos Verdes Golf Club.

Ree R. Ryan

1962-2015

Ree R. Ryan, 53, of Rolling Hills Estates, died unexpectedly at

home on November 21. Ree was the loving and devoted husband

of Jennifer Hill Ryan whom he married 27 years ago, and

the proud and adoring father of Cole and Connor Ryan.

Born October 19, in San Pedro to Richard Edward Ryan and Joan

Parker Ryan, Ree was raised in Lomita. Ree graduated from Narbonne

High, and received a BA in Business Administration with an emphasis

in Real Estate from USC in 1985, and also held his Real Estate Broker's

license.

Ree and Jennifer were married December 10, 1988 and lived their

married life in Rolling Hills Estates where they raised their two sons.

Ree had a 28 year career as a Real Estate Asset Manager beginning at

Fluor Daniel where he worked for 11 years. He made his start with

Fluor managing sites for Cell Towers which was a great fit since he

understood the construction end of the business and was the perfect

person to visit the sites and talk to the crew. He also worked for Carl

Karcher and was most recently a Global Asset Manager at CBRE.

Ree was very active in the community, volunteering in Youth Sports,

Indian Guides and serving in Boy Scouts as a Cub Master and then

Scout Master for a total for 6 years. Ree was an avid outdoorsman; he

loved hunting with his dad, skiing and backpacking with his sons and

was a long time surfer. He passed this love of the outdoors to many

young people through his work in Scouting. He loved motorcycle riding

especially his beloved Harley Davidsons.

He was a talented craftsman and handyman. He helped his family

and friends with home improvement projects and worked on countless

Eagle Scout projects always knowing how to solve problems and get

things fixed. Ree was a humble and generous man who truly lived his

life for others. He was always available to help anyone in need, never

too busy to lend a hand.

He remained young at heart, loving simple fun things and in all that

he did, he always had a great spirit of fun about him, smiling, joking,

goofing off, lightening the mood, calming worries and encouraging others.

He loved life, but Ree loved his wife and sons most of all. He was

the ultimate family man. Ree's huge heart, his smile and larger than

life personality will never be forgotten and he leaves a huge void in the

lives of his family and many friends.

Ree is survived by his wife and sons, his mother Joan Ryan, sister

Erin Ryan Israel (Ron) and five nieces and nephews. Ree was predeceased

by his father.

A private Committal ceremony was held at Green Hills Memorial

Park.

Donations may be made in Ree's name to Boy Scouts of America.

(Donate through BoyScoutsLA.org using the "Donate" button, designate

a Memorial Fund, and include Ree Ryan's name in your note.) PEN

December 2015 • Peninsula People 57
---
Palos Verdes Performing Arts

n Palos Verdes Performing Arts has announced

the appointment of Lisette Herrera to the newly

created position of Director of School Programs

and Grant/Donor Development for the organization's

highly acclaimed performing arts education

program. Herrera earned a Bachelor of

Arts degree in elementary education with a

minor in theatre at University of New Mexico,

and was employed as an elementary school

teacher in Albuquerque for the last 11 years.

Prior to teaching she was involved in musical

Lisette Herrera

theatre as a performer and worked in Disney's College Program in Florida.

Located in Rolling Hills Estates, the Palos Verdes Performing Arts

Conservatory offers a wide array of acting, vocal and dance classes at all

levels, as well as four full-scale professional-caliber student productions each

year, summer camps, workshops, master classes, and four song and dance

troupes. Since 2013, the program has partnered with Palos Verdes Unified

School District elementary schools to bring performing arts education into the

classrooms. For more information visitwww.palosverdesperforming

arts.com/education or call 310-544-0403, ext. 304.

Whale of the World Grant Award

around&about

Robert Dumas presents

check to Herb

Stark, Los Serenos

de Point Vicente

Interpretive Center

Chairman of the

Grants Oversite

Committee.

Las Amigas de Las Lomas

n Las Amigas has been around since 1957 and are a primary fundraising

arm for the Orthopaedic Institute for Children downtown Los Angeles.

For over 50 years their primary fundraiser was the 3 day horse show at

Ernie Howlett Park.

They have reorganized and in June created and opened their doors to a

youth group, Los Amigos, accepting boys in Middle and High School. They

have now just started accepting girls into the group as well and have a roster

of approx. 40 youth already. They are now a unique coed group with

the opportunity to volunteer at a local hospital as well as in the community.

They have a few members that clocked over 150 hours at the hospital

already this past summer.

Students at the tidepools.

Vinyl Windows

Replacement and New Construction

BUY ONLINE

AND SAVE BIG $$$

WWW.1STWINDOWS.COM

VINYL, ALUMINUM, WOODCLAD

Lowest Prices Up Front • No Games

Show Room 562-494-9069

CONTRACTOR REFERRAL • Fax 562-494-2069

National Charity League

n The Philanthropy Committee of the National Charity League's Peninsula

Chapter met to begin the process of researching philanthropies for the

Chapter's annual grant awards . The

committee consists of Carol

McFarland, Sharon Oda, Christine

Pearson, Chair-Valerie Real, Cathy

Stain and Jennifer Townsend,

Chapter President MaryBeth Kane,

President-elect Janet Westergaard

(not pictured), Immediate Past

President Julie Long (not pictured)

and Community Philanthropy Chair-

Mary Schaefer. Once research of

the philanthropies is complete, the

committee will meet in February to

make grant recommendations.

Money for grants comes from proceeds

from the National Charity

League Ticktocker Thrift Shop in San

Pedro. In the 2014-2015 fiscal

year, the NCL Peninsula Chapter

awarded over $167,000 in scholarships

and philanthropic grants to members of our South Bay Community.

58 Peninsula People • December 2015
---
Admiral Risty Anniversary

n Restaurant proprietors, Wayne and Jan Judah, share a toast to The

Admiral Risty's milestone 50th Anniversary, which the restaurant will commemorate

with a 50-week celebration beginning Sunday, January 17

through Saturday, Dec. 31, 2016 and everyone is invited to join in the fun!

Highlights will include a weekly drawing for a $50 Admiral Risty Gift

Certificate, free

desserts for dining

guests celebrating

a 50th

anniversary or

50th birthday in

2016, free

recipe cards,

and live entertainment

in the

Seaside Lounge

Tuesday through

Sunday nights.

For reservations

or more information,

call (310)

377-0050 or

www.admiralristy.com.

Palos Verdes High School

student Jeremy Adler.

around&about

7th annual SKECHERS

Friendship Walk

The Skechers Friendship Walk had

its biggest year yet, raising over

$1.4 million for children with special

needs and education. Over 12,000

people joined together in Manhattan

Beach to show their support including

families, friends, celebrities, and

corporate sponsors. Local PV High

student, Jeremy Adler, did an incredible

job singing the National Anthem.

All in all, it was a fun and eventful

day for a great cause. PEN

SIMICH

CONSTRUCTION

Performing Quality Work on the Peninsula Since 1976

Gift Will Enlarge Rose Garden Renovation

n An all new Rose Garden will bloom at the South Coast Botanic Garden,

enhanced with a memorial fountain, thanks to a generous gift of $75,000

from the founding family of the Kellogg Garden Products Company in

Carson. This gift will help ensure that the Rose Garden continues to be as

beautiful in 10 years as it will be the day it reopens to the public. The fountain,

a showcase piece located at the entrance of the new Rose Garden,

will be named in memory of H. Clay and Janice Kellogg. "These gifts create

a ripple effect inspiring others to give, allowing us to enrich and improve

upon the healing, educational and purposeful resources the Garden provides

for our community every day," said Adrienne Nakashima, CEO,

South Coast Botanic Garden Foundation. "The South Coast Botanic

Garden is sincerely grateful to the Kellogg Family for their vision and generosity.

We are humbled to receive Hap Kellogg and Kathy Kellogg

Johnson's gift in honor of their mother and father." The Kellogg family has

been a long-standing supporter of the Garden and served in various volunteer

leadership roles at the South Coast Botanic Garden Foundation. Their

involvement over the years helped to establish and improve South Coast

Botanic Garden for the community.

"My mother Janice saw the value in having a full-grown garden experience

in our community," said Kathy Kellogg Johnson. "She consistently pointed out

blooming plants by naming the flowers along the roads we travelled. The

opportunity for the whole community to share the botanical experience was

special to her." The South Coast Botanic Garden is in the process of renovating

the Rose Garden where the fountain will be placed. The Rose

Garden contains approximately 1,600 roses, including hybrids, tea, floribunda,

grandiflora, and old fashioned roses. The garden has been selected

as an All-American Rose Selections (AARS) Public Garden meaning top

AARS winners are added to the garden every year. A pruning demonstration

class is held annually in early January. South Coast Botanic Garden is

also building a new Children's Garden. Both projects are emblematic of the

efforts by the Foundation to improve experiences for families and the greater

community.

For more information, please visit www.southcoastbotanicgarden.org.

PAVERS

STAMPED CONCRETE

STONE WORK

Driveways

Interlocking

Pavers

Walkways

Custom

Stone

Fireplaces

Water

Features

Firepits

Decorative

Concrete

Landscaping

Erosion

Control

Block Walls

Foundations

Cassons

BARBEQUES

FOUNDATIONS

POOL AND SPA

310.519.8203

INSURED LIC #410855 A,B, C-8, C-21

Visit our Website at

www.SimichDevelopment.com

December 2015 • Peninsula People 59
---
S P O T L I G H T O N T H E H I L L

Special Children's

League

An Affair to Remember

Members of the Special Children's

League welcomed guests to their

annual Affair to Remember at the Palos

Verdes Country Club this past November.

The members and guests celebrated the

58th year supporting programs and services

with United Cerebral Palsy Los Angeles.

The day featured a boutique that brought

back many favorite and some new vendors.

Following lunch, this year's

Educational Grant recipients were awarded

scholarship funds. Guest Ronald

Cohen, President and CEO, United

Cerebral Palsy of Los Angeles, Ventura and

Santa Barbara Counties was introduced.

The day's guest speaker was Mary-Ellen

Lykken, a mother of two boys, one of

whom has cerebral palsy. Her words

touched the hearts of all the guests.

1

3 4 5

2

PHOTOS BY

MARY JANE SCHOENHEIDER

1. Benefit Chairs Michele Dahlerbruch, Lori

Delgado and Barb Dancy.

2. United Cerebral Palsy Los Angeles

Development Director Margaret Preusser and

Special Children's League President Janice

Robinson.

3. Tracy Lazarus and Kristina Mermelstein

show off some of the boutique items.

4. Guests Julie Moe Reynolds, Susie Campbell

and Abby Douglass.

5. Long time SCL member and Patroness

Helen Schuchert and guest Pat Brown.

6. Lori Delgado and Laura Millman.

7. Jennifer King and Phyllis Thomas.

8. Vickey Debrowski and Mary Lou Platte.

9. Judy Krbhliel, Susan Welch, Lena Muller-

Hori and Patty Bevias.

10. Grant Recipients Hasmine Belmonte, Palos

Verdes High School, Jill O'Connor, Point Vicente

Elementary, Nancy Lemargie, Valmonte School

and Tara Swall, Transition to Independence.

11. Patti Bevis.

12. Amy Snyder, special guest Ronald Cohen,

PHD, President and CEO United Cerebral Palsy

of Los Angeles, Ventura and Santa Barbara

Counties and Special Children's League member

Lynn Webster.

13. Speaker Mary-Ellen Lykken.

6 7

8

9 10

11

12 13

60 Peninsula People • December 2015
---
A & J Plumbing

St. Lic. #889571 Bonded & Insured

Clogged Drain?

Sewer Backup?

Need a Hydro-Jetter?

Water Heater?

Gas Leak?

Faucet Leak?

• Fully Stocked Truck

• Clean Professional Technicians

• Family Owned & Operated

• Copper Repipes

• Faucet

• Garbage Disposal

• Trenchless Sewer

Replacement

• Tree Root Removal

• Sewer & Drain Cleaning

$

35 off

any service

A & J Plumbing

310.629.1830

Must present coupon. Not valid with other offers or prior services. No Exp.

$

79

any drain, any time

A & J Plumbing

310.629.1830

Must present coupon. Not valid with other offers or prior services. No Exp.

free

sewer camera inspection

with any drain service

A & J Plumbing

310.629.1830

Must present coupon. Not valid with other offers or prior services. No Exp.
---
S P O T L I G H T O N T H E H I L L

CELEBRATE WELLNESS

T

his 19th Annual Food & Wine Tasting event

benefiting the Cancer Support Community

was held at the South Coast Botanic Garden

on the Palos Verdes Peninsula on Sunday, June 28th.

Photos by Adrienne Slaughter

1

2

1. Event sponsor Mike and Eileen Fiore

2. Torrance Memorial Medical Center event

sponsors Allyn and Nancy Lean, Barry and Barb

Le Quire, Russ and Debby Kelley, Gerhard and

Heidi Assigal with Sr. Vice President Sally

Eberhard

3. Will-call desk volunteers Teresa Brodkin and

Rochelle Katz join Cancer Support Community's Jill

Gray with 2-time Survivor Joan Mizubayashi

4. Colette Koines and Arlene Sims sell raffle tickets

5. Mike and Kelly Grogan receive Pasta

Sonoma from Bettolino Kitchen's CJ Senados and

Jamie Cyphers

6. Bottle Inn's Silvio Petoletti with wife Darlene

7. Kristi Naff, Easy Reader's David Mendez and

Adrienne Slaughter with Board President Kyle

Kazan and Theresa Plakos of the Cancer Support

Community

8. Jus' Poke's owner Stefanie Honda-Snow with

Manager Hulysses Mendoza

9. Barsha's owners Lenora and Adnen Marouani

10. Kelley Mathews, Mickey Marraffino, Senior

Deputy to LA County Supervisor Knabe Steve

Napolitano, Joanne Galin and CSC's Theresa

Plakos

3 4

5

6

7 8

9 10

62 Peninsula People • December 2015
---
MicroJib cont. from page 41

Another in a corn maze, the film running along the tall stalks fanned

in all directions.

"Because you can control what you are filming, [the film] embodies

your emotion, what you are feeling. [MicroJib] is helping people be

more creative," Swanson said.

"We don't like to think of ourselves as a selfie stick at all – this is

a filming tool."

Late one evening this week we talked again, as Ben was going

through his first order from China and adding a rivet to each MicroJib

where the glue had become detached.

Roommates Jackson Wagner and Drew Smith (also an old friend

from PV High) were helping.

"He needed an extra set of hands," Wagner said. "[Ben's] a good guy,

so creative. He is always looking for ways to improve."

Swanson wrote his own patent and contacted a manufacturer in the

Guangdong province in China, where most of the world's video

equipment is made. He does all his own advertising. An old friend

from Palos Verdes High, Zane Abraham, does the website.

"It took four years. It was really time consuming," Swanson said.

"[Ben's] committed to things through hard work," Don Swanson

said. "He has a certain stick-to-it-ness…he keeps at it. He just has

determination."

The company was officially funded January 2015, backed by a successful

Kickstarter campaign.

"We are burning through our first order of 1200 MicroJibs,"

Swanson said.

With National Geographic photographer Jeff Mauritzen using the

MicroJib to angle in on penguins, seals, and the vast landscape of

Antarctica, the MicroJib will now be on all seven continents.

"The thing that I think is amazing about it are [the] reviews, 'the

best pole on the market'– there are a lot of poles on the market, to get

that sort of accolade is really something," Don Swanson said.

MicroJib made the "must have" gadgets list in CNET Magazine. It

has been featured on Fox News in San Diego.

"[The MicroJib] is very versatile, it helps a lot with on the go filming.

It's all in a quick hand motion. It is fun to play with the amount

of shots you can get just by twisting your hand around," said Smith,

Swanson's roomate and high school friend.

Swanson carries MicroJib with him wherever he goes.

"I always find that the best stuff to film is the stuff you least

expect," he said. "I ran into break dancers the other day on the street.

You never know what you may want to capture."

For more information, see MicroJib.com. PEN

Barretts cont. from page 37

counselor at Rider University, working with

first-generation college students.

"I loved that work, but during that time I

realized that what I loved most was working

in a one-on-one connection with students,"

she said. "Helping them with their personal

and psychological problems seemed more

urgent than helping them pick what class to

get in."

After seminary Barrett was called to a ministry

position on Mercer Island, just east of

Seattle.

Singh-Barrett earned a Ph.D. in clinical

psychology from Seattle Pacific University,

served as clinical director of the Olive Crest

Treatment Centers in Seattle, working with

high-behavioral-risk young people. Then she

opened a private practice on Mercer Island,

with a focus on young people and families.

Unconventional moves

Meanwhile, her husband began serving as

the church's pastor to youth and their families.

"I loved it, loved it, loved it," he said. "I

thought, I'll grow old doing this."

Then he was asked to bring the vibrancy of

his youth ministry to the larger church, and

after some hesitancy, became intrigued.

"I said, 'Why don't you guys come up with

a job description, and see what you want?

Maybe I won't be that person.'"

It turned out he was that person, and he

took the unconventional path of eventually

becoming co-pastor of the same church.

"I honestly didn't know if we could do that,

but we found out there was a way."

The church was open to new ways of doing

things, and Barrett drew upon his experience

with young people to thrive in the larger role

as well.

"I love youth ministry because we get to

meet people where they are," going "out in

the world" to gathering places such as

schools and sports fields.

"Our offerings for adults are mostly in

church, on the campus, and I spent several

years creating new opportunities for adults. I

call it doing youth ministry in the adult

world."

The congregation offered lunches for professionals,

and went to places like the local

parks and recreation, asking what sort of

service was needed.

"What is there not enough manpower to

do? Do you want us to paint these walls, or

turn over these flowerbeds?"

"Sometimes people were nervous we

would come and proselytize," Barrett said.

"They'd ask, 'Are you going to paint a Bible

verse on one of those walls?' No, we just

want to serve, and bless this community that

we are blessed to be part of."

The couple spent 14 years in the

Northwest, and welcomed their children,

Mayah and Miles, who are now 6 and 3.

Then they made the move to Palos Verdes.

supposed to use both for the glory of God."

Barrett said the couple is "over the moon"

grateful for their new environs, the community,

the church and the kids' schools.

"We love the beach, and I'd be lying if I

said we don't smile every time we wake up

and the sun is shining. For 14 winters in

Seattle we didn't have that," he said.

"We feel like we're the luckiest people in

the world to be here. We found a wonderful

church, a beautiful place – not just the ocean

and the sun, but the people," Singh-Barrett

said. "It just feels magical."

Into the future

"St. Peter's has been a great place for people

to come, and it will continue to be. One

of our growing edges and stretching points is

to figure out what it really means to be part

of the community, Palos Verdes, stretching

out to San Pedro, the South Bay," Barrett said.

"How do we grow our younger membership

generously, to be a place for young families,

young people, that's something I've

been thinking about."

"How can people grow older graciously? A

lot of people are growing older. That's our

world, how do we embrace that?"

"How do we live out our Christian faith in

ways that are faithful to who we are," reaching

out to everyone from "faith-based organizations

and school districts to Terranea

[resort] to Trader Joe's to Parks and

Recreation?"

"This is an amazing community with a rich

history, and I believe our best seasons are

ahead of us. With God's leading, we hope to

grow St. Peter's into a community that will

exist as much or more for the community

and world around us, as ourselves."

For more about St. Peter's by the Sea go to

stpeterspres.org, find the church on Facebook or

follow them on twitter @StPetersPV. PEN

Over the moon

After spending the last 20 months taking

the lead in the relocation of the family, Singh-

Barrett will soon resume private practice in

clinical psychology.

She said Christians sometimes "steer away"

from the services of mental health professionals,

"thinking if they pray harder and

have more faith, their problems will go

away."

"I don't think that's true," she said. "We all

have areas in life we struggle with, and I

think God calls us to care for each other. In

the Reformed Tradition we say God gave us

these amazing minds, and hearts, and we're

64 Peninsula People • December 2015
---
Your Local Expert Community 424-269-2830

COINS

CONSTRUCTION

Call us to Discuss the

ENDLESS POSSIBILITES

Extreme

Hillside Specialist

Foundation Repair Experts

Grading & Drainage

Retaining Walls,

Fences & Decks

310-212-1234

www.LambConBuilds.com

Lic. #906371

GARAGE DOORS

ELECTRICAL

HANDYMAN

Handyman

Services…

Fix It Right the

First Time

We like small jobs

/ Free estimates

What we do…

Plumbing,

Electrical, Drywall,

Painting & more.

Valente Marin

310-748-8249

Unlic.

PLASTERING

Patch Master

Plastering

Patch Plastering

Interior • Exterior

• Venetian Plastering

• Ceiling Removal

• Drywall Work

• Acoustic

Ceiling Removal

• Water & Fire Restoration

310-370-5589

Lic. # 687076 • C35-B1

POOLS & SPAS

FREE ESTIMATES

370-2144

Licensed & Insured

CONCRETE

QUIXTAR

Concrete & Masonry

Residential & Commercial

310-534-9970

Lic. #935981 C8 C29

G

D

Remodeling

Design

Kitchens

Bathrooms

Room Additions

New Construction

CONSTRUCTION

Your Ad Here

62,000 Readers

424-269-2830

Charles Clarke

Local Owner/General Contractor

Ph: (310) 791-4150

Cell: (310) 293-9796

Fax (310) 791-0452

"Since 1990" Lic. No. 810499

ANNOUNCEMENTS

LYNCH

ELECTRIC &

General

Building

Contractors

• Residential

Troubleshooting

• Remodel Specialist

Scott K. Lynch

P.V. Native

Licensed & Insured

Cell

310-930-9421

Office & Fax

310-325-1292

www.LynchElectric.us

Lic 701001

classifieds

424-269-2830

PLUMBING

MUSIC

LESSONS

Vocal Technician

Piano Teacher

Vocalist

Jeannine McDaniel

Rancho Palos Verdes

20 year experience

All Ages

310-544-0879

310-435-2407

Jeannine_mcdaniel2001@yahoo.com

PAINTING

BEAR BROTHERS

PAINTING

Quality Workmanship

Interior • Exterior

• Pressure Washing

• Decks

Free Estimates

375-1966

Lic #614749

PLUMBING

Thank You South Bay for

50 Years of Patronage!

Residential • Commercial • Industrial

Plumbing 24/7 • Heating

Air Conditioning

pfplumbing.net

800-354-2705 • 310-831-0737

ROOFING

Tile Reroof and

repair specialist

310-847-7663

Family owned

business since 1978

Lic 831351

TILE

POOLS • SPAS

HARDSCAPES

New Construction

& Remodeling

Excellent References

Horusicky Construction

310-544-9384

www.Horusicky.com

Credit cards accepted

Lic #309844, Bonded, Insured

SOLAR ENERGY

Your Ad Here

62,000 Readers

424-269-2830

Reserve

your space in

the next

Call direct 424-269-2830

Pub Date: January 30

Deadline: January 15

s

magazine

MATTUCCI

PLUMBING • HEATING • COOLING

DEPENDABLE • PROFESSIONAL • AFFORDABLE

FULL SERVICE PLUMBING • COPPER REPIPES

SEWER VIDEO INSPECTION • HEATING

DRAIN & SEWER SERVICE • COOLING

TRENCHLESS SEWER REPLACEMENT

ON CALL

24 HOURS

7 DAYS

FREE ESTIMATES

310.543.2001

CALIFORNIA

Lic. #770059

C-36 C-20 A

December 2015 • Peninsula People 65

2013

Simply Tiles Design Center

Fine Ceramics, Natural Stone, Hardwoods, Cabinetry, Faucetry.

Kitchen & Bathrooms Specialist.

3968 Pacific Coast Hwy., Torrance • (310) 373-7781 • www.simplytiles.com

License #904876
---
Shopping, dining and entertainment, we've got it all!

APPAREL & ACCESSORIES

Friar Tux Shop. . . . . . . . . . . . . . . . . . (310) 534-4700

Styles of Hawaii. . . . . . . . . . . . . . . . . (310) 326-2151

Tilly's . . . . . . . . . . . . . . . . . . . . . . . . . (310) 534-1642

BEAUTY

European Wax Center . . . . . . . . . . . . (310) 325-2929

Fancy Nails . . . . . . . . . . . . . . . . . . . . (310) 326-7980

Pia Hair Salon. . . . . . . . . . . . . . . . . . (310) 326-0815

Rolling Hills Beauty Bar . . . . . . . . . . (310) 530-3844

Strands Design Lab, LLC . . . . . . . . . (310) 539-8434

Victor Anthony's Hair Studio . . . . . . (310) 326-2338

Vogue Beauty Studio. . . . . . . . . . . . . (310) 530-5900

Waterside Beauty . . . . . . . . . . . . . . . (310) 534-4242

BOOKS/CARDS/GIFTS/

EDUCATIONAL MATERIALS

The Gift Korner. . . . . . . . . . . . . . . . . (310) 539-5011

The Tutoring Center . . . . . . . . . . . . . (310) 530-5377

DRY CLEANING

Beltone Cleaners . . . . . . . . . . . . . . . (310) 325-2511

ENTERTAINMENT

AMC Theater Rolling Hills 20 . . . . . (888) 262-4386

FINANCIAL/BUSINESS SERVICES

Chase Bank . . . . . . . . . . . . . . . . . . . . (310) 257-1997

The Postal Mart . . . . . . . . . . . . . . . . (310) 325-6777

South Bay Credit Union . . . . . . . . . . (310) 374-3436

GROCERY/SPECIALTY FOODS

Baskin Robbins . . . . . . . . . . . . . . . . . (310) 530-6812

BevMo! . . . . . . . . . . . . . . . . . . . . . . . (310) 257-0034

Cups's Frozen Yogurt . . . . . . . . . . . . (310) 534-2625

Nijiya Japanese Market . . . . . . . . . . (310) 534-3000

Omaha Steaks . . . . . . . . . . . . . . . . . (310) 539-3831

Peet's Coffee & Tea . . . . . . . . . . . . . . (310) 626-8008

Starbucks . . . . . . . . . . . . . . . . . . . . . . (310) 534-4835

Trader Joe's. . . . . . . . . . . . . . . . . . . . (310) 326-9520

Treat Tea & Ice . . . . . . . . . . . . . . . . . (310) 326 9888

Whole Foods Market . . . . . . . . . . . . (310) 257-8700

Yogurt Lounge . . . . . . . . . . . . . . . . . . (310) 230-5505

HEALTH & FITNESS

Arthur Murray Dance Studio . . . . . . (310) 977-0987

Great Earth Vitamins . . . . . . . . . . . . (310) 534-8494

My Fit Foods . . . . . . . . . . . . . . . . . . . (310) 257-9175

PV Massage . . . . . . . . . . . . . . . . . . . (310) 530-9093

24 Hour Fitness Center . . . . . . . . . . (310) 534-5100

Weight Watchers . . . . . . . . . . . . . . . (800) 651-6000

HOME FURNISHINGS

Bed, Bath & Beyond . . . . . . . . . . . . (310) 325-0432

Hitachiya . . . . . . . . . . . . . . . . . . . . . . (310) 534-3136

INSTRUCTIONAL SERVICES

Budding Artists . . . . . . . . . . . . . . . . . (310) 326-9764

Color Me Mine. . . . . . . . . . . . . . . . . (310) 325-9968

JEWELRY

Modern Jewelry Mart . . . . . . . . . . . . (310) 517-0308

MEDICAL/DENTAL SERVICES

Dr. Mylena Jl, D.D.S, Inc. . . . . . . . . (310) 326-4691

Dr. M.G. Monzon, D.D.S. . . . . . . . (310) 891-3303

Dr. Nolan Ng, Optometrist . . . . . . . (310) 326-2881

Olive Chiropractic . . . . . . . . . . . . . . (310) 539-2285

South Bay Pain Docs . . . . . . . . . . . . (310) 626-8037

Torrance Family Urgent

Care Center of South Bay . . . . . . . . . (310) 997-1796

PET & GROOMING

Grooming Wonders . . . . . . . . . . . . . (310) 534-1130

Pet's Plus . . . . . . . . . . . . . . . . . . . . . . (310) 539-5700

Wild Birds Unlimited . . . . . . . . . . . . (310) 326-2473

REAL ESTATE

J A Realty . . . . . . . . . . . . . . . . . . . . . (310) 539-2430

Person Realty . . . . . . . . . . . . . . . . . . (310) 325-8700

RESTAURANTS

Blaze Pizza . . . . . . . . . . . . . . . . . . . . (310) 325-9500

California Pizza Kitchen. . . . . . . . . . (310) 539-5410

Daphne's Greek Café. . . . . . . . . . . . (310) 257-1861

Fanoos Persian Restaurant . . . . . . . . (310) 530-4316

Fish Bonz Grill. . . . . . . . . . . . . . . . . . (310) 325-2669

Hakata Yamaya . . . . . . . . . . . . . . . . . (310) 257-1800

IcCho Japanese Restaurant. . . . . . . . (310) 325-7273

Ichimi An . . . . . . . . . . . . . . . . . . . . . (310) 784-0551

Islands Restaurant. . . . . . . . . . . . . . . (310) 530-5383

Joey's Smokin' B.B.Q . . . . . . . . . . . . (310) 257-1324

Kabab Curry of India . . . . . . . . . . . . (310) 539-0171

Little Sheep Mongolian Hot Pot . . . . (310) 517-9605

Mashawi Lebanese Grill . . . . . . . . . . (310) 325-3545

Mrs. A Vietnamese Pho . . . . . . . . . . (310) 541-1227

Nice Cafe . . . . . . . . . . . . . . . . . . . . . (310) 539-0323

Rubio's . . . . . . . . . . . . . . . . . . . . . . . (310) 891-1811

Ryo Zan Paku. . . . . . . . . . . . . . . . . . (310) 530-8720

Sushi Boy . . . . . . . . . . . . . . . . . . . . . (310) 534-4013

Veggie Grill . . . . . . . . . . . . . . . . . . . . (310) 325-6689

Northeast Corner of Crenshaw & Pacific Coast Highway in Torrance

For Information Call (310) 534-0411

A LA CAZE DEVELOPMENT COMPANY PROJECT