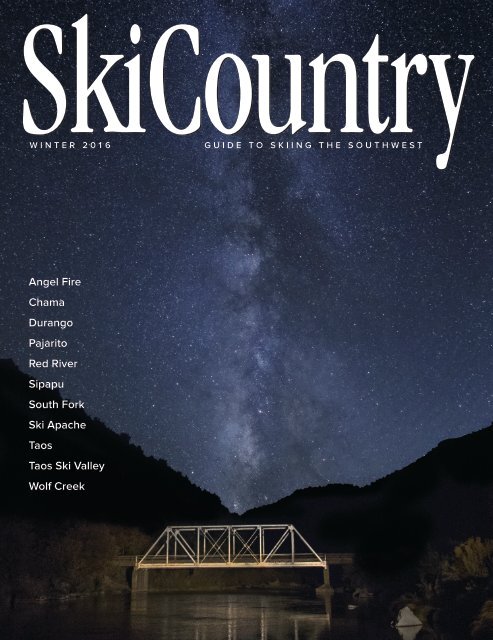 Ski Country Magazine 2016 - Guide to skiing the southwest
Your source for information on skiing, snowboarding and winter recreation in the southern Rockies, with striking photography and unusual articles. Serving Angel Fire, Taos, Taos Ski Valley, Red River, Sipapu, Pajarito, Purgatory at Durango, South Fork, Wolf Creek, Ski Apache, southern Colorado and the Enchanted Circle area in northern New Mexico. Arts, culture, activities, event calendar, dining and lodging information in area towns. This issue: "Tale-spinning in the high desert"; "Welcome to the southern Rockies: Winter Wants to Dance" about living and playing in a cold climate; "Name that Run," about origins of ski run names.
Your source for information on skiing, snowboarding and winter recreation in the southern Rockies, with striking photography and unusual articles. Serving Angel Fire, Taos, Taos Ski Valley, Red River, Sipapu, Pajarito, Purgatory at Durango, South Fork, Wolf Creek, Ski Apache, southern Colorado and the Enchanted Circle area in northern New Mexico. Arts, culture, activities, event calendar, dining and lodging information in area towns. This issue: "Tale-spinning in the high desert"; "Welcome to the southern Rockies: Winter Wants to Dance" about living and playing in a cold climate; "Name that Run," about origins of ski run names.
SHOW MORE
SHOW LESS
You also want an ePaper? Increase the reach of your titles
YUMPU automatically turns print PDFs into web optimized ePapers that Google loves.
WINTER 2016

SkiCountry

GUIDE TO SKIING THE SOUTHWEST

Angel Fire

Chama

Durango

Pajarito

Red River

Sipapu

South Fork

Ski Apache

Taos

Taos Ski Valley

Wolf Creek

1
---
Cool gear.

Hot fashion.

Angel Fire's Top Shop

Near the Resort Hotel

wintersportsskishop.com

575.377.6612

Ski Reservation Hotline:

575.377.6559

2
---
SKI AS MUCH AS YOU WANT, WHEN YOU WANT, WHERE YOU WANT.

THE POWER TO CHOOSE

FOUR MOUNTAINS. ONE PASS. UNLIMITED POSSIBLITIES.

MORE THAN 3,000 ACRES OF TERRAIN • 29 LIFTS • OVER 200 TRAILS • 13 TERRAIN PARKS • COUNTLESS FAMILY MEMORIES

t h e s o u t h w e s t ' s l a r g e s t f a m i l y o f s k i r e s o r t s

3
---
Contents

Welcome

6

21

Wolf Creek Ski Area, Red River Ski Area

Historic Hotels

8

22

Durango Mountain Resort, Sipapu, Pajarito

Our Towns

10

23

Ski Apache

Tale-spinning in the High Desert

15

25

Alpine Lodges

Historic Hotels

16

26

Name That Run

Ski the Southwest

19

28

Time to Dine

Taos Ski Valley, Angel Fire Resort

20

30

Calendar
---
PHOTO: GERAINT SMITH

Publisher/Editor Joe Haukebo

Design/Production Digerati Design

Advertising Sales Christine Pedler

Contributing Writers John Biscello, Gustav Herold

Photography Chris McClennan, Carol Morgan Eagle,

Geraint Smith, Gak Stonn,

Cover photo Geraint Smith – Rio Grande

HighCountry and SkiCountry Visitor Guides are

published by Hawk Media. All rights reserved. Material

in this publication may not be reproduced in any form

without written permission from the Publisher.

Requests for permission should be directed to:

Hawk Media

PO Box 182, Angel Fire, NM 87710

575 595 0575 | 575 758 4047

info@hawk-media.com

Scan the QR code or visit us at www.hawk-media.com

for more articles, photos & e-zines
---
Angel

Fire

Winter wants

to dance

Welcome to the southern Rockies

6

866.668.7787

AngelFireFun.com

n 1831, mountaineer Albert Pike

I trekked across the Sangre de Cristo

Mountains in the dead of winter – a

rough one, killer cold – trudging

through deep snow and ice. He finally

stumbled into Taos half-frozen and

severely frostbitten. His moccasined

feet had swelled to four times their

normal size. His Mexican host roasted

onions and packed them around Pike's

feet; the swelling eventually subsided

and he regained their normal use.

As a kid growing up near the

Minnesota-Canada border – the deep

freeze of the nation – I wished we knew

about the onion trick. We'd play hockey

outside after school and after dinner

and regularly freeze our feet. When we

couldn't feel them any more, we'd crawl

indoors and moan while we rubbed our

toes, trying to rub away the numbness,

then rub away the jabbing needles as

they started to thaw. Our feet felt like

freezer-burned meat. And we did this

on a regular basis. We knew it made no

sense, but it was winter and you don't

want to miss out – winter wants

to dance.

We did all kinds of different

dances. From the early days, we were

bundled up in bulky snowsuits and

woollen mittens that grew heavier as

the snow stuck to them. The suits, for

the most part, kept out the snow and

cold but they were so cumbersome,

if you plopped down to make a snow

angel, it was tough to get back up – you

worried about being stuck there awhile.

But as little kids we always had

plenty of thing to worry about, things

our older siblings told us to watch out

for: monster icicles falling from rooftops

and splitting your head open like

a melon; snow snakes that tripped you

and dragged you away; wandering lost

and snow-blind in blizzards that lasted

for days; temperatures so cold you could

freeze your lungs and spit ice. Our ripe

imaginations could easily take over.

The silence of a cold winter day only

helped make it worse. But we braved

the elements inside and out to build

snow caves or fly downhill on sleds. Our

play grew bolder, more reckless. We

graduated to hockey, bombing enemies

with snowballs, ice fishing, snowmobiles,

snurfing on ice behind cars or

skiing behind cars in interstate ditches.

Many milestone memories were created,

like no longer thinking of girls as icky,

but holding gloved hands and skating

around a dimly lit rink. Our fears and

hopes changed.

And when winter threw its best

stuff at us, we learned to tough it out.

Old-timers taught us when netting

whitefish under the ice that it was best

in sub-zero weather to freeze one bare

hand on purpose. They'd show us how.

You shove a cupped hand into the hole

of water where you pull the net out.

Your hand would freeze into a claw,

which was good for unsnagging fish from

the gill net.

While we might freeze on purpose

a hand for fish, we learned how not to

accidentally freeze to death. I remember

40° below weather with a windchill of

100° below, and snowmobiling – if anything

was exposed, you were in trouble,

frostbit face, fingers, whatever. Once

temperatures get that low, it doesn't
---
The life

up high

seem to matter how low the numbers get. It's just

arctic cold.

Here in the southern Rockies, we have our

share of big bad wolf winters that come lumbering

into the mountains, pushed by howling winds or

dumping snow for days until the system lightens its

load enough to lift and move on. Old-timers here

talk about seven-footers in one blast, deep enough

to bury snowmobiles where you can't find them,

drifts mounded up to the roof. Or ice storms that

could suffocate cattle or require helicopters to airlift

feed. People hunker down and ride out the storm.

It's tougher on the animals.

This winter is supposed to be an El Niño year.

And with luck, we'll get some superstorms. Storms

and freezing weather that make cars cranky, coughing

and groaning before starting. Driveways that

you shovel, and before you finish you have to start

over again. Pipes that freeze and bust. Tree branches

that snap. Roofs that avalanche.

But we're lucky. Unlike so many parts of the

nation, we are blessed with the famous Southwest

sun – more sunny ski days than almost anywhere

on the planet. So we don't have to hide all day

indoors; we can play outside until we're worn out.

Then, we come in to rest and sit by a roaring piñon

fire, sip something warm, savor the smells of green

chile stew or chantrelle mushroom goulash cooking

on the stove.

Outside, you hear another storm brewing, the

mounting wind rattling the windows. Then the first

pellets of sleet pound the window pane you're looking

out just before dark. The sleet turns to snow and

caught by a gust slants sideways across the window,

spinning and swirling. Behind the window and the

snow large pines rock back and forth on the wind

and behind that, an endless gray. The only sound is

the occasional burst of wind and roar of the storm,

an icy music. Winter is there, calling you, waiting

to dance.

— Joe Haukebo, Publisher

cross country

snowmobile

snowboard

sleigh ride

snowshoe

downhill

ice fish

shop

tube

dine

sled

Angel Fire is

7
---
Historic Hotels

Hotel La Fonda de Taos

The oldest hotel in Taos is new again. In the

heart of the historic district on Taos Plaza,

La Fonda offers 21st Century amenities while

preserving its rich Southwestern roots and

ambience. Home to Noula's Starbucks Coffee Shop

and D.H. Lawrence's "Forbidden Art Collection."

Nineteen rooms, 5 suites, and our Plaza Penthouse.

Friendly, personal service. Walking distance to

galleries, museums, shopping, entertainment, and fine dining.

108 SOUTH PLAZA, TAOS, NEW MEXICO

WWW.LAFONDATAOS.COM 800.833.2211 505.758.2211

The Historic Taos Inn

Experience Southwestern charm and history at The

Historic Taos Inn in the heart of Taos, New Mexico.

Acclaimed by National Geographic Traveler as "One of

America's Great Inns," and listed on the National and NM

Registers of Historic Places. 44 rooms and suites, most

with Pueblo-style fireplaces. Award-winning Doc Martin's

Restaurant and The Adobe Bar on premises. Happy hour

4-6 Monday-Friday; free live music nightly.

125 PASEO DEL PUEBLO NORTE, TAOS, NEW MEXICO

TAOSINN.COM 575.758.2233

St. James Hotel

Where western history – and the paranormal – come

alive. The historic St. James Hotel, built in 1872, has

hosted a smorgasbord of famous outlaws and Wild West

legends including Clay Allison, William F. Cody and Wyatt

Earp. Today, it continues its tradition with fine dining and

comfortable rooms and a restored western restaurant and

bar. Ghosts, each with their own obsessions

and rituals, are said to still haunt the place.

617 SOUTH COLLISON, CIMARRON, NEW MEXICO, 87714

WWW.EXSTJAMES.COM 888.376.2664 575.376.2664

8

PHOTO: WWW.CAROLMORGANEAGLE.COM
---
Slots | Blackjack | 100% Smoke Free

The

Fun

Starts

Here

Come have fun at

Taos Mountain Casino.

Our friendly and

dedicated staff is here

to give you great

service while you relax

and enjoy the fun and

games.

700 Veterans Highway | Taos, New Mexico 87571 | 575-737-0777

South of historic Taos Pueblo | TaosMountainCasino.com

9
---
10
---
Our Towns

Angel Fire

Chama

Cimarron

Durango

Eagle Nest

I prefer winter…when you feel the bone

structure of the landscape – the loneliness

of it, the dead feeling of winter. Something

waits beneath it, the whole story

doesn't show.

— Andrew Wyeth

Wyeth's ode to winter, and its

subtle undercurrents, would be a

fitting prologue for tales of winter set in

Northern New Mexico and the southern

Rockies. The year-round or rather

timeless mystique and aura permeating

these regions takes on a stark and coldly

luminous level of beauty and wonder

during the winter season. Matriarchal

mountains cotton-swabbed in snow,

deep silences flooding chasms and pine

forests, wide-spanning skies reflecting a

complexion of fleece and chalk. Yet this

slow and meditative pulse is counter-balanced

by the numerous celebrations

and adrenaline-boosting activities that

give the area its ritual charge. What you

might call: Zen and the Art of Winter

Merrymaking.

Taos—high-desert iconoclast,

mountain-maned black sheep, traditionalist

with an anarchic streak—there are

many ways in which this Northern New

Mexico town can be pegged, but ultimately

its character remains undefinable.

"Yuletide in Taos" is the umbrella term

for the various celebrations that take

place during the holiday season. Two

historic streets, Bent and Ledoux, are

fire-kindled and given a festive makeover

for local favorites: The Lighting

of Ledoux (December 5) and Bonfires

on Bent Street (December 12). The

religious spirit of the holidays is quintessentially

captured in the Las Posadas

reenactments (December 14-21) at the

San Francisco de Assis Church, which

marked its 200th anniversary in 2015.

Taos Pueblo, the oldest continuously

inhabited community in North

Continued on page 13

Red River

South Fork

Taos

Taos Pueblo

Taos Ski Valley

PHOTOS: GERAINT SMITH

11
---
ABOVE THE

ORDINARY

OPEN 7 DAYS

Fast, Friendly Checkout

Fruits & Veggies

Fresh Meats

Fine Wine & Spirits

Fine Tobacco

Subway

DOING THE LITTLE EXTRAS TO SERVE OUR CUSTOMERS

575.377.2354 • 3373 Highway 434 • Angel Fire, NM 87710
---
America, provides the sacred Christmas

Eve setting for a procession and

mood-evocative bonfires. On Christmas

Day, the spirit of winter is honored

through the Taos Pueblo Deer Danceor

Matachine Dance.

Taos Ski Valley, celebrating its

60th season, recently lost its "First Lady,"

Rhoda Blake, who was the nuts and

bolts behind the Blake family's 58-year

stewardship of TSV. Sold to billionaire

conservationist, Louis Bacon, in 2013,

TSV is undergoing expansion, with base

area additions to include a new hotel,

retail space, equipment rentals, restaurant,

and spa. The Kachina lift, completed

in 2014, serves the highest elevation

of any triple chair in North America

(12,481 feet). As for one's inspired

downward trajectory on the slopes, there

are multiple options: skiing, snowboarding,

sledding, tubing and snow-shoeing.

Bacchus enjoys elevated status during

the ever-popular Winter Wine Festival

(January 27-31), which is celebrating its

30th year.

When it comes to breath-arresting

pyrotechnics, the sunsets at Angel Fire,

after which the resort town is named,

bring an all-natural glow to the snowcapped

mountain peaks. There are 76

skiing and snowboarding trails, suitable

for all age levels, and the Polar Coaster,

the largest tubing park in the southern

Rockies, is the unofficial leader in

"squealish delight" (see: Child's Play).

Two rollicking events, in which spirits

are raised and grooves laid: Big Ol' Texas

Weekend (January 22-24) and Angel Fire

Mardi Gras celebration (February 5-9).

Red River, known for its Main

Street quaintness and Texas-sized appetite

for good times, exercises a happy

middle ground with its ski base located in

the center of town. An old-time tradition

that was revived in recent years, the Winter

Carnival and Parade of Ice (January

15-17) features ice sculptures, snowmobile

races, snowman building, live music,

torchlight parades, fireworks, and more.

And for those who'd like to enjoy a Willy

Wonka-fied version of skiing, there's Just

Desserts Eat and Ski (February 27) in

which the indulgence of homemade desserts

sweetens the five-kilometer course at

Enchanted Forest.

It's been a while since

anyone seriously mined

Baldy, and gambling here

is a thing of the past,

but there's still gold in

Eagle Nest – the lake

sports some of the best

trout fishing in the state.

Kokanee salmon join

recordbreaking rainbows,

cutthroats and other fish

in an effort to beguile

locals and visitors alike.

Formerly a goldfever

boomtown, Chama is set in the awe-inspiring

Rio Chama Valley. Hitting

the slopes, ice fishing on the Heron

Reservoir, or riding the rails on the

Cumbres-Toltec Scenic Railroad are

several ways to experience the area. The

43rd Annual Chama Chile Ski Classic,

a cross-country ski event, takes place

on Martin Luther King, Jr. weekend in

January.

Durango could be the charming

town you find inside a snow globe, or

the unsung verse in "Winter Wonderland."

At the heart of its winter

fun is Purgatory, the mountain resort

which offers 35,000 acres of ski-friendly

terrain. Snowboarding, snowshoeing,

dog sledding, and sleigh rides are other

means by which to traverse Purgatory.

Caroling, hot chocolate, and a reading

of The Polar Express, are part of "The

Polar Express," which takes place on the

Durango & Silverton Narrow Gauge

Railroad through the holidays. This

year's "Snowdown," a popular weeklong,

activity-filled event, brings the

spirit, fashion, and flair of the 1980s

back into vogue (January 27-31).

As the inspired and elevated gateway

to the San Juan Mountains,

Rio Grande County, which includes

South Fork, Monte Vista and Del

Norte, is a winter playground with

lots of room to spare. Wolf Creek, just

outside of South Fork, is powder-packed

heaven for skiers, receiving the highest

amount of snowfall in Colorado. South

Fork's "Winterfest" (December 11 and

12) features sleigh rides, cocoa-sipping,

Christmas crafts, and a visit from old St.

Nick himself. Monte Vista, home of the

National Wildlife Refuge Center, celebrates

its 33rd annual "Crane Festival"

(March 11-13). Del Norte offers natural

splendors in various forms, including

Lookout Mountain, Elephant Rocks, and

Penitente Canyon, one of Colorado's

premier sport climbing areas.

– John Biscello

13
---
14
---
Tale-spinning in the high desert

In the beginning was the word

"Who is the storyteller? Of whom is the

story told? What is there in the darkness to

imagine into being? What is there to dream

and to relate? What happens when I or

anyone exerts the force of language upon

the unknown? ... If there is any absolute

assumption in back of my thoughts…it is

this: that we are what we imagine. Our

very existence consists in our imagination of

ourselves. Our best destiny is to imagine at

last, completely, who, and what, and that

we are. The greatest tragedy that can befall

us is to go unimagined."

– N. Scott Momaday,

The Way to Rainy Mountain

Y

ou could say that storytelling

is the descendant of an innate

and ageless spirituality, or the genetic

sibling to Necessity, the mother of

invention. We, as human beings, frame

ourselves, our inner lives, our history

and traditions, our sorrows and follies,

in the context of language. In the

Navajo culture, a child does not acquire

human status until he or she masters

the art of speaking a language.

New Mexico, a veritable Wonderland

gumbo of legends, tales, and

parables, seasons its canon with accents

and spices rooted in the Native and

Hispanic cultures. The region itself seems

a gateway to "otherness," a breeding

ground for metaphor and myth, or sacred

placeholder for fugitive voices. Apache,

Navajo and Pueblo mythology chronicle

an emergence from underworlds into

this world: a "middle place" or "middle

world." The Acoma creation myth tells of

two female humans, born underground in

Shipapu, and their ascent from the darkness

below to the lighted world above.

This, perhaps, is what storytelling is at

its core: a bridge between worlds, or an

illuminating torch being passed from one

generation to the next. Through words

communion is achieved, and a sense of

discovery renewed.

By the light of the fire

"Our ancestors have been telling stories to

their children since 1598, when the first

Spanish families settled along the Chama

River in Northern New Mexico. A

400-year-old tradition began during that

first harsh winter, when the warmth of rustic

hearths beckoned and warmed the settlers

throughout their first winters. It was many

years ago while growing up in Penasco, NM

. . . that a seed for storytelling was planted in

me. The fondest memories I have from my

childhood are when my mother would relate

cuentos, or stories, to us."

– Paulette Atencio,

Cuentos from Long Ago

A cold winter's night and crackling

fireplace have set the domestic stage for

many a storyteller. Through voice and

gesture alone, family elders would guide

children into worlds of enchantment,

intrigue, and terror. Juan B. Rael, a native

of Arroyo Hondo, and the author of

Cuentes Epsañoles de Colorado y Nuevo

México, recalled: "An old neighbor of

ours, the aunt of one of my playmates,

was a gifted storyteller, and my friend and

I would often listen to her fascinating stories

about giants, witches, thieves, rogues,

and clever animals. It was a special treat

to listen to her during the long winter

nights as she sat by the fireplace, which

dimly illuminated her large but scantily

furnished living room. The leaping shadows

on the whitewashed walls, produced

by the flickering flames in the hearth,

added a mysterious background to the

stories we heard…" Riddles were another

part of the Hispanic storytelling tradition,

with children being challenged to find

the answer. One example: I went into the

country and found someone who crossed

himself. He is a saint, yet he is not a

Christian. Who might it be? (Answer:

The Holy Thistle.)

In Zuni culture, tales, or telapnaawe,

were told in winter, to avoid attracting

snakes and snake-bite, and generally

told at night, lest the days be shortened.

"The ability to create the appearance

of reality is clearly the most important

measure of the individual Zuni narrator's

skill and success, ranking above such

considerations as accuracy or memory or

size of repertoire. Ashuwa (a Zuni male)

said: 'Some are good storytellers not just

because they may know the story, but

because of their voices and gestures, and

they make it exciting. Some tell it like

they were actually part of it, had witnessed

it.'"

– Dennis Tedlock,

"The Ethnography of Tale-Telling

at Zuni"

Her Majesty, the Moon

The moon, as the cosmic pope of

lovers, lunatics and werewolves, has

been a popular lead in many stories

and legends throughout history. In

1894, trailblazing writer, photographer,

adventurer, and anthropologist, Charles

Lummis, who claimed to have invented

the term "Southwest," collected stories

from the Isleta Pueblo people and published

them in a book titled The Man

Who Married the Moon. The story of

Continued on page 17

15
---
The Family Vacation of

a Lifetime…

Any Time

of Year!

he Riverside sprawls

T comfortably over three

acres of beautifully landscaped

grounds, only 50

feet from the Copper Chairlift.

Families love our wonderful playground, lawn games, BBQ area and hot

tub. Amenities include telephones, kitchens, fireplaces, satellite TV, DVD

players and free wireless internet at very reasonable rates. We now have

laundry services, too. Ask about our off-season and Wednesday Free

packages!

800.432.9999 575.754.2252

www.RedRiver-NM.com

Simply the best liquor store in northern NM

Competitive Prices

Largest Selection • Friendly Staff

Temperature-Controlled Wine Cellar

505.455.2219

kokoman@cybermesa.com

34 Cities of Gold Road, Pojoque, NM 87506

Hwy 84-285, Pojoaque, NM 12 miles N. of Santa Fe

OVER 3,500 WINES • 1000 BEERS • 390 VODKAS

222 TEQUILAS • 105 SINGLE MALT SCOTCHES • 157 RUMS

16
---
TALE-SPINNING – Continued from page 15

the same name, which appears in the

collection, tells of the powerful and

beloved Nah-chu-r´u-chu ("The Bluish

Light of Dawn") and his marriage to the

Moon, a beautiful maiden, blind in one

eye, who at that time dwelled among

the people and not in the sky. After

the Moon is drowned and buried by the

jealous Yellow-Corn-Maiden sisters, a

heartbroken Nah-chu-r´u-chu dispatches

different animals to find his missing

wife. It is Turkey-buzzard who spies a

mound, covered with all the different

flowers in the world, in the middle of a

cottonwood forest, and through a single

tiny white flower Nah-chu-r´u-chu

resurrects the Moon, who punishes the

Yellow-corn-maidens by turning them

into snakes.

A poetic take on why the Moon has

one eye is covered in a parable known

throughout various Pueblo cultures. The

Trues, the unseen spirits behind creation,

made the Sun, the father, and the Moon,

the mother, who were to keep watch over

the world, The problem was both the Sun

and the Moon, with four luminous eyes

between them, kept the world aglow in

light, and without dark the people did

not know when to rest, the birds flew

non-stop, the flowers stayed open day and

night. The Trues decided to put out one

of the Sun's eyes, but the Moon offered

her eye in place of her husband's, and

with partial blindness came the respite of

night. And, as the tale concludes, "But

she who first had the love of children,

and paid for them with pain as mother's

pay, she did not grow ugly by her sacrifice.

Nay, she is lovelier than ever… For the

Trues are good to her, and gave her in the

place of the bloom of girlhood the beauty

that is only in the faces of mothers."

Bewitched, Bothered,

Bewildered

When it comes to supernatural

terror, the reigning queen in Hispanic

folklore is La Llorona. Her ambiguous

origins might go back to 16th century

Mexico City, or could be the offshoot of

Die Weisse Frau, or "the White Lady," an

old German legend about a peasant girl

who falls in love with and is abandoned

by a young aristocrat, murders her bastard

children, goes insane and dies a violent

death, only to return as a malignant

specter. Traditionally, there are three

incarnations of La Llorona that appear

in Hispanic tales—the siren, the grieving

woman, and the woman who poses a

threat to children—with her signature

weeping or wailing providing the eerie

soundtrack to this "living" horror movie.

Back in the day, parents in Hispanic

families employed the "phantom threat"

of La Llorona to keep their children from

playing in the arroyos and acequias, two

of her favorite haunts.

El Santuario de Chimayo (the

Sanctuary of Chimayo), renowned for

its healing "holy dirt," is also the home

to a miraculously light traveler: El Santo

Niño de Atocha (The Holy Child of

Atocha). He is also called Santo Niño

Perdido (The Lost Holy Child) because,

as the story goes, he departs the church

at night and travels the countryside to

perform miracles. In aiding and abetting

the intrepid miracle-worker, villagers and

visitors leave baby shoes at the feet of El

Niño, to replace his "worn-out" shoes.

The Best Medicine

In the late 1950s and early 1960s,

during a prolific period of space exploration

by the Russians and the Americans,

the Newekwe clowns of the Zuni pueblo

incorporated "space burlesque" into their

performance. Barbara Tedlock states in

her essay, "Boundaries of Belief" that

the clowns' goal was "to startle and even

shock the audience in order to get a

response, perhaps a sudden laugh, or at

least a gasp of disapproval. In doing so

they 'get to the people,' they 'open them,'

and release them from internal idle

thoughts or worries… The space program

was a source of general (and one might

say visceral) worry at Zuni, and so… for

more than ten years the clowns trivialized,

folklorized, and negated both its

religious threat and its scientific seriousness."

Clowns function as powerful

medicine men and shamans in many

Native American cultures, as ritual healing

takes place beneath the mirth and

inspired madness. If Voltaire was right

when he said, "God is a comedian playing

to an audience too afraid to laugh," then

clowns might be regarded as masked

angels dispensing the best, and most

necessary medicine.

A four-legged Harlequin that

figures prominently in Native American

legends and lore is Coyote, whose exploits

were once explained by a Navajo

storyteller, Yellowman, to author, Barre

Toelken: "Why does Coyote do all those

things, foolish on one occasion, good

on another, terrible on another? 'If he

did not do all those things, then those

things would not be possible in the

world.' Yellowman thus sees Coyote less

as a Trickster per se and more as an

enabler whose actions, good or bad,

Continued on page 27

17
---
Discover

ANGEL FIRE RESORT

Uncrowded Slopes

Miles of Groomers

New Terrain Park with Dedicated Lift

Panoramic Views

New Mexico's Only Nighttime Skiing

angelfireresort.com 866-383-7969

Home of the World

Championship Shovel Races

February 6, 2016

18
---
a

PURGATORY

AT DURANGO

Durango

•

•

Pagosa

Springs

WOLF CREEK

SKI aAREA

•

South

Fork

COLORADO

NEW MEXICO

Chama •

RED RIVER

SKI AREA

a

Red

River

•

ENCHANTED

aFOREST XC

Ski the

Southwest

You can ride almost anywhere in the world. But

nowhere in the world do you get our magical mix of

Southwestern sun and snow, culture and cuisine,

wildlife and wilderness, art and history. The landscape is

stunning – from high alpine terrain above treeline to a

huge rip in the earth.

Our ski mountains rip – chutes, cliffs, bowls, cruisers,

and in terrain parks – rails, boxes, rainbows, banks.

Treks into the backcountry are beautiful and boss.

Outside our quaint mountain towns you'll discover

fresh pockets of adventure and feel this winter

completely, utterly alive.

And at day's end, when your thighs are screaming,

slip into a hot tub or pound a big, honking green chile

cheeseburger. Nothing like it anywhere.

a

PAJARITO

SKI AREA

Los Alamos •

a•

Albuquerque

SANDIA SKI AREA

• Ruidoso

• Taos

a• Santa Fe

a

SKI APACHE

SANTA FE

SKI BASIN

a

TAOS SKI

VALLEY

aSIPAPU

SKI RESORT

•

Eagle

Nest

Angel

Fire

a•

ANGEL FIRE

RESORT

MAP SHOWS APPROXIMATE LOCATIONS. DISTANCES NOT TO SCALE.

PHOTO: SCOTT D.W. SMITH / DMR

19
---
Flanked by sacred wilderness,

rugged peaks and

multicultural vibes, there's

a reason Taos Ski Valley sits

in the center of New

Mexico's Enchanted Circle.

Located 50 miles south of

the Colorado border, Taos

Ski Valley is a mystical

haven for 300+ inches of

bone-dry powder stashes

and some of the most

untamed chutes, bowls and

glades in North America.

And with nearly half of all

trails rated for beginners

and intermediates, its unpolished

charm and cheeky

mountain rituals welcome

TAOS SKI VALLEY

anyone with a spirit of adventure.

Our new base area

developments will include

a new hotel, retail space,

equipment rentals, restaurant

and spa. TSV's Ernie

Blake Snowsport School

is still world-class, the

terrain park is deluxe, and a

shuttle runs daily from the

Albuquerque airport. TSV

continues its commitment

to keeping it green with

mountain-wide

recycling and energy

conservation. See the

interactive trail map online.

skitaos.org

866-968-7386

When the snow flies, Angel

Fire is a winter wonderland

with an abundance

of adventures for all ages

and abilities. For skiers and

snowboarders, Angel Fire

Mountain offers over 560

acres of terrain with rolling

cruisers, gladed tree runs,

three terrain parks and one

of New Mexico's top ski and

snowboard schools. Off the

slopes, the adventure continues

with the Polar Coaster

Tubing Hill, the Nordic

Center with over 15 km of

terrain and the sledding hill

at the Nordic Center for

ANGEL FIRE RESORT

kids 12 and under. Our three

terrain parks are ready for all

ability levels, with features

that include rails, jumps,

tabletops and fun boxes.

Terrain includes 80 runs,

more than 30 acres of gladed

tree skiing, NASTAR

racing, Polar CoasterTubing

Hill, and a lighted beginner

slope for New Mexico's

only night-time skiing and

snowboarding. And don't

miss great live music in the

Village Haus when the lifts

are running after dark.

angelfireresort.com

800-633-7463

This year, all ski areas

are supporting and

implementing Lids On

Kids, a snowsport safety

awareness program.

Know the code.

lidsonkids.org

20
---
PHOTO: JASON LOMBARD, COURTESY WOLF CREEK SKI AREA

WOLF CREEK SKI AREA

After a summer of frequent

rainstorms, Wolf Creek is focusing

on maintaining safety

by removing hazard trees

and transplanting healthy

ones, and by improving

avalanche hazard reduction

with our new Gazex and

Avi Blasters which work

by generating powerful

shock waves, not explosions,

to release dangerous

snow buildup. Our biggest

on-mountain project is

completing the Race Hutch

building with power for race

timing equipment, cameras

and speakers, an observation

area, and storage for race

gear. Improvements are also

being made to our ski and

snowboard rental department

with the introduction

of premium demo skis,

snowboards, boots and an

online reservation system, as

Wolf Creek moves into digitizing

rentals and ski school

reservations both on-site

and online. Seniors (65 -

79) get their own lift tickets

and season passes this year,

as well as specially-priced

clinics and Local Appreciation

days. Wolf Creek's eight

lifts service over 1,600 acres

of beautiful terrain and, with

an average of 400 natural

inches, as usual we have the

most snow in Colorado.

wolfcreekski.com

970-264-5649

1-800-SKI-WOLF

Last year – chalet upgrades,

new rental gear, e-commerce

website, heated snow coach

ride and dinner tours, new

snow cat, more snow guns.

This year – we've cooked

up new features for all you

park rats out there. We took

our Battleship to the chop

shop and came out with an

urban down box, a flat down

box, and a teepee. We've

added even more snow guns

and new automation to our

snowmaking system, and

new all-day classes for kids

RED RIVER SKI AREA

at the Youth Ski Center. Our

new e-commerce website is

still the hot ticket: print out

the barcode and give it to

the ski techs to scan and get

you geared up. Or check out

the 24-hour ticket kiosks.

Ski and snowboard programs

are available for kids and

adults. After riding, there's

tubing, evening rail jams

and torchlight parades.

For events online:

redriverskiarea.com

575-754-2233

ENCHANTED FOREST XC

enchantedforestxc.com

800-966-9381 575-754-6112

21
---
22

A top family-friendly resort,

Purgatory at Durango

Mountain has 91 trails,

five terrain parks and more

than 1,360 skiable acres.

With 10 chairlifts and rarely

any lines, it's simple to zip

around the mountain and

enjoy the spectacular scenery

of the San Juan Mountains.

Dog sledding, snow tubing,

Nordic skiing, snowshoeing,

horse-drawn sleigh rides,

snowbiking, backcountry

skiing, snowmobiling and

more. This year, Purgatory's

Legends Lift 8 has been

replaced with a new highspeed

detachable quad,

almost a mile in length and

covering about 1,500 vertical

PHOTO: COURTESY DMR

PURGATORY at

DURANGO MOUNTAIN RESORT

feet, transporting skiers to

Purgatory's summit in less

than five minutes. And two

brand new trails provide

speedy access. The

Purgatory - Sipapu - Pajarito

- Arizona Snowbowl

collective is investing $10

million in improvements

this year, including three

new quads, more trails,

and more and better

snowmaking. Power Pass

season passes provide

unlimited access to all four

resorts with a combined

3,088 acres, 28 lifts,

over 200 trails and 13

terrain parks.

skipurg.com

800-525-0892

Sipapu Ski Resort is building

its first new quad chairlift this

summer, the third new lift in

less than five years. The new

quad serves popular beginner

and intermediate trails,

giving beginners an easier

way to practice their skills

before progressing to more

advanced terrain. A new

trail will be added directly

under the lift, and mountain

crews will also complete the

much-anticipated Howdy

Extension, adding nearly five

acres of skiable terrain. New

snowmaking infrastructure

is being added for Sipapu's

staple "first to open, last

to close" trails, including a

new snow gun and a second

SIPAPU SKI RESORT

booster pump at Midway,

allowing the mountain team

to cover its slopes with more

snow in less time. Also this

year, Pajarito Mountain of

Los Alamos, New Mexico,

expanded its water system

and they're on pace to

collect more water than

ever before, which means

more snow than ever before.

There's also a new trail on

the west side of the mountain

at Pajarito, providing a

gentle slope for beginners.

For more on both resorts:

sipapunm.com

800-587-2240

skipajarito.com

505 662 5725
---
SKI APACHE

Boasting over 300 days of

sunshine each year,

Mescalero, New Mexico's

Ski Apache – the country's

southernmost ski resort –

offers the best warm-weather

powder skiing in the

world with snowmaking on

33% of the mountain. The

slopes offer a mix of wide

beginner slopes, tough bump

runs, a huge bowl, nice

cruising runs and a terrain

park with jumps, tubes and

rails. Ski Apache sprawls out

under the 12,000-plus foot

peak of Sierra Blanca.

The Adventure Center

offers full days of fun activities

for young skiers 4-12;

we have plenty of group

and private family learning

programs. And we offer

Sisters on Snow for women,

focusing on a supportive and

relaxed learning experience.

Or you can kick it on a

trikke or rip down the

tubing hill. You can even

take a break and hit the slot

machines slopeside at The

Inn of The Mountain Gods.

For more about ski package

deals, the mountain,

and events online:

skiapache.com

575-464-3600

calling all

THRILL

SEEKERS

(and deal seekers, too)

DEEP FREEZE

weekDAY package

SUN-THURS

November 29-March 3

$529 *

RATE CODE: DPFRZWD

BOOK TODAY WITH

CAPITAN

$639 *

APACHE BOWL

$1699 *

weekEND package

FRI & SAT OR SAT & SUN

November 29-February 28

BOOK TODAY WITH

RATE CODE: CAPWE

3-DAY package FOR 4

THURS-SAT OR SAT-MON

November 29-February 29

BOOK TODAY WITH

RATE CODE: APCBWL

To book your stay today

call 1-800-545-9011.

See website for

restrictions and details.

Ski Apache logo lockup positive read with stroke on dark background.

1-800-545-9011 | Mescalero, NM near Ruidoso

23
---
urgent medical care

Lesa Fraker, MD PhD FACEP

Owner/Medical Director

Board Certifi ed Emergency Medicine Physician

care you can count on

No appointment necessary

7 days a week

Local

Appreciation

Days

2015-2016

$43 Adults

$26 Seniors

$24 Children

November

11, 18, 30

December

2,9

January

10, 27

February

7, 24

March

2, 27, 30

April

3

Wolf Creek Ski Area

www.wolfcreekski.com

1-800-SKI-WOLF

Powder

Perfect

All ages welcome

Care for most illnesses & injuries

Colds and coughs

Sprains and broken bones

X-rays, prescription medications

& lab tests on site

Oxygen & IV Therapies

for Altitude Sickness

ORGANIC

SUPERFOODS

SERVED BY THE BOTTLE

Most insurances accepted

including Medicare,

Blue Cross Blue Shield,

Aetna, & Humana

red river

200A Pioneer Road

575.754.1773

angel fire

FA-1 Ski Patrol Building

575.377.1805

The ONLY certified

Urgent Care Clinics

in the Enchanted Circle

ultimed.com

rawtaos.com

rawtaos@gmail.com

575 741 0259

818 Paseo del Pueblo Norte, Taos

Juice

Cleanses

Nutmylks

Wheatgrass

Smoothies

Teas

24
---
Alpine Lodges

FIRESIDE INN & CABINS

Modern, deluxe one and two bedroom fully-equipped

cabins with room to roam

on ten acres along the San

Juan River. Located on the

east side of Pagosa, close

to Hot Springs, toward Wolf

Creek Ski Area and national

forest X-country ski trails.

Private river access and fishing (catch and release) on

our property. Individual living area with gas fireplace,

bedroom/s, kitchen, bathroom. Covered porches with

grills and a Hot Tub! Open year-round.

888.264.9204 970.264.9204

1600 E. Hwy 160, Pagosa Springs, CO

www.firesidecabins.com

EL PUEBLO LODGE

Come stay at the edge of town, at the edge of everything!

Southwest charm with early Taos

architecture. Complimentary wifi

and HBO. Heated, seasonal pool,

year-round hot tub. Continental

breakfast each morning, fresh

baked cookies each afternoon.

Pet-friendly. Three blocks from historic Taos Plaza; 18

miles from Taos Ski Valley. Taos Pueblo and Taos Mountain

Casino two miles north. See our website for specials

and packages.

800.433.9612 575.758.8700

412 Paseo del Pueblo Norte, Taos, NM

www.elpueblolodge.com

KACHINA LODGE and

MEETINGS CENTER in Taos

Four blocks from the historic Taos Plaza, shops, galleries

and museums. Full-service hotel.

Includes full hot breakfast,

leisure bar/lounge with pool tables,

video games, and coffee

shop. Southwestern dining. Outdoor

seasonally heated pool, hot

tub, and free high speed internet. Nightly Indian dances

May-October. Near Taos Casino and Taos Pueblo. Affordable

prices, friendly service staff.

800.522.4462 575.758.2275

www.kachinalodge.com

413 Paseo del Pueblo Norte, Taos, NM

TAOS BED & BREAKFAST INNS

Enjoy your Southwestern adventure even more when

you begin and end each day

at one of our 16 Taos Bed

and Breakfast Inns. Exceptional

food, well-appointed

rooms and gifted innkeepers

who know just how to help

you create memories of Taos,

which will keep you coming back for years to come. For

more information and to book online:

www.taosbandbinns.com

25
---
Name that run

COURTESY ANGEL FIRE RESORT

GAK STONN

M

ost of us stand atop ski runs such

as Niños Heroes (one of the first

few double blacks of the ridge in Taos

Ski Valley) and think to ourselves –

"How do I drop in and not die?" But

there are those few, possibly feeling the

effects of oxygen deprivation, who think

to themselves – "Who were these tiny

heroes, and what made them so rad?"

This article is for the latter group.

Well, oxygen-deprived double

diamond ripper, the Niños Heroes were

a group of six young cadets at the Mexico

Military Academy who were killed

defending the academy from invading

American forces during the Mexican-

American war.

Taos Ski Valley's founder, Ernie

Blake, was an intelligence officer during

WWII. He apparently had a fascination

with martyrs such as the Niños

Heros that shows in his ski run names.

Stauffenberg, Oster, Treskow, and Fabian

are all named after people who tried to

assassinate Hitler. Hidalgo was named

after Miguel Hidalgo y Costilla, another

martyr of the Mexican American

26

war. Winkelreid is Arthur von Winkelreid,

a Swiss martyr from a Hapsburg

conflict. Taos even has a run called

Patton, after General Patton – Ernie

Blake's general during the war.

Red River Ski Area has a bit of

a theme as well, albeit less violent,

but still explosive. Many of the runs

are throwbacks to the town's mining

roots. Some are obvious, with names

like Powder Keg, Prospector's Lane,

Tailings, and Miners Alley. The less

obvious are names of actual mines in

the Red River area – Golden Treasure,

Buffalo, and Purkapile. Linton's Leap

is named after the owner's son and the

family that owns the ski area, Linton

Judycki. It is one of the steepest runs

at Red River, and looks as if the world

drops out from the top.

Sipapu Ski Resort developed a Bambi

theme, but it was not planned. Flower

starts out as a gentle green but then

quickly turns into a black diamond, so it

was known as a "little stinker" – a thickly

veiled reference to a scene in Bambi.

Sipapu then named another run Thumper

after a family of rabbits were found

while cutting the run. The classic ski run

name Bambi was used for a gentle green.

The trend was recognized, and keeping

with tradition, Sipapu is opening a new

run for the upcoming season and calling

it Faline.

The Bolander family (Sipapu's

owners) also has a tradition of naming

runs after family dogs, many of which

are buried near the runs they are named

after as a way to commemorate them.

Sassafras and Razmatazz were both

family Airedales, Candi and Brandy

were St. Bernards, and Howdy was a

Springer Spaniel.

Wolf Creek Ski Area, like Sipapu,

also has a dog theme. The dog chutes –

Zia, Chi, Jiri, Eliott and Max's, are all

named after Avalanche Dogs that have

served Wolf Creek. Patina was named

after an Airedale, Bernard, and Mastiff

mix that belonged to the Pitcher family

(the Wolf Creek owners), who actually

called her Tina. Rockin' Robin was

another family dog, a black lab with

huge paws who liked to race the family
---
COURTESY ANGEL FIRE RESORT

ing Home, Humpty Dumpty, and Heck

No. This is no mistake – the H runs

were named in honor of Roy H. Lebus,

the original developer of the resort.

Minder Binder was originally called

Jaspers, after Jasper Hicks, a ski patrol

director who was killed in a motorcycle

accident in the 70s. Minder Binder was

not actually named after the Catch-22

character, but a bar in Tempe, AZ.

Free Flight stirs up feelings of a

wide open, fast run, devoid of other

skiers. But it is actually named after the

American Jazz Ensemble, who played

at the annual Music From Angel Fire

festival. The story goes that Free Flight

agreed to make a song called Angel Fire,

and Angel Fire agreed to name a run

after them.

So the next time you are about to

drop into a run – and you start to wonder

why on earth anyone would choose

this name for a run – there is probably

more history underfoot than you think.

Gustav Herold is a Colorado-based writer

and skier, who grew up in Taos, NM.

TALE-SPINNING – Continued from page 17

kids up the mountain as they rode the

Treasure lift – and usually beat them.

Wolf Creek, like most ski areas, has

some family-owned references as well.

Pitcher's gate was named because it was

the favorite route of the original owner,

Kingsberry Pitcher, when he was headed

to the waterfall area. Blueberry Hill is

not actually named for the fruit, but

rather the first name of one of Kingsberry's

grandchildren.

Angel Fire has a few mining references

as well, seen in trail names like

Nitro, Detonator, Sluice Box (also a run

at Red River), and Prospector. Prospector,

however, was originally called

Tucker Doubt, a reference to a bet made

by Ray Tucker and Bill Burgess. Tucker

was a former GM of Angel Fire Resort.

Burgess is a long-time instructor and NM

ski hall of fame inductee.The bet was on

the length of time it would take for

Tucker to cut the run, creating the

fantastic double entendre, Tucker Doubt.

You also may notice that Angel Fire

has many runs that start with the letter

H, such as Hell's Bells, Highway, Headbring

certain actions and ideas into the

field of possibility, a model who symbolizes

abstractions in terms of real entities."

Then there are tales stretched to

cartoonish heights, yarns spun with freewheeling

flair. The tall tale, or "windy,"

provided the hot air that gave rise to

many Wild West folk icons, such as Pecos

Bill, Little Joe the Wrangler, and Billy

the Kid. Gathering round the campfire to

swap stories was an integral part of life on

the range. In Jack Thorp's 1926 collection,

Tales of the Chuck Wagon, he wrote:

"It had been an old established custom…

that the men working on the roundup

should meet on the first night at the

chuck-wagon – i.e., the grub-wagon. Every

man there was obliged either to tell a

story, sing a song, or do a dance. Anyone

refusing was sure to get a dose of the leggings,

a punishment administered by the

other punchers, several of whom would

grab the offender and stretch him, toes

and face down, across the wagon-tongue,

while another puncher applied the leather

leggings or chaps. Such treatment, you

can be sure, usually elicited a response in

the form of song, story, or dance."

To be continued

There are no real endings to stories,

so long as new generations of storytellers,

from all walks of life, lend their voices to

what is a mythically rich and historically

broad love letter. We, as humans, are

engaged in a never-ending courtship with

the Great Mystery, a dance that time and

again sparks the invitation: Let me tell you

a story….

John Biscello is the author of the awardwinning

novel Broken Land, A Brooklyn

Tale, and a collection of stories, Freeze Tag.

His new novel Raking the Dust (Zharmae

Press) is primarily set in Taos, where he has

lived for the past 13 years.

27
---
Time to Dine

TAOS

BENT STREET CAFE & DELI – 120 Bent

Street, Taos. 575-758-5787. A local favorite

with menu selections to satisfy every palate.

Served in a relaxed atmosphere featuring a

year-round heated patio and outdoor terrace.

Omelettes, eggs Benedict, gourmet French

toast, excellent sandwiches, creative salads and

homemade soups and desserts. Daily specials,

chicken or beef burrito and tamales plates.

Vegetarian and vegan friendly. Beer & wine.

Open 7 days for breakfast, lunch, and Sunday

brunch. BentStreetDeli.com

DOC MARTIN'S RESTAURANT – 1/2

block N of Taos Plaza in the Historic Taos

Inn, 575-758-1977. Fresh, casual dining in

a historic setting. Winner of Wine Spectator's

"Best Of Award Of Excellence" for 27 consecutive

years. Innovative Regional New American

Cuisine using the freshest local ingredients,

specializing in organic vegetables, meats

and fish, including favorites like buffalo, elk,

trout. Homemade desserts. Lunch, dinner,

weekend brunch. Reservations recommended.

DocMartinsRestaurant.com

EL GAMAL – Behind Taos Plaza, 112 Doña

Luz. 575-613-0311. Serving conscious vegetarian

Middle Eastern food, made from scratch.

Hummus, falafel, baba ganoush, shakshuka,

labane, dolmas. Daily specials, soups, housemade

pita, desserts. Gluten-free and vegan

options; Turkish coffee and espresso drinks;

beer and wine. Family-friendly: kids' playroom,

pool table, free wi-fi. Patio seating. Call for

takeout. Like us on Facebook. Open Monday-

28

Wednesday 9-5; Thursday-Saturday

9-9; Sunday 11-3.

FARMHOUSE CAFÉ and

BAKERY – Three miles

north of Taos Plaza at Overland

Ranch. 575-758-LOVE

(5683). Farm-to-table, serving

local organic cuisine. Legendary

grass-fed burger, green chile

chicken stew, daily quiche.

House-made soups, salads and

a variety of vegetarian, vegan,

and gluten-free options.

Incredible assortment of artisan

breads, croissants, tarts, muffins,

cheesecakes, cookies and more. Specialty

coffees and fresh organic grab-and-go items.

Open 8 am-5 pm daily. Sunday Brunch. Ask

about our new dinner hours. For full menu:

FarmhouseCafeAndBakery.com

GUADALAJARA GRILL – Two locations

in Taos: Southside – 1384 Paseo del Pueblo Sur,

Taos: 575-751-0063. Northside – 822 Paseo

del Pueblo Norte, El Prado: 575-737-0816.

"Our secret sauce makes the difference!" Authentic

Mexican food in New Mexico. Seafood,

Chile Rellenos, Azteca Quesadilla, Camarones

a la Diabla, Ceviche and so much more. Beer,

Wine, Agave Margaritas. Voted "Best Of Taos"

2015: Best Mexican Food, Best Fast Food. Open

10:30 am to 9 pm 7 days a week. Full menu online:

GuadalajaraGrillTaos.com

MIDTOWN MARKET, BISTRO and

LOUNGE – 575-776-1680. 680 Hwy 522,

Arroyo Hondo. Just 15 mins. north of Taos

Plaza on the Enchanted Circle, at northern crossroad

shortcuts to Taos Ski Valley or Rio Grande

hot springs. Lounge open 3 pm-close; Bistro

open for dinner 4-10 pm. Best nachos in Taos,

appetizers, salads, panini sandwiches, Frito pies,

green chile cheeseburgers, deli hot dogs, kids'

menu. Authentic NM red or vegetarian chile.

Friendly neighborhood bar, foosball, three pool

tables. No time to dine? Visit our convenience

market: quick to-go meal options, chips & dips,

package liquors, beer & wine. Menus and more:

MidtownHondo.com

RAW TAOS – "Raw to the People!" 818 C

Paseo Del Pueblo Norte. 575-741-0259. The

best 100% organic, vegan, raw superfoods prepared

with love, fresh each morning. Taste our

cold-pressed juice blends, nutmylks, smoothies,

wheatgrass shots, artisan teas, warm cacao

drinks, hot cider from local apples, and decadent

salads. Shop our selection of essential oils,

health products, and vegan gifts. Get clean

with our individually tailored juice cleanse

packages. Open Mon-Sat 8 am-5 pm. Check

out our social media for events and to like us!

facebook.com/rawtaos rawtaos.com

rawtaos@gmail.com

RICKY'S – Located 2 1/2 blocks south of Taos

Plaza at 312 Paseo del Pueblo Sur. 575-758-

1156. A locals' favorite. Breakfast, lunch and

dinner specials daily. Great New Mexican and

American dishes at family-oriented prices. Gluten-free

and vegetarian chiles. Burgers made

with fresh local beef daily. Kid's menu. 80% of

our dishes available vegetarian. Dine in or take

out. Open 7 days, 7 am to 8 pm.

TAOS PIZZA OUT BACK – 712 Paseo del

Pueblo Norte. 575-758-3112. We start each

morning with organic flour and fresh produce

to create our acclaimed hand-rolled pizzas. Our

reclaimed adobe abode is the perfect setting for

fun, foam and feasting. Enjoy a unique Taos experience

where the three local cultures relax &

mingle with international travelers. Open daily

11 am. TaosPizzaOutback.com

A LA CART – 625 Paseo del Pueblo Norte.

575-758-7503. A food cart serving affordable

meals inspired by street food from around

the world. Garden patio or express takeout at

our drive-through window. Moroccan: grilled

beef, red peppers and onions served on a flat

bread pita or over rice with a yogurt mint

sauce. Indian: grilled chicken with a spicy peanut

sauce and a chickpea, tomato, cucumber

salad. Ethiopian: lentil curry with yams, peas

and potatoes on rice with warm pita bread and

salad, served mild, medium or spicy. Americans

classics, soups, stews, salads, sandwiches,

Nathan's hot dogs. Breakfast and lunch. From

$5.50 to $9.

THE GORGE BAR and GRILL – 103 East

Taos Plaza. 575-758-8866. Stop by The Gorge

and try our juicy burgers, handshaken margaritas,

or fresh oysters – something for everyone!

Enjoy The Best Happy Hour in Taos while sitting

on our patio overlooking the Taos Plaza. We
---
feature TWO happy hours: M-F, 3-5:30 pm and

again from 9-10:30 pm. Check out our new wine

bar and retail shop located below The Gorge:

PARCHT BOTTLESHOP + BITES. 575-758-

1994. A cozy place to discover unique wines +

quality craft beer + hand-picked artisanal cheese

& charcuterie + locally roasted coffee. Come

in and explore the things that excite us while

you taste + shop + unwind. Visit us online at

TheGorgeBarAndGrill.com and Parcht.com

RED RIVER

BRETT'S BISTRO – At Lifts West, 201 W.

Main Street in Red River. 575-754-9959.

Serving the best steaks, seafood and Rocky

Mountain trout for over 25 years. Daily specials,

kids' menu. Catering available. Cold Beer and

Fine Wines. Like us on Facebook. Open daily 11

am–9 pm. BrettsBistro.com

SUNDANCE – High Street at Copper King.

575-754-2971. Same great food, same great

service. Celebrating our 42nd year. Steaks,

salads, excellent Mexican food. Great sopaipillas!

Specials include shrimp fajitas and quesadillas.

Frozen wine Margaritas. Reservations welcome.

Call for to-go orders. Open nightly 5 pm.

ANGEL FIRE

ANGEL FIRED PIZZA – Located on the

second floor of the Mountain View Mall

(next to the Lowe's Valley Market). 575-377-

2774. We serve specialty pizzas, baked pastas,

calzones, Paninis and salads. All in a fun,

relaxed atmosphere. Gluten-free options are

available. We also offer a wide selection of handcrafted

beers and fine wines. Dine in or take out.

Open Tues-Sun 11 am-9 pm. Daily Happy Hour.

AngelFiredPizza.com

LEGENDS GRILL – Located on the second

floor of The Lodge at Angel Fire Resort. 575-

377-4201. A great place for the whole family.

Proudly serving 1/2 lb. Angus beef burgers,

sandwiches, salads and more. Great selection

of craft beers on tap. Sports on the big screens!

Open daily 4-9 pm.

THE LIFT – Located in the lobby of The

Lodge at Angel Fire Resort. 575-377-4234.

Serving Starbucks specialty coffees and freshly

baked goods daily. The Lift dishes up delicious

breakfasts and lunches, including homemade

breakfast burritos (a local favorite), breakfast

sandwiches, wraps, fresh salads and homemade

dressings. Beer and wine also available. Open

daily 7 am-4 pm, with extended hours during

peak periods.

ELEMENTS at THE COUNTRY CLUB –

575-377-3055. Enjoy unobstructed Southern

Rocky Mountain views while your taste buds

delight in world class cuisine. Featuring a full

bar, an award winning wine list, private dining

rooms and group event spaces. Located on the

upper level of the Angel Fire Country Club and

open to the public year-round. Dining room is

open Tuesday-Saturday 5–9 pm. Bar and lounge

open Tuesday-Saturday 4 pm-close. Extended

hours during peak periods.

H2 UPTOWN – 48 North Angel Fire Road.

575-377-1200. Casual mountain style dining

with an upscale experience, where you're

treated like family. Serving specially seasoned

charbroiled steaks, wild game, pastas, fine wine,

draft beer and much more. An unforgettable

experience at an affordable price. Open for

lunch and dinner. Reservations for dinner are

suggested. Also visit Café Expresso 575-377-

6669 for hearty breakfast and lunch.

PUT 'N GRUB – Located at the Village

Center Plaza, 52 N. Angel Fire Road. 575-377-

2335. A family-friendly pub with 20 craft brews

on tap including a draft style root beer. Gourmet

dining in a rustic and casual environment. Best

steaks in town. Open every day during winter ski

season, 5 to 9 pm.

CIMARRON

SAINT JAMES HOTEL – 17th and Collison

in Cimarron. Reservations recommended.

575-376-2664. Landmark on the Santa Fe

Trail, the St. James has been known for its

fine dining since 1872. Menu includes hand

cut steaks, New Mexico favorites, homemade

soups and desserts. Select from a variety of

beers, fine wines or a specially-made cocktail,

all served from the antique bar. New breakfast

menu. Open daily 7 am–9 pm. Visit us online at

ExStJames.com

Cherish the spirit.

Winner of Wine Spectator's

"Best Of" Award of Excellence

for 28 consecutive years

LODGING, DINING &

LIVE MUSIC NIGHTLY

at The HISTORIC TAOS INN

575.758.2233

taosinn.com

29
---
2015-2016 winter

Calendar

Dec

4 Sipapu Ski Resort opening day

4-6 Race Camp & Clinic, Red River Ski Area

10 Taos Ski Valley opens full time

11 Enchanted Forest XC Ski opens

11 Red River Ski Area opens full time

11 Angel Fire Resort opens

11-13 International Women's Ski Day, TSV

11-13 Not Forgotten Appreciation Weekend, Sipapu

12 Bent Street Bonfires, Taos

12 Fun Race, Wolf Creek Ski Area

12-13 Cumbres & Toltec Railroad Christmas Train

13-18 College Days, Red River Ski Area

15-16 "A Christmas Story," Taos Mesa Brewery

18-19 Public Demo Days, Taos Ski Valley

18-19 Alumbra de Questa Christmas Market, Questa

19 Brew Master's Festival, Taos Ski Valley

19 "The Magic Flute," Taos Center for The Arts

19 Grand Opening, "Legends Lift," Purgatory

19 Dummy Gelunde & Parade, Ski Apache

20 Messiah sing-along, St. James Episcopal, Taos

20 Santa on the Mountain, Purgatory Resort

24 Procession of Virgin Mary, Taos Pueblo

24 Torchlight parade and fireworks, all ski areas

25 Christmas Luminaria Tour, Enchanted Forest XC

24-25 Ski with Santa, most ski areas

25 Matachines or Deer Dance, Taos Pueblo

26 Terrain Park Competition 1, Ski Apache

31 Torchlight parade and fireworks, all ski areas

Jan

1 Turtle Dance, Taos Pueblo

2 Gold Rush Rail Jam, Red River Ski Area

2 Terrain Park Competition 2, Ski Apache

2 Ski Bike Demo Day, Sipapu Ski Resort

2-3 Never Summer Demo Days, Purgatory Resort

3 Apache Star Races begin; ongoing

3-10 College Week, Angel Fire Resort

4-15 College Days, Red River Ski Area

6 Buffalo or Deer Dance, Taos Pueblo

7, 14 Locals Days, Ski Apache

9 NMX Ski/Snowboard Competition, AF Resort

9 Ongoing ladies' ski clinics, Wolf Creek

9 Fun Race, Wolf Creek Ski Area

9 Terrain Park Competition 3, Ski Apache

10 Demo Day, Purgatory Resort

10 Locals Benefit Day, Purgatory Resort

10, 27 Locals Appreciation Day, Wolf Creek

15-17 Winter Carnival, Red River Ski Area

15 Snowmobile Hill Climb, Red River Ski Area

15 Ski & Snowboard Challenge, Red River Ski Area

15 Happy Hops Hunt, Purgatory Resort

16 Telemark Festival, Sipapu Ski Resort

16-17 Winterfest, Purgatory Resort

17 MLK Jr. Race, Wolf Creek Ski Area

19-24 Not Forgotten Outreach Week, TSV

20 United Way Day, Wolf Creek Ski Area

20 Ongoing School program begins; Ski Apache

22-24 USASA SW Freeride Showdown, AF Resort

23 Terrain Park Competition Finals, Ski Apache

23 Moonlight Hike & Campfire, Sipapu Resort

23 College Day, Wolf Creek Ski Area

23 King of the Hill Terrain Competition, Sipapu

23-24 Low O2 Challenge, Enchanted Forest XC

23-25 Big Ol' Texas Weekend, Angel Fire Resort

24, 31 Fun Races, Wolf Creek Ski Area

27 Local Appreciation Day, Wolf Creek Ski Area

27-31 Taos Winter Wine Festival, Taos Ski Valley

30 Transworld TransAm Tour, AF Resort

30 UNM Ultimate Ski Challenge, AF Resort

30 Shred Cancer Benefit, Red River Ski Area

30 Telemark Clinic, Wolf Creek Ski Area

30 Rail Jam, Purgatory Resort

Feb

4-7 50th Anniverary Reunion, Purgatory Resort

4-9 Mardi Gras in the Mountains, Red River

4, 11 Locals Days, Ski Apache

5-9 Mardi Gras Celebration, Angel Fire Resort

6 World Championship Shovel Races, AF Resort

7, 24 Local Appreciation Day, Wolf Creek

7 Cosmic Series Rio Hondo Rando, Taos Ski Valley

7 USASA Southwest Freeride Series, AF Resort

7 Super Bowl Fun Race, Wolf Creek Ski Area

9 Mardi Gras, Purgatory Resort

13-15 I Heart Purg Weekend, Purgatory Resort

14 Heart to Heart Races, Ski Apache

16 Fat Tuesday Costume Day, Ski Apache

17-22 Military Winter Fest, Angel Fire Resort

18-21 IFSA Junior Freeride by JETA, Taos Ski Valley

20 Moonlight Hike & Campfire, Sipapu Ski Resort

20 Judy Collins, Taos Community Auditorium

20 Ski Apache Cup and Apache Star Races

20 Telemark Ski Clinic, Wolf Creek Ski Area

20 Ski Bike Festival, Purgatory Resort

20 Red Ball Express, Purgatory Resort

21 Local Benefits Day, Purgatory Resort

21, 28 College Days, Wolf Creek Ski Area

26 Happy Hops Hunt, Purgatory Resort

27 USASA Rampage Slopestyle, Red River Ski Area

27 Wild Western Cup, Ski Apache

27 K2 Breast Cancer Awareness Day, Taos Ski Valley

27 Just Desserts Eat & Ski, Enchanted Forest XC

27 Hope on the Slopes, Purgatory Resort

28 NM Pine Cup, Angel Fire Resort

Mar

1 Apache Quest Scavenger Hunts, Ski Apache

2, 27, 30 Local Appreciation Days, Wolf Creek

3 2-Star Taos Freeride Championships, TSV

4-5 4-Star Taos Freeride Championships, TSV

5 Ski Bum Ball, Angel Fire Resort

5 Big Mountain Challenge, Ski Apache

5 NMX Competition, AF Resort

5-6 Hawaiian Days, Sipapu Ski Resort

5, 20 Fun Races, Wolf Creek Ski Area

5, 26 College Days, Wolf Creek Ski Area

7 Springtacular, Purgatory Resort

12 New Belgium Scavenger Hunt, Taos Ski Valley

12 Spring Fling Race, Wolf Creek Ski Area

12 13th Annual Cardbox Derby, Sipapu Ski Resort

12 Ernie Blake Birthday Celebration, TSV

12-18 Fiesta del Sol Spring Break, AF Resort

13 Cardboard Derby, Purgatory Resort

13 Pond Skimming & Beach Body Contest, Ski Apache

17 St. Patrick's Day Celebration, Angel Fire Resort

17 Shamrock Relay, Ski Apache

18 Kids' Glow Stick Parade, Red River Ski Area

18 Happy Hops Hunt, Purgatory Resort

18-19 Ben Meyers Ridge-A-Thon, Taos Ski Valley

19 12th Annual Pond Skimming Contest, Sipapu

19 Fatty Paddy Mountain Bike Race, AF Resort

20 Locals Benefit Day, Purgatory Resort

20 Demo Day, Purgatory Resort

20 Pond Skim, Red River Ski Area

20 Moonlight Hike and Campfire, Sipapu Resort

26 Spring Brew Masters, Taos Ski Valley

26 Telemark Ski Clinic, Wolf Creek Ski Area

27 Easter Egg Hunt, Taos Ski Valley

27 Easter Eggstravaganza, Purgatory Resort

Apr

2 Kachina TWIST lap-a-thon, Taos Ski Valley

2 College Day, Wolf Creek Ski Area

3 Local Appreciation Day, Wolf Creek Ski Area

3 Angels and Demons Party, Purgatory Resort

3 Pond Skimming Championships, TSV

7-10 Taos Shortz Film Festival, Taos Center for the Arts

Info

Angel Fire 800-446-8117

Chama Valley 800-477-0149

Durango 970-247-3500

Eagle Nest 800-494-9117

Pagosa Springs 800-252-2204

Red River 800-348-6444

Ruidoso 877-784-3676

Santa Fe 800-777-2489

South Fork 800-571-0881

Taos County 800-732-8267

Taos Pueblo 575-758-1028

Dates are subject to change. Check with local chambers

for updated calendar information.

30