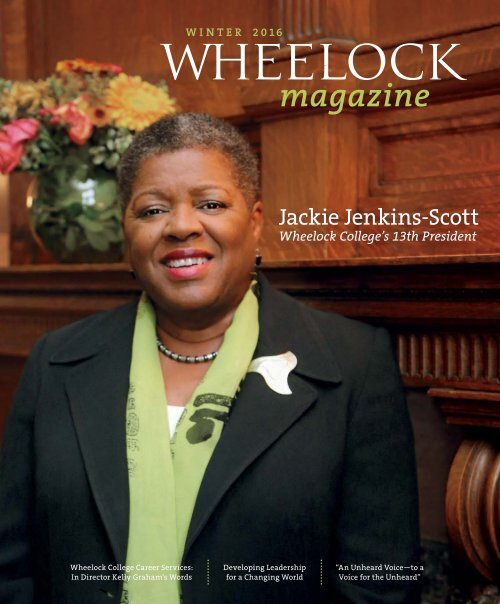 magazine
Wheelock Magzine_Winter2016
Wheelock Magzine_Winter2016
SHOW MORE
SHOW LESS
Create successful ePaper yourself
Turn your PDF publications into a flip-book with our unique Google optimized e-Paper software.
WINTER 2016

magazine

Jackie Jenkins-Scott

Wheelock College's 13th President

Wheelock College Career Services:

In Director Kelly Graham's Words

Developing Leadership

for a Changing World

"An Unheard Voice—to a

Voice for the Unheard"
---
magazine

CONTENTS

In the News ........................ 2

The Riverway ...................... 5

Features .............................. 7

Faculty Spotlights .............. 16

Alumni Spotlights .............. 20

Student Spotlights ............. 24

Annual Report of Giving .... 27

Class Notes ......................... 48

Editor

Erin Heffernan

Contributing Editor

Christine Dall

Production Editor

Lori Ann Saslav

Photography

Erin Heffernan

Tom Kates

George Stearns

Erin Wholley

Design

BCG Connect

Front Cover:

Jackie Jenkins-Scott

Wheelock College's 13th President

Wheelock Magazine invites manuscripts

and photographs from our readers,

although we do not guarantee their

publication, and we reserve the right to

edit them as needed.

For Class Notes information, contact

Lori Ann Saslav at (617) 879-2123 or

lsaslav@wheelock.edu.

Send letters to the editor to:

Wheelock Magazine

Office of Institutional Advancement

Wheelock College

200 The Riverway

Boston, MA 02215-4176

Wheelock College Women's Cross Country

Team Takes NECC Championship

"Our student-athletes serve as

ambassadors for Wheelock

College both in the classroom

and in athletics. They represented

our institution in glowing

fashion when they won the

2015 New England Collegiate

Conference (NECC) Women's

Cross Country Championship.

It was a historic moment for

the entire Wheelock College

community, as it marks the

first championship in any

sport at the College. As a coach,

I couldn't be more proud of

what our team accomplished

this year." –Wole Oke

Wheelock College congratulates the Wheelock College

women's cross country team!

WINTER 2016

The Wheelock College women's cross

country team won the 2015 New

England Collegiate Conference (NECC)

Championship on Oct. 31, 2015, the first

championship in the program's seven-year

history. And, Wole Oke — head coach of

the team — was named the 2015 NECC

Women's Cross Country Coach of the Year.

Rookie Gina Powell of Granby, MA, placed

first in the race with an impressive time of

19:48.31. She was designated the 2015 NECC

Women's Cross Country Runner of the Year

as well as the 2015 NECC Women's Cross

Country Rookie of the Year. Teammate

Natasha Olanyk of Ashfield, MA, took

fifth place in the race to claim 2015 NECC

Women's Cross Country First Team honors

with a time of 20:51.12. And Kara Shipkin

of South Easton, MA, added to the squad's several awards and honors with her

placement on the 2015 NECC Women's Cross Country All-Sportsmanship Team.
---
Dear Alumni and Friends,

One of my greatest privileges while serving as the President of Wheelock College has been becoming a member of and

getting to know this unique and wonderful community. As I write my last opening letter for Wheelock Magazine, I feel

tremendous gratitude to all of you who have worked alongside me for the past 12 years and who have honored me with

your support and friendship.

At Wheelock, our staff and faculty are also second to none. The hard work of our faculty is recounted to me in the

anecdotes I hear from our students who tell me of professors who go above and beyond to support them. As you will

read in this issue of Wheelock Magazine, Wheelock employs many very special people, two of whom, Dr. Hope Haslam

Straughan and Mare Parker-O'Toole, are highlighted for co-parenting in separate homes. They co-parent, with a third

couple, a set of brothers who otherwise would have been separated through the foster care system. You will read about

Lynne Griffin, who has recently published a novel written while working as an adjunct professor at Wheelock. Girl Sent

Away shows Lynne's sensitivity to the lives and challenges of young people and her outstanding skills as a writer.

As I have often said, our students inspire me every day. When I walk around campus, I am touched by the warmth

and friendship they offer me as their President. I am honored to receive hugs and family updates, as well as hear their

aspirations, concerns, and fears. In November, we hosted our Passion for Action Leadership Award Dinner where the

Passion for Action Scholars were the highlight of the evening. We heard from Zach Kerr '17, who, in addition to carrying

his student workload, is a vocal leader for the young transgender community, speaking regularly at high schools

and working with Born This Way Foundation. Zach is working to help transgender youth know that they are not alone,

while at the same time educating their classmates and friends about the challenges transgender youth face. His work is

having a positive effect on young people by breaking down stereotypes in our society and fueling courage and strength

in transgender youth.

This is just one of countless stories of our dedicated students who will become leaders in their communities. Many

of them will become advocates, teachers, social workers, parents, business leaders, volunteers. There is not enough

space to share the many stories of the incredible contributions that our students are making and will make. Our students

chose well when they chose Wheelock because they are acquiring the education and skills they will need to fulfill

the personal mission each undertakes in support of children and families. Their drive, compassion, and capacity for

leadership are inspiring.

It has also been a great joy for me to travel the country and indeed the world visiting our remarkable alumni. I have

had the privilege of seeing so many alumni "in action" as they contribute to our Wheelock mission. The College's

alumni have been nothing but encouraging and supportive, and it is a great honor that I now count many alumni as

lifelong friends.

Wheelock's founder, Lucy Wheelock, said: "Wherever you are, the bond which binds you to the Wheelock School

and its teachers is one of the things that endures. Neither time nor distance can break it." This community and these

friendships will remain as some of the most wonderful aspects of my time at the College. I am deeply grateful to all of

you for welcoming and supporting me and my family for the past 12 years.

Sincerely,

1

Jackie Jenkins-Scott

President

magazine
---
In the News

Dr. Hope Haslam Straughan Explores

Transracial Adoption in New Book

Forty percent of adopted children in America live in transracial

families. Dr. Hope Haslam Straughan, Wheelock

College associate dean of Social Work, Leadership, and

Policy, has co-written Parenting in Transracial Adoption: Real

Questions and Real Answers, a book that examines many of the

complex issues that can occur in transracial adoptions.

The result of a seven-year collaboration with co-authors

Jane Hoyt-Oliver, professor of Social Work and chair of the Department

of Social Work and Psychology at Malone University,

and Jayne E. Schooler, an adoption worker and trainer as well as

e-author or co-author of six books related to the topic, the book covers topics including

parental understanding of childhood and race, parental understanding of the challenges

that could arise surrounding transracial families within a community, and communication

within the adoptive family.

"It is critical that the needs and strengths of adopted children and teenagers are

understood, especially for transracial families," says Dr. Straughan. "It is my hope that

this book will be a resource for adoptive parents and child welfare professionals to support

transracial adoption in ways that empower children in their social, emotional, and

identity development."

Anchored in a qualitative study of parents who have adopted children of a different

race, Parenting in Transracial Adoption: Real Questions and Real Answers draws from

real-life experiences to raise and respond to questions that arise before, during, and after

transracial adoption. Its goal is to help adoptive parents (and child welfare professionals)

understand the underlying racial challenges in a transracial adoption so they can

help their children cope. It addresses questions from the obvious — for example, how to

respond to invasive comments from family and community members — to the practical

— how a Caucasian mother can learn to help her African-American daughter groom

her hair. The book also shares advice from practitioners about preparing and supporting

families in transracial adoption. A highlight is the inclusion of three chapters written by

three adult adoptees who grew up within transracial families.

Dr. Straughan's research and scholarship interests include spirituality within social

work assessment and intervention, justice-based social work, and foster care and adoption.

She has presented nationally on the subject of adoption and on spirituality in social

work practice. She serves as a volunteer foster care case reviewer for the Department of

Children and Families in Massachusetts and is on the board of FAMILY, Inc. and KEY,

Inc. She and her husband adopted their two biracial sons when they were preschoolers.

Parenting in Transracial Adoption: Real Questions and Real Answers will be available for

sale on Feb. 28, 2016. It is available for pre-order at http://tinyurl.com/TransracialAdoption.

"It is critical that the

needs and strengths

of adopted children

and teenagers are

understood, especially

for transracial families,"

Book:

Praeger Publishing

says Dr. Hope Haslam

Straughan. "It is my hope

that this book will be a

resource for adoptive

parents and child welfare

professionals to support

transracial adoption

in ways that empower

children in their social,

emotional, and identity

development."

3

magazine
---
In the News

The Search for Wheelock's 14th President

4

When the Wheelock College community

learned that President Jackie Jenkins-Scott

would be leaving the College — following a

12-year tenure marked by significant growth of the institution

— the Board of Trustees immediately appointed

a Presidential Search Committee, which is charged with

finding Wheelock's 14th president.

The first step in the presidential search process was

to select a search consultant. Several executive search

consulting firms were interviewed, and AGB Search

was selected to facilitate a national search. AGB Search

focuses exclusively on higher education leadership, conducting

executive searches in partnership with colleges

and universities across the country.

In September, the Search Committee initiated a "Listening

Tour" designed to gather input from faculty, students,

staff, alumni, Trustees and Corporation members,

Deans' Council members, and members of the leadership

team. Information gleaned from the tour was synthesized

into the Leadership Profile — a multipage document

that introduces potential candidates to Wheelock and

also describes the opportunities and challenges ahead as

well as characteristics desired in the next president. The

Profile may be found on the Wheelock website at wheelock.

edu/presidentialsearch, along with progress updates and

Frequently Asked Questions.

Next, AGB Search widely distributed the Profile and

reached out to networks identified by various constituencies

of the Wheelock community. By the time of the publication

of this magazine, outreach for recruitment will be

completed and the process of reviewing and interviewing

candidates will have begun. In early winter, the Search

Committee will review all applicants, selecting those who

will be invited for interviews. These finalist interviews

will be held in late February with the hope of naming a

new president in early spring, allowing ample opportunity

for the new leader to meet members of the Wheelock community

prior to President Jenkins-Scott's departure. The

planned timetable will allow the new president to prepare

to lead the College in a seamless transition at the start of

the new academic year on July 1, 2016.

The Search Committee is being led by Robert A. Lincoln,

former Board chair, and Susan Simon '73, who also

helped lead the Search Committee that recruited President

Jenkins-Scott. Other members of the committee

are Ellen Faszewski, Ph.D., Co-chair, Mathematics and

Science Department, Professor of Biology; Paul Hastings,

Associate Dean of Student Success; John H. Jackson,

Ed.D., J.D., Co-chair, Educational Policy Committee,

Board of Trustees; Anne Marie Martorana, Vice President

and Chief Financial Officer; Vicki Milstein '72, Vice

Chair of the Corporation, Corporation Member; Karen

Sturges '87MS, Co-chair, Governance Committee, Board

of Trustees; Kate Taylor, Chair of the Board of Trustees;

Eleonora Villegas-Reimers, Ed.D., Chair, Department

of Elementary and Special Education, Associate Professor;

Wendy Champagnie Williams '93, Ph.D., Chair of

the Master of Social Work Program, Assistant Professor,

Social Work; and Leverett Wing, Board of Trustees.

"The search for the new president

of Wheelock College is a wonderful

opportunity to take stock of where we

are today. We have made great strides

under the leadership of President

Jackie, which positions us to move

confidently forward into the future."

"The search for the new president of Wheelock College

is a wonderful opportunity to take stock of where we are

today. We have made great strides under the leadership

of President Jackie, which positions us to move confidently

forward into the future," states Co-chair Susan

Simon. "Through the search process we have heard from

students, faculty, staff, alumni, Corporators, and Board

members — it has been a community-building experience

with a strong consensus around the importance of Wheelock's

mission and values and what's needed to advance

our beloved college."

WINTER 2016
---
The Riverway

reports from around campus

A letter from President Jackie Jenkins-Scott announcing Wheelock College's full 10-year

reaccreditation from the New England Association of Schools and Colleges (NEASC)

September 28, 2015

Dear Wheelock Community:

I am thrilled to report that, as expected, Wheelock College has received its full 10-year reaccreditation from the New

England Association of Schools and Colleges (NEASC), affirming our high-quality programs and academic standards.

This brings to a close a very busy reaccreditation season as we also recently completed two highly successful

reaccreditation visits for our Social Work and Education programs. Below please find more information about our

current accreditations.

• New England Association of Schools and Colleges (NEASC): After an intensive, yearlong self-study and

comprehensive outside evaluation, Wheelock was reaccredited by NEASC in September 2015. The 10-year

reaccreditation applies to the institution as a whole, including academics, policies, and practices. Wheelock College

has been accredited by NEASC since 1950.

• National Council for Accreditation of Teacher Education (NCATE): After 18 months of self-study and multiple

external reviews, Wheelock was reaccredited in May 2015 by NCATE and underwent a simultaneous review by the

Commonwealth of Massachusetts. This reaccreditation affirms Wheelock's ability to offer undergraduate and

graduate education degrees leading to state licensure for another 10 years.

• Council on Social Work Education (CSWE): Wheelock's Social Work programs were issued a 10-year

reaccreditation in April 2015 by CSWE following a year of self-study. This reaccreditation affirms that all of

Wheelock's social work offerings and degree programs meet CSWE standards.

Please feel free to visit our website for more detailed information on our accreditations here: http://www.wheelock.

edu/about/accreditation-information.

"The NEASC Commission noted the many strengths of the College, including its clear, focused mission that is

embraced by the college community and serves as an effective guide for priority setting, and the institution's highly

qualified and dedicated faculty," according to a joint statement issued this morning by President of the NEASC

Commission Barbara Brittingham and me.

Our community has much to celebrate! I want to thank our entire amazing faculty for its ongoing and tireless

commitment to our high-caliber academics. It is because of your passion and dedication that you have set the highest

standards for our students and for our institution. I also thank and congratulate our staff, students, and trustees for

your support and participation during our yearlong self-study process and the visit of three accreditation teams.

Congratulations to our entire College community on the completion of these three accreditations! These have been

rigorous processes of self-reflection, formal reporting, and on-site visits to review and document our Education, Social

Work, and overall academic programs. It is through this commitment to self-reflection and to continuous improvement

that I am confident Wheelock will continue to live out its mission to improve the lives of children and families.

5

Best,

President Jackie Jenkins-Scott
---
STEM in the

City 2016:

A Summer Camp

In residence at the Department of Mathematics and Science on

Wheelock College's Boston campus, STEM in the City is a careerand

college-awareness summer camp for young people entering the

eighth and ninth grades. Innovative and fun, the annual camp features

excursions to Boston-area companies, organizations, or field sites

that highlight a variety of STEM (Science, Technology, Engineering,

and Math) disciplines and engages students in a related classroom

lab activity led by STEM professionals. During the camp, students

explore a variety of STEM-related careers and the educational pathways

needed to attain those careers. In addition, campers are introduced

to college life and academics through campus tours featuring

Wheelock's classrooms, residence halls, library, theater, dining hall,

multicultural center, and more. They also have the opportunity to

participate in discussions with college students, faculty, and staff.

The key goals of STEM in the City are:

• To increase STEM content knowledge and skill development

• To increase awareness of and to promote STEM careers

• To expose middle school students to a college experience

6

STEM in the City 2016

DATES:

Monday–Friday

July 18, 2016 – July 29, 2016

(9 a.m. to 4 p.m. with informal STEM

activities starting at 8 a.m.)

• WEEK 1 (July 18–22, 2016)

• WEEK 2 (July 25–29, 2016)

• FULL CAMP (July 18–29, 2016)

WHO:

Students entering eighth or ninth

grade in the fall of 2016

WHERE:

Wheelock College, Boston, MA

COST:

(includes lunch and a snack)

$400 per Week

$800 for Full Camp

For more information on STEM in the City

and to register, please visit

www.wheelock.edu/stemcamp.

Campers explore the variety of subjects in a relaxed and creative

setting that allows them to develop and strengthen their interest in

STEM fields while building bonds with their peers. Over the course

of the program, students expand their viewpoints and knowledge of

STEM, and apply their new skills in a real-world setting by participating

in Citizen Science. For example, students can use the science educational

tool WhaleNet 2.0. WhaleNet, created at Wheelock College

in 1993, allows students to contribute to actual research programs of

marine mammal research. Students can become involved in a variety

of ways, including submission of photo-identification pictures for the

catalog, traditional water testing, data analysis, mapping, and evaluation

of established research protocols. STEM in the City was launched

in 2015, and the majority of students who participated that first summer

agreed that learning about STEM topics impacts how they view

the world and provides the reasoning skills needed to understand

that STEM concepts can be applied to everyday life.

In the summer of 2016, STEM in the City will focus on four overarching

themes: Marine, Space, Environment, and Health Sciences.

Engineering, math, and technology will be woven into these broader

themes throughout the camp, and students will visit sites such as

7 Seas Whale Watch, the Christa McAuliffe Center, Blue Hills Observatory,

and Beth Israel Deaconess Medical Center. Overseeing the

curriculum is camp director Dr. Ellen Faszewski, Wheelock College

professor of Biology and co-chair of the Mathematics and Science

Department. Team members also include Carolin Cardamone, assistant

professor of Astronomy; Galina Dobrynina, associate professor

of Mathematics; and Mare Parker-O'Toole, assistant director of the

Earl Center for Learning and Innovation.
---
Reflections from President Jackie Jenkins-Scott

as She Nears the Conclusion of Her Presidency
---
Developing Leadership for

a Changing World

"Be brave, for there is much to dare …" - Lucy Wheelock

8

"You are going

out into the

world at a

critical time

and at a very

interesting

time. So much

to do! So many

wrongs to

right! So much

ignorance and

injustice and

self-seeking!"

- Lucy Wheelock

This year, my 12th and last

year as Wheelock College's

president, feels especially

rewarding and inspiring

as I reflect on the changes that have

occurred during the years I have been

part of this exceptional community

— changes both at Wheelock and in

this complex world that we aspire to

transform with our mission to improve

the lives of children and families.

Our society and our world are shifting

much faster than we might have

predicted even a decade ago. The critical

issues challenging us are huge, all of them affecting children and families

everywhere. The impacts of climate change are beginning to be felt

across the globe. The injustices of unconscionable poverty and inequality,

racial and ethnic violence at home and abroad, and a new form of terrorism

that knows no boundaries make for very troubling times. According to the

U.N. High Commissioner for Refugees, there are now 60 million refugees

— half of them children — an all-time high as violence and persecution are

on the rise around the world.

Often I have looked to Lucy Wheelock and her mission — founded

during equally turbulent times — as my guides while leading the College

through significant changes. Like her, I am confident that Wheelock is

preparing its students to actively apply their educations for the common

good in unpredictable times, even in environments where they may have

little or no experience.

WINTER 2016
---
Feature

DEVELOPING LEADERS

My confidence comes from knowing that embedded in Wheelock's brand

of education, in its classrooms and within its programs, is a kind of

teaching and learning that grows leaders. Much of this is based on types of

leadership that Lucy Wheelock practiced and that have been an excellent model

for me during my presidency.

The Wheelock Way of Moral Leadership

Leading an institution with a moral mission has great advantages. It attracts

passionately caring, altruistic individuals, unifies them into a uniquely

strong community, and focuses them on a common goal even if their individual

paths toward it vary. It provides a standard against which, as President, I have

always measured every aspect of institutional growth and development.

Do we need more or different opportunities for student service and practice

that teach moral leadership? Can a new graduate program in Nonprofit

Leadership bring Wheelock's brand of moral leadership into more nonprofits

and nongovernmental organizations while also adding job opportunities for

graduating students? How can a new Political Science and Global Studies major

best help students understand how local policies have far-reaching effects on

children and families and that different cultures have different ideas about

equity and justice? Does the Wheelock student experience reflect what we teach

about inclusion and equity?

Teaching and modeling moral leadership and guiding students as they

struggle with its complexities and contradictions are fundamental to fulfilling

Wheelock's mission.

Collaborative Leadership

Learning to work collaboratively with colleagues and with members of

a community being served is one of the hardest and most important

challenges every leader confronts.

Collaborative leadership requires learning to set aside the more traditional

notion of individual accomplishment and to trust that there is more to be gained

by individuals working together as a group toward a shared goal. This is not easy.

Collaborative leadership teaches humility along with many other lessons! But by

bringing together — to the table, the project, or the classroom — the individual

resources that everyone has, our own ideas will be improved, our paths will be

made made shorter and straighter, and even our understanding of the goal may

shift because of new perspectives on it.

I have been fortunate to be President of a college that has an abundance of

leadership resources within its administration, faculty, and staff; on its Board of

Trustees; and among its accomplished alumni who are making great differences

Wheelock alumni – standard-bearers of the mission

"You will be the

standard-bearers in

your community."

- Lucy Wheelock

9

magazine
---
Feature

"To each of us

comes the vision of

a free world and a

happier world. To

each of us comes

the sober conviction

that the only path

to such a goal is the

path of self-activity,

self-sacrifice …

and of universal

cooperation. This

is the vision of our

educational effort."

- Lucy Wheelock

Practicing collaborative leadership during a service-learning trip to Ghana

throughout our country and across the globe. Together, through the hard work of

collaboration, we are making the College stronger and its impact far wider in scale.

This is why the College regularly holds campus focus groups, bringing faculty

and staff together to share ideas about issues concerning the College — a strategic

plan taking shape, facility needs that must be addressed, admissions goals we have

set. I am always so encouraged by the amount of energy individual members of the

group pour into these opportunities for sharing in leadership. In the end, there is

always new learning and — especially when significant change is taking place — the

decisions that are made are always more informed and solid.

Collaborative leadership is what we teach our Passion for Action student leaders.

It is what students learn through Wheelock's Civic Issues, Skills, and Engagement

NOLA course and our international service-learning programs. Its power to create

community and social change is dramatically demonstrated by the Mattahunt Community

Center/Wheelock College Partnership that continues to grow as a service

hub for Mattapan's community of Haitian immigrants.

10

Leading by Learning

One important lesson I have learned over and over again is that learning really

is a lifelong, step-by-step process. And that's a good thing. Not being afraid of

asking questions and of learning from others and not letting the title of "leader" get

in the way of learning have made my job endlessly interesting and have helped me

do it better.

When I came to the College in 2004, I did not come from a leadership background

in higher education. But I sought out others who did and tried to learn about the

institution, and the community that I wanted to move forward, from everyone I came

into contact with. I saw learning from others as the most direct route to beginning to

become the best leader I could be for this particular institution.
---
And learn I did, from every sector of our college community and, most especially,

from the countless alumni spanning several generations whom I have talked with

on campus and at Reunion and at gatherings and visits in their homes, or heard from

through letters, emails, and phone calls. Wheelock alumni are an outstanding learning

resource I have relied on from the start for sharing thoughtful observations and advice

and for lending me institutional wisdom I did not possess early on. All of your alumni

wisdom has come home to Wheelock and helped prepare our students for leadership.

I have acquired an entirely new education from faculty who understand the mission

of this college through and through, dedicated leaders who know how to give students

the knowledge and specific skills they need to become leaders in their own chosen

Learning from students on the Brookline campus

fields. With faculty permission, I invite alumni to sit in on any Wheelock class during

a visit to Boston. To see the connection that exists between faculty and students in

our classrooms and the creativity and energy that faculty bring to their teaching is to

experience "leadership in action" at its best.

Learning from Leaders

During my tenure, I have made it a practice to reach out to other college presidents

and leaders of organizations serving children and families. Consulting with

them, hearing about their experiences, and learning about their challenges and

successes have broadened my knowledge and thinking.

I have learned from experts about the transitioning needs of a new generation of

students in college environments that are in some ways different from, but in many

ways similar to, our own. I have learned directly from other leaders in education and

social and health care services about how children and families are burdened by increasing

stress from a multitude of sources across diverse environments. This has been

invaluable for keeping me informed about the current landscape of social needs and inequities.

And it has helped me better understand how Wheelock can prepare students

to grapple with real-world obstacles, to develop resilience and accomplish their goals.

"Ideas are

broadened and

enriched when

one looks for

the beginning

as well as the

end of things."

- Lucy Wheelock

11

magazine
---
"You will be

better than

those before

you to protect

childhood, to

defend the

oppressed,

to further

justice."

- Lucy Wheelock

"You have

learned that

membership

in any society

means to do

something

there."

- Lucy Wheelock

"Walking-Around Leadership"

Many of the memories I will cherish from my time at Wheelock come from

practicing what I call "walking-around leadership." I have spent many hours

outside my office, walking the campus, casually talking with students between

classes, dropping in at sports practice, attending presentations and listening to

student questions, visiting classrooms, and generally immersing myself in the

Wheelock experience from the student perspective.

This has given me new insights into what it is like to be a student at Wheelock and

how that experience is different for different students. It has brought shortcomings

and new opportunities to my

attention and opened my mind

to ways that the College must

improve on its commitment to

provide the best possible teaching,

learning, and living environments.

Young people committed

to changing the world must receive

the best preparation if they

are to succeed, and they deserve to

feel they are an equal and important

part of the community.

I am so impressed with the

maturity of our students and their

steady personal growth into leadership.

They show this nowhere

Students from the Singapore Program advance the more clearly than in their willingness

to engage with faculty and

College's vision for international leadership.

College leadership, to share their ideas and speak their concerns, and then to advocate

for changes that can improve this unique and wonderful institution. At recent Town

Hall Meetings and at campus forums, Wheelock students have joined other students

across the country in breaking silence about racial profiling and police violence. This

takes courage and moral leadership, as does their willingness to voice concerns about

Wheelock's own campus climate. Courage like this to start the discussion is what

makes change possible.

12

Tough Enough Alumni Leaders

It did not take long for me to learn that our College alumni were going to be a

fabulous resource for my leadership — engaged in the world, thoughtful about its

future, eager to share their experiences in it as Wheelock graduates. I have learned

from you about how work environments are changing in schools and other serving

organizations, what concerns you about current needs of children and families, what

you think is important for today's students to know, and what rising challenges may

be waiting for them when they graduate.

I have also learned that Wheelock alumni are — borrowing a word from our current

marketing campaign — tough! You are tough enough to listen to what others

WINTER 2016
---
Feature

The Jackie Jenkins-Scott Endowed Fund for Service

and Learning Journeys at Wheelock College

To honor President Jackie Jenkins-Scott's commitment to travel and service,

the Board of Trustees has created The Jackie Jenkins-Scott Endowed Fund

for Service and Learning Journeys at Wheelock College. This fund will allow

current students to engage in service-learning trips, conferences, and other travel

outside the Wheelock Community. Service and learning trips have proved to be lifechanging,

transformative opportunities that contribute to students' academic success

and expand upon faculty expertise. Each year, Wheelock offers service-learning trips

to communities in New Orleans and Puerto Rico, as well as to countries around the

globe such as South Africa, Ireland, Belize, Germany, Guatemala, Sweden, Benin,

and Turkey. Typically offered during Spring Break or at the end of the academic year,

these trips allow students to become immersed in a culture without a full-semester

or yearlong commitment. Students who have participated cite these trips as some

of the most profound learning experiences of their Wheelock educations. President

Jackie has always understood that the true benefits of a Wheelock education

include the experiential learning opportunities available outside the classroom

environment. Please help recognize Jackie's legacy by supporting this fund in her honor.

have to say, to be patient with collaborators, and to work the problem until there

is resolution. Institutions and people can be slow to change. But I know from

stories alumni tell me that you are strong enough to lead the fight for change and

determined enough to stay the course. I know your passion is compassion, which

makes you better leaders.

The Rewards of Leadership

Of the many rewards in serving as Wheelock's 13th president, the first is

knowing that this college is preparing exactly the kind of graduates our

world sorely needs, right now. Another is knowing absolutely that the mission

endures. When times seem uncertain or difficult, the moral compass of

Wheelock's mission is its greatest strength. With it as our guide, the College has

come through many changes and complex challenges more resilient than ever,

looking ahead and moving forward.

I will leave this beloved college confident in its future, its culture of leadership,

and its community of individuals working together for the good of humanity. I am

certain that Wheelock will continue to grow and develop as new needs and challenges

arise. And I wish you well and look forward to all that you will accomplish

in serving children and families, who are the future of the world.

"It is my hope

and belief that the

ideal for which I

have worked will

be perpetuated

in the lives and

accomplishments

of our graduates."

- Lucy Wheelock

13

magazine
---
Feature

WHEELOCK COLLEGE CAREER SERVICES:

In Director Kelly Graham's Words

Students

14

Kelly Graham came to Wheelock College

as the director of Career Services on

Aug. 17, 2015, and, between then and the

time of this interview (November), she

has developed a positive outlook for the

department, with these words to say:

"[Career Counselor] Steve

Savitsky and I are so excited

to be here at Wheelock. The

community is so warm and

welcoming. This is a foundation

year that will allow

us to grow Career Services

in the future and to provide

even more unique programming.

Much of this first year,

we will build relationships

on campus and off with

students, faculty, staff, and

alumni. We will discover new

resources to help us flourish

beyond basic services."

We provide free career services for students and alumni in all areas

of career development. For students, we begin by helping them

explore career options. If they have a major in mind, we explore

with them how they can connect it to career options and make

them aware of all of the opportunities available to them. We talk

to students about how they can become involved both in the classroom

and out of the classroom to build those skills needed to be

competitive in the job market or on a graduate school application.

The word is spreading across campus that Career Services is

available. We offer resume-reviews, engage students in mock

interviews, and help them create job and internship strategies.

We've done resume-writing workshops and interview-skills

workshops, presented

in the classroom, and

co-sponsored events

on graduate school

planning and interning

in Washington, D.C.

We plan to work with

clubs and organizations

across campus so that

more students know

about Career Services and all that we offer. We would like to find

ways to be a resource to students by building programming that

relates to what their club or organization does.

We piloted a program last semester to help students articulate

skills gained through the value of curricular and co-curricular experiences.

The resources we create through this program will help

students make connections between college experiences and the

professional world while also helping the Wheelock community

engage students in career conversations.

Another piece of Career Services is helping students, faculty,

staff, and alumni to use social media in a professional way. We

are starting a campaign here at Wheelock for everyone to join

LinkedIn. It's a way for students, faculty, staff, and alumni to

network with each other while allowing Wheelock to maintain

connections with alumni. We will be providing workshops on how

to build a LinkedIn profile and how to develop and engage with a

network on the platform.

WINTER 2016
---
Feature

Faculty

We're also here to be a resource for faculty. If a faculty

member would like us to come into his/her classroom

and speak on what career options are connected to a

particular major, we will. We will come into a classroom

and provide workshops on resume writing or

interview skills; we will do anything that we can to

support faculty and the career development of their

students, such as giving talks on industry trends related

to their fields.

If faculty members are connecting with employers, it

creates excellent opportunities for us to partner with

them, as we would like to build employer relations.

Career Services endeavors to educate employers on

the value of a Wheelock education and the benefits of

hiring a Wheelock student. And we're open to employers

in a variety of different fields. In the past, much of

the focus on careers had been on paths leading to education,

social work, or child life; but, we now have arts

and sciences majors widening the breadth of career

opportunities and the type of employers with whom

we would like to work. This includes nonprofit organizations

as well as industries in the private sector.

"It's important for Wheelock alumni

to volunteer to support the career

development of Wheelock students.

Or, if they know of an organization

that would like to recruit Wheelock

students, it would be invaluable for

them to connect us so that we can

bring them to campus for a job fair

or for on-campus recruitment."

"We're hoping that our

alumni will play a large

role in the growth of Career

Services and in preparing

students for their futures."

Alumni

We also have alumni who are using our

services. Most of the services have been

connected to creating a job search strategy

and resume writing, but all the services that

we provide for undergraduate students are

available to alumni also. We're the greatest

help to alumni who are in the beginning

stages of their careers. The hope is that, as

we go along, we will work with the Alumni

Relations Department to build an alumni-toalumni

support and mentoring project for

alumni who are further along in their careers

and need professional development or

career guidance.

Our hope is also that more alumni will come

in and volunteer their services to mentor current

students in their career development.

As we expand the role of Career Services on

campus, we will need alumni to help support

these efforts.

15

magazine
---
Faculty Spotlight

Three

Families

in One:

An Incidence of Serendipity

16

This is a story of a family, or a story

of three adoptive families who

came together to become one. The

six adoptive parents within these three

families communed for the sake of building

and maintaining the relationships

among four adopted brothers — Matt,

Billy, Harry, and Jonathan. And two of the

adoptive mothers are revered members

of the Wheelock College community: Dr.

Hope Haslam Straughan, associate dean

of Social Work, Leadership, and Policy,

and Mary Ann "Mare" Parker-O'Toole,

assistant director of the Earl Center for

Learning and Innovation.

When Hope married her husband, Jay,

they agreed that adoption would someday

be a viable way to build a family. Being a

social worker, Hope knew firsthand of

the countless children in need of families.

Adoption, she says, was a "heartfelt

calling." They found themselves ready

in the fall of 2001, so they reached out to

the Department of Social Services (DSS)

— now the Department of Children and

Families — in Boston and began the process

for becoming adoptive parents, which

includes taking classes and completing a

home study.

Hope and Jay hoped to adopt two

siblings, and they were open to adopting

older children as they were the most in

need of families. In the spring of 2002, they

received a telephone call from a DSS social

worker who said there were three Italian

siblings — one girl and two boys — available.

Hope and Jay, however, had not been

approved to adopt three children. Hope

recalls the adoption process to be intense

and emotional, feeling distressed about

the three siblings they could not adopt.

But, in August of 2002, the social

worker called Hope and Jay to tell them

about two biracial brothers, ages 3 and 4.

Their birth mother was Caucasian and

their birth father was black. Hope and Jay

met with the social worker for a preliminary

meeting to see pictures of the brothers

and to learn more about them. They then

talked with the boys' foster mother to hear

her perspective. Finally, Hope and Jay were

permitted to observe them in a preschool

setting to view how they interacted with

teachers and their peers. At this point in

the process, they were sure they wanted to

move forward with the adoption. Matt and

Billy would soon join their family.

The transition from their foster family

to their "forever family" was meant to be

quick ( just 10 days) for Matt and Billy. But,

when Hope and Jay found out that the little

boys knew nothing of their birth parents

or of their foster home being temporary,

they requested a 10-week transition. They

wanted their soon-to-be sons to have time

to learn the circumstances of their situation

in an age-appropriate manner. So the

social worker, in conjunction with the boys'

preschool, helped them do just that. Meanwhile,

Hope and Jay visited Matt and Billy

at their foster home every Saturday and

then began bringing them to their soon-tobe

home for overnights. Dec. 6, 2002, was

their official homecoming.

Ironically, the social worker who

originally called Hope and Jay about three

Italian siblings in need of a family — one

girl and two boys — was misinformed.

The children were actually three biracial

brothers who included Matt and Billy. The

third child was their brother Harry, who,

because he was an infant, was placed in

specialized foster care. The social worker

diligently brought them together monthly

WINTER 2015
---
From left to right: Harry (15), Jonathan (13),

Billy (16), and Matt (17)

Faculty Spotlight

to play. DSS was unable to place all three

brothers in a home together, but they were

hopeful that they could place them with

two families willing to bring them together

regularly so as not to lose their brotherly

relationships.

Hope and Jay, not having been approved

to adopt three children, were

unable to take all three brothers but

were excited at the prospect of forming a

relationship with Harry's adoptive family.

Hope is from New Mexico and Jay is from

Georgia, so — with no local family — Hope

calls the bond they have formed with

Harry's family a "gift." When Hope and Jay

were beginning the preliminary process of

adoption, Harry had already been placed

with his adoptive parents, Anne Barrett

and Phill Robertson, as well as his adoptive

sister, Martha Robertson.

In the fall 0f 2002, before Matt and

Billy had even transitioned into their home

with Hope and Jay, Hope and Jay and Anne

and Phill received the news that another

brother had been born to the birth parents

of Matt, Billy, and Harry. His name was

Jonathan. Neither family was able to adopt

him, but they remained persistent with

Mary Ann "Mare" Parker-O'Toole (left) and

Dr. Hope Haslam Straughan

DSS about where he would be or had been

placed so all four brothers could eventually

be just that — brothers. They would not,

however, find him quickly. And little did

they know that, when they did, it would be

by chance.

During the time in which the

Straughans and the Robertsons were

hoping to find Jonathan, Mare, who had

not yet begun working at Wheelock, and

her wife, Kate, decided they would like to

raise a child. Given they were not able to

follow the traditional route, they contacted

DSS in Boston in hopes of adopting

a child. Soon they were taking the classes

required of potential adoptive parents, and

in January of 2004, they met 16-month-old

Jonathan. For two months, Mare and Kate

picked Jonathan up at his foster home

every night after work and brought him to

their home for dinner. Then, they were able

to foster him for six months before they

officially adopted him when he was 2 years

old. (DSS required that adoptive parents

foster children for at least six months prior

to adoption. Hope and Jay had actually

fostered Matt and Billy for 18 months prior

to adoption.) Through the Family and

Medical Leave Act, Kate took two months

off from work to acclimate Jonathan to his

new home, and then Mare took the following

two months off to do the same.

Mare and Kate knew that Jonathan had

siblings and persisted in trying to get their

social worker's help finding them. At this

time, the Straughans and the Robertsons

were also constantly seeking out Jonathan.

After two years, Mare and Kate attended

an adoptive family lunch that was designed

to be an opportunity for people who are

interested in adoption to socialize with

successful adoptive families. Mare and Kate

saw a little boy there who bore a striking

resemblance to Jonathan. It was Harry!

And the three families came together

as one from there. Mare, who came to work

at Wheelock in 2013 after the opening of

the Earl Center for Learning and Innovation,

recalls that the four brothers were like

"little puppies rolling over one another"

when they were together. They are still together

— even eight years later at ages 17, 16,

15, and 13 — at least monthly. They celebrate

birthdays and holidays together, and they

even vacation together. The four brothers

are what they were meant to be — brothers.

And they are all very similar to one another,

even those who haven't lived together. Mare

says the commonalities between them truly

"call into question the discussion of nature

versus nurture."

The Straughans, the Robertsons, and

the Parker-O'Tooles also consider their

family connection to include a solid coparenting

model; they never feel alone in

their endeavors as parents, even when the

expected questions about identity arise.

And, understandably, they all share a strong

belief in "serendipity."

Please see "In the News" (Page 3) to

read about the book Parenting in Transracial

Adoption, co-written by Dr. Hope Haslam

Straughan, to be released in February.

17

magazine
---
Faculty Spotlight

Adolescence and Family:

Wheelock Professor Examines Both in New Novel

18

"My message also

involves preventative

mental health care as

opposed to reactive

mental health care."

Lynne Reeves Griffin, R.N., M.Ed.,

acclaimed novelist and nationally

recognized expert on family, teaches

family studies at the graduate level at Wheelock

College. Her most recent novel, Girl Sent Away, is

a gripping work of fiction that examines how one

teenage girl, Ava, begins to grapple with a past

childhood trauma using reckless behavior, while

her father's inclination is to define her conduct

as typical adolescence.

The father, Toby Sedgwick, is increasingly

alarmed by Ava's behavior and enrolls her in

Mount Hope, a wilderness behavioral camp for

troubled teenagers. Ava quickly realizes that

the camp is like a prison with counselors lacking in qualifications. They abuse the

campers and separate them from their families. Mount Hope preys on wealthy

parents who are at a loss for how to care for their emotionally distraught teenagers

who act out. After a disturbing weekend engaged in the parent portion of the

treatment, Toby quickly acquires the same realization as Ava.

While at Mount Hope, Ava faces once-suppressed memories of the tragedy that

involved her family while vacationing in Thailand eight years earlier. As Toby fights

to release his daughter from the camp, he fears that the truth of the tragedy might

cause irrevocable damage between them.

At the same time in which Griffin was writing Girl Sent Away, she was leading

the social and emotional learning (SEL) task force at Kingsley Montessori

School in Boston. The strategic work of the task force included reviewing all

of the curricula in the school that enhanced social and emotional learning and

determining whether or not it was robust enough to meet the needs of today's

children. While Griffin was engaged in the strategic work, she realized she could

explore in a novel what she uncovered to enhance the development of teenagers

and their relationships with their parents.

Griffin wants there to be an open and ongoing conversation about the impact

of early childhood trauma on mental health. Griffin says: "Here's what we know:

If you experience trauma at a young age, you must contend with it at some point

WINTER 2015
---
Faculty Spotlight

"Parents and teachers need to

help children build skills such as

emotion regulation, perspectivetaking,

empathy, and resilience.

They need to be taught language to

express their feelings as a first step

to recognizing and understanding

anger, frustration, and more."

during your life. When you are 8, you might not have the

developmental capability to do so. So, you have to sort

through it when you are older."

The character in her novel, Ava, has an agreement with

her father never to talk about the tragedy in Thailand. So

when she began to act out, Toby did not consider the fact

that she might be grappling with the past. Her rebellion was

typical teenage behavior in his eyes. This is a common belief

among parents, yet according to Griffin, if adolescents begin

to isolate themselves; if they are frequently angry at you and

have no need to spend time with you or talk to you; if they

are withdrawn; or if their friends change along with their

physical behavioral choices, they are sending signals that it

is time to pull them closer rather than push them away. "And

that's what the whole story's about," she says.

Griffin also says, "My message also involves preventative

mental health care as opposed to reactive mental health

care." Parents and teachers need to help children build skills

such as emotion regulation, perspective-taking, empathy,

and resilience. They need to be taught language to express

their feelings as a first step to recognizing and understanding

anger, frustration, and more. If those skills are built at an

early age, research says that we can not only prevent mental

health issues, but we also help children who must contend

with mental health issues cope.

Griffin hopes that parents and teenagers read the novel

together. Parents, she says, sometimes find it difficult to have

conversations about their teenagers with their teenagers,

and teenagers sometimes have difficulty talking about

themselves with their parents. Reading the novel allows

them to talk about issues involving literary characters

— issues that may also pertain to themselves. But, given

the topic is about literary characters, they might feel less

vulnerable in the conversation.

Along with Girl Sent Away,

Griffin wrote a companion

guide for parents and teachers

called Let's Talk About

It — Adolescent Mental

Health, which suggests ways

parents and teachers can

engage teens in conversations

about mental health,

perspective-taking, emotional

resilience, and empathy.

The guide is designed for use with students in

grades 9 to 12. The curriculum material will complement

literacy, media literacy, health, and socialemotional

learning activities. The curriculum integration

section offers ideas for teacher-facilitated

activities for a wide range of learning styles, and

includes both experiential and reflective elements.

In the companion guide section, there are questions

for discussion as well as activities to continue

the conversation about adolescent mental health

beyond the topics in Girl Sent Away.

Griffin also has a private practice in which she consults

with families and schools surrounding social-emotional

learning, and she is the former family life parenting

contributor for Fox 25 News. Her first nonfiction book

was The Promise of Proactive Parenting, and her second

was Negotiation Generation. She is also the author

of the novels Sea Escape and Life Without Summer,

and she has written short fiction, essays, and health,

education, and parenting pieces for Salon, The Boston

Globe, Brain, Child, Parenting magazine, Scholastic

Parent & Child, The Writer magazine, Psychology

Today, and more.

To learn more about Lynne's work with high schools

on integrating fiction into literacy and health curricula,

visit www.LynneGriffin.com.

19

magazine
---
Alumni Spotlight

Rob Quinn '86MS:

From "An Unheard Voice—to

a Voice for the Unheard"

20

On his resume, Robert "Rob"

Quinn '86MS writes that he

is an openly gay and passionate

activist and educator for

the HIV/AIDS community. He writes that,

during his more than 25 years as a certified

child life specialist and his 21-year journey

as a survivor not only living with HIV/AIDS

but also thriving, he has "evolved from

being an unheard voice to a voice for the

unheard." His resume continues: "Through

local and statewide activism, education,

outreach, and social media, I am increasing

HIV/AIDS awareness and reducing HIVrelated

stigma."

Crediting his many tools as a child life

specialist and his desire to "inspire a world

of good" to his education at Wheelock College,

Rob began his child life career at New

England Memorial Hospital in Stoneham,

MA, while pursuing his master's degree.

Following graduation, Rob relocated to

New York for a child life position in the Division

of Adolescent Medicine at Schneider

Children's Hospital of Long Island Jewish

Medical Center. Then, in 1992, he began

to work at St. Luke's-Roosevelt Hospital

Center in Manhattan, where he found it

rewarding to work with children with HIV/

AIDS along with children with other chronic

and life-threatening illnesses. He worked

with children from birth to adolescence,

and he worked with them in both inpatient

and ambulatory care settings such as preadmission,

surgical, pediatric intensive

care, and emergency medicine.

Though stressful, Rob's career in child

life put life into perspective. Children are

resilient, he says. Even when they have

countless tubes hooked to their bodies,

they figure out how to play despite

the equipment. They adapt. Rob says:

"Throughout all of the years I worked in

child life, I never thought of it as work. It

was what my purpose on this planet was

supposed to be."

Seeing a smile on an ailing child's face

was enough incentive for Rob to work

every Christmas Eve and Day. When the

children went to sleep on Christmas Eve,

he — with help from the nurses — turned

the hospital into a winter wonderland for

the children to behold when they awoke.

Rob still becomes emotional — pausing

to run his hands over the goose bumps on

his arms — when he talks about Christmas

morning when Santa Claus walks alongside

the "reindogs," pet-assisted therapy dogs

with reindeer antlers, pulling a red wagon

filled with gifts for each child.

In the early 1990s, neither children nor

adults typically survived HIV/AIDS. And

due to a lack of education, there was still

a stigma attached to the virus and fear of

transmission. Rob recounts when, at the

hospital, food service workers left food

trays outside the doors of children with

HIV/AIDS and scurried away. This upset

Rob, and, on Nov. 16, 1993, his upset and

identification with the virus reached a

higher level when he himself was diagnosed

as HIV-positive and told he had six

to seven years to live.

Rob says: "I suddenly transitioned into

the patients' world. It was like I crossed

over into a parallel universe, living as the

children, youth, and adolescents with

whom I worked did. I was suddenly faced

with coping with and surviving my own

health care challenges while continuing to

provide child life care. On a personal level,

I was not as much concerned with living

with HIV, but more concerned with dying

of AIDS. I actually developed effective coping

skills through my patients and families

that I still use."

With disclosure still having a stigma,

Rob wrestled with the degree to which he

should be open with his hospital community

about his diagnosis. He soon realized,

however, that as a person who is now HIVpositive,

he understood his HIV/AIDS patients

and their struggles with such greater

intensity. He "got it." So, he became open

about his diagnosis but still maintained

some control over the degree to which he

would share his status.

Once diagnosed, Rob immediately

adopted what he calls OCD: Not obsessive

compulsive disorder, but rather, Optimism,

Confidence, and Determination.

"I do not live with HIV," Rob says. "HIV

lives with me. HIV is a small part of who

I am; it does not define me." His ultimate

goal even today is to simply have a sense of

life purpose. "I learned at Wheelock that

… as long as I have a life purpose … as long

as I am making a difference … as long as I

am improving the quality of at least one

person's life or the quality of my own life …

my journey is worthwhile."

Rob continued his work as a child life

coordinator at St. Luke's-Roosevelt Hospital

Center until the fall of 1999, when,

unfortunately, in year six of the six to seven

years he was predicted to live, he was diagnosed

with Kaposi's sarcoma (KS), which

is a strain of skin cancer common to AIDS

patients. The most common cause of KS

now is HIV infection. It is a sign of AIDS.

Rob now had an AIDS diagnosis. Shortterm

disability ensued, and then turned

into long-term disability when he suffered

a heart attack related to chemotherapy

treatment for KS.

Rob was not prepared for the darkness

WINTER 2016
---
Alumni Spotlight

that would follow. With his professional

identity stripped away from him, he lost

the sense of life purpose he so valued and

fell prey to addiction. He went home to

Springfield, MA — in his words — "to die."

But, he never missed a dose of his HIV/

AIDS medication, so, upon reflection, he

believes there was always a flicker of light

within willing him to live. Rob gained more

than 70 pounds — mainly due to excessive

alcohol consumption, a sedentary

lifestyle, and his loss of will to live. In early

2007, during one of his appointments

with his nutritionist, he remembers her

mentioning that he needed to become

"accountable." He knew at that exact moment

that his nutritionist meant not only

in terms of his nutrition, but accountability

in his life! The word "accountability"

resonated with Rob and he, after trudging

down a long, bumpy road, became sober

later in 2007. That was the beginning of his

turning point: the beginning of his recovery,

the discovery of his resilience, and a

reinvention of himself.

Rob was once again confident and beginning

to think about a life purpose. Still

on long-term disability due to a compromised

immune system, he especially could

not work in a pediatric hospital environment.

So, he founded and co-facilitated

"Living Positive," the first-ever men's HIV/

AIDS peer-led support group in Springfield.

He knew too well from his experience

as a child life specialist the value of

support. Merging his two worlds — that of

child life and his personal journey — Rob

started to make a difference in the HIV/

AIDS community. He had always believed

that the support given in child life should

be available to adults in crisis as well, and

now it was. Rob says: "The child life skills

I learned at Wheelock are transferable to

any arena. At this point in my journey, I am

constantly discovering new ways to reuse

or reinvent these skills with an adult population.

Nobody will ever be able to take

from me what I learned at Wheelock."

At a World AIDS Day 2010 event in

Springfield, a television reporter asked

Rob why he was there. Rob has this

mantra: We talk, we share, we learn. So,

without thinking, he answered, disclosing

that he had been thriving with HIV for 18

years. At first, a wave of shock hit him as

he realized that he had just told the entire

world that he is HIV-positive. He had

been open with the information until this

time, but he had always had control of how

open. After a couple of sleepless nights, he

decided to treat his worldwide disclosure

like a teachable moment.

Rob thought: We cannot put an end

to the stigma of HIV/AIDS until we give it

a face … hence the inception of his website

OpenlyPOZ.com. Its mission is "to

empower and support [his] peers living

positive, as well as others affected by HIV/

AIDS, through sharing [his] personal stories

and experiences of clearing HIV/AIDS

and life's hurdles R 4 Style — sometimes

struggling, sometimes succeeding." Rob's

"R 4 Style" entails four stages that often

accompany his encountering, overcoming,

and growing from HIV/AIDS and life's

hurdles: rock bottom, recovery, resilience,

and reinvention.

OpenlyPOZ.com helps people with HIV/

AIDS still living in isolation, as isolation

often leads to depression. It can breed a

despair that can be devastating and can

possibly lead to suicide. Living in isolation

makes finding a sense of meaning and

purpose difficult. The Internet, and more

specifically social media, is a powerful way

to connect people. Because of Openly-

POZ.com, Rob was recognized amongst

2014's TOP HIV Voices, which honors top

online resources that do everything from

providing patients with practical advice

to connecting them with others who are

traveling the same journey.

After being an activist for the HIV/

AIDS community on a local level, Rob

decided to do the same on a state level.

In 2013, he applied for and was granted a

three-year term on the Statewide Consumer

Advisory Board of the Massachusetts

Department of Public Health in the

Office of HIV/AIDS. There, he is amongst

a group of up to 30 people openly living

with HIV/AIDS who advise the staff and

senior management of the Massachusetts

Department of Public Health's Office of

HIV/AIDS with reference to policies and

programmatic issues affecting the lives of

consumers and individuals at risk.

In 2014 and 2015, Rob was also a key

participant in the Massachusetts AIDS-

Watch Delegation in Washington, D.C.,

where he spoke before Congress about the

important issues at stake for people living

with HIV/AIDS in the U.S.

Most recently, Boston Mayor Marty

Walsh appointed Rob to the Ryan White

Part A–Boston EMA HIV Services Planning

Council C Health, a decision-making

body that assesses the needs of the HIV/

AIDS community. It was created in

teenager Ryan White's name to fill gaps in

existing HIV/AIDS medical and supportive

services. Ryan, who was diagnosed

with AIDS at age 13, and his mother,

Jeanne White Ginder, fought for his right

to attend school, gaining international

attention as a voice of reason about HIV/

AIDS. Ryan White died on April 8, 1990, at

the age of 18, just months before Congress

passed the AIDS bill that bears his name

— the Ryan White CARE (Comprehensive

AIDS Resources Emergency) Act.

Rob is a long-term survivor, striving

not only to survive but also to reach his

full potential and thrive in a meaningful,

productive, independent, and connected

life. Long-term survivors face a myriad

challenges rooted in HIV/AIDS. For Rob,

his highest hurdle to clear now is a recent

diagnosis of HIV-associated cardiomyopathy

and coronary artery disease. His

relocation back to Boston last fall was due

in large part to his own need for the more

intensive medical care and the support

services available to people living with HIV,

the latter being peer-led support groups.

Grateful to be alive and aging fairly

healthily with HIV/AIDS, Rob embraces

whatever psychosocial, practical, and

medical challenges come his way. He often

refers to his graying hair as "wisdom highlights."

Drawing on that and on his days

at Wheelock College, his child life career,

other former patients and families, and inspirational

peers living with HIV/AIDS, he

is optimistic, confident, and determined

that he will continue to improve the quality

of life of those in the HIV community,

including his own, by raising awareness

and reducing HIV-related stigma.

21

magazine
---
Alumni Spotlight

Mimi Katano '93MS:

A Wheelock Family

Theatre "Homecoming"

22

Mimi Katano '93MS calls

what will be her return to

Wheelock Family Theatre

(WFT) to direct A Year

with Frog and Toad from April 15 to May 15

a "homecoming." Mimi, who is now the

artistic director at Youth Theatre Northwest

(YTN) in Seattle, planted roots with

WFT 29 years ago during her freshman

year at Emerson College in Boston, where

she earned a degree in General Performing

Arts. She played Eliza in The King and

I, and two years later — as a junior — she

played Josie Pye in Anne of Green Gables.

And this was just the beginning.

While a graduate student at Wheelock,

where Mimi earned a master's degree in

Child Development, she continued to be

a WFT actor and also took on the roles

of dance teacher, choreographer, and

education coordinator until she moved to

Seattle in 1999. Her most notable of the 16

roles she played as an actor were Tiger Lily

in Peter Pan, Zaneeta Shinn in The Music

Man, Genie of the Lamp in Aladdin, Margalo

in Stuart Little, Gollum in The Hobbit,

and Trinculo in The Tempest.

When Mimi first arrived in Seattle,

she was a freelance teacher artist for

companies including the Seattle Children's

Theatre and the Seattle Repertory

Theatre. At YTN, where the mission is

to nurture "the intellectual, artistic, and

personal development of children and

youth through drama education, performing

opportunities, and live theatre

experiences," Mimi works with children

ages 3 to 18, producing 12 productions per

year of all youth cast. (To be on stage, the

child must be at least in first grade.) They

have 12 productions per year, she says, to

try to appeal to different-aged and -skilled

actors as well as different audiences.

Mimi, who hopes to have the opportunity

to "give back" to WFT during her

venture in Boston, will leave Seattle for

just under four weeks to direct A Year with

Frog and Toad. WFT gives this description

of the production: "Waking from

hibernation in the early spring, the perky

Frog and the worrywart Toad celebrate …

the differences that make them unique.

… These two best-friends plant gardens,

swim underwater, rake leaves, go sledding,

bake cookies, and learn to appreciate each

other's distinct qualities. Part vaudeville,

part make-believe, all charm, A Year with

Frog and Toad tells the whimsical story of a

friendship that blossoms … through all the

seasons. A delightful story based on the

picture books by Arnold Lobel, this musical

adaptation is a treat for children and

the child within."

Mimi is happy to report that three

Mimi Katano '93MS, resting her chin on the foot

of an alligator costume

of the people she helped cast in A Year

with Frog and Toad were colleagues and

friends during her time in Boston: Larry

Cohen, who will play Toad; Merle Perkins,

who will play Ladybird and Mother

Frog; and Gary Ng, who will play the Snail

and the Mole.

Along with making various Equity

theater appearances, Mimi was a member

"I like to joke that I

use both of my degrees

every day in my job."

of the award-winning Beau Jest Moving

Theatre in Boston, where she performed

at a number of theater festivals including

South Carolina's Piccolo Spoleto Festival.

Aside from her work for YTN, she was a

member of Living Voices. A Japanese national,

Mimi has done a variety of cultural

work for organizations such as Seattle

Children's Museum and Book-It Repertory

Theatre, and she co-wrote the play

Justice at War about Japanese-American

internment during World War II, which

was published in the book And Justice for

Some in 2005.

WINTER 2016
---
2015-2016

SEASON

MARY POPPINS

Based on the popular books by P. L. Travers and

the beloved 1964 Disney film, Mary Poppins

teaches us that, with just a spoonful of magic,

"Anything can happen if you let it."

January 29 – February 28, 2016

A YEAR WITH

FROG AND TOAD

A Year With Frog and Toad tells the story of a

friendship that weathers all seasons. A delightful

story based on the picture books by Arnold Lobel,

this musical adaptation is a treat for all ages.

April 15 – May 15, 2016

Professional, Affordable Theater for Every Generation!
---
Student Spotlight

24

Carmen Piedad '16 — a Passion

for Action Scholar from Jamaica

Plain, MA, with an American

Studies major and a Political Science minor

— is a passionate traveler. Her father

is from Mexico, and though she traveled

there frequently as a young child to visit

family, her fervor truly began when she

was 12 years old and visited Australia and

New Zealand with the Boston City Singers,

a youth choir based in Boston with a

mission "to provide the highest level of

musical training and wide-ranging performance

opportunities to young people

ages 4 to 18, inspire personal development,

celebrate diversity, and foster good

will." This was her first trip outside of the

country without her parents.

With the Boston City Singers, Carmen

has also traveled to South Africa; Newfoundland,

Canada; Toronto, Canada; and

Costa Rica. Since graduating high school,

she has worked for the organization on

Saturdays as a youth developer.

Carmen's first excursion through

Wheelock was a service-learning trip to

New Orleans with Dr. Barbara "Bobbi"

Rosenquest, associate professor of Early

Childhood Education, when she was a

sophomore. Paired with an AmeriCorps

leader, she worked in a group to tile bathrooms,

sand wood, paint, and put shelving

in closets. The completion of tasks

was rewarding, she says, as was becoming

close with her group members. She had

For Carmen Piedad '16,

Life Is a Journey

never traveled before for the purpose of

service, and she found serving people in

her own country to be a poignant experience.

Her most important lessons arose

from conversations she had with people

in the city who actually experienced Hurricane

Katrina and from witnessing the

destruction that, after 10 years, remained.

Carmen says: "There are still houses

and schools demolished. There are still

families who are displaced from their

homes. It was important to become

aware of the still desperate situation and

then come home and tell other people.

We were only there for a week. We could

help build houses but could not save

people. … What we could do is see for

ourselves the problems that remain and

continue to create awareness."

After completing her sophomore year,

she traveled to Scandinavia that May 16

with Irwin Nesoff, associate professor

and chair of Nonprofit Leadership and

Policy. The class that took this two-week

trip was Comparative Social and Government

Policies. They visited Norway, Sweden,

and Denmark. Rather than providing

service during this trip, Carmen remarks

that it was a learning opportunity. Scandinavia,

she says, has robust social welfare

policies from which the U.S. could learn.

The government imposes very high taxes

upon the citizens, but in return, they receive

free child care, free health care, free

education, and free higher education. The

government also gives mothers a monthly

check for $200 for every child she has until

that child turns 18. Because the Scandinavian

government is intent on building

family values, it also gives mothers and

fathers each a yearlong paid maternity

leave. Carmen was also impressed by the

lack of poverty and class disparity.

Carmen toured a high-security women's

prison while in Scandinavia and was

fascinated by the heavy focus on rehabilitation

as opposed to punishment. In fact,

the region has very few prisons because a

very low percentage of prisoners actually

reoffend after being rehabilitated.

Scandinavia seemed like a Utopia to

Carmen, to the point where she asked

herself what she was missing. There must

be a downside, she thought. In that vein,

Carmen learned that xenophobia — intense

or irrational dislike or fear of people

from other countries — is prevalent.

When the trip to Scandinavia concluded,

Carmen's mother came to Europe

to join her in an excursion to Germany

and France.

During the second semester of Carmen's

junior year, she studied abroad

through a program in Costa Rica. One reason

why she chose Costa Rica as a venue

to study is because it is a Spanish-speaking

country. Carmen's parents intended

for her to be bilingual, so she spoke

exclusively Spanish until she was 4 or 5

years old. Her parents knew she would

learn English when she started school. In

the American school system, however,

Carmen slowly lost a large portion of her

Spanish-speaking skills. So, she went to

Costa Rica in part as a journey to recover

her fluency in the Spanish language.

The study-abroad program in Costa

Rica also interested Carmen because it

offered a wide range of political science

classes from which to choose. The classes

WINTER 2016
---
Student Spotlight

Carmen Piedad '16 in Granada, Nicaragua, sitting on an ancient church foundation, which is all

that is left of the church after being bombed in the civil war

she took were Spanish, Immigration

Issues in Costa Rica, Human Rights in

Latin America, and Conflict Resolution

in Healthcare. For the first month, the

study-abroad program organized weekend

trips. Carmen made several friends

through her program and through

others, so, after the first month, there

were always people with whom to plan

a weekend adventure on their own. Two

places Carmen visited were Panama

and Nicaragua.

Classes in Costa Rica ended for Carmen

on March 28, though she stayed

in Central America until May 8. She

spent an extra week in Costa Rica and

then traveled to El Salvador. She went

to El Salvador accompanied by her

mother's dear college friend Sara. This

was a sojourn that was simultaneously

special and difficult — special because

Carmen in a traditional Nicaraguan dress in

the streets of Granada

it is where her parents met as young radical

activists during the country's civil war, and

difficult because, though the civil war is

over, the country is besieged by violent and

murderous gangs. Sara had been with Carmen's

mother when she was in El Salvador.

Carmen and her mother share a close

relationship, and her mother's time spent

in El Salvador was one piece of her that she

did not know well. She wanted to be in El

Salvador where her mother had been.

Carmen has funded all of her travel

through Wheelock on her own. She has been

known to work three jobs at one time. She

says, "I do not earn money to buy things; I

earn money to pay for experiences."

"I like to be outside of my comfort zone! When I

travel, everything inside me is awake all of the

time! The trees are different, the animals are

different, the architecture is different—everything

is different! I love talking with other people my age

from other countries to hear what they do for fun!"

Carmen sits with Amanda, the woman who

hosted her in a small village in El Salvador.

Amanda lost all of her children in the civil war.

25

magazine
---
Student Spotlight

The Student

Becomes the Teacher

26

Olivia Thomes '16 of

Dorchester, MA, recently

embarked on an unconventional

endeavor and

followed it through successfully. When

choosing her course load for the first

semester of her senior year, she perused

descriptions of classes taught by Leland

Clarke '75, Wheelock College associate

professor of Arts. Having taken his

classes before, the Literature major —

with minors in Communications with a

focus in Media Literacy as well as Writing

— found them to be enriching. The latest

course taught by Clarke that interested

Olivia was Rhythm and Resistance, but it

was a First-Year Seminar.

A First-Year Seminar provides freshmen

with a support system of fellow

first-year students so they can adjust to

a new environment and a new phase of

life together. It also helps them adjust to

greater demands on their time, develop a

better understanding of how they learn,

and acquire essential academic skills that

help them throughout their four years at

Wheelock. Being a senior, Olivia was not

eligible to take Rhythm and Resistance.

So, she approached Clarke and asked him

if she could co-teach the course with him.

This would not be a typical arrangement

due to the fact that independent studies

had never been focused or related to

already existing courses, as well as the

fact that undergraduates had never been

allowed to be teachers' assistants. Much

to Olivia's delight, however, and that

of Clarke and the students in the class,

Clarke received approval.

Not only was Olivia fortunate to

have this unlikely experience; she also

received four credits for an independent

study. In order to have this experience,

however, she had to add a new perspective

to the class, as well as do her own

research to engage the students.

Rhythm and Resistance explores the

arts and social protest from a humanistic,

interdisciplinary perspective. And it

gives students an understanding of historical

and contemporary views of social

protest by studying examples of music as

it is used within global communities to

incite social change. The students were

not aware that they would have a teacher's

assistant for this class until it started.

They were excited by her presence, and

since this was not a common practice,

they had the privilege of participating in

the new adventure.

Olivia is passionate about reading and

writing fiction, short stories, and poetry.

Having a separate syllabus from Clarke,

she brought this passion to the classroom

with the argument that music lyrics are

their own genre of literature. This was

one new perspective she added to the

class. While Clarke taught the history

of the music, Olivia helped the students

analyze the lyrics to find metaphors and

similes, along with other techniques used

in creative writing, that help portray the

message of the song, how the message

promotes social change, and to what

social issue it relates. The music ranged

from Louis Armstrong's version of "Black

and Blue" to "A Change Is Gonna Come"

by Sam Cooke to "If I Were a Boy" by

Beyoncé. In the classroom, students

listened to genres from old jazz and blues

to rock 'n' roll to contemporary music.

Olivia also learned in the classroom.

For example, Clarke presented a lecture

on spirituals, which brought her new

insight into the genre. Spirituals are religious

(generally Christian) songs written

by African slaves in the U.S. Originally,

they imparted Christian values while

also describing the hardships of slavery.

Although spirituals were originally

monophonic songs — they had a single,

unaccompanied melodic line — they

are best known today in harmonized

choral arrangements.

Also a member of the Wheelock College

Student Advisor Program within

the Office of Academic Advising, Olivia

is a peer mentor who provides one-onone

advice to first-year students. She is

a role model who is available to students

for informal guidance and support. She

also helps them choose their courses for

upcoming semesters. This year, Olivia

is happy that she was the peer mentor to

the students in Rhythm and Resistance.

The students in this class were awestruck

by the fact that she was a student who

was co-teaching a course, was a student

adviser, and was working two jobs.

Olivia came to Wheelock because of

its "wholesome environment." She also

came because its mission resonates with

her. As a writer now and in the future, she

believes the written word to be a powerful

impetus to social change. "When I

write, it comes from a place of authenticity,"

she says, meaning that whether she is

writing fiction or nonfiction, she does not

over- or underdramatize a topic, especially

when dealing with serious subjects.

Olivia has been published in the

Wheelock literary magazine every year

she has been at Wheelock.

WINTER 2016
---
WHEELOCK COLLEGE

ANNUAL REPORT

OF GIVING

2014-2015
---
GIVING

at a Glance

Wheelock alumni and friends

continue to generously support the Annual

Fund. Contributions to the Annual Fund — given

in small amounts or large, by new or longtime

donors — make it possible for Wheelock to offer

more scholarships to more talented and driven

students who want to attend the College.

The Endowment

The market value of Wheelock's endowment

was $53.4 million at June 30, 2015. Thanks to

growth over the past several years, from gifts

as well as investment performance, the level of

annual support to the College has never been

greater. Last year, the endowment provided

in excess of $2.3 million, primarily for student

financial aid.

Value of Wheelock Endowment (in millions of dollars)

28

Annual Fund

In FY 2015, Wheelock alumni, faculty, staff, and

friends contributed more than $1.1 million to

the Annual Fund. Wheelock is fortunate and

very grateful to have such a wide community of

supporters who have increased contributions

of current-use unrestricted dollars and gifts for

student scholarships. Generous giving to the

Annual Fund affirms the value that donors place

on the College's mission and their confidence

in the education Wheelock provides so that

its graduates can make the extraordinary

contributions to society that they do.

Annual Fund Giving FY 2011-2015

($200,000 increments on axis)

WINTER 2016
---
2014 –2015: An Inspiring Year of Growth in Programs and Mission

Mattapan Integrative Care

Partnership Funded

The Mattapan Integrative Care Partnership

received startup funds in the FY15 state budget to

offer integrated behavioral health services to Mattapan

residents with the partnership of the Mattapan

Community Health Center, Wheelock College

Social Work Department, Mattahunt Community

Center, and Mattahunt Elementary School.

Wheelock Family Theatre Received

$100,000 Challenge Grant

The Massachusetts Cultural Council selected

Wheelock College as a recipient of a $100,000

capital grant from the Massachusetts Cultural

Facilities Fund. The matching grant will implement

improvements to the Wheelock Family

Theatre that will improve access and enhance the

performance experience.

New Funding Expanded Student

Learning Opportunities

Commitments from dedicated Wheelock alumni

and trustees coupled with $195,000 in generous

grant support from the Geneviève McMillan-Reba

Stewart Foundation and Santander Universities

significantly contributed to increased opportunities

available to students to support service-learning

and educational travel starting fall 2014.

New Peace Corps Master's

International Partnership

The Peace Corps announced the launch of a new

Master's International program in partnership

with Wheelock College, enabling students to earn

a Master of Science in Integrated Elementary and

Special Education while also fulfilling their Peace

Corps service.

Aspire Announced Education

Innovation Funding

Wheelock College announced $640,000 in external

education innovation funding for the Aspire

Institute. The funding for professional training

and coaching initiatives comes from a diverse

range of sources, including the U.S. Department of

Education, the Commonwealth of Massachusetts,

the Department of Early Education and Care, and

Solid Ground in Danbury, CT.

Wheelock President Joined Climate

Leadership Summit

Wheelock College President Jackie Jenkins-Scott,

along with faculty and staff representatives, supported

the 2014 Presidential Summit on Climate

Leadership in Boston on October 1-3, 2014.

Wheelock Expanded

Multicultural Resources

The College expanded its diversity efforts by

allocating space, resources, and services within

two new community spaces and appointing Jamie

Boussicot as director of Multicultural Affairs.

Passion for Action 2014 Celebration

Wheelock College celebrated 17 Passion for Action

Scholars at the 2014 Passion for Action Leadership

Award Reception. The event honored deserving

Wheelock students who have demonstrated a

strong commitment to community service and

social justice. Col. Douglas Wheelock, NASA astronaut,

delivered the keynote address.

Wheelock Students Visited Purdue

University Graduate School

Wheelock undergraduate students Jacqueline

Elias, Jessica Greene, Braelan Martin, Carmen

Piedad, and Katrin Reeder were chosen to

take part in the prestigious Purdue University

Multicultural/Historically Black Institution (HBI)

Visitation Program.

Wheelock Named Top Institution for

Higher Education Community Service

Wheelock College was the recipient of the 2014

Presidential Award in Education on the 2014

President's Higher Education Community Service

Honor Roll, the highest federal recognition a

college or university can receive for its commitment

to volunteering, service-learning, and civic

engagement. Additionally, Wheelock was selected

as one of only five finalists in the General Community

Service category.

Wheelock Community Met to Address

Ferguson, Staten Island Incidents

President Jenkins-Scott along with faculty representatives,

Student Life staff, and administrators

engaged with students in a dialogue about what

happened in Ferguson, MO, and our own community's

actions taken since Ferguson, Staten Island,

and other incidents.

Military Counseling Certificate Offered

A new post-baccalaureate certificate program

was created to help graduates establish relationships

with veterans and their family members in

a culturally sensitive manner.

Summit to Further South Africa Partnership

Wheelock hosted a two-day planning summit to

plan the next phases of a transglobal partnership

for the provision of high-quality early child

development services in the Eastern Cape region

of South Africa. South Africa Partners, based in

Boston, initiated this promising partnership that

includes community-based organizations in the

Eastern Cape in addition to the University of Fort

Hare and Wheelock.

Student Financial Aid Day 2015

Wheelock had a strong presence at the Association

of Independent Colleges and Universities in

Massachusetts Student Financial Aid Day at the

Massachusetts Statehouse with seven students,

one Trustee, one Corporator, three staff members,

and two interns in attendance.

Earl Innovation Day 2015

Wheelock hosted the first Earl Innovation Day on

March 5, 2015. This day was designed to let participants

talk about new ways to think about higher

education and all that is new and changing in the

higher education landscape.

New Graduate Degree Program: Teach and

Learn in China

Wheelock College announced an exciting master's

degree for Early Education and Care certified

teachers in the burgeoning field of international

teaching. The degree combines advanced course

work with the opportunity to live in a global city

— Shanghai or Chengdu, China — with a paid,

teaching placement in a bilingual preschool.

Wheelock Hosted Health Care Symposium

Geraldine "Polly" Bednash, executive director of

the American Association of Colleges of Nursing,

delivered the keynote address at Wheelock

College's "Current Realities and Future Vision:

Developing an Inter-Professional, Integrated

Healthcare Workforce" Symposium in Boston on

May 28, 2015.

Celebrating Community Service at

the Statehouse

On April 7, elected as well as appointed public officials,

community leaders, and partners convened

to recognize Wheelock College's designation as

one of the nation's top four higher education

institutions for community service.

Wheelock Launched STEM in the City

Summer Camp

Wheelock's STEM in the City Summer Camp for

rising eighth- and ninth-graders took place on the

College's Boston campus last summer to provide

hands-on learning that links STEM curriculum to

the real world.

Student Research Conference 2015

Wheelock's inaugural Student Research Conference

highlighted a broad array of student learning

and scholarship. The event included presentations,

student panels, faculty-student exchanges,

live presentations from Wheelock's Singapore

campus, and discussions among learners from

across the world.

Commencement Honored Leading

Social Justice Advocates

On May 15, 2015, Wheelock awarded honorary degrees

to three influential social justice advocates

who exemplify the undergraduate and graduate

Commencement theme "Advancing Social Justice

and Education around the World": Her Excellency

Dr. Joyce Banda, Lawrence O'Donnell, and Dr.

Tiziana Filippini.

29

magazine
---
WHEELOCK COLLEGE • ANNUAL REPORT OF GIVING 2014-2015

Cornerstone Society

The Cornerstone Society recognizes our most generous donors who make an annual gift of $1,250† or more to Wheelock

College. These individuals, along with the students they support, are the cornerstones of Wheelock's future. The College

would like to thank the following individuals for their support:

30

Lucy Wheelock

Benefactors

($50,000 or more)

Keena Dunn Clifford '68

Al and Hilary Creighton

Sylvia Tailby Earl '54 and James Earl

President's Council

($25,000 to $49,999)

Linda Gordon Kendall '61

Ted and Beedee Ladd

Robert and Carol Lincoln

Martha-Reed Ennis Murphy '69

Mary Beth Claus Tobin '78MS

Elizabeth Bassett Wolf '54

Wheelock Fellows

($10,000 to $24,999)

Judith Parks Anderson '62 and

Robert Anderson

Barbara Mead Anthony '60MS

Stephanie Bennett-Smith and

Orin R. Smith

Alan Bilanin

Elizabeth Townsend Dearstyne '62

and William Dearstyne

Sally Reeves Edmonds '55

Barbara Tutschek Ells '60 and

Robert H. Ells

Edith Hall Huck '48

Mr. and Mrs. Andrew F. Mackey

Toby Congleton Milner '70

and Charles Milner

Frances Nichols '63

Carol Drew Penfield '52*

Katharine duPont Sanger '66

Robert Sperber

Kate and Ben Taylor

Helen Small Weishaar '45

Froebel Associates

($5,000 to $9,999)

Anonymous (2)

Karen and James Ansara

Steven Aveson '78 and

Karen Musser Aveson '78

Linda Larrabee Blair Lockwood '65*

Julia Challinor '75

Victoria Ash Christian '77

Fred and Graceann Foulkes

Deirdre Conrad Frank '65

Thordis Burdett Gulden '66

Elizabeth Grimm Hoskins '56

John and Judy Knutson

Gloria Williams Ladd '65

Pamela Long

Eliane Markoff

Dr. and Mrs. Gordon Marshall

Joanna Sharkey Oshman '98

Linda Bullock Owens '69

Ruth Bailey Papazian '56

Adelaide Duffy Queeney '88MS

Mark E. Roberts '76MS and

Jane Hertig Roberts '73

Irving H. Sachs*

Barbara Grogins Sallick '61

Page Poinier Sanders '65

Lisa and Rex Thors

Nancy Clay Webster '66

Carole Hayes Williams '66

Paul Wing

White and Gold Circle

($2,500 to $4,999)

Joan Wolfers Belkin '70MS

Barbara Broomhead Bromley '60

Jean Heard Carmichael '62

Lorna Waterhouse Chafe '63

Barbara Pratt Dancy '62

Barbara Elliott Fargo '52

Susan Grearson Fillmore '56

Priscilla Alden Hayes '62 and

Robert Hayes

Sally Schwabacher Hottle '59

Anne Wingle Howard '57

Kathy and Bob Jaunich

Jackie Jenkins-Scott and Jim Scott

Marion Turnbull Mangels '59

Anne Marie and Allan Martorana

Shirley Hotra Neff '58

Christine Kamp Seidman '67MS

Karen S. Sturges '87MS

Daniel S. Terris

J. Michael Williamson

†The Cornerstone Society level increased from $1,250 to $1,500 at the start of Fiscal Year 2016 in July of 2015.

*Deceased

WINTER 2016
---
WHEELOCK COLLEGE • ANNUAL REPORT OF GIVING 2014-2015

1888 Circle

($1,250 to $2,499)

Judy McMurray Achre '58

Ruth Flink Ades '53

Betsy Hunter Ambach '54

Margaret Benisch Anderson '53

Jean Farley Bellows '62

Idie L. Benjamin '83MS

Lisa McCabe Biagetti '80

Phoebe Walther Biggs '62

Susan Moyer Breed '52/'79MS

Joan Sullivan Buchanan '53

Joyce Pettoruto Butler '73

Nancy Bonner Ceccarelli '65

Melanie Waszkiewicz Chadwick '68

Louise Close '77

Patricia S. Cook, Ph.D. '69

Madeleine Gatchell Corson '59

Tina Feldman Crosby '67

Paula Davison '74

Zelinda Makepeace Douhan

'63/'75MS

Maria Furman

Ediss Gandelman

Natalie Smith Garland '53 and

David Garland

Kristine Sheathelm Gerson '79 and

William Gerson

Mary Bloomer Gulick '57 and

Bob Gulick

Janet Marshall Haring '64

Tina Morris Helm '64/'98MS and

Bill Helm

Joelle Balosky Henriksson '77

Betsy Forssell Hestnes '59

Janet Ferry Jenney '52

Mary C. Kloppenberg '83MS

Catherine Ley Lawler '82

Barbara Longfellow

Helene Stehlin Lortz '60

Anne Sullivan Lyons '62

Margaret Ryan MacIntyre '38DP*

Kathleen Wilson Mallet '65

Catherine Wells Milton '69

Mary Mitchell '79MS

Constance Bell Moser '76

Carol Reed Newsome '60

Mr. and Mrs. Andrew O'Shea

Doris Geer Petusky '59

Nancy Fowle Purinton '64

Jennifer and George Rice

Nancy Garnaus Rice '50

Marcia Carlson Rintoul '66

Marjorie W. Saleh '65

Betty Appel Schaffer '60

Edith Paffard Simmons '68

Susan Bruml Simon '73

Sally Clark Sloop '68

Ann Meigher Smith '64

Elizabeth Robinson Smith '63

and Channing Smith

Eleanor Labosky Stanwood '67

Nancy Clarke Steinberger '65

Beatrice Clayton Stockwell '55

Suzanne Hamburger Thurston '54

Sylvia Buffington Tompkins '55

Ann Fisher Tuteur '67

Florence Milman Walker '50

Joan Anderson Watts '65/'83MS

Susan Hilsinger Weiner '65

Judith Schwarz Weinstock '70MS

Scott Wennerholm

Elsa Weyer Williams '54

G

loria Williams Ladd '65 and her classmates

celebrated their 50th Wheelock

College Reunion last year, which offered them

the opportunity to reflect upon their experiences

as Wheelock students and as alumni. All agreed

that they truly value their Wheelock educations.

Through the years, Gloria and her husband,

Lincoln, have generously supported Wheelock

in multiple ways. Knowing the Annual Fund is dedicated to financial

aid, they make a yearly contribution to serve students who might not

otherwise have access to the same education Gloria values so much.

In addition to the Annual Fund, Gloria and Lincoln have also regularly

supported Wheelock's Alumni Scholars Program. The Alumni Scholars

Program allows their philanthropy to make a direct impact on a

current Wheelock student with a yearly scholarship.

Considering their philanthropy to be an investment in the future,

Gloria, a former nursery school teacher and consultant, says, "Today's

students will be the teachers of tomorrow's children; we can help them

all by supporting scholarships at Wheelock." To that end, they have

created the Gloria Williams Ladd Endowed Scholarship Fund. Being

from Maine, Gloria prefers that future recipients of the Scholarship

also be from her home state and hopes they will continue to live Wheelock's

mission. A gift to endow a scholarship provides the College with

a permanent pool of funds that can be used to provide financial aid to

generations of Wheelock students to come.

Given that many of today's Wheelock students will become teachers

and social workers without large salaries, Gloria and Lincoln want to

help them graduate and enter their professions without being burdened

by large amounts of student debt.

Alumni Scholarships

The Alumni Scholars Program brings together

individuals at the heart of Wheelock College:

students and alumni. Alumni Scholars donors

make an annual gift of $5,000 to support one

undergraduate or graduate student during their

time at Wheelock. These contributions help

defray the cost of a Wheelock education, and

through an exchange of letters and meetings

at events, the donors are kept up-to-date about

their students' studies and activities. Reciprocally,

students learn about their supporters and their

Wheelock experience. The students join the

College in thanking the following individuals:

Anonymous (1)

Judith Parks Anderson '62

Barbara Mead Anthony '60MS

Keena Dunn Clifford '68

Elizabeth Townsend Dearstyne

'62 and William Dearstyne

Thordis Burdett Gulden '66

Edith Hall Huck '48

Gloria Williams Ladd '65

Linda Bullock Owens '69

Page Poinier Sanders '65

Katharine duPont Sanger '66

Helen Small Weishaar '45

Carole Hayes Williams '66

Elizabeth Bassett Wolf '54

31

magazine
---
WHEELOCK COLLEGE • ANNUAL REPORT OF GIVING 2014-2015

32

Named Funds

Wheelock donors have the opportunity to establish a fund in

honor or in memory of individuals or organizations. These named

funds support a number of College efforts, including scholarships,

campus improvement, and faculty support. Wheelock is grateful

for these substantial gifts that will serve the College in perpetuity.

Scholarship and

Loan Funds

Anonymous (2)

Donald Bergen Abbott Memorial

Scholarship Fund

George I. Alden Scholarship Fund

Judy Parks Anderson '62 Endowed

Scholarship Fund

Anthony Family Scholarship Fund

for Graduate Students

The Karen and Steve Aveson

Scholarship for Early Childhood

Education

Bronwyn Baird Endowed

Scholarship Fund

Marjorie Bakken Endowed

Scholarship Fund

Bank of Boston Endowed

Student Loan Fund

Ruth Kelliher Bartlett '24

Memorial Fund

John L. Bates Scholarship Fund

Bernard W. and Helen Sagoff

Berkowitch '28 Memorial

Scholarship Fund

Sharon Bilanin '69MS Endowed

Scholarship Fund

Black Mountain Foundation

Scholarship Fund

The Catherine E. Bose '75

Scholarship in Mathematics

and Science

The Barbara Brahms '36

Scholarship Fund

Gladys Brooks Endowed

Scholarship Fund

Gertrude Flanders Bullen '52

Memorial Scholarship Fund

Centennial Scholarship Fund

Daniel S. Cheever, Jr.

Scholarship Fund

The James Christmann Writing

Award Scholarship

Ruth Clapp '34 Loan Fund

Clover Converse Clark '20

Memorial Trust

Class of 1954 Endowed

Scholarship Fund

Class of 1956 Endowed

Scholarship Fund

Keena Dunn Clifford '68

Student Scholar Award

Carolyn Burrell Cochran 1919

Scholarship Fund

Katherine Wendell Creighton '92

Scholarship Fund

Tina Feldman Crosby '67 Endowed

Scholarship Fund

Nancy LeCount Currier '50

Memorial Scholarship Fund

Eagle Academy Scholarship Fund

Ennis-Murphy Scholarship Fund

Elinor Frumkin Feldman '52

Revolving Student Loan Fund

Marguerite Franklin 1917 Revolving

Loan Fund

The Frances Graves 1909

Charitable Fund

Cynthia M. Gregory '26 Endowed

Scholarship Fund

Christine Gurske '95/'98MS

Endowed Scholarship Fund

Ellen Gertrude Loomis Hall

Endowed Scholarship Fund

Margaret Hamilton '23 Arts

Scholarship Fund

Irene Frail Hamm '60 Endowed

Urban Scholarship Fund

Evelyn Hausslein Child Life

Scholarship Fund

William Randolph Hearst

Endowed Scholarship Fund

Molly Cooper Hershey '23 Fund

for Student Aid

Aldus C. Higgins Foundation

Endowed Loan Fund

Myrl Rose Crocker Howe '34

Scholarship Fund

Susan M. Mackey '94 Scholarship Fund

Sue Mackey was a dear friend and loved one to so many.

Sue was a familiar name and face on the Wheelock

College campus for more than two decades. Beloved by

students, faculty, staff, and alumni, she served in many

valuable roles and committed herself wholeheartedly to the

Wheelock community. It is in no way an overstatement to

say that she had a tremendous impact on all who came in

contact with her. After her untimely passing in 2012, a scholarship

fund was created in Sue's name so that her legacy at

Wheelock could continue. Gifts to the Susan M. Mackey '94

Scholarship Fund support financial aid for current students

who are preparing to dedicate their lives, as Sue did, to improving

the quality of life for children and families.

Donors in Fiscal Year 2015:

Anonymous (2)

Caroline M. Brzozowy Alexis

'05/'06MS

The Alumni Association

Martha C. Bakken '99MS

and Maggie Bakken

Mary Battenfeld

Deborah Lisansky Beck

Amy Goldstein Brin '94

Heidi Butterworth-Fanion '94

Mr. and Mrs. Peter B.

Campstrom

Vivian Carr '94

Sandra Christison '92MS

Tina Feldman Crosby '67

Katherine Clunis D'Andrea

'97/'98MS

Stephen Dill

Elizabeth Bigham Dilts '93

and Stephen T. Dilts

Barbara Tarr Drauschke '72

Kelly McLoud Duda '04

Ellen Faszewski

Christina Hadges

Marian Clifton Hurlin '22

Scholarship Fund

Barbara Jack '30 Endowed

Scholarship Fund

Kathleen Magee Jaunich

Scholarship

Margery Hall Johnson Endowed

Scholarship

Virginia M. Howard

Nancy Hutchins

Kady Landscape, Inc.

Mr. and Mrs. Warren Keller

Carri LaCroix Pan '94/'98MS

Diane Levin '69MS

Mr. and Mrs. Andrew F. Mackey

Lori Mancini '94

Lauren A. Marquis '11MS

Mary McCormack '89

Kyla McSweeney '94/'97MS

Lauren LaBelle Morin '08

Kendra Mrozek '07

Robin Chapman Noye '94

Renee Ruggiero

Alishia Durning Salerno '94

Lisa A. Slavin

Lorie Spencer

Hope Haslam Straughan

Valerie Gorlin Tarbell '94

Claire White '79/'84MS

Mr. and Mrs. Edward N. White

Karen Worth

Ruth Appleton Burge Johnson

1910 Scholarship Fund

Marcia Rudd Keil '34 Endowed

Scholarship Fund

Linda Gordon Kendall '61

Endowed Scholarship Fund

Lyn Peck Kenyon and Walter

Kenyon Scholarship

WINTER 2016
---
WHEELOCK COLLEGE • ANNUAL REPORT OF GIVING 2014-2015

Carol Liu King '66MS Endowed

Scholarship Fund

Susan Kosoff '65/'75MS

Legacy Fund

Katherine Ehrler Kurth

Scholarship Fund

Gloria Williams Ladd Endowed

Scholarship Fund

Frances B. and Paige D.

L'Hommedieu Scholarship Fund

Elizabeth Ann Liddle '47 Fund

for International Students

Agnes M. Lindsay Trust Scholarship

Lowell Scholarship

Susan M. Mackey '94

Scholarship Fund

Kathryn Severance Makosky '30

Endowed Scholarship Fund

Margaret H. and Robert W. Merry

Scholarship Fund

Gwen Morgan '76MS

Scholarship Fund

Hollis P. Nichols Scholarship Fund

Janice Porosky Olins '33

Scholarship Fund

Phoebe O'Mara Endowed Fund

Patricia Knowlton Paine-

Dougherty '50 Scholarship Fund

Henry H. and Edith Nicholson

Perry 1919 Scholarship Fund

Theresa Perry Scholarship Fund

Mildred Engler Peterson '24

Scholarship Fund

The Harold Whitworth Pierce

Charitable Trust Scholarship

The Catherine Pursel Emergency

Student Loan Fund

Jennifer Stowers Quintal '02

Teacher Development

Scholarship Fund

The Roberts Family Endowed

Scholarship Fund

William E. and Bertha E. Schrafft

Charitable Trust Endowed Fund

Saul M. Silverstein Endowed

Scholarship Fund

The Ellen Haebler Skove '49

Endowed Scholarship Fund**

Ching Yee Soong '65

Scholarship Fund

Edith Winter Sperber '52

Scholarship Fund

The Geneviève McMillan-Reba

Stewart Foundation Fund

The Ellen G. Sullivan Endowed

Scholarship

Susan Swap Community Service

Scholarship Fund

Mary A. Sweeney '56 Scholarship

Fund

Catherine Hargrave Sykes '50

Endowed Scholarship Fund

Suzanne L. Thurston '54 Endowed

Scholarship Fund

Marion H. Towne Scholarship Fund

Frances M. Tredick Endowed

Scholarship Fund

Frances M. Tredick 1902

Scholarship Fund

Wheelock Club of Portland

Scholarship

Wheelock College Alumni

Association Scholarship

Wheelock College Alumni

Endowed Scholarship Fund

Wheelock College Urban Teachers

Scholarship Fund

Lucy Wheelock Endowed

Scholarship Fund

Lucy Wheelock Student Loan Fund

Betsy Reed Wilson '55/Let's Face It

Visiting Health Scholar

Marjorie Cohn Wolf '51 and

William H. Wolf Perpetuating

Loan Fund

Library Funds

Alma Bent '42/'43 and Janet

Higginbotham Washburn

'42/'43 Library Fund

Linda Munroe Brady Memorial

Book Fund

Beatrice Garnaus Library Fund

Nancy Corwin Gordon Memorial

Book Fund

Altina Mead Memorial Fund

Jone Sloman Library Fund

Other Funds

CAR Endowed Faculty Fund

Sylvia Earl '54 Technology Fund

Graduate School Special

Programs Fund

Hillel Fund

Holistic Health and Wellness Club

International Service

Learning Fund

Sandra Nesson Kivowitz '56

Memorial Fund

Edward H. Ladd Award for

Academic Excellence and Service

Cynthia Longfellow Teaching

Recognition Award

Master of Social Work Restricted

Scholarship

Math and Science Endowed

Prize Fund

Mattahunt Copier Fund

Political Science Department Chair

The Dr. Sau-Fong Siu B.S.W. Student

Assistance Fund

South Africa Service Learning

Annual Fund

South Africa Service Learning

Endowment Fund

Dr. Jeri Faith Traub Children's

Courtyard Fund

Dr. Jeri Faith Traub Student Prize

for Special Education

Wheelock Faculty Fund

Wheelock Family Theatre

Endowed Fund

Wheelock Family Theatre

Seat Fund**

** New fund in Fiscal Year 2015

Honoring the Legacy of President Jackie Jenkins-Scott

Judith "Judy" Hall '69 lives in New York, but

she tries to visit Wheelock as frequently as

her busy schedule allows. She came to campus

in 2014 for her 45th Reunion and looks forward

to coming back this spring to join her cousin

Betty Pearsall '71 as she celebrates her 45th.

Last fall, Judy attended an alumni reception

in New York City to celebrate the tenure of President

Jackie Jenkins-Scott, who will step down

from the presidency in June. Event host Patricia "Pat" Cook '69

spoke about the Board of Trustees and their creation of The Jackie

Jenkins-Scott Endowed Fund for Service and Learning Journeys at

Wheelock College. Judy has watched closely over the last 12 years as

President Jackie has led Wheelock to many great successes. Wanting

to honor her legacy, Judy immediately made a donation to the Fund.

The Fund will be used to defray the cost of travel, including servicelearning

trips, for current Wheelock students. These trips, often

proclaimed by students to be among the most profound learning

experiences during their time at Wheelock, often cost hundreds or

even thousands of dollars more than many can pay. By supporting the

Fund, Judy and others are ensuring that this tremendous opportunity

will be available to as many students as possible.

33

magazine
---
WHEELOCK COLLEGE • ANNUAL REPORT OF GIVING 2014-2015

34

Associate

Degree Donors

1973

Deborah Maher

Priscilla Paquette

1974

Barbara Carter Brathwaite

1977

Donna Blaikie Coleman

1984

Marlene Ross

1990

Jewel Russell

1995

Marcia A. Perry

Undergraduate

Degree Donors

1934

Elizabeth Drowne Nash

1938

Margaret Ryan MacIntyre*

1940

Louise Martin Klemmer

1941

Barbara Munson Carpenter

Arlene Drake Dickinson

1942-'43

Patricia Stewart Curtis*

Jean Mealey Slavin

Helen Roberts Thomas

1943-'44

Nancy Wilson Ainslie

Sally Keating Walsh

1945

Juliana Forsythe Bussiere

Maryanne Weber Lockyer

Helen Small Weishaar

1946

Cordelia Abendroth

Flanagan

Louise Vialle

1947

Daphne Tait Cooper

Ruth Hirons Irving

1948

Phyllis Fishman Grossbaum

Edith Hall Huck

Janet Gall Leonard

Catherine Creble McCarraher

Carolyn Blount Street

Barbara Sturgis

1949

Laura Anne McPhee Burton*

Jean Dickson Chiquoine

Margaret Ames Davis

Anne Tremper Hall

Doris Jackson Marshall

Jane Felton Parker

Barbara Ferguson Pieper

Suzanne Small Shanahan

Maryellen Nelson Smiley

Mariah MacGilvra Temby

1950

Nancy Spencer Adams

Marjorie Johnson Cilley

Jane Lockwood Ferguson

Barbara Moog Finlay

Mary Hathaway Hayter

Emily Wright Holt

Mary Gall Horsley

Nancy Blue Lane

Helga Lieberg Lustig

Beverly Maurath Newell

Nancy Garnaus Rice

Sydney Weaver Schultheis

Barbara Thompson Trainor

Florence Milman Walker

Edith Nowers White

Edith Runk Wright

1951

Beverly Boardman

Brekke-Bailey

Joan Spargo Bullard

Louise Butts

Georgianna Hale Dana

Shirley Stevens French

Judith Handley Garvey

Patricia Gindele Guild

Elizabeth Cahill Haskell

Nancy Williams Mohn

Laura Richardson Payson

Helen Taft Staser

Jean Turner Strodel

Dorothy Etherington

Thurnherr

Carol Pounds Wales

Grace Viard Ward

Mary Rothwell Wattles

Joan Wiggin*

1952

Margaret Kind Childs

Selby Brown Ehrlich

Catherine Gaffey Everett

Barbara Elliott Fargo

Patricia Conzelman Greeley

Ann Foote Grey

Anne DeLamater Hansen

Nancy Dodd Horst

Cornelia Krull Hutt

Janet Ferry Jenney

Cecily Chandler Kalin

Virginia Bell Libhart

Carol Drew Penfield*

Mary Major Rubel

Joan Smith Walter

Marjorie George Widegren

Rosemary Fettinger Worth

1953

Anonymous (1)

Ruth Flink Ades

Ellen McMillan Aman

Patricia Russell Amendola

Margaret Benisch Anderson

Joan Sullivan Buchanan

Joan Halloran Corning

Ann Carter Craft

Natalie Smith Garland

Jennifer Thorne Hayden

Josepha Loskill Jenks

Gail Maurath Lyon

Carol Hulbert Maxwell

Nancy Oppy Merrifield

Joyce Allen Rich

Jane Palmer Schaefer

Dorothy Steinberg Shaker

Sally Williams Tallamy

Sally Karr Torrey

Winifred Magee Williams

1954

Betsy Hunter Ambach

Barbara Hirshberg Atlas

Sylvia Tailby Earl

Nancy Rosenwald Foilb

Meta Curtze Gebhardt

Nancy Shapiro Hurwitz

Elizabeth Wheeler

L'Hommedieu

Eileen O'Connell McCabe

Caroline Howard McCarty

Harriet Knapp McCauley

Lois Barnett Mirsky

Penny Power Odiorne

Lydia Bartlett Phalen

Frances Vail Russell

Nancy Loeb Silbert

Nancy Pennypacker Temple

Suzanne Hamburger

Thurston

Elsa Weyer Williams

Virginia Thomas Williams

Elizabeth Bassett Wolf

1955

Nancy Merry Bergere

Sally Reeves Edmonds

Joan Brassel Gerace

Bonnie Simon Grossman

Dorothy Wayman Grudzinski

Joleen Glidden Ham

Hildegard Fleck Hix

Josephine Smith Howard

Nancy Cerruti Humphreys

Joan Nelson Leighton

Charlotte Cooper Lopoten

Louise Baldridge Lytle

Sheila M. Mahoney

Betsey DeWitt Matteson

Lesley Fleming Meinel

Penelope Kickham Reilly

Kathleen Rooney

Judith Haskell Rosenberg

Patricia Brennan Smith

Beatrice Clayton Stockwell

Janet Bradley Taylor

Judith Barrett Theroux

Amaryllis Morris Volk

Catherine Wakefield

Ann Butler Yos

1956

Henriette Pennypacker

Binswanger

Ann Melrose Blauvelt

Wilma Rayment Brady

Peggy McCreery Broadbent

Denise O'Brien Cariani

Margaret McLean Caywood

Paula Boehm Clifford

Barbara Bihari Cohen

Mary Bates Duplisea-Palmer

Evelyn Jenney Eaton

Susan Grearson Fillmore

Catherine Maniatakis

Frantzis

Dorothy Dorfman Goldstick

Elizabeth Grimm Hoskins

Barbara Ice Lake

Patricia Markle Levy

Wilma Kinsman Marr

Mary-Louise Stickles Perkins

Adeline Bradlee Polese

Nancy Griggs Razee

Beverly Haley Richter

Susan Waters Shaeffer

Barbara Silverstein

Constance Foote Smithwood

Nancy Crocker Stewart

Judith Rosenthal Tobin

Jane Burnham Treman

Julie Bigg Veazey

1957

Gertrude Bryan

Virginia Plumer Crook

Theone Zacharakis Curtiss

Katrina Hoadley DeLude

Dawna Wight Fowler

Janice Wright Freelove

Mary Bloomer Gulick

Margot Block Haselkorn

Anne Wingle Howard

Dardana Berry Hoyt

Deborah Carlson Jacklin

H. Barbara Knowles Jacobsen

Barbara Stagis Kelliher

Maureen Rolfe Kelly

Sandra Gladstein Morrison

Mary Lou Cudhea Reed

Nancy Weltman Schattner

Mardrivon Cowles Scott

Sarah Curran Smith

Janet Spaulding

Mary Hartwell Truesdell

Carolyn Woodhead

1958

Judy McMurray Achre

Nancy Alexander Anderson

Carole Leclerc Barry

Nancy Hallock Cooper

Marcia Potter Crocker

Regina Frankenberger Dubin

Mary McBride Felton

June Hayward Foster

Jean Tulloch Griffith

Cynthia Hallowell

Marion Cook Houston

Sandra MacDonald

Ingmanson

Laura Lehrman

Arlene Keizer Lovenvirth

Shirley Hotra Neff

Sara Beckwith Novak

Margaret Weinheimer

Sherwin

Carol Yudis Stein

Elizabeth Sturtz Stern

Elizabeth Bundy Taft

Patricia Dodd Ulmer

Sara Dunbar Waters

Carol Stuart Wenmark

Jean Cutler Whitham

1959

Annette Rogers Barber

Alice Thompson Brew

Barbara Sahagian Carlson

Madeleine Gatchell Corson

Yvonne Emmons Duvall

Patricia Haas

Sandra Hall Haffler

Betsy Forssell Hestnes

Sally Schwabacher Hottle

Lynne Grove Ives

Barbara Hampson Ivey

Joan Pannier Langley

Helen Doughty Lester

Marion Turnbull Mangels

Sue Abbot McCord

Virginia Ludwig McLaughlin

Brenda Sherman Merchant

Elaine Fogel Parks

*Deceased
---
WHEELOCK COLLEGE • ANNUAL REPORT OF GIVING 2014-2015

Diantha Sheldon Patterson

Doris Geer Petusky

Alicia Atlin Stokes

Judith Scott Stolp

Patricia Wise Strauss

Helen LaMontagne

Warmuth

1960

Katharine Cummings

Bannon

Barbara Broomhead Bromley

Ellen Cluett Burnham

Sandra Hopkins Clausen

Beverly Weitzel Damen

Barbara Tutschek Ells

Peggy Oliver Hedeman

Jane Coulter Langmaid

Rebecca Schechtman Maisel

Deanne Williams Morse

Nancy Brooks Nelson

Anne Mullervy Newbrook

Carol Reed Newsome

Sara Thompson Orton

Betty Appel Schaffer

Janice Halsted Sussebach

1961

Susan Quick Anderson

Joan Nolet Bennert

Helen Clark

Miriam Curtin Cushing

Dorothy Sideris Davis

Norma Brawley Dugger

Ellen Tague Dwinell

Mary Jo Severson Fenyn

Martha Young Hansen

Susan Beale Hufford

Elizabeth Horton Ingraham

Linda Gordon Kendall

Marjorie Wilson Kingston

Jeannette Kwok

Judith Johnston Laurens

Linda Shemwick Lindquist

Eleanor Snyder Markowitz

Nancy Miller

Juliet Miller Moynihan

Margaret Knowles Rodgers

Barbara Grogins Sallick

Gail Spivack Sandler

Virginia Colquitt Schroder

Betsy Mark Weiner

1962

Daphne Angelis Abodeely

Joann Seidenfeld Adler

Judith Parks Anderson

Jean Farley Bellows

Phoebe Walther Biggs

Carol Tarr Bolter

Luette Close Bourne

Jean Heard Carmichael

Ruth Weeks Clark

Barbara Pratt Dancy

Elizabeth Townsend

Dearstyne

Penelope Petrell English

Roberta Weiss Goorno

Linda Marvin Hastie

Priscilla Alden Hayes

Elizabeth Gregg Horn

Sabra Brown Johnston

Roberta Goodale Kulas

Mary Koenigsberg Lang

Judith Rominger Lutkus

Anne Sullivan Lyons

Lorna Ramsden McCollum

Diane Stephens

Montgomery

Mary Joanna Neish

Judy Sherman Nevins

Betsy Miller Radler

Laura Sibley Rhodes

Mary Richardson Rivers

Jean Barclay Rook

Jane Saltzman Rosenberg

Emily VanderStucken

Spencer

Mary Schubert Stearns

Judith Gollub Trieff

Georgia Bradley Zaborowski

1963

Linda Dale Anderson

Susan Memery Bruce

Lorna Waterhouse Chafe

Heather Hughes Dahlberg

Zelinda Makepeace Douhan

Yvonne LaBrecque Enders

Cynthia Jepsen Farquhar

Carolyn Collins Farrell

Margaret Fenner

Helen Mosher Geci

Barbara Hamilton Gibson

Jessie Hennion Gwisdala

Jane Kuehn Kittredge

Jacquelyn Taft Lowe

Susan Cross MacElhiny

Elizabeth Craft Meuer

Susan Wise Miller

Elizabeth Kellogg Morse

Paula Corning Newell

Frances Nichols

Lynn Sanchez Paquin

Sally A. Pease

Christine Price Penglase

Marjorie Sanek Platzker

Anne Little Reiley

Carolyn Allen Seaton

Judith Thompson Seeley

Carol Steele Shively

Elizabeth Robinson Smith

Eleanor Starkweather

Snelgrove

Loraine Nettleton Watson

Alice Parke Watson

Susan Steele Weems

Gail Rosinoff Weiner

Nancy Preston Wisneskey*

1964

Susan Greenleaf Anderson

Judith Reutter Blanton

Sarah Dewey Blouch

Linda Bostrom Caplice

Perrine Colmore

Mary Jane Blackburn Cook

Elizabeth Wilson Crowther

Sarah Beebe Davis

Nancy Ashton Dewey

Elizabeth McIntyre Doepken

Jeanette Polhemus

Glesmann

Deborah Niebling Grubbs

Janet Marshall Haring

Tina Morris Helm

Carol Jeffers Hollenberg

Barbara Hodge Holmes

Mary Wolf Hurtig

Kathleen Magee Jaunich

Phyllis Forbes Kerr

Eleanor Noble Linton

Priscilla Nelson Linville

Jessi MacLeod

Carolyn Humphrey Miller

Suzanne Mullens Morgan

Sudie Nostrand

Ann Brown Omohundro

Barbara Wilson Parks

Nancy Fowle Purinton

Hilda Wright Rhodes

Rachel Ripley Roach

Loretta Buechling Schaefer

Carol Eidam Schmottlach

Ann Meigher Smith

Mary Ellen Freeman Smith

Marjorie Blum Walker

Ann Burgess Wolpers

1965

Anne Goepper Aftuck

Elizabeth Marchant

Armstrong

Barbara Curtis Baker

Joan Griffith Ballog

Nancy Rosenberg Bazilian

Susan Bright Belanger

Linda Larrabee Blair

Lockwood*

Cynthia Cooper Buschmann

Carol Twiner Cameron

Anne Bonner Ceccarelli

Carol Naftali Charkow

Carolyn Nichols Cobb

Mary Dominick Connors

Barbara Stevenson Cox

Joanne Malynoski Dall

Elsa Chaffee Distelhorst

Ann Connor Doak

Karen Ellsworth

Sandra Tilton Elmer

Cordelia Glass Fenton

Deirdre Conrad Frank

Elizabeth Smith Gavriel

Donna Johnson Grinnell

Kate Young Hewitt

Dana Seeley Hirth

Martha Harriman Ives

Sarah Spaulding Jonick

Darcy Black Keough

Gloria Williams Ladd

May Koh Lam

Julia Clymer Lloyd

Ann L. MacVicar

Kathleen Wilson Mallet

Edwina Burke Marcus

Carol F. McPherson

Christina Moustakis

Hinda Rose Niemeyer

Mary Barnard O'Connell

Barbara Buckley O'Leary

Karen Fykse Olsen

Marjorie W. Saleh

Page Poinier Sanders

Linda Sarkozy Scanlan

Karen Gold Sokol

Phyllis Cokin Sonnenschein

Nancy Clarke Steinberger

Elizabeth Earle Stevenson

Heidi Snow Stowe

Nancy Symmes Sweeney

Ruth M. Tilghman

Penelope W. Traver

Joan Tulis Trisko

Susan Wells Vogel

Joan Anderson Watts

Susan Hilsinger Weiner

Gwen Lloyd Wirtalla

1966

Anonymous (1)

Patricia Roh Aldrich

Patricia Miller Callard

Laurie Knowles Carter

Sarah Carter

Barbara Walker Collamore

Sharon Jenks Collinson

Madeleine Tufts Cormier

Nancy Wicke Demarest

Barbara Baker Dowd

Hope Binner Esparolini

Patricia Phillips Fraser

Mary Moor French

Linda Crocker Genest

Thordis Burdett Gulden

Pamela Carey Haggett

Martha Somers Henderson

Susan Clark Howard

Susan McKee Kessler

Karen Kitfield Koeppl

Marka Truesdale Larrabee

Ruth McLean Lizotte

Patricia Lewars Lucy

Jane Martin McMackin

Andrea Price Morse

Anne Hallowell Newton

Nedra Michel Nobleman

Phoebe O'Mara

Susan Lodge Peck

Isota Epes Potter

Jane Wolcott Ready

Heather Robinson Reimann

Marcia Carlson Rintoul

Elizabeth Zwirner Ruggiero

Katharine duPont Sanger

Sylvia Thorndike Sheriff

Natalie Palmer Stafford

Ann Linden Stewart

Susan Magennis Underwood

Wendy Stuek Voit

Elizabeth Marks Voss

Nancy Clay Webster

Patricia Wild

Carole Hayes Williams

Joan Austin Yocum

1967

Anonymous (2)

Tracey Ober Anderson

Elizabeth Edwards Bell

Virginia Stout Burau

Ingrid Hasskarl Chalufour

Tina Feldman Crosby

Donna Pulk Elliott

Susan Wells Ferrante

Judith Lambert Foster

Lucy Schade Jackson

Linda Moritz Katz

Sally Desmond Kensel

Susan Kircheis Long

Kathryn Weinland Lordan

Linda Hoe Palmer

Betsy Simmonds Pollock

Jeannette Stone Reynolds

Beverly Boden Rogers

Doryl Lloyd Rourke

Eleanor Labosky Stanwood

Katharine Lancaster

Thompson

Laura Shapero Thomson

Margery Peirce Thurber

Nancy Sullivan Tryzelaar

Ann Fisher Tuteur

Carolyn Wright Unger

Elizabeth Griswold Vershay

Sara Wolf

35

magazine
---
WHEELOCK COLLEGE • ANNUAL REPORT OF GIVING 2014-2015

36

Susan Todd Wolfe

Joan Blackman Youngman

1968

Susanne Hall Alford

Susan Stein Backer

Jane Carpentier Batchelder

Sandra Gustavsen Batten

Melanie Waszkiewicz

Chadwick

Keena Dunn Clifford

Phyllis Cross Croce

Monica Freese Eppinger

Penelope Ferenbach

Franchot

Francine Gitnick Franke

Leslie Smith Gill

Robin Barnes Grallo

Susan Terragni Howe

Margery Linn Kirsch

Carol Tonseth Konz

Cynthia Blum Kramer

Gail Larcom Lamy

Margaret Merrill Loutrel

Katherine Sayford Lucibello

Susan Ordway Lyons

Ann Knowles MacKay

Kathryn de Sano Mahoney

Lynn Grearson McWilliams

Lynne Brown Moores

Lou Ann Colonnese Mulcahy

Herrika Williams Poor

Marlene Shama

Cynthia Carpenter Sheehan

Marjorie Moss Shekarchi

Edith Paffard Simmons

Janice McLean Simpson

Sally Clark Sloop

Noel Gignoux Spevacek

Rosemary Douglass Vena

Carlotta Dyer Zilliax

Susan Ackerman Zwick

1969

Linda Minker Abramson

Sara Burns Adams

Janice L. Bevan

Cheri Breeman

Susan Kilbourn Burkhard

Margaret Graham Caswell

Deborah Melia Clark

Patricia S. Cook, Ph.D.

Molly Day

Hope Dean

Aliisa Leino DiMartinis

Daphne Hunsaker Hall

Roberta Schwartz Klopfer

Susan Hadden Lawrence

Priscilla Phelan Lentowski

Sara Fish Longenecker

Joan Birkenstock May

Elizabeth Paine McClendon

Catherine Wells Milton

Margrete Miner

Martha-Reed Ennis Murphy

Linda Bullock Owens

Dell Redington

Bryn Kopelan Shain

Charlotte Lowell Stynes

Virginia B. Ward

Linda Gordon Wurzel

1970

Anonymous (2)

Lucy Amory Bradley

Susan Costello Bryant

Jacqueline Hanifl Carnevali

Grace Coffey Clark

Ellen Kirby Cummings

Daphne Voyatzis Damplo

Suzanne Moon Dykhuizen

Terry Davidow Epstein

Renee Fox Gould

Suzanne Salter Krautmann

Jane Kromm

Lauren Loeb Lerner

Denise Chateauneuf Macey

Toby Congleton Milner

Deborah Weinberg Mizrahi

Candace Kuhn Niznik

Janet Frost Russell

Marion Scott

Kluane Baier Snyder

Jermain Mueller Steiner

Susan Ormsby Stoehr

Barbara Peterson Sweeney

Susanne Bowen Toothaker

Pamela M. L. Wong

Priscilla Hussey Worrall

1971

Ann Bachini Aghababian

Phoebe Hemenway

Armstrong

Karen Srulowitz Berman

Christine Chase

Nancy Liberman Cohen

Jane Boyle Cohn

Margery Feinburg Cooper

Phyllis Jew Danko

Julia-Ellen Davis

Gwynneth DeLong

Cynthia Knowles Denault

Beverly Janson Hammond

Elizabeth Hirsch

Priscilla Jeffery

Sheryl Berman Lovit*

Ruth Hughes McGee

Yvonne Petitmaire

Geraldine Robinson

Nancy Millican Rogers

Elizabeth Sands

Donna Van Stone Schmidt

Renae Ross Starker

Shirley Meier Vautin

Patricia O'Shea Vonnegut

Ruth Steinhausen

Wachterman

Sylvia Birnbaum Yasner

1972

Lynn Geronemus Bigelman

Margaret Taylor DeAgazio

Barbara Tarr Drauschke

Alice Liberman Eberhardt

Susan Whiting Finan

Diane Tomaino Fisher

Alexena Thun Frazee

Cynthia Johnson GaNun

Linda Jeter Harris

Mary Barbour Hatvany

Louisa Miller Hoar

Helena Marshall Keiser

Linda Carlson Kiley

Jill Rosing Landel

Elizabeth Hile Lindsay

Amelia Carlson Maddock

Barbara Zimmermann

Murphy

Karen Lundquist Peterson

Mary Dickerson Pierson

Carol Myers Pressman

Sarah Lundrigan Ross

Harriet Serrell Sherman

Diane Palmer Soderland

Kathryn Stafford

Nancy Martell Stevenson

Marjorie Taft

Sally Van Zandt Turk

Gayle Ziegler Vonasek

Nancy McClement Waage

Betsey Greenwald

Zimmering

1973

Christine Appert

Sandra Birdsall Atteberry

Lynn Beebe

Lynn Emerson Brownell

Joyce Pettoruto Butler

Jeannette Byers

Rhonda Frisch Cooper

Susan Eblen

Lynne Siegal Fox

Marilyn Levick Fyfe

Pamela Pappas Goode

Dana Brewer Hahn

Laurel Bravman Kaplan

Regina Frisch Lobree

Deborah Maher

Ernestine Manns

Amanda Griggs Miles

Priscilla Paquette

Abby Squires Perelman

Carol Bigelow Riggs

Jane Hertig Roberts

Sally Bechert Robinson

Rosemary Sheehan Rotelli

Susan Mahoney Segar

Mildred Shelton

Susan Bruml Simon

Cynthia Coggeshall Trask

Marion Brigham Williams

1974

Karyn Brotman

Nancy Bailin Careskey

Paula Davison

Rita Abrams Draper

Kay Eng

Susan Blaine Gilbert

Rebecca Kaminsky

Debra Crossman Kwiatek

Mary Ellen Piantedosi

Margosian

Julie Moffatt

Betsy Kinney Morgan

Dana Nelson

Jessie Norton-Lazenby

Jill Schunick Putnam

Diane Rothauser

Jacqueline M. Schulte

Linda Mayo-Perez Williams

1975

Carol Bryce Bibeau

Harriet Blanchard

Julia Challinor

Beth Nusbaum Curtiss

Dorothea De Gutis

Caren French

Marcy Raymond Goodwin

Joanna Miles Griffith

Patricia Gardiner Hill

Amanda Carey Hogan

Carol White Jones

Rachel Henowitz Levine

Helen Hymerling Liberatore

Audrey Liberman Matson

Susan Crispen Miller

Mila Moschella

Joseph Richards

Patricia Gontrum Sare

Elizabeth Solbert-Sheldon

Kathy Witt Sturges

Harriet Romeiser Thomas

Nancy Drummond Tindal

Sara Wragge

1976

Louisa Lothrop Affleck

Regina Bachini

Barbara Carter Brathwaite

Terry Goldberg Bromfield

Cheryl Zalk Chandler

Marilyn Croteau

Lisa Milanese Evans

Carolee Fucigna

Gayle Griswold Goldberg

Marianne Beckman

Henderson

Melinda Kaiser

Amy Kitzen

Ann Laliberte

Laura Rohde Lindsay

Patricia McGowan McManus

Susan Moulton Michaels

Constance Bell Moser

Cynthia Doherty Murphy

Ruth Murphy

Daria Lyons O'Connor

Bonnie Page

Dale Zabriskie Pomerantz

Sherri Perk Reider

Nora Ray Richards

Kathy Richter-Sand

Laurie Snow Russell

Patricia Grief Sammataro

Nina Shapiro

Geraldine Small

Sally Snipes-Wells

Wafa Bissar Sturdivant

Dolores Testa

Mary Lou Carney Upton

Laurie Merrick Winegar

Angela Barresi Yakovleff

1977

Anonymous (1)

Hollis Brooks

Susan Trementozzi

Charbonneau

Victoria Ash Christian

Louise Close

Joelle Balosky Henriksson

Kathryn Morton Ivory

Margaret Smith Lee

Susan Colicchio Littleton

Margaret McCarthy

Dale Sillan Morris

Pamela Bowen Thomas

Cynthia Lauriat Vaughan

Susan Cook Vaughn

Susan C. West

Audrey Zabin

1978

Jane Anderson

Rosemary Anderson

Karen Musser Aveson

Steven Aveson

Susan Boyce-Cormier

Joan Bingham Chandler

Jane Sleamaker Costello

Lora Anderson Goldman

Susan Flaherty King

*Deceased
---
WHEELOCK COLLEGE • ANNUAL REPORT OF GIVING 2014-2015

Maureen Cleary Parsons

Brooke Stark

Arlene Botelho Williams

1979

Anonymous (1)

Brenda Stone Clover

Maura Houlihan German

Kristine Sheathelm Gerson

Laura Elliott Jernigan

Christine Bassick La Forest

Donna LaRoche

Rebecca Sakshaug Pagano

Rosemary Rehm-Schantz

Cornelia Conyngham

Romanowski

Claudia Barnett Scott

Sallie Sanders Upshaw

Claire White

1980

Maryanne Bernier

Lisa McCabe Biagetti

Sigrid Carvelli Bott

Michaela Penny Cole

Holly McAlpine Dulac

Lisa Carlson Gaddes

Cynthia Garvin-Parks

Kathleen Formica Harris

Laureen Dillon Hart

Bobbie Van Suetendael

Helbig

Jane Henshaw Kinkead

Margaret Meath

Sheryl Stein Mervis

Karin Patton

Edward Schantz

Patricia Barone Sokoly

Elizabeth Heger Wright

1981

Cynthia Brookings Bachman

Bernadine Herbert Gittens

Marion Ferguson Heller

Ava Lowe-Boampong

Alexis Foster Reed

Jean Ricciardelli

Ramona Sullivan Trevino

Dawn Lawlor Wholean

Sarah French Wilkins

1982

Donna Moriarty Allen

Laura Asseng Bachinski

Victoria Lloyd Boreyko

Kathleen McGrail Campbell

Susan O'Halloran Constable

Renate Wagner Flannelly

Kathleen Mello Friedrichsen

Linda Abbey Gent

Catherine Ley Lawler

ElizaBeth Ritchie McCay

Karen Mutch-Jones

Barbara Madison Ripps

Mari Dalton Walkowicz

Lisa Nord Zack

1983

Anonymous (1)

Zoraida Correia Bohn

Karen Mello Diamond

Evelina Ecker

Carol Rubin Fishman

Sara Grande Gavens

Nadine Snyder Heaps

Mary McKeon Lee

Susan Marr

Lora Lopes Nielsen

Deborah Wurgler

1984

Lee Block

Martha McNulty

Elizabeth Stobart

Jody Mount Vorenberg

1985

Linda Banks-Santilli

Julie Link Ferro

Catherine Dinan Jackson

Elizabeth Thomas

Marianne McGillicuddy

Wright

Stephanie Poly Zapatka

1986

Lori MacKinnon Churchill

Susan Dunn

Claudia Czaja Foster

Mary Midura Joncas

Margaret Sturges

McDermott

Donna Mallozzi Perkins

Marlene Ross

Pamela Senese

Julie Simon

1987

Laura DeNucci Crosby

Kathleen Hurley DeVarennes

Luanne Peters Wilson

1988

Rebecca Johnson Alexander

Suzanne Morrow Ciccarelli

Kim Haight Kleindienst

Arlene Cromwell Mendock

1989

Krista Aslanian

Darcy Sterrett Conlin

Karen Harman

Paula Ricard Mason

Mary McCormack

Athena Pappaconstantine

Kathryn Earle Seguin

Nanci King Shepardson

1990

Michelle O'Hearn Chalmers

Lori Ann Langlais Hickey

Michelle Pine Lemme

Megan McGrath

Alyson Shifres Miller

Eleanor Cannon Smith

Lisa Wojtowicz Wood

1991

Tamara Klugman

Robin Zamore Macy

Michelle Celona O'Neill

Sarah Rice Patt

1992

Kelly Willis Dumas

Cammie Mitchell Jones

Karen Delaney O'Neil

Sarah Siepierski

Heather Bogli Zilora

1993

Elizabeth Bigham Dilts

Golden Bryant

Lauren Perlmutter Candib

Deborah Cooper Crane

Sara Hosmer

Nina Mortensen LaPlante

Brenda Noel

Rochelle Perry-Craft

Renee Minotti Rhoads

Tara Daniels Wider

1994

Amy Goldstein Brin

Heidi Butterworth-Fanion

Vivian Carr

Gina DiGennaro

Sonja Swanson Holbrook

Carri LaCroix Pan

Lori Mancini

Kyla McSweeney

Robin Chapman Noye

Teresa Ricker

Alishia Durning Salerno

Lisa Ann Strolin-Smith

Valerie Gorlin Tarbell

1995

Christine Rodger Gurske

Robin Melesko Toomey

1996

Barbara Raymond Bell

Joel Ludington

1997

Katherine Clunis D'Andrea

Jenny Fogel Miller

1998

Sally Kokernak Millwood

Joanna Sharkey Oshman

Stephanie Werner

1999

Catherine Marciello

Katherine McKibbens

Laurel Schnitman

2003

Lindsay Gallagher

Meghan Minehan

2004

Colleen Pierce Brown

Kelly McLoud Duda

2005

Anonymous (1)

Caroline Brzozowy Alexis

Debra Price Dobbs

Christina Cox Howard

Alice Connelly Manfrida

Jennifer Provoost

Shannon Windus

2006

Kristina J. Howell

2007

Karen Shively Cumings

Sarah Guarino

Kendra Mrozek

2008

Luisa Bilotta

Alison Vallese Masinda

Lauren LaBelle Morin

Shannon Pittman

2009

Rebecca Gould

Amy McKenna

2010

Melissa Kalenderian

Katharine Needham

2011

Gabrieal B. Babin

Sarah Coyne

Kiera Pritchard Lantz

Katherine Laude

Carrie L. LeGeyt

Evelyn O'Connor

Lindsay Sullivan

2012

Alexandra Chiesa

Kevin Kareckas

Emily Layok

2013

Amy Giovannucci

William Hall

Graduate Degree

Donors

1955

Louise Butts

1956

Velma McEvoy Lindberg

1958

Patricia Seltzer Moehring

1960

Barbara Mead Anthony

1962

Virginia Gleason Crocker

Deborah Carlson Jacklin

Marjorie Kemp Roxbrough

Barbara Sturgis

1963

Sally Nichols McGucken

Katherine Lanning Winters

1964

Helen Martin

Ellen Smith

1965

Susan Vetter Shoff

Georgia Bradley Zaborowski

1966

Karen Niecke Jones

Carolyn Woodhead

1967

Elizabeth Horton Ingraham

Ann Faude Newbury

Paula Corning Newell

Christine Kamp Seidman

Carol Stuart Wenmark

1968

Lorian Brown

Alice Turner Elliott

Nancy Wilde Hahn

Nancy Blum Levin

Helga Lieberg Lustig

Marcia Mitchell Soden

Linda Fuller Wolk

1969

Anonymous (2)

Joann Bush

Elizabeth Coates

Diane Levin

1970

Anonymous (1)

Joan Wolfers Belkin

Barbara Walker Collamore

Signe Burk Ferguson

37

magazine
---
WHEELOCK COLLEGE • ANNUAL REPORT OF GIVING 2014-2015

38

Reme Gold

Ruth Harlow

Barbara Kelley

Deborah Brown Tifft

Judith Schwarz Weinstock

1971

Susan Eisenhart Alexander

Sarah Leach Jackal

Susan London Killip

James Wood

1972

Virginia Clark

Marlene Shama

Joyce Wells

1973

Louisa Lehmann Birch

Kathryn Smith Conrad

Renee Fox Gould

Margaret Neville Holmes

Joanna Phinney

1974

Linda Lanting Gerra

Harriet Foss Koch

Sally Pease

Steven Silvestri

1975

Beth Reiter Blanchard

Aliisa Leino DiMartinis

Zelinda Makepeace Douhan

Carol Dunkel Freidinger

Nancy Fuller

Dody Phinny Gates

Nicholas Haddad

Susan Clark Howard

Robert McCorkle

Barbara Zimmermann

Murphy

Marjorie Moss Shekarchi

Hildred Dodge Simons

Phyllis Cokin Sonnenschein

Deborah Imri Tully

Wendy Warnecke

Cynthia Mahler White

Joan Blackman Youngman

1976

Marilyn Grimes Fraktman

Ai-Ling Louie

Mark Roberts

Virginia Beth Sauer

Judith Scott Stolp

1977

Maureen Riley Acorn

Maureen Rooney Brentrup

Elizabeth Paine McClendon

Penny Greenberg Murphy

Lorraine Damaduk Parmelee

Alfreda Piecuch

1978

Anonymous (1)

Linda Minker Abramson

Rebecca Frost Cuevas

Dell Redington

Geraldine Robinson

Claudia Rodgers

Margaret Morgan Sutphin

Mary Beth Claus Tobin

Gayle Ziegler Vonasek

1979

Susan Moyer Breed

Lisa Diamant

Kathryn Parsons Liebowitz

Dorothy Lifka

Mary Mitchell

Mildred Paden

Kathleen Mooney Parrish

Holly Seplocha

Kathy Simons

1980

Betty Beach

Nancy Bigelow

Elizabeth Culick Bowman

Ellen Foley

Elizabeth Neavitt Frank

Carol Tonseth Konz

Ann Laliberte

Michael McCormick

Jolene Christoff Pearson

Phyllis Haffenreffer Stetson

Nancy Pennypacker Temple

Doreen McCluskey Worthley

1981

Mary Warren Brague

Ellen Good

Sandra Heidemann

Marion Ferguson Heller

Christine Condee McKinney

Anne-Marie Rodrigues

Diane Rothauser

1982

Anne Lawless Croak

Jean McIntyre Hodgkins

Patricia Hertel Kemp

Donna Martin

Joyce Adachi Morimoto

Maria-Matilde Pieters-Gray

Susan Selya Rosen

Christina Larson Sabella

Kathleen Carbonell Sullivan

Louise Anderson Tarver

1983

Idie Benjamin

Susan Wells Ferrante

Darlene Howland

Cynthia Gillies Jurie

Mary Cairns Kloppenberg

Louis Torelli

Nancy Sullivan Tryzelaar

Joan Anderson Watts

1984

Elinor Worley Beatty

Pamela Carey Haggett

Alan LaRue

Sally Mazur

Satu Mehta

Jill Schunick Putnam

Claire White

1985

Jane Anderson

Sandra Hopkins Clausen

Mary Oliver

Jean Nigro Ricci

1986

Carol Ridgley Campbell

Cynthia Nelson Donahue

Patricia McGowan McManus

Susan Montrone-Cobleigh

Robert Quinn

1987

Giovonne Calenda

Cynthia Cole Lawrence

Amy Rugel

Karen S. Sturges

Cheryl Whipple

1988

Dina Mardell

Adelaide Duffy Queeney

Sally Van Zandt Turk

Susan Wolff

1989

Jill Kelber Leibowitz

Marlene Ross

Margaret Franck Sparks

Barbara Peterson Sweeney

1990

Barbara Corey

Patricia Conzelman Greeley

Patricia O'Shea Vonnegut

1991

Eleanor Almond

Jocylyn Bailin

Susan Dunn

Michelle Pine Lemme

Donna Petterssen

Nora Ray Richards

Ruthann Sneider

Charlotte Lowell Stynes

Cecile Tousignant

Phyllis Wendorff

1992

Cheryl Zalk Chandler

Sandra Christison

Catherine Gaffey Everett

Carol Derby Kuo

Laura Long

Jessi MacLeod

Bonnie Page

Leslie Short

Christine Smith

Judith Omansky Weinberg

1993

Anonymous (1)

Susan Bohn

Deborah Gilmore Hartline

Patricia Hnatiuk

Betsy Nordell

Vivian Swoboda

1994

Jean Bouton

Suzanne Morrow Ciccarelli

Susan DeLuca

Jill Hatch

Jennifer Wieland Knowles

Juliet Nagle

Marianne O'Grady

Rochelle Perry-Craft

Andrea Weaver

1995

Mary Casey

Linda Burns Jones

Suzanne Taylor King

1996

Carol Berlin

Kristen Langdon Cohen

Margaret Taylor DeAgazio

Kathryn Jones

Ann O'Hara

Heather Peach

Sylvia Micka Smith

Rebecca Merrill Thompson

1997

Callie Greenfield

Helen McGah

Kyla McSweeney

Catherine Pettingell

Pamela Senese

Debra Smith

Julienne Bakerlis Ugalde

1998

Katherine Clunis D'Andrea

Donald Gianniny

Dawn Gonthier

Christine Rodger Gurske

Christina Morris Helm

Carri LaCroix Pan

Joshua Lewis

Amatul Mahmud

Elizabeth Edwards

Tufankjian

Amanda Gauthier Vanderlan

1999

Barbara Arnold

Arlynne Bail

Martha Bakken

Sharon Febo

2000

Julia Van Trees Coelho

Kathleen Kerr

Susan Crispen Miller

2001

Kimberly Delaney

2002

Esme DeVault

Yue-Li Lim

Katherine McKibbens

2004

Lindsay Gallagher

Catherine Marciello

2005

Colleen Pierce Brown

Kimberly Wright Morgan

2006

Caroline Brzozowy Alexis

Debra Price Dobbs

Jazarae Kirchdorfer

McCormick

Jennifer Provoost

Shannon Windus

2007

Ana-Maria Spencer

2008

Kristina Howell

2011

Melissa Kalenderian

Lauren Wholley Marquis

Katherine McKibbens

Matthew Power-Koch

2012

Carrie LeGeyt

2014

Emily Layok

WINTER 2016
---
WHEELOCK COLLEGE • ANNUAL REPORT OF GIVING 2014-2015

Senior Class Gift

Ashley A. Abraham '15

Ismael W. Algarin '15

Jessica Allen '15

Darkia Anderson '15

Leya N. Barden '15

Erika Belmore '15

Cailin Boisvert '15

Gabrielle O. Boivin '15

Diana R. Camara '15

Thomas and Joanne Camara

Miles T. Carey-Snow '15

Mariana Castro '15

Nancy J. Crowell '15

Louis Curto '15

Jacquelyn R. Davis '15

Barry and Linda Donohoe

Karen Donohoe '15

Tatiana Duarte '15

Gabrielle C. Edouard '15

Jacqueline Elias '15

Lauren A. Fowler '15

Kassandra N. Howard '15

Rebeckah C. Hoyt '15

Mallory C. Johnson '15

Megan R. Lachance '15

Andrea Lerude '15

Jennifer Lubold '15

Louis and Ann Lubold

Jessica M. MacKenzie '15

Talia M. Mango '15

Abigail L. Martin '15

Amanda M. McBride '15

Emma McLaughlin '15

Meghan K. McWeeney '15

Kayla E. Mills '15

Caelin Mooney '15

Erin M. Nangle '15

Brianne C. O'Shea '15

Maura E. Pepek '15

Alyson J. Provencher '15

Katrin D. Reeder '15

Jean Ricciardelli '81

Eva C. Roberts '15

Renee M. Saleh '15

Madeleine C. Sicard '15

Robert A. Sicard and Nancy

Young-Sicard

Margaret Sparan

Marianne Sparan '15

Emily A. St. Laurent '15

Hunter C. Ulbin '15

Christina Venturelli '15

Anya G. Weidner '15

Kelcy L. West '15

Dulcinea S. Wetherell '15

Emily J. Woznick '15

Richard and Leigh Woznick

Board of Trustees

and Members of

the Corporation

Karen Keating Ansara

Steven Aveson '78

Stephanie Bennett-Smith

Lisa McCabe Biagetti '80

Grace Macomber Bird

Joyce Pettoruto Butler '73

Alberto B. Calvo

Julia Challinor '75

Linda Chin

Keena Dunn Clifford '68

Susan O'Halloran Constable

'82

Patricia S. Cook, Ph.D. '69

Tina Feldman Crosby '67

Paula Davison '74

Barbara Tarr Drauschke '72

Kelly McLoud Duda '04

Ellen Tague Dwinell '61

Barbara Elliott Fargo '52

Fred K. Foulkes

Maria Furman

Tina Morris Helm '64/'98MS

Christina Cox Howard '05

Thomas Kelly

Matthew J. Kiefer

Ranch C. Kimball

John F. Knutson

Alden Landry

Elizabeth Wheeler

L'Hommedieu '54

Robert A. Lincoln

Eliane Markoff

Kyla McSweeney '94/'97MS

Catherine Wells Milton '69

Lois Barnett Mirsky '54

Mila Moschella '75

Robin Mount

Karen Mutch-Jones '82

Joanna Sharkey Oshman '98

Heather E. Peach '96MS

Paul Reville

Jane Hertig Roberts '73

Mark E. Roberts '76MS

Doryl Lloyd Rourke '67

Barbara Grogins Sallick '61

Elizabeth R. Segers

Susan Bruml Simon '73

Kathy L. Simons '79MS

Karen S. Sturges '87MS

Charlotte Lowell Stynes

'69/'91MS

Kate Taylor

Daniel S. Terris

Lisa Thors

Mary Beth Claus Tobin '78MS

Scott Wennerholm

Faculty/Staff

Anonymous (2)

Nina Aronoff

Linda Banks-Santilli '85

Mary Battenfeld

Deborah Lisansky Beck

Debra Borkovitz

Judith A. Ceven

Linda Davis

Stephen Dill

Ellen Faszewski

David and Susan Fedo

Marcia McClintock Folsom

Ediss Gandelman

Christina Hadges

Marjorie Hall

Patricia Hnatiuk '93MS

Nancy Hutchins

Jackie Jenkins-Scott and

Jim Scott

Diane Levin '69MS

Lauren A. Marquis '11MS

Anne Marie Martorana

Mary McCormack '89

Donna and Tom McKibbens

Satu Mehta '84MS

Stephen H. Muzrall

Brenda Noel '93

Alex Powell

Jennifer and George Rice

Stefi Rubin

Renee Ruggiero

Mitchell S. Sakofs

Lori Ann Saslav

Roy Schifilliti

Susan Shainker

Lisa A. Slavin

Lorie Spencer

Hope Haslam Straughan

Valerie Thornhill-Hudson

Eleonora Villegas-Reimers

Phillip M. Weiss

Claire White '79/'84MS

Jeff Winokur

Karen Worth

Parents

Susan Alnes

Karen and James Ansara

Mr. and Mrs. George L.

Bernazani

Mr. and Mrs. Stephen

Buccheri

Thomas and Joanne Camara

Doris L. Caplan

Joan Challinor

Mr. and Mrs. Merritt C. Clark

Al and Hilary Creighton

Barry and Linda Donohoe

Mr. and Mrs. Paul M. Greeley

Mr. and Mrs. John Kilcoyne

Louis and Ann Lubold

Mr. and Mrs. Andrew F.

Mackey

Donna and Tom McKibbens

Gary and Robin Melton

Mr. and Mrs. Andrew O'Shea

Robert A. Sicard and Nancy

Young-Sicard

Margaret Sparan

Family of Jennifer Stowers

'02 & JSQ Foundation

Richard and Leigh Woznick

Friends

Anonymous (3)

Martina Albright

Mr. and Mrs. Henry Alpers

Mr. and Mrs. Edward A. Arees

Virginia P. Berten

Susan Bigger and Kevin

Belanger

Alan Bilanin

M. Gregory Bohnsack

Peter Buhl

Mr. and Mrs. Peter B.

Campstrom

Ann E. Christmann

Mr. and Mrs. William H.

Christmann

Robert H. Clifton

Patricia Comeau

Mary N. Curtis

Stacey Dogan

Adele Edwards

Walter Einstein

Elizabeth Erdman

Carol Faulb

Arnold W. Galbraith

Dr. Sadie Burton-Goss and

Mr. Donalexander Goss

Eloise Greenfield

Mr. and Mrs. Jeffrey L. Hirsch

Virginia M. Howard

Chobee Hoy

Michael J. Jolliffe

Cyrus Kano

Mr. and Mrs. Warren Keller

Ruth and Ray Kelley

Norva H. Kennard

Susan Kenyon

Amy A. Kershaw and

Adrien C. Finzi

Ted and Beedee Ladd

Lucinda Lagasse

Cynthia and Jack LaMothe

Pamela Long

Ann Longfellow

Barbara Longfellow

William A. Lowell, Esq.

Mr. and Mrs. Thomas H.

Luster

Hugh F. MacColl

Herbert MacKinnon

Dr. and Mrs. Gordon Marshall

Susan A. Morison

Nancy Olins

Lawrence P. Pangaro

Julie A. Payne and Von L.

Payne

Mr. and Mrs. William E. Peed

William Rawn

Norman E. Rice

Irving H. Sachs*

Sau-Fong Siu and Yum-Tong

Siu

Lisa A. Slavin

Robert Sperber

Jon E. Steffensen and

Elizabeth K. Frantz

Mr. and Mrs. Jeffrey S. Stern

Walter Swap

Jean and Murray Swindell

Robert F. Sykes

Mr. and Mrs. Larry Thorndike

Joan I. Thorndike

Seth H. Washburn

Valora Washington

Mr. and Mrs. Edward N. White

J. Michael Williamson

Robert H. Willoughby

Paul Wing

Marjorie H. Wystrach

Alumni

Organizations

The Alumni Association

The Alumni Association

Class of 1955

Class of 1965

39

*Deceased

magazine
---
Leadership Award Dinner

Wheelock College's

2015 Passion for Action

Leadership Award Dinner

"Creating a Braver World with Opportunity for All"

40

Passion for Action Scholar Karen Morales '17

engages the audience with her thoughts on

the Passion for Action Program.

Event Chair Judy Parks Anderson '62 takes

part in the presentation of the Passion

for Action Leadership Award to President

Jackie Jenkins-Scott.

On Nov. 18, Wheelock College

hosted its Passion for Action Leadership

Award Dinner at the John F.

Kennedy Library to support the Passion for

Action Scholarship Program and celebrate the

accomplishments of organizations that are

"inspiring a world of good."

The Passion for Action Scholarship Program

provides financial aid to students who

— prior to college — have already proved

themselves as change agents in their communities,

their nation, and the world. Once a

student is accepted into the Passion for Action

Scholarship Program, he or she not only

receives a four-year, $20,000 scholarship,

but also enters a comprehensive leadership

development program with diverse learning

components, including local, national, and

international service learning; exposure to the

development of policy at the Massachusetts

Statehouse; and collaboration with fellow

Scholars. This cohesive team of students

works to foster positive social change that

will continue long after they have graduated.

Since its inception, and thanks to the support

of a large group of sponsors and donors, 39

students have benefited from the Scholarship.

Kate Taylor, chair of the Wheelock College

Board of Trustees, opened the evening with

an expression of gratitude to all of the donors

who make the Passion for Action Scholarship

Program possible, including lead corporate

donors such as the Hamilton Company

Charitable Foundation, the Jenzabar Foundation,

Tufts Health Plan, Sodexo, and Hirsch

Roberts Weinstein.

Kate then introduced Passion for Action

Scholar Meghan Rubadou '19 to recognize

two Emerging Leaders, promising high school

students with a strong commitment to service.

Each student received a $1,000 college

scholarship to the institution of her choice.

President Jackie Jenkins-Scott spoke

next about the launch of the Passion for Action

Scholarship Program in 2007. "Early in my

presidency," she said, "I was so impressed

with the fervor of our students that I knew we

had to do something to honor them, reward

them, and make their stories known." With

reference to her connection with the students,

she continued: "I have seen each and

every one of the Passion for Action Scholars

walk through our doors as first-year students.

I've watched them grow, and I have seen

them ready to leave Wheelock and take on

the world as wise, caring, and well-prepared

young adults."

Passion for Action Scholar Karen Morales

'17 spoke next about her experiences in the

Program. "To me, the best thing about the

Program is that it is not just a scholarship; it is

a pathway to learning and personal growth."

Karen has traveled to both New Orleans and

West Africa as a Passion for Action Scholar,

opening her eyes to the world and to ways to

make a difference.

Following dinner, Passion for Action

Scholar Carmen Piedad '16 and Jackie

Jenkins-Scott introduced the 2015 Passion for

Action Leadership Award Recipients. The first

WINTER 2016
---
(L–R) Passion for Action Scholar Zachary Kerr '17 accepts the Passion for Action Leadership Award on behalf of Born This Way Foundation. Passion for Action

Leadership Award honorees Jessica Posner and Kennedy Odede sign copies of their new book, Find Me Unafraid: Love, Loss, and Hope in an African Slum. Kennedy

Odede and Jessica Posner accept the Passion for Action Leadership Award on behalf of their organization, Shining Hope for Communities.

honoree was Born This Way Foundation,

started by Lady Gaga and her mother, Cynthia

Germanotta. Born This Way Foundation

is committed to supporting the wellness of

young people and empowering them to create

a kinder and braver world. The Foundation

offers many resources to youth, such

as the Bravest Map Ever, created to provide

young people with a safe and accessible tool

to identify local mental health services and

other resources. The Map has more than

2,500 submissions from youth and organizations.

The Born Brave Bus Tour, a mobile

"tailgate" experience, connects youth to the

resources and opportunities they need to

help themselves and others.

Passion for Action Scholar Zachary Kerr

'17, a member of Born This Way Foundation's

Youth Advisory Board, accepted the

award on behalf of the Foundation. Cynthia

Germanotta sent a video message in which

she thanked both Wheelock College for the

award and Zach for his commitment to the

organization. Zach discovered Born This

Way when, as a young transgender person, he

sought venues to support other transgender

youth. Actively engaged with the Foundation

as a Youth Advisory Board member, he remarked

that the Foundation is committed to

creating safer schools and communities for

all young people. Zach also said, "Born This

Way is committed to learning from, educating,

and empowering all young people, thus

getting at the root cause of so many issues

that plague youth today."

The second honoree was Shining Hope

for Communities (SHOFCO), founded and

led by Kennedy Odede (who was named

for John F. Kennedy) and his wife, Jessica

Posner. Kennedy was living in Kibera, one of

the largest slums in Kenya, when he started

SHOFCO to empower and give hope to his

community. SHOFCO began with one soccer

ball and grew to include a school for girls,

micro-lending programs, health care, clean

water, sanitation programs, and other educational/recreational

programs.

Kennedy and Jessica have published a

book about their experiences called Find Me

Unafraid: Love, Loss, and Hope in an African

Slum. Each guest was invited to take a copy of

the book at the end of the evening.

Judith Parks Anderson '62, the chair

of the event, concluded the evening with a

surprise presentation of a special Passion

for Action Leadership Award to President

Jenkins-Scott, as she will be stepping down

as President in June. Three Passion for Action

alumni spoke about the impact that Jackie,

who launched the Passion for Action program,

had on them. It was a very moving way to end

the evening and spoke to the legacy Jackie

Jenkins-Scott will leave at Wheelock College.

President Jackie Jenkins-Scott celebrates her surprise Passion for Action Leadership Award with faculty

member Dr. William "Bill" Thompson and Passion for Action Scholars and Alumni.

41

magazine
---
WHEELOCK COLLEGE • ANNUAL REPORT OF GIVING 2014-2015

Passion for Action

Below are all donors who supported the Passion

for Action Scholarship Program from July 1, 2014,

through June 30, 2015.

42

Anonymous (1)

Accounting Management

Solutions

Albert Risk Management

Consultants

Martina Albright

Judith Parks Anderson '62

and Robert Anderson

Ansara Family Fund at the

Boston Foundation

Karen Musser Aveson '78

and Steven Aveson '78

Regina Bachini '76

Lisa McCabe Biagetti '80

and Peter Biagetti

Grace Macomber Bird

Blaisdell Insurance

Boston Color Graphics

The Boston Foundation

Bright Horizons Family

Solutions

Joyce Pettoruto Butler '73

Alberto B. Calvo

Canon Business Process

Services

Barbara Sahagian Carlson '59

CBIZ Tofias

Julia Challinor '75

Keena Dunn Clifford '68

and Christopher Clifford

Robert H. Clifton

Community Development

Corporation of Boston

Susan O'Halloran

Constable '82

Patricia S. Cook, Ph.D. '69

Tina Feldman Crosby '67 and

Harvey Crosby

CSL Consulting, LLC

Curvey Family Foundation

Linda Davis

Paula Davison '74

Stacey Dogan

Barbara Tarr Drauschke '72

Kelly McLoud Duda '04

Sally Reeves Edmonds '55

Enoch C. Shaw Co., Inc.

Elizabeth Erdman

Barbara Elliott Fargo '52

Fidelity Investments

Charitable Gift Fund

Graceann and Fred Foulkes

Ediss Gandelman

Goldman Sachs Philanthropy

Fund

Eloise Greenfield

The Hamilton Company

Charitable Foundation

Tina Morris Helm '64/'98MS

and William Helm

Deborah and Jeffrey Hirsch

Hirsch Roberts Weinstein LLP

Chobee Hoy

Jackie Jenkins-Scott and

Jim Scott

The Jenzabar Foundation

Cyrus Kano

Ruth and Ray Kelley

Tom and Roberta Kelly

Norva H. Kennard

Amy A. Kershaw and Adrien

C. Finzi

Matthew J. Kiefer

Judy and John Knutson

Beedee and Ted Ladd

Lucinda Lagasse

Cynthia and Jack LaMothe

Alden Landry

Lee Kennedy Co., Inc.

Elizabeth Wheeler

L'Hommedieu '54 and

Paige L'Hommedieu

Carol and Bob Lincoln

Amy and Thomas Luster

The M&T Charitable

Foundation

Kathryn de Sano

Mahoney '68

Lauren A. Marquis '11MS

Anne Marie and Allan

Martorana

Mary McCormack '89

Catherine Wells Milton '69

and Christopher Milton

Lois Barnett Mirsky '54

Mila Moschella '75

Robin Mount and Mark

Szpak

Karen Mutch-Jones '82

and Daniel Jones

Julia and Mark Casady

and the One Step Forward

Education Foundation

Joanna Sharkey Oshman '98

Heather E. Peach '96MS

Philip W. Johnston Associates

The Plymouth Rock

Foundation

Paul Reville

Jane Hertig Roberts '73

and Mark Roberts '76MS

Doryl Lloyd Rourke '67

Barbara Grogins Sallick '61

Santander Universities

Lori Ann Saslav

Schwab Charitable Fund

Elizabeth R. Segers

Susan Bruml Simon '73

and Peter Simon

Kathy L. Simons '79MS

Sau-Fong Siu and Yum-

Tong Siu

Renae Ross Starker '71

Mr. and Mrs. Jeffrey S. Stern

Family of Jennifer Stowers

'02 & JSQ Foundation

Karen S. Sturges '87MS

Charlotte Lowell Stynes

'69/'91MS

Jean and Murray Swindell

Robert F. Sykes

Kate and Ben Taylor

Daniel S. Terris

TG Gallagher

Anne and Larry Thorndike

Valerie Thornhill-Hudson

Lisa and Rex Thors

Mary Beth Tobin '78MS

Tufts Health Plan

University Health Plans

USI Insurance Services, LLC

Amaryllis Morris Volk '55

Helen Small Weishaar '45

Barbara and Scott

Wennerholm

Wheelock College Alumni

Association

Wilkins Investment

Counsel, Inc.

William Rawn Associates

Architects, Inc.

Robert H. Willoughby

WINTER 2016
---
WHEELOCK COLLEGE • ANNUAL REPORT OF GIVING 2014-2015

Wheelock Family Theatre Donors

Institutional

Supporters

Actors' Equity Foundation

John W. Alden Trust

Bank of America Charitable

Foundation

Boston Center for Blind

Children

Boston Cultural Council

Boston Parents Paper

Cabot Family Charitable

Foundation

CSL Consulting

EdVestors

Fuller Foundation

The Japan Foundation,

New York

Liberty Mutual Foundation

Massachusetts Cultural Council

The Parthenon Group

Peabody Foundation

Peninsula Charities

Foundation II

Clinton H. and Wilma T.

Shattuck Charitable Trust

Wheelock College

Yawkey Foundation

Individual Donors

to the Annual Fund

Sella and Varujan Abalian

Eva Adler

Amy Almeida

Beth Alpern and Walter Kuhn

Fran Anthes and Charlie

Washburn

Atlantic Philanthropies

Director/Employee

Designated Gift Fund

Liz and Jim Ayer

June Baboian

Janet Bailey

Susanna Baird

Brian Balduzzi

Charles G. Baldwin

Sherill Baldwin and

Kimball Cartwright, Jr.

Ann Barlow

Joanne Bartlett

Mary Battenfeld and Bill

Perkins

John Bay

Una Belau

Eileen Benham

Mindy Berman and Dan

Solomon

Teresa Betit and Haley Medea

Neeti Bhalla

Coryn Bina

Iullia Binder

Michelle and George Blaisdell

Nancy and Jacob Bloom

Shelley Bolman

Danny Bolton

Dr. Liliana Bordeianou and

Eric B. Hermanson

Debra Borkovitz

Jessica Boyle

The Brakeman Family

Amy Branger and Andrew

Klein

Alice C. Bray

Susan M. Breed

Sarah Buermann

Carola Cadley

Kate Caffrey

Leann Canty

Nikkola Carmichael

Deborah Carroll

Gregory Caunt

Barbara Cevallos

Carole Charnow

Lucy Chie

Eleanor Chin

Linda Chin

Marla Choslovsky and Paul

Greenberg

Susan Chrystal

Jeff Coburn

Courtney Cole

Patricia S. Cook, Ph.D. '69

Sue Costello and Jeff Keffer

Cheryl and David Cotney

Jillian Couillard

Zu and Chris Cowperthwaite

Deborah Cooper Crane

Raquel Crespo

Tina and Harvey Crosby

Andrea Crowe

Heidi Gentleman Cullen

Susan Curtin

Mark D'Andrea

Mindy d'Arbeloff

Daughters Fund, a Donor

Advised Fund of Combined

Jewish Philanthropies, at the

recommendation of Sharon L.

Rich and Nancy E. Reed

John Davin

Sarah and Richard deLima

Mr. and Mrs. John DeMarco, in

honor of Audree Hedequist

Dean K. Denniston, Jr.

Stephen Dill

Sandra and William Discepolo

Andrea E. Doane

Lauren and George Doherty

Edward Dube

Masha Dubov

Dr. Bunny S. Duhl

Nycholle Eckert

Natalie Eldridge and Libba

Ingram

Kay Arden Elliott

Bess Emanuel and John

Vyhnanek

Raymond Fahrner

Priscilla Fales

Barbara Elliott Fargo

Isabel Fernandes

Elizabeth Ferry

Mike Fesko

Deirdre Conrad Frank '65

Ellie Friedland

Eileen and John Gallagher

Diana Gamet

Janet Gannon

Lindsay Garofalo

Andrea Genser

Christie Lee Gibson

Betsy and Ed Giles

Susan Gochenour and

Steven Rosen

Arezou and Ali Goli

Benjamin Goodman

Deborah Goodman

Leslie E. and Charles B. Gordon

Rochelle Gordon

Harriet Gould

Scott Greb

Drs. Shelly Greenfield and

Allan Brandt

Donna Griffith

Elisabeth Grills

Nora Grodzins

Carlos I. Gutierrez

Rebecca Haag

Howard Hall

Marjorie Hall

The Hanenberger Family

Robin Hanley

Taylor Hansen

Maegan Harden

Linda Marvin Hastie '62

Paul Hastings

Evelyn Bullitt Hausslein

Marcia Head

The Hedequist Family, in

honor of Audree

Susan Hehir

Tina Helm

Robert Henson

Tammy Bishop Heredia

and Francisco Heredia

Sheryl Hirsch

Emily Wright Holt

Ann-Penn Holton

Dr. and Mrs. Cyrus Hopkins

Elizabeth Hoskins '56

Anne and Jim Howard

Bill Hutchinson

Hannah Intille

Savanna Jabro

Denise Jacobson and Scott

Greenbaum

William Joyner

Ruth Celia Kahn

Karen Kames

Louis Kampf and Jean Jackson

Kathryn Karlsson

Helen Kass

Debby Keefe

Shawnna Kelly

Steven M. Key, Esq.

Kerry Anne Kilkelly

Susan Kosoff

Stephen Kraffmiller

Gloria Williams Ladd '65

Alexander Laferriere

Stephen LaMonica

Mary Landrigan

Jonathan LaPierre

Len and Alice Lazure

Matthew T. Lazure

Stacey and David Lee

Janet Lehman

Wendy Lement

Diane Levin

Sara and Dorothy Levine

Olga Litvak

Linda Long-Bellil

Sally and Christopher Lutz

Marietta Lynch

Sandra and David Lyons

Blair MacInnes

June and Andrew Mackey

Ali Maglieri

Meaghan Mahoney

Melissa Mahoney

Valerie Maio

Ulla C. Malkus

Cathie Marqusee*

Dr. and Mrs. Gordon Marshall

Kortney Adams Martin

Carla Martinez

Linda Maslin and Daniel

Moshief

Dale McCarthy

Kimberly McCaslin

Mary McCormack

Angelo McDonough

Mary Jane and Donald McInnis

Cheryl McMahon

Carol and David Mersky

Whitney Meyer

Richard S. Milstein, Esq.

Patrick Mitchell

Ilyse Robbins Mohr and

Glen Mohr

Mary Morgan

Laura Morrison and Richard Pels

Mila J. Moschella '75

Robin Mount

Siobhan Murphy

Grace Napier and William

Monnen

Greg Nash

Antonia and Joseph Nedder

Adrianna Neefus

Anne H. and John W. Newton

Tara Odonnell

Mina Okochi

Diane Oktay

Lisa and John Paolino

Laura Parkin

Elaine and Joe Paster

Mary ElizaBeth Peters

Gamalia Pharms

Alfreda Piecuch

Dustin Pina and John

Zimmerman

Phyllis Procter

John M. Reilly

Paul Rivenberg

Liz and Fred Robbins

Marta and Tito Rosa

Beran Rose

Patricia Rosenblatt

Judi Rosensweig

Marcia and Greg Rutledge

Pauline and Terry Ryan

Susan Ryan

Jenna Sage

David Salant

Page Poinier Sanders '65

Ron Sanders

Brooke and Neal Sandford

Lori Ann Saslav

Ginger and Bob Sauer

Lisa and Roy Schifilliti

Ana Schultz

Betty and Herman Scott

The Sewell Family

Robert, Charlotte, and

Martha Sewell

Alane K. Shanks

Alli Sheehan

Desiree Weems Sheppard

Lisa Slavin

Dianne Sleek

Julia Smith

Ruthann Sneider

Darla Soukas

Stephanie Spector

Linda Lopez Spencer

43

*Deceased

magazine
---
WHEELOCK COLLEGE • ANNUAL REPORT OF GIVING 2014-2015

Devorah S. Sperling

Mr. and Mrs. George R. Sprague

Jane Staab

Bonnie St. Germain

Jean Stewart

Jessica Walling Stokes

Martha E. Stone

Hope Haslam Straughan

Alan Strauss

Janet and Morty Tarr

Susan and William Thompson

Joan I. Thorndike

Mary Beth Tobin

The Tomasulo Family

Thu-Hang Tran and Mark S. Day

Karen Turley

Judy Ulman

Donna S. Viola

Dana Volman

Laura R. Walter

Lee Warren

Joan Watts

Gillian Webster

Susan B. Weir

Susan Werbe

Jerry Wheelock and Elizabeth

Wood

Claire White

Lee and Steve Whitfield

Cynthia Winston

Drs. Katharine and

Marshall Wolf

James Wood

Karen Worth

Richard Wright

Charlotte Yarbrough

Sarah Yezzi

Kellie Young

The Youngen Family

The Zaff Family

In Honor of

44

Brooke N. Anderson '15MSW

Margaret Benisch Anderson '53

Julia Challinor '75

Joan Challinor

Tina Feldman Crosby '67

Mr. and Mrs. Jeffrey S. Stern

Hope S. and Philip Dean

Hope Dean '69

Alyssa Greeley '91

Mr. and Mrs. Paul M. Greeley

Stephany Melton Hardison '03

Gary and Robin Melton

Tina Morris Helm '64/'98MS

Susan A. Morison

Elizabeth Grimm Hoskins '56

Virginia P. Berten

Jackie Jenkins-Scott

Dorothy Dorfman Goldstick '56

Betsy Forssell Hestnes '59

Ruthann Sneider '91MS

Adya M. Lindo '15MSW

Mary Moor French '66

Audrey Liberman Matson '75

Helen Hymerling Liberatore '75

Robert Meredith

Joan Halloran Corning '53

Vicki Caplan Milstein '72

Doris L. Caplan

Gertrude Van Iderstine Phillips '43-'44

Patricia Phillips Fraser '66

Dr. Stefi Rubin

Jazarae Kirchdorfer McCormick '06MS

Karen S. Sturges '87MS

Jon E. Steffensen and Elizabeth

K. Frantz

Wheelock College

Lori Ann Saslav

Rosemary James Wolpe '81

Cynthia Brookings Bachman '81

Edith "Anne" Runk Wright '50

Lori Ann Saslav

WINTER 2016
---
WHEELOCK COLLEGE • ANNUAL REPORT OF GIVING 2014-2015

In Memory of

Richard Abrams

Susan Kenyon

Ginger Mercer Bates '54

Suzanne Moon Dykhuizen '70

Julia A. Payne and Von L. Payne

Joan Bergstrom

Ellen C. Foley '80

Kathleen Carbonell Sullivan '82MS

Jennifer Wystrach Bohnsack '73

M. Gregory Bohnsack

Marjorie H. Wystrach

Adolph E. Brotman

Karyn Brotman '74

Diane Schmelter Buhl '63

Peter Buhl

Maureen Denney Carlson '55/'58MS

Catherine Wakefield '55

James Christmann

Mr. and Mrs. Edward A. Arees

Ann E. Christmann

Mr. and Mrs. William H. Christmann

Gertrude and Harold J. Clark

Virginia Clark '72MS

Maureen Murphy Coakley '58

Janet Gall Leonard '48

Nancy Collins '68

Marjorie Moss Shekarchi '68/'75MS

Marie T. Cotter

Judith A. Ceven

Katherine Wendell Creighton '92

Al and Hilary Creighton

Creighton Narada Foundation

Patricia Stewart Curtis '42

Mary N. Curtis

Shirley Meier Vautin '71

Joeritta de Almeida

Luisa Bilotta '08

Kevin J. Kareckas '12

Emma de Sano

Kathryn de Sano Mahoney '68

Carolyn Livingston Epes '50

Mary Gall Horsley '50

Edith Runk Wright '50

Anne Wallstrom Freitas '65

Edwina Burke Marcus '65

Nancy Floyd Gaden '55

Hildegard Fleck Hix '55

Lois Anne Gilbert Galbraith '49

Arnold W. Galbraith

Virginia Gordon Hagan '59

Sandra Hall Haffler '59

Thelma Hanifl

Jacqueline Hanifl Carnevali '70

John Hansen

Anne DeLamater Hansen '52

Sarah Ferguson Hock

Alexis Foster Reed '81

Cynthia Lockett Hooks '69

Margaret Merrill Loutrel '68

Madeline Wise Levin

Susan Wise Miller '63

Susan Van Aken Lippoth '59

Helen Doughty Lester '59

Frances Litman

Linda Burns Jones '95MS

Persis Luke Loveys '54

Elsa Weyer Williams '54

Winifred Huber Low '55

Joleen Glidden Ham '55

Barbara Burrows MacKinnon '52

Herbert MacKinnon

Nancy Williams Mohn '51

Peter Mangels

Marion Turnbull Mangels '59

Sally Larsen McAlpine '53

Winifred Magee Williams '53

Richard Moodie

Lindsay Gallagher '03/'04MS

Walter A. Moor

Mary Moor French '66

Eliza Oliver '92

Jane Wolcott Ready '66

Beverly Robbins Page '63

Carolyn Allen Seaton '63

Edith Goddard Pangaro '47

Lawrence P. Pangaro

Sandra Gewinner Perry '64

Rachel Ripley Roach '64

Jane Munroe Rice '50

Norman E. Rice

Hale Sturges II

Ediss Gandelman

Jeri Traub

Walter Einstein

Roberta Loveland Vest '62

Lorna Ramsden McCollum '62

Janet Higginbotham Washburn '42-'43

Seth H. Washburn

Frances O. Williamson

J. Michael Williamson

Elaine Macmann Willoughby '49

Robert H. Willoughby

Priscilla Plant Wing '62

Judy Sherman Nevins '62

Paul Wing

Corporations

Anonymous (1)

31 Lincoln Street Realty Trust

Aetna Foundation, Inc.

Albert Risk Management Consultants

Boston Color Graphics

Bright Horizons Family Solutions

Canon Business Process Services, Inc.

CBIZ Tofias

Charles Schwab Foundation

Chevron Matching Employee Funds

Community Development Corporation

of Boston

CSL Consulting, LLC

Delta Dental

Denise Macey Design, LLC

Enoch C. Shaw Co., Inc.

Goldman Sachs Philanthropy Fund

The Hamilton Company Charitable

Foundation

Hirsch Roberts Weinstein LLP

IBM Corporation

The Jenzabar Foundation

Kady Landscape, Inc.

Lee Kennedy Co., Inc.

The Pfizer Foundation Matching

Gifts Program

The Plymouth Rock Foundation

The Procter & Gamble Fund

Purple Ink Insurance Agency, Inc.

Santander Universities

Schwab Charitable Fund

Subaru of America Foundation, Inc.

Susquehanna International Group, LLP

TG Gallagher

Trauma Recovery Associates

Tufts Health Plan

University Health Plans

USI Insurance Services, LLC

Wilkins Investment Counsel, Inc.

William Rawn Associates Architects, Inc.

Foundations

Thomas & Joann Adler Family

Foundation

The James E. & Constance L. Bell

Foundation

Bilanin Family Foundation

The Boston Foundation

Bromley Family Fund of the Princeton

Area Community Foundation

Cabot Family Charitable Trust

The Clifford Family Foundation

Clover Clark Memorial Trust Fund

Olin J. Cochran Trust

Creighton Narada Foundation

Curvey Family Foundation

Fidelity Investments Charitable

Gift Fund

Foundation for Jewish Philanthropies

Perpetual Trust Graves Charitable Fund

The Helena Foundation

The Hottle Family Foundation

Janower Family Private Foundation

Organization

Kenwood Foundation

B.B. Lederer Sons Foundation

Agnes M. Lindsay Trust

Lutheran Community Foundation:

The Hope Esparolini Fund

The M&T Charitable Foundation

Meek Foundation

The Nichols Trust

One Step Forward Education

Foundation

William E. Schrafft and Bertha E.

Schrafft Charitable Trust

Silicon Valley Community Foundation

Sondik Foundation

The Geneviève McMillan-Reba Stewart

Foundation

Ben and Kate Taylor Foundation

Vanguard Charitable Endowment

Program

Webster Family Foundation

The Frances and Michael Williamson

Family Charitable Fund

The Winston-Salem Foundation

The Hans & Elizabeth Wolf Foundation

Zurs Foundation

Organizations

Delta Sigma Theta Sorority, Inc.

JustGive

TRUiST

United Way of Rhode Island

Gifts in Kind

Barbara Curtis Baker '65

Juliana Forsythe Bussiere '45

Sandra Hopkins Clausen '60/'85MS

Chris and Keena Dunn Clifford '68

Barbara Tarr Drauschke '72

Ann Gray

Elizabeth Grimm Hoskins '56

Robert and Carol Lincoln

Terry Lipinski

Beverly Tarr Mattatall '72

Mark E. Roberts '76MS and Jane Hertig

Roberts '73

Ruth Angier Salinger '53

Margaret Weinheimer Sherwin '58

Linda Willey

Betsy Reed Wilson '55/'82MS

45

magazine
---
WHEELOCK COLLEGE • ANNUAL REPORT OF GIVING 2014-2015

Heritage Society

The Heritage Society recognizes individuals who have included Wheelock College in their estate or trust plans. The College

gratefully acknowledges the following individuals for leaving a special legacy that will perpetuate our mission to improve the

lives of children and families.

46

Current Members

Anonymous (8)

Anonymous Lead Trust (1)

Lois Abbott

Judy McMurray Achre '58

Ruth Flink Ades '53

Virginia Pratt Agar '64

Nancy Wilson Ainslie '44

Judith Parks Anderson '62

Margaret Benisch Anderson '53

Barbara Mead Anthony '60MS

Christine Hollands Ashton '33

Margaret Boethelt Barratt '52

Deborah Devaney Barton '70

Joan Chiappetta Benson '69

Lorian Brown '68MS

Susan Kilbourn Burkhard '69

Mary Turnbull Burnight '66

Louise Butts '51/'55MS

Carol Sinnamon Carpenter '70

Sarah Carter '66

Mary Lou Center '56

Melanie Waszkiewicz

Chadwick '68

Daniel S. Cheever Jr.

Louise Close '77

Mary H. Corcoran

Harriet Spring Critchlow '44

Lora Erhard Crouss '37

Sarah Beebe Davis '64

Elizabeth Townsend Dearstyne

'62 and William Dearstyne

Nancy Wicke Demarest '66

Jeannette Milligan Doane '42

Robert L. Duven

Sylvia Tailby Earl '54 and

James Earl

Evelyn Jenney Eaton '56

Barbara Tutschek Ells '60

and Robert H. Ells

Hope Binner Esparolini '66

Barbara Elliott Fargo '52

Marianne Mandato Foley '78MS

Arnold W. Galbraith

Katrina Buckelmueller Gale '57

Natalie Smith Garland '53

Elizabeth Dewey Giles '53

and Edwin Giles

Alyssa Greeley '91

Patricia Conzelman Greeley

'52/'90MS and

Sidney Greeley Jr.

Mr. and Mrs. Paul M. Greeley

Mary Bloomer Gulick '57 and

Bob Gulick

Jessie Hennion Gwisdala '63

Cynthia Hallowell '58

Janet Marshall Haring '64

Mary Barbour Hatvany '72

Anne Mulholland Heger '49

Priscilla Chase Heindel '47

Tina Morris Helm '64/'98MS

and Bill Helm

Emily R. Hewitt

Kate Young Hewitt '65 and

John Hewitt

Elizabeth Berry Horner '47

Elizabeth Grimm Hoskins '56

and William Hoskins

Jane Hanna Houck '57

Anne Wingle Howard '57

Christina Cox Howard '05

Robert C. Howe

Edith Hall Huck '48

Jeanette McIntosh Ingersoll

'67MS

Priscilla Jeffery '71

Josepha Loskill Jenks '53

Maria Lind Johnson '68

Carol White Jones '75

Cyrus Kano

Lyn Peck Kenyon '45/'69BS

Mildred Griffith Kohler '36

Robin A. Kren '83MS

Gloria Williams Ladd '65

Ted and Beedee Ladd

Laura Lehrman '58

Lauren Loeb Lerner '70

Susan Cahn Levine '67

Elizabeth Wheeler

L'Hommedieu '54

Robert A. Lincoln

Donald M. Lippoth

Sonia Loizeaux '57

Pamela Long

Elizabeth Henderson Lufkin '69

Louise Baldridge Lytle '55

Meredith Huxtable MacNeill

'91MS

Ann MacVicar '65

Kathryn de Sano Mahoney '68

Marion Turnbull Mangels '59

Trisha Henderson Margeson '65

and Kenneth Margeson

Dr. and Mrs. Gordon Marshall

Carolyn Humphrey Miller '64

Deanne Williams Morse '60

Katharine Crosby Nasser '48

Anne Hallowell Newton '66

and John Newton

Frances Nichols '63

Mary Nisula '70

Mary Runyon Obaidy '59

Lynn Odell '66

Penny Power Odiorne '54

Phoebe O'Mara '66

Maryann Mylott O'Rourke

'60/'98MS

Patricia Knowlton Paine-

Dougherty '50

Ruth Bailey Papazian '56

Elizabeth Buckstaff

Paterson '56

Pamela Paul '75MS

Jean Ingalls Perkins '52

Ruth Perry '66

Elizabeth Gerow Peterson '53

Priscilla Harper Porter '64

Thekla Polley Putnam '53

Adelaide Duffy Queeney

'88MS

Marylin Quint-Rose '48

Jeanne Girard Quinzani '48

Nancy Garnaus Rice '50

Mark E. Roberts '76MS and

Jane Hertig Roberts '73

Judith Haskell Rosenberg '55

Stanley Rumbaugh

Sarah Lippincott Sakols '55

Ruth Angier Salinger '53

Barbara Grogins Sallick '61

Valessia Samaras '83

Page Poinier Sanders '65

Katharine duPont Sanger '66

Carlile Lowery Schneider

'78/'79MS

Susan Waters Shaeffer '56

Margaret Weinheimer

Sherwin '58

Barbara Silverstein '56

Sally Clark Sloop '68

Ruthann Sneider '91MS

Phyllis Cokin Sonnenschein

'65/'75MS

Ann Emerson Spaulding '53

Renae Ross Starker '71

Martha Stearns '72MS

Robert F. Sykes

Sylvia Buffinton Tompkins '55

Grace Viard Ward '51 and

Lawrence Ward

Joan Anderson Watts

'65/'83MS

Joann Bridgman Webster '48

Edith Nowers White '50

Daphne Hastings Wilcox '65

Carole Hayes Williams '66

Winifred Magee Williams '53

Annette Stevens Wilton '56

Paul Wing

Deceased Members

Anonymous (2)

Elizabeth Coleman Abbott '24

Frank C. Abbott

Stephen H. Anthony

Beth Atwood '57

Ann Bacall

Francis F. Bartlett

Ginger Mercer Bates '54

Joanne Bobrink Bennett '49

Charlotte Braverman

Blonder '63MS

Lois Burns

Evelyn Burr Caldwell '24

Maureen Murphy Coakley '58

Katharine Hosmer Connor '33

Wilhelmina Scheuer

Cottone '36

Rebecca Berry Cramer '36

Lois Hardy Daloz '32

Elizabeth Brayton Dawson '51

Jean Rogers Duval '50

Betty C. Fuchs

Lois Anne Gilbert Galbraith '49

David Garland

Dorothy Mercer Gilbert '24

Beverly Simon Green '50

George A. Hall

Helen Coots Hall '32

Carole Harris

Eva Neumann Hartman '67

Jeanne Wilson Hatch '59

Colby Hewitt Jr.

Muriel T. Hirt

Holly Horton '76MS

Rodney Huck

David S. Johnson

Stella Barnes Johnson '55

Christine Jones '71

Frances Tedesco Lathrop '54

Virginia Lincoln

Persis Luke Loveys '54

Margaret Ryan MacIntyre '38

Olivia Hutchins Meek '52

Nancy Merryman Mattox '46

Margaret Merry

Carol Moore '48

Jean A. Osmond '34

Carol Drew Penfield '52

Sandra Gewinner Perry '64

Elizabeth Pursel

Constance Putnam

Mary Barnhardt Ridenhour '40

Marcia Rumbaugh

Marion Hoffman Sachs '45

and Irving H. Sachs

Dorothy Hutchens Seelow '50

Diana Holland Shafroth '50

Priscilla Janeway Sherwood

'51/'89MS

Inez Gianfranchi Snowdon '40

Catherine Hargrave Sykes '50

Marguerite Vaughan '32

Joan Bradish Waters '48

Dorothy Weiss '56

Joan Wiggin '51

Marjorie Ferris Wilcock '37

Winifred Little Williams '41

Priscilla Plant Wing '62

Charles Wintermeyer and

Nancy Jane Carroll

Wintermeyer '45

Faith Butterfield Wyer '40

and Harold Wyer

WINTER 2016
---
ARE

YOU

TOUGH

ENOUGH

TO

INSPIRE

A WORLD

OF GOOD?

In a world of injustice, nothing ever changes – until someone is tough enough to

challenge the existing order. Most people find it's easier to look the other way. But

there are always a few bold souls who simply can't. They're the ones who stand up,

speak out, sit in, and generally refuse to shut up. Are you one of them?
---
1934

Jane Martin McMackin '66 writes of a visit

she had last summer with her aunt Corinne

Martin Bryan, age 102, at Corinne's lovely

Waterbury Center, VT, home – "with beautiful

views of the valley and mountains all

around." Jane brought along her daughter

Michelle and her three children (ages 12, 10,

and 8) and says the children were fascinated

to meet their great-great-aunt.

Jane Martin McMackin '66 and her aunt

Corinne Martin Bryan '34, age 102, during a

four-generation visit at Corinne's home in

Vermont last summer

1941

Lucy Parton Miller

REUNION 2016

JUNE 3-5, 2016

1942-'43

"Everything in my life is OLD," writes Jean

Mealey Slavin, "but I am happy to be able

to report that I am doing OK (with lots of

help), living in my own house, and enjoying

life every day!" Jean says she has a lot to be

thankful for – especially three happy, successful

granddaughters who give her plenty

to brag about! The oldest, on the faculty of

Emory University, is working on a Ph.D. in

literature and is planning her wedding for

October 2016 in Atlanta. Another has a master's

in special education, has taught English

to Arabic junior high students, and will teach

in Jordan for a year on a Fulbright award.

The third and youngest earned a degree in

engineering at Georgia Tech and loves her position

at John Deere & Co. in "the Quad cities"

(northwest Illinois and southeastern Iowa)

– only one hour from Jean, which makes her

"delirious." Jean adds, "I give credit to Wheelock

for helping me help their parents to raise

such wonderful girls!"

Congratulations to Helen "Stevie" Roberts

Thomas, who recently traveled to Dover, DE,

to be honored by legislators there and see

her name on the Delaware Women's Hall of

Fame plaque. She sends "Greetings to all our

classmates!" and says life after finishing her

book has been calm but full and good. She

has been at her small and friendly assistedliving

facility in Wilmington for so long that

it feels like home to her. Still practicing tai

chi to "keep bod and joints moving," Stevie

loves being in the city and taking advantage

of the many events offered there. She doesn't

travel far anymore but does take day trips.

Her three children (in Delaware, Missouri, and

New Mexico) visit her when they can.

1943-'44

Jean Sullivan Riley

Claire Mead Hyde '47's son Dana contacted

the Alumni Relations Office last summer to

let us know about the passing of Nancy Powell

White of Gloversville, NY, last July at age

93. Dana said that Nancy had been the oldest

living member of their church.

1946

REUNION 2016

JUNE 3-5, 2016

Martha Allen Farwell and husband Bob

have been living at a retirement home in

Hudson, OH, for about six years and enjoy

life there. Daughter Sally lives nearby, so they

see her frequently; daughter Nancy visits

from Seattle several times a year. "My health

has restricted my lifestyle, like some in our

over-90 group!" writes Martha. "I wish all my

friends the very best."

1947

The College was happy to get an update about

Claire Mead Hyde of Gloversville, NY, from her

son Dana last summer. Claire was about to

turn 90 and was doing reasonably well.

1951

Louise Butts

REUNION 2016

JUNE 3-5, 2016

Yes, friends, as you are reading this, it is

2016 – the year we are celebrating our

Class Notes

65th Reunion in June! There will be more

information forthcoming regarding plans,

reservations, etc. In the meantime, here are

the notes I (Louise) received following my

request for such last summer.

Beverly Boardman Brekke-Bailey celebrated

her 86th July birthday with family:

three daughters, 11 grandchildren, and three

great-grandchildren. In August she went on

a nature adventure trip to Newfoundland,

Canada. Her priority on wellness includes

healthy choices and water exercises a least

five times a week. Bev continues to learn and

create in silversmithing classes and sells her

jewelry in galleries and at art fairs. She finds

life fulfilling. Her website is www.prairie

fusedglassjewelry.com. Georgianna Hale

Dana is also a great-grandmother. One-yearold

Ryan, who is a "pistol," is daughter Amy's

grandson, and she's completely smitten. Her

twin, Sue, is chasing her 6-year-old twins

around the block every time Georgie hears

from her. Her relatives span a great number

of years, starting with her oldest son, Benson,

who was 60 last July. Amy's other son was

married in August, having just completed

submarine training with the Navy in Saratoga,

NY. Georgie said she is still "plugging,

or rather slugging" her way around the golf

course due to her addiction to this game! She

doesn't get a whole lot better but sure does

have fun trying!

Mary Fran "Robbie" Rothwell Wattles had

a wonderful time at last summer's Wheelock

Cape Cod picnic: "It was so interesting hearing

from everyone how Wheelock has influenced

our lives. It was also a treat to have our president

of Wheelock attend and to hear about

the changes since Sue [Post Day] and I were

there. My love for art started at Wheelock."

Robbie now enjoys lots of theater, music, and

art. Since living on Cape Cod, she has exhibited

her artwork (watercolors and oils).

I (Louise) was happy to hear that Judy

Handley Garvey is looking forward to our

65th in the spring. She certainly hopes to

attend. She reports to be in good health and

stays busy.

Thanks to the old-fashioned telephone, I

49

magazine
---
Class Notes

50

talked to Nancy Williams Mohn, Pat Gindele

Guild, and Connie Brennan Ryan several

months ago. As with each of us, we keep

going, meeting the daily challenges of the

aging process; we keep busy with volunteer

activities; some of us travel; and we enjoy

multiple-generational gatherings! Pat sang

the praises of our Alumni Office staff who

answered her questions about current Wheelock

curricula in a most helpful, professional

way. Both Judy and Georgie expressed the

fact that our ranks are slipping, our numbers

are dropping. That's all the more reason to try

to attend the Reunion and stay connected. I

certainly plan to be at Wheelock in June and

am anxious to catch up with one and all as

we share the many aspects of our life's journeys

– especially during Wheelock days!

1952

Martha Brown McGandy

Last July, Joan Fortescue Covici wrote: "I'm 84

this month but still surviving as secretary of

TX-CURE (Citizens United for Rehabilitation

of Errants), a prison reform nonprofit. Pascal

Covici Jr. and I married and moved to Texas

in 1957 to raise our two children. Pascal was

professor of English at SMU, and I eventually

taught in Dallas public schools. After P.C.

Jr. died in 1997, I got heavy into ACLU prison

reform work, and I eventually married a 'lifer'

in 2005. He paroled in 2010 and is my spirited,

brave, bold, courageous, and constant

companion. We travel a lot, and lobby the

Legislature for better conditions and an end

to the death penalty. We serve 156,000 men

and women in the Texas state prison system.

What I learned at Wheelock has served

me well as I work with 10- to 12-year-olds in

grown-up bodies. It is never-ending work, but

useful and never dull."

Congratulations to Bobbi Elliott Fargo,

who was given a very special honor by

Massachusetts Audubon last year. A new

education center at the organization's Broad

Meadow Brook Wildlife Sanctuary in Worcester,

MA, is to be named for Bobbi, a "steadfast

champion of the preserve for nearly a quarter-century,"

according to a July 2015 Telegram

& Gazette story. A former longtime member

of Mass Audubon's state board, Bobbi helped

establish Broad Meadow Brook and has

remained a very faithful friend and benefactor.

She is also a former faculty member at

the Bancroft School in Worcester who has

been active in promoting nature education

in schools in nearby Grafton, and she says

she feels these days it's more important than

ever to "get kids outside in nature, learning

and exploring." The planned 5,000-squarefoot

education center will house summer

nature camp and preschool programs.

Last summer, Pat Conzelman Greeley

'52/'90MS wrote: "I have been very occupied

with my Tony's (Sid's) health issues, which

came to a head this past April, landing him in

the hospital and then a month in transitional

care. At 89, it's slow going, but he's a trooper.

Needless to say, we've stayed close to home

with VNA care and doctor appointments.

An occasional night or two at the Mattapoisett

cottage, with teenage and young adult

grandkids, replenishes our spirits. As I turn 85

at the end of the month, I cherish my Wheelock

friendships and marvel at Wheelock's

outreach and diversity."

"At 85, I may live a bit longer," writes Mary

Major Rubel, who is grateful that she enjoys

good health and that she and her "husband of

61 years of happy marriage" live in an apartment

in a retirement place in Lincoln, MA, not

far from their daughter. She cross-country

skied a lot during the very snowy winter of

2014-2015, still sings (second soprano) in two

very good groups, has two book clubs, plays

bocce in tournaments, hikes on the wonderful

trails of Lincoln, and has season tickets for

Friday afternoon Boston Symphony.

1956

Persis Goodnow Hamilton

REUNION 2016

JUNE 3-5, 2016

I was so pleased to hear from so many of you.

Ann Melrose Blauvelt had a busy summer

last year with family and guests – 15 for the

Fourth of July, with her sons helping with

cooking! She and Pete did a Road Scholar

program in New York, studying the Arts and

Crafts era of homes, pottery, and stained

glass. Their excellent coordinator was Ellen

Luckenbach Moomaw '73. Ann is hoping to

come to Reunion. Peggy McCreery Broadbent

wrote that she and Frank had their 60th wedding

anniversary and are still doing things together

despite various illnesses. Peggy wrote

a book, upon retirement, about programs

she created while teaching first and second

grades. Put her name into Amazon, click, and

find reviews! (Congratulations, Peggy.) Susan

Grearson Fillmore went on a trip to Costa Rica

last July. It included a visit to a local school

which brought back Wheelock memories.

Bill and Bette Grimm Hoskins have moved

to a retirement village in Lincoln, MA, close to

Boston and thus close to Wheelock and their

other activities in Boston. Bette's first teaching

was in Lincoln, so she feels at home. They

still have their home on Martha's Vineyard,

where they get together with their family –

children, grands, and now great-grands – in

the summer and then have Christmas in

Colorado. She is looking forward to Reunion to

catch up with classmates and see the changes

at Wheelock. Ruth Bailey Papazian writes

from Washington Crossing, PA, about many

trips. They went to Southern California to visit

granddaughters, took a trip to Toronto, went

to Italy in the fall of 2014, and were planning

to travel to England, Wales, and Scotland. They

are involved in church activities and at the

gym, where Ruth does yoga and George does

strength training. "Can't believe that 60 years

are coming up!" she writes.

Julie Bigg Veazey continues to direct

her Hudson (MA) Children's Center after 38

years. She is the bookkeeper and adviser

and attributes her success to Wheelock and

all she learned there. She and Bill are active

and well and have six children between

them – and 12 grands and four greats! Julie's

fourth book, Moon Over Cabarete, is about

their experiences in the Dominican Republic

and is available on Amazon or Kindle under

her name. (Congrats to you, too, Julie.) The

Veazeys have a condo in Portsmouth, NH, and

winter in Florida. They lost their lake house in

New Hampshire to fire in October 2014 but

are rebuilding.

I (Persis) continue to enjoy my retirement

community, which has much to keep me

busy. Last summer I visited my daughter and

her family on Cape Cod and took my granddaughters

to the Harwich Junior Theatre to

see a play directed by Jane Staab, the retired

general manager of the Wheelock Family

Theatre. I saw a photo in the entrance, and

when I approached, a person said, "That is a

photo of our founder." It was our Betty Bobp,

of course. I told the person that I was one

of her 80-year-old students. I have been to

Nahant, MA, to visit with Gretchen Sterenberg.

She still has homes in San Francisco and

Nahant and travels as well. Last year she had

a grand visit in Peru. I chat with Carolyn Paul

Connell on the phone. She celebrated her

80th birthday at Wrightsville Beach in North

Carolina with her four children and spouses

and grands, making a total of 15 from many

parts of the U.S. In an email from Norway,

Grete Holter-Sorensen Prytz says she has not

WINTER 2016
---
Class Notes

much news to tell: "Except I am getting older,

which I see clearly when I watch my nine

(well-behaved) grandchildren growing up.

The oldest is a doctor of 31; the youngest is 11

years old. And I am thankful for good health."

I look forward to seeing you all next

spring at our 60th Reunion!

1957

Barbara Stagis Kelliher

As I (Barb) write this [early September], it is

78 degrees and sunny outside. As you read

this, I think the view outside is going to be

quite different. Anyway, here's the news:

Trina Buckelmueller Gale moved from Roswell,

GA, to Seabrook, TX, when Charles, her

husband of 56 years, died last May. "Charles

valued Wheelock greatly and helped me

attend Reunions after I had a stroke 33 years

ago," she writes. She is near her sister and

would enjoy a visit from anyone visiting

the NASA area. Shelley Reiss Safirstein now

lunches with Judy McMurray Achre '58

often, ever since they ran into each other at a

Shelley Reiss Safirstein '57 (left) and Judy

McMurray Achre '58 proudly displaying

Wheelock wares at a recent lunch

Wheelock Sarasota luncheon. "We have been

meeting monthly, each driving an hour to

meet in a restaurant between cities for lunch

and a long, long visit," Shelley writes. They are

both still married to their Wheelock beaux!

Harriet Weil Hodgson sent news that she

and John are enjoying their new wheelchairfriendly

townhome. John practices walking

with his walker each day and is making a lot

of progress. Harriet had two books come out

in the fall, The Family Caregiver's Guide and

Affirmations for Family Caregivers. While we

are all enjoying the snow, she is working on

two more books: Journal for Family Caregivers

and Family Caregiver's Feelings, due out

in the fall of 2016. They live in Rochester, MN.

The other class overachiever is Jan Wright

Freelove, who writes: "I am still subbing [K-5]

two or more days a week. I do it because I

enjoy working with the kids and fellow teachers.

Maybe I can be the oldest sub at 80-plus

and break somebody's record." (Well, Jan, you

have certainly broken mine!)

Anita Stulgis Chouinard, Sue Waters

Shaeffer '56 and I (Barb) are still enjoying our

busy lives in a senior complex here in Nashua.

How lucky we are to live in such a busy and

stimulating city.

Joan Patterson Brown's caring companion,

Mac, sent Ruth Bailey Papazian '56 an

update on Joan late last summer: "She is well

and happy and enjoys hearing from friends

and family. The letters, cards, and emails

lift her spirits. May was particularly nice for

her not only because it was her birthday,

but also because she was able to connect

with her brother. There were also visits from

friends both local and out of state. The daily

routine of ours continues, leaving Windsor

Reflections in the morning and going to

our place in Palm Aire for most of the day.

The combination of naps, relaxing to music,

walks before it gets too hot in the day, and

conversations about everything fill our time.

As always, her friends and family play a big

role in her daily life."

This, from Francine McNamee Shea, is a

perfect end to our news: "Thank you for the

reminder of our wonderful years at Wheelock.

Time has passed so quickly that I can remember

wonderful experiences in the classrooms.

Teachers like Mr. Herrick, Miss Abbihl,

and Mr. Wurtz; Abby downstairs in the snack

bar; the telephone switchboard, where I

learned the operation of the board; the Commuter

Room, a favorite for three years; and

Longwood. Great Days of my Life. Now I am

living in Lake Nona, part of Orlando, FL. Any

graduates nearby: It would be such a treat to

visit with you. One of my twins lives nearby

with his family. Ahhhh, the memories!"

1958

Margaret "Maggie" Weinheimer Sherwin

Laura Lehrman sends best regards to all and

reports that, after a two-year adjustment

period, she is finally feeling a bit at home in

her "building for the well elderly on a nice

quiet street and 'hood' near Central Park with

very friendly folk and some 'amenities.'" She

says that means "on-site social work students

from Hunter College, a podiatrist, a hair fixer

person, and four BBQs in the 'garden' behind

the building." Laura is thinking about spending

a few weeks in Puerto Rico – "[her] island

in the sun" – this winter instead of going to

Sarasota. She adds: "The big news from the

BIG Apple is that Kelly, a granddaughter of

Carol Yudis Stein, will be teaching young'uns

at Brearley, one of NYC's finest (and therefore

most costly) private schools. I am looking

forward to organizing the welcoming parade

(joke!), but we are all so thrilled that Kelly got

a job teaching, and we all know that to teach

young'uns is a very high calling as we, in

the mind, body, spirit community, say." Carol

Yudis Stein's volunteer work since moving to

Florida has included leading a reading group

in a third-grade class at a local public school,

being an entrance registration worker at a

local hospital, and registering and escorting

women to their medical exams at a women's

health center. She has also been on the board

of the local chapter of Pap Corps, Champions

for Cancer Research, and is currently helping

them run a Caribbean cruise on a Celebrity

ship as a fundraiser. In September, Carol

also wrote about her granddaughter: "I am

definitely in an education mode as one of

(L-R) 1958 classmates Judy Littlefield Bateman,

Sandy MacDonald Ingmanson, and Liz Sturtz

Stern after a "catch-up lunch" in Littleton, MA,

last June

my granddaughters graduated from Marist

this past May and is beginning her first year

of teaching at the Brearley private school in

NYC. Love hearing how things are changing

from her."

Liz Sturtz Stern writes of a visit she had

with Sandy MacDonald Ingmanson and Judy

Littlefield Bateman late last spring, when she

was in Massachusetts to visit her brother's

family. She took part in a line dancing class

Sandy was teaching, and then the three of

them got caught up over lunch.

51

magazine
---
Class Notes

52

1961

Ginnie Colquitt Schroder

REUNION 2016

JUNE 3-5, 2016

Thanks to those of you who have taken the

time to send me (Ginnie) your news! It's

wonderful to hear from you, to know that

you are well and that you haven't forgotten

your Wheelock connection.

Gail Spivack Sandler reports that they

had a good year – full of travel, as usual. She

wrote following a trip to Texas for a family

wedding and was soon to be off again for

winter in Key West and Miami Beach, where

one son and several grandchildren live. Their

big trip will be a cruise to the Falkland Islands

to see "even more" penguins. Having been to

Antarctica, she says this is next on the bucket

list! Gail tells me that she enjoys a round-robin

contact with five classmates that has been

going strong since graduation. Well done!

I am sad to report that Norma Brawley

Dugger sent word that her husband died

in October 2014, only three weeks after the

installation of a bronze plaque with his image

on it, plus commendation, from the head

of the National Park Service and the Capital

Crescent Trail leadership, for being a "visionary."

John had worked on the Capital Crescent

Trail for 20 years. It had been an abandoned

rail bed but today is the most widely used

hiker/biker trail in the Greater Washington

area. What a beautiful and incredible legacy!

Norma is still working as a travel consultant

and doesn't stay put for more than a minute,

it seems. She returned to Australia in August

2014 for a few weeks; went on to Machu Picchu

in October to attend her godson's wedding

in Peru; and finally was off to Morocco

in November. Meanwhile, Norma stays in

touch with Barbara Grogins Sallick and has

reconnected with Avery Thompson Funkhouser's

husband, John. Daughter Julie works

for Fannie Mae and travels constantly, while

daughter Patsy and her spouse live near

Berkeley, CA, with their 3-year-old daughter,

who shares a birthday with Norma.

Fulfilling a lifelong dream, Susan Schaefer

Goodnough has moved to New Hampshire.

She writes of the beautiful springtime green

and light rose colors of the mountains, due,

she says, to the new growth and budding on

the branches of trees. Sue stays in contact

with Martha Walter LeRoy, who lives in Center

Harbor, NH, and has been a great help to her.

If you wish to get in touch with Susan, you'll

have to rely on snail mail as she has happily

abandoned technology! Her address is 23

Gould Avenue, Apt. 40, Meredith, NH 03253.

Still hard at work in the company (Waterworks)

she and her husband started 37 years

ago, Barbara Grogins Sallick seems not to

have slowed down a bit! In addition to continuing

as a trustee of Wheelock College, she

is working on a book that will be published

by Rizzoli in the fall of 2016. Barbara and her

husband travel frequently, most recently to

Cuba. She also visits with their five grandchildren

as often as possible.

Judy O'Connell Perkins was able to have

lunch with Linda Gordon Kendall while in

California. Linda has a condo in Napa and

was there for the summer, along with her

daughter Amy. They are usually in San Francisco

for part of the winter, though Linda

spends most of the winter in Key Largo, FL.

Judy sadly reports that Emily McLeod Welch

died in March 2015. Emily and Judy attended

the same school before Wheelock, and the

news about Emily's death was posted in the

school magazine.

Susan Beale Hufford was recognized last

April for her more than 50 years of volunteer

service at Charleston (WV) Area Medical Center.

Throughout the decades, she has worked

in a gift shop, pushed a snack cart, given

directions, and delivered flowers to patients'

rooms. These days, on Tuesday afternoons,

she can be found greeting visitors with a

smile and kind word at the information desk

at Women and Children's. She is happy to

be able to brighten people's days, she says:

"It's a feeling of satisfaction to give people a

little reassurance. Coming here every week

is enough of a reward for me." Susan and

husband Fred have two children and five

grandchildren. She is also active at Kanawha

United Presbyterian Church and enjoys reading,

especially historical books.

I (Ginnie) had the good fortune to spend

a few days with Judy Johnston Laurens in

June. We met in New York, as planned, and

stayed with a friend of mine in Manhasset

on Long Island, where I taught for 20 years.

The focus of our visit to the New York area

was to explore the Frida Kahlo exhibit at

the New York Botanical Garden and to see a

show in Manhattan. (We saw The Audience

starring Helen Mirren – a real treat!) But it

was also wonderful to have an opportunity,

however brief, to catch up with each other …

face to face!

All is well here for me on St. Simons

Island. Having long been fascinated with the

history hereabouts, I joined the Coastal Georgia

Historical Society and am currently enjoying

a series of lectures on the history of our

famous lighthouse. Between tennis, bridge, a

book group, the church choir, being president

of my local P.E.O. chapter, and travels here and

there, there is never a dull moment! Indeed,

life is good!

My very best wishes to all of you. I hope

that as many of us as possible will get together

in Boston for our 55th Reunion in June!

1962

Dorothy Loofbourow Nichols

Sabra Brown Johnston

Dear Class of '62: I (Dottie) want to thank the

following classmates for responding to Sabra's

request for news! Here it is for us to enjoy.

Brenda Richmond Verduin-Dean and her

husband are enjoying their retirement years,

which have included cruises to the Barcelona

area, Halifax, Quebec, and Montreal. This year

they hope to do a river cruise on the Danube.

Sounds wonderful, Brenda! Brenda wishes all

her classmates a special Happy 75th Birthday

– a banner year. Abby Parsons Wilson continues

to enjoy volunteering in a variety of facilities

with her two registered therapy dogs,

Duke and Duchess. She writes, "We also visit

schools with special needs children as well as

a Reading Education Assistant Dogs program

(children read to the therapy dog), University

of Texas-Arlington Paws for Finals, and Tail

Waggin' Wednesday." Abby is active with her

growing families, her church, and her local

P.E.O. chapter (an international Philanthropic,

Educational Organization which owns Cottey

College in Nevada, MO). I know because I'm in

Chapter F, Bellingham, WA.

Lee Bishop Howard and husband John

enjoy life in California, where they are able to

spend time with five of their seven children

and five of their eight grandchildren. They

keep busy working with their local Lions Club

and their local Neighborhood Association.

For eight years they have been developing a

neighborhood Disaster Response Program,

and their 75-person team is strong and ready

for that earthquake. Two town councils have

asked them to establish their program in every

neighborhood. Why does this not surprise

me? Roberta Weiss Goorno celebrated her

banner birthday year by cruising the Danube

with friends, visiting Vienna, Salzburg, Innsbruck,

and Munich. She says they took in all

the interesting tourist attractions and managed

to keep the pounds off. Roberta hopes

WINTER 2016
---
Class Notes

to continue to see the world while she is able.

She enjoys researching and creating her own

tours so she can travel at her "Grandma Pace,"

spending several nights in each city. Doesn't

that sound delightful?

Judy Parks Anderson and husband Bob

have sold their Concord, MA, home of 43 years

and decided after the long winter of 2014-

2015 to move to The Commons in Lincoln, a

senior living community. This will allow them

to visit their sons' families (Chris in Colorado

and Ben in San Francisco) more often. Judy

and Bob had lunch with Bonnie Beck Noble

last January in California. Bonnie traveled

around the country in her motor home last

summer. Marty Holder Straton writes: "I am

head of Gala for Opportunity, Early Childhood

Center; I help feed the homeless; and

I am retiring from my job at The English-

Speaking Union, where we teach English to

immigrants, send teachers abroad to study in

the summer, and run Shakespeare and essay

contests in Palm Beach County [FL]."

And lastly, from me … Dave and I (Dottie)

spent another winter skiing in Colorado, and

after a quick March yard cleanup, we drove

our RV to California, where two of my siblings

live. On the way home we rowed with the

Ashland (OR) Rowing Club and enjoyed some

amazing Ashland Shakespeare theater. We

spent June in London with Dave's Amherst

College roommate and in Germany with my

1957 AFS host family sisters. In the summer

and fall we stayed home enjoying our family,

our church, and our sculling shells, which we

row from our dock on Lake Whatcom. Fortunately,

we had only one day of smoke from

the devastating wildfires to the east of us.

I have vivid and lovely dinner and dorm

stay memories from our 2012 Wheelock

(50th) Reunion and very much hope to see

you all there in the years to come. In the

meantime, stay healthy and keep sharing

your news.

1965

Daphne "Taffy" Hastings Wilcox

For those of you who didn't see Carol Owen

Beveridge's note on the message board at

Reunion last year, just prior to Reunion, she

had written: "I have such fond memories of

my freshman year at Wheelock, 1961-'62! I

remember many names but can't recognize

many faces from the last [2010] Reunion

photo! I was married 42 years to Joe Funk. He

passed away seven years ago. I remarried a

wonderful man and have been married one

year! It is such fun to find someone who is a

great best friend at our stage in life."

1966

Margery Conley Mars

REUNION 2016

JUNE 3-5, 2016

From now until June you will be receiving a

lot of reminders that this is the year of our

50th Reunion. We hope you will be among

those of us returning to The Riverway to help

mark this milestone in life's journey. Our goal

is "50 for the 50th" and we do believe that we

can achieve it! Mark your calendar for June

3-5 and join us in Boston for a very nostalgic

and fun weekend!

I have been busy updating our class list,

and in doing so I have discovered we are a

class on the move! There have been many

changes just since our 45th Reunion, many

because of retirements and downsizing/relocations

– perhaps to warmer climates.

I think being Class Scribe is also being

Class Sleuth! I spend a great deal of time on

the Internet trying to locate classmates, and

I have had a good degree of success. Recently

I was able to find someone who has been

on our "missing list" for many years – Eleanore

Nix Klingelhofer. Her life story is very

fascinating, and I will share it with anyone

interested at Reunion. I also was successful in

locating Ella Jane Bruen, who was last known

as a teaching sister at the Sacred Heart

School in Kingston, MA; I can let classmates

know about her as well.

News held over from last spring (I guess

I took a summer sabbatical) comes from

Carole Hayes Williams that she, Reid Algeo

Schenck, and Hope Binner Esparolini had a

wonderful reunion during the winter of 2014-

2015. Carole gave Reid credit as an expert

planner. "We went to Disney Hall, where we

heard Dudamel conduct 'Mahler 6,' and went

to the Pasadena Festival of Women Authors

and the Huntington Museum and Gardens.

And, of course, all of our meals together were

great fun. Each thing was a top-drawer/topshelf

experience!" This, by the way, was the

first time the three gals had been together in

several years. Let's hope June will bring them

together again – in Boston!

Mary Hallock Fields continues traveling

for her sport of curling – this time to Sapporo,

Japan, and Halifax, this year's sites for the

World Championships. It is a little over a year

ago that Mary lived on the sofa for six weeks

when she became grandmother to twins

(to son Carter and his wife) and was needed

to help manage Nicholas (then 2) and his

brother and sister. (Did I get that right, Mary?)

She reported that life is very, very busy and

life is not dull! Pam Miller Callard is also a

grandmother to twins. Phoebe and River arrived

in May, and "we are enjoying being near

our daughter Katharine in Boston and helping

with the twins. Nothing is better than

being a grandparent!" Presently Pam and Tim

are living in their summer home in Nahant,

MA, until April, during the construction phase

of their attached townhouse in "Village Hill"

in Northampton, MA. Pam was planning to

do workshops in mindfulness back in D.C. in

October and also was working with professional

development at her school. "Best of all

worlds," she writes. She also added that Linda

Masters Young hopes to be with us in June!

Two classmates were headed to Greece

and Turkey – not together and not at the

same time. Phoebe O'Mara was to be away

for three weeks, and about the time she

was to return, Joy Post Beardsley and her

family were to be taking off for their air, sea,

and land trip which was to follow in the

footsteps of Paul. No doubt both enjoyed

quite a fantastic journey! Heather Robinson

Reimann was recovering from back surgery

last summer and fall but has a Viking River

Boat cruise in May and is very much looking

forward to that!

Carole Hayes Williams and husband Richard

have moved to a senior living community

called Varenna of Oakmont in Santa Rosa, CA.

She wrote shortly before she and Reid Algeo

Schenck were to take a trip to Morocco. "I'm

looking forward to hearing about your lives

in June!" she wrote. "Best to all classmates!"

Beth Zwirner Ruggiero celebrated her 49th

wedding anniversary in December. She has six

grandchildren and one great-grandchild. She

moved from Hingham to Hull, MA, last year,

so "we now have ocean views galore. We have

always been avid travelers, and I completed

the continents last year with a trip to Antarctica.

I am looking forward to the Reunion!"

Connie Muther is so excited about coming

to Reunion 2016 that I think she must already

be packing her suitcase! I've had emails

about what to bring, what the College does/

does not supply, etc. The enthusiasm is great

– and not just from Connie! Many responses

to my recent newsletter seem to indicate

we'll be having a fabulous time in June

with lots of classmates returning from far

and near! Diana Palmisciano Brown retired

53

magazine
---
Class Notes

54

in 2014 following a long career in banking.

Congratulations, Diana!

Last summer Jane Martin McMackin enjoyed

a wonderful visit in Vermont with her

aunt, who also is a Wheelock alumna, Corinne

Martin Bryan '34, age 102. Jane brought along

her daughter Michelle and her three children

(ages 12, 10, and 8) and says the children were

fascinated to meet their great-great-aunt.

(See the photo near the 1934 news column.)

I (Margery) enjoyed a wonderful reunion

here in early July with Sylvia Thorndike

Sheriff and husband Mike, who arrived after

a wonderful family vacation on Cape Cod

and then a Fourth of July weekend visit

with Thordis "Toodie" Burdett Gulden and

husband Tim in Waldoboro, ME. Pete and I

got to play tourists here in our own state of

Maine, which was oodles of fun. We enjoyed

a lovely dinner reunion, too, with Joe and Joy

Post Beardsley and Bob and Andrea "Andy"

Price Morse before the Sheriffs flew back to

California. Truly friendship is a gift for the soul!

1967

"Maintaining an old Victorian house seems

to be getting more expensive as the years go

on," writes Carolyn Wright Unger. "John and

I are in the same house in Hamilton, VA, and

are trying to dig out our 40 years' worth of

stuff these days." Now retired from Loudoun

County (VA) Public Schools for five years,

Carolyn volunteers and is involved with two

reading groups and a quilting class. She and

John still do lot of walking and walked the

"Coast to Coast" in England two years ago.

Their kids are doing fine but are scattered

across the country (California, Vermont), with

Derek and his family moving back to the U.S.

from Malaysia.

1968

Cynthia Carpenter Sheehan

Phyllis Cross Croce writes about a weeklong

art camp she participated in alongside two

"gifted, much younger teachers" late last

summer. Her fall plans included spending

two weeks in Michigan near Traverse City in

September and taking a spinning class ("fiber

spinning, not pumping one's brains out on

the stationary bike kind") at the John C. Campbell

Folk School in Brasstown, NC, in November.

She adds, "They offer all kinds of classes in

traditional crafts – in the style of Mr. Kendra,

who taught art while I was at Wheelock."

Maria "Plum" Lind Johnson's memoir,

They Left Us Everything, published by Penguin

Canada, won the 2015 RBC Taylor Prize for

nonfiction. It will be published in the USA

by G.P. Putnam's this year. We remember

Plum from her acting days with director Tom

Neumiller in Wheelock theater productions,

including the year Kitty Carlisle and drama

critic Elliot Norton presented Wheelock

with the 1966 Moss Hart Memorial Award

for their production of Jacobowsky and the

Colonel. "If anyone participates in a book club

and would like me to join in a discussion

via Skype," Maria writes, "I'd love to receive

a contact through my website: http://plumjohnson.com/events/book-clubs/."

She adds:

"Does anyone remember our 1967 production

of Ring Round The Moon? Cleaning out

my basement recently, I found a set design

sketch by Michael Te Reh, so it's gone under

glass on my coffee table!"

Susan Ordway Lyons volunteers weekly

throughout the year at the Shaker Heritage

Museum in Albany. I (Cynthia) see Susan as I

participate in their Craft Festival and Christmas

Shop. Susan was visiting Susan Castleton

Ryan '68/'73MS in August for the annual

Scituate Heritage Days, "a weekend of great

fun, friendship, old bands and crafts." Lou

Ann Colonnese Mulcahy recently welcomed

her second grandchild and says, "It is fun to

observe all the stages we learned about in

Human Growth and Development class." At

the end of last summer Lou Ann was headed

to New Jersey to help Kitty Sayford Lucibello

celebrate the marriage of her oldest son.

"Hard to believe it was over 50 years ago we

met in the lobby of Peabody," Lou Ann writes.

Susan Webb Tregay's adventure for the

summer of '15 was to have her painting put

on the cover of the local tourism magazine

for the whole year and to finish her 100th

painting in her "Contemporary Art for Adult

Children" series.

1970

Grace Coffey Clark lives in Durham, NC, and is

the early literacy coordinator for the Orange

County School District. She is wondering

how many other classmates are still working

and who will get the "Last to Retire" prize.

Husband Bobby is retired, and the three

Clark children and two grandchildren live in

Washington, D.C. "We get to D.C. at least once

a month," Grace writes. "The pull of grandchildren

is very strong."

Kluane Baier Snyder was sorry she

couldn't attend the 45th Reunion. Around

that time, she wrote: "My husband and I were

in Boston two years ago and had a personal

tour of the campus and update on the

programs offered. So many changes, but all

positive ones, I thought." Kluane retired two

years ago from the Ithaca (NY) City School

District, where she had been an elementary

teacher or librarian for 13 years and, prior to

that, a nursery school teacher for 10 years.

In 2012, her husband retired as rector of St.

John's Episcopal Church after 43 years of active

parish ministry. They moved to their new

home in Lititz, PA ("outside Lancaster – think

PA Dutch country") the day after Kluane's last

day of school, and they are enjoying the area

and the great variety of activities it offers.

Their daughter and twin sons and their families

all live in the D.C. area. "We have three

grandsons [ages 1 to 3]," Kluane writes, "so I'm

continuing to put my Wheelock and library

school training to good use." She sends her

best to all classmates.

1971

Gwynne DeLong

REUNION 2016

JUNE 3-5, 2016

Sylvia Birnbaum Yasner has retired from

her 19-year career as a school library media

specialist. Her husband also is now semiretired.

She enjoys volunteering as a tutor for

immigrant women who are learning to read

and speak English. Sylvia finds it quite a

change from young children and very rewarding.

She is involved in book clubs, golf, other

volunteer activities, and traveling. Sylvia and

her husband recently traveled to Spain and

are planning a trip to China. She is looking

forward to Reunion.

Candy Steinhausen Wachterman writes

that 2015 was quite a year! Husband Rich

retired last July, and they have been fortunate

to do some traveling. In addition to a trip to

Rochester, NY, to visit with her mother (who

celebrated her 99th birthday), they traveled

several times to Boston. They got to see firsthand

two of the first snowstorms and were

amazed at the amount of snow and how it

was handled. March found Rich and Candy

in West Virginia for a three-day ski trip. They

spent the month of May in New York City,

which was a dream of Rich's and the celebration

of his retirement – a wonderful time

with many good meals, some great shows,

and lots of sightseeing. They made their

annual trip to Ocean City, MD, in June and in

July took a two-week trip to the Northwest

WINTER 2016
---
Class Notes

and British Columbia. The rest of the summer

Candy and Rich were either at home –

Candy says she does appreciate being home

sometimes! – or up at their cabin in the

Adirondacks, and they had plans to cruise up

the East Coast to Nova Scotia in October. She

would welcome visitors in Baltimore.

Tina Leydon can't believe it's been 17 years

since she moved to Arizona from the Boston

area! She wrote of the visit she had with me

(Gwynne) when I was traveling in Arizona.

In early summer Tina went on a marvelous

two-week trip to Ireland with a local group.

She commented on the wonderful green

countryside and loads of history.

Phoebe Hemenway Armstrong was so

pleased to meet with her long-ago Wheelock

friend (and now new friend), Ginger Neaher

Pape, for lunch in McLean, VA. Ginger lives

in D.C., and Phoebe lives close by in Vienna,

VA. They met in 2014 for the first time since

attending Wheelock and are hoping to go to

our 45th Reunion in June. Phoebe retired in

2014 from Fairfax County, VA, Public Schools

as an elementary special education and

fifth-grade teacher. She is also the captain of

her 65-and-over USTA doubles tennis team,

which keeps her going. What a great group of

ladies and friends she has on the team! Robert,

her husband, retired in June 2014 also

and loves every minute. Phoebe's son Sam is

going to the Chicago Portfolio School and living

in the city. Son Matthew lives in Newton,

MA, and works as an account manager for

an insurance company in Ayer. When Phoebe

wrote, she had just returned from visiting her

father, who is 91 and living in what used to be

their summer house in Strafford, VT. He's in

great shape and an inspiration. Phoebe hopes

to see many of you June 3-5 at Wheelock.

Julia-Ellen Craft Davis resides in her

recently renovated childhood home, where

she continues the family passion for history

and preservation, in Charleston, SC. She is

serving for the eighth year as a member

of the board of trustees and as chair of

the Program and Grants Committee for

the South Carolina First Steps to School

Readiness, the state's comprehensive early

childhood education initiative. Julia-Ellen is a

board member of the Preservation Society of

Charleston and chair of the Society's Thomas

Mayhem Pinckney Alliance, which advocates

for, identifies, and preserves African-American

material and cultural heritage. As the greatgreat-granddaughter

of Ellen and William

Craft, she speaks and blogs on the enslaved

couple's daring 1848 escape, which was

Gwynne DeLong '71 and husband Dave

"somewhere in the Caribbean" during the

winter of 2014-2015

described in William Craft's 1860 book, Running

a Thousand Miles for Freedom (available

online). In 2014, Julia-Ellen narrated their

story of courage and persistence for a Travel

Channel Mysteries at the Hotel show.

Beverly Granger retired in April 2015 after

35 years of practicing dentistry and enjoyed

spending last summer at their house in Sag

Harbor on Long Island's east end and working

in her pottery studio. "I am also drawing on

my Wheelock experience and serving as the

clay teacher at a camp at one of the local

child care centers," she wrote last summer,

"and for the upcoming school year I will be

taking over the art program in the afterschool

program there. It has been fun and

rewarding working with children again. I will

be setting up an Etsy shop and working on

other sales opportunities for my work as the

year goes on." Beverly visited Savannah, GA,

not too long ago and had the opportunity to

visit and catch up with her freshman-year

roommate, Becky Albro. She still sees Betty

Bain Pearsall regularly and is looking forward

to Betty's retirement in the winter "so [they]

can find some mischief to get into!" Beverly

hopes all are well and enjoying life.

I (Gwynne) am currently the board president

and executive director of the Working

Group on Girls of Schenectady, Inc. We are

serving over 250 middle and high school

girls each year, and this year we plan to add

a parental support piece to our program.

Dave and I are still traveling when we can,

and we continue to help in the raising of our

grandchildren, which brings us much joy. In

this era of social media, I am enjoying being

in touch with so many Wheelock classmates

and have heard from several already (as of

early September) that our next Reunion is in

their plans. I am looking forward to seeing

many of you in June.

1972

Bonnie Paulsen Michael

If you're reading this, you've stayed in contact

with Wheelock and the alumni magazine is

delivered to your home. It also means that

you care enough to peruse the magazine,

check out the articles, and find your class

to see the news. So, this tells me that you're

interested in finding out what your classmates

are doing. If you're interested in them,

it's only logical, then, that your classmates

are interested in you and what you're up to!

Let's hear from you next time we send out for

news! Here's the latest!

Sue Whiting Finan and husband Jerry

took the Viking "Tulips and Windmills" river

cruise through Holland last April. While on

board, they became friends with another

couple, only to find out that both women

were kindergarten teachers, and both went

to Wheelock. Here's to Sue and Nancy Preston

Hepburn '61 and to Wheelock!

Joanie Farley Gillispie and husband Mark

have been downsizing and fixing up houses

for years. Now, in their retirement, Joanie

finds herself still teaching multimedia and

psychology courses while she dreams of the

outdoor soaking tub she and Mark will soon

build. She's inviting Wheelock friends in the

Menlo Park, CA, area to join her under the

lemon tree! Wendy Flink Levey continues

to live and thrive in New York City. She has

celebrated the 40th year of Epiphany Community

Nursery School, which she started in

1975. Today, her daughter, Mariel, teaches at

her school; her son, Evan, runs the business

side of the operation; and her granddaughter,

Blake Ella (born Feb. 22, 2015), is taking gym

and music classes. Wendy says, "I guess the

family that works in education together,

stays together!"

Wendy Flink Levey '72 with granddaughter

Blake, a student at Wendy's 74th Street

Activity Center

55

magazine
---
Class Notes

56

"We never know where life will lead us,

do we?" writes Mary Lee Prescott-Griffin, who

published her 10th, 11th, and 12th fiction titles

in the fall of 2015. She continues to teach at

Wheaton College (MA) with a special interest

in her research on the impact of mindfulness

on readers and writers. This all happens in her

"spare time" because she also has the joy of

four grandchildren in her life. If you're looking

her up on Amazon, look for M. Lee Prescott.

After spending the summer in New

Hampshire, Cat Austin Franks returned to

St. Croix and her busy life engaged with

children at a Waldorf preschool and kindergarten,

directing a local children's choir,

and storytelling. Cat spent time with Kandy

Dwyer, laughing, remembering, and appreciating

the lifelong friends she made at

Wheelock. Mary Dickerson Pierson writes

that she and Peter continue to enjoy living in

the mountains in Grafton, NY, and gathering

their family together. Chase lives in Los Angeles,

and his daughter, Isa, is 15. Josh and his

family – including Lena (6) and Cole (2) – live

at the Fay School in Southborough, MA. They

have also taken in a sweet foster baby for a

few months. Mary continues to teach early

childhood music part time at Pine Cobble

School in Williamstown, MA, and runs the

Character Education Program for the school.

She also enjoyed taking some Healing Prayer

classes recently and is involved in Healing

Services nearby.

Janet McEvoy Price and her husband have

been living in Madrid the past two years. This

will be Rick's last overseas posting, and they

will be headed back to their home in Falls

Church, VA, in another year. Madrid is a wonderful

city and they have loved living there

but have felt far from their two daughters

– one in Idaho and the other in Colorado. Before

their move, Janet was an ESOL teacher

with the Falls Church City Schools, working

with preschool, kindergarten, and first-grade

children. She loved it.

Karen Metanias Riordan will retire in the

coming year and will be moving to Cape Cod.

She and Ed are feeling the need to be closer

to her mom and their girls and grandchildren.

They had six as of early last fall; their oldest

is in second grade, and two others are in

kindergarten. Anne Bridge was planning to

retire Dec. 31, after 22 years in nonprofit fundraising

for Stoneleigh-Burnham School. She

is looking forward to some quality time with

her weaving, hand spinning, sewing, and

other fiber-related projects. Anne has two

grandchildren who live nearby. Her grandson

Leighton's fifth-grade teacher signed her up

to help in her classroom this year; his sister

Annie is in middle school. Anne was planning

to take her fourth trip to Melbourne, Australia,

last November to visit son Eliot; his wife,

Leigh; and baby granddaughter Grace.

Liz Hile Lindsay and husband Durwood

are also figuring out life after retirement.

They plan to split their time between a house

on a lake in Maine and a condo in Florida.

She's busy with grandchildren, church, moving,

and renovating. We got to see them for

an overnight, and they both look terrific!

I (Bonnie) have also retired. And now

I find out what people meant when they

said they couldn't figure out how they ever

had time for a job! I'm loving being with my

husband, Terry; our four kids; their partners;

and our eight grandchildren. Our oldest

grandchild turned 5 last summer, so getting

together with our family requires stamina,

creativity, resourcefulness, and lots of love.

We just bought a house with one of our

daughters, her partner, and their two kids,

ages 5 and 2. Life is wonderful!

Everyone who wrote to me talked

about the last Reunion and how much fun

it was. Our next one will be in June of 2017!

See you there!

1976

Angela Barresi Yakovleff

REUNION 2016

JUNE 3-5, 2016

As we approach our 40th – yes, 40th! –

Reunion, we've heard from a few of the 1976

classmates. "Change" seems to be the word

of the year for many!

Gayle Griswold Goldberg had to leave her

job with Londonderry School in Harrisburg,

PA, after 21 years. Husband Joe got a new job

in Old Town, Alexandria, VA. Now settled in

Old Town where they can walk everywhere,

they couldn't be happier. And to make the

move even more wonderful, they are closer to

daughter Madelaine and 1-year-old granddaughter

Lucy! Gayle's son, Evan, is engaged.

Gayle is looking forward to Reunion. She says,

"What can be better than getting together in

Boston and seeing good friends?"

Bonnie Page '76/'92MS has an exciting

new job. For the next two years, she will be

the full-time president of her local union, the

Malden Education Association. This means

that she is not teaching anymore! She tells

us, "It's a real shock to my system not setting

up my room and planning the curriculum."

But she is very excited about this new venture.

Bonnie is enjoying travel with husband

Troy. They've managed to visit Hilton Head,

Kauai, Oahu, and San Francisco this past

year. Bonnie can't wait to see everyone in

the spring. Plan on coming to Reunion! Nora

Ray Richards '76/'91MS and husband Joe are

in their 25th year of the Sandpiper Nursery

School in Falmouth, MA. They are a continuously

accredited, Reggio-inspired preschool

for 3-, 4-, and 5-year-old children. Nora says:

"We feel so lucky to be able to live our professional

dreams! We hope to see you all in June

at Wheelock!"

I (Angela) left the classroom in January

2015 after 39 years of teaching. My husband,

Matthew, and I managed a trip to Boca

Raton in the midst of a six-week stretch of

single-digit weather. What a great reprieve.

I visited San Francisco with my son and was

able to visit with a close high school friend

whom I hadn't seen since our freshman year

in college. In the spring I visited Karen Berg

Ezzi and her husband, Dave, in Asheville, NC.

Much of the summer I spent at our cottage

in northern Vermont on Lake Champlain. My

husband and I went to Montreal often. We

love the international fireworks displays that

are held there every July. In June I officially

retired. Like Bonnie, I have found it a huge

transition no longer being in the classroom.

While many friends were setting up their

classrooms in August, I was enjoying time

at our cottage. I have spent lots of time with

family and friends while I look toward the

next phase of life. I'm truly looking forward

to Reunion in June. Let's have a great attendance

from the Class of 1976. It's always

a wonderful weekend reconnecting with

classmates. Be looking for more information

from Wheelock and do come.

1977

Margaret Smith Lee

Lisa Brookover Moore

Louise Close reports that life is good and

there have been some big changes in her

life. They have bought a house in Fort Myers

Beach, FL, and are also buying a home in

Osterville, MA (on the Cape). (They are now

Florida residents but will be in New England

for the summers and early fall.) Louise also

has resigned from the Wheelock Board of

Trustees and is focusing her efforts in the

realm of mental health issues and awareness,

specifically bipolar disorder, which affects one

WINTER 2016
---
Class Notes

This happy, young-looking group had a wonderful time celebrating their 60th birthdays together on

Martha's Vineyard late last summer. L-R standing: Andree Howard '77, Louise Close '77, Sue LaRese

Vivian '77, Lynn Freedman Byrnes '77, Alice Strachan Barr '78, Jill Schoenfeld Ikens '77, Lita Kochakian

Zuchero '77, Sarah Zartman '78, Lynda Gaines Hathaway '77, Terri Weisberg Smith '79, Elsa Whitmore

Morse '77. L-R seated: Margaret Smith Lee '77, Lisa Brookover Moore '77, Francesca Wright '77, Ellen

Broderick '77, and Judy Birofka Brown '77

of her daughters. "I want to work toward ending

the stigma of not talking about mental

health disorders," she writes, "and hopefully

improve our fragmented system of care.

Please ask your own congressmen to support

these initiatives!"

I (Margaret) cannot seem to stay away

from water! Last summer my classroom at

the Taube Museum of Art was flooded due

to road construction and rain. Thankfully, we

were able to save most of the art supplies.

We had to move all of our summer classes

to the main floor of the Museum and then

proceeded to do renovations.

1978

Pat Mucci Tayco

Andi Gassman Anderson brings us up-todate:

"I left the big Bean for Vermont right

after graduation and enjoyed directing a day

care center until 1985. I left teaching for an

affordable job with the Postal Service. (We pay

more to sort mail than to set those building

blocks straight in the formative years!) I

have had the great opportunity to watch my

day care babies from 1978 to 1985 grow into

adults! I have seen unresolved issues become

life-rendering problems. I have seen great

successes where I saw supports behind them.

I am looking forward to retiring soon from my

31-year career at the post office and returning

to teaching or some sort of research. Have to

tackle those three massive college bills first.

I have a son, 26, working in Boston with the

Treasury Department. Son #2, 23, just about

finished an outdoor education degree. And

my daughter, 21, graduated from UVM with

a B.S. in nursing and landed a great job at

the local tiny hospital she was born in. In all

my observing of all these children I've been

blessed to watch grow and flourish, there is

one common denominator I feel I must go

back into education and work on: self-esteem!

Without it, how can any child learn? I really

want to go back into education and make

a difference! I have been working on The

Virtues Project as well. I can really see this in

every school in our country. It's a nonreligious

course of 52 virtues where everyone, even the

bus drivers or lunch folks, are on the same

page each week, teaching the basic virtues:

assertiveness, commitment, friendliness,

generosity, courtesy, just to name a few." Andi

also mentioned that she "went to [the 2014]

Wheelock symposium and got inspired again."

Gail Ann Rosewater writes: "I retired from

the County of Bergen (NJ) after 25 years in

2013. I moved to Asbury Park, NJ, within a

month and live two blocks from the beach. I

love it. I am on the board of directors of the

local Child Care Resource and Referral Agency

and the chair of their advocacy committee.

I also volunteer in the local hospital and am

on a local commission for the lake I live on.

Since I graduated from Wheelock, I became

a director of a child care center, got my

master's degree from Bank Street College of

Education in New York, became the director

of the Bergen County Department of Human

Services Office for Children, and was then

the Department's operations officer. It was a

good career. Hope everyone is doing well!"

1981

Sarah Bowman Merry

REUNION 2016

JUNE 3-5, 2016

Best wishes to Nora Lerdau Howley, who

decided (after her youngest graduated from

college in 2014) that she'd been out of school

long enough and is now working on an

Ed.D. through the low-residency program at

the University of Glasgow (Scotland). She is

about halfway through the three years of

coursework and will then have a dissertation

to write. Meanwhile, she continues to provide

consulting services to a variety of nonprofits.

Nora and her husband are still in the D.C. area

with their children and their partners in New

York and Montana. In her spare time, she

knits, reads, and takes lots of walks.

1982

"The school year 2014-2015 was a year of

great accomplishments," Kathleen McGrail

Campbell writes. "My son graduated from

the University of New England, and I moved

out of the classroom (again) and into a new

role as a Reading Recovery/RTI interventionist,

while going back to school to become

certified as a Reading Recovery teacher. It

was an intense year, but so valuable! Thank

God for a wonderful husband who held

everything together, and gave up a lot, while

we hit the books! I am so proud and grateful

for my family, and for the solid educational

foundation that I received with all of my

friends at Wheelock."

Jo-Anne DeGiacomo-Petrie still keeps in

touch with Karen Mutch-Jones and Randi

Panken Goodman '83: "We reminisce about

our Wheelock years and the fun we had." Last

year Jo-Anne and Karen went to visit Randi

for a girls weekend in Los Angeles and had

a blast. Jo-Anne is currently the manager

of operations at BrightStars in Warwick, RI,

which she is loving: "I am able to keep my

hand in the field of education mixing it up

with a business twist." She and husband

Adrian enjoy traveling and being "footloose

and fancy-free" and are looking to downsize

as their "blended brood" are: Mallory, 25

(Wheelock graduate), a patient advocate at

Children's Hospital in Boston; Ryan, 21, who is

in his senior year at URI; and stepson Frank,

who is a junior at UMass Dartmouth. Anyone

in the Rhode Island area should contact Jo-

Anne to catch up!

57

magazine
---
Class Notes

58

Amy Gilzinger Fulton was in touch last

summer, when she was finishing her second

year at the Winston Prouty Center for Child

Development in Brattleboro, VT, and her second

year of retirement from public school

teaching. She had been working full time

with preschoolers but this year is working in

the young toddler class. "I am enjoying my

return to preschool immensely and having

fun fence painting, splashing in water, and

going for nature walks!" she writes. Amy's

daughters are all grown and out of college;

her older daughter will be getting married

this fall, and the younger one has a bachelor's

from Emerson and has been looking

into law schools.

Cindy Hawkins Turner and Wendy Wunsch

Borosavage '81 recently met up with Kate

Grady Hazen at the Flying Bridge Restaurant

in Falmouth, MA, during Kate's summer visit

to Cape Cod! Cindy used to teach kindergarten

and second grade, then was a stay-athome

mom, and now is helping her dad in her

family business (grocery store), but she hopes

to get back into teaching ... and, therefore,

was planning to substitute last fall. Wendy is

director of admission/enrollment at The

Chestnut Hill School. Kate continues teaching

second grade at Alice Byrne School in

Yuma, AZ; serves as team captain of a Relay

For Life team, walking and raising money

for the American Cancer Society; and loves

the desert Southwest! They would love to

plan a mini-reunion this summer with other

close Wheelock friends and hope to hear from

(L-R) Kate Grady Hazen '82, Cindy Hawkins

Turner '82, and Wendy Wunsch Borosavage '81

met up at the Flying Bridge Restaurant

in Falmouth, MA, during Kate's summer '15 visit

to Cape Cod.

Kathie Mello Friedrichsen, Beth Bacon Cebula,

Catherine Ley Lawler, Kathy Thomas, Liz

Stein Stehm, Tracy Goodman Fanelli, Vicki

Hessert Graboski, Ellen Levy Greenberg, Sarah

Walstad, and Dawn Cassella DiNoto! Contact

Kate at khazen@yuma.org.

(L-R) 1985 classmates JoAnn Chambers Meehan,

Stephanie Poly Zapatka, and Michele Yefsky

Charm enjoy an afternoon of laughing and

catching up.

"Since I am not ready to retire and love

teaching, a couple more years are 'in the

cards,'" wrote Barbara Madison Ripps last

summer, after completing her 31st year of

teaching in the South Colonie School District

in New York, where she has been teaching

third grade in recent years. She and her husband

continue to enjoy family time whenever

possible, though it's hard now with their

children living in other states. Son Zach, who

married a fellow Bentley University graduate

last August, works for Heinz in Pittsburgh.

Daughter Karina (also Bentley) works in the

marketing department at Curata, a content

marketing company in Boston – and loves living

in Boston just as much as Barbara did! In

addition to recent trips to Florida, Las Vegas,

and Aruba, Barbara and her husband went

to Europe to celebrate their 30th wedding

anniversary. She adds: "After more than 11

years, I continue to enjoy helping people in

my Arbonne business (http://barbararipps.

arbonne.com) showing them what 'healthy'

looks like and feels like. When you give someone

their life back, it's very gratifying. I'd love

to help you!"

1986

REUNION 2016

JUNE 3-5, 2016

Last summer, Eleni Geroulanou wrote: "I was

so devastated to hear about Mary Iatridis'

death. May she rest in peace. We will always

remember Mary for her energy, humor, and

kindness. She was quite an amazing teacher

and friend!"

Jeri Hammond '86/'92MS is in her first

year as principal of the Walton School in the

Wakefield, MA, Public Schools. In introducing

her to the Walton community last spring,

the town's superintendent of schools talked

about her "deep-seated passion for teaching

and learning" and called her "a fierce

advocate for enriching and challenging

learning experiences for all learners." During

the summer, Jeri told a reporter from Wicked

Local Stoneham about the great feeling she

had about Walton "from the moment [she]

walked in the door" and later wrote to the

Alumni Relations Office about the incredibly

exciting time she was having learning

the ropes there. Jeri was previously a grade

2 lead teacher at Driscoll Elementary School

in Brookline, MA, where she helped develop

educational curricula and an innovative

mentoring program for new teachers,

coached many teachers, and facilitated

professional learning experiences. In addition

to her Wheelock degrees, Jeri has an M.A. in

Educational Leadership through the EDCO

Leadership Institute.

NancyDee Tenney MacFarland '86 got nostalgic

as she sat in her "old 'backyard'" (Winsor

School field) and cheered on son Jameson

(goalie) during his Eastern Nazarene College

soccer game against Wheelock last September.

Back in September, NancyDee Tenney

MacFarland wrote: "Tuesday night, Sept. 8,

was a perfect summer night, warm but with

low humidity and a light breeze. I returned to

Wheelock for the first time in many years to

see my son play in goal for his college soccer

team (Eastern Nazarene College) on the Winsor

field [against Wheelock]. I never imagined

when I was attending Wheelock in the '80s

that one day my son would be playing in my

old 'backyard.' My husband and I remembered

fondly watching the Wheelock women play

a few games on the old field. The new facilities

are beautiful! The lush grass and trees

surrounding the field and the small rabbit

my daughter found were testaments to

the careful environmental planning behind

the state-of-the-art buildings now in place.

Many students came to cheer on the men's

soccer team. It was fun to chat with them

WINTER 2016
---
Class Notes

"The amazing girls from Riverway" together in March 2015. Back, L-R: Julie McLaughlin '88, Wendy

Horibin Monaghan '88, Allison Moses Nistico '87, Chrissi Losea '88, Kathy Correia DeRoehn '87.

Seated, L-R: Tammy Giroux Card '87, Christine Gardiner Mace '87, Marianne Hardart '87, Paula

Tartaglia Hardman '88, Liz DiBiase '88

and hear of their Wheelock experiences. I

have the fondest of memories of my years at

Wheelock, and I am excited for the men and

women of Wheelock today."

1987

Libby Hubbard VanDerMaelen

Jean Norman Clancy was so excited that she

had news to share! She says that after being

a soccer mom, dance mom, field hockey

mom, and theater mom, she can finally

say that she feels like a professional again

(while still being super mom)! She is now

the curriculum developer for a startup program

called STEM Beginnings (Shrewsbury,

MA). She teaches STEM enrichment classes

to children from preschool through second

grade. In addition, she developed the STEM

Goes STEAM summer camps (Arts are integrated),

where she is working to incorporate

curriculum for third- and fourth-graders. She

says that the company is fantastic and has

given her many opportunities. It has exhibited

at WPI's TouchTomorrow event, and their

proposal to participate in the Massachusetts

STEM Summit last fall was accepted. Jeannie

is excited to be a part of this fast-growing

company that offers so many inspiring experiences

to children! Beth Kaminow Lawrence

continues to teach yoga several times a week

in Washington, D.C. Her twin daughters are

starting high school at Banneker AHS, a magnet

school in the city, and her son continues

middle school at E.L. Haynes PCS. They are

all enjoying their time together along with

three cats and a dog.

"I love working with 3- and 4-year-olds,

but I could do without all the paperwork,"

writes Allison Moses Nistico of her work as

an IEP coordinator at a therapeutic preschool

in East Setauket, NY, for the past 14

years. She says "the girls from Riverway" still

get together twice a year: "These women are

amazing, and I am blessed that we are still

friends after so long. I am also thankful that

Wheelock brought us together."

1988

Carol Ann McCusker Petruccelli

Chris Schuman Kenny writes about her

busy summer of 2015, when they spent over

three weeks traveling in England, Wales, and

Ireland and visiting husband Peter's family:

"It was an amazing trip and a great experience

for the kids." She is still teaching at

church, co-directed last year's Vacation Bible

School, and was looking forward to starting

her second year of substitute teaching in

the fall (which she really enjoys though she

once "swore [she'd] never sub"). Julia Pounds

is still enjoying her work. She is well and her

children are growing up. Her oldest went off

to college last fall. Suzy Morrow Ciccarelli

'88/'94MS has a busy life with eight children.

She can be found at the gym with her husband,

driving, or at a field.

As for me (Carol Ann), I am in my 27th

year in Boston Public Schools. When not at

work, I can be found on the soccer or lacrosse

fields with my two boys. I still live right in the

city of Boston.

1991

REUNION 2016

JUNE 3-5, 2016

Rebekah Engel Elmore recently launched her

new business, Peak College Consulting, and

writes: "As an independent educational consultant,

I educate and facilitate my students

and families on all aspects of the college

admissions process and develop an individual

admissions strategy. After being in the business

world for so many years, I am thrilled

to get back to my Wheelock roots and work

with families during this very stressful yet

exciting time." Rebekah still lives in Newburyport,

MA, with her husband of 24 years and

her four "uniquely different teenagers."

"It's been quite an education!" Alyssa

Greeley writes of her hard work as a member

of the board of directors for her condo association.

Amy Lindstedt-Kelly wrote last

summer of her son and daughter's participation

during 2014-2015 in the volunteerled

problem-solving program Destination

Imagination. "Team members work together

to develop a solution to an open-ended

challenge and present their solutions at

tournaments," she wrote, "and my son Evan's

third-grade team advanced from the first

regional challenge to go on to the Mass.

state tournament, where they took third

place!" Amy enjoys helping to maintain her

UCC church's Facebook page and to grow its

evening alternative service. Her family has

recently had fun trips to Bar Harbor, ME, and

Acadia National Park and to North Carolina.

She says she hopes old friends she's not Facebook

friends with yet will look her up.

Maria Maffeo-Baffo '91/'95MS wrote last

spring about a unique opportunity she was

given at Wheelock on Oct. 17, 2014, during her

niece, Talia Mango's senior year: "I was invited

by one of Talia's professors, Felicity Crawford,

to share with her class my role as a classroom

teacher and how I include strategies

along with modifications while considering

diverse learning styles in order to increase

opportunities for all students to achieve. I felt

really important, especially when Professor

Crawford had a parking cone put next to a reserved

spot in the Wheelock College lot with

a sign that had my name on it. Wow! I still

have the sign to this day!" Maria continued:

"I was very honored and nervous at the same

time since I had never presented to college

students before. I had to ask my principal

for a professional day, and she was receptive

59

magazine
---
Class Notes

60

when I shared the reason for it. When it came

time to present, I stood before the students,

I took a deep breath before I presented, and I

felt comfortable due to the warm welcome.

After all, Wheelock is my alma mater and I

was sitting in the same seat when I was a

student. I was very pleased when Talia smiled

at me during my presentation, while I eagerly

answered a lot of interesting questions from

the students and received positive feedback.

Because of Savannah author, Sarah Rice Patt '91

In fact, I was invited to come again sometime!

How exciting! I was extremely proud of

Talia for her academic and social growth during

her time at Wheelock and for receiving a

4.0 her senior year! The [May 2015] graduation

ceremony was beautiful. I knew from

my first visit at Wheelock College that it is a

special place, and I am happy and proud that

another family member was able to receive

the same positive learning experience and

academic preparation to work with children

and families."

"Other than aspiring to be a devoted wife,

nurturing mother, and caring teacher," writes

Sarah Rice Patt, "I also had 'become an author'

on my mind since childhood." So Wheelock is

happy now to be able to congratulate Sarah

on completing and publishing the novel

Because of Savannah last year after "four

wonderful, long, yet fast at the same time,

years" of hard work. She adds: "Wheelock

absolutely gave me my teaching foundation,

and the late Professor Phil Craig (my minor

was English under his tutelage) gave me

positive feedback on my writing and endless

encouragement for me to pursue this

author goal of mine." Sarah says she finds

promoting her book much more difficult

than writing it was, but she came up with a

terrific book club marketing plan: "I will make

an appearance at any local book club with a

bottle of wine for the hostess and cupcakes

for the readers and a pen in hand for me to

sign their books when they are through with

Because of Savannah!"

1992

Lisa Beladino Burgess and her family recently

relocated to Cumming, GA, where they

opened a new business last May – Christian

Brothers Automotive. "We absolutely love the

area and are excited about our new business,"

she writes.

1994

Last September, Michele Schorr Taylor (who

now follows her name with "RN, MSN,

BS, EMT"!) excitedly reported: "I finished a

master's in nursing in April with honors, and

I've been inducted into Sigma Theta Tau. I am

also a mentor for future nursing students

completing their master's degrees. Currently

I work for hospice with the Visiting Nurse

Association on Cape Cod, and I will eventually

work in the Education Department, combining

both sides, my degrees from Wheelock

and University of Phoenix."

Sarah Zimman Dulong '96/'97MS, husband

Dennis, and son Dylan welcomed Vivienne

Zimman Dulong last June 2.

1996

REUNION 2016

JUNE 3-5, 2016

Sarah Zimman Dulong '96/'97MS had a

baby girl, Vivienne Zimman Dulong, last June

2. Sarah, husband Dennis, and big brother

Dylan are "enjoying her immensely!"

"I LOVE everything about teaching!"

writes Heatha Galotti Normandin, who is in

her 20th year at the Ellis School in Fremont,

NH. She has enjoyed teaching special education

grades 1 to 4, and fourth- and secondgrade

full inclusion classrooms. Heatha

and her family still live in Danville, NH. Her

husband is head of Quality Flame Cutting

in Fremont. Daughter Willow, a freshman at

the high school Heatha went to, is "insanely

social," makes the honor roll, and dances

10 hours a week. Heatha and her husband

also enjoy time on their jet skis, which is

their newest hobby. "Wow!" she wrote last

summer. "Next year in 2016 it will be my 20th

year at my job, 20-year college graduation anniversary,

and 20-year wedding anniversary!"

Kelly McGrath Szalewicz and her family

had for six years been living in and restoring

a 5,400-square-foot house built in 1767 in

the Berkshires, but last summer they found

themselves "sprinting to finish" so they could

move to Marblehead, MA, before the start of

the school year so husband Ben could start a

new job at Salem State University. Kelly was

really looking forward to being a short drive

from Boston again. She is at home with their

four children: Emma, 15; Clara, 12; Jacob, 8; and

Evan, 3. She writes, "We are closing the chapter

in our lives of being foster parents for DCF

after our last adoption [Evan, last February]."

Sonya-Lee Costantino Zezza writes of the

trip she took to China last May to run the half

marathon on the Great Wall: "What a thrilling

adventure. I started running in 2007 and

have accomplished several marathons and a

whole lot of half marathons and have done

other international races." Sonya-Lee, who

graduated with a master's degree in social

work/early intervention from Virginia Commonwealth

University in 2005, spent most

of her career in the medical field but then

in 2012 changed to low-income subsidized

housing. Son Zachary is 15, and she plans to

stay in Virginia until he graduates from high

school (2018) – and then take off for "other

adventures." Sonya-Lee is looking forward to

Reunion and, until then, invites classmates to

find her on Facebook.

1996 classmates Sonya-Lee Costantino

Zezza (left) and Colleen Doyle Tessier met up

at the British Beer Company in Danvers, MA,

last August.

WINTER 2016
---
Class Notes

Robin Fradkin Matthews '96 (standing) and friends brought kids along to make their August 2015

get-together even more fun. L-R: Barbara Raymond Bell '96 (holding Libby's daughter, Anna); Libby

Rackliffe Gustafson '97 (seated, holding her son John); Robin with her son, Asher; Libby's son Will;

Kathy Clunis D'Andrea '97/'98MS (holding her son, Alessandro)

1997

Kathy Clunis D'Andrea '97/'98MS drew on

her experience as a K-1 teacher at Mission Hill

School (in the Boston Public Schools) in her

work as co-editor of the 2015 book Teaching in

Themes: An Approach to Schoolwide Learning,

Creating Community, and Differentiating

Instruction. She also contributed the chapter

"What's Baking? Learning Together About

Bread and Bakeries." The book's publisher,

Teachers College Press, says it answers questions

like "How do teachers and schools create

meaningful learning experiences for students

with diverse skills, abilities, and cultures?"

and "will help schools incorporate a wholeschool,

theme-based curriculum that engages

students across grade levels K-8."

Lisa Marie Klem '97/'98MS proudly announces

the arrival of her daughter, Grace

Margaret Klem, last April 15. "She is a longawaited

dream come true," Lisa writes.

1998

Jennifer Duchesneau Beaulac has a new job

as evaluation team supervisor for the Lexington,

MA, Public Schools. She works at the

Estabrook School.

Anita Anderson Castillo let Wheelock

know, and the College confirmed through a

Telegraph (U.K.) story, that Sana bin Laden

died in a plane crash in Hampshire, England,

last summer. According to the story, she was a

philanthropist who supported orphanages in

Saudi Arabia and sponsored children's education.

A friend of Sana's who was interviewed

for the story said: "[She] was 'loved dearly'

by those at the orphanage, who called her

'Mama Soso.' She had recently organized a

breakfast club for orphans and was said to

have been a favorite of the children in her

care." Anita wrote to Wheelock: "Many of my

classmates may remember her as the girl who

arrived to school each day in a limo, but she

lived a humble life. I always loved that about

Wheelock – knowing that each soul who was

enrolled had the same desire to give, love, and

make a difference."

1999

This academic year, Lisa Yates has been the

new principal of the Wells Village School in

Wells, VT. She was previously the principal

of Carlos Pacheco Elementary School in

New Bedford, MA.

2001

REUNION 2016

JUNE 3-5, 2016

Claire Kinkade Dunn welcomed her third

child last April: Maeve Georgia Dunn joined

big brothers Oliver (4) and Liam (2). Rachael

Spicer-Ness wrote last summer to let classmates

know of the birth of her second son,

Lennon Josiah Arnold Ness, on July 15.

2006

REUNION 2016

JUNE 3-5, 2016

Caitlyn Anamateros Olsen and husband Ryan

welcomed a baby boy, Logan Joseph, last June

23. He weighed 10 pounds, 4 ounces.

2007

Cheryl Hovey '07/'07MS has become the Early

Childhood Program director/assistant professor

at Fisher College, based in Boston.

2008

Lauren LaBelle Morin and her husband moved

back to Washington state (where Lauren

is from) last April, and she is working as a

hospital social worker. They had their second

son, Benjamin, on May 31. He and big brother

Oliver are doing well.

"After a backpacking trip to Southeast

Asia [in the summer of 2014], I continue to

concoct traveling plans around the world,"

writes Christine Romero. She recently made

a successful career transition from social

work to teaching and now works at Roots &

Branches School, a progressive Baltimore City

charter school. Alison Vallese and Rob Masinda

were married on March 28, 2015, and live

in Warwick, RI. Alison continues to work as a

fifth-grade inclusion teacher in Attleboro, MA.

2010

Laura Stanley '10/'11MS started a new job as

child life specialist at University of Virginia

Children's Hospital in Charlottesville last

June. She worked as an activity assistant at

Pendleton Health and Rehabilitation Center

in Mystic, CT, before moving to Charlottesville.

She now works with Amanda Simas

'11MS, lead child life specialist at the Children's

Hospital.

2011

REUNION 2016

JUNE 3-5, 2016

Sage Carbone writes: "After graduating from

Wheelock, I worked for two years in higher

education before going back to school to get

my master's degree from Simmons College

in Communications Management. While

attending, I worked as a substitute teacher

for the Somerville Public Schools. Recently I

accepted an offer to work in the Community

Schools division for the City of Cambridge

– planning events for children and families

around the city and ensuring that they have

the best resources available to them." Kiera

Pritchard Lantz and husband David had Avery

Liliana Lantz in Kingston, PA, last March 27.

Marci Leno, a Wheelock Math/Science

Award winner in 2010, emailed the College

61

magazine
---
Class Notes

62

last spring and talked about her experience

as a math/science major at Wheelock and

some of the good things it led to: "My degree

allowed me to complete and graduate from

an accelerated EMT-Basic course. I have

enjoyed volunteering at the local hospital

here [Bozeman, MT] and have also been an

assistant teacher for the same EMT course

I graduated from. Being a top math and science

student at Wheelock College enabled

me to be accepted as an American Cancer Society

Alvan T. & Viola D. Fuller Junior Research

Fellow. This fellowship gave me the opportunity

of shadowing a thoracic oncologist at

Mass General. I spent the summer assisting

with research being done on thoracic cancers

(lung cancer, throat cancer, etc.). This fellowship

was the greatest learning experience

of my entire life." Marci, who has recently

worked in guest services for Marriott, also

wrote, "Wheelock certainly not only educated

me, but has given me some of the best

memories of my life."

Michaela Ross Rice '11 and Eric Rice '12 with

son Avery James (rockin' the bowtie!)

Michaela Ross has been working at the

Joyce Middle School in Woburn, MA, as a special

education teacher since she graduated

from Wheelock. She married Eric Rice '12, who

currently sells real estate, in April 2014, and

they had their first child, a son, Avery James,

last January.

Rachel Schumacher writes about getting

married last June 27: "We met during

my [2013] term of service with AmeriCorps

NCCC in the North Central region based out

of Iowa, where we served on the same team.

That was my second year of AmeriCorps –

my first was with the Community Health

Center in Middletown, CT, in 2011-2012. Since

completing my term with NCCC, we moved

back to my hometown of Norwich, CT, where

I am currently working as the lead teacher of

the toddler classroom at Mayflower Montessori

School. I stay in contact with my best

Wheelock girls from the 301 CCSR suite of

2011: Samantha Suarez, Catherine Piccininni

'13, and Natasha Al-Rafie '12, all of whom

were the bridesmaids in my wedding." Rachel

shared that last August Samantha was

headed to Colombia for a one- to two-year

adventure teaching English in schools there,

Catherine is completing her graduate degree

at Wheelock, and Natasha is also doing

graduate studies.

2012

Kayla Drescher, now living in Los Angeles,

is performing magic all over the country,

including a performance at Wheelock's April

2015 Make-A-Wish talent show. Last summer,

she was a counselor and teacher at Tannen's

Magic Camp in Bryn Mawr, PA, where over

150 young magicians gathered to learn the

ins and outs of performing magic. The rest

of Kayla's summer was filled with traveling,

outdoor fun, and even performing as

an opening act for a show on the Las Vegas

strip! To find out more, visit www.magicinheels.com.

Last year, Ava Jennings '12/'15MS

wrote: "This summer I'm a participant in the

Teacher Launch Project. The project is actually

part of a research study being conducted

by Harvard University. During the four-week

summer program we practice behavior management

skills, classroom culture practice,

and importance of routines and systems, and

we receive 20 weeks of mentoring during the

school year! The program has been amazing

thus far. I am glad I joined!"

2014

Last spring, Megan Mawe, a math/science

major when she was at Wheelock, wrote: "I

have continued to pursue math/science! I

am currently enrolled in an accelerated B.S.

and M.S. of Nursing at Regis College. I will be

receiving my nursing license next January

and will then continue on to complete my

master's degree in nursing to ultimately be a

nurse practitioner in acute/surgical care. My

degree in math/science was a great starting

point for this, as the science prerequisites for

this program were very extensive, and a bachelor's

degree was required for acceptance. I

also minored in education, which has proven

to be incredibly helpful for all the patient

teaching required in nursing. I also work as a

home health aide for a private-duty nursing

company, and this has been immensely helpful

for my nursing education!"

Master's Degrees

Congratulations to Kim Paddison Dockery

'78MS (Ed.D., University of Virginia), who

retired last August after 20 years in the

Fairfax County (VA) Public Schools. She had

most recently served as chief academic officer,

overseeing the daily academic life of the

school system's more than 185,000 students

and leading divisionwide instruction and

testing services. After joining the school

system in 1995 as a special education teacher

at Mantua Elementary, she served as an

assistant principal at Haycock Elementary, as

principal of Westlawn Elementary, and as the

assistant superintendent for special services,

leading special education, health services,

and intervention and prevention programs

for students. "She was an integral part of the

school system's efforts to reform the district's

disciplinary procedures, particularly for teens

in high schools," according to a July 2015

Washington Post story. Kim herself writes

that she has also done a lot of work in early

childhood with Ellen Galinsky (president and

co-founder of Families and Work Institute) and

in the fall participated in the National Governors

Association roundtable on "social emotional

learning in early childhood (and the pre-

K-12 alignment required to support SEL)." She

adds, "Wheelock and Susan Kosoff ['65/'75MS]

were so foundational for my career!"

Dr. Laurel Waiksnoris Bongiorno '85MS is

dean of the Division of Education and Human

Studies at Champlain College in Burlington,

VT. Susan Brown Bramble '94MS was in

touch last spring, when she was excited to be

starting her new position as learning specialist

at Stone Ridge School in Bethesda, MD,

where she works primarily with students and

teachers in grades 5 and 6.

Last fall, Dr. Kimberly Wright Morgan

'05MSW wrote: "Recently, I completed a

doctorate in Pastoral Care and Counseling.

My husband and I are returning from our

summer trip to England, Wales, and Ireland,

visiting our family. I will begin my new appointment

with the Civil Air Patrol Chaplain

Corps, as a character development instructor.

Thank you, Wheelock Graduate School of Social

Work, for shaping who I am today." Nyree

WINTER 2016
---
Simmons '07MS was selected as 2015-2016

Teacher of the Year for the Jasper County

School District in South Carolina, where she

works at Ridgeland Elementary. An online

story about this recognition talked about

how Nyree has a positive impact on not only

her students but also her colleagues, inspires

her students to have the same love of learning

she has, and connects with her students

in special ways to help them really learn the

material she's teaching.

Since shortly after graduating from

Wheelock, Beth Kreyling '10MS has held the

position of pediatric hospice child life specialist

in the Gilchrist Kids program at Gilchrist

Hospice Care in Baltimore, MD. In support

of her hospice role with children and their

families, she has also received certification in

thanatology. Erin Butts '15MS has been working

in the field of early education for 14 years

and is now teacher/director of the Haggerty

Preschool in Cambridge, MA, a 10-month

program for children ages 2.9 to 5 years old.

The thing she loves most about teaching is

that she never stops learning, she says, and

she feels that all of the amazing children and

families she has worked with over the years

have helped her learn and grow as both a

teacher and a person. She says she values

the opportunities to make a difference in

the lives of children and families and to work

with families to help them learn more about

their children and the ways they can support

their learning at home.

Arrivals

96/97 Sarah Zimman Dulong,

a daughter, Vivienne Zimman Dulong

97/98 Lisa Marie Klem,

a daughter, Grace Margaret Klem

01 Claire Kinkade Dunn,

a daughter, Maeve Georgia Dunn

01 Racheal Spicer-Ness,

a son, Lennon Josiah Arnold Ness

06 Caitlyn Anamateros Olsen,

a son, Logan Joseph

08 Lauren LaBelle Morin,

a son, Benjamin

11 Kiera Pritchard Lantz,

a daughter, Avery Liliana

11 Michaela Ross (and Eric Rice '12),

a son, Avery James

Unions

11 Michaela Ross to Eric Rice '12

11 Rachel Schumacher to Nick King

In Memoriam

33 Rozilla Morton Roberts

37 Katherine O'Hearn Page

38 Jean Gardner Anderson

39 Harriet Rice Wood

40 Rita Jaffe Govenar

41 Barbara Jameson Lawson

41 Jean Tilton Melby

41 Joanne Jamieson Owens

41 Jean Stout Wilson

42 Cynthia Schofield Cleary

42 Elizabeth Hague Erlandson

42/43 Eleanore Moginot Fisher

42/43 Ann "Bucky" Starbuck Gelser

43/44 Elizabeth Thompson DeGuzman

43/44 Lois Crocker Gill

44 Judith Elder Scott

43/44 Nancy Powell White

46 Dorothy Spencer Chaudoin

46 Sarah Ryan Donnelly

46 Medora Wilson Douden

46 Frances Robertson Gill

47 Patricia Portley Bucher

48 Yolanda Restivo Miller

49 Laura Anne "Lolly" McPhee Burton

49 Cynthia "Teddy" Duff Lyons

49 Frances Cummings Partridge

50 Beverly Simon Green

51 Ann Ryan Gilpatrick

51 Ann Parry McKee

51 Bernice Race Senchik

51 Priscilla Janeway Sherwood

53 Virginia Taylor Rowley

54 Joan Kemp Seeber

57 Katherine Kavinoky Goldman

61 Emily McLeod Welch

62 Susan Powers Knapp

62 Marie "Kim" Kimball Thomas

65 Linda Larrabee Blair Lockwood

69 Carol Morrison Currie

72MS Mildred Johnson Bean

73 Mary Lozoraitis Mickey

74AS Nan Jones Brown

74 Patricia Kellaway Hess

76MS Gwen Morgan

95 Megan Marquis Yip

98 Sana bin Laden

99 Cynthia Pease

Please send us your news!

Please send us your news, both personal and

professional. Scribes' letters asking for news will

be sent only by email from now on, so, especially

for those who don't use email, please send your

news using the information and form below by

Feb. 8 to have your news printed in the Summer

2016 Wheelock Magazine. Thank you.

Mail:

Name (include maiden name, if applicable)

Degree

Home address

Email

School/Company name

Title

Work address

Work email

Lori Ann Saslav, Wheelock College,

200 Riverway, Boston, MA 02215-4176

Email: lsaslav@wheelock.edu

Fax: (617) 879-2326

News for Class Notes:

Telephone

Class

Work telephone

magazine
---
Wheelock College student happy to be on

Riverway to start her fall classes
---
In Honor of

Gwen Morgan '76MS

Message from

President Jackie

Jenkins-Scott:

It is with great sadness that I announce the passing

of our beloved [Gwen Morgan '76MS], a longtime

respected member of the Wheelock community and

a national leader in early education and child care. Gwen passed away [Friday,

Sept. 4, 2015] at her home in Lincoln, MA, at age 90.

An inspirational visionary who just never gave up her fight for quality early

education, Gwen advocated for every child having high-quality and affordable

early education and care. She supported the cause for every practitioner to

receive excellent professional development and be compensated adequately.

In 1972, Gwen joined Wheelock College as a faculty member, and her great

impact has been felt ever since. This same year, she pioneered the coordination

of and improvements to services for children in the Commonwealth

as the first Director of the Massachusetts Office for Children. From 1991

to 2004, Gwen was the Director of the Center for Career Development in

Early Care and Education at Wheelock. The Center helped numerous states

develop professional development systems. Additionally, she ran the highly

respected summer program for child care center directors based on research

and business management training.

Gwen was an amazing and inspirational leader and friend to many at

Wheelock and throughout the early childhood community. She leaves a

legacy of quality early education and care for all children that will continue to

impact future generations. I was honored to meet Gwen shortly after arriving

at Wheelock. She was a trusted advisor who was always available to everyone

in our community. Many faculty and staff found their way to the Brookline

Campus to seek Gwen's advice and support. We are

grateful that she served the College for nearly five

decades. She will truly be missed. I was fortunate to

have known her.

Gwen is the epitome of a life lived in support of

Wheelock's mission to improve the lives of children

and families during her many decades of impacting

policy and practice. I hope that the many who knew

her from the Wheelock community, and those who

were inspired by her, will continue to support her legacy by advancing the

work she spent her entire professional career pursuing.

A Remembrance with

Love and Gratitude

On Oct. 23, 2015, the Wheelock

community gathered

for a memorial service for Gwen in

the living room at 43 Hawes Street,

where President Jackie Jenkins-

Scott offered opening and closing

remarks. Cheryl Render Brown,

Wheelock College associate professor

of Early Childhood Education;

Joyce Butler '73, member

of the Wheelock College Board

of Trustees; and Amy O'Leary

of Early Education for All, and a

Wheelock adjunct faculty member,

offered moving tributes. And

finally, Leland Clarke '75, associate

professor of Arts, played "It Is

Well with My Soul" on the piano.

magazine
---
200 Riverway

Boston, MA 02215-4176

(617) 879-2123

#wheelockgivingday

03.30.16

Find out more: wheelock.edu/givingday