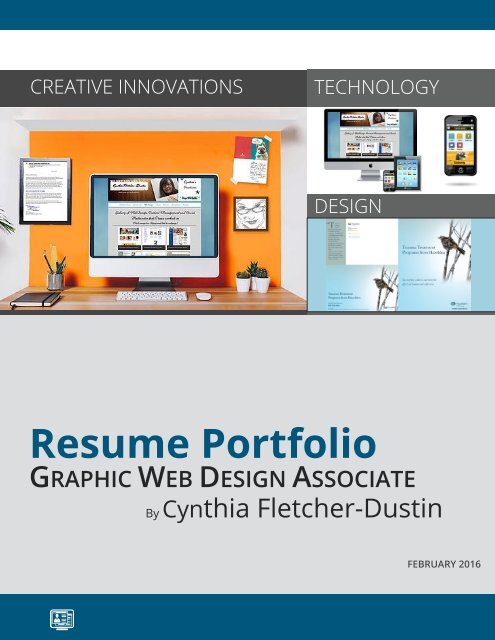 CSFD Resume Portfolio
Cynthia Fletcher-Dustin Resume Portfolio
Cynthia Fletcher-Dustin Resume Portfolio
SHOW MORE
SHOW LESS
Create successful ePaper yourself
Turn your PDF publications into a flip-book with our unique Google optimized e-Paper software.
CREATIVE INNOVATIONS

TECHNOLOGY

DESIGN

Resume Portfolio

GRAPHIC WEB DESIGN ASSOCIATE

By Cynthia Fletcher-Dustin

FEBRUARY 2016
---
INTRODUCTION

CYNTHIA FLETCHER-DUSTIN

GRAPHIC AND WEB DESIGNER, ART DIRECTOR, DIGITAL SPECIALIST

February 2016

Dear Employer,

Thank you for taking the time to connect with me and learn how I can bring value to your company, team

and department. I am currently doing Graphic/Web Design/Art Direction/Digital Printing for Hazelden

Betty Ford Foundation for the past 8.5 years.

My projects come from a wide variety of clients and vary from small to full out advertising campaigns.

As you will see on my resume, I've worn a lot of different hats. Current and past design projects that I

have worked on are corporate marketing pieces for B2B and C2C, ads, brochures, postcards, large and

small format signage, website layouts, email marketing, mailers and more from concept to creation or as

production artist. I thrive on the excitement of working with a marketing team, attending photo shoots,

press checks, radio and TV campaigns or just laying out and creating the next design.

PLANNING ~ VISUALIZING ~ CREATING ~ MANAGING ~ COMMUNICATING ~ SUCCESS

With several years of experience in the marketing and communication fields, I would be an asset to your

team. My background includes art direction, graphic/web creative design, brand marketing, web content

management and advertising, production art/electronic and preflight/prepress. These skills include

extensive experience in several web, graphic, programs such as Adobe Creative Suite, included Flash,

Dreamweaver, Illustrator, Photoshop. Along with experience in web coding, multimedia, social media,

email marketing and digital strategy.

As you will see on my enclosed resume, I have been affiliated with a highly regarded design/advertising

firm. My job duties included creating and implementing graphics that align with our clients branding

and graphics standards, while delivering a consistent look and feel, that is usable in various print and

electronic formats.

Something my resume will not tell you is that I am hard working and have a fun, creative, quirky personality

that works well with a team. Left to my own devices I can complete independent projects and tasks in a

highly efficient manner within budget requirements. I pride myself on making the client happy!

In addition my background includes a bachelor's degree from Metro State U in Business, Art and Computers

as well as a Web-Graphic Design degree from the Hennipen Technical College with a 3.9-4.0 average.

I believe that I am particularly well qualified for art direction, web and graphic design, and/or digital strategy

marketing. If do find a position that you feel I would be qualified for please contact me at 651-271-7597 or

by email at cynthafletcherdustin@gmail.com.

Thank you most sincerely for your time and consideration.

Cordially,

Cynthia Fletcher-Dustin

Graphic/Web Design/Digital Printing Specialist/Prepress/Art Director

CELL Phone: 651-271-7597 EMAIL: cynthiafletcherdustin@gmail.com
---
MAILING ADDRESS:

6125 GOODVIEW TRAIL COURT NORTH, HUGO, MN 55038

Skills, Background, Knowledge, and Experience I possess

• Creative Art Director Design background

18+ years experience

• Graphic Design

(various advertising and mail pieces)

• Web Design

(wireframing page layout, planning,

structure and strategies)

• Web Content Management

• EBook Creation, Tablet & Phone screen

creation skills

• Front End Web Development

(light web coding abilities in HTML,

Javascript & CSS)

• Digital Design

• Multimedia (Flash & Gif Animation,

video/movies, sound recording)

• Social Media

(Twitter, Facebook, Google+ Pinterest ~

account setup, daily posting updates &

infographics)

• Email marketing skills (SEO/SEM)

• Preflight/Prepress

• Digital print skills and knowledge

• Art Production

• Illustrations

• Project Management

• Database and computer maintenance

• Client negotiation skills

• Photography and Photoshop skills

(taking photos, manipulating and cleaning

them up)

• An art portfolio that shows working with

Marketing and Publishing design teams

on various projects meeting brand

standards and policies

• Knowledge of various job tracking systems,

OnBase systems, Central Supply systems,

multiple server systems, along with working

with various processes, procedures, and

departmental rules & guidelines

• Financial and Admin skills for job tracking,

documenting, and financial worksheets

• BA degree in Web and Graphic Design,

Business, Computers and Music

• Desktop Publishing and File Proofing

The next few pages show

you what value I can bring

¸¸.•*¨*•☞

to your company ...............

CELL Phone: 651-271-7597 EMAIL: cynthiafletcherdustin@gmail.com
---
CYNTHIA FLETCHER-DUSTIN

GRAPHIC AND WEB DESIGNER, ART DIRECTOR, DIGITAL SPECIALIST

PORTFOLIO SAMPLES

PROJECTS COMPLETED FOR

HAZELDEN BETTY FORD

SOME OF THE PROJECTS I HAVE COMPLETED AS A XEROX ASSOCIATE

SMALL BOOKLET

INSPIRATIONS :

This is a project that the Hazeden Publishing Marketing

department had me create. It is a small 20 page booklet

that they have me recreate every year.

Q & P I

QUALITY & PROCESS IMPROVEMENT

TEAM LOGO

QUALITY & PROCESS IMPROVEMENT :

This logo was created for the Hazelden Betty Ford

Quality & Process Improvement department for thier

materials and webpages.

CALENDAR

B2B MAILER

2016 20+ COMMEMORATIVE : LIFELINES :

This calendar was created for the Hazelden Betty Ford

Foundation Human Resources department. It was given

as a gift to all employees who have worked with HBFF

for over 20 years.

The Hazelden Publishing department had me create a 4

page mailer for thier Lifelines products.

SEE FULL PORTFOLIO HERE: http://cynthiafletcherdus.wix.com/artsamples

CELL Phone: 651-271-7597 EMAIL: cynthiafletcherdustin@gmail.com
---
VALUE ADDED SERVICES

MAILING ADDRESS:

6125 GOODVIEW TRAIL COURT NORTH, HUGO, MN 55038

VALUE ADDED KEY POINTS

DESIGN SERVICES & SUPPORT

DESIGN & SUPPORT VALUE 1

VALUE I BRING :

• Experience in digital media, proven knowledge of

creative strategy, vision, identity and rebranding

• Giving 110% to the client when working with them

while deliverying cheerful attitude

• Creative team and agency experience

• Several years of proven skill with various

systems and software programs

• Content development and management

• Williness to challenge myself and try new ideas

DESIGN & SUPPORT VALUE 3

GOALS THAT I CONTINUE TO WORK ON :

• Observe and suggest to expand and increase

services that have benefited Xerox and the client

Hazelden Betty Ford Foundation

• Continue to work on eliminating excess expenseS

• Cultivating cultivating and growing client relationships

• Continue to learn tools and update skills that will

benefit all clients

DESIGN & SUPPORT VALUE 2

ACCOMPLISHMENTS & SUCCESSES :

• Trained and experience inGraphic & Web design from

concept to finalization, prepress and digital printing

• Success in managing and delivering multiple projects

within various timelines

• Continousious client approval and praising of my work

• The clients are continously praising my work

• 8.75+ Years of experience and expertise with HBFF

and their complicated systems and procedures

(this includes 3 different data entry systems and 9

servers and numerous departments with different

modes of operation and procedures to follow)

• Success in creating 100+ page intranet website with

department policies, procedures and examples all

hand coded

• Success in designing several websites from concept

to completion

• Success in several types of Marketing Designs

CELL Phone: 651-271-7597 EMAIL: cynthiafletcherdustin@gmail.com
---
Cynthia S. Fletcher-Dustin

RESUME

6125 Goodview Trail Court North, Hugo, Minnesota 55038

651.271.7597

CYNTHIA FLETCHER-DUSTIN

Email: cynthiafletcherdustin@gmail.com

https://www.linkedin.com/in/cynthiafletcherdustin GRAPHIC AND WEB DESIGNER, ART DIRECTOR, • http://cynthiafletcherdus.wix.com/artsamples

DIGITAL SPECIALIST

Experienced, Knowledgeable, Creative

AREAS OF EFFECTIVENESS

Creative Layout, Design and Art Direction

Professional Graphic/Website Design

Database/Computer Maintenance

Website & Google Analytics/SEO Best Practices

Marketing Communications Coordinator

Multimedia~Flash/Animation/Computer Specialist

Web Content Management

Mac Production Artist

Digital Photography

Digital Print Specialist

Prepress Production Artist

Web Site Planning & Renovation

CAREER HIGHLIGHTS

• Art direction in the development of various sales driven strategy designs for various marketing campaigns

collaborating with marketing teams to define branding and advertising pieces

• Visualize, design, and produce high impact B2B and B2C marketing and follow up materials targeting

specific audiences that meet and support client business concepts, standards, branding and specs

including graphic and web images, logos and layouts, customer proofs, storyboards and mockups

• Work with Content Management Systems, Digital Marketing Strategies, Google Analytics & Google

webmaster tools, Social Media, SEO, email marketing

• Planned, organized, produced, implemented, coordinated, and followed-up on various advertising pieces

and magazine layouts, press releases, radio/newspaper advertising with the Marketing Management

• Create designs for web layouts to meet client standards, branding and concepts using Dreamweaver,

Flash and Photoshop incorporating CSS/style sheets and various programming languages

• Digital page assembly using Adobe Creative Suite (InDesign, Dreamweaver, Illustrator, Photoshop for

PDF workflow

• Communicate to the public through various advertising and marketing pieces such as: eBlasts/Fax Blasts,

YouTube Video streaming, Web Banners, 2D/3D Ad Pieces, HTML Mail Pieces, high impact interactive

ebooks/flipbooks, Marketing Promo pieces (Billboards, Signs, Flyers, Brochures, Direct Mail Pieces)

• Efficiently managed multiple, concurrent projects in different stages from short to long turnaround times

• Coordinate photo/studio sessions with clients/artists, press checks and creative meetings

• Manage marketing technology with a strategic viewpoint to track and analyze for web sites, digital

advertising, social media, email, TV and Radio campaigns

• Designed and maintained 100 page Intranet site for department policies and procedures

• Generation of dynamic webpages incorporation for ecommerce and data-based websites

• Ability to conceptualize and produce compelling visual presentations in a variety of media to convey

complex messages as well as personal expression to a wide variety of audiences and advertising pieces

• Develop visual presence and advertising strategies on Wordpress, eBlogger, Twitter, Facebook, LinkedIn

• Web programming and maintenance using HTML and other web languages and hand coding

• Fluent in strategic brand marketing, digital marketing vehicles, website operations

• Assist clients and project analysts in the design of aesthetically pleasing and functional websites,

advertising pieces, graphics, images, layouts and presentations meeting their corporate standards

• Site administration and management, domain name registration and management

• Design stand alone, multimedia and PowerPoint CD/DVD presentations with video and sound

• Create budgets, proposals, pricelists, and estimates for various projects from customer specs

• Image manipulation/creation, optimization and web conversion with Photoshop and Illustrator

• Incorporate text style sheets, printer marks, color separations, templates, master pages within projects

• Digital prepress, printing, production art, preflight and customer file preparation for print and the web

• Setup, stage and coordination of props, signs, banners, materials for corporate functions and trade shows

• Supervised and train production graphic artists and print specialists

• Ability to learn and adapt new technologies and software

CELL Phone: 651-271-7597 EMAIL: cynthiafletcherdustin@gmail.com
---
Cynthia S. Fletcher-Dustin cont. (Page Two)

EXPERIENCE

Hazelden Foundation/Xerox/Westaff – Graphic/Web Design/Digital Printing (Currently since 5/07)

Creative Group/Digital People (Graphic/Web Design~Marketing Communications Coordinator) (Until 3/07)

Musigraph Designs (Web/Graphic/Multimedia) (PT Freelance – over 18 yrs)

ITT College (Graphic Multimedia Instructor) (Until 6/07)

Vertis Corporation (Mac Production Artist) ~ Meyers Printing (Prepress/Graphic Artist) (9 yrs)

No Man's Land Band/Life After Dark Band (Art Director/Musical Artist/Band Manager) (7 yrs)

PORTFOLIO

Online Resume/Portfolio ~ http://cynthiafletcherdus.wix.com/artsamples ~

~ http://www.designwithcynthia.com/CFD_banners.htm ~

~ http://photos.musigraphdesigns.com/GalleryThumbnails.aspx?gallery=200520 ~

Websites/Banners

Newspaper/Magazine/Catalog

Radio/Cable Advertising

Business Ad pieces

Brand/Logo Design

Brochures/Flyers/Postcards

Book Layouts/flipbooks/ebooks

eBlasts for Web/Fax Blasts

KNOWLEDGE EXPERTISE

Banners/Signs

Corporate Staging

PowerPoint Presentations

Multimedia CD/DVDs

Marketing Pieces

Digital Photography

Sound/Video Production

News Bulletins/Billboards

TECHNICAL SKILLS & EXPERTISE

MAILING ADDRESS:

6125 GOODVIEW TRAIL COURT NORTH, HUGO, MN 55038

Clients/Companies:

Hazelden Betty Ford Foundation

Cub/Supervalu, Vertis, Dairy

Queen, Meyers Printing,

American Express, Target, 3M,

IDline, Rivers End Trading Co.,

Nike, Tommy Hilfiger

Graphic Programs

Adobe Creative Suite

Photoshop/Illustrator

Golive/LiveMotion

InDesign/QuarkXpress

PageMaker/Freehand

Acrobat Distiller/Exchange

Suitcase/Streamline

Web/Multimedia Programs

Macromedia Studio

Adobe Flash & Director

Dreamweaver/Fireworks

Quicktime Pro/iMovie/iPhoto

Adobe Premier/After Effects

Adobe Muse/Soundedit

Audioshop/Videoshop

Adobe Audition/Animate

AutoCAD LT

3ds Max/Adobe After Effects

Digital Photography and

Presentation:

PowerPoint Presentations

Multimedia CD/DVD

Video/Sound/Youtube/SoundCloud

eBooks/flipbooks

Prepress/Production Art:

Xerox Presses & Servers

Flightcheck/Pitstop

Creo Plate Server

Imposition/Preps/RIP Processes

Database Design/Maintenance

OnBase/ SQL/MySQL

Access/FileMaker Pro

Social Media

(Twitter, Pintrest, Facebook,

Bloggers)

Office Programs

Microsoft Office Suite

(Excel, Word, Publisher)

Simple Web Programming:

HTML/DHTML/XHTML

SEO/Google Analytics & Webtools

Textpad/Notepad

CSS/JavaScript

Basic Web coding Skills:

ActionScript/AppleScript

ColdFusion

Dynamic/Databased/Ecom

XML/ASP/CGI/Perl/PHP

Utilities/Systems:

FTP/TCP/IP/LAN/ protocols

System Utilities/Backups

Windows/Mac OS X

Apache/Unix Server

EDUCATION

CYNTHIA

YOUR TEAM

Hennepin Technical & St. Paul College - Degree (Grade Point Average 3.9-4.0)

Web/Graphic Design & Simple Web Programming/Electronic~Publishing/Multimedia/Prepress

Metro State University ~ General Business BA (Business/Computers/Music/Art)

Century College ~ General Studies (Music/Art/English/Business)

Lynda.com/Easel Training • Online Training Center • Science Museum • Class Partners/Open U

CELL Phone: 651-271-7597Web Design and Web EMAIL: Programming cynthiafletcherdustin@gmail.com

Studies

ACCOMPLISHMENTS/CERTIFICATES
---
Graphic Programs

Adobe Creative Suite Cloud

Photoshop/Illustrator

Golive/LiveMotion

InDesign/QuarkXpress

PageMaker/Freehand

Acrobat Distiller/Exchange

Suitcase/Streamline

Web/Multimedia Programs

Macromedia Studio

Adobe Flash & Director

MAILING ADDRESS:

Dreamweaver/Fireworks

6125 GOODVIEW TRAIL COURT NORTH

Quicktime Pro/iMovie/iPhoto

HUGO, MN 55038

Adobe Premier/After Effects

Adobe Muse/Soundedit

Audioshop/Videoshop

Adobe Audition/Animate

AutoCAD LT

3ds Max/Adobe After Effects

Digital Photography and

Presentation:

PowerPoint Presentations

Multimedia CD/DVD

Video/Sound/Youtube/SoundCloud

eBooks/flipbooks

Database Design/Maintenance

OnBase/ SQL/MySQL

Access/FileMaker Pro

Social Media

Twitter, Pintrest, Facebook,

WordPress, Blogging, SEO,

Digital Marketing Strategy,

ADDITIONAL Google ACCOMPLISHMENTS

Analytics

Office Programs

Microsoft Office Suite

(Excel, Word, Publisher)

Simple Web Programming:

CYNTHIA FLETCHER-DUSTIN

HTML/DHTML/XHTML

SEO/Google Analytics & Webtools

GRAPHIC AND WEB DESIGNER, Prepress/Production ART DIRECTOR, DIGITAL Art: SPECIALIST

Xerox Presses & Servers

Flightcheck/Pitstop

Creo Plate Server

Imposition/Preps/RIP Processes

EDUCATION

Textpad/Notepad

CSS/JavaScript

Basic Web coding Skills:

ActionScript/AppleScript

ColdFusion

Dynamic/Databased/Ecom

XML/ASP/CGI/Perl/PHP

Utilities/Systems:

FTP/TCP/IP/LAN/ protocols

System Utilities/Backups

Windows/Mac OS X

Apache/Unix Server

Hennepin Technical & St. Paul College - Degree (Grade Point Average 3.9-4.0)

Web/Graphic Design & Simple Web Programming/Electronic~Publishing/Multimedia/Prepress

Metro State University ~ General Business BA (Business/Computers/Music/Art)

Century College ~ General Studies (Music/Art/English/Business)

Udemy.com • Lynda.com • Easel Training • Online Training Center • Science Museum • Class Partners/Open U

Marketing, Web and Graphic Design, Digital Marketing Strategies, Illustration and Web Programming Studies

ACCOMPLISHMENTS/CERTIFICATES

Honorary Member of Phi Theta Kappa ~ Member of ColdFusion and Flash User Group

I GRATEFULLY

THANK YOU

FOR YOUR TIME AND

CONSIDERATION

Phone CELL Phone: : 651-213-4823 651-271-7597 WORK

EMAIL: CFletcher-Dustin@hazeldenBettyFord.org cynthiafletcherdustin@gmail.com WORK

651-271-7597 CELL

cynthiafletcherdustin@gmail.com HOME