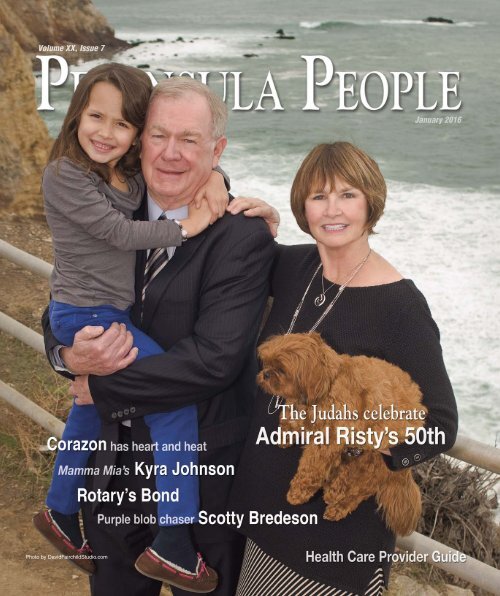 Peninsula People January 2016
Create successful ePaper yourself
Turn your PDF publications into a flip-book with our unique Google optimized e-Paper software.
Photo by DavidFairchildStudio.com
---
Volume XX, Issue 7

January 2016

PENINSULA PEOPLE

P A L O S V E R D E S P E N I N S U L A M O N T H L Y

ON THE COVER

Headline

Photo by David Fairchild

(DavidFairchildStudio.com)

Wayne and Jan Jay Judah, owners

of Admiral Risty's

PROFILES

Wayne and Jan Judah

by Robb Fulcher

As The Admiral Risty celebrates its 50th year owners Wayne

and Jan Jay Judah shared their up-by-the-bootstrap stories.

HIGHLIGHTS

DEPARTMENTS

CONTRIBUTORS

David Fairchild 's photography is frequently seen in Peninsula People

and Beach magazines.

Richard Foss is the Dining Editor for Easy Reader publications.

Robb Fulcher is a journalist, stand up comedian and author of

the children's book, The Snake Who Would Not Bend.

Esther Kang is a freelance writer and musician.

Ed Solt is LA's definitive surf beat writer.

Bondo Wyszpolski is the Arts & Entertainment Editor for Easy

Reader publications.

4 Peninsula People • January 2016

28

32

36

58

Kyra Belle Johnson

by Bondo Wyszpolski

In the blink of an eye, Kyra Belle Johnson went from high

school to starring in the national tour of "Mamma Mia!"

Allen Bond

by Esther Kang

Palos Verdes Chamber Volunteer of the Year

Scott Bredesen

by Ed Solt

Former Peninsula High surfing all-star finds himself riding

very big waves.

8 TMMC Holiday Fashion Show

10 TMMC Holiday Gala

12 Malaga Cove Homeowners

14 Encore Circle

18 Rotary

22 NCL Operation Homefront

26 PVP Realtors holiday party

62 PTN Halloween bash

38 Restaurant review: Corazon Mexican Kitchen

40 Health Care Providers Guide

43 Calendar

52 Around & About

64 Service Directory

STAFF

EDITOR

Kevin Cody

PUBLISHER

Mary Jane Schoenheider

ASSOCIATE PUBLISHER

Richard Budman

DISPLAY SALES

Adrienne Slaughter,

Tamar Gillotti, Amy Berg,

Shelley Crawford

CLASSIFIEDS

Teri Marin

ADVERTISING

DIRECTOR

Richard Budman

ADVERTISING

COORDINATOR

Teri Marin

GRAPHIC DESIGNER

Tim Teebken

FRONT DESK

Judy Rae

DIRECTOR OF

DIGITAL MEDIA

Jared Thompson

CONTACT

MAILING ADDRESS

P.O. Box 745

Hermosa Beach, CA

90254

PHONE

(310) 372-4611

FAX

(424) 212-6780

WEBSITE

www.easyreadernews.com

EDITORIAL

PenPeople@

easyreadernews.com

ADVERTISING

(310) 372-4611

displayads@

easyreadernews.com

Please see the Classified Ad

Section for info.

FICTITIOUS NAME

STATEMENTS (DBA'S)

can be filed at the

office during regular

business hours.

(310) 372-4611

Peninsula People is a supplemental

publication of Easy

Reader, 2200 Pacific Cst. Hwy.

#101., PO Box 745, Hermosa Beach,

CA. 90254-0427.

SUBSCRIPTIONS

Yearly domestic mail subscriptions

to Peninsula People are $30, foreign

$60 payable in advance. The

entire contents of Peninsula People

are copyrighted 2016 by

Peninsula People, Inc.

Chris Adlam

310.493.7216

www.chrisadlam.com

Spectacular views from this Palos Verdes Estates home. Approximately 3,000

square feet with 5 bedrooms and a large, flat backyard. $2,799,000
---
Gated Tennis Estate in PVE with 6250 square feet. $5,250,000 Rolling Hills Estates one level, sprawling 4,000 square foot home with pool. $2,400,000

Palos Verdes Estates 5 bedroom, ocean view and pool. $1,899,000 Over 4,400 square feet, ocean views, 4 bedrooms in PVE. $2,599,000

CHRIS ADLAM

310.493.7216

WWW.CHRISADLAM.COM

CHRIS ADLAM

310.493.7216

WWW.CHRISADLAM.COM

VISTA SOTHEBY'S INTERNATIONAL REALTY

VISTA SOTHEBY'S INTERNATIONAL REALTY

Rancho Palos Verdes 3 bedroom plus den with spectacular views. $1,399,000

Lunada Bay, 4 bedroom, ocean view, pool and pool house. $2,499,000

Rolling Hills 5 acre estate with stunning views and amenities $6,500,000

Coming Soon.....Rancho Palos Verdes home with huge panoramic views.

4,100 square feet, 5 bedrooms, large backyard, ocean view in PVE $2,795,000 Classic Old Spanish with over 2,400 square feet. Built in 1924. $2,198,000
---
S P O T L I G H T O N T H E H I L L

Torrance Memorial

Festival Fashion

Show

Parade of Sophisticated

Fashion Designs

1

2

A

sold out high fashion runway show

kicked off festivities at Torrance

Memorial's week-long 32nd annual Holiday

Festival. The show featured creations

by designer Mi Long Lee of the women's

luxury line "Emmelle." The week of family

activities is supported by hundreds of community

volunteers who work throughout

the year to make the event a success. Festivities

included a Friday night Dinner

Gala, which features a silent and live auction

under the Holiday Festival tent.

3 4

1. Karly Rigg, Kim

Rigg, Ruth Daniels,

Kelly Rigg.

8. Christine Gaudenti,

Laura Schenasi and

Chelsea Gaudenti.

2. Terry Hohm,

Phyllis Spierer, Peggy

Winterrowd.

3. Song Klein, Lori

Baldwin, Tracy Livian.

4. Lily Tan, Cathie

Siegel, Debbie Uba.

5. Courtney Zimmerman

and Ann Zimmerman.

6. David Buxton and

Pat Brown.

9. Jennifer Morgan,

Allison Mayer, Ellen

Smith, Kim Brothers

and Randy Dauchot.

10. Kelli Piken,

Nadine Bobit, Linda

Perry and Nina Tarnay.

11. Nina Turpanjian,

Bennett Turpanjian

and Lori Muncherian.

12. Judith Gassner,

Patricia Sacks, MD

5

6

7

7. Sigrid Allman and

Barbara Bartner.

8

9

10

11 12

8 Peninsula People • January 2016
---
Miracle-Ear Opens New Office in Palos Verdes

By FRED EISENHAMMER

Miracle-Ear Correspondent

Hawthorne

Blvd

Silver Spur Road

Miracle-Ear ®

P

Red

Onion

Crenshaw Blvd

SPONSORED CONTENT

Miracle-Ear is reaching out to its neighbors again.

A new Miracle-Ear office has recently opened in Palos

Verdes to provide the surrounding community with the

best-known hearing-aid brand in the U.S.

The office is located at 734 Silver Spur Road, Suite 301,

Rolling Hills Estates next to Red Onion Restaurant.

This will be the third Miracle-Ear in the neighboring

area, joining offices in Redondo Beach and Carson.

Miracle-Ear offers free hearing tests and consultations

and its hearing aids come with a 45-day trial period, plus

service, warranty and lifetime after-care.

"Patients can be assured that they will have no financial

risk because of the risk-free trial that Miracle-Ear offers,"

said Tod Frueh, audioprosthologist of the Palos Verdes office

and 17-year Miracle-Ear veteran.

Miracle-Ear opened the Palos Verdes office to better

serve the community. The new office provides better access

to Miracle-Ear facilities for area patients.

Frueh often cites the importance of good hearing with

a memorable quote from

American educator Helen

Keller, who overcame the adversity

of being blind and

deaf to emerge as a leading

humanitarian:

"Blindness separates people

from things; deafness separates

people from people."

More than 36 million Americans

suffer from some degree

of hearing loss. The

loss of hearing often is

accompanied by depression,

anxiety, isolation

and even dementia.

Miracle-Ear personnel

have the experience and

know-how to make a difference

in people's lives.

Nine out of 10 people

with hearing loss can be

helped with hearing

aids.

"We sincerely try to

help people," said Frueh,

one of the top specialists

in California. "We know

that if we do the best we can to help, they'll feel it and

they'll appreciate it."

Miracle-Ear's commitment to the community is personified

by its Miracle-Ear Foundation, which joins with

local Miracle-Ear offices and donors to provide free hearing

aids and services to eligible adults and children.

The Palos Verdes, Redondo Beach and Carson offices

are all involved in the Miracle-Ear Foundation.

There are more than 1,600 Miracle-Ear hearing-aid centers

in the U.S. Miracle-Ear's headquarters is in Minneapolis.

Miracle-Ear is a subsidiary of Amplifon, the

largest hearing-aid company in the world, which is based

in Italy.

For free hearing evaluation call

310-363-7767.

Miracle Ear Hearing Aid Center

Rolling Hills Estates

734 Silver Spur Rd. #301

310-363-7767

FREE

Miracle-Ear ® ME-3175

Buy 1, Get 1

With this coupon. One coupon per client. At Rolling Hills Estates location only.

Offer expires 2/29/16

FREE

Hearing Aid Charger

with purchase of ME-1, ME-2,

ME-3 solution package

With this coupon. These coupons may be combined. One coupon per client.

At Rolling Hills Estates location only. Offer expires 2/29/16
---
S P O T L I G H T O N T H E H I L L

Torrance Memorial Gala

Torrance Memorial announces

$10 million gift at 32nd annual

Holiday Festival Gala

Torrance Memorial Medical Center announced

a $10 million gift by O. Allen Alpay, a 45-year

Peninsula resident and grateful former patient.

The gift will name the O. Allen Alpay East Wing,

which houses Torrance Memorial's Emergency

Department and Labor & Delivery Unit.

The gift was formally announced during the

hospital's 32nd annual Holiday Festival Gala on

Friday, December 4, 2015. In total, Holiday Festival

2015 raised more than $11.2 million, which includes

sponsorships and major gift

announcements. More than 15,000 community

members enjoyed the six-day event hosted under

a 30,000 square-foot white tent on the Torrance

Memorial campus. Festivities included a display

of 32 themed decorated trees, a Fashion Show,

Gala Dinner, Santa Lunch, two Seniors Days and

the South Bay's largest Holiday Shopping

Boutique.

1. Pat Theodora, Ellen

Theodora, Gerald Marcil,

Carol Marcil, Lee Minshull,

and Sandii Minshull.

2. Rich Lucy, Kak Mc

Kinnie, Mark Lurie, MD,

Pat Lucy and David Mc

Kinnie.

3. Ayne Baker, Jack

Baker, Sigrid Allman.

4. Kevin Theodora, Joy

Theodora, Cami Evans,

Don Evans, Dominic and

Danica Iannitti.

5. Drs. Oi-Lin and Tei-Fu

Chen.

6. Ofelia and Emmanuel

David (third and fourth

from left) and family.

7. Phil Pavesi, Chris

Pavesi, Song and Dave

1

3 4

Klein.

8. Jerry Unatin, MD, Judy

Gassner, Mary Jo Unatin

and Nick Silvino, MD.

9. Front row: Richard and

Melanie Lundquist; in

back: Craig and Judy

Leach.

10. Ralph Scriba, Craig 5

6

Leach and Lorraine

Scriba.

11. Priscilla Hunt (front

row, first from left) and

family.

12. Front row: Kirsten

Chumley, Anna Mellor,

MD, Sally Eberhard, Dell

Fortune; Back row: Keith

Chumley, MD, Eric Mellor,

Mike Eberhard, Susan

Haas, Steve Nash, David

Haas, MD. 8

9

2

7

Russ Varon & Gina Doherty

$10,000,000

O. Allen Alpay

$100,000+

Billee and John Gogian

Loraine and Ralph Scriba

$50,000 - $99,999

Sam and Rose Feng

Russell Varon

$20,000 - $49,999

Ayne and Jack Baker

Emmanuel and Ofelia David

Sandii and Lee Minshull

The Kenneth T. and Eileen L. Norris

Foundation

Kirsten Wagner, DDS and

Rick Rounsavelle, DDS

Sunrider International, Drs. Oi-Lin and

Tei-Fu Chen

Ellen and Patrick Theodora

Torrance Memorial Medical Staff

TF Educational Foundation - Gerald and

Patricia Turpanjian

$10,000 - $19,999

Sigrid and Ralph Allman

COR HealthCare

George and Reva Graziadio Foundation

HealthCare Partners

Priscilla and Donald Hunt

Dominic and Danica Iannitti

Keenan HealthCare

Patti and Thomas LeGrelius, MD

& Drs. Nicole and Ryan Lawrence

Lenore and Irving Levine

Lisa and Eric Nakkim, MD

Nixon Peabody, LLP

Owens & Minor

Our Heartfelt Appreciation

$5,000 - $9,999

Association of South Bay Surgeons

Jennifer and Brad Baker

Philo and Raju Chhabria

Emcor Services/Mesa Energy Systems

Carole Hoffman

Kak and David McKinnie

Medline Industries, Inc.

Eric and Anna Mellor, MD

Roxanne and Ramin Mirhashemi, MD

Murray Company

John Rogers

Sodexo

Debra and Gerald Soldner

Drs. Gelareh and Houman Solomon

Jan and Ian Teague

Torrance Emergency Physicians

Torrance Radiology Medical Group

Lucy Villanera

$1,000 - $4,999

2H Construction

AD/S

Valerie and Chris Adlam

Morgan and Eric Aguirre

Shaabini and Dave Alford

Susan Arbour-Slay

BCM Boehling Construction

Tracy Bercu, MD and Peter Weinstein

Peggy and Cliff Berwald

Brigante, Cameron, Watters & Strong

Betty Broughton

Trudy Brown

Ann and David Buxton

Linda and Zan Calhoun

The Cam Family, Vinh, Judy, Wilson and

Melody

Cancer Care Associates

Cannon Building Services

Joan and Chris W. Caras

Cathy and Pat Carroll

Bryan Chang, MD and Phung Huynh

City National Bank

Tracey and Ron Cloud

Sandy and Tom Cobb

Mei and Bill Collier

Cross America Financials

Lesley and Roy Dahlen

Francesca and Doug Deaver

Dept. of Radiation Oncology

Digestive Care Consultants

Suzann and Don Douthwright

Betty Duong and John Abe, MD

Sally and Mike Eberhard

Carlin Edelstein

Emcor

Thyra Endicott, MD and Jonathan Chute

Nancy and Len Fein

Regina and Dan Finnegan

Samantha Fox

Jeannine and Dennis Frandsen

Gelbart & Associates

Jill Golden

Kathy and Richard Goldstein

Nora and Dan Graham

Graystone Consulting

Joseph Gregorio Family

Nancy Griffith, MD

Keiko and William Griswold

Susan and David Haas, MD

Laurie and Greg Halvorsen

Steven L. Hansen

Mary Hazzelrigg

Renee and Doug Henry

Heritage Rehabilitation Center

Eve and Rick Higgins

Terry and Joe Hohm

Hub International

Lisa Humphreys, MD and

John McNamara, MD

Internal Medicine Nephrology

Medical Group

Sandy and Karl Jackson

Mary Rose and Tom Jeffry

Judy and Parnelli Jones

Keesal Young & Logan

Vince Kelly

Kay and William E. Kim, MD

Song and David Klein

Heather and Rick Kline

kpff Consulting Engineers

Judy and Craig Leach

Jacqueline and Joe Leimbach

Charlotte and Russ Lesser

Lomita Post Acute

Pat and Rich Lucy

Barbara Demming Lurie and

Mark Lurie, MD

Ian and Marilyn MacLeod

Kristy and Eric Maniachi

Carol and Gerald Marcil

Allison and Rick Mayer

McCarthy Building Companies

Catherine and Linwood Melton

Sam and Fifi Menzelos

Rolfe Metzger

Ljepa and Vel Miletich

Susan and Ralph Moore

Morgan Stanley Smith Barney

Morrow Meadows

Navigant Cymetrix

Oarsmen Foundation

Payden & Rygel

Kelli and Ed Piken, MD

Carlene Ringer

Twanna Rogers

The Rouse Company

Patricia Sacks, MD and Harvey Kushner

Laura and Marc Schenasi

Connie Senner

Allyson and Alexander Shen, MD

Laura and Thomas Simko, MD

South Bay Gastroenterology

South Bay Heart Clinic

South Bay Orthopaedic Specialists

Medical Center

Ralph Scriba, Craig Leach, Loraine Scriba

Torrance Memorial Medical Center wishes to thank the following sponsors for their generous support of the 32nd Annual Holiday Festival, which

raised millions for the medical center's North Patient Tower transformation.

Pat & Ellen Theodora, Carol & Gerald Marcil, Lee &

Sandii Minshull

Emmanuel David Family Michael Zislis, Jeff Neu and friends Priscilla Hunt Family

South Bay Pain Docs

South Bay Plastic Surgeons

Douglass Stewart

Michele and Tim Stratton

Rose Straub

Amy Tan

Stephanie Tang, MD

Torrance Anesthesia Medical Group

Torrance Memorial Neonatology

Medical Group

Torrance Orthopaedic Sports

Medical Group

Torrance Pathology Group

Marshall Varon

Voya Financial

Wells Fargo Advisors

Robyn and Scott Wilkes

Alissa and Robert Wilson

Kay Yamada

Nancy and Roger Zapor

Ann and Gary Zimmerman

MAJOR IN-KIND

BENEFACTORS

Choura Events

G.S. Gaudenti Brothers

Melanie and Richard Lundquist

Morgan's Jewelers, Russell &

Marshall Varon

Morrow Meadows

Newport Printing

Redondo Van & Storage

Rolling Hills Flower Mart,

Gaudenti Family

Terranea Resort

Toyota

Mary Jo and Jerome Unatin, MD

The Zislis Group, Andrea and

Michael Zislis

10

11 12

Thank you to all our donors.

3330 Lomita Blvd., Torrance, CA 90505

310-517-4703 - www.TorranceMemorial.org

10 Peninsula People • January 2016
---
S P O T L I G H T O N T H E H I L L

Malaga Cove

Homeowners

Association

Holiday Party

T

he Malaga Cove Homeowners Association

members, neighbors of

La Venta Inn, enjoyed the hospitality

of LaVenta for its third Holiday Party.

Shown are some of the 200 people

who attended on a most blustery (and

clear!) evening for superb savory and

sweet fare provided by the New York

Food Company and host Mike Halish.

Name tags showed the date of the

wearer's arrival in Malaga Cove so

that neighbors could meet neighbors.

A great time was had by all.

1

2

SOLD

1. Larry and Nancy Bolton.

2. Andrew and Yvonne Meinzer and,

George Shoemaker.

3. Mike and Ruby Kumagai with Betsy

Treynor.

4. Susan and Vince Nelson, Jon and Sally

Landerville and Lola Hagerty.

5. Jon and Sally Landerville, Lola

Hagerty, Debbie Dinsmore, Edith and Bill

Andrew and Shauna Hagerty Regan.

3 4

5

V ilicich

Watch & Clock

Established 1947

Independent Rolex Service

Buy • Sell • Repair

Service of Antique and Grandfather Clocks

714 South Weymouth Avenue, San Pedro, CA 90732

(310) 833-6891

We Buy

Watches!

Offered at $5,500,000

SOLD!

Kathleen had the privilege and honor of representing both the Buyer and the Seller in the sale of this home.

Enjoy my Virtual Tour with Aerial photos of the location:

www.2112PaseoDelMar.com

12 Peninsula People • January 2016

January 2016 • Peninsula People 13
---
S P O T L I G H T O N T H E H I L L

The Encore Circle

Annual Holiday Party

M

embers of Encore Circle, one of

the support groups for the Norris

Center held their annual holiday

luncheon in mid-December at Terranea

Resort in Rancho Palos Verdes.

The highlight of the afternoon was a

dance performance by the students

enrolled in the Education Department

at the Norris Performing Arts

Center.

1

2

PHOTOS BY

MARY JANE SCHOENHEIDER

1. Sal and Melody Intaglita and Mary

Kehrl and daughter.

2. Hal and Anita Javitt.

3. Sandra Sanders, Sophia Fitzmaurce,

Myla Azer and Lotte Brasswell.

4. Mr. & Mrs. Al Sheng.

5. Maude Landon and Park and Lynn

Densmore.

6. John and Abby Douglas event co-chair

with Maude Landon.

7. Marylyn and Chuck Klauss.

8. Bunny and Marty Rosenzweig.

9. Jim Welch, Harlene Norris, Webb

Castor and Allen and Dottie Lay.

10. Dick Moe and Susan Hamilton.

11. .Jim Hill and Pam Barrett-Hill.

12. Dance Students from Palos Verdes

Performing Arts.

13. Norris Performing Art Centers Box

Office Manager Jason Sluter performed a

medley of popular show tunes.

3 4

5

6

7

8

9

10

11 12 13

14 Peninsula People • January 2016

January 2016 • Peninsula People 15
---
Wishing You a Happy New Year!

NEW

LISTING

WALLACE

RANCH

NEW

LISTING

paseo la cresta

PALOS VERDES estates

7 Bedrooms, 11 Bathrooms, 10,400 sq ft Home, 42,412 sq ft Lot

Magnificent Gated Estate offering a Unique Combination of Luxury and Comfort

Sweeping Ocean, Bay and Treetop views. Exquisite Finishes and Fine Appointments Throughout

OFFERED AT $10,450,000

www.1414PaseoLaCresta.com

avenida corona

RANCHO PALOS VERDES

4 Bedrooms, 3.5 Bathrooms, 3,860 sq ft Home, 25,396 sq ft Lot

Beautiful Ocean, Mountain, Harbor & City Views from Most Rooms

Newly Remodeled. Large Guest Quarter. View Deck. Quiet Neighborhood

OFFERED AT $1,799,000

IN ESCROW

$200,000

Price Reduction

BEAUTIFULLY

REMODELED

via almar

PALOS VERDES estates

4 Bedrooms + Office, 3.5 Bathrooms, 3,418 sq ft Home, 7,596 sq ft Lot

Exceptional Queens Necklace Views from All Levels

Remodeled in 2012, Beautiful Landscaping, Separate Guest Quarters

OFFERED AT $2,950,000

Via Somonte

PALOS VERDES ESTATES

Spectacular Coastline and Queen's Necklace View in Malaga Cove

Bring your Architect/Contractor for Major Remodeling or Rebuild

3 Bedrooms, 2 Bathrooms, 2,365 sq ft Home on 8,102 sq ft Lot

OFFERED AT $1,980,000

www.797ViaSomonte.com

Crestridge Road

RANCHO PALOS VERDES

5 Bedrooms, 4 Bathrooms, 4,300+ sq ft Home, 1/2+ acre Lot

Panoramic Los Angeles Basin City Light and Mountain Views

Entertainers' Delight both Inside and Out in a Lovely Secluded Setting

OFFERED AT $1,899,000

www.28951Crestridge.com

#1 Real Estate Team, RE/MAX Estate Properties YTD September 2015

Stephen Haw

何 精 益

310.503.9886

Skh8828@gmail.com

Kim Hall

Serving the South Bay

310.721.7526

KimHallHomes@gmail.com

Cristina Go

Short Sale Specialist

310.971.0404

gocristinago@gmail.com

Lauren Yoon

로렌 윤

310.619.4989

laurenyoon17@gmail.com
---
SHOWCASE

HOUSE

EXCEPTIONAL

DESIGN

paseo de la luz

RANCHO PALOS VERDES

5 Grand Bedrooms Suites, 8 Bathrooms, 7,925 sq ft Home, 27,119 sq ft Lot

This Magnificent Ocean Front Estate offers Luxury Living with Stunning Ocean & Sunset Views

Custom Designed with Elevator, Home Theater, Gym, Entertainer's Backyard & Many Superb Building Features

OFFERED AT $6,300,000

www.55PaseoDeLaLuz.com

Via Valdez

PALOS VERDES ESTATES

4 Bedrooms, 4 Bathrooms, 3,684 sq ft Home, 8,229 sq ft Lot

Exceptionally Designed Home, View from Catalina to Santa Monica

Gourmet Kitchen, Dry Sauna, Steam Room, Elegant Living Space

OFFERED AT $3,980,000

PRICE

REDUCTION

LAST LOT

IN AREA

NEWER

BUILT IN 2004

Covered wagon Lane

ROLLING HILLS ESTATES

Gated Estate with 4 Bedrooms, 3.5 Bathrooms

4,048 sq ft Home, 15,719 sq ft Lot

Large Entertainment Room, Cul-de-Sac

OFFERED AT $1,895,000

www.30CoveredWagon.com

alta vista

RANCHO PALOS VERDES

19,907 sq ft Mostly Flat Lot with 112 feet Frontage

Catalina & Ocean View. Prestigious Neighborhood

Near Los Verdes Golf Course, Park, Shops & Ocean

OFFERED AT $1,599,000

17th street

san pedro

5 Bedrms, 3 Baths, 2 Powder Rms, 3,200 sq ft Home, 5,010 sq ft Lot

Vista Del Oro Neighborhood, Huge In-Law Suite Downstairs

Balcony with Ocean & Harbor Views. 2004 Built & Sold for $870,000

Now OFFERED AT $665,000

Local Experts with International Connections to get YOUR Properties SOLD

Natsuko Fujii

藤 井 奈 都 子

310.941.2468

nfujii10@gmail.com

Alicia Sialana

Real Estate Specialist

310.720.4852

aliciasialana@gmail.com

Dede Hsu

郝 蒂 蒂

310.722.9222

dedehsu@gmail.com

Rod Yoon

롸드 윤

213.663.8888

RodYoon@gmail.com
---
S P O T L I G H T O N T H E H I L L

Rotary Club of

Palos Verdes

Peninsula

Annual Holiday Party

The members, their spouses and

guests enjoyed an evening of

socializing and dinner this past

December at the Palos Verdes

Country Club.

1

2

PHOTOS BY

CLIX PHOTOGRAPHY

1. PV Rotary President Les Fishman and

Virginia Butler.

2. In back row, Greg O'Brien, Sarah Ott,

John Stillo, Henry Ott and in front Carolyn

O'Brien, Santa and Bridget O'Brien.

3. Kelly and Tom Intagliata.

4. Donna and Don Duperon.

5. Julia Parton Rosas, Stacey Dubowitch,

Suzy Zimmerman.

6. Lauren and Tom Spiglanin.

7. Gail and Bob Johnson.

8. Nancy Crawford with Santa.

9. Suzi and Bob Gulcher.

10. Wendy and Allen Bond.

3 4

5

6

7

8

9 10

18 Peninsula People • January 2016
---
S P O T L I G H T O N T H E H I L L

National Charity League, INC.

Peninsula Chapter

Participate in Operation Homefront

O

n Sunday, November 8, the Peninsula Chapter of National

Charity League, Inc. gathered moms and Ticktockers at Palos

Verdes Intermediate School to help brighten the holidays for military

families with Operation Homefront. Operation Homefront

is an organization that provides assistance to military families.

They offer relief during military family crisis and support

wounded warriors when they return home. This was the third

year NCL Peninsula participated in this event. Lesley Sklow, chair

of the event, requested the membership to donate new toys and

clothing for children ranging in ages from infants to teens. These

gifts were wrapped at a wrapping party held in the multipurpose

room at PVIS. Over 100 holiday cards and letters were also written

to send to our soldiers serving overseas. The Army ROTC Color

Guard from the University of Southern California opened the

event along with Class of 2020 Ticktocker Gracey Thomas, who

sang the National Anthem. On December 9, moms and Ticktockers

delivered the wrapped gifts to the Naval Armory in Seal Beach

for a Gift Giving Party where the members had the pleasure of

meeting the families who were receiving the gifts. The Ticktockers

helped children decorate cookies and Class of 2018 mom and professional

photographer, Katrin Cooper, took family photos for their

holiday cards. Santa also made an appearance.

1. NCL Peninsula Chapter Senior Ticktockers

& Patronesses with USC Honor

Color Guard.

2. NCL Peninsula Patronesses Michelle

Spaulding and Jenny Litchfield.

3. NCL Ticktockers wrapping gifts for Operation

Homefront families from left,

Amanda Kessaris, Caroline Armour,

Rachel and Paige Freer.

1

4. NCL Peninsula Ticktockers at the

Armory

5. Gifts ready for military families at

Operation Homefront from left, Liese

Cooper, Colleen Thomas, Claire Litchfield,

Kate Hoyne and Charlotte Litchfield.

6. Face painting with the troops from left,

Allyson Harder, Ally Wescott, Sydney Merchant,

Caroline Turnbull and Caroline

Decker.

2 3 4

5

6

22 Peninsula People • January 2016
---
3837 Crest Rd., Rancho Palos Verdes

4 Bedrooms । 5 Bathrooms । 3610 Sq.ft.

OFFERED

$2,249,000

3512 Newridge Dr., Rancho Palos Verdes

4 Bedrooms । 4 Bathrooms । 2912 Sq.ft.

OFFERED

$1,599,000

JERRYANDLAURA.COM

JERRYANDLAURA.COM

Over 600 Homes Sold and Counting

Over 600 Homes Sold and Counting

Your Home Deserves the Best EXPOSURE

(310) 480-3601

Your Home Deserves the Best EXPOSURE

(310) 480-3601

6417 Via Canada, Rancho Palos Verdes

4 Bedrooms । 2 Bathrooms । 2613 Sq.ft.

OFFERED

$1,499,000

1518 W. 15th St., San Pedro

5 Bedrooms । 5 Bathrooms । 4000 sq.ft.

OFFERED

$1,699,000
---
S P O T L I G H T O N T H E H I L L

PVP Association of Realtors

Classic Hollywood on the Peninsula

T

he 22nd Installation of Officers and Directors of the Palos Verdes

Peninsula Association of Realtors (PVPAR) honoring 2016 President

Edward Barrios took place on Wednesday, December 9 at the

Trump National Golf Club and was truly an evening of stars! The

2016 Board of Directors who were installed this evening were Officers:

Edward Barrios, Jennifer Goorchenko, Sep Ebrahimi, and Mike Harper

along with Board of Directors: Lynn Aglipay, Jason Buck, Virginia

Butler, Jackie Crowley, Dalal Karama and Jolaine Merrill. Certificates

of Appreciation and Distinguished Service Awards were presented to

members who have demonstrated exceptional service throughout the

year in support of PVPAR. Bill Ruth, Keller Williams–PV, was given

the prestigious honor of being named 2015 Realtor of the Year and

Andy Santonello, owner of Andy's Pest and Termite Control was

named 2015 Affiliate of the Year. A special tribute for a long time

PVPAR member for his decades of service to the real estate industry

which spanned from 1962-2015 at the local, state and national association

level was given to Joe Barnett and his memory will continue at

PVPAR with a Joe Barnett Scholarship to send selected PVPAR Realtor

members to the State Legislative meetings held in Sacramento every

year. Joe Barnett's son, Tom Barnett and daughter, Nancy Barnett,

were present to receive a Special Recognition Award. The evening was

complemented with music by the incredibly talented jazz musicians

fostered within the Freedom4U program.

1

3

2

1. Affiliate of the Year-

Kara Wilkins (2014 Affiliate

of the Year), Andy

Santonello (2015 Affiliate

of the Year) and Edward

Barrios

(2015/2016 Board

President).

2. Joe Barnett Recognition

Award-Tom Barnett(son),

Nancy

Barnett (daughter),

Jackie Crowley, Edward

Barrios.

3. Dana Graham with

1929 Packard Dietrich.

4. Distinguished Service

Award-Edward Barrios,

Recipients: Allen

Bond, Christi Carrillo

and Moses Dennis.

5. 2015/2016 President

Ed Barrios being

sworn in by Steve Goddard.

6. Certificate of Appreciate-Assemblyman

Hadley presenting to

Edward Barrios.

7. Incoming 2016

Board of Directors-

Jason Buck, Dalal

Karama, Jackie Crowley,

Lynn Aglipay, Mike

Harper, Virginia Butler,

Sep Ebrahimi, Jennifer

Goorchenko, Edward

Barrios.

8. Appreciation Award-

Edward Barrios, Moses

Dennis, Kim Hall, Jack

McSweeney, Anthony

Self.

9. Realtor of the Year-

Marion Ruth and Bill

Ruth (recipient).

4

5

6

7

8

9

26 Peninsula People • January 2016
---
P E N I N S U L A P E O P L E | B U S I N E S S

Jan and Wayne Judah. Photo by David Fairchild (DavidFairchildStudio.com)

Two for the tiller

by Robb Fulcher

As The Admiral Risty celebrates its 50th year as a beloved, award-winning Palos Verdes eatery,

owners Wayne Judah and Jan Jay Judah shared their up-by-the-bootstrap stories. Wayne, the

longtime co-owner and general manager of The Admiral Risty, developed his love of hard

work on the family farm. Jan, a longtime realty force in Palos Verdes and the South Bay, became a

"worker bee" to rise above hard times early in her life.

The two became full owners of The Admiral Risty last year.

Tradition and change

Wayne was raised on a farm in Florida, where the family grew cucumbers, tomatoes, bell peppers

and citrus fruit, raised livestock and made their own butter. At age 12, he was driving a tractor.

"It's a bootstrap-type story," he said.

Wayne left the farm to attend the University of Florida, but as Jan related, he would soon return.

"It's like we're throwing a party.

...There's entertainment, as well as

meals and a view of the ocean."

– Wayne Judah

"When his father passed away, when Wayne

was in his late teens, he left college to go back

to the farm and bring in the crops, to help his

mother pay the bills," Jan said. "That's the kind

of guy he is."

In the 1960s he was drafted into the U.S.

army, served in Vietnam and was promoted to

sergeant. He landed in San Pedro, where he was

stationed at Fort MacArthur as a communications

specialist. He also took on a weekend job

that would give him his entry into The Admiral

Risty.

"I always felt I needed more income, and I had

the time, so I went to the officers' club, and they

were willing to train me as a bartender," he said.

When his stint in the Army ended, Wayne

took his bartending skills to the Risty.

He also took flying lessons, and flirted with

making his living in the air.

"As a young kid I always wanted to be a pilot,

so I got flying lessons on the GI Bill at the Torrance

airport. I got my pilot's license and I was

working toward my commercial [license], but

there weren't a lot of jobs," Wayne said.

"A lot of people love to fly, but it's not as exciting

as I thought it would be. I liked dealing with

people better. [The restaurant business] is a lot

more fun, more entertaining. It's a social thing.

It's a social business," he said.

His role in The Admiral Risty expanded as he

began ordering its liquor, food and meat. In time

he became co-owner and general manager, guiding

the Risty through decades of carefully managed

changes, within its traditions of quality and

hospitality.

"In the '60s when the restaurant opened, beef

was king. We had one chicken dish and one fish

dish, broiled sea bass. It was a much more limited

menu than it is today," Wayne said. "In the

mid to late '70s people began to get into more

healthy dieting," which led to an expanding

menu with a much greater emphasis on fish.

But the mainstay signature dish, Risty's flank

steak, continues to be ordered as much as any

other entrée.

Other popular items include an award-winning

cioppino, Belgian waffles with fresh compote

for brunch, and salads with freshly-baked

croutons and the restaurant's blue cheese dressing.

The Risty cold-cures its own gravlax, as well.

Over the years the restaurant's beverage list

has been expanded to include more than 150

California and imported wines.

28 Peninsula People • January 2016

"We bake our own desserts and we bake our own breads," Wayne said.

"We have vegetarian dishes now. We're always adjusting our menu."

The changes in Risty's menu are made only with great care.

"We worked with the bread for a year before we put it on the table. Some

we would throw out, some we liked, some we needed to make adjustments

to," Wayne said. "We consulted with the best bakeries on the processes to

use. We want to do it well if we are going to do it."

Five different entertainers work six nights a week in the restaurant's

lounge, where patrons can be served full meals as well as drinks.

All the while, Wayne has been out front, greeting guests as they arrive.

"It's like we're throwing a party, having a good time. It's a very social

environment. We have lots of fun, there's entertainment, as well as meals

and a view of the ocean," Wayne said.

"We enjoy people coming to see us. There are lots of rewards that are

personal rather than financial."

He likened the cyclic nature of the restaurant to that of the old family

farm.

"It was a truck crop situation. You get the land prepared, you plant the

crops, you fertilize the product, you till the soil, you spray the plants, you

harvest the product, you start all over again."

At the Risty, "You get the raw materials, you process the materials, you

take the product to the table, you service the product, and you clean up

the plates."

"The restaurant business sounds glamorous, but it's not all glamorous,"

Wayne said. "A lot of investors think they want to go into the business, but

they quickly find out what it involves. If the deep fryer breaks you have to

get it fixed. If the dishwasher breaks, the hot water heater breaks, you have

to fix that now, not later. There's a lot of pressure on those things."

An ongoing 50th anniversary celebration at the restaurant includes a

weekly drawing for a $50 Admiral Risty gift certificate.

Of cats and milk crates

Turning to the seemingly unrelated topic of cats, Jan revealed that Wayne

can be "a real softie" when it comes to felines and other animals. She

learned this as she watched him feed restaurant leftovers to a colony of

feral cats in a then-undeveloped canyon next to the Risty.

"I think I fell in love with Wayne the night I saw him sitting on a milk

crate in the parking lot behind the restaurant with his favorite feline, Nigh

Nigh, sitting in his lap basking in the affection that Wayne was supplying,"

Jan said.

"Nigh had been the toughest, most irascible member of the colony at

one point but was now an older cat who would soon become stone deaf,"

she said. "Eventually, he came to live with us after we were married, joining

our other two cats Alli and Gator, and he enjoyed a stress free last few

years with us at our then Malaga Cove home."

Working with veterinarian Cassie Jones, Wayne found homes for most

of the rest of the cats.

Real estate prowess

Jan Jay Judah has been a force in Palos Verdes and South Bay real estate

for more than three decades, specializing in corporate relocation in partnership

with her son Evan Jay.

Clients include TRW, Xerox, AIG, PepsiCo, MCI, Ernst & Young, Sony

Corporation, Columbia Pictures, Boeing Corp., Herbalife, Activision and

the FBI. The Jay-Judah Group is associated with REMax Palos Verdes and

Execs.

The partners have been recognized with awards including installation in

the REMax Hall of Fame and the 100 Percent Club, which is reserved for

agents closing more than $3 million in real estate transactions within a calendar

year.

Jan Jay Judah's production places her within the top 5 percent of agents

nationwide.

Alaska gold

"I was born in Seattle into a prominent, entrepreneurial up-from-thebootstraps,

colorful cast of family characters," Jan wrote in a thumbnail

Risty cont. on page 54

January 2016 • Peninsula People 29
---
LILY LIANG PRESENTS:

PALOS VERDES' FINEST HOMES & ESTATES FOR OVER 30 YEARS!

IN

ESCROW

IN

ESCROW

3300 Palos Verdes Dr. West, Rancho Palos Verdes

$10,800,000 | www.3300PalosVerdesDrWest.com

8 Ringbit Road East, Rolling Hills

$2,999,000 l www.8RingbitRoad.com

717 Via Bandini, Palos Verdes Estates

$2,299,000 l www.717ViaBandini.com
---
P E N I N S U L A P E O P L E | A R T S

Peninsula resident Kyra Belle Johnson is starring in the national touring production of

"Mamma Mia!" It comes to the Pantages Theatre in Hollywood on Jan. 26. Photo by Bondo

Wyszpolski

Top: Kat Borrelli, Kyra Belle Johnson and Christa Eskridge

in the national tour of "Mamma Ma!"

Bottom: Johnson on stage soaking up the limelight in Abilene,

Texas. Photos by Joan Marcus, 2015

An Overnight In the blink of an eye, Kyra Belle Johnson

went from Palos Verdes High School to starring

in the national tour of "Mamma Mia!"

Sensation

Kyra

by Bondo Wyszpolski

Afew months ago Kyra Belle Johnson graduated

from Palos Verdes High School and,

guess what? She's already touring the country

as one of the leads in the popular musical

"Mamma Mia!" Better yet, we can see her onstage

for ourselves when the company performs January

26-31 at the Pantages Theatre on Hollywood Boulevard.

Kyra Belle has lived in the same Rolling Hills

home her entire life, except that at the moment

she's living out of a suitcase in Anchorage, Alaska,

before jetting to Hawaii for a few days. But we'll get

to that later.

So how did it all begin?

This is how it began

"The first show I remember seeing was 'Oliver!'

and it was at the Norris Theatre," says Kyra Belle,

sitting across from me in a pastry shop on a dreary

afternoon. "I remember seeing it because there

were kids onstage and they were my age and a little

bit older."

So she turned to her mother and asked what those

kids were doing up there. Her mother's response

was concise: They're in the show. "And I'm thinking,

well, I want to do that. Why can't I be up there

doing that?"

Belle was about eight years old at the

time and she was soon enrolled in dance

classes. The next show that came up was "High

School Musical," and Kyra Belle auditioned for

it. Well, no cigar, but her sister, Kendyl, who is

two years older, also auditioned and got in.

Next up was "Grease," and Kyra Belle tried out

for that one, too. Again, she wasn't selected;

again, her sister was.

A few years later Kendyl went off to play

water polo, leaving Kyra Belle as the only one

in her family with an active passion for the performing

arts.

All right, she was 0 for 2, but so what?

"You know," she says, "it was a persistence

thing. I'm a persistence kid, I don't really stop;

that's just who I am."

And so Kyra Belle auditioned for "You're a

Good Man, Charlie Brown" and ended up with

a small role. However, at the time it didn't matter

how little the part was because, she says, "I

was so happy. I was like, 'I'm in a show! Oh my

gosh, I'm in a show!'"

To this day, she remembers everything about

it.

"Stepping on stage, I had more fun doing that

than I ever had doing anything else."

Kyra Belle's been in a lot of shows since then,

but up to now they've all been musicals such

as "Annie," "Legally Blonde," and "Thoroughly

Modern Millie." Her knowledge of theater,

straight drama in particular, has room for

growth, but let's give her a few more years,

okay?

From Fiona to Sophie

When Kyra Belle Johnson was a junior in

high school she was cast as Princess Fiona in

"Shrek: The Musical." It's still one of her favorite

roles: "Fiona is just hilarious and she's

strong, and that's the type of character that I

like to play."

PV High has been involved in a program, or

competition, that might loosely be compared to

the Tony Awards, but for high school theater.

It's called the JRAYs, the John Raitt Awards for

Youth, and the Fullerton Civic Light Opera

Music Theatre (FCLO) hosts it each year in the

historic Plummer Auditorium, in Fullerton.

About 20 high schools participate, including

Mira Costa in Manhattan Beach. A panel of

judges weighs in on everything from lighting

and sound to acting and choreography. During

the awards presentation on May 24, 2014, Kyra

Belle was named Best Actress.

Along with Eli Labinger, who was named

Best Actor, Kyra Belle was flown to New York,

32 Peninsula People • January 2016
---
to the Broadway Artists Alliance, where she participated in workshops

with Broadway theater people. "At the end of the week," she says, "they

had a showcase in front of casting directors and agents."

That took place in July of 2014. And then? Nothing.

Until January of last year, that is, when she received an email from someone

at Joy Dewing Casting, the people finding actors for the "Mamma

Mia!" tour. There was going to be an audition in March, and they wanted

Kyra Belle to come and try out.

Who wouldn't jump at that opportunity? Well, Kyra Belle almost didn't.

When the day arrived she had second thoughts ("Nothing's gonna happen")

but her mother pressed her: Just try. It's your first professional audition

for anything; just get out there and see what you can do.

Or words to that effect.

Kyra Belle cleared the first hurdle: The company (Work Light Productions)

was definitely interested. But they had other concerns and questions:

Would she be 18 by September? Yes. And was she mature enough to be on

the road, away from home and parents?

The concern for her well-being was reassuring, and so Kyra Belle knew

what to expect before signing on with the company.

The "Mamma Mia!" tour got underway in October, and Kyra Belle says

they've done about 30 shows thus far, in maybe a dozen towns, most of

them on the East Coast, but with a couple in Texas, one in Kansas, and a

couple more in Florida. She might see a little of the town or city if the

show is up for more than a day or two, and mentions a zoo in Abilene that

had lions, giraffes, and a white Bengal tiger.

Singing for her supper

"Mamma Mia!" threads together numerous pop songs by the '70s

Swedish group ABBA ("Dancing Queen," "Waterloo," "Fernando"), with a

storyline that focuses on a young woman named Sophie (Kyra Belle) who's

about to be married. She's the daughter of a single mom, Donna, and they

live on a Greek island. Sophie has never known her father, but wouldn't

it be just super if he attended her wedding and walked her down the aisle?

Yes, except that even her mother doesn't know the identity of Sophie's

father because she slept with three different men during the months before

Sophie was born. (In case you're wondering, no one mentions DNA testing)

Kyra Belle says she connects with the character of Sophie even though

Sophie is 20 instead of Kyra's 18.

"I like to relate Sophie to Lucy from 'I Love Lucy,'" she says, "because

Sophie comes up with this plan where, You know what? I think it'd be a

great idea to invite these three random men that I've never met before. I

don't even know if they're real, but they're in my mom's diary so they

must be. Let's invite them for a weekend to my wedding, and let's see how

it goes. Then I'll just know my dad when I see him."

Except that she doesn't, and she finds she's made a muddle of things.

Sophie's just a human being, Kyra Belle says, albeit with good intentions.

"She's not some perfect girl who's getting married to this really hot guy

and everything's going her way. She's just like, oh, I want my dad! She's

totally flawed, and she makes mistake after mistake in the show, but she's

also really sure about her choices."

What Kyra Belle also appreciates about her character is that Sophie doesn't

just sit back and sulk, but tries to get up and fix whatever's wrong. And

while she may not be the central figure in the show, that honor falls to her

mother, Donna, "it's Sophie's charisma and her strength that pushes the

show forward. I really admire that about her character, and I love tapping

into that."

"Break a leg" is an old theater term that means go out there and do your

darned best, and good luck to you while you're at it. But sometimes actors

break a leg in a more physical sense or, failing that, twist an ankle or come

down with an exotic fever, and so that's why there are two understudies

for every role in this production of "Mamma Mia!"

"If anything goes wrong," Kyra Belle says, "someone's ready to be there."

In her case, she's appeared in every show thus far. She's been asked if

she gets along with her understudies or if she thinks they might try and

do her in. Kyra Belle laughs "Those two girls are some of my best friends

in the cast."

Johnson cont. on page 60

January 2016 • Peninsula People 33
---
34 Peninsula People • January 2016

January 2016 • Peninsula People 35
---
P E N I N S U L A P E O P L E | V O L U N T E E R O F T H E Y E A R

Rotary's Bond

"You don't do it halfway."

by Esther Kang

Allen Bond, a 58-year-old Rancho Palos Verdes resident,

has witnessed countless ribbon-cutting ceremonies on

the Hill over the last two decades.

Recently named 2015 Volunteer of the Year by Palos Verdes

Peninsula Chamber of Commerce and incoming president for

Peninsula Rotary Club, the father of four is a dedicated servant

of the community.

"My attitude is, anything you do, you don't do it halfway,"

Bond said. "Not just showing up for the picture at the end, but

you've got to do the work in between."

Born and raised in Philadelphia, Bond moved to California

after graduating from Temple University with a bachelor's degree

in accounting and a minor in computer science. A serious

tennis player since age 13, he attended the university on a tennis

scholarship. After graduating from school, he played tennis

on professional satellite tours and participated in many tournaments

throughout the East Coast while teaching on the side.

In 1981, at age 23, he made the big move to California after

visiting an old friend in Santa Monica and feeling sold on the

Pacific coast.

"I just kind of landed here," Bond said. "I came to California with no job

and no place to live."

He had vowed to quit teaching tennis upon his fresh start on the West

Coast and put his accounting degree to use. He had always been a "numbers

guy," he said. But his prowess on the court is what landed him his

first job and introduced him to the Palos Verdes Peninsula community.

At the Peninsula Racquet Club, which sits atop the cliffs of Rancho Palos

Verdes and overlooks the Pacific Ocean and Catalina Island, he became a

full-time instructor for adults and children alike. The young man settled

in Redondo Beach and continued the teaching job for about seven years.

By the end of the seven years, he moved into a small condo in Lunada Bay.

"I still play tennis at the Racquet Club about once a week and teach a

little bit," Bond said. "I've only taught there, and played there, pretty much

my whole time in California. I still have friends I met when I first got here

in '81, and we still play tennis. We're a little bit older now."

In 1988, when the opportunity presented itself to work for a small mortgage

business in Lawndale, Bond left the full-time post at the club and

jumped onboard.

"It seemed to be a pretty good vocation," he said. "I enjoyed numbers

and I enjoyed people."

Through mutual friends, he met his wife Wendy, who was in a similar

line of business. In 1991, she founded a mortgage banking company called

Palos Verdes Funding Group, and in 1993, Bond joined his wife's company,

which was located in Malaga Cove Plaza for a number of years, then

moved to Silver Spur Road. They raised their four children — Mellissa,

Matthew and twins Alexander and Colin — through the Palos Verdes Peninsula

school system, where Bond coached their baseball, basketball and soccer

teams in the true fashion of a Palos Verdes parent.

In 2006, the business was sold to Countrywide Mortgage, which was

later bought by Bank of America. At Countrywide, Bond worked as a retail

sales manager for home loans.

Today, he works for Wells Fargo Home Mortgage as a retail sales supervisor

at the office on Deep Valley Drive in Rolling Hills Estates and in El

Segundo. Wendy founded an independent escrow company, Guaranty Escrow,

which has offices in Rolling Hills Estates, Redondo Beach and Manhattan

Beach.

"Even though mortgage is mortgages, you're dealing with a different personal

situation with every transaction, so it's interesting in that light," Bond

said. "Hopefully I can help them or advise them on situations and how

they can better their situation financially, and most importantly on the purchase

side, to get someone in the home they want, their dream home. It's

extremely gratifying to do that."

Bond is the quintessential Palos Verdes volunteer. In addition to being

an active member of the Peninsula Rotary for over 20 years (he will take

over as president this coming July), he has been involved in the Peninsula

Chamber for nearly the same length of time. This is his seventh year on

the board. He has previously chaired the Chamber membership committee

and special events committee.

"Twenty years ago, it was a lot more casual — it was a lot more about

getting together with your friends," Bond said.

As chairperson in 2014, he oversaw programs such as the Young Entrepreneur

Academy, a yearlong Chamber-sponsored after school program for

middle and high school students who generate business ideas, conduct

market research, write business plans, make pitches and launch their own

companies. His main focus was to continue the tradition of the Peninsula's

tight-knit business community by helping to forge relationships.

"I really try to work within the Chamber to help people, especially new

businesses, to meet other old businesses and whatever people they're going

to work well with that will create a good synergy and for them to be successful,"

said Bond, who volunteers to emcee at most events.

He said that over the last two decades, he has observed great changes

for businesses on the Hill, namely the addition of Terranea, the new open

shopping area of the Promenade on the Peninsula and renovations at Peninsula

Center. The Chamber will continue to encourage residents to shop

local and bring regionally attractive businesses to the Hill, he said, but

overall they're headed in the right direction.

"As far as people coming in, I think it's real positive," he said. "It's a good

influx of the kind of people that will continue to enjoy PV and keep moving

forward the way it is." PEN

36 Peninsula People • January 2016

January 2016 • Peninsula People 37
---
P E N I N S U L A P E O P L E | D I N I N G

guacamole that arrived shortly afterward, and though it helped there was

a subtle mélange of chili flavors here too. If you like the simple version that

tastes mainly of mashed avocadoes with citrus you might find this a surprise,

but we liked the overtones of onion, cumin, and spice.

In a way it's surprising that Mexican-style Caesars have taken so long to

enter the mainstream — the salad was invented at an Italian restaurant in

Tijuana, after all. Mexican versions have caught on recently, some of which

involve spicy dressings or the addition of bell pepper. In my opinion those

may be good salads but that aren't really a Caesar any more. This version

added shredded tortilla chips and some roasted pumpkin seeds, and was

topped with queso fresco rather than parmesan. I found it slightly out of

balance and a bit too mild; I like the traditional bold trio of garlic, pepper,

and parmesan, and the Mexican cheese just didn't have the depth of flavor

to compete.

The carnitas taco was a return to form with a bold and citrusy tomatillo

sauce and a sprinkling of mango salsa. It wasn't actually the style of meat

that I prefer because the pork lacked a fried crust, but the sauces were so

over-the-top good that I didn't mind.

On my two visits to Corazon I tried four main courses: chipotle-glazed

salmon, chicken mole enchiladas, a carnitas burrito, and an unusual take

on a chicken tamale. The traditional tamale is wrapped in either a cornhusk

or banana leaf and steamed, and the wrapper keeps it moist and imparts

some flavor. This looked more like lasagna, a square cornmeal cake topped

with shredded chicken, "romero" sauce and topped with both jack and

cotija cheese. Tamales aren't usually topped with cheese or served sauced;

this one seems to be a creation of the owner, Fernando Romero. There were

so many unusual things about this that it took a moment to wrap my head

around it and I briefly wondered if we had received the wrong order. Somehow

it worked: the corn masa was silky and flavorful despite the lack of a

wrapper, the chicken delicious despite being a topping rather than a filling.

The other dishes I tried were conventional by comparison, but boldly flavored.

Salmon isn't a traditional Mexican fish but the rich and slightly oily

meat stands up to a spicy, delicately sweet sauce very well, and the vegetable

mix it was served with put it over the top. The squashes, corn, and

onions had been sautéed with green herbs and put over seasoned rice, and

there were enough different flavors to make every bite interesting. I was

delighted with the sauce on the chicken enchiladas too — it was a black

mole made with chocolate for a thick texture and richness and spiked with

plenty of herbs and chillies. It's rare to find a mole of this complexity outside

places that specialize in Oaxacan regional dishes, and if there's a better

version ion the South Bay I haven't had it.

The burrito was the only main course we tried that was made in a purely

traditional manner, and it was a solid rendition of a favorite item. The

roasted lemon on the side was a nice touch, and gave a sweet and sour kick

when squeezed over the mix of meat, rice, and beans. As a meal it had some

extra zip thanks to the sides of corn on the cob with crema on a bed of

lightly pickled purple cabbage.

The drinks were slightly less reliable than the food — the "margaritas"

were made with Korean soju rather than tequila, which is common in

places with only a beer and wine license. I tried a cucumber-jalapeno margarita

and without the tequila body and smokiness it was like drinking hot

peppers with lime juice. Our server graciously replaced it with a sangria,

which I liked a lot better. There are many wine-based drinks that complement

Mexican food, and I think it would be better to do these well or experiment

with agave wine drinks than serve an inferior margarita.

To finish we shared freshly made churros with slightly bitter chocolate

sauce and ice cream, which is the perfect end of any Mexican meal as far

as I'm concerned. Meals at Corazon are reasonably priced for the quality

and the elegance of the surroundings, with most entrees priced between

$13 and $20. This Mexican restaurant is worth a drive, as they are certainly

the best on the Hill and some distance beyond.

CORAZON is at 767 Deep Valley Drive in RPV. Open daily at 11 a.m., close 9

p.m. Sun-Thu, 10 p.m. Fri-Sat. Wheelchair access to some areas – mention when

reserving. Beer and wine served, street parking, Sunday brunch, some vegetarian

items. Partial menu at corazonmexicankitchen.com, phone 310-377-0580. PEN

Palos Verdes Estates

DRAMATIC..... RUSTIC CONTEMPORARY DESIGN

Corazon's Matt Briggs serves chipoltle-glazed salmon, one of the restaurant's boldly flavored dishes. Photo by Brad Jacobson

by Richard Foss

From the heart of Mexico

Corazon's rich, bold flavors mark the arrival of

one of the area's finest Mexican restaurants

It's a sad fact that most Mexican restaurants

around the South Bay serve food that is very

much on the bland side. When I mention this

fact, people have been known to ask, "Can't you

just add hot sauce?"

Yes, I can, if heat is all I'm looking for, but a

well-made Mexican sauce is richly savory and

complex, and might include notes of dozens of

spices and herbs. It may also use several kinds of

peppers that may be fresh, dried, pickled, or

smoked. You're not going to replace that complexity

with the typical hot sauce, which may contain

nothing more than vinegar, salt, water, and red

peppers.

The local Mexican food scene has been gradually

improving, and one place on the Hill has

raised the standard: Corazon in Rolling Hills Estates.

I'll admit that I went in with low expectations,

figuring that if I was going to find my spice level

in some hole in the wall joint, not a location that

has been many stylish high-end places. Corazon

is still pretty sheik – there is a mix of modern and

traditional Mexican art on the wall now, but the

multilevel interior here is still quite attractive.

At first glance the menu is a straightforward list

of old favorites, but look closely and you'll see differences.

The cilantro Alfredo sauce on the

shrimp enchiladas straddles Italian and Mexican

ideas, and the calamari is marinated in buttermilk

and served with cilantro aioli. A vegetable mix of

zucchini, squash, onions, and corn is used as an

accompaniment to several dishes; they're all traditional

Mexican ingredients, but rarely served

this way.

Before testing innovations we started with the

basics: appetizers of guacamole, a Caesar salad,

and a carnitas taco. Even before these arrived we

had a clue: the salsa served with the chips. It's

thick and has greater depth of flavor than most

served locally, with flavors of oregano, cilantro,

and what I'd guess are both fresh and roasted

chillies. We expected to cool the heat with the

38 Peninsula People • January 2016

3025 PALOS VERDES DRIVE NORTH, PALOS VERDES ESTATES

KYLE DANIELS

310.483.3998

BRE# 01843670

www.KyleDanielsRealEstate.com

DAN ERICSON

310.374.2100

BRE# 00426156

www.EricsonBeach.com

• Located in the Trees just across from the 15th green of

Palos Verdes golf Club

• A Spacious, Open & Airy 4 Bedrooms, 4 Bath with Family Room

• 3,200+ Square Feet of Private & Comfortable living

OFFERED AT $1,987,000

January 2016 • Peninsula People 39
---
HATE TO LEAVE THE HILL?

COME TO BEAUTIFUL

LUNADA BAY DENTAL

ASK ABOUT OUR NEW

NON-XRAY DIAGNOSTIC TOOLS

DR. DYAN VAN DE VELDE, DMD

310-377-6580

2325 Palos Verdes Drive West, #210

Palos Verdes, CA

DHEALTHCARE

PROVIDERS

A decade of service from 24 Hour Home Care Buddies

24 Hour Home Care Buddies has been serving seniors and their families in the

Greater South Bay and Orange County area for over 10 years. Owner Brenda

Villanueva is an RN, BSN, CCRN and has over 30 years experience working in

the healthcare industry. Home Care Buddies allows patients to live in the comfort

of their own homes. Free, no obligation assessments to discuss the perfect care

plan.

Call Brenda Villanueva, RN at (310) 756-5666 or (949) 701-7130

Clear Recovery Center

Are you or a loved one suffering from depression, anxiety or addiction? While

these conditions can leave one feeling helpless and hopeless, emotional and physical

recovery is possible. Clear Recovery Center is a new treatment facility located

in beautiful Redondo Beach. With over 20 years of professional experience and

a team of licensed mental health and addiction professionals, you or your loved

one can receive compassionate, effective and confidential care. Clear Recovery

Center takes a big-picture approach to treatment and offers research-based therapy,

individual and family counseling. Call today for a free assessment and begin

your journey to recovery.

201 Herondo St, Redondo Beach

(877) 799-1985 • clearrecoverycenter.com

Comfort Keepers keeps life comfortable, dignified

At Comfort Keepers, nothing is more important than helping people live full, independent

and dignified lives within the comfort of their own homes. Comfort Keepers

is dedicated to providing in-home care that enriches people's lives and helps

them maintain the highest possible level of independent living and dignity. Comfort

Keepers in-home assistance includes companionship, meal preparation, transportation

to doctor appointments and other commitments. It may also include personal

care such as bathing, dressing and mobility. Families choose Comfort Keepers for

both extensive and short term care.

25124 Narbonne Avenue, Suite 101, Lomita

(310) 325-6500

Lunada Bay Dental

Lunada Bay Dental, a beautiful, modern office overlooking Catalina, is the perfect

blend of technology and warmth and personal attention.Dr. Dyan Van De Velde

has been in private practice in the South Bay for over 30 years and says " The

key to our success is to treat people the way we want to be treated." Dr. Van De

Velde brings the same skills and attention to detail to dentistry that she brings to

her flying. As a private pilot, working with charity organizations to combine flying

and dentistry is a rewarding passion.Maintaining good dental health is an impor-

www.24hourhomecarebuddies.com

OUR TEAM

Highly competent, compassionate caregivers,

trained and supervised by

Licensed Nurse/Case Manager

CAREGIVERS PROVIDE:

• Companionship / Activities of daily living

• Home Maintenance: Meals, Light Housekeeping, Errands & Appointments

• Care for Dementia / Stroke / Hospice Clients

• Complex Care of: Wounds, Feeding Tubes, Foley/Ostomy/Trach/Home Vent Clients

• Psychosocial Support: One on one conversation, Games, Walking, Shopping

• Clients are visited by Licensed Nurse Twice a Month

Accepted form of Payments:

Long Term Care Insurance/VA Insurance/ Private Pay

E-mail us at bvillanueva.rn@gmail.com

Licensed, Bonded, Workers Comp

Caring Is What We Do Best

CALL TODAY FOR FREE ASSESSMENT

310-756-5666

(24 HOUR MESSAGE CENTER)

40 Peninsula People • January 2016
---
tant step in your overall well-being whether you need basic care or are considering

some modern improvements to enhance your smile.Make this the year you get a

complete examination and see our hygienist to start the new year with a healthy

smile.

2325 Palos Verdes Drive West # 210, Palos Verdes Estates

(310) 377-6580 • lunadabaydental.com

Miracle-Ear Hearing Aid Center

Reputable Hearing Aid Center now serving the Peninsula. Your ability to hear can

greatly impact your overall quality of life. If you feel that your hearing isn't what it

should be, come to Miracle-Ear Hearing Aid Center. As an established hearing

aid center in Rolling Hills Estates, Miracle-Ear just opened a new state-of-the-art facility

next to Red Onion Restaurant on Silver Spur Road, our goal is to help you

reach the point where hearing isn't something you have to think about, but rather,

it's something you simply do naturally. We value our patients at Miracle-Ear Hearing

Aid Center. That's why we go out of our way to offer thorough, caring service

that produces results. Our friendly, dedicated staff is trained to diagnose hearing

conditions and recommend solutions. Flexible hours and convenient appointment

scheduling. Call today for your free hearing evaluation.

734 Silver Spur Rd #301, Rolling Hills Estates

(310) 363-0700 • miracle-ear.com/locations/rolling-hills-estates-ca/

Pacific Sunrise Home

Choosing the right place for you or someone you care about can be difficult. For

those who are not used to living in large buildings and can't live alone, moving

to Pacific Sunrise Home could help smoothen the transition by offering the services

of an assisted living place in the intimacy of a home environment. However, if you

are not ready to move to "Pacific Sunrise Home" we also have private home duty

licensed and experienced care providers. Pacific Sunrise Home is located in a

quiet and peaceful neighborhood with medical offices, shopping areas, public &

private community resources and public agencies in the area.

Contact Maria: (310) 500-7223

• pacificsunrisehome@gmail.com

Torrance Memorial Health System

The Torrance Memorial Health System is comprised of the nationally recognized,

non profit Torrance Memorial Medical Center; Torrance Memorial Physician Network,

a coordinated physician group; and Torrance Health IPA, an independent

practice association. Founded in 1925 as a 32-bed hospital, it has grown to a

446-bed medical center providing advanced and compassionate medical care.

Torrance Memorial joined the ranks of the nation's top hospitals by earning the

coveted Magnet recognition, given to medical centers exhibiting nursing excellence.

Torrance Memorial is also ranked among the best hospitals in California

and the Los Angeles metro area by U.S. News & World Report.

3330 Lomita Blvd, Torrance

(310) 325-9110 • TorranceMemorial.org D

310-325-6500

January 2016 • Peninsula People 41
---
Prompt Professional Discreet

eventcalendar

CALENDAR OF COMMUNITY EVENTS

Compiled by Mary Jane Schoenheider

You can email your event to our address: penpeople@easyreadernews.com

All submissions must be sent by the 10th of each month prior to event taking place.

Simply Tiles Design Center

"Our financial advisor highly recommended this team whom she used to sell her home and buy another. Kathy and

Michele made our almost impossible expectations a reality."

Dr.'s Bonnie & Michael Lesser

Kathy Siegel & Michele Swift Chodos

www.PalosVerdesAgents.com

310 729.0913 • 310 897.6488

42

CalBRE 01877303 / 00890714

Peninsula People • January 2016

On Going

"New Creations" Exhibition

Featuring painters Don Crocker and Parrish Nelson Hirasaki and bronze

sculptor Errol Gordon, at the Artists' Studio Gallery #159, Promenade on the

Peninsula. Continues until February 21.

Art Exhibition

Palos Verdes Art Center / Beverly G. Alpay Center for Arts Education in partnership

with Jonathan Art Foundation, California Art Club, and American

Legacy Fine Arts to an exhibit will be approximately 28 oils and pastels by

Theodore N. Lukits highlighting his atmospheric plein air landscapes and captivating

Orientalist paintings.

Accompanying the Lukits exhibition are pastels by Peter Adams and Tim Solliday,

two of Lukits' notable students who continue his tradition.For further information

call the Art Center at 310-541-2479.

Saturday, January 30

Jazz Pianist Hendelman in Concert

St. Francis Jazz Series presents acclaimed jazz pianist Tamir Hendelman in

an exclusive solo concert at 7 p.m. followed by a reception with light refreshments.

The award-winning jazz pianist, composer and music educator has

performed and recorded with Barbra Streisand, James Moody, Roberta Gambarini,

Paul McCartney, Natalie Cole, Quincy Jones and others. Hosted by

KJAZZ Radio personality Bubba Jackson. No admission charge. A free-will

offering will be taken to support the St. Francis Jazz Vespers ministry. St. Francis

Episcopal Church is located at 2200 Via Rosa, Palos Verdes Estates. For

more information, call 310-375-4617 or visit www.stfrancispalosverdes.org.

Friday, February 5

Joy of Law: LAW 101

Dates and time are Feb. 5, 12, 26, March 4 and 11 at 11 a.m. to 12:30

p.m. at Peninsula Center Library Community Room. The LAW 101 course will

have lively discussions of a range of legal issues including Estate Planning

and Federal Taxation with a focus on Trusts, Wills, Durable Powers of Attorney

and Advanced Health Care Directives. It will explore the land of Tort liability

(the reasonable person standard) to distinguish between civil and criminal

laws. Topics will include intentional (e.g. assault, battery, invasion of privacy),

negligent and strict liability (e.g. dog bites) torts. It will also examine the elements

of a legally binding contract (OACLCS), including how contracts must

be written, the three day rule, the validity of "not responsible clauses" and

fine print paragraphs. The discussion will conclude with contract law by exploring

guidelines for avoiding fraud. Readings may be assigned. Join retired

USC Professor of Business Law, Dr. Dagmar Halamka, for this 5-week course.

Sponsored by Palos Verdes Library District and the USC Emeriti Center College,

these classes are free and open to the public. Registration is required.

Contact Mary Cohen at mcohen@pvld.org or 310-921-7519 to register. The

registration deadline is February 12. For further information, please contact

the USC Emeriti Center College at 213-740-8841 or on the web at

http://emeriticollege.usc.edu.

Seaside Beaders Meet

The Seaside Beaders, a special interest group of the Embroiderers' Guild of

America is meeting at 9:30 a.m. They meet at St. Francis Episcopal Church,

2200 Via Rosa, Palos Verdes Estates. Idele Gilbert will teach the square stitch,

which is good for lettering. You may also bring your own project to work on.

Calendar cont. on page 44

Fine Ceramics, Natural Stone, Hardwoods, Cabinetry, Faucetry.

Kitchen & Bathrooms Specialist.

3968 Pacific Coast Hwy., Torrance • (310) 373-7781 • www.simplytiles.com

SIMICH

CONSTRUCTION

Performing Quality Work on the Peninsula Since 1976

STONE WORK

Driveways

Interlocking

Pavers

Walkways

Custom

Stone

Fireplaces

Water

Features

Firepits

Decorative

Concrete

Landscaping

Erosion

Control

Block Walls

Foundations

Cassons

BARBEQUES

FOUNDATIONS

January 2016 • Peninsula People 43

PAVERS

STAMPED CONCRETE

License #904876

POOL AND SPA

310.519.8203

INSURED LIC #410855 A,B, C-8, C-21

Visit our Website at

www.SimichDevelopment.com
---
eventcalendar

Visitors are welcome. For more information, call 310-540-6104 or visit our

web page at www.azureverdeega.com/bead_projects.com.

Saturday, February 6

Music & Memories Gala

The stage is set for Palos Verdes Performing Arts' 27th annual major fundraiser,

the "Music & Memories" Gala, which will be held at the elegant Harlyne J.

Norris Pavilion. The evening's festivities will include stations with fine dining,

prepared by Chef Michael Shafer; live and silent auctions; and a special performance

at the Norris Theatre, filled with "Music and Memories" from the

Center's last 33 seasons. Celebrated jazz pianist/composer and five-time

Grammy nominee David Benoit will be honored and perform, along with

many surprise entertainers. For three decades David Benoit has reigned

supreme as one of the founding fathers of contemporary jazz. His expansive

career has included over 25 charting solo recordings, as well as several prominent

Charlie Brown projects born from his lifelong passion for the music of

original Peanuts composer, Vince Guaraldi. He played almost all of the piano

solos for The Peanuts Movie, which was released in November. Tickets to the

Gala are $200 per person, and VIP tables are also available. For more information

about the Gala, or to purchase a ticket, please call 310-544-0403,

ext. 224.

Assistance League anniversary

The Assistance League of San Pedro-South Bay will be returning to 1936 to

celebrate its 80th anniversary. The evening will spotlight Mae West and many

famous people of that era. The star studded evening will offer fabulous raffle

prizes plus a silent auction. The celebration will be held from 5 - 10 p.m. at

the chapter house at 1441 West 8th Street. Dinner and entertainment is $36

per ticket. Tickets are limited. Contact Michele at 310 832-8355 ext.221 for

further information.

Saturday, February 13

Guided Nature Walk

By Palos Verdes Peninsula Land Conservancy at Deane Dana Friendship Park,

9 a.m. Enjoy some of the best LA/Long Beach harbor and Catalina views on

the east side of the Peninsula. See PV blue butterfly habitat restoration area.

This is a moderate walk. Park in the Nature Center parking lot, 1805 W. 9th

Street, San Pedro. Free and open to the public. For more information, contact

310-541-7613 ext. 201 or visit the website at www.pvplc.org.

Trail Crew Class

Introductory Class at PVPLC Offices, 9 a.m. to noon. Join the Trail Crew for

monthly field practice in trail assessment and repair techniques. This Introductory

class will give an overview to the 50-hour certification training program.

Snacks, refreshments and good company provided! Sign up at

http://pvplc.volunteerhub.com.

Valentine's Tea & Tunes

Friends of Banning Museum will hold its eleventh annual Valentine's Tea &

Tunes on 1 to 3 p.m. This popular event will take place at The Banning Mueventcalendar

Marriage Workshop

At St. Peter's by the Sea, "Fanning the Flames of Marital Passion and Intimacy."

When "Happily Ever After" needs some encouragement. In a world

of distractions and disconnection treat yourself and your marriage to a singleday

presentation focusing on physical, emotional, and spiritual connection.

Guest presenters will be Dr. Scott and Dr. Melissa Symington, both licensed

clinical psychologists. Saturday, 9 a.m. - 4 p.m., $45, lunch included. 6410

PV Drive South, 310-377-6882. StPetersPres.org.

Tuesday, February 9

Shrove Tuesday Luncheon

Sponsored by the St. John Fisher Women's Council. The luncheon is their annual

fundraiser for the local charities they support. Guest speaker will be Msgr.

Kevin Kostelnik, the First Pastor of the Cathedral of Our Lady of the Angeles

and former Associate Pastor at St. John Fisher Church from 1982-1987. Admission

is $25. Reservations can be made in the Parish Office, 5448 Crest

Rd. Rancho Palos Verdes, until Friday February 5. Call Elaine Sweers at 310-

377-7704 for more information.

PV High Project Runway

The Palos Verdes High School Project Runway Fashion Show . Feb 9 and 10

at 7 p.m. Proceeds benefit the Make-A-Wish Foundation Greater Los Angeles.

In the MPR (multipurpose room). 600 Cloyden Rd, PVE. Tickets are $15 regular

and $30 VIP and tickets will be sold at the door. Instagram: PVHSPROJEC-

TRUNWAY, questions email trevettm@pvpusd.net.

Wednesday, February 10

PV Woman's Club Meet

The Palos Verdes Woman's Club will meet at noon at Trump National Golf

Club. Deborah Boland will entertain by singing Valentine's Songs. Husbands

and significant others are invited. Cost of the luncheon is $32. For reservations

call Beverly Teresinski at 310-378-1349.

Palos Verdes Buddhism Club Meeting

Once we achieve the true purpose of life, all suffering is repaid. Every tear

shed comes back to us a pearl. What is the nature of the eternal happiness

awaiting us? Listening to Buddhism is of utmost essence in finding that out.

2:30 - 4 p.m. at Palos Verdes Library 701 Silver Spur Road, Rolling Hills Estates,

Conference Room next to the Gift Shop. Also meets February 24. 818-

571-3573.

William J. Wickwire, M.D.

Certified, American

Board of Dermatology

Neal M. Ammar, M.D.

Certified, American

Board of Dermatology

DERMATOLOGY & SKIN SURGERY

BEACH CITIES DERMATOLOGY

M E D I C A L C E N T E R

Say Goodbye to Stubborn Fat....

• Skin Cancer • Mole Removal & Mohs Surgery

• Reconstructive Facial Surgery and Scar Revision

• Acne & Accutane Treatment

• Warts, Rashes and Cysts • Leg Vein Sclerotherapy

• Hair Loss & Propecia • Restylane, Radiesse, Perlane,

Juvederm & Sculptra • Botox and Dysport Injections

• Age Spots & Sun Damage • Laser Surgery

• Microdermabrasion • Glycolic and Chemical Peels

• Ultraviolet B & PUVA • Pediatric Dermatology

310-798-1515

www.beachcitiesderm.com

Redondo Beach —

520 N. Prospect Ave., Suite 302

Palos Verdes —

827 Deep Valley Drive, Suite 101

Buy One, Get One

FREE

Two Coolscuplting Devices to Treat Two Areas at Once!

Specialists in Skin Cancer Detection

South Bay's

best equipped

Dermatology

Center!

All PPOs Accepted

Evening & Sat.

Appts. Available

44 Peninsula People • January 2016

Calendar cont. on page 46

January 2016 • Peninsula People 45
---
4203 Spencer St., Torrance, CA 90503

(310)214-5049 • www.pevelers.com

Appointment Recommended

Showroom Hours: Monday Thru Friday 10-5

Closed Saturday and Sunday

License #381992

• Serving the South

Bay for over 35 years

• Full Service Contractor

• Complete Installation

• New Construction

• Remodeling

• Second Floors

• Additions

• Cabinets

Visit Our

Kitchen &

Bath

Showroom

DAVID FAIRCHILD PHOTOGRAPHY

"Its Like You're There All Over Again"

310-316-5547 WWW.DAVIDFAIRCHILDSTUDIO.COM

eventcalendar

seum, 401 East "M" Street, Wilmington. Guests will enjoy celebrating Valentine's

Day inside the Banning Museum's historic Stagecoach barn. Presented

in a vintage setting you will enjoy an elegant light luncheon served on exquisite

fine china with a special selection of teas chosen for the occasion. There will

be live entertainment provided by renowned harpist Katrina Saroyan as well

as complimentary tours of the Museum, Transportation Exhibition and Visitor

Center. A special exhibit featuring popular vintage fashions and accessories

from 1864 to the 1920s has been assembled especially for this event. Don't

forget to don your hats, gloves and finery.Tickets sell out quickly for Valentine's

Tea and Tunes and space is limited. The cost is $65 for Friends of Banning

Museum members and $75 for non-members. Please call Friends of Banning

Museum at 310-548-2005 for reservations or for further information. Friends

of Banning Museum is a nonprofit corporation founded to develop the historic

Banning Museum. Our mission is to "Preserve History, Promote Education,

and Inspire Entrepreneurial Spirit." The Banning Museum is a facility of the

City of Los Angeles, Department of Recreation and Parks and is operated in

cooperation with Friends of Banning Museum.

Sunday, February 14

South Coast Cactus & Succulent Society

Botanical Names Decoded by Marquita Ellias. Join Marquita on a delightful

journey of discovery to learn why we use those Latin names, what they mean,

and how really simple it is. Lecture is at 1:30 p.m., South Coast Botanic Garden,

26300 Crenshaw Blvd., Palos

Verdes Peninsula. For more information visit southcoastcss.org.

Second Sundays at Two Concert

Stars of Tomorrow from USC Thornton School of Music featuring Alin Melik-

Adamyan, piano; Philip Marten, violin; Coleman Itzkoff, cello. 2 p.m. Rolling

Hills United Methodist Church, 26438 Crenshaw Blvd. Rolling Hills Estates

(NE corner of Crenshaw & PV Drive

North). Free admission. Donations

appreciated. 100% goes to the

artists. For information 310-316-

5574.

Peninsula Symphony

Concert

Maestro Gary Berkson and the

Peninsula Symphony Association are

excited to present their second concert

of the 2015-16 season with an

array of eclectic music. The evening

will open with Japanese composer

Yasushi Akutagawa's Music for Symphony

Orchestra, and will be followed

by the ever-popular and lush

Concierto de Aranjuez for guitar

and orchestra by Spanish composer

Joaquin Rodrigo. For this performance,

we are thrilled and privileged

to welcome Grammy Award-winning

guitarist, Scott Tennant. After intermission,

the Symphony No. 2 in

D Major by Johannes Brahms. Doors

open at 6 p.m.; pre-concert lecture

by Maestro Berkson (for members

only) at 6:15 p.m., and 7 p.m. for

the concert. Redondo Union High

School Auditorium, 631 Vincent

Street in Redondo Beach (PCH at Diamond).

Concert and parking are

free. For further information, call the

Symphony Office at 310-544-0320,

e-mail music.pensym@verizon.net, or visit their website at Pensym.org.

Wednesday, Feb.17

PVP 4-H CLUB

Community Meeting 6:45 to 8 p.m. at City of Rolling Hills Estates City Hall,

4045 Palos Verdes Drive North, RHE. For more information about the 4-H Club;

please visit our local website at www.pvp4hclub.org or call Dee Keese at 310-

377-9773 or Peter Michel at 310-493-5559. You can also send an email to

pvp4hclub@gmail.com or swimdude64@earthlink.net.

Thursday, February 18

Beach Cities Republicans Meeting

This month's speaker will be candidates for Hermosa Beach City Council. 6

p.m. Dinner (No Host-Dinner is required by all attendees), 7 p.m. Speaker. Sizzler

Torrance, 2880 Sepulveda Blvd., Torrance (Between Crenshaw &

Hawthorne blvds.) For more information please call 310-793-8647 or email

at info@lagopclubs.com. Visit the Beach Cities Republicans Club Website at

www.LAGOPCLUBS.com or www.BeachCitiesRepublicans.com for the Speaker

information.

South Coast Rose Society

February meeting at South Coast Botanic Garden, 26300 Crenshaw Boulevard,

Palos Verdes Peninsula, at 7 p.m. when the Society will give a PowerPoint

presentation on roses with Valentine themed names, i.e. Lasting Love, Careless

Love, Truly Yours, etc. The public is welcome so please join us. For further information,

please see us on Facebook.

eventcalendar

Friday, February 19

Etienne Gara and his Sunset Club Trio

RHUMC Main Concert Series is proud to announce a concert by internationally-heralded

French-born violinist Etienne Gara, and his new group Sunset

Club Trio, consisting of German virtuoso Ines Thome on electric guitar, and

prize-winning Texan Michael Gratovich on flamenco guitar, These world-class

musicians have joined together to produce a fresh approach to the classical violin

and piano repertoire. They have carefully chosen a program where these

instruments can shine--and the interesting combination enables them to revisit

sound textures of the classical masterpieces, as well as newly commissioned

ones to bring a whole new aspect and energy to the stage! The concert will be

at 7:30 p.m. at the Rolling Hills United Methodist Church. Earlier in the day,

Etienne Gara will also be conducting a Master Class of student violinists at the

church from 3:30-5:30 p.m. The public is invited. Call 310-377-6771 for further

information. This concert is free, donations are appreciated and all proceeds

go to the artists.

Pop Musical, 13

The Palos Verdes Performing Arts Conservatory presents the musical comedy,

"13" through February 28 at the Norris Theatre. With a blast of high voltage

energy, the musical, which opened on Broadway in 2008, navigates the ups

and downs of early adolescence, and features an explosive pop-rock score by

famed composer Jason Robert Brown, with a five-piece on-stage band. The plot

revolves around Evan Goldman, who has been uprooted from New York to a

small town in Indiana, where he struggles to fit in, but soon discovers that cool

is where you find it, and sometimes where you least expect it. Show times for

Calendar cont. on page 48

46 Peninsula People • January 2016

January 2016 • Peninsula People 47
---
eventcalendar

"13" are Fridays and Saturdays at 7:30 p.m. and Sundays at 2 p.m., plus a

2 p.m. matinee on Saturday February 27. Ticket prices are $15 for youth

ages 17 and under and $22-$28 for adults. For more information or to purchase

tickets call the box office at 310-544-0403 or go to www.palosverdesperformingarts.com.

The Norris Theatre is located at 27570 Norris Center

Drive in Rolling Hills Estates.

Your New Year resolutions list just

got bigger.

The holidays are over and it's time for a fresh start. But

don't forget your trusty clock, it deserves the same TLC

you are about to partake in.

A properly maintained clock not only extends its life indefinitely,

it also insures its accuracy. Your clock has a complex

mechanism of inter-working parts. Yet unfortunately this precious

item does not warn you prior to any major malfunction,

therefore it becomes imperative to maintain and service your

clock regularly. Oil gets old and dry forcing the train of gears

to work twice as hard to accomplish their goal. This results in

damage that drastically shortens the life of a fine timepiece.

Your clock reminds you of it's presence every time you

wind it, and if its accuracy is not what it used to be, or its

chimes are not as healthy, or maybe it just stops. That means

it's talking to you, telling you that its endless life is in jeopardy.

Michel Medawar has been extending the lives of timepieces

for over fifty years as his father did fifty years before. He is

the inventor of the first talking clock in the world. He is a

graduate from Patek Philippe in Geneva, Switzerland, The

Theod Wagner clock Co. in Wiesbaden, Germany, and the

Howard Miller Clock Co. in Zeeland, Michigan. Call him so

that he may come to your home the same day and offer you a

free estimate for servicing your clock. Or bring your wall or

mantel clock to our store to see our showroom and receive the

same complimentary diagnosis.

We are located at 810C Silver Spur Rd., in Rolling Hills Estates, Ca.

90274. Or call us at (310) 544-0052.

Open 10:00 am - 6:00 pm Tuesday - Saturday

810C Silver Spur Road • Rolling Hills Estates • CA 90274

Call 310.544.0052

Saturday, February 20

Your Story is the Peninsula's Story

Do you live, work or go to school on the Peninsula? The history of the Peninsula

is YOUR STORY! Bring a favorite photo or two of people, activities or events

that represent your connection to the Peninsula. Photos can be old, new, formal

or snapshots (originals preferred). We scan your photos, you keep them, and

together we preserve our shared history! This event is free and open to the

public. 10 a.m. – 12:30 p.m., Peninsula Center Library Community Room,

701 Silver Spur Road, Rolling Hills Estates. For more information call or email

Monique Sugimoto at 310-377-9584 ext 213 or msugimoto@pvld.org.

Star Viewing Party

Enjoy a short lecture with an amateur astronomer at Peninsula Center Library

roof and observe through a state-of-the-art telescope, the Milky Way, the moon

and perhaps even a planet or two! No registration required. Admission is free

and open to the public. For more Information call 310-377-9584 X601 or

visit their website at www.pvld.org. All events subject to rain or heavy overcast

conditions.

Sunday, February 21

Annual Wild & Scenic Film Festival

Palos Verdes Peninsula Land Conservancy's Second Annual Wild & Scenic

Film Festival On Tour, 4 p.m. Redondo Beach Union High School, 631 Vincent

Park, Redondo Beach. Join us for a special selection of environmental and adventure

films that illustrate the earth's beauty, challenges facing our planet and

what work communities are doing to protect the environment. Advance Tickets

$10 or $15 at the door. Tickets and more information: www.pvplc.org or 310-

541-7613.

Monday, February 22

Art Opening

"Life's Treasures", featuring mosaic artist Robin Bott, watercolorist Margaret

Mohr, and painter Jody Wiggins will open at the Promenade Gallery. The

show will continue until April 3.There will be an opening reception for the

artists on Sunday, February 28 from 2 to 6 p.m. Jody Wiggins will do a painting

demonstration on Saturday, March 5 at 3 p.m.Robin Bott will show how

she does mosaics on Sunday, March 6 at 2 p.m. Margaret Mohr will demonstrate

her watercolor techniques on Saturday, March 12 at 3 p.m.

The Artists Studio Gallery at the Promenade is located at #159, Promenade

on the Peninsula, 550 Deep Valley Drive, Rolling Hills Estates, 90274. Gallery

hours are from 11 to 8 Mondays thru Saturdays and 12 to 6 on Sundays. For

further information please call 310 265-2592 or log onto their website at

www.artists-studio-pvac.com.

Wednesday, February 24

Mac Users Group Meeting

Meets at Lomita VFW Hall, 1865 Lomita Blvd. 6:30 p.m. Beginners Q & A,

8 p.m. Presentation by Mike Cowan of Mcgyver Tech. Admission is free. All

Mac/iPad/iPhone/Apple Watch users and potential users are welcome. 310-

644-3315; email: info@sbamug.com.

Calendar cont. on page 50

48 Peninsula People • January 2016
---
A & J Plumbing

St. Lic. #889571 Bonded & Insured

Clogged Drain?

Sewer Backup?

Need a Hydro-Jetter?

Water Heater?

Gas Leak?

Faucet Leak?

• Fully Stocked Truck

• Clean Professional Technicians

• Family Owned & Operated

• Copper Repipes

• Faucet

• Garbage Disposal

• Trenchless Sewer

Replacement

• Tree Root Removal

• Sewer & Drain Cleaning

$

35 off

any service

A & J Plumbing

310.629.1830

Must present coupon. Not valid with other offers or prior services. No Exp.

$

79

any drain, any time

A & J Plumbing

310.629.1830

Must present coupon. Not valid with other offers or prior services. No Exp.

free

sewer camera inspection

with any drain service

A & J Plumbing

310.629.1830

Must present coupon. Not valid with other offers or prior services. No Exp.
---
eventcalendar

Thursday February 25

Embroiderers' Guild Meets

The Azure Verde Chapter of the Embroiderers' Guild of America will be meeting

at 9:30 a.m. at St. Francis Episcopal Church, 2200 Via Rosa, Palos Verdes

Estates. The February program will be Idele Gilbert teaching an Assisi Cupid

Heart which she designed. Or you may bring your own project to work on.

Visitors are welcome. For more information, please call 310- 540-6104 or

visit our web page at www.azureverdeega.com.

Save up to $100

on Radiesse Injections*

Saturday, February 27

Medicare 101

Do you have questions about Part A, B, C, D, enrollment windows, cost sharing

or "Extra Help", the difference between Original Medicare, Medicare Advantage

Plans and Supplement Plans? Join a presentation, Understanding Your

Medicare Plan Options, with Carol Clement (CA License 0H80524) and have

all of your questions answered. Sponsored by Palos Verdes Library District,

this informational seminar is free and open to the public. This event is for educational

purposes only. Medicare has neither reviewed, nor endorses, this

information. 10 a.m. at Peninsula Center Library Community Room.Questions?

Please contact Mary Cohen at mcohen@pvld.org or 310-921-7519.

Land Conservancy Workshop

Palos Verdes Peninsula Land Conservancy 4th Saturday Workshop: Drought,

El Nino and Water Reliability, 11a.m. Workshop on conservation, recycling

and desalination with Ron Wildermuth, West Basin Metro Water District.

White Point Nature Education Center, 1600 W Paseo Del Mar in San Pedro.

RSVP recommended to info@pvplc.org or 310-541-7613.

Daughters of American Revolution

El Redondo Chapter is having its 51st Colonial Luncheon at Palos Verdes Golf

Club - 3301 Via Campesina, Palos Verdes Estates. Social hour and Silent Auction

Bidding begin at 11 a.m. and Lunch begins at noon. This is a fun way to

renew and initiate friendships with sister members. The entertainment is Karin

Frasier. She has a beautiful voice and performs as a soloist or onstage in musical

theater and with orchestras. The reservation deadline is February 16.

For more information and/or reservations contact Pat Husain, 2nd Vice Regent

and Luncheon Chairperson, (pkhusain@aol.com) or Mary Haag, Reservations

Chairperson, (maryhaag29@gmail.com). PEN

*Save $50 on 1. 5mL syringe of Radiesse.

Suzy Zimmerman, Agent

Insurance Lic#: OF71296

4010 Palos Verdes Dr N, Suite

103

Rolling Hills Estates, CA 90274

Bus: 310-377-9531

www.zimziminsurance.com

That's when you can count on

State Farm®.

I know life doesn't come with a schedule.

That's why at State Farm you can always

count on me for whatever you need –

24/7, 365.

GET TO A BETTER STATE.

CALL ME TODAY.

1101198.1 State Farm, Home Office, Bloomington, IL

50 Peninsula People • January 2016
---
around&about

around&about

National Charity League

n The Philanthropy Committee of the National Charity League's Peninsula Chapter

met to begin the process of researching philanthropies for the Chapter's annual

grant awards . The committee consists of: Sharon Oda, Christine Pearson, Immediate

Past President-Julie Long, Community Philanthropy Chair-Mary Schaefer, Chapter

President-MaryBeth Kane, Chair-Valerie Real, Jennifer Townsend, Lynn Whitlock,

Cathy Stain, Carol McFarland and President Elect-Janet Westergaard. Members

Marymount California University offers new degree

n Marymount California University co-presidents Ariane Schauer, PhD, and James

R. Reeves announce the offering of a bachelor's degree in criminal justice beginning

in the fall semester of 2016. This is the fifth bachelor's degree offered by the

university, which also offers bachelor's degrees in business, liberal arts, media

studies and psychology.For more information about the university visit www.MarymountCalifornia.edu.

will research 21 philanthropies who have applied for grants. Once research is

complete, the committee will meet in February to make recommendations to the

NCL Peninsula Board of Directors. Money for grants comes from proceeds from

the NCL Ticktocker Thrift Shop in San Pedro. In the 2014-2015 fiscal year, the

NCL Peninsula Chapter awarded over $167,000 in scholarships and philanthropic

grants to members of our South Bay Community.

LA BioMed Researcher honored for

distinguished teaching

n John Michael Criley, MD, a Los Angeles Biomedical Research Institute (LA Bio-

Med) researcher, will receive the 2016 Distinguished Teacher Award from the

American College of Cardiology on April 4 at the organization's 65th Annual Scientific

Session in Chicago, IL.In notifying Dr. Criley of the award, the American

College of Cardiology said he was being recognized for his "innovative, outstanding

teaching characteristics and compassionate qualities. Because of these

attributes, you have made major contributions to the field of cardiovascular medicine.""Congratulations

to Dr. Criley for this recognition of the training and education

he's provided to more than 200 cardiologists who are improving the lives of

patients around the country," said David I. Meyer, PhD, LA BioMed president and

CEO. "Dr. Criley is an LA BioMed legend, a leader in the field of cardiology for

more than 50 years and an example of the institute's physician-researchers who

translate science and transform lives." In addition to the more than 200 cardiologists

he has helped train, Dr. Criley has taught cardiology to over 6,000 medical

students, residents and nurses throughout his career. He has developed interactive

multimedia programs in three languages that are

used for medical and nursing education programs

around the world.

Palos Verdes Village

appoints new Director

n The Board of Directors of Palos Verdes Peninsula

Village has appointed Colleen Cotter as Executive

Director.Ms. Cotter has lived in Rancho

Palos Verdes for 21 years, and has served in

many volunteer positions on the Peninsula. She

has managed grants for non-profits, assisted with

many events, and worked with the PVP Chamber

of Commerce.She will manage the day to

day operations of the Peninsula Village office

Colleen Cotter, Executive

Director for

Palos Verdes Peninsula

Village

and coordinate volunteers and services to ensure that assistance and programs

are readily available to allow seniors to remain healthy, active and in their homes.

The PVP Village office is sharing space with Peninsula Seniors.For more information

about The PVP Village visit www.Peninsulavillage.net

National Charity League, Peninsula Chapter

to participate in Operation Homefront

n On Sunday, November 8th, 200 the Peninsula Chapter of National Charity

League, Inc. gathered moms and Ticktockers at Palos Verdes Intermediate School

to help brighten the holidays for military families with Operation Homefront. Operation

Homefront is an organization that provides assistance to military families.

They offer relief during military family crisis and support wounded warriors when

they return home. This was the third year NCL Peninsula participated in this event.

Lesley Sklow, chair of the event, requested from the membership to donate new

toys and clothing for children ranging in ages from infants to teens. These gifts

were wrapped at an exuberant wrapping party held in the multipurpose room at

PVIS. Over 100 holiday cards and letters were also written to send to our soldiers

serving overseas. The Army ROTC Color Guard from the University of Southern

California opened the event along with Class of 2020 Ticktocker, Gracey Thomas,

sang the National Anthem. On December 9th, moms and Ticktockers delivered

the wrapped gifts to the Naval Armory in Seal Beach for a Gift Giving Party where

the members had the pleasure of meeting the families who were receiving the

gifts. The Ticktockers helped children decorate cookies and Class of 2018 mom

and professional photographer, Katrin Cooper, took family photos for their holiday

cards. Santa also made an appearance.

Around & About cont. on page 54

FEE ONLY FINANCIAL PLANNER

• Are you in or approaching retirement?

• Do you want to stop worrying about your

investment portfolio?

• Do you lose sleep wondering if you may

outlive your nest egg?

• Do you want to know if you are on the

right path financially?

• Do you want to take control of your

finances?

• Do you feel you need a second opinion on

your portfolio?

If you answered "yes" to any or all of the

above questions, you may need to contact

me, to provide you with a personal financial

plan designed to help you take control

of your finances, reduce anxiety and ultimately

achieve your financial goals. There is

no cost or obligation for the initial meeting,

as it is an opportunity for you to learn more

about me, and for me to determine if I can

help you achieve your financial goals and

objectives.

As a fee-only financial planner I will be

compensated solely by my clients, I do not

accept commissions, referral fees, or

compensation from other sources, and I am

committed to acting in your best interest.

Abbas A. Heydari, CFP®

Certified Financial Planner

and Registered Investment Advisor

Providing Financial Services

in Torrance since 1986

21515 Hawthorne Blvd., Suite 1020

Torrance, CA 90503

E-mail: aahfp@Yahoo.com

Web: www.aaheydari.com

Phone: (310)792-2090

52 Peninsula People • January 2016

January 2016 • Peninsula People 53
---
St. Francis Episcopal announces organist

appointment

St. Francis Episcopal

Church located at 2200

Via Rosa in Palos Verdes

Estates is proud to announce

the appointment of

Dr. Hyunju Hwang as organist

effective January 1,

2016. Dr. Hwang received

her Doctorate of

Musical Arts Degree from

USC with an emphasis in

Organ Performance and

Sacred Music. She has

additional degrees from

Westminster Choir College,

Cleveland Institute for

Music, the International

Organ Academy in Harrlem,

the Netherlands, and

Yonsie University in Seoul,

Korea. Dr. Hwang also accompanies

music performance

classes at Redlands

around&about

Organist Dr. Hyunju Hwang

University and the Idyllwild

Arts Summer Choir Festival.

For more information, contact

Jeannie Cobb at St. Francis Church at 310- 375-4617, Ext. 228 or email:

jeannie.cobb@stfrancispalosverdes. PEN

Risty cont. from page 29

memoir.

Her maternal grandfather Fred McCoy was a gold miner in Alaska during

the Klondike era. He and a partner "actually hit pay dirt" with a successful

claim that they later sold to a mining syndicate.

That "made his fortune, and ensured that my mother grew up in a privileged

environment," Jan recalled.

McCoy and Jan's two uncles traveled frequently to Seattle, and Jan grew

up hearing stories about the adventurers' raft capsizing in a river, and the

group being charged by a grizzly bear.

"The ring my sister wears today was my grandmother's wedding ring,

which my grandfather won in a poker game while on a steam ship en route

to Alaska," Jan recalled.

"Apparently, the family fortunes ebbed and flowed during the depression,

and in ensuing years my grandfather and his sons built homes in Seattle

and owned a grocery store," she wrote. "But most of the mining fortune

was dissipated long before I was born."

Her father, Bill Golden, was a journalist. Chet Huntley was his best man

when he married Jan's mother, Marjorie "Midge" McCoy.

Her father became press secretary for U.S. Sen. Warren Magnuson, and

the family moved to Washington DC and later returned to Seattle.

Hard times, hard work

When Jan was 10, her father died suddenly and her 16-year-old brother

was killed in an accident. Her mother took a job in Anchorage, Alaska,

"but had trouble coping with her losses," Jan recalled. "As a 12-year-old I

was pretty much on my own in a very rough environment during the year

we spent in Alaska."

Through the rough times, the family managed to avoid homelessness,

and Jan found solace in reading voraciously.

Risty cont. on page 56

Considering A Major Remodeling Project?

RSVP today for a complimentary remodeling seminar

Move

or Remodel

Join us on Tuesday

February 9 th at 6:00 pm

This informative seminar will help you learn:

• Cost vs. Value

• The advantage of a true design / build firm

• And much more!

Join us on Saturday

February 27 th at 10:00 am

Architectural Design

& Remodeling

This informative seminar will help you learn:

• Functional design ideas to make the best use of your living space.

• How to choose a contractor: What to look for and how to hire one.

• Exploration of materials, from granite to quartz and more!

54 Peninsula People • January 2016
---
We reimburse UBER & LYFT up to $10

HAPPY HOUR TUES-FRI 4-7PM

Join Us Valentine's

Day & Night!

Special Champagne

Brunch & Special

Dinner Menu

Complimentary D inner

Buy 1 Dinner and 2 Drinks, Receive Free Dinner

Live

Piano

Entertainment!

MAKE YOUR

RESERVATIONS

TODAY!

(310) 378-0267

($17 Max Value. Dine in only. One per table. Not Valid with other offers or holidays. Expires 2/29/16)

$17 $17

320 Tejon Place Palos Verdes Estates (310) 378-0267

www.LaRiveGauchePV.com

SPECIAL MENU 4-COURSE DINNER $25.95

Dine & Enjoy Our Lunch & Dinner Specials!

Risty cont. from page 54

"The library was my sanctuary," she said.

"Alaska was still a territory – not even a state – at the time we were there,

and it was not unusual to see an occasional moose stroll through the main

part of town," she said.

The family moved to the Los Angeles area, and at 17 Jan began supporting

herself with administrative and accounting work, while studying a full

academic load at Santa Monica College at night.

"Marriage interrupted my education and I had two sons, Evan, now my

partner in our real estate practice, and Brad, who works in the insurance

industry in San Diego," she said.

Later, as a single mom, she moved to Palos Verdes and began her real

estate career.

"I found having two mouths to feed to be highly motivating," she recalled.

"My sales career evolved slowly but steadily and the cliché 'the harder

you work, the luckier you get' proved true for me," Jan wrote.

At different times, both her sons worked for Wayne at The Admiral Risty.

"I remember once calling Wayne to complain about the number of hours

my then-high-school-aged son was working and Wayne informed me, politely

but firmly, that while he was sympathetic to my concerns – I quote

– 'Ma'am, I have a business to run,'" she recalled.

"Basically, he shut me down in no uncertain terms. The upside though

was that Wayne proved to be an outstanding mentor, not just for my sons

but for generations of young people on the Peninsula."

"Even I was influenced by Wayne – and although I always worked hard

prior to meeting and later marrying him – I found myself redoubling my

efforts becoming a real worker bee just by being in his presence. I later established

a second business as a travel agent while still working successfully

at real estate full time."

After all their work, and their successes, the Judahs are in a great position

to enjoy the fruits of their labors – and probably put in some more hard

work. PEN

56 Peninsula People • January 2016
---
HOMES FOR SALE BY THE INMAN TEAM

THE INMAN TEAM SOLD OVER 115 MILLION DOLLARS IN SALES FOR 2015 & 2014

Openbrand Rd, Rolling Hills

5 bedrooms, 3.5 bathrooms, 4100+ sq. ft., 3 car garage, city light view & pool.

CharmingCountryEstate.com $2,995,000

28520 S. Montereina Dr., Rancho Palos Verdes

Great location with Palos Verdes Schools! Over 1,900 sq ft of living space with

4 bedrooms and 2 bathrooms. $839,000

www.InmanTeam.com

Contact@InmanTeam.com

KEITH KELLEY

DRE #01810798

GORDON INMAN

DRE #00446156
---
P E N I N S U L A P E O P L E | S P O R T S

Chasing purple blobs

by Eddie Solt

"Surfing big waves isn't only about the actual act of catching big waves. It's about making

the decisions to drop everything and be there at the right time." - Scotty Bredesen

Former Peninsula High longboarder Scotty Bredesen at Puerto Escondido, Mexico, winter 2015. Photo by Mariana Marenalma

The buoys were banging. It was the first big

swell of the season. Ocean Beach, just

south of San Francisco cradles swells. With

no natural barriers the break welcomes any

ocean action, from ripples to mountains.

Surfline.com called December 16, 2013 "Macking

Monday."

"That day was my first time surfing giant

Ocean Beach. It's a heavy paddle out, like six to

eight football fields out," Scotty Bredesen said.

"There are different zones you have to paddle

through to get to the outside. I just squeaked by

and scored an epic session."

Now when the buoys are banging, Bredesen

can often be found making a cannonball run up

the 5 with his Joe Bark guns piled in his vintage

Chevy Suburban, sans surf stickers for discreteness.

"Surfing big waves isn't only about the actual

act of catching big waves. It's about making the

decisions to drop everything and be there at the

right time," he said.

The Palos Verdes native comes from a South

Bay surfing family. His dad Chris was a Los Angeles

County Lifeguard and in the '60s a member

of the Greg Noll Surf Team. Today he is a member

the Haggerty's Surf Club and the Hap Jacobs

Surf Team. Scotty's older brother, Chris Jr., was

seen all through the pages of the now defunct

Longboard Magazine during the zine's heyday, 15

years ago, performing his progressive longboarding

style. Chris Jr. is also a lifeguard and member

of the Jacob's Surf team.

Every summer growing up the Bredesens vacationed

on Maui with the Meistrell family, owners

of Body Glove and Dive N' Surf.

"I learned to surf at Ka'anapali Point when I

was five, after doing the whole boogie board

shorebreak thing," Bredesen said.

In high school, Bredesen was on the Peninsula

High Surf Team, which dominated the South Bay

until 2005 when the hill's top surfers migrated to

the newly opened Palos Verdes High. Bredesen

was an anchor for the longboard team for four

years and in his senior year won the All Star title.

"Scotty was a pudgy, little short kid," recalled

longboarder Shawn O'Brien, who was a judge

during Bredesen's high school years. "After he

won the all star meet, the judges threw him upside

down in a trashcan."

But he traces his big wave obsession back to

when he was nine years old and became a Los

Angeles County Junior Lifeguard. "JG's laid the

foundation for my life," Bredesen said. "It's the

reason I became a LA County Lifeguard."

Bredesen, now 29, has been a recurrent lifeguard

for 10 years.

"Becoming a lifeguard shaped me into being a

complete waterman," he said. "I grew up looking

up to my dad and Uncle Wally Millican. I see myself

emulating Lifeguard Captain Tom Seth when

I'm older, having a loving family and being in

shape."

Four years ago Bredesen was visiting a friend

up in Cen-Cal. The surf report forecasted an epic

swell, perfect for lighting up the region's secret

reefs. Bredesen borrowed Joe Bark's back-up gun

and paddled out in hammering, triple overhead

surf.

"I got caught inside and was thrown into full

survival mode," he said. "I never had been so

sketched out in my life. That's when I was

hooked, especially after talking about the waves

afterwards, over a few beers.

The quest for big waves became the focus Bredesen's

life: lifeguarding in the summer and

"chasing the dream" of the heavies in winter.

"I remember when Scotty came up to me very

serious, and said 'Jamie, I want to do this,'" Jamie

Meistrell recalled. "I've known him since we

we're in diapers. It was from there I saw him

transform."

Another person Bredesen talked to was fellow

Palos Verdes surfer Joe Bark. Bredesen grew up

with a family quiver of Bark surfboards and paddleboards.

"Your surfboard is the last thing you want to

worry about in big surf," Bredesen said. "Joe's

one of the best glassers and shapers in the world.

I always see his boards at the top big wave

breaks."

"He's always believed in me and had my back,"

Bredesen added. "He's showed me a new love for

the ocean."

With Bark and other sponsors, including Body

Glove, Zico coconut water, and Freestyle watches

58 Peninsula People • January 2016

(he was in the Freestyle Watch ad in the "big"

June 2014 issue of Surfer Magazine), he feels he

has to put himself out there.

"The easy part is catching waves. Performing

comes natural," he said. "The anxiety is going

somewhere expected but unexpected at the sametime

and putting yourself in the spot to make that

decision to paddle out."

Over the last four years, Bredesen has been

chasing bomboras up and down the California

coast, as well as in Mexico.

Bredesen took his worst thrashing two winters

ago at Todos Santos, 13 miles off Ensenada. The

big, right hand point break was maxing out at 30-

plus feet.

"I took a set wave on the head and was swallowed

into deep water and feeling the pressure

on my ears," Bredesen said. "Then I was dragged

inside, into the rocks that are the size of Volkswagens,

while being held under almost the entire

way. I was gasping for air in the foam."

When the rescue ski picked him up he had a

bloody nose and a snapped gun.

While recovering on the boat, he questioned

what he was doing there.

The answer, he decided was "Chasing big

waves, big dreams, experiencing the adventure.

It makes you grow, not just as a surfer, but as a

person."

He waxed up his full-on, 10-foot-6 Bark rhino

chaser, a board he had yet to even paddle and

jumped off the boat. Then he made the same mistake

that had gotten him in trouble earlier in the

day. He went for a small wave, got caught inside

and took the next set on the head.

But this time, he was able to get back out to the

lineup.

"Here I was with a few of my idols and for a

moment I reflected, 'Wow.' Then I looked up and

saw a set on the horizon. I was in the right spot."

"Dropping in I could hear the hoots and hollers

from my fellow surfers and the boat crews," he

said. "I felt redeemed. I didn't give up and it paid

off."

Puerto Escondido is another barreling Mexican

break that Bredesen has established himself, at a

price.

"The wave pops up and peaks out of nowhere

and you can't track it. The wave has to choose

you." he said. "You have to be at the right spot at

the right time and hope the wave you're pulling

into doesn't gobble you up."

Last May, on his fifth trip to Puerto, Bredesen

found himself in a lineup of international surf

stars.

"Sharing a line-up with surfers whom I respect

is mind blowing," he said. "The local Puerto community

is especially deserving of respect. Oscar

Moncada and Coco Nogales are two of the local

surfers I look up to."

After charging through the shorebreak, Bredesen

mistimed his paddle out and was thrashed

by a double overhead, pitching lip.

"It felt like a cement truck was pouring down

on me while I was pinned to the ocean floor," he

said.

On his second attempt to paddle out, he barely

pushed through to the outside.

"Once I got my bearings straight, a set wave

came to me and I found my rhythm," he said.

"You have to catch that one right wave to get the

rhythm going."

A freak left peaked 20 yards south and coming

straight at him.

"My eye lit up. I dropped into a Hail Mary," he

said.

He was swallowed up by the 20 foot, closing

tube, slide slipping at one point and grabbing a

rail while going for broke.

"When I was spit out, I realized I had just

caught the barrel of my life," he said.

Bredesen's current goal is to get a bomb at

Mavericks, California's most fabled big wave

spot. Qualifying for the World Surf League Big

Wave Tour is another fantasy that plays in his

head, but it's not what motivates him.

"There are 1,000s of surfers better than me. I'm

not even in the ballpark with some of the great

South Bay, big wave surfers," he said. "Chasing

purple blobs is about growing. Besides the obvious

growth as a surfer – trying to pull in deeper

and catch bigger waves – you grow as a person.

When you come back from a trip, you're not the

same person you were when you left." PEN

January 2016 • Peninsula People 59
---
www.LSRarecoins.com

Vinyl Windows

Replacement and New Construction

BUY ONLINE

AND SAVE BIG $$$

WWW.1STWINDOWS.COM

WE BUY AND SELL

rare gold and silver coins

FREE APPRAISALS

up to 10 coins

By appt only - Palos Verdes

310-710-2869 | 310-541-7222

larry@LSRareCoins.com

andy@LSRareCoins.com

VINYL, ALUMINUM, WOODCLAD

Lowest Prices Up Front • No Games

Show Room 562-494-9069

Johnson cont. from page 33

Not only that, she'll be going to Hawaii with them after the Anchorage

performances so they can work on their real tans. Since "Mamma Mia!"

takes place in the Mediterranean everyone is supposed to look like they've

soaked in a few rays, intentionally or otherwise.

Kyra Belle is thankful that her first experience of being out on the road,

and doing show after show after show, is with a musical where her character

doesn't need to scream or cry hysterically several times a week. That

could be quite draining.

Indeed, she says, "Pretty much every time you walk off stage you're smiling

because that's what your character's just been doing, and especially

after the finale (when) we hit three of the most (popular) ABBA songs and

the crowd, every single night, is up on their feet and dancing. You see people

singing the lyrics back to you and waving their arms in the air, and you

just walk off so happy and proud of the show."

The "Mamma Mia!" national tour ends in Tulsa, Oklahoma, on June 12,

after which Kyra will have time to catch her breath. And after that? "I really

don't know," she replies, and then adds with a playful laugh: "I just

know in general my river is streaming towards performing." In the meantime,

let's not forget, she'll be shining like the star she is from Jan. 26-31

at the Pantages Theatre. PEN

Custom Concrete & Masonry

CONTRACTOR REFERRAL • Fax 562-494-2069

CONCRETE - For the Drought-Conscious

• Pools, Spas, Fountains

and Waterfeatures

• Firepits and Fireplaces

• Outdoor Cook Centers

• Stone and Tile Patios

] u

t

• Stamping

• Driveways

• Pool Decks

• Arificial Turf

• Patios

• Stonework

• Pavers

• Foundations

LIABILITY INSURED • WORKERS COMPENSATION

Casey Lindahl - Founder & President of Lindahl Concrete Construction, Inc.

310-326-6626

Call for Showroom address

Call for estimate

LindahlConcrete.com

Lic.#531387

• Interlocking Pavers

• Retaining Walls

• Driveways

(310) 325-6790

www.quinnpools.com

License B, C-8, C-53 #775677

J. QUINN CONSTRUCTION, INC.

60 Peninsula People • January 2016

January 2016 • Peninsula People 61
---
S P O T L I G H T O N T H E H I L L

Photos by Adrienne Slaughter

PTN HALLOWEEN BALL

20th Anniversary at The Depot

T

he 20th Annual Halloween Ball benefiting the Children

of Pediatric Therapy Network was held Oct. 11th by

The Depot restaurant owner and chef Michael Shafer.

The Torrance center was founded in 1996 by therapists and

parents to provide research and education for special needs

children. For more information visit PediatricTherapyNetwork.org

1. Annual attendees

Linda James, Malissa

Tober, Michael and

Melinda Limas.

2. PTN's CEO Terri

Nishimura, Deanne Hanson,

Fran Day, PTN's

Heather McGuire and Trisha

Handel Lopez.

3. South Bay locals and

huge Halloween Ball

supporters Rick Learned

and Siva Zhang.

4. Dressed as Gum Ball

Machines are Sue Kent

and Kathy Traeger of

Manhattan Beach.

5. Jellyfish Ernae Mothershed

and Yae-lan Chiang.

6. Sugar Mama and

Sugar Daddy Cindy and

David Berry with

Scooby-Doo's "Daphne"

Charlotte Svolos of Torrance.

7. Lori Tanioka, Takuma

Kishimoto of Torrance

with Mavis Bruder of

Henderson, Nevada.

8. Susan and David

Weber with Pediatric

Therapy Network's client

Brandon Tanioka.

9. Steve Napolitano,

Senior Deputy to Fourth

District Supervisor Don

Knabe, joins PTN's Tanesha

Sandoz, Judith Diamond

and Alysia

Medina.

10. Leilani Kimmel-

Dagostino, Officer Darryl

Tatum, Adrienne and

Brett Gross with The

Depot's owner/Chef

Michael Shafer.

1 2

3 4

5 6

7

8

9 10

62 Peninsula People • January 2016
---
Classifieds Your Local Expert Community 424-269-2830

AUTOS CONCRETE GARAGE DOORS HANDYMAN PLASTERING POOLS & SPAS

Southern California

Car Club

Looking for 1950-1970

Cars for Purchase

any Condition-OK

Mark

(310) 294-4999

G

COINS

Reserve

your space in the

next

Pub Date: Feb 27

Deadline:

Feb 12

s

Call direct

(424)

269-2830

D

Remodeling

Design

Kitchens

Bathrooms

Room Additions

New Construction

CONSTRUCTION

QUIXTAR

Concrete & Masonry

Residential & Commercial

310-534-9970

Lic. #935981 C8 C29

CONSTRUCTION

Call us to Discuss the

ENDLESS POSSIBILITES

Extreme

Hillside Specialist

Foundation Repair Experts

Grading & Drainage

Retaining Walls,

Fences & Decks

310-212-1234

www.LambConBuilds.com

Lic. #906371

Charles Clarke

Local Owner/General Contractor

Ph: (310) 791-4150

Cell: (310) 293-9796

Fax (310) 791-0452

"Since 1990" Lic. No. 810499

ELECTRICAL

LYNCH

ELECTRIC &

General

Building

Contractors

• Residential

Troubleshooting

• Remodel Specialist

Scott K. Lynch

P.V. Native

Licensed & Insured

Cell

310-930-9421

Office & Fax

310-325-1292

www.LynchElectric.us

Lic 701001

classifieds

424-269-2830

PLUMBING

MATTUCCI

FULL SERVICE PLUMBING • COPPER REPIPES

SEWER VIDEO INSPECTION • HEATING

DRAIN & SEWER SERVICE • COOLING

TRENCHLESS SEWER REPLACEMENT

Handyman

Services…

Fix It Right the

First Time

We like small jobs

/ Free estimates

What we do…

Plumbing, Electrical,

Drywall, Painting

& more.

Valente Marin

310-748-8249

Unlic.

MUSIC

LESSONS

Vocal Technician

Piano Teacher

Vocalist

Jeannine McDaniel

Rancho Palos Verdes

20 year experience

All Ages

310-544-0879

310-435-2407

Jeannine_mcdaniel2001@yahoo.com

PAINTING

BEAR BROTHERS

PAINTING

Quality Workmanship

Interior • Exterior

• Pressure Washing

• Decks

Free Estimates

375-1966

Lic #614749

PLUMBING • HEATING • COOLING

DEPENDABLE • PROFESSIONAL • AFFORDABLE

ON CALL

24 HOURS

7 DAYS

FREE ESTIMATES

310.543.2001

CALIFORNIA

Lic. #770059

C-36 C-20 A

2013

Patch Master

Plastering

Patch Plastering

Interior • Exterior

• Venetian Plastering

• Ceiling Removal

• Drywall Work

• Acoustic

Ceiling Removal

• Water & Fire Restoration

310-370-5589

Lic. # 687076 • C35-B1

PLUMBING

Thank You South Bay for

50 Years of Patronage!

Residential • Commercial • Industrial

Plumbing 24/7 • Heating

Air Conditioning

pfplumbing.net

800-354-2705 • 310-831-0737

ROOFING

Tile Reroof and

repair specialist

310-847-7663

Family owned

business since 1978

Lic 831351

TILE

FREE ESTIMATES

370-2144

Licensed & Insured

POOLS • SPAS

HARDSCAPES

New Construction

& Remodeling

Excellent References

Horusicky Construction

310-544-9384

www.Horusicky.com

Credit cards accepted

Lic #309844, Bonded, Insured

SOLAR ENERGY

Your Ad Here

62,000 Readers

424-269-2830

Simply Tiles Design Center

Fine Ceramics, Natural Stone, Hardwoods, Cabinetry, Faucetry.

Kitchen & Bathrooms Specialist.

3968 Pacific Coast Hwy., Torrance • (310) 373-7781 • www.simplytiles.com

License #904876

64 Peninsula People • January 2016
---
Southern California's Newest Marina

Happy New Year!

NEW YEAR! NEW LISTING!

5 Ginger Root Ln., Rancho Palos Verdes

Located in the sought after gated community of Portuguese Bend, this

3 bed/2 bath, 1534 sq.ft one level home, is now on the market for the

first time in 55 years! The property which is zoned for horses, sits on

nearly 2/3rds of an acre. There is a view from nearly every room in the

home of either the peaceful, serene, and park like backyard or the

pastoral views of Portuguese Bend Riding Club located directly across the

street. This is a very special property and PRICED TO SELL!

LIZ SNYDER Offered at $1,299,000

(310) 339-5301 | Keller Williams Realty | Email: lizsnyder@kw.com | CalBRE#01800973

Shortest

Run to

Catalina!

Marina Amenities

• SLIPS from 28' to 130'

• Dry Storage w/Crane Launching

• New Restrooms w/Showers

• Ice Machines & Laundry

• Pumpout - Public & In-Slip

• Ample FREE Parking

Marina (310) 514-4985 • Dry Storage (310) 521-0200

Cabrillowaymarina@westrec.com • cabrillodb@aol.com

www.westrec.com/marina/cabrillo-way-marina

2293 Miner St., San Pedro, CA 90731

NOW

OPEN!

Helping clients create wealth by capitalizing on

South Bay investment property opportunities

Brian

Estes

Vice President of Investments

Multifamily Specialist

www.sbapts.com

DRE#013394559

Why work with Brian:

• Successful 12yr+ track record of specializing

exclusively in the sale and acquisition of

South Bay apartment investments.

• Maximum exposure to listings for sellers and

access to exclusive inventory for buyers.

• Unsurpassed knowledge of multi-family

investments including historical trends, real time

rent and sales data, and long term relationships

with active principals and brokers.

Direct: 310 802 2525 I bestes@remaxcir.com

23001 Hawthorne Bl., Suite 205 Torrance, CA 90505

THE LUXURY OF BEAUTY IN

YOUR OWN HOME

WE COME TO YOU!

MAKE UP ~ $50.00

BLOW OUTS ~ $60.00

A DOLL UP ~ $90.00

*INQUIRE ABOUT SPECIAL EVENTS

BOOK YOUR APPOINTMENT TODAY

WEB: WWW.DOLLEDUP.CO

EMAIL: JENN@DOLLEDUP.CO

PH: 310.200.1606

January 2016 • Peninsula People 65