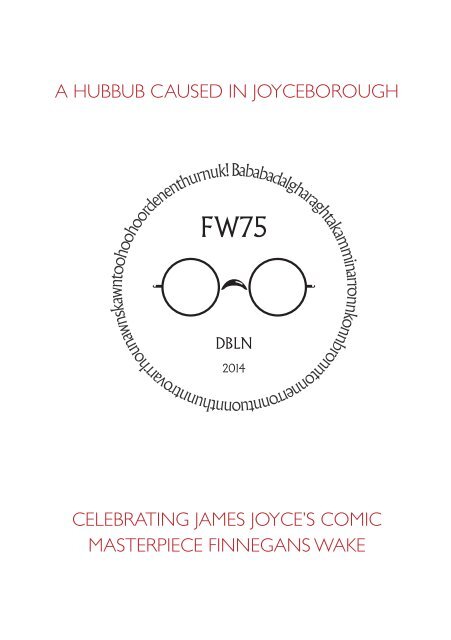 FW75 Programme 2014
Programme of the Finnegans Wake 75 years exhibition in the Phoenix Park, Dublin
Programme of the Finnegans Wake 75 years exhibition in the Phoenix Park, Dublin
SHOW MORE
SHOW LESS
You also want an ePaper? Increase the reach of your titles
YUMPU automatically turns print PDFs into web optimized ePapers that Google loves.
A HUBBUB CAUSED IN JOYCEBOROUGH

CELEBRATING JAMES JOYCE'S COMIC

MASTERPIECE FINNEGANS WAKE
---
Buy a book in brown paper

From Faber & Faber

To see Annie Liffey trip, tumble and caper.

Sevensinns in her singthings,

Plurabelle on her prose,

Seashell ebb music wayriver she flows

James Joyce
---
FW 75: A HUBBUB CAUSED IN JOYCEBOROUGH

On May 4th 1939, Finnegans Wake, which was written largely in Paris, was

published in London. It was James Joyce's last work, and within two years,

Joyce's funeral would take place in Zurich.

75 years on, Finnegans Wake continues to occupy a literary category all its own,

characterised by its brilliant originality, florid erudition and perceived difficulty. Is it

about Dublin, or the future of humanity? Did it predict the internet? Did it send out

the first ever tweet? Is it about a Europe in crisis? Is it even written in English? Is it

the blueprint of a dream? Is it a glitch or a joke? Should we care?

On May 4th 2014, at the Phoenix Park Visitors Centre, Joyceborough launched an

exhibition and series of events – offline and on – intended to explore the hubbub of

people, objects, film, music, posters and photographs all some how implicated in the

commotion of the Wake. None of these explain the novel, well, not fully anyway!

Instead, the Hubbub is the start of a gathering, a place to talk and think and experience

"I am trying to give people some kind of

intellectual pleasure or spiritual

enjoyment by converting the

bread of everyday life into

something that has a

permanent artistic

life of its own...

for their mental,

moral, and

spiritual

uplift."

"One great part of every human

existence is passed in a

state which cannot be

rendered sensible by

the use of wideawake

language,

cutanddry

grammar

and goahead

plot."

"It is night.

It is dark.

You can hardly see.

You sense rather."

Humptydump Dublin squeaks through his norse,

Humptydump Dublin hath a horrible vorse

And with all his kinks english

Plus his irismanx brogues

Humptydump Dublin's grandada of all rogues.

Buy a book in brown paper

From Faber & Faber

To see Annie Liffey trip, tumble and caper.

Sevensinns in her singthings,

Plurabelle on her prose,

Seashell ebb music wayriver she flows

Graphic Poster: Natália Balladas of Printwell Design

1
---
the mastery and mystery of Finnegans Wake: its significance and influence in Dublin,

in Europe, and around the world: its beauty, its fun; its theatre; its chaos.

From film noir to Youtube, from the Parisian theatre to the streets of Dublin, from the

dawn of time to the dawn of Twitter, the hubbub caused in Joyceborough brings

adaptations, presentations, hesitations about Finnegans Wake and its creator – and will

continue to do so. It's for amateurs, experts, newcomers, Dubliners, evreryone. The

Hubbub caused in Joyceborough is a standing invitation to join in and celebrate

Finnegans Wake.

BACkGROUND

James Joyce's Dubliners was published 100 years ago in June 1914, Ulysses

appeared just eight years later, in February 1922 and in March 1923, we

know that Joyce had commenced the work in progress that would become

Finnegans Wake (FW) just 75 years ago on May 4th 1939.

The 25th anniversary of FW was marked by the publication of a set of

scholarly essays, Twelve and a Tilly. The contributors included Joyce's friend

Frank Budgen, one of the original 'exagminators' of Work in Progress in 1929,

together with Frederick J. Hoffmann, Vivian Mercier, Fritz Senn, Robert F.

Glickner, James S. Atherton, J. Mitchell Morse, Nathan Halpar, Richard M.

kain, A. Walton Litz, David Hayman, and Jack P. Dalton. Padriac Colum,

Joyce's faithful friend, adds as a tilly his elegy written on the news of Joyce's

death in 1941.

The 50th anniversary of the publication of FW was marked by a rather

informal walk, in the Phoenix Park, followed by a social gathering in the

Mullingar House, Chapelizod. Mike Murphy's Arts Show on RTE Radio 1,

produced by Seamus Hosey, did a broadcast which included contributions

from both former Lord Mayor Tomás Mac Giolla and Eamonn Mac Thomáis.

Out of these events came a stage production, The Wake with Paul O'Hanrahan

and Donal O'kelly – set design by Robert Ballagh – which played to acclaim

in venues that included Dublin's Project Arts Centre, the Edinburgh Festival

where it won a Fringe First Award and at the 12th International James Joyce

Symposium in Monaco.

2
---
FW75, marking the 75th anniversary of The Wake, whch is presented by

JOYCEBOROUGH, began as a proposal for a day of activities to be part of

Phizzfest – the Phibsborough Community and Arts Festival.

What is presented, in marking FW75, is a programme of events, at Phoenix

Park Visitors Centre, Farmleigh, at Drumcondra, Phibsborough and

Rathmines public libraries; in the Crypt of Christchurch Cathedral – the

oldest built space in Dublin – and in the James Joyce Centre, North Great

George's Street.

With the support of the Office of Public Works (Phoenix Park and Farmleigh)

and Dublin City Public Libraries and the Dublin UNESCO City of Literature

in particular, FW75 outgrew the original conception eventually bringing, for

the first time, a collaboration between the 7 world cities of literature. This

collaboration, consisted of filmed contributions from each of UNESO Cities

of Literature: Reykjavik, Iowa, Norwich, krakow, Melborne and Edinburgh,

and of course Dublin. Each city was provided with an extract from Chapter

1 of Finnegans Wake selected by Joyceborough.

Their responses to that that text will be see for the first time at the Phoenix

Park Visitors Centre on Wednesday 14 May 2014 at 3pm, introduced by the

very distinguished Dublin litterateur, Peter Sheridan.

RIVERRUN, adapted directed and performed by

Olwen Fouéré presents the voice of the river in

Finnegans Wake.

Produced by the Emergency Room and Galway Arts

Festival, the world premiere took place at the

Galway Arts Festival in 2013

3
---
FW75 ExHIBITION

I am trying, Joyce wrote, … to give people some kind of intellectual pleasure or

spiritual enjoyment by converting the bread of everyday life into something that

has a permanent artistic life of its own... for their mental, moral,

and spiritual uplift.

A PROUDSEYE VIEW OF DUBLIN

Nicholas Proud, Bindon Blood Stoney and John Purser Griffith

The Bird's Eye View of Dublin was created by Mr Brewer with the aid of a hot

air balloon tethered at Roe's distillery, James' Street, Mr Roe having recently

given generous support to the refurbishment of Christchurch Cathedral of

building of the Synod Hall. It is estimated that Roe's gift to Christchurcch would

amount to over €20m in today's terms. The Bird's Eye View was created to show the

restored Christchurch as the jewel in a tiara comprising the other public buildings of

Dublin. The backdrop bears a remarkable resemblance to the opening lines of

Finnegans Wake:

Riverrun, past Eve an Adam's, from swerve of shore to bend of bay, takes us

by a commodious vicus of recirculation, back past Howth Castle and Environs

Brewer even seems to have captured in his image the eternal (and thus Viconian) cycle

of aquaeus alluviation, evaporation, condensation and precipitation!

4
---
SOME EMINENT VICTORIANS

Dublin towards the end of the Nineteenth Century is captured in the Bird's Eye View,

published by the London-based Graphic Newspaper in December 1890 when James

Joyce was nearly nine. In the Bird's Eye view, the line of the river is clearly captured,

showing the influence on the city of three men in particular:

Nicholas Proud was the Secretary or Chief Executive

Officer of the Dublin Port & Docks Board. He was

appointed at its inception in 1867, when it replaced the old

Dublin Ballast Board (with its headquarters still in the

Ballast Office). He served until just two weeks before his

death in 1921. Both Bindon Blood Stoney and John Purser

Griffith were appointed Chief Engineer by the Secretary,

By Order, Nicholas Proud (FW12).

Hence when the clouds rolled by Jamey, a proudseye view is

enjoyable of our mounding's mass (FW7-8)

Bindon Blood Stoney, Executive Engineer, to the Dublin

Ballast Board and, from 1867, Chief Engineer at Dublin

Port. He designed the quay walls at the River Liffey,

making it a deepwater port. He designed Grattan Bridge,

O'Connell Bridge, and the original Butt Bridge [replaced

in 1932]. He invented a diving bell, which can be seen to

this day on Sir John Rogerson's Quay and the means to use

pre-cast concrete. His brother, the physicist George

Johnstone Stoney coined the term 'electron' for the

fundamental unit of electricity.

John Purser Griffith served a two-year apprenticeship

under Bindon Blood Stoney at the Dublin Port and Docks.

In 1871, he was appointed Dr. Stoney's assistant, becoming

the Chief Engineer in 1898. His achievements included

substantial rebuilding of the quays and the deepening the

approaches.

His North Quay extension involved the use of the great

concrete blocks, each containing more than 5,000 cubic feet

of masonry, weighing about 360 tons. These were built

above high-water level, and when sufficiently set were set

were lifted and transported by a floating shears crane and

deposited on a bed provided by steam dredging, and

levelled by men working in a diving bell. When he retired

in 1913, His son, John William Griffith, succeeded him. In

1936, he was awarded the honorary freedom of the city of

Dublin. He died on 21 October 1938.

5
---
FW75 AUDIO VISUAL MATERIALS

– Thaw! The last word in stolentelling! (424.35)

A range of audio visual materials associated with Finnegans Wake were collected from

across the world wide web and presented as a series of themed programmes during

the course of the exhibition. The theme for Week 1 was Sound. This programme

consisted of spoken word readings from Finnegans Wake with a special focus on the

sound artist John Cage. Week 2's theme was Sight and consisted of visual

representations of Finnegans Wake including the 1967 film by Mary Ellen Bute and

special attention given to the media philosopher Marshall McLuhan. The theme for

Week 3 was the Mind, exploring aspects of the unconscious or hidden mind which

remains awake and active during sleep, with focus given to the Psychonaut Terrance

Mckenna.

Polish artist krzysztof Bartnicki also contributed to the hubbub and at the exhibition

by presenting a premiere of his Finnegans Wake "Family Fewd" media mashup.

THE WAkE ON STAGE

With the gracious co-operation of Louis Lentin, Robert Ballagh, Derek Speirs,

Olwen Fouéré and Jen Coppinger, material is presented on three stage

adaptations of Finnegans Wake:

• The Voice of Shem (1961) directed by

Louis Lentin

• The Wake (1989) devised by Paul

O'Hanrahan with Donal O'kelly.

The Wake evolved from Paul

O'Hanrahan's earlier play based

on an adaptation of Book I of

Finnegans Wake entitled Nightfall

(Balloonatics Theatre Company,

1985).

• Riverrun (2013) devised, directed

and performed by Olwen Fouéré

6
---
Bababadalgharaghtakamminarronnkonnbronntonnerronntuonnthunntrovarrhounawnskawntoohoohoordenenthurnuk

The Fall (FW003)

Thingcrooklyexineverypasturesixdixlikencehimaroundhersthemaggerbykinkinkankanwithdownmindlookingated

Settlements (FW113)

CAFFIN-

HASSTEN-

Husstenhasstencaffincoffintussemtossemdamandamnacosaghcusaghhobixhatouxpeswchbechoscashlcarcarcaract

Cough/aviation, the automobile (FW414)

h u s k u r u n -

m i t g h u n d h u r t h r u m a t h u n a r -

Perkodhuskurunbarggruauyagokgorlayorgromgremmitghundhurthrumathunaradidillifaititillibumullunukkunun

Thunder (FW023)

Lukkedoerendunandurraskewdylooshoofermoyportertooryzooysphalnabortansporthaokansakroidverjkapakkapuk

Shut the door (FW257)

Ullhodturdenweirmudgaardgringnirurdrmolnirfenrirlukkilokkibaugimandodrrerinsurtkrinmgernrackinarockar

Norse gods/television (FW424)

Kl i k k a k l a k k a k l a s k a k l o p a t z k l a t s c h a b a t t a c r e p p y c r o t t y g r a d d a g h s e m m i h s a m m i h n o u i t h a p p l u d d y a p p l a d d y p k o n p k o t

Clap (FW044)

Bothallchoractorschumminaroundgansumuminarumdrumstrumtruminahumptadumpwaultopoofoolooderamaunsturnup

Telegraph & Radio (FW314)

Bladyughfoulmoecklenburgwhurawhorascortastrumpapornanennykocksapastippatappatupperstrippuckputtanach

Whore (FW090)

Pappappapparrassannuaragheallachnatullaghmonganmacmacmacwhackfalltherdebblenonthedubblandaddydoodled

Percussion/music, sight and sound (FW332)

Commissioned for the FW75 hubbub –

THE THUNDERWORDS IN SOUND AND VISION

The Thunderwords/hyperlinks

of Finnegans Wake

F

innegans Wake is punctuated by ten

100-lettered words, usually represented

as thunderclaps. They exemplify

the extremely complex, artificial language

of the Wake and are perhaps more easily

understood today as syncretistic, synaesthetic

hyperlinks. In the Wake, Joyce builds the

book's language as he goes along and the

results are frequently, secularly, prophetic.

©2014

Each of the hyperlinks/thunderwords is

peppered with various words from a wide

variety of cultures throughout the ages

and they are, in a way, holographic, linking

their constituent elements, Internet-like,

in a way that overlapping new concepts

form on different viewings, sometimes even

contradicting a previously accepted meaning.

They're also fun to say.

Bronn-

tonner-

bababadalg-

||||||||||||||||||||||||||||||||||||||||||||||||||||||||||

||||||||||||||||||||||||||||||||||||||||||||||||||||||||||

haragh- tak-

||||||||||||||||||||||||||||||||||||||||||||||||||||||||||

amminar- ronn-

||||||||||||||||||||||||||||||||||||||||||||||||||||||||||

konN-

||||||||||||||||||||||||||||||||||||||||||||||||||||||||||

||||||||||||||||||||||||||||||||||||||||||||||||||||||||||

||||||||||||||||||||||||||||||||||||||||||||||||||||||||||

tuonn-

||||||||||||||||||||||||||||||||||||||||||||||||||||||||||

ronnthunn-

Trovarr-

||||||||||||||||||||||||||

||||||||||||||||||||||||||||||||||||||||||||||||||||||||||

hounawnskawnto -

||||||||||||||||||||||||||||||||||||||||||||||||||||||||||

oh- ooh- oor-

||||||||||||||||||||||||||||||||||||||||||||||||||||||||||

DEnen-

||||||||||||||||||||||||||||||||||||||||||||||||||||||||||

thurnuk

Perkod-

barggruauyagokgor-

uauya-

b a r g g r -

gokgorlayorgromgrem-

a d i d i l l i -

f a i t i t i l l i b u m u l l u n u k -

k u n u n

KLIKKAKLAKKAKLASKAKLOPATZKLATSCHABATTACREPPYCROTTYGRADDAGHSEMMIHSAMMIHNOUITHAPPLUDDYAPPLADDYPKONPKOT

––––––––

––––

–––––––––––––––

–––––––––––––––––– ––––––––

strump-

––––––––––––––––––––––

––––––––

kock-

––––––––

foul-

Bladyugh

moecklenburgwhura

whorascorta

apornanenny

sapastippatappa-

striptupper

puckputtanach

1

2

3

4

THINGCROOKLYEX-

INEVERYPASTURE-

SIXDIXLIKENCE-

HIMAROUNDHERS-

THEMAGGERBY-

KINKINKANKAN-

WITHDOWNMIND-

LOOKINGATED-

–––––––––––––

LUKKE DOE REN DUNAN

DURRAS KEW DYLOO SHOO

FERMOY PORTER TOO RY

ZOO YS PHALN ABORT

AN SPORT HAO KAN SAK

ROIDVERJ KAPAK KAPUK

–––––––––––––

Bothallchoractorschum-

mina- round- gan- sumu- minar- umdrum--------------------

strum----------------

trumina-------

hump-------------

ta--------------------

dump----------

waul- top- oof- oolooderamaunsturnup

PAP-

PAPPAPPAR-

RASSANNUARAGHEAL-

LACHNATULLAGHMON-

GANMACMACMACWHACK-

FALLTHERDEBBLENON-

THEDUBBLANDADDY-

DOODLED

5

6

7

8

Hussten-

COFFIN-

tossem-

DAMN-

tussem-

DAM-

AND-

ACOSaghcus-

HOBIX-

AGH-

HATOUXpeswch-

SCASHLbecho-

CAR-

CAR- caract

9

Ullhodturdenweirmudgaardgringnirurdrmolnirfenrirlukkilokkibaugimandodrrerinsurtkrinmgernrackinarockar

10

Thunderwords design

by Mark Scammell

www.theheterotopia.com

A recording of the ten 'Thunderwords' of Finnegans Wake was made by Rosi Leonard

and Jamie Hyland with members of the Dublin Youth Theatre. This is the audio

accompaniment to the visual presentation of the Thunderwords, designed by Mark

Scammell. These posters are available as a 12-card case in A5 format from Printwell

Design at €10 plus postage and packing (contact: printwell@mac.com).

7
---
01/05/2014 10:41 Page 1

THE BALLAD OF

PERSSE O'REILLY

Published for FW75 by Printwell

Design. The essential story of The Wake

condensed into a ballad and graphically

illustrated. Available as a small booklet

at €5 and as a set of 18 A5 cards for €10

plus postage and packing

(contact: printwell@mac.com).

AS SUNGBY

HOSTY

IN JAMES JOYCE'S

FINNEGANS WAKE (1939)

1

A PANOPLY OF JOYCEAN CHARACTERS

A panoply of Joycean characters was created by Dublin-born artist Roy

keegan in 1988 and produced in a limited edition of 50 to make FW50 in 1989.

8
---
Commissioned for the FW75 hubbub

ANARCHISM, GEOGRAPHY,

AND LOVE

Gerry kearns, Maynooth University

The challenge of cosmopolitanism remains:

What would it mean to be an Irish citizen of the world?

In 1907, for a talk to an adult education class

in Trieste, James Joyce chose the title, Ireland,

island of saints and scholars. He spoke about

the Irish national ego in all its excusable

delusion. Joyce understood that English

colonialism had twisted Irish understandings of

their own place and purpose, but he worried

about a celebration, in reaction, of either purity

or piety. The problem of purity was both

universal – What race, or what language […] can

boast of being pure today? – and local – to deny the

name of patriot to all those who are not of Irish stock

would be to deny it to almost all the heroes of the

modern movement. As for piety, he ejaculated: I

confess I do not see what good it does to fulminate

against the English tyranny while the Roman

tyranny occupies the place of the soul.

The first sketches that were later incorporated into Finnegans Wake were new

tales of some legendary Irish figures, but the nightscape of the novel as it

developed became as much geographical as historical. Among the books from

which Joyce spun his yarn, was a work of historical geography by a Russian

anarchist, Lev Il'ich Mechnikov [a.k.a. Leo or Léon Metchnikoff].

9
---
And what did Joyce find in Mechnikov's book?

Well, in the first place he probably appreciated Metchnikov's anti-racism.

From Reclus's introduction to the book, Joyce noted ethnic island, reminding

him that Mechnikov was hostile to any form of racial chauvinism: Nothing

justifies anthropologists in claiming for their own ethnic group the privilege of being

either wholly or partly free from the influences of their surroundings. From the heart

of the book, Joyce made notes on Mechnikov's demolition of any racism

based upon the colour of skin, the texture of hair, or the shape of skull: [N]o

one would dream of determining which race a dog or horse belong to on the basis of

their fur-coat. Joyce made a note for himself, change language / marry, where

Mechnikov observed that: races were divided, dispersed, mixed, and crossed in all

directions for thousands of centuries. Most of them abandoned their language for that

of their conquerors.

In Mechnikov, he also found a congenial philosophy of history. With his

distrust of linear explanations, Joyce had what we might perhaps call a

dialectical imagination, one which understands contradiction, repetition,

elaboration and synthesis as basic elements of historical change. He noted

Mare Tenebrarum / Atlantic 1400 after Reclus's remark that Mechnikov

emphasized the ambivalence of geographical features, such that even the the

ocean, which now brings together all nations and makes them one through commerce

and ideas was once the domain of terror, the chaos from which evil spirits rise. Less

than five centuries ago the formidable Atlantic was called the 'Sea of Darkness.' A

further point about dialectics also comes from Reclus's introduction. Joyce

noted spiral advance in response to Reclus's suggestion that Mechnikov

believed that the progress of civilizations did not take place in a linear manner

from one group to another. The history of humanity has consisted of a succession of

spirals, incomplete and alternate developments, forward and backward steps,

incessant oscillations.

A third nugget, panned from the waters of Mechnikov, was the integration

of spatial scales; locality was stirred into universality. We find aspects of the

global in the local and through flow and ebb the parochial attachments find

new and wider expression. At many points, Finnegans Wake follows the

course of the Liffey through Dublin out into the Irish Sea. Joyce was surely

10
---
fascinated that Mechnikov made such a trajectory the basis of his view of

social progress and Joyce jotted for himself: river = synthesis. For Mechnikov,

civilizations that began as riverine societies, based on a hydraulic social

contract whereby people submitted to despotic rule as a way of securing the

collective security of irrigation works. Through their interaction around such

seas as the Mediterranean or the Indian Ocean, these river-based civilizations

broadened into more open societies, before embarking upon the universal

project of building world societies across oceans.

Finally, for Mechnikov the translation of the despotic riverine – to the

cosmopolitan oceanic-civilization was also about the submersion of hierarchy

and competition beneath egalitarianism and equality. The management of

vital fluids required nothing less than a new sentimental education.

In Finnegans Wake, as with Ulysses, Joyce takes leave of his reader in the voice

of a woman in pleasure. With Finnegans Wake, the waters of the Liffey lose

form amidst the wider spaces of the Irish Sea but we are promised The keys to

[…]. Heaven perhaps, as Anna Livia seems to assent, "Given!" And then she is A

way a lone a last a loved a long the, rippling a last love, in a little death. For social

anarchists, only mutuality and love were proper social bonds. For his part,

Lev Mechnikov ended his own book with a stark statement of the political

alternatives facing society: [L]a solidarité ou la mort (solidarity or death).

Bussoftlhee, mememormee! Till thousendsthee. Lps.

The keys to.Given! A way a lone a last a loved a long the

11

© printwell design 2014
---
FW75 PROGRAMME OF EVENTS

Sunday May 4th, 11.32am:

Official launch of 'FW75' with Robert Ballagh and Louis Lentin

at the Phoenix Park Visitors Centre until May 24th

Wednesday May 7th, 12.30pm:

Vincent Deane on FW and the Phoenix Park

at the Phoenix Park Visitors Centre

Thursday May 8th, 6.30pm:

Here Comes Everybody, the songs of FW

Café Chantant at Phibsborough Library

Wednesday May 14th, 12.30pm

Mapping Joyceborough with Gerard Meaney

at the Phoenix Park Visitors Centre

Thursday May 15th, 6.30pm:

Here Comes Everybody, the songs of FW

Café Chantant at Rathmines Library

Wednesday May 14th, 3.00pm

Seven films celebrating 75 years of FW

From the 7 UNESCO Cities of Literature: Reykjavik, Iowa, Norwich, Krakow, Melbourne, Edinburgh, Dublin

at the Phoenix Park Visitors Centre, introduced by Peter Sheridan

Tuesday May 20th

Visit of the Danish James Joyce Society

Wednesday May 21st, 7.00pm:

Dermot Bolger in conversation with Barry McGovern

Farmleigh. Farmleigh.ie

Thursday 22 May 12.30pm

Finnegans Wake as a Proudseye View of Dublin

With Oran Ryan

The Crypt of Christchurch Cathedral

Tuesday 20 May 2014

Visit of the Danish James Joyce Society

Thursday May 22nd, 6.30pm:

Here Comes Everybody, the songs of Finnegans Wake

Café Chantant at Drumcondra Library

Wednesday 28 May, 12.30 pm

Finnegans Wake and Dublin's new cultural quarter, Parnell Square

With Des Gunning at the James Joyce Centre

12
---
DEDICATION

Shane MacThomáis, Historian, Storyteller and Author.

Shane was a passionate Historian who took true pleasure from sharing

his knowledge, which at times seemed infinite. He was forever

learning, always chasing the fresh excitement that came with the

discovery of something he didn't know before. Shane treasured Dublin and

Ireland, it's present and it's past, and found unique and inspiring ways of

bringing that past into people's imaginations.

He favoured a warts and all history which allowed him to offer a true insight.

The ultimate communicator he could tell any story to it's full potential

weaving you through with emotion so you felt like you were there. Shane's

passion for history was infectious and he inspired many people to learn more,

offering support and time to anybody who wished it.

Shane worked for a number of years as Librarian in the James Joyce Centre.

He later came to Glasnevin Cemetery, bringing with him his knowledge and

love of James Joyce and his works.

13
---
He shared this knowledge through Joycean tours examining the many links

within the cemetery, in which the Hades chapter of Ulysses is set. Through

him Bloomsday in Glasnevin Cemetery has grown to a much beloved annual

event capturing the attention of more than just the avid reader of Joyce. He

created an opportunity for an experience, a glimpse of fiction and history.

This was just one of his many success stories during his fifteen years with

Glasnevin Cemetery, where he was pivotal in making it the accessible

National historical site it is today.

Eamonn MacThomáis, Shane's father, was a well known Dublin Historian,

remembered fondly for his RTE series Dublin: a Personal View, his guided

walking tours and many books. Eamonn was involved in the 50th

anniversary celebration of Finnegans Wake. Shane was greatly inspired by his

father, and as often before, Shane echoed his work by offering advice on this

FW75 exhibition. Although Shane followed in his father's footsteps, he was a

much loved Historian in his own right.

This quote from A Portrait of the Artist as a Young Man was one of Shane's

particular favourites:

I will tell you what I will do and what I will not do. I will not serve

that in which I no longer believe, whether it call itself my home, my

fatherland, or my church: and I will try to express myself in some mode

of life or art as freely as I can and as wholly as I can, using for my

defence the only arms I allow myself to use — silence, exile and

cunning.

~ James Joyce

Shane MacThomáis 1967-2014

14
---
ACkNOWLEDGEMENTS

Joyceborough would like to thank the

Office of Public Works/Phoenix Park for

their support of FW75, in particular

Margaret Gormley, Maurice Cleary,

Margaret Mc Guirk, and all the staff of

the Phoenix Park Visitors Centre.

We would also like to thank Jane Alger at

the Dublin UNESCO City of Literature and

Anne Marie kelly at Dublin City Public

Libraries. Special thanks to Phizzfest – the

Phibsborough Community Arts Festival for

the initial spark of inspiration.

Thanks to Farmleigh, Printwell Design,

Dandelion, MAPS, Tolka Area Partnership

and the James Joyce Centre; Tina Robinson,

Robert J Robinson, Robert Ballagh, Louis

Lentin, Vincent Deane, Dermot Bolger,

Barry McGovern, Peter Sheridan, Oran

Ryan, Cormac O'Hanrahan, Natália

Balladas, Mark Scammell, James Hyland,

Paul O'Hanrahan and Orlaith Ross at

Christchurch Cathedral for their support

and assistance.

Rosi Leonard,

Des Gunning,

Gerard Meaney

May the hubbub continue

www.joyceborough.org

Joyceborough also on Facebook and Twitter

15
---
Print and Design: Printwell Design

The Factory, 17 Church Street East, North Wall, Docklands, Dublin 3

T: 01 855 0873 E: printwell@mac.com W: www.printwell.ie

16
---
Humptydump Dublin squeaks through his norse,

Humptydump Dublin hath a horrible vorse

And with all his kinks english

Plus his irismanx brogues

Humptydump Dublin's grandada of all rogues.

James Joyce
---
This publication was jointly sponsored by:

17-21 Church Street East, North Wall, Docklands, D3

T: 01 855 0873 E: printwell@mac.com W: www.printwell.ie

This publication was edited, designed, layed-out and printed

by Printwell Design within 24 hours of receipt of text copy.

Are you ready to take the next practical step to getting a job?

Tolka Area Partnership has a wide range of services that will help you along

the road toward employment, education and training or starting your own business.

In 2013 our free services helped over 200 people start their own business,

221 individuals find work and 888 find their way back to education.

Call our Finglas (01 8361666) or Cabra office (01 8683806) to make an appointment

or visit www.tap.ie for more information.