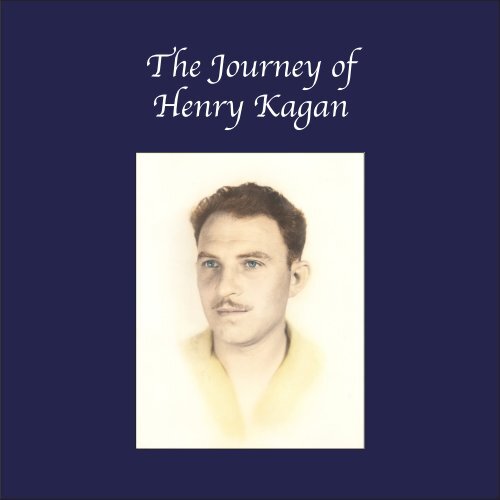 Journey of Henry Kagan Combined file
You also want an ePaper? Increase the reach of your titles
YUMPU automatically turns print PDFs into web optimized ePapers that Google loves.
The Journey of

Henry Kagan
---
Produced by Family Heirloom Arts

www.FamilyHeirloomArts.com

Portland, Oregon

Lisa Kagan: Writer, Researcher,

Illustrator, Book Designer

Bruce Kagan: Oral Historian

Neil Kagan: Photo Researcher

Copyright © 2010. All rights reserved.

Reproduction of the whole or any part of the contents

without permission is prohibited.

Printed by Stevens Printing.

Book binding by Grossenbacher Bros Inc.

Front cover:

A portrait of Henry Kagan as a young man

2
---
This book is dedicated

to my grandfather Henry Kagan.

1917-1989

3
---
4
---
T

he story of my grandfather's

life begins in the town of

Mykolaiv on the Black Sea,

where he was born in 1917. Mykolaiv

was part of Russia then, but is now part

of the Ukraine. My great-grandparents,

Joseph and Diana Kaganofski, lived

there with their young son, Henry.

Joseph was a Jewish craftsman who

supported his family by working as

a harness maker for the Tsar. He was

paid in small nuggets of gold.

Across Russia, however, the influence

of Marxist-Leninist atheism, propaganda,

and pressures for modernization

and secularization was rapidly

gaining strength. Persecution against

the Jews was rising. Joseph's shop was

taken over by the Bolsheviks—members

of Vladimir Lenin's radical wing

of the Russian Social Democratic

Labor Party. Joseph was demoted from

craftsman to cook. Through the frigid

winters, he prepared meals for throngs

of Russian soldiers.

The Kaganofski family prepared

to escape to freedom. They sewed

Joseph's remaining gold nuggets into

their clothes and pieces of leather.

Leaving behind the only life they had

ever known, they sought a safe and

just place to start again. Their journey

They sewed Joseph's

remaining gold

nuggets into their

clothes ... Leaving

behind the only life

they had ever known,

they sought a safe

and just place to

start again.

5
---
Russian soldiers,

searching for Jews,

sometimes came

and stuck pitchforks

in the haystacks.

Yet the Kaganofskis

survived.

began on foot as they climbed a steep

hill with their horse beside them. At

the crest of the hill, they stopped and

looked back at their hometown. Joseph

instructed Henry to give the horse to

the townspeople. Their starving neighbors

were exceedingly grateful, butchering

the horse and cooking it on the

slope of the hill.

The family followed the path of the

Christian Underground Railroad—

a series of homes where Christians

welcomed migrating Jews and helped

them escape. During the day, the Kaganofskis

hid in twenty-foot haystacks in

the fields. Russian soldiers, searching

for Jews, sometimes came and stuck

pitchforks in the haystacks. Yet the Kaganofskis

survived. By cover of night,

they would trudge on to the next hiding

station. Joseph, Diana, and Henry

were hiding under a trapdoor, beneath

a rug and a kitchen table, one cold

night when Russian soldiers entered

the house and asked the old farmer,

"Do you have any Jews here?" As the

farmer was telling the soldiers there

were no Jews in the house, six-year-old

Henry started to sneeze. Diana covered

his mouth. Finally, the soldiers left, and

the family remained undiscovered.

In Bremerhaven, Germany, the

family boarded a steamship headed for

America. As the Bremerhaven pulled

6
---
7
---
away from the dock, some voyagers

held out small balls of yarn, one end

of which had been left with relatives or

friends on shore. The yarn unwound

and eventually ran out, streaming forlornly

in the wind.

On the long, arduous journey

across the Atlantic, Diana and Joseph

struggled to protect themselves and

little Henry from hunger and sickness.

They anxiously awaited their new life,

opportunity, and freedom in America.

The Kaganofskis arrived in New

York harbor and saw the lights of the

Statue of Liberty shining through the

night mist. They kissed the deck of the

boat, crying and thanking God that

they had arrived safely.

The Bremerhaven docked at Ellis

Island. Nervous at the prospect of the

various tests required for admittance

into this new land, the excited young

family stepped onto American soil.

Diana was parted from Joseph and

Henry as the men and women were

They kissed the deck

of the boat, crying

and thanking God

that they had

arrived safely.

sent to separate areas to be deloused by

a drenching with a strong antiseptic.

After a series of medical tests, the three

were declared healthy. Then it was

time to register. When a man asked his

name, Joseph replied in Russian that it

was Kaganofski. The man said such a

long name would not do in America.

He changed the name to Kagan.

Upon completion of their screening

and registration on Ellis Island,

the Kagans met with their sponsor,

8
---
9
---
10
---
When a man asked

his name, Joseph

replied in Russian

that it was

Kaganofski. The

man said such a

long name would

not do in America.

He changed the

name to Kagan.

Henry's paternal grandfather. He was

a man of biblical proportions with a

long, black beard. He was affectionately

called Rasputin because of his physical

resemblance to the Russian monk

Rasputin, who treated the son of Tsar

Nicholas for hemophilia and came to

dominate the royal family.

Grandfather Rasputin introduced

Joseph, Diana, and Henry to the strong

Jewish community in Manhattan. They

became involved with a Koschovita—a

fraternity of Jewish people in which

Judaism and prayer united the immigrants.

They communicated in Russian

and Yiddish until, gradually, they

learned English. The East Side below

14th Street supposedly resembled

"Jerusalem in its palmist days." The

Kagans not only found a strong, welcoming

Jewish community that practiced

its religion openly; they also were

immediately integrated into the neighborhood

business district.

Joseph set up a buggy upholstery

shop in the Lower East Side of Manhattan

with the help of Grandfather

Rasputin, proudly displaying a sign in

Hebrew. Right away, Joseph put Henry

to work. In addition to the long hours

11
---
spent working for his father each evening,

Henry had to walk three miles to

and from school every day. When the

buggy shop evolved into a gas station

and auto-repair shop, Henry's responsibilities

grew. Each night until one

o'clock in the morning, he stood on a

crate and hand-cranked gas into a hundred

or so A&P grocery trucks—trucks

with hard rubber tires and wooden

spoke wheels. Henry was also expected

to wax and polish six to eight Packard

cars a day. Meanwhile, Joseph would

be upstairs playing cards and smoking

with his friends. He never paid his son

for his work.

Eventually, this schedule took its

toll. Henry dropped out of school

before completing the eighth grade. He

soon got a job as a milkman in addition

to working for his father. Starting

at four-thirty each morning, he would

drive a horse-drawn milk wagon from

apartment to apartment and run up

and down countless flights of stairs,

Joseph set up a buggy

upholstery shop

in the Lower East

Side of Manhattan

with the help of

Grandfather

Rasputin, proudly

displaying a sign

in Hebrew.

delivering bottles of milk. After his

return from World War II years later,

Henry moved to Long Island, where

he worked for Evan's Dairy and even

delivered milk to Theodore Roosevelt

at Sagamore Hill.

12
---
13
---
He believed that

hard work and a

good job were the

keys to security, and

that money equaled

freedom. He passed

these views on to

his children.

Henry met his wife, Bella Lipschitz,

on a blind date. They married soon

after and had three children—Lenny,

Bruce, and Neil (my father). Eventually,

Henry started his own upholstery

shop, Pioneer Auto Seat Covers, on

Long Island. Though it was a familyowned,

family-run business like his

father's, Henry believed in paying his

children for their labor.

A religious man, Henry led prayers

every morning in the Orthodox Jewish

community. Yet he worked Saturdays,

the Jewish Sabbath, to keep his business

going. He believed that hard work

and a good job were the keys to security,

and that money equaled freedom.

He passed these views on to his children.

Because of Henry's strong work

ethic, his family affectionately referred

to him as "The Rock." He harbored a

strong love for America, yet he preserved

the important family traditions

from the Old World. Henry Kagan

maintained a deep sense of inner balance

and was very at ease in his life.

Diana, Joseph, and Henry's names

are engraved on plaques on the Wall

of Honor at Ellis Island. Their children

and grandchildren continue to realize

their dreams of freedom and prosperity

in America, while honoring the

struggle that made it all possible.

14
---
15
---
16