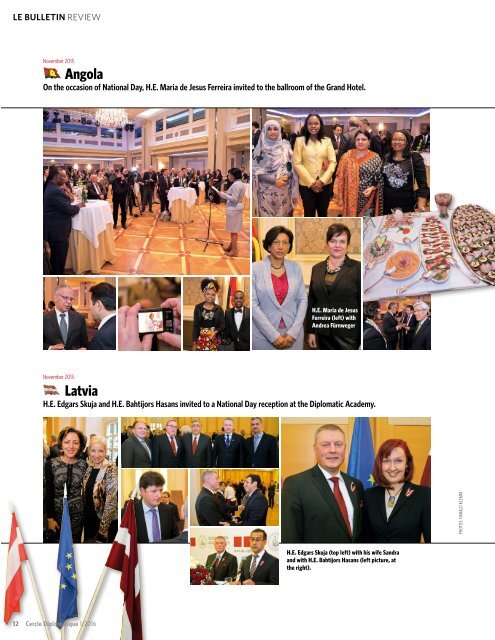 CERCLE DIPLOMATIQUE - issue 01/2016 CD is an independent and impartial magazine and is the medium of communication between foreign representatives of international and UN-organisations based in Vienna and the Austrian political classes, business, culture and tourism. CD features up-to-date information about and for the diplomatic corps, international organisations, society, politics, business, tourism, fashion and culture. Furthermore CD introduces the new ambassadors in Austria and informs about designations, awards and top-events. Interviews with leading personalities, country reports from all over the world and the presentation of Austria as a host country complement the wide range oft he magazine.

LE BULLETIN REVIEW

November 2015

Angola

On the occasion of National Day, H.E. Maria de Jesus Ferreira invited to the ballroom of the Grand Hotel.

November 2015

Belgium

The King´s Day was commemorated with a reception at

the Belgian residence.

DONATI.AT

EXPERTS FOR

FLORISTRY AND GARDENING

ATELIER

SILBERGASSE 52 | 1190 WIEN

H.E. Maria de Jesus

Ferreira (left) with

Andrea Fürnweger

H.E. Willem and

Kristin Van de

Voorde (2nd r.;

middle), Permanent

Representative at

the OSCE, Bruno

Georges (2nd l.)

with his wife and

Alexander Bursky (r.)

November 2015

Latvia

H.E. Edgars Skuja and H.E. Bahtijors Hasans invited to a National Day reception at the Diplomatic Academy.

H.E. Edgars Skuja (top left) with his wife Sandra

and with H.E. Bahtijors Hasans (left picture, at

the right).

PHOTOS: HARALD KLEMM

COMBINING

SIGNIFICANCE

AND STYLE

Convincing by the

first impression.

Adding to business

professionalism.

Individual solutions

ranging from

filled vessels to

floral installations.

Presentations

receptions • banquets

conferences • meetings

exhibition booths

gala dinners

company parties

anniversaries

shops

12

Cercle Diplomatique 1/2016

Handcraft by Donati
More magazines by this user