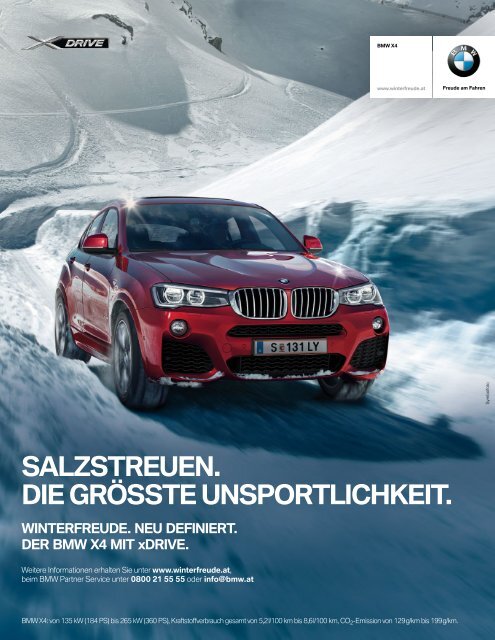 CERCLE DIPLOMATIQUE - issue 01/2016 CD is an independent and impartial magazine and is the medium of communication between foreign representatives of international and UN-organisations based in Vienna and the Austrian political classes, business, culture and tourism. CD features up-to-date information about and for the diplomatic corps, international organisations, society, politics, business, tourism, fashion and culture. Furthermore CD introduces the new ambassadors in Austria and informs about designations, awards and top-events. Interviews with leading personalities, country reports from all over the world and the presentation of Austria as a host country complement the wide range oft he magazine.

BMW X4

www.winterfreude.at

Freude am Fahren

Symbolfoto

SALZSTREUEN.

DIE GRÖSSTE UNSPORTLICHKEIT.

WINTERFREUDE. NEU DEFINIERT.

DER BMW X4 MIT xDRIVE.

Weitere Informationen erhalten Sie unter www.winterfreude.at,

beim BMW Partner Service unter 0800 21 55 55 oder info@bmw.at

BMW X4: von 135 kW (184 PS) bis 265 kW (360 PS), Kraftstoffverbrauch gesamt von 5,2 l/100 km bis 8,6 l/100 km, CO 2 -Emission von 129 g/km bis 199 g/km.
More magazines by this user