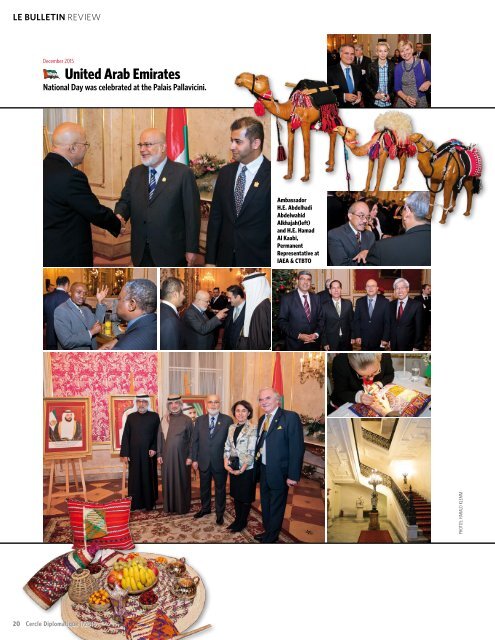 CERCLE DIPLOMATIQUE - issue 01/2016 CD is an independent and impartial magazine and is the medium of communication between foreign representatives of international and UN-organisations based in Vienna and the Austrian political classes, business, culture and tourism. CD features up-to-date information about and for the diplomatic corps, international organisations, society, politics, business, tourism, fashion and culture. Furthermore CD introduces the new ambassadors in Austria and informs about designations, awards and top-events. Interviews with leading personalities, country reports from all over the world and the presentation of Austria as a host country complement the wide range oft he magazine.

LE BULLETIN REVIEW

December 2015

United Arab Emirates

National Day was celebrated at the Palais Pallavicini.

December 2015

Thailand

The birthday of His Majesty King Bhumibol

Adulyadej of Thailand was honoured at the Kursalon Vienna.

Ambassador

H.E. Abdelhadi

Abdelwahid

Alkhajah(left)

and H.E. Hamad

Al Kaabi,

Permanent

Representative at

IAEA & CTBTO

H.E. Arthayudh

Srisamoot and his

wife Kamoltip (left

very top picture,

left and 2nd left)

celebrated with a

concert, original

Thai food and

numerous guests.

PHOTOS: HARALD KLEMM

20

Cercle Diplomatique 1/2016

Cercle Diplomatique 1/2016

21
More magazines by this user