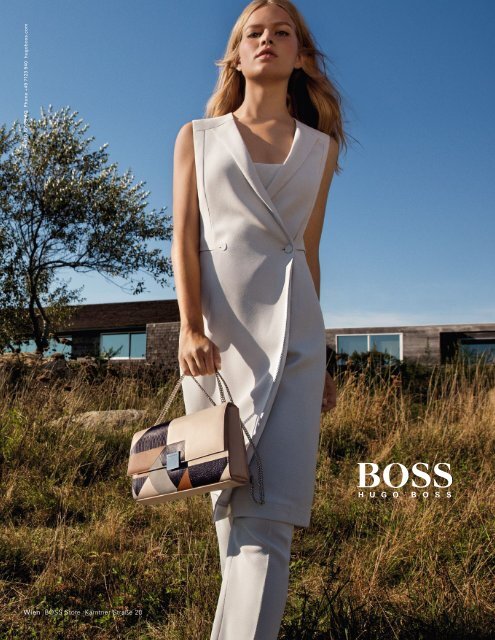 CERCLE DIPLOMATIQUE - issue 01/2016 CD is an independent and impartial magazine and is the medium of communication between foreign representatives of international and UN-organisations based in Vienna and the Austrian political classes, business, culture and tourism. CD features up-to-date information about and for the diplomatic corps, international organisations, society, politics, business, tourism, fashion and culture. Furthermore CD introduces the new ambassadors in Austria and informs about designations, awards and top-events. Interviews with leading personalities, country reports from all over the world and the presentation of Austria as a host country complement the wide range oft he magazine.

HUGO BOSS AG Phone +49 7123 940 hugoboss.com

SAVOIR

VIVRE

IN "SAVOIR VIVRE" DREHT

SICH ALLES UM DIE SCHÖNEN

DINGE DES LEBENS WIE KULTUR

& REISEN, KULINARIK & HOTELS,

AUTO & SPORT, UHREN &

SCHMUCK, MODE & DESIGN,

WELLNESS & GESUNDHEIT

UND VIELES MEHR.

"SAVOIR VIVRE" FOCUSES ON

THE BRIGHT SIDE OF LIFE SUCH

AS CULTURE & TRAVELLING,

HOTELS & RESTAURANTS, CARS &

SPORTS, WATCHES & JEWELLERY,

FASHION & DESIGN, WELLNESS

& HEALTH AND MUCH MORE.

Wien BOSS Store Kärntner Straße 20
More magazines by this user