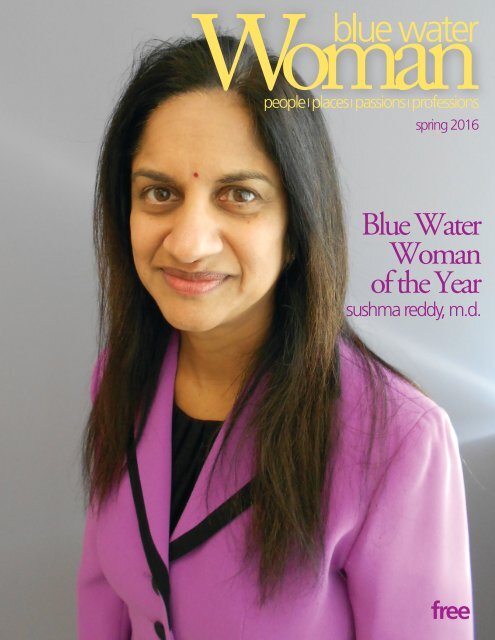 blue water woman--spring 2016--B
Create successful ePaper yourself
Turn your PDF publications into a flip-book with our unique Google optimized e-Paper software.
spring 2016

Blue Water

Woman

of the Year

sushma reddy, m.d.

free
---
Mothers are givers by nature.

Learn more about

the gift that will

help healing begin

after you're gone.

Call Michelle O'Hara to

learn more about Advance

Funeral Planning for you

and those you love.

(810) 982-0179

Pollock-Randall Funeral Home

912 Lapeer Avenue

Port Huron, MI 48060

810.982.0179

www.pollockrandall.com

Manager: Ann Randall Kendrick

Marysville Funeral Home

1200 Michigan Avenue

Marysville, MI 48040

810.364.7100

www.pollockrandall.com

Manager: John W. Kendrick

Karrer-Simpson Funeral Home

1720 Elk Street

Port Huron, MI 48060

810.985.9605

www.karrersimpson.com

Manager: Thomas K. Simpson
---
choose holistic and compassionate high-quality care

ServicesS

Advanced MRI

Laboratory

Bariatric Center

Lakeshore Surgery Center

Emergency (24-hour) Pharmacy

Cancer Center

Physical Therapy

Cardiac Rehabilitation Senior Services

Diabetes and Nutrition Volunteer Services

Inpatient Rehabilitation Women's Health Center

Lake Huron Medical Center

North Campus

formerly Mercy Health Center

4190 24th Avenue I Fort Gratiot I 810-216-4400

Lake Huron Medical Physical Therapy

and Rehabilitation Services

formerly Mercy FITRAC

782 Huron Boulevard I Marysville I 810-216-1801

2601 Electric Avenue I Port Huron I 810-216-1800

4190 24th Avenue I Fort Gratiot I 810-216-1802

Lake Huron Medical Group

formerly Mercy Physician Partners

Family Care

Dr. Antwan Hall

Fort Gratiot I 810-216-4000

Dr. Patrick Kut

Port Huron I 810-216-1680

Internal Medicine

Dr. Aruthathi Stallwood

Marysville I 810-216-1200

Surgery

Dr. Dawn Morey

Dr. Krishna Valjee

Dr. Walid Demashkieh

Port Huron I 810-216-1148

Endocrinoloy

Dr. Rashim Gupta

Dr. Sushma Reddy

Fort Gratiot I 810-216-4200
---
Korissa (Kramer)

Wilkins, left, the

original cover gal on

the first issue of Blue

Water Woman,

with editor/publisher

Patti Samar, at the

magazine launch

party in 2011.

from the editor

Happy Fifth Anniversary to us!

In 2016, Blue Water Woman magazine will celebrate its fifth anniversary.

Officially, that will happen in August. However, this issue celebrates the fifth

annual Blue Water Woman of the Year Awards and what a way to kick off a

milestone year!

The annual awards program quickly grew to become my favorite work event

of the year. It is inspiring and humbling to read the nominations submitted

by the community each year. We have no shortage of amazing women in the

Blue Water Area. Just flip through this issue and read about this year's award

recipients. We are so fortunate to have such caring, compassionate women in our

community.

I founded Blue Water Woman magazine five years ago purely as a business

venture. But when I held a magazine launch party to celebrate its very first issue,

almost 200 women attended the event. I was honestly surprised -- but thrilled --

by the overwhelmingly positive response. Over and over I heard women say to me

that "this is something we have needed for a long time." On one hand I thought,

"Well, how awesome that everyone thinks this is so neat!" and on the other hand,

I felt kind of sad that so many women in our community were looking for a place

to feel celebrated and valued just because, well, women are so interesting, smart,

fun and funny and cool.

I knew then that I needed to take special care of this publication and the women

I feature in it.

Editing and publishing this magazine has been, by far, the most personally and

professionally rewarding project I have worked on in my 30-plus years as a writer.

I must, of course, thank the advertisers who have supported this publication.

They are the reason I can continue to publish this magazine for the community. I

am especially grateful to McLaren Port Huron; Eastern Michigan Bank; Curves;

Farm Bureau Insurance--Kim Judge and Tammy Hutchinson; Sonja's Hair

Salon; and Edward Jones--Cathy Wilkinson. These advertisers have been with me

since day one and they are the reason I get to share these incredible stories with all

of you.

I cannot tell you how much it means to me when a woman opens up and

shares her story with me so I can turn around and share it with the community. I

am just a vessel moving words from these incredible women to the printed page,

but I am ever so thankful for their honesty and their graciousness. It is an honor

and a privilege to share their stories here with all of you each quarter.

Peace,

content

Sushma Reddy, M.D. 5

Kathleen Swantek 6

Rebekah Smith 8

Sheri Faust 10

Jacque Rogers 12

advertise

in Blue Water Woman!

it works! just ask our advertisers!

The ad deadline for the next issue of Blue Water Woman

is May 1, 2016.

Prices start at just $125 for a business card sized ad!

Our most popular ad size is a quarter page at just $250;

sign a one-year contract and it becomes just $225 a quarter!

What a deal!

For more information, contact Patti Samar at 810-987-1256

or email her at pjsamar@aol.com

volume 6, number 1 spring 2016

Blue Water Woman is published quarterly by The Write Company,

511 La Salle Blvd., Port Huron, MI 48060. Circulation 7,500.

Editor & Publisher: Patti Samar, owner, The Write Company

Advertising: Patti Samar at 810-987-1256 or pjsamar@aol.com

News releases can be emailed to pjsamar@aol.com

Questions or comments?

Call Blue Water Woman at 810-987-1256

Mission: Blue Water Woman is the premiere publication

for women living, working and playing

in the Blue Water Area of Michigan.

Its stories and features are written and designed

to be inspriational, motivational and encouraging.

www.BlueWaterWoman.com

© Blue Water Woman is the property

of Patti Samar of The Write Company

The Write Company is a writing, graphic design and marketing

consultation firm. View our online portfolio at:

www.TheWriteCompany.net

Patti Samar

Editor & Publisher

Blue Water Woman

2 spring 2016 BlueWaterWoman.com
---
spring 2016 BlueWaterWoman.com 3
---
Woman

ELate last year, Blue Water Woman asked the community to nominate very special women who are deserving of

recognition as we prepared to present the fourth annual Blue Water Woman of the Year awards.

We then sent the nominations to a far away, cold and snowy place known as the Upper Peninsula, where a

very distinguished panel of women from Marquette County sequestered themselves for an evening and emerged

with five very deserving award recipients. "The selection process was very, very difficult as you truly have so

many very distinguished women in your community," said Chief Judge Amy Clickner, CEO of the Lake

Superior Community Partnership, Marquette County's Economic Development Corporation.

Indeed, we are very fortunate in the Blue Water Area to be surrounded by so many thoughtful, smart and

compassionate women.

So in this issue, Blue Water Woman is pleased to honor five of the very best:

Sushma Reddy, M.D.

Blue Water Woman of the Year

Kathleen Swantek

Blue Water Woman NonProfit Executive of the Year

Rebekah Smith

Blue Water Woman Healthcare Executive of the Year

Sheri Faust

Blue Water Woman Government Professional of the Year

Jacque Rogers

Blue Water Young Woman of the Year

4 spring 2016 BlueWaterWoman.com
---
lue water

woman of the year

sushma reddy, m.d., fort gratiot township

passionate

about the

population

by Patti Samar

Sushma Reddy, M.D. has spent her entire career trying to work herself

out of a job.

Reddy, an endocrinologist with seemingly endless energy, has dedicated

her medical career to not only caring for those who are sick, but also to

preventing illness in the first place.

And while many physicians encourage patients to live healthier lifestyles,

Reddy is passionate about preventing one of the fastest growing diseases of

this century: diabetes. And she doesn't want to just impact the patients she

sees; she wants to change the culture of the entire community.

"I'm very passionate about kids and obesity," said Reddy. "They didn't

ask to be that way. We are somehow failing these kids. We know that 70 to

80 percent of obese teenagers will be obese as adults.

"If you can change that culture of a community and focus on prevention,

you will have healthier communities."

And Reddy has done more than her part to change the culture of the

Blue Water Area, even if it means changing it one patient at a time. As

a result of her professional and volunteer efforts to make this a healthier

community, Reddy has been named Blue Water Woman of the Year. She

was nominated by Annette Mercatante, M.D., the public health officer and

medical director for the St. Clair County Health Department.

Through both her private practice over the past 20-plus years and in her

more recent position as the director of population health at Lake Huron

Medical Center, Reddy has seen too many children and adults struggling

with the health consequences of obesity. She knew she needed to help

children understand the importance of physical activity so in 2009, Reddy

worked with Port Huron's Cleveland Elementary School – where many

students are considered "at-risk" due to a number of factors – to put

together a pilot program to help students become both physically healthier

and better readers. Teachers had noted that during the summer months,

many students did not have access to books and therefore their reading

skills suffered.

The Walk for Summer Reading program was sponsored by the St. Clair

County Medical Society Foundation. Students participated in school-wide

walking activities for at least eight weeks during the school year. The more

they walked, the more they "earned" books to take home and read during

the summer months. The program was a hit.

Not only did reading and physical activity participation improve, but

classroom behavior improved, as well. "We noticed as these kids were

walking their attention spans were improving in the classroom," said

Reddy.

Since then, the program has grown to include 24 elementary schools and

a number of other fitness related activities have sprouted from its roots,

including walk-a-thons, running clubs and walking clubs. In 2012, Reddy

received an award from the Michigan Department of Community Health

as a "Hometown Health Hero" for her work with the Walk for Summer

Reading program.

Reddy is also sympathetic to the plight of adults who struggle with obesity.

Through her involvement with the Community Services Coordinating Body

of St. Clair County – a group of representatives from health and human service

agencies across the county – she founded the Healthy Lifestyles Workgroup so

that multiple agencies can work together to build a local environment that makes

it easier for people to be active and healthy.

Reddy noted that she has been fortunate as she has proceeded throughout

her career in that she has received a lot of support from others. "I have a

wonderful and supportive family and friends and I'm blessed with good

health. And my husband is very supportive. It takes team work. It's great to

have someone supportive that way."

In her nomination, Mercatante noted that not only does Reddy make

time for her family and to volunteer in the community at large, but she has

been instrumental in organizing a group of women physicians in the area

for mutual support and networking.

"I think women physicians have unique needs," said Reddy. "We love our

careers, but at work, we're dealing with people's lives. But I really think that

women need to support each other no matter what you do for a living."

spring 2016 BlueWaterWoman.com 5
---
nonprofit executive

of the year

kathleen swantek, st. clair

6 spring 2016 BlueWaterWoman.com

making

a difference

by Patti Samar

In December of 1976, a recent University of Michigan graduate

begrudgingly passed up a trip to Florida with her girlfriends so that she could

schedule a job interview with a new and very small nonprofit organization.

In 2016, Kathleen Swantek of St. Clair will help that organization celebrate

its 40th anniversary and will shortly thereafter celebrate her own 40th

anniversary with Maryville-based Blue Water Developmental Housing, Inc.,

the majority of which has been spent as its executive director.

Apparently skipping her vacation was a wise move.

Due to her exceptionally strong leadership skills and her ability to take into

account "the big picture" when guiding the organization, Swantek has been

named Blue Water Woman NonProfit Executive of the Year.

Over the past 40 years Swantek has grown the nonprofit from its grass

roots beginnings to a full-scale human services agency that provides more

than 300 people in St. Clair and Macomb counties with residential group

home services, assisted living services, affordable housing services and housing

services to low income seniors. She manages budgets that exceed $6 million

annually.

"Kathleen's presence has resulted in thousands of lives being impacted in

a multitude of positive ways," stated the nomination submitted by BWDH

staff members Kathryn Baker and Judith Morris. And what is more, those

individuals, most of whom are developmentally disabled, are among the most

vulnerable in the community at large.

During her first year of employment with BWDH, Swantek was involved

when the organization purchased its first group home. "The state was deinstitutionalizing

developmentally disabled people," she said. "We purchased

our first home in 1977. I loved my job. I knew it was something I could do

that would make a difference."

It wasn't long before the organization grew at a more rapid pace.

"We were expanding and money was coming from the state," she said. "I

became a supervisor of the homes and then became operations manager. I

really liked managing and organizing and strategic planning and looking at

the big picture and where we could take our organization."

And the BWDH board obviously liked what she was doing because by the

end of her first year of employment, she was named executive director.

"I've always had a passion for what we do, but you can't get there by

yourself," she said, crediting the staff with the success of the organization over

the past 40 years. "You have to bring a team of good people with you. And,

there were a number of women who were supportive of me."

She found an early mentor in Louise Shier, a founding board member of

BWDH. "She was my mentor, my second mom," said Swantek. "She was

the one that kind of stuck with me. I drew a lot of my passion from her and

she taught me how to work collaboratively."

Swantek's own mother was also a strong role model. "My mom worked as

a teacher," she said. "She had a master's degree in teaching; she had five kids.

She was such a great role model for me. I expected that I would do at least as

well as she did. In 1940, not a lot of women went to college and not a lot of

women went on to get a master's degree.

"I don't know if I would have been as self-assured and independent in a

career if she hadn't been there for me and my sisters."

Swantek's professional achievements have not gone unnoticed. She has

been recognized by numerous organizations at the local and state level, most

recently by the Michigan Assisted Living Association. She was presented with

the MALA Spirit of Service Award which is given "for embodiment of selfless

compassionate service and seeing not only what is but what will be."

After guiding BWDH so successfully for almost 40 years, Swantek

summed it up this way: "If you don't take risks, you lose opportunities…but

you must take organized risks…and that comes with age and competence

and experience."
---
Massage • Facials/Body Treatments • Nail Services

Spa Parties • Aveda Products • Boutique

810.966.0223

Dianna Maxwell

GRI, CRS, RRC, RAM, LTG, ABR

www.spa223.com • 223 Huron Avenue • Port Huron

Compassionate care for

women in every phase of life

ST. J O H N R I V E R D I ST R I CT H O S P I TA L

• Preventative and Gynecological Care

• Experienced Prenatal Care and Delivery

• Treatment for Incontinence

Quality Used Furniture

Priced to Sell...Not to Dust!

1661 Range Road • Kimball Township

810-388-9313

www.TrezureHunt.com Dianna • Maxwell trezurehunt10@yahoo.com

GRI, CRS, RRC,

Owner:

RAM, LTG,

Dan

ABR

Rich

866-501-DOCS (3627)

River District Ho

St. John River District Hospital

Healthy living.

Happy family.

Physician

HealthCare

Network

Walk-In & Extended Hours

Fort Gratiot

Family Practice/

Walk-In Clinic

(810) 989-7770

Macomb

Family Practice/

Walk-In Clinic

(586) 716-1371

Marysville

Family Practice/

Walk-In Clinic

(810) 364-4000

Physician

HealthCare

Network

www.PhysicianHealthCare.com

Port Huron

Family Practice/

Same-Day appt/

Extended Hours

(810) 984-5700

St. Clair

Family Practice

(810) 329-2350

spring 2016 BlueWaterWoman.com 7
---
healthcare executive

of the year

rebekah smith, port huron

8 spring 2016 BlueWaterWoman.com

team

effort

by Patti Samar

Change is good.

If that is, indeed, the case, then Rebekah Smith, RN, president and chief

executive officer at Lake Huron Medical Center in Port Huron, has been

surrounded by all kinds of goodness over the past year and a half.

In that time frame, Smith guided the hospital through significant change:

a change in ownership and a change in business model as the institution

went from a nonprofit entity to a for-profit entity. Formerly known as

St. Joseph Mercy Port Huron, the hospital was part of a large Catholic

healthcare organization. Now owned for-profit by Prime Healthcare Services,

the institution is poised to invest millions of dollars in order to provide

enhancements and additional healthcare services to the facility and the

community.

Smith helmed the institution through the entire sale of the hospital and,

for her exceptional leadership efforts during a time of great change, Smith

has been named Blue Water Woman Healthcare Executive of the Year. She

was nominated by Laura Cottengim, the director of marketing and strategic

development at the hospital.

"There were three things I tried to stay focused on throughout the transition,"

said Smith. "First and foremost was the patient. We needed to ensure that

quality care was not only maintained, but improved.

"Secondly, I needed to be conscientious of the staff. They provide that care. I

wanted them to feel assured that while they might not know all of the answers

to all of their questions throughout the process, they knew they could trust that

their best interests were in the forefront of my mind.

"And third was the community. We are here to serve and we provide some

economic stability. As a for-profit organization, that means we are paying taxes

now which is good for the community."

As a registered nurse and healthcare administrator, Smith has spent her entire

career caring for patients and caring about the staff that cares for the patients.

But this hospital holds a special place in her heart as she was born there and

grew up just down the street. She has a real passion for the institution and she

wanted to make sure it was being properly cared for throughout the transition.

"I recognized that this transition will be my legacy," she said. "I told my staff

that this will be history-making. We talked about that and how this is a journey.

I knew it was going to take every single person in this organization to do this

transition. It took a team to do this.

"The staff kept the patient at the forefront throughout this. They lived

amongst the noise and the unknown and I say that with the utmost respect and

awe for the people who work here. They are the heroes, by far."

Improvements to the hospital planned by Prime include a new radiation

therapy unit, which will further enhance the hospital's oncology services. Smith

noted that Prime focuses on preventative health in many innovative ways, as

well.

"They focus on population health by looking at the whole person," she said.

"It's about preventing disease. Let's make our community healthy."

She also noted that approximately 50 to 60 new jobs will be created as a result

of the transition to being a member of the Prime family. "They 'unregionalize'

services," she said, noting that large health systems often central services such

as billing. "They believe that healthcare is local and that the business should be

taken care of locally."

Though the sale of the hospital was obviously a huge undertaking, Smith

believes the long hours and hard work on the part of the staff will be worth it for

the community in the long run.

"I knew I was in this place at this time for that reason," she said. "There is

nobody who could care about these people – our staff – more than I do. And

when our community trusts that we are keeping them safe, then we're doing

our job," she said.
---
Take control

Life Insurance • Annuities • IRAs

Call us today to learn about the

810.985.5191 ext. 261

®

spring 2016 BlueWaterWoman.com 9
---
government professional

of the year

sheri faust, port huron

protecting

the environment

by Patti Samar

Some people spend their entire lives trying to figure out what they want

to be when they grow up. Sheri Faust of Port Huron was not one of those

people. She just always knew she wanted to work in the sciences and work

toward solving environmental problems.

And so she does.

Faust is the environmental health educator for the St. Clair County Health

Department. She is responsible for promotion and outreach for the health

department's environmental health division. On any given day, her job might

take her into classrooms, where she teaches children of all ages about the

importance of caring for the environment, or wading into rivers and streams.

Additionally, she spends her free time outside of work volunteering for a

number of environmental organizations.

Her passion for the subject is unmeasurable and for that, Faust has been

named the Blue Water Woman Government Professional of the Year. She

was nominated by her friend Chris Gearheart.

Outside of her official work life, Faust serves as president of the nonprofit

Friends of the St. Clair River, whose mission is to provide meaningful

experiences that engage the community in the protection of their water

resources through water quality monitoring, stewardship activities and

advocacy.

Faust has also been instrumental in the establishment and organization of

the Blue Water Sturgeon Festival, the anuual Earth Fair, the Stream Leaders

(Adopt-a-Stream) program, and River Day, among many other volunteer

activities.

"Sometimes I get things done through a nonprofit angle and sometimes I

get them done from a government angle," said Faust regarding the overlap

between her work life and her volunteer life. "But either way, I'm a better

advocate for our water resources."

Faust also understands that the water in the Blue Water Area is not only

critical for all of the obvious reasons, but that it impacts the "big picture" in

the community as well.

"All this water that we have is what draws people to this community," she

said. "So much of our economy depends on water and our lives depend on it,

too."

And with a water crisis in Flint taking place not far from the Blue Water

Area, Faust notes what she shares with elementary school students: "This is

what I tell third and fourth graders: If we drink polluted water, we are not

going to be healthy; if we breathe polluted air, we are not going to be healthy.

"If our environment is sick, we're going to be sick."

And the students soak up her words. "My focus is always on environmental

education," she said. "I have this real desire to engage girls in science. There

are not as many girls interested in science and I like to encourage them."

A wife and mother of two young daughters, Faust involves her own

children in many of her environmental endeavors. "I put them to work at the

Earth Fair and I put them to work at the Sturgeon Festival," she said.

Faust noted "there is no other position like mine in any other health

department in the state. In other counties, my position would fall under the

drain commissioner.

"I like the platform that the health department gives me to bring the

environmental message to the citizens."

10 spring 2016 BlueWaterWoman.com
---
CHAP Accreditation

The Community Health Accreditation Partner (CHAP) provided VNA/BWH with full accreditation in 2015. CHAP is a national, independent,

U.S. not-for-profit accrediting body for community-based health care organizations.

Five Star Rating for Quality of Home Health Care

The Center for Medicare & Medicaid Services rated our home health care quality of care among the top 3% in the nation.

We are one of only 10 home health care agencies in the State of Michigan to receive a five-star rating for quality of care.

We are the only agency in St. Clair County to receive this five-star rating.

2015 Top 500 HomeCare Elite

The Center for Medicare & Medicaid Services rated our home health care quality of care among the top 3% in the nation.

We are one of only 10 home health care agencies in the State of Michigan to receive a five-star rating for quality of care.

We are the only agency in St. Clair County to receive this five-star rating.

1430 Military Street, Suite A Port Huron MI 48060 (810) 984-4131 www.vnabwh.com
---
lue water young

woman of the year

jacque rogers, marysville

an extraordinary

young woman

by Patti Samar

12 spring 2016 BlueWaterWoman.com

S"Still waters run deep": proverb. A quiet or placid manner may conceal a more

passionate nature.

If Jacque Rogers, 18, a senior at Marysville High School, is the proverbial

water, her passion is running deep…Grand Canyon deep.

Though she has a quiet and humble demeanor, Rogers' mind is clearly

thinking deeply about the world around her and the things that matter to her.

And while many her age are just learning to observe the world around them,

Rogers has already learned what many do not learn until much later in life: the

best way to change something or to help someone is to take action.

Over the past two years, Rogers – an exceptional student carrying a difficult

course load while maintaining a 4.345 grade point average and a star student

athlete – started her own charity called "Every Day People." The purpose? To

help provide special holidays to every day working people who might work two

or even three jobs – and do not qualify for government assistance or are too

proud to ask for it -- just to make ends meet.

For her efforts to take the initiative to start a charitable organization, fund

raise and provide something special for those who might not otherwise be

able to celebrate holidays, all while excelling in her academic life and sporting

endeavors, Jacque Rogers has been named the Blue Water Young Woman of

the Year.

Nominated by her teacher, Christine Shigley, Rogers is the first to deflect her

accomplishments.

"I couldn't have done this without my peers at school…and my teachers…

who have been helping with bottle drives and donations," said Rogers. "It's

been very helpful to have that pool of people who have helped me help others."

Over the course of the past two years, Rogers has raised more than $6,000

and has put all of that back into her charitable endeavors, providing gifts to

others in the Blue Water Area who may not have the resources or support to

provide anything "extra" to their families during the holidays.

"I have been very fortunate," said Rogers. "Through church and through my

faith I feel like I can help people and I feel like it's my job to help others if I am

able to."

In her nomination of Rogers, Shigley wrote: "This (past holiday season),

Jacque shopped for about 20 children to the tune of $200 each, purchasing

both needs and wants for them. But here is the best part: she asked for her

giving to remain anonymous…because she does not believe that one should

shout from the rooftops that they did a good deed.

"The highest compliment you can give to someone is that you hope your

own children grow up to be just like them. In a career in which I've come to

know a great many students, I can say without a doubt that if I had to choose

one for my 11-year-old stepdaughter to emulate, it would be Jacque."

And at a time in her life when many of her peers prefer to distance themselves

from parents and family members, Rogers cannot say enough kind words about

her parents and siblings. "Knowing that my family is there for me is important

to me," she said. "They give me support and they are there guiding me to make

decisions that allow me to be myself. They're a huge part of my life and my

success in everything I've done."

An ice hockey player since the age of four, she noted: "I always wanted to play

hockey because my older brother did it. I wanted to play with him because he

was a huge role model in my life."

And though she now plays on the Farmington Hills-based Honey Baked

Girls 19U team, she grew up playing hockey on teams consisting of almost all

boys.

"I never thought I was any different because I could compete with them," she

said. "And no coach has ever treated me differently. I was always a full member

of the team."

With regard to her philanthropic endeavors, Rogers is wise beyond her years.

"If you do things for recognition, you are doing them for the wrong reasons,"

she said. "You do good to help others, not to help yourself."

Following her high school graduation, Rogers plans to attend Lake Forest College

in Illinois. She plans to play hockey there for the women's team and she has received

academic scholarships.
---
Cell: (586) 801-6068

Email: diannare@aol.com

Purse Auction!

A Fundraiser Sponsored

by The Salvation Army

Women's Auxiliary

11 a.m. to 3 p.m.

Saturday, April 23

Port Huron Yacht Club

$10/per ticket

Includes lunch

Tickets available

in advance

or at the door

Cash bar available

Both a live & silent auction

will be held

For more information

or to purchase tickets call:

(810) 956-4175

•

•

•

•

•

spring 2016 BlueWaterWoman.com 13
---
Experience

matters

TRUST THE MOST EXPERIENCED

As a Breast Imaging Center of Excellence since

2009, Women's Wellness Place maintains high

quality standards, personnel qualifications,

and technology in mammography, breast

ultrasound and breast biopsy procedures.

You trust us with your breast health, why go

elsewhere for your other routine yearly exams?

Well Woman Care at Women's Wellness Place

is ideal for women who would like to have their

annual physical, mammogram and lab tests in

one place on the same day.

Call (810) 985-2663 today to schedule

your yearly exams.

Well Woman Care with Dr Peter Tseng

Well Woman Care staff gynecologist

Dr. Tseng is seeing patients for routine:

> General physical

> Pap smear

> Breast exam

> Pelvic exam

> Family planning counseling

1221 Pine Grove Avenue, Port Huron, MI 48060 | (810) 987-5000 | mclaren.org/phwwc