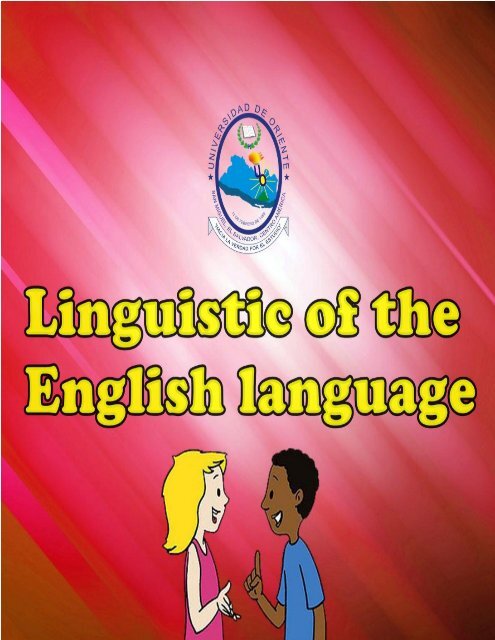 Create successful ePaper yourself
Turn your PDF publications into a flip-book with our unique Google optimized e-Paper software.
SCHOOL OF ARTS AND SCIENCES

DEPARTMENT OF LANGUAGE

STUDENT´S NAME:

MARINA DEL CARMEN DÍAZ CRUZ.

CAREER:

BACHELOR DEGREE IN ENGLISH

SUBJECT:

LINGUISTIC OF THE ENGLISH LANGUAGE

TEACHER´S NAME:

LIC. JAVIER ANDRADE

DATE: MARCH 10 TH , 2016

1
---
TABLE OF CONTENT

INTRODUCTION ................................................................................ 3

PERSONAL STATEMENT .................................................................... 5

PERSONAL EXPERIENCE .................................................................... 6

STRENGTHS AND WEAKNESSES ........................................................ 7

CONCLUSION .................................................................................... 9

CONTENT (ACTIVITIES)

WHAT IS A LANGUAGE? ................................................................... 10

LINGUISTIC AS A WINDOW TO ANDERTANDING .............................. 12

THE BRAIN ........................................................................................ 13

POSTERS OF THE INTERVIEW ............................................................ 14

LANGUAGE IN CENTRAL IN HUMAN LIFE .......................................... 19

TASKS ............................................................................................... 20

REFLECTIVE QUESTION ..................................................................... 29

2
---
INTRODUCTION

The elaboration of this portfolio has the objective of show the knowledge

acquired during this period. It consist in the develop of different kind of

linguistic activities about the topics that had studied during the first period in

the subject of Linguistic of the English language.

At the beginning of the content I give the definition of language through

images that represent a language like an ability to acquire and use complex

systems of communication, particularly to do so, and a language is any

specific example of such a system. The scientific study a language is called

linguistic.

Furthermore are include all the task developed during this period such as:

paragraph about animal vs human communication, linguistic as a window to

understand the brain by Steve Pinker, mind map about morphology, types of

phrases and exercises about morphology.

Beside I wrote a personal statement of myself- reflective learning stage that

is a brief description of my experience in the first period class in linguistic

subject and how has changed me and helped to grow. I describe my overall

experience discussing my strengths and weaknesses in my learning process

and also I share my future plans in order to improve my linguistic skills.

Finally I respond to reflective question about the learning process in order to

think about what I did during this period and if what I did is good for improve

3
---
my English skills or need change the way in what I am and also about which

activities helped me learned the most and

things that the teacher could have done differently to help my lesson easier.

4
---
PERSONAL STATEMENT

Through myself reflective essay I going to describe my personal experience in

the linguistic class during the past period in which I learned a lot of things

related with interesting topics such as: what is a language, animal vs human

communication, sounds and suprasegmental; phone, phoneme and

allophones, parts of speech; etc. I going to mention how this experience

changed my attitude and actions or thighs that I would like do differently if

given a second change. Specific details, anecdotes and strengths in order to

learn the content giving in class.

5
---
PERSONAL EXPERIENCE

I started the course on Monday 18th with a lot of spectations and goals.

I was really interested to know about what contents we will develop but one

of the most interesting experience was in the first week because the group

was so small. For that reason I had the opportunity to practice English in a

free way because I was not nervous neither worried in make mistakes also

because the teacher was very friendly giving the class and clarifying what

someone did not understand.

Beside I did not like when the group increase because would be a reason or

obstacle to practice the speaking.

The first short presentation was not interesting for I studied a lot and was

prepared to class in order to answer any question related with the topics but

I did not understand what the teacher asked me and answered in a different

way, It was so frustrated for me, in the other hand I felt a little bit happy

because although did not answer correctly I knew the correct answer.

6
---
STRENGTHS AND WEAKNESSES

There are a lot activities that I had to do in order to learn and obtain good

grades. I tried to do my best since the beginning of the period but it was no

easy because I had a lot of things to do in other subjects and was kind of

complicated organized my time. I am sure that when I did my best the results

were excellent, for example, I always did my homework in time that why I

have completed it and checked by the teacher. Another important thing that

I did in the correct way are: when I gave opinions in class and make mistakes,

after finishing I looked for the correct answer. if I did not understand

something in the class asked to the teacher for clarification or asked to one

of my classmates who I consider that had understood the explanation of the

teacher.

In the other hand, I know that is necessary change some aspects of my

attitude as a student and some areas that I need to work for instance: go

7
---
prepared in attitude to class, try to study the subject every day in order to

remember each detail explained in class, look for technical vocabulary that is

used in linguistic class; improve my English skills in a general way.

This experience has change my attitude as a student and the way in which i

work in group because now I am more responsible, organized and interested

in doing my best to obtain the best grades. I am more prepared for work in

group and give my opinion without care so much about mistake like before.

My classmates had an important role in my learning process because they

pushed me and gave me clear explanation about complicated points in some

topics that I did not understand or look for together.

8
---
CONCLUSION

This experiences affected me in a positive way because although was not

easy I make a big progress, specifically in knowledge about linguistic and

changed some ways in which I thought referring with communication and

human and animals and the form in which new words can be formed.

Finally one think that I consider that is the most important is that base on

what I learned in this experience I am more prepared for the future and my

spectating are really differents. I have some plans to use what I learned from

this experience in the future. For example I would like to talk about the

difference between animal vs human communication or how the words are

formed because I consider this kind of information will be useful for other in

any aspect of their life: such as: in future classes, jobs, relationship or simply

for person who love learning.

9
---
CONTENT (ACTIVITIES)

WHAT IS A LANGUAGE?

10
---
11
---
LINGUISTIC AS A WINDOW TO ANDERTANDING

THE BRAIN

12
---
13
---
POSTERS OF THE INTERVIEW

14
---
15
---
16
---
17
---
18
---
LANGUAGE IN CENTRAL IN HUMAN LIFE

19
---
TASKS

20
---
21
---
22
---
23
---
24
---
25
---
26
---
27
---
28
---
REFLECTIVE QUESTION

WHAT DID YOU LEARN DURING THIS PERIOD?

During this period I learned a lot of things about linguistic. Firs table I learned what

a language is . There are a lot of theories about creatures that can talk. I think

those creatures are capable of communicating, certainly with other members of

their own species.

Beside I looked at some special properties of human language for

Instance:

Displacement: property of human to refer o past and future time.

Arbitrariness: the relationship between linguistic signs and object in the world.

Productivity: how we form new Words.

Cultural transmission: a language is passed on front one generation to next.

Duality: how we can use sounds to create new words double articulation).

Then review a number of experiments in communication involving human and

animals, such as: talking to animals and Chimpanzees and language in which the

standard explanation is that the animals produces a particular behavior in response

to a particular sound- stimulus or noise, but does not actually "understand" what

the Word mean.

Furthermore I learned the consonant and vowels and vowels features according

the place and manner of articulation or high, middle or low; front, central or back n

vowels, also if those are rounded or unrounded.

Phonemes, syllables and phonological processes.

Allophones: variation of sounds.

A phone: a unit of speech sound.

29
---
Minimal pairs: pair of words that vary in only one sound.

Phoneme: variation of a phoneme.

There are many types of words formation.

Etymology: study of the origin and history of a word.

Coinage: invention on totally new terms.

Borrowing: taking over a word from other language.

Conversion: a change in the function of a word.

Backformation: a word of one type (usually a noun) is reduced to form a word of

another type (usually a verb)

Compounding: joining of two separate words to produce a single form.

Acronyms: new words formed front the initial letters of a set of other words which

the pronunciation consist of saying each separate letter.

Blending: the combination of two separate words to produce a single new term.

Clipping: this occur when a word or more than one syllable is reduce to a shorter

form.

Finally I learned about the par of speech and morphology that is a branch of

linguistic that are divided into morphemes ( free morphemes and bound

morphemes).

30
---
2. DID YOU GIVE YOUR BEST EFFORT ON THIS E- PORTFOLIO PROYECT?

WHY?

Yes because I spent all the time that I consider necessary in order to do everything

in the best way.

3. DID THIS PORTFOLIO ACTIVITY HELP YOU LEARN MORE THAN OTHERS

WE HAVE DONE? WHY?

Yes because It make me remember each content since the beginning of the

semester. I included all the activities developed during this period

4.DID YOU COME TO CLASS PREPARED TO LEARN (IN BOTH YOUR

ATTITUDE AND WITH ALL YOUR SUPPLIES?

I all the time went prepare with my supplies to class but not with my attitude

because sometime I felt worry If did not understand the previous class and also

about activities of other subject.

5. IF YOU COULD DO THIS ASSIGNMENT OVER, WHAT WOULD YOU DO

DIFFERENTLY?

I would like organized my time in a better way I mean star to create my E- portfolio

since I have complete the first activity in order to have the time for care each detail.

6.WHAT CLASS ACTIVITIES OR ASSIGNMENTS HELP YOU LEARN THE

MOST?

This portfolio because is a way to make a feedback in my mind about what I

learned during this period in order to complete activities.

31
---
7. WHAT DO YOU BELIEVE THE THEACHER COULD HAVE DONE

DIFFERENTLY TO HELP YOU LEARN THE LESSONS EASIER?

I think than if the teacher give us the Power Point Presentation per each topic

before or after class and provide a list of topic per each period, the earning process

was being more easy.

8.WHAT IS ONE THING THE TEACHER DID DURING CLASS THAT YOU

REALLY LIKED?

The thing that I liked the most during this period was in the first day of class

because the teacher pushed and motived us to practices English in any way. He

looked very interesting in our learning process giving confidence to speak English

although we made mistakes.

9.HOW CAN YOU PROVE TO THE TEACHER THAT YOU MASTER THE

CONTENTS FROM THE FIRST PERIOD?

I will can paraphrase the contents during this period or make a summary in my own

words about the topic studied in class.

32