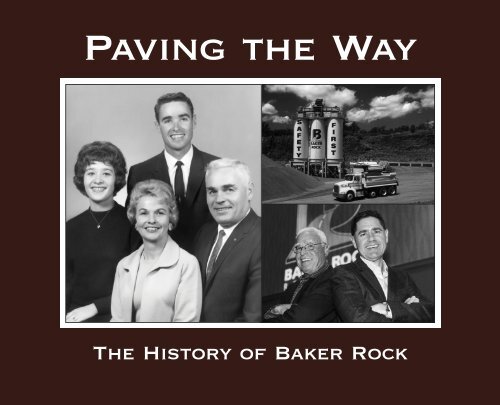 Paving the Way, The History of Baker Rock for Yumpu
You also want an ePaper? Increase the reach of your titles
YUMPU automatically turns print PDFs into web optimized ePapers that Google loves.
Paving the Way

The History of Baker Rock

14
---
Paving the Way

The History of Baker Rock

As told by Gary T. Baker, Todd Baker, and Jan Baker-Carlson
---
Produced by Family Heirloom Arts

www.FamilyHeirloomArts.com

Portland, Oregon

Lisa Kagan: Director, Oral Historian, Writer, Photography Editor, Book Designer

Emily García: Book Designer, Production Manager

Anya Hankin: Text Editor

Connie Lenzen: Genealogist

Joseph Webb: Digital Photography Artist

Joan E. Hamilton: Transcriptionist

Maia Fischler: Copy Editor

Mollie Firestone: Proofreader

Copyright © 2015

Gary T. & Todd Baker

All rights reserved. Reproduction of the whole or any part of the contents without permission is prohibited.

Printed by Stevens Printing, Portland, Oregon

Book binding by Grossenbacher Bros., Inc

Front Cover Caption: Jan, Dal, Gary T. and Gary A., 1964 (left), Farmington Road asphalt plant in Beaverton, 1996 (top right),

Gary T. and Todd Baker at the Baker Rock 2020 Celebration, 2014 (bottom right)

Cover design by Lisa Kagan
---
Content for this book is based on oral history interviews of Gary T. Baker,

Jan Baker-Carlson, and Todd Baker. Highlights from additional interviews

of longtime employees Jim Records and Keith Peal are also featured

throughout the book. Interviews were conducted by Lisa Kagan from 2012

to 2014. Images included in the book were provided by members of the

Baker family and the Baker Rock archives. Additional content for Part I,

"Founders of Baker Rock," came from Ruth Evelyn Cruse's handwritten

accounts of her life and oral history interviews with Geraldine Baker, which

were compiled by Heather K. Geer, Ruth's great-granddaughter, in 1990.
---
In loving memory of my grandparents, Gary A. and Dal Baker,

whose hard work and integrity paved the way

in establishing a strong foundation for Baker Rock.

Todd Baker
---
Contents

Part I

The Founders of

Baker Rock

As told by Jan Baker-Carlson

chapter 1

chapter 2

chapter 3

Origin Stories,

Gary A. Baker

Origin Stories,

Dal Robertson

Gary & Dal Baker,

Creating a Life Together

4

14

18

chapter 7

chapter 8

chapter 9

chapter 10

Gary T. Baker, Second

Generation of Leadership

Dedication &

Commitment

Building Toward

the Future

Serving Our

Community

78

92

110

118

vi
---
Part II

Building the Family

Business

As told by Gary T. Baker

chapter 4

A Strong

Foundation

34

chapter 5

Early Years of

Baker Rock

50

chapter 6

Our Growing

Business

62

Part III

Three Generations

of Baker Rock

As told by Todd Baker

Appendix

Acknowledgments &

Ancestral Charts

chapter 11

Todd A. Baker, a Legacy

of Leadership

140

chapter 12

Growth & Change

158

vii
---
Introduction

by Todd Baker

As the third generation of my family to be involved with Baker

Rock, I have often reflected on the importance of finding a

way to preserve a thorough history of the company and the story

of its founders, my grandparents Gary A. and Dal Baker. Having

grown up in the business, I was accustomed to hearing bits and

pieces of different stories and memories from my father, longterm

employees, and vendors who have helped the company

grow and become what it is today. Yet most of these stories had

never been written down. In 2010 I was given a book about the

history of Peterson Caterpillar, and I realized we needed to do

the same kind of thing at Baker Rock.

I started the process of creating this book in 2012, and at that

time I had no idea what a huge undertaking it would turn out to

be. I remember Lisa, whom I hired to help me create this book,

explaining that the whole process could take anywhere from

eighteen months to a few years. At that point I thought there was

no way it would take that long. After going through the process,

I now understand why it takes the time that it does.

Over the last three years we conducted oral history interviews

of family members and long-term employees, wrote and

edited the stories, organized and restored our collection of

photographs and documents, and eventually designed Paving

the Way, The History of Baker Rock. Creating this book allowed

me to fully realize the ways in which my grandparents and the

company have had a profound effect not only on me but on so

many people who spent time working for Baker Rock over the

years, as well as members of the local community. Often I will

meet someone who tells me they knew my grandfather. They

always say what a great man he was. My grandmother was also

a pillar of strength and support, for both the company and the

community. A longtime vendor of ours once wrote a note to my

grandmother letting her know Baker Rock would not be half

viii
---
as successful without her involvement. My grandparents' philosophies

of treating employees and customers fairly, providing

quality products and services, and acting with thoughtfulness

and generosity are still guiding principles within the company

and our family today.

I hope this book will serve as a legacy, which years from now

my children and their children can read to get a sense of the

hard work and determination it took to build Baker Rock, and

what it means to be an active member of the community. I hope

that former, current and future employees can gain an understanding

of how important it has been throughout the three

generations of our family business that Baker Rock remain a

positive, ethical, and vibrant business dedicated to helping make

our community a better place. The company would not be where

it is today without the support of the many employees, vendors

and suppliers who have been there to help along the way.

Overall this book project has been a very rewarding and

enjoyable undertaking, and turned out to be well worth the

effort. I have a newfound respect for what my grandparents

were able to accomplish throughout the course of their lives.

They met and built a life together, laying the groundwork for

all of the generations to come. At times they struggled to overcome

adversity, but they were able to persevere and continue to

move forward. They spent many late nights working to help the

company grow, and there were years when they did not have

much financially to show for their efforts. Yet through it all they

always maintained high standards of integrity and ethical business

practices toward those who touched their lives. I am proud

of what my grandparents and the rest of our family have been

able to accomplish over the years, and it is very gratifying to be

able to honor and preserve their stories through the creation of

this legacy book.

ix
---
Our ancestors' abilities to live off the land and endure

great waves of hardship and change, along with their

strong entrepreneurial spirits, have helped enable my

parents, my brother and I, and our children to succeed.

– Jan Baker-Carlson
---
Part I

The Founders of

Baker Rock

As told by Jan Baker-Carlson

Many of the origin stories highlighted in this section came from

Ruth Evelyn Cruse's handwritten accounts of her life and oral history interviews

with Geraldine Baker, which were compiled by Heather K. Geer,

Ruth's great-granddaughter, in 1990.
---
CHAPTER 1

Origin Stories,

Gary A. Baker

Hard work and perseverance helped to bring the Baker

family to Oregon, where multiple generations continue to

grow and thrive. We come from a long line of hardy stock, who

have learned how to cultivate the soil, tend to the livestock, and

extract rock from the earth. Our ancestors' abilities to live off

the land and endure great waves of hardship and change, along

with their strong entrepreneurial spirits, have helped enable my

parents, my brother and I, and our children to succeed.

Ruth Evelyn Cruse and

Harvey Earl Baker

My great-grandparents, William Martin and Elsie Cruse,

were living in a stone house in Pawnee, Nebraska, when their

daughter, Ruth Evelyn Cruse, came into the world on January

11, 1893. Ruth and her siblings spent most of their childhood

Facing page: Ruth, Gary, Homer, Geraldine, Virginia, and Harvey Baker, 1925

Above: Gary A. Baker, 1925

years growing up on farms, so Ruth was accustomed to the

demands of rural life from early on.

In addition to helping care for the family farm, Ruth was able

to attend school through eighth grade. Ruth was tiny, standing

only about 4 feet 10 inches tall. Her growth was stunted by a

bout of scarlet fever that she managed to survive when she was

a girl. Though small in stature, she was very strong. As she got

older, she always wore her hair down past her hips. She loved

to participate in school activities and socialize with her friends.

When she was in eighth grade, her father sold their family farm

and moved to Guide Rock, Nebraska. Ruth met our paternal

grandfather, Harvey Earl Baker, while she was a young woman

living in Guide Rock.

Harvey was born March 21, 1891, to Harrison and Bertha

Baker. Harvey's parents came from a long line of survivors who

had made their way to Nebraska against the odds. According to

family lore, this line of the Baker family endured a very treacherous

journey across America in a covered wagon, but the details

5
---
One day Harvey was on a job working to remove sand from

a pit when suddenly the whole pit caved in. All of the men were

able to escape unharmed except for Harvey, who was trapped

in the pit. He broke his leg in the incident, and was laid up

in recovery for several weeks. The local doctor was not available

to treat him, so the town's veterinarian had to set his leg.

Unfortunately the leg was not set properly, and as a result, he

walked with a limp for the rest of his life.

Once Harvey was able to maneuver around on crutches,

he was eager to go out and see how his crew was progressing

on their projects. The family had just gotten a new car, which

Ruth was excited to learn to drive. She had never driven before,

but since Harvey was unable to drive himself because of his

"touchy" leg, she had to learn in a hurry. Harvey was not very

pleased with this arrangement as he preferred to be able to get

around on his own, but he had no choice but to depend on Ruth

for his transportation needs. Even though Harvey proved to be

an impatient and difficult driving instructor, Ruth really enjoyed

the opportunity to take a break from her domestic responsibilities

and drive around the area in order to help Harvey with his work.

Homer, Geraldine and Gary Baker, 1921

Gary A. Baker's Childhood

My father, in addition to his love of swimming, really

enjoyed running track as a boy. He was an excellent runner,

and thrived on being a member of the track team and competing

in local races. He was a track star in high school, and set

a state record for the mile when he was a senior. That record

stood for quite a few years. Unfortunately, Gary had to miss

the statewide competition when he came down with tuberculosis.

He was heartbroken not to be able to compete. He felt

that missing that opportunity changed the course of his life,

8
---
Gary A. (top row 2nd person from right) and Homer (front row 1st person from right) in the Palisade High School Band, 1935

9
---
CHAPTER 3

Gary & Dal Baker,

Creating a Life Together

Dal's best friend in school, Louise Boyd, had gotten married

and moved to Hillsboro, Oregon, after they finished high

school. Eventually Dal and Wilma managed to escape from their

oppressive home life with Walter, and they decided to take a trip

together during the summer of 1938 to visit Louise and her new

husband, Irvin, in Oregon. At that time, Dal was engaged to a

fellow in Denver.

Soon after they arrived in Oregon, Louise and Irvin told

Dal about a male friend of theirs, and suggested the four of

them should go out together. They showed Dal his picture, and

although she thought he was handsome, she reminded them

that she was already engaged to another man, and that whatever

socializing she would be doing while she was in Oregon

would be strictly platonic.

Facing page: Gary A. and Dal Baker in front of their first house in Hillsboro,

1945 (top left); Gary T. and Jan Baker, 1948 (bottom left); Dal Dally and Gary A.

Baker at the Oregon State Fair in Salem, 1938 Above: Dal and Gary, 1938

On the day of her outing with Louise, Irvin, and their mystery

friend, Dal spent the afternoon at a local swimming hole.

She returned home soaking wet to find that her "platonic date"

had already arrived at her doorstep. He was so early that she

hardly had a chance to get ready. She ran inside and changed

her clothes, and in her rush, did not even have time to dry her

hair. Her date's name was Gary Baker.

So off they went Gary and Dal to meet Louise and Irvin for

a movie, Dal with wet hair dripping down her back, and Gary

already intrigued with this unique young woman. They had a

wonderful time together that evening, and again the next day,

and again the next. Gary took Dal to the coast, because being

from Nebraska, she had never seen the ocean. The foursome

ended up spending every day together, adventuring and exploring

new sights. They even went and enjoyed the state fair. I

have a picture that my father, Gary, took at the state fair, of my

mother, Dal, sitting on a tree trunk. We found that picture in

his wallet after my father died, when we were going through

19
---
with the children. She also really valued building

relationships with the students. But because she

was just five feet tall, the boys in eighth grade

were bigger than she was, making it difficult for

her to play the role of disciplinarian with much

authority. As a result, she had a number of male

students who were constantly giving her a very

hard time. She also had to live away from home

while she was teaching. Although the people she

lived with were kind to her, they were not family,

and Dal felt like a lodger there. It was not where

she wanted to establish her own home.

Dal Dally, 1936

A Secret Marriage,

Beginning a Life Together

On December 17, 1938, Gary and Dal got

married by a justice of the peace in Harrisburg,

Nebraska. Wilma and Noreen accompanied

them as witnesses. They were excited to be part

of their special day, even if it had to take place

in secret. That weekend, Gary and Dal went on

a brief honeymoon, but they had to return by

Sunday evening so that Dal could teach school on

Monday morning.

Once Dal returned to work, Gary embarked

on his trip back to Oregon. He was determined

to find a good job and begin preparing for Dal to

move to Hillsboro at the close of the school year

when her teaching job ended. Now that they were

officially married, Dal knew that she could no longer

postpone her conversation with the fellow she

22
---
had been engaged to in Denver. She had to tell him that she was

married. She felt awful because she really had loved him and she

did not want to hurt him. She just knew that Gary was the one

for her, and while she dreaded hurting her former fiancé, she was

certain that she wanted to spend her life with Gary.

Moving West,

Birth of the Next Generation

After Dal finished her teaching commitment in Bridgeport,

Nebraska, she made her way out to Oregon. Though Dal was a

little nervous to move out West and begin this new phase of her

life, she could not wait to be together with Gary, without thousands

of miles between them.

When she first arrived, they stayed with Gary's parents, Ruth

and Harvey, on the family's farm in Hillsboro, where Gary had

been living. Though Ruth and Harvey knew about the courtship

and marriage, due to the circumstances they had not actually

met Dal until she moved to Oregon. When Gary introduced her,

my grandfather Harvey joked that she was such a bitty thing, my

father would never find her in bed. Dal was quite embarrassed

by this comment.

After that first awkward encounter, my mother shed her

embarrassment and grew to love my father's parents dearly, and

they adored her as well. My mother was excited to become part

of their family and join their household. She was a very good

helper to my grandparents. She fit right in and made a meaningful

contribution to the household by helping her mother-in-law

care for their home. Gary worked with his father on the farm.

The whole family loved each other and got along extremely well,

so the arrangement was easy for everyone.

Gary was working at the Birds Eye Cannery in Hillsboro

Dal Baker on her road trip from Nebraska to Oregon with a 1931 Model A

when Dal arrived in Oregon. He worked in processing, and soon

Dal was hired in that department as well. Not long after she

started her position, they asked her if she could type. They were

impressed with her skills and she was quickly promoted to a secretarial

position. Following his time working in the cannery, Gary

moved on to take a job with a Caterpillar equipment dealer in

23
---
CHAPTER 4

A Strong

Foundation

My dad, Gary, worked for a few years at G.D. Dennis &

Sons. In 1946 he decided to leave the company and go

into business with his brother, Homer. After a few years of running

Baker Brothers, they eventually dissolved their partnership,

and my dad decided he was ready to start his own company.

He felt he had developed his skills to the point where he was

prepared to become his own boss. In the beginning, his business

specialized in doing pond excavation, cleaning out drainage

ditches, and running dragline. He named his business Gary Baker

Contractor. He did the majority of the work himself, but hired

some additional help as needed as his business began to grow. His

business was doing well until he hit a rough spell in 1952.

When we were young, my dad was very busy with building

the family business. He worked extremely hard to navigate the

ups and downs of running his own business while still making

Facing page: Gary A. Baker, c.1950 (top left), Dal Baker, c.1950 (bottom left),

Jan, Dal, Gary T. and Gary A., 1964 Above: Gary A. and Dal Baker, 1950

sure to always provide for our family. His workday started at

six o'clock in the morning — sometimes earlier — and often his

workday would not end until eight o'clock in the evening, especially

in the summertime. My mom was the primary caregiver

in our family, and she also did the books for the business. At that

time she did them at home in our basement because there was

no company office yet. After the quarry opened, they set up a

little shed, which they decided to convert into an office, and she

would work from there. Once my mom started working at the

quarry, she would still make sure that she came home in time to

pick us up from school, get us settled, and make dinner. On the

weekends, she was always home with us, working on projects in

the kitchen, or going on family outings.

Even though my mom did her best to be there for us while

she was working, there was a time when I was young when I

really did not want my mom to work. I wanted to be able to

come home and have her there whenever I wanted her. Yet as a

young adult, I began to see how important the business was to

35
---
Gary, Growing into Adulthood

As told by Gary T. Baker

Teen Years

Throughout high school, dancing was one of my primary

outlets. Besides that, I was never particularly athletically inclined.

At my father's urging, I did run track for a little while in high

school, but I was never as driven with it as my father had been.

Academically, I had to work to get Cs, and once in a while I

would get a B. Very seldom I would get an A and once in a great

while I would get a D.

Every summer from the time I was eleven years old, I worked

for my father. At twelve years old it was not unusual for me to

man the office by myself on Saturdays, where I would answer

the phones and sell rock. Customers would come in wanting

a load of this or a load of that, and I would go out, load

them up and collect the money. That continued on all through

high school, and as I got older, I began spending more time

in the summers working out in the field on construction jobs

and helping the men prepare and lay pipe. In the early days,

the company was small enough that there were not a lot of

employees working for my dad. He had a few full-time staff, but

I worked wherever and whenever they wanted me. So I got to

have my hands in everything — sometimes I would be working

with the mechanic taking something apart, other times I would

be loading dump trucks or feeding the crusher — just wherever

they needed me to be.

I was always very interested in cars, and once I turned

sixteen my dad told me that I needed to get my driver's license

and buy a car so that I would be less dependent on the family

Gary T., Hillsboro High School graduation, 1960

38
---
vehicles. I bought my first car — a brown and

cream 1946 Chevrolet four-door sedan — in 1958,

for $65. We saw an ad in the paper and my mother

went with me to buy it. I brought it home, had it a

week, made a modification to the exhaust system,

and then drove it into town and got a ticket for loud

exhaust. I drove that car for about a year. The next

year I worked all summer long and saved enough

money to buy a 1953 Ford convertible. I had

always wanted a convertible. Once I got my driver's

license, they sent me out quite often chasing parts

for the business. A piece of equipment would break

down and I would be sent to various equipment

suppliers in Beaverton or Portland to get a replacement

part.

Value of Early Work Experience

Having started in the business so young, I have

never been afraid to work, and work hard. My

early experience working for my dad taught me

the self-worth of being able to accomplish things.

I learned not to worry about getting dirty — very

dirty — because all I had to do was go home and

step in the shower and wash it off and I was as good

as new.

It hit me later in life, but I realized that one of the challenges

of having started working hard from such a young age is that I

did not know how to relax. I worked so much that it was hard for

me to turn off that work-focused part of my brain. Once I finally

retired, I had the opportunity to build more regular relaxation into

my lifestyle, but it took a while to get used to that change of pace.

Gary T. and Jim Sanders at Boot Camp in San Diego, California, 1961

College and Joining the Navy

I worked at Baker Rock through high school. After high school,

my dad really encouraged me to go to college. I was not excited

about going to college, but my dad won out and I went to Portland

State for a term. I came out with a .67 GPA, which is about a D.

After this first term, I decided I was not interested in returning to

college, and so I enlisted in the Navy Seabees and I went on active

39
---
Throughout Baker Rock's three generations of

leadership, one of the keys to our success has been

our ability to change and adapt the way we run our

business to meet the needs of our customers and keep

pace with the changing technology.

– Gary T. Baker
---
Part II

Building the Family

Business

As told by Gary T. Baker
---
CHAPTER 5

Early Years of

Baker Rock

My father, Gary A. Baker, laid the foundation for what has

now grown to become Baker Rock Resources. He started

the business in the fall of 1952 with $12 in his pocket but good

credit to his name. In the mid 1940s, my father had begun doing

excavation and pipe work for people, gaining invaluable experience

in running his own business. Yet at the start of 1952, he

encountered significant financial difficulties that could have been

the end of his career as a business owner. My father was determined

not to go bankrupt; he knew that maintaining good credit

would be essential if he ever wanted to run his own business in

the future. He felt he had no choice but to step away from the

business he was starting, and take up work for a bridge-building

company that summer.

Through his perseverance and extremely hard work, he was

Facing page: Gary A. Baker (right) with the new Allis-Chalmers HD-5 tractor

shovel purchased by Baker Davis Contractors, c.1954

Above: Detail from facing page

able to pay off his creditors, preventing himself from going bankrupt.

The first thing my father did when he was ready to start up

his business again was to go to Clyde Equipment Company, now

known as Clyde West. They financed the purchase of a Bucyrus-

Erie 15-B dragline. That was the first machine my father bought,

and we still own it to this day. Over sixty years later, our company

continues to do business with Clyde West. With the purchase of

that machine, my father was truly back in business.

During this time my father was regularly attending the Elks

Club, where he got to know another Elks member by the name

of Ray Davis. They decided to join forces. Ray Davis owned a

TD-7 Crawler tractor. With Ray's TD-7 and Dad's 15-B, they

formed a partnership. Their business was called Baker Davis

Contractors. Soon after, they went out and bought a small Ford

9-N tractor, which they modified so that instead of pulling a

plow on the back, it carried a little cement-mixer drum. With

that machine, they started bidding excavation and pipe work.

Together they worked in Beaverton, Hillsboro, Cedar Hills, and

51
---
ut Baker Rock continued to bid projects with G.D. Dennis &

Sons off and on for several years.

Lessons Learned from Joint Ventures

and Partnerships

My dad, Gary, initiated several partnerships during his time

running Baker Rock, and from my perspective, it generally

seemed like they did not work out that well, and turned out to be

more trouble than they were worth. After witnessing my father's

successful and less successful business collaborations, I came to

the conclusion that I was interested in concentrating more on

our core businesses, and less on additional side ventures. As I

began to take over leadership of Baker Rock, I decided to stay

out of partnership arrangements. Throughout the years, opportunities

continued to arise, but I always felt that it was easier

for me not to have partners. In that same vein, I received some

sage advice from my accountant. who encouraged me to pay my

employees well but keep the company in the family. I have followed

his advice, and it has served me well.

Celebrating the Accomplishments of

Gary A. Baker

Through his work with Baker Rock, my dad, Gary, was very

proud of the services he was able to provide to the municipalities

over the years. He built a good name for our family business. He

was known for his honesty and integrity. My dad always valued

being involved in projects that would benefit the wellbeing of

the community. As a result of his civic involvement, he always

received a lot of respect from community members for being

such a successful businessman and for his generosity in sharing

his resources. His strong relationship with the community meant Gary A.

76
---
a lot to him. My dad was also very proud of being able to

honor his commitment to his employees throughout the years.

Through all of the ups and downs of building the business, his

employees always went home with a paycheck, and his suppliers

were always paid.

My dad was proud of all that Baker Rock had accomplished,

and he was especially proud of the fact that as I began to take

over more of his responsibilities,

the business was in a position

where we could actually be

debt-free. Throughout those

early years, he always had to

borrow money to help the business

grow. He had developed a

strong working relationship with

First Interstate Bank (now Wells

Fargo), which saw Baker Rock

through our early investments

and also enabled the start-up of

Mountain Trucking Co., Inc.

In the early 1980s, as we were

growing the company, I had

Baker Rock totally debt-free. The

business was thriving and we had

cash in the bank. I think that

made my father extremely proud.

He expressed to me that he felt

really good because he had not

imagined that he would ever be

at a point in his life where he

would be completely debt-free. Gary T. and Gary A.

Through over fifty years of hard work, my father and mother

gave Baker Rock the foundation it needed to transition into the

next generation of leadership, and I was ready to take on the

challenge. I felt that collaborating with my father for over twenty

years had prepared me to take on the myriad responsibilities necessary

to manage the business and help it grow and develop into

the next level of success.

77
---
CHAPTER 9

Building Toward

the Future

I

am really proud of so many aspects of our business. Getting

into the asphalt business was a huge step for us. I take a lot

of pride in the fact that we were able to get it off the ground

and make it as successful as it has been. The development of the

asphalt business took a lot of effort on my part, because after

about four or five years, my dad began to phase out his involvement,

and I became the one who was primarily in charge of it.

Over the years I got involved in the state and national paving

associations, which have turned out to be very useful organizations

to be a part of. With the help of Jim and the rest of our

team, we were able to grow and expand this aspect of our business

to the point where we are now a force to be reckoned with.

In addition to ways in which we have grown the core components

of our business, we have found ways to be innovative

with reusing waste materials from our operation and turning

Facing page: Farmington Road asphalt plant in Beaverton, 1996

Above: Baker Rock truck

them into useful and profitable materials. There is a byproduct

of our crushing system called reject fill material, which is the first

portion of the rock that is bled off after it goes through the first

crusher. It is done that way because after it goes through the first

crusher there is some dirt mixed in with the aggregate as well as

some softer rock particles. We have to get rid of that material so

we can have the good hard stuff left to make asphalt rock. For

many years we sold that product, and then some of the government

agencies that were using it decided that they did not want

to use it anymore. As a result, that pile of material was building

up, and it was getting to the point where we did not know what

we would do with it. Through my urging, we turned it over to

Keith Peal. With Keith's lead, we were able to take that waste

material, add some lime, and mix it through a specific process in

order to turn it into a very viable, sellable retail product.

I pride myself on the fact that we stay at the forefront of

what is going on in the industry, and strive to be leaders in our

field. We have always been committed to having a voice within

111
---
purchase of our company and one other, but not to proceed with

any additional transactions. At this point, Jan and I had reviewed

everything and were ready to go ahead with the sale. However,

they wanted to make one change. They wanted to give us a letter

of credit for $3 million, and pay us 3.75 percent on the bank letter

for three years. I conferred with Jan, who said she did not like

the new proposal, but was willing to take it.

I began to feel uncertain about the arrangement. I had

figured out bonuses for all my employees, which I would not be

able to follow through on under this new arrangement. I went

back to the buyer and explained that I needed more security

than a bank letter of credit. I wanted the right to put a notice of

intent to lien on the property. That way, if they did not pay me at

the end of the three years, I could put a lien on it. They rejected

that proposal, and I in turn decided to refuse their offer.

They were still very interested in the purchase, and came back

a month later to ask me if I would change my mind. However,

they would not provide me with the security I had requested, so

again I turned them down.

The process of going through these negotiations provided the

opportunity for Jan and me to discuss our thoughts regarding the

future of the company and our involvement in it. Jan expressed

that her children, Chelsea and Jordan, were not interested in

becoming involved in the company. I knew that Todd was interested

in taking on more leadership in the company, and I had

decided that I was not ready to give up my own involvement. Jan

concluded that she was done being involved, and it made sense

for me to buy her out. We worked out the details, and I bought

out Jan's share of the company soon afterward in 2003. This

set the stage for Todd and me to begin thinking about the next

phase of growth and development for Baker Rock.

Transitioning into the Third

Generation of Leadership

I felt good about the decision to keep the company, even

though we had been planning on a different outcome. Todd had

affirmed that he was committed to the future of Baker Rock,

and was interested in furthering his involvement. Our employees

were thrilled that we were going to keep the company, and

relieved to regain a sense of job security for their futures.

It was soon after, toward the end of 2001, that Jim

approached me and recommended that I promote Todd to a

supervisor position. Jim said that it was time for Todd to be his

boss, and not the other way around. Jim was certain that Todd

was ready to be a leader within the company. When I spoke

with Todd after we got through the "almost-sale" and I had

proposed to buy Jan out of her share, I explained to him that it

would entail taking on a serious amount of debt. I told him that

this would mean a long-term commitment to the business on his

part. He was okay with that and ready to delve in.

Then I spoke to my employees. I explained that I had been

working for forty-plus years and that I was ready to start moving

away from some of that responsibility. There was a general

sentiment that it was time and that I very much deserved a

break. This set the wheels in motion for me to begin to transition

into retirement.

Easing into Retirement

In 2000, during the time when we put the business up for

sale, my wife, Dixie, and I moved to a condo in Vancouver,

Washington. After a few years there we decided to build a place

in Central Oregon as well. It took us about two years before we

finally found the property we wanted.

114
---
After having witnessed my dad's experience of transitioning

into retirement, I had some ideas of how I wanted

to ease into my own. My dad was really good about going

down to his farm in St. Paul and not sticking around the

plant to micromanage me. I knew that I needed to do the

same as Todd was beginning to take over. That was a big

impetus for moving to Central Oregon, and we finally

moved into our new place on Thanksgiving of 2006. Our

place is outside Sisters toward Redmond, near Smith Rock

and out in the country. We absolutely love it, and it was

a welcome change of pace from the busy life I had maintained

while running the company for so many years. We

live a very active retirement lifestyle, whether it is working

on our land or going out for a hike. We really enjoy the

climate and landscape of Central Oregon.

We also love to go on trips in our motorcoach, and we

spend much of our time traveling together. Dixie drives the

motorcoach just as well as I can, and we trade off on those

duties when we are out on the road. We always spend the

winters in Indio, California. While we are there, we love

spending time with our friends, riding motorcycles, attending

car shows and doing the things we truly enjoy.

Dixie was twenty-eight when we got married. I was

forty-two. We have thirteen years difference between us.

It was not a big deal when we got married, but it is a big

deal for Dixie now, and she is very focused on keeping me

active and healthy. We have worked hard over the years

to create a shared life and navigate the ups and downs of

having a blended family. We have been together now for

over twenty-nine years. We both are very happy to have the

opportunity to build this next phase of our lives together. Dixie and Gary T. Baker at the Baker Rock 40th Anniversary celebration, 1996

115
---
CHAPTER 10

Serving Our

Community

Community involvement has always been an integral part of

our family business. My parents were always very involved

in the community, on both a personal and professional level.

My mother was very involved in the activities that my sister and

I participated in when we were growing up, helping to support

programs for children in our neighborhood. My father

was a charter member of the Hillsboro Jaycees. When my

father joined, he immediately got involved in helping the city

of Hillsboro build a float for the Portland Rose Parade. In the

mid 1950s, National Geographic came out to do a big spread

about the Rose Parade in Portland, and the float that my parents

helped build for the Hillsboro Jaycees was featured in that

article. In the photograph you can see my parents riding on the

float, along with the couple who introduced them when they first

started dating. My parents were always very proud of that article.

Facing page: Irv and Louise Boyd with Dal and Gary Baker riding in a float they

helped to build for the Portland Rose Parade, 1955 Above: Dal and Gary Baker

From a fairly young age, my dad always encouraged me to

get involved with leadership organizations in our community.

Around the same time that I started back to work for our company,

I became a member of the Hillsboro Jaycees. My father

was able to see me take on leadership roles with the Jaycees,

overseeing successful projects and community endeavors. I imagine

that made him feel more comfortable about me managing

people and finances while serving as a leader in our company.

In many ways, I credit the Hillsboro Jaycees for my confidence,

success and effectiveness as a leader. Due in part to the incredibly

positive impact that my experiences with the Jaycees had on

my sense of self identity, I have always strongly encouraged my

employees to be actively involved in the community.

I also took a leadership class at the Hillsboro Chamber

of Commerce, one day a month over a nine-month period. I

enjoyed it so much that the next year I sponsored one of our

employees so they would have the opportunity to participate in

the class. Over the last fifteen years or so, we have sponsored

119
---
one of our employees each year to participate in this leadership

class. I have always felt that the benefit to the employees is well

worth the loss of their time one day a month, and the cost to

the company for them to attend. I have seen the results of the

relationships that were formed through their connections with

the Chamber of Commerce, enabling our participating employees

to be more deeply connected to community members and

organizations. Over the years, whenever a problem has come

up, without a doubt we have someone who knows someone

who knows someone, and we can always find a way to sit down

together and work it out.

In addition to our company's involvement with the Hillsboro

Chamber of Commerce and the Jaycees, many of our employees

have been very active in other community organizations and

professional associations. Jim Records was involved in several

public agencies and served on planning commissions and various

committees to work on Goal Five Resources. Goal Five is a broad

statewide planning goal that covers more than a dozen resources,

including wildlife habitats, historic places, and aggregate. Jim has

gone through many chair positions for different organizations

and has served as president of OCAPA, the Oregon Concrete

and Aggregate Producers Association.

Our longtime employee Keith Peal has served on the

Chamber of Commerce. He started out on the leadership committee,

eventually moved onto the board of directors, and then

served as Chamber President. For a number of years I was on

the Hillsboro Community Foundation board. Their mission is

to "promote and facilitate charitable giving in support of projects

and programs that enhance the quality of life in Hillsboro,"

and I was proud to be a part of it. For two years in a row, I also

served as president of the Asphalt Pavement Association of Gary A. and Dal in Yuma, Arizona, 1984

120
---
The Baker Family's Spirit of Charitable Giving

As told by Jan Baker-Carlson

My father, Gary, and my mom, Dal, really valued the importance

of giving back to their community, even during the early

years when our family business was just getting off the ground.

They had less than $20 to their names when they got married, yet

slowly they were able to find work and begin saving for their future

together. This eventually enabled them to buy a home, and begin

to create the life they had always wanted. They basically started

our family business from scratch, and all the while, they cultivated

an incredible sense of generosity through their charitable giving.

They believed in helping others, and that was instilled in them

throughout their childhoods, in part through the values relayed

in church. My paternal grandparents were strong churchgoers,

and my parents had been consistent church attendees during their

childhoods as well. So from a very young age, my brother and I

were taught the importance of giving back to others, and I cherish

that lesson.

In the 1950s, when my parents were raising my brother and

me, my dad, Gary, and my grandfather Harvey went to the

Hillsboro Chamber of Commerce and said that they felt like

their community needed an outdoor swimming pool. There was

no place for the children to go swimming in the summers, and

they wanted to change that. Having access to a community swimming

pool was so important to my dad when he was growing up

in Nebraska. Swimming in the local pool was one of the only

recreational activities available to children in their poor and rural

community, and as a result, many of his favorite childhood memories

centered on the time he spent at the pool during the summers.

Using the tools at their disposal from my parents' excavation

business, they volunteered to dig the pool themselves. Shortly after

they launched the project, other businesses in the area offered to

pour the concrete and do the additional tasks necessary for the

successful completion of the project. A child had to be seven years

old to go in the pool, and I was only six at the time they started

the project, so they decided to build a wading pool for younger

children as well. Once it was complete, Dad always referred to it as

"my pool." Even though I know it was not just for me, the wading

pool was always very special to me. Their efforts to build these

pools for our community left a big impression on me at that age.

That was my first memory of my parents' charitable giving.

Many years later, my mom decided to start the Dal L. Baker

Charitable Lead Trust. It means a lot to our family that the Trust

has been able to support many charitable organizations and

community projects throughout Washington County and the surrounding

counties, and has had such a significant impact on our

community. Generous and consistent giving has been a very strong

thread throughout our all of our lives. It is a good feeling when

you are able to give back to the communities like that — it feels like

you are giving someone a gift, but really, it is the best gift that you

can give to yourself, too.

Jan's Charitable Work in the Community

Inspired by my parents' spirit of generosity, charitable giving

and community involvement have always been very important to

me. Simply by living lives of generosity and integrity, they showed

121
---
An influential factor impacting the success of multigenerational

businesses is what each generation learns

from the previous generation. Respect, reciprocity,

honesty and direct communication have been guiding

principles within all of our business dealings from

the very beginning. I want to make sure that these core

values continue to be implemented in the day-to-day

operations of our company.

– Todd Baker
---
Part III

Three Generations

of Baker Rock

As told by Todd Baker
---
CHAPTER 11

Todd A. Baker,

a Legacy of Leadership

I

started coming to Baker Rock with my dad, Gary T., when

I was about seven years old. By the time I was about twelve,

I began working for our family business, though I did not work

directly with my dad. He held the philosophy that he never

wanted to be the supervisor of one of his children, so that meant

that I never worked under him. It was important to my dad to

focus on being a parent, and he did not want work dynamics to

come into conflict with that. When I was really young, I would

ride to work with my dad and then head over to the shop to find

out what I was going to be doing that day.

My early responsibilities included washing dump trucks, pulling

weeds around the office building, and sorting nuts and bolts.

On the wall we had — and still do — fifty bins with different sizes

of hardware. I would be in charge of a five-gallon bucket full of

nuts and bolts. I was given a little measuring tool and instructed

Facing page: Gary T. and Todd Baker at the Baker Rock 2020 Celebration, 2014

Above: Todd Baker, 2014

to stick the nut or bolt in the measuring tool to determine the

diameter and the length of it. Then I would select the correct

bin to place it in. My grandfather, Gary A., could do it visually,

without the tool, which impressed me immensely. He could just

look at the bolt and throw it in the correct bin. As a kid, that

seemed like a certain kind of magic.

That is how I started at Baker Rock, sorting hardware, working

around the shop, and cleaning and sweeping up. When I

turned thirteen years old, I was taught to run the loader by an

older guy, Bob, who worked for Baker Rock. He was probably

about sixty-five at the time, and he had quite a bit of experience.

I would come up on Saturdays and load trucks. We used to have

a huge amount of stockpiled reject material that towered about

seventy-five feet tall. There was a conveyor that ran up to the top

of the pile so we could continue to add more reject material. We

were responsible for picking the material up with a loader, taking

it to the other end of the pile, going up to the edge and dumping

it off. There was a berm around the edge of the pile where

141
---
Construction of the new Crushing Plant at the Farmington Quarry, 1994–1995

150
---
consultants to do traffic-impact studies, wetland studies, and

biological assessments, and I was sharing the oversight of those

studies with Jim.

Throughout that period from 1994 to 1996, I continued with

my responsibilities in the estimating department while simultaneously

pursuing these special projects with Jim. This was a real

boom time for Baker Rock. At a certain point we had to actually

limit how much material our existing customers could buy,

and we were unable to take on new customers. We were limiting

how much our customers could purchase each day, because if we

had our top five customers picking up their orders, they would

run us out of material by 10 a.m. We were running production

from 6 a.m. until 11 p.m., and then we were running a graveyard

maintenance shift. We were so busy and growing rapidly,

and everybody was working very hard and putting in long hours.

From 1993 to 1997, our trajectory of sales volume went from

900,000 tons to almost 1,800,000 tons, effectively doubling our

sales volume in less than four years.

We were hugely productive and successful, but we were also

being run to the bone. Everyone was exhausted. Tony Keller

came onboard about that time and became our first chief

financial officer, helping to manage the financial aspects of our

rapidly growing company. We had hired a consulting firm to

evaluate our business and management structure, and the consulting

team recommended that we bring a financial person on

board. Tony was one of the consultants who did the evaluation,

and when we posted the job, he submitted his name into the

pool, and we decided to hire him.

Shortly after Tony starting worked with us, in 1999, we

bought a concrete and asphalt plant in Scappoose. Tony recommended

that I go over there and run that operation as a

test to see how I would do. We purchased the plant for about

$650,000, so it was a low-risk test to see if I had the capability

of managing an operation of that scale. That was the first

acquisition I ever did.

I began working at the Scappoose site during the day. It was

during that time that Baker Rock got into the concrete business.

I was twenty-nine years old and did not know anything about

concrete. Most of the concrete drivers were older than I was,

and they had a lot more experience than I did in certain areas.

I was timid in the beginning, but over the two-year span that I

worked in Scappoose, I gained invaluable experience managing

people, as well as the confidence I needed to help me come into

my own as a leader.

I ran the operation in Scappoose until 2001, when I started

to take on more of a leadership role within Baker Rock. By

that point my father, Gary T., was spending more time away

from the office. In 2003, we were able to acquire the Burch

West Companies, which were composed of concrete, aggregate,

asphalt, and construction divisions. I was responsible for facilitating

that acquisition. Until that point, my title had been assistant

vice president, and then I became executive vice president. In

2008, I officially became president of Baker Rock.

Respect and Reciprocity

Both of my grandparents had a fundamental moral code of

respect and reciprocity in business, and I learned a good deal

from their example. When my grandparents were running the

business, it was standard practice at Baker Rock to make sure

the vendors and employees were paid, and then whatever was

left was used for food or other essentials for our family. All of my

family members have always been big proponents of honesty

151
---
CHAPTER 12

Growth & Change

I

am proud of a lot of things that have happened during my

time as a leader in the company. We have made a number of

significant acquisitions, including the small one in Scappoose in

1999, our first big one in McMinnville in 2003, Cobb Rock in

2010, and the most recent one, Oregon Mainline Paving in 2013.

2003 Asphalt Plant Acquisition

In 2003, around the same time that we completed the acquisition

of the Burch West Companies, we ended up buying a new

asphalt plant for our Farmington location to replace our existing

asphalt plant. We had never been able to grow our business out

of our old asphalt plant, because due to its size we could only

Facing page: Installation of new asphalt plant in Beaverton, 2003 (top and bottom

left), Todd Baker and Congressman Peter DeFazio with fellow contractors

announcing 1st stimulus program jobs (top right), New dumptruck (bottom right)

Above: Todd Baker

produce what we needed, and therefore were unable to service

outside customers' needs. We had heard some talk that there

was a finished asphalt plant being sold wholesale. Right before

Christmas, we called Cedarapids, the new plant manufacturer in

Oklahoma City. They informed us that they had built a plant for

a contractor in Florida who could not get his permits. It was the

exact plant that we were looking for, so we asked for a price on it.

They priced it at $1.9 million, while it was probably worth closer

to $2.1 million. We began negotiating on the price, and they

came down to $1.6 million, but we kept pushing. The day before

Christmas in 2002, they came back at $1.4 million. We signed

the deal and immediately started shipping the plant out here.

This acquisition was indicative of how Baker Rock aims to

do business — seeking out good deals and really being able to

take advantage of them, where it is still a win-win all around.

Maintaining that ability to act quickly on a deal is another

factor that has made us successful over the years. I learned

159
---
Aerial view of the Farmington Quarry, 2015

local agencies have allowed us to build a relationship where we

can go to each other to work out issues or ideas that ultimately

allow us to provide better service to the surrounding community.

I do not believe that my grandparents started their philanthropic

giving with any intention of getting anything back.

They were simply a part of the community, and they wanted

to thank the community for the success that the company had

experienced. At the time, there were a lot of privately owned

businesses. It was a small town, and everyone was involved in

everything. There were no credit checks back then. If someone

could not pay, they let you know and

then you worked something out with

them. There was trust and faith. There

was a sense of reciprocity and support.

My grandparent's desire to give back

came from their foundational relationship

with the community.

As our business grew, they realized

that it was successful not only because of

their business acumen, but in large part

because of their relationship with people

in the community. That relationship

has carried on through the generations.

For many of the people who have been

around in the community a long time,

that sense of personal relationship, of

shared commitment, is still intact.

If you look at a lot of longtime

family-owned businesses in this area,

the reason they are large property owners

is because they were successful and

smartly reinvested in the community. They all spend some of

what they have earned from the community reinvesting in the

community — and that has helped both the businesses and the

community to continue to develop and grow.

Future of the Business

In regards to the future of the business, I want us to be profitable

and to continue doing good work in the community. We

are ever evolving as a company. As we have continued to grow

over the last fifteen years, we have had a shift in management

174
---
style toward giving increased responsibility to our management

teams. Businesswise, my hope is that we continue to expand

in that direction. When there is more communication and

accountability with employees, we continue to foster that sense

of investment and ownership in relation to the work that we do.

I have been working to cultivate a sense that while the Baker

family may own the company, there is a team of people who

run it. I want everyone to get credit for their different roles in

building a successful business.

On an employee and a community level, we will continue to

strive to be a company where people have a safe and respectful

work environment, and can be assured that they can provide for

their families and feel good about what they do. We have been

working intently on developing communication and training

methods so that employees feel confident in their job security.

Personally, I am still finding the balance that makes me the

most comfortable in regards to the daily management of the

company. I want to continue to grow the business in an orderly,

strategic way. I also want to continue trusting in my team, sharing

responsibility, and working to sustain a thriving company.

I know that sustaining our business over time requires ongoing

adaptation. I see us continuing to operate in a close geographic

footprint. Maybe someday we will spread out from that, but for

now there are enough opportunities to keep us busy and close

to home.

It is unknown if there will be a fourth generation of leadership

in our family business. My children are still young, but by

the time they are twenty-five, I will be close to sixty years old. I

imagine that I will not want to be working sixty hours a week at

that point, and it is possible that my children may not want to

step into a leadership role in Baker Rock. So we will either have

to evolve as a company and have a person outside the family

running our operation, or come up with an alternative option

to keep the business going. It makes me sad to think that one

day I may be faced with the decision of having to potentially

sell our family business, but that also affirms for me how much

having a family business means to me. I feel very fortunate to

be able to build upon what my father and grandfather have

built, and to get up every day knowing that I am committed to

the work that we do.

I am excited about the future of the company.

The growth potential is palpable, and we are

enthusiastic about providing a stable future

for our employees. I know that we have a fair

amount of folks who are not at retirement age

yet, but who have five to fifteen years to go

before then. It is my hope that they will continue

to work for us, building upon the skills they have

developed and everything they have learned

from their experiences with the company. When

they do retire, it is important to us to continue

to bring in new employees who will want to

become long-term members of our team and

grow with the company in the years to come.

– Gary T. Baker

175
---
Acknowledgments

by Todd Baker

In August 2011, I was in Alaska with my father and seven

Baker Rock employees on a fishing trip. We were celebrating

their twenty-five-plus years of service with the company. One

night we were sitting around the campfire and the guys started

telling stories from when my grandparents ran the company. As I

listened I knew I needed to find a way to preserve the history of

our family business and all the people who have helped make it

what it is today.

Once we set the wheels in motion to create this book, my dad,

Gary T., and my aunt Jan were instrumental in bringing this

story to life. My dad spent countless hours participating in oral

history interviews, where he chronicled the history of our company

with thoughtfulness and insight. He is the bridge between

my grandfather's generation and my own, helping to link the

three generations of our story together. My aunt Jan also shared

her memories and stories of our family history through the oral

history process, honoring my grandparents' lives with her heartfelt

telling. Without their help, the story of Baker Rock would not

have been possible.

Thanks to Jim Records and Keith Peal for contributing their

personal memories and reflections on my grandparents and the

company. This process has also deepened my appreciation for

all the vendors and suppliers whose ongoing support has helped

Baker Rock Resources to grow and succeed. Lisa Kagan and her

team at Family Heirloom Arts played a pivotal role in helping

to bring all the pieces of this book together. Lisa's guidance and

leadership throughout the process have been invaluable.

Last but certainly not the least, I would like to thank all of the

men and women who have spent time working at Baker Rock

Resources. Their hard work and professionalism over the last

sixty years have provided the foundation for Baker Rock to not

only endure but to thrive.

177
---
Gary Todd Baker & Janice Colleen Baker

Great-grandparents

Harrison

Edward Baker

b. 11 Mar 1868

bp. Silver Creek, IL

d. 6 Oct 1941

dp. Greeley, CO

m. 29 Jul 1888

mp. Hebron, NE

Bertha Agnes

Davis Baker

b. 29 Apr 1871

bp. Cedar Rapids,

IA

d. 23 Sep 1932

dp. Greeley, CO

William Martin

Cruse

b. 5 May 1866

bp. Tazwells Co., IL

d. 1 Jun 1961

dp. Portland, OR

Elsie C. Cary

b. 1 Jun 1874

bp. Sterling, NE

d. 24 Sep 1966

dp. Hillsboro, OR

Melvin Huntley

Dally

b. 6 July 1860

bp. Roseville, IL

d. 10 Aug 1944

dp. Ravenna, NE

m. 4 Jul 1886

Olive Jane

Booth

b. 9 Jun 1868

bp. Leon, IA

d. 1956

dp. Ravenna, NE

Marion Ellsworth

Robertson

b. 21 Aug 1863

bp. Adams, IL

d. 8 Oct 1950

dp. Auburn, WA

m. abt 1888

mp. York, NE

Eudora E.

Rogers

b. 19 Jun 1869

bp. IA

d. 11 Oct 1956

dp. Norfolk, NE

Harvey Earl Baker

b. 21 Mar 1891

bp. Hebron, NE

d. 22 Mar 1960

dp. Hillsboro, OR

m. 8 Sep 1915

mp. Lincoln, NE

Ruth Evelyn Cruse

b. 11 Jan 1893

bp. Burchard, NE

d. 1 Aug 1989

dp. Hillsboro, OR

Walter Glen Dally

b. 13 Sep 1887

bp. Seward, NE

d. 13 Jul 1969

dp. Bridgeport, NE

m. 11 May 1907

mp. Lincoln, NE

Wilma Opal

Robertson

b. 11 May 1888

bp. NE

d. 24 Aug 1987

dp. Vancouver, WA

Gerald Allen Baker

b. 7 Apr 1917

bp. Guiderock, NE

d. 19 Jan 1991

dp. Yuma, AZ

Violet Dally

b. 28 Mar 1918

bp. Scottsbluff, NE

d. 9 Aug 2003

dp. Hillsboro, OR

Gary Todd Baker

b. 26 Apr 1942

bp. Longview, WA

Janice Colleen Baker

b. 23 Sep 1946

bp. Forest Grove, OR

178
---
Gerald Allen Baker & Violet Dally

Descendants

Gerald Allen Baker

b. 7 Apr 1917

bp. Guiderock, NE

d. 19 Jan 1991

dp. Yuma, AZ

& Violet Dally

b. 28 Mar 1918

bp. Scottsbluff, NE

d. 9 Aug 2003

dp. Hillsboro, OR

m. 17 Dec 1938

mp. Harrisburg, NE

Gary Todd Baker

b. 26 Apr 1942

bp. Longview, WA

& Kathie Ann Prince

b. 7 Jun 1946

bp. Portland, OR

m. 6 Jun 1968

mp. Portland, OR

Gary Todd Baker

b. 26 Apr 1942

bp. Longview, WA

& Dixie Lee Peterson

b. 6 Aug 1955

bp. Portland, OR

m. 30 Jul 1990

mp. Washington Co., OR

Todd Allen Baker

b. 7 Jul 1970

bp. Portland, OR

& Nicole Angela Postlewait

b. 9 Apr 1973

bp. Portland, OR

m. 12 Sep 1998

mp. Portland, OR

Meredith Ann Baker

b. 21 Aug 1973

bp. Portland, OR

Vincent Phillup Ramirez

b. 20 Jul 1977

bp. Portland, OR

& Christina Theresa Allan

b. 8 Dec 1983

bp. Tacoma, WA

m. 28 May 2006

mp. Wenatchee, WA

Rigoberto Jesus Ramirez

b. 8 Feb 1983

bp. Portland, OR

Madison Angela Baker

b. 14 Mar 2001

bp. Portland, OR

Lauren Ann Baker

b. 19 Jan 2004

bp. Portland, OR

Samantha Marie

(Ramirez) Wimbles

b. 13 Nov 2006

bp. Wenatchee, WA

Janice Colleen Baker

b. 23 Sep 1946

bp. Forest Grove, OR

& Fred Carlson

b. 8 Sep 1953

bp. Stuttgart, Germany

m. 8 Jan 1982

mp. Hillsboro, OR

Stephanie Ann Carlson

b. 4 Sep 1973

bp. Portland, OR

Chelsea Colleen Carlson

b. 27 Oct 1982

bp. Portland, OR

& Mark Anthony Hudzinski

b. 10 Nov 1982

bp. Madison, WI

m. 7 Aug 2004

mp. Washington Co., OR

Jordan Anthony Carlson

b. 11 Sep 1986

bp. Portland, OR

Brendan Couture

b. 9 Jun 2004

bp. Portland, OR

Jocelyn Colleen

Hudzinski

b. 18 Jul 2011

bp. Portland, OR

Camden Anthony

Hudzinski

b. 3 Mar 2014

bp. Portland, OR

179