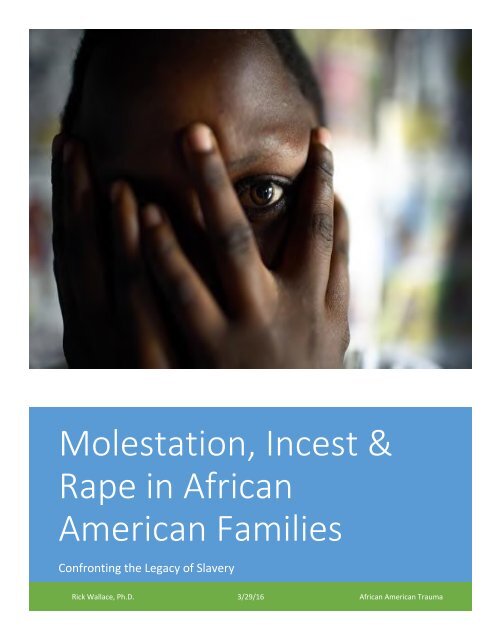 Molestation, Incest and Rape in African American Families
While the subject of child molestation and incest remain a taboo topic, within the African American collective, its prevalence and impact can no longer be ignored. When perusing psychology textbooks on incest and molestation, especially the older ones, it is easy for a psychology student to develop an impression that molestation, incest and rape within the family environment is extremely rare; however, when engaging professional therapists (psychiatrists, psychologist, cognitive therapists, etc.) on the matter, it becomes obvious that this type of trauma is immensely prevalent, but that it also has an immense impact on the long-term success of the victim. The purpose of this brief treatise on this particular topic is to expand the superficial knowledge on the subject, while illuminating the manner in which this type of trauma can negatively impact the life of the victim and those within their periphery.
While the subject of child molestation and incest remain a taboo topic, within the African American collective, its prevalence and impact can no longer be ignored. When perusing psychology textbooks on incest and molestation, especially the older ones, it is easy for a psychology student to develop an impression that molestation, incest and rape within the family environment is extremely rare; however, when engaging professional therapists (psychiatrists, psychologist, cognitive therapists, etc.) on the matter, it becomes obvious that this type of trauma is immensely prevalent, but that it also has an immense impact on the long-term success of the victim. The purpose of this brief treatise on this particular topic is to expand the superficial knowledge on the subject, while illuminating the manner in which this type of trauma can negatively impact the life of the victim and those within their periphery.
SHOW MORE
SHOW LESS
Create successful ePaper yourself
Turn your PDF publications into a flip-book with our unique Google optimized e-Paper software.
Molestation, Incest &

Rape in African

American Families

Confronting the Legacy of Slavery

Rick Wallace, Ph.D. 3/29/16 African American Trauma
---
Molestation, Incest & the African American Family

The Odyssey Project

Research and Advisory Council

By

Dr. Rick Wallace, Ph.D.

Copyright © 2016 by Rick Wallace
---
Executive Statement

While the idea of scientific research is to eliminate the proclivity to view facts through the lens

of bias, I must admit that this is a topic that challenges me like no other when it comes to bias.

As a research psychologist and a clinical therapist, I am completely cognizant of the pathological

principles and concepts of psychology that explain the behavior of a pedophile; however, being

the father of four daughters, and having to engage the immense responsibility of protecting them

at the different stages of their lives, I am torn between what I know academically and what I am

convinced of experientially. Although all forms of pedophilia are extremely heinous, fatherdaughter

incest, to me, is the greatest violation of human sanctity possible, followed closely by

father-son incest.

While this particular paper is meant to focus on the empirical evidence associated with incest in

the African American Community. I have deemed it necessary to indulge the need to escape

academic rigidity, to some extent, for the purpose of allowing the reader to make the connection

to what they read in a manner that allows them to identify with the problem on a level that

motivates them to become involved and take action. This paper is not written with my academic

peers in mind as much as it is written with the idea of providing elucidation to a highly complex

and pernicious force within the black community.

The black community is suffering in the area of unity, especially when it comes to the

relationship between the black man and the black woman, and a significant portion of this

dissension can be traced along the line of distrust to the early years of young girls who were

sexually violated by men they should have been able to trust to protect them. Men who shared

the same bloodline — in many cases, these men were their fathers, brothers and uncles. These

abusive encounters led to the development of psychoneurotic behavior, such as elevated anxiety

levels, issues with trusting men, an increased sense of distress and the development of an overall

deficit in functionality.

I am hoping that this paper will bridge the gap between science, compassion and common sense.

~ Dr. Rick Wallace, Ph.D., Founder-CEO, The Odyssey Project

Abstract

While the subject of child molestation and incest remains a taboo topic within the African

American collective, its prevalence and impact can no longer be ignored. When perusing

psychology textbooks on incest and molestation, especially the older ones, it is easy for a

psychology student to develop an impression that molestation, incest and rape within the

family environment is extremely rare; however, when engaging professional therapists

(psychiatrists, psychologist, cognitive therapists, etc.) on the matter, it becomes obvious that

this type of trauma is not only immensely prevalent, but that it also has an immense impact on

the long-term success of the victim. The purpose of this brief treatise on this particular topic is

to expand the superficial knowledge on the subject, while illuminating the manner in which

this type of trauma can negatively impact the life of the victim and those within their
---
periphery. This is not a comprehensive examination of the serious subsequent

psychopathologies that occur during and after incest, molestation and rape. This paper

focuses primarily on the topic as it impacts the African American collective; therefore, the

mention of non-Black groups will be for the sole purpose of juxtaposed comparisons. This

paper endeavors to respond to the inquiry into the prevalence and impact of incest,

molestation and rape in African American families, the behavior that facilitates it, and the

proper response.

Introduction

A substantial portion of the nearly 50,000 hours of research that I have conducted over the last

20 years has been focused on three primary areas in which the African American collective

continues to struggle — education, mental illness and trauma (Wallace, 2015; Wallace, 2016;

Wallace, 2016; Wallace, 2016). When it comes to the complex dynamic of trauma, not only in

the distinct ways that it is experienced by African Americans, but in the numerous ways in which

trauma can be transmitted intergenerationally (Kahane-Nissenbaum, 2011; Kolk B. A., 2001;

Kolk B. V., 2014; DeGruy, 2005; Akbar, 1976), it is imperative to gain a lucid perspicacity of

how the trauma impacts all of those involved.

While there are multitudinous ways through which a person can be traumatized, without

question, one of the most prevalent and devastating forms of trauma is physical abuse, and of all

forms of physical abuse, those of a sexual nature are most nefarious, especially when the trauma

is experienced at the hands of a person who the victim should be able to trust to protect them

from that very type of behavior.

When I began counseling individuals, couples and families, years ago, I became overwhelmed by

the number of people who eventually admitted to being sexually abused, in some way, as a child.

This was especially true when it came to female clients. While psychology and psychiatry

textbooks are more accurate in their reflection of sexual abuse of minors in contemporary

literature, this has not always been the case. During this initial epiphany, the textbooks were still

minimizing the prevalence of child sex abuse. To be fair, it was not all a part of a nefarious and

sinister plan to cover up child molestation; it was more of a combination of the failure of victims

and their families to report the abuse. Minors depend on their parents and other adults, who are

close to them, to be their advocates — speaking up for and defending them in situations in which

they are unable to defend themselves. Unfortunately, many times, the person that should be their

greatest advocate is actually the person who is violating them. The underreporting of the abuse

led to a lack of urgency in confronting the issue on a grand scale. Actually, in many cases, the

family spent more energy and effort protecting and defending the perpetrator than they did the

victim.

During the early 1980s, the widely accepted view on incest, despite being immensely pestiferous

in its assertion of mitigated impact, declared that there was no conclusive empirical data to

support the theory that father-daughter incest was capable of producing serious subsequent

psychopathology (Kolk B. V., 2014).
---
What I can tell you from experience, and consulting other professional therapists, is that females

who are victims of father-daughter incest rarely escape their traumatic experience without the

development of some form of trauma-related subsequent psychopathology. In fact, these women

are often significantly confused, depressed and consistently engaged in self-harming behaviors,

including promiscuity, cutting themselves, illicit drug use and more.

What troubles me is the fact that the textbooks that were printed in the 1980s into the early 90s

did everything short of endorsing incest, offering an explanation that incestuous behavior worked

to diminish the subject's chance of psychosis and created the ability for the victim to better adjust

to their external world (Henderson, 1974). Unfortunately, since these books were originally

published, a wealth of empirical and pragmatic evidence has been produced that reveals that

incest has caused extremely devastating effects on the well-being of women.

What we know now is that women who are survivors of incest experience many of the same

symptoms of soldiers who develop post-traumatic stress disorder. They have flashbacks of the

traumatic event(s). They develop a higher risk of frequent nightmares. Another pronounced

effect of incest is the capriciousness as far as emotional well-being is concerned, with these

women often vacillating between explosive rage and completely shutting down. Additionally,

incest survivors have difficulty getting along with others, and they struggle in the area of

maintaining meaningful relationships (Kolk B. V., 2014)

Although PTSD was a psychological diagnosis that was largely developed based on the behavior

of post-war veterans, it should be understood that people who experience many other forms of

trauma display the same symptoms (Kolk B. V., 2014). It is also important to understand the

prevalence of trauma is greater among the private sector than it is among soldiers, based solely

on the number of people being traumatized. In fact, more accurate reporting shows that more

than 12 million women in the United States have been raped, and to exacerbate the matter, more

than half of female victims of rape are below the age of 15 (Kilpatrick & Saunders, 1997). What

we know is that each year in the United States, three million cases of child abuse are reported,

and a minimum of one million of these cases are serious and credible enough to warrant action

by child protective services and the courts (Services, 2007, 2009).

While the topic of child victimization is broad and filled with an exorbitant number of

intricacies, I would like to focus on the devastating force of incest, the manner in which it is

often concealed by family members, the impact it has on the victims and ways that we can

effectively confront this plague.

Problem Statement

Prior to 20 years ago, incest among black families was rarely reported in correspondence to the

prevalence of incestuous activity within the black community. Simply put, the incestuous activity

within the black community was much higher than anyone was willing to admit. Since slavery,

incest has been a substantial issue that has been swept under the rug, it has consistently played

the role of the elephant in the room. While a constant narrative has been written in which

pedophiles have been portrayed as the clean cut white, middle-aged man, or a member of the

catholic clergy, the truth is that many black children don't have to venture out of their homes to
---
e at risk of being sexually abused. As the lid is slowly unscrewed and removed, it is becoming

more apparent that sexual perversion and incest is alive and well within the black community. In

fact, a study revealed that black women are 1.75 times more likely to have experienced Child

Sexual Abuse (CSA) than white women who grew up in a two-parent household (Amodeo,

Griffin, Fassler, Clay, & Ellis, 2006). What was interesting is the fact that a mother working long

hours, or the presence of a stepfather, did not increase the risk of CSA.

There is a pathological behavior within the black community that is a direct result of chattel

slavery — the inexplicable need for the black woman to protect the black male (Pollard-Terry,

2004; Doane & Hodges, 2009). In the sense of culture, the black race is the only major racial

group that functions primarily as a matriarchy, meaning that there are more homes with children

that are under the leadership of women than there are homes with families under the leadership

of men (Doane & Hodges, 2009). The narrative that has endured for far too long is the idea that

sexually aberrant behavior, is the result of the aberrant nature of a female led household

(Moynihan, 1965). Daniel Patrick Moynihan, in his 1965 report on the black family entitled, The

Negro Family: A Case for National Action, while having some immensely valid points,

presented the erroneous assertion that the black family is the "center of the tangle of pathology,"

with a weak family structure (meaning that the family was headed by a female) (Moynihan,

1965).

While I will concede that the failure for the black family nucleus to sustain the proper balance

and role assignment has contributed to the current state of confusion and disarray in the black

collective, I must strongly suggest that we examine the deeper, underlying causes for the

behaviors that produced the imbalance in the first place. While the lack of male leadership has

created its own set of challenges, it is not exclusively culpable for the aberrant behavior that

takes place in black families.

When it comes to the culture of silence within the black community that casts a veneer over the

perverted proclivities of many black men to sexually violate the children in their family, one

must be willing to trace the desire and need of the African American female to protect the black

man. The African American community has an old adage that states: "Black women raise their

daughters and love their sons." What this means is that black women, during slavery, developed

a proclivity to rear and teach their daughters, but conversely, they sheltered and protected their

sons. Since the arrival of the first slave ship on the shores of the North American continent, there

has been no person or group that has been consistently under the threat of harm and death at the

level of the black man. This has lead black women to be more inclined to coddle boys and more

reluctant to report incest and rape perpetuated by black men (Pollard-Terry, 2004).

It is important to note here that while I am pointing to behavior that is highly detrimental to the

effective empowerment of our youth and our people in general, I am not aligning myself with the

idea of mainstream psychology and sociology in its assertion that family structure is the sole

cause of economic castration, socioeconomic dysfunctionality and aberrant, antisocial and

inadequate behavior among African Americans. When this much gravity is placed on the family

structure in determining the causality of the social and economic marginality of poor black

families, the more distant cause of slavery (including its aftermath) is virtually ignored (Doane &
---
Hodges, 2009). When we succumb to this suggestion, the result of this type of occlusion of the

traumatic reality of chattel slavery in the U.S. leads to a situation in which the African American

family becomes the place where the victims of racism and slavery are ambiguously adumbrated

as their own victimizers. While it is imperative that we develop an understanding of the need for

accountability as it pertains to effectively addressing the issue of incest and rape in the African

American community, we must not allow ourselves to lose sight of the causality of the aberrant

behavior of African American men in the first place.

While the defense of a child predator should not be acceptable, under any circumstance, it is

important to understand why it is so prevalent in the African American collective. While the

reluctance of Black women to report incestuous behavior by Black men may appear to be a freepass,

what it reflects most is the major distrust that black women have toward white male

authority figures — which can be viewed as an extension of white slave masters and overseers.

In an environment in which sharing the illegal behavior of a loved one with the authorities can

possibly lead to their death, black women balk at the opportunity and responsibility to report

incestuous behavior. This inherent circumspection of white authority that is learned from old

stories shared with the family, portraits of white lynch mobs or the explanation of how that

extremely light-skinned cousin came to be. In the eyes of the black women, she and her family

have been victimized far more frequently by the white power structure than by the black men in

the family.

It is also important to understand that black women have been forced to come to the aid of black

men who were wrongfully accused of sexual assault for years. This can best be illustrated by

evaluating the facts associated with the Rosewood Massacre. While it is hard to believe, what

was ultimately presented in the form of a motion picture, was true African American history,

uncensored. This was not just another movie; it was a retelling of a historical event. In 1923, a

white woman falsely claimed that she was attacked by a black man, and that false claim led to

the massacre of blacks and the complete obliteration of a black town. Unfortunately, this type of

behavior among whites towards African Americans has been more common than anyone really

cares to admit.

It has been this type of hostile behavior on the part of white authority figures, conjoined with

other underlying factors that has led to an elevated level of distrust that makes it difficult for

black women to report incest to the authorities.

It has also been postulated and hypothesized that silent condonation of incest within the black

family can be contributed to a developed behavior during slavery to silently condone the liaisons

between white fathers (slave masters and overseers) who saw their brown reflections in

daughters they conceived with black slaves — yet, choosing to procreate with their brown

offspring. It has been suggested that it became more psychologically plausible for African

American women that such liaisons could also occur between the black father and his female

progeny (Fenton, 2012).

With that being said, there is no excuse for not holding the black men who commit these

atrocious acts responsible for their behavior.
---
The Dangers and Consequences of Incest and Rape

Although early textbooks that explored the impact of father-daughter incest, suggested that there

was minimal risk of developing subsequent psychopathologies, we now know that, at the very

least, the victims of incest are likely to develop psychoneurosis, which has the capacity to

immensely limit their ability to function in society.

Fortunately, there is a growing wealth of empirical data that suggests that adults who were

abused as kids do not have an increased proclivity to behave violently against their own progeny

(Staff, 2016; Whitener, 2015). The findings of this large-scale, long-term study of child abuse

contradict certain aspects of the long-standing "cycle of violence" theory, which suggests that a

child who is abused is more likely to abuse their children than a person who was not abused as a

child. However, we still have to understand how this behavior impacts us as a group.

The disintegrating relationship between African American women and African American men

has been a hotly debated subject for a number of years, with an almost innate distrust of Black

men by Black women being at the core of the discussion.

I remember having a talk with a close female friend nearly four years ago. The topic was the use

of the term "bitter black woman." During this time, despite being a staunch defender of the honor

of the black woman despite her consistent hostile behavior toward the black man, I have become

frustrated with the level of what I considered to be the contempt of the black woman, aimed at

the black man. The response that I received from this person, who functions as a counselor for

traumatized African American women, speaks emphatically to the issue here:

"You have to be aware of the underlying cause of the mindset that produces this

seemingly inherent hostility toward black men. There is no person on the face of the earth

who has experienced the level of abandonment that the black woman has. No person has

experienced incest and rape at the level of the black woman. No woman has been driven

to defend a man who, in turn, emotionally emaciates them like the black woman. No

woman has been forced to raise the progeny of a man who left her to fulfill the

responsibility of parenting on her own like the black woman. Rick, she is angry because

she is alone and hurting."

What I do not intend for this paper to do is take the traditional path of inciting emotional

responses that lead to nothing but more confusion and frustration. In the process of

acknowledging that there is a problem with incestuous behavior in black families, there must be

a focused and strategic plan of action. We must be willing to address the psychosocial and

behavioral sequelae of this phenomenon within the black family structure (Thornton & MSW,

1986).

Treatment and Effective Intervention

To this point, very little attention has been given to incest among black families and the attendant

treatment issues. Herman and Hirschman (Herman & Hirschman, 1981) suggested that part of

the problem may rest in the fact that society postulates that incest is not a prevalent issue in black

families; however, while this belief may explain the lack of proactivity from non-blacks, it does
---
not account for the inability of black families to address what they know to be an issue. Another

question that must be answered is: Are sanctions against incestuous behavior being strictly

enforced in black families. And yet, another consideration is that the omission of any discussion

surrounding incest among African Americans is directly influenced by the misconceptions and

myths associated with black family interactions and psychopathology (Lyles & Carter, 1982;

Carter, 1978). When it comes to the examination of incest in the black family, it can be easy for

non-black researchers to view this behavior through the paradigm that is preoccupied with the

sexual prowess of the black man, focusing on a belief that can be traced as far back as the 16 th

century, when black men were described by Englishmen as being unrestrained in their sexual

lusts (Staples, 1978).

Characteristics of Incestuous Families

One area in which we must improve is being able to identify incestuous situations. In order for

this to happen, we must understand the basic characteristics of an incestuous family.

The Family (In General)

Character disordered family (the axiological system is out of alignment, lacking the core

values to guard against malevolent behavior)

Acting out behavior

Poor impulse control (The inability to control impulses is a key element in the

development of the proclivity to molest children.)

The proclivity to use behavior as a substitute for verbal communication (The inability to

effectively express feelings and thoughts coherently)

Increased risk of family violence (With violence being a chosen mechanism for settling

disputes and maintaining authoritative control)

The members of the family tend to foster narcissistic, self-absorbed personalities (A

family full of people who are primarily concerned only about themselves)

Appearance of respectability

A demand of respect by the hierarchy (Primarily the parents)

Family unity is usually highly galvanized, although this is normally accomplished

through pathological bonds, creating a strong tendency to reconnect when separate.)

The presence of extremely rigid boundaries and roles, especially along the lines of sex;

however, the generational lines and roles a generally obscured.

Extremes in expectations and behaviors (either very permissive, or highly repressive)

around family values and sexual conduct

The Abusive Parent

Hyper-controlling and overly restrictive

Disciplines members in the family excessively

Compliant women

Struggles with impulse control

The high incidence of alcohol use (often using alcohol as a form of self-medication)
---
Deny any accusations emphatically

The tendency to project blame toward the children in the family and the spouse

Tends to avoid responsibility by minimizing the severity of their behavior

May acknowledge the consequences of their behavior, but will attribute them to an

external force, and not themselves

Non-abusive Parent

Type 1: Passive, Dependent Personality (most common)

Reverses role with the child (with the child functioning more like the adult in the

relationship)

Their dependency of the abusive spouse requires that they ignore any signs of their

spouse abusing their child, tending to believe the spouse over the child.

Highly incapacitated or frequently away from the home

Complains about fatigue and the lack of energy

Depressive

Type 2: Strong, Independent Personality

Less dependent on mate

Possesses the verbal ability to express ambivalence toward child and rage toward a

spouse

Throws spouse out

* (Gaye, 1983; Thornton & MSW, 1986)

Developing Effective Treatment and Intervention Strategies and Plans

When examining the corollaries of incest in African American families there are some common

pathologies that must be addressed, but first the automatic response upon discovering an

incestuous situation is to take the necessary action to get the abusive parent out of the home.

Upon getting the perpetrator out of the home, we must then engage the dynamic responsible for

creating an environment where such a heinous act could take place. The development of an

incestuous environment is not an abstract or inexplicable occurrence — regardless of how many

family members profess that they had no idea of what was taking place. There is a distinct

pathology that should lead to questions and examinations of the situation (Thornton & MSW,

1986).

Some pathological behaviors associated with the fostering of an incestuous environment include

role and boundary confusion, poor impulse control — functioning as an expression of the

offender's emotional dependency and unmet physical and emotional needs. It is surprising that in

most cases, neither parent admits to being abused as a child, but they both tend to share a chaotic

background, especially in their childhood years — lacking healthy male and female role models.

Another area of difficulty in effectively confronting this issue is the inherent distrust between

African Americans and Child Protective Services. Without the consistent, appropriate and timely
---
investigation of incestuous situations by CPS, it is virtually impossible to prescribe effective

treatment programs and plans. The reason that immediate treatment is important is that failing to

address the issue will place another generation at risk of living out that same behavior, and on a

grander scale, it produces another generation of traumatized African Americans that are

incapable of functioning at a high enough level to raise themselves out of the pit of despair.

As far as the victim is concerned, the idea is to assist them with overcoming their pathological

dependency upon the family (especially the abuser), while helping them develop healthy and

appropriate peer relationships, improving their self-concept (self-image) — ultimately leading to

elevated self-esteem.

We must also engage the family, because although other members may have not been directly

victimized, they can still be traumatized, or they could develop the proclivity to victimize others.

Conclusion

Incest and child molestation within the black collective has been met with silent condonation for

far too long. As a race that has yet to confront a number of mental disorders, such as depression,

bi-polar disorder and numerous dissociative disorders, we cannot allow our lethargy and

insensitivity to the reality of incest to constantly produce women and men who are suffering

from psychoneurosis at varying levels. While we fight to develop more effective ways to

intervene and treat this epidemic, we have to understand that prevention will prove significantly

more efficacious in righting the ship.

We must develop a mentality that places great gravity on the protection of our children, and we

must respond with passion and commitment to the need to solve this enigmatic issue.

Additionally, while we must work hard to save our youth, we cannot lose sight of the fact that

many of our women are suffering from the direct psychological and neurological effects of

incest, and instead of throwing them a lifeline, we judge them, we ostracize them or we simply

pretend that they don't exist. It is time that we own this legacy of slavery and respond to it in a

manner that helps the collective to heal.

By

Dr. Rick Wallace, Ph.D.
---
Other Resources by Dr. Rick Wallace include:

The Mis-education of Black Youth in America

The Invisible Father: Reversing the Curse of a Fatherless Generation

When Your House is Not a Home

Renewing Your Mind

Visit The Odyssey Project Site Here

The Blueprint 1.0

Special Education Position Paper

Racial Trauma & African Americans

Over the past 20 years, Dr. Wallace has invested more than

48,000 hours of research into understanding the scientific

implications of white supremacy and how they have directly

impacted African Americans in all nine areas of human

activity, which include economics, education, entertainment,

labor, law, politics, religion, sex and war. He has spent a

substantial amount of time attempting to answer the question

of why blacks seem incapable of overcoming the barrier of

racism despite the fact that the solution has been placed

before them.

The preponderance of the evidence that Dr. Wallace has

examined has provided him with a lucid perspicacity of the complex dynamic at play — a

dynamic that includes psychological, sociological, economic and political oppression

that is executed through multitudinous pernicious machinations. He has used this

information to develop what he calls The Black Community Empowerment Blueprint

1.0. This blueprint is a comprehensive strategy that addresses every area of concern for

the black collective in great detail. Dr. Wallace has also disseminated his findings in a

number of literary works, including his latest book, The Mis-education of Black Youth in

America.

Currently, Dr. Wallace is moving into the second phase of his research, transitioning

from inductive research to deductive research for the purpose of advancing and
---
introducing certain scientific theories associated with the African American experience.

To this date, Dr. Wallace's research has proven to be immensely valuable, as he develops

social programs to counter external influences, lectures to African Americans across the

nation and develops a comprehensive blueprint capable of facilitating

the complete elevation and empowerment of African Americans, as well as the complete

diaspora in time, but the cost of research can be quite exorbitant, especially when he is

investing between 55-85 hours per week.

To this point, all funding has been covered by Dr. Wallace himself. He is currently

seeking research funding, but due to the specific focus of his research, traditional

channels, such as government, academic and private grants are not an option. While he

currently has a couple interested sponsors, both of them are non-blacks, which speaks

volumes. While Dr. Wallace has committed to proceeding at all cost, the support of the

community and people he is fighting for will prove highly beneficial in multitudinous

ways.

To contribute to his work through The Odyssey Project, Click here!
---
Bibliography

Akbar, N. (1976). Chains and Images of Psychological Slavery. Tallahassee, FL: Mind

Publications & Associates, Inc. .

Amodeo, M., Griffin, M. L., Fassler, I. R., Clay, C. M., & Ellis, M. A. (2006). Child Sexual

Abuse Among Black Women and White Women form Two-Parent Families. Child

Maltreatment.

Carter, J. H. (1978). Treating Black Patients: The Risksof Ignoring Critical Social Issues.

Hospital of Cummunity Psychiatry.

DeGruy, J. (2005). Post Traumatic Slave Syndrome: America's Legacy of Enduring Injury and

Healing. Portland, OR: Uptone Press.

Doane, J., & Hodges, D. (2009). Telling Incest: Narratives of Dangerous Remembering from

Stein to Sapphire. The University of Michigan Press.

Fenton, Z. E. (2012). An Essay on Slavery's Hidden Legacy: Social Hysterical and Structural

Condonation of Incest. Howard Law Journal.

Gaye, S. (1983). Community-based Child Sexual Abuse Treatment Program. Wake County Drug

Treatment Center.

Henderson, D. J. (1974). "Incest". Baltimore, MD: Williams & Wilkins.

Herman, J., & Hirschman, L. (1981). Families at Risk for Father-Daughter Incest. Am J.

Pyschiatry.

Kahane-Nissenbaum, M. C. (2011). Exploring Intergenerational Transmission of Trauma in

Third Generation Holocaust Survivors. University of Pennsylvania Scholarly Commons.

Kilpatrick, D. G., & Saunders, B. E. (1997). Prevalence and Consequences of Child

Victimization: Results from the National Survey of Adolescents. National Crime Victims

Research and Treatment Center, Department of Psychiatry and Behavioral Sciences,

Medical University of South Carolina.

Kolk, B. A. (2001). Exploring the Nature of Traumatic Memory: Combining Clinical Knowledge

with Laboratory Methods. Trauma and Cognitive Science Haworth Press, Inc.

Kolk, B. V. (2014). The Body Keeps the Score. New York: Penguin Publishers.

Lyles, M. R., & Carter, J. H. (1982). Myths and Strengths of the Black Family: A Historical and

Sociological Contribution to Family Therapy. National Medical Association.

Moynihan, D. P. (1965). The Negro Family: A Case for National Action. Washington D.C.:

Office of Policy Planning, The U.S. Department of Labor.
---
Pollard-Terry, G. (2004, July 4). For African American Rape Victims, A Culture of Silence. Los

Angeles Times.

Services, U. S. (2007, 2009). Child Maltreatment. Admiistration of Children, Youth and

Families.

Staff, E. (2016). Child Abuse and Neglect Statistics. American Humane Association.

Staples, R. (1978). Masculinity and Race: The Dual Dilemma of Black men. Social Issues.

Thornton, C. I., & MSW, J. H. (1986). Treatment Considerations with Black Incestuous

Families. Journal of National Medical Association .

Wallace, R. (2015). The Miseducation of Black Youth in America: The Final Move on the Grand

Chessboard. Etteloc Publishing.

Wallace, R. (2016). "Special Education" as a Mechanism for the Mis-education of African

American Youth. The Odyssey Project .

Wallace, R. (2016). Epigenetics & Psychology: The Genetic Intergenerational Transmission of

Trauma. The Odyssey Project.

Wallace, R. (2016). Racial Trauma & African Americans. The Odyssey Project.

Whitener, B. (2015). Adults Physically Abused as Children Not More Likely to Physically

Abused Their Children. National Institutes of Health.