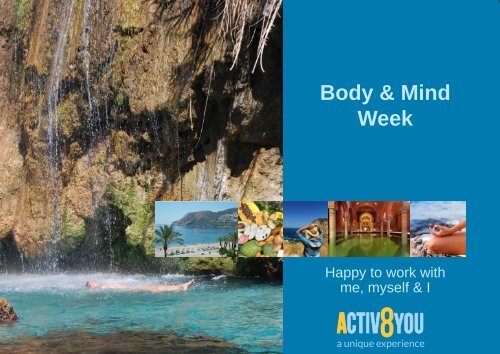 Body&Mind week, Happy to work with me, myself, & I
A week for you in Costa Tropical in Spain, each day offers a balanced variety of a seminar, yoga & meditation classes, healthy food preparation, cultural excursions or sporty activities, fun & enjoyment.
A week for you in Costa Tropical in Spain, each day offers a balanced variety of a seminar, yoga & meditation classes, healthy food preparation, cultural excursions or sporty activities, fun & enjoyment.
SHOW MORE
SHOW LESS
You also want an ePaper? Increase the reach of your titles
YUMPU automatically turns print PDFs into web optimized ePapers that Google loves.
A

Body & Mind

Week

Happy to work with

me, myself & I

a unique experience
---
HAPPY TO WORK WITH ME, MYSELF & I

Many of us, at some point in our lives, wake up saying :

"What on earth am I doing?..", "Is this what I want from life..?"

For some, this moment may come when a shocking event or health scare shakes their world.

Some may wake up from their seemingly perfect routine feeling that their life just isn't theirs,

for other it may be a mid-life crisis. Whatever the trigger may be - this moment does not have

to be a crisis,... instead, an enlightenment, or an opportunity to come closer to your own

needs, dreams and desires.

This week offers the opportunity for a maximum of 14 ladies, through seminars, yoga &

meditation, workshops and delicious healthy food to experience peace, space and joy, in a

beautiful village on the Tropical coast of Granada, Andalusia.

We will introduce you to techniques in a simple & pleasant manner to become true to your

inner self and in harmony with your body & mind, and most importantly how to maintain the

new "Me Myself & I" amidst a daily routine of household , work, relationships and social fun.
---
YOGA & MEDITATION HEALTH Seminar "Nutrition4Elements" Life Coaching

Every morning during 1 hour you will have a session of yoga or

meditation:

MEDITATION: Tibetan Singing Bowls have been used for centuries

for healing and meditation purposes. They create a range of sounds

to restore the normal vibratory frequencies of diseased and out-ofharmony

parts of the body, mind and soul. They invoke a deep state

of relaxation and are used for stress reduction, holistic healing, Reiki

and chakra balancing.

YOGA: the practice of Iyengar will improve your physical and mental

health, make you feel peaceful and well, and radically improve your

ability to cope with the ups and downs of everyday life.

TINA: is a German Heilpraktiker and Naturopathic

Doctor with more than 20 years practical experience

in her Clinic for Naturopathy and Individual Nutrition in

Spain and Germany.

Her Focus is on how you can benefit your health

from Nature with an "Aha Effect" for her patients to

understand what is good and beneficial for their health,

according to food and natural life-style.

Nutrition is a very easy way to get the best for yourself

out of nature!

CHLOE: We are the architects of our own lives, …yes,

well, often easier said than done.

In the hurly burly survival of everyday life we can

forget, or struggle to direct the path that our own lives

take. Good intentions put off until tomorrow? Dreams

discarded because the time just wasn't right? Life

Coaching is a down-to-earth practice that will remove

the obstacles to your success, achieving profound

results swiftly and efficiently.

Life coaching will put a spot-light on your life so that

you can clearly see the way forward and then keep you

on track.

Alhambra & Hammam visit Health at Home & Smoothies Workshop +Activities

The Alhambra is one of the 10 most visited historical monuments in the world. Moorish poets

described it as "a pearl set in emeralds," an allusion to the colour of its buildings and the

woods around them.

This hammam is the first Arab baths in Europe to be reopened following their closure in the

sixteenth century. It's located at the foot of the Alhambra, on the ruins of an old hammam, your

experience will include, a soothing massage and the aromas and tastes of the past.

"Health at home" Seminar: What are the primary agents to help our system to

restore well-being and a strong immune defence in case of health trouble.

Smoothie Workshop: The smoothie workshop offers a special selection of raw

food, green and other coloured smoothies from organic vegetables and fruits.

Certain super foods like chia seeds are also included in individual health benefits

and simply prepared recipes to support your daily energy.

KAYAK & SNORKELING TOUR: You

will marvel of our cliffs, caves, beaches, coves, rocky

areas and corners of extraordinary beauty & dive in

crystal clear water.

HIKING "DOLPHIN WALK": Enjoy hiking

in the most beautiful coast of southern Spain with

stunning sea views and surrounding countryside, a

real charm to discover.

VISIT TROPICAL FRUIT FARM: A unique

agriculture in Europe. You will taste the freshly picked

fruit, Learn about its properties, recipes and tips.

Followed up with a healthy Smoothies Workshop
---
About the Body & Mind Week

Each day offers a balanced variety of a

seminar, yoga & meditation classes, healthy

food preparation, cultural excursions or sporty

activities, fun & enjoyment.

DAY 1

9:00 Breakfast

9:30 Yoga/Meditation

11:00 Seminar "Nutrition"

14:00 Lunch

16:00 Visit Tropical Fruit Farm

17:30 Smoothie Workshop

20:00 Dinner "Chef at Home"

DAY 3

DAY 2

9:00 Breakfast

9:30 Yoga/Meditation

11:00 Health at Home Seminar

14:00 Lunch & Flamenco Show

16:00 Kayaking & Snorkeling

18:30 Snacks

20:00 Healthy BBQ at home

9:00 Breakfast

9:30 Yoga/Meditation

11:00 Life Coaching Seminar

14:00 Lunch "Chirringuito"

16:00 Hiking "Dolphin Walk"

18:30 Snacks

20:00 Dinner

DAY 5

DAY 4

9:00 Breakfast

9:30 Yoga/Meditation

11:00 Personal Workshop

14:00 Lunch "Marina Playa"

15:00 Relaxed Beach Day &

Activities, Own choice...

20:00 End

9:00 Breakfast

9:30 Yoga/Meditation

12:00 Alhambra

14:00 Lunch "Jardin de Alberto"

16:00 Old-Town Granada Visit

18:00 Hammam "AlAndalus"

20:00 Tapas
---
Additional Information

Accommodation

About Granada - Costa Tropical - La Herradura

Max 14 persons

Price includes:

• Accommodation in a luxury villa.

• All meals, including a drink.

• Breakfast & Snacks

• Seminars and workshops

• Alhambra Guided entry

• Entrance to the Hammam Al Andalus.

• All activities and excursions

• Airport / Excursions / Activities

transfers.

CASA FLOW & CUBO DEL MAR

• Enjoy unbeatable, 200 degree ocean views.

• Private hidden small pool in the garden

only a meter from the drop off and scenic

spot.

• Large pool area with an infinity pool.

• Sun loungers and underwater seats.

• Large barbecue area/outside kitchen.

• Private & comfortable ocean access and sunbathing spot between the rocks.

• 1500m2 of established garden with beautiful spots for sunbathing, reading or

dreaming.

Here on the Costa Tropical we have a subtropical climate unique to the European Mainland. There are +320 days of sun a year and

mainland Europe's best climate - an average annual temperature of 20ºC - where subtropical fruits like mango and avocado grow

lusciously. This authentic village provides modern facilities alongside Mediterranean cultural tradition. When you are whisked along

the 'Costa Tropical' along the fast A7 motorway in just 45 minutes from Malaga International Airport, catching panoramic glimpses of

the shimmering sea alongside, the first thing you will notice as you drop into town is just how lovely and unspoiled it is.

Coast & Sea

We are fortunate to have 19 kilometres of beaches,

crystal clear coves and the protected nature park

known as the "Acantilados de Cerro Gordo y Maro"

Rivers & Valleys

Rivers to practice all levels of canyoning and

beautiful walking paths along rivers and valleys.

Cultures

Spectacular castles, ancient monuments and historical

places to visit with our guides. Cultural, tapas and

shopping tour through picturesque streets the Old

Towns of Granada, Malaga, Almuñecar & Frigiliana..

Hills & Mountains

Lots of magnificent trails with breathtaking views for

trekking, hiking and mountain biking.

Ski Resort

Sierra Nevada is Europe's southernmost ski station,

and the highest in Spain. With its high elevation,

the skiing season can last from late November until

early May.

Leisure & Gastronomy

Music, Theatre, Dance Festivals & Live music all year

round.

An Aqua Park with multiple water attractions such as

Tropical Trails, Lake Cascade, the Wave Pool, the Zigzag,

the Kamikaze, the Hidrotubo, the Black Hole.

Restaurants & bars on the beach or old town with

traditional Andalusian food & tapas with a tropical

touch.
---
a unique experience

Paseo Maritimo Andrés Segovia 12, 18697 La Herradura (Granada)

Tel:(+34) 678846995 Tel: (+34) 659440861

www.activ8you.com info@activ8you.com