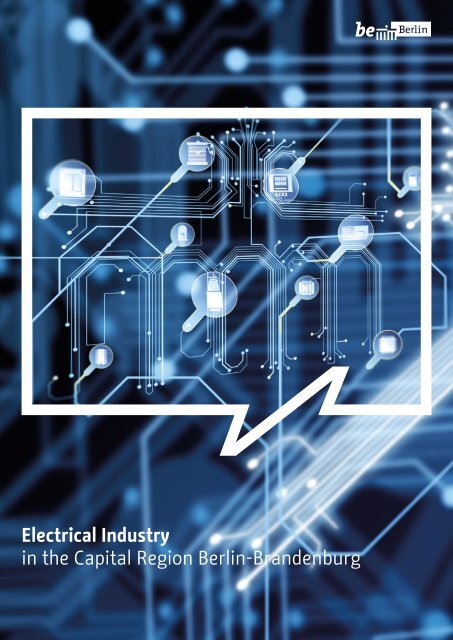 Electrical Industry in the Capital Region Berlin-Brandenburg
Create successful ePaper yourself
Turn your PDF publications into a flip-book with our unique Google optimized e-Paper software.
Electrical Industry

in the Capital Region Berlin-Brandenburg
---
Production of electronic assemblies

Automation technology for system controls

Companies

AEMtec

AKTIV- KABEL

alpha-board

ALRE-IT Regeltechnik

Andus Electronic

AUCOTEAM

BAE Batterien

Baumer Hübner

Biotronik

Bogen Electronic

Bombardier

BSH Hausgerätewerk Nauen

Bühler electronic

Code Mercenaries Hard- und Software

Confecta

Contag

Coriant

Corning

DeltaTech Controls

Draka Comteq Berlin

EAW Relaistechnik

EDI.SON energietechnik

ELDAT

Elpro

Fernsteuergeräte Kurt Oelsch

Finetech

First Sensor

FLEXIM

Fuss-EMV

FST Industrie

GE Power Conversion

HMP Heidenhain-Microprint

Holmberg

imc Meßsysteme

InSystems Automation

Kaufel

KBE Elektrotechnik

Kieback & Peter

Knick Elektronische Messgeräte

LayTec

LeitOn

Menzel Elektromotoren

MFP Production

microtech

Mikron Berlin

MSA Auer

MTS Systems

Optris

Osram

PCS Power Converter Solutions

Pepperl + Fuchs

Promess

Prysmian Kabel und Systeme

PUK-Werke

Raytek

Ritter Starkstromtechnik

The electrifying capital region

At the beginning of the 20th century, Berlin

was an "electropolis" – the city of electricity.

This is where inventions such as the electric

tram, the TV, the computer and the hairdryer

were born. No industry has shaped Berlin

and the surrounding state of Brandenburg as

much as the electrical industry and the electricity

sector. Today, the electrical industry is

one of the industries in Berlin that employs

the most people. In comparison with other

segments in the manufacturing sector, the

electronics industry has the highest proportion

of innovative companies. One in three

patents registered in Berlin, a total of more

than 10,000 in the past two decades, comes

from the field of electrical engineering. The

Berlin electrical industry therefore continues

to be a think tank for the whole world.

Sven Dübbers, Managing Director

Schleicher Electronic Berlin GmbH

»For our medium-sized company,

Berlin offers the best conditions for

the development of our innovative

products: an outstanding scientific

landscape, diverse creative scene,

not to mention the powerful and

internationally strong established

industry.«

Dr. Martin U. Schefter, CEO

First Sensor AG

»Modern infrastructure, leading

research institutes, well-educated

young people, international appeal:

Berlin not only provides an ideal

environment for growth and innovation,

is also a city with a heart.«

A charged industry

Large companies – such as Siemens and Osram –

as well as many medium-sized companies in

the electrical industry are traditionally associated

with the city of Berlin. In addition, many

small businesses, often spin-offs from the

universities and institutions of higher education,

have also become leaders in the global

market – so-called hidden champions. Energy

and environmental technologies are at the

heart of the electrical industry. Power converters

and electrical equipment for wind power

plants as well as industry applications are built

in Berlin. In addition, there are also many companies

in the electronics and microelectronics

sectors that develop and manufacture optical

components, modules and subsystems for

telecom applications, measurement systems,

automation engineering, medical technology

and more. Electromobility is another field with

great potential. The "International Electromobility

Showcase" has turned the capital region

into one of the four electromobility showcases

in Germany. Relevant for the future, industry

4.0 meets new digitization requirements for

the indus try. Linked to this is the ever-increasing

integration of automation technology with

information and communication technologies.
---
Titel der Broschüre — Titel des Kapitels

• Industry with the largest workforce

• Around 170 companies with 28,000 employees (based on companies

with 20 or more employees)

• € 5.3 billion combined total revenue

• A place for electronic and microelectronic companies to develop and

manufacture optical components, modules and subsystems or

telecom applications, measurement systems, automation engineering

and medical technology

Electrical engineering for the supply of energy

Source: ZVEI - German Electrical and Electronic Manufacturers' Association, Regional Office Berlin

Solid foundation in research

and education

Electrical engineering in the capital region is

characterized by its close ties to the excellent

universities, institutions of higher education

and research institutes. The region attracts

students and researchers from all over the

world. More than 3,500 students are enrolled

in the Electrical Engineering and Computer

Science Faculty at TU Berlin alone. In addition

to university research institutes, highly specialized

institutes study a wide range of electrical

engineering fields. Companies themselves

offer a variety of vocational training

programs in the internationally recognized

work-study format whereby vocational training

is coupled with coursework. The ABB

Training Center (ATC), for instance, supports

such programs. In addition, Berlin is also

involved with various initiatives in recruiting

and promoting women in STEM fields.

Christoph Keddig, Ing.

Max Fuss GmbH & Co. KG

»The company FUSS-EMV was

founded in 1908 in Berlin and has

grown by developing and producing

electrotechnical components

necessary for electromagnetic

compatibility. Growth through

innovation, innovation in products

from Berlin, which we offer and sell

throughout the entire world.«

»The Berlin electrical industry

is characterized by its close ties

to the institutions of higher

education and research institutes.

HTW, Berlin's largest university

of applied sciences with 13,000

students, has set itself the goal of

becoming linked with and pursuing Berlin's tradition

as an electrical industry hub through applied research

and by developing cooperation with industry.«

Prof. Dr.-Ing. Stephan Schäfer

HTW University of Applied Sciences

Electrical industry cross sectors

In 2011, the states of Berlin and Brandenburg

decided on an innovation strategy

(innoBB) for the development of an internationally

competitive innovation space. innoBB

focuses on the targeted development and

expansion of 5 clusters with high development

potential: healthcare industries; ICT,

media and the creative industries; transport,

mobility and logistics; energy technology;

and photonics. The electrical industry is one

of the most important cross-section industries

for all the clusters. It makes a significant

contribution to the growth of the clusters

as an innovation supplier with cross-sector

technologies and methods, but also promotes

their already high growth momentum. The

electrical industry is therefore a key driver of

the innovative and competitive capital region.

ROKA

Schleicher Electronic

Schneider Electric

Selux

Siemens

SPITZKE

Swissbit

Taube Electronic

TDK-EPC

Tektronix Berlin

Temic (Continental Automotive)

Teseq

TIGRIS Elektronik

Tixi.Com

uesa

Wissenschaftlicher Gerätebau Knauer

Witt IndustrieElektronik

XION medical

Yacoub Automation

Science I Research and Development

• Technische Universität Berlin:

– Institute of Energy

and Automation Technology

– Institute of High-Frequency and

Semiconductor

System Technologies

– Institute of Telecommunication

Systems

– Institute of Computer Engineering

and Microelectronics

• Fraunhofer Institute for Reliability and

Microintegration IZM

• Fraunhofer Institute for Telecommunications,

Heinrich Hertz Institute, HHI

• Ferdinand-Braun-Institut,

Leibniz-Institut fuer Hoechstfrequenztechnik

(FBH)

• Hochschule für Technik und Wirtschaft

(HTW) Berlin – University of Applied

Sciences

• Beuth University of Applied

Sciences Berlin

• DFG Forschungszentrum Matheon –

Mathematics for key technologies

• Paul Drude Institute for Solid State

Electronics (PDI) Leibniz Institute

• Leibniz Institute for High Performance

Microelectronics (Frankfurt/Oder)

• Brandenburg University of

Technology Cottbus–Senftenberg

• Brandenburg University of

Applied Sciences

• GFaI Gesellschaft zur Förderung

angewandter Informatik e.V.

• Technical University of Applied

Sciences Wildau
---
Our goal: your success!

Networks I Initiatives and Associations

• ZVEI - German Electrical and Electronic

Manufacturers' Association,

Regional Office Berlin

• VDE – Elektrotechnischer Verein

(ETV) e.V. Bezirksverein Berlin-

Brandenburg im VDE

• VDI BV Berlin-Brandenburg e.V.

• Cluster photonics

(optical technology and microsystem

engineering segments)

• ME-Netzwerk – Netzwerk der

Metall- und Elektroindustrie

• Verband der Metall- und Elektroindustrie

in Berlin und Brandenburg e.V.

• AMA Association for Sensors and

Measurement

• Fachverband Elektronik-Design e.V.

• Technologiekreis Adlershof e.V.

The list of companies and institutes may

not be complete.

The electrical industry is one of Berlin's main industries. In addition to

large companies, numerous medium-sized industrial companies are active

in the electrical industry, including many hidden champions. The city

offers excellent starting conditions for growth, production, research and

development. Economic policy focuses on innovation and technological

performance. Our goal is to help companies and scientific institutes startup,

develop and network here.

We support you with:

• Finding a location

• Funding and financing

• Technology transfer and

R&D cooperation

• Collaborative networks

• Recruiting strategy

• Visa applications

• International market development

Contact us!

www.businesslocationcenter.de/industry

Follow us on Twitter!

@BerlinPartner

Berlin Partner für Wirtschaft und Technologie GmbH

Fasanenstr. 85

10623 Berlin

www.berlin-partner.de

Contact: David Hampel

Tel +49 30 46302-422

david.hampel@berlin-partner.de

Photos: cover illustration: Rik Watkinson, inside: Niyazz / Shutterstock, Mikron, ArtisticPhoto / Shutterstock

design: Büro Watkinson, Berlin, production: LM Druck + Medien GmbH, Berlin © Mai 2015

Publisher

Berlin Partner for Business and Technology

In cooperation with

ZVEI - German Electrical and

Electronic Manufacturers'

Association, Regional Office Berlin

On behalf of

Senate Department for Economics, Technology and

Research