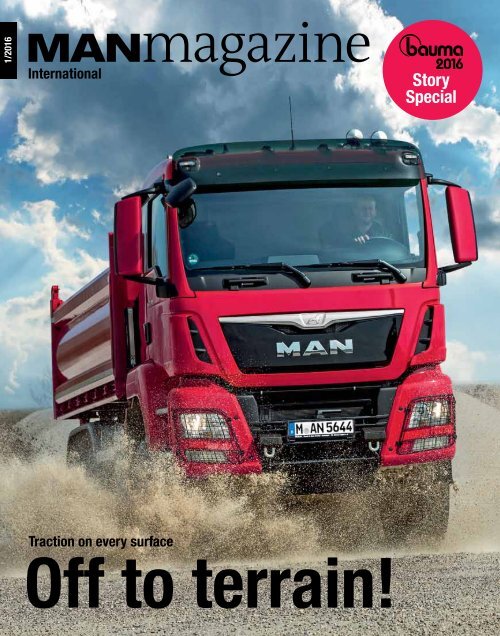 MANmagazin edition Truck 1/2016 International
As this issue of MANmagazine highlights the extensive MAN product portfolio presented at the 2016 bauma construction trade fair, we take a closer look at the long-standing industry expertise of MAN in our Story Special. You can also read up on why the Truck Trial professionals Marc Stegmaier and Marcel Schoch rely on MAN, visit the world's best workshop and ride along with waste management experts in Hong Kong and Macau.
As this issue of MANmagazine highlights the extensive MAN product portfolio presented at the 2016 bauma construction trade fair, we take a closer look at the long-standing industry expertise of MAN in our Story Special. You can also read up on why the Truck Trial professionals Marc Stegmaier and Marcel Schoch rely on MAN, visit the world's best workshop and ride along with waste management experts in Hong Kong and Macau.
SHOW MORE
SHOW LESS
You also want an ePaper? Increase the reach of your titles
YUMPU automatically turns print PDFs into web optimized ePapers that Google loves.
1/2016

International

Story

Special

Traction on every surface

Off to terrain!
---
1/2016

Explore much

International

more of

on your tablet.

digitally

04

06

Content

04 To the limit

During Truck Trials, Marc Stegmaier

and Marcel Schoch trust their MAN.

for Android

Simply

download the

app for free:

for ios

The best of MAN's world

Which trucks are deployed to major construction

sites? How are building materials

transported in England? And what challenges

are met by MAN customers when setting up

drilling sites in Western Siberia? This issue of

MANmagazine highlights the MAN product

port folio presented at the 2016 bauma construction

trade fair. While our story special focuses

on the long-standing industry expertise

1/2016

International

Traction on every surface

Off to terrain!

Story

Special

of MAN, additional coverage on technology,

products and mobility – including waste management

in Hong Kong or truck testing in

Spain's Sierra Nevada during the months of

high summer – promises a worthwhile read.

Enjoy and experience the printed edition

of MANmagazine or download a digital tablet

version for free, which is available as an app

for iOS and Android.

Masthead

MANmagazine is published twice a year

in 16 languages.

Published by MAN Truck & Bus

Stefan Klatt (V.i.S.d.P.),

Dachauer Straße 667, 80995 Munich, Germany

EDITOR IN CHIEF & project manager

Joachim Kelz, Tel.: +49. 89. 1580-1175,

magazin@man.eu, www.man.eu

Publisher C3 Creative Code and Content GmbH,

Heiligegeistkirchplatz 1, 10178 Berlin, Germany

Tel.: +49 30 44032-0, www.c3.co,

Shareholders of C3 Creative Code and Content GmbH

are the Burda Gesellschaft mit beschränkter Haftung

(limited liability company), Offenburg, and the KB Holding

GmbH, Berlin, with 50% each. Sole shareholder of

the Burda Gesellschaft mit beschränkter Haftung is the

Hubert Burda Media Holding Kommanditgesellschaft

(limited partnership), Offenburg. Shareholders of KB

Holding GmbH are Mr Lukas Kircher (managing director,

Berlin) and Mr Rainer Burkhardt (managing director,

Berlin) with 50% each.

Head of CONTENT UNIT Klaus-Peter Hilger

Editors & Authors Yasmine Sailer (resp.)

Freelance authors: Beata Cece, Katrin Nürnberger,

Marcus Schick, Vanessa Schmidt, Wolfgang Tschakert,

Jana Tscheklina, Xifan Yang

international editors Patricia Preston

(resp., freelance editor), Caroline Evans (freelance),

Asa C. Tomash

MANAgiNg editor Sara Austen-Schrick

Graphics Christian Kühn, Tom Märkl (freelance),

Marika Simon, Linda Lorenz

Photo editor Elke Maria Latinovic

cover MAN

productioN C3 Creative Code and Content GmbH

Printing Gotteswinter und Aumaier GmbH,

Joseph-Dollinger-Bogen 22, 80807 Munich, Germany

Reproduction permitted with reference.

Any changes must be coordinated with the editors.

subscription service Thomas Mahler GmbH,

Postfach 50 04 65, 80974 Munich, Germany

Tel.: +49. 89. 1580-3724,

Thomas.Mahler-ext@man.eu

Advertising service Zeitzeichen Vertriebs GmbH,

Radka Neumann, Tel.: +49. 8323. 9984630,

radkaneumann@zeitzeichen.de

Copyright ©2016 MAN and C3 Creative Code and

Content GmbH

Photos: APPLE INC. Pr

28

48

STORY SPECIAL

MAN presents vehicles and comprehensive

solutions for the construction

industry at the 2016 bauma fair.

12

06 Rock star

An MAN turns party platform.

08 News

Current reports from MAN's world

12 You can build on MAN

MAN brings its comprehensive construction

expertise to the 2016 bauma trade fair.

16 Field work in eternal ice

In Western Siberia, MAN vehicles

deliver trouble-free service at belowfreezing

temperatures.

22 Building up England

Throughout the country, a fleet of 723 TGM

and TGS vehicles transports building

materials for Saint Gobain UK.

26 Ready for roadworks!

Huge construction site – many MAN trucks

28 The world's top workshop

ROSIERVANDENBOSCH from the Netherlands

is the best MAN service centre.

34 Happy birthday!

The drivers' club MAN Trucker's World

celebrates its 10th birthday.

38 Packed programme

New features for the TGX D38 result in

increased efficiency, comfort and safety.

42 Training for excellence

Even the very best must practise: the

team coach drivers of football stars during

safety drills.

46 Oldtimer reborn

MAN trainees give a 42-year-old Büssing bus a

new lease on life.

48 Clean machine

Under way with waste management experts

in Hong Kong and Macau

54 Stress test under the scorching sky

In Spain's Sierra Nevada, MAN trucks are

pushed to the very limit.

02

03
---
1/2016

Young pro: In the three-axle

class, Marc Stegmaier (centre)

is a top performer.

Enthusiastic audience: Fans all over the world admire the skilful manoeuvres of truck trial drivers.

my man

To the limit

Marcel Schoch, 34, drives in the S5 Premier

Class Truck Trials along with co-driver Johnny

Stump. In his MAN TGS 35.480/8x8 BB, he has

represented the HS-Schoch Truck Trial Team for

eight years. Over this time period, he has become

European Champion six times.

Mr Schoch, what makes your MAN truck

special? I drive a four-axle vehicle – the largest

admitted to this Truck Trial class. We opted for

a truck that is close to series production, with

a relatively light chassis and an all-wheel drive,

so as to handle steep gradients without any

unnecessary weight.

What do you like best about the vehicle?

Over time, a driver like me will grow together

with his vehicle and will know exactly how it

will perform in any given situation. What I

value most about my MAN is the reliability,

the power and the traction.

As a Truck Trial driver, what must you

pay particular attention to? We drive through

different sections, which we should master

preferably without error and within a given

time frame. There are gates that we have to

pass through for each section, with a maximum

of six direction changes. Other than a

solid sense for driving itself, experience and

preparation are the primary factors. Before the

competition, we go over the sections on foot

and work out a strategy. We may occasionally

decide to deliberately leave out one of the

gates, for example, in order to pass the others

more effectively.

Why are you participating in Truck Trials?

I've been actively involved in Truck Trials

for 15 years, first as a member of the service

team and as a driver for eight years. I find it a

perfect complement to my desk job as a managing

director. Getting down in the dirt, tinkering

with the vehicles, camping with the

team – it all stirs passion and enthusiasm for

the sport.

What has been your finest hour in

Truck Trials to date? That would have been

winning our first European championship in

2009. Back then, I would never have thought

we could go so far. Today, we have been European

Champions six times, including an uncontested

first place in the S5 class.

Six-time European Champion:

Marcel Schoch is at the

top of his game

in the four-axle class.

Truck Trial racing is all

about mastering extreme

terrain with maximum

skill. Drivers repeatedly

push the boundaries of

the physically feasible,

with two of the most

successful Truck Trial

professionals relying on

vehicles made by MAN.

For a closer experience

of Marcel Schoch and his

truck on the training

track, check out the video

on the app.

Marc Stegmaier, 23, has competed as a

Truck Trial driver in Class S4 for three years. With

his co-driver Jan Plieninger, he has so far been

European Vice-Champion twice and achieved

third place once. Right from the beginning, the

driver and his BFS Trucksport team have relied

on a three-axle vehicle from MAN.

Mr Stegmaier, what kind of vehicle do

you drive in your Truck Trials? It's an MAN

TGS 33.480 BB-WW – a 6x6 all-wheel vehicle

with 10 tonnes and a performance of 550 hp.

Is it a modified serial vehicle? That's

right, we ordered the vehicle from MAN.

Apart from the modifications that are required

for this sport, it is also built as a production

series vehicle.

What would these modifications entail?

We built in certain safety components such as

a rollover bar and a cage as a safeguard in case

the vehicle overturns. In addition, all units

that were attached to the side of the frame,

like the tank and the air reservoir, were

moved to the top. The bumper was reinforced,

while the transfer gearbox was also shielded

further. The Russian-made tyres are also used

for military vehicles.

Truck trials involve extremely testing

conditions. What does this mean for your

vehicle? The truck is subjected to extreme

stress. Gradients of more than 45 degrees are

not uncommon. Sometimes the track runs

through mud holes that are metres deep, or

over rocks that would be impossible to navigate

on foot. Occasionally, this results in damages

to the truck, such as a flat tyre. These

damages are immediately repaired on site by

our service team.

What do you like best about the vehicle?

The robustness. It's permanently exciting to

see what obstacles and extreme gradients this

MAN truck is capable of handling.

Have you always driven MAN? As a result

of our BFS company history – after all, the

commercial vehicle specialist Stegmaier

Nutzfahrzeuge has been an MAN contractual

partner since 1965 – we've been connected

with MAN for a long time.

Photos: BFS Trucksport (2), HS-Schoch (2)

By stock and by stone: steep

scree tracks are all part of the

day's work in truck trials.

04

05
---
1/2016

Rock st ar

Rock 'n' roll: Spectators at

the Wacken Open Air

Festival truly stood in awe

of the Thundertruck

Matt black power pack:

The Teufel Thundertruck is a

party vehicle on eight wheels.

Photos: Teufel.de ( 2)

Thirteen square metres of dance floor,

four fog machines, a light system, a bar and

the sound vibrating from 10 Teufel Rockster

loudspeakers with a combined power of more

than 8,000 watts: The Thundertruck, aptly

named Teufel (or devil), is pure rock 'n' roll on

wheels. This wicked vehicle celebrated its first

public appearance on the occasion of Berlin's

Christopher Street Day parade in the summer

of 2015. Since then, the truck has hosted perfect

parties at numerous events, including the

Gamescom trade fair in Cologne, the IFA

consumer electronics show in Berlin and the

heavy-metal Wacken Open Air Festival.

The basis of the Thundertruck is a former

German military vehicle built by MAN in 1977.

Commissioned by the German hi-fi equipment

manufacturer Teufel, a team of eight

people worked seven weeks to convert the

MAN KAT1 8x8 into a rock mobile. The original

chassis of the former transport vehicle was

left intact. While merely the olive-green army

paint gave way to a rock-style matt black, the

opulent fittings and superstructure of the

four-axle truck presented more considerable

challenges. The Teufel Thundertruck features

320 hp, eight wheels and weighs in at 25.4

tonnes – heavy-metal groove at its coolest.

06

07
---
1/2016

Desert giants

with 1,000 hp

Sustainability

prize for MAN

2016

Parts and accessories

MAN Truck & Bus

MAN Originalteile® Ecoline

At the Dakar Rally 2016, they were once

again the secret stars: The 55 powerful racing

trucks competing for a fortnight to cover

9,000 kilometres through the deserts of Argentina

and Bolivia in January 2016. As in the

previous year, MAN was once again the leading

manufacturer in the truck class with

16 racing trucks. For a long time, it was actually

a head-to-head race with Kamaz and Iveco

for the overall victory. Hans Stacey and his

EUROL/VEKA MAN rally team finally crossed

the finishing line in Rosario in fourth place.

The MAN service teams also made a significant

contribution to this applaudable result:

As always, the racing teams were able to

depend on their reliable support. Fifteen of

MAN's 16 vehicles made it to the finish line,

merely one truck dropped out due to irreparable

crash damage. Besides procuring spare

parts in the desert, the service technicians

also carried out numerous repairs, ranging

from windscreen replacement to crash damages

to cylinder head replacement – all without

a crane, but with five strong men instead.

The newspaper Transport awarded

the "European Transport Prize for

Sustainability 2016" in Munich last November

and MAN Truck & Bus proved

a winner on two counts: first in the

"Parts and Accessories" category and

secondly with Euro-Leasing / MAN

Financial Services – in the "Hire of

Trailers and Commercial Vehicles"

class. Altogether, 17 companies received

awards in 16 different categories.

Bestowed for the third time, the

sustainability prize is designed to encourage

companies in the commercial

vehicles and transport logistics industries

to adopt a sustainable approach.

Platoon prototype: The lead vehicle and trailing vehicle drive convoy-style, saving fuel due to the shortened distance.

Slipstream efficiency

Platooning, a practice whereby several of automated vehicles taking to the roads in

vehicles are assisted by a technological control

system to drive in a convoy with very tion drive from Munich to Rotterdam with

April. MAN participated in the demonstra-

little spacing, is a highly promising solution a platoon prototype. Two serial vehicles

for the mobility of the future. Due to greatly equipped with car-to-car communication

reduced distances, automated and networked

platoon driving allows for reduced ment drove on the motorway, observing a

and the necessary on-board sensor equip-

fuel consumption. Holding the EU Council minimum safety distance of 10 metres. The

Presidency in 2016, the Netherlands decided demonstration tours were designed to promote

political discussion and encourage the

to highlight the potential of this approach

by organising the "European Truck Platooning

Challenge 2016". This involved convoys cepts in the long

realisation of such innovative vehicle con-

term.

Oldest MAN truck in the Middle East

Best MAN driver at the

Dakar Rally 2016: Hans Stacey

raced to fourth place.

Photos: Robert W. Kranz / Ralleywerk.com, MAN (2)

Proud owner: Walid Seif

with his MAN truck from

1956 (left) and a modern

MAN TGS

Under the auspices of MAN's centenary,

the company cooperated with MAN importer

Terramar to find the oldest MAN truck in the

Middle East – and succeeded. Built in 1956, a

truck from Damascus proved the winner of

the contest. Owner Walid Seif reported that

the vehicle has been in his family for five decades

and three generations. It travelled everywhere

in the region – from Jordan to Iraq and

Lebanon, while always providing reliable and

tireless service. "We installed an eight-cylinder

engine 25 years ago – and the truck has

been running since then without any need of

repairs," says Seif. The vehicle is still underway

on the roads of the Middle East today,

transporting goods between Damascus and

the Lebanon on a weekly basis.

08

09
---
1/2016

WORLD DEBUT

from MAN Diesel & Turbo

Under the sea:

The submersed compressor

station lies 300 metres

below the water surface

Gold for MAN

Lion's Intercity

The MAN Lion's Intercity was awarded

gold by the iF design award 2016 jury in the

category "Automobiles/Vehicles/Bikes". The

intercity bus made by MAN is therefore one of

merely 75 gold prize winners out of thousands

of submissions.

Bestowed annually by the International

the launch was a quantum leap for the

oil and gas industry: In September 2015, the

first underwater compressor station for gas

production started up 300 metres below the

water surface and on the bed of the North Sea

off the coast of Norway – a global feat. The station

is equipped with two engine compressor

units from MAN Diesel & Turbo. During the

development phase, MAN worked closely

with the end customer, the Norwegian oil and

gas company Statoil and had continuously

optimised the technology according to customer

requirements.

Compared to the conventional offshore

production of mineral oil and natural gas, the

First launch: The world's first

submersed compressor station became

operational as of September 2015.

utilisation of the new underwater technology

results not just in lower investment costs, but

especially a significantly higher pumping

rate, which amounts to an additional 36 million

barrel units of oil. At the same time,

energy consumption and CO2 emissions are

reduced. While the natural deposit pressure

decreases continuously, the engine compressor

units from MAN serve to keep pressure

constant throughout the production cycle.

Aker Solutions, general contractor for

Statoil, had ordered the compressors from

MAN Diesel & Turbo in Zurich in 2010. The

contract comprised four engine compressor

units, as well as maintenance and service.

MAN Truck & Bus has been supplying

axles to North America through its general

import agent MAN Engines & Components

for 25 years. In 2016, the company celebrates

a major milestone – the 50,000th axle delivered

to the United States.

An important customer for axles supplied

by MAN is the Canadian bus manufacturer

New Flyer, which orders around 4,000

units every year. With a market share of

Big city traffic: The New Flyer

buses dominate local urban

transport in New York.

New York transport

relies on German axles

almost 50%, the Canadian company is the

market leader in the US and therefore represents

an important cooperation partner for

MAN. In New York, local urban transport is

dominated by New Flyer: The municipal authority

New York City Transit alone operates

around 2,000 of MAN's bus axles supplied

through New Flyer.

More information about MAN axles can

be found at > www.man.eu/engines-axle

Forum Design company iF, this award is a

world-renowned seal of design quality. Under

consideration of the awards garnered in recent

years – including the red dot design

award and the iF and German Design Awards

– this prize tops off MAN's successful design

work. Since 2002, the vehicles under the MAN

and NEOPLAN brands have already received

as many as 13 design prizes.

UR:BAN: conclusion of a research project

Interaction of man and machine: Within the framework of

UR:BAN, MAN explored the interface between driver and

commercial vehicle from different angles.

In October 2015, the 31 UR:BAN partners

presented the results of their four-year research

work in Düsseldorf, Germany. Experts

from various UR:BAN projects exhibited about

50 demonstration vehicles. As the only participating

commercial vehicle manufacturer,

MAN was represented by two prototypes and a

walk-in truck cab. The aim of the project was to

render urban transport safer, more efficient

and fluid. The principal focus of MAN was on

the interaction between driver and vehicle.

More about the project: > www.urban-online.org

2 000

engines

have been delivered by MAN Engines &

Components to Viking Yachts, an American

manufacturer of luxury sportfishing boats,

since 1993. The eight- and 12-cylinder

marine engines are ideally suited for

sportfishing boats, as these operate for

up to 1,000 hours per year and must

feature high efficiency, reliability and

economic fuel consumption.

Photos: Aker Solutions/ Subsea, Sorin Morar, plainpicture/Westend61, MAN

Repair updates

in real time

With the Mobile24 Tracking Link, MAN offers users of its

breakdown service, Mobile24, the option of tracking the current

status of a repair assignment. Through the online link, customers

can check at a glance the estimated arrival time of the repair

technician, whether the service expert has started the repair,

and the estimated time as to the conclusion of repair work or

whether it was completed. Utilising this service merely requires

customer registration via a form in the Mobile24 prospectus. The

registration can be dropped off at the MAN support point in

charge and can be cancelled at any time.

1 2

Record data

3

Receive tracking link

@

Tracking website

5 ✔

Report breakdown

4

Click and view

current status

@

Total

transparency:

The Mobile24

Tracking Link

allows

customers to

track the repair

process.

10

11
---
1/2016

You can build

on MAN

Traction

expert

With both optional and

permanent all-wheel

drives, MAN has two

systems in its portfolio

to meet customer

requirements.

exhibit areas had been booked well in advance.

"In this regard, bauma has rather a lot in common

with the Oktoberfest," explains Michael

Makowsky, Head of Product Marketing Truck/

Traction at MAN, "the stands are booked up

months in advance." And for obvious reasons:

This trade fair is undoubtedly the highlight

event of the construction industry.

The bauma exhibit will open its doors

once again on 11 April 2016. MAN is presenting

a total of 10 vehicles – five indoors and

five out in the open air. The main emphasis

is on a customer-focused portfolio, a strategic

course also reflected by the all-wheel

drive technology: With its optional and permanent

all-wheel drive technology as well as

its HydroDrive system, MAN displays three

needs-oriented systems.

Among the exhibit vehicles is a concrete

mixer for transport based on a four-axle MAN

Every three years in April,

the fair grounds in Munich

turn into a huge adventure

playground. And in 2016,

it's bauma time once more.

At the world's largest construction

trade show, MAN

presents 10 vehicles and

comprehensive solutions

for the building industry.

Drawing attendees from around

the world to Munich, this is truly

a spectacle of superlatives. And

no, it is not the Munich Oktoberfest

for once: This is bauma, and instead of Ferris

wheels, it is cranes rising into the sky. In

terms of area, this construction trade fair is the

world's largest. With 605,000 square metres, it

occupies the entire fair grounds, including

more than 16 halls and an enormous outdoor

area. Every three years, the record-setting

event attracts over half a million visitors from

more than 200 countries. Attendees find vehicles

from MAN in Hall B4, where the company

stand covers 1,000 square metres inside and

an additional 250 square metres outside. The

Photos: MAN

Hypoid axles

Making its world debut at bauma,

the light hypoid axle tandem on the

rear axle of the TGS concrete transport

mixer offers enhanced payload.

TGS. The light hypoid axle tandem of this vehicle

is making its first ever appearance at

bauma. The new feature cuts the weight by

180 kilos in comparison with standard hypoid

axles or by 280 kilos compared to AP axles,

thus ensuring maximum payload capacity.

The resulting benefits are reduced fuel consumption

and more ground clearance.

Another highlight is a two-axle MAN TGS

with HydroDrive designed as a tractor-trailer

unit. The hydrostatic front axle drive of this

best-selling vehicle, which provides additional

traction when needed and more powerful

braking on steep terrain, had previously been

available only with manual gears. At bauma,

the MAN HydroDrive will be presented for the

first time with the automated MAN TipMatic

transmission system.

12

13
---
1/2016

MAN TGM

With tonnages ranging from

13 to 26 tonnes and a firstclass

payload, the MAN TGM

offers economical transport

solutions for medium-weight

traction operations.

space on the vehicle frame. This freed-up

installation space can be used for fuel tanks.

Alternatively, customers can opt for a vehicle

with a shorter wheelbase and thereby enhanced

manoeuvrability.

For deployment in mining and in gravel

quarries, MAN offers the robust and sturdy

TGS chassis from its WorldWide product family

for markets outside of Europe. Designed

for a maximum weight of 33 tonnes, the MAN

TGS dumper truck presented at bauma is a

more cost-effective alternative to an articulated

dumper and can easily cope with difficult

roads as well as extreme climatic conditions.

Other vehicles represented in the lineup

are a crane dumper of the TGL series, a

five-axle vehicle designed for a 50-tonne

maximum weight and an MAN TGM in an allwheel

drive version.

Forecasts for the 2016 bauma event are

promising. The Messe München trade fair organisers

once again expect more than half a

million international guests. In the eyes of

Michael Makowsky, it is precisely this interaction

with visitors that makes bauma such a

special event: "It offers us the opportunity of

talking to people who are dealing with our vehicles

on a daily basis – from drivers to fleet

managers. They tell us what they like about

our products and what improvement measures

we might take." His personal conclusion

after every bauma, says Makowsky, is always

the same: "MAN gives its customers a solid

basis to build on."

More information about MAN's presence

at the bauma 2016 trade fair is available at

> www.man.eu/bauma

605 000

square metres

of exhibit space makes up the bauma

trade fair. It extends over 16 halls, in

addition to a vast outdoor area.

500 000

visitors

from 200 countries come to Munich

every three years for the world's largest

construction fair.

TGX D38

The TGX D38 series offers

the ideal vehicle for heavyduty

transport – in either the

520 hp or the 560 hp version.

MAN is also showing its TGX D38 series,

the ideal vehicle choice for heavy traction operations.

The shown three-axle MAN TGX

dumper truck model comes with a 560 hp D38

engine and is capable of transporting heavyweight

loads, while simultaneously also travelling

at higher average speeds. The MAN TGX

D38 offers top performance in the heavy-duty

transport segment: The four-axle MAN TGX

41.640 8x4/4 combines the most powerful D38

engine with the new generation of MAN Tip-

Matic TX gears. This transmission system offers

customers a number of convenient functions,

while saving fuel (see also pages 38-40).

HydroDrive

MAN's combination of the

HydroDrive and the MAN

TipMatic transmission

system will be presented

at bauma for the first time.

This solution becomes

available as of 2017.

The partially raised exhaust system

distinctly illustrates just how closely MAN remains

to its customers. MAN's four-axle TGS

chassis comes with a two-tier exhaust system.

The diesel particle filter is positioned between

the two front axles, while the SCR catalytic

converter sits on a frame behind the driver's

cab. This arrangement results in less stirredup

dust, while at the same time creating more

Photos: MAN

14

15
---
1/2016

Field work in

eternal

to temperatures

of 42° C below zero, black

ice and snow drifts several

metres high: Working conditions

in Western Siberia

are far from comfortable.

The Far North calls for

tough men and hardy

trucks – just the right call

ICEExposed

for Sibitek and MAN.

16

Reliable and robust: MAN

trucks perform their duty

under the toughest conditions

in Western Siberia.

Foto:

Photos: Frank Herfort

17
---
1/2016

E

xtending two metres into the

ground, the fence surrounding

the living quarters is designed

to protect its inhabitants from bears. Even

though they presumably are in hibernation

these days in the wild Taiga of Western Siberia,

it is still better to play it safe. And while the

bears are resting, it is high season for the men

and their MAN trucks: A broad network of

crude oil drilling stations is currently under

construction on the frozen swampland, with

dozens of 50-tonne trucks deployed 20 hours

everyday to transport 20,000 cubic metres of

sand to the drilling stations daily.

It's just shy of eight o'clock am and morning

has just broken. The dark silhouette of fir

trees emerges from mixed woodlands, their

branches dipped low underneath hefty

mounds of snow. A bright red MAN dump

truck rolls through this glistening white landscape,

snowflakes swirling around its wheels.

The safety regulations for oil extraction mandate

a speed limit of 30 kilometres per hour,

which represents a true challenge considering

the track gradients in snow and black ice. Yet

the MAN TGS was designed precisely for handling

off-road situations in winter. It takes

merely a few minutes to load the tipper vehicle

with sand. After the digger carefully flattens

the pile of sand one last time, the truck

with its four axles and 480 hp already heads

back out of the sandpit. Driver Artjom Nurgaliev

flashes a satisfied smile: "I've got a good

feeling about the truck, for it has a stable

chassis and powerful engine. It's really important

to assess the driving situation correctly,

then choose the best speed and engage the

right differentials. We therefore participate in

training sessions on a regular basis," explains

the 25-year-old.

Hard work: The MAN trucks

were designed for off-road

situations in winter.

Home base: The men

working for Sibitek in

Siberia sleep in a

caravan camp.

Photos: Frank Herfort

Relies on his MAN: Driver

Artjom Nurgaliev values the

stable chassis and strong

powertrain of his truck.

"MAN technology

simply is the

most enduring."

Sergej Chernov, Technical Director for SIBITEK

Untiring: The MAN trucks transport

sand 20 hours per day to lay tracks

and develop drilling stations.

- 42 °

Celsius

is not unusual during the wintertime in

Western Siberia. Northern Russia is one

of the world's coldest regions.

Western Siberia

The snow cover reaches 150 centimetres

and the temperature has fallen to minus 28°

Celsius. Northern Russia demands tenacious

people and robust technology. "Only allwheel

drive vehicles are deployed here. Other

trucks would never be able to handle these

conditions," comments Sergej Chernov. The

38-year-old works as Technical Director for

the construction company Sibitek. "MAN

technology simply is the most enduring."

Chernov is a draughtsman by training, a hobby

race driver and has been a car buff since

childhood. He manages the fleet at Sibitek,

which comprises 86 MAN trucks. "When we

decided to switch to European dump trucks

five years ago, we compared a variety of

brands. We finally chose MAN because the

company had developed one of the first 6x6

all-wheel drive trucks in Europe, and brought

specific in-depth experience to the table,"

adds Salambek Maigov, CEO of Sibitek. "First

introduced at Germany's bauma 2013 trade

fair, the 8x4 truck happened to be an exclusive

50-tonne vehicle designed for Chile. At

that trade show, we made arrangements with

18

19
---
1/2016

"We very much

appreciate that

MAN responds

to our needs in a

flexible fashion."

Salambek Maigov, CEO of SIBITEK

MAN to upgrade that model and produce an

8x8 50-tonne truck for us. It is an economical

solution, for the truck can handle up to seven

tonnes more than the 6x6 dump truck, resulting

in a total of 32 tonnes, while retaining

its handling characteristics and similar operating

costs," explains Maigov. Sibitek therefore

was the party to initiate the new model

and worked with MAN to develop a customised

solution. "We love this technology. It's an

outright pleasure to operate such splendid

machinery," emphasises Maigov. "As a customer,

we also greatly appreciate that MAN

responds to our needs in such a flexible fashion."

The trucks feature MAN TipMatic with

off-road software, namely a transmission that

accommodates the driver.

The company's top executive places much

importance on high levels of comfort. Once a

month, the CEO travels into the wilds of Siberia

to spend a week on the base and actually

likes to hop on board to receive first-hand

feedback about driving operations.

The convoy of trucks moves on to the

next construction site and the agile red giants

discharge their loads. In the cold, steam rises

from the truck beds – they are heated to prevent

frozen sand from clinging to the sidewalls.

Although Siberia rarely ever offers

pleasant weather, that issue is solved by the

insulated drivers' cabs. They are fully acclimatised

and even equipped with heated seating

and armrests: a total luxury at even the

lowest sub-zero temperatures. Senior management

and drivers agree: MAN makes first

class trucks.

It's been dark for several hours, with the

sky illuminated by red reflections from giant

natural gas torches. Set up on the home camp,

consisting of many small blue caravans, the

canteen already holds dinner ready for the

men: buckwheat, potatoes, noodles, red beets,

chicken, meatballs and goulash. While the

drivers will soon have the chance to relax after

the long, hard workday, the robust MAN

trucks never tire. Sitting outside in the dark,

they are patiently awaiting their next shift.

Learn more about Sibitek's CEO Salambek

Maigov and driver Artjom Nurgaliev in our

interviews at > www.man.eu/siberia

Photos: Frank Herfort

Night rides: As the sun sets by

3 pm during Siberia's winter

months, work continues in the dark.

20

21
---
1/2016

Building up

They are agile, efficient and

ideally suited to heavy loads:

The construction materials

company Saint Gobain relies

on trucks built by MAN.

Located in the small coastal city of

Hythe in southern England, this

tiny backstreet could hardly be any

more narrow. Rising steeply, it also

curves sharply, with cars occupying

one side of the road in tightly

parked rows and a grass-covered embankment

cambering forward on the other. Two pedestrians

have halted to watch Dennis Brown manoeuvre

his nine-metre-long, 18-tonne vehicle

with the yellow Jewson logo slowly and precisely

up the hill – accurate to the millimetre and

in reverse. Even the workers waiting at the end

of the street for the pallet of cement sacks loaded

on Brown's truck have interrupted their

lunch break to observe the spectacle.

Brown is not the least bit ruffled by his audience.

In deep concentration, he checks his

position in the side mirrors, gingerly making

adjustments. Man and truck interact in perfect

harmony. "My TGM with its short lock is ideal

for narrow lanes like this one," says Brown,

diverting any praise of his driving skills with

typically British understatement. He points to

the four wing mirrors that reflect every street

angle. "MAN trucks offer an outstanding allround

vision, which is incredibly helpful."

Then he indicates a display that images the

road itself. "This is one of two cameras that assist

us in spotting cyclists more easily. Safety

is the most important aspect in my job."

Easily customised: The capability

of mounting a crane to the frame

was an important purchasing

incentive for Saint Gobain.

"I've already

tried every

brand of truck.

MAN offers the

best drive."

Dennis Brown, truck driver for Saint Gobain UK

For the past 14 years, Brown has been

driving tours for the construction materials

retailer Jewson, a brand owned by the interna-

England

Photos: Olivier Hess

tional conglomerate Saint Gobain. Founded in

France, the group produces and markets construction

materials in the UK in and from

about 1,000 locations. "The products of Saint

Gobain UK are suitable for building the smallest

extension to a privately owned home up

to the largest high-rise construction project,"

22

23
---
1/2016

Home delivery: Dennis Brown controls

the crane via remote control to lift the

load from the truck.

explains Ian Berrill, Director of Transport. As

the construction industry is booming on the

British Isles, the 723 trucks operated by Saint

Gobain UK have many tours to run, says

Berrill: "Our MAN fleet covers about 37 million

kilometres of road per year." The agile MAN

TGM and its larger brother TGS are ideally suited

for Saint Gobain's business – namely shortrange

goods delivery within a radius of up to

80 kilometres – as both vehicle types can handle

an even heavier cargo load due to their

own low tare weight. Berrill also appreciates

the stability and body mount flexibility of the

TGM chassis: "The frame construction allows

us to mount a crane in the front or back without

impacting the driving characteristics."

"Everything from MAN simply works,"

states Berrill. "The trucks are reliable and efficient

and the nationwide service network of 67

MAN stations is widespread. Whenever we

need assistance, MAN is always a reliable partner."

The construction materials giant is so

"Everything from MAN simply works

– from the trucks to the service."

Ian Berrill, Director of Transport, Saint Gobain UK

On the road in the south of

England: The route takes

Dennis Brown through the

New Forest nature reserve.

much impressed by the TGM and TGS series

that it intends to increase its number of MAN

trucks in the UK to reach a projected 1,122 units

before the end of 2017 – which would amount

to more than two thirds of the entire UK fleet.

Once Dennis Brown has steered his TGM to

the cordoned-off section where the road crew

is renewing the footpath, he puts on his safety

helmet and work gloves and nimbly climbs

out of his immaculate driver's cab. He is 60

years of age, with three daughters and five

grandchildren, and is still as fit as a young

man. With practised movements, he turns

down the sides of the load bed – a safety system

developed by Saint Gobain – and releases

the ropes securing the pallet of cement. Via

remote control, he lowers the legs of the rear

crane that stabilise the truck for unloading. He

then utilises the crane to pick up the 1.5-tonne

pallet and move it safely over the barrier. This

capability greatly facilitates customers, whose

orders are delivered across and beyond fences

and walls directly into their gardens. "Here

you are, gentlemen, where would you like me

to drop off your purchase?" The foreman

points to an empty spot and jokes with a nod

towards the container: "Next time, could it go

directly in there, please!" Dennis retorts with a

Photos: Olivier Hess

grin: "No problem. And I'll surely start mixing

the cement for you while still on the way here!"

"What I truly like about the job is the variety,

the change of pace and the relationships

with our customers", explains Brown after the

next delivery – three bags of gravel for the

path to a small farm in the village of Bartley.

Over time, he has observed numerous house

construction projects, from laying the foundation

through to completion. Meeting up regularly

over the course of months forms a bond.

At the end, Brown is often invited to take a

look at the finished product.

The tour continues through New Forest

National Park, a nature reserve in Hampshire

County. While 250 hp resonate deeply and

richly in the TGM's motor, ancient forests and

heather-coated hills dotted with grazing ponies

and sheep are gliding by. Brown often

comes here in his free time to walk with his

family and dog or ride a tandem bike with his

youngest daughter. The truck rolls into Totton,

a town on the borders of Southampton, where

Brown makes his fifth delivery, a tonne of

crushed concrete. Tracy Noble intends to pave

a driveway that had been silted up by incessant

rainfall. Her wide-eyed young daughter

looks on as Brown manoeuvres the crane to

lift the sack from the truck bed to the ground.

"I am often asked whether I actually manage to

grab all the teddy bears at those claw machines

you see at funfairs. I would certainly

have had more than enough practise," he jokes

with a twinkle in his eyes.

Brown drove his first truck at the age of 17,

when he was in the army. "I still enjoy the

sense of freedom on the road just as much

now as I did then", he observes on the way

back to the Jewson depot. "Experiencing the

seasons, the general view from up here, steering

a powerful machine – that is special indeed."

As the airsprung seats perfectly counter-balance

the effects of a pothole, he adds:

"And here in my new TGM, everything isn't

just clearly arranged; it's also really comfortable.

MAN trucks offer a much better drive than

other brands. And I am qualified to make that

judgement, for I've tried them all during my

driving career."

723

MAN-trucks

are currently deployed by Saint Gobain

UK. Another 399 TGM and TGS units are

expected to be added by the end of 2017.

24

25
---
1/2016

Ready for

roadworks!

Hauling, mixing, laying asphalt:

At motorway construction sites,

trucks made by MAN are deployed

for a wide range of tasks.

MAN TGS dumper: Trucks

with a dumper superstructure

are used to supply asphalt to

the site.

MAN TGM with sweeper

vehicle superstructure:

Before laying asphalt,

the vehicle cleans the

road surface.

Concrete mixer: Fresh

concrete is transported to

the construction site in

the truck mixer and then

removed from the drum

through a concrete pump.

MAN TGS with mobile crane:

The powerful truck lifts

concrete components onto

the bridge building site.

Dumper truck: The MAN TGS

8x8 is particularly suited to

turning over or removing soil.

Illustration: Peter Diehl

MAN TGX: The powerful

heavy-duty trucks transport

heavy working equipment

like Caterpillar bulldozers.

F

rom working an untouched field to

laying asphalt on the new roadway:

An enormous amount of time and

labour goes into road building projects.

Due to the many work stages

involved, it is especially the vast

construction sites on motorways that present

a particular challenge – in terms of both the

planning and the technical aspects.

In handling all these various different

tasks, trucks play an important role: While they

are primarily utilised for transport, such as the

delivery of construction materials or the removal

of spoil, the vehicles are also deployed

in the shape of working machinery, equipped

with a crane or sweeper vehicle superstructure.

MAN trucks from all four series (TGL, TGM,

TGX and TGS) are an excellent choice in this

context, for they offer both reliable performance

and the necessary efficiency. Keeping a

construction project to its time frame and

budget limits, necessitates that all the jigsaw

puzzle pieces fit together perfectly – and MAN

vehicles with low fuel consumption and minimal

wear and tear even under extreme operating

conditions, are worthwhile investments.

Furthermore, MAN stands out with 75 years of

industry expertise as well as customised solutions

for every customer and a comprehensive

portfolio of supporting services.

26

27
---
1/2016

Modern site: The MAN Service

Centre in Schelluinen, Netherlands,

meets the highest standards.

In the eyes of the team at the ROSIERVANDENBOSCH MAN Service Centre in

Schelluinen, Netherlands, problems that never arise in the first place are simply

the best solution. "The World's Best MAN Workshop 2015" certainly keeps its

customers moving.

The world's

top workshop

Maintenance appointment: A. C. Korevaar brings his

MAN TGS to the ROSIERVANDENBOSCH Service Centre.

Young staff: Highly motivated

employees make up the

ROSIERVANDENBOSCH team.

Photos: Julius Schrank

65.6 %

of MAN trucks

are still free of faults after five years, as

determined by the technical inspection

agency TÜV in its latest report – a record

among truck manufacturers.

C

oming in and moving out in a

quick and efficient manner – and

with as little fuss as possible. Arie

Cornelis Korevaar knows his business very

well. The 34-year-old has been working in

waste management for many years: "Waste

transport and recycling are important but not

particularly glamorous. It is quite similar to a

newspaper: Everyone wants to read it, but

shows no interest in how it ends up in the

mailbox," says the owner and Managing Director

of the recycling company KoreNet, based

in Groot-Ammers, Netherlands. The success of

his company, he says, depends largely on a

healthy portion of understatement and on

performing its daily duties in urban and municipal

environs with as little noise or visibility

as possible. "My fleet must function seamlessly,

reliably, quietly and efficiently – and six

days a week at that," says Korevaar, as he sits at

the steering wheel of his TGS tractor unit. The

MAN truck is one of 30 vehicles underway in

the region every day on behalf of KoreNet.

"Eight of them are MAN trucks – six TGS and

two TGX, respectively," says the entrepreneur.

The royal-blue TGS with its impressive four

headlights on the cab roof has a maintenance

appointment at the ROSIERVANDENBOSCH

28

29
---
1/2016

"I depend on the

know-how of the

MAN mechanics.

They definitely

know everything

about my trucks."

Arie Cornelis Korevaar, owner of KoreNet BV (right), with

Erik Rosier, Managing Director of ROSIERVANDENBOSCH

Equipped for every job:

The service technicians

at ROSIERVANDENBOSCH

are familiar with all

vehicles made by MAN.

MAN Service Quality

Award 2015:

the best of the best

Based in Schelluinen, Netherlands,

MAN's service partner ROSIERVAN-

DENBOSCH Bedrijfswagens B. V. is

"The World's Best MAN Workshop

2015". Comprising Pieter de Jong, 34,

Wessel van den Berg, 24, Leander

Nieuwkoop, 20, and Jan van Niekerk,

29, the young team secured this year's

MAN Service Quality Award at the

finale ahead of their colleagues at

Georg Buchner Ges.m.b.H. in Austria

and the Rosenheim Service Operations

of MAN Truck & Bus Deutschland.

Held for the sixth time, the after sales

contest focuses on optimising team

building, service, technical know-how

and customer satisfaction.

The Service Quality Award is a highly

coveted prize, with 799 workshops –

more than half of MAN's service sites

around the world – signing up for the

multilevel qualifying round in 2015. In

October 2015, the 22 best teams from

the sales regions of Eastern Europe/

CIS, Germany, Middle East & Africa,

and Western Europe competed in the

big finale in Munich, Germany.

MAN Service Centre in Schelluinen today.

"Nothing major," says Korevaar. "Just the air

filter needs replacement." The workshop is a

good choice indeed: Just as he turns into the

garage lot, he's already greeted by a six-metrelong

sign on the shiny glass storefront: "'s

Werelds beste MAN Werkplaats", or rather,

"The World's Best MAN Workshop".

Learning that "his" workshop was chosen

to receive the MAN Service Quality Award

pleases Korevaar immensely. "It just matches

my philosophy: While it is not necessary to be

the biggest player in your field, you should

always strive to be among the best." He had

already adopted this approach at the age of

22, when he joined his father's company back

in 2003, relates Korevaar. While KoreNet had

12 employees at that time, the number of staff

has risen to about 120 working in three different

lines of business after various strategic

acquisitions. He enjoys a very good relationship

with Managing Director Erik Rosier and

his team at ROSIERVANDENBOSCH. "We've

got the same mentality," says Korevaar about

his service partner. Originally a trained physiotherapist,

Rosier has been in the truck business

since 1982. The self-made man first

became acquainted with MAN trucks in 1999

and has never looked back. He took over

the present MAN Service Centre in 2000 and

operates three locations at the moment, in

Schelluinen, Utrecht and Tiel. "In doing my

job, I've always been interested in the interaction

with fleet operators to get the very best

results out of the vehicles," says Rosier.

A. C. Korevaar is quite aware that he is a

"demanding customer" who requires a lot

from his workshop. "Patience is not one of my

strengths. Our trucks must be on the road

continuously, six days a week, in order to earn

money," emphasises Korevaar. This declaration

precisely coincides with the attitude of

the workshop team. "Particularly our young

employees are extremely motivated and

eager to learn. They always want to understand

everything in the most minute detail,

do it even better and use every available

channel to get there: the Internet, the MAN

system, the exchange and knowledge-sharing

with seasoned colleagues," points out Rosier.

Ultimately, this ambition had also motivated

them to run for and win the MAN Service

Quality Award. Jan van Niekerk, Workshop

Service Coordinator and a member of the

four-person "world champion" team, believes

that curiosity needs to be coupled with specific

know-how. "New truck generations make

ever more complex demands on workshops,

with their growing level of electronics and

increasingly interconnected components and

Photos: Julius Schrank

Practising early: Even the

youngest team members

are fully integrated into

the daily job.

parts that carry a broader range of information,"

says the 29-year-old, while outlining

the challenges for service and maintenance.

A. C. Korevaar has relied completely on the

Service Centre to handle this complexity

since 2014. "We focus on the thing we do best,

namely our core business. We used to implement

some of the maintenance and repair

work in our own workshop – yet that became

a thing of the past ever since Euro 6 entered

the stage. I'd rather prefer to depend on the

know-how of the MAN mechanics. They definitely

know everything about my trucks,"

adds the business owner.

To prevent any unpleasant surprises of a

financial nature, many MAN customers have

signed comprehensive service agreements or

warranty extensions. "Fixed service rates

which are not tied to the actual maintenance

and repair costs guarantee customer mobility

and facilitate the calculation of service costs,"

says Erik Rosier. In case of the TGX and TGS

trucks with 4x2 and 6x2 wheel formulas, the

drive train guarantee covers three years or a

maximum mileage of 450,000 kilometres.

"Truck technology with guaranteed functionality,"

explains the workshop owner, "provides

a reliable basis for the business success

of our customers."

30

31
---
Goods

The storefront signage already states that

this is "The World's Best MAN Workshop".

The excellent results of the main certified

technical inspections also reflect the

great quality of MAN trucks that are serviced

regularly. In 2015, the quota of one-year-old

MAN trucks passing the annual inspection

with zero faults reached 85.9%. The reliability

of more seasoned MAN trucks is also top

notch: 65.6% of five-year-old trucks passed the

primary inspection with zero faults. "That is a

unique record among truck manufacturers,"

stated the report issued by the official technical

inspection agency TÜV.

A. C. Korevaar needs a little more patience

before he can estimate how much he has

saved due to MAN's comprehensive service

agreement. "While we need to pack on some

more business mileage until we can come up

with reliable financials, it is already certain

that we haven't had any major cost fluctuations

for fleet management since then. This

has made it a lot easier to project our operating

costs," lauds the owner. He is therefore

very satisfied with his world's best workshop

crew. No good reason for Erik Rosier, however,

to rest on his laurels. "We're proud of what

we've achieved, yet we continue to critically

scrutinise our actions," observes Rosier.

"There is no such thing as stagnation, we simply

want to keep getting better – with a fresh

start every day." Which sounds exactly like the

stance of world champions.

Redefining regional:

Conti Hybrid

The ever-increasing demands of today's transport market

require a new level of versatility for commercial vehicles.

With its innovative technical features, the new Conti

Hybrid tire line is equally at home on city streets,

motorways or uneven roads – and offers outstanding

mileage and fuel economy.

By driving down your overall costs, the cutting-edge

Conti Hybrid range is redefining regional, mile after

mile after mile.

Back in service: After the

maintenance process,

the truck is prepared for

its next deployment.

Photos: Julius Schrank

GENERATION 3. DRIVEN BY YOUR NEEDS.

For further information, visit

www.continental-truck-tires.com

Conti Hybrid LS3

17.5

Conti Hybrid HS3

19.5

Conti Hybrid HS3

22.5

32
---
1/2016

Celebrating a milestone

birthday: The team of

MAN Trucker's World

Denmark

The Danish club is holding

another prize draw this

year, awarding tickets to

the IAA trade fair – and is

wondering whether it will

once again be necessary to

order three times as many,

similar to demand in 2014.

England

Mark Christie

is very happy to be the

1,000th member of the

English MAN Trucker's

World branch, which

is partially due to the

offered club activities.

Netherlands

Dutch club members meet

traditionally for the Truck

Run in Berkel en Rodenrijs,

for parades, round trips and

a fabulous supporting

programme.

Poland

At the international truck

tuning show "Master

Truck", Europe's most

attractive trucks are on

display. Naturally, the

Polish club is represented.

Happy birthday!

10 years of MAN Trucker's World

Russia

In Russia, Sergej Sapronov

drove across the country in

an MAN truck and offered

the interested public a look

behind the scenes of how

long-distance truckers live.

Now that's pioneering work!

At the MAN Trucker's World

drivers' club, everything

revolves around the wellbeing

of truck operators. This

year, members celebrate the

10th anniversary of their club.

Doing something for individuals

who face a tough job every day,

in all kinds of weather and

around the clock, was the driving

force behind the formation

of MAN Trucker's World in 2005.

Nowadays, the drivers' club of MAN has almost

20,000 members and is established in as

many as 11 different countries. Company

memberships were introduced last year and

were received very well, says Susann Stürze,

who has been managing the club from the

Portugal

The Portuguese club

extends invites to

celebrate at the

national agricultural

exhibition "Feira do

Ribatejo" in Santarém.

France

The French enjoyed

celebrating at the race track

in Le Mans, site of the

European Truck Racing

Championship finale.

Spain

The Trucker Fiesta in

Jarama is especially

familial: MAN Trucker's

World awards tickets in

a prize draw, so that club

members can root for local

hero Antonio Albacete.

Switzerland

Every year, truck drivers

from all over Europe gladly

anticipate the international

Trucker & Country Festival

in Interlaken, where the

Swiss Club, a seasoned

participant, provides a great

atmosphere.

Italy

The Italian club can be

spotted at the Misano World

Circuit, for instance, where

racing trucks hurtle around

the track.

Austria

The Commander Club has

been working to improve

the image of coach and

truck drivers since 1992.

Joint excursions are very

popular among its

members.

Photos: MAN

34

35
---
1/2016

very beginning. "The shortage of drivers is a

Great activities: The MAN plant tours

organised by MAN Trucker's World are

very popular with members.

central problem for freight forwarding and

transport companies, so retaining staff is more

important than ever." The club manager is

convinced that showing appreciation is the

best tool to accomplish that.

Just joined: Marcel N. became a

member of MAN Trucker's World in 2015.

His friends had been raving about the

club for some time.

Rolf H. (second from right): "MAN

Trucker's World has delighted me by

its fabulous campaigns for eight

years. Many thanks!"

She is well acquainted with the everyday

working life and hardships of drivers, who are

often exposed to extreme stresses as a result

of their profession. "They have little time off

and rarely enjoy the opportunity of relating to

their families or their surroundings." At events

such as the bauma, the IAA, MAN Trucknology

Days or the Truck Race at the Nürburg Ring,

families and friends of the drivers are therefore

also warmly welcomed and catered for in

the MAN Trucker's World Club tent. "It is important

to us that drivers should be able to

simply talk shop at these events without worrying

about etiquette and just feel good all

around," explains Stürze.

In order to offer its members exceptional

experiences, the club ensures that trade fairs

and events always include special activities.

Tours at truck trial competitions, or exclusive

Big heart for the drivers: Susann

Stürze (bottom right) and her team

at MAN Trucker's World focus on

the well-being of all club members.

Two generations of club members:

Marcel B. has been with MAN Trucker's

World Club since 2010. To mark its 10th

anniversary, he gave his son a membership.

box visits at the Nürburg Ring are among the

highlights. Another important factor is per-

suffering injuries due to the blind spot of any

nies to be gifting a membership to their em-

sonal contact with the MAN Trucker's World

the nearest medical office through a hotline

truck, the organisation promotes measures

ployees, as the annual dues are significantly

Club team. "It does happen that a driver will

and receive immediate treatment. For indi-

for accident prevention and also supports

below the regular costs of mandatory further

talk about personal issues – and we're always

viduals underway with 40-tonne vehicles will

children and young people who have suffered

training hours.

here to listen," says the club supervisor. "It

most likely lack the time to spend hours sit-

traffic accidents. So far, €283,000 has been

doesn't make any difference whether some-

ting in a waiting room.

spent to successfully help drivers in need as

Information about all benefits, events

body drives a V8 or a 7.5-tonne vehicle, wheth-

The club is especially engaged in cases of

well as support charitable institutions.

and campaigns is sent to members not just via

er that person is a managing director or a

drivers who have developed serious needs as

To ensure road safety, regular training

e-mail but by post as well. So even the geo-

dumper truck operator. In our club, everyone

is equally important."

To provide perfect support, Stürze had

to repeatedly put herself in the shoes of drivers

over the years and clearly reflect as to

which needs and problems the club could op-

a result of sickness, an accident or losing their

job. A dedicated fund, namely "Trucker's

World – Drivers Help Drivers" was set up in

2007. Out of the €25 in annual membership

fees paid by club members, €7.50 go towards

the fund that supports drivers fallen on hard

times after a stroke of fate. "In many cases,

"We want drivers

to simply feel good

at our events."

Susann Stürze, MAN Trucker's World

courses for truck drivers are indispensable.

Since the professional truck drivers directive

issued by the European Union became mandatory

in 2006, truckers are now under obligation

to prove that they have taken 35 hours

of further training within a time frame of

five years. Members of the MAN Trucker's

graphically most remote member of the club

– a trucker in Forest Lake near Brisbane, Australia

– receives regular communications in

his mailbox. In 2015, he travelled especially to

Europe to participate in a plant tour for club

members and was so impressed by the warm

welcome, that he later sent a five-kilo package

timally address with its offers. This also resulted

in a cooperation with DocStop, for example,

an association that provides professional

truckers with medical services while

on the road. Numerous doctors are involved

sickness benefits are by far inadequate," says

the club manager. Depending on the seriousness

of the case, the club may donate from

€1,000 to €5,000 to help drivers get back on

their feet again. In addition, the relief fund

20 000

members

World Club can benefit from free ProfiDrive

training courses. "For many drivers, membership

is rather worthwhile just because of the

training alone. In some cases, the company

will not assume the costs, or the drivers work

of chocolate from Australia as a thank you.

More information about MAN Trucker's

World is found at > www.man-truckers-world.com

in the association, thus forming a national

network coverage throughout Germany. If

plagued by acute problems such as a toothache

or stomach cramps, truckers can contact

also supports other charitable organisations

with donations, including Germany's Aktion

Kinder-Unfallhilfe, a children's accident prevention

campaign. To forestall children from

Photos: MAN

have joined MAN Trucker's World to date.

The international drivers' club is

represented in a total of 11 countries.

as independent contractors and would have

to pay for their training out of their own

pocket," says Stürze. It should certainly be a

persuasive argument for transport compa-

Fans and members can also

follow MAN Trucker's World on

Facebook and Instagram.

36

37
---
1/2016

Packed pro gramme

With the TGX D38 leading the way, all MAN production

series have undergone further upgrades in 2016. MAN

customers now benefit from improved functionalities to

enhance efficiency, comfort and safety.

New EfficientCruise

Due to the combination of the GPS-based

EfficientCruise cruise control system with the

EfficientRoll freewheeling function, plus the

intelligent and automated selection of gears, the

vehicle can automatically drive in a most anticipatory

fashion and thereby saves much fuel.

R

enowned for its reliability, power

and efficiency, the TGX D38 is

MAN's top model. Now the 2016

generation of this favoured truck will surprise

customers with a wide range of innovations

and improvements to lower the Total Cost of

Ownership (TCO) of the TGX D38 even further

and offer drivers even more comfort and safety.

Operators will find the saving effects of

these new features clearly reflected by their

vehicle maintenance expense documentation.

Also proving the point were comparative test

drives, where the new top model utilised 15%

less fuel when matched to a TGX 18.680 4x2

BLS with a V8 engine.

Among the innovations aimed at boosting

efficiency, is a new version of the GPSbased

EfficientCruise cruise control, which

now saves even more fuel than before. In

combination with the EfficientRoll freewheeling

mode, it invariably activates the coasting

function only when this will actually result in

fuel savings. In order to accomplish this, the

system utilises stored 3D maps of the route

while determining the vehicle's position via

GPS. Applying EfficientCruise technology for

long distance hauls or distribution transport

can significantly cut the fuel consumption ratio

of trucks without incurring the risk of

time loss. This assistance system supports the

driver on long trips by assuming the demanding

task of accelerating and shifting in a most

anticipatory fashion.

The consistently pursued advancement

of the drive train is another improvement

serving to save fuel. The new generation of

MAN TipMatic TX gears has an exceptionally

wide transmission spread (16.69 – 1). In combination

with an axle ratio optimised for long

distance transport, a high-ratio "maximum"

gear allows for economical driving at a very

low engine speed. At the same time, a low ratio

"minimum" gear supports slow driving

and comfortable manoeuvring, which reduces

wear and tear on the couplings.

Customers also benefit from a variety of

comfort functionalities in the drive train,

which are conducive to making the TGX D38

exceptionally efficient, however powerful

the performance. Due to an integrated gradient

sensor, it factors in the relevant topography

when selecting a gear. Especially while

starting up, the drive train will always determine

the most suitable gear – whether on inclines,

on empty runs or with a full load. The

new Active Driveline Damping function supports

sensitive starting, even under difficult

conditions. The manoeuvring mode has also

been optimised, as the accelerator pedal settings

and the coupling controls have been

fine-tuned even further for a driver's more

15 %

fuel savings

result from the innovations in the new

TGX D38, as proven by test drives with a

matched MAN TGX with a V8 engine.

Photos: MAN

accurate positioning of the vehicle. On snowcovered

roadways or on construction sites,

the new seesaw function facilitates the startup

of a vehicle that has gotten stuck. Once

this function is activated, the coupling opens

immediately when the driver releases the accelerator

and closes as soon as the gas pedal

is activated once more. The selection of the

correct gear is made automatically to prevent

the spinning of wheels.

in addition to driving comfort, the new

model generation of the TGX D38 also has

a clear focus on the aspect of safety, which

is provided by the new driver assistance systems

available in almost all MAN vehicle categories.

The serially standard Emergency

Brake Assist system (EBA) already meets the

more stringent legislative requirements

which will become mandatory for newly registered

vehicles as of November 2018. The

Drive train with TipMatic TX and new

functions for increased comfort

The further advanced drive train of the

TGX D38 saves fuel due to the TipMatic TX

gears, which facilitates driving and reduces

wear and tear. In addition, new functions for

added convenience result in improved

starting, gear changing and manoeuvring

performance in the vehicle.

Turbo EVBec with 630 kilowatts

The electronically regulated Turbo EVBec

primary sustained-action brake system not

only offers safety benefits, but can even

replace an intarder with its braking

performance of as much as 630 kilowatts in

long distance transport of up to 40 tonnes.

Improved safety systems

Along with the serially standard EBA

Emergency Braking System, all series now

benefit from new and improved versions of

the Lane Guard System, the Emergency

Stopping Signal and the distance-regulated

Adaptive Cruise Control.

Daytime-running LED light and

headlight-wiper automation

The new daytime-running LED light enhances

visibility while at the same time reducing

energy consumption. Upon utilising the

optional headlight and windscreen wiper

automation, the vehicle controls dimmer and

front windscreen wipers automatically.

38

39
---
the front windscreen features an independent

object detection capability and will also

recognise lane markings on the road.

The new and striking light design is another

attribute that increases safety standards

for all series. Whenever the vehicle is in

motion, the daytime-running LED light now

shines as a horizontal light beam in the main

beam lamps at all times, thus ensuring that

the truck is conspicuously visible by day even

from a great distance. At the same time, it

saves a significant amount of energy compared

with the previous headlamps. Automated

light controls can also be integrated upon

Two important innovations: the

new generation of MAN TipMatic

TX gears (above) and the striking

light design (below).

Videos illustrating the

new EBA, ACC and LGS

assistance systems are

found on the app.

new EBA generation combines the information

collected by a radar sensor at the front of

the vehicle and a camera in the windscreen.

Due to this sensor fusion process, the system

is capable of interpreting potentially hazardous

situations sooner and more reliably. In

case of emergency braking, the Emergency

Stopping Signal (ESS) triggers a rapidly flashing

warning signal (emergency flashing) in

addition to the regular brake lights, thus signalling

a dangerous situation to rear traffic.

The new Lane Guard System (LGS) relies on

the most up-to-date camera technology,

which allows for more precise lane detection

and keeps unnecessary warnings to a minimum.

In addition, the new LGS takes into

consideration that many drivers like to drive

on the outside of the lane for safety reasons,

and therefore waits longer before issuing a

warning on this side of the vehicle. The system

also adjusts automatically to countries

with left-hand or right-hand driving. On motorways

and A-roads, the distance-regulated

Adaptive Cruise Control (ACC) automatically

adjusts the driving speed and keeps an appropriately

safe distance from the vehicle ahead.

The new ACC works with two intelligently

linked sensor systems: The radar sensor detects

vehicles ahead and calculates their

speed, distance and position in relation to

the driver's own vehicle, while the camera in

request. When this "Auto" setting is selected

on the light switch, the vehicle switches the

dimmer on and off automatically depending

on the ambient brightness. In addition, the

automated light system can be combined

with windscreen wiper automation, which

handles the task of switching the front windscreen

wipers on and off, as well as regulating

the interval from intermittent to constant.

This new function once again results in greater

safety for the driver.

Also relevant to safety is the electronically

regulated Turbo EVBec. As sustainedaction

brake systems not subject to wear and

tear, the powerful engine brakes offer a high

level of safety. The systematic charging of the

cylinders in engine braking mode raises the

braking performance of the primary sustained-action

brake system to more than

630 kilowatts at 2,400 revolutions per minute.

The cooling system is subject to a lot less

strain than when secondary sustained-action

brake systems are used – a further safety

advantage. When it comes to TCO-optimised

long-distance transport operations, the Turbo

EVBec offers yet another crucial advantage:

Due to the exceedingly high sustained-action

brake system performance and the available

primary braking torque of up to a maximum

of 2,500 Newton metres, it can handle all the

sustained-action brake work and renders an

intarder unnecessary. Long-distance transport

customers can therefore reduce costs, as

well as save about 70 kilos of weight.

Photos: MAN

Better Braking with Water.

The Aquatarder PWR

Economically and eco-friendly on the road: with the Voith Aquatarder PWR. The primary

continuous braking system uses the cooling water as operating medium and is therefore

maintenance-free. It performs up to 90% of all braking operations wear-free – which

reduces stays in the workshop.

As part of the MAN PriTarder braking system the Aquatarder PWR achieves high braking

outputs already at low speeds – with a weight of just 33 kg. All this makes it an ideal

continuous braking system for distribution and construction site vehicles, as well as for

combined use with the MAN HydroDrive.

www.voith.com

40
---
1/2016

Reliable partner: As the sponsor

of numerous football clubs, MAN

ensures that the teams travel to

their games safely and comfortably.

More images of the

Bundesliga drivers'

fast-paced training are

available on the app.

Training for

EXCELLENCE

When the luxury buses of Germany's

best Bundesliga football teams meet

up, a hefty dose of adrenalin and

excitement flanks the occasion.

Furthermore, the principles of safety

are paramount on the ADAC training

grounds. For even the very best

professional coach operators can

still learn something new.

Photos: Bernd Jaufmann

W

hen meeting up at the

training grounds kept in

Schlüsselfeld, Northern

Bavaria, by Germany's Automobile Club ADAC,

a big hello resounds all around. Obviously, participants

are well-acquainted from countless

Bundesliga and cup matches and are happy to

reminisce about the most recent weekend of

games, spiced up with a few jokes and witty

comments. This cheerful interlude will suffice,

however, as the topic of safety is on the agenda

today and is certainly no laughing matter. "The

next winter season is certain to arrive," says a

pensive Michael Lauerbach. The principal driver

of the FC Bayern München football club

reflects on icy roads, and safe travels to the

team's destinations. As a driving professional,

he knows what he is talking about: He and his

colleagues cover more than 60,000 kilometres

with the red team bus of the record-breaking

German champions every year. Their trips to

the stadiums are always on a tight schedule

and absolutely nothing may go wrong. Long

distances are specifically the rule for games

played among European teams games.

Known as "Schulle", Christian Schulz is the

driver of the Borussia Dortmund bus and

knows the drill: "Our BVB pros will take the bus

for distances up to 300 kilometres," says

Schulz. For destinations further away, the team

will use a plane, with the team bus hurrying

ahead with not only the jerseys and football

shoes, but also the training accessories and

everything needed by a professional club for

the game and overall event. Last but not least,

the team coach is viewed as a kind of sanctum

and retreat – especially in away games.

It gets rather colourful on the ADAC training

grounds. Lined up alongside the red Bayern

coach is the black and yellow MAN vehicle of

the Borussia Dortmund team, diagonally to

42

43
---
1/2016

Aquaplaning with a difference:

The bus of FC Bayern whilst

manoeuvring on a wet roadway.

the new three-axled coach of FC Augsburg in

silver and green. Apart from the coaches serving

Gladbach and the Hamburg Sportverein,

all Bundesliga team vehicles made by MAN

are represented here. Instead, the TSV 1860

München and Braunschweig Eintracht teams

can take a little sniff of Bundesliga air – the two

second-division clubs also own an MAN coach.

A particular eye-catcher is the new team coach

of FC Basel 1893, likewise attending training at

this summit meeting of Bundesliga wheelers.

At this moment, the green bus of the VfL

Wolfsburg Wolves rolls onto the tarmac. Correct

braking is the exercise and the full brake

application from a speed of 60 kilometres per

hour succeeds perfectly. Especially experienced

operators tend to avoid real emergency

stops, as they don't wish to inconvenience

their passengers with such a drastic manoeuvre.

But the timely initiation of an emergency

stop with full brake pressure can prevent

accidents, with hesitation quite out of place

in a truly testing situation. The exercise is

now intensified and moved on to the coated

track, where the friction coefficient is the

equivalent to black ice on the road. And this

time, the drivers are astonished to observe

how the braking distance is extended, while

the ABS systems of the Lion's Coach vehicles

prevent wheels from blocking by applying cadence

braking. And there is still worse to

come: On to the sliding surface with great

momentum where water fountains enforce

the necessity to brake and dodge simultaneously.

The beneficial functionality of the ESP

systems impedes the tendency of transverse

dynamics, and after a short swivel of the rear

end, the briskly manoeuvred three-axle

coaches come to a safe standstill.

Christian "Schulle" Schulz applauds the

seriousness of the training and its practical

impact: "Where else, after all, can you try out

such extreme situations in such a massive vehicle?

Should you ever go into a skid on a slippery

road, you have experienced the moment

before and know what can be done." Even if

the drivers have heard it all before, the trainers

are repeating the familiar rules that are all

too easily neglected in everyday routine. It

starts with sitting properly, which is indispen-

Five professionals: The bus

drivers from Dortmund,

Wolfsburg, Basel, Augsburg and

Munich (from left to right) at the

driver safety course.

Basel drives MAN

Since the start of the 2015/2016 season, MAN has been the

official partner of the current and 18-times Swiss football

champions FC Basel (FCB) 1893. MAN provides the team

coach, a Lion's Coach L. The three-axle vehicle in the blue

and red club colours, which carries the professional footballers

of FCB to venues in Switzerland and in Europe, is

equipped with every imaginable comfort and convenience.

The handover itself was a spectacular occasion: The MAN

team coach was christened on a floating pontoon by a fire

boat of the Basel fire brigade. It is now called "Bebbibus"

(as Bebbi is the affectionate nickname of Basel residents)

after the FCB had conducted a fan contest to pick a name.

Photos: Bernd Jaufmann

sable for an effective response in tricky situations

and ostensively demonstrated during a

giant slalom manoeuvre on a slippery carriageway.

Sprawling too deeply on the seat or

driving with stretched-out arms inhibits the

necessary steering action – and at the speed of

just 30 kilometres an hour at that.

everything is memorised much more easily

when the coherencies of physics are

known. So it's back to school for everyone,

with MAN's ProfiDrive trainers drilling the

basics together with the drivers. How is the

needed braking distance properly assessed?

Dry run: ProfiDrive trainer Rolf

Lechner explains the physical

aspects of a driving manoeuvre.

How do assistance systems work, what functions

can an emergency braking assistant

provide? The trainers align their standard

with the prevailing knowledge levels of their

groups and favour a multimedia approach.

This training concept is named "Learning

and Driving" and once participants have

evaluated their individual driving styles and

concluded their training, they become true

believers. One of them is Michael Lauerbach

of the FC Bayern drivers' team, who says: "A

regular refresher course is always a worthwhile

undertaking – if only to become acquainted

with the latest in vehicle technology."

Three questions to ...

Michael Lauerbach and Christian Schulz,

coach drivers for FC Bayern München and

Borussia Dortmund:

What's it like, when you meet up for a

top-level game in Munich or Dortmund?

Christian: First of all it's a big hello ...

Michael: ... and then the crammed daily

agenda awaits, every minute counts.

Your teams, of course, are bitter rivals

in the league. Must the drivers also have

their hackles up?

Michael: While we are fans of our club and

our team, we are essentially colleagues.

Christian: And good ones at that, who can

put up with a bit of ribbing. We support

each other whenever we can. Even while

approaching the stadium, so nobody gets

stuck in traffic.

How important is a safety training

course and how effective do you rate it?

Christian: We are professionals at the

wheel, like Formula 1 drivers. They train to

improve their skills, and we do the same.

We are just not into improving our lap

times, but rather concerned about absolute

safety, as it were.

Michael: In any event, we are completely

behind it. Here you learn how to handle

extreme situations. And when things get a

little tight in an everyday context, those

skills can be called upon.

44

45
---
1/2016

Much waste on little land: Hong Kong and Macau

are among the world's most densely populated cities

and face numerous challenges in terms of refuse

management. SUEZ Recycling and Waste Recovery

depends on MAN to master the matter.

48

CLEAN

Photos: Glow Images, Virgile Bertrand

MACHINE

49
---
1/2016

S

liding into his driver's cab at

eight in the morning, Kong Sai

turns on Radio Macau and begins

his shift. The sky is clear and the harbour

sends a salty sea breeze down the streets, as

Kong drives with his window down past the

Olympic stadium, underneath the new elevated

commuter tracks, into the Portuguese

historical city centre along the bustling Rua da

Restauração with its many tea shops and

across the steep cobblestones of the Largo Do

Carmo, where tourists from mainland China

busily snap photos of the 19th-century neoclassical

church. Navigating a 13-tonne truck

down the hilly, narrow lanes of Macau is not

an easy feat, yet Kong could probably handle

every incline and every curve in his sleep.

"There isn't a corner of this city unfamiliar to

me," he says with a laugh. Back in 1980, at the

age of 19, he arrived in what was then still a

Portuguese colony from a farm across the borders

of southern China with nothing more

than a plastic bag. "Just finding work" was

Kong's goal. During the early years, he scraped

by in construction and restaurants, and later

signed on to work in the harbour, where he obtained

his truck license.

Deployed in Macau: driver

Kong Sai steers his MAN

TGM through the colonial

old city centre.

zone is one of the world's most heavily populated

cities: Its 600,000 residents are joined

by 27 million tourists annually, who flock to

the urban area seeking to try their luck in the

countless casinos. In terms of waste management,

this means a lot of refuse produced in a

small space: about 800 tonnes of plastic, paper,

metal, glass, electronics, non-recyclable

waste and other rubbish, which breaks down

to about 1.5 kilogrammes per inhabitant daily.

"Every tissue ending up on Macau's pavement

is disposed of by our company," reports Kong

Sai proudly. CSR has 670 employees in Macau.

The company belongs to SUEZ Recycling and

Waste Recovery Asia, one of the largest waste

8 000

tonnes

of waste is hauled daily to the West New

Territories landfill in Hong Kong per the

33 MAN trucks operated by SUEZ.

disposal service providers in the world. The

CSR fleet in Macau comprises 140 trucks to

collect rubbish and clean the streets. Since

2013, the company has been using MAN

trucks for select routes, with Kong currently

driving the blue roll-off truck with the number

plate MQ46TM.

In contrast to regular rubbish collection

trucks that empty bins and small containers

by the roadside, Kong loads his MAN truck

only once per trip. The four-metre-long large

container waiting this morning at the entrance

to a high-rise settlement – a so-called

compactor – holds three tonnes of rubbish, as

much as 35 small containers. This is accomplished

by a press inside the compactor that

crushes the rubbish – a both time- and spacesaving

concept designed by CSR for Macau's

densely populated areas and customised precisely

for the MAN vehicles. Kong reverses the

truck expertly right up to the compactor. At

the push of a button, the buzzing hydraulic

arm extends out and lifts the container onto

the truck bed. "The MAN chassis is incredibly

stable and durable," states Kong. "Considering

the traffic situation and our tightly scheduled

Professional refuse management:

The waste from Hong Kong is taken

to the WENT landfill via special ships

and MAN trucks.

work day, we couldn't afford any mishaps anyway."

It barely took two minutes to load the

truck. Now it's time to head back to company

headquarters and the adjacent rubbish incinerators,

where Kong will empty the container.

As for the megacity Hong Kong, which is

ten times larger than Macau and located 50 kilometres

to the east, MAN is also the partner of

choice for recycling and waste disposal. It is

about noon and while the steel beams of the

new sea bridge to Shenzhen shine in the distance,

oyster banks are drifting in the water.

Also operated by SUEZ, the landfill of the West

New Territories (WENT) is located here on the

peninsula of Tuen Mun. Every day, 8,000

tonnes of waste produced by Hong Kong's

7.8 million inhabitants are delivered here. Initially,

specialised vehicles transport the refuse

through the maze of high-rises to collection

points, from where waste loads are then

shipped to the landfill in self-steering and specifically

designed SUEZ vessels. As soon as the

ships reach the lading port, 33 TGX-model

MAN trucks spring into action: From Monday

through Saturday, 40 drivers work here to

"MAN trucks are

low-emission and

eco-friendly".

Madison Tang, Vice Director of the Suez branches

in Hong Kong and Macau

Ever since 2007, the 55-year-old has been

driving a midnight-blue MAN TGM for the

waste management company CSR Macau.

"That truck is a true all-round miracle" applauds

Kong. "It's durable, dependable and

features a new automatic transmission". His

first stop this morning is Habitaçao de Seac

Pai Van, a settlement of 30-storey high-rises

housing about 10,000 people. "This land was

brownfield fifteen years ago," explains Kong,

as he points to the newly constructed buildings.

Macau's economy has been booming

over the last few decades, with an ever-increasing

number of Mainland Chinese moving

here and apartment blocks shooting up

into the sky. Today, this special economic

En route to the landfill: Mui Wai Kwok

supervises the transport trips of the

rubbish collection trucks to the dump.

Photos: Virgile Bertrand

50

51
---
1/2016

GOOD BRAKING. BETTER DRIVING. INTARDER!

Good braking means better driving. Better driving means driving more economically, safely, and more environmentally

friendly. The ZF-Intarder hydrodynamic hydraulic brake allows for wear-free braking without fading, relieves

the service brakes by up to 90 percent, and in doing so, reduces maintenance costs. Taking into account the vehicle's

entire service life, the Intarder offers a considerable savings potential ensuring quick amortization. In addition, the

environment benefits from the reduced brake dust and noise emissions. Choose the ZF-Intarder for better performance

on the road. www.zf.com/intarder

End of shift in Macau: Kong Sai

delivers the daily collected waste

to the incinerators.

MAN at IFAT 2016

move more than 500 waste container units to

the tipping face. Supervising the transport

trips, Mui Wai Kwok could not imagine working

without his MAN fleet anymore. "The after

sales service performed by MAN is unbeatable.

Whenever anything malfunctions, replacement

parts are organised immediately," he

says. His boss Madison Tang, Vice-Director of

the local SUEZ branch, adds: "We deliberately

invested in German quality because we know

that it pays off in the long term." A trained

automotive engineer, Tang himself chose the

vehicles. "MAN trucks have low emissions and

always comply with the latest environmental

standards, which is also greatly valued by our

customer, the city of Hong Kong." Both here

and in Macau, the waste management teams

will soon re-order new MAN trucks to support

the expanding recycling business in 2016.

Back in Macau, it is now 5.00 pm and Kong

has made the trip between various collection

points in the city and headquarters sixteen

times. There is just one more casino on the

agenda before he dashes home on his motorcycle

to his wife and two daughters.

Intensive activity holds sway over the incin-

erators, with truck after truck lined up on the

ramp. It is smelly and dust fills the air. Some

people might find it hard to believe, but he

loves his job, says Kong. "The driver's cab is

like my second home. Every day I discover the

city anew." The speaker on Radio Macau announces

the evening news, while Kong steers

his 13-tonne truck onto the road, rolls down

the window and looks out at the sea.

Find more images about the work

routine of SUEZ employees in

Hong Kong and Macau in the app.

MAN will present its vehicles and services

as comprehensive solution packages for

municipal applications at IFAT, the leading

global trade fair for water, sewage, waste

and raw materials management. The company

offers vehicles ranging from 7.49 to

41 tonnes for municipal operations – including

sweepers, dump trucks, waste collection

and winter service machinery. In addition,

customers can obtain information about

industry-specific customised leasing and

financing services, as well as offers for

MAN ProfiDrive, MAN TeleMatics and MAN

ServiceCare. MAN will show four trucks in

Hall C4, Booth 317, at the Munich Trade

Fair Grounds from 30 May to 3 June 2016.

For more information see > www.ifat.de/en

Last stop: The

containers are

emptied at the

waste incinerators.

Photos: Virgile Bertrand

52

53
---
1/2016

Stress test

under the scorching sky

Heat, dust and mountain ridges: During summer trials in Spain's

Sierra Nevada, MAN trucks must prove their capabilities under extreme

conditions. They won't be ready for market, unless they pass these tests.

Photos: Max Kratzer

54

55
---
1/2016

Maximum endurance: Driving

conditions in the Sierra

Nevada make considerable

demands on the test vehicle.

Testing MAN trucks to the

uttermost: Philipp Freischlag,

head of TGL/TGM tests.

S

lowly, but surely, the thermometer

in Granada creeps towards

the 40°C mark at two in the afternoon.

As almost every day during

midsummer, Andalusia turns into a baking

furnace. High time, perhaps, for a little siesta?

Quite the opposite holds true, for test engineer

Sabine Lützeler considers these the perfect

conditions to power up her laptop. Together

with testing director Philipp Freischlag, she

sets off on another trial drive with the 15-tonne

TGM. Their aim is to push the MAN truck to its

limit. To this end, they will cover some 35 kilometres

high up into the Sierra Nevada, a gruelling

and torrid climb from 700 to 2,500 metres

above sea level, on tight hairpin bends with

gradients up to 22%. This is a real challenge for

drivers and vehicles alike.

The TGM powerfully motors up the incline.

Having parked their car by the side of

the road, a couple is taking photos of the picturesque

panorama. Cyclists are struggling

up the pass. An ibex has an easier time of it,

disappearing up into the massive rock face

with agile leaps. Today, the MAN testing team

does not spare a glance at the scenery. Other

than the safe navigation on challenging hairpin

bends, their focus is primarily on optimised

fuel consumption in strict compliance

with the new Euro 6c emission standard. It

becomes mandatory in 2017, and by that time

the last engine set-up must be in place. The

TGM engine had already been fitted with numerous

probes and reading devices at MAN's

plant in Steyr, Austria, which are now generating

a broad and continuous flow of performance

data. While underway, Lützeler receives

a multitude of graphics on her laptop,

which the 33-year-old development engineer

uses to read out the different driving situations

and fine-tune the parameters in real

time. "It's a bit similar to open-heart surgery,"

she says.

In tandem with its counterpart in the

winter of northern Sweden, the summer trial

is the last major endurance test before the

new vehicles and new technology must prove

themselves on the market. Till then, much

work and innovative efforts will have gone

into the engineering. "In total, MAN has

"These MAN

summer trials

are similar

to open-heart

surgery."

Sabine Lützeler, test engineer at MAN

Photos: Max Kratzer

250

experts

from MAN's development department

are on location in Granada during the

summer trials.

On location in Granada:

Georg Grüneissl, Testing

Director TGX/TGS at MAN.

around 250 development experts on site in

Granada: drivers, vehicle support staff, workshop

technicians, application experts and engineers,"

reports 50-year-old Rainer Miksch,

who is responsible for Road Tests at MAN

Truck & Bus. This morning at eight, he and

Georg Grüneissl, Testing Director of TGX/TGS

in the Engineering Vehicle Validation Coordination

department, had summoned the team.

Together with the engineers, workshop staff

and drivers they went over the day's agenda

in the vehicle depot in Granada. This hall

is filled with two-storey office containers,

where open laptops sit side by side on the

tables. The tangled maze of cables indicates

that all the trial results are converging here.

Buses and trucks are lined up in the hall and

initially all appear to be well-known vehicles

from current production series. "The technical

innovations this year relate to the engines

and drive trains," says Grüneissl. Merely signs

reading "Test Vehicle" or "Video Recording

Test Vehicle" actually suggest a special assignment

purpose.

"Over the seven weeks of summer testing,

our to-do list includes functional and

long-term endurance tests for engines and

gears, the checking and adjustment of the

brake management system as well as the

functionality of the innovative driver assistance

and GPS-based cruise control systems,"

explains Rainer Miksch, outlining the mission

facing his team. "Just preparing for the

trials," he says, "takes all of six months. Besides

defining the crucial parameters, all the

measurement and control points must be determined

and set up." This is already the 19th

summer trial for Miksch. "We started with

just two employees and four cars," recalls the

test manager. "It is indeed impressive to witness

what has evolved since then."

Adjustments to the engine and transmission

system are like a jigsaw puzzle, explains

Miksch. "At the end of the trials, all the pieces

must fit together 100%." Much experience

and elaborate logistics are needed to accomplish

the smooth execution of "field work" so

far removed from the development departments

with their state-of-the-art test stands,

measuring systems and spare parts depots.

Among those responsible for this feat is Josef

Betz, a 50-year-old qualified agricultural vehicle

mechanic. As one of the organisers of

both the summer and the winter trials, he

has been involved in testing operations for 25

years. With his seasoned routine, he manages

56

57
---
An altitude of 1,800 metres,

with gradients of 22%: The

Sierra Nevada is a challenging

testing ground.

Visit us at

bauma

Hall B4

"Once I see our

vehicles at the

customer, I know

we have indeed

done a good job."

Rainer Miksch, responsible for Road Tests

at MAN Truck and Bus

communications between the test engineers

and the 50 employees of the workshop, oversees

the delivery and return of the vehicles

and also looks after the creature comforts of

the team. "As far as I am concerned, the summer

trials already begin in late March, when

we draw up the first plans and start modifying

the test vehicles," reports Betz. "And once

we set off once more from Granada and head

for home, we are already busy preparing for

the winter trials in Sweden's Lapland region."

sabine Lützeler and Philipp Freischlag

have now reached the highest point with

their TGM, namely the Plaza de Pradollano at

the Meliá ski station, at the foot of the

3,398-metre peak Velata. "Sol y Neve" – "sun

and snow" – is written on the hotel on the

left. It is hardly imaginable, yet this rocky

wasteland turns into a downright skiing circus

during the winter season, having even

hosted an alpine world championship in the

past. After a short break, the two testing professionals

must already make their way back.

The 35-kilometre downhill trip on the mountain

pass road presents a challenge to the

brakes and retarders. "As far as the engine is

concerned, everything is fine,' says Lützeler.

"Next week, it's time to take a closer look at

the gears."

The summer trials bring together practice

and engineering in widely varied ways.

"It's impressive to observe how the team

works together, and how mature scientific

expertise coalesces with many years of practical

experience," says Rainer Miksch. He also

notes that the enthusiasm for the product

and a high degree of self-motivation of all

participants is palpable everywhere. "This is

not an assignment like any other," is his conviction.

He won't be satisfied until the tested

vehicles and components are finally delivered

as serial products to the customer, says

Miksch. "Only then will I know that we have

indeed done a good job."

Photos: Max Kratzer

Ramp up. Before you tailspin.

The MAN traction vehicles. MAN kann.

Efficiency revs up success - on-road and off-road. Whether in construction-site transportation or municipal operation,

fire-fighting or emergency services, agriculture or forestry: The robust MAN traction vehicles combine unbeatable

driver comfort with maximum efficiency and safety - while carrying you to wherever you need to go. For example,

your savings target. With their proven Euro 6 technology, these vehicles provide the best fuel consumption figures

and more success for you. Find out more at www.man.eu/trucks

MAN kann.

58
---
The new KMAX range.

Drive further all year round.

The new KMAX line delivers up to 35% more mileage

compared to its predecessor and all-season capability.*

ALL-SEASON

*

Compared to RHS II and RHD II+. Tests conducted in cooperation with different European fl eets under the supervision of Goodyear on size 315/80R22.5 between July 2011 and June 2013 show that

KMAX S and KMAX D have an improvement in mileage potential of respectively up to 30 % and 35 % vs. Goodyear RHS II and RHD II+.