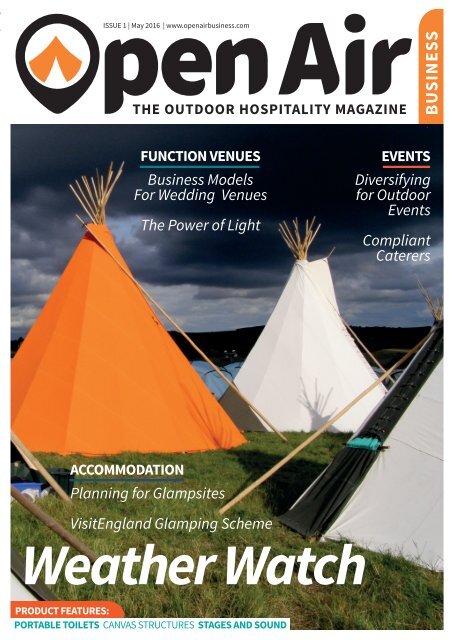 Open Air Business May 2016
The UK's outdoor hospitality business magazine
The UK's outdoor hospitality business magazine
SHOW MORE
SHOW LESS
Create successful ePaper yourself
Turn your PDF publications into a flip-book with our unique Google optimized e-Paper software.
ISSUE 1 | May 2016 | www.openairbusiness.com

BUSINESS

FUNCTION VENUES

Business Models

For Wedding Venues

The Power of Light

EVENTS

Diversifying

for Outdoor

Events

Compliant

Caterers

ACCOMMODATION

Planning for Glampsites

VisitEngland Glamping Scheme

Weather Watch

PRODUCT FEATURES:

PORTABLE TOILETS CANVAS STRUCTURES STAGES AND SOUND
---
THE SMALL FESTIVAL

STAGE SPECIALISTS

Choose from our Hexagon range online for an instant quote

www.StarEventsLtd.com

Fast, safe and economical

Ideal for audience sizes ranging from 1,000 to 50,000
---
WELCOME

Welcome

Introducing Open Air magazine

A NEW LAUNCH is always exciting, but a

new launch into an emerging market is

particularly special. The outdoor hospitality

market is a diverse one and, until recently,

has been dominated by purely outdoor

events. However, the emergence of luxury

camping and an increase in the demand

for outdoor weddings and other functions

means there is every reason to create a

magazine to encompass all.

For the purposes of editorial clarity,

Open Air has three sections – Function

Venues, Accommodation and Events -

each of which has significant commonalities, and not simply due to the

vagaries of the British weather! Many operators have cross sector interests,

providing a venue, outdoor accommodation and/or events. Indeed, having

talked to many suppliers, it is apparent that the same products are sold

across the board; from professional services (such as insurance and planning

consultation) to tents and marquees, and toilets and shower facilities. Even

cut up aeroplanes have a market that spans the breadth of the industry, so I

am told by one advertiser!

Open Air's editorial mission is to provide expert information on subjects

pertinent to each area of the outdoor hospitality market while showcasing

successful businesses with detailed interviews. Furthermore, it will examine

relevant products and services to help function venues, glampsite operators

and event organisers make the best purchasing decisions.

Most exciting of all is the undeniable growth in this industry. Having

attended the Farm Business Innovation Show in November last year I was

enthused to see how many landowners are looking to their greatest asset

to maximise business potential. Farmers, country estate representatives

and the smaller scale, but equally important, 'pony and paddock' owners

congregated at the NEC for an event which continues to grow year on year. If

ever there was evidence that outdoor hospitality is the place to be that was it!

I do hope you enjoy Open Air. Please do feedback, letting us know what

you think, where we could improve and what you would like featured. Also,

should you wish to continue receiving free issues, please do help out with our

circulation audit by returning the free subscription card or completing the

online registration form at www.openairbusiness.com. We will be publishing

Open Air 10 times a year so look out for the June edition in a few short weeks!

PUBLISHERS

Tally Wade - tally@openairbusiness.com

Steve Rix - steve@openairbusiness.com

EDITORIAL TEAM

Richard Kruger - richard@openairbusiness.com

Tally Wade - tally@openairbusiness.com

ADVERTISING SALES

Antoinette Marley - 01892 677721

antoinette@openairbusiness.com

DESIGN

James English -

www.jamesenglishdesign.co.uk

PUBLISHED BY

Coffee Shop Media

t: 01580 848555

www.coffeeshopmedia.com

The House on the Hill, Friezley Lane,

Cranbrook, Kent, TN17 2LL

t: 01580 848555

FOLOW US ON

TWITTER

@openairmag

FOLOW US ON

FACEBOOK

www.facebook.com/

openairmag

COMING

SOON

Tally Wade

Editor / Publisher

Find more expert advice online:

www.openairbusiness.com

WWW.OPENAIRBUSINESS.COM 3
---
INSIDE

Contents ISSUE

#1 | May 2016

WEALDEN TIMES / DAVID MEREWETHER

DAVID GUTTRIDGE

JOLLY DAYS CAMPING

LAYLA MAY PHOTOGRAPHY

Cover photo Tipi Guru.

Focus on: Canvas

Structures

page 40

6 News - A new glamping

accreditation scheme;

Aeropods touch down

9 Industry Talk - How to stay

one step ahead of the British

weather

FUNCTION VENUES

15 Case Study - Open Air talks to

Coton House Farm, a wedding

venue with rural charm

16 Wedding Business Models

- Isabel Smith presents

three business models for

wedding venues

20 Light Fantastic - The power

of lighting and how to use it

to increase sales

23 Party Potties -

Everything you need to

know about specifying

portable toilets

26 Product Focus - Eight luxury,

portable toilet options

ACCOMMODATION

29 Case Study - John and

Kerstin Wolgast talk about

their first year as Glampsite

owners

32 Your Planning Plan

Planning advice from CLA

rural surveyor Richard

Goodwin

36 Stamp of Quality -

VisitEngland's new Glamping

scheme benchmarks and

rewards quality

40 Under Canvas - Know your

Gers from your Geodomes

with Tim Rees' tent choice

checklist

44 Product Focus - A choice of

luxury tents for Glampsites

EVENTS

47 Case Study - A feel good

festival co-founded by

Catatonia's Cerys Matthews

48 Estate Events - How country

estates can maximise

revenue by embracing events

54 Care Free Carering - Finding

a compliant caterer couldn't

be easier or (cheaper) with

NCASS

58 Stage Specifics - Jane

Russen advises on selecting

and positioning an outdoor

stage

62 Product Focus - Get ready

to rock with this staging

selection

64 Classifieds

66 Comment - Ian Hamilton

grinds his axe concerning

the term 'Glamping'

4 WWW.OPENAIRBUSINESS.COM
---
DO YOU HAVE AN UNUSUAL

PROPERTY, OR LAND SUITABLE

FOR GLAMPING?

We are always interested in representing additional

quality, unique holiday properties, and offer advice to

those thinking of setting up glamping or unusual holiday

accommodation.

WHAT WE OFFER

We are an independent, conscientious family business and work

closely with property owners to achieve good results for them. We

also keep an eye on glamping trends and domestic tourism so we

can continue to offer sound advice about site and accommodation

development, pricing and marketing.

50 years of experience in self catering rentals

Targeted marketing knowledge

A bespoke online booking and payment system

Superb office with helpful holiday advisors

Hassle free payments to owners

Quality photography and marketing

Whatever the nature of your interest, please contact us to discuss

your plans and options.

Call Kate on 01348 830 922 or email kate@qualityunearthed.co.uk

www.qualityunearthed.co.uk
---
The latest news from the world of outdoor hospitality

New Glamping Accreditation

IN RESPONSE TO the changing face of the glamping

industry over the past 10 years Visit England, the

national tourism board, has upgraded the criteria

for accreditation and brought in benchmarking on

quality and the opportunity for providers to obtain

an accolade for exceptional quality.

"Quality accommodation is a critical element

of the visitor experience and is integral to our

national strategy which outlines our commitment to

championing quality and excellent customer service

in England," said Viscountess Penelope Cobham

CBE, Chairman of VisitEngland.

"In the past 10 years the growth in the glamping

sector has been phenomenal. We are pleased

to announce our new Glamping Scheme which

replaces our Alternative Accommodation Scheme.

Following feedback from operators and research

into the latest trends, we have updated the criteria

for VisitEngland's glamping accreditation and

introduced a new Gold Award for those who offer

exceptionally high quality facilities and services."

Glampsites that wish to participate in the

scheme will receive a visit from an independent,

professional Quality In Tourism assessor. Glampsites

that score 60% or more in the assessment will

become accredited and be able to use the

VisitEngland marque in promotional material. For

more on the Glamping scheme turn to pages 36-38.

KNEPP WILDLAND SAFARI

Online Guidance for CDM

NEW GUIDANCE EXPLAINING how regulations which manage the health and

safety of construction projects apply to the entertainment industry has been

published. The online resource, created by the Health and Safety Executive

(HSE), aims to clarify what those working in the events sector need to do to

comply with the Construction (Design and Management) Regulations 2015

(CDM 2015).

The guidance was drawn up in consultation with the industry and illustrates

how roles and duties under CDM 2015 can be applied across four main areas

in the sector: live events such as music festivals and sporting occasions;

exhibitions, trade fairs and conferences; theatre and performing arts; and TV,

film and broadcasting.

It is hoped the new guidance will "dispel any myths" surrounding how the

regulations should be applied in the events sector, said Carl Hagemann, Chair

of the Institution of Occupational Safety and Health's (IOSH) Sports Grounds

and Events Group.

"There has been a demand from within the entertainments industry for

this guidance," explained Hagemann. "It clears up how CDM 2015 applies to

common events' construction tasks, such as erecting temporary structures.

We hope this helps to ensure the continued safety of events and their

construction, and that it also enables the regulations to be applied in a way

that allows the events industry to prosper."

The new guidance on the application of CDM 2015 in the entertainment

industry can be viewed at www.hse.gov.uk/entertainment/cdm-2015/index.

htm. The online resource includes case studies of construction projects in

the events industry which successfully complied with CDM 2015. The HSE

recommends that it be read in conjunction with another of its publications,

L153: Managing health and safety in construction. CDM 2015 can also be

viewed in full at www.citb.co.uk/cdmregs.

GETTY IMAGES

6 WWW.OPENAIRBUSINESS.COM
---
The Aeropod

Touches Down

DAPPR AVIATION HAS unveiled its first Aeropod

constructed from an Airbus A320 passenger jet. Having

flown for the national airline of El Salvador as well as

two different Turkish carriers, the aircraft was due to be

cut up and scrapped when it was recovered by DappR

with the ambitious plan of converting it into unique,

high quality offices, buildings and event spaces.

"It's been a tricky job but we're delighted. Combining

quality workmanship and beautifully engineered

aviation parts externally makes it eye-catching and

distinctive," said David Palmer of DappR. "Focussing on

build quality inside really gives the feel of the first class

cabin. When we initially had the idea most people,

including many of my friends, thought we were mad!

What's exciting is now that they've actually seen the

first Aeropod they love it.

"We've had so many great ideas for different uses;

enquiries from glamping sites, for poolside relaxation

areas and viewing platforms as well as some asking

whether we can supply Aeropod to take to shows and

events. We were even asked if we could make a sauna."

The company, based near Bury St Edmunds in

Suffolk, plans to purchase additional planes as the

business takes off. DappR also makes unique furniture

and art from up-cycled aircraft parts including fire pits,

barbecues, benches and other pieces ideal for outside

use. "Everything is unique and distinctive and, being

made from aviation grade materials, won't rust or rot,"

remarked Palmer. www.dappr-aviation.com

Bye to Big Deposits

THE COMPETITION AND Markets

Authority (CMA) has advised over

100 function venues that insisting

on large deposits and applying

cancellation charges could breach

consumer law. It recommends

venues change their terms where

necessary.

The letters inform the businesses

of when their terms are more likely

to be fair under consumer protection

law, including the following:

· a deposit is just to reserve the

goods/services and is no more

than a small percentage of the

total price

· advance payments reflect the

business expenses and leave

customers with a reasonable

amount still to pay on completion

· customers do not lose large

advance payments if they cancel,

in all circumstances

· businesses set sliding scales of

cancellation charges so they cover

their likely losses directly from the

cancellation

The CMA has sent the letters on

behalf of the Consumer Protection

Partnership (CPP) which has been

considering the use of advance

payment and cancellation terms

by businesses in their consumer

contracts.

Nisha Arora, CMA Senior Director,

Consumer, said: "Planning a

wedding or any large event can be

stressful. Consumers are particularly

vulnerable when they are focussing

on preparing for a special event

and have paid significant sums

up-front. Businesses need to treat

their customers fairly and should not

require unjustifiable, non-refundable

deposits or impose unreasonable

cancellation charges which could

mean customers lose a significant

amount of money if they change

their mind about the venue or have

to call off the event.

"Clear and fair terms benefit

consumers and businesses, help

to prevent disputes and provide

protection should things go wrong.

Unfair terms, even when a contract

is signed, are not legally binding

and we encourage any businesses

which use advance payments and

cancellation charges to review their

terms to ensure they comply with

consumer protection law.

"We have worked closely with

Trading Standards Services and

consumer advice bodies to help

businesses improve their practices

and ensure they comply with

consumer protection law. Many

businesses in this sector comply with

consumer protection law and engage

in good business practices, but we

urge others to raise their standards.

Businesses that use unfair terms risk

enforcement action."

GETTY IMAGES

SKYFALL mobile zipwire is a first class,

completely unique attraction direct from the USA

• The only attraction of our kind in the UK

• Guaranteed crowd pleaser

for any type of event

• Suitable for both adults and children

• Perfect for corporate events and

team building days too!

01625 532098 | www.mobilezipwirehire.co.uk

All

terms are

negotiable

WWW.OPENAIRBUSINESS.COM 7
---
Airstream Facilities

www.airstreamfacilities.com

We are Europe's leading Airstream hire company, our ever increasing

fleet ranges from the 16 foot 'Bambi', up to the 34 foot 'Slide' in all

styles from the 1950s to the present day.

With years of experience, we supply a wide range of industries,

including corporate events, TV and film, weddings and private hire.

Get your brand on our

Airstreams, the smooth

curves and sleek lines of

our trailers provide the

perfect canvas for your

brand and campaigns.

All our Airstreams are fully

equipped for a luxurious stay,

from central heating and

air-con to fluffy towels and

a cold fridge.

We also supply state of

the art Poleadion marquee

structures, perfect for any

event or production.

info@airstreamfacilities.com

www.airstreamfacilities.com

or call us on 01885 400223

Airstream Facilities

8 WWW.OPENAIRMAG.COM

@AirstreamUK

@AirstreamFacilities
---
INDUSTRY TALK

Forecast for

SUCCESS

Jim Bacon believes that the outdoor hospitality industry can use modern

meteorology to help minimise risk, maximise guest experience, plan

resources and match visitor expectations to the weather of the season

ALL TYPES OF outdoor activities are

affected by the weather and it's no

surprise that weather is often one of the

most talked about things at any time of

the year. How can we face that challenge

and leave our businesses better informed

and protected from hazardous weather

conditions like floods, squalls and even

snow?

There is clearly a day to day variation

in our weather and that is where the

traditional forecasts can help. Rather than

insufficient information being available

the main problem is that there is probably

too much to choose from. As well as all

our favourite radio and TV sources, the

internet brings weather from literally

dozens of slightly different forecast

models and forecast organisations.

However, it can still be difficult to plan

ahead with such a wide selection of

information.

One answer is to use a collection of

models called an 'ensemble' to produce

an 'ensemble mean.' That is to say,

an average of all the slightly different

outcomes in the virtual model world of

weather which should capture a good

estimate of the likely conditions. I'll return

to ensemble forecasts later.

"FORTUNATELY THE

BRITISH ISLES IS BLESSED

WITH A VARIETY OF

DIFFERENT CLIMATE ZONES

SO EVERYONE CAN PICK

THEIR PREFERENCE"

The only problem is that using an

average of anything can hide the

extremes. In the world of outdoor

hospitality this can be quite dangerous.

However, we can deal with this by

making some statistical assessments

of the spread of data around the edges

of the data range and then discuss

how these might impact on businesses

specifically. For example, is there a risk

of severe gusts which could damage a

tent or marquee, heavy rain that could

flood a riverside campsite or perhaps

sharp frosts which may damage water

standpipes in the winter?

Quite often the weather influences

people's choices of where to go for their

holidays, outdoor events and open

air functions way before they have to

contend with what it does to them

once there. Fortunately the British Isles

is blessed with a variety of different

climate zones so everyone can pick their

preference. As a general rule, the average

weather will provide a good flavour of

when to select a break or event in one

part of the country compared to another.

WWW.OPENAIRBUSINESS.COM 9
---
INDUSTRY TALK

GETTY IMAGES

"…A GOOD

START IS TO

LOOK AT THE

MANY FREE

SITES ON THE

WEB AND

THEN TAKE AN

AREA AVERAGE

FROM

MULTIPLE

FORECASTS"

THERE TO HELP

Returning to the forecast part of

meteorology, I would like to tell you a little

about the type of information now available

to help the outdoor hospitality manager

cope with the day to day swings of weather

so often found in the British Isles.

Firstly there are multiple models which

represent the weather by the hour to allow

the best use to be made of opportunities for

outdoor tasks. Therefore a good start is to

look at the many free sites on the web and

then take an area average from multiple

forecasts. The use of multiple forecasts is

what we in meteorology call an ensemble

forecast - a collection of forecasts. An

ensemble is usually the same model of the

atmosphere run multiple times with slightly

different starting conditions. The idea being

that it will explore all of the reasonably

possible outcomes and is especially useful at

longer timescales where you want answers

about the weather a week to 10 days ahead.

The reason these longer range forecasts

are so difficult is because, as you move

forward through time, each step of the

model's calculations add a small amount of

error (this is due to the fact that the starting

conditions are not measured everywhere).

This imperfect representation of the real

weather at the beginning of the forecast

means that there will be an error at the end

of each time-step (these are quite short

actually, just a few minutes) and this error is

then built into the starting conditions for the

next time-step. You can imagine that at the

end of a 10 day forecast there will be quite

Many of our UK regions have some

identifiable golden weather periods in the

year. Knowing these can help in the planning

of advertising campaigns, ensure visitors

come when the weather is likely to be

best and promote a good feel about their

experience. Encouraging visitors when it's

typically poor weather, however, can only

lead to negative sentiments.

Tying in to local weather data allows

a facility or venue manager to build up a

sensible month by month view of what has

happened in the past. Even coarse data for

a whole region can allow the obvious key

months to be identified for your location.

It is worth building a weather timeline

of typical weather patterns for your venue

month by month and designing activities

accordingly, including maintenance

periods. It is worth investing in a weather

station on site (they are very affordable

nowadays) in order to collect data over a

period of time. After a while you'll be able

to add weather hazards which have caught

you out in the past, so you'll know when to

pay particular attention to the forecasts.

GETTY IMAGES

10 WWW.OPENAIRBUSINESS.COM
---
a significant error involved. However, all is

not lost, because by running the ensemble

collection you can obtain a measure of the

variability and use this to plan for outcomes

which could adversely affect your business.

SHOWERS

Where a forecast talks of showers, these are

quite often middle of the day and afternoon

events so you can find several hours of fine

weather in the summer from sunrise, before

the showers start, in which to complete

essential outdoor maintenance tasks.

Another point worth remembering is that

showers are quite difficult for the models to

predict and it's best to assume it's an area

thing, whereby the shower description is

best treated as a guide, rather than it will

definitely fall over your venue. Equally, in

showery weather, the model placement of a

shower over you may in fact turn out to be a

few miles away.

So, how is any of this helpful? Well, it's all

about minimising risk. There will be days

when none of the models you might find

on the web have any showers in them, in

which case you can safely plan for outdoor

events. However, if showers are likely,

even if they appear at a distance, then

it may be necessary to provide cover for

the open air concert goers or hen party at

your glampsite for example, rather than

gamble on their luck. It all makes for a

better experience and reduces negative

sentiment.

WINDS

Apart from the issue of getting wet there

is always the problem of strong winds.

These are usually well forecast by the

modern mathematical models, especially

the familiar lows and highs on the weather

map. Forecasts of strong winds caused

by these large scale weather features are

sufficiently accurate to enable forward

planning by as much as a week or more to

ensure that precautions are taken. A 10 day

windspeed probability forecast will allow

you to plan maintenance work, including

the use of tall equipment such as cherry

pickers.

Sudden, squally winds are a much

tougher question for meteorology: those

of you running outdoor events or activities

have doubtless been alarmed by strong

gusts in otherwise fairly benign conditions.

A lot of these difficult weather events are

caused by small scale features, usually

shower clouds or the passage of an active

weather front. This is something which

can be monitored using radar displays or

satellite images. It is important to be alert

to the danger posed by a sudden increase

in gustiness since many outdoor occasions

are festooned with inflatables, be they

bouncy castles or advertising blimps. This

is where the monitoring of radar data can

be vital in minimising risk. You may be

interested to know that, over rough terrain,

the gust speed can be twice the mean

windspeed.

2016 OUTLOOK

So, what's out there to start your 2016

season off? Regarding longer term

forecasts, we have to look at things which

change on very different timescales. For

example, the unusually warm waters of

the Pacific, the El Nino, are set to cool

to below average by the summer. This

reversal will doubtless change weather

systems bordering the Pacific but it may

also have a lesser role to play on this side

of the Atlantic. There are even some longer

term changes in ocean temperatures, over

decades, which can influence the chances

of record breaking global temperatures. The

present thinking is that 2016 will become

one of the warmest ever recorded making

a run of three record or near record annual

global temperatures. There is plenty to

think about on many different timescales.

GETTY IMAGES

ABOUT THE AUTHOR

Jim Bacon has been a meteorologist since 1968 and is still thoroughly fascinated by all things weather. He was one of the founding

directors of Weatherquest, a private weather forecasting and consultancy company operating in market sectors ranging from

water, energy and transport to agriculture and horticulture. It also provides the media with forecasts for newspapers, radio and

TV. The service provides comprehensive detailed web portals including five and 10 day, and monthly forecast content accessible

24/7. The portals also show the latest rainfall radar images and lightning activity. A forecast hotline is available on 09065 777675

(call rate £1.50 per min, staffed 6am to 6pm). Use this to get the latest advice if you are trying to manage a special outdoor event.

Contact Jim at jim.bacon@weatherquest.co.uk

WWW.OPENAIRBUSINESS.COM 11
---
COOLING & HEATING SOLUTIONS

temperature control specialists

hire

sales

portable units

temporary systems

sales@candhs.co.uk – coolingandheatingsolutions.com – 01590 681 434

Marlwood House, Silver Street, Lymington, Hampshire SO41 6DG, UK

12 WWW.OPENAIRBUSINESS.COM
---
FUNCTION VENUES

CASE STUDY

PHOTOS BY LAYLA MAY PHOTOGRAPHY

Coton House

Farm

A casual wedding reception

venue with bunting, Pimms

and thoughtful lighting

Coton House Farm is a small, working establishment rearing Aberdeen Angus

cattle, sheep and hogs. It also runs a livery yard and riding school for the

disabled. Situated in the picturesque village of Whittington, near Lichfield,

Staffordshire, it offers a traditional, country marquee wedding reception venue

catering for up to 220 guests. Owner Darren Martin talks to Open Air.
---
FUNCTION VENUES

What made you decide to start

your wedding venue business?

We were visited by Princess Anne

for our work with the Riding for the

Disabled Association (RDA). We had

set up a marquee for the occasion

and it was then that we started

to ask if people were interested

in using it for weddings: we were

inundated! That was the start of

the business really. Currently we're

converting the barns into two

different sized wedding venues,

both with one or two acres of

outside space. People love to be

looking at horses, sitting on hay

bales, being private.

We operate in the summer. We

try to avoid polluting the area

with lighting: it's all achieved very

naturally so people can appreciate

the countryside. We use

solar lighting and low

lighting LEDs, turning them

on and off at salient times so it's

not continuous. For example, the

mains lights are lit for safety

when guests arrive or leave but

turned off during the event itself. In

so doing we manage the impact on

our surroundings and change the

social atmosphere. The last thing

you want to see are lines of street

and car park lighting! Do it our way

and everyone can see the night sky

and stars.

What facilities for outdoor

functions do you offer?

The people who stay overnight

are those attending a wedding or

having a function at our venue.

There are accommodation options

around and about but some people

want to enjoy the countryside as

much as possible while they're

here. We have some enclosed fields

for camping and have allowed for

camping trailers and caravanettes.

Of course, being a riding school,

we have the necessary

facilities such as

toilets and showers

although they've not

been set up specifically for

campers.

What services do you offer?

Barry Gwilt is our own experienced

chef who has worked mainly

in Hong Kong and America. He

sources the produce from our farm

or farms up to five miles away.

The food chain couldn't get much

shorter! Our free range hogs,

the beef and the turkey all come

from our farm. The local butcher

is a relative of ours so everything

is done very nearby. As regards

the animals, they are all kept far

away from the marquee and the

house itself. However, the horses

roam neighbouring fields to the

marquee: guests like to watch

them.

How did you research and source

your marquee?

In trying to work out which

was the best structure to

have I began on the

internet then
---
FUNCTION VENUES

called many companies. My choice

was not the cheapest but the

prettiest, the most durable and

the one which provides what we

need - a warm, safe area which

can be adapted to different tastes.

Sometimes we extend our marquee

for catering and bar units. For

example, we recently included the

cellar look with proper taps and

coolers for a 'real' pub experience.

What are your plans for the

future?

We're open for business during

July and August and have about 19

weddings booked for each month

this year. We could be open year

round, holding weddings every

month. We are at a crossroads:

do we want to be a permanent

wedding venue or do we want to

be a farm that provides a wedding

facility? We're concerned that the

character of Coton House Farm

would be lost if we were to make it

just a venue. An accountant would

say go for the wedding venue route,

but farms and the countryside are

about a way of life.

How do you work with your

customers to make their event

unique?

I always say to the bride and

groom to be, if you're looking for

chicken and white wine sauce

then you're best off at a hotel.

Here it's like Ma and Pa Larkins'

wedding (The Darling Buds of

May), all bunting and Pimms and a

casual atmosphere. Sometimes it's

difficult to get people inside for the

speeches and cake because they

simply want to sit in the sun, on the

hay bales, in the fields. Fortunately,

during fine weather, the marquee's

sides can be opened bringing the

ADDRESS BOOK

outside in. Formalities need to be

run delicately with no rigid timings.

This can be slightly annoying for

the chef but it works for the guests.

How do you publicise yourself?

Facebook, that's it. We've been

booked out with Facebook ever

since we made a page. For many

service providers (cakes, tables,

flowers, etc) Facebook is their sole

advertising: they get far more hits

on their Facebook pages than they

do on their websites. As we are a

unique venue and guests' reviews

have been so good we don't need

to advertise anywhere else.

What challenges have you faced?

Employing the right people -

people that actually want to work

- has been our only real challenge.

A prime example is when we

employed a wedding planner who

was paid very well but couldn't

cope with the volume of work.

Today we seem to manage it quite

well ourselves. Once you have the

"SOMETIMES

IT'S DIFFICULT

TO GET

PEOPLE INSIDE

FOR THE

SPEECHES

AND CAKE

BECAUSE THEY

SIMPLY WANT

TO SIT IN

THE SUN..."

right people in the right places

everything is fine. We have about

40 people working for the venue

now (including bar staff, catering

staff and cleaners) and it's all going

well.

Do you operate in any other

outdoor hospitality sectors?

My wife and I host about one

wedding fair every season. We

don't charge for local service

providers to have a stand but we

do check them out first to ensure

visitors meet people who provide

excellence. Larger companies have

wanted to exhibit too but we prefer

to work with small businesses and

manage things ourselves, so we can

maintain standards.

Do you enjoy the business and

why?

It's fun! It's hard work and can be

very tasking but when you see each

wedding day, that it's different

and such a success, the feeling is

fabulous.

MARQUEE HIRE

Blithfield Events - 01543 417504

www.blithfieldevents.co.uk

MARQUEE MANUFACTURER

Tectonics UK - 01962 736316

www.tectonicsuk.co.uk

DRINKS SUPPLIER

Baby Bottles Ltd - 02476 361518

babybottlesltd.co.uk

GROUND PROTECTION

Grass Mats Ltd - 0330 124 2750

www.grassmats.co.uk

TOILET FACILITIES

Follys Luxury Toilet Hire - 01782 680630 /

www.follysluxurytoilethire.co.uk

and Portakabin - 0845 3565656 /

www.portakabin.co.uk

PROMOTIONAL MATERIAL

Brown Bear Photography & Wedding

Stationery - 07713 158579

INSURANCE

South Essex Insurance Brokers -

01708 850000 / www.seib.co.uk

DETAILS

A. Coton House Farm, Whittington,

Staffordshire

T. Darren Martin 07402 712143

E. farmmarquee@aol.com

W. www.facebook.com/

cotonhousefarmcountrymarquee

WWW.OPENAIRBUSINESS.COM 15
---
FUNCTION VENUES

Wedding

Business

Models

A lot of landowners overlook the enormous potential offered

by the wedding industry, writes Isabel Smith

PHOTOS BY GETTY IMAGES

GONE ARE THE days when a wedding reception

was simply hosted by the nearest hotel or local pub.

Modern couples want something different that will

wow their guests and look great in photographs –

and they are prepared to pay a lot of money for the

right venue. The fact is your summer gardens, rolling

farmland or family home could easily be transformed

to wedding heaven, and you will have the joy of

hosting couples on the happiest day of their lives.

However, if you've never worked in the wedding

industry before the idea of suddenly pitching

yourself as a wedding venue might seem a little

intimidating. After all, you have to market yourself

somehow, apply for umpteen licences and face the

prospect of dealing with demanding bridezillas!

The good news is that it doesn't have to be as

daunting as it first sounds. Running a wedding venue

is nowhere near as difficult or scary as you might

imagine. All you have to do is choose the business

model that suits you best and follow a few basic

rules. The trick is to make your venue work for you.

Here's my guide. ›

16 WWW.OPENAIRBUSINESS.COM
---
VENUES

MODEL ONE: DRY HIRE

This is the best business model for

beginners. You simply offer your space

to brides and grooms and then work

with a select group of external suppliers

who will do all the hard work to make

your venue wedding-ready. To get

started, simply set up a website with

some key details about your property

(photos, availability and contact

details). Then get in touch with your

local wedding planners and marquee

companies and let them know that

you are in business. As time passes you

will be able to update your facilities

(eg. adding an outdoor power supply

or water source) and you can build

a preferred supplier list that your

clients can use. You can then gain extra

revenue by charging your suppliers a

commission for each successful referral!

› For: There is very little initial

investment needed and you can

scale up your business over time.

› Against: You will need to market the

business yourself and there will be

a certain amount of administration

work involved when it comes to

scheduling, arranging site visits and

drawing up contracts.

MODEL TWO:

DEDICATED CONTRACTS

If you really don't want to deal with

multiple brides and suppliers then this

option might suit better. Rather than

publicly advertising your venue, you sign

an exclusive contract with one of your

suppliers (usually a marquee company

or a caterer) and hand over all sales,

marketing and operations to it. In return,

it pays you per event for use of the space.

› For: This is a simple, stress-free way of

making money from your land on your

terms.

› Against: By offering a more limited

service you won't be able to charge as

much. You may also deter some clients

if you are unable to offer the sort of

WWW.OPENAIRBUSINESS.COM 17
---
FUNCTION VENUES

GETTY IMAGES

flexibility that modern brides crave.

MODEL THREE:

FULL OPERATIONS

In this model you will become a full-on

wedding venue. You will undertake all

your own marketing, sales and contract

work and you will work closely with

suppliers – even creating a bespoke

menu and wine list with them. On the

day itself you will probably need to be

there to oversee everything and make

sure the bride and groom are being

looked after, and you may need to hire

extra staff to provide the best possible

level of service.

› For: This model definitely offers

the greatest opportunity for money

making since you are managing

everything yourself. As your reputation

grows you can start to charge more for

your services.

› Against: There is a huge amount of

work involved. However, you can hire

an experienced consultant to guide

you through this process to help avoid

expensive mistakes, learn the skills you

need and streamline your marketing

activities.

ADDITIONAL REVENUE

If you are already using your venue as a

wedding location there are a few things

you might consider in order to further

your wedding-related income.

› Products and services: this can be

something as small as offering table

centrepieces, lanterns or fairy lights for

the evening. Or it may be a big-ticket

item like an ice-cream tricycle or a

petting zoo for the kids.

› Partnerships: if you are looking to

diversify within the wedding sector

you need to keep your eyes open

for new networking opportunities

around your area. For instance, make

links with transport companies, spas,

accommodation and nearby activities.

These relationships allow you to go the

extra mile for your guests and take a

commission from referred sales.

› Shoots: either for the weddings

themselves or for photo-shoots within

the wedding industry. This is a visual

industry and people are fighting it out for

great spaces where they can photograph

their designs.

› Alternative wedding plans: there is

no such thing as a traditional wedding

any more. Couples want to put their

own stamp on their big day and it can

really pay to be flexible and open to

alternative ideas. Consider offering full

weekend packages, camping facilities,

festival-style receptions, a late licence for

evening events or ceremony-only deals.

FIVE RULES FOR SUCCESS

DO YOUR RESEARCH

1 This may sound obvious but it's

worth stating. The wedding industry

is full of its own quirks and foibles,

so take your time and get to know

it before diving in. Visit a few other

venues, ask plenty of questions

and introduce yourself to as many

suppliers as possible.

BE HONEST ABOUT YOUR

2 TARGET MARKET

Of course, you want to attract the

rich and famous but your venue may

be more suited to local weddings

instead. By trying to woo higher-end

clients you could end up alienating

your real customer base and,

ultimately, go about losing money.

Start small and gradually grow your

business – word of mouth is the best

marketing tool of all.

WORK WITH YOUR COUNCIL

3 No matter what sort of venue

you're running you're going to

need permission from the council.

For a start, you have to have an

entertainment licence, otherwise

there will be no dancing late into the

night! You might also need to apply

for a licence to serve alcohol or for

planning permission to expand your

venue or change its use.

GET INSURED

4 Public liability insurance (for you

and all your suppliers) is a must. You

might also need to take out extra

insurance policies to cover natural

disasters (such as flooding) or power

outages (which could lead to food

losses or cancellations).

CHOOSE YOUR SUPPLIERS

5 WITH CARE

No matter which business model

you choose, the suppliers you work

with will be the key to your success.

Make sure they share your values,

respect your property and sign formal

contracts for every eventuality.

ABOUT THE AUTHOR

Isabel Smith has spent 10 years in the wedding industry as one of the UK's top wedding planners and business consultants.

Isabel's expertise spans marketing, sales and operations. She helps new vendors launch and assists established businesses

should they find their sales falling.

www.isabelsmithconsulting.co.uk / www.isabelsmithweddings.co.uk

18 WWW.OPENAIRBUSINESS.COM
---
Weather services for

outdoor events

Speak to a forecaster

09065 77 76 75

Calls cost £1.50/min plus network access charges

weatherquest.co.uk

@weatherquest_uk | /Weatherquest
---
FUNCTION VENUES

GETTY IMAGES

Fantastic

Light it and they will come! So says Ronnie Brown

PHOTOS BY BLACHERE ILLUMINATION UNLESS STATED OTHERWISE

LIGHTS WORK. THEY can create

a statement, an atmosphere

and even safety, whether you

are lighting a small venue or an

entire street. Done well, lighting

can completely transform a venue

or an event. I usually give three

examples of when and where

lighting really works: Walt Disney

World, Blackpool and My House.

OK, I use lighting for fun but the

other two use it for the return

they attract so abundantly. Now

these examples may be a little

extreme but they show what is

possible. Blackpool spends in

excess of £2.2m each year and

attracts 3.7m visitors during the

two months of the Illuminations.

That's a lot of 'Kiss me Quick' hats,

not to mention revenue taken

for taxis, hotels, pubs and clubs,

etc. As for Disney? Well, the extra

photographs taken of guests in

front of the Castle paid for the

lighting in the first year (in excess

of $1m).

Now, don't rush out and buy

the Rolls Royce just yet. These

attractions have a head start on

most of you guys, but the concept

remains the same. It is a simple

strategy to take the opportunity

that Christmas presents, as well as

dark afternoons and evenings, and

use it as a marketing tool. Build on

it year-by-year, event-by-event and

you too can achieve the success of

a Blackpool or a Disney (albeit on

a smaller scale). I would suggest

that your lighting display is part of

a bigger marketing plan; lights may

be a good starting point but should

not be the end.

And lights are not just for

Christmas. Some products can

be used for different events. Tree

lights on a summer evening create

a wonderful ambience. There are

also a number of lighting 'motifs'

for summer displays.

You can light during the day; you

just have to be aware of the big

yellow thing in the sky. If the sun is

in full effect it can seriously affect

your lighting display's impact so

be clever about the positioning of

your installation and create some

darker areas for contrast.

Back at my house, in the run up

to Christmas one year, I planned

some research into a couple of new

products I had received. I wanted

to see how they came out of the

box, how they went up, how they

lasted a Scottish winter, how they

went back in the box (they never go

back in the box). A day or two after

GETTY IMAGES

20 WWW.OPENAIRBUSINESS.COM
---
FUNCTION VENUES

LIGHTING TERMS

› LED – when compared to old

style bulbs, 'light emitting

diodes' are by far the most

energy saving solution

› Lumens – a measure of light

output. The higher the lumen

the brighter the light

› Colour Temperature - a

method of describing the

colour characteristics of light,

usually either warm (yellowish)

or cool (bluish). It is measured

in degrees of Kelvin (°K).

› String Lights – highly versatile,

strings of lights can be hung,

strung, twirled or wrapped

› Ropelight - a decorative

lighting fixture featuring small

light bulbs linked together

and encased in a PVC jacket to

create a string of lights

› Curtain Lights – these feature

"OF COURSE, THE BIGGER THE BUDGET, THE

MORE YOU CAN ACHIEVE BUT CREATIVITY CAN

PRODUCE FANTASTIC RESULTS WITHOUT

BREAKING THE BANK."

installing them outside I noticed

a car drive up to the house, then

another and another, then up to

25. I live in a cul-de-sac so don't

have passing traffic. Wow! That's

the power of lighting.

WHAT DO YOU NEED?

There are loads of lighting options

from singles, strings, projections

and uplights for trees/buildings to

lasers, floods, festive motifs and

even for underwater. Choosing the

correct product for the effect you

are trying to create is paramount.

Some may want to call in a lighting

professional to help (this can

be free advice from a reputable

lighting supplier).

Certain basics are required, for

example mains power is most

a top cable from which a

number of strings of lights can

be hung vertically. Great for

lighting buildings

› Watts - in lighting, a watt is

used to measure how much

electrical power is used by a

light fitting

› Amps - the basic unit of

electric current

› Transformers – these can be

used to alter the voltage going

through a circuit to a suitable

level or make lights dimmer or

brighter

› DMX - a system of controlling

'intelligent' lighting fixtures

and dimmers

› Projection Mapping - a

projection technology used to

turn objects, often irregularly

shaped, into a display surface

(such as a building) for video

projection

GETTY IMAGES

common although solar power,

batteries or even a generator

can be used. There can be much

cabling involved so consideration

of how this should be hidden will

help create the magic.

You needn't be an expert to

specify lighting but knowledge on

the length of lighting strings and

what power is required to light

them is useful. Lighting products

can be mains voltage (230/240V),

low voltage (110V) or extra low

voltage (12 or 24V). Low and extra

low voltage products will require

a transformer to suit the input

voltage.

LIGHTING DESIGN

There may be specific rules for

your area so it is always best to

check with your local planning

department before undertaking

a large installation. As a rule of

thumb, if your lights are temporary

then there is no need for planning

permission.

What makes a beautiful

installation? This is difficult to

answer definitively since beauty

is in the eye of the beholder. To

start the design process you could

involve a consultant to avoid

costly mistakes and there are a

number of reputable companies

that would provide this service.

For a smaller project or event you

may want to experiment with a

few strings of lights or colourwash

lights.

You don't need to spend a lot

of money to make an impact. Of

course, the bigger the budget,

the more you can achieve but

creativity can produce fantastic

results without breaking the bank.

Neither need you buy; lighting

products can be rented on a daily,

weekly, monthly and yearly basis.

ABOUT RONNIE BROWN

"I want to sell light bulbs

like my Dad," said Steven

Brown aged five. That

was my son's response

to the question, 'What

do you want to do when

you grow up?' When I

get asked the question,

'What do you do?' a smile

will always appear on

my face. It is interesting

to see people's reaction

when I say, "Christmas

Lights - not the ones

you have in your house,

but for towns and

cities, events, the odd

theme park and iconic

buildings."

I've been saying this

since 1987. Of course the

client list wasn't as well

known back then. But as

time went on the towns

and cities we worked

with became some of the

biggest in the UK.

I was first introduced to

Blachere Illumination

in 1996 and became

a distributor for them

that same year. It was a

no brainer; the product

range and the quality of

design and manufacture

were light years ahead

of any of the suppliers

in the sector. In 2001

Blachere bought a major

share-holding in my

company Wonderland

Illuminations and

we became Blachere

Illumination UK Ltd. We

supply anything from a

single string of lights to

a fully designed themed

display and all points in

between. www.blachereillumination.co.uk

WWW.OPENAIRBUSINESS.COM 21
---
ZooLoos

os' luxury range of portable,

vacuum toilets, ts

showers and

washrooms.

Give guests the VIP (Very Important Portables) treatment. Reserve your luxury loos today.

+44 (0)1258 840233 | info@zooloos.co.uk

Ensure your guests

have the best!!

• Luxurious eco-friendly modular

vacuum toilet facilities

• Bespoke and stylish

• Ideal for all prestigious corporate

and private outdoor events

• Covering the UK

Tel: 0345 459 0589 • www.classicalloocompany.com • enquiries@classicalloocompany.com

22 WWW.OPENAIRBUSINESS.COM
---
FUNCTION VENUES

Party Potties

Ensure your portable toilet provision is spot on with

Jon Stebbings' advice on specifying party loos

PHOTOS BY: SITE EQUIP WWW.SITE-EQUIP.CO.UK

WWW.OPENAIRBUSINESS.COM 23
---
FUNCTION VENUES

Tardis-style portable toilets

are a budget option

PHOTOS BY: SITE EQUIP WWW.SITE-EQUIP.CO.UK

AN ABSOLUTE ESSENTIAL in any

outdoor event's infrastructure is

the provision of toilets. There are

two main types of portable toilets

for events: Tardis-style units,

known as such in the industry

for their resemblance to Doctor

Who's time-machine, and trailermounted

units. Tardis units are

the most basic portable toilet

featuring a single re-circulating

chemical action. They are a

'budget box,' ideal for smaller

functions. However, your guests

may hold ill-conceived ideas

about them as they are likely to

have found one in a less than

ideal condition somewhere.

The other, far more glamorous

option is the trailer-mounted

system that can either be plugged

into a water supply, use a vacuum

flush (which can also refresh

the air in the trailer), or be a

recirculating chemical system

like the Tardis unit. This type of

portable toilet is much larger

and contains a combination of

cubicles, handbasins and urinals.

Trailers range between 10 and 25

feet in length, with units being

supplied in many configurations

of cubicles, cubicles with

handbasins and urinals. They will

need power, although if mains

supply is not available a generator

can usually be hired as part of the

package.

Generally speaking, trailermounted

toilets start with

1+1 units - one cubicle with a

handbasin for women and one

for men. Larger trailer-mounted

units can accommodate three

ladies' cubicles and 10 urinals,

or three cubicles for ladies with

three cubicles and two urinals

for gentlemen. It is also possible

to incorporate baby change

and disabled facilities. The

configurations really are endless

as is the scope for decoration and

optional extras such as internal

and external finishes, attendants,

toiletries, music and even DVD

players.

There is, as one might expect,

a wide difference in the quality of

trailer-mounted units. The most

basic units are to be found at

festivals and less grand events,

while the more top-end units

are supplied to weddings and

other up-market gatherings such

as corporate events and as VIP

facilities at festivals.

CALCULATING TOILETS

Public events, such as music

festivals and county shows,

have guidelines for calculating

the number of toilets required

published in the Purple Guide (a set

of instructions for health, safety and

welfare at public events produced

by the Events Industry Forum).

For a private, more intimate affair,

however, you may want to be a little

more generous. For example, where

the Purple Guide recommends

one toilet per 100 people, wedding

guests will probably be happier

with one cubicle per 10-25 people

to avoid queueing. So, if you have

a mixed group of wedding guests

numbering 100, you might want to

go for a trailer offering two female

cubicles, one male cubicle and two

urinals.

Trailer-mounted units supplied

with hot handwash basins can be

non-mains connected as they come

with fresh water supplied, which

is heated either from the on-site

power supply or by a generator.

Portable toilet units should always

be delivered to an event in a

scrupulously clean condition, with

the supplier operating to stringent

Health and Safety and British

24 WWW.OPENAIRBUSINESS.COM
---
FUNCTION VENUES

Standard regulations.

Portable toilet hire should cost

around £200 for the supply of

both a ladies' and a gentlemen's

Tardis portable toilet, with prices

for the hire of a trailer-mounted

unit ranging from £500 to £1,000+

depending on the specification

and whether it has been provided

by a local hire company or a larger

regional/national supplier, in

which case transportation charges

will need to be taken into account.

Many suppliers now offer themed trailer units

ABOUT THE AUTHOR

John Stebbings is

passionate about

helping people to find

the very best private

dining experiences at

venues throughout

the UK. When he isn't

assisting PAs in locating

the perfect venues for

their events his interests

include keeping his

Parson Jack Russell

terrier out of mischief

whilst on walks, eating

with friends and family,

feigning knowledge of

wine, listening to music

and discouraging slugs

from his vegetable

garden in the summer

months. www.

privatediningrooms.

co.uk

TOP 10 TIPS

Decide how many guests will be attending the event to determine

1 the number of units required. If in doubt, ask your supplier; most

have 'toilet calculators'.

Remember that the caterers and ancillary event staff will need

2 to use the loos too so add these to your calculations. For larger

parties where, staff numbers are greater, it is important to supply

them with their own facilities.

Ensure a level site. This is an essential requirement for obvious

3 reasons that would be both indelicate and unnecessary to

mention!

Check if the location of the venue has a power supply. If not, use

4 a system that can be run from a generator and add this to the hire

package. It is worth noting that Tardis-style units do not need power

although you will need to light them somehow if they are to be used

at night.

Check if the venue's location has a fresh water supply as this will

5 inform your decision on which type of system you can use.

Decide if disabled and/or baby changing units are

6

7

necessary.

Decide if an attendant is required to clean and maintain the loos.

Attendants can often be supplied by the hire company for an extra

charge.

Determine whether an interim service will be required. For more

8 than one event at the same venue, such as when a wedding is

taking place on the Saturday with a further reception on the Sunday,

it may well be necessary to empty and replenish the units for the next

day.

Decide which type of loos are required. As explained above,

9 different portable toilets are more appropriate for different events

and demographics.

Think inventively. Many suppliers now offer 'themed' units

10 which add a talking point and some fun, or you can get

creative yourself with accessories and luxury toiletries. Alternatively,

go uber-luxury and really make a feature of party toilets by

positioning them inside a dedicated marquee to which you can add

pendant lights, carpet, a dressing table area and full length mirrors!
---
FUNCTION VENUES | PRODUCT FOCUS

Portable Toilets

A selection of portable toilet blocks available for outdoor function venues

LUXURY LOOS

ZooLoos

01258 840233

www.zooloos.co.uk

To mark the occasion in style,

pamper your guests with

luxury portable toilets and

washrooms that are a flush

above standard hire loos.

With their advanced vacuum

technology that purifies

the air with every flush,

and luxurious washrooms

dressed with designer beauty

products, our stylish loos are

the luxurious alternative to

dingy portable toilets. We

also use the cleanest, most

eco-friendly flushing system.

We understand events occur

in all styles and sizes, so

naturally, our portable loos,

washrooms and powder

rooms can be tailor-laid.

That's not forgetting they can

also be uniquely styled for

your event.

LUXURY TOILETS

AND SHOWERS

Loos For Dos

0845 123 2901

www.loos.co.uk

A multi award winning toilet

and shower hire company

based in Hampshire, offering

a full range of luxury and

contemporary units across

the South of England. All

our units are finished to the

highest standards. They

arrive on site fully stocked

with quality consumables

and carefully set up by

our fully trained engineer.

Optional extras include

mains connection of units,

long term hire, generator

hire, attendant services

and out of hour's delivery /

collection. Our aim is simple

- to bring glamour to loo and

shower hire. You can expect

us to be professional, friendly

and fun to work with.

THEMED TOILETS

Site Event

01256 384134

www.site-equip.co.uk

Site Event is a family run

company established

for nearly 30 years and

is arguably the longest

established portable toilet

hirer in the UK, having

imported the first ever

cubicles from the US. It

constantly builds upon its

wealth and experience in

the sector by innovating

the saturated portable

toilet industry. Through

the production of the now

famous 'themed' toilet

trailers it has founded

a sister company 'Site

Build,' which is taking

off building luxury toilet

trailers across the globe.

Forever progressing and

innovating, Site Event

is at the forefront of

the industry and well

respected among peers.

MODU-LOO

Classical Loo Company

01307 818190

www.classicalloocompany.com

We specialise in the

provision of stylish modular

vacuum toilets, ideal for all

high class outdoor events

throughout the UK. Our

innovative alternative to

the usual toilet trailer is

designed to be installed

in any covered area and

is especially suited for

restrictive locations

(1m wide access).

Modu-loo's eco- friendly

design, minimal water

requirements and nochemical

use makes this

the ideal choice. As a family

owned business we pride

ourselves on the quality of

our facilities and the service

and commitment we offer.

We ensure outdoor event

toilet provision is taken care

of with the minimum of fuss

but the greatest of care.

26 WWW.OPENAIRBUSINESS.COM
---
FUNCTION VENUES | PRODUCT FOCUS

LOGIC RANGE

Event Washrooms

0800 2800 247

www.eventwashrooms.co.uk

The Logic modular solution

is a totally flexible toilet

system that boasts both the

highest standard in luxury,

and an ability to be installed

in places not accessible to

standard trailer and modular

toilet technologies. Each

component is standalone

making movement possible

into low accessibility venues.

Whether you require a single

cubicle and a vanity unit for

your event for 20 guests, or

you're planning a ball for

5,000, we can accommodate

your needs. Features include

an oak exterior finish, oak

and travertine interior, glass

wash basins and LED lighting.

Can be connected to mains

drainage or use its own

standalone system.

TRULY MOBILE

ExcLOOSive Event Hire

01283 575749

www.excloosive.co.uk

We are a long-established,

family run company that

specialises in mobile toilet

and portable shower hire

facilities. The toilet units are

completely self-contained,

needing no mains connection,

and can be situated almost

anywhere, making them

truly mobile. These units are

very popular with wedding

venues and really do provide

a superb environment for

guests. In addition to the

mobile toilet units that we

hire, we also offer a full range

of services to help your event

run smoothly, including

attendants if required. Our

professional and friendly

service will ensure a care free

day for yourself and your

guests.

BOUTIQUE RANGE

Just Loos

01962 867808

www.justloos.com

Our range includes luxury

trailer toilets, themed

luxury toilets and designer

modular washrooms that

can be set up in marquees.

The boutique range is

perfect for weddings and

features a beautiful dark

oak exterior plus a very

modern and contemporary

look on the inside. The

ladies units are adorned

with large pictures of

Marilyn Monroe, Audrey

Hepburn and Sophia

Loren as well as vibrant

pink doors and coloured

lighting. For the gents

units there is a James

Bond theme with red doors

and coloured lighting to

complete the look. These

units are self-contained,

only requiring a 13amp

power supply.

BESPOKE & LUXURY

Peagreen Manufacturing UK

0800 6343 546

www.peagreentoilets.co.uk

Looking for something

unique? We offer a

completely bespoke

service for your temporary

facilities. If you want

something extra special

then we can turn your

ideas into reality.

Commissioned by leading

blue chip companies on

market leading projects.

As one of the UK's leading

manufacturers of mobile

temporary facilities for

events of all types, we can

offer you a solution that will

meet your requirements.

We are best known for our

luxury re-circulating and

vacuum toilet trailers and

shower facilities. We can

advise you on any build

project you may have.

Stylish, practical, reliable

and durable.

WWW.OPENAIRBUSINESS.COM 27
---
Glamping Pods | Outdoor Kitchens | Meeting Spaces

Made from aviation grade aluminium, engineered to fly at 30,000

feet and finished to the highest standards to your individual

specification; Aeropods are unique and distinctive

• Made from upcycled

commercial airliner fuselage

• Fully insulated and finished

to the highest specification

• Electricity and water can be

installed

• Options include heated floors

and a wide range of finishes

• Can be made to any length with

a 2m standard depth

• Easily transported

01359 271 876 / 07774 750152

www.dappr-aviation.com

28 WWW.OPENAIRBUSINESS.COM
---
ACCOMMODATION

CASE STUDY

Gooseberry

Field Campsite

A connection with guests keeps bookings rolling in

Gooseberry Field Campsite is a glamping holiday business based in Pluckley, in the

heart of Kent. It is owned and run by John Mills and Kerstin Wolgast, two ageing, post-punk hippies

who last year managed to finally escape from a hectic lifestyle in the City to a simpler, more relaxed

way of living with chickens, farmland and open fires. John and Kerstin talk to Open Air.
---
ACCOMMODATION

What glamping accommodation

do you offer and why did you

choose it?

We offer canvas bell tents. Our initial

idea was to have one of everything

- a bell tent, a yurt, a tipi - but the

market seems to be in bell tents

right now; they have proved to be

the most popular. The benefit of

having a bell tent is that it's like

being in a beautiful, boutique hotel

room, with loads of space and lovely

decoration. During the day or if

it's raining they are a good place

to spend time in, not like normal,

cramped, damp tents. We also invite

guests to bring their own bell tents

and pitch up on our camp-site,

something that has proved popular.

Not many sites offer this option; it

seems like we're filling a niche in the

market. We found that the tipi just

didn't get many bookings so we're

using it as a communal space this

year.

Why did you decide to start a

glampsite and when did you first

open?

We have a smallholding providing

organic produce and a healthy

way of life for the family. Running

a campsite merged really well with

our ethos of a natural lifestyle,

rearing rare breed pigs and

chickens, making our own jam,

cider and sausages. The key for

us is that it's a small site; we only

have six units. We're not interested

"WE HAVE A

SMALLHOLDING

PROVIDING

ORGANIC

PRODUCE

AND A

HEALTHY WAY

OF LIFE FOR

THE FAMILY"

in making it bigger, creating more

work or more stress for ourselves.

2015 was our first full year.

Throughout all of the first winter we

prepared the site and then opened

in March. We had guests staying in

March, even though it was so cold!

Most brought their own bell tents;

ours started to be booked more in

April.

How would you describe your

'style' or unique selling point?

We like to connect with our guests.

We have big bonfires on Saturdays,

offer communal cooking spaces on

the terrace and, even if we are not

actually interacting with the guests,

they can see us working on the

smallholding. We're starting to get

lots of return custom.

How did you research the

business?

We carried out detailed research

into booking websites, such

as CoolCamping and PitchUp.

Kerstin is experienced in sales and

marketing so she could delve deep

into the website analytics and that

has really paid dividends.

Tell us about your location

and site

We're near to Ashford International

rail connections and have close

driving links to the M25 and the

M20; London is only about 90

minutes away. Having said that,

when you turn off those roads, we

are very much in the countryside.

We're close to the coast and

seaside towns such as Whitstable,

Hythe and Folkestone too. We're

very convenient for those living in

the South East. Gooseberry Field

offers quiet solitude close by, not

an eight hour drive to Scotland

to find peace and quiet. Through

personal experience we were sick

of campsites with cold showers and

dirty toilets. We wanted to build

big, beautiful facilities; a nice place

to be.

What challenges did you face

regarding planning?

We started off sticking to the 28

days permitted development rules.

30 WWW.OPENAIRBUSINESS.COM
---
ACCOMMODATION

Now, after our first season, and with

the support of council planners,

we're in the process of becoming

a full time summer campsite. My

advice to other businesses is to

start slowly, to try one thing at a

time, to stay within the planning

boundaries, and to ask advice from

anyone you can. We've found that

small business developers and the

council's advisors and officers are

very easy to work with. Since we are

small and simply adding tents to a

working agricultural smallholding

it's easier for everyone to handle.

ADDRESS BOOK

How do you publicise yourself?

To a large extent we rely on

Facebook, Twitter and Instagram,

and recommendations from last

summer's guests have been really

helpful. We are already 20% full for

this summer. Campsite booking

websites take a commission

and we question whether this is

affordable for a site such as ours,

operating on small revenues. If the

booking website is asking for 10-

15% of the cost that's a large slice

of our profit.

How did you choose your interior

decoration?

Much of it was stuff we had

already; we've bought quite a

few rustic items over the years

on our travels to Namibia and

Sweden and we have started using

those for the campsite. Then we

searched the internet for what

was practical and good value. We

wanted each tent to be individual

so that guests could book a certain

style; each of the six are equally

popular. We've used nearly every

known bell tent available in the

UK however we are just now

negotiating a sole supplier. We

designed and built the BBQ/pizza

oven using second hand bricks

from a friend. Again, we designed

and built the washroom and WC

facilities.

What challenges have you faced?

To be honest the whole process

has been fun although our first

season was a steep learning

curve. For example, how best to

clean all the tents on handover

days initially proved a headache.

We've now tweaked our hours

and management to better

suit what is required and make

everything more efficient. We're

both experienced in running our

own businesses so this is not our

first set-up and that makes a world

of difference. We don't have any

fear in creating new products, of

selling or marketing. We knew

what we wanted in terms of

natural environment and convivial

atmosphere. We just got on with it.

Do you enjoy the business and

why?

Yes, very much. It's a pleasure to

work seasonally. We look forward

to opening in April and then to

closing in October when we can

enjoy free time, a chance to do

some travelling and, of course,

some sales for the business. It's a

great lifestyle.

What's your advice to those

entering the industry?

Just go for it! That's really the best

way. You could talk about it forever

but you've just got to go for it.

BELL TENTS

SoulPad - 0800 3899 193

www.soulpad.co.uk

TIPI

Hummingbird Tipis - 07889 288 982

www.hummingbird-tipis.com

WEBSITE

1&1 - www.1and1.co.uk

BOOKINGS

Anytime Booking - 01326 574660

www.anytimebooking.co.uk

ADVERTISING

CoolCamping - www.coolcamping.co.uk

Airbnb - www.airbnb.co.uk

INTERIORS

Boutique Camping - 020 3394 2986

www.boutiquecamping.com

Second Nature -

www.secondnatureonline.co.uk

HOT TUB

HotTubSauna - 020 3514 3896

www.hottubsauna.co.uk

FIREPITS

Lloyd & Co Blacksmiths – 07966 728 966

www.lloydblacksmiths.com

HAMPERS

Pluckley Farm Shop -

01233 840400

www.pluckleyfarmshop.co.uk

DETAILS

A: Gooseberry Field, Pluckley, Kent

T: Kerstin Wolgast 07788 237 588

W: www.gooseberryfieldcampsite.com

E: info@gooseberryfieldcampsite.com

WWW.OPENAIRBUSINESS.COM 31
---
ACCOMMODATION

Your Planning Plan

Richard Goodwin, rural surveyor for the Country Land and Business Association's

(CLA) Midlands region, discusses planning for those seeking to enter the exciting

and potentially rewarding world of glamping

FAR FROM THE holiday experience

of soggy sleeping bags, cramped

tents and communal facilities,

glamping is all about providing

outstanding accommodation –

ranging from shepherds' huts and

gypsy wagons to opulent yurts and

geodesic domes – in spectacular

locations. Glamping is a great way of

diversifying to yield a good income

from land and can bring relatively

fast returns on investment. So it's no

surprise that many landowners are

choosing to maximise the potential

of their property by creating sites to

host would-be glampers.

So, you're considering the

glamping route but where to start?

Your location, and the way in which

it impacts on your potential site,

is as pertinent to the final decision

as the accommodation, facilities

and services you aim to provide.

Access to and from, proximity

to attractions and local shops,

even the opinions of neighbours,

all are vital when evaluating

the suitability of your site. Then

there are the practicalities: the

availability of utilities (water and

sewage, gas, electricity, internet

connectivity); business rates; the

expected occupation and operation

periods; the choice of permanent

or temporary structures; Health &

Safety regulations; and, not least,

whether planning permission is

required.

Where should you be looking for

information regarding the need, or

otherwise, for planning permission?

For starters, a little legwork is

required in investigating the type

and location of existing tourist

accommodation. The discovery

of nearby glamping facilities may

initially quell your aspirations but

will certainly provide precedent

evidence for a planning application.

Your second port of call will be the

Local Plan Policy which sets out the

strategic priorities for development

of an area and gives guidance on

what will and won't be permitted.

Paramount to planning

permission is National Designation.

Certain areas of countryside can be

'designated' which means they have

special status as protected areas

due to their natural and cultural

importance. There are restrictions

on activities and developments

that might affect a designated or

protected area, eg. building new

houses or roads. If protected area

restrictions apply you might need

to do certain things such as: obtain

permission from the local council

and Natural England; carry out an

ecological survey; and, carry out an

Environmental Impact Assessment.

DO YOU NEED PERMISSION?

So, do you need planning

permission? The key issue is to

decide whether a temporary

structure constitutes 'development'

in which case planning permission

is required. A development can be

either a 'building or engineering

operation' or a 'material change in

the use of land.' However, in some

cases in which planning permission

is required it is deemed already to

have been granted, under a General

Permitted Development Order. In

these permitted development cases

no application is needed.

What constitutes 'building and

engineering operations'? Each case

will turn on its individual merits

but courts, in judging whether

something amounts to a 'building

operation', have consistently

looked at three main factors:

size; permanence; and, physical

attachment. This approach was

endorsed by the Court of Appeal in

32 WWW.OPENAIRBUSINESS.COM
---
ACCOMMODATION

a case that concerned the erection

of a large 40x17m marquee within

the grounds of a hotel. The Court

held that the marquee, which was

erected on the lawn "...every year

for a period of eight months was,

due to its ample dimensions, its

permanent rather than fleeting

character and the secure nature

of its anchorage, to be regarded

as a building operation. The

annual removal of the marquee

did not deprive it of the quality of

permanence. Permanence did not

necessarily connote that the state

of affairs was to continue forever or

indefinitely."

The same tests were applied

in the High Court where it was

held that poly tunnels covering a

total area of 30-40ha, in place for

up to seven months of the year

and attached to the ground with

metal hoops, did involve a building

operation. It seems clear that the

erection of a large marquee, or

any such substantial structure,

for several months of the year is a

building operation and is, therefore,

development requiring planning

permission.

However, a structure which is

smaller, less permanent, and/or

not substantially attached may not

constitute a building operation. It

will depend on the individual facts

of each case. Three months could

be enough to create 'permanence'

if the structures are very large but a

small- or medium-sized structure, in

place for a few months and held in

place by weight rather than fixings,

may not. Any significant ground

preparation works for a temporary

structure could in themselves

constitute a building or engineering

operation requiring planning

permission.

In addition, development can

consist of a material change in

the use of the land. Even where

a temporary structure is not a

building operation, planning

permission would be needed if its

use amounted to a material change

of use. For example, a marquee for

one or two private parties in the

garden of a house should not be a

change of use because such parties

are incidental to the enjoyment of

houses and their gardens. However,

a marquee regularly hired out

commercially for a number of

parties, or used for retail purposes,

probably would amount to a

material change of use because

these are essentially a business use.

Conversely, a hotel using a marquee

for parties would probably not

involve a material change of use.

YOUR APPLICATION

If you do need planning permission,

when submitting your application

it will help to include details of

the economic benefits, in terms of

income to the area, employment

and potential benefits to other local

businesses.

Planning application fees vary

widely depending on the size of

the proposed operation and the

works required. As an example, to

change the use of a piece of land to

tourism would attract a fee of £385

per 0.1 hectare. Your local planning

authority can provide an accurate

figure, and the Planning Portal has

a full list of fees.

After submission the local

authority will publicise the

planning application to members

of the public and consultees, such

as the local parish council, the

Environment Agency, tourist boards

and any agencies responsible for

designated areas. After receiving

these responses and comments

the authority will then produce a

summary of the application along

with its decision to approve or

refuse it.

JOLLY DAYS GLAMPING, YORK

"ANY

SIGNIFICANT

GROUND

PREPARATION

WORKS FOR A

TEMPORARY

STRUCTURE

COULD IN

THEMSELVES

CONSTITUTE

A 'BUILDING

OR

ENGINEERING

OPERATION'

REQUIRING

PLANNING

PERMISSION"

WHEN MIGHT PLANNING

PERMISSION NOT BE REQUIRED?

If the land is to be used for a

limited time period and the activity

will have minimal impact upon

the area, it is possible planning

permission and licences would not

be required. Scenarios in such cases

would be: tent pitches for no more

than 28 days of camping within the

year; a single caravan on a piece of

land for no more than two nights,

up to 28 days a year; more than

three caravans on a piece of land

over five acres for no more than

28 days; and, if the site is occupied

and supervised by an exempted

organisation such as the Camping

and Caravanning Club.

WHEN MIGHT A SITE LICENCE BE

REQUIRED?

A caravan site is defined as any land

on which a caravan is stationed for

human habitation together with

land used in association. Subject

to permitted development rights,

a caravan site, therefore, requires

both planning permission and a

site licence before it can operate.

A site licence has to be applied for

separately, following the granting

of planning permission. While

planning permission attaches to the

land, the site licence is held by the

occupier and is non-transferable

without the prior consent of the

local authority. Licence conditions

are likely to cover the following

issues: boundaries; spacing

between caravans; roads, gates

and footpaths; hard standings;

fire fighting appliances; storage of

LPG; electrical installations; water

supply; drainage and sanitation;

refuse disposal; parking; recreation

space; notices, etc.

WHAT IF MY SITE IS IN A

DESIGNATED AREA?

A glamping site may be permitted

in a designated area (Green Belts,

Sites of Special Scientific Interest,

Areas of Outstanding Beauty,

National Parks, etc) in exceptional

circumstances. Proposals in these

areas may require higher standards

of design, layout and landscaping

and preference may be given

to small sites over large sites.

So, pre-application discussions

with the local planning authority

are encouraged to resolve any

potentially contentious issues.

If planning permission or a ›

WWW.OPENAIRBUSINESS.COM 33
---
ACCOMMODATION

Certificate of Lawfulness for an

Existing Use (CLEU) has been

issued, a site licence must be

issued.

WHAT ARE THE OPTIONS IF MY

SITE IS DESIGNATED A 'CERTIFIED'

SITE?

If your land is approved by an

exempted organisation it is

possible planning permission and

licences would not be required.

For example, the Camping and

Caravanning Club holds exemptions

from Natural England which allows

it to certify small caravan and

campsites for use by club members.

Once certified you would be able to:

accommodate up to five caravans

or motorhomes and 10 tents at any

one time including glamping pods;

be open all year round if you wish,

or you can specify your opening

months; and, keep all of the site

fees. Certification can be for full

sites (caravans, motorhomes and

tents/pods), caravan only sites and

also tent only sites (also suitable

for sites where access is particularly

poor). However, whether the

member is camping in a tent,

caravan, motor caravan or trailer

tent, they may only camp on your

site for a maximum of 28 days at a

time.

If you are not next door to

a licensed site, there's a good

chance you would qualify. You will

need at least half an acre of fairly

level land and safe access and

egress from the site. A certified

site officer will assess this for you

but the assessment is based on

approximately 100m of clear view

in either direction. It doesn't matter

if you have a narrow or single

track lane either, provided there is

good visibility and enough passing

places. The facilities you will need

to provide before a certificate is

issued are: a drinking water tap; a

rinsing water tap (for swilling out

toilet cassettes); dry waste disposal

(something as simple as a bin that

can be emptied regularly); and, a

chemical disposal point.

WHAT IS THE CERTIFICATE OF

LAWFULNESS OF EXISTING USE

OR DEVELOPMENT (CLEUD)?

If you have already erected

temporary structures without

planning permission you can seek a

CLEUD under s191 of the 1990 Act.

After four years (for 'operational

development') and 10 years (for

'material changes of use') a CLEUD

must be granted automatically,

even if the activity was not legal.

In some cases this may be a better

starting point than a planning

application, which the LPA of

course has discretion to refuse. The

application of this rule to temporary

structures can be uncertain but

the CLA is aware of cases in which

CLEUDs have confirmed the

legitimacy of temporary structures

and uses over a wide area of land.

USEFUL CONTACTS

THE COUNTRY LAND AND BUSINESS

ASSOCIATION (CLA)

www.cla.org.uk

CAMPING AND CARAVANNING CLUB

www.campingandcaravanningclub.co.uk

PLANNING LAW

1. Town and Country Planning

Act 1990: this contains the

legal provisions for planning

as a whole including the use

and changes of use of land and

buildings. www.legislation.gov.

uk/ukpga/1990/8/contents

2. The Caravans and Control

of Development Act 1960: this

sets out the requirements for

the system of licensing caravan

sites by local authorities (on

which some of the planning

requirements are based). www.

legislation.gov.uk/ukpga/

Eliz2/8-9/62/contents

3. The Caravans Sites Act 1968:

this Act amended the definition

of caravan contained in the

1960 Act. www.legislation.gov.

uk/ukpga/1968/52/contents

4. Town and Country

Planning (General Permitted

Development) (England) Order

2015 (GPDO 2015): Part 5

Caravan sites and recreational

campsites. www.legislation.

gov.uk/uksi/2015/596/

contents/made

It is important to note that the

local planning authority can take

enforcement action if there is a

breach in planning law. In such cases

it is possible to apply for retrospective

planning permission and, if this is

denied, appeals may be made to the

planning inspectorate.

A well constructed, accurate

planning application will make the

whole process easier, and I would

strongly recommend taking advice

before submitting your application.

As well as talking it through with a

membership organisation such as

the CLA, you will find most planning

officers happy to advise you on the

best way to proceed before you

commit time and money on your

application.

ABOUT THE AUTHOR

A qualified chartered

surveyor with

considerable

experience of

diversification in

rural areas, Richard

Goodwin MRICS

advises CLA members

on all aspects of

land management.

A farmer's son, he

graduated from

Harper Adams

University with a

degree in Rural

Enterprise and Land

Management before

qualifying as a

Member of the Royal

Institution of Chartered

Surveyors.

ABOUT THE CLA

An independent and

authoritative source

of advice for owners of

agricultural and rural

land, no matter how

much or how little,

The Country Land and

Business Association

(CLA) brings a century

of experience to

members considering

diversifying their core

business to benefit

from new market

opportunities such

as glamping. The

CLA is best placed to

advise on planning

law as well as guiding

members through

the maze of current

funding opportunities.

www.cla.org.uk

PROTECTED AREAS

www.gov.uk/check-your-business-protected-area

LAWFUL DEVELOPMENT

www.planningportal.gov.uk/permission/next/

lawfuldevelopmentcertificate

34 WWW.OPENAIRBUSINESS.COM
---
PERMITTED DEVELOPMENT

NEWAND AMENDED

PROVISIONS FOR 2016

Thelatest tranche of newprovisions and amendments to the Town and Country(General Permitted

Development (England) Order 2015 (GPDO) increases the scope of permitted development further with the

following nowinplace:-

CLASS O–OFFICES TO DWELLING HOUSES

(amended to allowdevelopmentonorbefore30May 2019.)

CLASS P–STORAGE OR DISTRIBUTION CENTRE TO DWELLING HOUSES

CLASS PA –LIGHT INDUSTRIAL USE TO DWELLING HOUSES (newprovision).

CLASS Q–AGRICULTURAL BUILDINGS TO DWELLING HOUSES

CLASS R–AGRICULTURAL BUILDINGS TO FLEXIBLE COMMERCIAL USE

All of the above provisions aresubjecttovarious restrictions and prior approval of the Local Planning Authority.

Acorus can undertakeanassessment of your building/s,identify possible uses and their suitabilityfor

conversion and howtoachieve this development through the planning system.

BEFORE

AFTER
---
ACCOMMODATION

THE DANDELION HIDEAWAY: WWW.THEDANDELIONHIDEAWAY.CO.UK

Stamp of

The new Glamping Scheme from VisitEngland is the

first independent accreditation of Glamping industry

standards in the UK

KNEPP WILDLAND SAFARIS: WWW.KNEPPSAFARIS.CO.UK
---
ACCOMMODATION

CLASSIC COTTAGES: WWW.CLASSIC.CO.UK

AS ENGLAND'S NATIONAL tourist

board, VisitEngland provides

accreditation for over 25,000

businesses, including 24,000

accommodation providers, in the

leisure and tourism industries.

Assessors visit premises,

sometimes staying overnight,

and grade them against a set of

standards drawn up to represent

best practice in all aspects of guest

experience.

VisitEngland has a vital role

in improving quality standards

in UK tourism. Through its

accreditation schemes it aims

to drive up standards and help

operators develop their product

in line with what visitors want

by benchmarking (eg. what

is luxury?) and celebrating

excellence by awarding accolades

to outstanding businesses. The

assessors also give advice on

legislation, and a range of business

support including how to improve

and respond to online customer

reviews.

VisitEngland set up an

Alternative Accommodation

scheme over six years ago. At this

time the glamping sector was less

well defined and a refresh of this

scheme was needed to reflect the

massive changes in the industry

and the high standards being

achieved by many operators. As

a consequence the criteria for

their assessment changed. So in

2015 the scheme was looked at

again and amended to reflect the

changes in a rapidly expanding

market. Scoring was introduced,

with an overall score of 60%

required to be awarded the

accreditation and although no

stars are awarded, those operating

at the 'top end' can aspire to the

new VisitEngland Gold Award.

The new Glamping Scheme

was launched in March 2016 and

a comprehensive Standards Book

has been produced, which sets out

the criteria for accreditation.

DEFINING GLAMPING

Glamping can be many things,

and as such expectations from

accommodation can vary

enormously from one visitor to

another. One person's 'vintage,

upcycled, quirky romance' is

another person's 'roughing it

without any mod cons.' Some

visitors will expect electric points

and heated toilet facilities,

whereas another might be

disappointed if they aren't

totally 'back to nature' using a

composting toilet in the middle

of the woods. In an industry

with such scope, the Glamping

Scheme asks providers to look

at everything, starting with their

online marketing to ensure the

description of the site and the

accommodation do not mislead or

over-promise.

Assessors will look at websites

to ascertain if the information

given is clear and accurately

reflects the experience on offer.

They will also check that guests

are fully informed of everything

that could impact on their stay. For

instance, are the logs for heating

"THE NEW

GLAMPING

SCHEME WAS

LAUNCHED IN

MARCH 2016

AND NOW

INCLUDES

CRITERIA

THAT

GLAMPSITES

ARE GRADED

AGAINST"

and cooking provided free? If not,

how much will they cost? Will it be

cold at night? Will guests need to

bring wellies if it rains? Is the toilet

far from the accommodation?

What if they need to get up in the

night? Is the nearest shop/pub

within walking distance?

These sit alongside the more

standard requirements in terms

of key considerations of health

and safety issues, public liability

insurance, cancellation policies,

etc.

WHAT DOES AN

ASSESSMENT INVOLVE?

To become accredited under the

Glamping Scheme, providers

are visited once a year by a

professional assessor from Quality

In Tourism. They start by reviewing

online marketing material for

the businesses and will then

either pre-book or make an

unannounced day visit.

THE DANDELION HIDEAWAY: WWW.THEDANDELIONHIDEAWAY.CO.UK

WWW.OPENAIRBUSINESS.COM 37
---
ACCOMMODATION

KNEPP WILDLAND SAFARIS: WWW.KNEPPSAFARIS.CO.UK

They will conduct the

assessment by scoring all key

areas against a set of criteria

including washing facilities.

They will present a copy of the

Pink Book, a VisitEngland advice

guide on things like cancellation

policies etc, and provide a

written report after the visit

with the score, summary and

verbal feedback. Assessors will

look carefully at a glampsite's

location, its accommodation and

the standard of customer service.

The assessment is objective and

will take into account unique

aspects of the business and

score it in this context. The aim

of the assessment is to provide

feedback, share best practice and

raise standards without taking

away any of the character, style

or uniqueness of the business.

If the site achieves a score

of over 60% then VisitEngland

accreditation will be awarded.

There is also an opportunity for

a Gold Standard accolade for

sites offering top quality facilities

and experiences. The assessor

will also provide a full debrief

and accompanied walk-round if

requested.

ABOUT THE AUTHOR

Pam Foden is the

Head of Industry

Development for Visit

England, England's

national tourist board.

Accommodation

is accredited for

Visit England by

an independent

assessment service,

Quality In Tourism.

Please visit www.

qualityintourism.

com or call 0845 300

6996 for a free guide

on the Glamping

Scheme, and hints and

tips to help you get

accredited.

WHY JOIN

VISITENGLAND?

› Market your business using

the VisitEngland marque

› Tell your customers that

you have been checked by

a national tourist board

› Work towards a Gold

Award accolade

› Benefit from hints and tips

from assessors

› Make use of advice on

legislation and marketing

trends

During the assessment

visit, an assessor will

make quality judgements

across all aspects of the

customer-facing business

and will award a score

from 0-5 for each element.

0 = unacceptable

1 = poor

2 = disappointing

3 = good

4 = very good

5 = excellent

Marks awarded (out of 5)

INFORMATION & ARRIVAL

Pre-arrival information 4

Arrival information 4

Extra touches on arrival 5

EXTERIOR

Exterior look and condition of the unit 4

Grounds and setting 5

BEDS

Quality and condition of beds 4

Quality and condition of bedding

and bed linen if provided 4

BATHROOMS

Quality and condition of shower room/ bathrooms 4

Quality and condition of WCs - if separate 3

KITCHEN

Quality and condition of all cooking equipment 4

Quality and condition of all crockery, cutlery, glassware 4

LIVING SPACE

Quality comfort and ease of use 5

LIGHTING & HEATING

All interior and exterior areas 4

HOUSEKEEPING & CLEANLINESS

Grounds & gardens 5

General accommodation 5

Shower room/bathrooms 5

Toilets (if separate) 4

Kitchen/cooking areas 5

TOTAL SCORE 78/90

% SCORE 87%

PASS YES/NO Yes

GOLD AWARD YES/NO Yes

At the end of the visit the assessor can

calculate a percentage score for the site and for any individual

accommodation that might be eligible for an award. In order to

achieve a VisitEngland Accreditation, the overall percentage score

has to reach 60% or above. To be eligible for a Gold Award the

percentage score needs to be a minimum of 80%.

38 WWW.OPENAIRBUSINESS.COM
---
Your own private bathroom right

next to your tent or caravan

Studies show that campsite users wish

to have more privacy and luxury. A large

target group, who don´t go camping right

now (or any more), are likely to become

interested again if they had access to

en-suite facilities.

An investment in CampPlus private campsite

facilities has an attractive payback period

because of the increase in turnover and

occupancy.

You will be creating an affordable luxury for

your guests and enhance the atmosphere of

your campsite.

THE ADVANTAGES:

❤ Higher turnover and occupancy

❤ Short payback period

❤ High quality – long lifespan

❤ Freestanding units = easy

to set up and move

❤ Very compact 5'3" x 6'5" =

33ft², yet very spacious inside

❤ Durable and low maintenance

❤ Easy to clean

❤ Lots of options and extensions

Tel. 0031 186 769 054 info@campplus.co.uk www.campplus.co.uk

Glamping & Safari Tents

All of our structures are handmade at our

Gloucestershire factory using the highest

quality performance materials.

We have over 25yrs experience in the design

and manufacture of bespoke marquees and

Glamping structures.

Visit our website and give us a call to discuss

how we can help you enter the rapidly growing

market of Luxury Camping.

0 1 4 5 3 7 6 7 1 7 1

www.bondfabrications.co.uk

enquiries@bondfabrications.co.uk

WWW.OPENAIRMAG.COM 39
---
ACCOMMODATION

SPECIAL FEATURE: TENTS

Under

Canvas

A breakdown of canvas glamping options with Tim Rees of Quality

Unearthed, an agency specialising in quirky holiday accommodation

PHOTOS SUPPLIED BY QUALITY UNEARTHED UNLESS SPECIFIED OTHERWISE

GLAMPING IS A somewhat curious term

derived from 'glamorous' and 'camping'

and doesn't really do justice to this

popular leisure activity. Glamping is about

facilitating time spent within nature's stimuli

while in sheltered comfort, which often

comes in the form of unusual construction.

There's certainly a distinct difference

between one's awareness of the weather

while sitting in a canvas structure compared

to a more traditional brick built building.

Listening to rain pitter-patter on the roof,

as a log burner roars away, is a fantastic

sensation.

In the last two to three years there's been

increased interest in setting up glamping

sites. Higher demand for offbeat locations

has gone hand in hand with an increased

provision of unconventional structures.

Interestingly, as more have entered the

glamping market, we're seeing a growing

polarisation in standards. Increasing

numbers of sites are appealing to the mass

market by placing multiple, relatively cheap

glamping units within a small space. Equally,

increasing numbers of sites are working

towards top end, five star luxury with high

levels of privacy and servicing, and a price

tag to match.

One key change is the way guests look for

glamping holidays. Five years ago Google

search phrases tended to be very short–tail

or generic such as 'glamping UK', 'yurts

UK', 'tipi holidays England' or 'tree house

holidays'. Notice how the searcher is not

driven by the location but rather the abode

type itself. Now we are seeing more specific

phrases such as 'yurts in Devon', 'tree houses

near London', 'glamping on Gower' and

'safari tents New Forest': the searcher's

confidence in finding something more

specific has grown. This means operators

are no longer able to rely on a cool structure

in the middle of nowhere. If your location

isn't already a place people want to travel

to you'll have to work that much harder to

entice them with an even cooler place to

stay.

In this article I'm taking a look at some

of the more obvious canvas glamping

options, with a few wild cards thrown in.

Note that although glampsites are now

also making use of more permanent pod or

lodge type structures, canvas structures are

not to be written off. They are an excellent,

affordable way for landowners to enter the

luxury, outdoor accommodation industry.

Your choice of the following will depend

on location, budget and inspiration. The

key aspects I will consider today are the

price, maintenance and infrastructure

requirements, seasonality and what to look

for from a good supplier.

GOOSEBERRY FIELDS CAMPSITE

40 WWW.OPENAIRBUSINESS.COM
---
ACCOMMODATION

BELL TENTS

You're more than likely to have seen bell tents

at festivals. These are very simple structures

consisting of a canvas (shaped loosely like

a tipi) and a central pole. Guy ropes pull

the canvas out from the centre creating

a moderate living space. The height is

established by the central pole. Sizes

are given as the diameter of the tent and

range from about 3-6m. In my opinion

bell tents are a short-term addition to other

existing structures as they tend only to be

suitable for the summer months.

Seasonality: Late Spring to early Autumn

Maintenance: Cleaned and dry stored when not

in use

Price: £400-£900 for a 5m bell tent

What to look for: Quality of canvas, canvas

treatment (anti-mould, water repellent, UV stable,

etc), a sewn in ground sheet with quality stitching,

good zip quality and air vents (these tents can get

hot on a summer's morning)

PHOTOS BY GOOSEBERRY FIELDS CAMPSITE

TIPIS

Some might argue

that tipis, with

their striking profile,

kicked off the glamping

holiday movement some

20 years ago. Traditionally

placed on the earth, I would

suggest they be placed on a platform due to the UK

weather. Preventing water from entering can be an issue

and tipis should be sited away from areas susceptible to

high winds. They vary in design more than may first meet

the eye and erecting them requires some familiarity.

Seasonality: Late Spring to early Autumn

Maintenance: Dry winter storage space will be required

Price: £1,300-£2,000 for a good quality 14ft tipi

What to look for: Canvas quality and surface treatment,

wood quality, quality of zips (or the traditional toggles),

advice on their erection

PHOTOS BY GOOSEBERRY FIELDS CAMPSITE

YURTS

Most commonly associated

with Mongolia, where they are

known as 'Gers', yurts were

also used all the way across

to Eastern Europe. Yurts are

more stable than tipis, with

greater usable cubic space

(based on the same footprint).

Step into a yurt and you can

stand up almost straight

away; the same cannot be said for a tipi. A platform is essential on which

to sit a yurt. Be mindful of how the water runs off the canvas and off the

platform. It is helpful to build a raised floor inside the diameter of the yurt

(and most canvas structures) so that if water does run in it doesn't affect

the space where guests walk.

Seasonality: With insulation a yurt can be four season, however

keeping them dry when no one is occupying them makes this difficult.

Realistically these are three season

Maintenance: Dry winter storage space will be required. Some yurts have

a sacrificial outer cover that needs replacing each year

Price: £3,000-£7,500 for a 5m diameter yurt

What to look for: Canvas quality, wood quality and how much wood is

used in the latticing of the khana (walls). Consider the height of the walls

and windows
---
ACCOMMODATION

SAFARI TENTS

Where we were seeing a surge of yurts being

erected four years ago now it is the safari tent

that is on trend. Safari tents have much more

space than other canvas structures and are

commonly divided into living and bedroom

spaces, often with bathroom facilities within the

footprint making them particularly appealing to

families and groups. These should be sited on a

platform, ideally away from windy areas although

the guy ropes on safari tents are pretty strong

making them surprisingly sturdy structures.

Seasonality: These can be left erected year

round if occupied

Maintenance: It is advisable to lower and store

safari tents for the winter if they are not inhabited

Price: £4,000-£8,000 for a 5x7m safari tent

What to look for: Canvas quality, reinforced

straps and twin layers (ie, a roof canvas and

a separate internal canvas structure to give

additional sound proofing and insulation)

GEODOMES

The less common

of the canvastype

structures,

geodomes are

usually made of

PVC (with opaque

and translucent

panels) or canvas.

Pioneered by

Buckminster Fuller,

they have a space age

appearance and receive mixed

reactions. They offer huge internal

space for their footprint which is

directly related to their height. You can

make use of this by adding a second

mezzanine floor although be aware

of how the structure stands out in

the landscape. Geodomes should be

positioned on a raised platform.

Seasonality: Like a yurt these

can be four season if kept dry

in winter although are more

likely to be three season

Maintenance: Geodomes

often come with a type of

plastic cover to help with

longevity although canvas

covers are also common,

particularly with smaller domes

Price: £2,500-£7,000 for a 5-6m

geodome

What to look for: Canvas/PVC

quality (particularly at the seams).

Check what material is used for the

supporting structure (wood/plastic/

metal) and how well it is joined

together (rudimentary nuts and bolts

on flattened poles versus engineered

attachments)

PHOTOS BY THE DOME GARDEN

My advice would be to choose a

structure, or variety of structures, that

suit the length of the season you're

aiming to offer at your glampsite.

This is by no means an exhaustive

list, and of course there are other

non-canvas structures you could

consider including shepherds huts,

pods, tree houses, buses, aeroplanes/

helicopters, dry docked boats,

shipping containers, and many more!

If you want to welcome guests all

year round it is possible with canvas

structures so long as they are well

positioned, insulated and safely

heated (a whole other subject) for

the duration. For shorter season

structures there is the matter of

disassembly and storage to be

considered but this is offset by

significantly lower cost when

compared to more permanent pod

or lodge type structures. There is also

the charm factor that goes along with

a canvas glamping experience. The

fun really comes when you start to

consider interior treatments: this is

where you can really add to a visitor's

experience and differentiate yourself

from the crowd.

In conclusion my advice would be

to be creative; the more attention

to detail you put in the more of an

inspiring experience your guests will

receive. It is also very important to

consider how many units you can

manage – changing 20 beds two or

three times a week is a lot of work and

your costs will increase the more help

you need. Whatever you decide, enjoy

the process and give me a shout if you

need any help!

ABOUT THE AUTHOR

Tim Rees is the managing director of Quality Unearthed, a specialist agency promoting some of the best alternative holiday

abodes in the UK. Having spent a number of years living in unusual places and working on off-grid homes, Tim spotted an increase

in demand for holidays offering a more grounded, back to nature experience. He started Quality Unearthed in 2010 and can

personally recommend each holiday represented for its accommodation, location and overall experience. 01348 830922 /

www.qualityunearthed.co.uk

42 WWW.OPENAIRBUSINESS.COM
---
ACCOMMODATION

Providing luxury bell tents perfect for:

info@boutiquecamping.com

+44(0)203 394 2986

boutiquecamping.com

• Camping

• Outdoor summer play rooms

• Garden lounge areas

• Festivals

• Weddings and much more!

Available for both hire & purchase.

LUSHNA Villa Air

Hotel bed in the open nature

FRESH AND MODERN DESIGN

wooden frame with waterproof canvas

BRIGHT AND AIRY BEDROOM IN NATURE

king size bed with the view

ALL THE COMFORTS

lighting, AC/DC plugins, mosquito net

EASY TO SET UP

eco Ground Screw Foundations

www.glamping-lushna.co.uk / info@lushna.com / +386 30 440 330

WWW.OPENAIRBUSINESS.COM 43
---
ACCOMMODATION | PRODUCT FOCUS

Tented Structures

Some of the best solutions for glamping under canvas

CRUA GREAT LOJ

Crua Outdoors

+353 (0)87 9115 092

www.cruaoutdoors.com

The Crua Great Loj is a

one of a kind, lodge-style

tent that ensures comfort

and durability, no matter

the setting or conditions

outside. Within the Thermo

Tent product line, it features

both thermal and acoustic

insulation. More than just

a tent, it's roomy enough

for a dinner party and bunk

beds, but tough enough

to withstand the harshest

of elements, all the while

allowing guests to get a

quieter night's sleep. Our

safari cabins are custom made

so they can be manufactured

to your preference and to

accommodate any number

of guests. The Great Loj is the

essence of what glamping

should be.

SANDSTONE BELL TENT

Boutique Camping

020 3394 2986

www.boutiquecamping.com

Available with single door,

double door or quad

door, this luxury bell tent

with heavy duty zipped

in ground sheet (540g per

sqm) has a new secondary

mosquito door, with thicker

guy ropes and extra strong

pegs. It also features 285g

per sqm 100% natural

cotton canvas which is

mould, rot and water

repellent, and treated for

UV colour fastness. Our

exclusive Bell Tents provide

you with prominent luxury

and comfort. Available in

an array of colours and

patterns, our tents also

come with four zipped

windows and air vents

at the top to allow more

airflow.

SAFARI TENT LEASE

Glamping Solutions

01234 862125

www.glampingsolutions.co.uk

We offer financing from an

approved manufacturer of

Safari tents and wooden

lodges. You can start your

glamping business from as

little as £82 / week. Safari

tents are available in 4 or 6

person capacity and feature

steel frame construction,

540gsm polyester, fire

retardant, anti-fungal

sides, a 700gsm polyester/

PVC roof and 450gsm clear

PVC windows. The package

includes everything needed

to start earning including

indoor furniture, stove,

boiler, toilet and sink,

mattresses, first inventory

and wooden floor and

terrace. Electrical supply

points can be added at

extra cost. £16,750 plus

installation (approx. £1,500) -

£82 / week over five years.

AUTHENTIC YURTS

The Authentic Mongolian

Yurt Company

07785 246641

www.mongolianyurts.co.uk

Long established family

yurt importing business;

we have been working

with the same Mongolian

supplier for 10 years and

ran our own yurt glamping

site in Wales for 9 years.

We pride ourselves on

honest, no pressure

advice - even the BBC

chose us for technical

advice on The Archers yurt

retreat storyline! Grab a

bargain… We are moving

warehouses and have a

6m/19' diameter yurt with

green woodwork available

for £5,000 (normal price

£5,772). Fully insulated

with 100% wool felt. We

also stock lots of spare

parts - roof poles, walls,

doors and covers in a

variety of colours.

44 WWW.OPENAIRBUSINESS.COM
---
ACCOMMODATION | PRODUCT FOCUS

OUTDOOR HABITAT

Tipi Guru

07889 288982

www.tipi.guru

After a decade of being

dedicated solely to the

manufacture and supply

of authentic tipis, you'll

probably have seen one

of our tipis somewhere; a

festival, film, magazine or TV,

and you would be correct in

thinking that we must have

our craft perfected by now.

We are uncompromising in

our use of quality materials,

the attention to detail,

care and honour with

which we contribute to the

continuation of the tipi's

long history. Give us a call for

sales or private / commercial

event hire (luxury furnished

and unfurnished). We are

installation specialists and

offer free consultation and

advice.

SHIKAR TENT

Bond Fabrications

01453 767171

www.bondfabrications.co.uk

We are often asked to

create something special

or unique and offer a range

of safari lodges and tents

as well as the beautiful

boutique-style Shikar tent.

Based on a traditional

Indian design, it is perfect

for the glamping market

and provides comfortable

holiday accommodation

for up to 4 / 5. If you have

something specific in

mind or would just like

to have tents made in a

different colour then do

chat with us. Embarking

on a glamping business

is an exciting and often

challenging time and we

take great pleasure in

supporting our clients

through that journey.

Use code

OPEN AIR at checkout

for free shipping in May

FEMININE CURVES

Lotus Belle

0117 971 0483

www.lotusbelle.co.uk

No accommodation

better embodies the term

'Glamping' than the Lotus

Belle. It's 'glamorous

camping' so that's staying

in a tent, right? With its

elegant simplicity and

feminine curves the Lotus

Belle is hard to resist, but

it's much more than just

a good looking tent. It's

remarkably easy to pitch;

a one person job that

takes barely 20 minutes.

Once pitched, the 5m

model has an astonishing

18sqm of standing space

inside. The clever design

boasts all the portability

and usability of a standard

bell tent while affording

the roomy luxuriousness

of a yurt at a price point

that really turns your

head.

VILLA AIR

Lushna Glamping

+386 30 440 330

www.glamping-lushna.com

A bright and airy bedroom

in nature. Lushna Villa

Air is a unique structure

with a fresh and modern

design. This wooden tent

offers all the comforts

missing from traditional

tents and features a king

size bed (or two singles),

lighting, AC/DC plugs and

a mosquito net. Ideal for

summer destinations, it

is easy to set up without

prebuilt foundations,

minimising damage to

the environment and

disruptions, even during

the high season. Units

can be delivered fully

equipped with furniture,

lighting, mattresses,

bedding even house

numbers or names,

meaning they can be put

straight into operation.

WWW.OPENAIRBUSINESS.COM 45
---
Event Hire Equipment

Pre & Post Event Support

Nationwide Coverage

CALL: 0845 601 5427

www.winnerevents.com

WE ARE NOT AN AGENCY - WE OWN AND OPERATE 350+ ATTRACTIONS IN HOUSE

MAKE YOUR NEXT EVENT MEMORABLE BY SELECTING

ONE OF THE UK'S LEADING EVENT SUPPLIERS

We specialise in supplying inflatables and attractions for all ages ranging from Inflatable zones to Team Building days, It's a

Knockout competitions, Motorised Activities, Casino Tables, Fun Foods, Catering and Infrastructure hire, Fun Fair Rides plus so

much more!

We own and operate over 350 attractions, creating quality and bespoke events that you will love. As we own all our attractions

we can save you money, time, paperwork and stress.

There is no need to contract multiple suppliers for your event as we can supply everything you need in one place!

Apart from saving you money this means you can be sure of the highest quality event without the worry that one or more

suppliers will let you down! Enjoy your event and let us do all the hard work for you.

Our experienced and dedicated event managers will guide you through the planning process and be on hand to make your

event run as smoothly as possible.

WWW.SIMPLYTHEBESTEVENTS.CO.UK 0800 019 3908 SALES@SIMPLYTHEBESTEVENTS.CO.UK

46 WWW.OPENAIRBUSINESS.COM
---
EVENTS

CASE STUDY

The Goodlife

Experience

A family friendly festival with originality at its core

The Good Life Experience takes place at Hawarden Estate, Flintshire, North East

Wales, from 16-18 September. This is an event with therapeutic qualities - good food, a focus on wellbeing

and the gifts of the outdoors. You can expect a low impact and sustainably responsible event, with

locally sourced entertainment, foods and artisan beers. Co-founder Charlie Gladstone talks to Open Air.

Describe your event

Our aim for The Good Life

Experience is to create a feel-good

festival with a difference. It draws

the best of literature festivals,

music festivals and food festivals

into one outside event: it's all

about passion and discovery. We

wanted to include a strong aspect

of craft, by which we mean not

hippy, woolly jumper crafts but

exciting, charismatic, modern

people making things. This year

we have 40 makers: blacksmiths,

potters, boat builders, weavers,

mosaic makers, printers, axe

specialists and more. We're

combining contemporary and

heritage, hoping visitors engage,

in a modern way, with objects that

have been around for thousands of

"WE WANTED

OUR FESTIVAL

TO BE AN

EXPERIENCE,

NOT JUST

SOMETHING

TO LOOK AT..."

years. All of our makers run handson

activities. We want to give

visitors the chance to invest some

time and effort to make something.

Almost all of these activities are

included in the ticket price, but if

people are taking away something

substantial like a canoe paddle

there may be a charge. This part

of the festival has been the most

startling aspect of our success.

How many people do you

attract?

There are four founders and we are

about to enter our third year. In

the first year we had 1,800 guests,

4,500 the next year and we are

optimistic about growing further

this year and making the whole

thing more financially viable.

What is The Goodlife Experience's

history and when/how was it

conceived?

In a post-2008 world, when

everything came crashing down, we

all felt the need to enrich our lives in

ways other than working, shopping

and staring at our phones. That

would mean more family time and

more engagement with our hands,

food, music and books. We wanted

our festival to be an experience, not

just something to look at; a festival

of original ideas and activities, not

a mimic of any other event held

in the UK. The founders have a

robust knowledge of the areas and

aspects to include. For example,

Cerys Matthews (leader singer of

alternative rock band Catatonia) is

hugely helpful on the music side.

WWW.OPENAIRBUSINESS.COM 47
---
EVENTS

My wife and I had lived in the

Highlands for 20 years. We loved

the wild and remoteness for our

children to grow up in. The whole

family was keen on excitement,

danger and the outdoors. That

echoes in our festival where we

try to create a family friendly

environment. It's a place where the

children are allowed to run a bit

wild – an accidental philosophy of

the festival! They can climb trees

and hay bales, roll down slopes,

take tea in a café solely for children,

staffed by children, and enjoy all

the fun of a 1930's fairground.

What about the necessary

permissions?

Licenses are evolving every time

we grow and change; we are still

involved with planning specialists

now. We hope that we are gaining

more credibility with the local

councils as we grow. They are

reticent and wary, even if we're not

a rave with 4,000 raucous young

people! You have to be on the ball

and make sure everything you do

is ticking all the boxes because you

won't succeed without the support

of the council.

How have you planned the

layout of the event and what

structures do you use?

All the activities are held under

cover which differentiates us

from many other festivals. The

bigger tents - our biggest is the

biggest you can get hold of - are

all traditional canvas. There's

much looking at a plan, moving

things to accommodate people,

changing the layout to suit

different purposes and, of course,

allowing for hills and flat areas.

We change the layout every year

so it's fresh and fun to explore.

We create nooks and crannies

which visitors can think only

they have discovered and that

they can enjoy with their friends

and family. Expectations are

high, unrealistically so, as huge

festivals with massive budgets

like Glastonbury are held as a

benchmark.

How did you research and

source your marquees, stage,

bars, etc?

My sister is the full-time site

manager so she does much of

the leg work. However, it's really

a combination of building things

ourselves and, like all business

decisions, we kind of follow a

lead: one arises and we follow it

and that leads to something else.

There's a lot of "I know a guy who

does that!"

What entertainment do you offer

and how did you choose and

source it?

This year five or six household

name chefs are coming. They're

not charging anything as they

enjoy the experience and know

we don't have that much money!

You need to be very persuasive

and believe in what you're talking

about and selling. Everyone needs

to benefit from working together

whether financially, in kind or

in future earnings. We've been

lucky in our bookings and have

some good friends and contacts

as a result. We have a speaker's

tent where anyone - historians,

politicians, authors, adventurers -

can talk on any subject. If we feel

someone is interesting then we

reckon they will be interesting to

others. We don't have VIP areas:

performers have to mingle!
---
EVENTS

What provisions do you make for

power, lights, sound and toilet

facilities?

For loos and showers we try to do

the best we can within the budget.

As inveterate festival goers our

experience helps us to judge. We

buy in the power and lighting from

people we have used in the past –

that's one less headache!

How do you publicise the event?

We don't spend on advertising.

We've received some very good

press - Sky News, Jeremy Vine's

radio show, the Mail on Sunday's

You magazine, The Telegraph -

which has been really helpful.

However, social media and

Instagram are, without question,

our strongest publicity aids.

With social media it's the level of

engagement that is important, not

numbers of followers.

What ground protection do you

use for cars and footfall?

The land belongs to us and we

care about it. We do everything

we can: well managed land will

always recover.

What challenges have you

faced?

Inevitably the biggest challenge

is financial. It can take years to

make an event financially viable,

stable and profitable. We've also

faced logistical challenges. For

example, how to get hundreds

of people into a space when

they all arrive at the same time.

Preparation is the answer.

What advice could you give to

someone entering the outdoor

event industry?

No business is easy: success

depends on whether you're ready

to work hard. Although exciting,

being an entrepreneur is a brutal

way of living! Yes, it's a lifestyle

choice yet, if we can make it

succeed then we've created a

business in just a few years. Am

I completely exhausted after?

Absolutely! Do I wish for a simpler

life? No, thank you.

ADDRESS BOOK

TENTS

Posh Frocks & Wellies - 01829 751979

www.poshfrocksandwellies.co.uk

LIGHTING

Event Equipment - 01829 289888

www.eventequipmentltd.co.uk

HEAT AND POWER

Event Equipment (see above)

SOUND AND STAGE

Event Equipment (see above)

CATERING

Quickhire - 0151 6326945

www.quickhire.co.uk

FLOORING

Event Equipment (see above)

GROUND PROTECTION

Davis Trackhire - 01698 352751

www.davistrackhire.com

WCS / WASHROOMS

Blue Loos Event Hire - 01829 250677

www.blueloos.com

TICKETING

Ticketweb - www.ticketweb.co.uk

VISITOR MANAGEMENT

In-house

ENTERTAINMENT

In-house

INSURANCE

Music Insurance Brokers (MIB) –

020 72875054 / www.musicinsurance.net

DETAILS

Date: 16-18 September

A: Hawarden Estate, Flintshire,

North East Wales

T: 01244 784122

W: www.thegoodlifeexperience.co.uk

E: info@thegoodlifeexperience.co.uk

WWW.OPENAIRBUSINESS.COM 49
---
EVENTS

Estate Events

Simon Foster, director of Commercial Heritage, Savills, looks at how owners of historic

houses and rural estates might maximise their revenue streams

WEALDENTIMES.CO.UK/EVENTS / WWW.DAVIDMEREWETHER.CO.UK

THE NATIONAL CONTRIBUTION of historic

houses – economically, culturally, socially

and through education – is enormous. Of

1,550 Historic Houses Association (HHA)

houses and gardens, nearly 60% open their

doors to the public, welcoming 13m visitors

a year. They are key drivers for tourism and

economic activity, often in remote rural

areas where there are few alternatives.

These special places are also central to

our local identity, character, history and

life. More than half of HHA houses host

and support charitable and community

events. They are embedded in their local

communities and economies. However,

these are very uncertain times for historic

houses and gardens. Competition to attract

visitors with reduced disposable incomes

has increased; at the same time, costs

have also risen. The legislative and tax

framework for private owners is tougher

and the challenges are considerable. Many

historic house businesses face threats to

their very survival.

Yet all is not lost. Over the last 50 years or

so historic houses throughout the UK have

found creative ways to generate income

to supplement traditional estate activities

such as farming, forestry, game shooting

and property lettings. Historic houses such

as Chatsworth, Blenheim Palace and Leeds

Castle attract many hundreds of thousands

of visitors each year and are among some

of Britain's most popular tourist attractions.

Hundreds more owners do the same, but

on a much smaller scale.

In recent years, these houses have also

become popular venues for weddings,

parties and corporate events and any spare

capacity is often filled with other activities

such as film, TV and photographic location

work. The most commercially minded

owners and managers are developing their

businesses to maximise revenue: their

properties are expensive places to maintain.

However, it is not easy to run a profitable

historic house business.

The impact of commercial activity inside

the house can be significant. Not only do

hoards of visitors and high-spirited wedding

guests cause wear and tear on the delicate

fabric of the house but life for the family

living there can be challenging. Savills has

clients who have been woken in the night to

find a disorientated and inebriated wedding

guest standing at the end of their bed! It's

sometimes hard to see the funny side.

It's not surprising, therefore, that many

owners have looked for alternative ways

to generate significant income by allowing

50 WWW.OPENAIRBUSINESS.COM
---
EVENTS

CASE STUDY

Hole Park

A quick Q&A with

Edward Barham,

owner of Hole Park in

Rolvenden, Kent

GETTY IMAGES

public access to their rural

estates. A music festival in the

park, for example, can produce as

much, if not more, income than

six months' of visitor opening,

while a well-conceived glamping

enterprise can produce a healthy

financial return from a relatively

small capital investment. In both

cases, these enterprises can be

managed at arm's length, with

limited financial risk and virtually

no impact on family life in the

main house.

Large outdoor events, such

as festivals, concerts, country

fairs and 'Tough Mudder' type

endurance runs, for example,

are good income generators

for both the estate and the

local economy. Regional

accommodation providers and

suppliers of essential services,

such as portable loos, skips and

generators, will benefit from the

arrival of a major new event. A

high profile function can also help

raise the profile of a rural estate

and provide it with national

recognition. Savills' clients at

Eastnor Castle, Herefordshire,

for example, recognise that

their brand awareness was

significantly enhanced when The

Big Chill music festival moved to

the estate over 10 years ago.

Of course there are downsides

too. A large, outdoor event can be

very disruptive to local residents:

increased noise and traffic may

be a problem. It is essential that

landowners and event promoters

do everything possible to keep

local residents informed and

limit the impingement. Recent

wet summers have also had

an impact. The intense activity

during set up and clear up can

cause damage to the event site if

the weather is bad. The ground

usually recovers over time but

disrupted sward can cause major

headaches if it is in sight of the

following weekend's wedding

guests.

Most of Savills' clients prefer

a relatively risk-free approach

to outdoor events and promote

their estates via external

promoters who take the financial

risk and pay the landowner a

fixed venue fee or share of ticket

revenue. While this is clearly

much less risky than paying for

and promoting one's own events

(Goodwood's Festival of Speed

and Revival are good examples

of how to do it well) landowners

need to ensure that the event

and promoter are reputable

and that any association will

enhance the profile of the estate

as a whole. They also need to

ensure that they have a robust

agreement to protect them

from cancellation and potential

breaches of the agreement

terms.

In many cases historic houses

are increasingly seen as the

backdrop to other commercial

activities. Even the larger stately

homes cannot rely solely on

visitors to the house. The most

successful historic houses create

a visitor destination that is more

than just the house but also the

events held in its grounds.

"A MUSIC

FESTIVAL IN

THE PARK,

FOR EXAMPLE,

CAN PRODUCE

AS MUCH, IF

NOT MORE,

INCOME THAN

SIX MONTHS'

OF VISITOR

OPENING"

ABOUT THE AUTHOR

Simon Foster is the

director of Commercial

Heritage at Savills, a

special property service

providing strategic,

commercial and practical

advice to owners, trustees

and managers in the

historic house and rural

estates sectors. His team

has experience in tourism,

events and leisure

including outdoor events,

weddings and receptions,

camping, glamping

and caravanning

enterprises as well as

event management and

contract negotiation.

www.savills.co.uk/

services

Hole Park is a 2,500 acre estate

with 200 acres of classic parkland

in the Weald of Kent and has been

owned by the Barham family

for the past four generations.

Attracting visitors to its gardens,

which are a mix of formal design

and more naturalised planting,

the house itself remains a private

family home and therefore not

open to the public. Hole Park

holds several events throughout

the year including: the Hole Park

Cross Duathlons (a combination of

running and mountain biking); the

Dirty Dozen Races (incorporating

obstacles and always lots of mud);

Invasion Kent (Napoleonic battle

re-enactments); the Wealden

Times Midsummer Fair; the Kent

Game and Country Fair; as well as

many caravan and camping rallies.

www.holepark.com

Why did you decide to hold

events at Hole Park?

The downturn in the fortunes of

agriculture forces all dynamic

landowners to look at other ways

of earning money from their land.

Being blessed with an attractive

200 acre parkland, and in an area

that is short of venues to host

outdoor events, once we had

attracted one fair here, other

organisers noted that and have

beaten a path to our door.
---
EVENTS

Are there any events that you

wouldn't consider holding?

I prefer events when the public go

home at 18:00 (six o'clock) and then

we can relax. We have never yet

had a music festival and I am quite

keen not to do so on hearing what

goes on from my children. Equally,

the litter can become a very real

problem at such events, I am told.

We have trouble enough with it at

our more sedate ones!

Do you arrange any of your own

events or use outside event

companies?

Predominantly we provide the

venue as Licensor and leave the

organisation of the often specialist

event to the Licensee to put on

the fair or event that they want.

This means my financial exposure

is limited and I don't risk using

skills I don't have! I am also sure

that the events are much better

run and more varied because of

this decision. That said we are

promoting an event with the

Napoleonic Association this year,

which will see us acting as the

organiser and promoter. This is a

first for us.

Do you hire the venue for a flat fee

or take a cut of the ticket sales?

Usually a flat fee. We have tried

base fees plus headage but I find it

unreliable and a cause for ill feeling;

have they declared the correct

number and why does it perhaps

not tally with what we have been

able to glean from the gate men on

the day?

"SO MUCH

IS AT STAKE,

FINANCIALLY

AND WITH

EXHIBITOR

AND VISITOR

EXPECTATION,

THAT IT

CAN BE A

VERY HARD

TO MAKE A

DECISION TO

CANCEL"

What challenges have you faced?

Weather of course. So much is

at stake, financially and with

exhibitor and visitor expectation,

that it can be a very hard to make

a decision to cancel. Once the

event is underway the Licensee

takes on that role and as they all

have safety officers, they make the

call to close any dangerous part,

such as an unsecure tent in high

winds which happened one year.

On another occasion we faced a

showground with water standing

in every divot and pot hole. We

should have cancelled but I didn't

want to make that call for the

reasons just given. I stood and

looked at it, found I was not brave

enough and went to a meeting

in London for the day. The wind

blew, the sun came out and the

event was saved!

What percentage of total estate

revenue is attributed to the

events you host?

No precise figure here but a

rapidly rising contribution to

the estate's overall profitability.

From agriculture that might

achieve a rent of £120 an acre with

some additional environmental

payments, we now have income

many times that, and there is still

space and time for the farming to

continue.

What extra maintenance do you

need to do to the estate to hold

these events?

The infrastructure is always

being updated and improved:

water supplies, additional

hard standing, tree planting

as well as additional grassland

maintenance. But the overall cost

of these is not large and they are

used by many events over a long

period.

How was the experience with

the local authority in regard to

planning?

We do not host enough events to

trigger a planning issue. Oddly,

the parkland is divided between

two local authorities by quirk

of a boundary. At times we are

not sure who to speak to! Of

equal importance to planning is

the licensing. Ensuring we have

enough TEN's (Temporary Event

Notices, which particularly apply

to sale of alcohol) between the

several users can be testing.

Any advice for other country

house / estate owners thinking

about holding events in their

grounds?

We are the fortunate owners

of some of the most beautiful

countryside in the UK, often with

very expensive-to-run-houses as

the centrepiece. You cannot sit

and expect life owes you a living;

every aspect of a diversified

estate has to be made to pay its

way. Hole Park has gone down

the route of outdoor events

because that suits us. There are

alternatives but whatever you do,

do something, not nothing, and

do it well.

52 WWW.OPENAIRBUSINESS.COM
---
the Ultimate solution for

restraining temporary structures

0800 122 3304 www.anchorbloc.co.uk

✓ ü Hire or buy your Anchor Blocs outright

✓ ü Take advantage of our 'Anchor 'Anchor Management'

Managment'

programme -- great if if you have multiple events at at

different locations.

✓ ü Full logistics and storage facilities are available

✓ ü Payment by credit card for convenience

✓ ü Emergency telephone service for 24/7 support

✓ ü 1000kg, 500kg, 330kg 330kg and and 250kg 250kg options options

✓ ü Perfect for for securing marquees, inflatables and and any any

other fabric temporary temporaty structures.

✓ ü CDM CDM 2015 2015 compliant Lloyd British Testing Certified Certifed

in in accordance with with BS5975:2008.

✓ ü Custom options available avalible.

✓ ü Huge Huge range Range of of accessories, accesories, from From branded covers to to

specially adapted all all terrain teraine pallet pallet trucks trucks.
---
EVENTS

Care Free

Catering

There's a whole raft of free services available to event organisers

from the Nationwide Caterers Association, writes Mark Laurie

YOU MAY ALREADY have heard

about the work the Nationwide

Caterers Association (NCASS)

undertakes to help mobile caterers

trade successfully and safely. Yet

we have a little known secret: we

do loads for event organisers too,

and we do it for free.

NCASS started back in the

late '80s when a small group

of mobile caterers decided to

improve the image and standards

of the industry they loved. These

days it supports 3,500 caterers

across the UK, providing them

with everything needed to run

a profitable, safe and compliant

business (from training and due

diligence to work opportunities,

with a whole load of other great

stuff in between).

The Association is also the

UK's only primary authority

for mobile caterers as it has a

legally-recognised partnership

with Cherwell District Council.

"UNDER THE

PRIMARY

AUTHORITY

PARTNERSHIP,

NCASS

MEMBERS ARE

PROTECTED

FOR FOOD

SAFETY,

HEALTH AND

SAFETY,

TRADING

STANDARDS

AND FIRE

SAFETY"

Under the scheme this local

authority partner has audited all

the documentation and training

NCASS provides to traders and

signed it off as 'assured advice and

guidance'. Essentially this means

that everything provided to traders

is sensible, dependable and

compliant with the law.

Under the primary authority

partnership NCASS members are

protected for food safety, health

and safety, trading standards and

fire safety. Provided they stick to

the advice and documentation

offered by NCASS, members will be

compliant with the law and make

their trading environment a safer

place.

What you should look for

Event organisers should look for

compliant caterers to work at

their events. If any harm was ever

to befall a customer due to the

actions of a contracted trader,

organisers will need to be certain

that they're covered, and that the

customer is too.

Here's a list of the essential

documentation you would hope to

be able to see for every caterer you

contract:

› liability insurance (employer's,

product and public cover up to

at least £5m)

› COSHH risk assessment (this

pinpoints risks and hazards from

substances within the catering

business that could cause harm

to the public)

› a written health and safety

policy (a legal requirement for

any business that employs five

or more people)

› food safety risk assessment (a

legal requirement for any food

business)

› health and safety risk

assessment

› fire risk assessment

› gas certificate (which must

have been issued by a Gas Safe

registered engineer with the

correct qualifications)

› evidence of food hygiene

training (eg, Level 2/3 training

certificate).

These are some other nonessential

but good practice

documents that can also come in

54 WWW.OPENAIRBUSINESS.COM
---
EVENTS

useful during event management:

› waste control agreement

› sustainability policy

› method statement

› DBS (Disclosure and Barring

Service) check certificate

› work unit insurance

› electrical testing certificate

› fire extinguisher certificate.

You're probably thinking that's

an awful lot of documentation to

track. Well, you're right but the

good news is that NCASS provides

its members with pretty much all

of the essentials.

The easy way to source safe

traders

Every single NCASS caterer agrees

to work to best practice. Each

trader has access to the most

respected and triple-accredited

online training courses for

mobile caterers in the country.

Furthermore, they have the

backing of a due diligence system

that's been labelled as 'assured

advice and guidance' by a district

council.

So, due to the NCASS primary

authority partnership, when you

choose an NCASS caterer to trade

at your event you'll have peace of

mind knowing that you are covered

and protected, and you'll have

added weight when it comes to

bidding for events with your local

authority. Having "all traders will

be protected under the NCASS

primary authority partnership with

Cherwell District Council" on your

application will go a long way.

Aside from safe traders,

what does NCASS offer event

organisers?

Every day NCASS helps event

organisers manage the catering

for their events by matching them

with local caterers who meet

their food requirements via a free

SMS service called WorkOpps.

Here's how it works: you tell the

Association a little about your

event and choose the food you

want sold on the day. NCASS texts

those details to traders who fit the

mould. The traders then contact

you, by whatever means you have

specified, and you take it from

there with the peace of mind that

the caterers at your event will be

NCASS registered.

Darren Price used WorkOpps

and commented: "Your service

is spot on. I'll always use you

and recommend WorkOpps to

everyone." Emma Barton said:

"Thank you so much for your 'find

a caterer' service. The form was

easy to complete and we received

many responses, very quickly.

We were able to find a great
---
EVENTS

local caterer, Pizza per Tutti, who

was perfect." You can register for

WorkOpps and use the system for

free as many times as you like at

www.ncass.org.uk/findacaterer.

Very soon WorkOpps will be

incorporated into the innovative

trader management system

NCASS Connect. It's free for event

organisers, enforcement officers

and traders to use and will save

heaps of time, money and hassle

when you come to sourcing traders

and managing their documents.

Via Connect you can 'create'

events and shortlist both food

and non-food traders for work.

Shortlisted traders will receive

an email requesting their work

availability and documentation

including insurance certificates, risk

assessments, gas certificates and

more. These documents will then

load onto your event screen from

those who accept.

What's great about this is

that you can store the traders'

documents for the duration of the

event and share that information

with local authority enforcement

officers. Through Connect you

can ask enforcement teams to

assess your shortlisted traders'

documentation. That's good for

them as they'll be able to assess

how many traders need a full

inspection on-site on the day of the

event, and good for you because

you'll get further reassurance from

the local authority on how safe your

selected traders are. In a nutshell:

› you won't waste time chasing

traders for their documents

› you can view and store traders'

documents for the duration of

your event

› you'll put the onus on the local

authority to confirm it's happy

with the traders and their

documents (rather than it being

your responsibility)

› you can rate and comment on

traders' performances and view

previous ratings

› it's free, plus you'll save time

and money normally spent on

administration

› you'll minimise cold calls from

traders when you ask them to

apply for your pitches through

Connect

› you'll help your local authority

to manage traders' food safety

effectively.

How do we know Connect works?

Organisers of major events use

NCASS Connect. WOMAD Festival

used Connect to run its entire

recruitment process for last year's

event for both food and non-food

traders. It's quickly become the goto

place for street food collectives

too. KERB, Digbeth Dining Club,

Feast on the Street, Turntables and

Scoff are regularly using Connect

to manage their events and

markets.

Jack Brabant, Digbeth Dining

Club organiser, said: "We only use

ABOUT THE AUTHOR

Mark Laurie is the

director at the

Nationwide Caterers

Association (NCASS),

the only trade

association and

primary authority for

mobile caterers and

street food sellers in

the UK. The NCASS

mission is to provide

traders with all the

information, systems

and support they need

for a profitable, safe

and legal business.

From start-ups to

fully-fledged mobile

ventures, NCASS offers

support and materials

to help caterers at

any stage of business.

Currently looking after

3,500 UK catering

businesses, NCASS

continues to grow year

on year as a result of its

care for and support to

the catering and events

industry.

NCASS members as we want safe

and professional traders. NCASS's

Connect system has helped us to

demonstrate our professionalism

and compliance and that of our

traders to the council and it's

undoubtedly opened doors for us."

And Tony Lacey, head of Feast on

the Street, said: "Connect helps

us enormously because we now

have a way to book, store and

retrieve each trader's paperwork

at the click of a button and send

that information to the EHO.

This ensures that we have the

necessary health and safety, food

hygiene and every other bit of

paperwork to hand. When you're

working with so many traders

and so much admin it's essential

all is kept handy for us and any

environmental health officers to

check."

Furthermore, the Food

Standards Agency believes that

Connect has the power to reduce

the regulatory burden for food

businesses, event organisers and

local authorities so much so that

it has included Connect in the

new Food Law Code of Practice

guidance notes under section

3.2.5.4.

HOP ABOARD THE

NCASS SHIP – FOR

FREE!

You can find out more about

NCASS Connect and register

for free as an event organiser

at www.NCASSConnect.

co.uk. As soon as you're

registered you'll be able to

log in on the main NCASS site

– www.NCASS.org.uk – and

start managing traders and

documentation for all of your

future events.

For more information on

NCASS's services for event

organisers don't hesitate to call

on 0121 603 2524 or take a look

around the website at

www.NCASS.org.uk

56 WWW.OPENAIRBUSINESS.COM
---
Festival

Trackway

riolounge

boutique furniture hire

"inspirational hire furniture for stylish events"

Multi award-winning trackway

& safety flooring solutions

01455 553700

sales@ecotrackway.co.uk

Ec

Track

& Access Ltd

incorporating

UmTech

Epic Group

CALL NOW ON 0845 46 77483

www.riolounge.co.uk hire@riolounge.co.uk

ULTRA QUIET

DENYO EVENTA GENERATORS

• 20kVA to 100kVA

• Ultra quiet operation

• Tier III diesel engine approval

• Up to 26 hours of uninterrupted operation

INNOVATIVE • TRUSTED • PROVEN

0845 409 0276

sales@morrismachinery.co.uk

www.denyogenerators.co.uk

WWW.OPENAIRBUSINESS.COM 57
---
EVENTS

Stage Specifics

Specifying a stage, writes Jane Russen of Star Events Ltd, requires careful

consideration but it is nothing a good supplier can't handle

PHOTOGRAPHY SUPPLIED BY STAR EVENTS LTD

ANYWHERE YOU WANT to bring

together a number of people

and focus their attention in

one place will require some

sort of structure on which

to provide entertainment or

announcements. Your stage

and sound choices are just as

critical whether you're holding

live music in a field for crowds

of thousands or a more intimate

affair with audiences of a few

hundred. Of importance too

are the logistical and legal

requirements for erecting and

overseeing a stage when on site.

There are a number of stage

designs available to hire but not

all are suitable for all types of

shows. Mobile stages - portable

versions of a permanent

structure - are available in

various shapes and sizes, the

choice of which may be dictated

by the level of production that

acts require. The quick install

process of a mobile stage is

perfect for time conscious

venues and tight budgets as

overnight, on-site security

won't be required for as long.

Providing you can get a truck

onto your site, a mobile stage

will always be the quickest,

easiest and most cost effective

solution.

Smaller events might get

away with a road show unit

- usually a converted bus or

truck - which incorporates

stage, sound and lights all

in one but these are rarely

suitable for a band of any size.

Also, with recent changes to

the legal requirements event

organiser's face, a stage that is

simply driven to site then left for

the event organiser to oversee

can lead to trouble. Since April

2015, event organisers need to

make provision for compulsory

adherence to Construction

Design Management (CDM)

regulations, enforced by the

Health and Safety Executive

(HSE). This requires an

experienced person to remain

with the stage at all times.

A mobile stage may still be

suitable for sites with restricted

access. We have a range of

stages featuring independent

rear steering which can access

a site where a standard artic

trailer may not be able. We

also have a stage with a built-in

360° turntable, meaning it can

be positioned in very difficult

to access locations such as

across a road: this is unique to

Star Events. If you can't get a

truck onto the site then you'll

need to consider how else

you can deliver equipment.

This may have to be unloaded

outside the area and either

transferred to a smaller vehicle

or man-handled. Of course,

this affects price and build time

quite considerably so may be

cost prohibitive. A site visit with

all your main contractors is

essential to ensure there are no

nasty surprises on the day.

Prices vary for stages and are

dictated by their construction

and size. A mobile stage is

priced on the number of days

it is on site: the longer you

have it, the more it will cost.

However, a mobile stage's

advantage is that it is likely to

be on site for less time, keeping

security costs to a minimum. A

10 x 8m mobile stage will cost

from £3,000 for one day's hire

with a minimal cost for each

day thereafter.

"A MOBILE STAGE IS PRICED ON

THE NUMBER OF DAYS IT IS ON

SITE: THE LONGER YOU HAVE IT,

THE MORE IT WILL COST"

58 WWW.OPENAIRBUSINESS.COM
---
EVENTS

Determining stage size

Some artists will specify the size of

stage they require. A large, popular

band might dictate that they need

a 15m stage (measured on the

width of the performance area)

whereas smaller acts might only

need 8-10m. It is also important to

take into account your expected

audience numbers: you will be

surprised how small your event will

look when a crowd of 3,000 is faced

with a 15m stage frontage. You

want your visitors to leave feeling

that they were part of something

special, not something that could

be deemed unsuccessful because

the event looked empty. Another

factor to consider is how stage

width impacts on stage height. The

floor height on some smaller stages

can be limited, giving the audience

a restricted view.

It goes without saying that you

must avoid the potential of crowd

crushing. Wherever possible we

always advise placing a stage at

the lowest point on site to create

a natural amphitheatre. Crowd

control barriers are also required

and, if your budget allows, the

placement of video screens (one

either side of the stage) will allow

the audience to see from a distance

avoiding undue crowding at the

front.

A quick note about stage sizes.

Ask the supplier to clarify exactly

how its stage sizes are measured.

Stages are usually measured on

performing width, not including

the wings. This is the measurement

that will help you the most when

deciding which size of stage you

need. If you are unsure, a good

supplier should be able to help

you find a size that meets both

your performers' and audience

requirements. If they can't then

consider another supplier!

Safety in erection

Stages in the UK are generally of

a modular scaffold substructure

or are mobile. Erecting the

former can be tricky and is

subject to many health and safety

regulations due to the high risk

activities involved with working

at height. With a mobile there

is usually no working at height

but this will vary from stage to

stage. The industry is currently

undergoing a period of intense

scrutiny by the HSE, especially

with regards to working near

leading and performing edges

during a stage build. In addition,

any construction at an event

site must comply with CDM

Regulations that, until recently,

have only been enforced in the

construction industry.

The success of any stage will

depend on the quality of its

design and whether it is only

ever used within its capabilities.

We are aware of many stages

designed with a roof for indoor

use but that are then used

outside. This is a particularly

dangerous practice because wind

load ratings must be applied on

roof sheeting and side walls for

stages used outside. Some small

trailer stages come with side

sheets that are air permeable,

ie. having small holes to let

WWW.OPENAIRBUSINESS.COM 59
---
EVENTS

the wind through, bear in mind these

will also let the rain through too. Before

confirming your stage, ensure you receive

the calculations and check who will be

on standby during your event. It is critical

that any design clearly demonstrates the

amount of ballast needed to cope with

wind force, especially in winter.

In addition, there are strict guidelines

on the amount of deflection acceptable in

the masts and rigging once construction

is finished. Of course, no stage would

be complete without audio/visual

components and these can weigh several

tonnes depending on the equipment.

When designing the masts this weight

must always be factored in. Competency

to erect and dismantle stages is an

important factor to consider. Riggers

need to be specially trained to climb and

install components and so too must the

carpenters and scaffolders who put the

substructure together.

Where a stage is built on a vehicle

trailer to make it mobile most of the

above will still be relevant, except for the

substructure. Mobile stages also need to

meet requirements set out in the Road

Safety Regulations and VOSA.

It is a legitimate question to ask whether

buying a stage rather than hiring one is a

good investment. I would argue that hiring

is definitely the better option. Buying a

stage is not easy. There are many variables

to consider so, unless you're going to

use it eight to 10 times per year and can

accommodate all of the above, hiring from

a reputable company is the best solution.

Stage positioning

Considerations on what surface to

place your stage will vary from venue to

venue. Your contractor may prefer it but

audiences aren't so keen to sit and enjoy a

picnic on concrete! Most stages will easily

stand on grass. Any site that requires

heavy trucks to drive off hardstanding

onto grass may require a temporary

roadway system or ground protection.

A reputable stage company will insist

on a site visit to ensure that all these

considerations are taken into account.

You will also need to carefully design

your event's 'floor plan'. Ideally a site will

have a gentle slope, creating a natural

amphitheatre. Again, audience egress and

exit will vary from site to site. It's essential,

however, to have more than one way to

get in and out: critical should the site need

to be evacuated quickly and effectively.

Ideally bars, toilets and food outlets should

be located away from the stage to prevent

crowding in any one area although not

so far away that their use becomes an

expedition rather than a brief stroll away.

Most stage performances will require

lighting, even those that take place in

daylight. Any stage with a weatherproof

roof and walls will tend to be darker than

the audience area so basic lighting will be

needed to counteract this. It's generally

considered a waste of money to install

coloured lighting for a daytime show.

However, if the event is to be televised

then some coloured lighting will provide a

natural look. Some orchestras will require

basic white lighting, negating the use and

additional cost of lit music stands. At nighttime,

coloured lighting rigs are limited

only by the imagination of the lighting

designer... and your budget.

Another consideration is audience

lighting. There should be a minimum level

of illumination, sufficient for someone to

leave their place in the crowd to go to the

bar/toilet and be able to find their way

back again. Floodlights are also required

in case of emergency and to signify the

end of an event. Sound is one of the

most important items at most events.

Generally speaking, any good quality, large

loudspeaker that is designed to be used

at music events will handle almost any

form of music. However, the only way to

control the sound properly is by employing

a sound engineer.

In conclusion

You need to be confident that the

contractor you're hiring is experienced,

insured and reputable: references will

underline suitability. If time allows ask to

view the stage before you book it, either

at the supplier's premises or another

event where it is being used. Take this

opportunity to ask as many questions

as you can so you'll know exactly what

to expect at your event. Speaking to a

supplier on the phone may give you some

information but seeing the product for

yourself will be much more insightful. It's

also worth asking what standby cover

comes with the stage, whether the supplier

has been to the site before and if it has

supplied any similar events to the one

you're organising.

ABOUT THE AUTHOR

Jane Russen is the national sales manager for Star Events Ltd, having been with the company for 22 years. Star Events is a

subsidiary of Altrad Beaver 84 Ltd and has been supplying equipment and services to the events industry for 40 years. It has

designed and delivered stages, structures, seating and rigging for some of the world's most high profile events as well as for a

vast array of smaller community and commercial functions. It prides itself on its service, carefully considering each particular

situation, irrespective of the audience size, to provide equipment, service and safety event organisers can rely on.

www.stareventsltd.com

60 WWW.OPENAIRBUSINESS.COM
---
LIVE 2016

COUNTRY HOUSE

BUSINESS INNOVATION 2016

INNOVATION 2016

The event for farmers, land owners and rural business

entrepreneurs to gain inspiration, resources and advice

INSPIRING RURAL ENTREPRENEURS

6

A WORLD OF IDEAS

TO MAKE YOUR LAND

MORE PROFITABLE

9 & 10 NOVEMBER 2016, NEC BIRMINGHAM

7,500 VISITORS

200 SEMINARS

400 EXHIBITORS

Register for FREE tickets at www.farmbusinessshow.co.uk

@Farm_Innovation

#FarmBiz

IN

PARTNERSHIP

WITH:

LINKING ENVIRONMENT AND FARMING
---
EVENTS | PRODUCT FOCUS

Stages and Sound

Stage and sound solutions for events

DOMED CANOPIES

Alistage

01707 653245

www.alistage.co.uk

Designed to integrate

with the Alistage modular

stage system, the Alidome

is available in spans from

16' (4.88m) to 40' (12.2m)

with variable depths in

increments of 8' (2.44m).

It features inbuilt truss

sections for lighting, a leak

proof construction and is

wind tested to BS6399 pt 2.

Covers are inherently flame

retardant to BS5438 Test 2

and are available in electric

blue or silver/black for larger

Alidomes. Clear roof covers

also available for 16' and

20' systems. Alistage is one

of the UK's leading stage

and barrier manufacturing

and hire companies with

a client base running into

thousands.

DIY OR TURNKEY SERVICE

Themes Incorporated

01458 832602

www.themesincorporated.co.uk

We have been supplying

sound, lighting and staging

equipment for over 30 years,

as well as stocking over

10,000 themed props. Clients

are able to 'dry hire' any of

our props and equipment,

without installation

personnel. Shipping to

and from the venue via

third party couriers can be

arranged or alternatively

clients can make their own

arrangements to collect

and return goods from our

warehouse. If the above

seems a little daunting then

we also offer a 'turnkey

installation.' A team will

arrive and install the

props, lighting, stage etc.

then remove them upon

completion of the event.

SOUND AND SILENCE

Direct Acoustic Solutions

01403 820846

www.directacousticsolutions.com

Direct Acoustic Solutions is

an independent company

specialising in noise reducing

products, advice and solutions

to the entertainment and

events industry. Manufacturing

the Zone Array sound system

has enabled us to provide a

lifeline for many venues where

noise restrictions have made

it impossible to operate. It

provides an unprecedented

level of control in directing

sound and, as a modular

speaker system, can be tailored

to suit your specific architectural

and environmental conditions,

while addressing common

environmental health concerns

extremely effectively. Our

groundbreaking sound system

offers an excellent alternative to

conventional soundproofing.

MORBIT: HYBRID

MOBILE STAGE

Star Events Ltd

01234 772233

www.stareventsltd.com

The Morbit or 'mobileorbit'

design combines the

advantages of a mobile

stage floor system with

the visual appeal and

structural strength of the

Orbit Flexidome® roof. The

innovative design uses

built-in cranes to build, no

forklift required which of

course saves you time and

money! Once the stage is

fully constructed, the cranes

can then be used to fly the

PA. Total build time is 6-7

hours for the 13m. The 15m

version has a build time

of 9-10 hours and has the

option of monitor positions.

Ideal for audience sizes

ranging from 4,000 up to

15,000.

62 WWW.OPENAIRBUSINESS.COM
---
EVENTS | PRODUCT FOCUS

LIVE SOUND SYSTEMS

Igoe PA Hire

0845 625 5555

www.igoepahire.co.uk

Igoe PA began as an audio

hire business and has

grown into a complete

event production company

providing live sound and DJ

equipment, lighting, rigging

and staging. Our speaker hire

packages range from small

vocal PAs to concert line

array systems and facilities

to dock an iPod / laptop.

We also specialise in sound

production for bands and

supply EAW / Martin Audio

rigs powered by Lab Gruppen

/ Crown amps - the pinnacle

of industry standard

loudspeaker / amplifier

technology. With over 1,000

successful gigs under our

belt we have earned our

reputation as a premier

sound reinforcement outfit.

QUALITY MOBILE

STAGES

Daytona Stage Hire

01484 605555

www.daytonastagehire.com

Premier stage hire company,

Daytona Stage Hire, is a

family business run by

father and son team Paul

and Kris Haigh. With over

30 years experience in

the festival, events and

entertainment industry,

Daytona clients can be

assured of receiving

a quality product at

exceptional prices with

excellent customer service.

There is no typical Daytona

client; the team has worked

with clients from diverse

backgrounds, providing

one or multiple stages for

both small and large scale

events, all conforming to the

latest industry standards of

quality, design and safety.

HEXAGON RANGE:

MOBILE AND

TEMPORARY STAGES

Star Events Ltd

01234 772233

www.stareventsltd.com

Hexagon is a collection of

the most popular options

from Star Events' range of

over 150 different stages,

seating and overlay

structures. Delivery price,

to anywhere in the UK,

is already worked out,

the drawings you need

are available now, the

H&S documentation is

prepared (and externally

accredited) and even

the picking and loading

lists are on our system,

reducing the risk of delays

on site due to missing

parts. Get an immediate

quote online today

at stareventsltd.com/

hexagonquotationform

S1000 DUOSPAN

Silver Stage

01594 800700

www.silver-stage.com

The new addition to

the SL range combines

flawless efficiency of

design with complete

flexibility, comprising of

two SaddleSpan structures.

The S1000 DuoSpan has a

sleek tubular frame for a

clean finish with a tighter

opaque skin and a variety

of arrangements, and the

option of extended ends

and base extensions, adding

to the overall height and

capacity of the venue.

With plenty of space to

accommodate a bar and

performance area, the S1000

DuoSpan is the professional

choice for all events from

concerts to product launches

and company socials. Make

your event stand out in style.

WWW.OPENAIRBUSINESS.COM 63
---
CLASSIFIED DIRECTORY

LINKING ENVIRONMENT AND FARMING

LIVE 2016

Classified Directory

COUNTRY HOUSE

BUSINESS INNOVATION 2016

INNOVATION 2016

The event for farmers, land owners and rural business

entrepreneurs to gain inspiration, resources and advice

INSPIRING RURAL ENTREPRENEURS

6

A WORLD OF IDEAS

TO MAKE YOUR LAND

MORE PROFITABLE

9 & 10 NOVEMBER 2016, NEC BIRMINGHAM

The event for farmers, land owners

7,500 VISITORS

and rural business entrepreneurs to gain

200 SEMINARS

inspiration, resources and advice

400 EXHIBITORS

Register for FREE tickets at

www.farmbusinessshow.co.uk

Why not have an Event in a tent?

Call us now: 01978 661449

www.event-in-a-tent.co.uk

Register for FREE tickets at www.farmbusinessshow.co.uk

@Farm_Innovation

#FarmBiz

IN

PARTNERSHIP

WITH:

Providing luxury bell tents available

for both hire & purchase

info@boutiquecamping.com

Providing

Providing

luxury bell

luxury

tents perfect

bell tents

for:

perfect for:

• Camping • Camping

+44(0)203

• Outdoor

394 2986

• Outdoor summer play summer roomsplay rooms

boutiquecamping.com

• Garden • lounge Garden areas lounge areas

• Festivals • Festivals

info@boutiquecamping.com

info@boutiquecamping.com • Weddings

• Weddings

and much

and

more!

much more!

+44(0)203 394 2986

+44(0)203 394 2986

boutiquecamping.com Available for both hire & purchase.

boutiquecamping.com Available for both hire & purchase.

Festival

Trackway

Your own private bathroom

right next to your tent or caravan

Tel. 0031 186 769 054 ❤ info@campplus.co.uk

www.campplus.co.uk

Simply the Best Events own and operate over 350

different attractions in house for Corporate Fun Days

and It's A Knockout events throughout the UK.

Speak to one of our Event Managers

on 0800 019 3908

www.simplythebestevents.co.uk

Multi award-winning trackway

& safety flooring solutions

01455 553700

sales@ecotrackway.co.uk

Ec

Track

& Access Ltd

incorporating

UmTech

Epic Group

The coolest bar around available

to hire at your next event.

Completely self sufficient. We park up and

start serving "with a license" it's that easy!

Specialist cocktails, bespoke

drinks and brilliant beers

Call Matt on 07459 864 634

www.splitscreenbar.co.uk

64 WWW.OPENAIRBUSINESS.COM
---
CLASSIFIED DIRECTORY

A4 - Full Page Ad.indd 1 04/04/2016 17:17

A4 - Full Page Ad.indd 1 04/04/2016 17:17

Luxury Toilet Trailers, Event Loos,

Themed Toilets, Shower Units &

Accommodation Hire

Stuck for furniture hire?

www.europainternational.com/oa

01256 384 134

www.site-equip.co.uk

event@site-equip.co.uk

hire happy

Call 08454 303015

Ensure your guests have the best!!

• Luxurious eco-friendly modular vacuum toilet facilities

• Bespoke and stylish

• Ideal for all prestigious corporate and private outdoor events

• Covering the UK

Ensure your guests have the best!!

• Luxurious eco-friendly modular vacuum toilet facilities

Tel: • Bespoke 0345 and 459 stylish 0589

• Ideal for www.classicalloocompany.com

all prestigious corporate and private outdoor events

enquiries@classicalloocompany.com

• Covering the UK

Tel: 0345 459 0589

www.classicalloocompany.com

enquiries@classicalloocompany.com

COOLING & HEATING SOLUTIONS

temperature control specialists

COOLING & HEATING SOLUTIONS

hire

temperature sales control specialists

portable units

temporary systems

hire

sales@candhs.co.uk – – 01590 681 434

coolingandheatingsolutions.com

Marlwood House, Silver Street, Lymington, Hampshire SO41 6DG, UK

sales

portable 01590 681 units 434

temporary systems

sales@candhs.co.uk – coolingandheatingsolutions.com – 01590 681 434

Marlwood House, Silver Street, Lymington, Hampshire SO41 6DG, UK

the Ultimate solution for

restraining temporary structures

the Ultimate solution for

Ensure your guests have the best!!

restraining temporary structures

• Luxurious eco-friendly modular vacuum toilet facilities

• Bespoke and stylish

• Ideal for all prestigious corporate and private outdoor events

• Covering the UK

Tel: 0345 459 0589

www.classicalloocompany.com

enquiries@classicalloocompany.com

0800 122 3304 www.anchorbloc.co.uk

0800 122 3304 www.anchorbloc.co.uk

ü Hire or buy your Anchor Blocs outright

ü Take advantage of our 'Anchor Managment'

programme - great if you have multiple events at

different locations.

ü Hire

Full

or

logistics

buy your

and

Anchor

storage

Blocs

facilities

outright

are available

ü Take

Payment

advantage

by credit

of our

card

'Anchor

for convenience

Managment'

ü

programme

Emergency telephone

- great if you

service

have

for

multiple

24/7 support

events at

different locations.

ü Full logistics and storage facilities are available

ü Payment by credit card for convenience

ü Emergency telephone service for 24/7 support

ü 1000kg, 500kg, 330kg and 250kg options

ü Perfect for securing marquees, inflatables and any

other fabric temporaty structures.

CDM 2015 compliant Lloyd British Testing Certifed

ü 1000kg,

in accordance

500kg,

with

330kg

BS5975:2008.

and 250kg options

ü Perfect

Custom

for

options

securing

avalible.

marquees, inflatables and any

other

Huge

fabric

Range

temporaty

of accesories,

structures.

From branded covers to

ü CDM

specially

2015

adapted

compliant

all

Lloyd

teraine

British

pallet

Testing

trucks.

Certifed

in accordance with BS5975:2008.

ü Custom options avalible.

ü Huge Range of accesories, From branded covers to

specially adapted all teraine pallet trucks.

Call 01348 830 922 or email

kate@qualityunearthed.co.uk

www.qualityunearthed.co.uk

AN ALL EXCLUSIVE LUXURY KITCHEN FOR YOUR

GUESTS. PUT IN THE BACK OF A CAR AND GIVE

THEM FREEDOM TO TOUR THE AREA.

www.campchamp.at

UK distributor - The Shack at www.instinctive-retreats.co.uk

Weather services for

outdoor events

Speak to a forecaster

09065 77 76 75

Calls cost £1.50/min plus network access charges

weatherquest.co.uk

@weatherquest_uk | /Weatherquest

Tel: 01945 463857

info@fireworksdisplayteam.co.uk

www.fireworksdisplayteam.co.uk

WWW.OPENAIRBUSINESS.COM 65
---
AT THE BACK

What's in a name?

Ian Hamilton explains why he believes the term 'Glamping' is an oxymoron

THERE'S BEEN A growing

interest in the tipi and the yurt

for a good few years now, both

across the UK and in mainland

Europe. In fact we've seen a

veritable explosion of alternative

structures and new creative

places to spend time, holiday,

party or just retreat away. So

much so that the amount of

choice is now staggering.

Personally I think that in

essence it is a really great thing.

The aspect that I feel has most

value is being outdoors and I

could write much about the

benefits of communion with

nature, but there are many

smarter, funnier and wiser

people than I who have done a

sterling job doing just that. In

fact if you take the time to read

and research, you could not fail

to conclude that being stuck

inside a building is actually a

wholly detrimental process

to the human being on many,

many levels. However, here

in the UK we have a major

stumbling block to everyone

running for the great outdoors

- if only the weather was better!

But our lives of comfort and

warmth, convenience and

familiarity stop us in our tracks

as soon as nature whisks up a

cold, rainy or snowy spell.

With the boom in alternative

places to stay and different types

of accommodation a new buzz

word has entered the common

vocabulary and absolutely no

doubt a result of media spin,

as usual. It was probably about

eight years ago that Kate Moss

was famously photographed

coming out of a tipi at a Spring

garden show in Malvern with

the headline 'Camping is Cool!'

Well, it was actually one of our

tipis that she was photographed

in, and I think that it was a key

moment, a moment when the

press started to push the 'stay

at home, go camping' mantra

off the back of their dear Kate. It

took several years before it really

"WITH THE BOOM IN ALTERNATIVE

PLACES TO STAY AND DIFFERENT TYPES

OF ACCOMMODATION A NEW BUZZ WORD

HAS ENTERED THE COMMON VOCABULARY

AND ABSOLUTELY NO DOUBT A RESULT OF

MEDIA SPIN, AS USUAL"

took hold, and the pioneers of

the early days supplying these

alternative structures were

indeed in a most unusual little

niche. But boy did that change.

Nowadays most people will

have heard of a tipi and a yurt,

been in one, stayed in one or

have a friend who has. And

most people will have heard the

expression 'Glamping' using it

like some new, hip, in the know

turn of speech.

I did some research on this

now, well over-used phrase.

Over the period of one year,

the word literally sky-rocketed

into common vocabulary. From

the preceding year where there

were 0, that's right ZERO Google

searches it was suddenly being

searched 80,000 times, and

today is still being searched by

increasing amounts.

What does this tell us? And

what the flock is 'Glamping'

anyway? Derived from the

words 'glamour' and 'camping,'

I took a look at these two

words' definitions in the Oxford

Dictionary.

Glamour noun [mass noun]

1 an attractive or exciting

quality that makes certain

people or things seem

appealing: the glamour of

Monte Carlo

1.1 beauty or charm that is

sexually attractive: pile hair up

for evening glamour

1.2 [as modifier] denoting or

relating to sexually suggestive

or mildly pornographic

photography or publications: a

glamour model

2 archaic enchantment; magic:

that maiden, made by glamour

out of flowers

ORIGIN: early 18th century

(originally Scots in the sense

'enchantment, magic'):

alteration of grammar.

Although grammar itself was

not used in this sense, the

Latin word grammatica (from

which it derives) was often

used in the Middle Ages to

GETTY IMAGES

mean 'scholarship, learning,'

including the occult practices

popularly associated with

learning

Camping noun [mass noun]

the activity of spending a

holiday living in a tent: camping

attracts people of all ages [as

modifier]: a camping trip

And there you have it, the

two words and their individual

meanings. I for one hope that

it is the origin of the word

'glamour' coming from the

enchanted connotation that was

intended for its conjoined usage,

as I certainly have never seen

anyone get worked up about a

tent… nylon maybe, but not a

tent.

But anyway you cook it, the

term is here to stay it would

seem, and if you need proof of

that then you only need turn

to the Oxford Dictionary again

to find the word listed. I kid

you not, and here is the Oxford

definition:

Glamping noun [mass noun]

British informal

a form of camping involving

accommodation and facilities

more luxurious than those

associated with traditional

camping: glamping is likely to

satisfy any city slicker seeking a

little refuge in nature - without

foregoing any of life's luxuries

ORIGIN: early 21st century:

blend of glamorous and

camping

Unbelievable. I have a large

axe to grind. Stay tuned because

I believe we are really missing a

vital point here. And I'll ask the

question. What is a Glippy? I'll

finish this when I get time. In the

meanwhile, breathe, smile, do

something nice for yourself and

another. Peace.

Ian Hamilton has been providing

tipis for sale and hire for over 12

years, supplying festivals, weddings,

corporate events and private

individuals. www.tipi.guru

66 WWW.OPENAIRBUSINESS.COM
---
EXPLORE THE

UK'S FIRST

FULLY INTERACTIVE

MOBILE CAVING

SYSTEM

IS THE TRAILER CAVE

COMING TO YOUR NEXT EVENT?

THE TRAILER CAVE IS THE NEWEST ADDITION TO THE MOBILE ADVENTURE MARKET,

EXCLUSIVE TO ODIN EVENTS.

THE UK'S FIRST FULLY INTERACTIVE MOBILE CAVING SYSTEM

FOR MORE INFO, PLEASE VISIT:

WWW.ODINEVENTS.COM

01524 263740