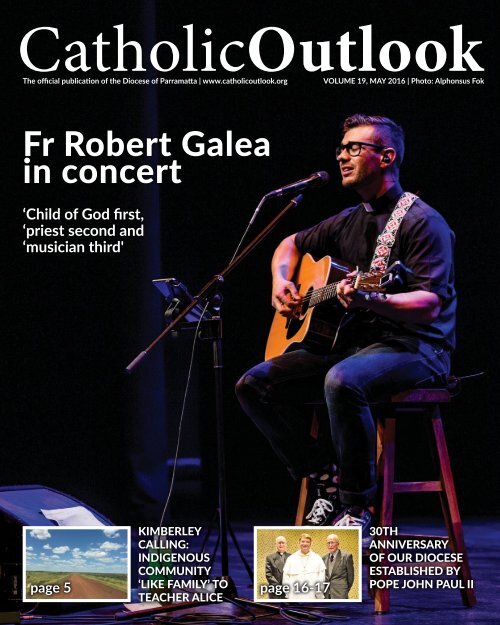 You also want an ePaper? Increase the reach of your titles
YUMPU automatically turns print PDFs into web optimized ePapers that Google loves.
CatholicOutlook

The official publication of the Diocese of Parramatta | www.catholicoutlook.org

VOLUME 19, MAY 2016 | Photo: Alphonsus Fok

Fr Robert Galea

in concert

'Child of God first,

'priest second and

'musician third'

page 5

KIMBERLEY

CALLING:

INDIGENOUS

COMMUNITY

'LIKE FAMILY' TO

TEACHER ALICE

page 16-17

30TH

ANNIVERSARY

OF OUR DIOCESE

ESTABLISHED BY

POPE JOHN PAUL II
---
FROM THE DIOCESAN ADMINISTRATOR

Very Rev Peter G Williams

CONTENTS

CATHOLIC YOUTH

NEWS & EVENTS

DIOCESAN NEWS

SOCIAL JUSTICE

FAMILY & LIFE

3

4

5, 9

6

7

Dear Brothers and Sisters,

DIOCESAN PASTORAL

PLAN

8

The recent publication of the apostolic

exhortation by Pope Francis, arising

from the Synod on the Family, has

received considerable attention in both Church

and secular media.

With that coverage has come a vast range

of possible interpretations of the document

and the consequences for those of us who are

members of the Church.

What is clear, however, is that the Holy

Father is seeking to reach out to a wide

audience and, in particular, to married couples

and their families.

In fact, in the opening sections of Amoris

Laetitia, The Joy of Love: On Love in the

Family, he identifies that some chapters will be

of greater interest to some rather than others.

As I read and reflected on the exhortation

(which is, by the usual standards, very long)

I was very moved by Chapter IV, which

addresses Love in Marriage.

This part of the exhortation, which runs

from paragraph 89 to paragraph 164, is a 'must

read' for every married couple as the Pope uses

the familiar passage from 1 Corinthians 13 to

reflect on the meaning of love in the context of

a committed relationship.

To that end, I would encourage married

couples (and those engaged and planning to be

married) to read this chapter and discuss how

you see Pope Francis' understanding of love in

the context of your own experience.

There is much else to 'The Joy of Love' and

no doubt there will be much written about it

and made available over the coming months

through the diocesan Family & Life Office,

Institute for Mission and CatholicCare Social

Services. As they say: "Watch this space!"

As you all know, there has been a great

deal of discussion in recent years about

the notion of the family: what constitutes a

family, different ways of being a family and,

more recently, considerable discussion on the

question of marriage, what it means, and who

can and should be married?

ORDAINED MINISTRY

OF THE

PERMANENT

DIACONATE

The Pope very clearly presents an

understanding of Christian marriage and

family that is consistent with Church teaching

over many centuries and which owes its origin

to God's plan for human beings.

There is nothing new here, but it is

a classical restatement of what had been

revealed through the mystery of God's action

in creation, and the pinnacle of creation being

man and woman made in the image and

likeness of God. (Genesis 1)

But the Pope readily acknowledges that

many families are not perfect and as he quite

frequently remarks, we are often faced with

messy situations which require a sensitive and

pastoral heart in dealing with the lived reality

of families in a whole variety of situations.

It is important that at the parish level we

appreciate that there needs to be an outreach

to families that is not condemnatory but

accepting of where people are and assisting

them to find the presence of God, even if the

ideal is not easily attainable.

The Church sets before us the ideal of

Christian marriage to which couples are

earnestly asked to aspire. But Pope Francis is

also quick to point out that because the ideal is

not reached, that means that people are neither

condemned nor cast aside because of human

failure.

In this Year of Mercy it is a timely

reminder to us all that sometimes we can be

quick to judge and condemn others without

being in receipt of all the facts.

Ours is a mission of mercy in the name of

Jesus Christ who condemned no one except

those religious people who were filled with

hypocrisy. The Pope says on that score that the

Church needs to engage in some healthy form

of self-criticism.

But above all, this document is challenging

all of us in the Church – laity, religious,

deacons, priests and bishops – to think in a

different way when approaching the subject of

marriage and the family.

Of one thing I am sure, it will take some

time to unpack the contents and to understand

the ramifications for future pastoral outreach.

Does this mean that 'The Joy of Love' is the

last word on the subject? I think not, but rather

a beginning point as the Church adjusts to the

age in which we find ourselves.

One of the most enduring characteristics

of this time is the speed of change to so many

elements of life. For some that is exhilarating

and for others frightening.

Pope Francis carefully anchors us in the

teaching of the Church about marriage and

family, but also confronts us with the truth

about our circumstances today.

In the community of the Church let us

pray for all our families, no matter what their

circumstance, and that we may show in our

lives the merciful face of Christ to others.

With greetings in this season of the Risen

Lord,

Very Rev Peter G Williams

Diocesan Administrator

Ordination of

GEORGE BRYAN

Solemnity of the Ascension

11am Mass on Sunday 8 May 2016

Admission to Candidacy of

RODRIGO RUPAC

Solemnity of the Most Holy Trinity

11am Mass on Sunday 22 May 2016

St Patrick's Cathedral

1 Marist Place, Parramatta

www.stpatscathedral.com.au

PARISH PROFILE

CATHOLIC EDUCATION

CATHOLICCARE SOCIAL

SERVICES

30TH ANNIVERSARY OF

DIOCESE

DIOCESAN WORKS FUND

APPEAL

KOREAN CATHOLIC

COMMUNITY

NEWS & EVENTS

INTERFAITH

CALENDAR OF EVENTS

CatholicOutlook

The official publication of the Diocese of Parramatta

Publisher:

Very Rev Peter G Williams

Diocesan Administrator

Tel (02) 8838 3400

Fax (02) 9630 4813

PO Box 3066,

North Parramatta, NSW, 1750

Email: diocese@parra.catholic.org.au

Website: www.parracatholic.org

Editor:

Jane Favotto

Tel (02) 8838 3409

editor@parra.catholic.org.au

PO Box 3066,

North Parramatta, NSW, 1750

Journalists:

Adrian Middeldorp

Elizabeth McFarlane

Designer:

Sarah Falzon

School news:

Catholic Education Office

Tel (02) 9840 5609

news@parra.catholic.edu.au

Deadlines:

Editorial and advertising

– 10th of the month prior to publication

Advertising:

Tel (02) 8838 3409

Accounts:

Alfie Ramirez

Tel (02) 8838 3437

ARamirez@parra.catholic.org.au

Printing:

Rural Press Printing, North Richmond

10-11

12-14

15

16-17

18-19

20

21

22

23

40,500 copies of Catholic Outlook are

distributed monthly through 47 parishes and

86 schools. All material in this publication

is copyright and may not be reproduced

without permission of the editor. Catholic

Outlook is a member of the Australasian

Catholic Press Association.

2 CatholicOutlook | MAY 2016

www.catholicoutlook.org
---
DIOCESAN NEWS

No one can enter

into the presence

of God and stay

the same

By Adrian Middeldorp

Fr Rob Galea captivates the audience at Riverside Parramatta. Photos: Alphonsus Fok.

of God first, priest second and

musician third." This is how Fr

"Child

Rob Galea described himself to a

sell-out audience at Riverside Theatre on Friday

8 April, as part of Catholic Youth Parramatta's

LIFTED Live! series.

It was no ordinary concert, but rather a

journey of story and music, sharing the Gospel

and giving hope and encouragement to the

audience. A thoroughly captivated audience

shared in a rich tapestry of emotions, at times

shedding tears and at other times, rejoicing.

The message of redemption was one that

Fr Rob weaved into his music throughout the

evening. His understanding of the complexities

of youth culture is evidenced by his engagement

with thousands of followers on social media,

spreading the simple message of the love of

Jesus.

For many, Fr Rob is an enigma. For the

everyday Catholic, there is the paradox of a

diocesan Catholic priest appearing on X Factor

and selling tens of thousands of albums, but

for the modern world, there is the irony of a

talented and affable performer, content with his

life as a priest, ministering in country Victoria.

Fr Rob was first thrust on to the world stage

when, as a seminarian, he had moved from

Malta to Australia and was asked to perform in

front of hundreds of thousands of young people

and TV audiences in the millions at World

Youth Day 2008 in Sydney.

The request came from Fr Peter Williams,

the Director of Liturgy for the 2008 World

Youth Day, now Diocesan Administrator of the

Diocese of Parramatta.

"At the time, I was quite introverted, quite

scared, and unable to speak in public and yet I

had this opportunity to sing with Guy Sebastian,

Paulini and other great artists," he said.

He credits Fr Peter's belief in him to be

able to perform in front of the half-millionstrong

crowd: "Fr Peter Williams believed in

me when I was so scared, when I didn't have

the experience I have today." Despite Fr Rob's

experience on stage, he still gets nervous before

a performance.

The message of confronting your fears

through adversity and the message of seeking

simplicity in life's complexities resonates with

his younger audience.

"I always get scared. I am terrified. One of

my mottos is: 'Rob if you're scared, so what? Do

it scared!' So I move forward in my fear and I

trust God. Even if I mess up. I just want to bring

who I am. My team and I bring ourselves as we

are, mess and all, just to point to Jesus," he said.

His team has some of the most accomplished

musicians in the country, including Gary Pinto,

singer-songwriter for Jessica Mauboy, vocal

coach on the hit TV show X-Factor and lead

singer of 90s band CDB.

Also in the band is Gary's wife, Natasha

Pinto, a former backup singer for Boyz II Men,

and guitarist Isaac Moran, who plays for Guy

Sebastian.

"Each person on the team loves Jesus. They

love God and they love to serve others," Fr Rob

said.

Fr Rob and his band hope to bring a simple

message to their performances: "We hope to

encourage young people and encourage people

who are not so young to continue on their walk

with God.

"And for those who don't know God, we hope

that they catch a glimpse of who and what God

is, because if they get a glimpse of God, they will

be changed forever because no one can enter

into the presence of God and stay the same."

For a full photo album, go to:

https://www.flickr.com/photos/parracatholic/

Twilight Tours &

Course Info Evening

Wed 8 & Thur 9 June 5-7pm

140 Broadway, Chippendale

Arts & Sciences | Business | Education | Law | Medicine* | Nursing | Philosophy & Theology | Pathways

Discover why Notre Dame is one of the highest rated universities in Australia.

Notre Dame will be open for extended hours to assist you with course information.

One of

the highest

graduate

employment

rates: 82%

qilt.edu.au

Register now notredame.edu.au

Fremantle

Broome

Sydney

*Applications for the School of Medicine are now closed for 2016 | ND1892D | CRICOS PROVIDER CODE: 01032F

www.catholicoutlook.org

CatholicOutlook | MAY 2016 3
---
NEWS & EVENTS

Pope Francis accompanies

refugees to Rome

Pope Francis greets the Syrian refugee families on landing at Rome's Ciampino airport. Photo: Filippo Monteforte/Pool Photo via AP.

When Pope Francis flew back to Rome

after a visit to the Greek island of

Lesbos on 16 April, he accompanied

three families of refugees from Syria, 12 people

in all, including six children.

These Muslim families were living in camps

on Lesbos. Two families come from Damascus

and one from Deir Azzor, in the area occupied

by Daesh. Their homes had been bombed.

The Vatican will take responsibility for

bringing in and maintaining the families. The

initial hospitality will be taken care of by the

Sant'Egidio Community.

While on Lesbos, the Holy Father met

with the Ecumenical Patriarch Bartholomew

and Archbishop Ieronymos of Athens and

All Greece in the Mòria refugee camp, which

accommodates about 2500 people seeking

asylum.

In the camp, they signed a joint declaration

calling on political leaders to employ every

means to ensure that individuals and

communities remain in their homelands and

enjoy the fundamental right to live in peace and

security.

In the camp, Pope Francis said:

"I have wanted to be with you today. I

want to tell you that you are not alone. In these

weeks and months, you have endured much

suffering in your search for a better life. Many

of you felt forced to flee situations of conflict

and persecution for the sake, above all, of your

children, your little ones.

"You have made great sacrifices for your

families. You know the pain of having left

behind everything that is dear to you and –

what is perhaps most difficult – not knowing

what the future will bring. Many others like you

are also in camps or towns, waiting, hoping to

build a new life on this continent.

"I have come here with my brothers,

Patriarch Bartholomew and Archbishop

Ieronymos, simply to be with you and to hear

your stories. We have come to call the attention

of the world to this grave humanitarian crisis

and to plead for its resolution.

"As people of faith, we wish to join our

voices to speak out on your behalf. We hope

that the world will heed these scenes of tragic

and indeed desperate need, and respond in a

way worthy of our common humanity.

"God created mankind to be one family;

when any of our brothers and sisters suffer, we

are all affected. We all know from experience

how easy it is for some to ignore other people's

suffering and even to exploit their vulnerability.

"But we also know that these crises can

bring out the very best in us. You have seen this

among yourselves and among the Greek people,

who have generously responded to your needs

amid their own difficulties. You have also seen

it in the many people, especially the young

from throughout Europe and the world, who

have come to help you.

"Yes, so much more needs to be done! But

let us thank God that in our suffering He never

leaves us alone. There is always someone who

can reach out and help us.

"This is the message I want to leave with

you today: do not lose hope! The greatest gift

we can offer one another is love: a merciful

look, a readiness to listen and understand, a

word of encouragement, a prayer. May you

share this gift with one another.

"We Christians love to tell the story of the

Good Samaritan, a foreigner who saw a man in

need and immediately stopped to help. For us,

it is a story about God's mercy, which is meant

for everyone, for God is the All-Merciful. It is

also a summons to show that same mercy to

those in need.

"May all our brothers and sisters on this

continent, like the Good Samaritan, come to

your aid in the spirit of fraternity, solidarity

and respect for human dignity that has

distinguished its long history.

"Dear brothers and sisters, may God bless

all of you and, in a special way, your children,

the elderly and all those who suffer in body and

spirit!

"I embrace all of you with affection. Upon

you, and those who accompany you, I invoke

His gifts of strength and peace."

CLERGY CONFERENCE

The priests and deacons of the Diocese

will gather for a Clergy Conference from

Monday 23 May to Thursday 26 May.

During this time, our priests will be away

from their parishes. Anyone in urgent

need of a priest should contact their

parish office.

Normal Mass times in parishes may

be suspended on Tuesday 24 May,

Wednesday 25 May and Thursday 26

May. On these days, it is hoped to have a

Mass in each deanery.

At the time this issue of Catholic Outlook

went to press, the following deanery

Masses had been confirmed:

HAWKESBURY DEANERY

Mary Immaculate Parish, Quakers Hill:

8.30am on Tuesday, 9.15am and 7pm on

Wednesday, 9.15am on Thursday.

HILLS DEANERY

St Michael's Parish, Baulkham Hills:

9.15am on Tuesday, Wednesday and

Thursday.

HOLROYD DEANERY

Our Lady of Mt Carmel Parish,

Wentworthville: 9am on Tuesday,

Wednesday and Thursday.

St Margaret Mary's Parish, Merrylands:

9am and 7pm on Tuesday, 9am and 7pm

on Wednesday, and 6.30am and 9am on

Thursday.

NEPEAN DEANERY

St Joseph's Parish, Kingswood: Mass

at 8am on Tuesday, Wednesday and

Thursday.

Our Lady of the Rosary Parish, St Marys:

Mass at 9am on Tuesday, noon on

Wednesday and 9am on Thursday.

PARRAMATTA DEANERY

St Patrick's Cathedral Parish, Parramatta:

Mass at 6.45am and 12.30pm on each

day.

At the time of printing, Masses had

not yet been arranged formally for the

Blacktown and Mountains deaneries.

Closer to the dates, please check your

parish newsletter or the diocesan website:

www.parracatholic.org/deanerymasses

What does Mercy mean for

Judaism, Christianity and Islam?

Pope Francis has proclaimed 2016 the Year of Mercy. Within this context,

explore Abrahamic perspectives of mercy in our upcoming short course.

Dates: 4, 11, 18 and 25 May 2016

Location: Australian Catholic University, 25A Barker Road, Strathfield

Program and registration details: acu.edu.au/theology/shortcourses

CRICOS registered provider: 00004G

4 CatholicOutlook | MAY 2016

www.catholicoutlook.org
---
DIOCESAN NEWS

Alice Hann: "I'm not just a teacher, I'm a part of the community. Everyone is

family."

The Kimberley

calling

By Elizabeth McFarlane

Alice Hann, a 24-year-old teacher from Gilroy College,

Castle Hill, has embarked on a secondment year to teach

in Balgo, one of the most remote Aboriginal communities

in Australia.

Located in north-east Western Australia, burnt orange dirt

roads carve into the Balgo (Wirrimanu) Indigenous community,

found on the northern boundary of the Great Sandy Desert and

the western edge of the Tanami Desert.

Flying overhead or nestled in a riverbank burrow, the Redbacked

Kingfisher (Luurnpa in the native Kukatja language)

alludes to the Dreaming story of the ancestral heritage of the

Wirrimanu people.

The local school in the town of Balgo, Luurnpa Catholic

School, adopted the name of the kingfisher, paying homage to

their roots and the Aboriginal connection to the land.

The K-8 school commenced in 1984 at the invitation of

the local Aboriginal community. With a total enrolment of

120 students, the school also offers courses for Years 9 and 10

through its Kutjungka Trade Training Centre.

The school is founded on Lasallian values: faith in the

presence of God, concern for the poor and social justice, respect

for all persons, building an inclusive community and providing

quality education.

It was Alice's volunteer work with the Lasallians that led to

her first visit to Balgo.

"I had been out to Balgo three times prior to this year, in

2009, 2014 and 2015, volunteering at a summer camp with the

Lasallian Foundation for two to three weeks each time," Alice

said.

"I was doing work in the community, playing with the

children and helping them in activities like learning how to swim.

When I came out last year, I realised that I wanted to stay and

teach."

Despite being formally trained to teach woodwork in Design

and Technology, Alice is teaching Years 7 and 8 in everything

from literacy to numeracy.

"Teaching across all subject areas is challenging, especially

when English is a second or third language for many of the

students. But I'm learning a lot of skills by teaching different

levels in different subjects and I will take those skills back to the

Diocese of Parramatta," she said.

Working alongside eight other teachers, Alice teaches about

15-20 Indigenous students. She is enjoying being fully immersed

in the culture and community.

"There is only one shop, one clinic and one school. The

community is limited in terms of facilities but we have what we

need here.

"You learn to appreciate the little things and you come to

realise that you don't need a lot of things," Alice said.

Having only taught for two years in Sydney previously,

Alice's move away from her home and family to teach in Balgo

was a big change.

"I've never lived out of home before. You need to be

adaptable. I didn't speak the Kukatja language but I'm learning,"

she said.

"It's a small, remote community. It's really important that I

build a rapport and strong relationship with the local people, not

just in the classroom but in the school and community as well.

"It's really about embracing and learning about the culture.

I'm learning new things every day."

From water holes and star gazing to calming sunsets and

rock formations, Alice is taking in the history that is etched into

her surroundings.

"We've had cookouts at the lookout with all the staff,

volunteers and parishioners. We head out for swims in the lake

or play basketball after school on the courts," she said.

"I'm not just a teacher, I'm a part of the community.

Everyone is family out here.

"If you're a passionate teacher and have the flexibility to

move out here to teach, I definitely recommend grabbing the

opportunity."

Proud photography partner of Catholic Outlook

catholicinsurance.org.au

1300 655 003

Home Contents Car Personal Accident Travel Landlord Caravan

www.catholicoutlook.org

CatholicOutlook | MAY 2016 5
---
SOCIAL JUSTICE

Witnessing the simplicity of mercy

By Sr Louise McKeogh FMA, Diocesan Social Justice Coordinator

Aflyer with the title Mercy in the City

crossed my desk recently. An internet

search showed there is also a book

with the same title. The goal of the

author, Kerry Weber, was to feed the hungry,

give drink to the thirsty and keep her day job.

It's the story of how one young adult attempts

to complete each of the corporal works of

mercy during Lent. She discovers that it is more

about living the spirituality of mercy as a way of

life essential to the Christian journey.

During these Easter days in this year of

Mercy, I have been asking myself the questions:

Where do I see, or where do I find, mercy in

my neighbourhood?

Was it in the flyer we received in the post,

inviting us to a free community BBQ where

we found Christ Mission Possible feeding

the hungry and housing the homeless in our

neighbourhood?

Having lived in Western Sydney for a

number of years I was surprised to see the

number of people truly struggling for life's

basics: a home and a daily meal.

Mercy was in the relationships, respect

and dignity of the people at this community

gathering, not just in the food and houses. I

believe that mercy and justice go hand in hand,

posing serious questions about employment, a

living wage, and access to affordable and social

housing.

The following day while heading to a city

meeting, I parked my car at the train station.

I saw a young woman who was yelling loudly

across the car park at a male companion. She

walked away visibly distressed.

When I arrived at the station platform, there

she was, distressed and crying. While I was

trying quickly to work out how to best 'show

her mercy', a young lady approached her and

offered her a packet of tissues from her bag.

She sat down beside the woman to listen to her

story.

Then she did something that surprised me,

but shouldn't have. She put her arm on the

woman's shoulder and asked quietly if it was

OK if she prayed with her. After this moment

of prayer, the woman was much calmer.

They boarded the train and these two

strangers sat together to continue the

conversation.

I had seen the Easter Scripture reading – the

story of the disciples on the road to Emmaus.

I had been tempted to interrupt their quiet

conversation and ask them that famous

question: "What are you two talking about as

you walk this road." (journey on this train.)

These two strangers who listened to

each other and joined in conversation were

transforming each other, and challenging me.

Through the simple act of kindness, offering

a distressed stranger a tissue and sitting

beside them to listen to their story, I had

been reminded of and seen the witness of the

simplicity of mercy.

Pope Francis challenges us: "In this Holy

Year, open our hearts to those living on the

outermost fringes of society: fringes modern

society itself creates. How many uncertain and

painful situations there are in the world today!

Those who have no voice because their cry

is muffled and drowned out by indifference!

Be called even more to heal these wounds

with mercy, solidarity and vigilant care. Let

us not fall into humiliating indifference or a

monotonous routine that prevents us from

discovering what is new!" (Misericordiae Vultus

15)

So how are we progressing on the way of

mercy in this Jubilee Year of Mercy?

Church calls

for increase

to National

Minimum Wage

The Australian Catholic Council for

Employment Relations (ACCER) is

seeking a $25.10 increase per week to

the National Minimum Wage.

The council made the proposal in a

submission to the Fair Work Commission

Annual Wage Review 2015-2016.

The ACCER asked that the National

Minimum Wage be set at $682 per week and

$17.95 per hour. It also sought that award wage

rates be increased by $19 per week.

The annual wage review requires the Fair

Work Commission to set a safety net of fair

minimum wages by taking into account relative

living standards and the needs of the low paid.

In the submission, the ACCER said: "The

setting of a fair National Minimum Wage

means that those who may depend on it will

have a decent standard of living and not merely

freedom from poverty."

The Fair Work Commission must

also take into account the performance

and competitiveness of the national

economy, including productivity, business

competitiveness and viability, inflation and

employment growth.

The ACCER said its proposals are

economically prudent, however, it

acknowledged that should the Fair Work

Commission find that there were economic

reasons not to grant the increases sought,

then priority should be given to increasing the

lowest wage rates to support the most needy,

particularly those who are at risk of poverty.

The submission is published on the ACCER

website: http://accer.asn.au/

Catholic Super – providing superannuation

services for more than 40 years

Offices in BrisBane, canBerra, Darwin,

GeelOnG, HOBart, MelBOurne, PertH & syDney

ư Industry super fund returning all profits to members

ư Superior long term investment performance

ư Fees well below Industry average

ư Flexible investment options

ư Superannuation and pension products

ư Low cost personal insurance

ư Financial planning advice

1300 655 002 | csf.com.au

Authorised by CSF Pty Limited (ABN 30 006 169 286; AFSL 246664), the Trustee of the MyLifeMyMoney Superannuation Fund (ABN 50 237 896 957).This information is about the Fund and is general information only.

It has been prepared without taking into account your personal investment objectives, financial situation or needs. It is not intended to be, and should not be construed in any way as, investment, legal or financial advice. CS106 150915

6 CatholicOutlook | MAY 2016

www.catholicoutlook.org

CS106 150915 Catholic Outlook 260wx165h_v1.indd 1

16/09/2015 12:48 pm
---
www.parrafamlife.org.au @parrafamlife parrafamlife

FAMILY & LIFE

What happens when schools

catch the gender theory virus?

By Ben Smith, Director of the Family & Life Office

Young people in a school near you are

being taught that gender, the sex they

feel on the inside, is fluid and is not

determined by their biological sex.

Furthermore, they are taught about gender

dysphoria, a psychological disorder in which

a person's gender is misaligned with their

biological sex. The treatment that is commonly

proposed is hormone replacement therapy and

sex change surgery.

This concept is at the heart of an ideology

called gender theory. Recent media attention

given to people such as Caitlin/Bruce Jenner

and the 2015 movie, The Danish Girl, has had

the effect of making gender ideology 'go viral'

in popular culture.

The teaching of gender theory in primary

and secondary schools has been championed by

the Safe Schools Coalition Australia program,

which has recently received considerable

attention in the media and in parliamentary

inquiries.

The program is being taught in more than

500 schools nationwide. Eleven state schools

in the program are within the geographical

boundaries of the Diocese of Parramatta.

The program claims to be about antibullying,

but one of its co-founders admitted

recently that it was primarily about teaching

gender theory.

Despite the pervasiveness of gender

theory in our culture, a new way of thinking

is emerging to give people the clarity and

the courage to point out that this theory is

an intellectual version of the Emperor's New

Clothes.

A body of research has emerged that has

found significant differences in the way the

organs, the sensory system, the central nervous

system and other bodily functions operate

between the sexes.

While hormones play a role in these

differences, the Y chromosome has emerged

as a major player in influencing sexual

differentiation in humans and other mammals

throughout the whole body not just in the

genitals.

Scientists have discovered that the genetic

difference between two people of the same sex

is 0.1% but this difference is 1.5% between the

sexes. This means the Y chromosome has a

multiplier effect of 15.

This new discovery is revolutionising the

way science looks at the treatment of diseases,

especially for those that are sex specific.

In St John Paul II's Theology of the

Body catechesis, he observes that the

creation account of Genesis 1 celebrates the

complementary union of a naked man and

woman as an image of God. In their equal

dignity and their significant difference they

mysteriously image the Trinity.

He also highlights that in the creation

account of Genesis 2, there are two

complementary experiences of "being in a

body". Hence, our sex identity is more than just

a personal attribute that is changeable but is

"constitutive for the person".

In other words, we have been made by

God as male or female human persons from

both the inside and the outside. What God has

united let man not divide.

New insights from biology, philosophy

and theology have illustrated significant sexual

differences at the level of biology, psychology

and spirituality. It is clear that surgically

altering our bodies does not actually change

whether we are a male or female person.

Anyone suffering from gender dysphoria

needs special care. A number of experienced

psychiatrists have identified this disorder as

being primarily an issue with a person's mind,

not their bodies.

A 2011 Swedish study of more than 300

people who had undergone sex-change surgery

found that 15 years after surgery they had a

suicide rate that was 20 times higher than the

average population.

Gender theory is aggressively pushing

social and anatomical engineering in many

areas of our society. It is time that gender

theory was removed from our schools and

other institutions to prevent significant damage

being done to the youth of Australia and our

culture.

Contact Ben Smith at:

famlife@parra.catholic.org.au

@parrafamlife

WIN THE

KEY TO A

MAZDA3

Take out a new CCI Personal Insurance

comprehensive car insurance policy

before 1 July 2016 for your chance to

win the acclaimed Mazda3 Maxx,

valued at $28,000*.

Plus, when you choose CCI Personal

Insurance, your policy, no matter which

level of cover you choose, will contribute

towards helping the Catholic community.

It's insurance that is good for you and

good for the Catholic community.

1300 657 046

catholicinsurance.org.au/winamazda3

facebook/catholicinsurance

Home Contents Car Personal Accident Travel Landlord Caravan

Catholic Church Insurance Limited ABN 76 000 005 210, AFS Licence No. 235415 (CCI) arranges personal insurance as promoter of the underwriter Allianz Australia Insurance Limited ABN 15 000 122

850 AFS Licence No. 234708 (Allianz). We do not provide any advice on this insurance based on any consideration of your objectives, financial situation or needs. Policy terms, conditions, limits and

exclusions apply. Before deciding please consider individual product disclosure statements available by calling 1300 655 003; or from www.catholicinsurance.org.au. If you buy this insurance CCI may

be paid a commission that is a percentage of the premium depending on the product. *Competition runs from 02/05/16 – 01/07/16. Prizes are drawn on 6/07/16 at Level 13, 2 Market St Sydney. Winners'

names published in The Australian on 9/07/16. Authorised under NSW PERMIT NO. LTPS/16/01549; ACT PERMIT NO. TP 16/00377, SA PERMIT NO. T16/322. Promotion terms and conditions available here

or at allianz.com.au/prize. Promoter is Allianz.

www.catholicoutlook.org

CatholicOutlook | MAY 2016 7
---
DIOCESAN PASTORAL PLAN

Working together: we know

what we mean, don't we?

By Richard McMahon, Director of Pastoral Planning & Implementation

It is one of the catchphrases of

any sporting team, community

or organisation: "We all need to

work together!" Our Church often

employs the word collaboration, but

what we are talking about?

Loughlan Sofield ST and Carroll

Juliano SHCJ have offered much

wisdom on this topic, and are

recognised as international experts in

leadership, community growth and

collaboration.

They offer four levels of

collaboration:

1. Level One – Co-existence:

Members may share a common

mission, membership or be in

the same team, but they exist

independently of one another with

no shared expectations or shared

accountabilities. This can be like

parishes where there may be many

ministries, but without any reference

to other ministry areas.

2. Level Two – Communication:

Sharing information is the second

level, involving the conscious effort

to inform each other of programs,

calendars and activities. Meetings

may be held to share matters

in common, and the sharing of

common ideals and values may

emerge.

3. Level Three – Cooperation:

Following on from a realisation that

separate entities have an impact on

each other, for better or worse, there

is a growth towards interdependence.

In parishes, a lead project or goal

may emerge, and different ministry

areas will decide how to support this

effort.

4. Level Four – Collaboration: When

cooperation flourishes, a group may

seek to move towards collaboration.

At this level, everyone experiences

ownership of the common mission,

and works together for a common

goal. Rather than pushing for their

own area to thrive, there is a desire

to unite the gifts of the different

members, joining them together in

the mission of Jesus Christ.

Loughlan and Juliano invite

communities to focus on four

practical steps to collaborative

ministry.

1. Clarification: Because there

are so many understandings of

collaboration, it is important to

arrive at a shared definition to

avoid failure and frustration in the

collaborative framework. Since

collaboration is built on empowering

the gifts of those involved, then at

this stage, it must be agreed that

there will be a process for identifying

gifts, honestly addressing what or

whom may be blocking the sharing

of gifts, and finally how gifts can be

joined together for mission.

2. Conviction: This step seeks to

ensure that members are convinced

of the value of collaborative ministry.

After all, the temptation to go

alone is often easier and far less

painful. Members are encouraged

to articulate their reasons for why

they are convinced of the value of

collaborating.

3. Commitment: It is all well and

good to be convicted of a thing's

value, but it is something else to

commit to embracing that way of

life. It takes a conversion of heart,

and this stage attempts to articulate

the fears and obstacles which

prevent people from committing to

collaboration.

4. Capacity/Capability: This step

recognises that while efforts in the

first three stages may occur, little

progress in collaboration may be

taking place. To develop capability

and capacity, a number of areas are

identified for growth. These include

developing skills in group leadership,

conflict resolution and management,

confrontation and discernment of

gifts. A shared spirituality of the

group is critical, as is a clear process

and a developmental readiness.

As we can see, working together

in a collaborative fashion means far

more than labelling an enterprise

as such. And such processes, while

fundamental for healthy community

and organisational life, are even more

critical for when more than one

community seeks to collaborate.

If your group or community

would like support in strengthening

collaborative ministry, please contact

our Pastoral Planning Office.

Richard McMahon

Tel (02) 9831 4911, 0437 497 526

rmcmahon@parra.catholic.org.au

Bishops want Australian

Catholics singing from

the same hymn book

The Bishops of Australia

launched a new liturgical

worship book at the Catholic

Leadership Centre in Melbourne on

8 April, 30 years since the last edition

was published.

The Catholic Worship Book II

hits all the right notes with a broad

range of liturgical music, including

the chants for the revised Order of

Mass (2010), new and revised Mass

settings and service music, plus

music for the Sunday Eucharist,

the various rites of the Church and

Morning and Evening Prayer.

Speaking at the launch,

Archbishop Denis Hart, President

of the Australian Catholic Bishops

Conference, said the new Catholic

Worship Book II would be the official

liturgical music resource for the

Catholic Church in Australia.

Prepared by the National

Liturgical Music Board, an advisory

board of the Bishops Commission

for Liturgy, the worship book reflects

the Catholic Church's rich heritage

of chant – in Latin and English – and

traditional hymns and contemporary

liturgical songs from local and

international sources.

The Catholic Worship Book II

was developed with the contribution

and collaboration of two key people

in the Diocese of Parramatta: the

Diocesan Administrator, Very Rev

Peter G Williams, and the Director

of Music at St Patrick's Cathedral,

organist, conductor and composer,

Bernard Kirkpatrick.

Music featured includes old

favourites like Praise to the holiest

(Cardinal Newman) and Christ be

our light (Bernadette Farrell) as well

as contemporary Australian music

such as If I could tell the love of God

(Chris Willcock SJ) and Lord, to

whom shall we go? (Michael Herry).

The book is available in two

versions, a full music edition with

two volumes, hard case, in a slip case

and the people's edition, also known

as the pew edition, available in

hardback for long life and durability

in parishes.

For more information, including

costs and availability, contact

Morning Star Publishing:

cwb@morningstarpublishing.net.au

At the launch were (from left): Very Rev Peter G Williams, Archbishop Denis Hart, Bishop Pat

O'Regan and Bishop Peter Elliott. Photo: Casamentos, Melbourne.

Celebrate the Holy Year of Mercy by supporting priests, religious sisters and brothers wherever the Church is poor, persecuted or threatened

A priest visiting the sick in Peru

*

8 CatholicOutlook | MAY 2016

www.catholicoutlook.org
---
Mass for Neophytes: New Catholics

continue their journey

By Sr Mary Louise Walsh ISSM, Liturgy Educator in the Office for Worship

Large crowds were in attendance at all the Easter celebrations at St Paul the Apostle Parish,

Winston Hills. The pinnacle was the Easter Vigil when seven candidates were inducted into the

Church through Baptism, Confirmation and received First Communion. These new Catholics

highlight the diversity of backgrounds within the parish community.

On Friday 13 May, all those

newly baptised and those

received into the Catholic

Church from across the Diocese

are invited to gather as the newest

members of the Diocese of Parramatta

to give thanks and praise to God for

the wonderful gift received at Easter

this year.

This occasion is very symbolic for

these neophytes as it marks the end of

the period of mystagogia. These newly

welcomed adults (and children) have

begun in earnest their journey into full

membership of the Catholic Church.

As a diocesan community we

have an opportunity at this significant

Eucharistic celebration to join with

them in praising God for their gift

of faith and of showing our personal

gratitude for who they are becoming

as active members of the diocesan

community.

Every member of every parish is

invited to consider this an opportunity

to show support for our newest

Catholics by attending the 7.30pm

Mass on 13 May at St Patrick's

Cathedral in Parramatta on the Friday

before the Solemnity of Pentecost.

This Mass is known as the Mass for

Neophytes. A neophyte is one who is

newly baptised into the Catholic Faith

or received into the Catholic Church.

This 'title' is given to those who

have journeyed through several

previous stages.

The Rite of Christian Initiation

of Adults begins with a person

being recognised as an inquirer or a

pre-catechumen.

After a period of discernment

between the individual and those

leading the process, the person is then

formally welcomed into a preparation

stage and becomes a catechumen.

This 'title' is held throughout

the length of instruction and faith

development.

Most often, at the beginning of

the Lenten season (that is prior to

the expected time of initiation or

reception) the catechumen is formally

welcomed into the final stage of

preparation and becomes a member of

the elect.

The Rite of Election (when those to

be baptised) and the Penitential Service

(for those already baptised) marks

the climax of preparation when the

elect and candidates are presented for

initiation or reception into the Catholic

Church.

After initiation or reception, the

new Catholic is henceforth known as

a neophyte. This stage (although not

often recognised) marks an ongoing

journey into familiarity with and living

as a Catholic. It may take months or

even years for the individual to move

out of this stage.

DIOCEAN NEWS

Ann O'Brien receives

OLMC Alumnae Award

Social worker Ann O'Brien was

announced as the recipient of

the 2015 Our Lady of Mercy

College (OLMC) Parramatta Catherine

McAuley Alumnae Award at an

assembly at the college on 15 March

2016.

Currently the Director of Marriage

Support and Specialist Services at

CatholicCare Social Services in the

Diocese of Parramatta, Ann has

devoted herself to the service of others

throughout her 30-year career as a

social worker.

OLMC's Principal, Stephen Walsh,

said Ann embodied the college's

Mercy qualities. "In particular, she has

shown great compassion and caring

throughout her life and work," he said.

"Ann has practised her Catholic

faith as a disciple of Jesus, including by

being very involved in her local parish

community. She has served those who

are marginalised, vulnerable and in

need of support. Ann has followed

in the footsteps of the founder of the

Sisters of Mercy, Catherine McAuley, by

living out our Mercy values."

Ann recalls that during her time at

OLMC, there was both a spoken and

unspoken expectation that you would

grasp every opportunity given to you.

"Education was to be cherished and, as

women, we could aspire to anything

that we were prepared to work towards.

"OLMC was a place to learn, to be

nurtured, to know that God loved us

Ann O'Brien is congratulated by OLMC's

Principal, Stephen Walsh.

and to understand that whatever gifts

we had been given, we had the power

to use these in many different ways,

especially by bringing love and care to

others.

"I'm a Mercy Girl and I continue

to draw on what formed me through

my Mercy education. This includes

the importance of compassion and

caring, positivity and hope, charity,

responsibility, acceptance, leadership

and teamwork skills, discipline and

clear boundaries.

"I will always remember that, as a

woman, I have immense possibilities

to influence through everything that

comes from me – my words, my

actions, and my conduct."

WE CAN ANSWER YOUR FINANCIAL QUESTIONS

Over-the-phone advice

Face-to-face advice

From $5,000+ in super

From $50,000+ in super

We offer two appointment-based services that can help set you on the right path for your super,

pension and insurance. The advice takes into account your specific personal circumstances,

and the result is a written statement setting out the advice provided.

For more information catholicsuper.com.au/parra | 1300 658 776

SCS Super Pty Limited, ABN 74 064 712 607, AFSL 230544, RSE L0002264 Trustee of Australian Catholic Superannuation & Retirement Fund, ABN 24 680 629 023, RSE R1055436. This document is not intended to be financial advice, therefore, you should consider

obtaining independent financial advice before making any decisions about your benefits in the fund. Refer to the Product Disclosure Statement and fact sheets available on our website. The Australian Catholic Superannuation financial planning service is offered through

an arrangement with Industry Fund Services Limited (AFSL 232514)

www.catholicoutlook.org

CatholicOutlook | MAY 2016 9
---
PARISH PROFILE

Walking with Glenbrook

By Elizabeth McFarlane

The efforts of many parishioners ensured the parish 50th anniversary celebrations were a resounding

success.

TTwo major anniversaries were

celebrated by St Finbar's Parish at

Glenbrook this past month.

Concluding the 50th anniversary

celebrations on 3 April, the parish also

celebrated the one-year anniversary of the

appointment of their Parish Priest, Fr Jolly

Chacko MS, on 18 April.

The president of the Parish Pastoral

Council, Vince Dobson, described Fr Jolly

as a "good listener and a priest who journeys

with his parishioners".

"It is through journeying with

parishioners that you can fully understand

the needs of the community," he said. "You

need to build relationships with the people

you support and it's only through those

relationships that a community can be built."

In many ways, the theme of walking with

parishioners is accentuated by the design of

the church.

Nestled in the green of the Lower Blue

Mountains, the pathway that circles the

church guides you on a walk through the

final stages of Jesus' life.

The Stations of the Cross line the path

and they provide visitors and parishioners

with a powerful prayerful experience.

Journeying to the front of the church, the

12 apostles are symbolically depicted on the

centre of the wooden doors and the symbols

continue as you walk through.

The cross on the wall of the church,

designed by the famous sculptor, Tom Bass

(1916-2010), portrays the five wounds of

Christ from which flowed His most precious

blood.

The pipe organ inside St Finbar's, which

was dedicated on Sunday morning, 15

October 1995 by the then Parish Priest, Fr

Brian Larkey, features the national floral

emblems of England, Scotland, Wales and

Ireland.

The pipes also carry crowns that feature

the fleur-de-lis, "flower of the lily". In

Christian art, the lily is a symbol of chastity

and purity attributed to the Virgin Mary.

The rose depicted on the organ has

five petals, which represent the five senses,

through which the spirit of the human being

makes contact with the material world.

Looking up, the ceiling curves towards a

sky light, which utilises earthly colours with

spectacular effect.

"It's one of those parishes you stumble

upon but when you do, you realise it is such

a welcoming and friendly parish," Vince said.

The Diocesan Administrator, Very Rev

Peter G Williams, gave the homily at the 50th

Anniversary Mass on 3 April, detailing his

hopes for the future of the parish: "May this

parish continue to focus on its principal goal,

which is to bring others to a knowledge of

the love and mercy we know and experience

in Jesus Christ, who God sent in the fullness

of time to be our Saviour and Redeemer."

The Society of St Vincent de Paul has a

long history in the Glenbrook community,

surpassing the establishment of the parish on

30 May 1965.

Vince Dobson has been a member

of the society over many decades. "We're

celebrating 50 years as a parish but we're

celebrating 60 years with the Society of St

Vincent de Paul," he explained.

For more information about St Finbar's

parish, visit the website;

www.stfinbars.org.au

The church was packed for the 50th Anniversary

Mass on 3 April.

Parish Priest Fr Chacko MS inside St Finbar's

Church. Photo: Elizabeth McFarlane.

FREE CYP EVENTS

FOR YOUTH & YOUNG ADULTS

Lifted

LIVE

SATURDAY 14 MAY 2016

LIFTED Live! Steve Angrisano in Concert

Starts 7.30pm, St Pauls College Hall, 198

Old Prospect Rd, Greystanes

TUESDAY 17 MAY 2016

A Night with Jason Evert – The Five Great Loves

Starts 7pm, Patrician Brothers' College,

100 Flushcombe Rd, Blacktown

Register for both events via the CYP events page:

https://www.facebook.com/catholicyouthparra/events

FOR ALL ENQUIRIES CONTACT CATHOLIC YOUTH PARRAMATTA OR FOLLOW THEIR SOCIAL MEDIA

www.parra.catholic.org.au youth/

www.facebook.com/catholicyouthparra/

ST BERNADETTE'S PARISH, CASTLE HILL

is seeking to appoint a

PASTORAL ASSOCIATE

The Parish Community of St Bernadette's, Castle Hill, is seeking an energetic,

committed and enthusiastic Pastoral Associate who is prepared to work as a member

of a team and to be accountable to the Parish Priest.

The role includes pastoral (e.g. assisting Catechist Co-ordinator, ministry to the

sick and elderly) and liturgical responsibilities (training and formation of liturgical

ministers and assisting in preparation of some ceremonies), plus a readiness to be

involved in other duties as they may arise.

It is a full-time position, 38 hours per week. The hours are flexible and will include

attendance at weekend Masses and some evening work.

Qualifications in theology and some pastoral experience would be an advantage.

A more detailed job description is available on application,

tel (02) 9634 2622 or email admin@stbernadette.org.au

Applications close 6 May 2016.

For further details about this role visit www.parracatholic.org/employment

REGIONAL TRIBUNAL OF SYDNEY

NSW & THE ACT

ADMINISTRATION ASSISTANT

Part time 24 hrs/week, to start at the beginning July, located in Parramatta

To be successful in this role you will need to have:

•A commitment to the Catholic Church and to its mission and core values

•Well-developed verbal and written, interpersonal and communication skills

•Excellent attention to detail, quality and accuracy

Essential Criteria:

•Experience in a general office/admin role or similar position

•Demonstrated time management and organisational skills

Applications close at 5pm on Friday 20 May 2016.

For further details about this role visit www.parracatholic.org/employment

Send resume, including 3 employer referees and covering letter, to:

The Tribunal Office Director, Mrs Paula Kerr,

PO Box 3006, North Parramatta, NSW, 1750.

Please mark the envelope Application for Tribunal Interviewer.

10 CatholicOutlook | MAY 2016

www.catholicoutlook.org
---
Fr Jolly on mission in the Mountains

By Joseph Younes

PARISH PROFILE

In his typically quiet and reserved manner,

Fr Jolly Chacko MS softly recounts his

childhood growing up in a devoutly

Catholic family from Kerala, India. The son

of a farmer and his wife, and one of seven

children, they "would pray the daily rosary

and evening prayers".

His large family, whom he describes as

"very Catholic and involved in parish life"

were happy when he told them he wanted

to be a priest. "I come from a very religious

family who were active in parish life. We

were part of the parish community."

"God was calling me," Fr Jolly continued.

"I wanted to be a follower of Christ, to serve

God's people and be at the service of the

Lord."

Born into the Syro-Malabar Rite, Fr

Jolly entered the La Salette seminary in

India at the age of 23 after university study.

He attained a double masters degree in

psychology and political science. He has also

undertaken courses in spiritual direction as

well as pastoral care.

He would eventually study and work in

India, France and the Philippines where he

was ordained in the Latin Rite.

"I felt called to be a missionary. Being

a missionary helps me to serve the people

through the ministry, through talks, through

advice, through spiritual help," Fr Jolly said.

After ministering for a number of years

with the La Salette community as Novice

Master, Director of Scholastics, in parish

ministry and as Vicar Provincial he was

invited, like other MS priests, to work in the

Diocese of Parramatta by the then Bishop of

Parramatta, Kevin Manning.

Since arriving in Australia, he has been

assistant priest at Marayong and Penrith

parishes and has recently completed his first

year as parish priest at Saint Finbar's Parish,

Glenbrook. In addition, Fr Jolly assists with

the formation of deacons and the permanent

diaconate.

"As a Missionary of Our Lady of La

Salette, I enjoy my mission to the Diocese.

I am happy as a priest, happy with my

ministry, happy being a religious," Fr Jolly

said.

Far from his humble origins living on

a farm in India, Fr Jolly provides spiritual

and pastoral support to the parishioners

at Glenbrook parish, nestled in the Blue

Mountains.

A polyglot, speaking four languages

(English, Malayalam, Tagalog and French),

Fr Jolly is mindful of his role as a missionary

and a parish priest. "I am here for people,

especially in the most vulnerable times in

their lives," Fr Jolly said.

"People have different needs, I do more

home visits in Glenbrook to address the

needs of an ageing population. However,

Fr Jolly Chacko MS is happy to see more young people involved in the parish.

I am more than happy to see more and

more young families getting involved in the

parish."

Fr Jolly describes his parish as a "very

welcoming community, friendly people."

"The parishioners are very cooperative of

the parish needs. They are a friendly people,

a welcoming parish and also, a well-educated

parish."

Fr Jolly sees the Missionaries of La Salette

as playing an important role in the Diocese.

"Our mission is a mission of reconciliation.

It is not only about sitting in a confessional

box but reaching out to people, reconciling

families and reconciling lives."

"This is an important element in the Year

of Mercy – living a reconciled life.

In his unassuming manner, Fr Jolly

explained how he sees the work of Christ.

"It is important we all give the gift of

forgiveness. We all make mistakes. It is

important to forgive as mercy is a gift you

give and a gift you receive."

FROM*

$5690

*PLUS

AIRFARES

ST PAUL EXPEDITION

A 17 day pilgrimage departs

16th September 2016 with

Fr Don Kettle PP

The Acts of the Apostles come alive as we

traverse the ancient paths of St Paul and

unearth the origins and emerging faith of

the first Christian communities.

Featuring: Athens • Greek Island Cruise

– Patmos and Kusadasi • Kalambaka

• Gallipoli • Istanbul

Malta extension available.

Mothers' Day SATURDAY

7TH MAY

Mass2016

*Costs have been based on prices as at February 2016 and must remain subject to possible change in the unlikely event of significant

exchange rate variations, airfare increases and minimum group size contingencies. Lic. 2TA 003632

CALL: 1800 819 156

VISIT: harvestjourneys.com

An Amazing Story

Of Conversion

For fourteen years Geraldine has shared,

in Australia, the USA, Ireland, New

Zealand and recently France, her near

death experience of Jesus and Mary.

She went from living as a lapsed Catholic

to being convinced that God and Heaven

really existed and now wanted to go there

at any cost. "To suffer here is nothing

compared to the joy that awaits". "How

happy my heart is that the mercy of

Our Divine Master is so great".

Her messages from Jesus and Mary are for

these times. Her talks strengthen faith, give

courage and hope; people have received

healings, physical and spiritual, including from addiction.

If you would like Geraldine to speak to your Parish or home group,

or if you wish to order books, DVDs or medals then please contact Doreen

by telephone on 02 9688 1097 or visit the website www.divine-inspirations.org

Rookwood Cemetery

12.00pm

Mary, Mother of Mercy Chapel

Barnet Avenue,

Rookwood Cemetery

(Adjacent to the Catholic Office)

Liverpool Cemetery

10.30am

Main Chapel

Please join us for a special Mass in memory of all mothers

www.catholicoutlook.org

CatholicOutlook | MAY 2016 11
---
CATHOLIC EDUCATION

www.parra.catholic.edu.au @CatholicEdParra CatholicEdParra

Testing Times

The loudly ticking clock

above the blackboard. The

uncomfortable impression

of a biro on cold fingers.

The busy hush of ink racing

across lined booklets.

Pens down! Perhaps these

recollections of school

exams take you back to

another time or perhaps

this is closer to today's

experience than we realise.

Not for much longer.

For the first time in 2017, NAPLAN tests will begin

to be made available to students online. It's fitting

that examinations change, but just going online is not

enough. While NAPLAN has its place as a point in

time measure of basic literacy and numeracy skills, it

is time to look at a whole new approach to the role of

assessment as education transforms.

NAPLAN (National Assessment Program – Literacy and

Numeracy) is the test that students in Years 3, 5, 7 and

9 take each year. It looks at how students are travelling

in reading, writing, spelling, grammar, punctuation and

numeracy. Having a way to measure the effectiveness of

our national investment in education makes good sense,

but we have to make sure it is the right measure.

NAPLAN was developed as a tool for teachers to

understand how a student is progressing in literacy and

numeracy, however, it has morphed into a measure of

school performance and a way to compare schools.

We need a more sophisticated suite of tools than

NAPLAN to deliver on tracking student progress in

learning as well as identifying and tracking student

strengths. It has been estimated that about 40% of

today's jobs won't exist in the future and 40% or 50% of

the population will run small businesses.

This will require people with entrepreneurialism, problem

solving, advanced reasoning, complex judgment, social

interaction, imagination, creativity with 'soft skills' such

as resilience, empathy, acceptance, service-mindedness

as well as emotional intelligence becoming increasingly

important.

This means that flexibility, resilience and independent

thinking should be seen as basic skills for schools to

cultivate. Education and training are important and

we will provide the best quality and depth available,

however, closer partnerships with industry and research

will show which skills, qualifications and aptitudes are

needed in the future.

This will require new methods of assessment and

tracking students while they engage with activity-based

learning – projects, challenges, community-based,

service-based learning projects, etc. that showcase their

strengths and capabilities.

Technologies can be leveraged to track student progress

in real time every day, to make sure that every learning

journey is on track. This way, teachers can adjust the

teaching as the learning happens.

If we really examine what we are hoping to achieve

through NAPLAN, a bolder vision for assessment

in education is possible. We should be using these

opportunities to test how well schools are preparing

students for the future and making changes to learning

and teaching in response. After all, what is the virtue in

knowing all the right answers to all the wrong questions?

Greg Whitby

Executive Director of Schools

@gregwhitby

blog: bluyonder.wordpress.com

Artist's impression of St Luke's* Catholic College Marsden Park.

St Luke's* Catholic College Marsden Park

to open in 2017

Catholic Education Diocese of Parramatta will open

a next generation Catholic learning community at

Elara, Marsden Park, in 2017. Working with leading

international educator Prof Stephen Heppell, St Luke's will

combine best practice learning and teaching with school

design to provide a contemporary approach to schooling

within a Catholic faith environment.

Executive Director of Schools Greg Whitby said while

the new school is still a greenfield site, it holds great

expectations.

"We are taking everything we know about learning and

teaching to ensure we deliver a world class schooling

experience to meet the needs of today's learners," Greg said.

"Despite the rapid pace of social change, including the

nature of paid employment and digital disruption, many

schools too closely resemble those you and I, and our

parents, attended at the dawn of the industrial age.

"We are educating students today for careers that haven't

been invented yet, so we need to provide a personalised

education that equips students with the skills they need to

thrive in a rapidly changing world.

"Within our Catholic context we also need to ensure our

learners will be active within their communities, making

the world a better and brighter place."

When fully occupied, St Luke's will accommodate 2000

learners and will provide a flexible curriculum and multiple

pathways, including early learning, K-12, out-of-school

hours care, a learning needs hub and post-school pathways

with tertiary and business partners.

Catholic Education has already received an overwhelming,

positive response to the concept behind the new school,

with a number of parents, teachers and leaders looking to

be a part of the learning community.

Expressions of interest are currently being accepted for St

Luke's Catholic College, please send inquiries to

www.stlukesmarsdenpark.catholic.edu.au

*Proposed school

Much of the daily life of the school will occur in 'The Marketplace' with

its large covered space affording opportunities for learning, gatherings,

recreation and other community events.

The design has been developed around a compact built footprint,

envisioned as a city grid. Learning spaces are connected by 'streets'

arriving at the centre, a natural location for the town square or

marketplace.

Developing on from the traditional library, 'The Hub' is a communal

learning space that will serve for informal learning and teaching and

information gathering.

12 CatholicOutlook | MAY 2016

www.catholicoutlook.org
---
www.parra.catholic.edu.au @CatholicEdParra CatholicEdParra

Labor announces education as priority

CATHOLIC EDUCATION

Record year for Executive Director's Summer

Reading Challenge

The results are in for the 2016 Executive

Director's Summer Reading Challenge and they

are terrific: 3582 books and articles read by 796

students.

The competition is aimed at promoting literacy

and ongoing learning over the school holidays

among all students from Kindergarten to Year

12 in the Diocese of Parramatta.

Every entrant received a certificate of

participation and four lucky students were

selected, at random, as the winners of an iPad

Mini. Congratulations Chelsea from St John's

Primary, Riverstone, Michael from St Andrew's

College, Marayong, Lauren from Catherine

McAuley Westmead, and Dominique (pictured

right).

Dominique from St John Vianney's Primary, Doonside, with

her parents and Greg Whitby.

From left: Principal Michael Hopley with Chris Bowen, Bill Shorten and Sue Walsh.

A number of prominent Labor leaders have

visited school communities in the Diocese of

Parramatta recently.

On 1 April, Our Lady Queen of Peace Primary,

Greystanes, opened its doors to Opposition

Leader Bill Shorten and Federal Member for

McMahon and Shadow Treasurer Chris Bowen,

who sat with a Kindergarten class before giving

a press conference.

On 31 March, Corpus Christi Primary,

Cranebrook, welcomed Shadow Minister for

Education Kate Ellis and Labor candidate for

Lindsay Emma Husar to tour the school and

speak with parents.

Schools get into the spirit for Catholic Schools

Week

From 6-12 March, Catholic Schools in NSW

and ACT opened their doors to showcase

learning and teaching at its best with a range of

activities and events planned for students and

parents during the week.

The theme for Catholic Schools Week 2016 was

'I belong. You belong. We belong'. The theme

tied in with the Jubilee Year of Mercy.

Executive Director of Schools Greg Whitby

visited St Oliver's Primary, Harris Park, to meet

with students, parents and teachers.

During the visits, Bill Shorten announced

Labor's commitment to Gonski funding.

"Labor's 'Your Child, Our Future' will mean

more individual attention for students, better

trained teachers, every school, every child –

government, independent or Catholic," Mr

Shorten said.

Deputy Executive Director Sue Walsh spoke

about the importance of funding for all

students.

"It is critical for schools to have certainty

around funding so they can plan effectively for

the needs of each student," Sue said.

Celebrating Catholic Schools Week with some furry friends

at Trinity Catholic Primary, Kemps Creek.

Project Compassion fundraising snapshot

Throughout Lent, Catholic schools in Western

Sydney held various events to fundraise for

the 2016 Caritas Australia Project Compassion

appeal.

Our Lady of the Nativity

Primary, Lawson.

St Bernadette's Primary,

Lalor Park.

Delany College, Granville, raised more than $2000

Greg Whitby now NewsLocal weekly columnist

NewsLocal has invited Executive Director

of Schools Greg Whitby to write a weekly

education column for its 20 titles across NSW.

Recognised as an influential and leading

thinker in contemporary education, Greg's

column will focus on all aspects of schooling

and education policy.

Look out for him in your local paper today

and join the conversation on facebook.com/

catholicedparra, Twitter @catholicedparra

@gregwhitby and via Greg's blog

www.bluyonder.wordpress.com

Top of the Class with Greg Whitby appears weekly in

NewsLocal papers.

Today's learners: tomorrow's leaders

CATHOLIC SCHOOLS

ENROLLING NOW

Sibling discounts available. School based fees may apply. The Byallawa co-contribution scheme for

Aboriginal and Torres Strait Islander families and the Bishop Manning Scholarship Fund have

been established for families in need of financial assistance.

No child will be refused enrolment because of a family's inability to afford school fees.

@catholicedparra catholicedparra

www.parra.catholic.edu.au

www.catholicoutlook.org

CatholicOutlook | MAY 2016 13
---
CATHOLIC EDUCATION www.parra.catholic.edu.au @CatholicEdParra CatholicEdParra

Loyola's Science experiment

success on Q&A

Minister impressed by

McCarthy CTTC

PRC ushers in new president

Science students from Loyola Senior High School, Mt Druitt, attending the

ABC studios for the live airing of Q&A.

On 14 March, Science students from Loyola Senior High School,

Mt Druitt, attended the ABC studios to be part of the audience

in the live broadcast of Q&A.

One lucky student, Claudine Bautista, was given the opportunity

to ask a question, having been selected from of a pool of almost

200 questions.

Panelist and world-renowned physicist and string theorist Brian

Greene snapped up the question: If we do have a multiverse, if it

exists, how will it affect the way we live?

St Patrick's Marist College

touch football stars

Fiona Scott, Scott Ryan and Greg Whitby enjoy their tour of McCarthy

College CTTC.

On 8 March, newly appointed Minister for Vocational Education

and Training (VET) Scott Ryan visited McCarthy Catholic

College, Emu Plains, with Member for Lindsay Fiona Scott to

tour the Catholic Trade Training Centre (CTTC).

The visit coincided with International Women's Day and

Minister Ryan met with Emerson Mason, the only female

student in the carpentry course. Emerson is following in the

footsteps of her father, who is also a carpenter.

The minister also toured the facilities and was impressed with

the size of the CTTC, commenting on how well the facilities

emulated the workplace.

Executive Director of Schools Greg Whitby said it was great that

the minister got to see first hand how the CTTC operates.

"It's important that students are offered multiple opportunities

to transition from school to work or further study," Greg said.

"CTTCs are one of many pathways we offer students in the

Diocese and we are glad the minister saw the hard work that we

have put into it."

St Bernadette's donates

computers to Parramatta YCW

New PRC President Lynn McKinnon, former PRC president Selina Calleia

and the PRC executive team.

On 23 March, the outgoing Parent Representative Council

(PRC) President Selina Calleia was thanked for her work and

new President Lynn McKinnon was welcomed into her new role

by the Diocesan Administrator, Very Rev Peter Williams, and

Executive Director of Schools Greg Whitby.

Invitation to farewell

Sr Catherine Maddock CHF

Sr Catherine Maddock CHF received the Diocesan Medal of Honour in

2012 from the previous Bishop of Parramatta, Most Rev Anthony Fisher

OP. Photo: Alfred Boudib.

On Sunday 19 June, Sr Catherine Maddock CHF will be

farewelled from Christ the King Parish after 43 years of service

to the community and various schools in the Diocese of

Parramatta. Sr Catherine was the founding principal of Christ

the King North Rocks in 1973 where she worked for 23 years.

All are welcome to attend the special Mass at 10am at Christ the

King Primary, Statham Ave, North Rocks, followed by lunch in

the parish hall. Sr Catherine will return to Ireland on 30 June.

Diocese farewells Mary Sherry

after 35 years of service

St Patrick's Marist College, Dundas, students Tayla Duguid and Bradley

Cincotta.

On 8 February, St Patrick's Marist College, Dundas, students

Tayla Duguid and Bradley Cincotta were awarded the 2015

NSWCCC Blue Award for Touch Football at an awards evening

held at St Patrick's College, Sutherland.

Principal Angela Hay said the prestigious Blue Award recognises

the participation in the true spirit of the NSWCCC Sporting

Association.

"This award takes into consideration sporting excellence as

well as her contribution to junior sport, school leadership roles,

academic achievements, extracurricular activities and other

school sport representation," Angela said.

St Bernadette's Secretary Frances Murphy with (from left): YCW Rafael

Tordilla, Liam Culican and YCW Fono Taefu.

In March, St Bernadette's Primary, Castle Hill, donated 45 IBM/

Lenovo laptops and computers, along with monitors, keyboards

and mice to the Parramatta Young Christian Workers (YCW)

organisation.

Catholic Education's ICT Trainee Liam Culican said he was

inspired to participate after reading an article in the March

2016 issue of Catholic Outlook calling on parishes, schools

and organisations to donate older or unwanted computers and

laptops for re-use.

Refurbished computers are donated to young people in the

local diocesan community and to East Timor, where 60% of the

population is under 25 years of age.

From left: Greg Whitby, Mary Sherry, Deputy Executive Director Sue Walsh

and Br Aengus Kavanagh FSP.

On 24 March, Executive Director of Schools Greg Whitby

announced that Mary Sherry would be retiring after 35 years of

service to our Catholic community.

14 CatholicOutlook | MAY 2016

www.catholicoutlook.org
---
www.ccss.org.au

CCSSParramatta

CATHOLICCARE SOCIAL SERVICE

COURSES & EVENTS

Responsible Gambling Support Group ̶ is free and on

every Saturday, 9.30am-11am at CCSS Centre, 38 Prince St,

Blacktown. Tel (02) 8822 2222.

Blacktown Neighbour Aid

celebrating 25 Years

Dedicated volunteers provide companionship and assistance with tasks such as shopping and bill paying.

Blacktown Neighbour Aid (BNA) provides a volunteer home

visitation and support program in the Blacktown area for

the frail-aged and their carers.

The main purpose of BNA is to assist clients to remain living

in their homes for as long as possible, avoiding premature

institutionalisation.

A team of dedicated staff and volunteers provides

companionship and direct assistance to individuals with tasks

such as shopping, bill paying, assisted transport to medical and

other appointments, friendly home visiting and other errands.

The service also facilitates regular client group activities,

including hydrotherapy, swimming and walking for those whose

goal is to improve their health and wellbeing.

In June this year, BNA will be celebrating 25 years of service in

the community. BNA Manager Deb Woolacott is organising this

commemoration.

"We would like to invite anyone who has been, or is currently

involved, with BNA to attend this special anniversary event,"

Deb said. "It is our way of thanking all those, including staff,

volunteers and clients, who strive to make the lives of others more

enjoyable."

Lunch will be held at Bungarribee Hub, Blacktown, on

Thursday 16 June to commemorate 25 years. If you would like

to attend, please RSVP by Friday 20 May, tel (02) 8822 2238 or

send an email to deb.woolacott@ccss.org.au

RECOVER Wellbeing

Recovery oriented program and support

groups for people living with mental distress

Groups being run in Western Sydney and the

Blue Mountains during May

For further

information call

(02) 8822 2222

Hope

Connection

and

Wellbeing

Volunteering at CatholicCare

Would you like to make a difference in the local

community?

Would you like to learn new skills and meet new people?

Whether you are 18 or 81, and if you are interested in

making a difference, you can volunteer with many of the

services CatholicCare provides.

Basic office administration, site maintenance (mowing

lawns/repairs), spending one hour a week helping young

children with their homework, or chatting with an elderly

person are some of the ways you can make a difference.

Volunteer Coordinator for CatholicCare, Kim Manouk

said volunteers are needed for many services within the

organisation, especially Blacktown Neighbour Aid, Mamre

Creche and the All Saints of Africa Centre (homework

support).

"The more volunteers we have, the more people we can

support in the community," Kim said. "Research shows

that volunteers live happier and healthier lives and they

make a difference in a person's life."

For further information about volunteering in any of our

services or to become a volunteer at CatholicCare please

contact, tel (02) 8822 2222 or send an email to Kim.

Manouk@ccss.org.au

NATURAL

Accredited Fertility Educators of Natural Fertility to speak

on how to naturally achieve and space pregnancies

FREE ENTRY and a light supper will be served

Please register your attendance to:

email nfs@ccss.org.au

or phone (02) 8822 2222

Fertility

A W A R E N E S S E V E N I N G

Wednesday 4 May | 7.30pm

Holy Spirit Parish St Clair

5 Todd Row, cnr Moore St, St Clair

Young Mums' Group ̶ education and support for young

mums under 25 years. From 3 May to 21 June, 10.30am-

12.30pm, CCSS Centre, 38 Prince St, Blacktown. Free.

Lunch provided. Tel (02) 8822 2222.

Black Dog Institute REACH Program – if you are living

with mental distress, the REACH Wellbeing group is running

soon in the Blue Mountains and has helped many people

manage their wellbeing. From 3 May to 28 June, 6.30pm-

8.30pm, Springwood Drop-In Centre, 3/163 Macquarie Rd,

Springwood. Tel (02) 4751 4956.

Young Parent Network Event ̶ Youth Rez invites young

parents and organisations working with young parents in the

Blacktown and Hills LGAs to this event on 22 June, 9.30am-

1.30pm, Boomerang Room, Rooty Hill RSL, 33 Railway St,

Rooty Hill. Tel 0488 711 909, Kerry.Calgiore@ccss.org.au

All Saints of Africa Playgroup/Mums' Group ̶ Thursdays

(term time), 10am-noon, All Saints of Africa Centre, 63

Allawah St, Blacktown. For mums with children who have

not started primary school. Activities for children include

craft, story time and singing. Social interaction, support and

friendship for mums. Tel (02) 8822 2250.

Post Separation Recovery Program ̶ this program is

open to anyone wanting to move forward from their

marriage breakdown in a positive way. Seven sessions held

over seven consecutive Wednesdays, 11 May to 22 June,

7.30pm-9.45pm, CCSS Office, 38 Prince St, Blacktown.

Cost $80. Fee $80. Bookings essential, tel (02) 8822 2222,

soloparentservices@ccss.org.au

Seminar – Annulment Information Night ̶ guest speaker

Very Rev Peter Blayney. Tuesday 3 May, 7.30pm-9.30pm,

CCSS Centre, 38 Prince St, Blacktown. Cost $7. Registrations

essential, tel (02) 8822 2222,

soloparentservices@ccss.org.au

Aboriginal Catholic Services ̶ groups commencing in May

include Problem Gambling Support Group, Tutoring Time –

free Literacy Tutoring for Kindergarten – Year 6, Playgroup,

RECOVER Wellbeing Groups including Sew 4 Wellbeing,

Create 4 Wellbeing, Dance 4 Wellbeing. Holy Family Parish,

254 Luxford Rd, Emerton. Tel (02) 9628 0084.

Keeping Kids in Mind program ̶ supports parents and

families after separation. Five sessions weekly, starts

Monday 9 May, from 6pm-8.30pm. CCSS Parramatta,

2A Villiers St, Parramatta. Fee $100 (includes handbook).

Bookings essential. Tel (02) 8822 2222.

My Kids and Me ̶ for parents whose children are in out-ofhome

care or kinship care. Fridays from 10am-1pm,

St Nicholas of Myra Parish Hall, 326 High St, Penrith.

Bookings essential. Tel (02) 8822 2222.

Rollercoasters for Kids ̶ support for children whose parents

have separated or are separating. Mondays from 4pm-

5.15pm, six sessions weekly from 30 May. CCSS Centre, 38

Prince St, Blacktown. Bookings essential.

Tel (02) 8822 2222.

Cool Little Kids ̶ support for families of pre-school aged

children who are experiencing high levels of anxiety.

Information session Tuesday 14 June, 7pm-9pm. Winmalee

Community Preschool, 56 White Cross Rd, Winmalee.

Bookings essential, tel (02) 4751 4956 or email

springwood@ccss.org.au

Seminar – Dealing with the Legal System ̶ gain a greater

understanding of how to deal effectively with the legal

system. Guest speaker Mr Richard Brading (Principal

Solicitor, Wesley Legal Service). Tuesday 7 June, 7.30pm-

9.30pm, CCSS Centre, 38 Prince St, Blacktown. Cost $7. To

register, tel (02) 8822 2222, soloparentservices@ccss.org.au

Offices at Blacktown, Emerton, Parramatta, Penrith, Springwood, call (02) 8822 2222

www.catholicoutlook.org

CatholicOutlook | MAY 2016 15
---
DIOCESE CELEBRATES 30TH ANNIVERSARY

DIOCESAN

SNAPSHOT

1986: Pope John Paul II signs

decree on 8 April to establish the

Diocese of Parramatta.

1986: Most Rev Bede Heather

installed as first Bishop of Parramatta

on 19 May.

1986: Rev Peter Lamont ordained

first priest for the Diocese on 22

November.

1986: Diocesan Tribunal of the

Catholic Church established.

1986: Pope John Paul II visits

Transfield Factory in Seven Hills.

1987: Ann Clark appointed

first Executive Director of Catholic

Education.

1988: St Madeleine Sophie Barat's

Parish established at Kenthurst.

1988: Diocesan Development Fund

established.

1990: Sr Caroline Ryan RSM and

Sr Megan Brock RSJ first chaplains to

UWS.

1992: Corpus Christi Parish

established at Cranebrook; parishes

of Katoomba and Leura combined to

make Mary MacKillop Parish of the

Upper Blue Mountains, now St Mary of

the Cross MacKillop Parish.

1996: St Patrick's Cathedral

destroyed by fire.

1997: Most Rev Bede Heather

resigns.

1997: Most Rev Kevin Manning

installed as 2nd Bishop of Parramatta

on 21 August.

2002: Blessed John XXII Parish,

Glenwood-Stanhope Gardens,

established on 6 October.

2003: Bicentenary of the first

official Mass in Parramatta on 22 May

1803.

2003: St Patrick's Cathedral

reopens on 29 November.

2004: Sr Helen Stannard RSM

and Sr Mary White RSM first religious

professions in rebuilt St Patrick's

Cathedral.

By Sr Margaret Sheppard RSM

16 CatholicOutlook | MAY 2016

www.catholicoutlook.org

Celebrating 30 years since the Diocese

of Parramatta was established

On 19 May this year, the Diocese will

celebrate the 30th Anniversary of

the installation of its first Bishop,

Bishop Bede Heather, in 1986.

Succeeding Bishop Heather were Bishop

Kevin Manning (1996-2010) and Bishop

Anthony Fisher (2010-2014).

Established by Pope John Paul II on 8

April 1986, the Diocese of Parramatta is the

Catholic Church in Western Sydney and

the Blue Mountains.

Incorporating the greater Western

Sydney area from Parramatta to Blackheath

and from Richmond to Warragamba, the

Diocese acknowledges the traditional

custodians of the land, the Darug people

and pays respect to its elders past and

present.

Home to 330,000 Catholics in an area

of 1,050,000 people, the Diocese hosts

47 parishes, educates more than 45,000

students across its 83 schools, employs

more than 5000 staff and cares for

thousands of people in need through its

social services arm, CatholicCare Social

Services.

The Diocese of Parramatta is the fifthlargest

Catholic Diocese in Australia.

St Patrick's Cathedral is the symbolic

heart of the Diocese of Parramatta – a

dynamic centre of worship, prayer,

community and mission.

Today an iconic physical landmark

of the City of Parramatta skyline, the

Foundation Stone for St Patrick's was laid

more than 170 years ago, on St Patrick's

Day 1836.

When the Diocese of Parramatta was

established 150 years later in 1986, St

Patrick's was designated as the Cathedral of

the new Diocese.

In fact, most parishes within the

Diocese of Parramatta are older than

the Diocese itself. Parramatta parish was

established in 1827, Windsor in 1832 and

Penrith in 1839, while Rouse Hill was

formed in 2007.

The Diocese nurtures the spiritual lives

of the hundreds of thousands of Catholics

in its care, and supports thousands more in

the local community.

Its Catholic education system is

committed to giving every student a quality

education, while CatholicCare and its other

agencies and ministries work alongside

local people and organisations committed

to enhancing the way of life we enjoy in

Western Sydney.

As we celebrate our 30th Anniversary,

may we look to our Patroness, St Mary

of the Cross MacKillop, and pray for her

intercession.

Evoking memories of the early years

The Sisters of Mercy Parramatta celebrated their centenary year in 1988.

It was a memorable year: a year that

beckoned me and opened new horizons

beyond principalship at St Anne's Bondi

Beach to St Patrick's Primary School in

Blacktown.

Simultaneously, I was to be inextricably

connected with the vision and creation of

the Diocese of Parramatta.

For us as Sisters of Mercy Parramatta,

being part of the newly created Diocese

had a certain sense of 'Lord, it is good to

be here' as Parramatta and its surrounding

At a dinner to celebrate the Silver Jubilee of the Diocese of Parramatta in 2011 were Bishop Kevin Manning,

Bishop Anthony Fisher OP and Bishop Bede Heather.

suburbs were becoming increasingly

populated with Catholic families with their

multicultural richness and diversity.

Parramatta had its own rich Indigenous

and colonial history, so it appeared 'right

and fitting' for a Parramatta Diocese to

stand in its own 'shoes'.

In 1986, our Congregation numbered

about 120 sisters living and ministering

across Sydney and one in Melbourne. Of

these, more than 50 sisters were living

and ministering within the newly formed

Diocese.

Remaining true to the charism of

our foundress, Venerable Catherine

McAuley, whose vision was to serve the

poor, the sick, the uneducated and the

vulnerable, approximately 19 Sisters were

residing in our 'Mother House', serving

within the Parish of Parramatta, as well

as in administration in Our Lady of

Mercy College Parramatta and in various

ministries in and around the Parramatta

area.

What is different 30 years after the

creation of the Diocese of Parramatta?

Well, our Founding House still sits

firmly in its original setting opposite St

Patrick's Cathedral, and our ministries

are still very diverse and fitting within

our religious order's call to serve the poor,

uneducated, sick and vulnerable.

Some sisters still serve within primary

schools in various supportive ministries,

others in our congregation's works, others

in visitation of the sick and dying, others in

support of and education of asylum seekers

and refugees, others in prayer ministry,

nursing, administration and care for each

other as we age.

In 1986, I was filled with excitement and

hope. Hope remains that the now 30-yearold

Diocese will continue to respond to

the clarion call to action by Pope Francis'

personal witness to the Gospel values.
---
DIOCESE CELEBRATES 30TH ANNIVERSARY

In 1986, Pope John Paul II visited the Transfield Factory in Seven Hills.

In 2003, we marked the bicentenary of the first official Mass celebrated by Fr James Dixon in

Parramatta on 22 May 1803.

In 2013, Bishop Anthony Fisher OP led our young people

on a diocesan pilgrimage to World Youth Day in Rio de

Janeiro.

On 19 February 1996, St Patrick's Cathedral was

destroyed by fire. The rebuilt Cathedral was dedicated

on 29 November 2003.

The new church of Blessed John XXIII Church at Glenwood-

Stanhope Gardens was dedicated in 2007. In 1986, Pope John

Paul II visited the Transfield Factory in Seven Hills.

DIOCESAN

SNAPSHOT

2006: Clergy Support Foundation

established.

2007: Parochial District of Rouse

Hill established.

2010: Most Rev Anthony Fisher OP

installed as 3rd Bishop of Parramatta.

2010: Padre Pio Church at Glenmore

Park blessed on 14 February.

2011: Diocese secures part of Old

King's School site in Parramatta.

2011: St Mary of the Cross MacKillop

made patron of the Diocese.

2012: Parramatta's Rev Robert

McGuckin VG appointed Bishop of

Toowoomba.

2012: Bishop Anthony Fisher OP

institutes the Diocesan Medal of

Honour.

2013: Chapel of St Mary MacKillop

opens in Parramatta CBD.

2013: Seminary of the Holy Spirit

established in Harris Park.

2013: All Saints of Africa Centre

opens in Blacktown.

2013: Appeal for people impacted

by devastating Blue Mountains'

bushfires.

2014: The Diocesan Pastoral Plan,

Faith in Our Future, launched.

2014: Diocesan Family & Life Office

established.

2014: Most Rev Anthony Fisher OP

appointed Archbishop of Sydney.

2014: Very Rev Peter G Williams

appointed Diocesan Administrator.

2015: Inaugural Mass for World Day

of the Sick.

2015: 50th Anniversary of Marian

Nursing Home.

2015: Arrupe Place refugee centre

opens in Parramatta.

2016: St Luke's Catholic College

proposed for Marsden Park.

Mass for the Silver Jubilee of the Diocese in 2011:

our diverse migrant communities are a great

demonstration of the universal Church.

Interfaith dialogue: a Women of Faith Dinner was held in Parramatta on 31 May 2008.

www.catholicoutlook.org

CatholicOutlook | MAY 2016 17
---
DIOCESAN WORKS FUND APPEAL: FAITH AT WORK

Houses to Homes supporting young mums

Louise Masters: "All babies and children have the right to lead a healthy and fulfilling life."

CatholicCare Social Services has a

team of highly skilled and dedicated

people who work in our Houses to

Homes program. This service for pregnant

girls or parenting young women who are

homeless or at risk of homelessness offers:

• Transitional semi-independent

housing;

• Referral pathways towards long-term

stable housing solutions;

• Case management support;

• Access to brokerage;

• Home visits to young mothers and

their babies;

• Empowerment for independent living;

• Access to parenting and living skills,

employment and education;

• Advocacy, support and referral; and

• Assistance in

accessing community

resources.

The demand for

this service is constant.

Vulnerable members

of our community

are afforded the

opportunity that many

of us take for granted. The service has four

full-time staff, with Louise Masters heading

the team.

"All babies and children have the right

to lead a healthy and fulfilling life with safe

and secure housing and early intervention,"

Louise said. "We are committed to

providing the best service possible so this

can be achieved."

A recent example of a case where

the team at Houses to Home (H2H) has

intervened and provided much-needed

support is below. For privacy reasons,

names have been changed. For more

information about this service, please

contact CatholicCare tel (02) 8822 2222.

Kate's story

Kate was referred to H2H by a Family &

Community Services caseworker. She had

been residing with her mother and extended

family, however, the house was overcrowded

and there were domestic violence issues.

Kate and her two children were

rehoused by H2H staff into a private rental

property near her mother's home. This gave

her support that was close by, as well as

ongoing support from H2H. Kate was given

assistance to move in with some furniture,

OzHarvest food packages and Woolworths

Essentials cards.

Staff noted that Kate's daughter appeared

to have some developmental delays and

Kate explained that she was trying to have

her daughter assessed. Staff assisted her to

complete the necessary forms.

Her daughter was referred to and

accepted into the Home Interaction

Program for Parents and Youngsters

(HIPPY). She also attended two days a week

at the local daycare centre.

Since Kate's daughter commenced an

early intervention program, her social

skills have improved and she is sharing and

playing.

This has led to a change in Kate's mood

and has given her the opportunity to spend

Bulk Billing for GP Services

more time with her younger son. It also gave

her the chance to commence selling makeup

as she has an avid interest in makeup

artistry and beauty.

Understanding that Kate had this great

interest, our H2H caseworker approached

her with an opportunity to complete a

certificate course through TAFE. Her son is

now in daycare two days a week so Kate can

attend TAFE.

Kate was thrilled to enrol, stating that

upon completion, she would be the first

member of her family to complete any type

of course and receive a certificate.

She was chosen to represent her class to

apply makeup on models at the Royal Easter

Show. She took along her mother and it was

a very proud moment for them both.

Her children are improving in all aspects

of development. Kate has increased her

social circle and now has adults with whom

she can chat and become friends. Her entire

disposition has changed and improved.

Kate has maintained her tenancy for

approaching 12 months. She has a Start

Safely Private Rental Subsidy for short-term

financial help so she does not have to return

to her previous violent situation.

Kate was asked recently if she would

like to continue with her study and go on to

complete her diploma. She accepted and is

excited to continue on her adventure.

Your donations to this month's DWF

Appeal with the theme Faith at Work will

help to fund CatholicCare programs like

Houses to Homes. To make an online

donation visit: www.faithatwork.org.au

MEDICAL CENTRE OPENING HOURS

Monday-Friday 9.00am-6.00pm

Saturday 9.00am-2.00pm

CLOSED SUNDAYS

NO APPOINTMENT NECESSARY

DOCTOR HOME VISITS AND AFTER

HOURS SERVICES AVAILABLE

Parking on-site available

Pathology on premises

DOCTORS AND PHYSIOTHERAPIST

DR. ARUNTHA JESUTHASAN (Female GP)

DR. CHARLES HAYES (Male GP)

DR. VAN NGUYEN (Male GP)

DILHAN JAYAMANNE (Physiotherapist)

FREE

FLU VACCINES AVAILABLE!

For people:

• Aged 65 years & over

• Pregnant women

• Anyone with a medical condition

Otherwise from $11

DENTIST

Natural Family

Planning is

Available in the

Surgery

(DR GARIMA MALHOTRA)

• Free initial check-up

• Veterans' Affairs cover

• Dental X-rays

• Medicare Bulk Billing

- for eligible children aged

between 2 and 17 years of age

Benefits up to $1000/child

• 10% discount for seniors

and pensioners

• Patients from all funds welcome

- Health fund claims on the spot

MEDICAL CENTRE

81– 83 Richmond Rd, Blacktown, NSW | 9622 1998

18 CatholicOutlook | MAY 2016

www.catholicoutlook.org
---
DIOCESAN WORKS FUND APPEAL: FAITH AT WORK

Daina Caruana from the Ephpheta Centre signs during Mass in Blacktown. Photo: Alfred Boudib.

Ephpheta Centre supports

Catholic deaf community

T

he

Ephpheta Centre provides services

for the Catholic deaf community in

Sydney.

The centre organises Mass which is

accessible for the deaf on the third Sunday

of each month at 11am at Our Lady of

Lourdes Church, 7 Grantham Road, Seven

Hills.

The centre is a special ministry of the

Catholic Archdiocese of Sydney and is also

supported by the dioceses of Parramatta

and Broken Bay. Parramatta's seminarians

undertake pastoral placements at the

Ephpheta Centre.

Donations to this month's DWF Appeal

help to fund the work of the centre, which

includes pastoral care, sacramental services,

support and advocacy. Visitation is an

important part of their work.

They provide religious and social

services for the signing-deaf, oral-deaf and

hard of hearing and those who have lost

hearing through age and industrial deafness.

They visit members of the deaf

community who confined to their homes,

nursing homes, hospitals, the lonely and

also people in prison.

Your donations to this month's DWF

Appeal with the theme Faith at Work will

help to fund the work of the Ephpheta

Centre. To make an online donation visit:

www.faithatwork.org.au

Talkward: Taking the awkward out

of talking about problem gambling

Living with a

gambling addiction

can be a nightmare

– mounting debts, lost

friends, employment

problems. But those who

pay the highest price are frequently the

partners, family and friends of problem

gamblers.

As well as suffering financial loss,

they can also experience loss of trust and

feelings of betrayal as well as relationship

breakdown.

Through Gambling Help and its

partners, including CatholicCare Social

Services, free counselling and new resources

are available to assist people impacted by

problem gambling.

CatholicCare counsellor Linda Davis

said one of the biggest challenges can be

raising the issue. "It can be a very awkward

thing to do. People are often afraid that

mentioning someone's gambling problem

may damage their relationship with that

person."

During Responsible Gambling

Awareness Week from 23-27 May,

CatholicCare will be helping to launch two

major resources – a catchy, animated e-card

campaign, Talkward, and a booklet aimed at

helping family and friends who have been

impacted.

Talkward is designed to help break

through the stigma and encourage open

dialogue between gamblers and their

families and friends.

The e-cards, which can be customised

and personalised, humorously focus on a

thorny subject but carry a serious message:

now we've got the awkward bit out of the

way, let's have a talk in real life.

To access the e-card, go to

talkward.com.au Free copies of

m

Responsible Gambling

Awareness Week: 23-27 May

the booklet can be ordered from:

gamblinghelp.nsw.gov.au/need-help/

downloads-and-orders/?need-help.

CatholicCare Problem Gambling

Counselling and Groups

Our client John* contacted CatholicCare

after his son approached him and suggested

he had a problem with gambling. John

called Gambling Help and they directed

him to CatholicCare. After three or four

sessions, John had reduced his gambling

significantly.

His message to anybody who may

identify as a problem gambler is: "Contact

Gambling Help or CatholicCare Social

Services for counselling. Staff were

welcoming and counselling is provided

in a stress-free environment, without

judgement."

John said he is better able to give his

attention and focus to enjoying his family.

He is planning to get a second job and has

money in the bank for the first time in a

long time. His wife and son are very happy

as he comes straight home after work and is

spending more time gardening and enjoying

his life.

*Not his real name.

For more information about CatholicCare's

free Responsible Gambling Counselling

Service tel (02) 8822 2222.

Your donations to this month's DWF Appeal

with the theme Faith at Work will help to

fund CatholicCare's programs and services.

To make an online donation visit:

www.faithatwork.org.au

DON'T MAKE THE TALK AWKWARD

Together, let's make the conversation

about problem gambling a little less awkward.

Start the conversation today.

VISIT TALKWARD.COM.AU

www.catholicoutlook.org

CatholicOutlook | MAY 2016 19
---
KOREAN CATHOLIC COMMUNITY

Korean chaplaincy crosses cultural divide

By Elizabeth McFarlane

There is a great beauty in the varied face

of the Catholic Church. Diverse migrant

communities make up the Diocese of

Parramatta, each with their own traditions and

customs that merge in a great demonstration of

the universal Church.

Fr Stephen Hyun Sangok, Korean Chaplain

for the Diocese of Parramatta, and Michael

Lim, President of the Korean Chaplaincy,

believe migrant chaplaincies enable parishes to

celebrate cultural differences and similarities.

The chaplaincy, based at Our Lady of

Lourdes Church, Baulkham Hills, runs a

Korean Language School on Saturdays at

7.30pm and a Bible Study class on Sundays

from 9.30am-noon.

"We are very grateful that the Diocese

supports the chaplaincy and that they have also

allowed Fr Stephen to work with us," Michael

said.

Fr Stephen celebrates the 7.30pm Saturday

Vigil Mass and the 11am Sunday Mass in

the Korean language at Our Lady of Lourdes

Church.

"There are language barriers. Some

parishioners cannot speak English fluently and

even if they understand in part, they do not

fully grasp the homily, so we ask Fr Stephen to

help us in deepening our faith," Michael said.

The chaplaincy creates a space for Korean

parishioners to come together. However,

Fr Stephen acknowledges the need for the

chaplaincy to be an open community.

"Some Australians may look at the Korean

Chaplaincy and think, 'Why are they so

exclusive?' But that is not the case. There is a

natural intimacy and we are very close, but we

are not exclusive," Fr Stephen said.

"We are open. We want people who are

not Korean to gather with us and attend our

Korean Language School, Bible Study classes

and masses. Everyone is welcome.

"I am not here just to serve the Korean

Chaplaincy. I am here to serve the whole

Church."

The Diocese of Parramatta is among the

most multi-ethnic and multicultural in the

world. One-quarter of the Catholics in our

Diocese were born overseas in a non-Englishspeaking

country (25.5%) and more than onequarter

of our Catholics speak a language other

than English at home (28.4%).

Many migrants share the Catholic faith

and enrich the life of the Diocese through their

witness and participation in parish life and

The chaplaincy creates a space for Korean parishioners to come together.

other forms of Christian community.

Fr Pio Yong Ho Jang is the first Koreanborn

priest to be ordained for the Diocese of

Parramatta.

Migrant chaplaincies bridge the gap

between cultural divides, promoting a stronger

connection through the one shared faith.

They provide migrants with familiar

cultural expressions of the faith, addressing

the need for the mystery of Christ to be

proclaimed, celebrated and lived out at all times

and in all places.

As time passes, the focus of a chaplaincy

shifts to assisting migrants, especially younger

generations, in becoming more active

participants in the life of their local parish.

"The Korean Chaplaincy is not separate

from the Diocese. We belong to the Diocese,"

Michael explained. "Many Korean parishioners

are still involved in the wider parish. I used to

be an acolyte for the Church."

In welcoming people from overseas, our

parishes, schools, agencies and individual

members are mindful of the rich cultures,

traditions and experiences that migrants bring

to their new home.

"At the end of the day, we are part of the

same Catholic Faith, which teaches us to love

one another. It doesn't matter if you are Korean

or Australian, when we are part of the same

faith we will always have a natural connection,"

Michael said.

Fr Stephen Hyun Sangok and Michael Lim believe migrant chaplaincies enable parishes to celebrate cultural differences

and similarities. Photo: Elizabeth McFarlane.

Shrine of Our Lady of Mercy

Penrose Park

Fatima Day: Friday 13 May

Come and pray for your family and the world at large!

10am Exposition, Holy Mass 11am, After Lunch; Procession and

Devotions at Grotto of Our Lady of Lourdes.

Principal Celebrant: Fr George Condookala

Parish Priest at Port Kembla

20 CatholicOutlook | MAY 2016

www.catholicoutlook.org

Upcoming celebrations in our shrine

Solemnity of Our Lady Help of Christians: Tuesday 24 May

11am - Solemn Mass followed by Devotions

The Most Holy Body and Blood of Christ: Sunday 29 May

11am - Solemn Mass followed by Procession

Pauline Father's Monastery

Address: 120 Hanging Rock Road, Berrima, NSW, 2577 Phone: 02 4878 9192

Email: paulinefathers@yahoo.com.au

Website: www.penrosepark.com.au
---
Mercy of God in

Schoenstatt Sister's life

By Elizabeth McFarlane

Sister Thomasine at the Schoenstatt Shrine at Mulgoa where the annual Marian Pilgrimage will take place on 22 May.

Photos: Elizabeth McFarlane.

Sister Thomasine Treese ISSM is the new

Superior of the Australian-Philippine

Province of the Secular Institute of the

Schoenstatt Sisters of Mary.

Growing up near Koblenz in Germany

during World War II, her parents had to "turn

every penny around" after the family home was

destroyed.

"We had no car and no house. We had

nothing and after my younger brother was

born, we had to start from the beginning," she

explained.

Despite financial struggles and the storms

and hardships of life, her parents were devoutly

religious, preparing the way for the decision of

Sr Thomasine and her older sister to join the

Schoenstatt Sisters of Mary.

Sr Thomasine holds a Bachelor of Arts

in Elementary Education and Theology, a

Calling for nominations

for 3 diocesan awards

Nominations are now open for three diocesan awards:

The Diocesan Medal of Honour

The Diocesan Medal of Honour seeks to encourage

and recognise outstanding contribution and service

by members of the Parramatta diocesan community

in work on behalf of the Church and society. The

Diocesan Medal of Honour is awarded for outstanding

service to parish, Diocese and community.

The Diocesan Citation of Merit for Youth

The Diocesan Citation of Merit for Youth seeks to

encourage and recognise youth between the ages of 18

and 25 who have shown outstanding contribution and

service to the parish, Diocese and community.

Licentiate in Canon Law and a Certificate of

Accreditation as Postulator at the Congregation

for the Cases of Saints in Rome.

Now based in Mulgoa, Sr Thomasine has

travelled extensively, having served as a

missionary for several decades in the US and

Europe.

She brings a global insight to her role as

Superior, with 30 years' work experience

in the new evangelisation of Milwaukee in

Wisconsin (including eight years of work in

the Archdiocesan Tribunal), 11 years working

in the Vatican in the Secretariat of State, and

as postulator for the cause of beatification of

Schoenstatt sister, Sr Emilie Engel ISSM.

Sr Thomasine explained that there are three

major steps in a process of beatification. There

is the opinion of the people about the quality

of life of the Servant of God, the judgment of

The Diocesan Certificate of Recognition

Nominations close on 31 May 2016

The Diocesan Certificate of Recognition seeks to

encourage and recognise outstanding contribution by

non-Catholic members of the Diocese of Parramatta

community, for work supporting the parish, Diocese

and community.

An overview for how to make a nomination and

notations are available from:

Rev Dr Arthur Bridge AM PP

Chairman of the Diocesan Honours

Committee

Tel (02) 9631 3316

arthurbridge@arsmusica.org.au

the Church and the action of God by granting

a miracle.

Sr Thomasine collected the documents and

testimonies needed to prove that Sr Emilie

Engel lived all virtues in an authentic and

exemplary way. She wrote a study, a 'Positio'

on Sr Emilie Engel's life, which was submitted

to the Congregation of Saints in Rome for

appraisal.

In May 2012, Pope Benedict XVI declared

Sr Emilie Engel a Venerable Servant of God,

signifying the fact that she has practised all

virtues to a heroic degree. A miracle upon Sr

Emilie's intercession is still necessary for her to

be beatified.

"Contrary to the belief that you have to have

a sensational life to be a saint, Sr Emilie Engel

impressed people by that which she was," Sr

Thomasine said.

"It was how she dealt with the many trials

of her life and how she could follow God's

guidance. She spoke her unconditional 'Yes,

Father' to His wish and will, even when it

meant sitting paralysed in a wheelchair. It was

her radiance that drew people to her.

"Above all, Sr Emilie Engel said, 'Yes, Father'

with a joyful attitude at all times.

"My life is also a 'yes' and every day I have to

ask myself, 'Do I live my day with God or do I

want to do everything myself?'"

Sr Thomasine feels blessed to be working in

Australia and is driven by the inner strength of

Sr Emilie Engel.

"It is wonderful to be able to look back on

the many blessings of God in my life and I have

learnt that as a leader, I must radiate God's

love," she said.

Working towards the annual Marian

Pilgrimage, which will take place on Sunday 22

May, the Sisters of Mary are also promoting the

experience of a special indulgence in this Year

of Mercy.

NEWS & EVENTS

The Schoenstatt Shrine at Mulgoa is home

to a Holy Door of Mercy, and soon it will be

adorned with a burst of autumn amber colour.

Covered in vines, the small Shrine emulates

the original Schoenstatt Shrine found in

Vallendar in Germany where the International

Schoenstatt Movement originated.

Schoenstatt, meaning 'beautiful place', is a

place to unite pilgrims with the vine and the

vinedresser, revealing also through the external

sign of the Holy Door, the role of Mary as

handmaiden and doorway, bringing Christ into

the world and thus, the mercies of God.

"Just as Sr Emilie Engel summarised her

life's experience shortly before her death,

'Throughout eternity, I want to sing a hymn of

praise to the merciful love of the Father and the

Mother.'

"Praise God for the mercies we have received,

and as we have received the mercies of God, we

ought to be merciful to others," Sr Thomasine

said.

Sister Thomasine Treese ISSM.

Week of Prayer for

Christian Unity

8-15 May 2016

'Called to proclaim the mighty acts

of the Lord.' (1 Peter 2:9)

PENTECOST PARRAMATTA ECUMENICAL PRAYER NIGHT

SATURDAY 14 MAY FROM 7PM TO 10PM

On Pentecost Eve when the Body of Christ will unite and pray

specifically for the needs of Parramatta. Come and pray with

Christians from all denominations. Hosted by Transforming

Sydney and the Parramatta Pastors Network.

The Salvation Army, 34 Smith St, Parramatta

Buses and limited street parking along Smith St and Phillip St.

Close to Parramatta Station and Horword Place Council Carpark.

Let us know you are coming and bring as many people as possible.

We look forward to seeing you.

RSVP Daryl Castellino, Diocese of Parramatta, Ecumenical

Commission tel 0407 40 6668, DCastellino@parra.catholic.edu.au

Ecumenical Prayer Resource for Schools

The week leading up to Pentecost (8-15 May) is a time that the

Catholic Church traditionally prays for Christian unity. A diocesan

resource will be made available to help primary and secondary

school communities to pray that all Christians may be one,

in the Body of Christ.

www.catholicoutlook.org

CatholicOutlook | MAY 2016 21
---
INTERFAITH DIALOGUE

Journeying into the heart and mind of faith

By Aoife Connors

Spiritual leadership might look

different in other faiths, but it

is how we feel that is where we

find our common language, Liska

Turner told those gathered for

afternoon tea to celebrate 10 years

since the Office for the Participation

of Women commenced its Young

Catholic Women's Interfaith

Fellowship.

The celebratory afternoon tea

took place at the Mount St Benedict

Centre in Pennant Hills on 26

February this year with a number of

invited guests and sponsors.

Liska said a visit by the group

to the Auburn Gallipoli Mosque

had left a lasting impression. "The

executive officer of the Muslim

Women's Association spoke

passionately and eloquently about

living as a covered Muslim woman

of faith in today's climate of anti-

Islamic sentiments."

Along with 13 other women,

Liska completed her third

residential weekend of lectures

and interfaith visits recently. These

women now have one residential

weekend to complete and a series of

online modules before they qualify

with a graduate diploma in theology

from The Broken Bay Institute.

These women are our future leaders

in the church.

"Our fellowship journey

commenced with a visit from

Graeme Mundine, from Aboriginal

Catholic Ministry in Sydney," Liska

said. "He spoke to us in some depth

about the evolution and history of

our Church and our engagement

with the Indigenous community.

In particular, he focused on the

enculturation of Indigenous

spirituality into our Catholic

traditions.

"Sr Elizabeth Delaney SGS also

spoke to us about the Church's

increasing openness to ecumenical

dialogue and we've been blessed to

have first-hand experience of this,

visiting both a synagogue and a

mosque."

Fellowship participant Helen

Jacobs visited a synagogue during

the previous residential weekend.

"Looking through the lens of the

other, I was instantly moved by

the warm welcome offered by the

progressive Jewish community at

North Shore Temple," she said.

"I quietly applauded the sense of

inclusion and equity created. A male

and a female rabbi sitting in a circle

with their companions and guests

sharing in prayer and afterwards

kitsch."

Vicky Burrows, another

fellowship participant, described

her Catholic faith as the "lens we

look at other faiths through", for

example when visiting the Islamic

community. "Our lens grounds us in

our tradition and our faith," Vicky

said.

A visit to the Auburn Gallipoli Mosque left a lasting impression on the group.

"One of the great things about

the residential element is that we

have to connect as a community,

whether that's online, over the

phone or face to face. For some,

we haven't studied in 20 years;

for others, we've just come out

of university, so the community

component is important."

Christine Pace said that learning

about the spectrum and diversity

of the Church has encouraged and

inspired her because she could see

that there were other young Catholic

women like her.

For Sally McEniry, discovering

the faith traditions of others

has assisted her in recognising

the complementarity of other

traditions while strengthening her

commitment and understanding of

the Church.

All of the current participants

reiterated that since the fellowship

was funded by the Australian

Catholic Bishops and the religious

orders in Australia, the Church

values and recognises the

contribution of young Catholic

women in the Church.

Hosted at the Mount St Benedict

Centre at Pennant Hills, both

Sr Elizabeth Brennan SGS and

Christine Manning continue to

warmly welcome the fellowship

participants during their residential

experiences. "We hope that this

special place nourishes their soul

and gives them a greater sense of

peace, upon leaving," Sr Elizabeth

said.

Originally published on the

media blog of the Australian

Catholic Bishops Conference at

http://mediablog.catholic.org.au/

Diocesan Development Fund

Catholic Diocese of Parramatta

Put those you love

in the hands

of those who care

Supporting the

growing needs of the

institutions and agencies within

the Catholic Diocese of Parramatta

www.parra.catholic.org.au/ddf

Disclosure Statement

The Diocesan Development Fund Catholic Diocese of Parramatta (DDF) is not subject to the provisions of the Corporation Act 2001 nor has it been examined or approved

by the Australian Securities and Investments Commission.

Deposits with the DDF are guaranteed by CDPF Limited, a company established by the Australian Catholic Bishops Conference for this purpose.

We welcome your investment with the DDF rather than with a profit oriented commercial organisation as a conscious commitment by you to support the Charitable,

Religious and Educational works of the Catholic Church.

Neither the DDF nor the Trustees of the Roman Catholic Church for the Diocese of Parramatta are prudentially supervised by the Australian Prudential Regulation Authority;

contributions to the DDF do not obtain the benefit of the depositor protection provisions of the Banking Act 1959; the DDF is designed for investors who wish to promote

the charitable purposes of the DDF.

Sydney (02) 9519 5344 | Parramatta (02) 9687 1072

wnbull@wnbull.com | www.wnbull.com.au

22 CatholicOutlook | MAY 2016

www.catholicoutlook.org
---
MAY CALENDAR

Mother's Day Concert

ST PATRICK'S CATHEDRAL, 1 MARIST PLACE, PARRAMATTA

Thinking of a gift for Mum this Mother's Day?

Why not take her to a music concert?

Enjoy the music of Beethoven, Mozart, Handel and

Schubert. Hear sacred motets in honour of our Blessed

Mother and much more.

End the afternoon with a cup of tea and some sweet and

savoury delights.

Booking with the Cathedral Parish Office

tel (02) 8839 8400, mili@stpatscathedral.com.au

7

7

8

8

13

14

15

22

SR HELEN PREJEAN CSJ IN CONVERSATION

Sr Helen is a prominent defender of life, ministering to men and women on death row in the US

and challenging the death penalty, as portrayed in the film Dead Man Walking. Sr Helen will be live

from New Orleans via Skype to speak on the topic 'The Consistent Ethic of Life', which centres on

the Church's pro-life perspective at all stages in the human lifecycle, from birth to natural death. In

conversation with Fr David Ranson VG, a focus of the discussion will be on the mercy of God, and how

we can show God's merciful face to others. From 10.15am-12.15pm, The Light of Christ Centre, end

of Yardley Ave, Waitara. RSVP by 3 May: www.trybooking.com/KMEZ

or registrations@dbb.org.au (02) 9847 0448, (02) 4332 9825.

REFLECTION DAY FOR WOMEN

Presented by Sr M Isabell Naumann ISSM. Topic: 'Give me a Drink (Jn 4:7) – Charity and Mercy'.

All women are invited to attend this day where we will reflect on the gifts of God's merciful love and

charity. Cost: $25, BYO lunch (morning & afternoon tea provided). The day will include Holy Mass and

the opportunity for reconciliation. Mt Schoenstatt Spirituality Centre, 230 Fairlight Rd, Mulgoa. Details

tel (02) 4773 8338, movtoffice@schoenstatt.org.au

ORDINATION OF GEORGE BRYAN AS DEACON

Everyone is invited to the ordination of George Bryan as a permanent deacon at the 11am Mass in St

Patrick's Cathedral, 1 Marist Place, Parramatta.

MOTHER'S DAY CONCERT

Thinking of a gift for mum this Mother's Day? Why not take her to a music concert at St Patrick's

Cathedral, Parramatta? Starts 3pm. Enjoy the music of Beethoven, Mozart, Handel and Schubert.

Hear sacred motets in honour of our Blessed Mother and much more. End the afternoon with a cup

of tea and some sweet and savoury delights. Bookings: Cathedral Parish tel (02) 8839 8400, mili@

stpatscathedral.com.au

MASS FOR NEOPHYTES

Mass at 7.30pm in St Patrick's Cathedral, Parramatta.

PENTECOST ECUMENICAL

PRAYER NIGHT

On Pentecost Eve you are invited to pray with Christians from all denominations specifically for the

needs of Parramatta. From 7pm-10pm at The Salvation Army, 34 Smith St, Parramatta. RSVP Daryl

Castellino, Diocese of Parramatta, Ecumenical Commission tel 0407 40 6668, DCastellino@parra.

catholic.edu.au

PENTECOST CELEBRATION

'Perfect Love Casts Out All Fear (1 Jn 4:18). Come and hear how to be transformed from fearful to

powerful. The Catholic Charismatic Renewal NSW and the Emmaus Prayer Community invite you

to a Pentecost celebration at Our Lady Queen of Peace Church, 198 Old Prospe ct Rd, Greystanes.

Program: 11.30am worship, Mass at noon celebrated by Fr David Callaghan MGL, 1.30pm BBQ lunch,

2.30pm healing ministry. Inquiries: Merv tel (02) 9634 1654, www.ccrnsw.org.au

MARIAN PILGRIMAGE AT MT SCHOENSTATT

Experience the special indulgence that may be obtained in one of the designated Doors of Mercy

in this Jubilee Year of Mercy at the Shrine of Mt Schoenstatt on the Annual Marian Pilgrimage.

Celebrations begin at 10am with Mass at 10.30am and Eucharistic Procession and Benediction from

the valley to the Shrine at 2pm. Alternative program for the sick and elderly. Mt Schoenstatt, 230

Fairlight Rd, Mulgoa, tel (02) 4773 8338, www.schoenstatt.org.au

For more events please go to:

http://parracatholic.org/events/

Thursday 19 May 2016

Holy Hour for Vocations

St Patrick's Cathedral, 1 Marist Place, Parramatta

Everyone is welcome to join the Holy Hour for Vocations from

7pm-8pm on the 3rd Thursday of each month for an hour of

adoration, prayer, music and quiet time in the Blessed Sacrament

Chapel in St Patrick's Cathedral.

To find out more about priesthood in the Diocese of Parramatta

contact Fr Warren Edwards, Director of Priestly Vocations

tel 0409 172 700 or email vocations@parra.catholic.org.au

"The most beautiful

and visually

compelling film

I have ever seen. I did

not want it to end."

Kim, Brisbane.

Filmed and Edited by

Michael Luke Davies

A unique inside portrait of

the world of the Tyburn Nuns.

"This film takes you into

another realm…"

What is life in a cloistered Benedictine

community really like? Let the Tyburn

Nuns take you to their 9 monasteries

around the world. Witness the nuns' holy

life of prayer and work, centred on the

Eucharist, in this remarkable film.

ORDER ONLINE:

www.tyburnconvent.org.uk

or send cheque/money order for $25

payable to:

Tyburn Priory, 325 Garfield Road East

RIVERSTONE NSW 2765

Name ........................................................

..................................................................

Address .....................................................

..................................................................

..................................................................

..................................................................

www.catholicoutlook.org

CatholicOutlook | MAY 2016 23
---
You can donate using the DWF Appeal envelope or donate online at www.faithatwork.org.au

Pastoral car e a ppeal

theLMent.com

Catholic Diocese

of Parramatta

'But someone will say, "You have faith and I have

works." Show me your faith apart from your works,

and I by my works will show you my faith'. James 2:18

DIOCESAN WORKS FUND

B U ILD I N G SER V ICES LOCAL LY T O MAK E A CR ITI CAL D IFFERENCE I N PEO PLE'S LIVE S